Kayaking is all fun and games until something gets wet that shouldn't have. So get yourself some dry bags so you can just stick to the fun and games!😋
But dry bags come in all shapes and sizes. Five liters, 10 liters, even 60 liters! What size dry bags do you need for kayaking and kayak camping? And what can you fit in each?
In this 5-minute read, you'll get everything you need to know to choose the right size dry bags for kayaking!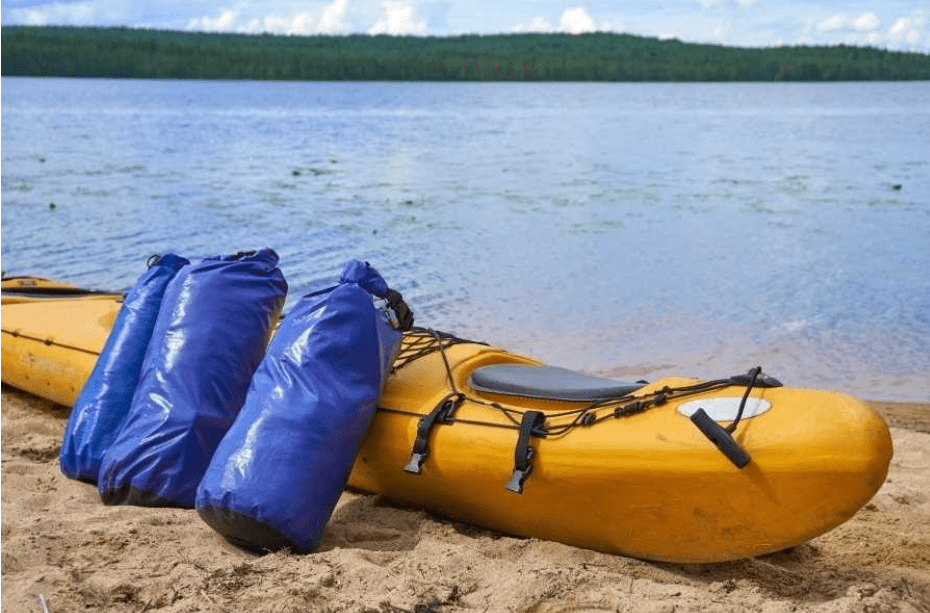 What to Consider When Choosing the Right Size Dry Bags for Kayaking
Before you put a down payment on a bunch of dry bags, here are a few things you should consider.
Your Kayak
How will you pack the gear on your boat? This is probably the biggest thing you need to consider.
If you're going kayak camping with a sit-on-top kayak that has large open storage spaces, then you can afford to use larger bags. (Similar to what you might do when on a canoe trip.)
On the other hand, if you have a sit-in kayak that has waterproof hatches with tiny openings, you'll have to use smaller dry bags.
*Learn about the best way to pack your kayak.
Your Gear
The next thing you need to figure out is what you'll be packing. 
Are you going light? Or are you packing a bulky sleeping bag, a 4-person tent, and 6 pounds of spaghetti?
Do you have a lot of gear like clothing and sleeping bags that can be compressed?
How much of your gear really needs to be kept dry?
When thinking about your kayaking gear, it's also good to consider how you'll organize it.
Basically, the more dry bags you have, the easier it'll be to organize your stuff. You can have one dry bag for toiletries, one for clothing, another for sleeping gear, etc. However, the more dry bags you have, the harder they'll be to secure to your boat — especially if you're in a sit-on-top kayak.
If you have fewer, but larger dry bags, they'll be easier to strap to your kayak. But it will be harder to keep track of your gear and harder to get to it when you need it.
🤔 Where did I put my toilet paper again? Oh, that's right…in the bottom of the blue bag. 😬
Want a checklist for your kayaking trip? Get a FREE gear checklist here.
Your Trip
It's also good to consider what type of trips you'll be taking. 
Will you mostly be paddling on calm, flat waterways?
Planning to hit some rapids?
How likely is all your stuff to end up in the water?
Will you need to portage?
Factors like those can help you determine what type and size of dry bag to get for your kayaking trip.
Dry Bag Sizing and Buying Guide
Ok, so based on the answers to those soul-searching questions about your future kayaking adventures, here are a few things that'll help you choose the right size bags.
Capacity – How Much Can You Fit in a ___ Dry Bag?
Dry bags come in a huge variety of sizes from 1-2 liters all the way up to 65 liters and more. So which size dry bags do you need?
Let's answer that by considering what gear you can usually fit in different-sized dry sacks. 
What can you fit in a 2 liter dry bag? Two-liter dry bags are nice for carrying small things you need to access often.
Keys, wallet, small snack, flashlight, phone, map
What can you fit in a 5 liter dry bag? A 5L dry sack is one of the most popular sizes for carrying non-bulky items.
First aid kit, hat and gloves, snacks
Camp stove, toiletries, camera
What can you fit in a 10 liter dry bag? A 10-liter dry bag is nice to use for smaller clothing items and other small camping gear.
Extra shirt or small jacket, hat, toiletries, snacks
Camp stove, camp cookset, some food
What can you fit in a 20 liter dry bag? 20 liters is enough space to be able to start packing some bulkier items like clothes, a jacket, or a camp pillow.
Towel, first aid kit, toiletries, camp pillow
Change of clothes and an extra windbreaker
Several days worth of food
What can you fit in a 30 liter dry bag? A 30L dry sack is about the size of a day pack so you can probably fit about half of your gear for an overnight trip in it.
2 changes of clothes, towel, toiletries, camp pillow, first aid kit, jacket and hat
Backpacking tent, food, jacket, backpacking
Sleeping bag, camp pillow, tent footprint
What can you fit in a 40 liter+ dry bag? Easy answer…a lot. The 40-liter and larger-sized dry bags have similar capacities to normal backpacking packs, so they can carry a lot.
However, only go with a big dry bag like this if you have a secure way to strap it to the outside of your boat (or if you're canoeing), 'cause it ain't gonna fit inside a kayak's waterproof hatch.
So what sizes should you get?
A combination of different size dry bags is probably your best bet.
Get one or two larger ones for bulky items like your sleeping bag, tent, and clothes
Then get a few smaller ones for your kayak camping kitchen gear, toiletries, and other odds and ends you need to get to while out on the water.
Pro Tip! – Measure your kayak's bulkhead compartments — both the openings and the interior dimensions. That'll give you a pretty good idea of what sizes of dry bags you can fit in them.
Style and Shape
Dry bags come in a variety of styles and shapes. Some are just simple sacks with a normal roll-top closure. Others have a single shoulder strap or backpack-style straps. And some even look like a normal duffel bag.
Anytime you get a bag over 30 liters, it's nice to have at least a shoulder strap. Otherwise, it's gonna be a real hassle to carry it any farther than about 30 feet. But if you're just gonna be strapping it to your boat and don't plan on walking with it, no shoulder strap might not be that big of a deal.
Material or Fabric
Another big difference you'll see from bag to bag is the materials they're made out of. Most dry bags are usually made out of TPU, PVC, nylon, or polyester fabrics or a combination of several types.
Some dry bags are made from thicker materials like PVC that's waterproof and durable, but also bulkier and harder to pack.
Others have a lightweight nylon fabric that's also waterproof, but much lighter and easier to pack. Usually though, it's not as durable so it's easier to tear if you're not careful.
Some dry bags, like the Sea to Summit eVent Compression Dry Sack, have an air-permeable (yet waterproof) base plus compression straps. These are perfect for carrying clothes or sleeping bags which you can then compress to save space.
I would suggest getting at least one or two medium-sized dry bags with a heavy-duty fabric for packing things like your camp stove and other kitchen gear that might have some pointy edges.
Features
Be sure to check for other useful features like:
Carry straps
D-Ring attachment points for adding straps to tying down
Lash loops or molle attachments that make it easy to secure the bag to your boat
Transparent sections that let you see what's inside
Compression straps
Color
Color of course can be a personal preference, but it can also help you stay organized while packing. Get several different colored dry bags and then pack according to colors. (Clothes in the blue bag, first-aid in the red bag, toiletries in the brown one, etc.)
A Few Awesome Dry Bags for Kayak Camping
Ok, so by now you've probably got a pretty good idea of what size dry bags you'll need for your kayaking trip. Here are a few options of quality dry sacks that come in a variety of sizes.
On Amazon, look for dry bags from Earth Pak and Sea to Summit. Earth Pak bags are really popular and they have a nice selection of different types of bags. Sea to Summit is a more established brand with some higher-quality bags, but they also are a little more expensive.
Here are a few nice options.
This is Earth Pak's flagship dry bag. It comes in 5 different sizes from 10 to 55 liters. Plus it's available in 8 different colors.
Source: Amazon
This Sea to Summit bag is a nice all-purpose, simple dry bag. It's lightweight, packs up easily, and is available in 7 different sizes from one to 35 liters.
Source: Amazon
Source: Amazon
If you're a die-hard kayaker and want a bag that's gonna last, this Sea to Summit heavy-duty dry bag is a nice choice. Sadly it only comes in one color and two sizes — 20 and 65 liters.
The eVent compression dry bag is a great space-saving solution for packing sleeping bags and clothing. Plus, it comes in 5 different sizes from 6 to 30 liters
Source: Amazon
For a budget-friendly option, go with the Wise Owl dry sack 3 pack. It comes with three different sizes — 5, 10, and 20 liters.
Want more options? Check out my complete dry bag buying guide with dry bag options for any outdoor adventure. (COMING SOON!)
Source: Amazon
Have Fun and Keep Your Stuff Dry!
So now that you know what size dry bags you need for kayaking or canoeing, it's time to get some and start packing!
Do you know what you need to pack for overnight kayaking trips?
What about where you're gonna go for kayak camping?
Can you go on overnight trips in a sit-on-top kayak?
Get all that info and more in my other kayaking articles:
Latest posts by Stacy Bressler
(see all)