Anytime you're getting ready for a new adventure–like kayak camping–checklists can be a lifesaver, literally! It's sooooo frustrating to spend so much time packing only to find out (once you're in the middle of nowhere) that you forgot one or two essential items.
No big deal if all you forgot was your salt or camp pillow. But a kayak camping trip can go downhill (or downstream) real fast if you forget something important–like a lighter, water filter, or toilet paper!
So to help you avoid those sticky situations, here are complete kayak camping checklists you can use while planning your next trip.
P.S., don't worry, you can download the PDF with the kayaking checklists (they're at the bottom of the article!) so you don't forget it later!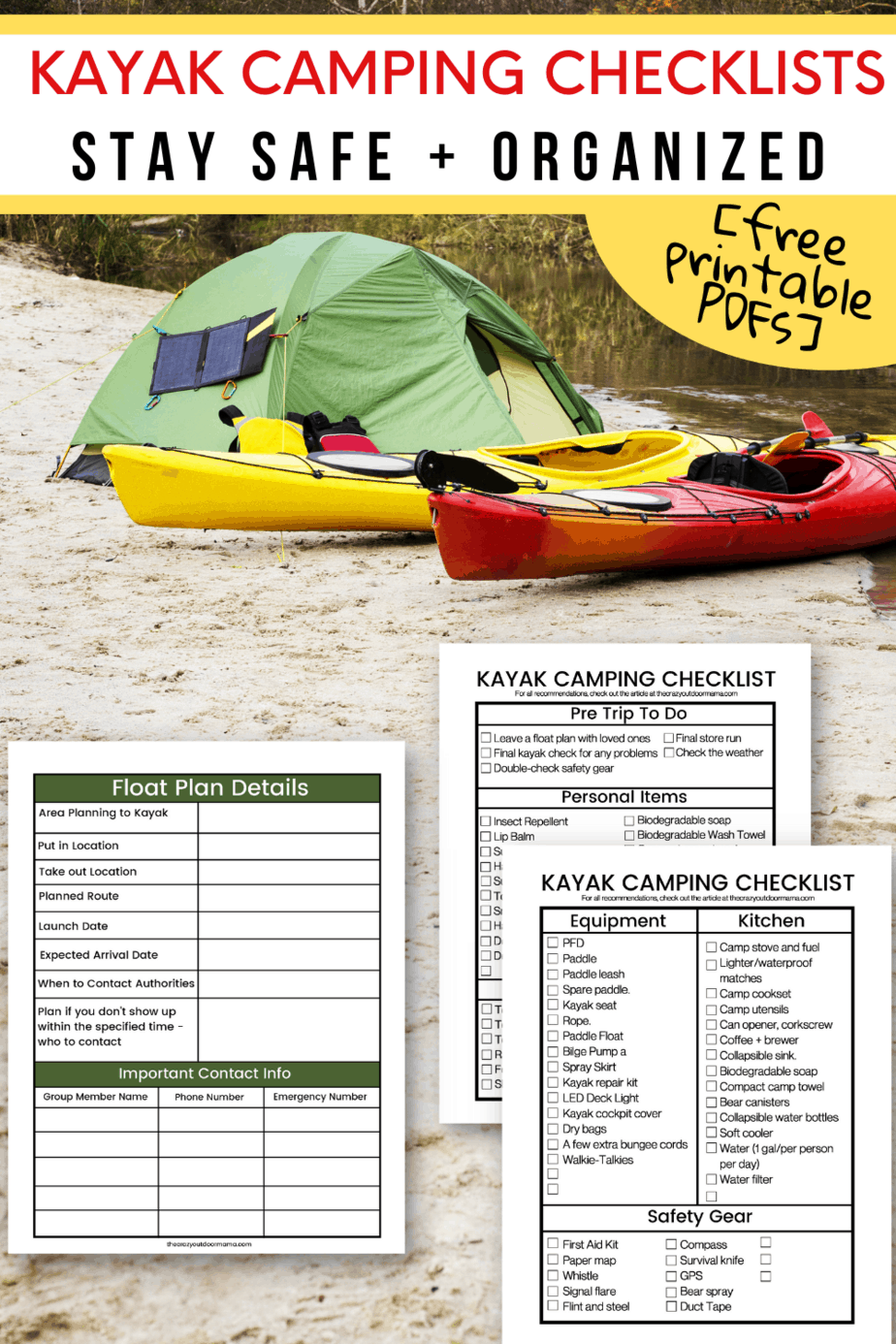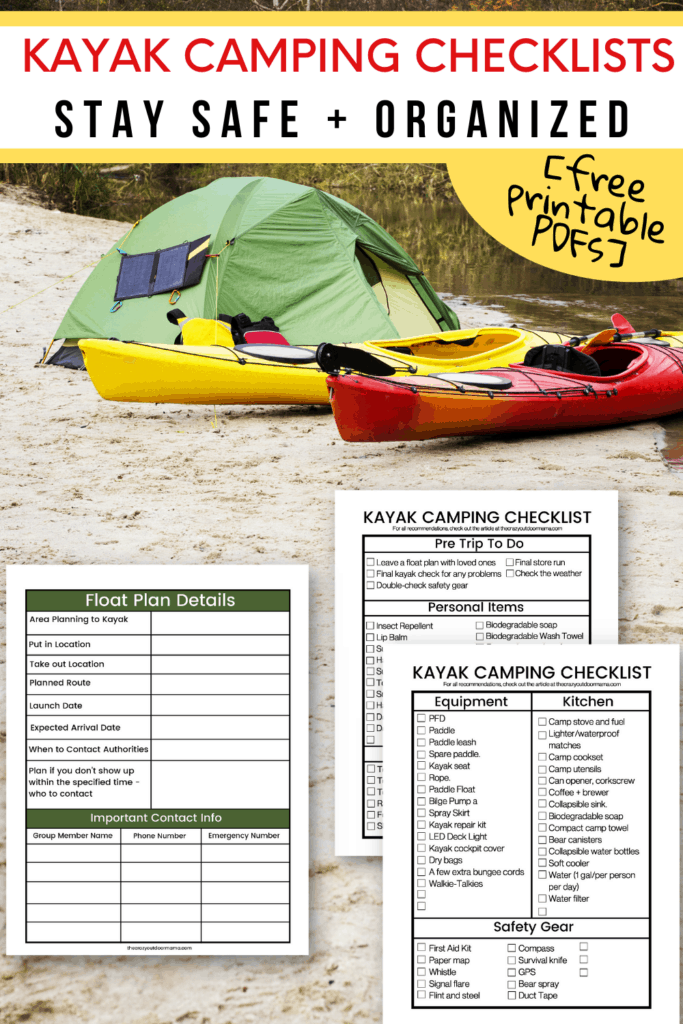 How to Use These Checklists
So here are some kayak camping gear checklists that can help you as you're packing. Keep in mind that each checklist will need to be adapted to the specific needs of your kayaking trip.
If you're on a week-long ocean kayaking trip in cool weather, you're going to need more gear and backups. If you're just on an overnight trip around a local lake, then there are a lot of things you may not need to take.
That's why I left some blank spaces on each of the checklists so that you can add extra items that you'll need.
Pre-Trip To-Do Checklist
Here are a few things you should do in the 24 hours leading up to your trip.
Send float plan to loved ones (here's how to plan your float)
Print a copy of the float plan to take with you (the one we use and that is in the free pack is right below!)
Make sure your vehicle is gassed up and ready to go.
Give your kayaks a final check. It's better to catch a problem now than once you're already in the water.
Review checklists to make sure you didn't forget anything. This is especially true for your safety gear. 
Make any final store runs to get last-minute items. It's best to do this the day before. You don't want to be riding around from store to store with kayaks on your car trying to find that one item you left until the last minute.
Check the weather. Based on any changes you can make some final adjustments to what gear you're packing.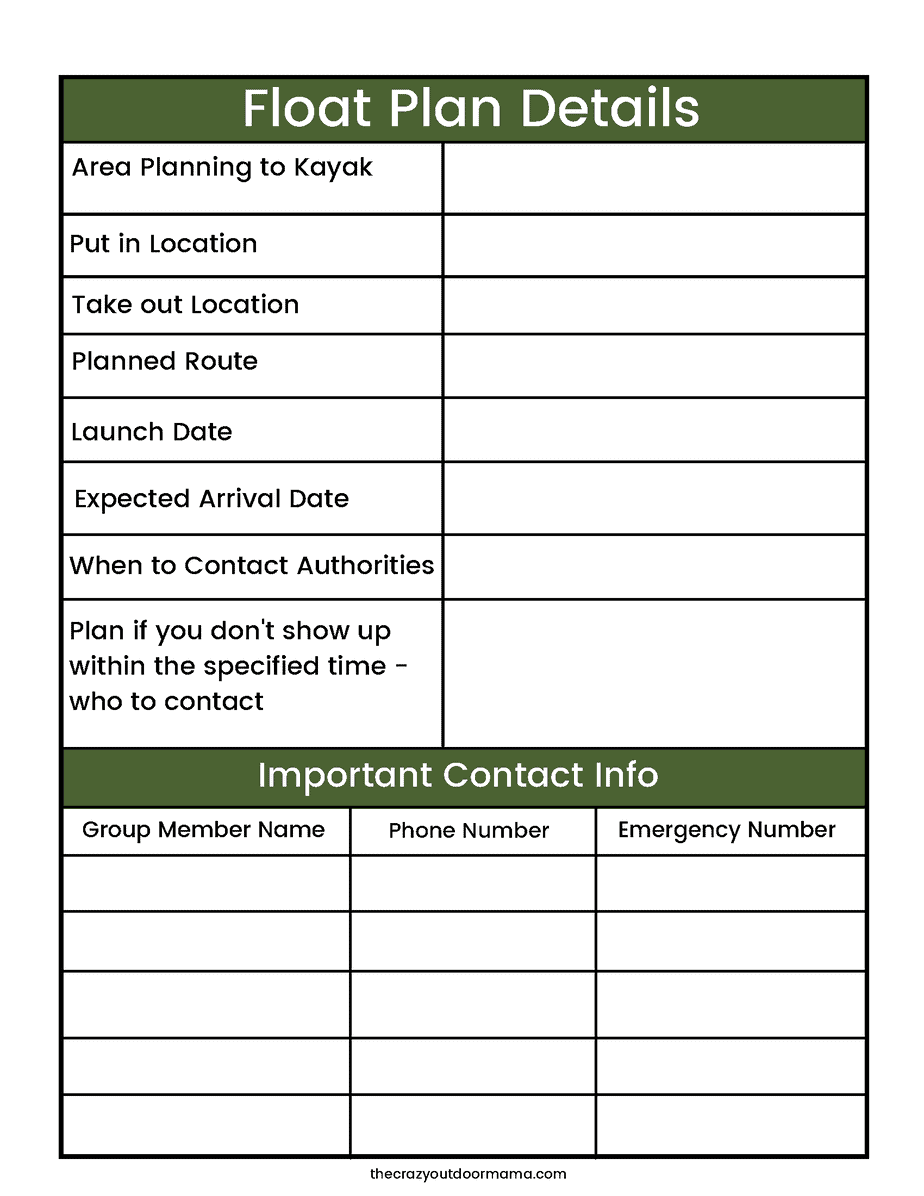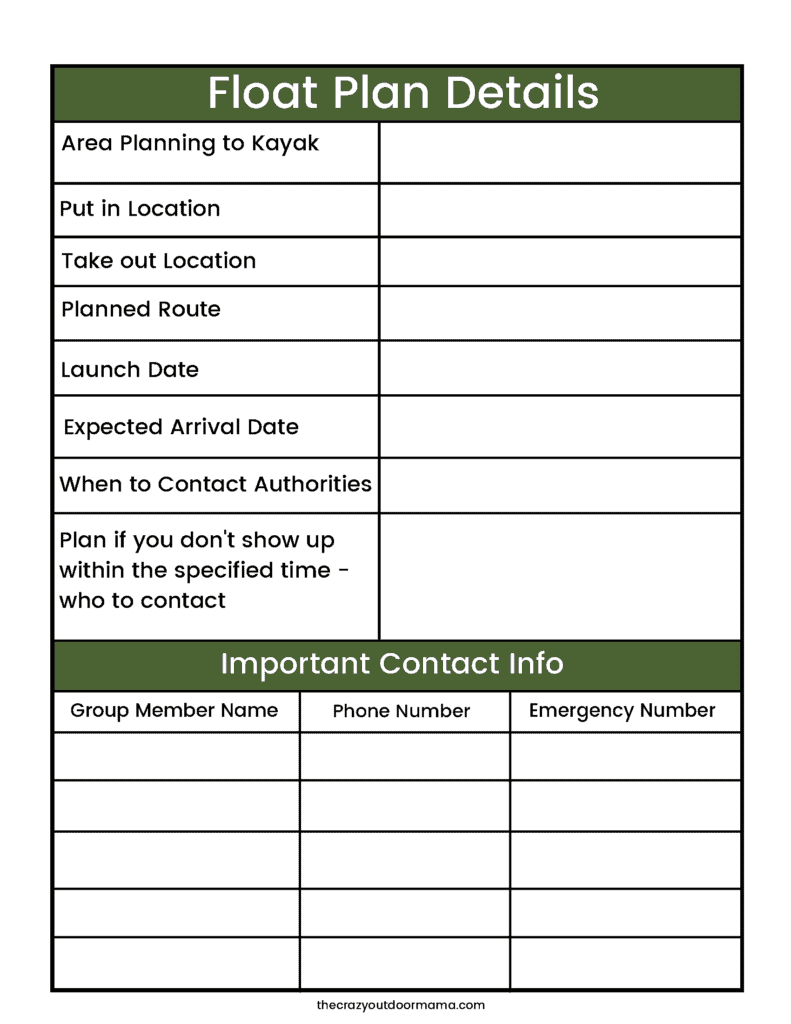 Kayak Equipment Checklist
While a lot of the gear on these kayaking checklists is similar to other camping or backpacking gear, here's a list of items that are specific to kayaking camping.
PFD (personal flotation device) It's worth it to invest in a comfortable PFD that's not a chore to wear.
Paddle
Paddle leash
Spare paddle. If you're kayaking with a group, check to see if someone else is already bringing a spare paddle. If you're kayaking in a group, each kayaker doesn't always have to bring their own spare paddle. One or two is usually enough depending on the group.
Kayak seat
Rope. This will come in handy if you have to tie off your kayak, tow a friend who's hurt, or strap extra camping gear to your boat.
Paddle Float. Practice using it to help you get back in your kayak. Here's a video that shows how.
Bilge Pump and/or Bilge Sponge
Spray Skirt
Kayak repair kit to fix small cracks or punctures in the hull.
West System Plastic Boat Repair Kit
Gorilla Waterproof Patch and Seal Tape
LED Deck Light
Kayak cockpit cover. This is handy for making sure no curious critters find their way into your kayak in the middle of the night. 
Dry bags. Assorted sizes depending on what you're going to pack.
A few extra bungee cords, parachute cords, carabiners and other things to secure gear to your kayak or at the campsite.
Walkie-Talkies. These are especially useful when traveling in groups that might get spread out.
Food and Kitchen Packing List
Learn more about what to pack for your kayak camping kitchen in my KAYAK CAMPING KITCHEN GUIDE. 
TIP: Compare your menu to gear like your camp cookset and make sure you have all the pieces you need to cook your meals. If there's any part of your cookware you don't need, you can leave it at home to save on space and weight.
Camp utensils. At the very least you should have a

long-handled spoon

or

spork

and a knife. You can also opt for a compact set of camp utensils. 
A can opener, corkscrew or any other tool/utensil you might need based on the food (or drink) you're planning.
Coffee
A way to brew coffee.

Collapsible sink.

These are really handy for cleaning up after a meal or just transporting water in general. 
Biodegradable soap and dishcloth or sponge

Bear canisters

. If you're kayaking in bear country.
Water containers. Collapsible water bottles or bladders are nice since they don't take up any space when empty.
Food. Check out my

KAYAK CAMPING KITCHEN GUIDE

for ideas on what to cook.
Salt and pepper (+other basic seasonings you might need based on your menu)
Soft cooler
Water. Figure at least a gallon per person per day–for both drinking and cooking. 
Water filter. Carrying all the water you need gets real heavy, real fast. It's worth it to bring along a good water filter.
If you're planning on cooking over the fire:
Tongs
Grill grate
Hot dog sticks
Camping Gear List
These are basically the same items you would take on a normal hiking trip. Look for items that are lightweight, compact, and easy to pack.
TIP: Make sure these items can fit in your kayak's hatches. Even some backpacking tents and sleeping bags may be too bulky to fit through the hatch opening. That's why it's always a good idea to do a dry-run and fully pack your kayak a few days before your trip to see how everything will fit.
Tent
Tent Poles
Tent Stakes
Rain Fly
Footprint or extra tarp
Sleeping pad
Sleeping bag
Camp pillow
Folding knife
Multi-tool
Flashlight or headlamp
Trash bags
Personal Item List
Insect Repellent
Insect Headnet (It's really hard to paddle and swat mosquitos at the same time.)
Lip Balm
Sunscreen
Hat
Neck gaiter
Bandana
Sunglasses
Toilet Paper (or leaf identification pamphlet–avoid poison ivy)
Small shovel or trowel
Hand sanitizer
Toothpaste
Toothbrush
Floss (Because we all take the time to floss in the woods right?)
Deodorant
Biodegradable soap

Biodegradable Pre-Moistened Wash Towel

(Basically, huge biodegradable wet wipes. The easiest way to feel clean in the wild.)
Medicine
Cell phone
Power bank
Small notebook and pen/pencil

Waterproof case

or dry bag to keep essentials like keys, phone, and medicine safe and secure. It's good to keep this easily accessible while paddling.
Assorted gear ties, rubber bands, ziplock bags, or small dry bags.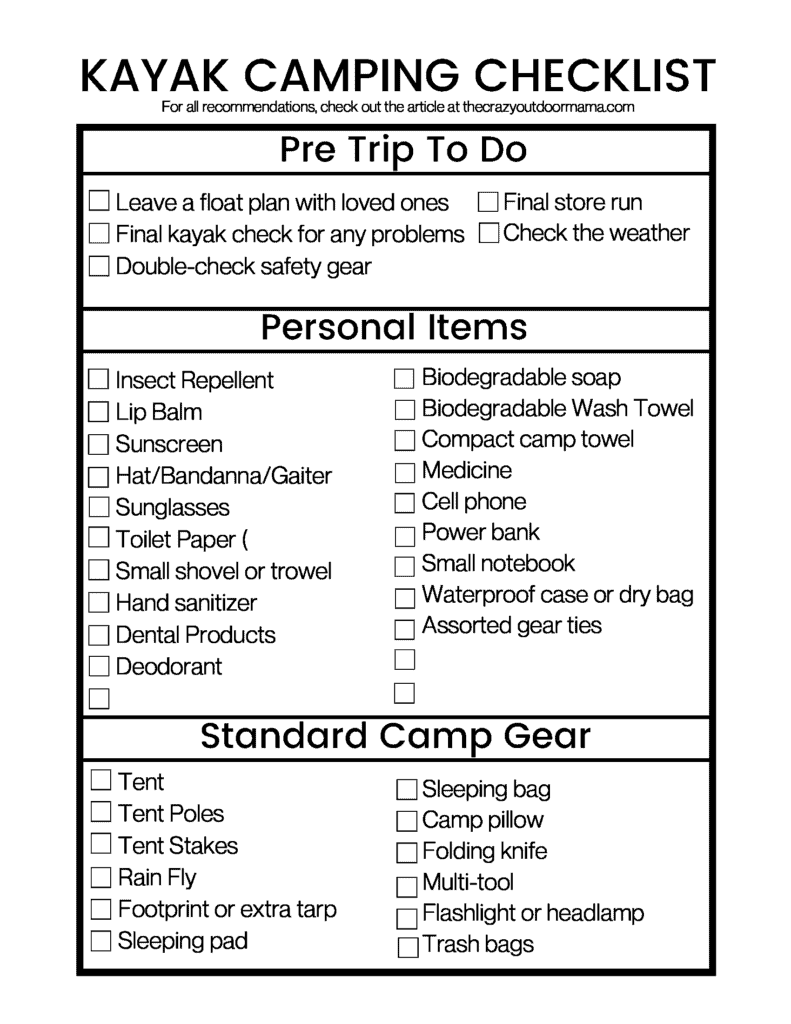 Clothing Checklist
Here's a list of basic items you might need to pack depending on the conditions. Since you'll most likely get wet at some point, look for performance fabrics that dry quickly.
Paddling long sleeve shirt
Short sleeve shirt
Bathing suit
Convertible long pants. The kind that has zip-off bottoms to turn them into shorts.
Underwear
Sandals
Shoes and/or Water Shoes
Socks
Light jacket
Raincoat
Rain pants
Gloves
Bag for dirty clothes
Kayaking Safety Gear Checklist
First Aid Kit
Paper map of the area. You never know when your phone will die or get dunked in the river. You should always have a good 'ole paper map and compass.
Whistle
Signal flare
Flint and steel. It's always good to have a backup just in case something happens to your matches or lighter.
Compass. A deck compass is nice too since you can strap it to the deck of your kayak and keep a constant eye on your bearing.
Survival knife
GPS and/or satellite communication device. One like the

Garmin inReach Mini

pairs to your phone to let you send text messages. Plus you can use it to trigger an SOS.
Bear spray. If you're traveling in bear country. 
Duct tape. I mean… we should really be carrying some of this at ALL times. 😀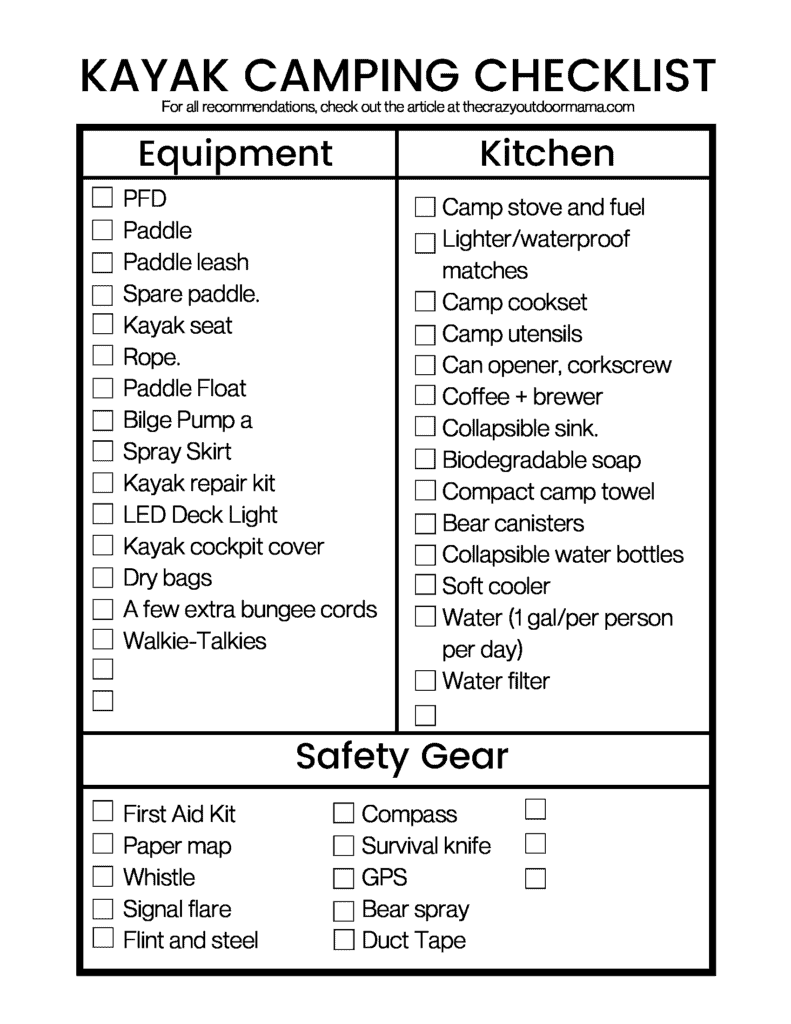 For the Drive Home Checklist
Plastic bags for wet stuff. Keep the stink out of your car.
Change of clothes
Phone charger
Bottle of water
Energy drink (You'll thank me later)
It's Time to Start Packing (so download your free checklists + float plan PDF!)
I created a simplified, printable checklist version of the in depth list I provided here so that you can print it out for later! Let me know the email (and as a bonus you get access to ALOT of other helpful outdoor printables!)
Armed with your kayak camping checklists, you're ready to start stuffing your boat full of all this gear. Well… almost.
Don't miss my other kayak camping articles that'll help you plan your kayaking trip. 
Want a general overview of how to plan a kayak camping trip?
Check out: THE ULTIMATE GUIDE TO YOUR FIRST KAYAK CAMPING TRIP
Wanna know how you're going to fit all this stuff in your kayak? 
Check out: HOW TO PACK YOUR KAYAK FOR A CAMPING TRIP – COMPLETE GUIDE + BONUS PACKING LIST
Not sure what food to pack?
Check out: CAMP COOKING FOR KAYAKERS | YOUR KAYAK CAMPING KITCHEN GUIDE
Latest posts by Stacy Bressler
(see all)