Kayaks are made to be in the water. But once you get them out of the water, they become like an unruly 10-year-old you have to wrestle on and off the roof of your car.
That's why lots of kayaking families prefer kayak trailers. With a trailer for kayaks, it's easier to transport your kayaks and you can even carry more of them!
So is a kayak trailer really the solution for you? Maybe. Maybe not. In this article, you'll find out.
Plus, if you decide a trailer might be for you, I'll give you everything you need to choose the right one (along with a few recommendations).
Let's get started.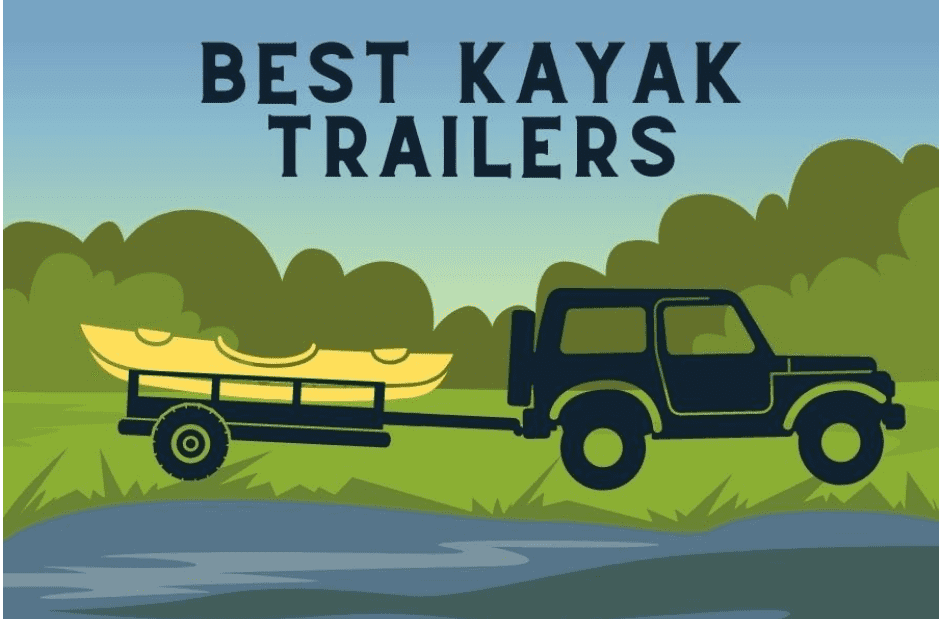 Should I Use a Trailer or a Roof Rack for Carrying My Kayaks
"But I've got a perfectly good roof rack. Do I really need a trailer for kayaks?"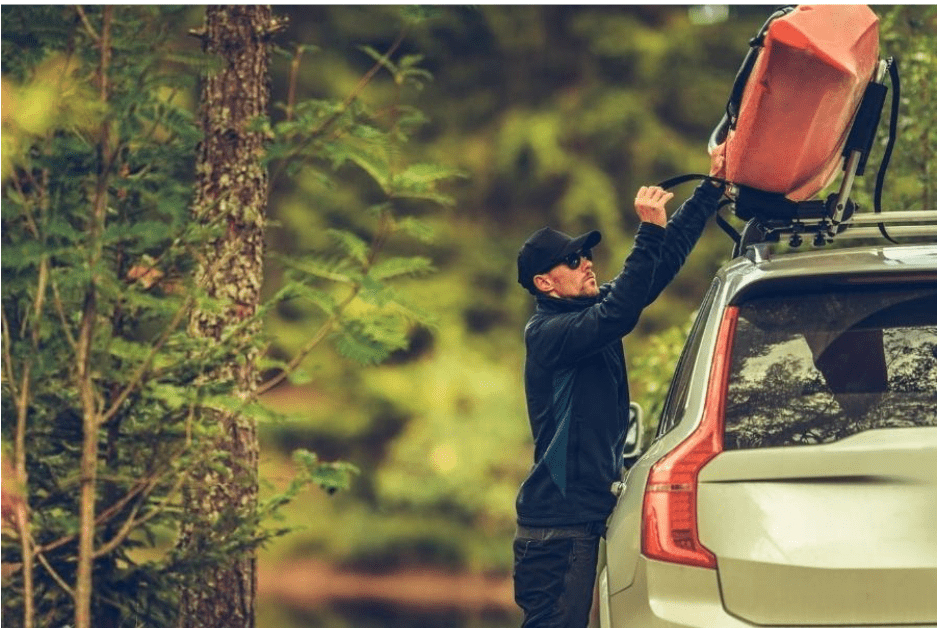 Not necessarily. Here are a few things to consider.
Carrying Kayaks on Your Roof Rack – PROS
Price: Less expensive than trailers.
Storage: There's no need to find a place to store it.
Easier handling: On the open road and tight parking lots, it's better to not be towing a trailer.
Carrying Kayaks on Your Roof Rack – CONS
Parking garages and fast food drive-throughs: Gotta watch those clearance signs now.
Loading and unloading: Loading heavy stuff on your roof rack is an easy way to damage your vehicle (and your back if you're not careful).
And if you don't have a roof rack, it's gonna be a lot harder to safely secure it to your vehicle.
Usually limited to two kayaks on your roof. With a trailer, you can haul 4 or more.
Using a Trailer for Kayaks – PROS
Easier to load: No more lifting bulky kayaks overhead. Trailers sit lower to the ground so getting your kayaks on and off is a piece of cake (even for one person).
Extra weight capacity: Most trailers can hold several hundred pounds of gear, while roof racks are usually limited to about 150 pounds or less.
Space for other gear: A lot of trailers also give you some extra space for bikes, SUPs, canoes, or other outdoor gear.
Using a Trailer for Kayaks – CONS
Costs more: A trailer costs more to buy, maintain, and keep registered.
Storage: You need to find a place to store your trailer when you're not using it.
Harder to drive: Ever try backing up with a trailer. No worries, you got this. 😋
*If you're worried about seeing while you're backing up, check out 7 of the best RV and trailer backup cameras.
How to Choose the Right Kayak Trailer for You
Ok, so maybe you're starting to think that a kayak trailer is a good idea. Maybe your growing family is getting more into boating and pretty soon you'll be hauling a couple of kayaks, SUPs, and canoes to the lake every weekend.
Here are a few things you should consider before getting your trailer.
How many kayaks ya gonna carry?
Two. Four. Six. More?!
Most simple kayak trailers will let you comfortably carry up to four kayaks. If you plan on hauling more than that, then you're going to have to get a trailer with a double-decker rack.
A lot of kayak trailers function almost like a car's roof rack. They give you a base on which you can install gear-specific carriers for carrying canoes, bikes, and kayaks. While theoretically you can fit as many kayaks on as you can carriers, just make sure the racks are big enough to fit the number of carriers you plan on using.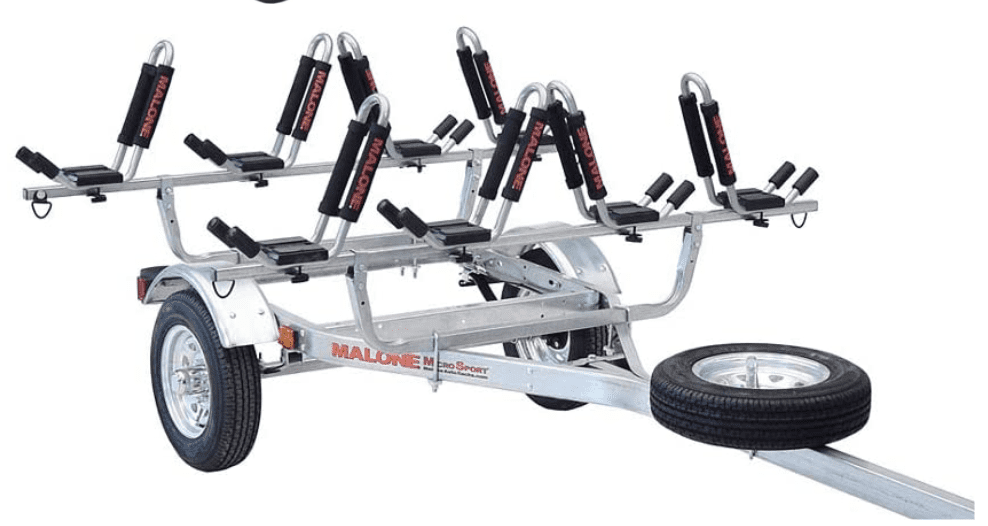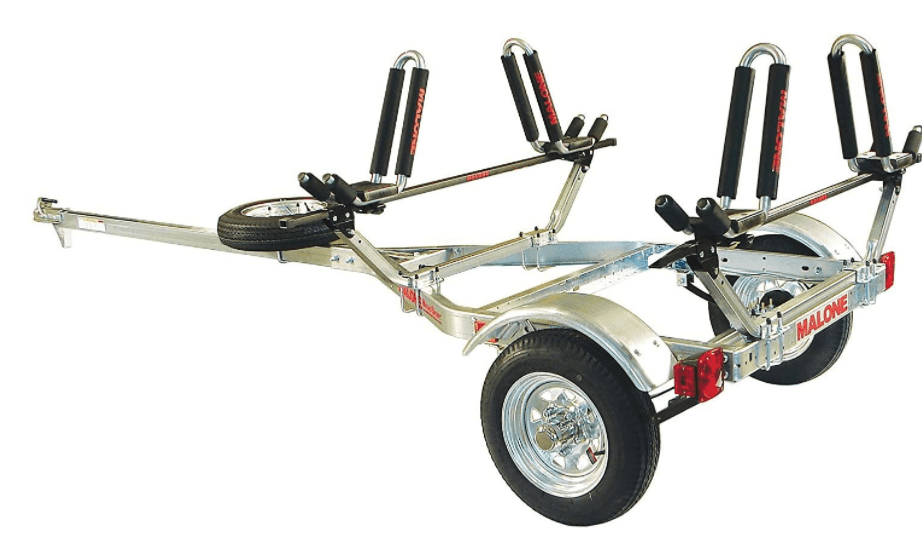 Source: Amazon
How big are your kayaks?
Most trailers for kayaks have at least a 250-lb weight capacity, so you shouldn't have any problem loading on a couple of 40-50 pound kayaks. But if you're looking at a small trailer and you have a bunch of heavy, bulky kayaks, then it's worth double-checking that you'll be within the weight limit.
It's also important to consider your kayaks' length. If you've got a couple of 18-ft long, tandem sea kayaks, then you better make sure you've got a long enough trailer.
How good are you at assembling?
All of these trailers on my list can be bought online and delivered to your home…in boxes. Yup, that means you better break out the ole' toolbox and find a couple hours of free time.
But if you're handy with some tools and feel pretty confident about driving down the highway pulling something you put together, then by all means…go for it! Just follow all the instructions religiously.
At the very least, you can bribe a friend with pizza and beer to come over and help. Just leave the beer for after it's assembled, remember…this needs to be road-ready.
If you're a little worried about what you're getting into, check out this assembly video for one of the trailers on my list.
IMPORTANT! – After assembly, don't forget to go and register your new boat trailer and get insurance (according to your local state laws).
How big are the wheels and tires?
Most small trailers for kayaks have 8-12" wheels. If you can't decide between two trailers and the only difference is the wheel/tire size, this can help you decide.
Smaller wheels/tires…
Mean the trailer will probably be a little lower to the ground (and slightly easier to load)
Larger wheels/tires…
Give you more ground clearance for rough roads and areas around the water's edge.
Can usually handle more weight
Will likely last longer
Your Tongue Length
That is… the tongue of the trailer. 😛
The trailer tongue is the part that goes from the trailer box to the coupler.
In addition to the tongue length, it's also good to consider the trailer's total length, as well as the length from the coupler to the axle.
So why does this matter? The longer the tongue and the longer the trailer, the longer the kayak you can carry on that trailer.
If you just carry sit-on-top kayaks or recreational kayaks for day use, then this probably won't be an issue. But if you occasionally carry a longer touring or sea kayak, then you should opt for a kayak trailer with a longer tongue.
Just keep in mind that the longer the trailer, the harder it'll be to control. 😬
What else do you want to haul with it?
Are you planning on taking your kayaks camping and need to strap a bunch of other gear to the trailer too?
Or maybe you want to be able to carry bikes or even a roof rack storage container?
Then make sure you get a trailer with a weight limit that can handle all that. If you get one that has racks similar to a car, then you should also be able to attach just about any type of carrier that you would normally attach to your car's roof rack.
And some trailers even come with spots on them for storing extra gear like oars, life jackets, etc.
If you'd like to try kayak camping, don't miss my kayak camping articles!
12 Best Trailers for Kayaks
Ok, so now that you've got the basics of kayak trailers, here are some of the most popular options that you can consider. We'll start with normal trailers that you can pull behind your vehicle.
You'll notice that the majority of these are from the Malone brand. There used to be some other brands that had trailers for kayaks but it seems that because of the supply chain issues from this past year or so, they're no longer available. At the time of writing, all of the ones below were available.
Source: Amazon
Malone makes their MicroSport trailer in several configurations. This one comes ready to go for hauling four kayaks at once.
The 78" long cross rails are made to work with 8 of Malone's J-Pro2 kayak carrier attachments. It's got a 350-lb weight capacity and an extra-long tongue for carrying long tandem or sea touring kayaks.
Check the Malone MicroSport Trailer with 4 Kayak Carriers Package PRICE.
Source: Amazon
If you're on more of a budget and usually just need to haul 2 boats, then the Malone EcoLight could be the one for you.
The EcoLight has a simpler design than the standard Malone MicroSport. In fact, the entire trailer only weighs 145-lbs!
The package comes with four simple J-rack kayak carriers so you don't need to buy any other attachments to haul your boats. And with the trailer size and tongue length, you can haul kayaks up to 14-fit long.
Check the Malone EcoLight 2-Boat J-Rack Kayak Trailer Package PRICE.
Source: Amazon
The MicroSport XT is the upgraded version of the standard MicroSport trailer for kayaks. Look closely and you'll see the difference.
It's got 12-inch aluminum spoke wheels and heavy-duty diamond plate fenders. Plus, the extra-long tongue is retractable which makes it a lot easier to store!
Plus, it's got a whopping 800-lb weight capacity. That makes this one a good choice if you plan on hauling extra camping gear in addition to your kayaks.
Although it doesn't come with any kayak carrier attachments, the crossbars are compatible with Malone's accessories so you'll have the freedom to get whichever ones you prefer.
Check the Malone MicroSport XT Trailer PRICE.
Source: Amazon
What sets this kayak trailer apart are the SeaWing kayak carriers. While J-hook-type carriers have long been the popular choice, it's hard to beat the convenience of the SeaWing carriers on this trailer.
There's no need to mess with any extra ropes or ratchet straps — everything you need is built right into the carrier.
And with the extra-long tongue length, you can transport kayaks up to 18' long.
Check the Malone MicroSport with 2 SeaWing Kayak Carriers PRICE.
*Even if you're not decided on a kayak trailer, you can still get the SeaWing Saddles and mount them onto a roof rack.
Source: Amazon
Source: Amazon
This kayak trailer is the little brother of the first one on the list. This package comes with the Malone MicroSport trailer, two 65" crossbars, and four Malone J-hooks.
This is a nice kayak trailer for those of us with long boats since it has a 350-lb weight capacity and can haul kayaks up to 19-ft in length.
Check the Malone MicroSport with 2 J-Pro2 Kayak Carriers PRICE.
Source: Amazon
If you haul other types of boats from time to time — jet skis, jon boats, canoes, etc. — and need a simple and flexible trailer to do it all, this trailer from Ironton is a budget-friendly choice.
It's got a sturdy 610-lb cargo load capacity with an adjustable frame to fit the boat you're hauling.
Just beware, this is best if you're just planning on hauling a single kayak that's 12-ft or less in length. If you want to carry 2+ kayaks or long touring ones, it's best to go with another kayak trailer.
Check the Ironton Personal Watercraft and Boat Trailer Kit PRICE.
Source: Amazon
Want a versatile utility trailer base that you can use for more than just kayaks? Need something that's easy to store in small spaces?
The Ultra-Tow Folding Utility Trailer definitely checks those boxes.
It's got a 4'x8' bed frame and a hefty 1,170-lb payload capacity. So if you're a handy DIYer, you can definitely add some mods to this for hauling kayaks, canoes, and giant cases of spam! 😋
And when you're not using it, just fold it up and roll it into an empty corner of your garage!
Source: Amazon
Check the Ultra-Tow Folding Aluminum Utility Trailer PRICE.
Now that we've covered the ones you tow with your car, here are a few you can tow with your legs! These are nice for transporting your boat to the water if you're not able to pull right up to the water's edge. Or if you like to bike to where you kayak.
Source: Amazon
The heavy-duty Seattle Sports Kayak Dolly is one of the easiest to wheel out of these next few options. It's got big bicycle style wheels and a sturdy steel frame with a 300-lb load capacity.
Heck…you could get in your kayak and have a buddy wheel you down to the water!
And when you're not using it, just fold it up and throw it in the trunk or strap it to your kayak trailer.
Check the Seattle Sports Paddleboy Kayak and Canoe Dolly PRICE.
Source: Amazon
If you're looking for a budget-friendly kayak dolly, this is the one for you. It's under a $100 bucks, and has big oversized wheels that make it easier to pull through sand and mud.
Check the Rage Powersports Elevate Outdoor Kayak and Canoe Dolly PRICE.
Source: Amazon
If you need a kayak dolly you can take with you while kayaking, go with the Railblaza C-Tug. It folds up small enough to fit inside most kayak hatches so it's perfect for those trips when you'll have to portage over dry ground.
And the puncture-free wheels are made to compress slightly so they won't sink down into the sand (kinda like when you air down your truck's tires before heading onto the beach.)
Check the Railblaza C-Tug with SandTrakz Wheels PRICE.
Source: Amazon
Want a kayak cart that can take some abuse? This Wilderness Systems heavy-duty kayak cart has a whopping 450-lb weight capacity.
And the frame design is made to keep the kayak from slipping off or twisting sideways which makes it easier to control.
And despite its heavy-duty design, this cart comes apart easily and is small enough to fit inside some kayak hatches.
Check the Wilderness Systems Heavy Duty Kayak Cart PRICE.
Source: Amazon
Ever thought of biking with your kayak? If you live near the water, why not ditch the car and tow your kayak with your bicycle? Sweet!
Source: Amazon
Although it's made to work with Rambo bikes, as long as you have a sturdy luggage rack on the back of your bike, this trailer should work.
Just don't plan on hauling any long touring kayaks. This mini kayak trailer is best for boats that are 8-10 ft long.
Check the Rambo Bikes Canoe and Kayak Trailer PRICE.
How To Hook Up Your Kayak Trailer
Hook up your kayak trailer the same way you would hook up a normal trailer. If you've never used a trailer before, here's a quick video that shows you how to hook up standard utility trailers.
What About a DIY Kayak Trailer?
Yes, you can totally DIY a kayak trailer (at least part of a trailer). If you're handy with tools and already have a utility trailer, then with a few small adaptations you can convert it into a trailer for kayaks.
IMPORTANT! – Any trailer you pull has to be SAFE. Always make sure any adaptations you make are 100% secure so you don't have to be looking back at your trailer every 5 seconds while on the highway.
So if you've got a utility trailer with sides, here's how you can convert it into a trailer for kayaks.
Get some j-hooks, SeaWing Saddles or another kayak hauling attachment.
Bolt a piece of 2×6 or 2×8 lumber across your trailer.
Screw the kayak carriers to the top.
Strap on your trailers and go!
*If your utility trailer has a ramp, you'll either have to remove it or fold it closed and strap it down.
Here's a handy DIY video where you can see this setup in action. (Skip to minute 9 of the video)
Kayak Trailer FAQs
How Do I Tie Down A Kayak On A Trailer?
The easiest option is to use the SeaWing Saddles since they come with integrated straps. If you don't have that type of carrier and unless you're a whiz with knots, just use ratchet straps.
So put your kayak in the carrier on your trailer. Then securely strap and tighten them with ratchet straps. It's always good to put at least one strap in the front and one in the back. If in doubt, add another strap.
*TRUE STORY: A friend was driving down the highway with a kayak strapped in the bed of their truck. Evidently it wasn't strapped down well enough 'cause it flew out the back and by the time they turned around, another guy in a truck stopped and grabbed it.
So they followed him, trying to wave him down but he wouldn't stop. Eventually, the kayak flew out of the 2nd guy's truck, so my friend was able to retrieve it! 🤣😂
Remember — always strap it down better than what you think you should!
How Far Can I Travel With a Kayak Trailer?
As long as you have a trailer that's approved for road use and you don't have it overloaded, you can travel as far as you want.
Just be careful though…some super-budget trailers have disclaimers that you shouldn't go more than 45 mph with them. I would strongly advise against taking any long trips with them.
How Much Weight Can a Kayak Trailer Hold?
Depends on the trailer. Most trailers for kayaks can hold between 200 and 400 pounds. Always check the specs of your particular trailer.
How Many People Do You Need to Put A Kayak On A Trailer?
That depends on two things — how much does the kayak weigh and how much have you been hitting the gym lately? 😋
Most people can load a kayak onto a trailer by themselves. Kayak trailers have an advantage over roof racks in that you only have to lift the kayak to waist height to load it onto a trailer. Most active people can lift 50 lbs (about the average weight of most kayaks) to waist height.
What Is The Best Vehicle To Pull A Kayak Trailer?
Almost any vehicle (except maybe a Smart Car) with a tow hitch should be able to tow a small kayak trailer with 2 kayaks on it.
One of the largest trailers on my list with the 4 kayak package only weighs about 200 lbs. Even if you max out the 350-lb weight capacity, you're still only looking at 550 pounds (about the same weight as 3-4 passengers in your car).
But just to be safe, if you have anything smaller than a crossover, always check the specs before trying to tow something.
Ready to Head to the Water With Your Kayaks?
So whether you decide to stick with the good old roof rack or get one of the best kayak trailers from my list, just be sure to get out there and have fun in the outdoors!
Kayaking and kayak camping are great ways to do that.
Wanna try kayak camping? Check out the rest of the articles in my kayak camping series!
Latest posts by Stacy Bressler
(see all)