Want to try a new camping adventure? What about kayak camping? While it's similar in some ways to backpacking, instead of depending on your feet and a trail to get you where you're going, you depend on your trusty kayak and the open waterways.
Just imagine finding hidden campsites tucked along the riverbed, being able to camp on an island, and falling asleep to the relaxing sound of the water! It's a super fun way to spice up your camping adventures and it all starts with choosing the right kayak for camping.
Choosing the best kayak for camping can make the difference between a fun trip and a not-so-fun trip.
Choose well and you'll be able to smoothly paddle all day while loaded with gear. Choose wrong and you'll end up nervously navigating calm waters, constantly feeling like you're going to capsize even though you barely packed more than some matches, a tarp, and a pair of clean underwear. 😜
Choose the smooth paddling/loaded with gear scenario and check out this guide to choosing a kayak for your first kayak camping trip. We're going to look at a few things you should keep in mind when choosing, plus some specific recommendations for your first camping kayak.
*Oh… and to complete your kayak camping planning, don't forget to check out my Ultimate Guide to Your First Kayak Camping Trip. You can even get a free printable checklist with everything you need for your first expedition – don't miss it!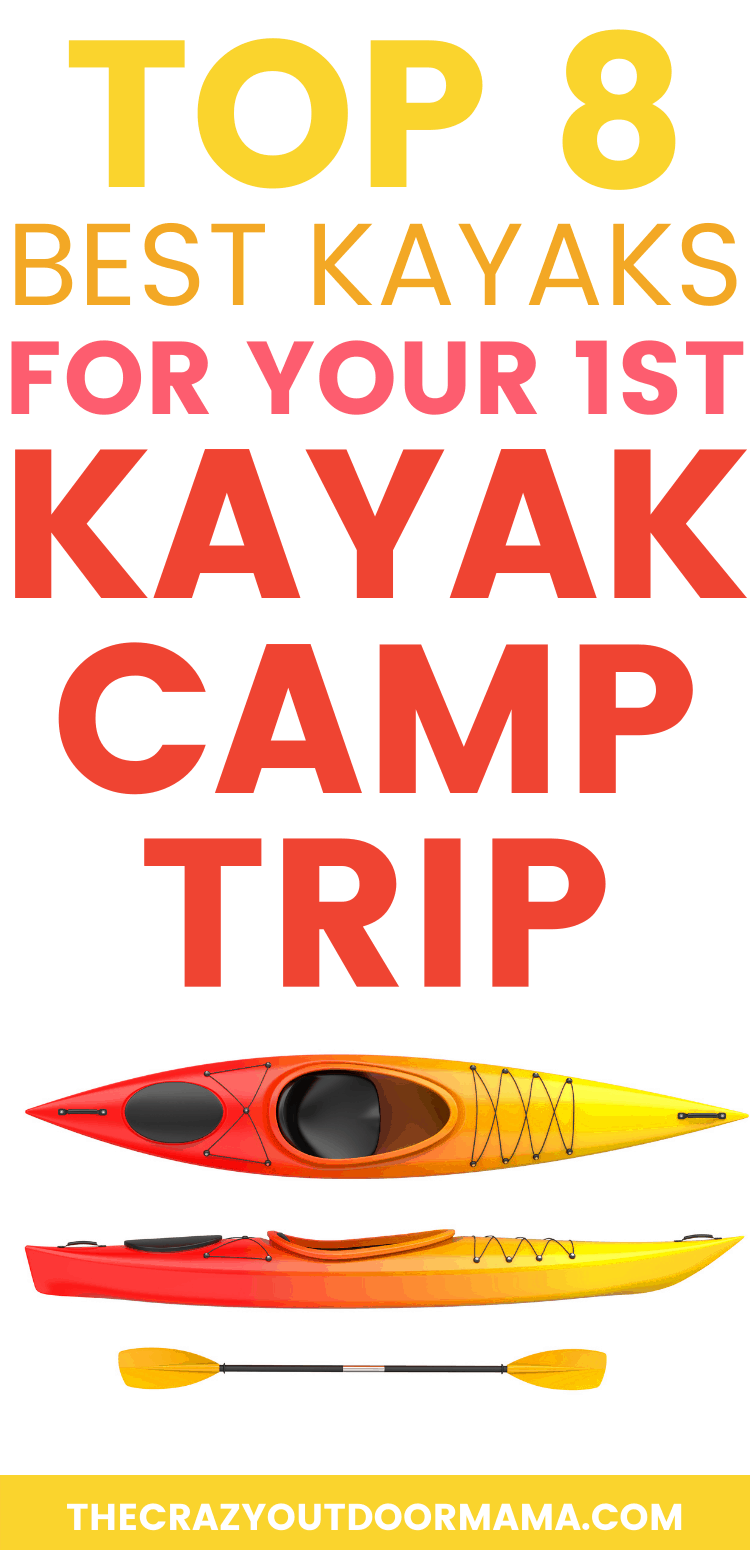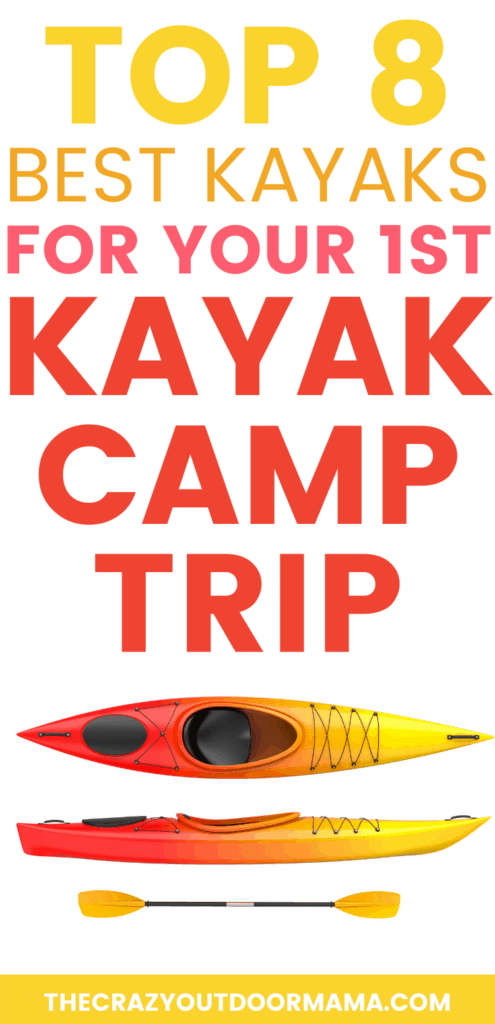 What to Think About Before You Choose a Kayak for Camping
There are tons of different types of kayaks that are designed for a variety of situations and conditions. Most kayaks could work for camping, but that doesn't mean they're the best choice.
Sure you could take your minivan off-roading in the Utah desert, but it probably won't be a good experience for you (or the poor van).
So first you need to ask yourself a few questions…
Where do I plan to camp with my kayak?
Do you want to go kayaking around a calm lake or up and down the seacoast? Do you plan to paddle down a river with some light rapids? Or do you want a versatile boat that'll work well in a variety of situations?
How long will my kayak camping trip be?
Do you want to stick to one or two-night trips, or are you thinking of going on weeklong camping expeditions with your kayak?
Budget?
Cash, moolah, bucks, clams… you get the idea. How much do you have to spend on your camping kayak?
What will you use to transport your kayaks?
You should especially take this into account if you have a small car that could potentially be shorter than your kayaks. But don't worry, even if you're in a smart car, I've included some kayaks for you on my list.
Ok, so now that you've done some soul searching and answered these questions, let's look at some different kayak designs and help you decide which is the best for you.
What Types of Kayaks are Best for Camping
There are two basic styles of kayaks… sit-on-top and sit-in kayaks.
Sit-on-top Kayaks
Sit-on-top kayaks are simpler to use in most cases. They're much easier to get on and off of and you won't feel as claustrophobic because you can freely move your lower body while riding it.
Plus, if you ever happen to tip over (like that's ever gonna happen… right?), you just fall off, flip the boat back over and get back on. If you're nimble, you may even be able to get back on while in the open water (although it won't be a pretty sight).
Some sit-on-top kayaks are meant just for short outings on a lake or river and they don't have any storage compartments or places to strap extra gear. So for overnight camping trips, look for a longer sit-on-top kayak with deck stash spots and extra cargo space.
You can also check out my article on Sit on Top Kayak Camping.
Sit-in Kayaks
Sit-in kayaks are better for cooler weather since they keep the lower half of your body more protected from wind and splashing water. And because of the way you sit in the boat, you feel more at one with the boat which makes it easier to control in rough water.
Most sit-in kayaks have extra places to securely store your camping gear both inside the kayak and on the outside hull. If you're planning on taking some longer kayak camping trips, you'll probably want to look for a sit-in kayak.
Kayak Categories
Even within each different style of kayak, there are different categories to fill the needs of both recreational paddlers and campers.
Recreational kayaks are usually short, easy to transport, and meant for day trips. They're not the best for kayak camping since they don't have a lot of storage space to easily stow your gear and they don't track well which makes them hard to paddle long distances.
Day Touring kayaks are a good middle ground and work well in a variety of conditions. They'll offer some storage space and easier handling over recreational kayaks while still being short enough that they're easy to transport.
Touring kayaks are the best kayaks for camping on longer trips and when you need to cover a lot of ground (or water). Their long length and rudder or skeg help them track well even in rough water. Plus, they're built with plenty of cargo space for stashing your camping supplies.
Inflatable kayaks are a nice choice for a camping kayak if you're short on storage space at home or don't have a vehicle with a rack for transporting your kayaks. Don't think that inflatable kayaks are glorified pool toys. Quality inflatable kayaks can actually be more durable than some of their hard body counterparts.
So, before getting to the list of the best kayaks for camping, let's look at a few more design features you should understand before buying your kayak.
What Else to Look for In a Camping Kayak
Weight
How heavy is your kayak? This of course matters when getting your kayak on and off your car's roof rack. But a heavier kayak will also be harder to drag up on the river bank to your campsite. And if you think you'll have to portage (drag or carry your boat across land), then a lightweight boat will really come in handy.
Weight Capacity
The weight of your camping gear adds up quickly. So be sure to check the kayak's weight capacity before purchasing. Remember, it needs to hold your weight, plus the weight of your gear.
Imagine you weigh 180 pounds. If your camping kayak's suggested weight capacity is 220 pounds and you have a problem with overpacking, then you should look for a boat with more buoyancy.
*Don't miss my post on How to Pack Your Kayak. You'll thank me later when you go a whole trip without capsizing.
Skegs and Rudders
A rudder is a fin on the back of your boat. You can move it via foot pedals so you can turn without having to paddle differently.
A skeg is a fin that's usually more towards the center of your kayak. It doesn't move – although some are removable – and simply helps you track in a straight line and not get blown off course by the wind.
Cargo Storage
Most camping kayaks will have a combination of different storage spaces. Some have hatches that open up to let you store gear safely inside the hull of the kayak. These are nice for storing gear you don't need to access until you reach your campsite.
Most will also have bungee areas on the top of the hull where you can strap dry bags, water, and other gear that you want to have quick access to throughout the day.
Not sure what gear you need to pack? These 19 things will make your kayak camping a lot more enjoyable!
Shape
Kayaks are kind of like people – some are short and wide, others are tall and thin. 😋
Wider boats will be more stable but slower. Long, thin kayaks are faster and track better, but once loaded down with a bunch of gear, they're hard to turn and could be a bit unstable, especially if you're a kayaking newbie.
If you're not planning on covering a lot of miles, go for something with more stability and add a rudder to make it easier to stay in a straight line. If you're planning on covering more miles, then look for a good balance of both stability and speed.
To really get into the finer details of kayak hull design, check out this article here to learn the finer details of kayak hull shapes.
Seat
Since you'll be spending a lot of time in the seat, this is a detail you want to pay attention to. Look for one that's adjustable and has a backrest with some real back support.
Even if your camping kayak doesn't come with a super comfortable seat, there are plenty of replacement seats or cushions available that'll make long days paddling on the water a lot more comfortable.
So now you know some things to look for when choosing your camping kayak. Let's move on to this list with some of the best kayaks for your first kayak camping trip.
8 of the Best Kayaks for Camping + 1 BONUS Accessory
Best for: A little bit of everything.
The BKC Angler Touring Kayak is a decent option for a day touring kayak. It's not as long as a full touring kayak but not as short as a recreational kayak. This makes it an excellent choice for kayak camping in a variety of conditions. 
It comes with a built-in seating system with multiple adjustments so you can get a comfortable fit that's perfect for you.
Plus, it's got a decent amount of storage space for all your camping gear. There are two watertight storage hatches as well as bungee cords and tie-off places for strapping on all your stuff.
Pros
330-pound weight capacity
Rudder to help you steer
Built in fishing rod holders
Con
Not as wide and stable as a recreational kayak
---
Best for: Longer Trips
This is the longest kayak on this list and is perfect for multi-day kayak camping expeditions. Even if you're planning on spending long days on the waterways, you can sit comfortably in its fully adjustable seat that's designed to support your back and keep you cool and comfy. 
It's got two large dry storage hatches, plus a smaller dry storage hatch right behind the rider for quick access to items you need to access often.
Plus, there are four different bungee sections for strapping on extra gear. With all that extra storage you can pack a few comforts from home from an extra sleeping pad to your favorite teddy bear.
Pros
Large 325-pound weight capacity
Seat is suuuuper comfortable
Padded thigh braces
Con
17 feet long can be a little tough to handle for beginners
---
Best for: Weekend trips
The Pungo series from Wilderness Systems offers a nice balance between stability and comfort. It comes with Wilderness Systems' super comfy AirPro seat. The kayak is 29 inches wide so you'll have a decent amount of stability, but its 12-foot length and performance shape will help you paddle easier on longer days.
In addition to a single dry hatch, it also has two different bungee straps for additional cargo. There's even a cool dashboard insert with a mini dry hatch for keeping things like your phone or wallet closeby. Plus, the dashboard has two cup holders because even when kayak camping, you always need to keep your favorite drink closeby.
Pros
320-pound weight capacity
Weighs less than 50 pounds
They also make a 14-foot version for a little more room
Con
Would be nice if it had two dry hatches for multi-day trips
---
Best for: Kayakers on a budget
If you're not sure if you'll really like kayak camping and can't find a friend to lend you their kayak for your first kayak camping trip, this one is a good choice. 
It has a surprising amount of storage and two separate areas for strapping on extra gear with the built-in bungee cords. It even includes a cockpit table with a bottle holder for when you just want to stop paddling and relax a little.
There's extra padding in the seat and molded footrests that'll help keep you comfortable while paddling.
Pros
Wide v-chine hull for stability
Only weighs 39 pounds
275-lb weight capacity
Con
Seat isn't as adjustable as some of the other options
---
Best for: Leisurely kayak camping trips
This Pescador Pro won't win you any speed records. It's 12-feet long and over 32-inches wide so you've got plenty of stability. This is especially nice if you're a little unsure of yourself on the water and don't want to worry as much about capsizing. 
Although it's a sit-on-top kayak, it keeps you well out of the water. It even has a sturdy, lawn chair style seat that's really comfortable and provides plenty of support. Best of all, you can remove the seat and take it with you up to your campfire!
You'll want to make sure you get some good dry bags since this kayak doesn't have any waterproof storage. (Check out my Guide to Your First Kayak Camping Trip for some dry bag recommendations.) It does have some spacious front and rear storage areas that'll give you plenty of space for short camping excursions.
Pros
Two different color options
375-pound weight capacity
Super durable and even comes with a replaceable skid plate for when you have to drag your kayak on the ground
Con
Not the best for high mileage trips
---
Best for: Limited space and limited budgets
If you like mini cars but big adventures, carrying kayaks can be a challenge. Why not try an inflatable kayak like this one? When deflated it folds up small enough to easily fit in a trunk or backseat. You could probably even strap it to the back of your motorcycle!
Once inflated, this can actually work as a tandem kayak. It comes with two seats and has a 400-pound weight capacity. When you want to use it for kayak camping, just take out the extra seat and load up your gear.
When you want to use it for fishing or maybe want to mount a GPS or action camera, it's got a mounting bracket that makes it really easy to add extra accessories.
Pros
Fishing rod holders
Has two different skeg options to help it track better
Comes with everything you need, including a pump and paddles
Con
---
Best for: Serious kayak campers with limited space
Here's another good inflatable option. Don't let the fact that it's inflatable fool you… this ain't no pool toy. This is a durable kayak that can take some abuse. In fact, inflatable kayaks like this one are more likely to stand up to getting bumped around on rocks than many of their plastic cousins.
This one has a large 500-pound capacity for tandem kayaking or heading out by yourself, loaded up with camping gear. Even if you encounter some rough water or waves, you can open its ports to make it self-bailing so it won't fill up with water.
Some inflatable kayaks have problems maintaining their shape, which can make them hard to handle. This one has a rigid bow and stern to maintain its shape in critical areas so it tracks better.
Pros
Adjustable seats
Great option for taller paddlers, especially if you use it by yourself
Fishing rod holders
Con
Doesn't come with pump or paddles
---
Best for: Warm weather camping trips
This sit-on-top kayak is a nice kayak for camping with its comfortable seat and large storage area. Its 12-foot length and 31-inch width is stable and easy to maneuver in a variety of conditions. 
The open top and low-profile mean you may get splashed a little, but you'll probably prefer that on hot summer camping trips.
Although it's a sit-on-top, it does have a sealed hatch in the bow for storing delicate items you want to keep safe and dry. And for everything else, there's a large storage bay in the stern with a cargo net for added security.
Pros
374-pound weight capacity
Phase 3 AirPro Seat
Large rear storage for camping gear
Con
---
Best for: A bit of extra storage for your recreational kayak or longer expeditions
What if you have a recreational kayak with limited storage and want to try kayak camping? Or maybe you want to go on a longer expedition and need to pack more camping gear than what your kayak can handle? Meet the HydroKaddy.
It's kind of like a mini kayak that you tow behind you. It's almost four feet long with a dry hatch and bungee cord on the top so it can hold about a backpack's worth of stuff. Although you tow it behind you, it's shape helps minimize drag so you'll barely realize it's there.
It's even a nice option to use if you want to go on a short camping trip with your stand-up paddleboard.
Pros
Waterproof hatch works well for storing items you don't want to get wet
Can carry up to 50 pounds of gear
35 liters of storage space
Con
You can't ride it by itself (Obvious, but I thought I'd mention it just in case…)
Head over to my article The Ultimate Guide to Your First Kayak Camping Trip (+Packing List) to check out more gear you can't live without while kayaking.
Which Kayak Will You Choose for Your Next Kayak Camping Trip?
Can you hear it? The rivers, lakes, and streams are calling. It's time for a new camping adventure – kayak camping!!! Which camping kayak will you choose? Don't forget to think about where you'll be kayaking, how much camping gear you'll be packing, and how to transport your kayaks.
Have you already tried kayak camping? I'd love to hear about it. Send me a message on Facebook or Instagram and we can swap crazy camping stories.
And don't forget to check out my other articles to help you get ready for your first kayak camping trip.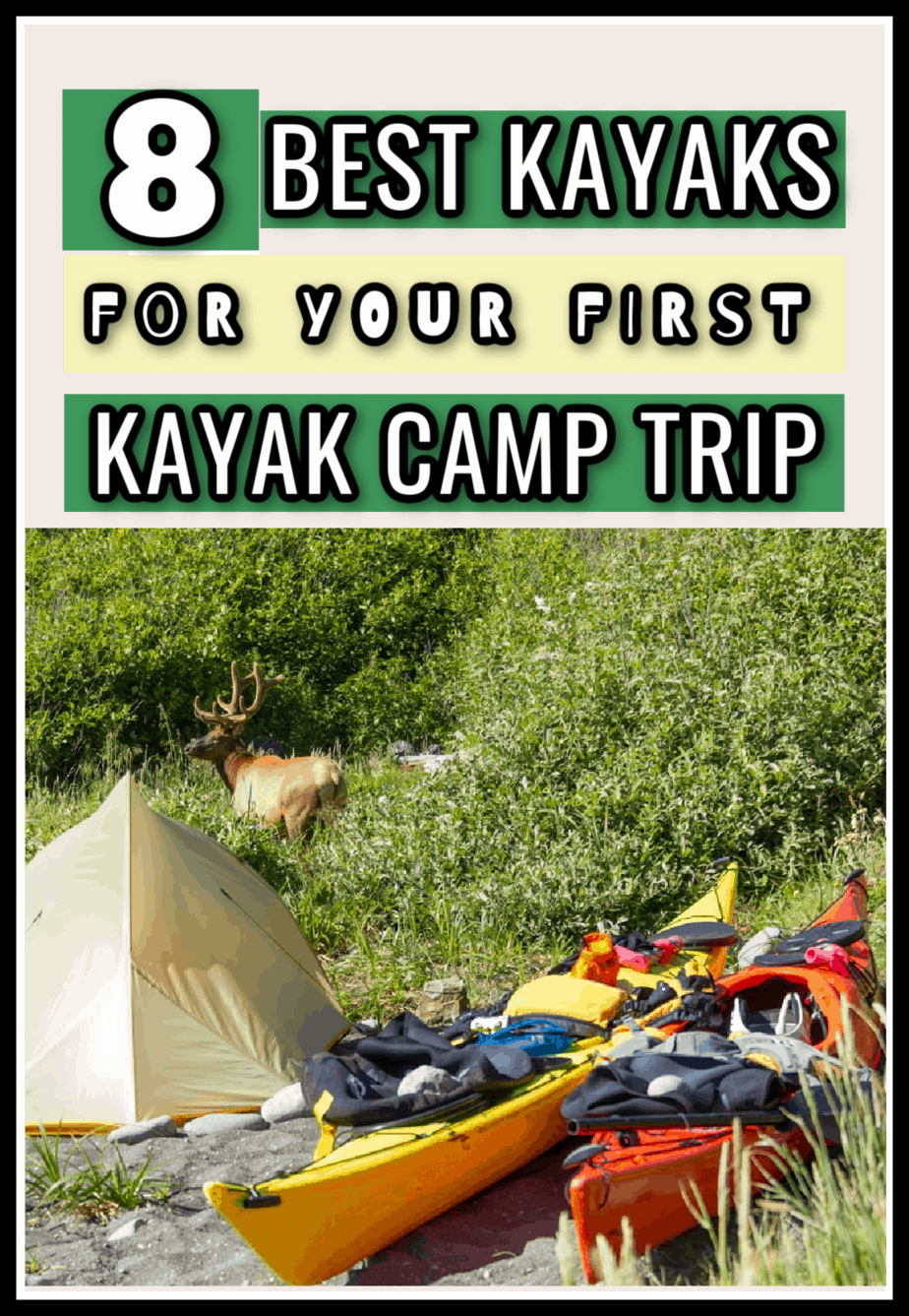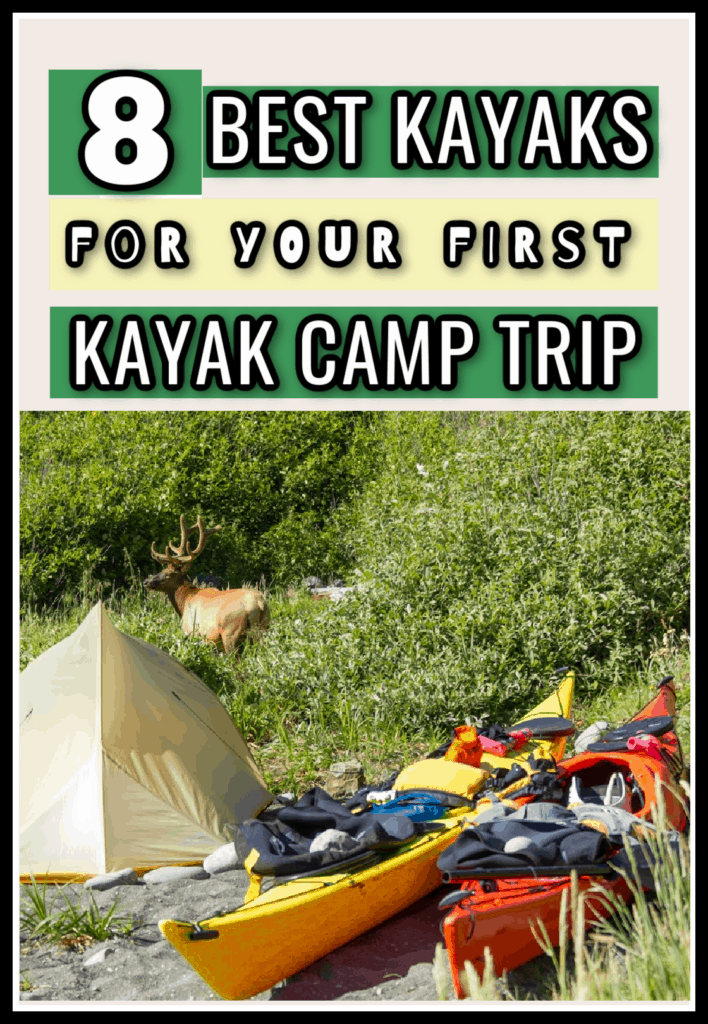 Latest posts by Stacy Bressler
(see all)