If you're looking for an easy way to secure items that's compact, adjustable, and can be used for a variety of things, then you should check out Beyond Bungee!
I was sent this item to review and test how handy it was, so I really wanted to put it through the ringer (we are bungee people… we have a whole bin of them!). We brought it on a two week camp trip in our new toy hauler (a Momentum 21G!)
Now, I know Bungee is in the name, but so is BEYOND – there will be no more having to bring a whole bin of various size bungee cords for each trip, but instead maybe just one or two and the Beyond Bungee to cover the rest!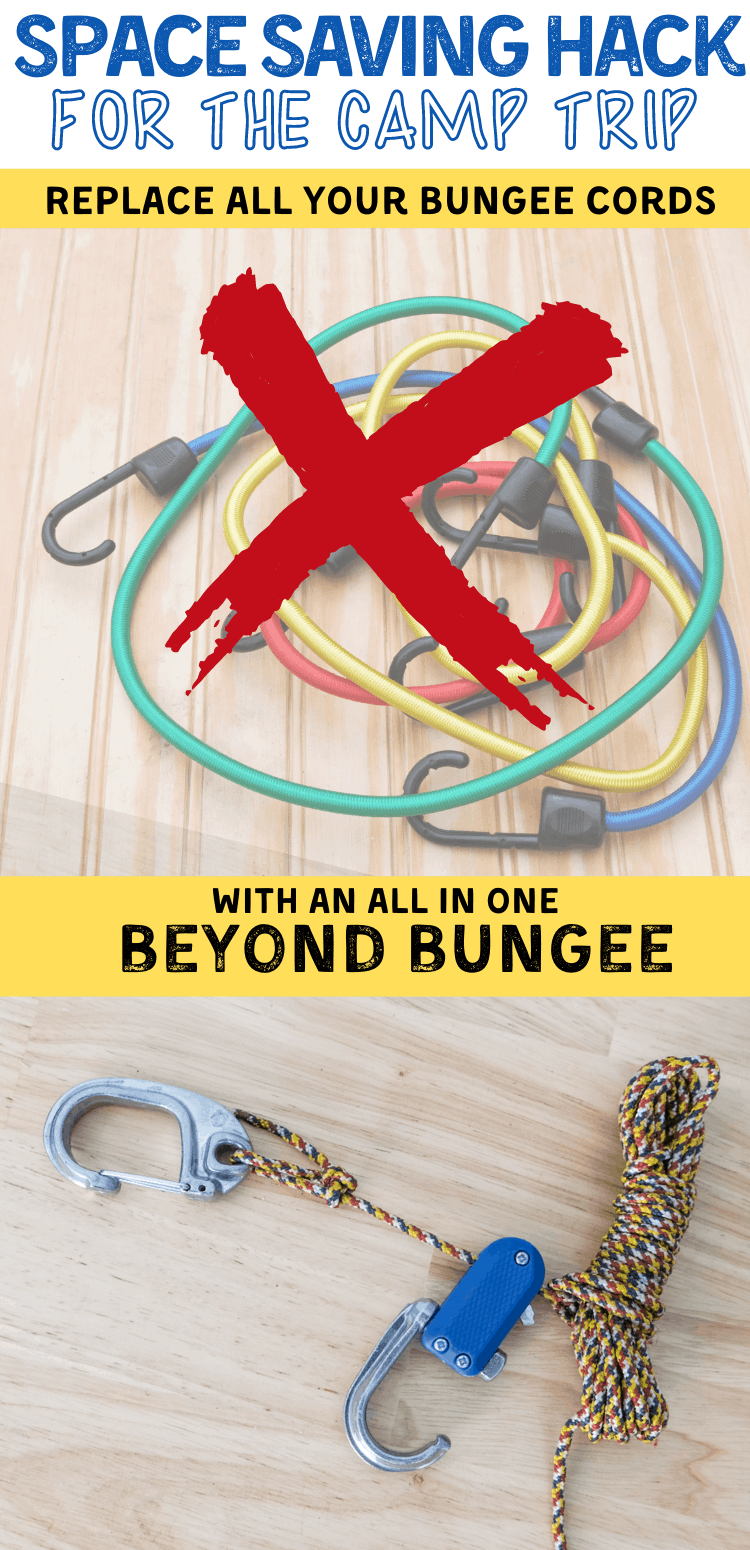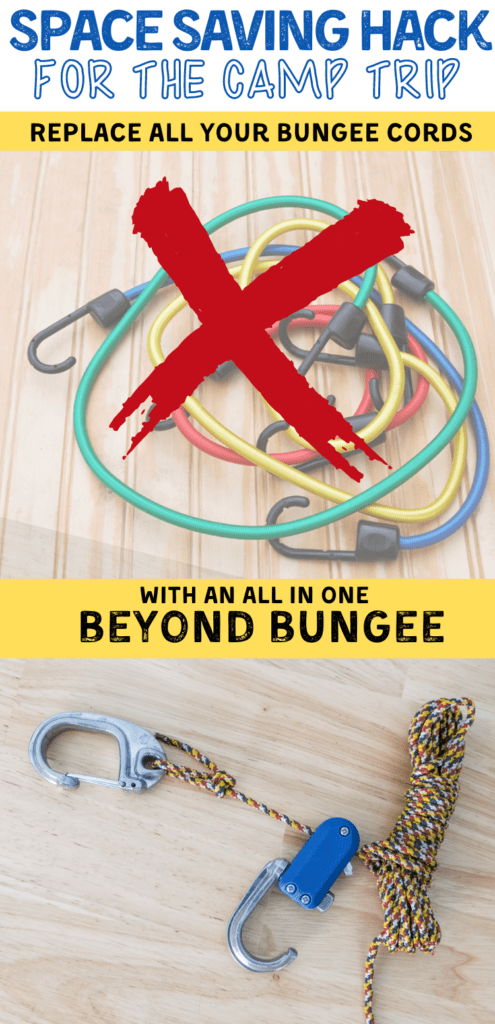 What is Beyond Bungee (and why is it better than a good ol' fashioned bungee cord?)
Let's start with what it's not – it DOES NOT utilize bungee cord. While it does have the adjustable aspect like a bungee cord, it actually uses rope and a cam to create an even more adjustable system!
Basically, it is a cargo management device that is compact and versatile. We used it in places like:
Securing various firewood piles in the back of the truck
Securing bikes and containers in the back of our Toy Hauler
Attaching it to a ground screw so that we can keep our kids camp chairs from tipping
Holding our awning down so that we have a little more react time to get it in should some wind kick up
Keeping tarps in place around camp and during transit
Check out this quick video below for a look at how Beyond Bungee is more convenient than your standard bungee
---
How we used our Beyond Bungee (and what we thought about it!)
Secured our awning
One of our first uses was to keep our back awning secure. While I don't expect it to hold against crazy wind, it was VERY helpful in keeping it from blowing away when the crazy Utah winds randomly kicked up!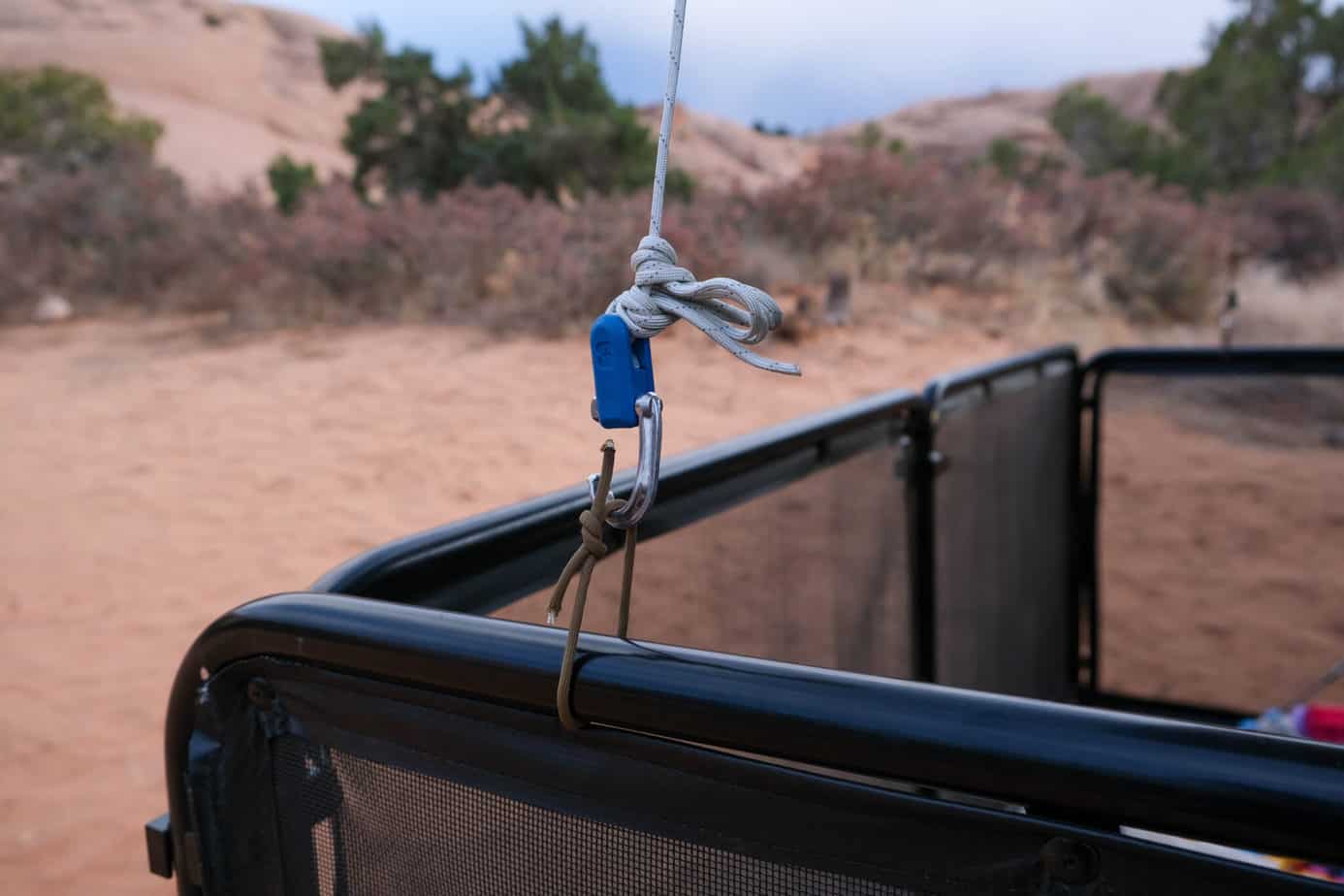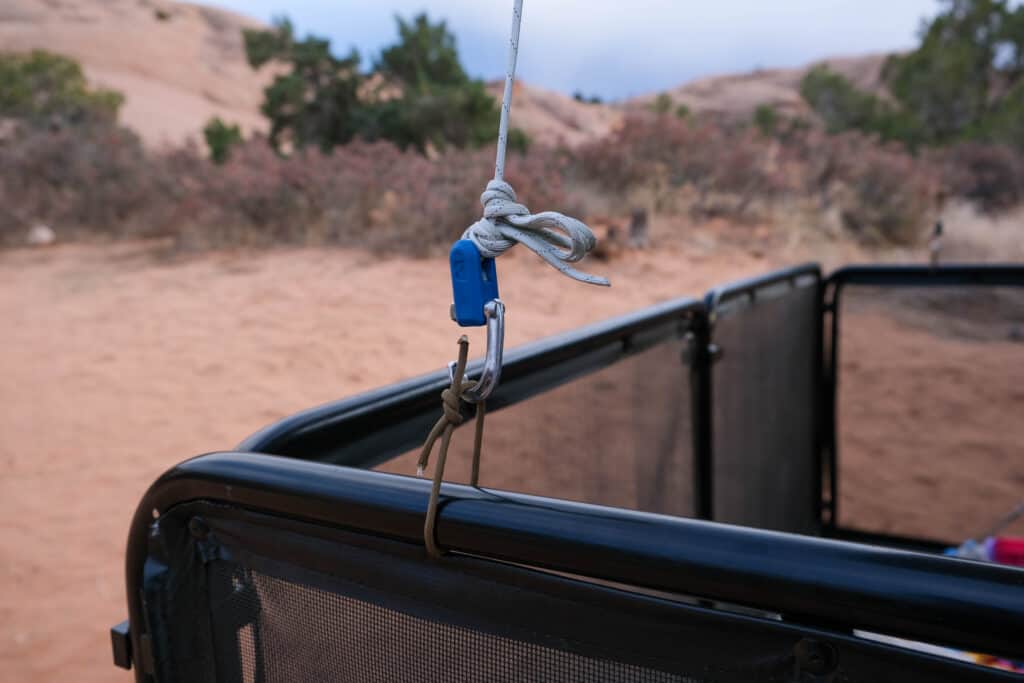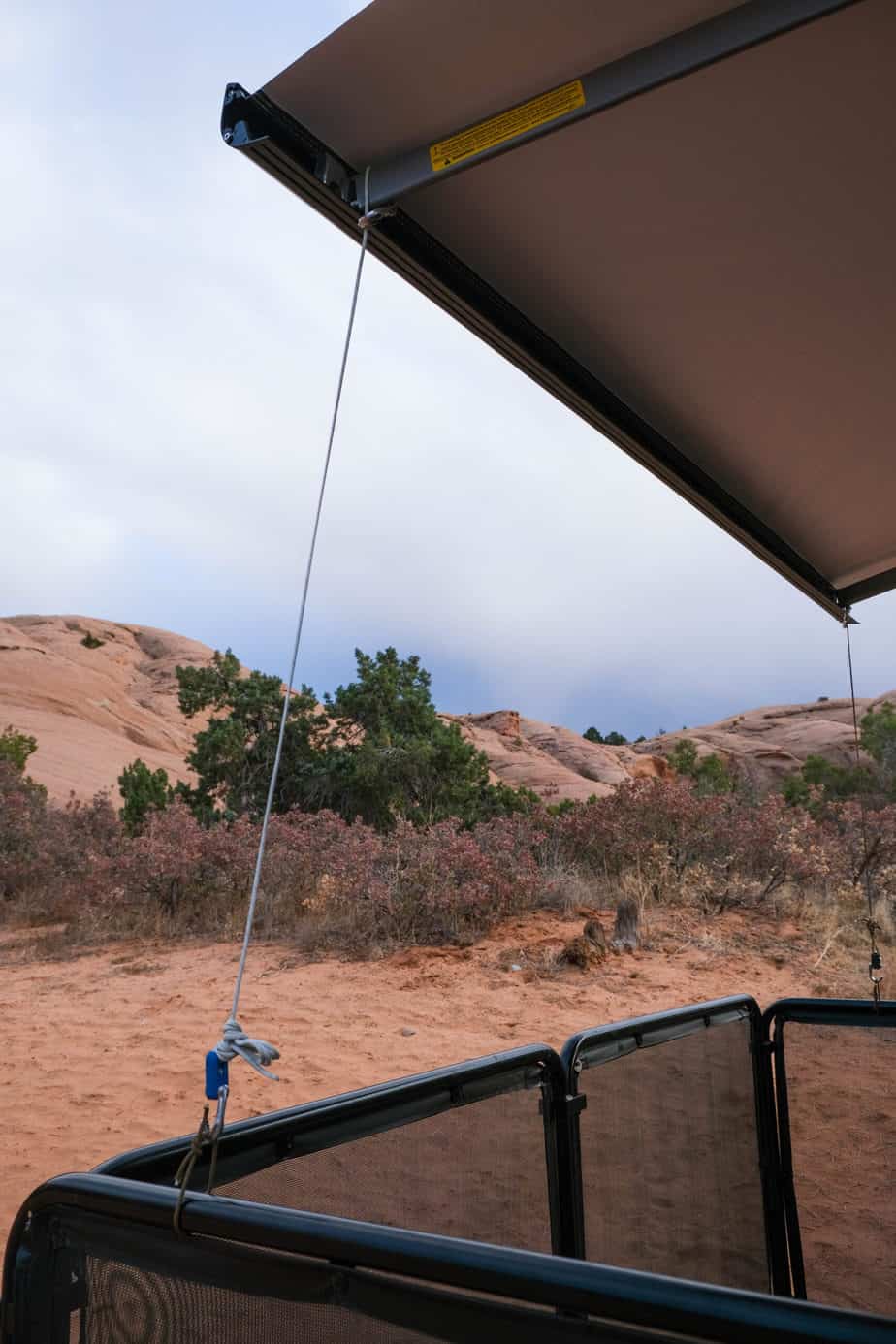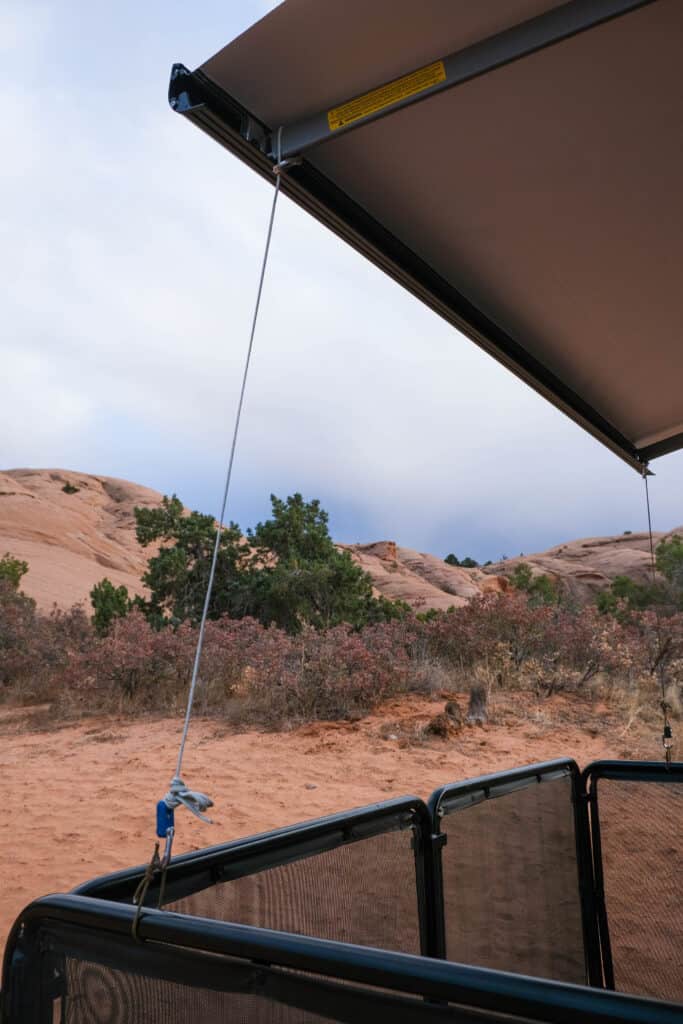 Kept our firewood in place
Since we tested this on a two week camp trip, we had to bring alot of firewood so as to save money on buying it. It was helpful to have such range in size as our pile was very large to start with and got increasingly smaller.
Our Beyond Bungee cord was not long enough so we just put some of our own in (it's very easy!) to increase the length.
I really liked the fact that it's possible to add your own length of cord easily – it makes the system applicable to way more situations.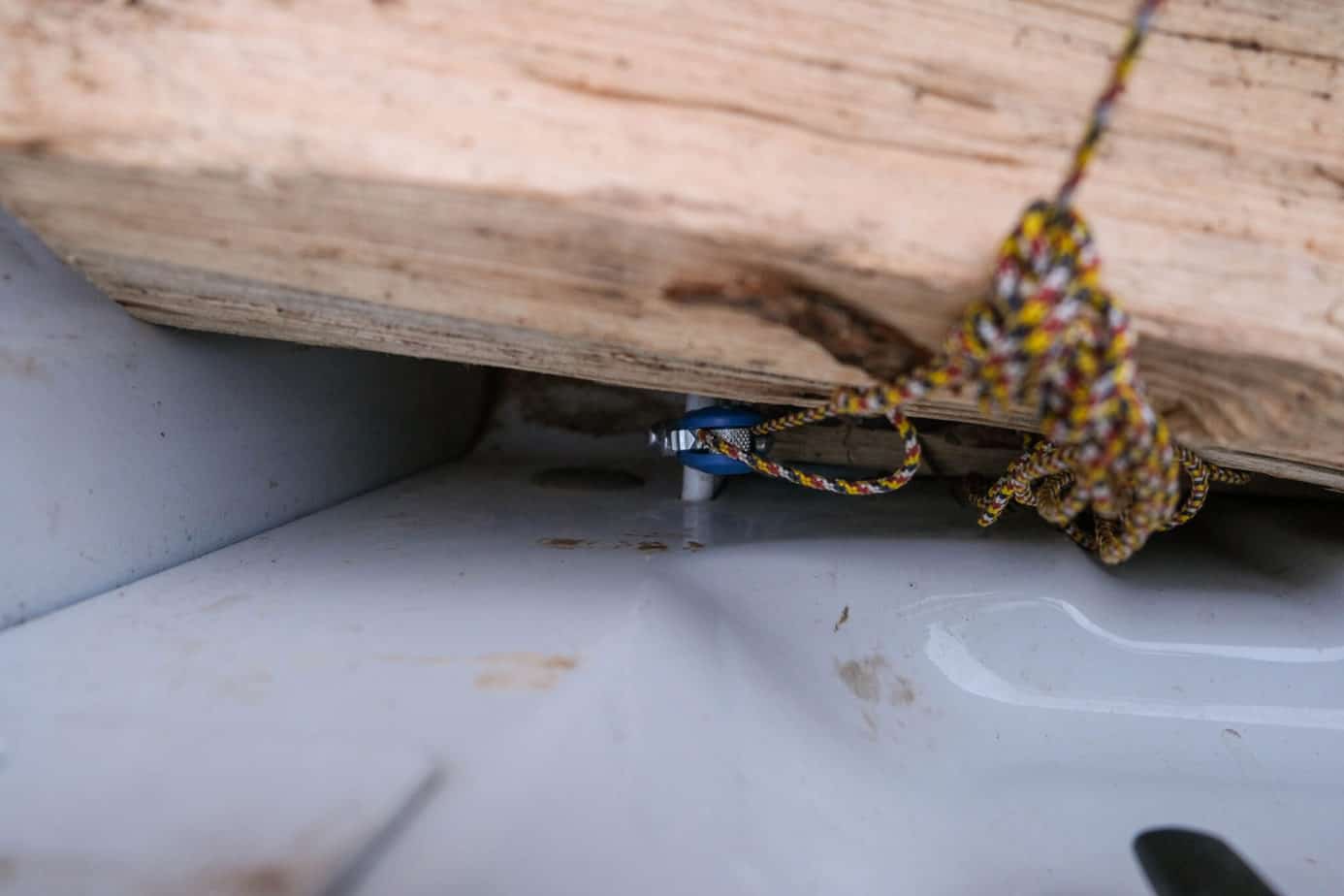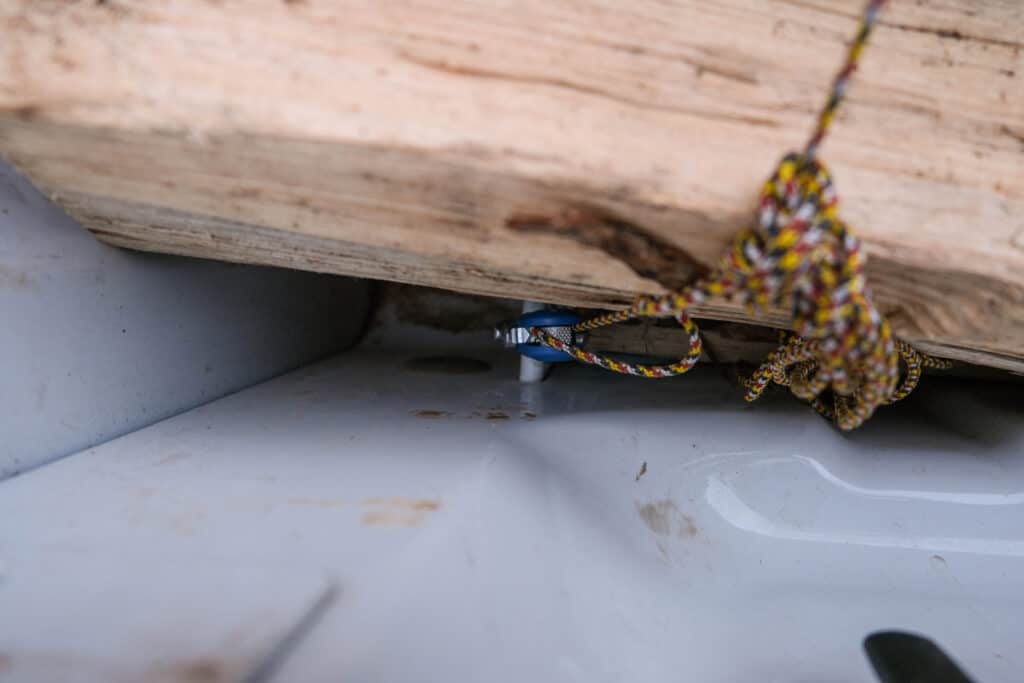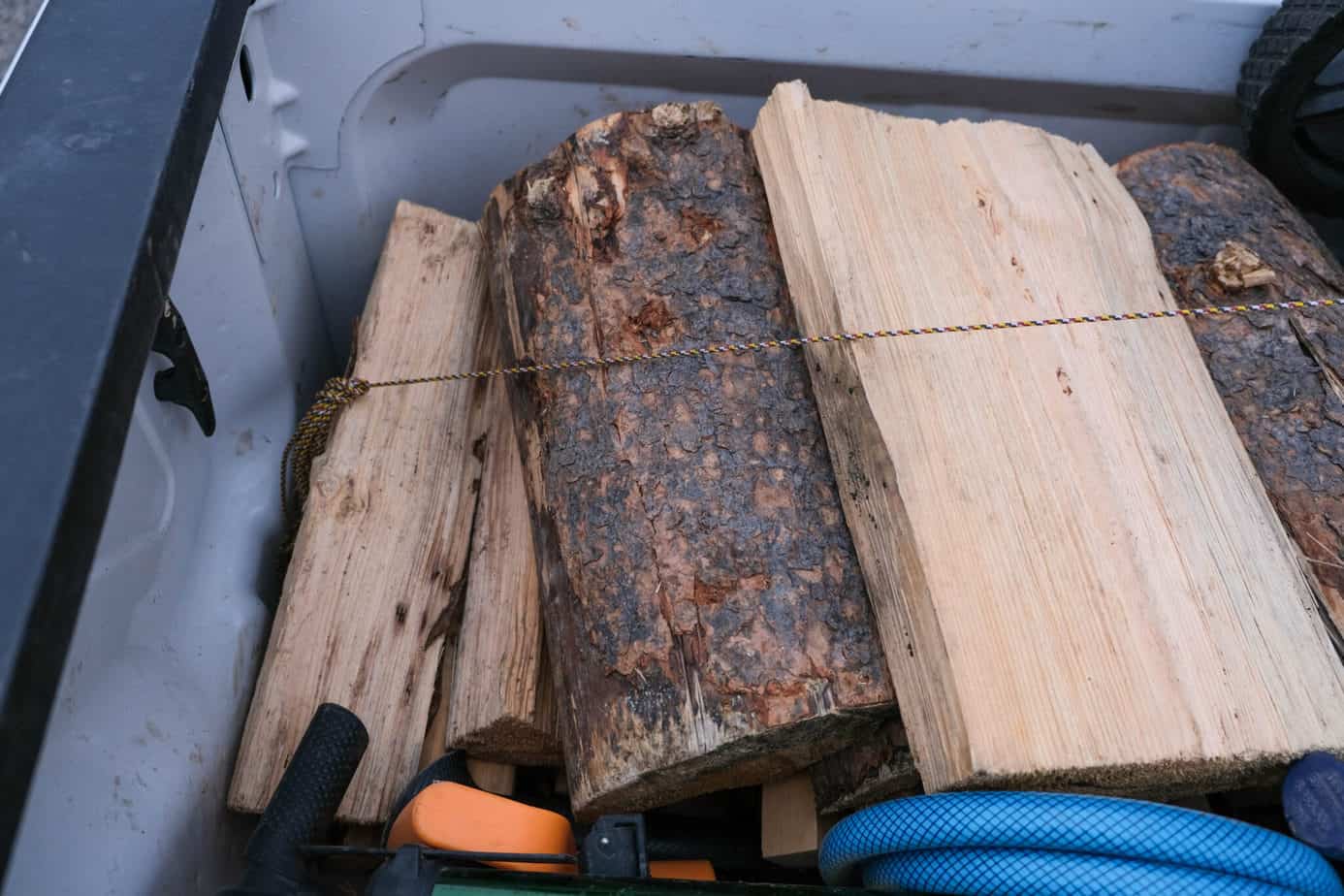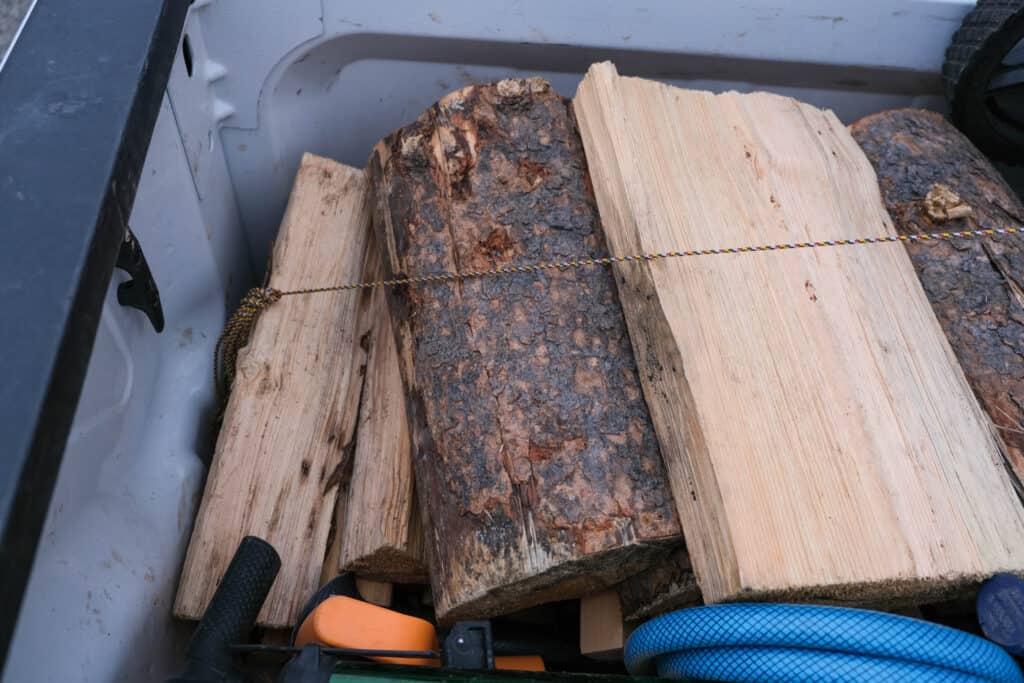 Kept our bins and other cargo in place during transit in our toy hauler
While we do have a "toy hauler" we actually are avid bikers/camp cooks/ and well… this is my job so I need to bring some camera equipment too!
Our toy hauler, a Momentum 21G, has a ton of tie down places in the back that made it easy to utilize either side of the Beyond Bungee.
I particularly like this picture because it shows the capabilities of the item – while both straps are holding the bin in place, you can see that the Beyond Bungee has way more length to be used for other things too!
This isn't a one trick pony!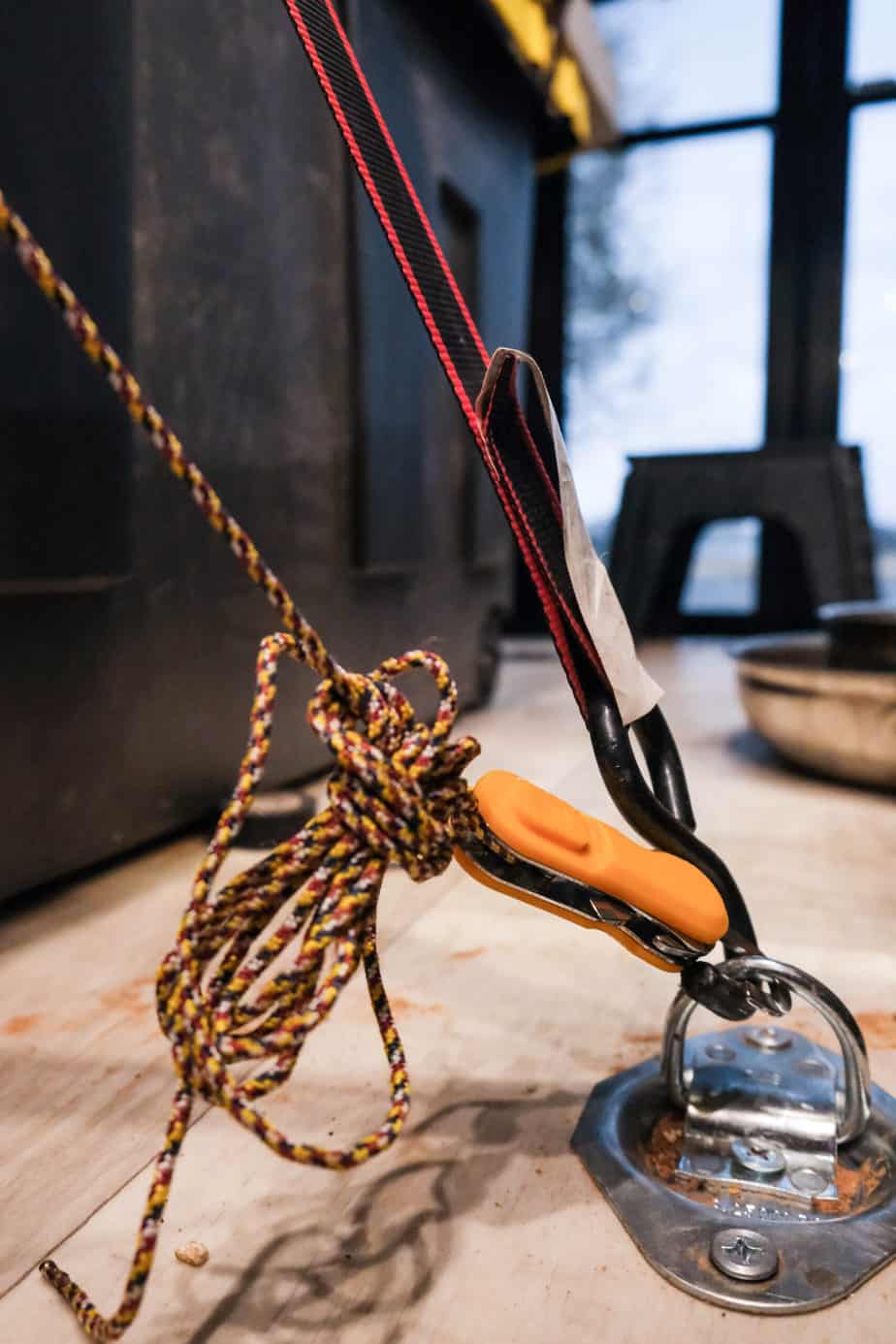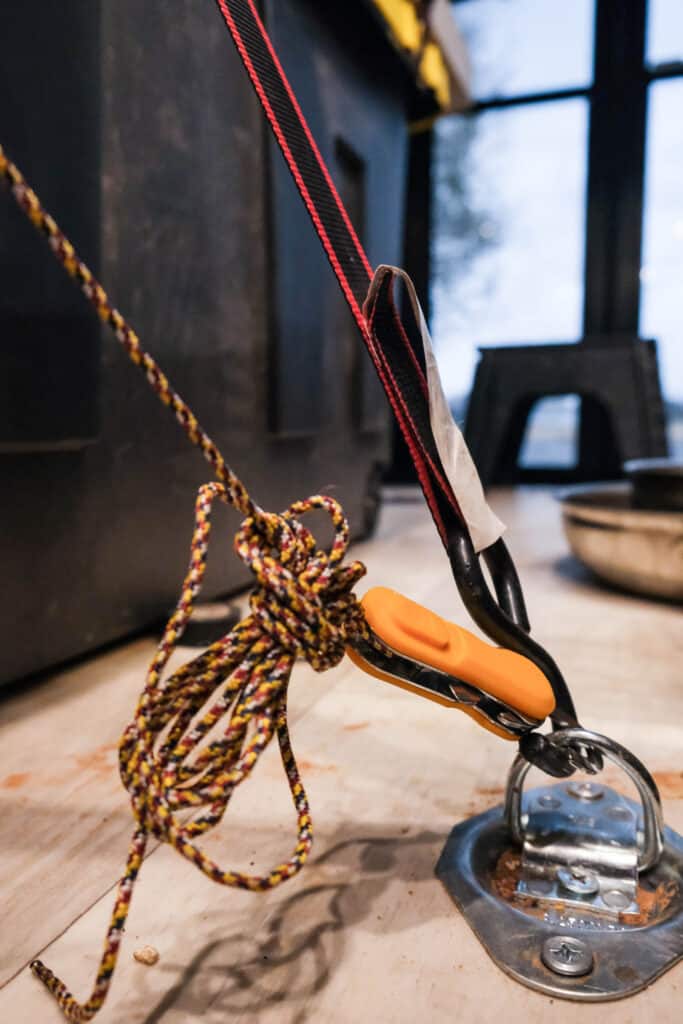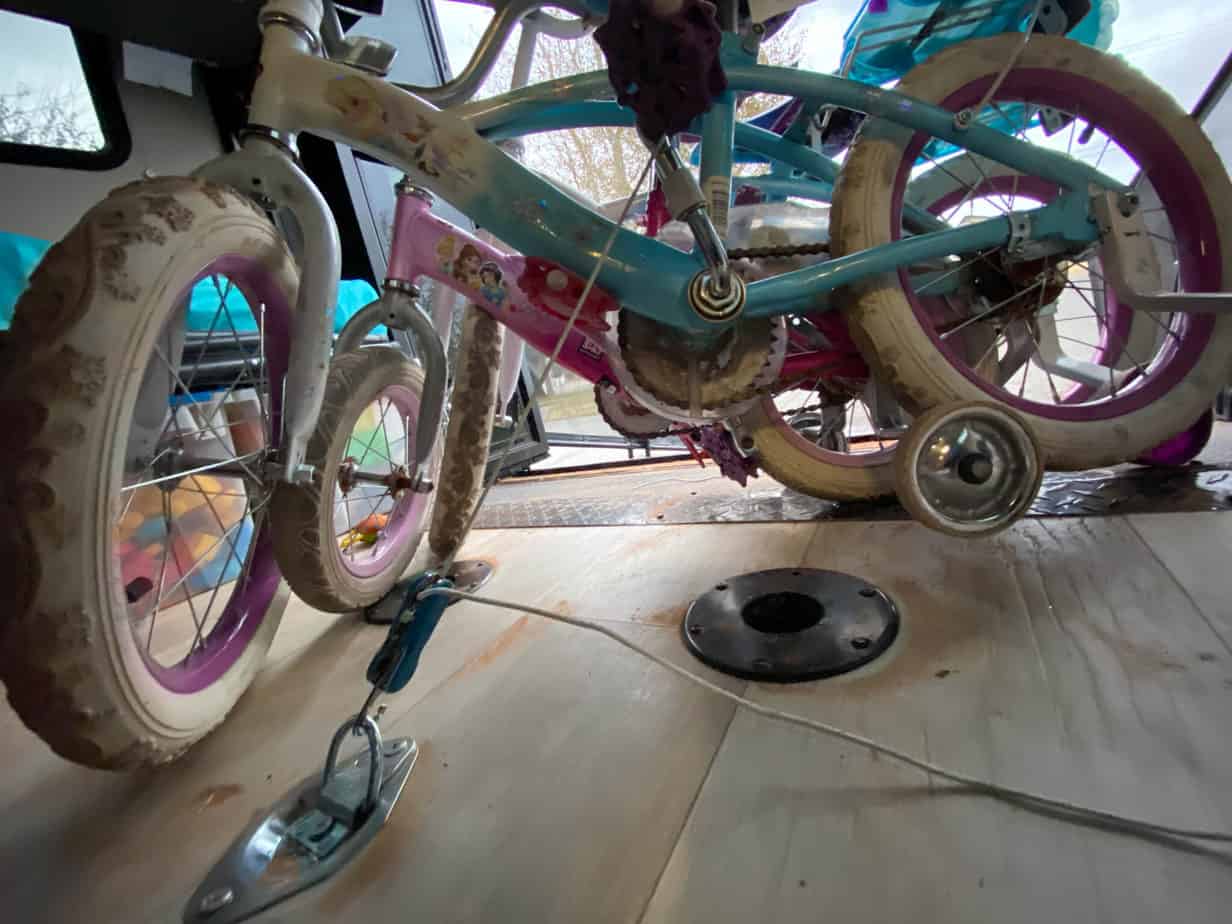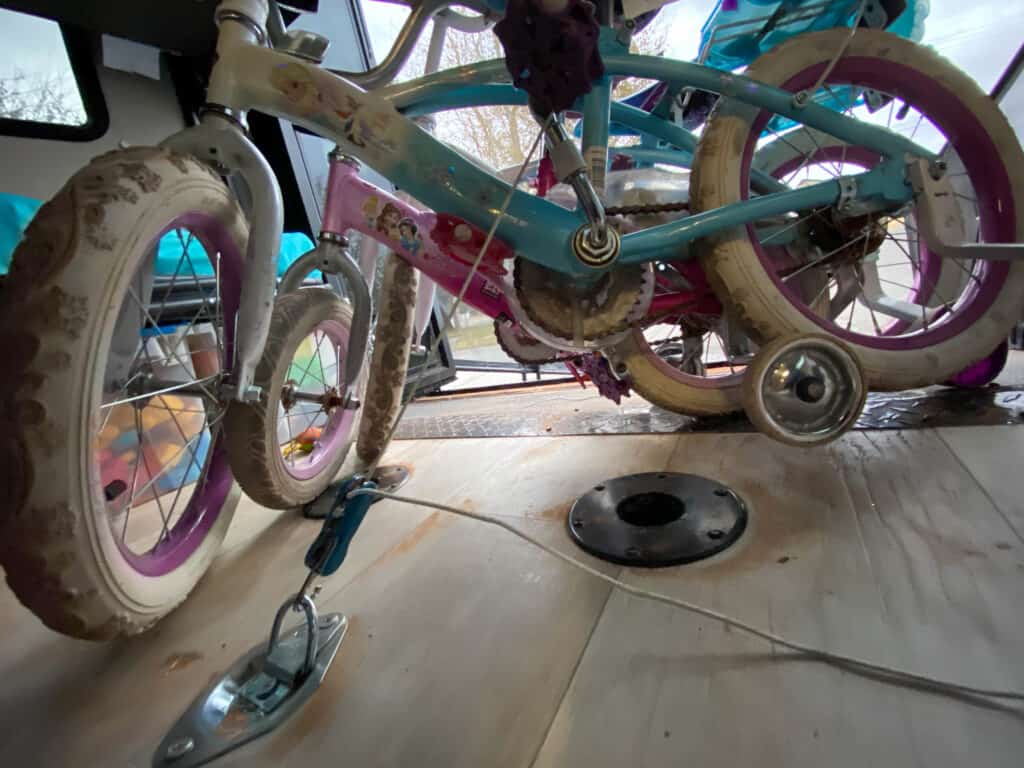 Made our campfire kid chair set up a whole lot safer
While not as much of a concern at this particular campsite (since the firepit is raised and has sides) it's still a big deal for us to try and ensure that it's hard/impossible for the kids to tip their chairs forward into the fire.
We used a groundscew and the Beyond Bungee to create a safer environment for campfire time!
Now, I am NOT saying this will stop a determined kiddo from flipping their chair, however it works extremely well for typical kid shenanigans (like leaping up with cheetah speed, another kid trying to mess with them, leaning too far forward to put something in the fire etc)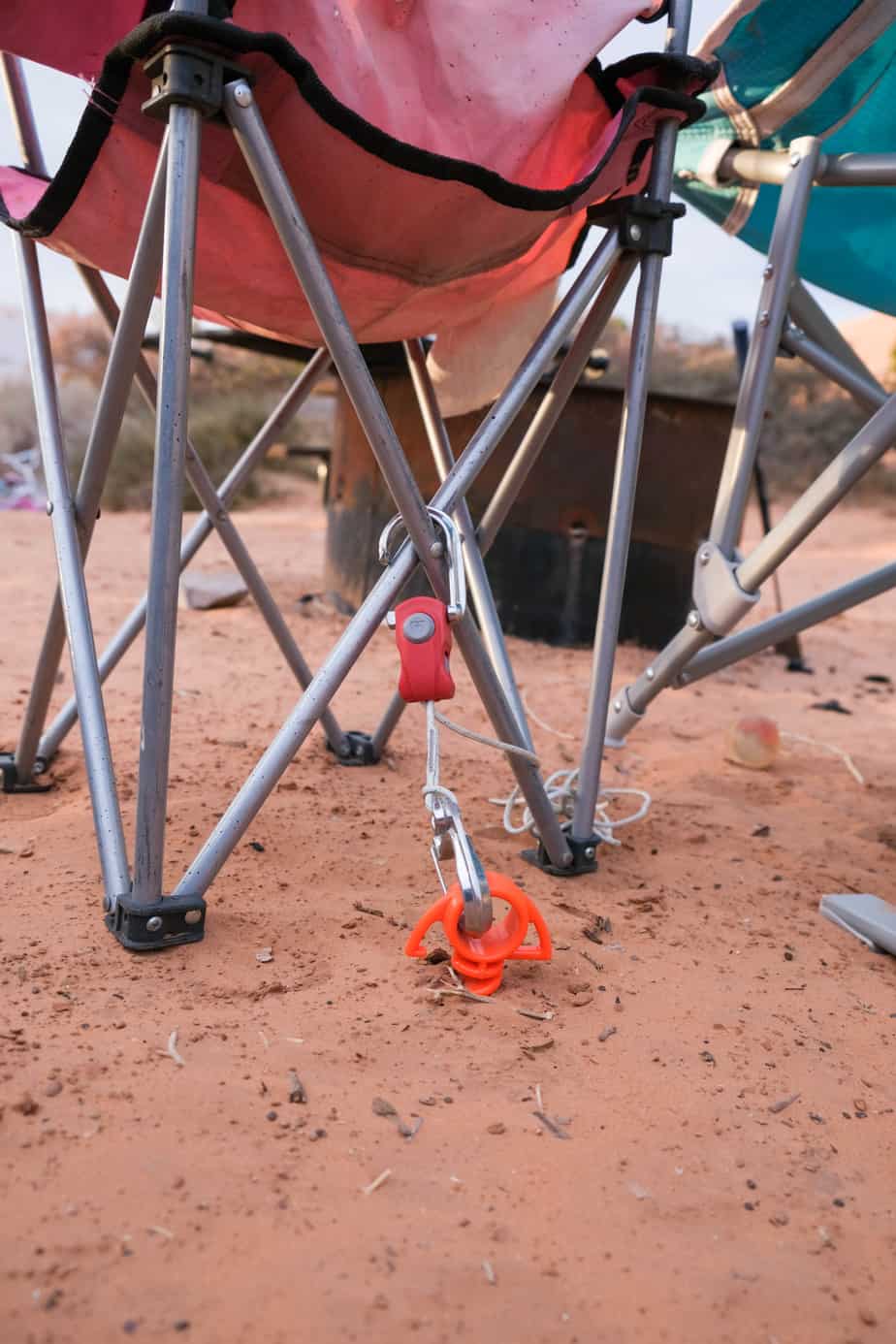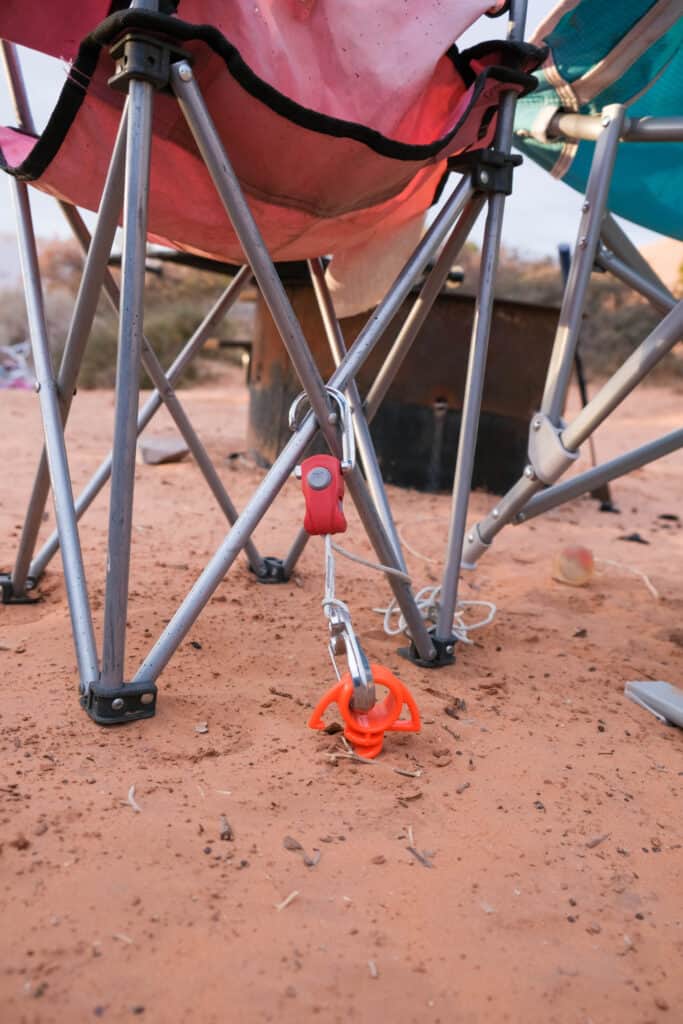 Pros and Cons (Overall it's a big YES!)
CON: Length The only con I could find was that the included rope was not long enough for some situations. As I mentioned earlier, this was easily fixed by just putting our own rope of choice through the Beyond Bungee cam system and it was good to go!
PRO: Much easier to store One Beyond Bungee was able to take the place of quite a few bungee cords. Not only does this make it way less stuff to store, but it's also super compact (the hook without the clasp actually folds down so that it's not sticking out hooking onto random things!)
If you've never had to dig through a box of various bungee cord sizes, all tangled and hooked onto eachother, count yourself lucky! I know I'll be happy to no longer need to do that!
PRO: No need to yank on it to get the perfect fit While a tight fitting bungee cord is satisfying, it also can take ALOT of strength to get it there. And trying to take it off, without pinching your fingers or having it rebound back at your is scary!
With the Beyond Bungee, I just need to pull all the rope till it's tight. No need to put all my body weight behind it to try to get that hook where it needs to get to!
Taking it off is even easier – just press the release button and it loosens!
PRO: Very easy to pack in a backpack to be prepared for anything at camp While we typically camp in our RV, this would be SO handy to throw in a daypack should someone backcountry camp.
Get your own Beyond Bungees!
I really, really liked these! You can purchase them here directly from the website (this is a new product that I'm sure you'll see in more places soon.. it's great!!)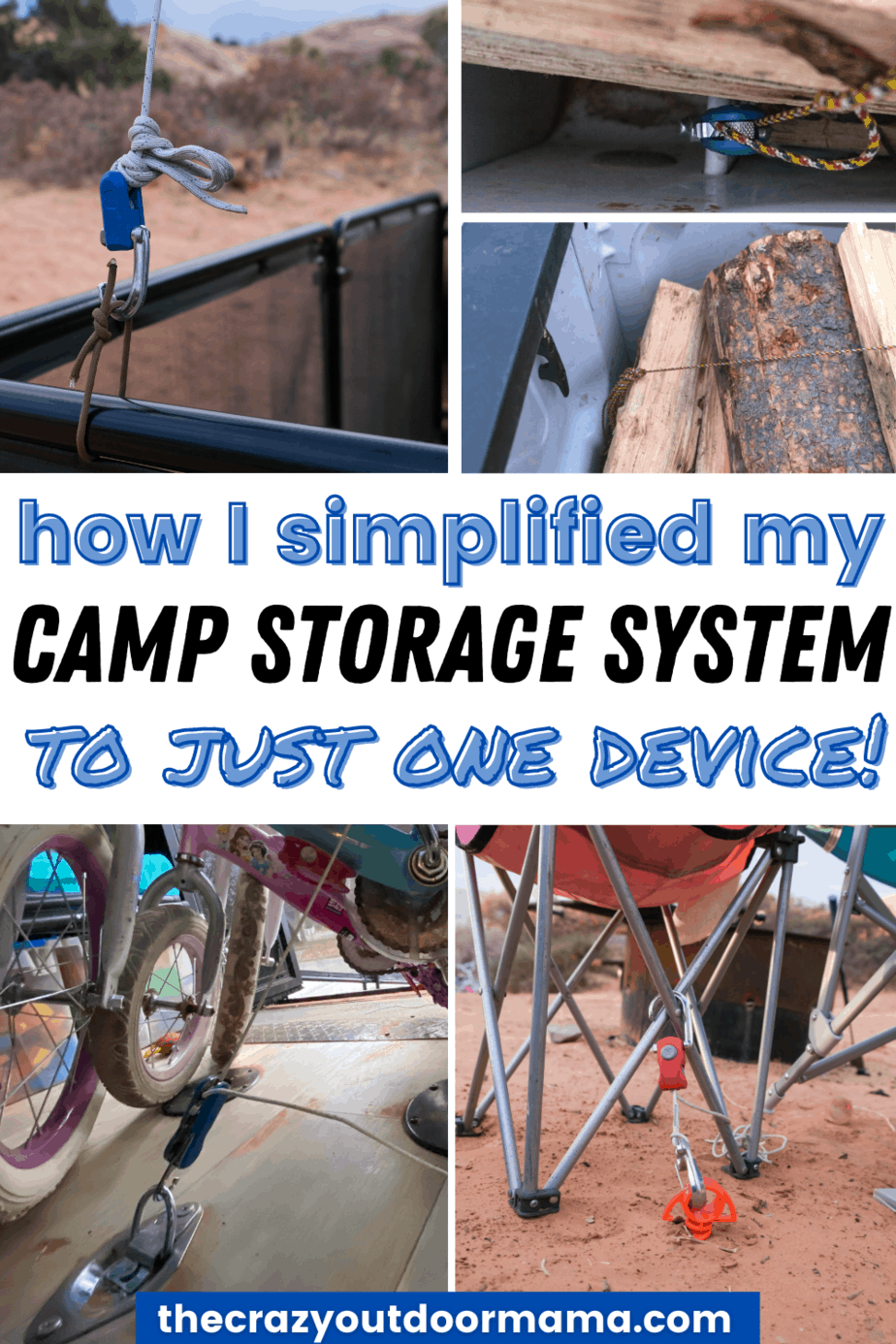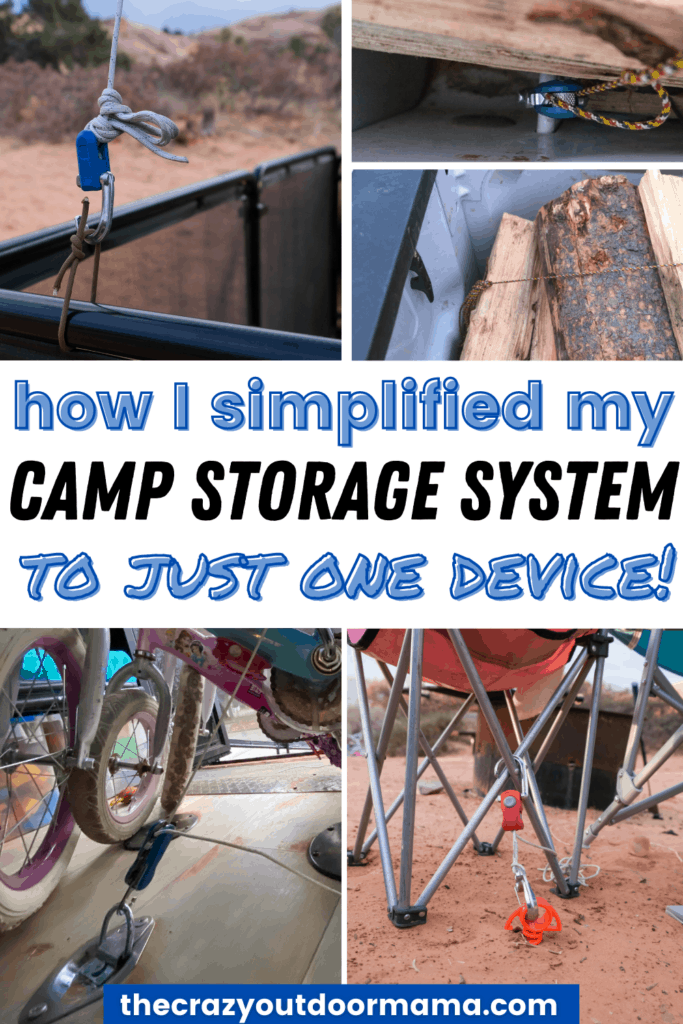 Latest posts by Stacy Bressler
(see all)