Love heading out on the lake with your friends, family, and a couple of kayaks?
Or maybe you just finished a Kevin Bacon movie marathon that ended with White Water Summer and you're feeling a little inspired to take a kayak camping trip?
Whatever your reasons, choosing the right place for an overnight kayak trip is just as important as making sure you've packed your kayaks properly with all your needed gear.
Choosing the right destination can help ensure your first overnight trip is a fun and relaxing journey where you become "one with the waterways" and not your personal reenactment of Adrift.
Now that you've got some movies to add to your next marathon (you know you gotta start with White Water Summer!) let's check out a few tips that'll help you choose the right place for your first kayak camping trip.
Then we'll check out my list of 5 places you can use as inspiration when choosing your destination.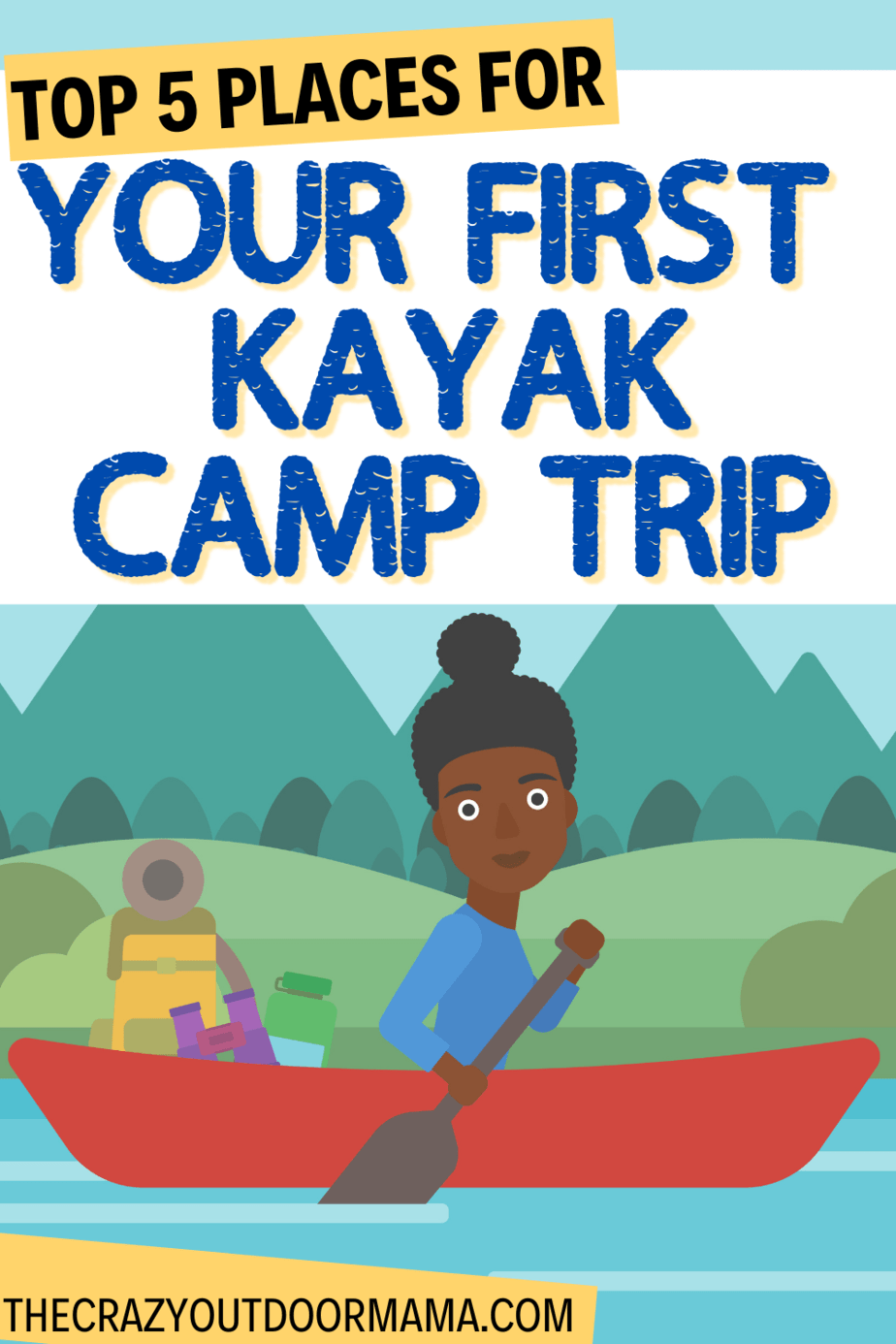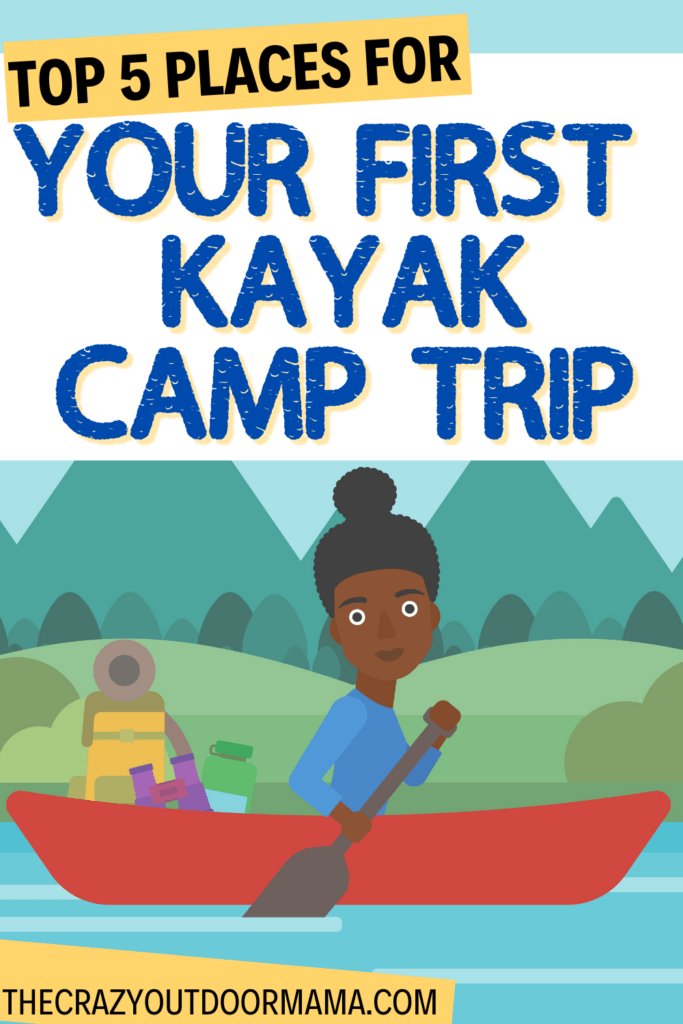 How To Choose the Best Place for Your First Overnight Kayak Trip – So You Know You'll Have a Blast!
The U.S. is a big place and you might not live near some of the places on my list. So don't feel like you absolutely HAVE to go to one of those places. 
What makes a destination a good choice for your first overnight kayak trips aren't just the scenic locations. It's really more about choosing a place that lets you ease into overnight kayaking and the specific challenges it presents.
So here are some things you should keep in mind when choosing where you'll take your trip!
1. Keep Your Kayaking Trip Short and Simple
Sure, it'd be fun to head out on the open ocean for a week to paddle to some remote islands. But it's best not to have to deal with long distances, strong currents, and extra packing on your first trip.
So don't push it.
Give yourself plenty of time to get where you're going.
For your first time overnight with a kayak, stick to just a one-night trip. That way if you don't pack enough or forget an essential item (like the wine bottle opener), it won't be such a big deal.
Stay on calm water and/or slow-moving rivers
Make sure you have clear weather… really who wants to be kayaking when it's raining?
How many miles should you cover on your first overnight trip?
A lot depends on your kayaking experience. Experienced paddlers might be able to cover 20 miles or more in one day on still water. But us newbies should plan for about 10 miles or less per full day of paddling on still water. If you're going downstream on a river, then you can add a few more miles. 
That should give you plenty of time to take it easy, rest for lunch, and even explore a little. And your arms won't feel like jelly the next day!
2. Choose a Place That's Not Too Far From Home
If you're a beginner kayaker on your first overnight kayaking trip, it's best to stay relatively close to home and not venture too far out into the wilderness.
It's not that kayaking on calm bodies of water is an extreme sport (it does have its dangers), but since your first trip will be short, it's nice to spend more time kayaking and less time driving. 
Plus, if you happen to forget something like your life jackets, it's easier to run home and get it before you head out on the water.
3. Choose a Well-Traveled Kayak or Canoe Trail
Your first overnight kayaking trip will be way easier to plan if you follow a well-known route. As you'll see a bit later with some of the destinations on the list, some parks have well-marked routes with established campsites for boaters.
There are tons of online maps for these areas. Plus, possible dangers like rough sections of a river are usually well-marked so they'll be easier for you to avoid.
*Want some more tips for planning your first kayak camping trip? Don't miss my Complete Guide to Your First Kayak Camping Trip (+Packing List). 
So now that we've covered a few things that'll help you choose the best place for your first overnight kayak trips, let's look at some more specific destinations that should be on your radar.
5 of the Best Kayak Camping Destinations to Inspire Your Next Trip
Paddle in Campgrounds
French Broad River Trail, North Carolina/Tennessee
Boundary Waters Canoe Area Wilderness
San Juan Islands, Washington
Kayak Camping Tours
Paddle-In Campgrounds
Paddle-in campsites or paddle-in campgrounds are a great place for first-time kayak campers. Depending on the park, they're usually well-marked, maintained, and may even have some bathroom facilities.
If you want a more established campground with at least some basic amenities, try something like Nancy's Boat to Shore Campground on Raystown Lake, Pennsylvania. 
It's a campground that can only be accessed from the water and is located on the popular Raystown Lake. With the vault toilets, picnic tables, and fire rings, you're pretty much living in the lap of luxury (as far as kayak camping goes).
Kayaking to a place like this is a nice way to work out the kinks with your kayaking gear without being too far out in the middle of nowhere. 
To find similar places like this near you, just google "paddle-in campgrounds near (location)". Or try one of the other destinations below.
French Broad River Trail, North Carolina/Tennessee
Another nice option is to choose a destination like the French Broad River Trail in North Carolina and Tennessee.  
Paddle along the French Broad River and stop at one of the strategically placed Paddle Trail Campsites and Campgrounds. The campsites are strategically placed along the river trail to make it easier for kayakers and canoers to find a campsite.
They even provide suggestions for 1-5 night trips along with suggested routes, campsites, and distances between them. 
It's also a nice place for experimenting with longer kayak trips since there are plenty of towns along the 140-mile length of the trail where you can stop off to get supplies. 
Boundary Waters Canoe Area Wilderness, Minnesota
This beautiful and somewhat remote area extends along the US-Canada border and should be on your list of kayak camping locations to try.
It's got…
Over 1,000 miles of kayak and canoe routes!
Over 2,000 designated campsites (see one of the campsites in the picture below)
Maps of the boating routes and portage trails
Plus, it's a perfect location for animal lovers since wildlife sightings are common in the park. Get ready to see deer, beavers, otters, and even moose!
Learn more about this kayaking destination here.
Lake Tahoe, California/Nevada
Lake Tahoe is famous for its recreational activities. There's just tons of fun stuff to do in that area year-round, including kayak camping. 
Paddle on the crystal clear blue waters with beautiful views of the lake on Lake Tahoe's Water Trail. There are 13 different campgrounds around the lake, and they even offer pre-planned kayaking routes with maps and info to help make your trip a success.
Get more info here:
San Juan Islands, Washington
If you want a place where you can try sea kayaking without venturing too far out into the open waters or far away from civilization, the San Juan Islands are for you.
They're a group of islands located in northwest Washington, right at the southern tip of Vancouver Island. They have a nice combination of isolated islands ready for exploration combined with established harbors and even a resort retreat. (Why not get a massage and soak in a hot tub before heading back to your glampsite?)
And if you need to rent gear or want to take a guided tour, there are plenty of outfitters in this area.
Speaking of guided tours, why not try one for your first overnight kayak trip?
Guided Kayak Camping Tours
Many of the top destinations for kayak and camping destinations will usually have outfitters in the area where you can rent kayaks, camping gear like tents and sleeping bags, or even book guided tours. 
If you're not completely set up with all the gear you need for kayak camping and aren't really sure if you'll want to do it again, a kayak tour is a wise choice since you won't have to worry about planning your route and packing your gear. Just show up and paddle!
A Few Other Places to Consider
Want some more options? Here are a few other destinations to consider with well established paddling trails.
Bucket List Places for Kayak Camping
Once you've tried some of the above places, why not venture beyond U.S. borders and go for a real kayak camping adventure!
Experience the fjords of Norway like never before, cruise around the Greek islands in a kayak, or visit some deserted South Pacific islands on a guided kayak tour.
Where Will You Go On Your First Kayak Camping Trip?
So now that you've got some inspiration for choosing your first kayak camping destination, where ya gonna go? Should I look for you on the clear waters of Lake Tahoe? Or maybe on a remote Greek island?
Whichever place you choose for your first overnight kayak trip, remember…
Start with a short and simple trip
Choose a well-traveled location
Watch White Water Summer before you go
Plan ahead carefully
And… HAVE A BLAST!
Don't forget to check out my other kayak camping guides that'll help you with planning your trip.
8 BEST KAYAKS FOR YOUR FIRST KAYAK CAMPING TRIP – COMPLETE GUIDE
THE ULTIMATE GUIDE TO YOUR FIRST KAYAK CAMPING TRIP (+PACKING LIST)
HOW TO PACK YOUR KAYAK FOR A CAMPING TRIP – COMPLETE GUIDE + BONUS PACKING LIST
CAMP COOKING FOR KAYAKERS | YOUR KAYAK CAMPING KITCHEN GUIDE
More COMING SOON!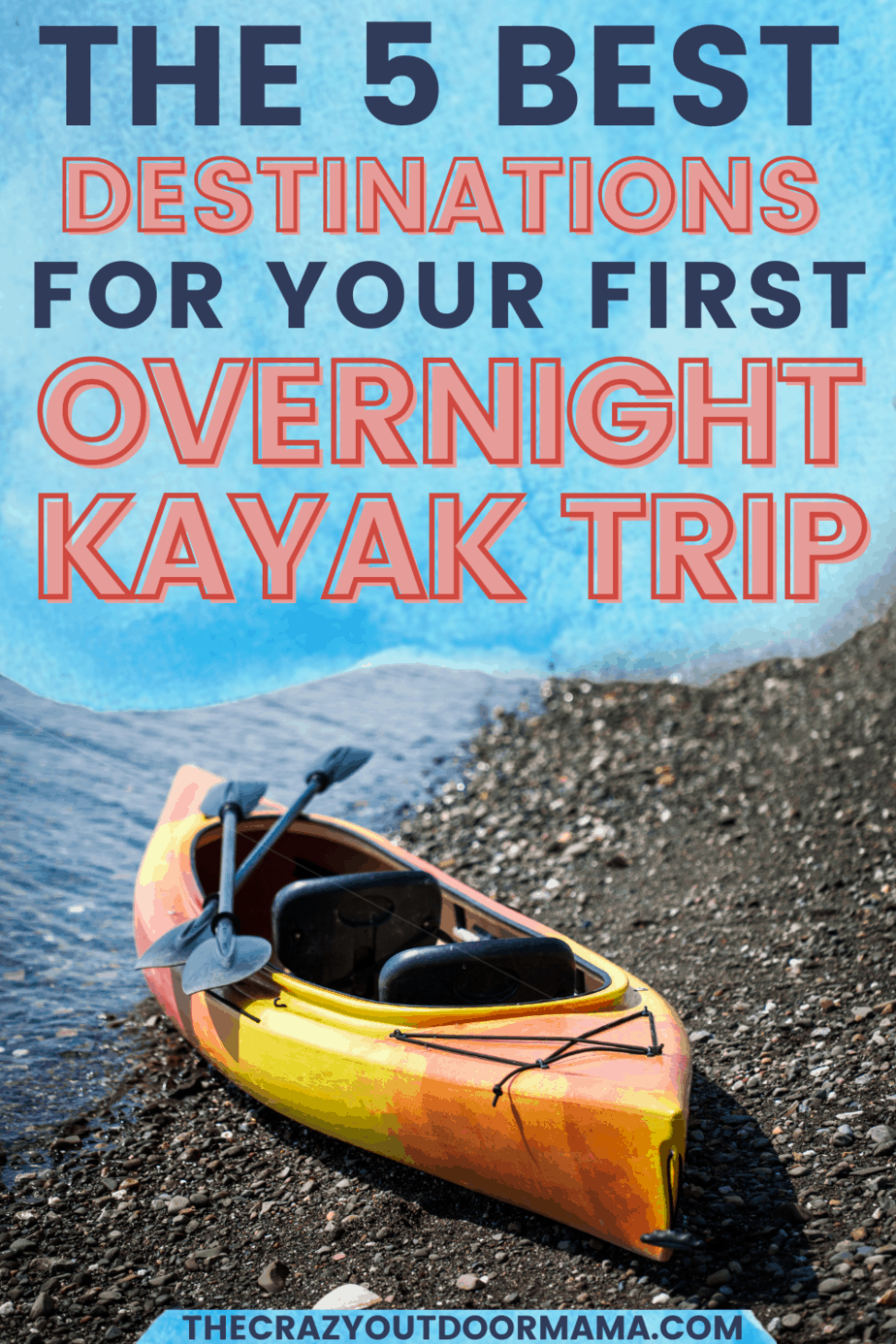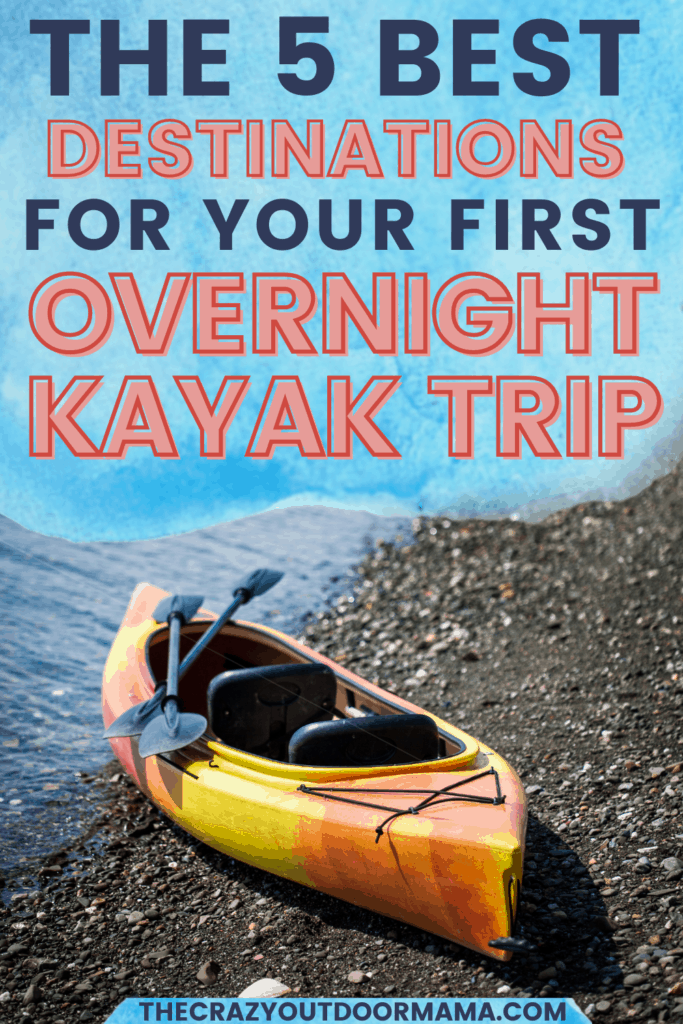 Latest posts by Stacy Bressler
(see all)