Learn all about one of the first birds of spring, the American Robin, through this fun and pretty study unit that includes hands on learning and activity ideas to go along with them!
Spring has to be one of my favorite seasons – the new life starting, the patches of yellow popping up everywhere, and of course, the first birds looking for worms in the yard! Depending on where you live, this may vary, but for much of the U.S., that bird is the American Robin.
It's thought of as more of a "common" bird, but I love to focus my study units on all the "common" and "boring" things of nature in order toi show my kids how there is magic in ALL of nature… even the ones we see all the time!
I find that once kids learn more about anything, the more they can connect and care for it. By teaching them about ALL parts of nature, not just the exciting parts, I've found they are able to see more joy around them! And, from a practical stand point, it's just so much easier to teach kids about something they can actually see, as opposed to that really cool but rare animal that is more traditionally exciting.
Anyways, enough of my thoughts – I know you all want the lesson ideas! Here's what mine include!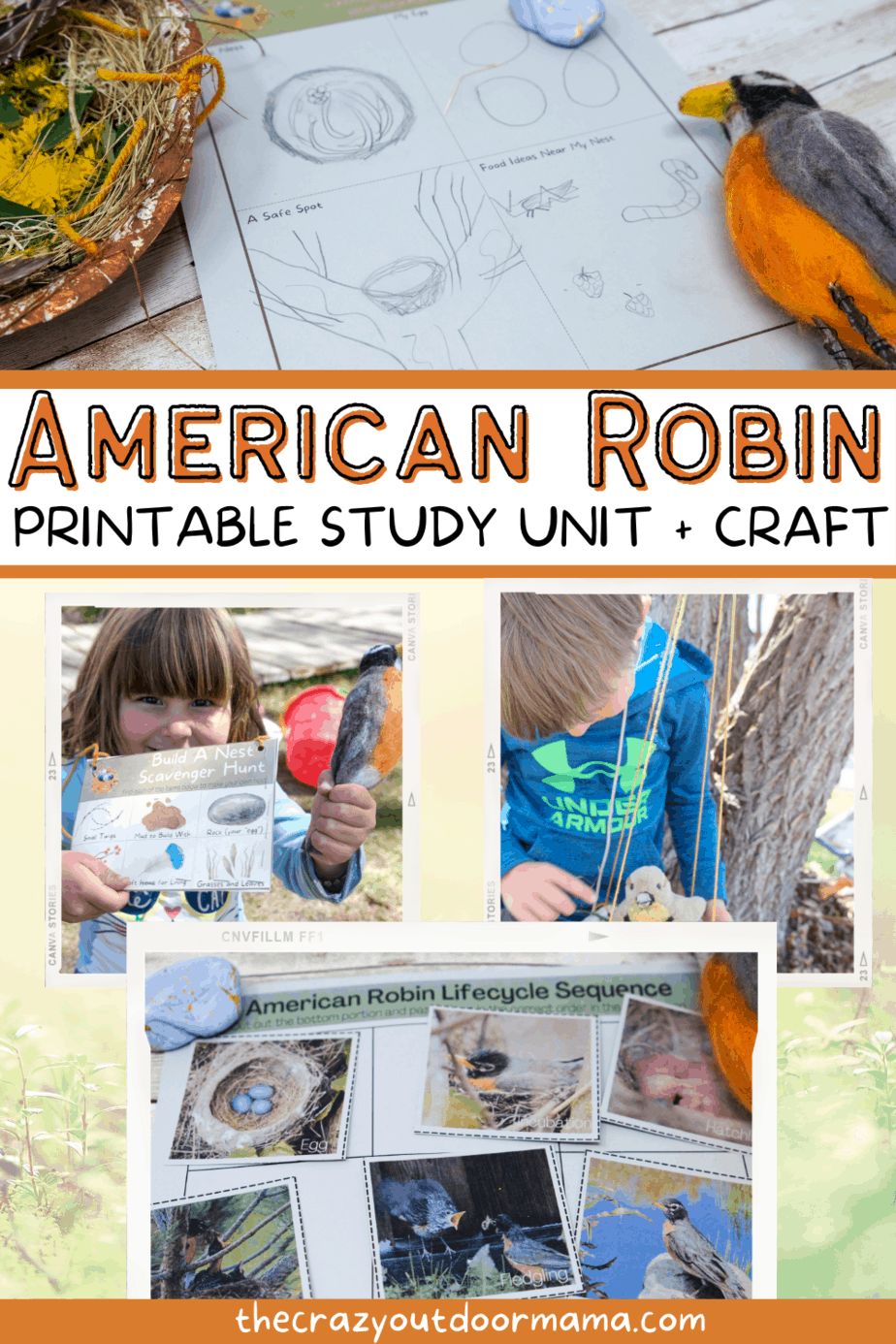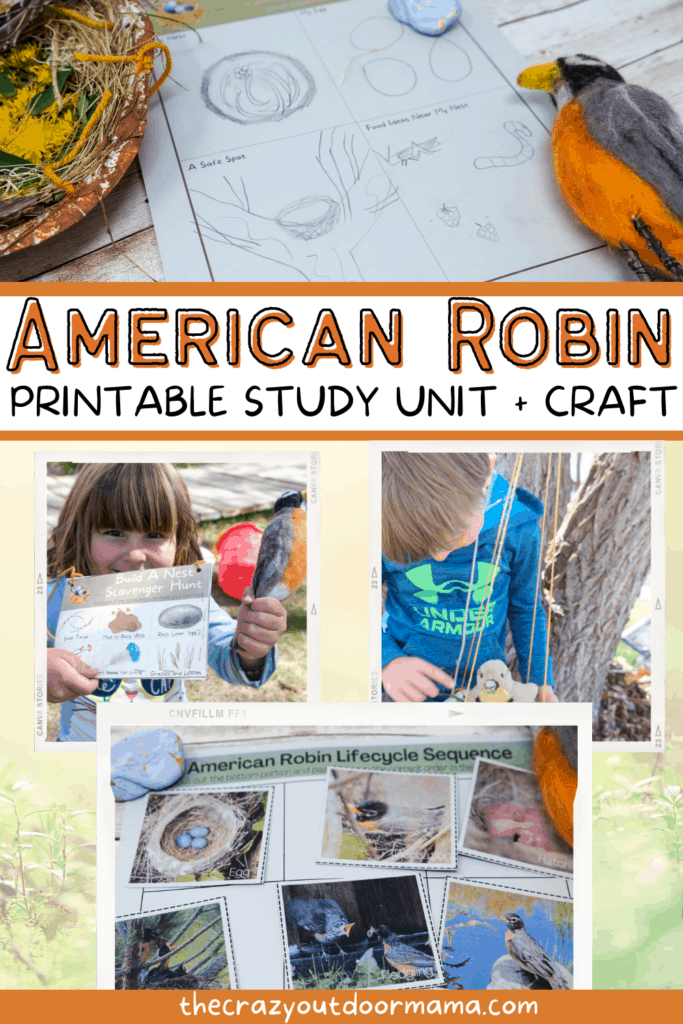 What's in the American Robin Printable Study Unit for Kids
This is all about the basics, and really, it could function to understand most birds! Each area of info is followed by a small interactive section to help reinforce what was learned.
Identification + Habitat Info – This teaches kids how to identify an American Robin and where to look for them. The bottom section asks kids to imagine a place they know that they have seen/are likely to see one of these birds.
What They Eat – Learn what else they eat besides worms and complete a mini sequencing activity of a worm hunt (with pictures!)
How They Nest (Scroll to next section for the optional craft!) – Materials used, how they are typically built, and other facts about nesting.
Safety and Stages of the American Robin (Scroll to the next section for optional hands-on activity) – Learn a few tips on how American Robins maintain the safety and cleanliness of their nest and complete the mini-sequence activity on the worksheet or the bigger cut and paste one!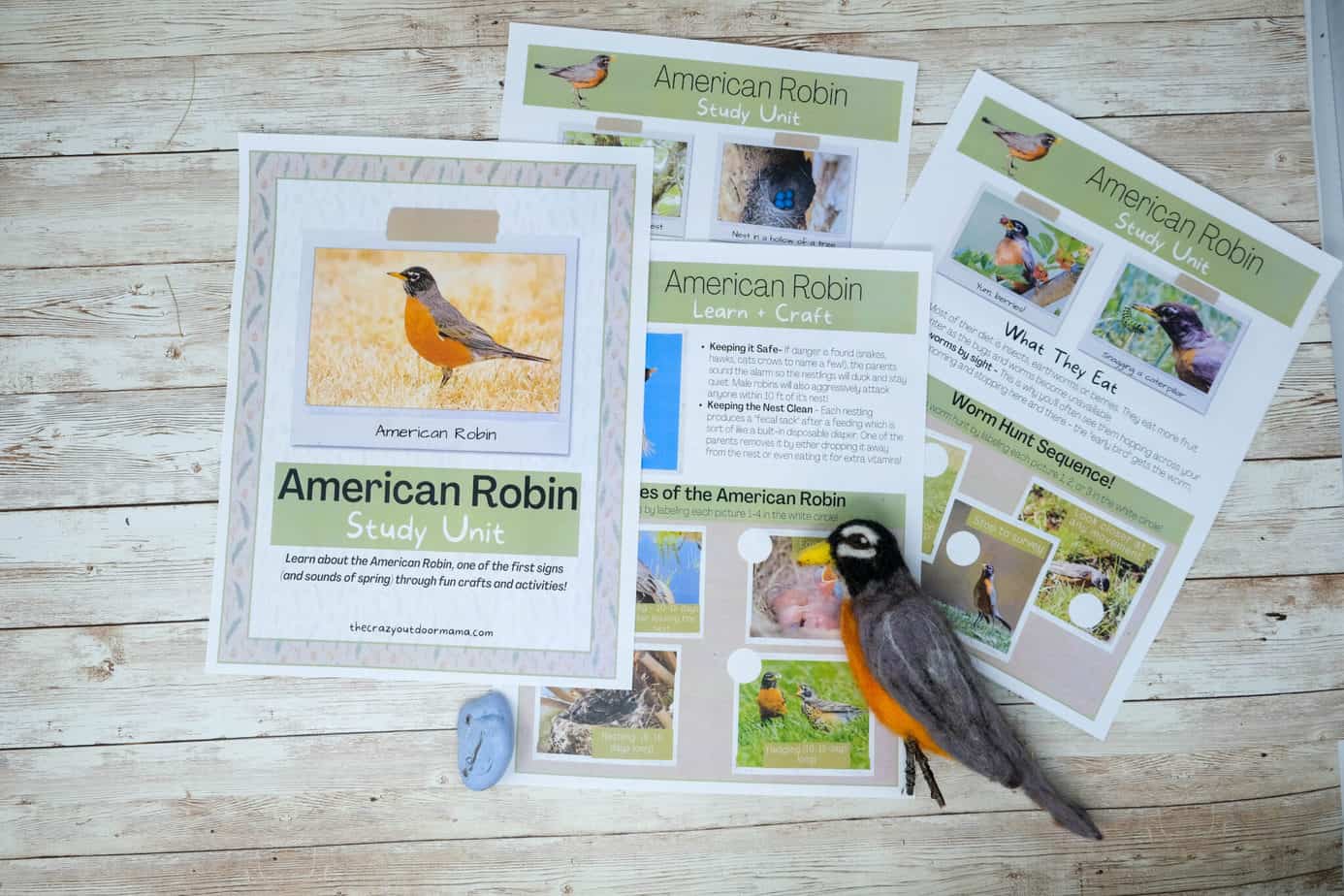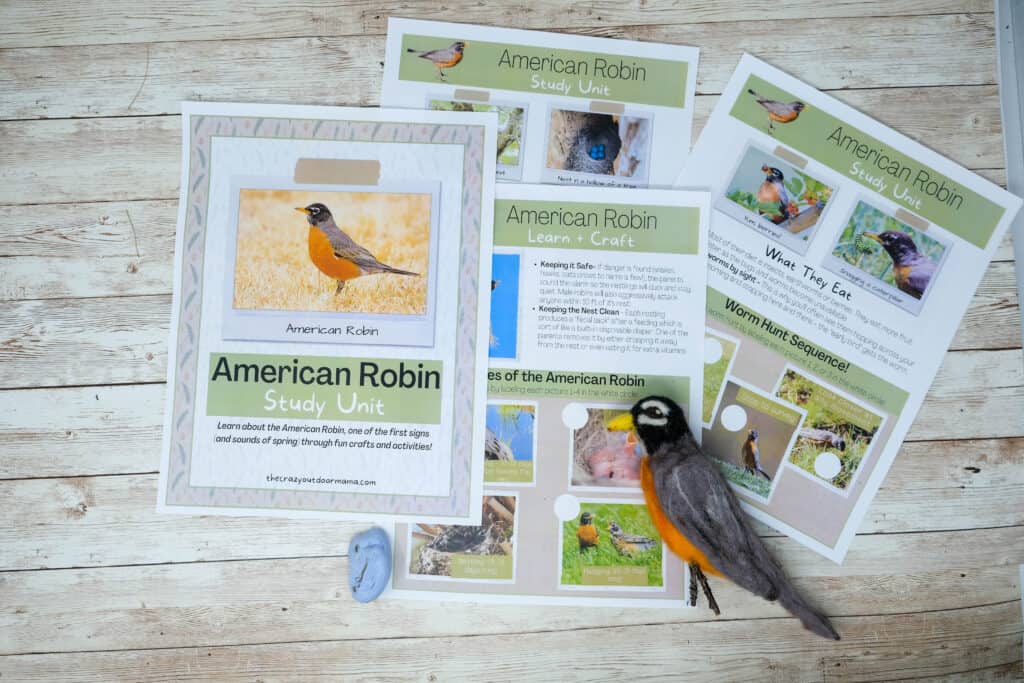 Optional Activity – Plan and build your own nest with the nest scavenger hunt + planning sheet
This is a great way to translate what was learned into use through some creativity and application in their own backyard! Print out the included Nest Scavenger Hunt (I turned mine into a cute satchel thing for their items they collected) and use the worksheet to find a good spot for a nest in your yard/playground etc.
Here's how we did our Nest Building Activity using the scavenger hunt printable!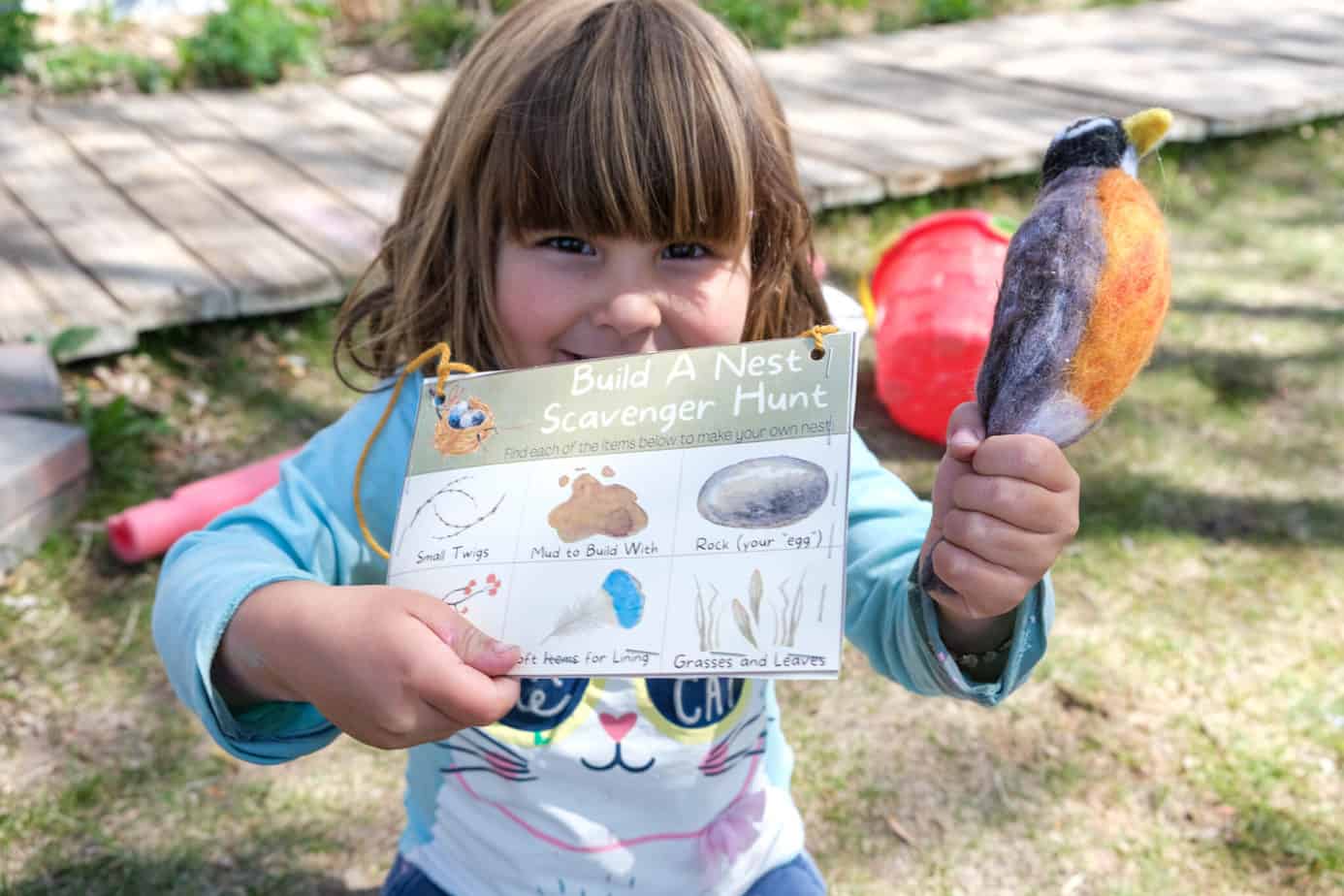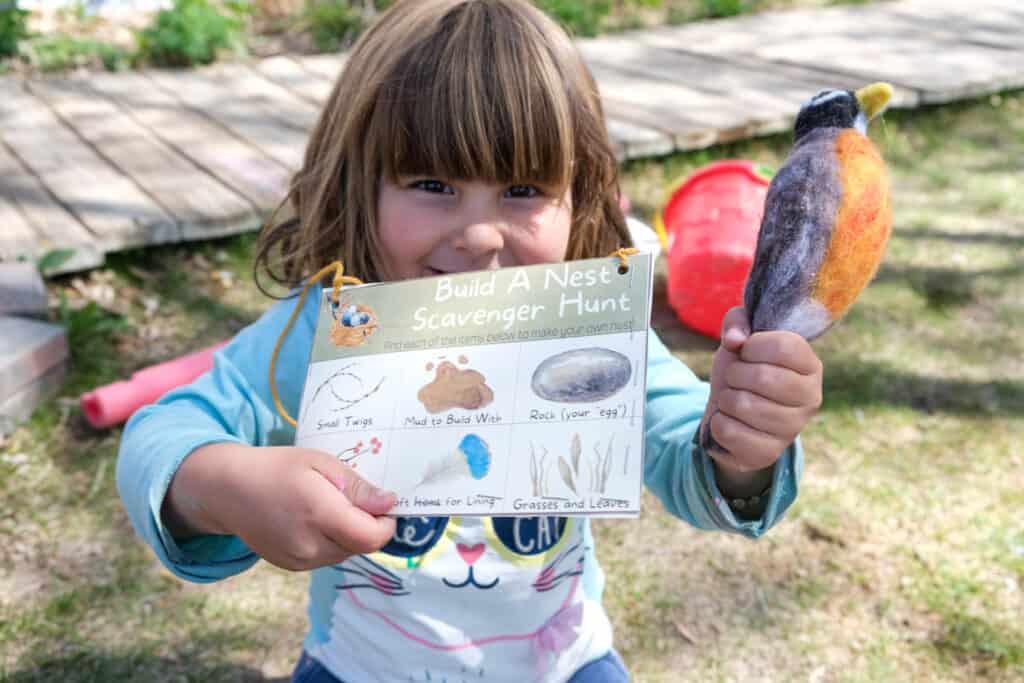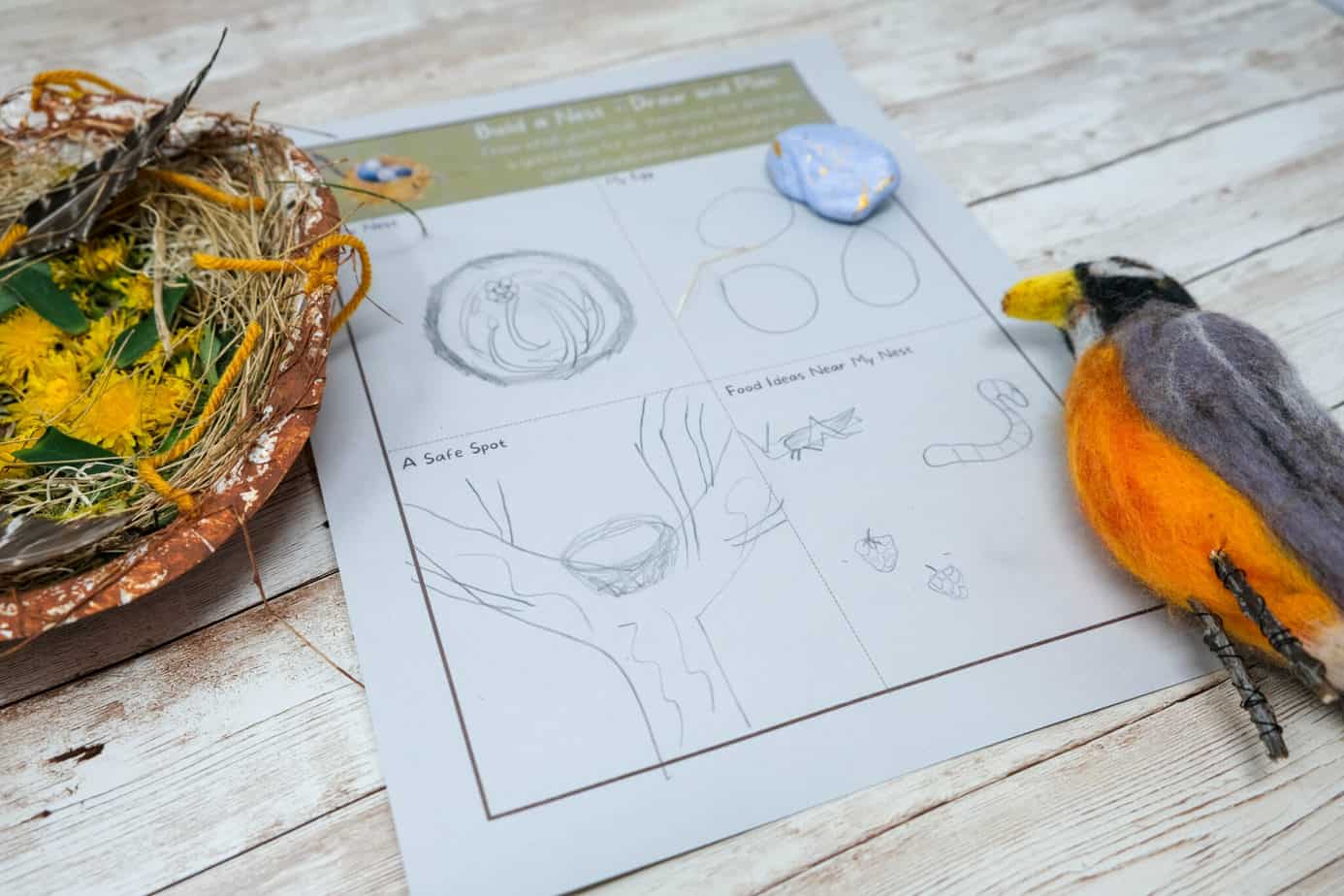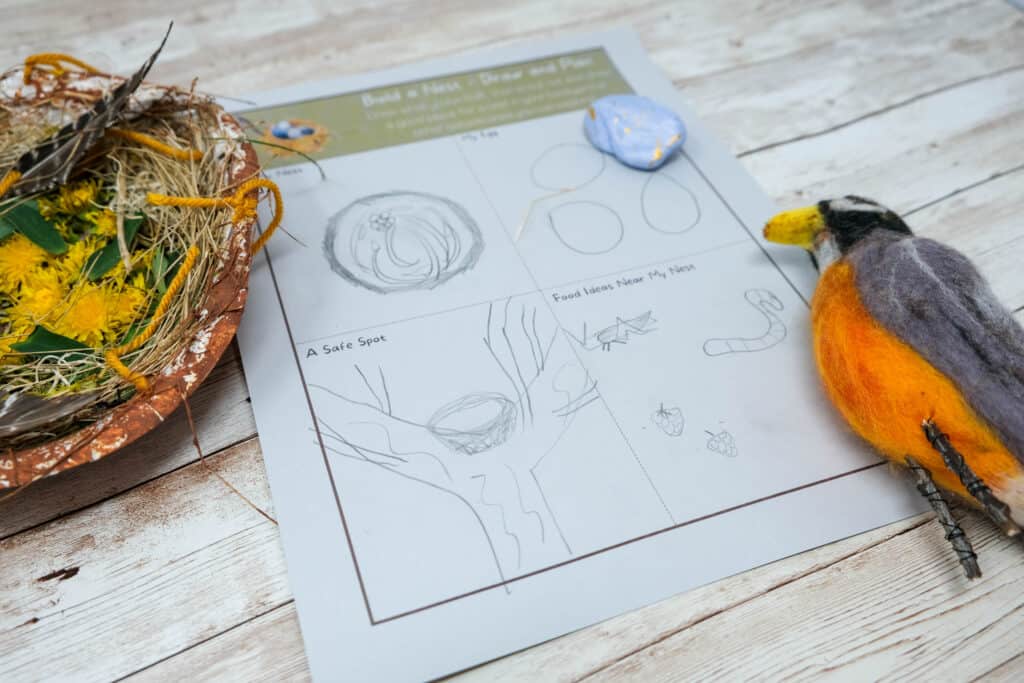 Sequence the life cycle of the American Robin with printable cards featuring full-color photos
I loved printing this on cardstock so that the pieces were more durable, but use whatever you have! I enjoyed holding up each card then passing it around my 3 kiddos so they could look closer as we talked about it. We then practiced placing them all in the right order!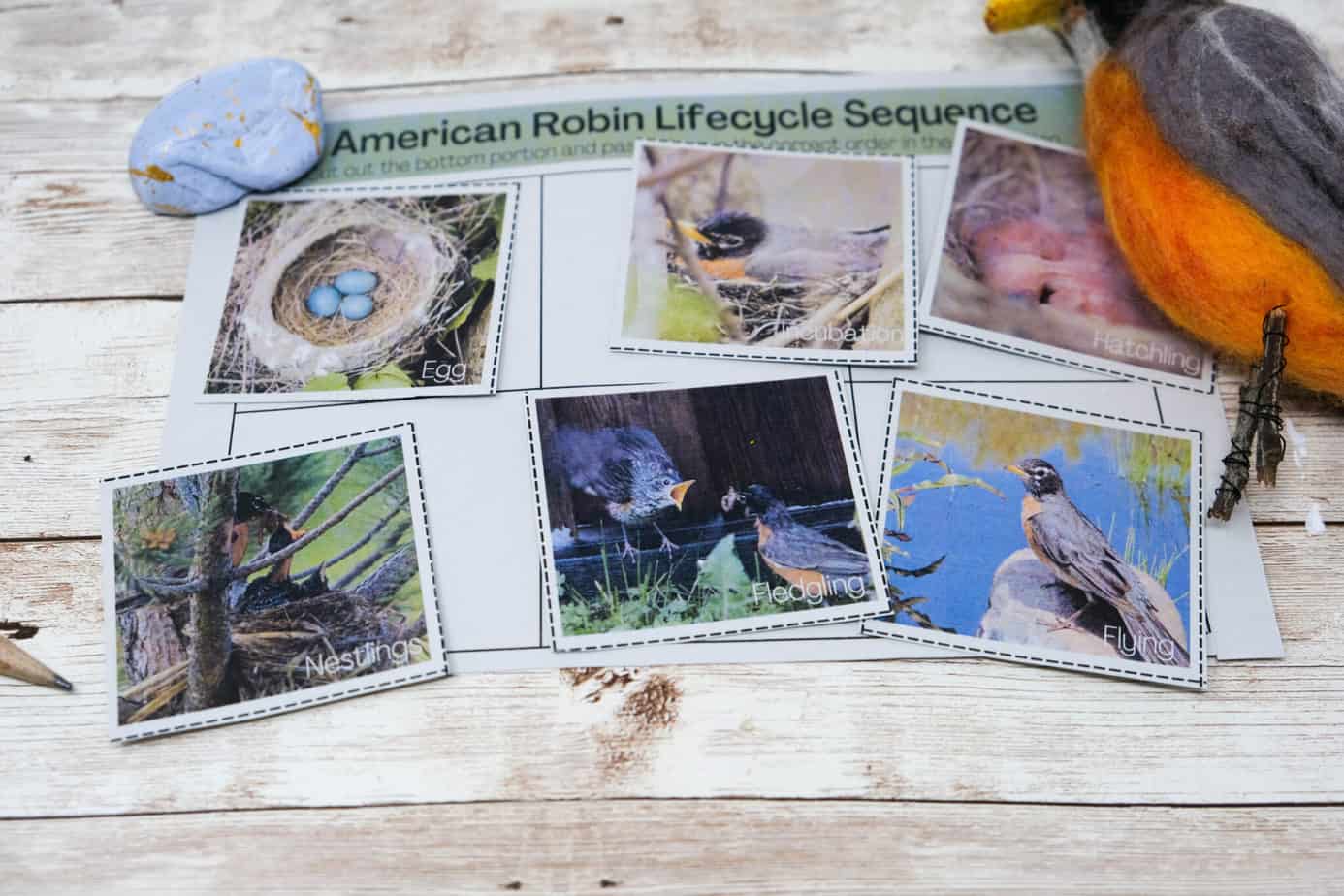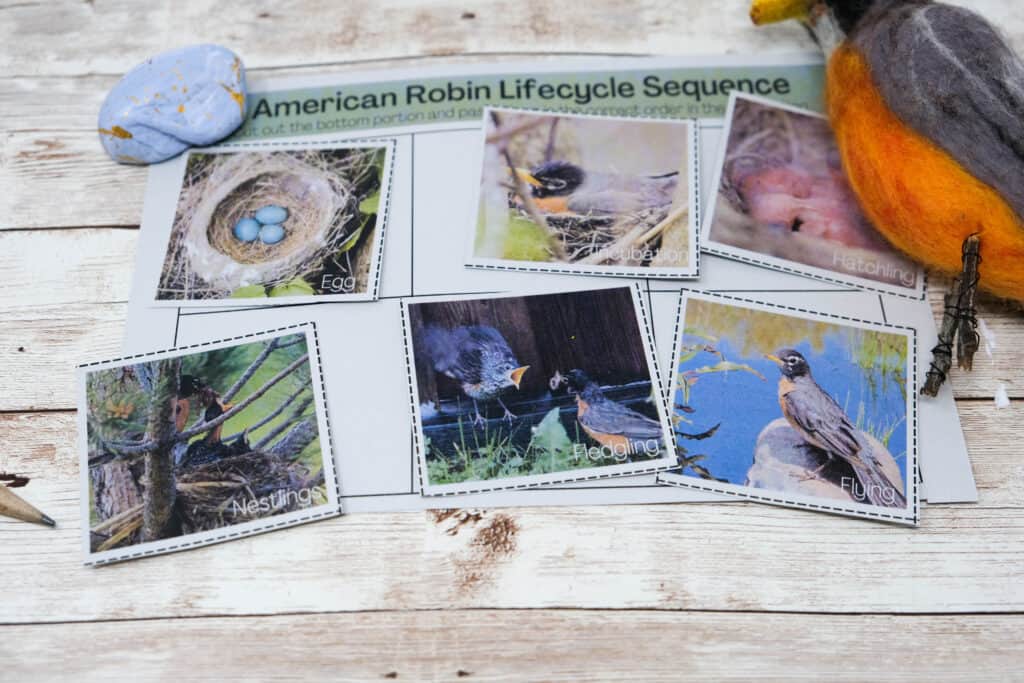 Ready to learn about this cute sign of spring??
If you couldn't tell by the fact that I have needled felted an American Robin, I REALLY love these birds! I love watching them from my home office window and am working on creating a pretty garden area to attract more of them!
You can purchase your own set of this American Robin Study Unit from my Etsy shop here!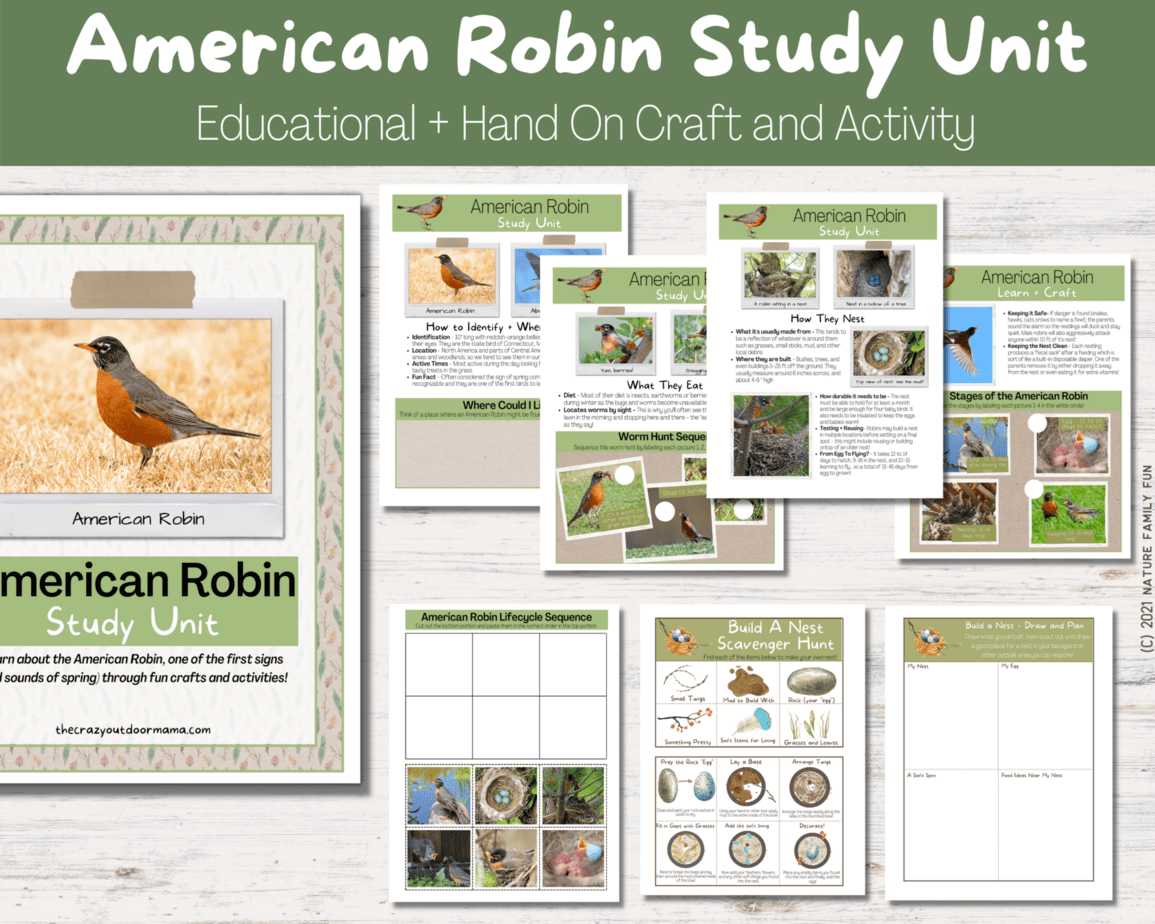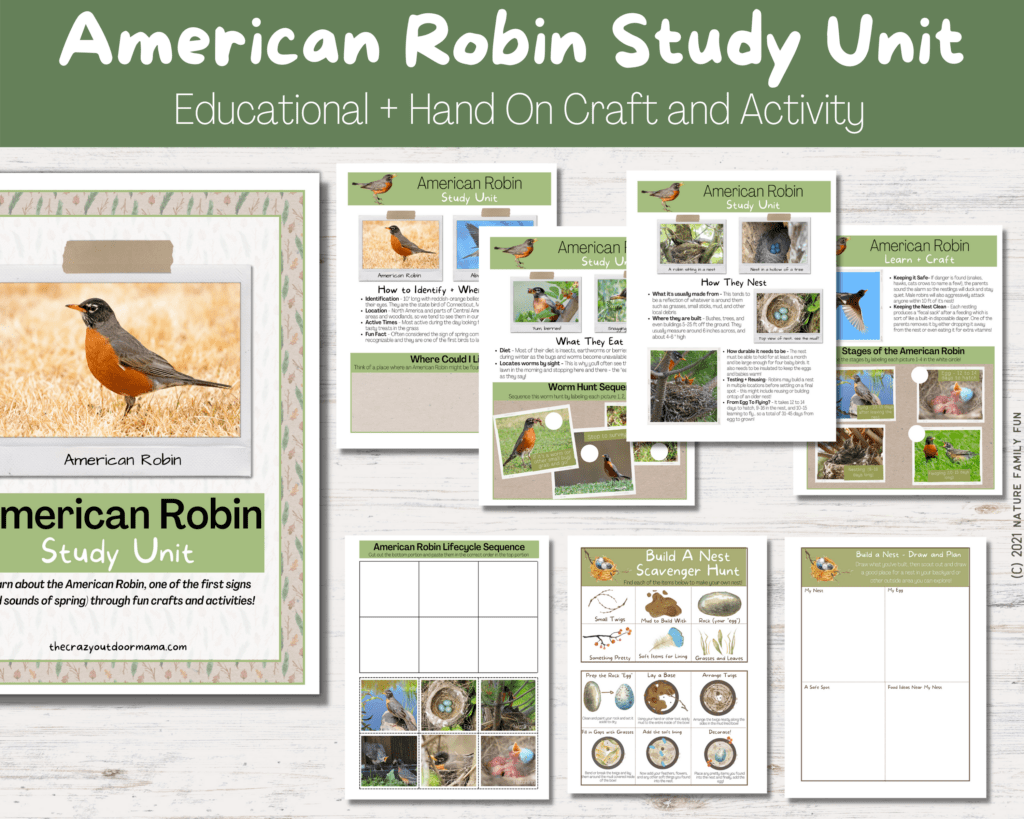 P.S. Here are some additional online resources if you're trying to make a lesson plan about American Robins
These are the websites and things I referenced when creating this study unit. It's pretty helpful, even as an adult, to just read ahead yourself!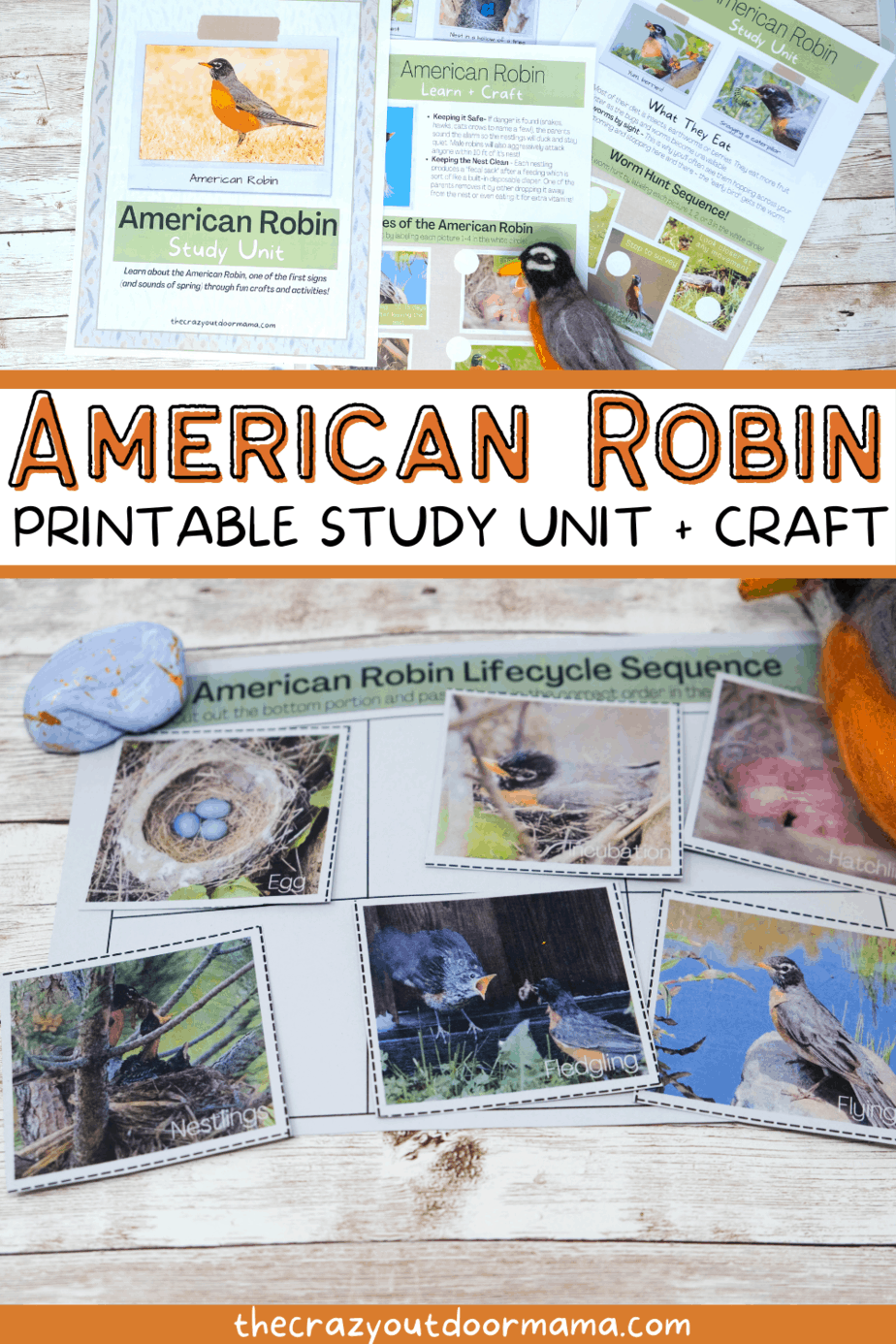 Latest posts by Stacy Bressler
(see all)