If you're like me, and tired of using the excuse that the kids are too young to play board games while camping, then you will absolutely love this fun s'more building board game for kids that is not only fun, but educational too!
I can't tell you how much I freaking love board games – we played them a ton growing up, and there was always so much laughter and conversation!
Now that I'm a mom, I feel like board games are even more important because they are a way to make us all actually sit down together and play! Naturally, conversation happens as well as some healthy competition (though to be fair, my husband would disagree – I'm pretty competitive LOL).
The problem has always been getting to the age where a board game would actually hold his attention. After awhile, I do feel guilty using TV so often while camping in bad weather..
Anyways, here is the game! I will include modifications for even younger kids who can't count yet!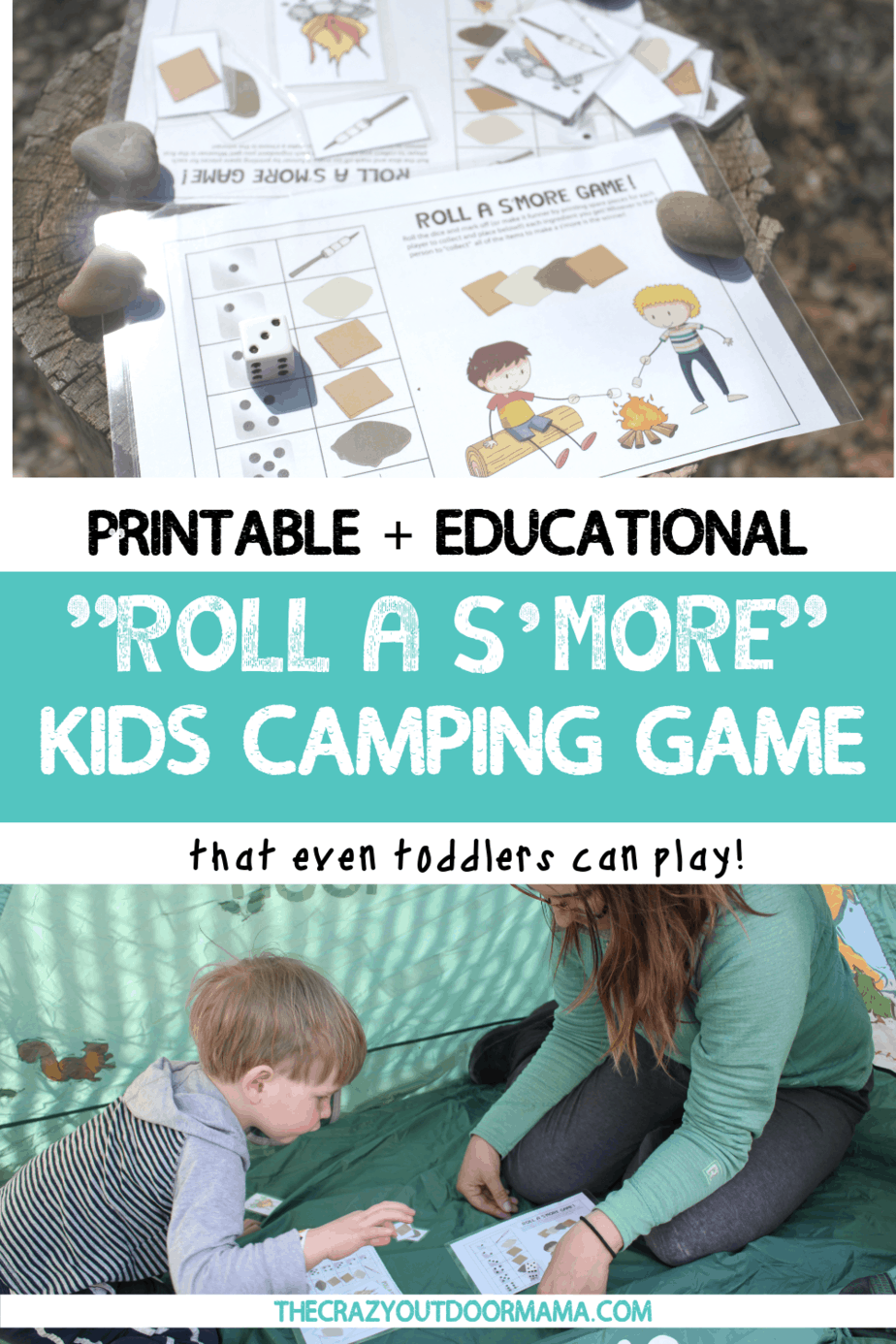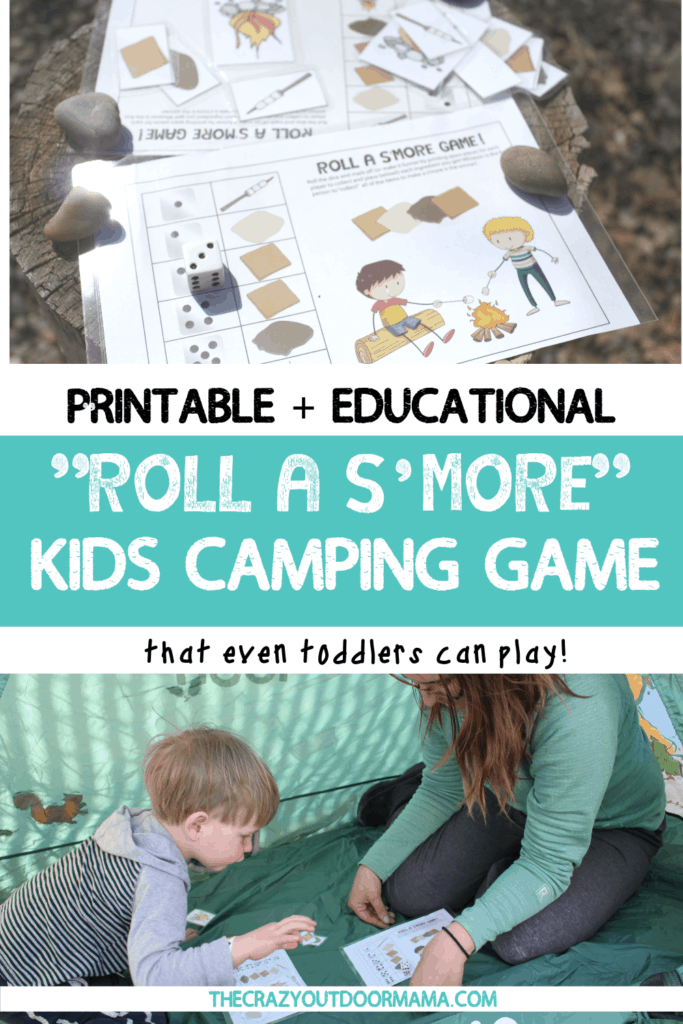 What you'll need to play this fun s'more camping game
Dice
The printed game sheets you may purchase below
Any additional materials to further "ruggedize" the cards for use, such as laminating paper or tape.
What all is included with this camping s'more game?
There are so many fun games to play while camping (I like scavenger hunts or BINGO because they encourage exploration!) but I especially love this game because of how much conversation is had, as well as learning, matching and counting!
What's included in this game?
1 Master Player Card – Used by whoever is handing out the s'more pieces
3 Player Cards – There is a whole page of cards, so print as many as needed if 3 isn't enough!
1 page of extra large printable pieces – Perfect for little hands to grasp!
1 optional printable picture die – This is really helpful for the yong toddlers who can't count, or maybe still struggle quite a bit. Just assemble it, and roll it just like a die, but instead match the pictures instead of the die amount!
Select the button below to purchase the s'more game sheets! (Master card, 3 player cards, 4 sets of player pieces, printable die with pictures!)

Purchase your Smores Game Card Now!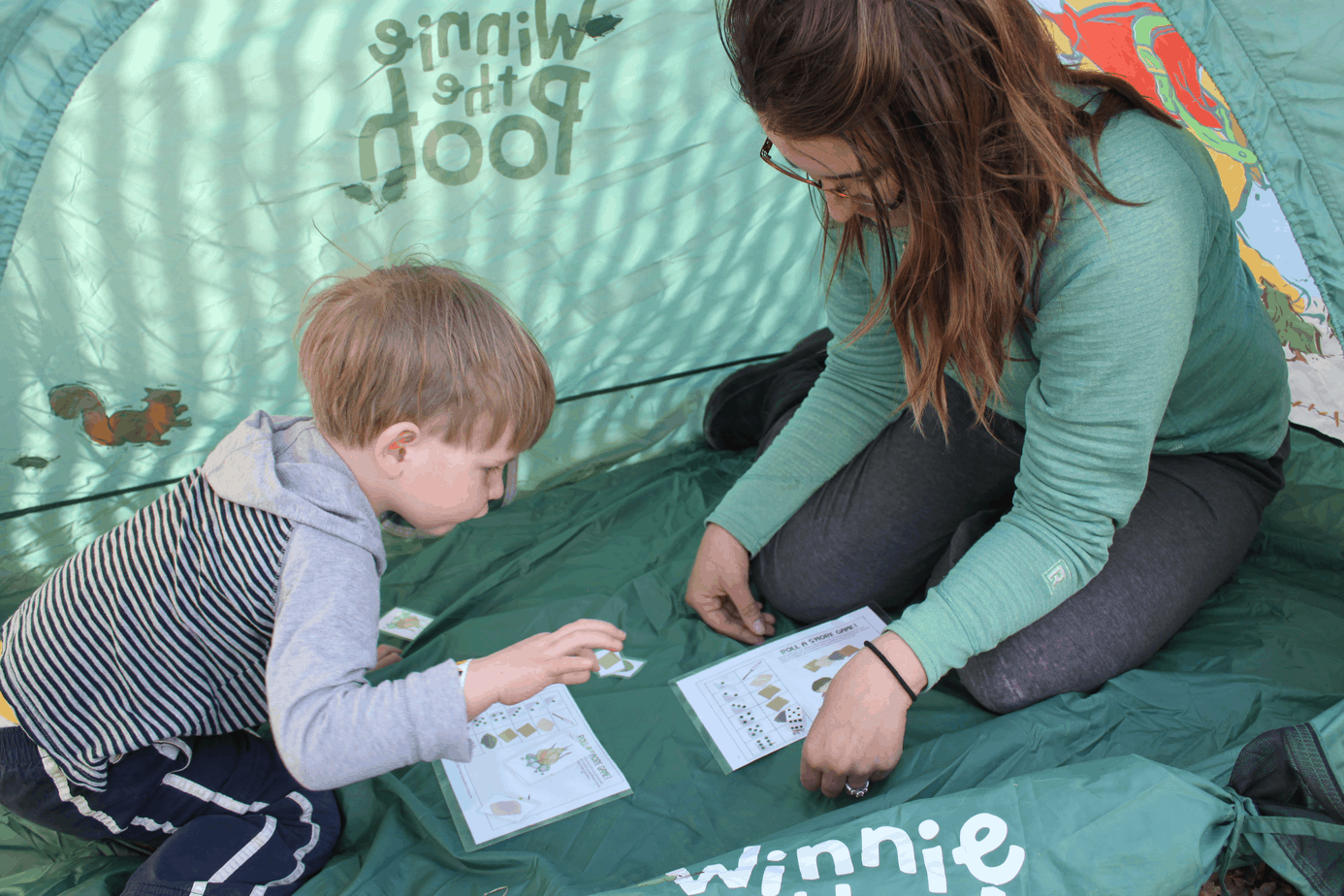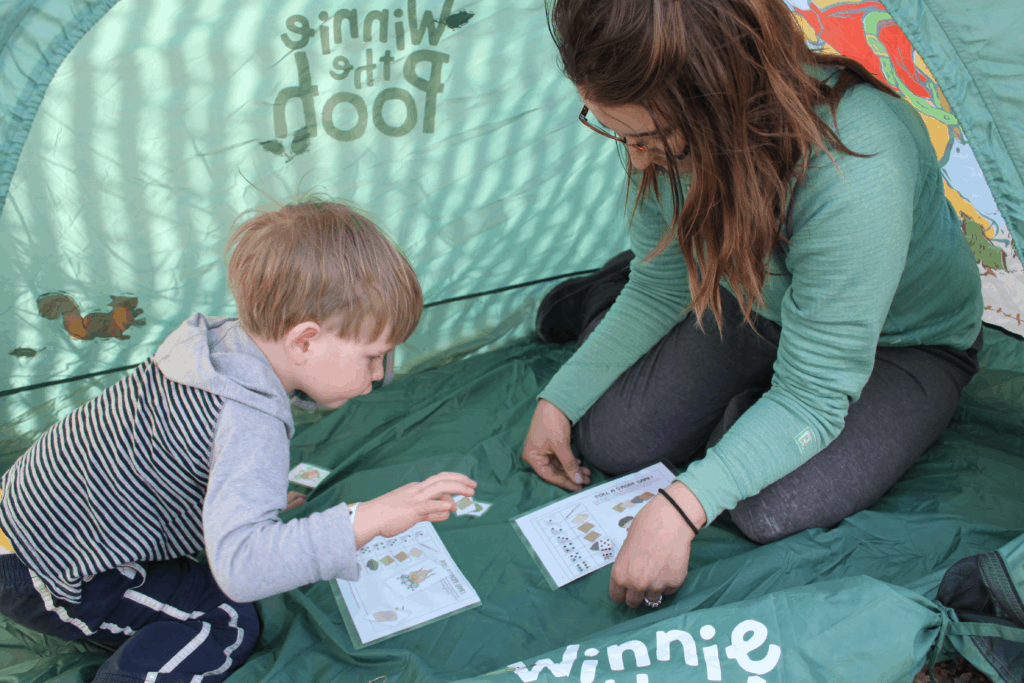 When is a good time to use this educational camping game?
So you might think that you'll have a blast camping with the kids, and they'll find stuff to do, and the weather will be perfect… and it likely it will be!
BUT, here are some really great times to use this game anyways
If you want to break up the day at camp – afternoons feel so long sometimes!
During bad weather – This is why the whole thing was made! When it was crazy hot or pouring outside, I got tired of just turning the TV on because there were no games that my toddler could actually play
During camp week at school – Preschoolers will get a kick out of getting to make their own s'more, and the game can be tailored to the level of the students! (IE picture die or traditional die). They won't even realize they are learning!
At home as fun counting and turn taking practice – I love working on these kinds of skills at home, and as we all know, kids learn best through play!
Select the button below to purchase the s'more game sheets! (Master card, 3 player cards, 4 sets of player pieces, printable die with pictures!)
Purchase your Instant Download S'more Game Now!
How to play the "Roll A S'more" printable camping game!
These directions are also listed on each game card, but I will try to give an even more detailed explanation here!
Cut out all the game cards. If you don't have any real items to simulate the items in the game (graham cracker, marshmallow, roasting stick, fire) then also cut out the game pieces that are on the last page of the packet.
Give each player a "blank" card (the game card with no pictures in the middle of it) and give an older child or adult the "master" card (it has the picture of the children cooking the marshmallow).
Give the person with the "master card" all the s'more pieces – they will be in charge of handing them out based upon the rolls.
The first player rolls the single die.
Match up the amount shown on the die with the table provided on the card. That player will receive whichever item their roll corresponds with.
Put the pieces received in the blank space of the card to start creating the s'more!
If a person rolls the die and gets an item they already have, they just lose their turn and it is the next person's turn.
Whoever gets all 6 of the required items to make a s'more first wins!
That looks like a lot of instructions, but basically you just roll the dice till you get all 6 items needed to finish the s'more!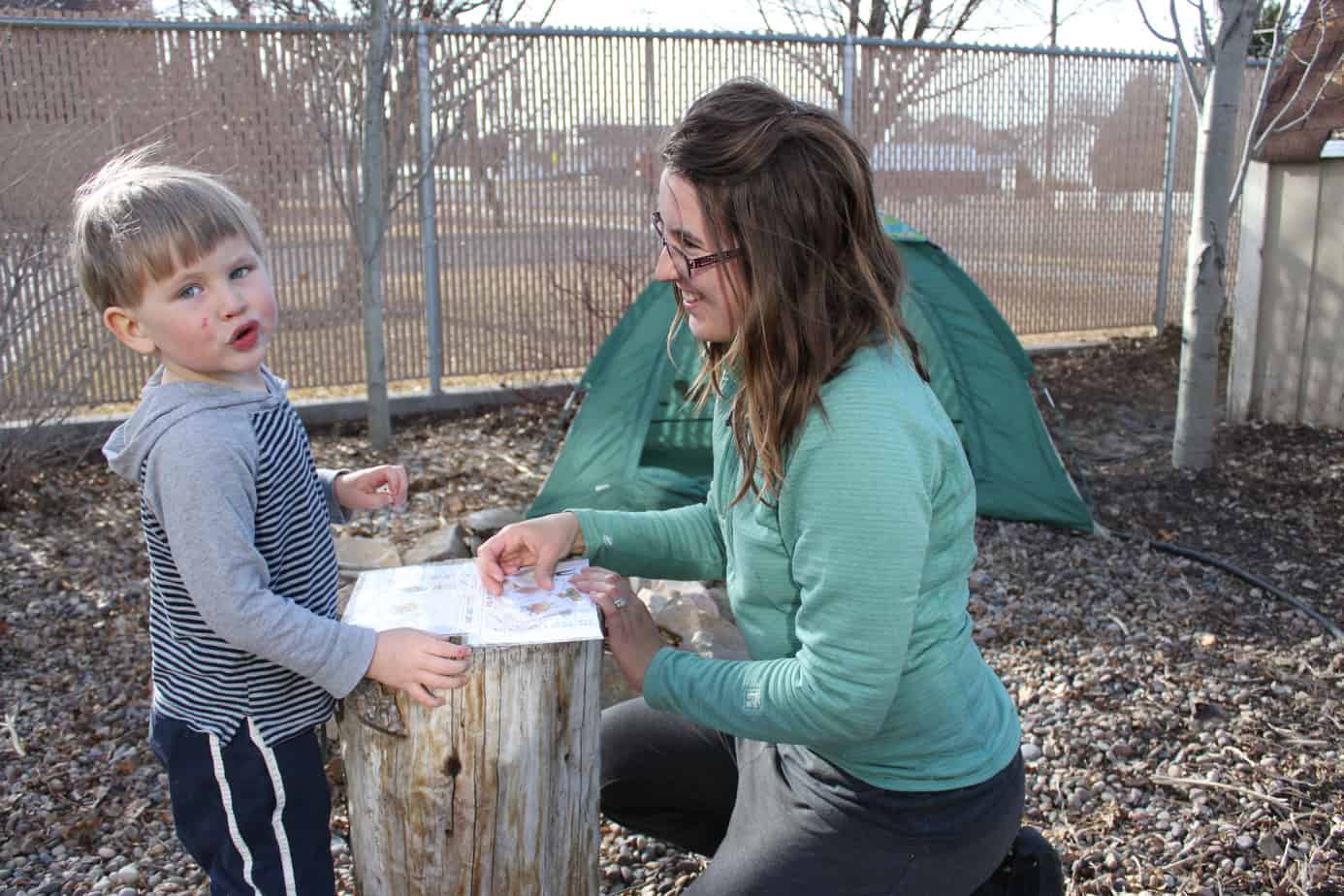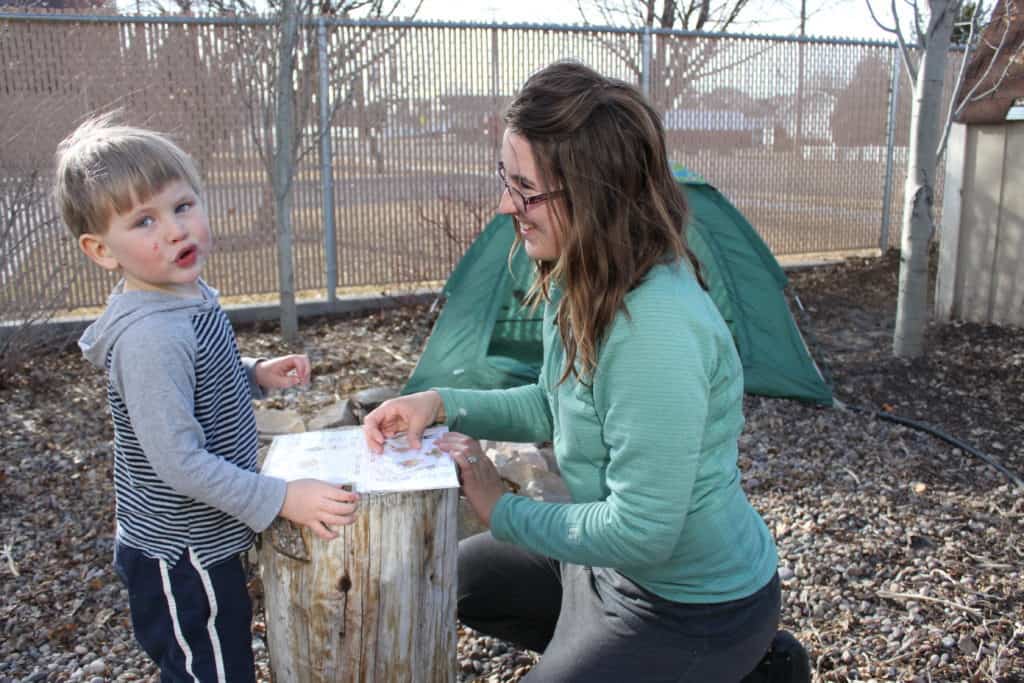 If you like this, here are some other fun camping activities! Don't forget to pin this for

camp

season! <3
This game does cost $5.00 to buy, but it is seriously cute and I think you'll love it!
But I do get if you don't want to spend money (I am a thrift store lover after all!)
Luckily I do have a lots of free cute printables too!
Nature Scavenger Hunt 4 Pack

– These are a really fun way to explore camp, and they include more than your traditional scavenger hunt (senses, alphabet and experienes!)

Camping BINGO

– I mentioned this earlier, and it's perfect to play as a matching game or traditionally with your kids or a classroom!

9 Page Camping Planner

– This is a handy pack of everything you will need to have a great trip with the kids: A pack list, meal planner, kids songs and activities, and camp activity planner!
These 53 Classic Campfire Songs include some kid specific ones that even your toddler will be excited to sing or clap along to!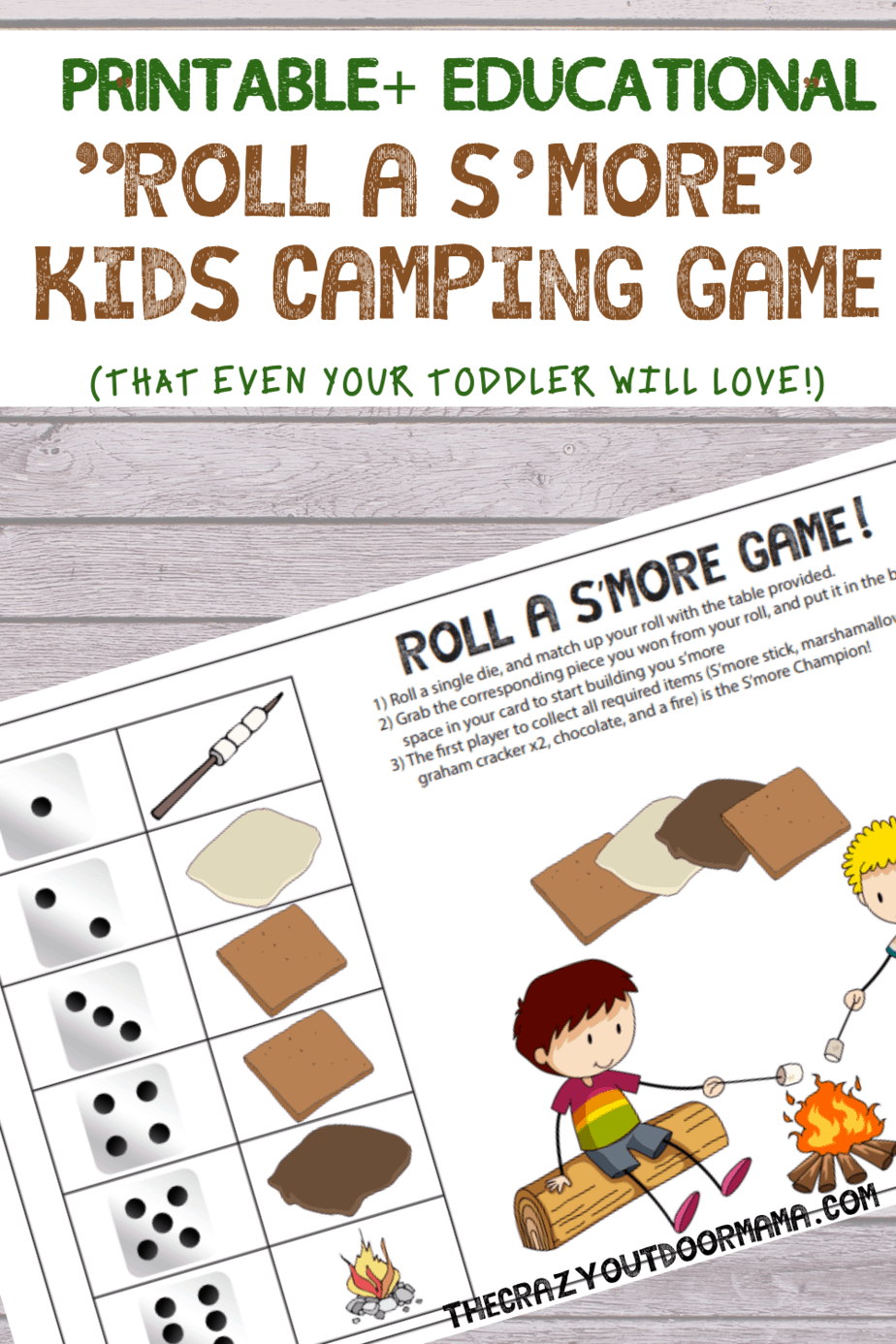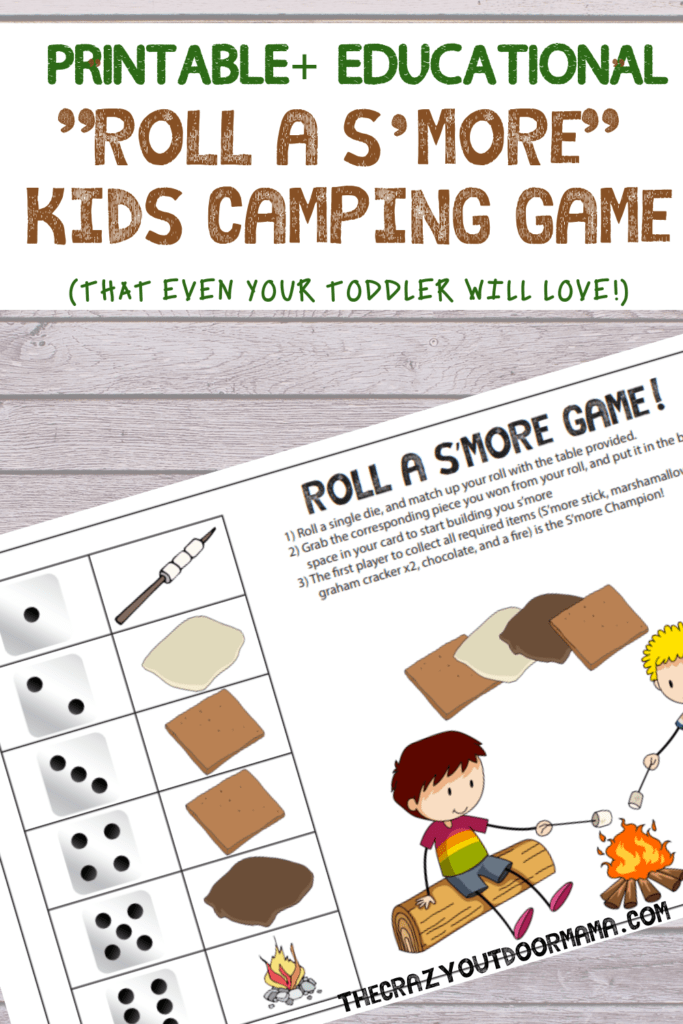 Latest posts by Stacy Bressler
(see all)