I am REALLY loving all the Easter crafts this year, especially since my preschooler can actually do some of them now, and after seeing all the fun he's had with my Easter Bunny Egg roll, I wanted to make a smaller version… so the Easter Bunny Jelly Bean MUNCH craft was born!
Kids just looooove pretending that something is eating something else, and I definitely remember loving that too as a kid! I would cover up all my plastic animals with clay then have my toy dinosaurs eat the "meat" off of them… it sounds kind of weird, but I was REALLY obsessed with dinosaurs!
Anyways, I had went to Walmart to pick up a couple of things (I, of course, came out with like 15 more items than I needed) and I noticed these adorable "Speckled Jelly Bird Eggs" from a company called Brachs, and I knew I just HAD to think of a way to use them!
Luckily, I have a kid that will feed his toys till they burst so I thought I could create a smaller bunny that would be perfect to "eat" these cute small jellybean eggs!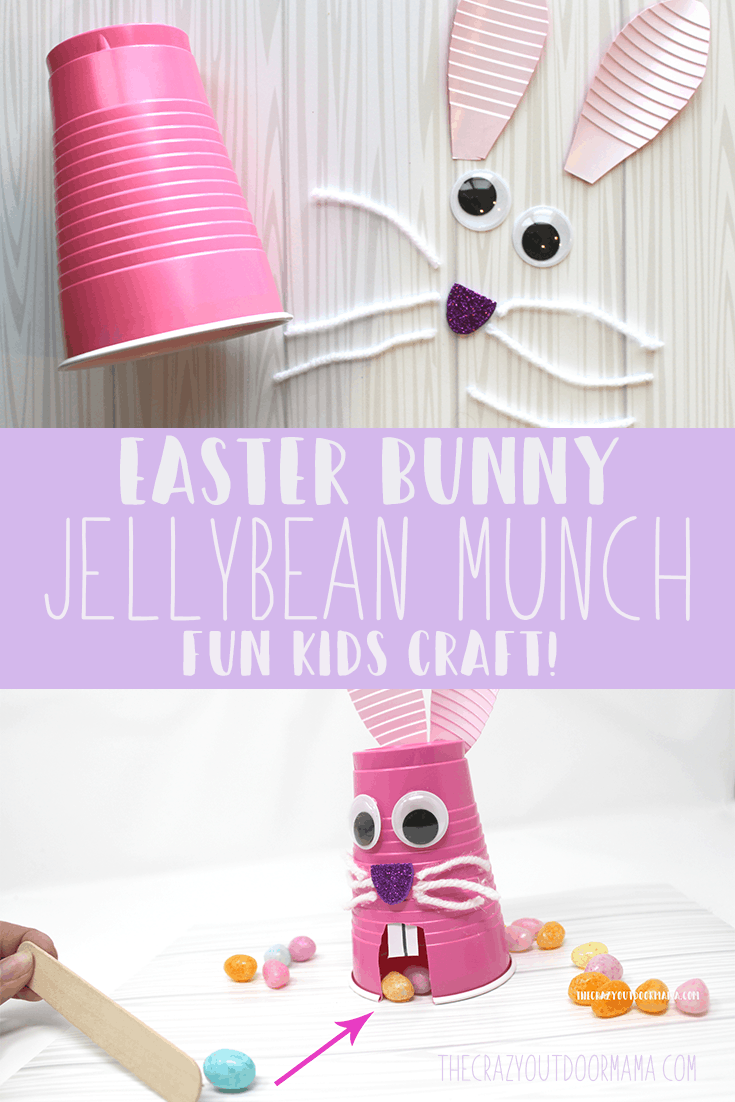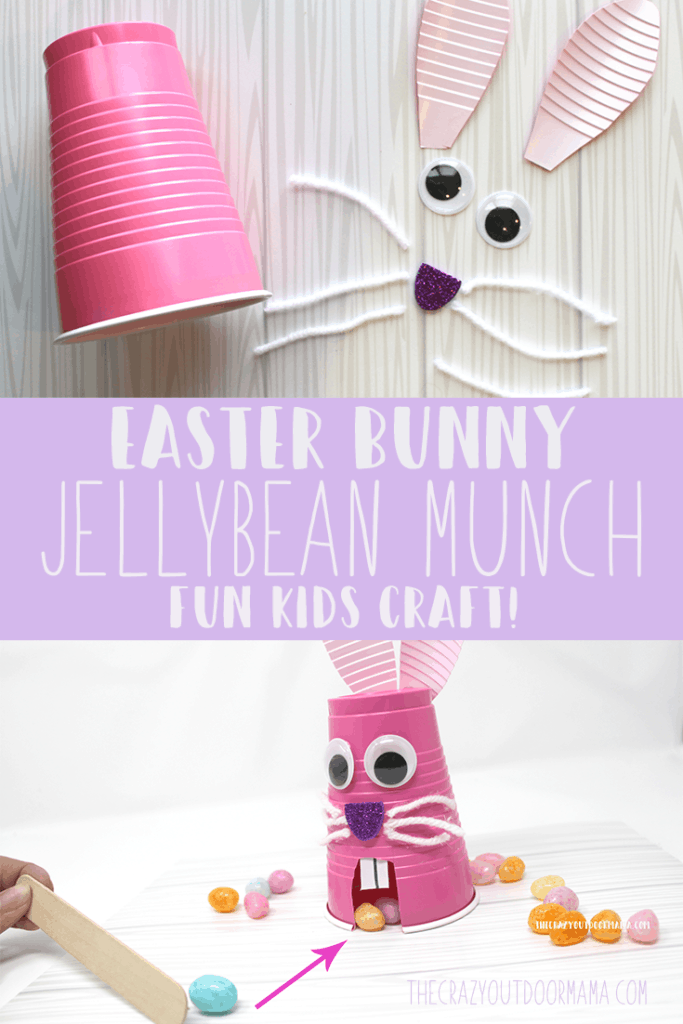 Here we go!
Easter Bunny Jellybean MUNCH Craft for Kids!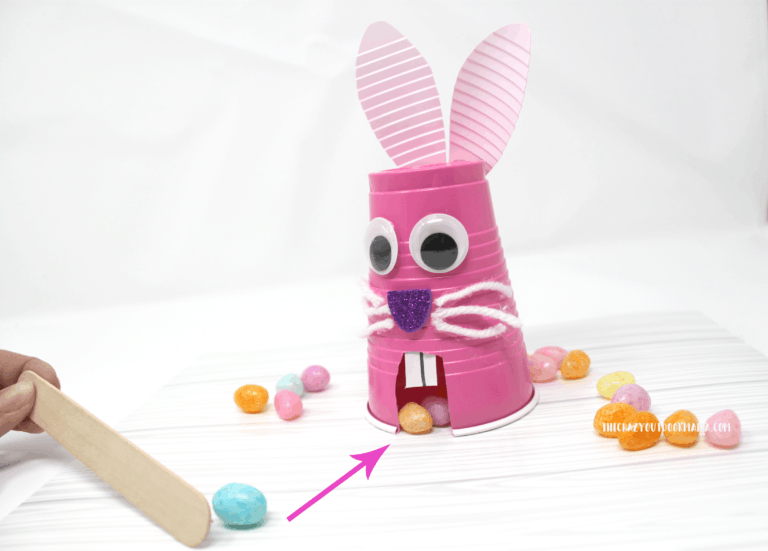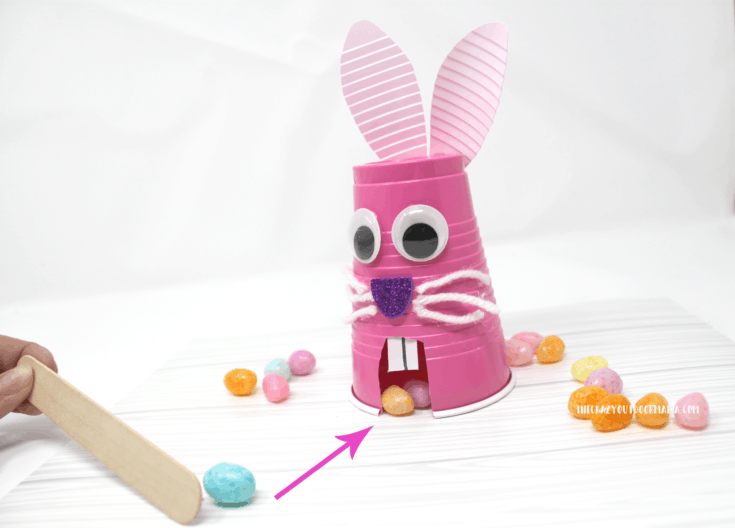 Make Easter even more fun and share those fun jelly beans with this cute and HUNGRY plastic cup Easter Bunny craft! Try and roll or flick the jellybean eggs into the hungry bunnys mouth - kids of ALL ages will enjoy it... this could even make a fun adult Easter game!
Materials
1 Plastic Cup
Googly eyes
Nose material - I used a glittery sticker I had on hand
Yarn for whiskers
Glue
Ear material - I just cut the ears out of another plastic cup, and it worked great because the curve of the ears matched the curve of the cup!
Jellybeans!
Instructions
Cut out your Easter bunny's ears from a second cup. It's easiest do cut one, then just use it as a template for the other so that they're even!
Cut out Easter bunnys teeth from the same cup as the ears - just a small rectangle, with enough space on top to glue inside of the cup.
With the cup upside down, glue on the decorations. I started with the ears (slightly angled) on the back of the cup, then added eyes, nose and whiskers!
Cut a small hole for the mouth that would accommodate a jellybean (with extra wiggle room, and even more for younger kids!).
Glue bunny's teeth on the inside of the cup.
All done! Let your toddler "feed the bunny!" (just make sure they don't end up eating all those jellybeans themselves! =P)
If you want to add a learning aspect to this fun Easter Bunny Munch game, try this!
So if your preschooler is anything like mine, he'll probably have fun for quite awhile just feeding this bunny by himself.
However, if you want to up it up a notch, try introducing counting and colors! For example, try asking him to only feed bunny the yellow eggs, or maybe 5 blue and 1 pink!
I hope you love it as much as my kids and I did!
Looking for more fun Easter activities to do with your kids? Try these!
Cheap Easter Crafts for Kids (non religous)
This is a list of fun but budget friendly crafts to celebrate Easter with the kids this year!
Latest posts by Stacy Bressler
(see all)