If you have tons of those plastic Easter Eggs laying around and you're looking for something fun to do with them, make this fun Easter Egg Roll Game perfect for toddlers, or really any age kid who loves Easter games!
Between all the Easter egg hunts, crafts, and my excessive purchases at thrift stores (I REALLY am bad at saying no to a deal!) we usually end up with an unreal amount of Easter eggs each year…
I feel bad throwing them away, so I just try to store them for next year.
I wanted to give these guys a second purpose after being found (it feels weird to really only use something for a minute or less!) and decided a fun rolling game was perfect!
Kids can get as close or as far as they want, and have to try to "feed" the Easter bunny their Easter eggs!
The weird roll of the eggs makes it even more interesting!
Anyways, here is how to make this fun kids Easter Game!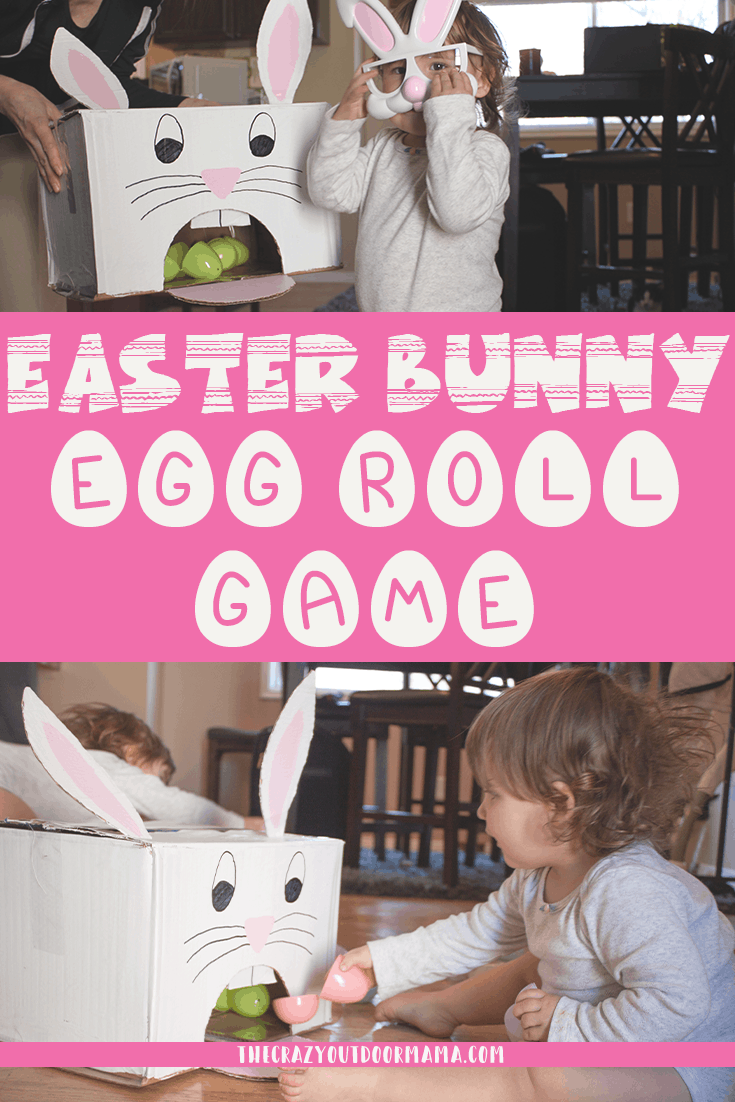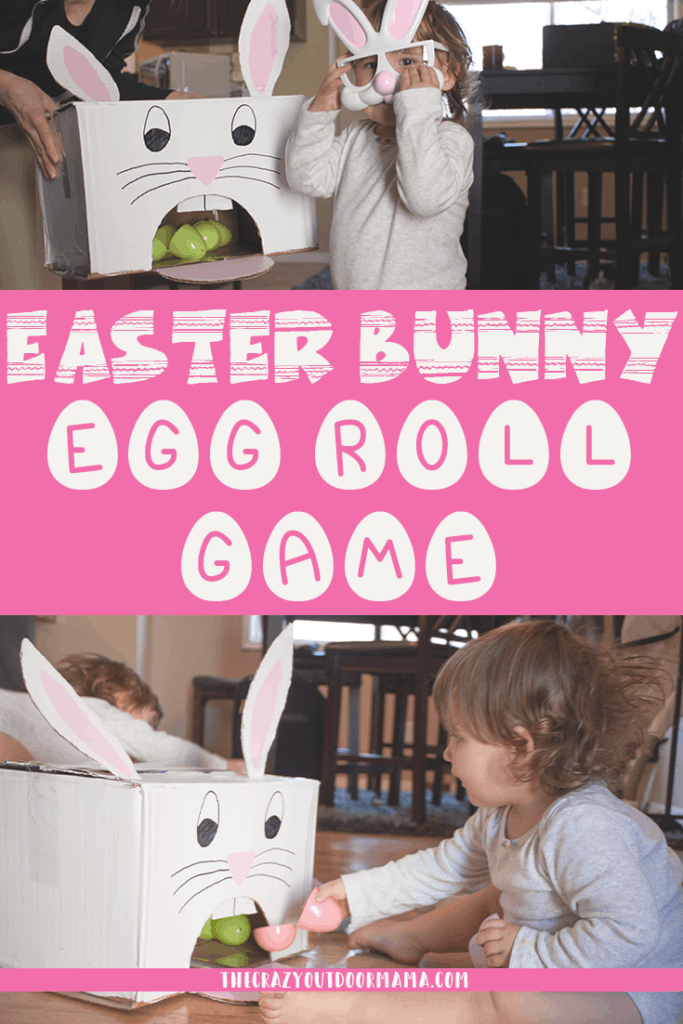 Easter Egg Roll Game!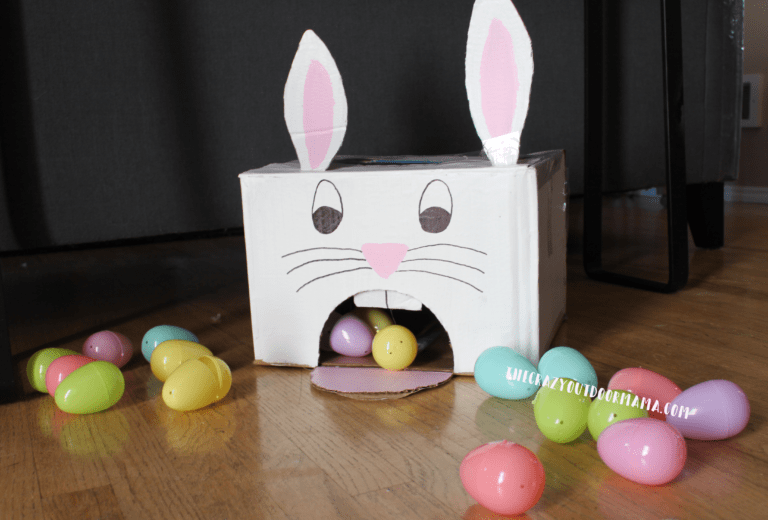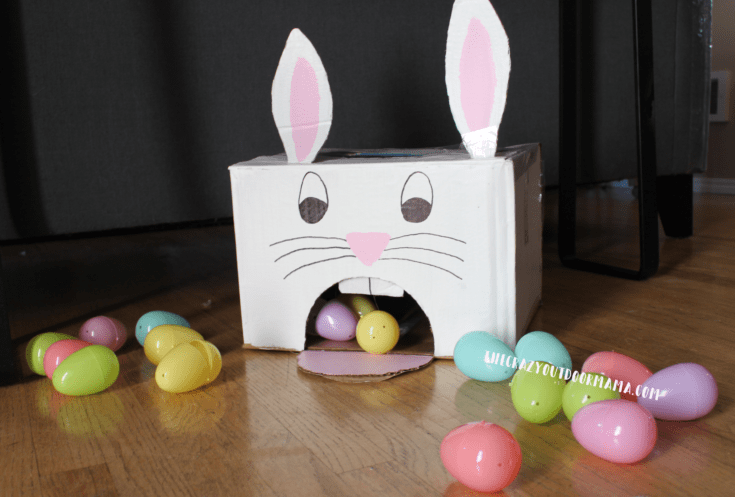 This fun and easy Easter Egg Roll game lets kids "feed" the Easter Bunny their Easter Eggs! Repurpose all those plastic eggs they got and turn them into a game!
Materials
Medium Cardboard Box
White Paint
Red Paint
Sharpie
Pencil
Tools
Scissors
Boxcutter
Paintbrush
Instructions
Disassemble the box by separating the seam of the box (it should be a small glued flap holding the box together that can be lifted up)
Paint the bottom portion of the inside flaps white - it's important to paint the inside of the box so that you don't have to worry about removing extra tape and decals that are typically on the outside of a cardboard box (we used an Amazon box). The unpainted panels will be the bottom of the box.
Draw out, cut and paint the ears and teeth for the bunny.
Allow to dry, then reassemble the box.
Draw out the bunnys face. The "mouth" portion should come about half way up (I traced a paint can), and then you can sort of plan out the rest of the features once you have that. Make sure to use a pencil!
Cut out the top "mouth" of the bunny, but leave it attached at the bottom. This will be the ramp! Paint the nose and ears with pink, and use sharpie for the eyes and whiskers
Cut two slits in the middle of the top of the box for the ears. The ears should fit in pretty snug and not need any tape.
Tape teeth behind the mouth
DONE! Get your eggs!
Notes
I used plain old house paint for the white of the body so that I didn't have to use up my nice paint, so try it if you have some laying around!
I hope your kids enjoy this fun DIY Easter game as much as mine did!
It was seriously a free for all as soon as I put it down! They were having so much fun just "feeding the Easter Bunny" that I never got to actually tell them to try and stand back and roll it!
My preschooler just kept feeding him eggs, dumping them out, then doing it all over again!
I imagine even older kids could enjoy this cute Easter game, only because I thought mine would get bored just feeding him… wrong! Apparently my kiddo needs to be older to actually roll it!
Pin this Easter Bunny Egg Game for lots of fun later, and check out these other Easter posts!
This is fun, unique take on your traditional "Easter Egg Hunt" that little kids will love! Lisa Frank made the "Scratch It!" activity popular - enjoy that same magic with your child at home this Easter with a DIY Scratch and Reveal using just Crayons!
This easy egg carton tulip just needs 3 items, and is a fun, creative way for toddlers to get excited for one of the first flowers of spring! This spring craft can be as easy or advanced as you like - for this tutorial, we will simply be painting them!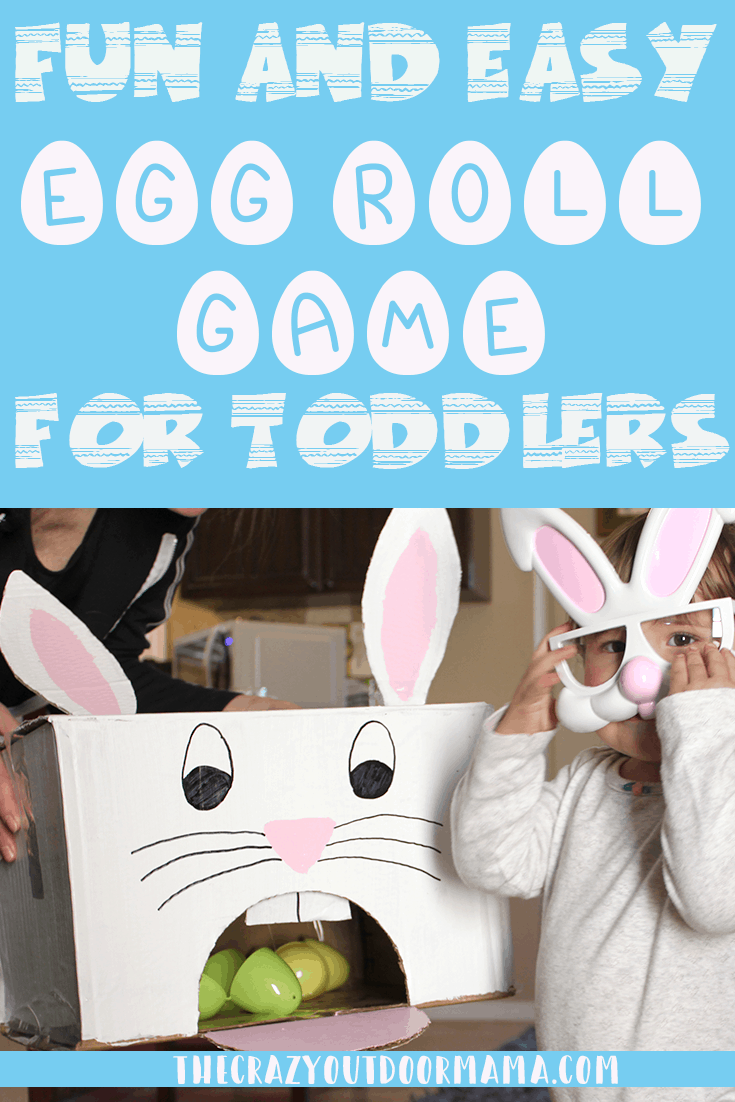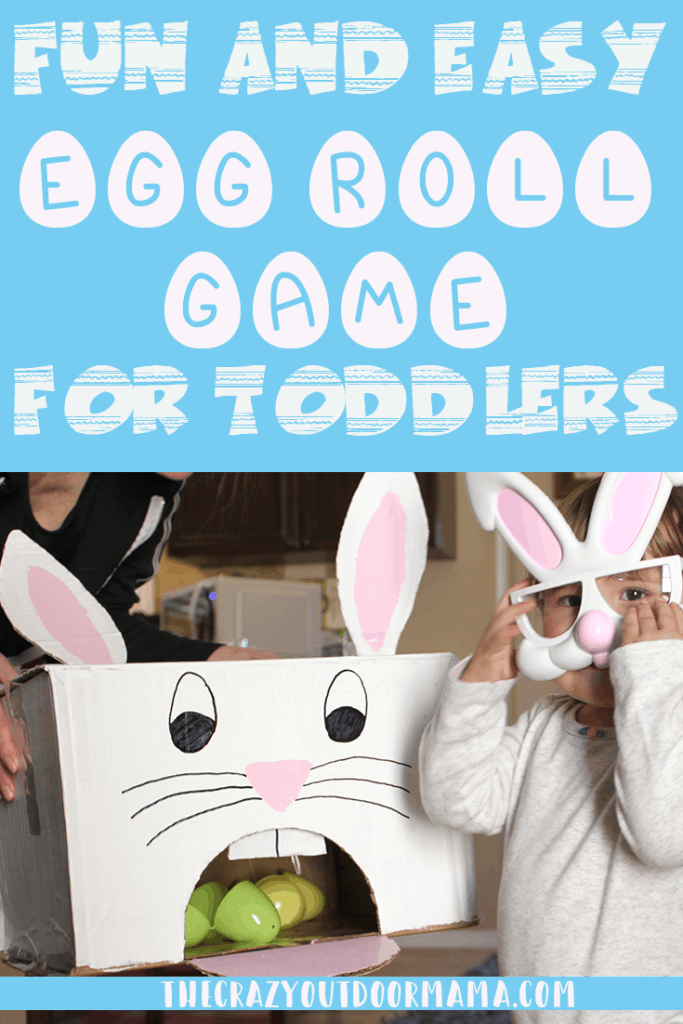 Latest posts by Stacy Bressler
(see all)