Have you wanted to include those popular "Peep" Easter marshmallows in your festives while also including nature? Then you'll love this Nature Built Peep House kids activity!
While we do normally cave and find a special way to eat these guys, I wanted to create an activity that DIDN'T include eating them (even if they tasted good, holy cow does everyone have a sugar crash after!) So, I hope you'll enjoy this quick and creative Easter themed nature activity… to build a house for one!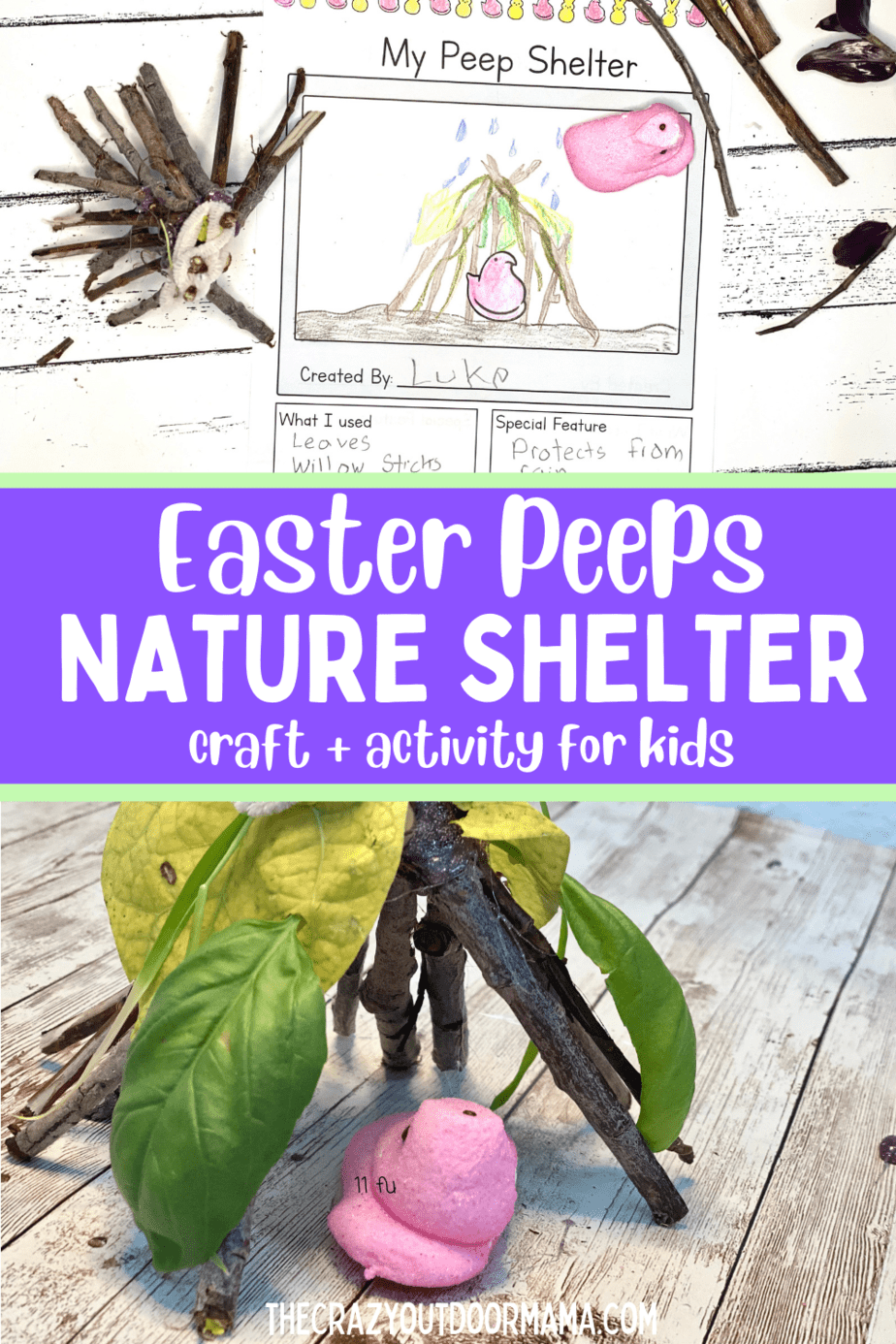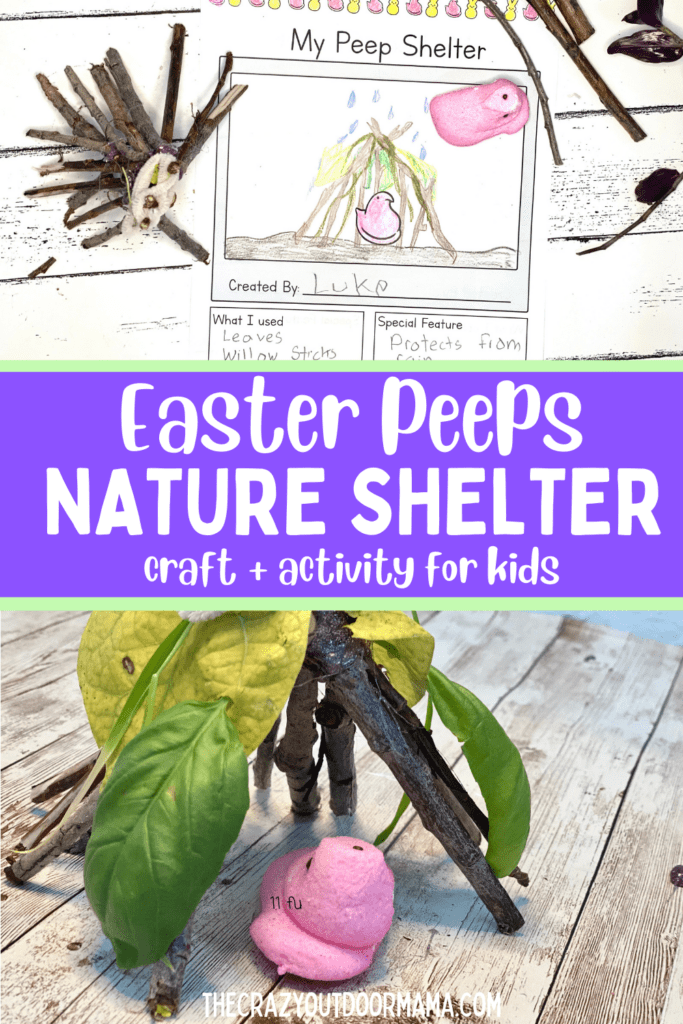 Get creative using the "My Peep Shelter" along side the activity!
There's a TON of ways to make a shelter – depending on the age of the kids you will be doing this activity with, you'll see everything from a simple lean to/tent/teepee to actual buildings!
I love making challenges if older kids are involved (see the bottom of the tutorial for some ideas!). For extra fun, I made a cute printable worksheet for kids to draw and write about their special Easter nature shelter!
Download and print the "My Peep Shelter" PDF before you get started!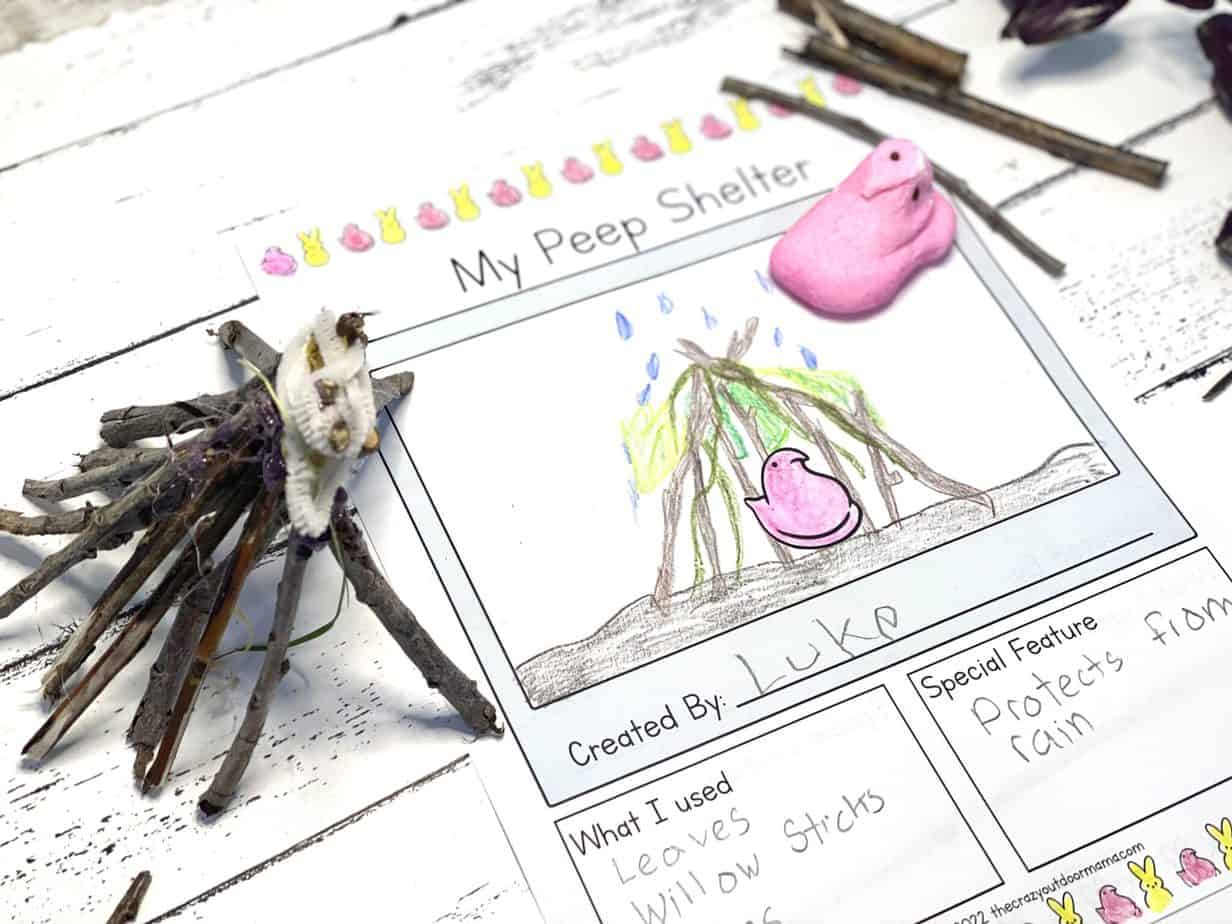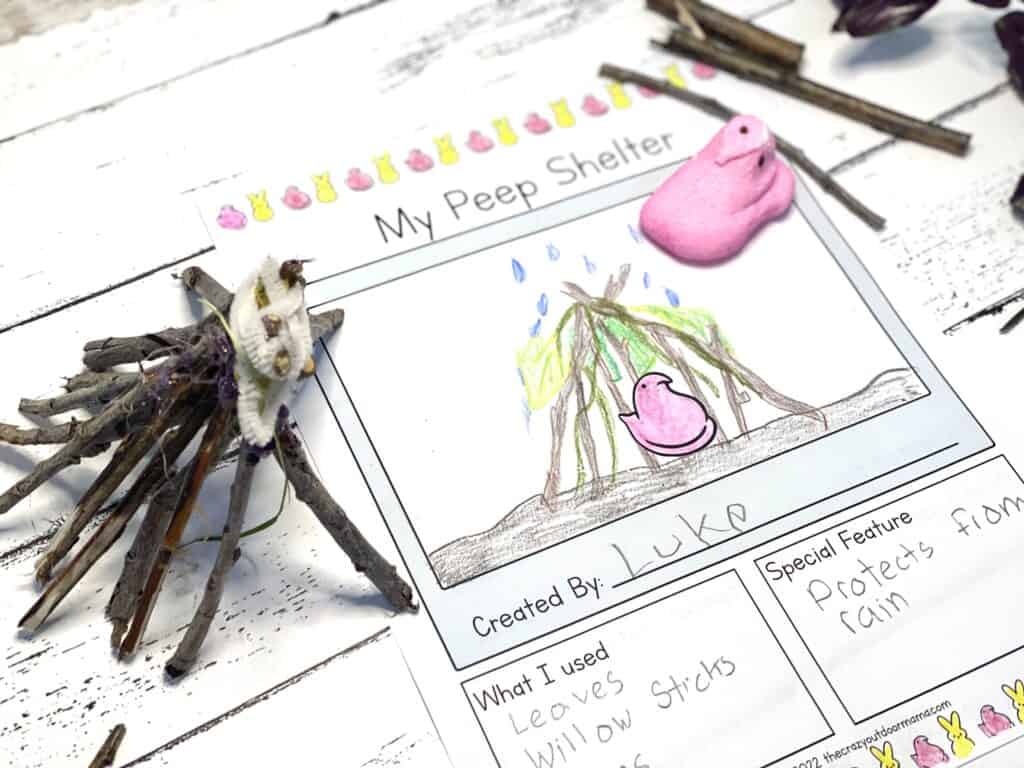 Yield: 1
Easter Peep Nature House Activity for Kids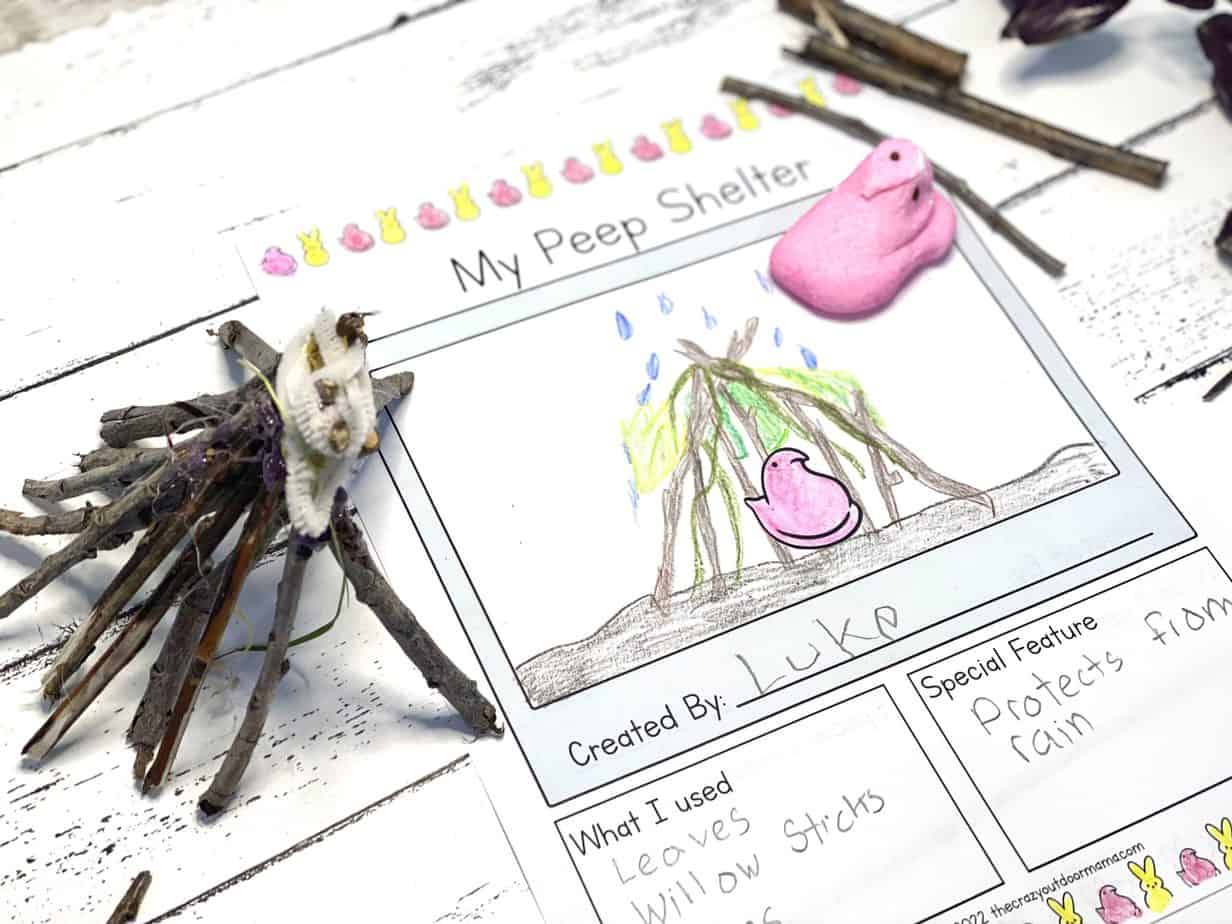 Skip the sugar crash while still enjoying those cute Easter Peeps with this fun nature activity - building a house for one from things found outdoors! Get the most out of this nature based Easter activity by using the printable "My Peep Shelter" activity sheet.
Materials
Handful of Small Sticks (cut long ones down to size if small sticks are hard to find)
1 Peep
Leaves and other cover/roof materials
Glue/Pipecleaners/Twine to hold it all together
"My Peep Shelter" PDF
Tools
Scissors
Optional - Hot glue gun
Instructions
Gather the materials needed for the Peep house - depending on the design (it doesn't have to be a teepee/tent!) different stick sizes may be needed
Using glue or other binding material, create the frame for the Peep house
Add some cover to the Peep house using leaves, grass, and whatever else was found.
For added fun, print out the "My Peep Shelter" PDF so your kids/students can write all about the special shelter they made for their Easter Peep!
Notes
There are TONS of fun ways to modify this for older or younger kids
- For younger kids (under 4) pre cut the sticks and use some play doh to hold the sticks in place until an adult can help glue it all together
- For older kids - Create some fun challenges such as "Most shade created" "Most sturdy" "Most beautiful" "Most rain proof" etc
- Attach the project to a paper plate or bowl for easy transporting if done in a class setting
Looking for more nature based Easter activities?
We traditionally celebrate Easter while camping, so naturally I've had tons of fun finding ways to recreate the magic while outdoors! Here are some of the most popular ones to date!
Whip up these

easy Easter egg bean bags

for a fun basket toss game

Make a nest

for a special egg shaped rock
Go on a glow in the dark egg hunt
Decorate an egg cut out with items from nature
Create a beautiful egg shaped window craft from nature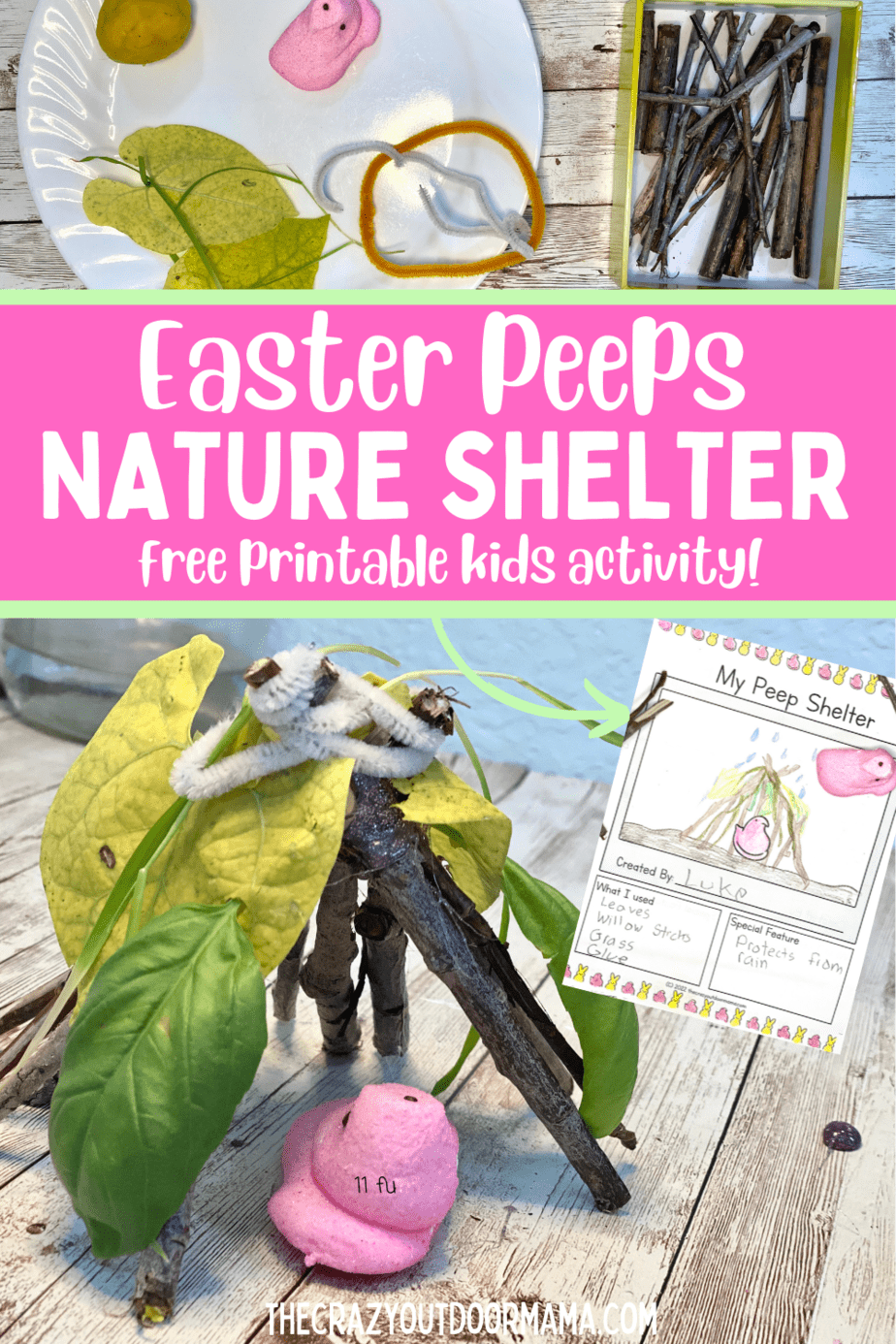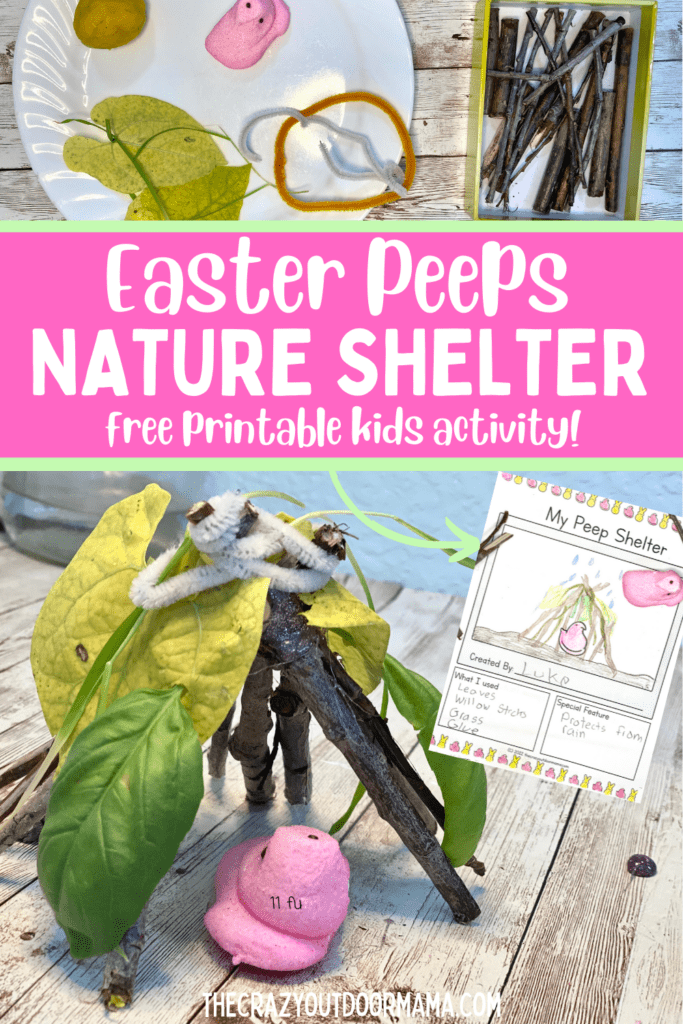 Latest posts by Stacy Bressler
(see all)