What better way to remember an awesome summer camp or family camp trip than with a camp necklace!
It's WAY funner than buying one at the store, and you can create a necklace centered around your favorite memory about camp.. whether that was the mountains, boating, or let's get real for most of the 10 and under – the s'mores!
I absolutely love doing camp crafts because not only is it fun for the kids, but if you have younger ones (my oldest is in preschool) then it's something to sort of keep both of you occupied during that afternoon lull!
These camp necklaces can be used just for fun with your kiddo (I know mine would definitely be the "s'more master" or "fire king"!) or you could use them as sorts of "medals" at summer camp!
If you love campy craft, don't forget to check out this massive round up of the 53+ Best Camping Crafts the kids will love!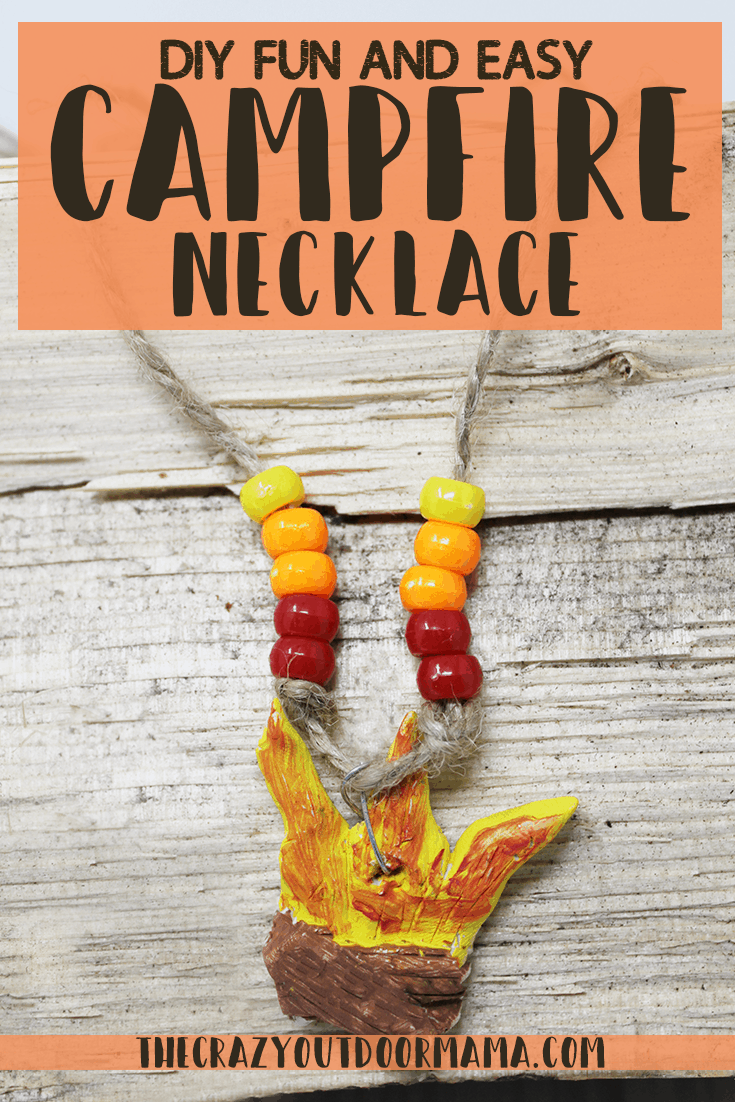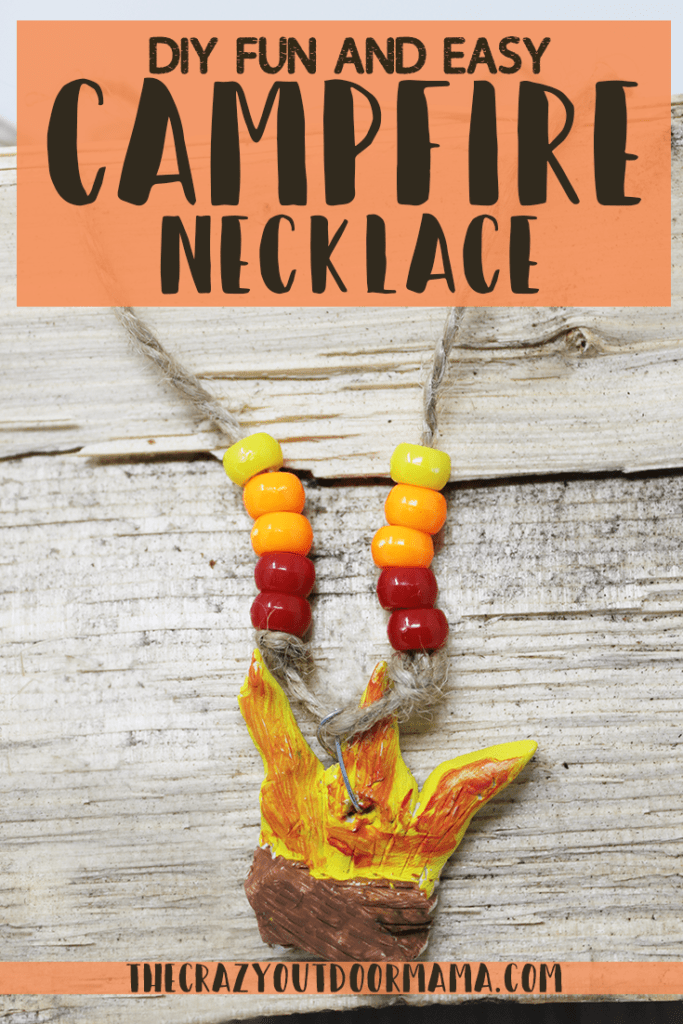 Every summer when I was a child, we would play a kid version of "Survivor" (except you voted for the person you liked the most instead of who you wanted to leave!) and it was really fun having that game aspect to our yearly beach vacation. We would win some cash and a small little trohpy, but as a kid, it felt awesome and massive!!
I made these with that in mind – something fun, camp related to make (or win) to remember your camp trip!
Anyways, here's how to make these cute DIY summer camp necklaces!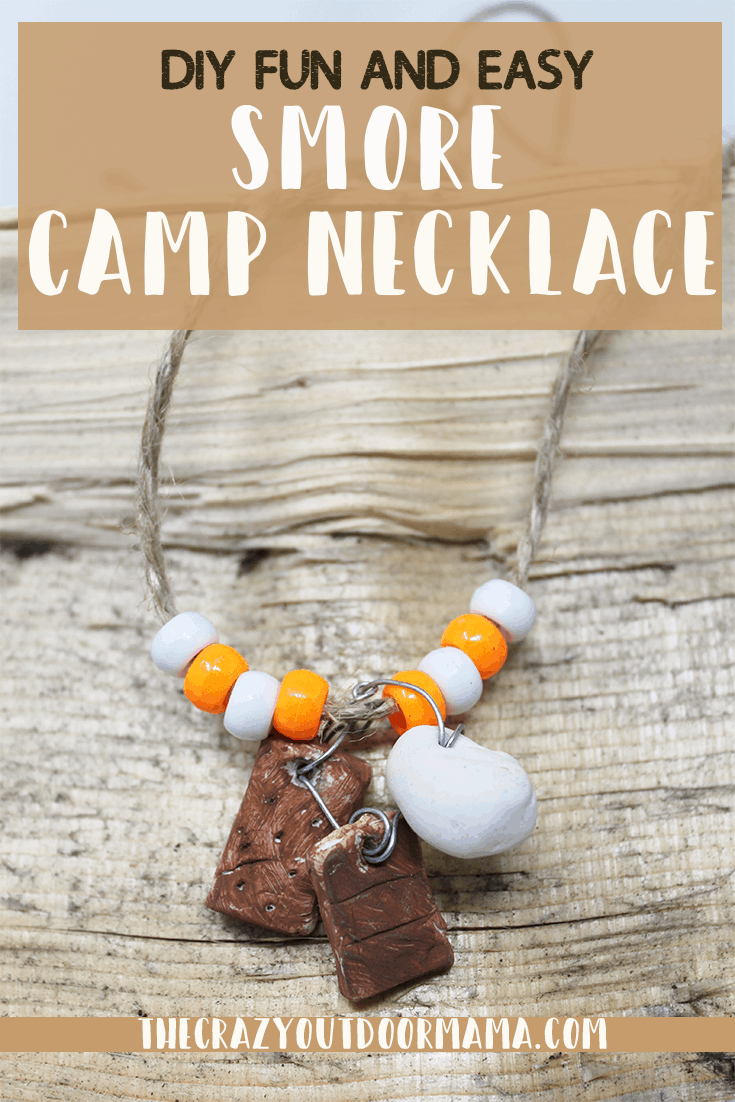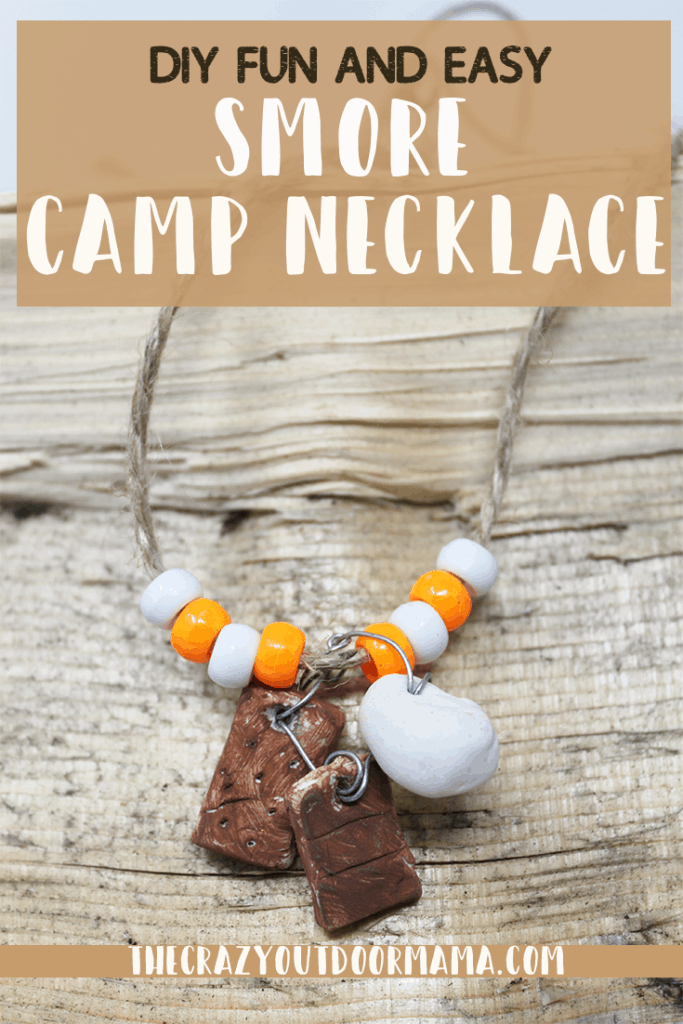 Easy and Fun Summer Camp Necklace Craft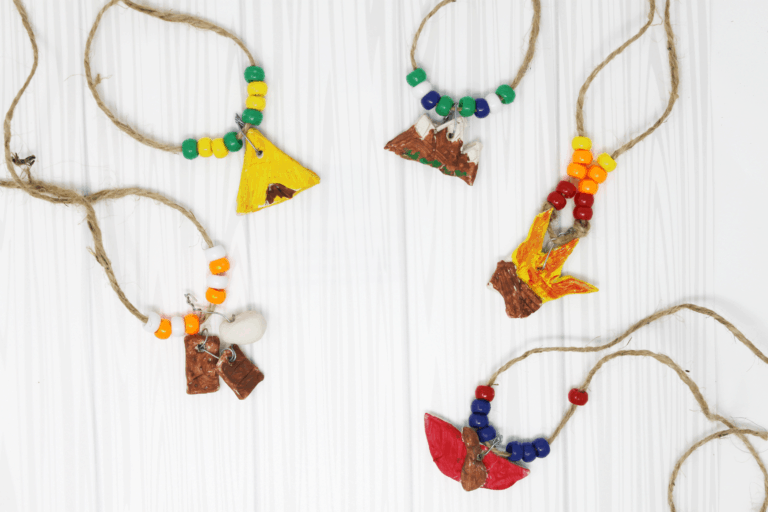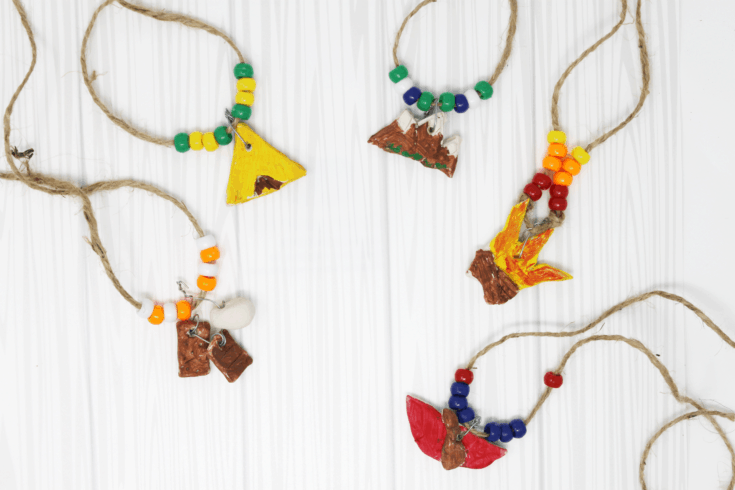 Celebrate your next family camp trip or summer camp with friends and make these pretty (and EASY!) camping necklaces! Make a camp necklace with your favorite memory with this fun DIY!
Materials
Sculpty Clay (or any other oven bake clay)
Tempera Paint (others might work, but this kind seemed to "stick" to the clay well)
Pony beads
Twine or other material for necklace
Very thin wire
Tools
Scissors
Needle nose pliers (not neccessary, but very helpful for dealing with wire edges!)
Instructions
Make the shapes of the items with the clay. Score the clay with a knife for any additional details you want, IE wood grain, mountaintops, tent flap etc. Make sure it's 1/4" or less thick so that it will bake well in the oven!
Poke a small hole near the top of the clay item. It doesn't have to be big enough for your string, just big enough for very thin wire!
Get a baking sheet and put your items on it - cooking times will vary, but my brand of clay said to bake for about 15 minutes.
After 15 minutes, remove your clay camping item from the oven and let cool and paint!
Cut a small piece of wire and make a secure loop through the hole of the clay camp item. This will help your camp pendant necklace to lay flat, and it's WAY easier to thread that through than a string!
Cut a piece of string/twine long enough to fit around your child's head and thread it through the wire loop you just made
Add pony beads as desired, tie and enjoy!
Do you have a summer camp craft favorite?
I never did summer camp growing up (I grew up in the desert, and it was 120 F outside sometimes… staying inside sounded realllly good!) but I AM super excited to make these with my kiddos this camp season!
I love how each necklace can reflect the personality of each kid. I bet all 3 of my kids could proudly wear the s'more one, but my son is getting really good at hiking, and has ALWAYS loved helping with the fire…
So who knows, maybe he'll have a necklace with all of these camping activities!
P.S. Here are some other camping crafts you'll love!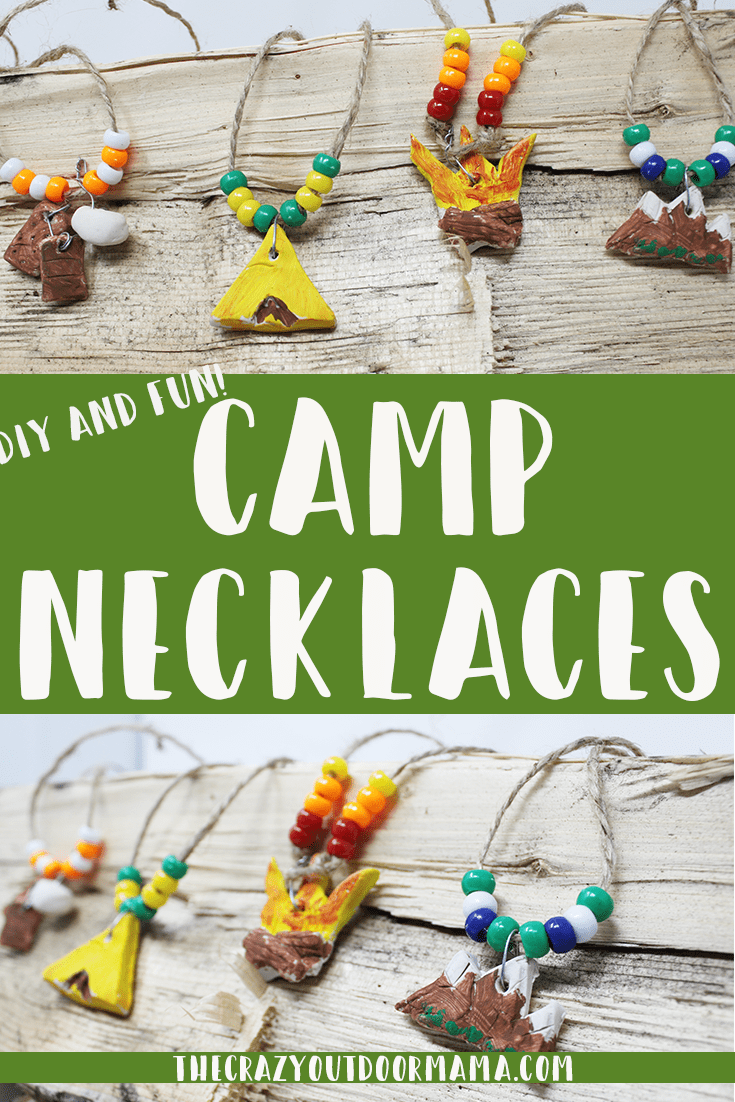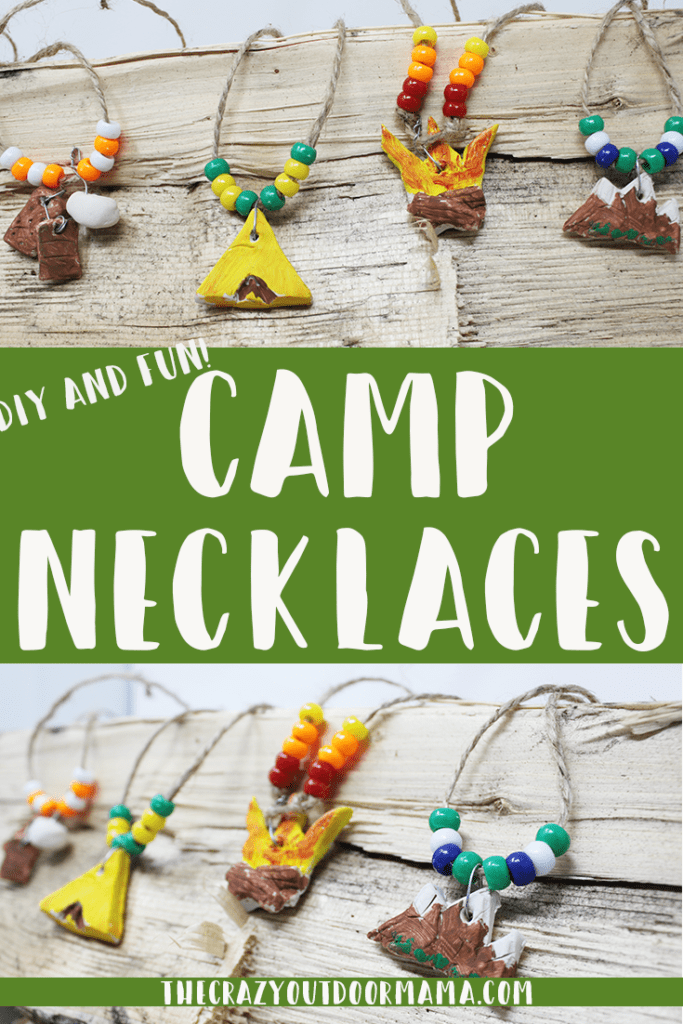 Latest posts by Stacy Bressler
(see all)