Have you ever fell in love with the idea of a travel journal of sorts, but never actually follow through or wonder what to write? Or maybe you looked at the vast amount of pictures from a recent camp trip, posted a few on social media, and were kind of sad that the rest sort of fade away into oblivion?
I GOT YOU!
I have 10,039 photos on my Iphone right now (I just looked!) and there are some pretty amazing memories in them, but here's the thing..
I NEVER print them off because I get overwhelmed going through them whenever Shutterfly has it's free 4×6 special! As much as I love the fact that we can take so many pictures with our digital cameras now a days, I sometimes think the simplicity of "getting what you get" from actual film cameras is kind of nice.
I remember being so excited to pick them up from Costco! But atleast 10 of them were blurry, 5 of them has someone blinking or weird red eye, and then I was left with a couple of solid keepers!
ANYWAYS – what if you had a small device that could print off pictures instantly onto a sticky piece of photo paper so that it was manageable to pick the few you like and document them right away in your journal?
And in that journal, you had a small prompt so you don't go to write and then blank out?
Ya feeling me?
Out of this was born my DIY Camping/Travel Journal with a printable template! I also wanted to show you how I use my Sprocket photo printer to actually get my pictures I love printed and pasted in the journal the same day (even with no cell service!)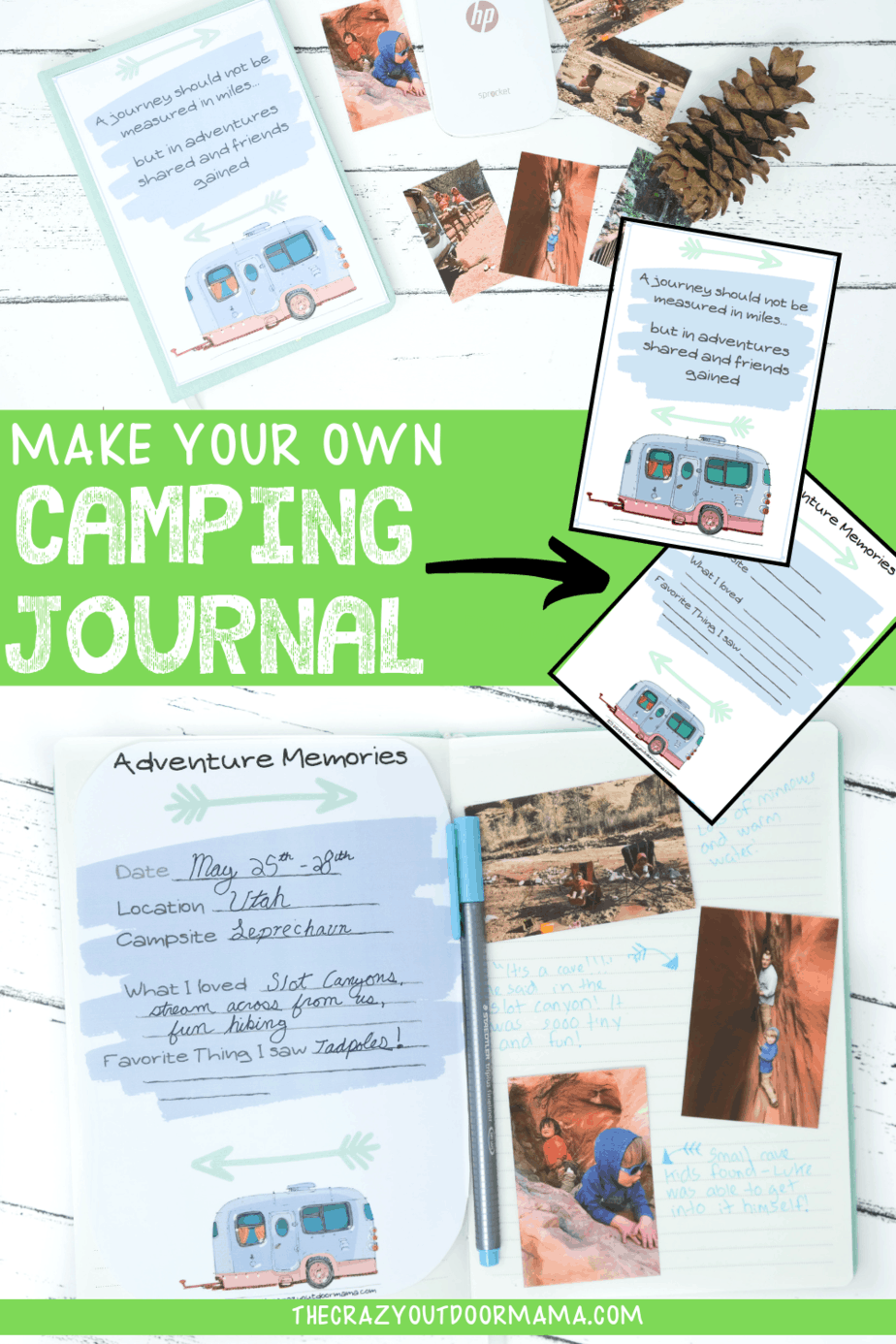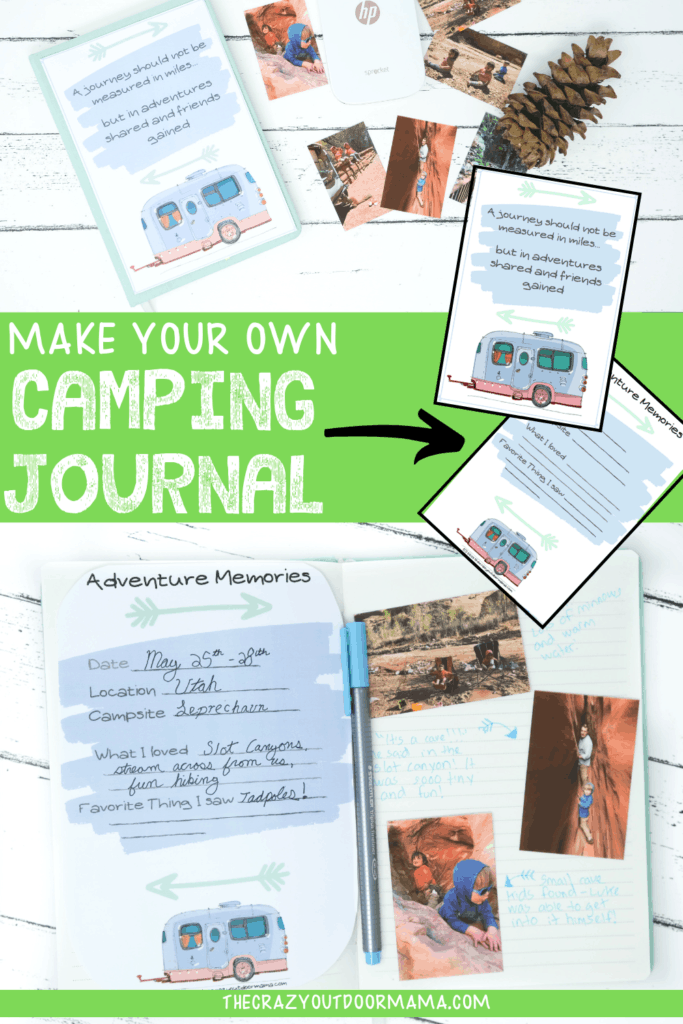 Why a DIY Travel Camping Journal?
There's alot of really beautiful journals out there, but I tend to have the same opinion about them as I do my son's baby book – there's a whole lot of redundant questions to fill in, and I end up dreading filling it out!
I like a short and sweet prompt with some room to paste pictures as I like!
The basics are covered in this camping journal, and you can use the opposite page of your journal to add any additional info you like!
Why a Sprocket Photo Printer (as opposed to using a print service or at home printer)
Guys, this thing is smaller than a wallet! That means we can take it with us camping, pick one or two of our favorite pics at the end of the night and print them right away before we forget or get overwhelmed much later!
ALL while still camping!
If you are a procrastinator like me and wait till the yearly photo book to go through your pictures, you might appreciate the immediate satisfaction of a quick print and paste… it feels good to know that your beautiful memories won't die on the iCloud!
How to make your homemade camping journal
For mine I bought a journal that was 13 x 21 cm ( or 5.11 x 8.27 in) just because I wanted something smaller which would force me to only pick the best pictures and write the most important info!
In the future, I may scale it to a full notebook if there's enough interest, but that also means more ink to make your camping journal!
Let me know if that's something you're interested in and I'll see what I can do!
Yield: 1
DIY Camping Travel Journal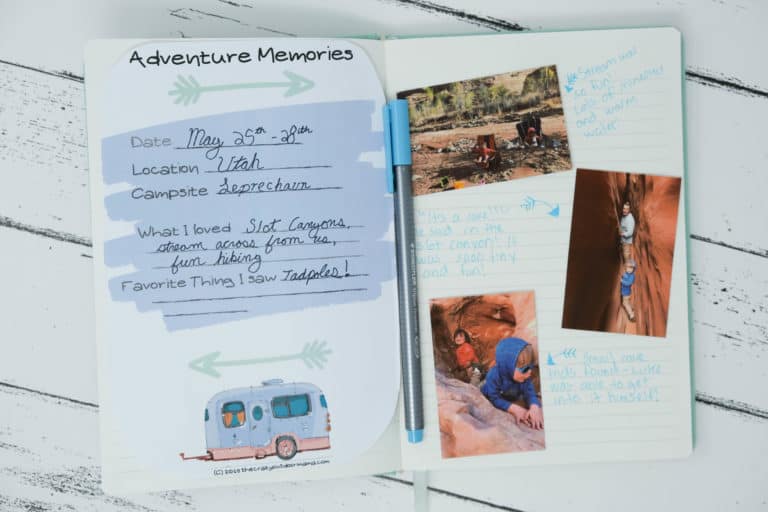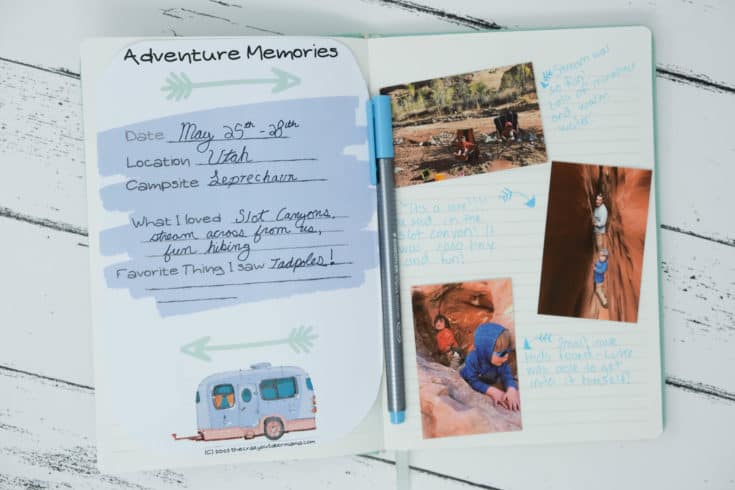 Make your own DIY camping travel journal to keep track of all the best bits for your family camp trip in style!
Materials
Color Ink and Printer Paper
Pens to write notes
Glue or tape
Tools
Sprocket Photo Printer (you can use your printer, it's just not NEAR as convenient... this thing fits in your pocket!
Instructions
Pick a journal that is 13 x 21 cm (5.11 x 8.27 in). This is what my template was designed for, but feel free to scale it if you like!
Print out the cover and as many journal page templates as you like.

Cut the cover and journal page templates out and glue to appropriate spots (I did my journal page template on the left side so that I could do pictures on the right)

If you are using a Sprocket, print off your desired pictures. Peel off the back and stick them where you like on the related journal page entry.

Fill in the blanks!
Recommended Products
As an Amazon Associate and member of other affiliate programs, I earn from qualifying purchases.
Don't forget to download your camping journal travel templates!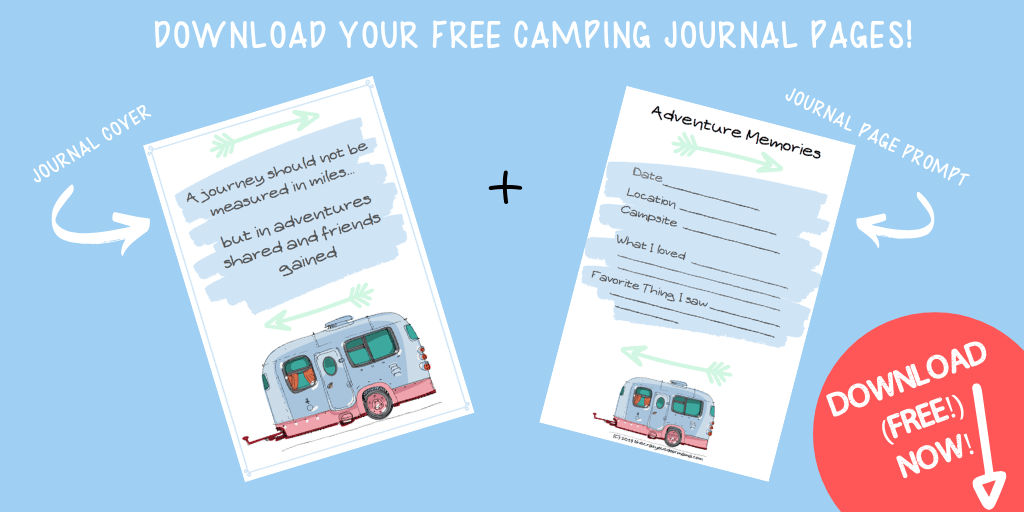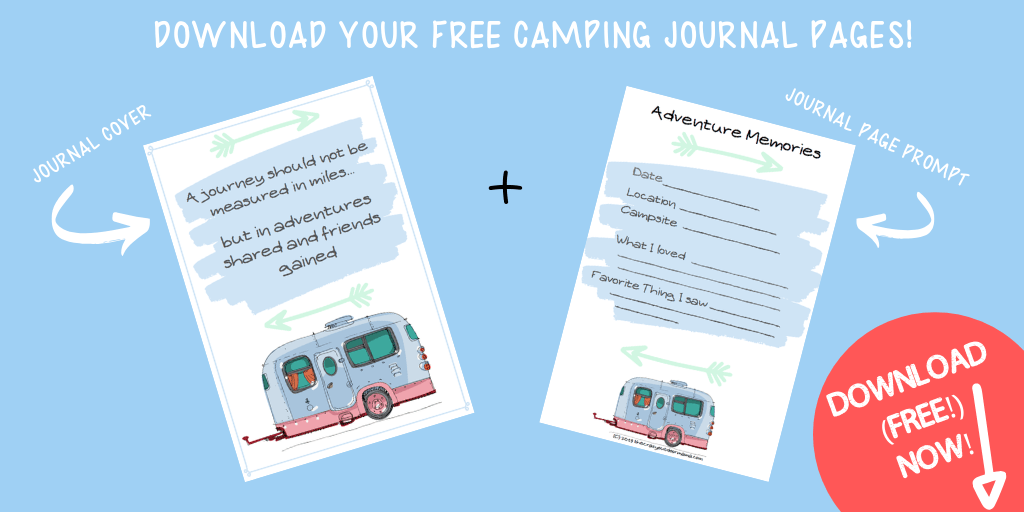 Are you excited to document your awesome adventures in your very own camp journal now?
It's a simple design, but it might just be the kick in the butt you need to finally start doing something with all your cool pictures!
Let me know if you would like a different design (IE a tent, car or plan). I am gauging interest in those things before I make them!
Other fun camping memories to make

and tips to read up on!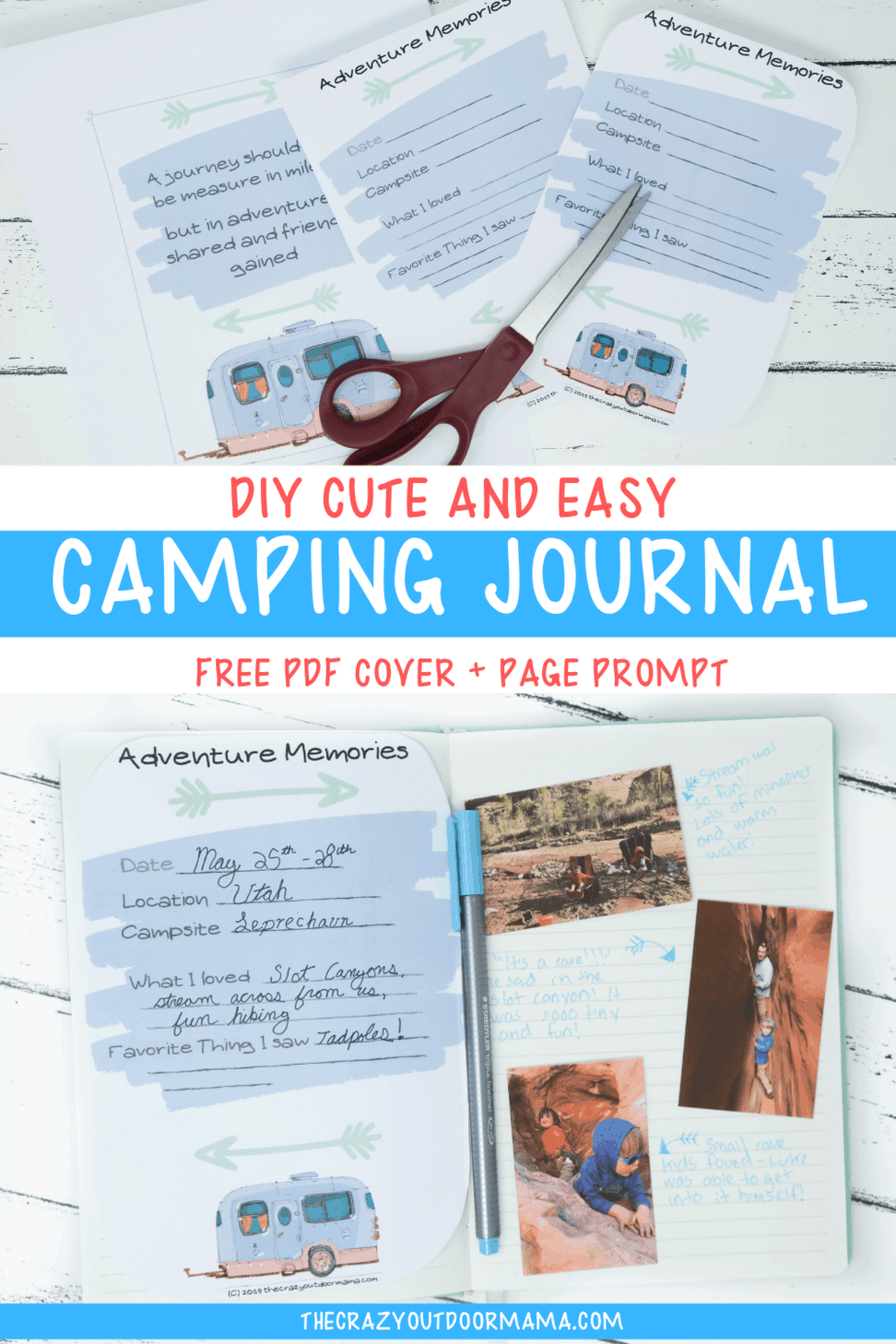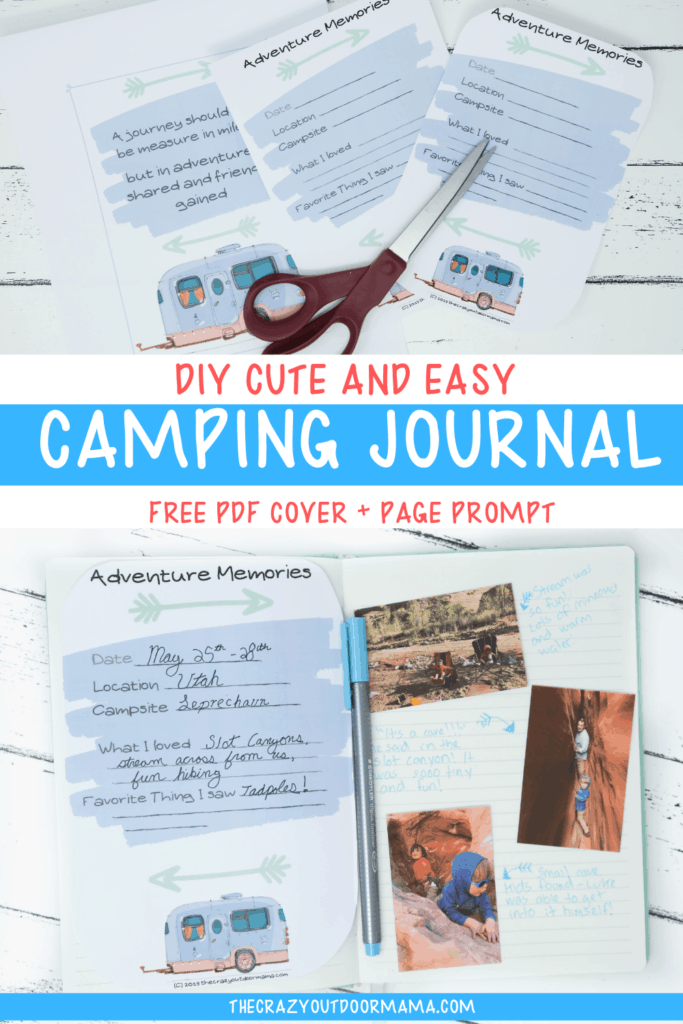 Latest posts by Stacy Bressler
(see all)