Picking a new camping chair can be pretty overwhelming, especially if you're someone like me who gets completely lost in Amazon reviews but hates going to the store!
BUT, you're in luck!
I got a wild hair in me and visited our local Cabelas to sit in allll the camp chairs! That's right – the zero gravity camp chair, canopy camp chair, basic folding one, and heck… even the director's style camp chair (which, even after sitting in it, can't say I understand!)
I have my personal favorite, but I'll give you the deets on each style so that you can make your own choice!
If you have kids, don't forget to check out my KIDS camp chair guide (includes baby highchairs all the way to big kid camp chairs!
P.S. – I am currently going to be linking to similar items on Amazon, however, should soon be transitioning to the EXACT item shown in the video from Cabellas!
Let's dive in!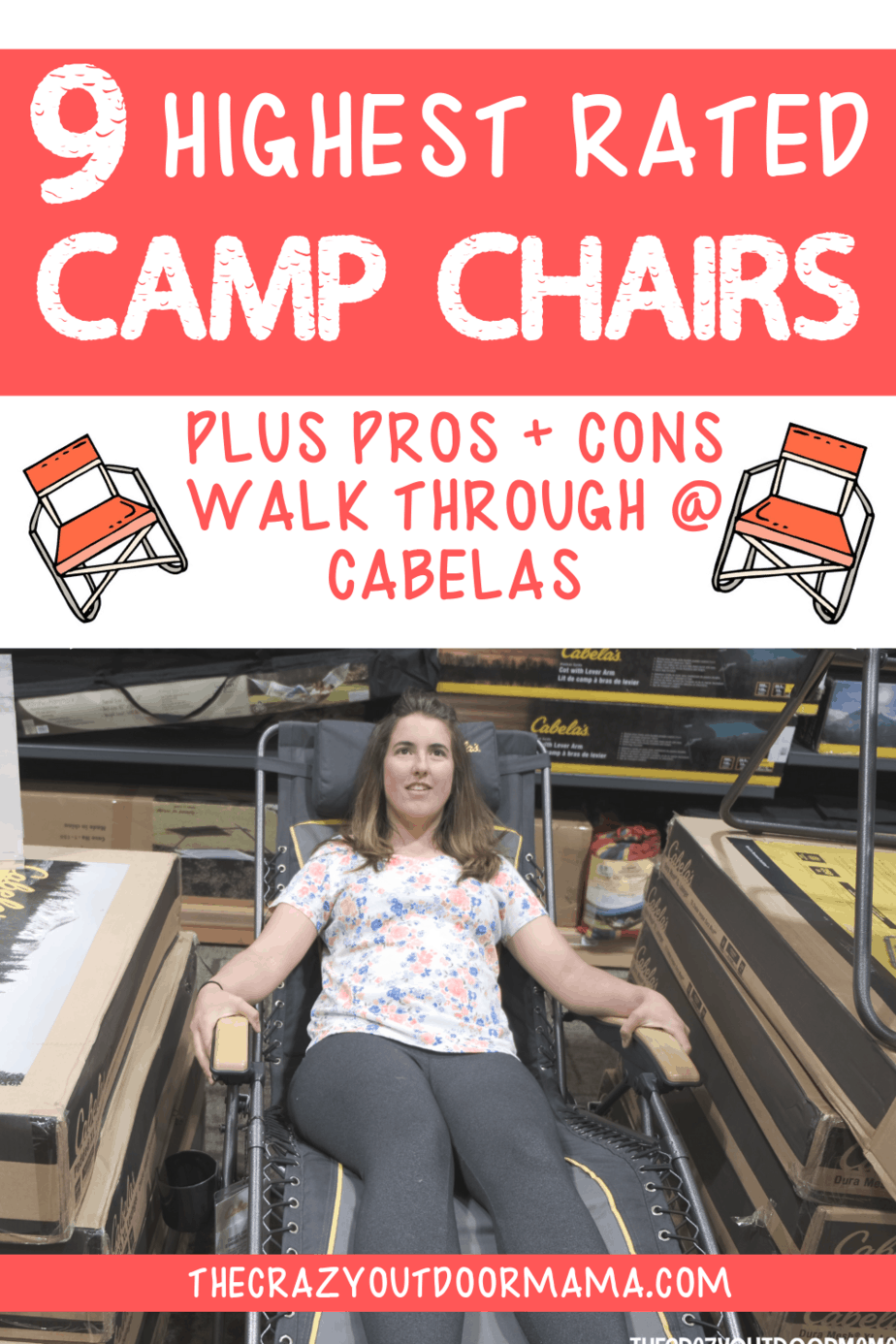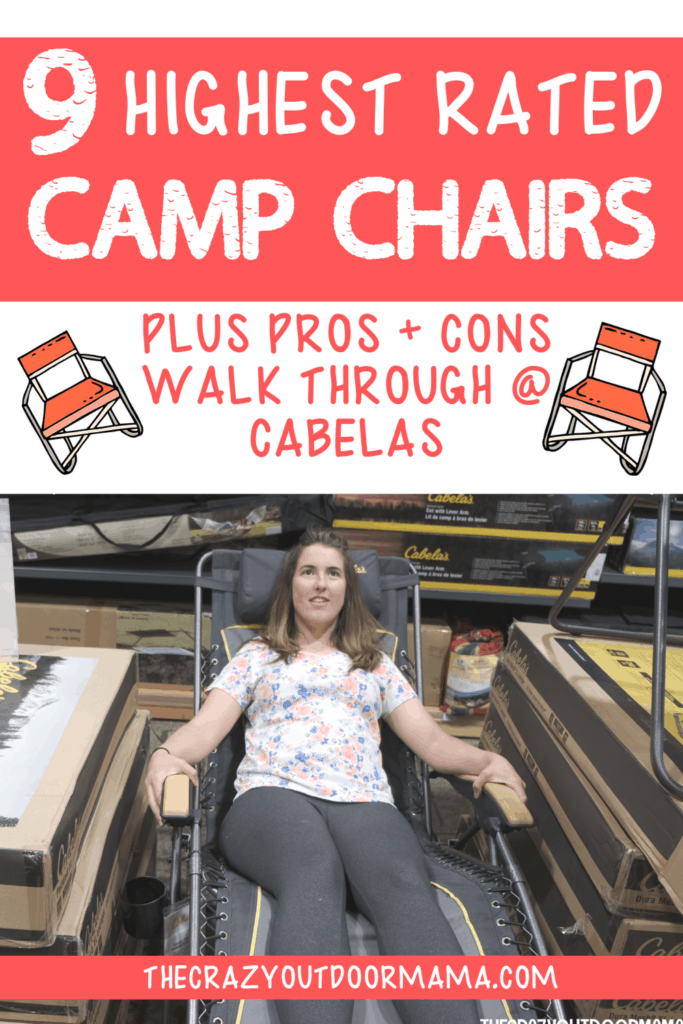 Video Preview of a couple of different style camping chairs (and what to watch for!)
Best Camping Chair for Heavy Duty Use

(800 pound limit!)
If you just want a beast of a chair and don't care for the frills and extra junk, then this is the monster you've been looking for -the King Kong Chair form ALPS Mountaineering!
No creaks, tipping or other signs of weakness in this chair!
ALPS Mountaineering King Kong Camp Chair
800 lb weight capacity!
Superior construction – 600D polyester fabric and padded
Many users said there was no creaking, stretching or other signs of instability in this camp chair after even a ton of use!
Best Heavy Duty Reclining Camp Chair
To be honest, this "heavy duty" camp chair is quite comfortable even if you don't necessarily need the extra weight limit and width! We had been eyeing this style of chair for awhile due to the fact that my husband is 6'4, but the added width was a bonus that made it really appealing!
I, for whatever reason, love sitting sideways in camp chairs, so this one was one of my favorites!
Timber Ridge Camping Chair Folding Heavy Duty with Adjustable Reclining Padded Back and Legs Supports 300lb
Fully padded, adjustable back rest with side cushion for a comfy experience!
Supports up to 300 lbs
Ships fully assembled with 1 year manufacturer's warranty
Best

Zero Gravity Camp Chair


(Lounger Chair)
Going into my camp chair testing, I was looking forward to trying the "zero gravity" chair everyone seems to love. Many like it because it elevates your legs and so can relieve some pressure off your back and other lower joints such as hips, knees and ankles.
I do the zero gravity camp chair style is comfortable (minus the head rest) but it's hard to imagine using it around the campfire because your legs stick out so much! However, if your the type that sits and relaxes at camp alot (oh I'm jealous!) then this might suit your camp life style!
Zero Gravity Locking Patio Outdoor Lounger Chair Oversize XL Padded Adjustable Recliner with Headrest Support 350lbs
Supports up to 350 lbs with a steel tube frame and bungee suspension (it feels reallllly supportive for your back!)
Easy locking mechanism for a full recline back
Removable pillow, wood arm rests, and a cup holder within reach while fully extended creates a very relaxing camp chair experience!
Best Directors Style Camping Chair
If you love some extra table space as well as good back support, the director's style camping chair might be for you!
I personally prefer a headrest, or at least something I can lean my head on if I want to slouch, but that is not an option with this chair (maybe that's a good thing?)
As well as having all the features of the director camping chair in the video, this cooler has – wait for it – A COOLER ON THE SIDE! WHAT?!
You heard me – stock yourself up with your cool beverage of choice so you don't have to get up to restock!
Kamp-Rite Director's Chair with Side Table & Cooler
Supports up to 350 lbs!
Cooler stors up to 12 cans of your desired cool beverage!
Has a folding side table with built in drink holder
Best Low to the Ground Camp Chair (Ideal for Concerts with size restrictions and near water!)
These low profile camp chairs are great for hanging out by the beach or river so that you can be close to the water and cool off!
Another purpose (which I found through research!) is that many concerts have height restrictions for camp chairs. The lowest one seems to be restricting any camp chairs that are more than 4″ off the ground, and this one meets those standards!
ALPS Mountaineering Rendezvous Folding Camp Chair
Powder coated steel frame and low profile for stability!
Allows your legs to stretch out at a good angle
Meets most outdoor concert requirements for max distance from the ground (4″)
Best Canopy Camping Chair
Who else sizzles during that afternoon lull while camping? Then your ideal camping chair might be a shaded canopy chair!
While this one doesn't have the mesh in the back, it almost entirely makes up for it by an ADJUSTABLE canopy! That means you can adjust it as needed without having to move your chair!
I also love that the canopy doubles as the chairs bag, so it's one less thing to keep track of!
SwimWays Kelsyus Original Canopy Chair
Adjustable sun canopy that can also be stored all the way down should you not need the shade
The canopy becomes the carrying case and includes a wide shoulder strap to keep your hands free (one less thing to keep track of!)
Powder coated steel and mesh front edge for ultimate camp chair comfort!
Best Camping Chair With Footrest
If you like to lounge, but don't want to go full-on lounge chair, then a good in between is a camp chair with a footrest!
What I love about this one is that you can adjust as well as completely remove the footrest if you like! They are also much sturdier than you would think and are fairly easy to get in and out of!
ALPS Mountaineering Escape Footrest Camp Chair
Adjustable armrest and foot rests
Powder coated steel frame
Shoulder carry bag for easy transport!
Best Backpacking Camp Chair
If you plan on hiking a bit and taking your camp chair with you, then weight and size are SUPER important!
But don't think you have to give up comfort or quality for this – I got you covered!
With an internal bungee that assembles the poles, this 2 pound camp chair is just what you need!
Sportneer Portable Lightweight Folding Camping Chair for Backpacking
Holds up to 350 pounds!
Only 2 lbs total, and folds down to 14.25″ x 5.25″
Easy set up with bungee assisted pole structure!
Best Basic Folding Camp Chair
Let's step back fora second and get back to basics!
This folding camp chair has all the comfort you need in a camp chair, plus some added bonuses with a pretty reasonable price! Coleman has long been a trusted name in camping, so it's no surprise that the Coleman Quad Chair is one of the highest rated camp chairs in all of Amazon!
Coleman Portable Camping Quad Chair with 4-Can Cooler
Over 5,300 Reviews on Amazon, 4.5 Star rating, and their choice for "Camp chairs"! A Proven winner!
4 Can cooler, mesh cup holder and side pocket
Fully cushioned seat!
What style of camp chair do you love? Did I forget any cool unique ones?
I have to say, I think my favorite is probably the "heavy duty" chair just due to all the space! However, the footrest is a close second!