Getting bottles ready for baby while camping isn't as hard as you think!
The need for clean and easy to prepare bottles when camping with baby is intimidating to a lot of parents!
Don't let it stop you from getting out; incorporate these tips on how to keep bottles clean and ready so you can take on those bigger hikes you've been thinking of!
This article is written assuming you DO NOT have hookups; that might mean you are tent camping, or RV camping but are somewhere where these amenities are not available. So I'm going to assume that you want to reduce your water usage and waste!
If you got the bottles covered, and want to know more about some awesome camping gear for baby, check out my must-haves!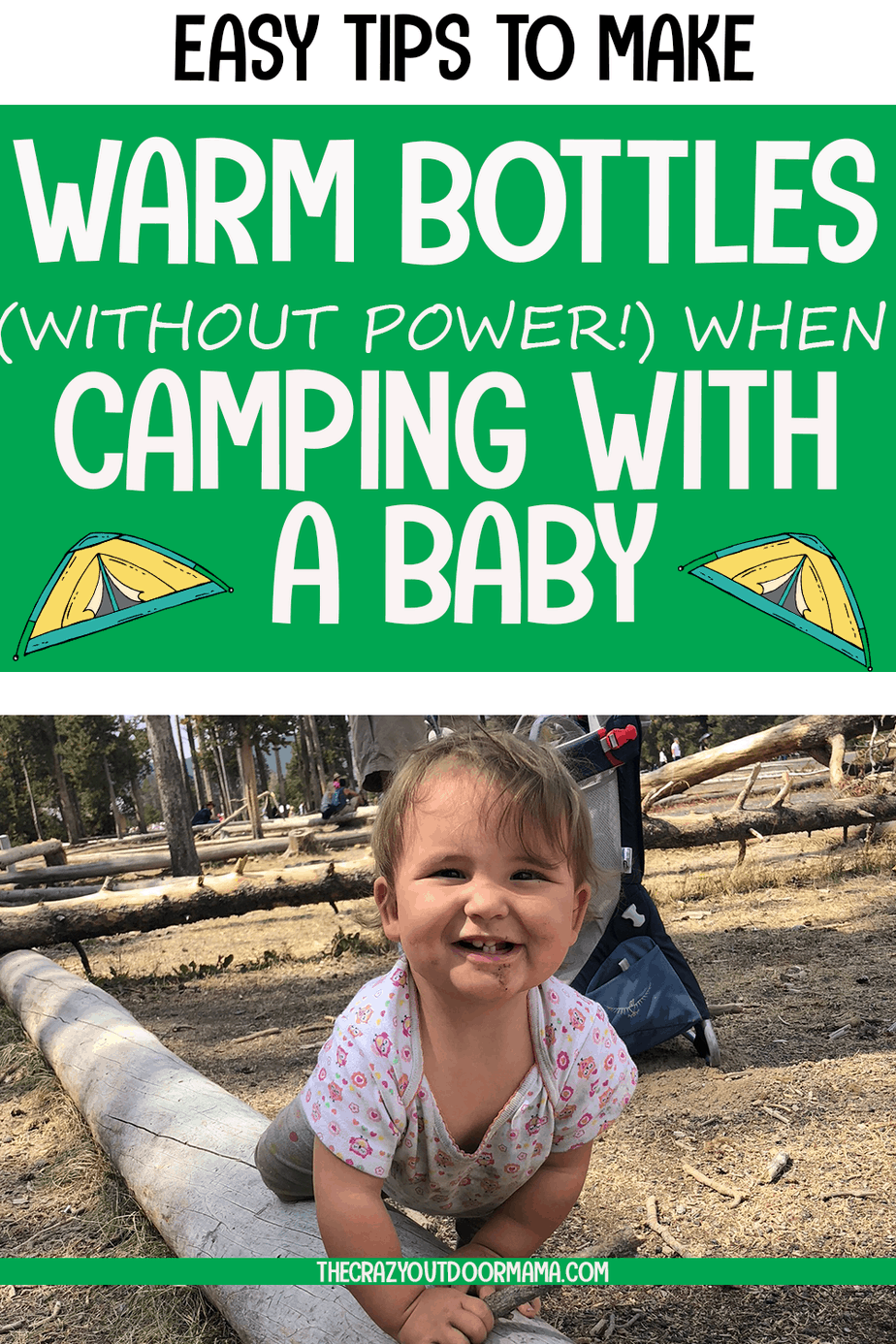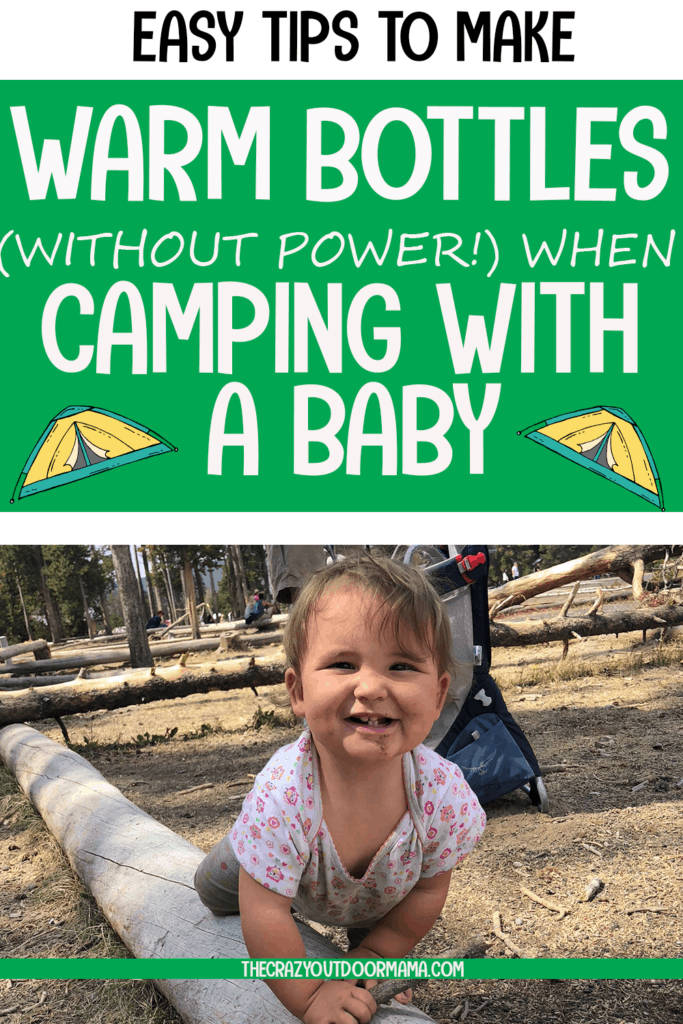 Don't forget to download your kids camping planner before you head out!
Get your checklist for camping with baby, a campground planner, meal planner, songs and more!
Picking the right bottle for your camping trip with your baby
I hope you are reading this before your baby has arrived, or perhaps in the beginning when they will still take any type of bottle.
Get a bottle with minimal parts!
I know we all get desperate and will try ANYTHING that might make the baby less fussy.
After all, I used Dr. Browns (that has like 5 small parts to clean inside) when they were super little in an attempt to solve their gas pain, as well as a couple of others.
However, I do have a couple recommendations for baby bottles that will make camping a whole lot easier. I look for bottles that have as few parts as possible, are wide enough to clean by hand, and not easily breakable.
How to make a warm bottle quickly while camping with your baby
I don't know about you, but the worst thing about bottles is the seemingly YEARS it takes for the bottle to get warm while your little one is wailing!
At home, we ended up getting this lifesaving bottle making device called a Brezza. It can literally make a bottle in 10 seconds, with the perfect amount of formula mixed in as well as being at the perfect temperature!
It's safe to say we got a little spoiled… but with this method of bottle warming while camping, it's hardly a difference!
This technique is great because the water will be warmed ahead of time and stored in a thermos so that there's no scrambling for a warm bottle when baby gets hungry while camping!
Boil water – As soon as you wake up in camp, get some water boiling. Not only will this sterilize it, but you can let it cool to the perfect temperature so that you can store it in a thermos!
Get it a little warmer than you need, as it may cool throughout the day. Ideally, this water will last a couple of bottles. Don't put it in super hot though, as it takes forever to cool down enough for your little to drink it when it comes time. Those thermoses do their job!
Mix formula or heat milk with pre warmed water -Whenever you need a bottle, just use the pre-warmed and sterilized bottle from the thermos. Add some formula into the bottle and shake!
Always double check the temperature of the bottle before giving it to baby!
If you are warming pumped milk, you could also just use this water to put in a container and warm up your milk with!
I suggest warming pumped milk up in a breast milk storage bag as it goes a lot faster that way! There is more surface area that water touches, and the bag is thinner!
Keeping a bottle warm during your hike if you are away from camp
I love using coozies to keep a prepared bottle warm if I am going somewhere!
Depending on the shape of your bottle, just pick an appropriate coozie. It's preferable that the coozie is a little bigger than the bottle so that it helps to keep more of the heat in!
Cleaning bottles while camping
The key to cleaning bottles easily while camping starts with the bottles themselves; pick a bottle with the minimal amount of parts as possible!
I have already listed some recommended bottles above, but if your baby is already in love with a different bottle, we can make it work!
Related: 15 Tips to make camping with a newborn enjoyable!
To clean your bottles:
Boil a pot of hot water, and add a little soap.
Let the bottles sit in there for a little bit, then take them out and scrub them.
Pour a trickle of clean water over them outside to get all the soap off, and use minimal amounts of water! (Your water tank and grey tank is only so big after all!)
I definitely suggest using something plant-derived and scentless; some soaps are better than others in terms of how they affect the soil!
If you do have a bottle that requires brushes and such, I'd suggest getting a compact brush!
Oxo has an "On the Go" set that even includes a drying rack, and it all folds up!
Drying and storing baby bottles in your camper / RV
This tip is more applicable to something with hard sides that can be modified – sorry tent campers!
As we all know, space is limited in a camper. All of it has to be organized very strategically, and I try to use horizontal space such as counters as little as possible!
That's why I love a drying rack that can be mounted on the wall!
Another OXO product (I just love them; the designs are all clean, and easy to clean!) that is super helpful for camping with babies is a hanging bottle drying rack.
I like that it's out of the reach of little hands, can't get knocked over, and of course, doesn't take up any valuable real estate on the table or sink area!
Do you feel ready to camp with your baby yet?
Don't feel intimidated! Your baby will appreciate all the fresh air and exploration that camping has! Bottles are just a minor bump, but with these tips you'll be whipping up perfectly warm bottles in no time!
If you are tent camping, check out the highest rated baby camping sleeping bag of this year, plus all the deets on how to get awesome baby sleep in a tent!
You might also be interested in checking out these other related articles!
Find out what else you need to

pack when camping with your baby

here!