Yes, Taking a Baby Camping Can Be Fun!
Taking a baby camping can be a great experience with some essential, must have camping gear!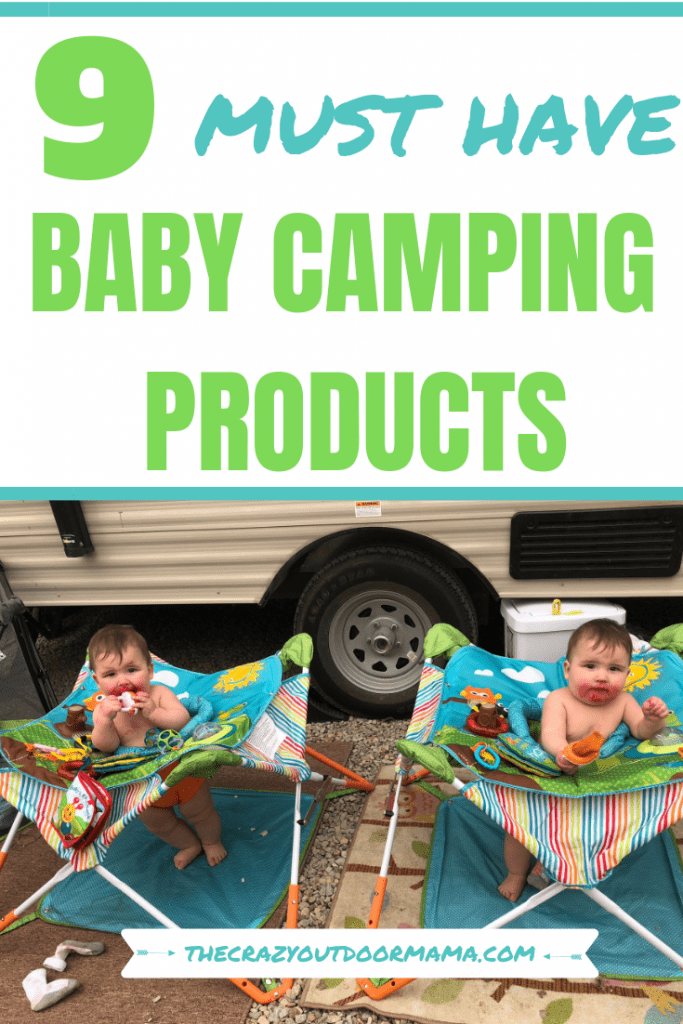 I have three kids under three, and all of them have been camping before they were 2 months old. In fact, my preemie twins went camping when they were on supplemental oxygen! We car camped with our one year old, and now are using a camper to camp with our 7 month olds!
Taking an infant camping is a great way to focus on what's important; each other! To have a great experience, it's all about having the RIGHT gear to make life easier! 
When we first started out camping with my one year old son, we used a tent or the back of our truck. It was just the three of us, so we didn't need much room. My husband is super handy and built us a bed with storage underneath that fit perfect beneath the frame. It was great because we could get out of the wind and keep our baby warm if needed!
Why is camping so beneficial for babies?
I found camping and being in the outdoors a great way to disconnect and focus on what's really important; loved ones. We often camp somewhere there is no signal, so as inconvenient as this is sometimes, it prevents you from mindlessly "Facebook Feed Scrolling".
I find myself doing this at home way more often than I should, and always regret it when I give my son a half hearted "Oh cool" when he shows me something. Or even worse, when he does something cool or new and I missed it because I was looking at what was for sale in my local garage sale pages.
The fondest memories, and biggest smiles have been out with family and friends. No one's face is lit up by a screen and no one has to repeat each themselves because the focus is not split two ways.
Even if you live in the city, it's wonderful to get out of the house. Although it's winter right now and not quite as easy to get everyone dressed up, just getting a break from the house is refreshing.
I am very fortunate to live in Jackson, Wyoming which is right next to Grand Teton National Park. It is home to buffalo, moose, bears as well as scenery to leave you in awe. This definitely makes it easier to get out into nature, but as I said earlier, having the right outdoor baby products makes it even better!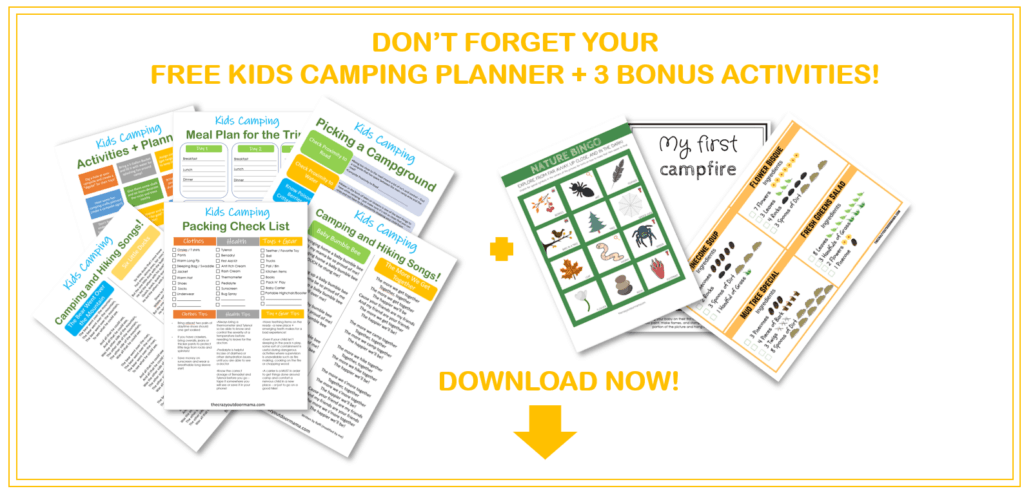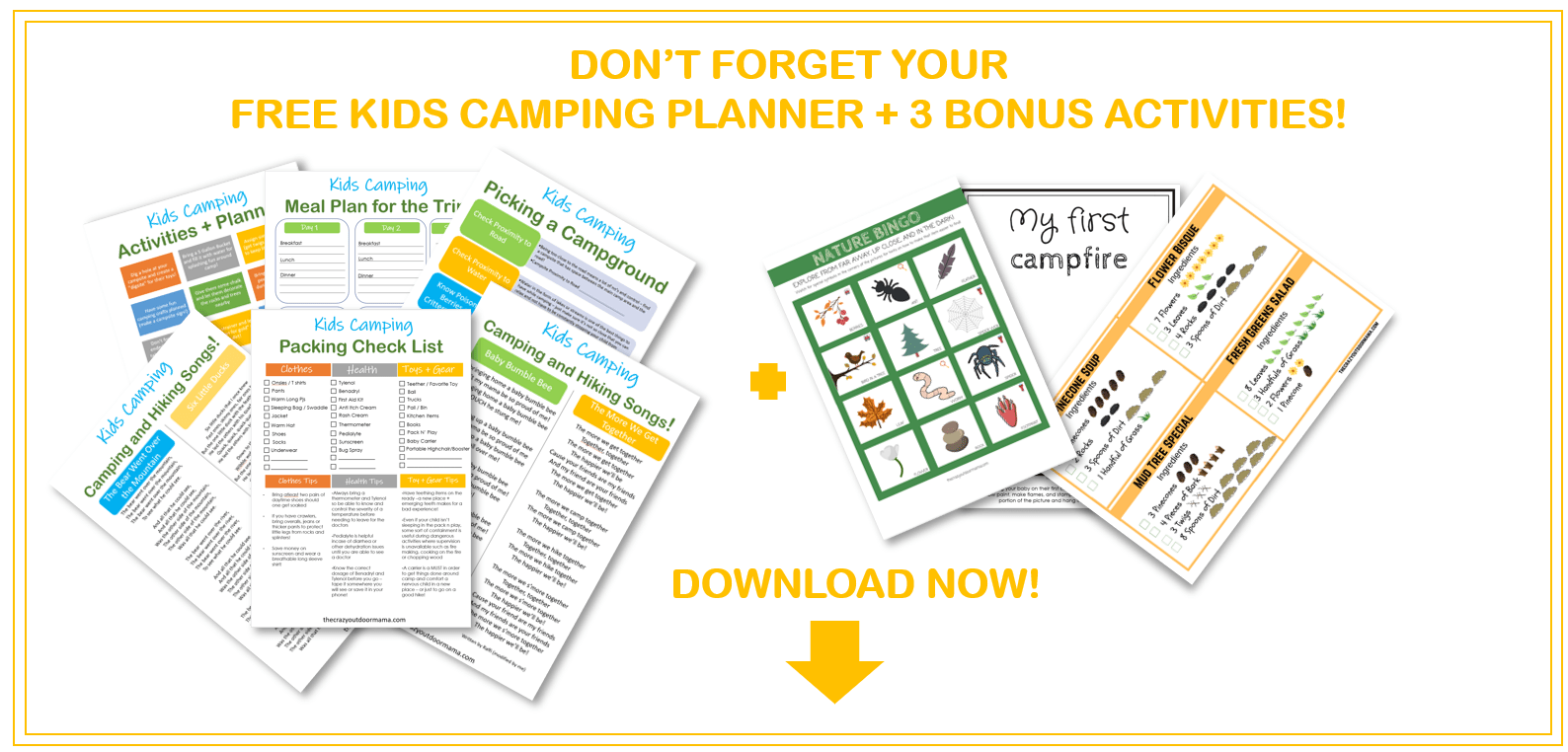 Also, here are the 7 steps we took with each of our kids to really get them to love being outside – it has certainly made big hiking and camping trips easier!
P.S. Camping with babies and toddlers is also way easier if you pick a good, safe, and FUN campground! So don't do these things if you want to find the perfect campground!
Here are the best baby camping products for your next outdoor adventure if you're a camping family like us!
(There are affiliate links here at the bottom which I will get a small cut of if you use them, but I have owned and loved them all!)
A Camping or Hiking Baby Carrying Backpack. I LOVE the

Osprey Poco Series

 Child Carrier

–
There are many kid carriers out there, but I recommend one that goes on your back. This is easier for you to carry than a front carrier, and by the time your baby is around 2 or 3 months (They have to have decent head control) they can go in a back pack! I love this particular one because it has a sun cover that is stored internally and is super easy to open and close.
It also had a storage area on the bottom for snacks, diapers, extra clothes etc. I have hiked MILES with my hefty boy in this! I would also recommend getting the rain cover, as it is small to store and a life saver for those afternoon storms. You could also then use it during winter if you ski to keep your kiddo dry and cozy!
While I only recently found out about these after we started camping with our twins, I am super stoked to use them come spring for gardening season and summer, if they still fit in them! I wish I had found it for my son! These portable jumpers, unlike most, do not take up a ton of space and do not need to hang from anywhere. We got them when we decided there was no way there would be enough room in our house for two full size jumpers/exersaucers, and the only available areas to hang some from my son could get to and loved swinging them too much.
They fold up to the size of a camp chair, and so are super convenient for transporting! A sun shade is included as well that is easy to take on and off. They are also super convenient when I visit friends/family who do not have young children anymore and I need something for my babies to do besides being held!
These portable jumpers are so lightweight that it's not a hassle to move them around the house (or campsite!) to wherever you have chores/activities to do. For taking baby camping, this gets elevates them off the ground so they see all that nature has to offer! It's a great camping activity when taking the baby out but they aren't crawling or sitting up yet; off the ground, but still able to look around!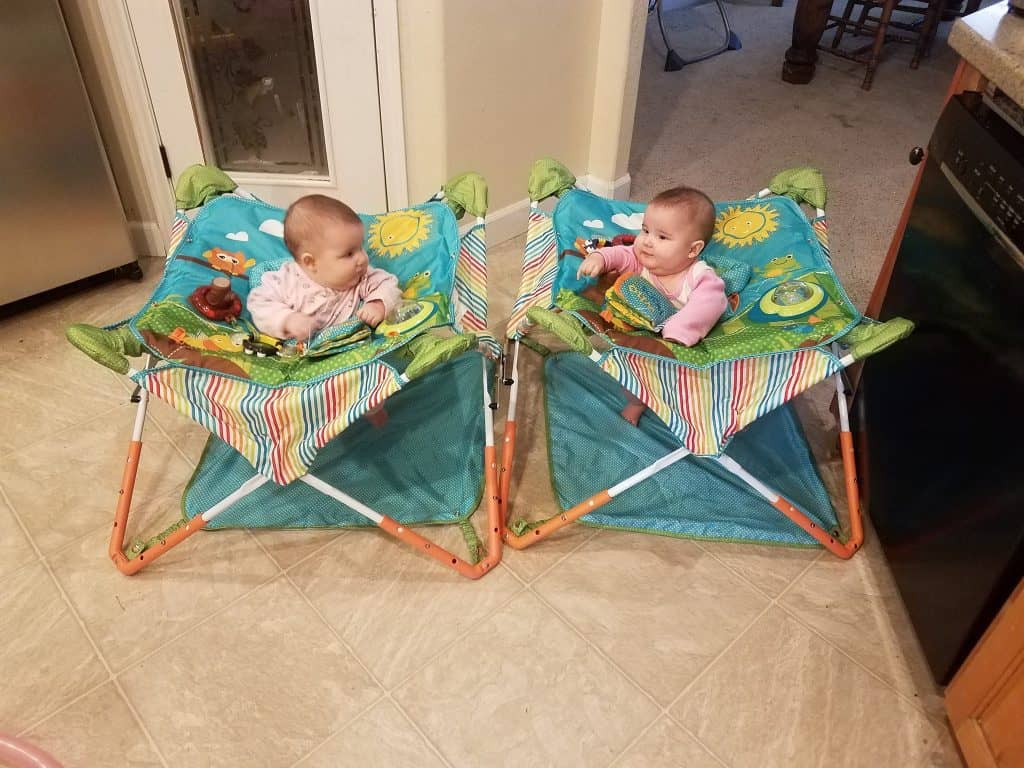 My girls in their little portable jumpers while I do dishes! This portable jumper is also amazing for camping to keep baby occupied! I know my girls get stir crazy when we're out, so that's when I can set them in their camping activity centers and get stuff around camp done!
 When our girls were on oxygen, we struggled with ways to get them out, but have them and their oxygen tanks, tubes, and monitors be protected. Then we discovered this beauty! Paired with just a basic changing pad, when your have SUPER little babies who perhaps are not old enough for a backpack, this is needed! This is a great nap area for baby to sleep while camping if you only have a tent and want to keep your babies and toddlers out of the sun!
When we found a good spot for a break on a hike, we popped this up, put the changing pad in it (Not needed, but would be nice to smooth out the ground if you're somewhere with a lot of rocks/twigs) and we were set! Even if you don't have any special requirements, this is just nice to have for anywhere outside you'd want to go so that your little one can have play time and not be in the carrier!
Even if you are camping with a co-sleeping baby, it's useful for playtime away from the bugs and such!
While it can't be used in the backcountry, it is super great for skiing, bike riding, or running on a trail! It has ski attachments that go where the back wheels would and you can pull it, a bike hitch to connect to the back of your bike, and of course a jogging set up! There are a lot of bike paths here, so we definitely have gotten use out of it.
My husband LOVES to take the kids skiing in it! We had a single, but updated to a double once our twins came and it has been great! It has a shade cover, rain cover, and a giant storage space in the back, as well as customization, shocks to cushion the ride! You do have to buy each attachment separately, but sometimes you can have luck finding these things online. We bought both Thules used, and my husband actually MADE a second set of skis that would work with it! (Spent about 40, they cost 300 new!)
This works surprisingly well for keeping baby warm when you're out camping or on other adventures. There is a plastic cover that comes down and securely attaches to the bottom; creating a super cozy little place for baby to sleep while you're getting your work out on!
If you want to check out more bike trailer style strollers, check out this bike trailer guide!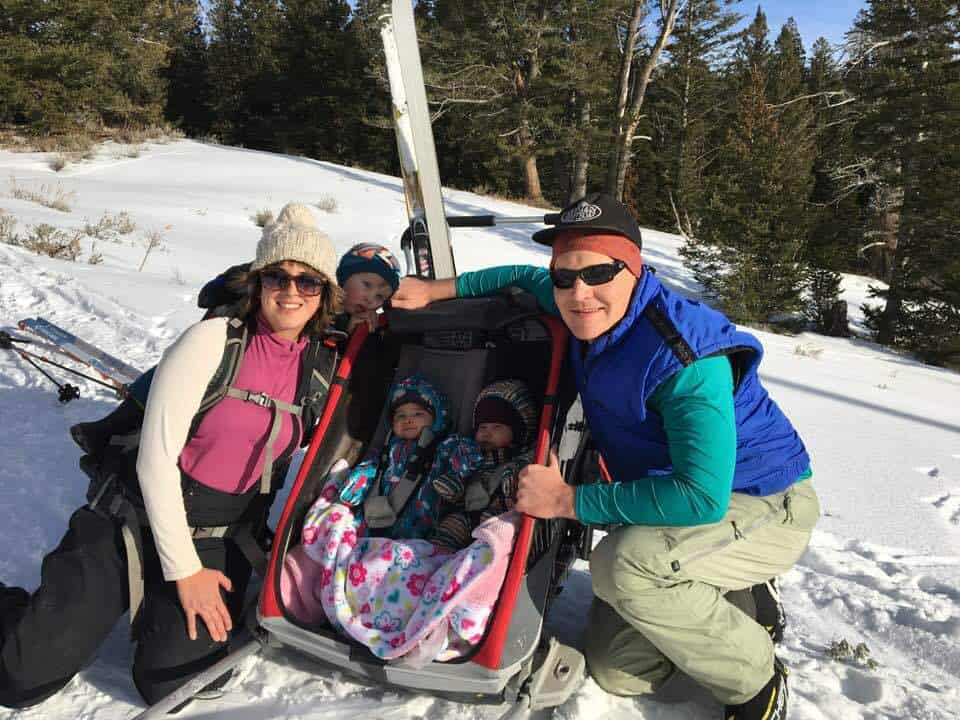 Camping clothes to keep baby warm or cool. A Patagonia Capilene is my favorite for both!
Patagonia is an awesome outdoor brand. I am not an affiliate for them, I just have to tell you if you want quality, this brand is worth spending your money on.
All their clothes fit big, so you can just roll up the sleeves/legs and use it for two seasons! The hoody I'm talking about has saved us tons of money in sunscreen, dries out super fast for water play, and is a great base layer for winter activities. This is essential camping gear for toddlers and babies! It would also make a great camping themed baby gift for the nature lover in your life!
Some kind of baby camping highchair (that ideally can hold a lot of weight and be used for a while!)
While not near as mandatory as, say, the hiking backpack earlier, this baby camping high chair is still awesome as it folds up to the size of a normal camp chair!
It is very supportive and wipes off easy. It also doubles as a travel high chair to bring when visiting friends and family who don't have one. I almost want to buy a second and ditch our two traditional high chairs we have just to save room in the house!
I plan on getting this as a gift for our friends little camping baby!
P.S. Check out the top rated baby and toddler camping highchairs of 2018 here!
We dove in and bought a little camper, and every night we turn it to a static radio and use that as white noise. However, if you are tent camping then this is a must! Tents don't block out noise very well, and if you use a white noise machine at home, it will certainly help your baby adjust to sleeping somewhere new!
I love this one in particular because it has an infinite loop, and best of all, it is rechargeable! That means you won't burn through tons of batteries each camp trip you go on!
Disposable Bottles Liners to keep bottle cleaning easy while camping away from water
I don't really shy away from cleaning bottles (Check out how I get quick warm bottles and clean them easy here) BUT I do know that I so wish for these sometimes! Time gets away from me and before I know it, my babies are hungry and I have nothing ready.
The bottles are still dirty from the last feeding, a baby screaming in my ear.. it's kind of stressful, and even more so when you're rushing to clean the bottle and concerned if you did a good enough job!
That's when the Playtex drop ins come in handy! I used them for awhile for my son, and keep some on hand for my girls.
Bring tons of extra nipples so that you don't have to wash those either!
A cozy swaddle blanket to keep your baby warm in the tent (or camper!)
Depending on the weather, you might be concerned about how cold your baby might get on the camp trip! In Wyoming, nights can sometimes dip into the 30s – DURING SUMMER!
Swaddle blankets help keep your baby warm safely, which is especially important if you are not co-sleeping and the baby will be by his self in a pack n play!
Depending on the size and age of your baby, you may prefer a swaddle style or a blanket style.
These are highly rated, and woodland themed for your little camper!
A pacifier holder and case so you don't spend the whole camp trip trying to find and wash pacifiers!
So my girls are not pacifier ladies, but I do have quite a few friends who are. And it's an absolute nightmare for everyone involved if they lose their pacifier!
While it's always a good idea to keep a few spares, it's an even better one to just make sure it stays attached to your baby!
With all the crawling around and exploring, it will be way too easy to lose a pacifier!
Did I miss anything? Let me know any go to item you have! Check out this article to find some Do's and Don'ts when you get your gear together and head outside! Pin and share to remember for summer!
If you enjoyed this article, you may also be interested in these others about camping with kids!
Everything you need to

pack when going camping with a baby

HERE

!

(clothes, medicine, toys, etc!)
The 7 Best Tips for

Sleeping in an RV with a Baby

!

This is a must if you actually want to enjoy camping!

5 Hacks for preparing baby bottles when camping

HERE

! Don't be intimidated by this, it's as bad as you think!