Yes, Taking a Baby Camping Can Be Fun!
Taking a baby camping can be a great experience with some essential, must have camping gear!
I have three kids under three, and all of them have been camping before they were 2 months old. In fact, my preemie twins went camping when they were on supplemental oxygen! We car camped with our one year old, and now are using a camper to camp with our 7 month olds!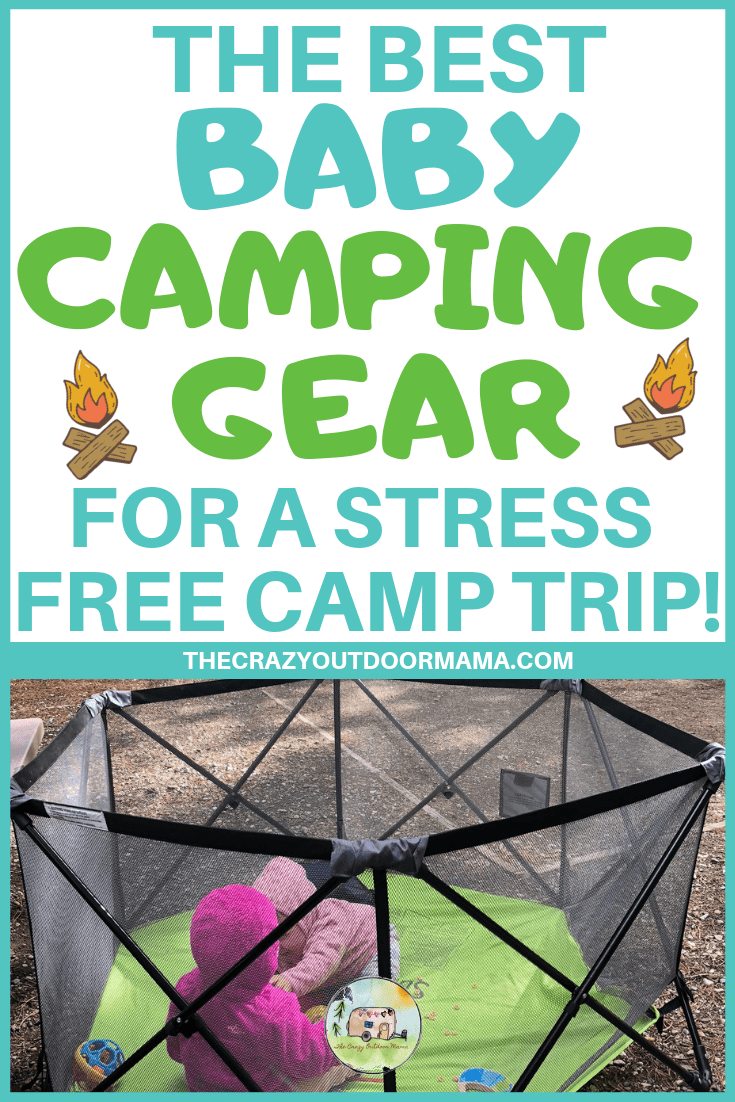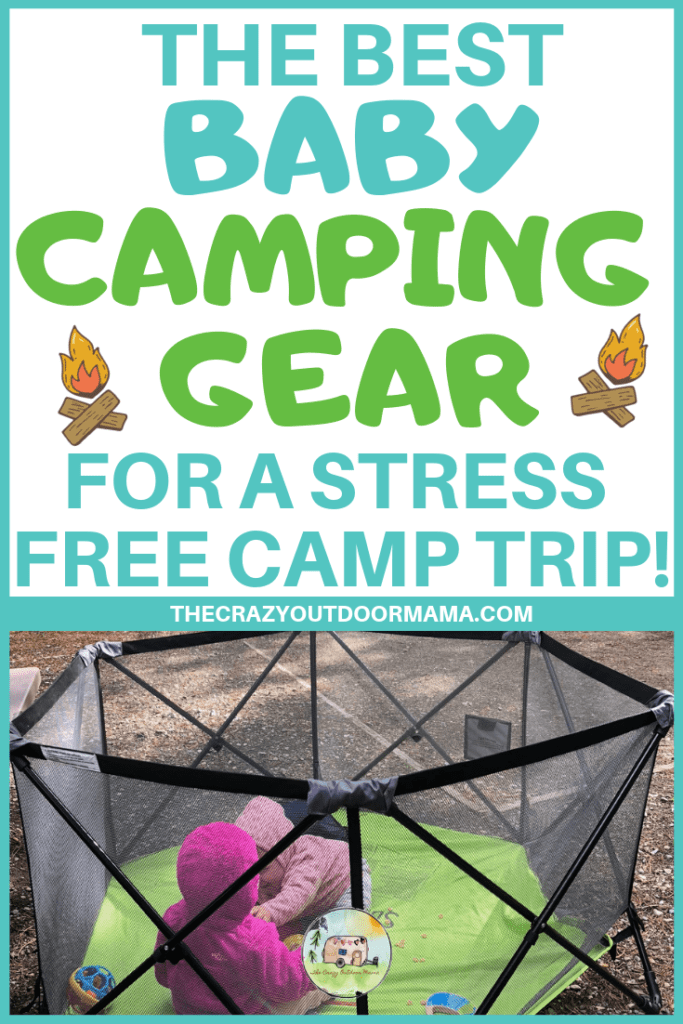 Taking an infant camping is a great way to focus on what's important; each other! To have a great experience, it's all about having the RIGHT gear to make life easier!
When we first started out camping with my one year old son, we used a tent or the back of our truck. It was just the three of us, so we didn't need much room. My husband is super handy and built us a bed with storage underneath that fit perfect beneath the frame. It was great because we could get out of the wind and keep our baby warm if needed!
Related: If you're camping with a toddler, then you have to check out my VERY in depth guide on planning, packing and having an awesome camp trip with a toddler!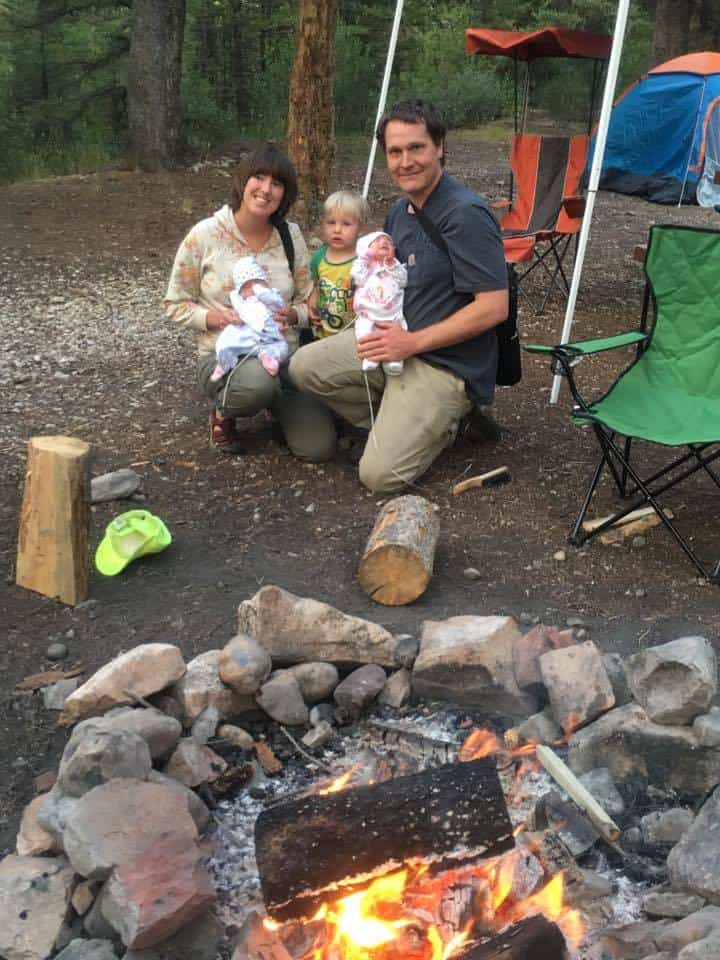 Here is the best baby camping gear for your next outdoor adventure if you're a camping family like us!
(There are affiliate links here at the bottom which I will get a small cut of if you use them, but I have owned and loved them all!)
A Camping or Hiking Baby Carrying Backpack. I LOVE the Osprey Poco Series Child Carrier

–
There are many kid carriers out there, but I recommend one that goes on your back. This is easier for you to carry than a front carrier, and by the time your baby is around 2 or 3 months (They have to have decent head control) they can go in a back pack!
The Osprey Poco Baby Backpack is one of the best baby camping and hiking products around – it has a sun cover, rain cover, comfortable frame, and is super easy to use!
It also had a storage area on the bottom for snacks, diapers, extra clothes etc. I have hiked MILES with my hefty boy in this!
I would also recommend getting the rain cover, as it is small to store and a life saver for those afternoon storms. You could also then use it during winter if you ski to keep your kiddo dry and cozy!
Features of the Osprey Poco
Plenty of storage, including a zip off day back on the premium version
Plenty of adjustments to fit all heights and widths of people
Safe harness system to keep baby in place
Quick pop up sun shade that shades all sides at the top of the carrier where baby's head is
Optional rain cover (additional purchase) that protects baby from snow, rain and wind!
Extrememly comfortable – padded shoulder straps and waistband as well as mesh material to reduce heat buildup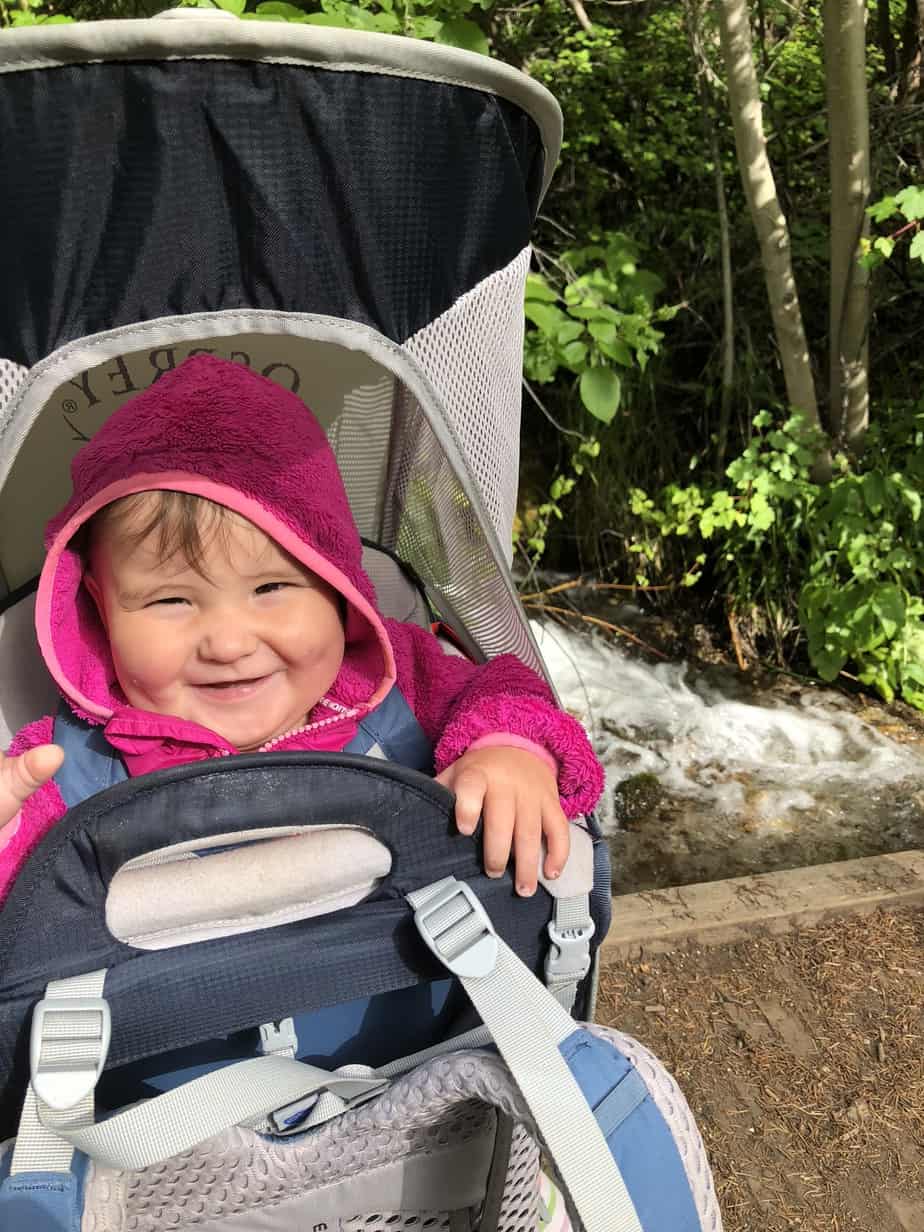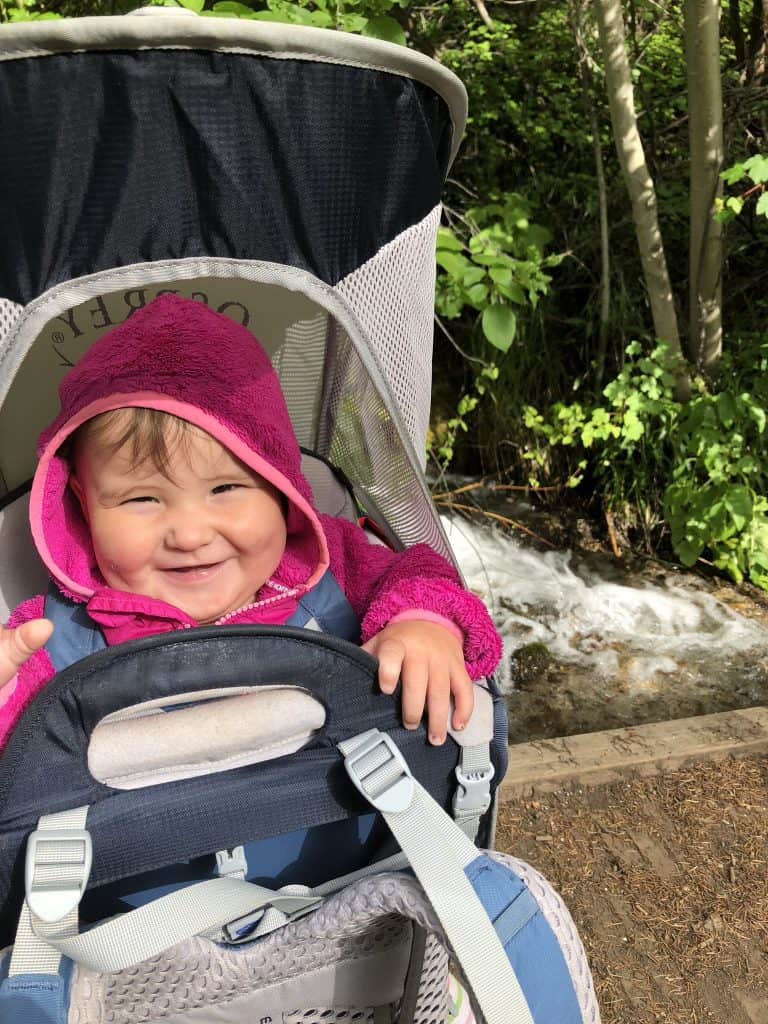 ---
A Portable Camping Baby Jumper!
These portable camping jumpers, unlike most, do not take up a ton of space and do not need to hang from anywhere.
We got when for our twin girls who loved to see what was going on all the time, but didn't exactly have the skills to crawl or walk there yet! They loved being off the ground, and able to jump and play just like at home!
Related: Check out the Best Kids Camping Toys, Games and Activities of 2023!
Features of the Summer Infant Pop N Jump
Folds down to the size of a camp chair
Includes a sun shade
Material is easy to clean
Lightweight
Keeps baby off the ground so they can see what's going on
Perfect to keep baby contained, safe, and happy while doing chores around camp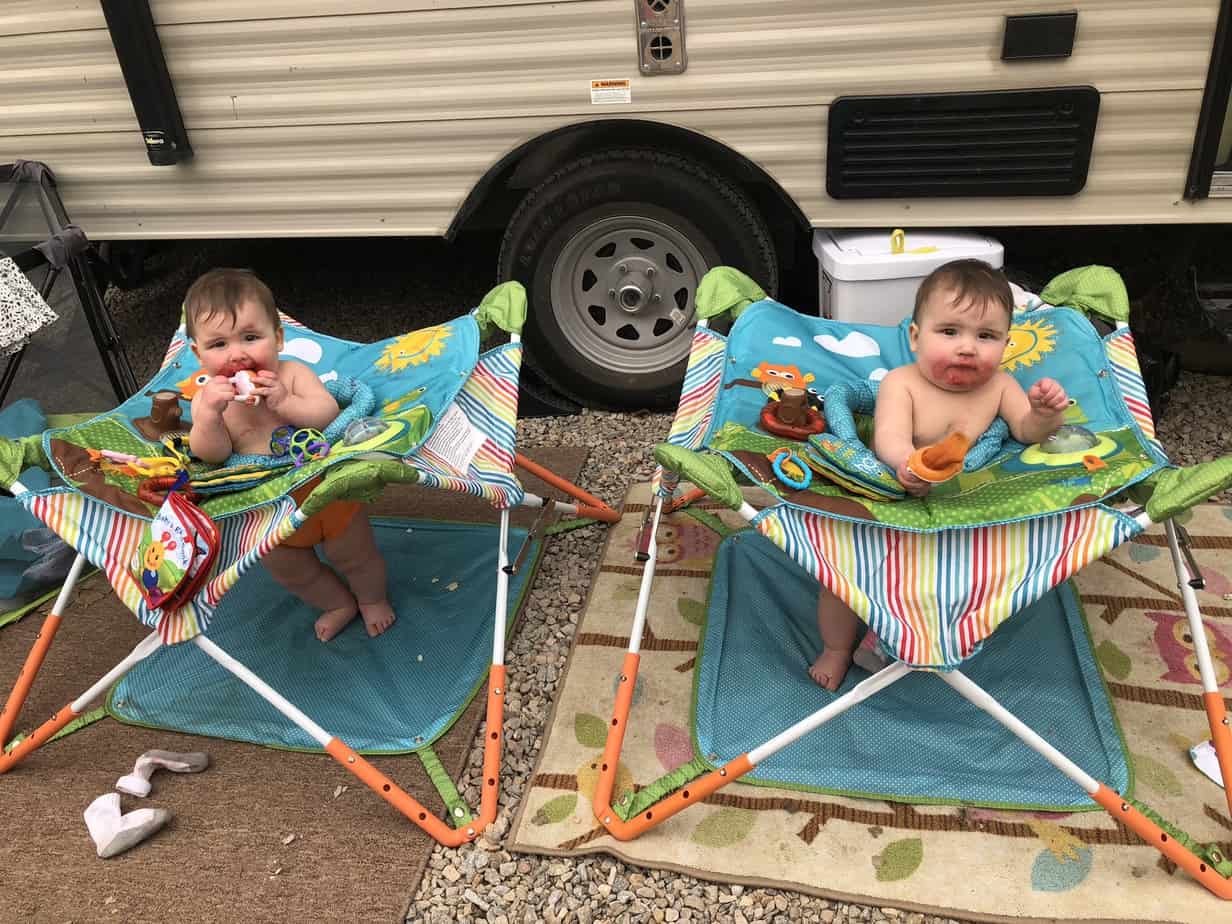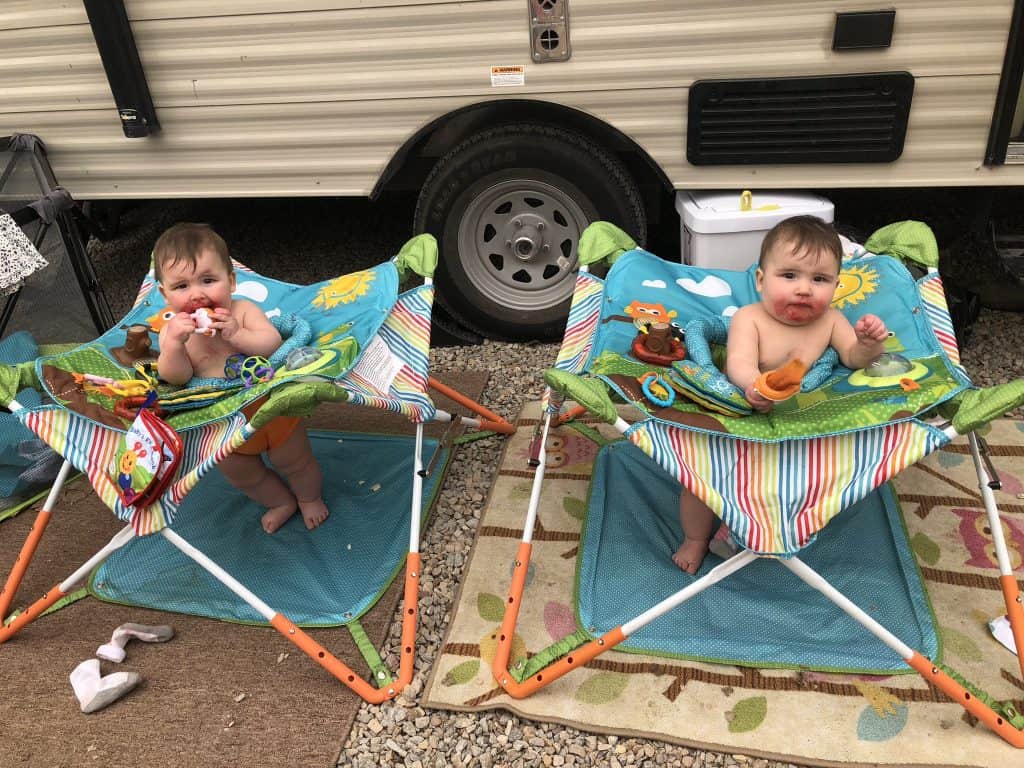 ---
A Shaded, Compact Baby Bed!
This is a great nap area for baby to sleep while camping if you only have a tent and want to keep your babies and toddlers out of the sun!
When we found a good spot for a break on a hike, we popped up the peapod camping baby bed put the changing pad in it (Not needed, but would be nice to smooth out the ground if you're somewhere with a lot of rocks/twigs) and we were set!
Even if you are camping with a co-sleeping baby, it's useful for playtime away from the bugs and such!
Features of the Kidco Peapod
Heavy duty materials ensure the peapod doesn't get bent out of shape or rip easy
Lighweight and easy to transport
Mesh sides for airflow and bug protection
Great place for babies who are not yet crawling or rolling to play safely (in the shade away from bugs)
Quick portable nap pod to bring hiking for naps during breaks for older kids such as toddlers
The ONLY children's travel bed to pass the Consumer Product Safety Commission (CPSC)
MUCH higher quality than the less priced Kilo Fly – I have both, and the kilo fly is warped and doesn't ever lay flat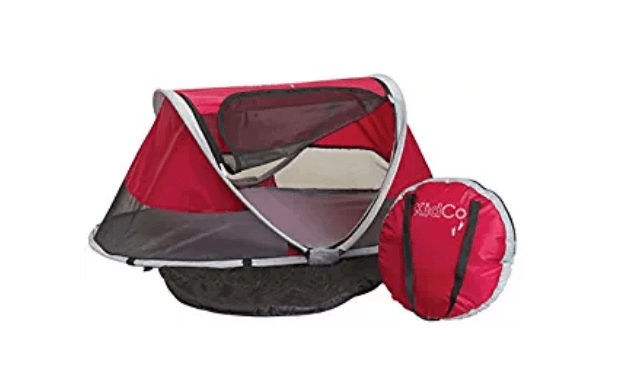 ---
A baby monitor meant for the outdoors
A traditional baby monitor may work for some camp trips, however they usually require at least one unit to be plugged in which… when you're camping, can be hard to come by! Not to mention the ones that take batteries eat them up, and many newer monitors utilize Wi Fi or cell service to operate.
These baby monitors were designed with camping and outdoor use in mind – that means they're rechargeable, durable, and don't need any signal to work! It's allowed us to enjoy many nights by the campfire together as we can hear the kids through the monitor if anything happens (and since it's a 2 way, tell them to get back to sleep if needed without having to leave our camp chair!)
Check out the Roar Outdoor Baby Monitors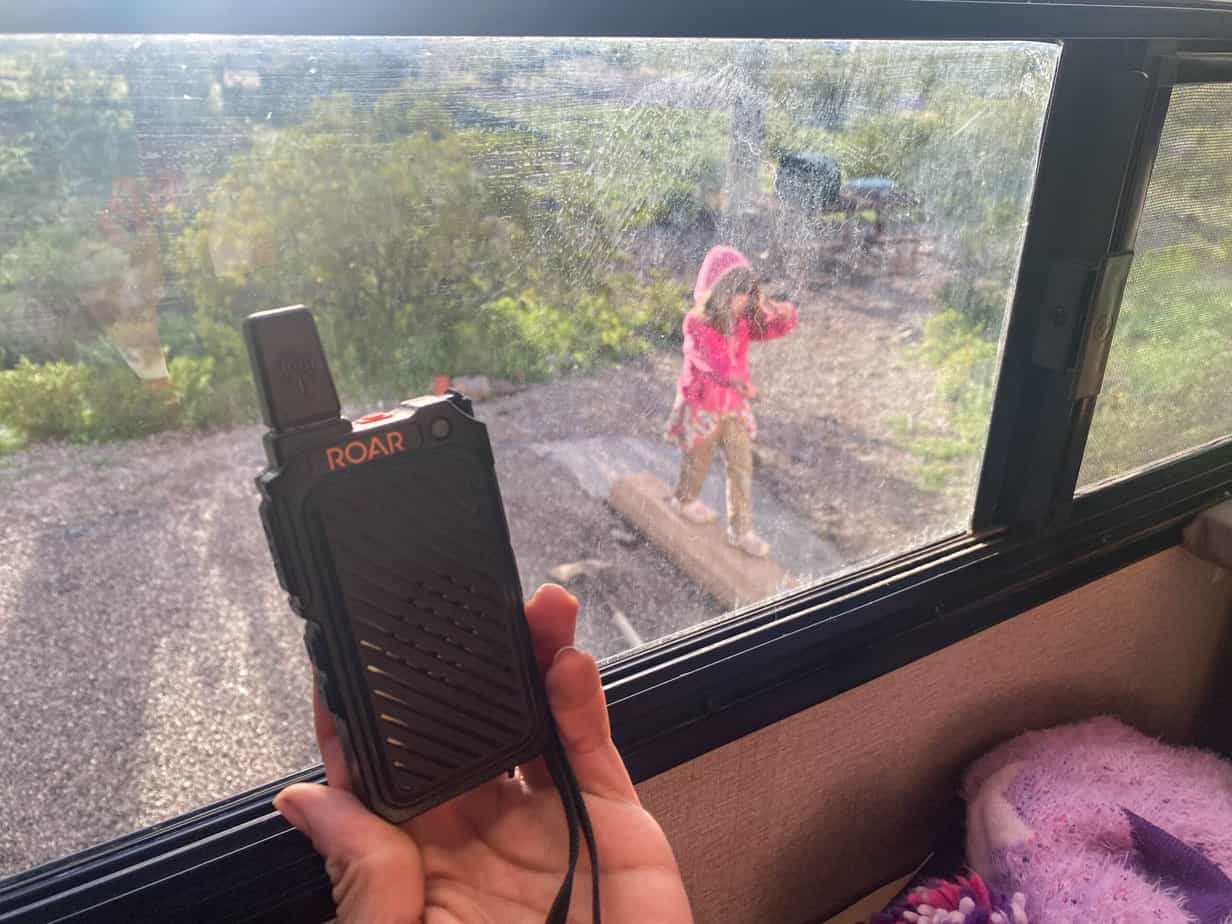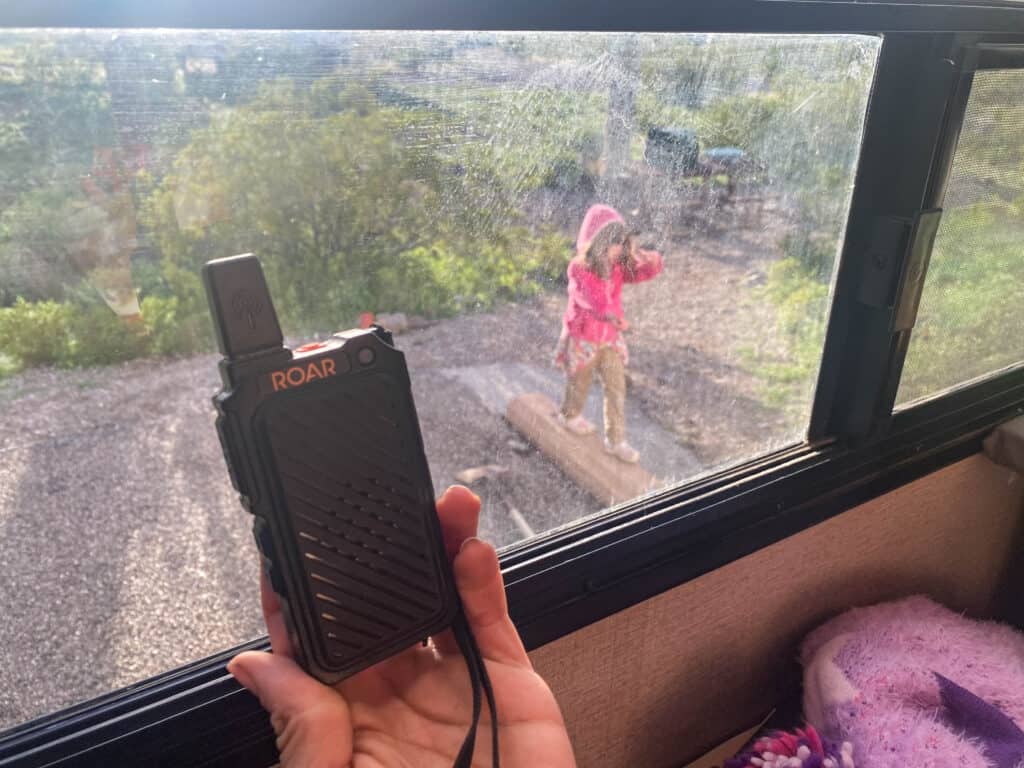 ---
---
A Chariot Single/Double Thule Chariot All Purpose Baby Stroller
While it can't be used in the backcountry, the Thule Chariot Multi Purpose Stroller it is super great for skiing, bike riding, or running on a trail!
My husband LOVES to take the kids skiing in it! We had a single, but updated to a double once our twins came and it has been great!
This works surprisingly well for keeping baby warm when you're out camping or on other adventures. There is a plastic cover that comes down and securely attaches to the bottom; creating a super cozy little place for baby to sleep while you're getting your work out on!
If you want to check out more bike trailer style strollers, check out this bike trailer guide!
Features of the Chariot All Purpose Baby Stroller
Can be converted to a stroller, bike trailer, jogging stroller as well as a ski pull behind trailer (additional purchases)
Has an adjustable shock system that fits the weight of the child(ren)
Two covers – one mesh for airflow and shade, and a plastic one for wind and cold protection
Massive amounts of storage – There's a giant storage area in the back of the chariot, as well as a large netted pouch spanning the whole back of the chariot and two smaller netted pouches on the inside
3 different harnass sytems depending on age of the child – these include a "hammock" style for a very young baby, fully padded seat for 1-2 year old, and simple seat for older kids (additional purchases)
Made of extremely durable material – Heavy rubber / plastic canvan can weather quite a beating for off trail adventures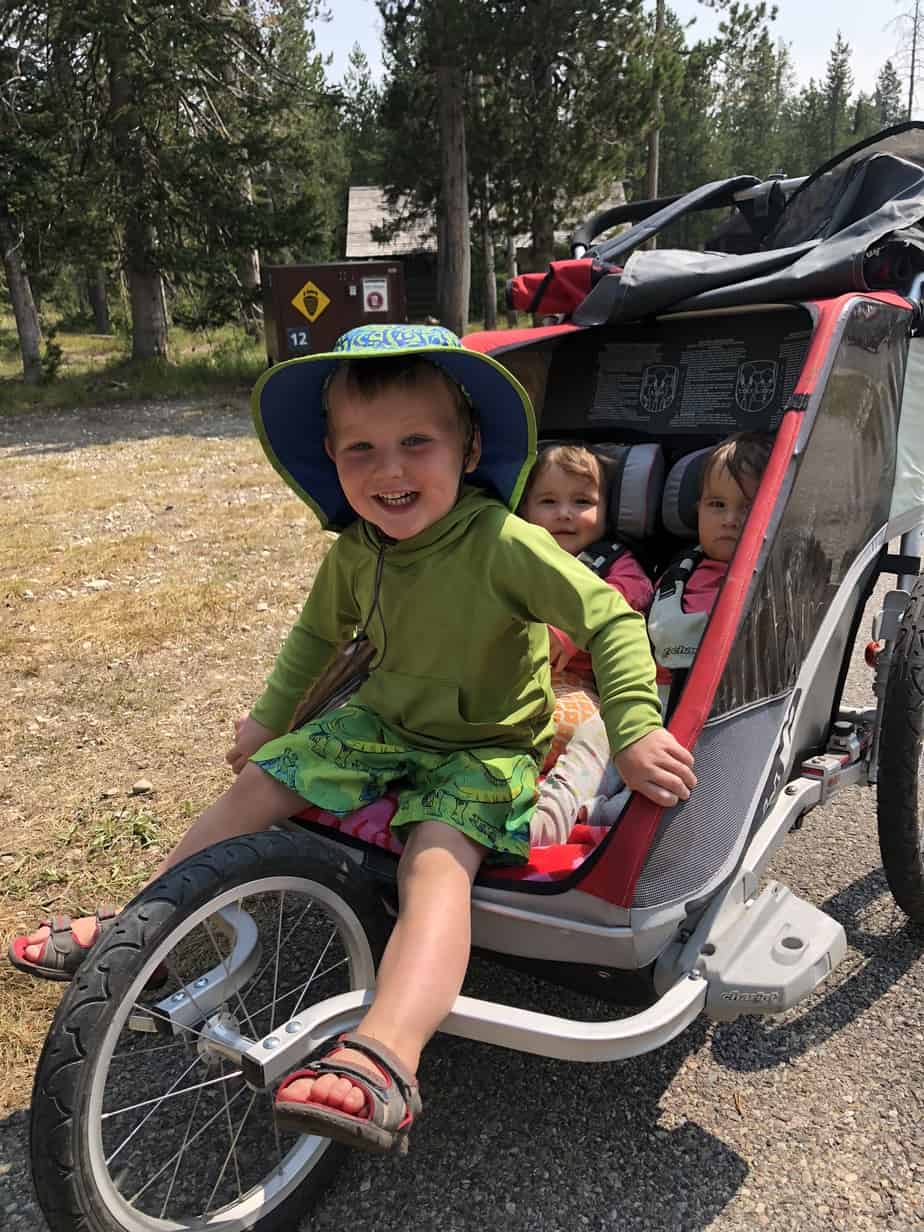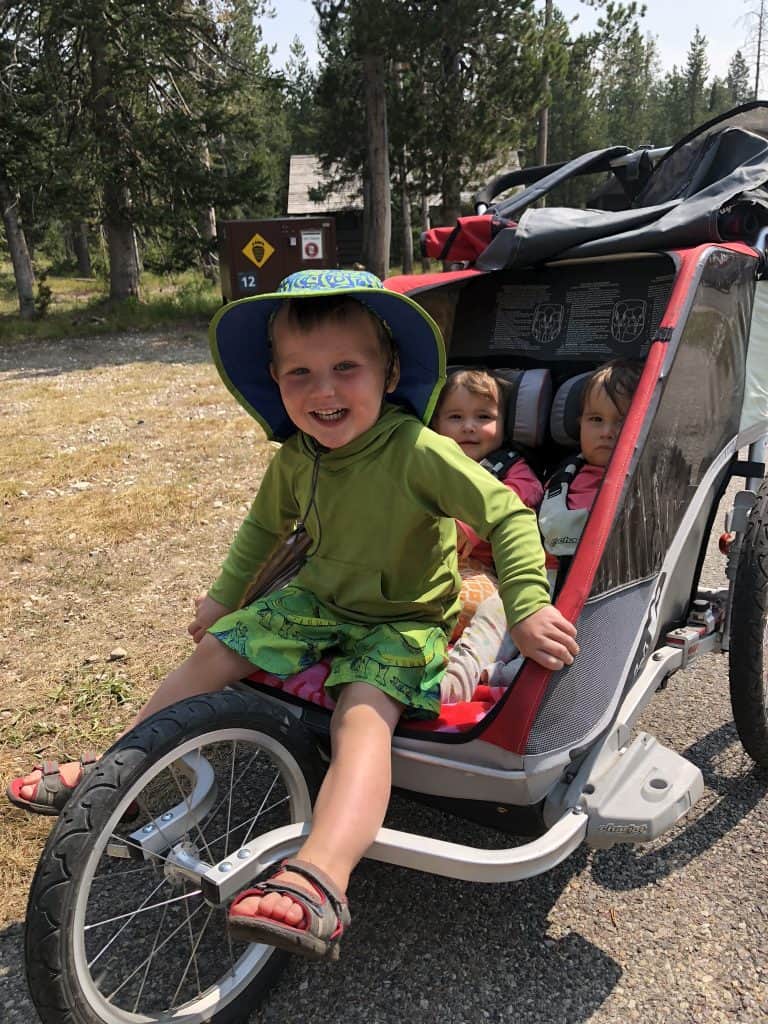 ---
A baby camping highchair (that ideally can hold a lot of weight and be used for a while!)
While not near as mandatory as, say, the hiking backpack earlier, this baby camping high chair is still awesome as it folds up to the size of a normal camp chair!
It is very supportive and wipes off easy. It also doubles as a travel high chair to bring when visiting friends and family who don't have one. I almost want to buy a second and ditch our two traditional high chairs we have just to save room in the house!
I plan on getting this as a gift for our friends little camping baby!
P.S. Check out the top rated baby and toddler camping highchairs of 2023 here!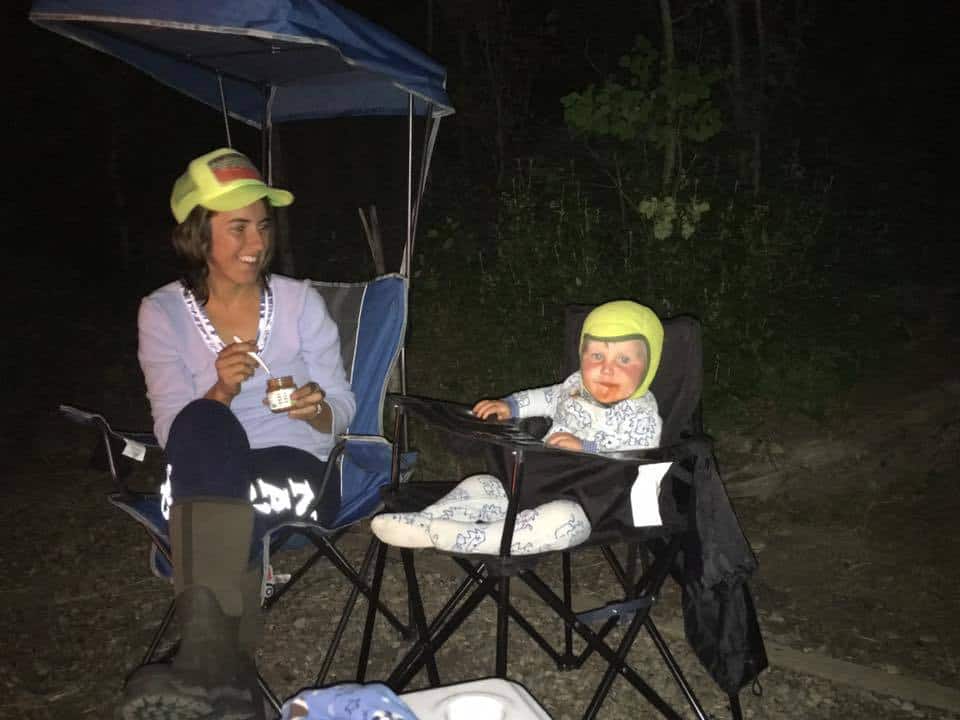 ---
A durable, camping pack n play that folds small and is lightweight!
I love having our little play yard instead of a normal pack n play because it packs ALOT smaller, has more space, and is super easy to carry!
Sometimes you just need to put the babies somewhere while you do camp chores like setting up, cleaning, or packing up. While you could put them in a carrier, some things are just easier (and safer!) if the babies aren't with you!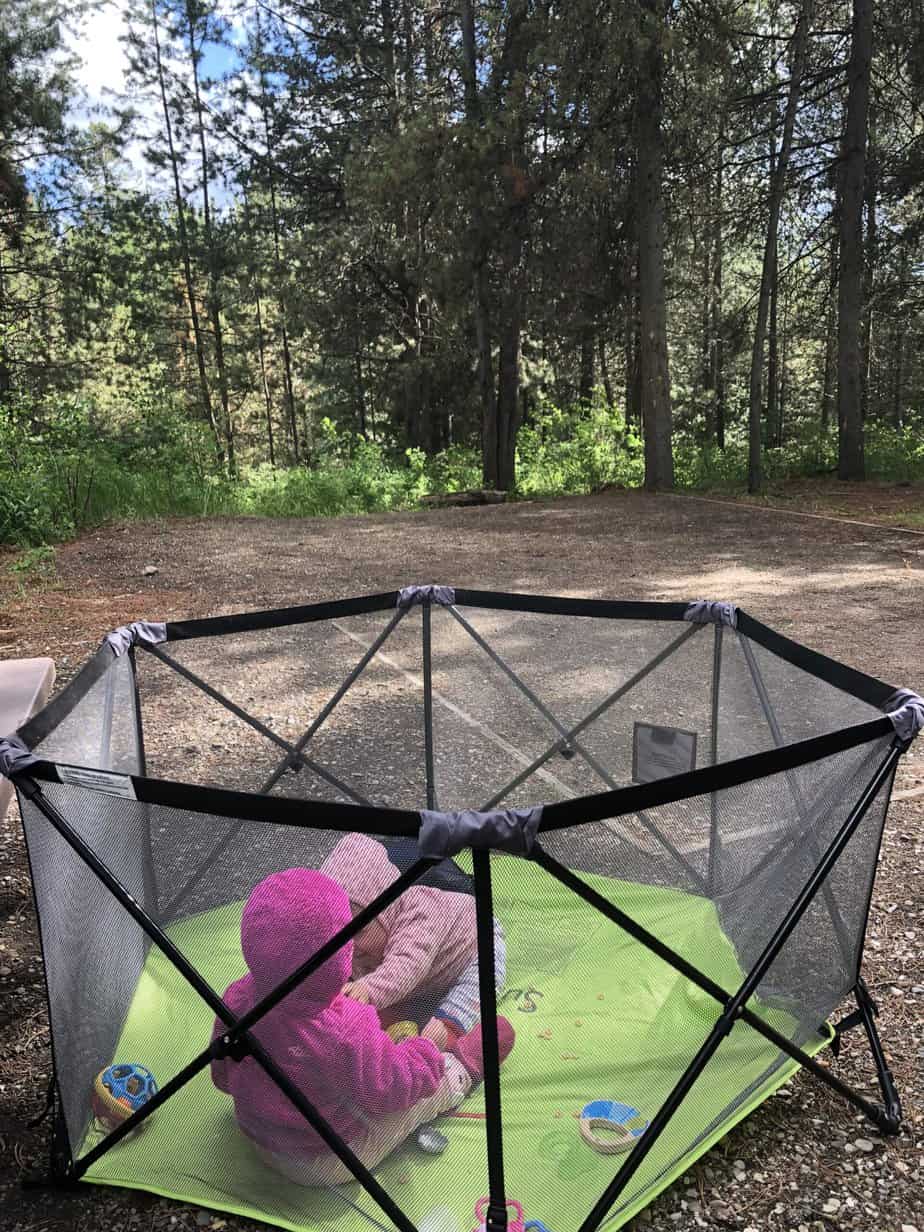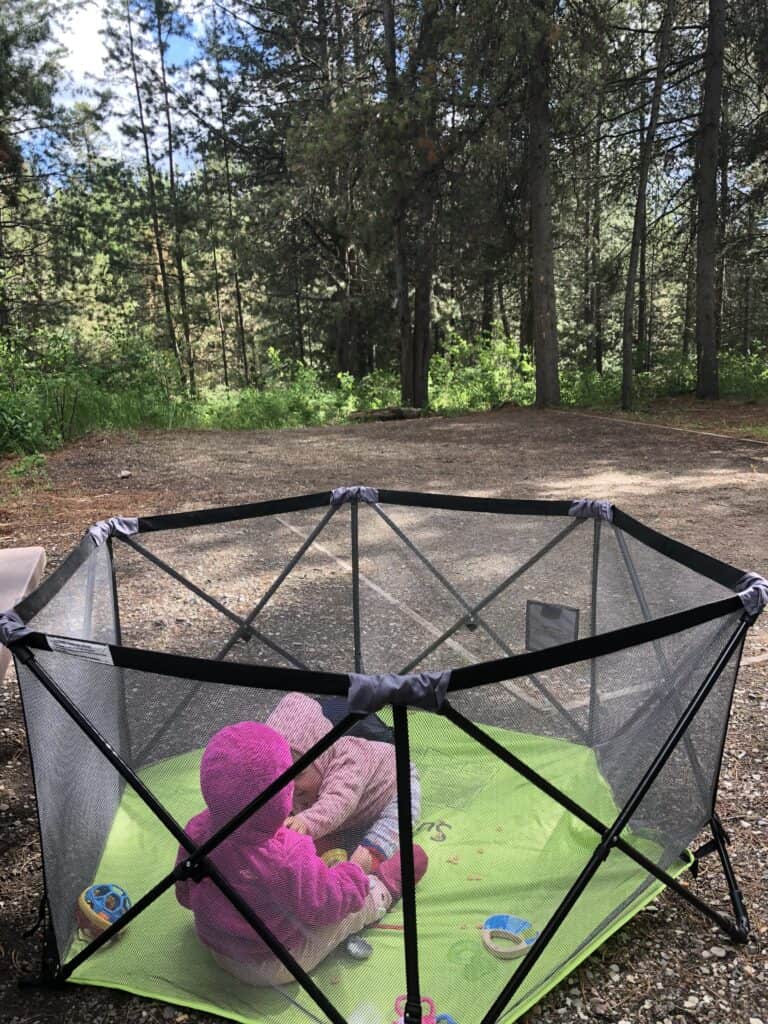 ---
Other smaller (but really helpful!) pieces of baby camping gear
Now that we got the big ones knocked out, let's look at the smaller (but still powerful) pieces of baby camping gear that can really help make your camp trip way less stressful!
A big part of having a successful camp trip with babies is
Ensuring that they stay comfortable – safe from the sun, warm at night
Making sure they can sleep well – Noise machines, swaddles and other comfort items available
Bottles / food being easily accessible – Disposable liners, pouches, and other easy ways to feed baby on the go with limited water access
Related: Check out how we make warm bottles QUICK with no water or electricity and get our twin babies to sleep in our little pull behind camper!
---
A Good Sunhat with a Neck Flap and Wide Brim
Sunhats are so important when it comes to keeping delicate skin safe!
I see alot of cute ones, but I also see that they lack that wide brim that really keeps the sun off at all angles. The neck piece in the back is really nice too – something about having a cool neck just keep your whole body cool longer.!
I love Sunday afternoon hats – they have really cute designs, and are incredibly well made (including mesh vents on the hat and a breakway strap)
See it on Amazon now!
---
A portable noise machine to help baby adjust to new camping noises
We dove in and bought a little camper, and every night we turn it to a static radio and use that as white noise. However, if you are tent camping then this is a must! Tents don't block out noise very well, and if you use a white noise machine at home, it will certainly help your baby adjust to sleeping somewhere new!
I love this one in particular because it has an infinite loop, and best of all, it is rechargeable! That means you won't burn through tons of batteries each camp trip you go on!
---
Disposable Bottles Liners to keep bottle cleaning easy while camping away from water
I don't really shy away from cleaning bottles (Check out how I get quick warm bottles and clean them easy here) BUT I do know that I so wish for these sometimes! Time gets away from me and before I know it, my babies are hungry and I have nothing ready.
The bottles are still dirty from the last feeding, a baby screaming in my ear.. it's kind of stressful, and even more so when you're rushing to clean the bottle and concerned if you did a good enough job!
That's when the Playtex drop ins come in handy! I used them for awhile for my son, and keep some on hand for my girls.
Bring tons of extra nipples so that you don't have to wash those either!
See it on Amazon now!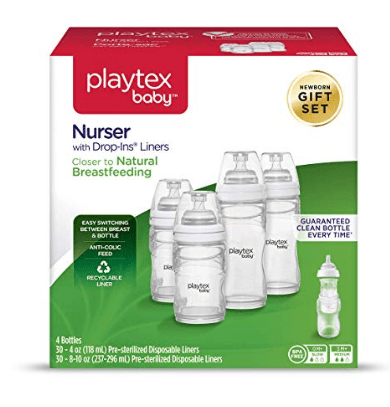 ---
A baby camping sleeping bag to keep your baby warm in the tent (or camper!)
Depending on the weather, you might be concerned about how cold your baby might get on the camp trip! In Wyoming, nights can sometimes dip into the 30s – DURING SUMMER!
Swaddle blankets help keep your baby warm safely, which is especially important if you are not co-sleeping and the baby will be by his self in a pack n play!
Depending on the size and age of your baby, you may prefer a swaddle style or a blanket style. These are highly rated, and woodland themed for your little camper!
See it on Amazon now!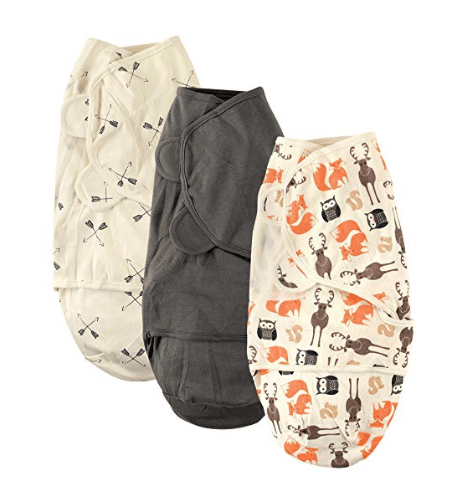 ---
A pacifier holder and case so you don't spend the whole camp trip trying to find and wash pacifiers!
So my girls are not pacifier ladies, but I do have quite a few friends who are. And it's an absolute nightmare for everyone involved if they lose their pacifier!
While it's always a good idea to keep a few spares, it's an even better one to just make sure the pacifier stays attached to your baby!
With all the crawling around and exploring, it will be way too easy to lose a pacifier!
Did I miss anything? Let me know any go to item you have! Check out this article to find some Do's and Don'ts when you get your gear together and head outside! Pin and share to remember for summer!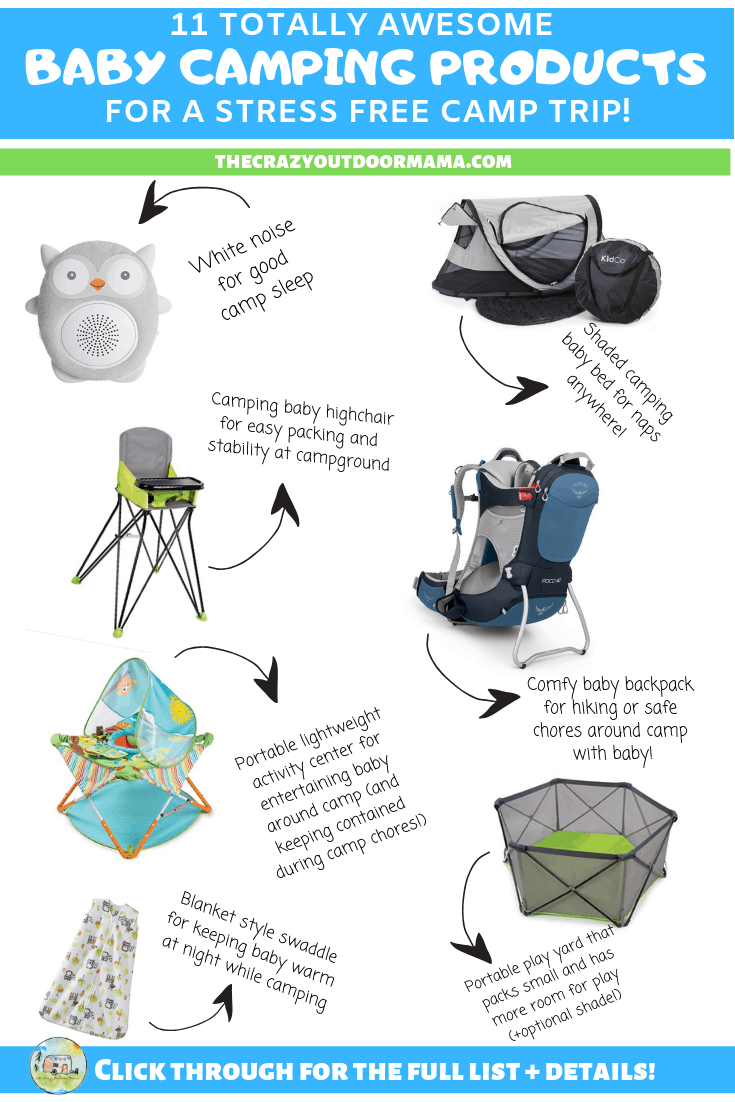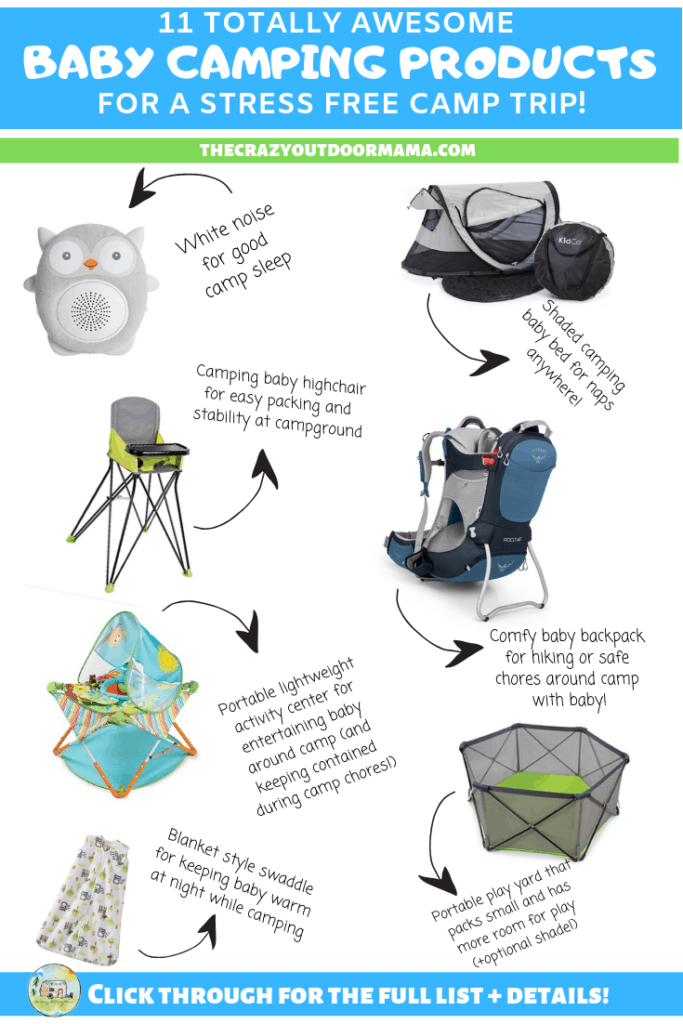 Latest posts by Stacy Bressler
(see all)