A Grand Teton National Park MUST

f

or kids – String Lake!
If you are visiting Grand Teton National Park, there are tons of options when it comes to hiking, but when it comes to the kids, you have to check out String Lake!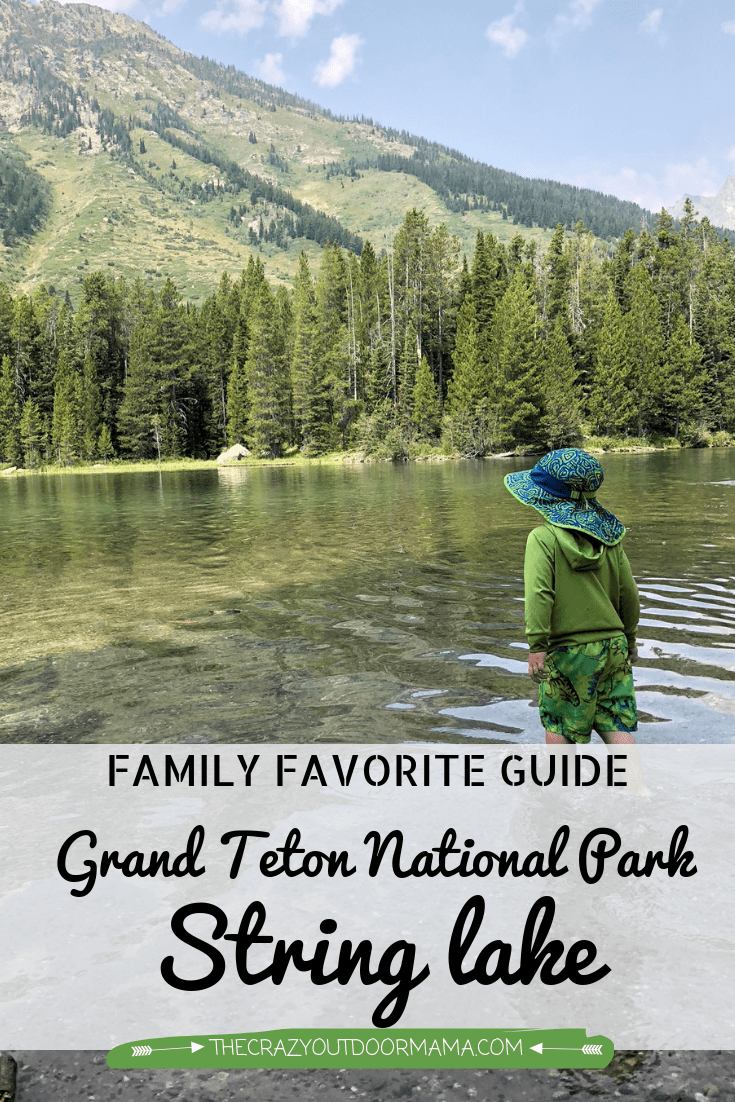 While there are a few hikes that little legs could manage, it's always good to plan a break so that the kiddos associate hiking with fun (and not just a long boring walk!)
String Lake is perfect because it is shallow, has no current in most areas, and is BEAUTIFUL!
There's a lot of "beach" areas, or beach as far as Jackson is concerned – think a little more rocks on the shore!
Many families come here to Stand Up Paddleboard, Kayak, and just play!
I'm a wimp, but even I thought the water wasn't too bad. Everytime we go, I always see plenty of kids playing in the water!
I'm here to give you the scoop, from a local's view, on this kids favorite in Grand Teton National Park!
Directions to String Lake
If you're coming from Jackson, it is a bit of a drive, around 45 minutes!
You'll pass the "Grand Teton National Park" sign along the way, which is a great photo op since the mountains are right behind it!
There are actually quite a few amazing picture opportunities!
As you're passing areas that have streams and willows, be on the look out for moose. They do often cross the road, so be aware!
When you pass grassy flats, antelope love to hang out there, though usually, they like to keep their distance.
Anyways, here are the directions to get to String Lake!
Follow signs to Grand Teton/Yellowstone National Parks
Turn Left onto Teton Park Road (keep right to stay on this)
Turn left onto Jenny Lake Road
Turn right onto String Lake Road
Be warned, parking gets REALLY bad here if you arrive any time after 10. While they do have an overflow parking lot (that's mainly for large vehicles and trailers) it's pretty common to have to park in designated areas on the side of the road.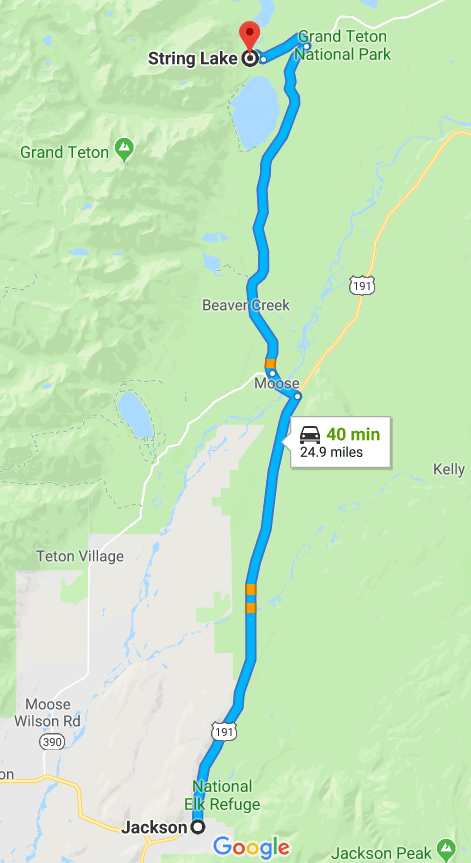 String Lake Hiking Trail
This is a great, easy hike that offers amazing views!
It is a roughly 3.75 miles long loop with only 275 feet elevation gain making this a perfect family hike.
The Bearpaw Trail Junction (which takes you to Leigh Lake) Paintbrush Canyon Trail Junction and Jenny Lake Trail Junction are all along the hike!
Teewinot, The Grand Teton, and Mount Owen are all visible along this hike and are truly amazing!
I love the Teton Hiking Trails guide to the String Lake Loop here for more information!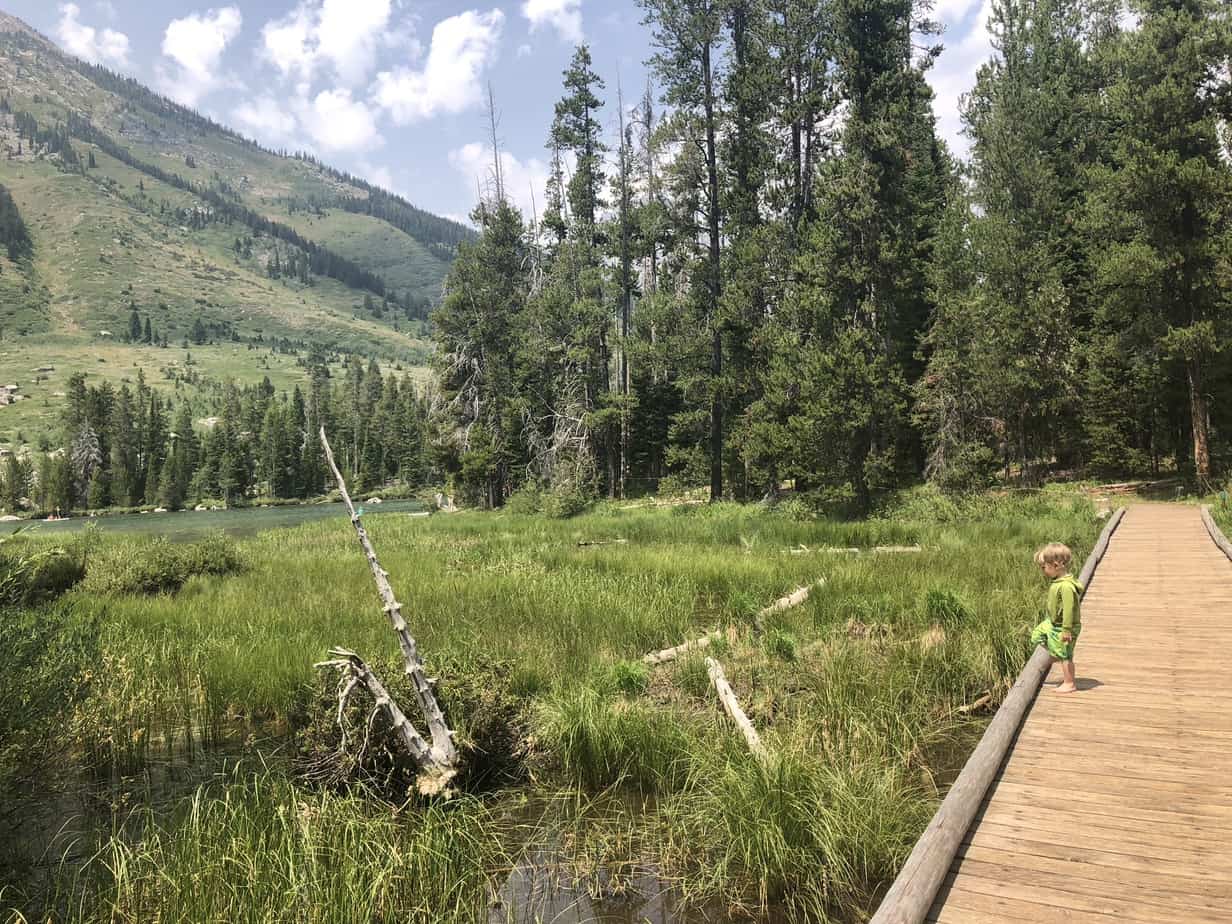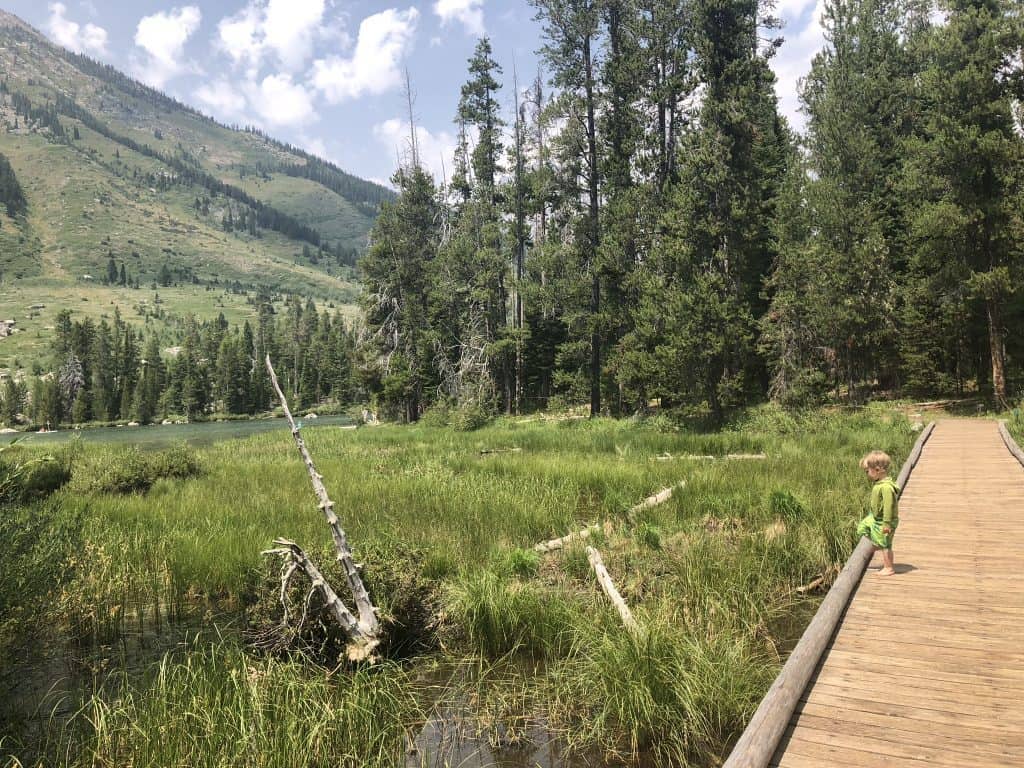 Swimming and Water Temperature
Swimming is definitely OK here, and the water temperature is around 60 degrees in August. 
While that may not seem very warm, it's likely your best bet if you plan on swimming anywhere in Grand Teton National Park!
The shallowness of the lake really helps to keep it warm!
There's a popular jumping rock, and a decent amount of shoreline to play around.
Again, I recommend getting their early!
I usually leave around 12 (kids naps!), and there are almost always people set up on the other side of the trail because there is no more shore area to be near!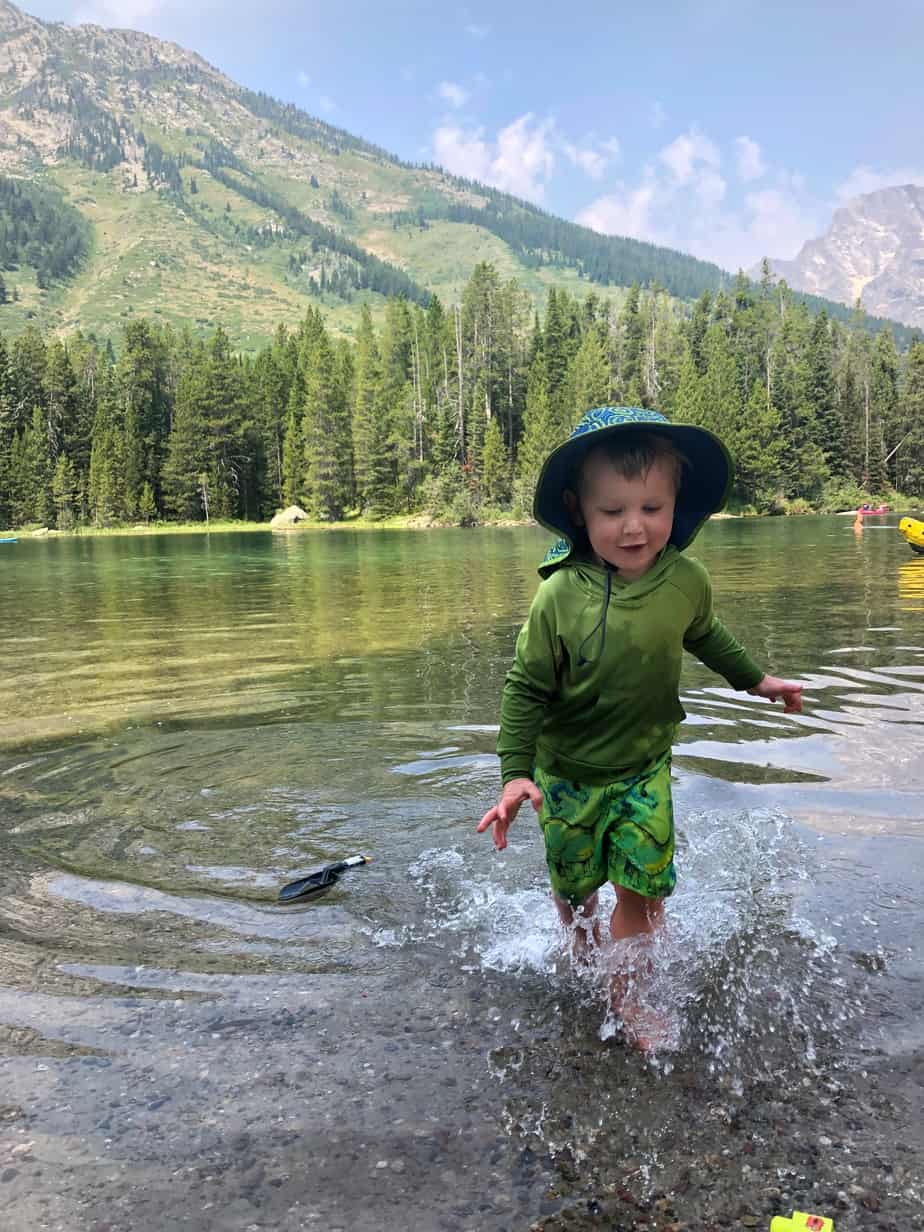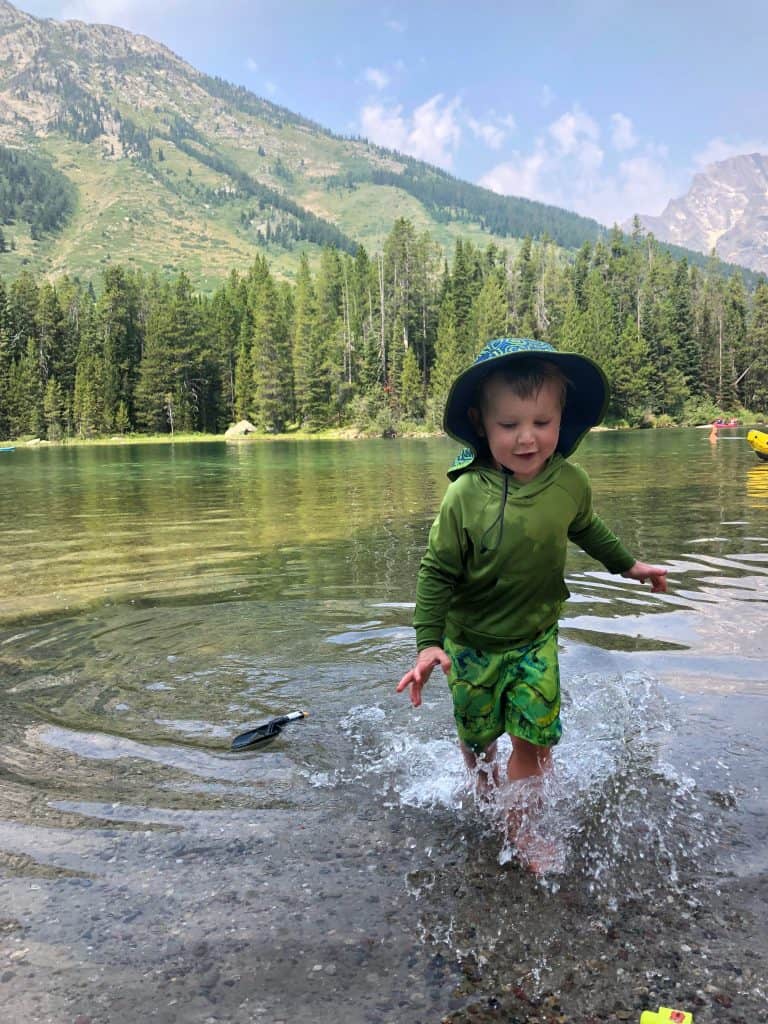 Kayaking and Paddle Boarding String Lake
String Lake is the perfect place for kayaking and paddle boarding!
With no current, even wimps like me would feel ok doing some water sports!
Dornan's is a great place to rent all your gear from if you're just visiting – they'll evne help you load it up on your car!
Here is their page with all the kayak, paddle board and other gear rental info!
If you want to get your gear before you head to the park, you can rent your stuff at Snow King in Jackson!
Fishing String Lake
While I haven't fished there yet, I don't think there's too much going on.
With the warmth and shallowness of the water, it's just not very good for fishing!
Even if it was good fishing, there's always a ton of people around the shoreline so you'd have to make sure to have a way to get out in the lake away from people.
I don't think I have ever once seen someone fishing here – feel free to try though!
Just avoid the throngs of people!
Picnic Areas
There are quite a few picnic tables to eat at in the area.
They are not right next to the lake, but are darn close! Most are surrounded by trees and have a picnic table and a charcoal grill.
Don't forget to secure your food in your car or a bear box before you leave! Even if it isn't for long!
Are you excited to visit String Lake during your Grand Teton National Park visit? 
We go on tons of hikes with our 3 that are 3 and under… and one thing that makes a big difference in whether they enjoy it or not is making sure it's fun!
So if that means a fun afternoon by the lake after a morning hike, do it!
Or if you're an adult without kids, you have got to check out String Lake and all it has to offer!
If you're looking for warmer water in the area, you gotta check out the other family favorite in the area – Granite Hot Springs! Learn all about it here!
If you plan on visiting neighboring Jackson, find out the best 15 things to do with your family there!