If you were an avid camper before baby, then you likely want to hop right back into it. But how in the world do you find a safe baby sleeping bag that will keep them warm too while camping?
After all, a good night of sleep can make or break the next day, especially if you have tons of activities planned. (Hiking on three hours of broken sleep is hard guys… trust me!)
But if you surf Amazon, you'll likely see a whole lot of everything BESIDES baby sleeping bags that are actually designed for camping – different kinds of swaddles, bunting bags, etc..
So let's dive into the best sleeping bags and different sleeping situations to keep your baby warm and cozy on your next camp trip (and let you finally get some rest!)
P.S. This article focuses on "sack" or "body suit" style sleeping bags for babies! If you have a baby on the verge of toddlerhood, you may want to check out my article on the best toddler sleeping bags so that you have something that fits for much longer!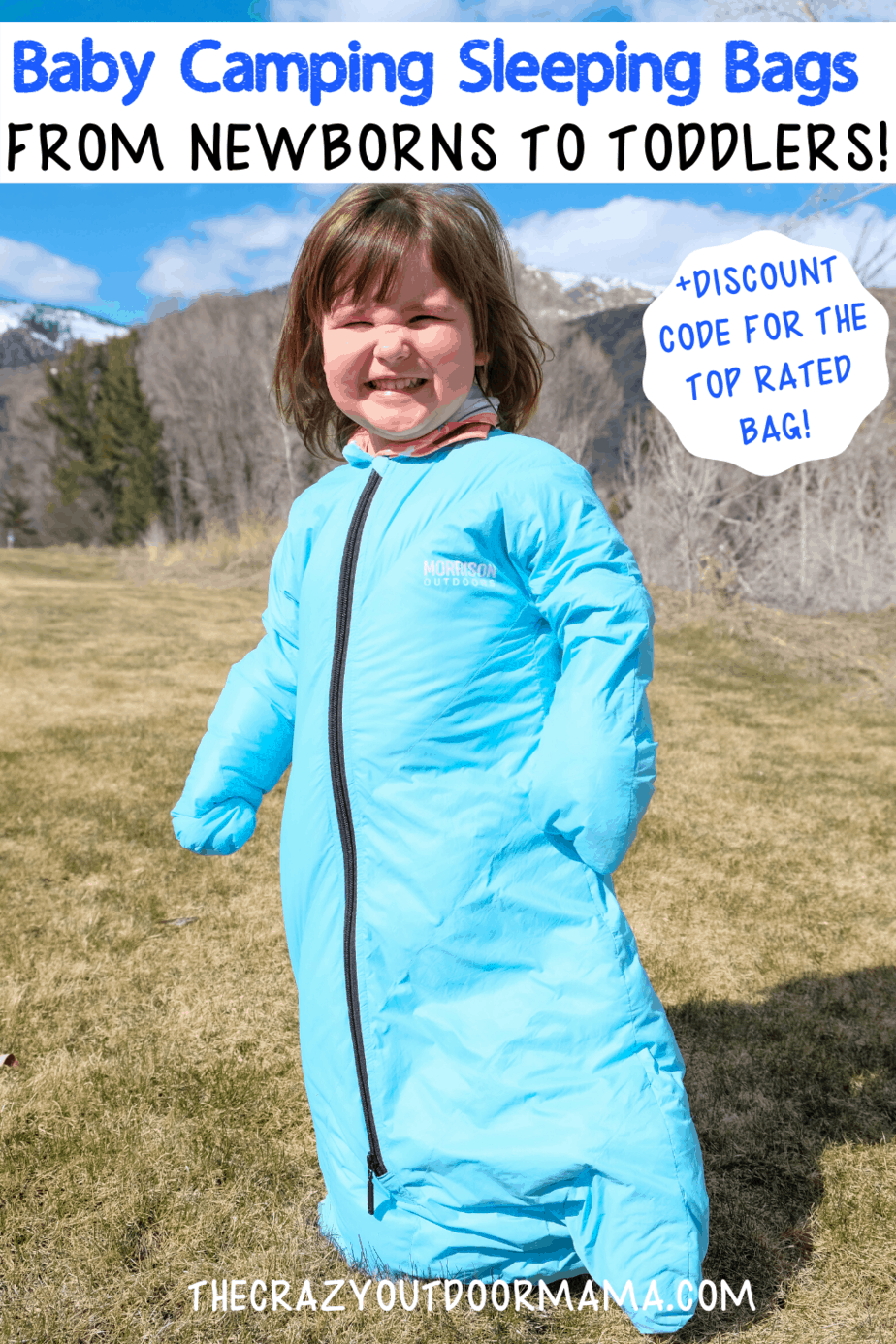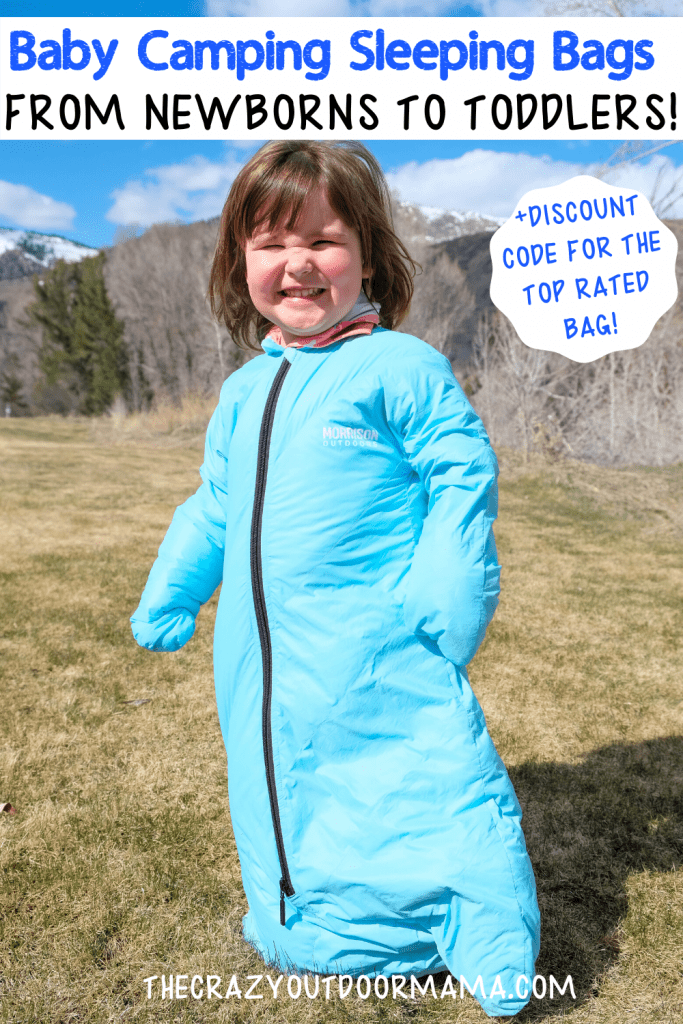 This was a sponsored review, however, the opinions are my own.
Short on Time? Here's my Top Pick
A good sleeping bag when camping with your baby is only a piece of the puzzle, but it can help with peace of mind knowing that your baby is staying warm at night and safe!
The Little Mo from Morrison Outdoors
Extremely warm – The down version of the little mo sleeping bag is rated for use in as low as 20 degree F temps!
Added insulation in the feet area – We all know how cold little feet can get – the "Little Mo" baby sleeping bag has this covered with added down insulation!
An investment that lasts years– This sleeping bag is for ages 6-24 months, however the Morrison Outdoors Company has an awesome trade-up program where you can send it in once your baby outgrows it to either get cash back or credit towards the toddler version of the sleeping bag!
I absolutely love that this camping sleeping bag for babies was designed by a family who actually camps! They started off making these bags in their garage and have since moved on to bigger things (like being in REI!) but it really shows you that alot of thought went into this design!
Buy this sleeping bag now using promo code "CRAZYOUTDOORMAMA" and receive 10% off your sleeping bag!
Here are some additional baby sleeping bag options for camping!
The Little Mo is going to cover MOST campers' needs – it is easily adjustable for different temps and insulated. Plus, it's easy to use and do diaper changes in.
I wanted to include these ones too though because there are MANY different types of camping families who might find these suit their needs better. These include bags that are much warmer and lighter, ones that are organic, and ones that are good for walkers!
Camping Sleeping Bag Options for Baby
While I think that the Little Mo is the best overall sleeping bag (that will work for almost any camping situation) I have included some other options for special circumstances. These include swaddles for very young babies camping or an extra warm one for early or late season camping with your baby!
Photo Credit: morrisonoutdoors.com
If you plan on camping during early season or late fall, you may need something more than the 40 rated baby deedee - you will need the Morrison Outdoors camping sleeping bag for your baby!
The version I have linked to is made from down, so it packs down small, is lightweight, and of course... VERY warm!
My hardcore campers who don't let the weather stop them will probably need this in their life!
It is also way more durable and has more of the features you might see in a nice adult sleeping bag such as :
Inverted Zipper - Zips open from the bottom, for easy diaper changes
Draft Tube - Keeps warm air from escaping.
Enclosed Footbox - Fully-enclosed footbox keeps little toes cozy.
Machine Washable - Wash at home for quick, easy clean-up
Be advised though that this bag is for ages 6 months and up!
Photo Credit: www.babydeedee.com
I've already mentioned this one, but in case you're a skimmer (I know I am!) and just wanted to see the table, here it is!
This is the bag that will suit most casual campers needs - it is rated down to 50 degrees farenheight, which is as low of temps as most people will go.
Here are features that set it apart from my other recommendations:
Removable Sleeves - This is helpful to adjust for different night time temps effortlessly
Can be worn as a newborn - The Morrison (my second choice) can't be worn until 6 months old, so this bag can be a great starter sleeping bag!
Has stroller/car seat strap access - This makes it more multi fucntional as you can also use it on walks or in general during winter at home in the carseat!
Photo Credit: www.amazon.com
This is the same TOG as the baby deedee, however I wanted to include it because it does have different features. Depending on what you are worried about, this could be an option for you!
Here are some differences with the Baby Deedee
Option for Warmer hands - Has flip over mitts (still maintains the same TOG, but this extra feature can really help babies stay warmer!)
Converts to Legged Suit - Though only this option is showing, it does actually start as a traditional "sack". This is good for walkers (or soon to be!)
Has Grips on the Feet - Just another thing for new walkers!
100% Organic Cotton - For some parents, especially those with sensitive skin, having organic materials can be very important. This fits the bill!
When babies are SUPER little, this style of swaddle can really help retain warmth. If your baby isn't used to being swaddled then this might not be the choice for you, however, these were perfect for my twins when we were camping (so that I wasn't as paranoid about them freezing at nigh with their little hands and arms exposed!)
How to sleep with a baby while camping
There are a couple of options we'll cover, each with their own pros and cons.
If you're sleeping with a young baby, it's always important to make sure that you avoid using too many blankets and have a solid, flat sleeping surface.
I have always co slept with my babies, however there are plenty of other options that may make you feel more comfortable!
Dress baby accordingly (check the weather!)
The amount of warm clothing that your baby needs to wear will depend on the sleep situation, however most times there is a fairly common minimum that looks something like this
Short sleeve / long sleeve base layer – Depending on the temps, you can put a long or short sleeve base layer (no legs) that goes on underneath everything. While there are lots of really nice, fancy ones for babies (check out Patagonia kids! They're great!) you'll probably be fine with just a simple cotton one.
Onesie PJs (with feet) – onesies will be your best bet for keeping them the warmest since it's one continuous piece of clothing and will contain their body heat the best!
Warm Sleep sack– A wearable blanket will always be safer than trying to layer blankets on them! I love this wool sleep sack, and this cozy swaddle for younger babies!
Hat and mittens – A simple cap and mittens will do a lot to keep your baby warm while camping, especially for babies with little hair!
Socks for wear under onesie PJ – This is just nice for an added layer of warmth. Check out this wool blend set of 6 that is a good mix of wearable (not too itchy!) but still warm!
If spring or fall, a camping baby sleeping bag – In most places, summer temps don't fall so low at night that you need this, however, if it's getting below 50 F, I would recommend getting an actual sleeping bag for your baby. This is the ONLY sleeping bag for babies I would recommend that is durable enough as well as gentle and warm for the outdoors!
Bonus: Slippers for cool mornings! – I absolutely love just being able to slip these on the babies feet in the mornings so that they can keep their cozy onesie PJs on, but not wreck the footie parts of them (as well as have an additional layer of warmth on their feet while walking on the cold ground in the tent!)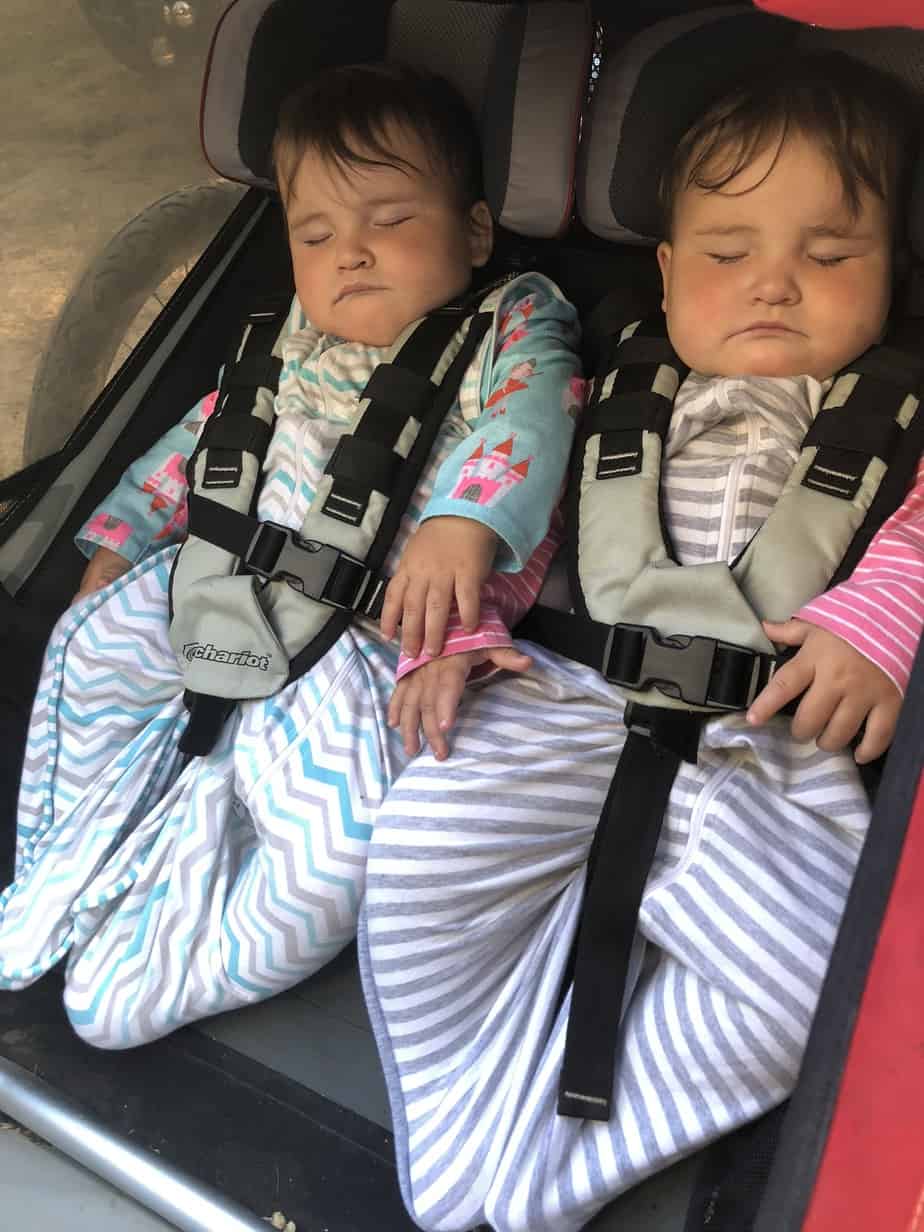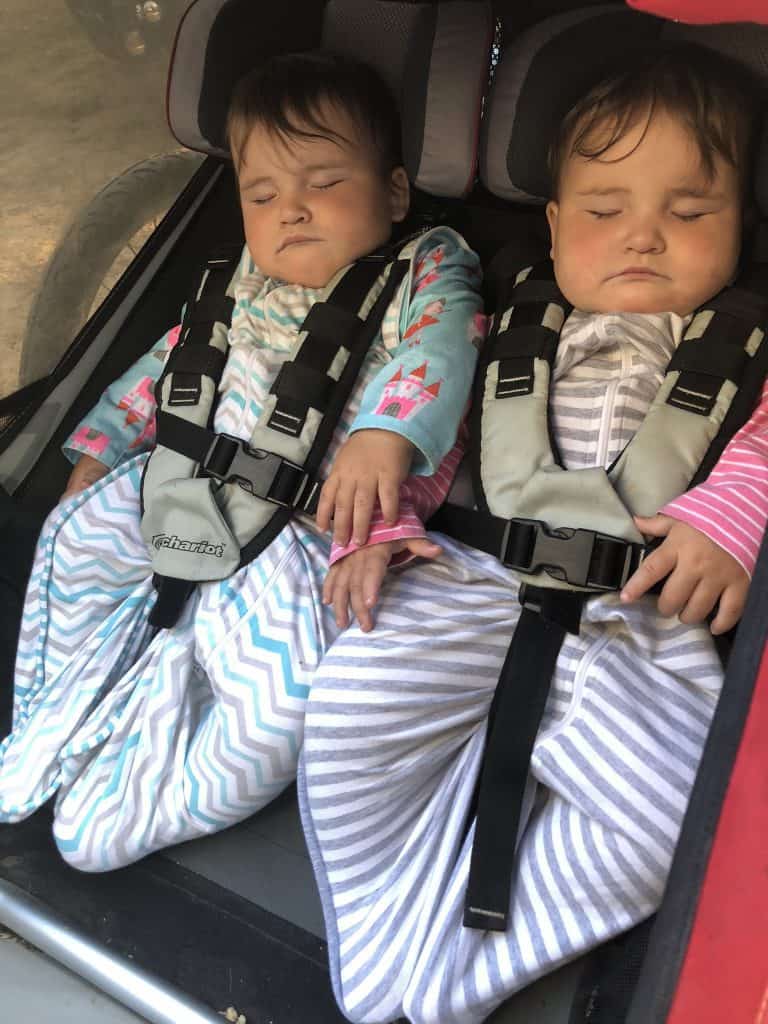 Use a Pack N Play
This might be the easiest choice if you don't feel comfortable co-sleeping, but also don't want to spend any extra money on sleep set up for your baby!
It's nice that baby is off the ground, and it offers more opportunity for insulation under the pack n play mattress!
I've seen some people get those memory foam pads and cut them to size into two pieces – one for under the pack n play on the ground, and one under the mattress of the pack n play!
Recap for my skimmers on how to camp with a baby in a pack n play
Multiple insulation opportunities – Insulate the ground under the pack n play and under the pack n play mattress itself for even more warmth (and to protect from the cold draft that will be moving under the pack n play!)
Blackout Pack N Play add on – I love love love this because summer days are long, and it can be pretty hard to put your baby to sleep while camping if they are used to the darkness, and it's still light out! Check out this

black out

cover here

if you're concerned!
Day use opportunities – This is multifunctional because if you choose to use a pack n play, you won't need any additional "containment" device that comes in SO handy during chore time when it's not safe for baby to be roaming!
Use a Sleeping Pad
This is a great option if you have a smaller tent, have limited packing space, or plan on hiking around while you're camping and so need to take your stuff with you!
Depending on if weight is a concern for you, there are plenty of sleeping pads that will get the job done!
Related: A nice sleeping pad can do wonders for your next family camp trip – find out the rest of the handy camping baby gear that can also help with that!
Here are some options and info for sleeping pads while tent camping with your baby!
Co Sleep
My favorite of all, especially since I nursed my 3 babies and it made camping so much easier to not have to leave the warmth of my bed to feed them! Even if you co-sleep at home, you may not feel comfortable doing so while camping depending on the situation.
If you need to use a sleeping bag because it's so cold, I would not recommend co-sleeping because it's way too easy to be half asleep and end up covering your baby's face in the night with the bag.
To me, the only safe way to co-sleep while camping is out of the sleeping bag, and on a safe surface such as the pads I mentioned above! Every time I have co-slept has been with my girls OUTSIDE of my sleeping bag!
Co-sleeping is a great option if your baby is having a tough time sleeping by himself somewhere new, if you're nursing, or you just want added warmth on super cold nights!
Here are some tips to safely co sleep while camping with your baby
Still dress your baby warm – Your baby still needs to be dressed warm, especially if they are at the age of moving around! I would probably still use a baby sleeping bag, especially if you have movers who don't stay next to you (and get your warmth!) while you sleep!
Minimal blankets – Try to use minimal blankets as this will reduce the risk that your baby gets tangled in them overnight, or you accidentally pull them over your baby's head
Dress warm above your torso – If nursing, sleep with your torso out of the sheets so that you don't, in your half-asleep stupor, pull your baby down to nurse consequently putting him under the blankets.
DO NOT drink or partake in any other altering substances – I know this might already be known, but you need to keep this in mind! I know when we camp with friends we all tend to drink a little, so whenever my twins were little and still needed to sleep with me, I kept this in mind!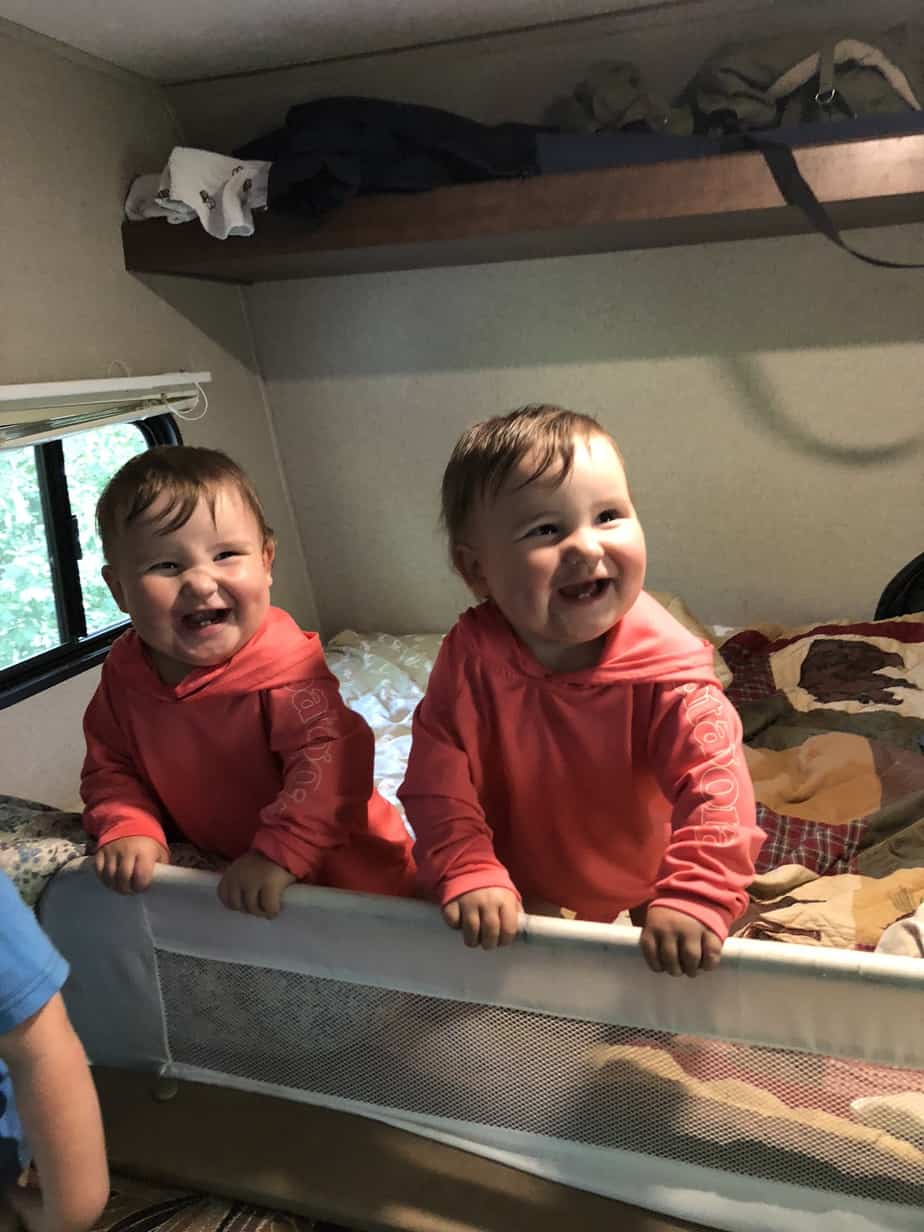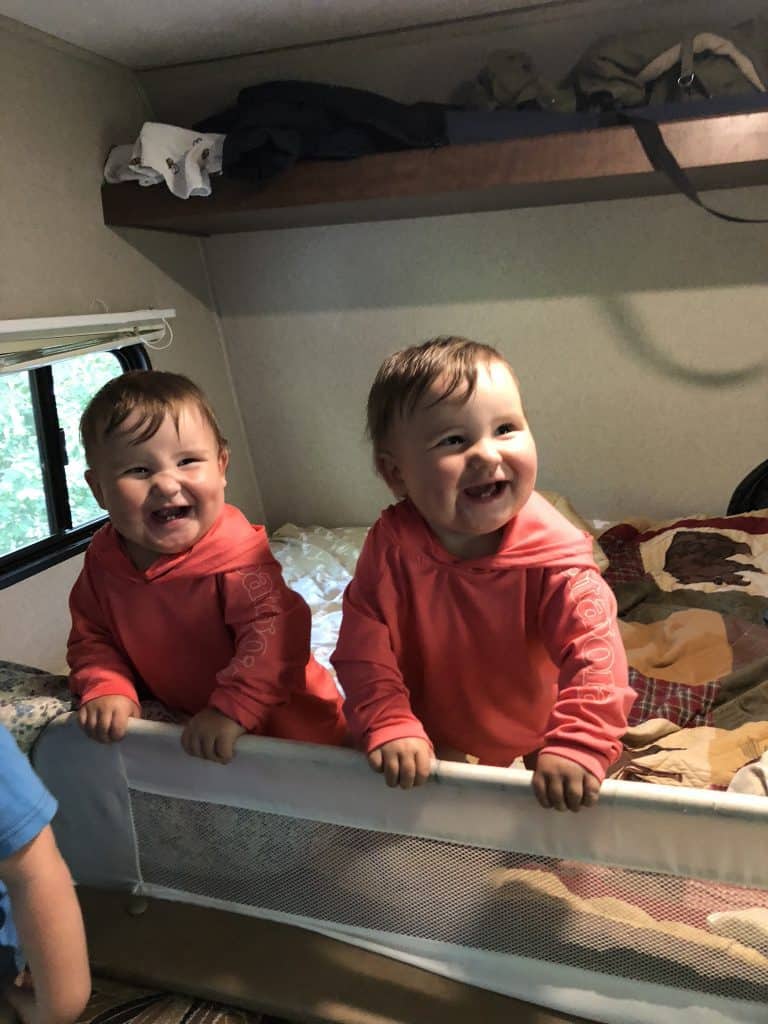 RV Specific
While camping with a baby in a much more controlled environment is easy easier than tent camping, there are still some challenges to hurdle!
We camp in a relatively small pull behind (18 ft) that has a queen and two bunks with hardly any walking space! That means there was no room for a pack n play, so we had to figure out how to modify one of the current sleep areas to fit our twin baby girls!
I wrote a whole article on how we transformed our queen bed into a darkened, sound resistant and warm sleep area perfect for use when RV camping with our twin babies here! (If you have toddlers, there is another article I wrote about safe toddler sleep and DIY in campers here!)
Here are some quick tips to make RV sleep with a baby work!
Add a bed rail to a bottom bunk – This will keep non-standing babies contained during sleep – In fact, you might even find some bed rails that are tall enough to leave no gap at the top for even standing babies to get out! Adding the bed rail essentially converts the bottom bunk into a giant baby crib!
Use a baby tent on a big bed – Baby tents like the Kidco Peapod are another great option for young babies who aren't rolling too much yet! Just pop it up on a spare bed you have, and it's ready!
Co-sleep in the biggest bed in the RV! – I always add bed rails on any exposed sides of the bed for safety and follow the same rules as tent camping while co-sleeping. Minimal blankets and a firm surface! BONUS: it can serve as a play area during the day (with supervision) for babies to play inside!
Use white noise – Hanging out in the camper after all the kids are in bed is a favorite, and we love using the white noise machine. We tend to use it at home and while we're out camping so that we don't have to worry about waking them while we're doing chores or talking!
Bring a battery operated baby monitor – Being able to leave the camper while your baby sleeps so that you can enjoy some campfire time is way easier with a camping specific baby monitor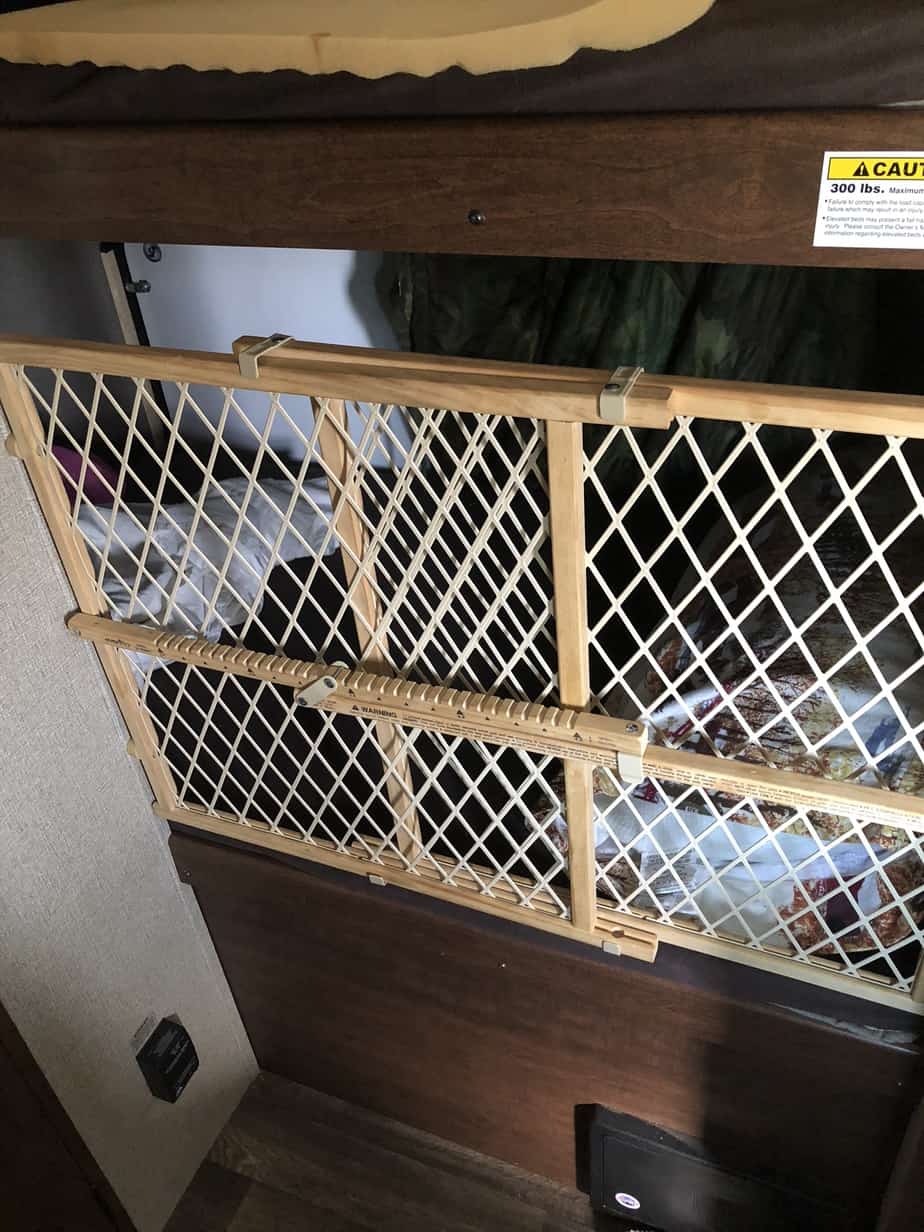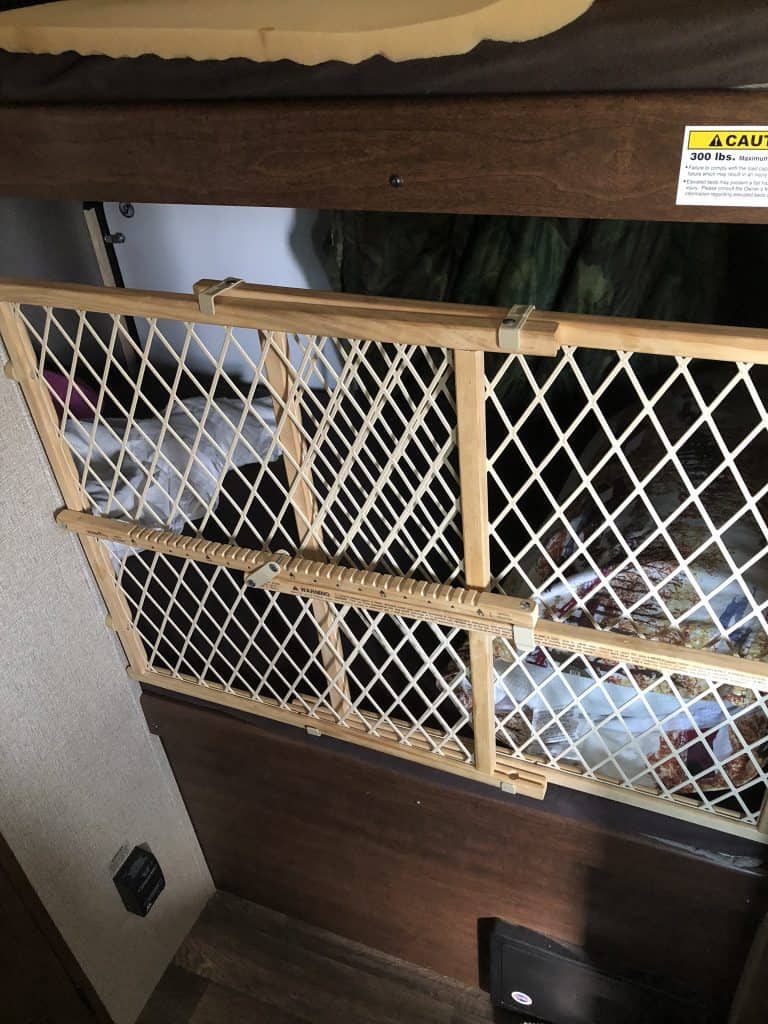 Additional sleep tips to make camping with your baby a success!
Sleep is definitely the biggest concern when it comes to camping with your baby – after all, it probably took months of sleep deprivation to get them to where they are now right??
How to set your next camp trip up for success and get your baby to sleep!
Always be sure to make bedtime while camping as close to bedtime at home – Make sure to bring any special lovies, blankets, noises, books etc with you and keep a similar routine!
Accept bedtime will likely be later – Camping is super exciting, and it's hard to calm down after it! With the added extra light that babies likely aren't used to during sleep time, bed might not happen till it gets dark unless you have a pack n play black out or are in a RV
Bring a stroller they like – This is especially true if your baby sometimes falls asleep in them. Even if your campground doesn't have much stroller friendly trails, just pushing them back and forth with a blanket (if you can do so safely) over it can really help calm them should they have trouble falling asleep
Prepare to nurse / feed/ lay with them to sleep – At home, you can likely close the door and let them fall asleep. Camping? They can hear everything, and you sometimes need to get back in the tent or camper to get something! Just know you might have to spend extra time to get them down. Don't worry though, it's unlikely a couple of nights doing something different will ruin any good habits they have!
BRING A CARRIER – Probably the most important, because sometimes it's nice to not spend an hour and a half getting a baby down (especially if they are resisting and you're not making any actual progress!) Front carriers are good, but my jam has always been backpack style carriers because they often have "shades" that I can safely drape a blanket over to help darken and quiet things for them while I am still able to go about my business at camp!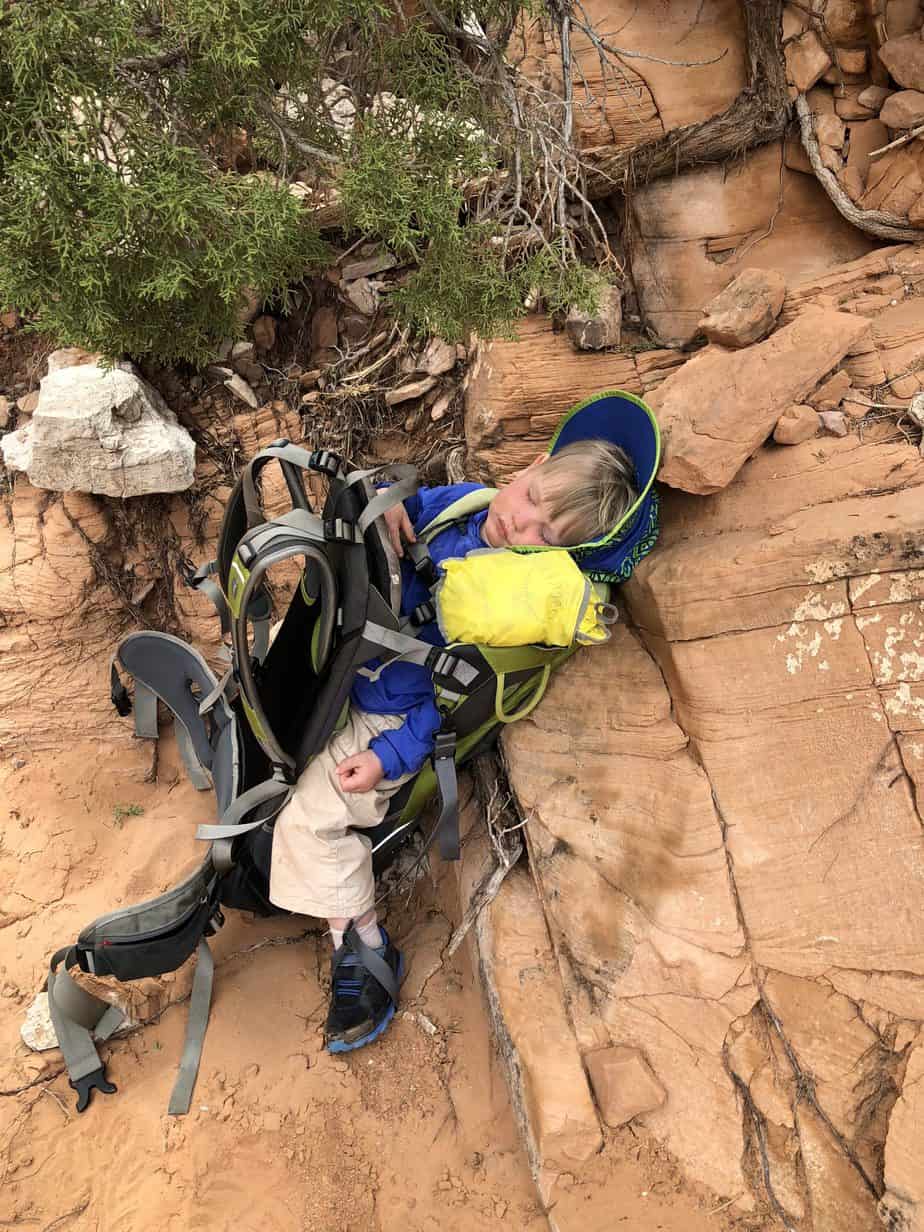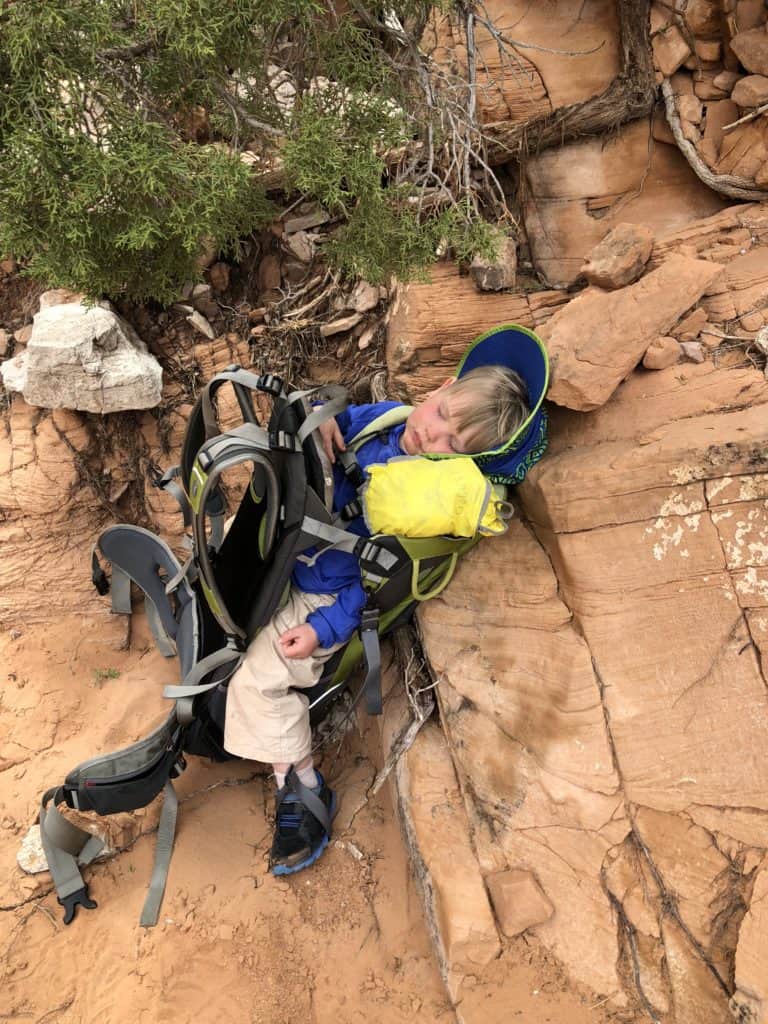 F.A.Q. Getting Sleep While Camping With Baby
How cold is too cold to camp with a baby?
Once temps start getting below freezing, many sleeping pads are no longer rated as functional. So basically anything under 30 F is probably going to be too cold. Obviously, if you don't have the right gear such as wool layers and a good baby sleeping bag then that temp will be much higher! Click here for more info on keeping your baby warm while camping!
How do I breastfeed my baby while camping?
Wear an easily liftable WARM top layer (I wore sweatshirts) so that you can bring the baby to you at night and easily feed him while not having to worry about getting cold or getting worried about your baby having a hard time breathing/eating while in your sleeping bag!
How do you get a baby to sleep while camping?
Being honest, a combination of exhaustion on the baby's part, patience on your part, and some planning and realistic expectations ahead of time. Make sure they are cozy, comfortable, and fed. And if nothing else works, walk them to sleep or lay with them in the tent or camper till they sleep!
Would a baby camping bed be useful?
YES! This is definitely true once you get movers – they are all of a sudden not content with just laying in one spot while sleeping! There are many options for a baby camping bed that mostly depend on the amount of packing space you have and the age of your child. Most people either bring a pack n play (since it's a useful play spot too) or some sort of small bassinet that breaks down easily.
What kind of baby sleeping bag do I need to camp with?
Depending on the temperature lows at night, you may not even need an "official" baby sleeping bag like I mentioned above!
If it's 60's F or above at night, you could get away with a onesie, warm footie PJ on top, then a blanket swaddle with a hat and gloves. I would consider the threshold being the 50s however!
At these temps, consider investing in an actual sleeping bag. This will help ensure your baby stays warm without having to use a ton of layers and unsafe blankets! (These are all my opinion regarding the temps, so make the best choice for your family!)
Can't I just use my babys snow suit while camping?
Well, yes and no. In a pinch, a snow suit will work kinda like a baby sleeping bag (I actually used one for the first camp trip of the season this year because I totally forgot to buy my twins the right size bags!) However, they don't often have good venting and aren't rated for safety while sleeping.
What is TOG?
As quoted from ergoPouch (one of the better camping sleeping bags in this list)
"A TOG is a unit of measurement for insulation and warmth of sleepwear and bedding. Put simply, the lower the TOG rating, the lighter the fabric. The higher the rating, the more padded and insulated it is.
0.2 and 0.3 TOG = 75ºF+1.0
1.0 TOG = 70ºF+ to 75ºF+
2.5 TOG = 63ºF+ to 73ºF+
3.5 TOG = 57ºF+ to 70ºF+
I have included mostly TOG 3.5, as most of us camping will be in cooler weather at night. However, if you see one you like below click on it as it's likely offered in a different TOG if you happen to be camping somewhere warmer!
Related: Find exactly what else you need to pack for a stress free camp trip with your baby!
Do you feel a LITTLE LESS nervous about how to get your baby to nap and sleep while camping? I hope so!
If you feel like I missed anything, please don't hesitate to comment! I want to help everyone out as much as possible!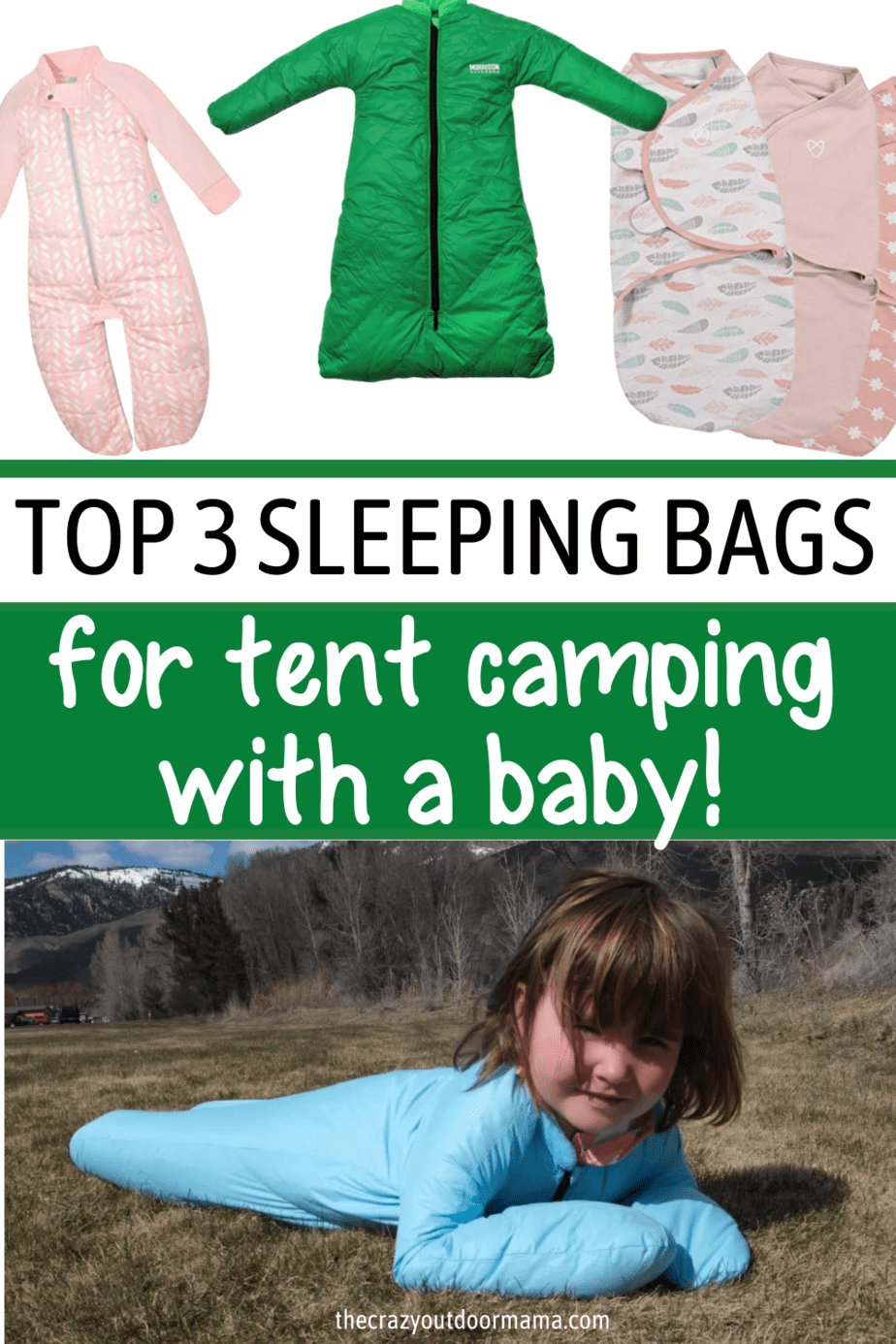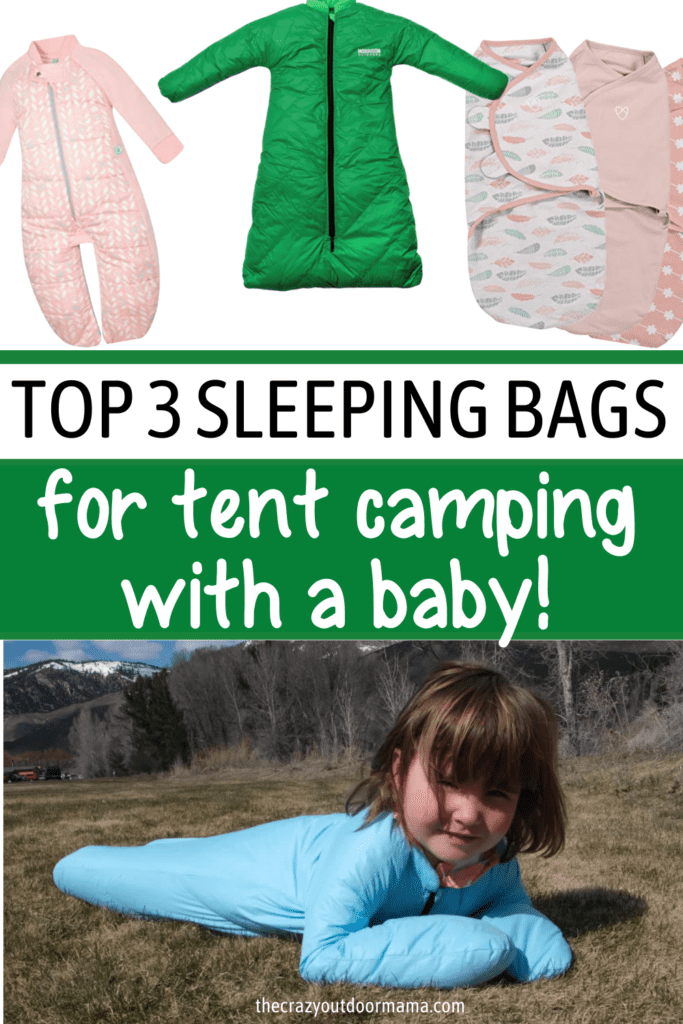 Latest posts by Stacy Bressler
(see all)