If you're going on a family camp trip with little ones, then it's super important to ensure they are warm and dry in a toddler sleeping bag!
It's also really nice to get your toddler their own sleeping bag if you don't go camping that often, and want to get them really excited about it! I know my guy is 100 times more hyped up about doing something if he knows he has his own stuff he can use!
I'm going to review a couple of different types of toddler sleeping bags – the bargain pick (for if you only intend to go camping once or twice), a quality sleeping bag, and a super warm one!
Here we go!
This article is going to focus on sleeping bags for camping (not the cutesy ones for sleep overs… those aren't typically very useful for actual outdoor use during chilly nights!)
Open these guys up to read later if you plan on having an awesome camp trip with your toddler!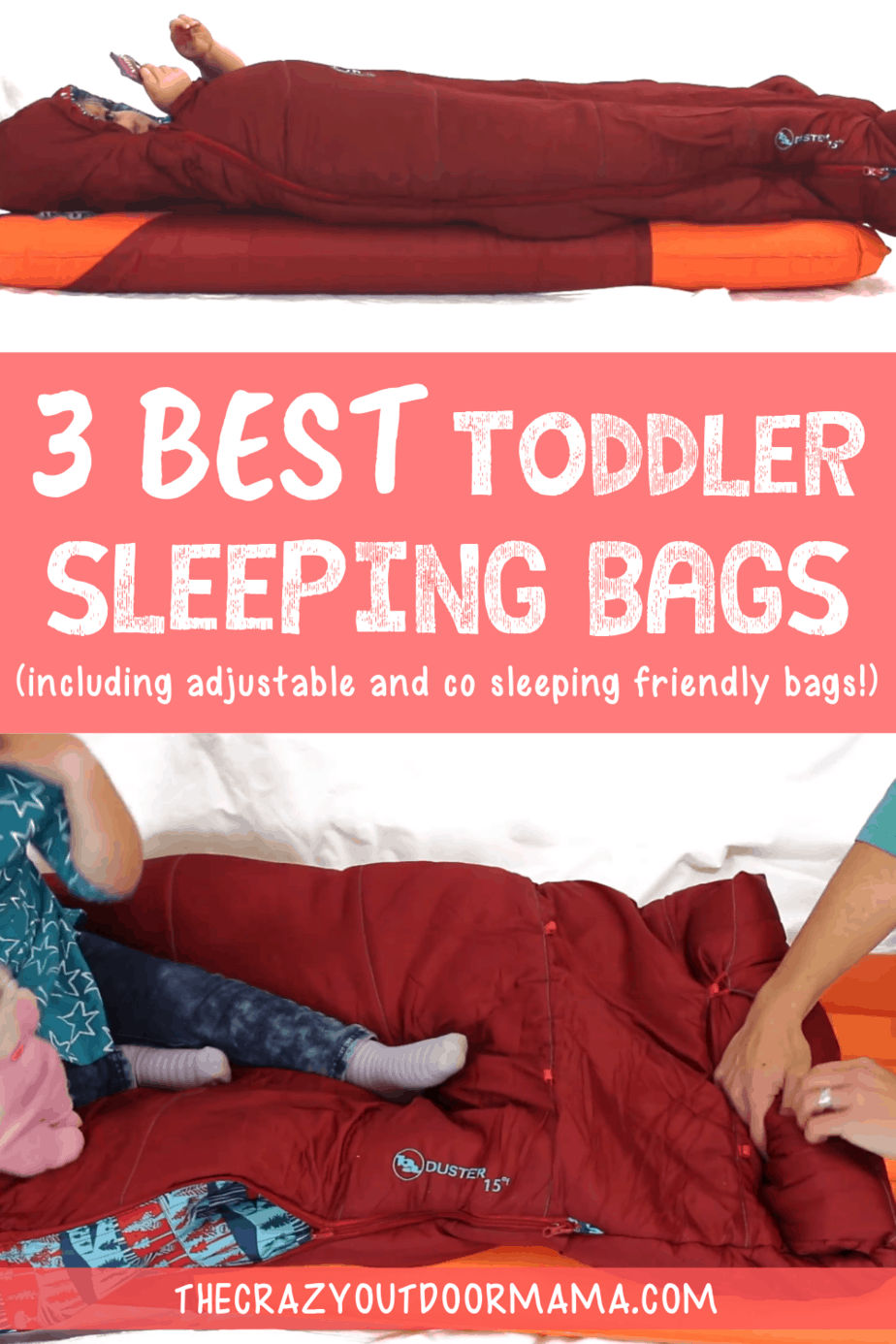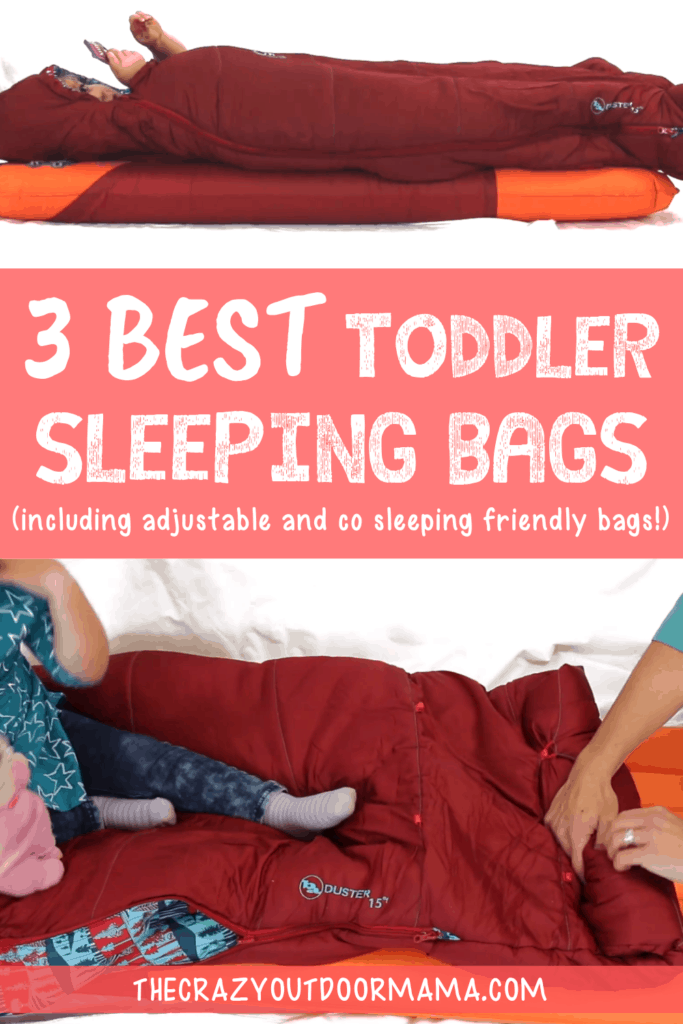 I wanted to let you know that I am an Amazon and Etsy affiliate and will get a very small cut if you purchase anything through these links. But these items are all awesome so don't worry! More info about this is here
Big Agnes Sleeping Bag (In place of the Deuter Little Star)
I have heard lots of talk about the Deuter Little Star toddler sleeping bag because of the super handy feature of being able to adjust the size of the bag. Unfortunately, Amazon does not carry it anymore and they don't seem to ship this bag to the U.S. (all the stores that supplied it were foreign)
With that in mind, I found a cute and very functional toddler sleeping bag that will get the job done (and possibly better – this thing looks AMAZING!)
With adjustable sizes from 4'5″ to 5'6″ this is a good investment if you plan to camp with your toddler a ton, but don't want to have to buy another new sleeping bag every two years!
Attaches to your sleeping pad via a half pad sleeve! (Warning: This does mean that you will need a sleeping pad as there is no material where it sleeve goes over the pad. This does save on weight though!)
Big Agnes Duster 15 Kids' Synthetic Mummy Sleeping Bag
Adjustable length from 4'5″ to 5'6″
Only 2 lbs 14 oz and includes a mesh storage sack + nylon stuff sack
Rated for temps as low as 15 degrees F!
Tons of extra protection to prevent drafts in places such as the collar, wedge and zipper.
A half pad sleeve keeps the sleeping bag in place for your crazy moving toddler!
The Kelty Woobie
Kelty is a brand well known in the camping world, and the quality doesn't stop at adult camping gear – the kids' gear is highly rated as well too!
This sleeping bag is designed for toddlers up to 4 1/2 feet, has a zipper on both sizes as well as a flip down top panel making it super easy for them to get in and out of!
As with most Kelty sleeping bags, it is insulated with "cloud loft" which is a synthetic material that keeps you cozy while still maintaining the ability to compress easily!
The foot box is comfy, and even the inside zipper has an insulating tab so that your kiddo isn't touched by the cold metal at night!
One of the things I find my kids doing is using the Kelty Woobie sleeping bag at home. I have it folded up next to the couch and my kids use it on chilly evenings, for movie nights in front of the TV and definitely at sleepovers with their cousins.
Kelty Woobie 30 Deg Short RH Sleeping Bag
Rated for use in as low as 30 degrees F
Dual zippers with tabs on both inside and outside
For toddlers up to 4 feet tall (see below for bigger toddlers)
Total weight 2 lbs + includes a stuff sack
If your toddler is bigger than 4 ft (Mine is almost at that mark and he is turning 4) then you may want to look into 4 ft 6 inches version of this sleeping bag here. It does cost a bit more, but it might be better to have years of use instead of trying to save money and having your toddler outgrow it in a season!
The Cosleep Camping Sleeping Bag / Comforter For Wiggly Toddlers!
The past two sleeping bags I've recommended have been single mummy style bags that, while very warm and light, leave no room for co sleeping or much movement!
My guy co slept with me until he was 18 months (and honestly probably would have done so longer had I not been pregnant with twins and his kicks at night were getting VERY uncomfortable!) and I know many, many other parents who co sleep at home, or choose to while camping because of the convenience.
This can be helpful for toddlers who are nervous about doing something new, or just because it's easier to have one bag for everyone!
This bag can also be zipped open to function as a sort of comforter blanket if your toddler is freaked out by the containment aspect of a sleeping bag.
P.S. Here is the liner that fits this sleeping bag (it adds an extra 10 degrees of warmth and makes it way easier to keep clean!)
TETON Sports Mammoth Queen-Size Double Sleeping Bag; Warm and Comfortable for Family Camping
Soft lining with an optional liner make this sleeping bag comfy and easy to maintain
Draft tubes in multiple spots keep the warm air in!
This sleeping bag is longer and wider than a queen size bed (94″ x 62″ total!) so there's room for everyone!
Two different temperature options
Heavy duty (16.5 lbs!) and perfect for family camp trips!
Buy a second sleeping bag and create a GIANT sleeping bag by zipping them to the original bag!
Some tips on how to get the most out of your toddler sleeping bags!
A kid size sleeping bag works on the basic concept of having less space that your kiddo's body needs to heat up! That's why it's important to get a proper fitting bag if you plan on camping in cool weather!
Now, if none of the bags above are in your budget there are a couple modifications you can do to whatever current sleeping bag you have.
Let's go over them!
Make sure you're using a sleeping pad of some kind
You need a barrier between the bag and the ground (I'd say most sleeping bags are designed with use of a sleeping pad in mind). These can be as cheap as this youth sleeping pad from Coleman!
You could also place the sleeping bag on a toddler camping bed (I wrote a review on the best toddler camping beds here!) Toddler specific camping beds are nice because they often have built in rails and provide more warmth than a typical sleeping pad!
If you don't have an appropriately sized sleeping bag for your toddler, you can cinch it up
Many people use the sleeping bag stuff sack to cinch tight the bottom of the sleeping bag to an appropriate length for their child. While this isn't a perfect solution (there is after all all that unused space on the side) it sure as heck beats doing nothing!
Keep sleeping bags clean easier with a washable liner (because camping gets messy!)
While it's a good idea to have a different outfit for sleep, sometimes it's still hard to maintain full cleanliness when camping with the kids! Especially if you use it a ton!
Having a liner for your toddlers sleeping bag is a helpful investment to save time and to increase the life of the sleeping bag. Multiple washes can eventually degrade the insulating materials and make it not as effective.
What's your camp style with the kids?
All 3 of my kids co slept with me for some period of time camping – my son till 18 months, and my twins until around 12 months. I loved it, but they move so much we had to get them their own space!
I hope this has helped you narrow down your choices to ensure a warm and cozy camp trip with your toddler!
Here are some other camping articles you'll love!