What are the easiest trails in Arches National Park when you have kids?
Arches National Park is such a beautiful place, and guess what; it's possible to enjoy the natural beauty with the whole family! At the time I visited, I had three children under three.
That's right, a toddler and two 8 month old babies!
I'm going to give you the scoop on which arches in Arches National Park are the easiest to get to with young children, and which ones are worth the extra challenge.
P.S. Check out my guide to Moab with Kids here, because it's pretty likely you'll be in town at some point while visiting Arches with the kids!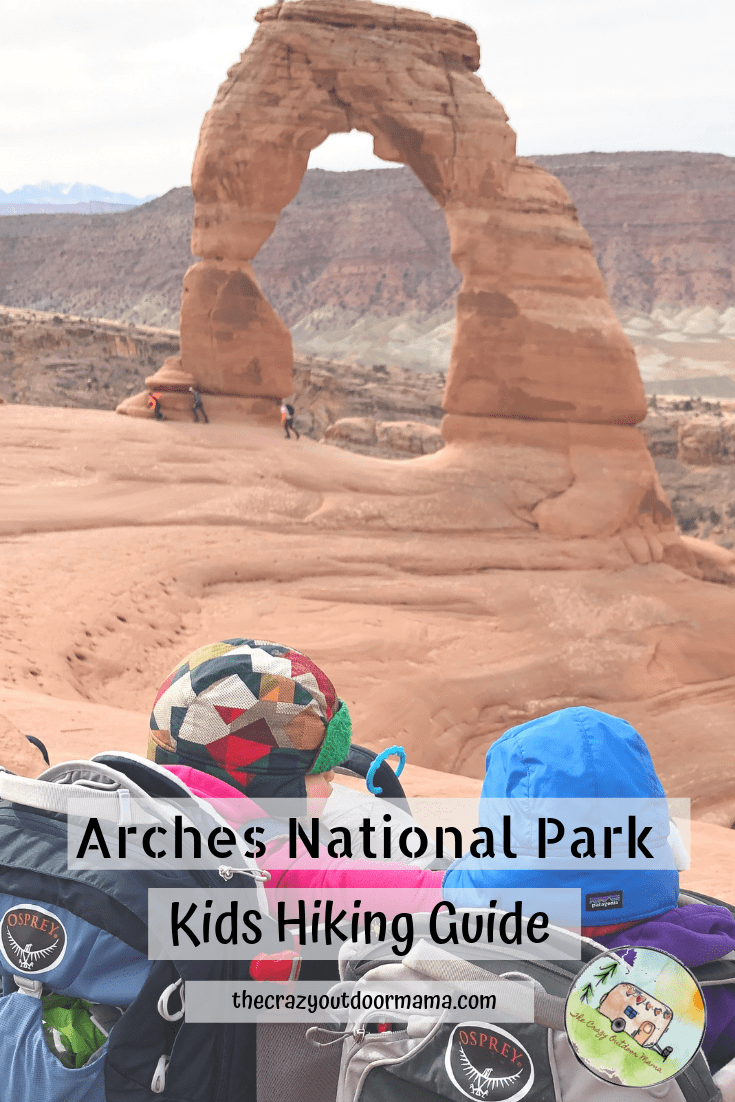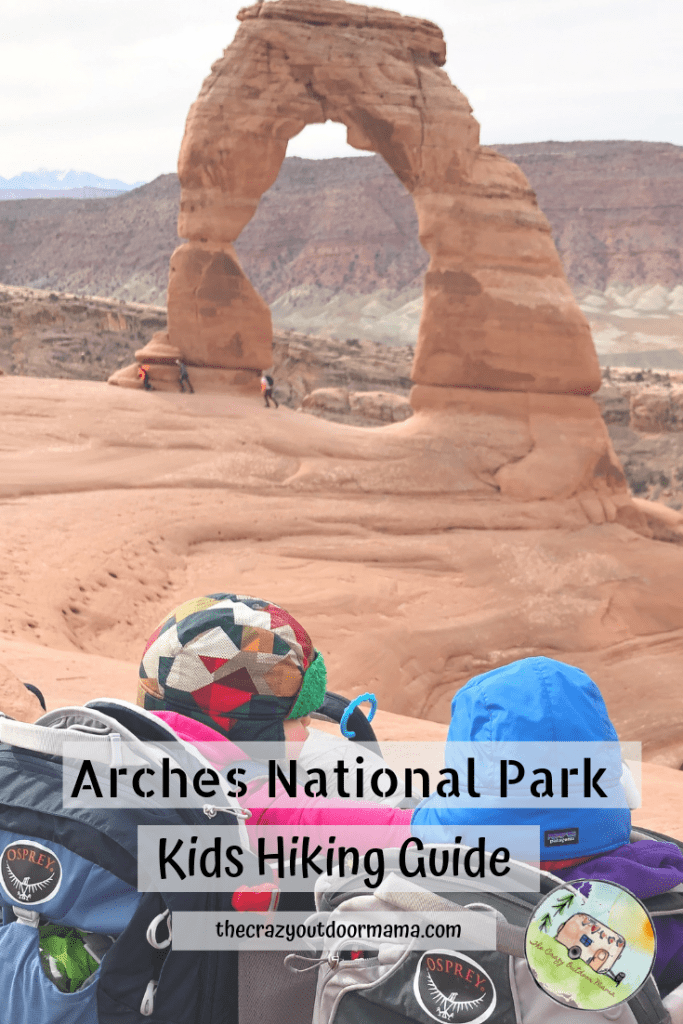 Some of the best hikes in Arches National Park are pretty easy! Read more to see some sweet pictures of the arches along with helpful information about entrance fees, hike distances, and an Arches National Park Trail map straight from the source!
What's the best time to visit Arches National Park?
I'd say big picture, Arches National Park is best in spring or fall. I visited in early April and the weather was perfect! Cool in the mornings, and warmer but cloudy the rest of the day.
In terms of time a day, it's best to visit early or late afternoon!
To ballpark some good times to get to Arches National Park, try before 9 A.M, or later afternoon, after 3 or 4 p.m. The line can be ridiculous to get in, and it's not worth wasting your kids energy or time if you are only in the area for a couple of days!
I personally liked going early as it wasn't as busy. We were often in the park at around 8 in the morning.
There is a decent amount of driving to get to most places, around 20-30 mins once you're in the park. Don't forget to account for this when planning your day!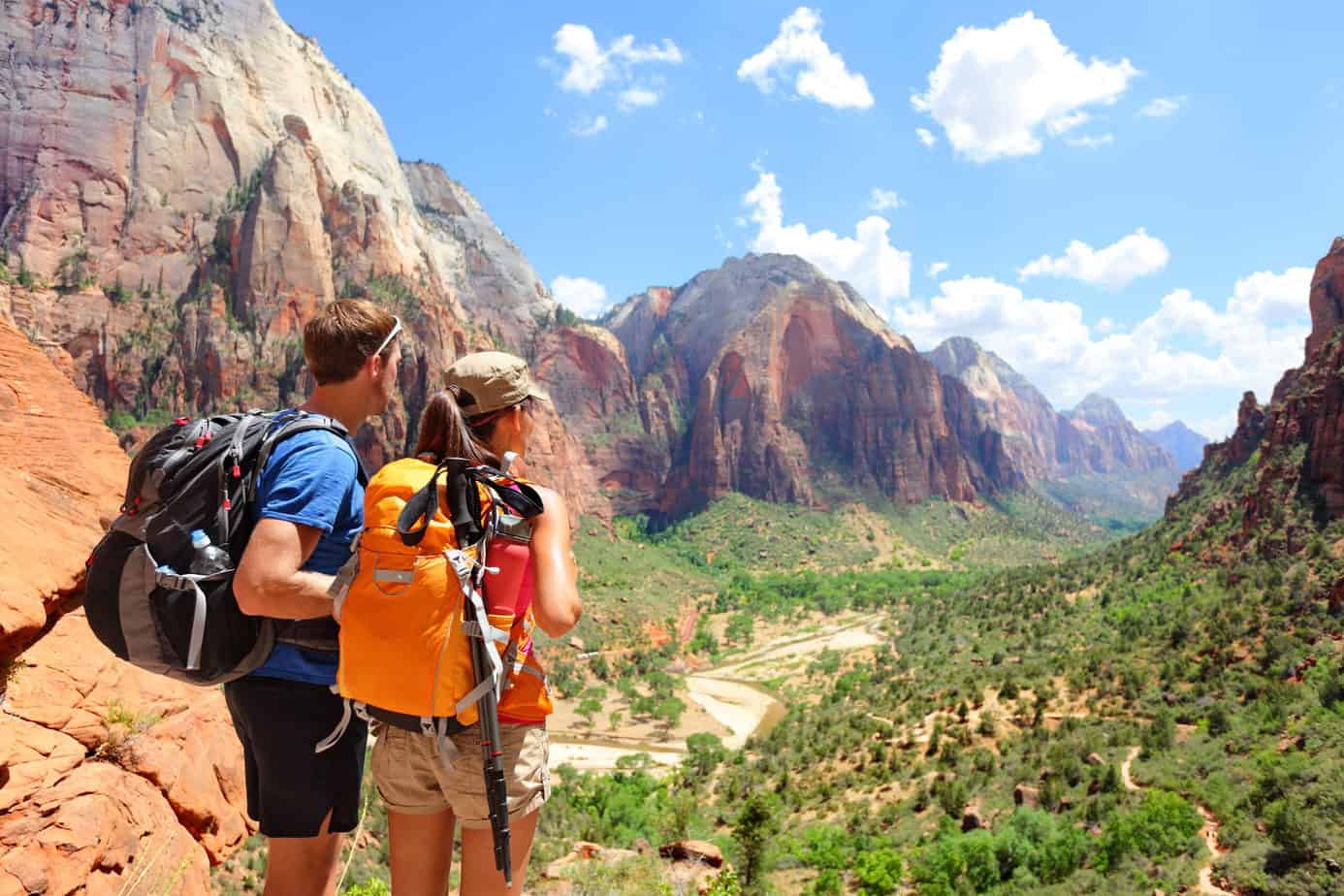 Curious what cool tours there are here?
sometimes the best way to explore someone new is to get a guided tour!
Curious what cool tours there are here?
Sometimes the best way to explore somewhere new is to get a guided tour!

What is the best way to get to Arches National Park from the airport?
According to this travel guide, it is about 3 hours and 41 minutes, and 234 miles. You definitely will want to check in to your hotel before getting going! Be sure to check out the article mentioned above because they have some really helpful information for trip planning if you are arriving via plane!
How much does it cost to get into Arches National Park? (as of 2018)
The National Park Service website has a list, but for quick reference, the Arches entrance fee is $25.00 for seven day access. If you want to visit the nearby Canyonlands National Park, there is a Southeast Utah National Parks pass that is $50.00 and also includes entry for Natural Bridges National Monument.
We decided to buy the "America the Beautiful" pass that gives access to all the parks for $80.00. It's a great deal if you plan on visiting more parks!
To save time, a great idea may be to buy it on line! That way you just have to show your park pass and move on instead of making a choice of which pass to buy and such on the spot. I think that's where the giant line comes from 😛
The Best Trails in Arches National Park when you have little kids in tow!
These hikes are all about a small, doable distance with a big reward to keep your toddler or little kid pumped about hiking! While we all might enjoy bigger hikes to get away from the crowds, I found it very important to have the hike distance kept to a minimal and the fun to a max!
This might mean stopping a couple of times on a 0.5 mile hike; that's ok! You're setting them up to love hiking as they get older!
Though you should never step off trail (it ruins the very delicate biosoil that takes years to form!) most of these hikes have many turn offs and rest areas since they are so popular. This is PERFECT for little legs to climb on little rocks, play in the sand, and have a snack to recharge for the rest of the hike!
Don't forget to take a nice camera (check this camera comparison guide if you're unsure!) – the harsh sun and bright red color of the area is pretty rough on most phone cameras (the ones I took on my phone are not near as good as my GoPro!)
P.S. If you are hiking with a toddler, be sure to check out these 10 adventuring tips to make your experience WAY more pleasant (for everyone involved!)
Where to get an Arches National Park Map and Guide
You can pick up your map at the Arches National Park Visitor Center, or download it here.
As of May 25th 2018, the Visitor Hours for the visitor center are 7:30 – 5:00 daily except for Christmas!
You will likely also get a guide to the park with it, which will include some fun facts about how the Arches in the National Park were created, as well as more in-depth info about all the trails!
Don't forget to pick up the Junior Ranger Guide so that your child can get the chance to earn a badge! PDF for the activity book here!
If this is a new experience for you and the littles, check out some great toddler level books about camping/hiking to get them pumped up!
You may also be interested in some amazing gear I use to make hiking and camping with babies easy and fun!
1. Balanced Rock – 0.3 miles Round Trip
At only 0.3 miles, this hike is a good way to gauge how far the kids can go! It's a big reward for little effort; what kid doesn't love rocks?! You can see it while driving, but it's worth getting out to look at it.
The rock is always eroding away, and one day Balanced Rock will not be balanced anymore! In fact, there used to be a smaller formation called "Chip Off the Old Block" that fell down in 1976.
There is a covered picnic area and some restrooms here so it's also a great pit stop on the way in an out of the park!
2. Sand Dune Arch – 0.3 miles Round Trip
Probably the BEST hikes in Arches National Park for kids of all ages! It's surrounded by a giant sandbox!
It's only a 0.3 mile hike in, and it's tons of sandy fun!
Sand Dune Arch is nice, but the sand really is what makes this area a must for little kids. There were toys available that someone generously left there, and lots of easy climbing and exploring to be done.
The babies got a nice break from the backpack, and our 2 1/2 year old got some much needed free time! (There was a lot of "Let's go" and "Let's keep going" on our hike! :P)
We spent probably around an hour in here, and easily could have spent more just letting the kids all play!
There are some cool slot-y areas nearby and fun rocks to climb for the adults, so if there's someone to watch the kiddos, explore around for yourself!
Bonus: If everyone is in a good mood, head over to Broken Arch which is accessible from the same trail head as Sand Dune Arch. It's about 2 miles round trip and takes you through some fun rock formations and includes slick rock scrambling! Fun!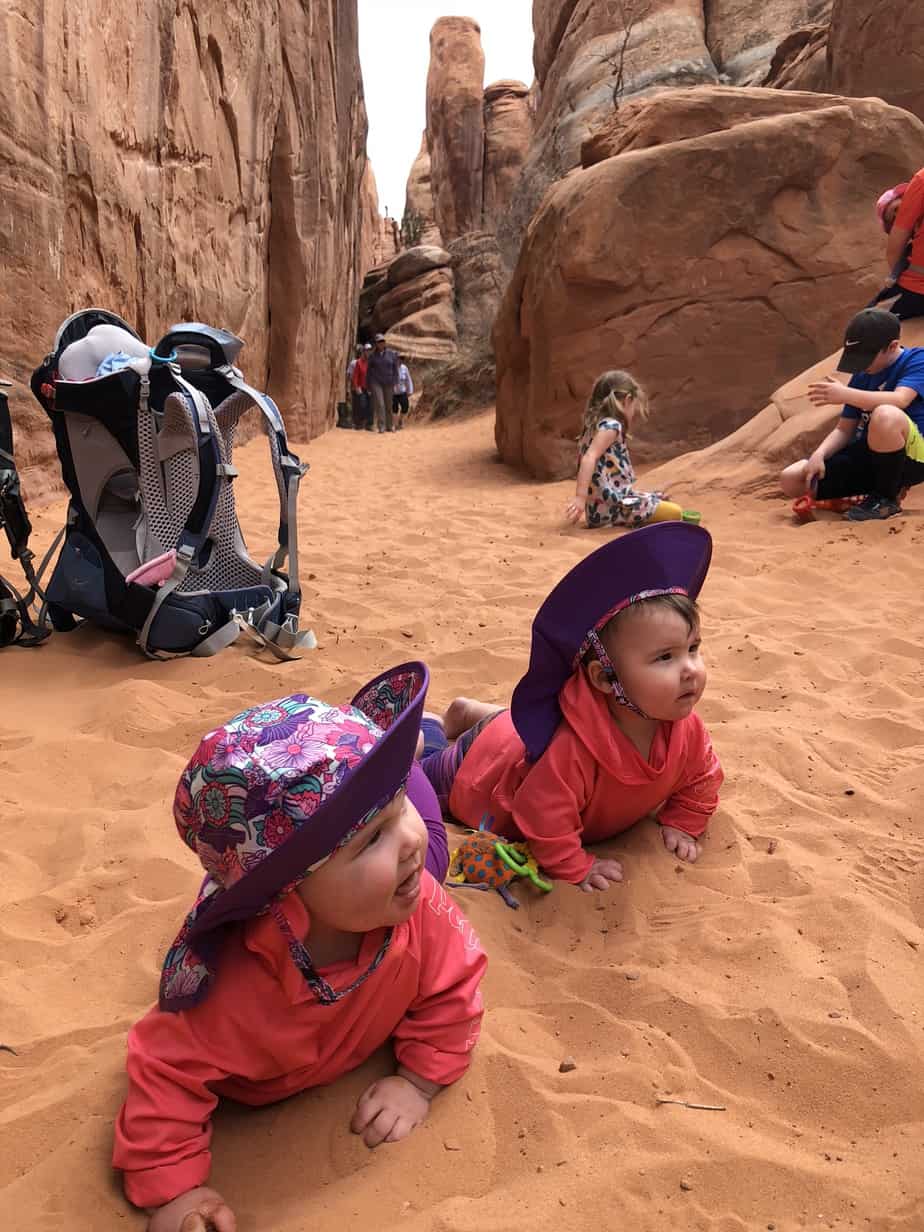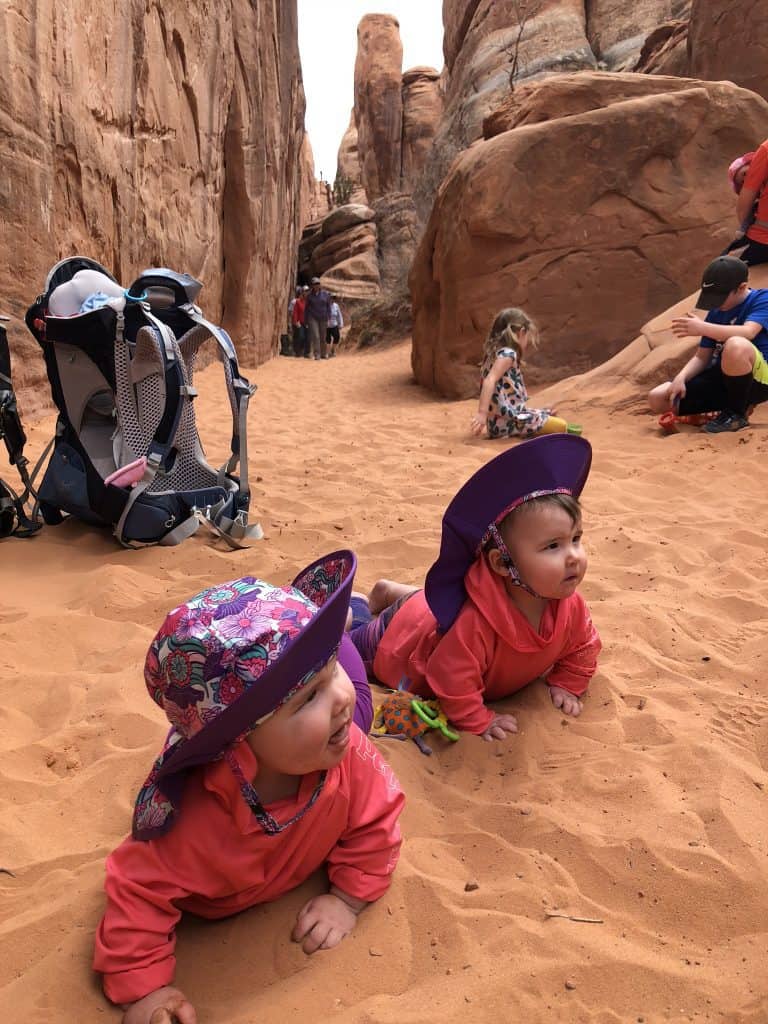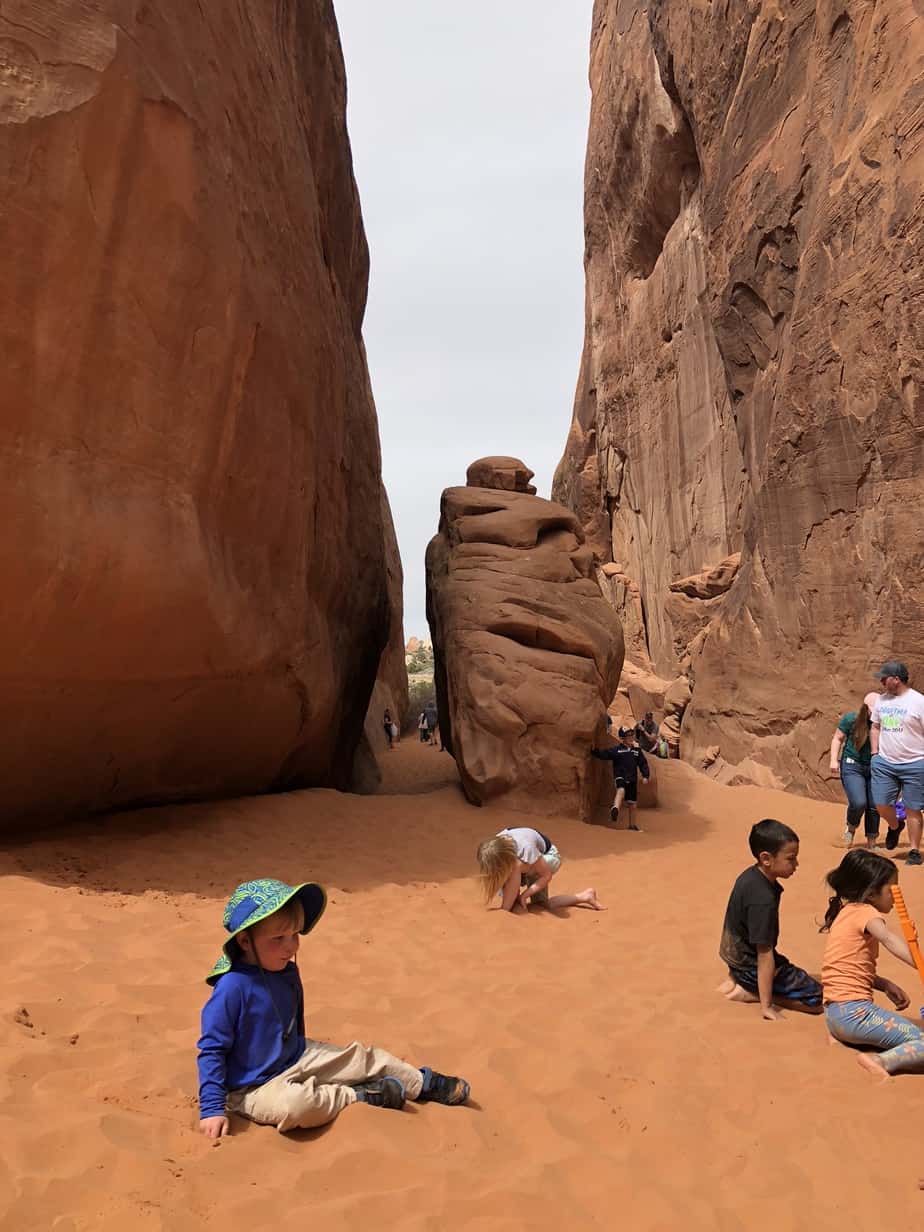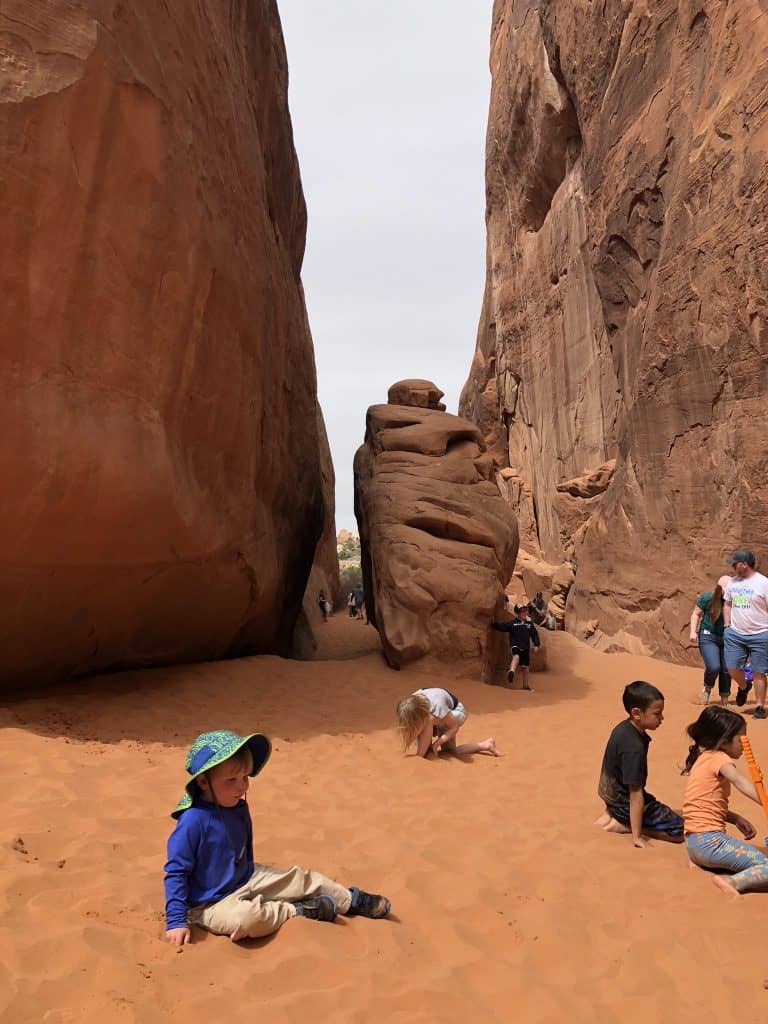 3. Skyline Arch 0.4 miles Round Trip
A short, sandy hike through some cool fins bring you to Skyline Arch!
I didn't see this one myself (bummer!) but it sounds like a quick hike!
While not as pictureesque as some other arches, it may be good for kids as they get their reward (the arch!) quick and easy!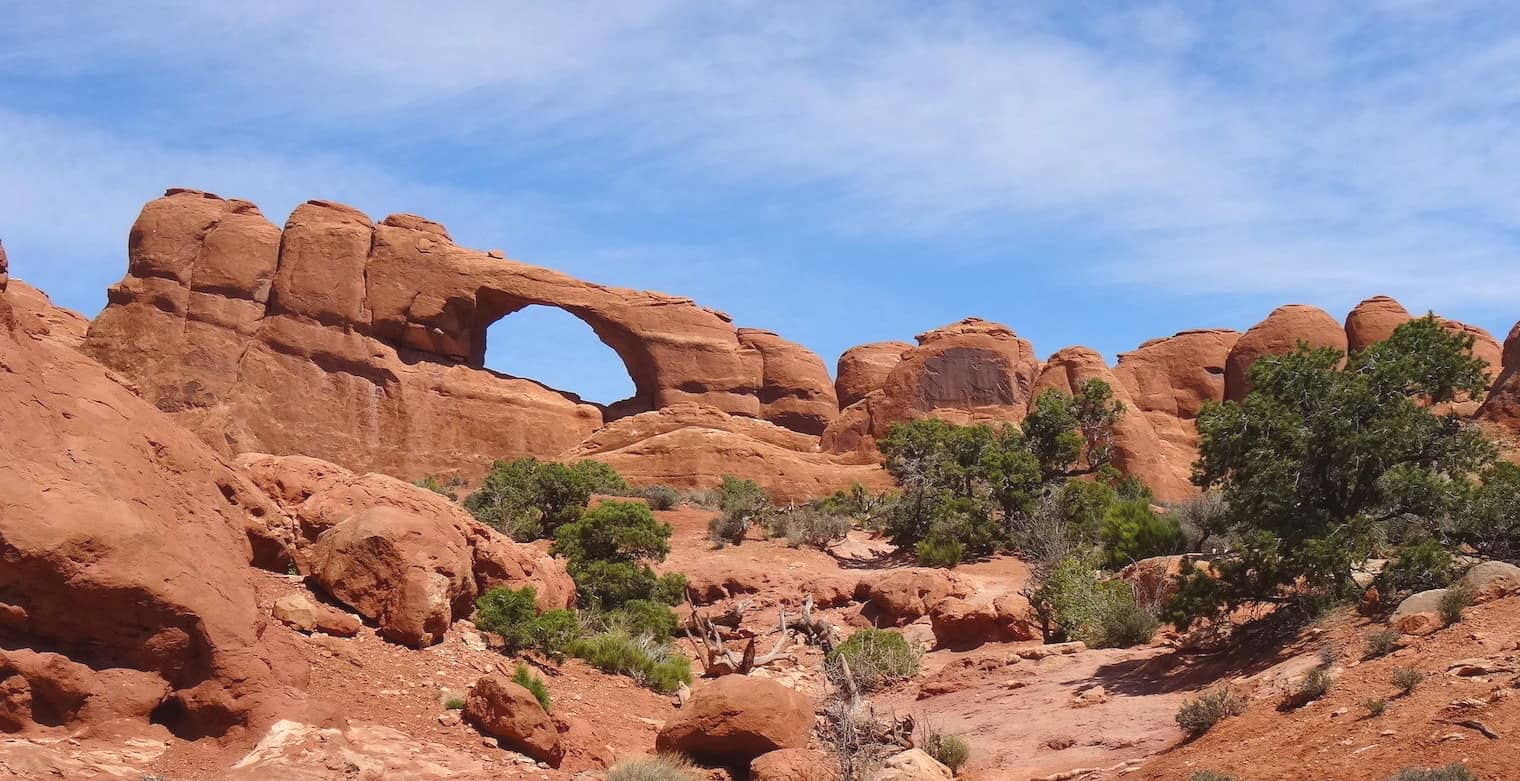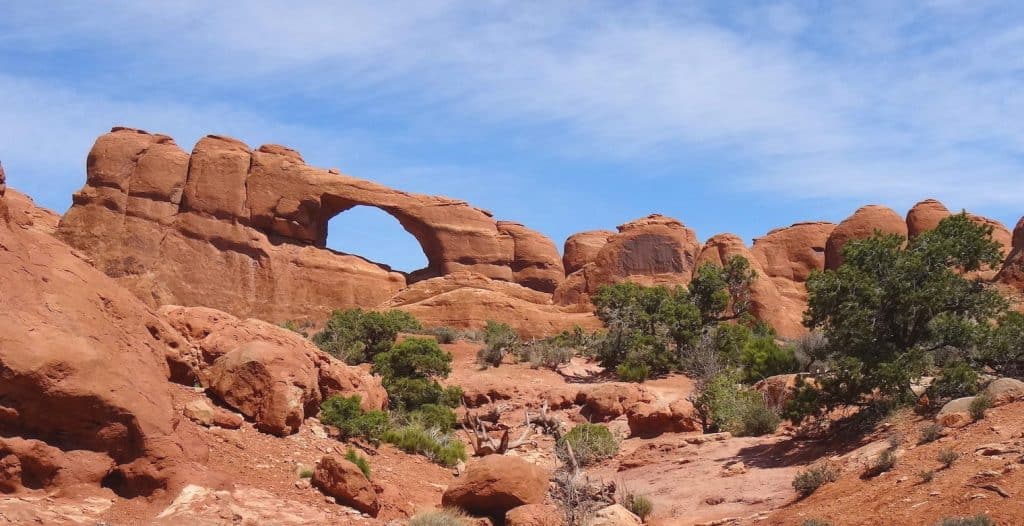 4 and 5 "The Windows" Double Arch + Turret Arch 1.2 miles Loop
This is one of the best "bang for your buck" arch viewing hikes in the park!
There are multiple arches to choose from here; North and South Windows, Double Arch and Turret Arch!
It's only a 25 minute drive from the visitor center, and the ENTIRE loop trail is only 1.2 miles!
There is a "primitive trail" marked by cairns that is much less traveled and very scenic you can take if you choose as well. This is a little longer (1 mile roundtrip) but it's worth it if you want a more authentic hiking experience.
We had our two babies in backpacks and our toddler in tow, and we all made it! I think our toddler only took 2 breaks the whole time this hike. There's a lot to look at!
There is a staircase and some slight up hill hiking, but it's pretty doable for everyone. The trail is gravel, so that makes for easy walking!
Cool facts about Double Arch – it's the tallest in the park at 112 feet and the second longest at 144 feet!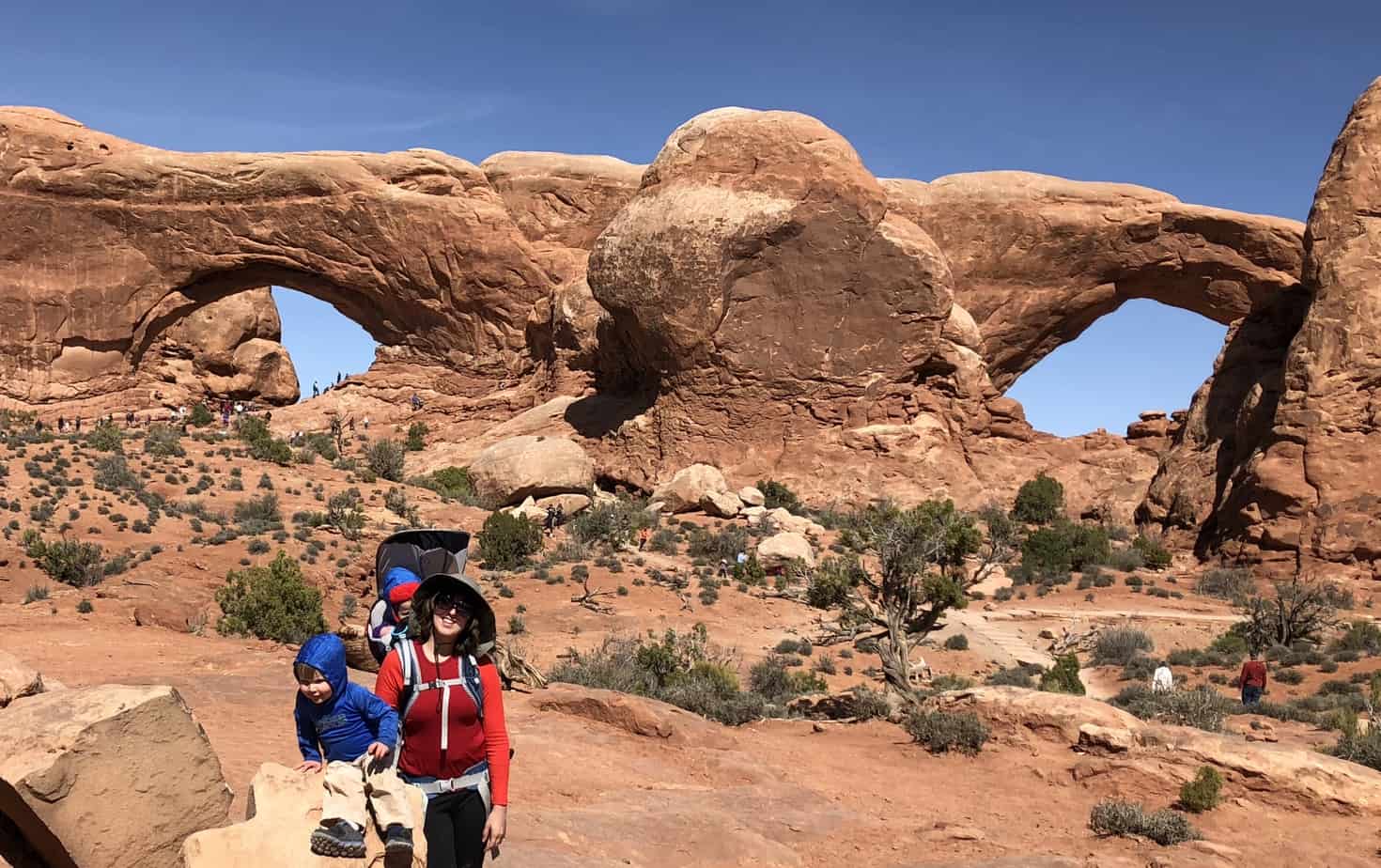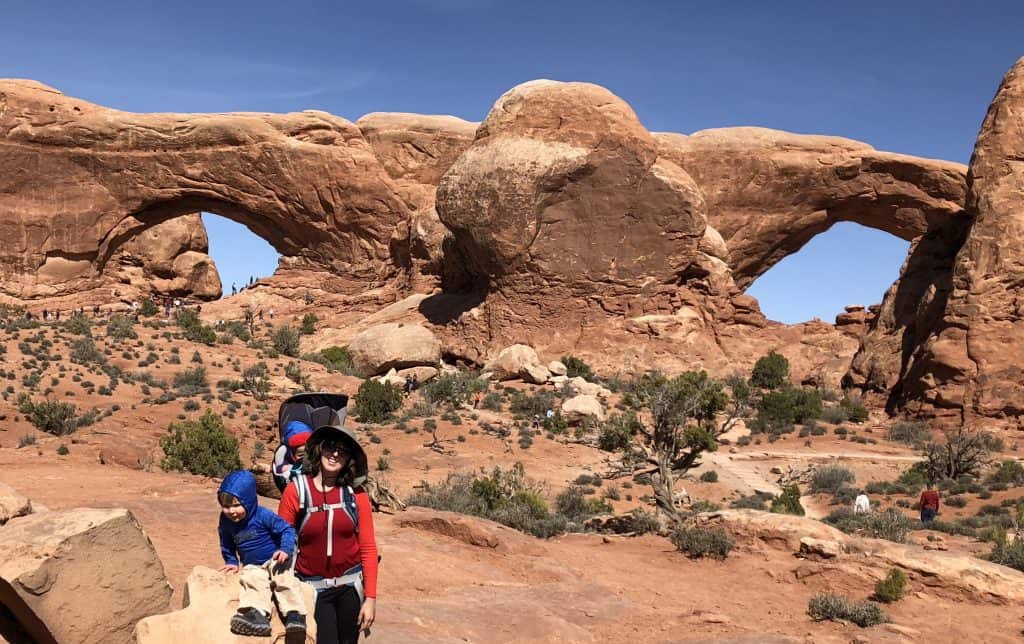 6. Landscape Arch 1.6 miles Round Trip + more from Devil's Garden Trailhead
This is another well known arch that is an easy hike!
This hike starts at the Devil's Garden Trailhead, which also offers access to Double O Arch!
A hard packed gravel path turns into a sand trail with little elevation gain making this a perfect Arches National Park hike to take the kids on that has a little more distance!
Landscape Arch is the longest arch in the world and conveniently near other lesser known arches such as Pine Tree Arch and Tunnel Arch.
Though people were allowed to walk underneath this arch in the past, it is now blocked off due to the delicate nature of the arch.
7. Double O Arch
is also accessible from this trailhead! Double O Arch is 4.2 miles, and has a very primitive trail, but less crowds! I hope to do this
8. Delicate Arch 3.0 miles round trip
If you're in shape and up for a little more challenge, you HAVE to see Delicate Arch!
It is a fun walk through a canyon, over slick rock, and on some 3-foot cliff edges (not as scary as it sounds; promise!) and ends in an amphitheater with the Delicate Arch in view! This is the famed arch that is on the Utah license plate!
It can be crowded, however, when I was there everyone moved out of the way of the arch so that each group got a picture in front of it without others around. I hope that you're as lucky!
The amphitheater is a good resting spot; there is plenty of seating with views of Delicate Arch. Our toddler enjoyed this break, and I was able to take the babies out of their backpacks to feed them!
There is hardly any cover from the sun, so this would be a good hike to do at the start of the day so as to beat the heat and the crowds!
Have you planned your Arches National Park hikes yet?
Arches National Park is a great place to introduce young kids to hiking. There are many trails that are short with big rewards, as well as lots of areas to take a break!
Whether your baby is on your back or holding your hand, get out and explore Arches National Park with your kids!
Don't forget to pick up the Junior Ranger Activity book from the Visitor Center if your child is 3 years or older. If your little explorer completes a certain amount of activities in the book, he or she can earn a badge!
Here's a little secret; if they are younger, bring them to the visitor's center anyways and talk to any park ranger. They love to see little kids excited about hiking and will often give your toddler a badge anyways!
What a way to remember your trip!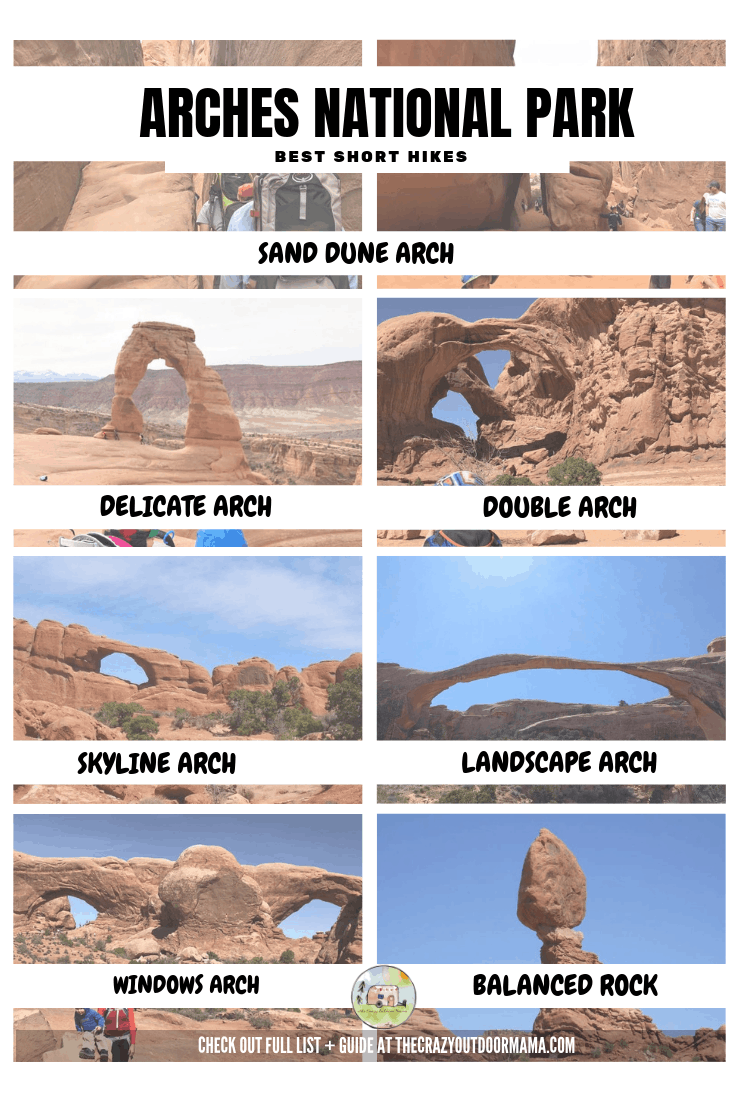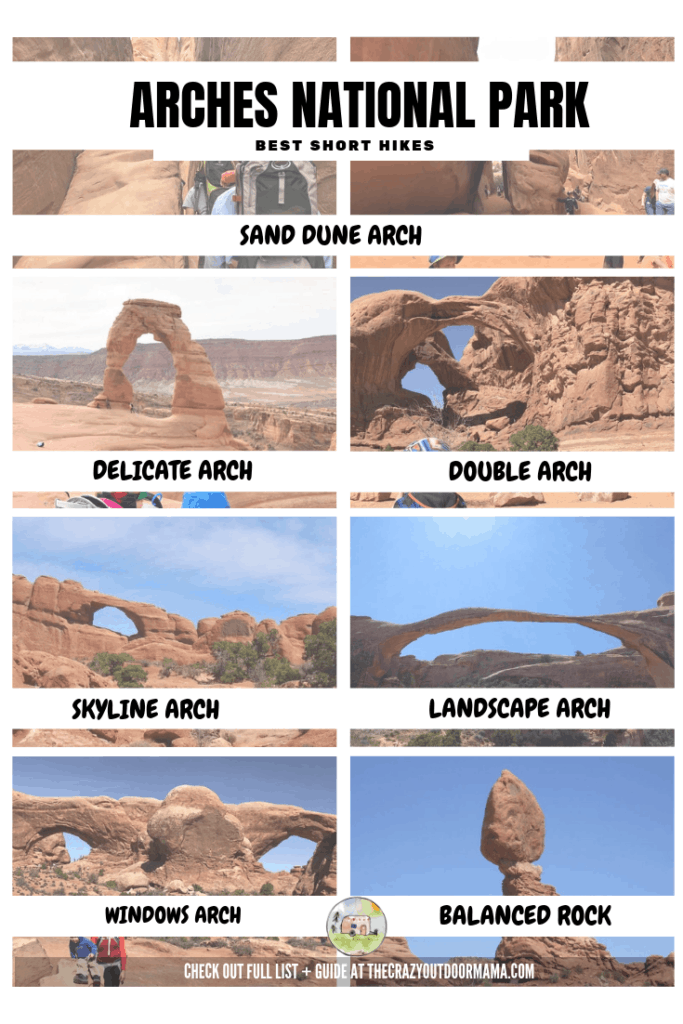 Latest posts by Stacy Bressler
(see all)