Hiking with toddlers can be incredibly rewarding for all involved; it just takes a little patience and planning!
Getting outside and stretching our legs is something I try to do every day. Though it might seem like more work than it's worth initially, it's so worth it!
There are MUCH less no's outside, and there is always something new to look at. There are sticks to be thrown, rocks to be stacked, and new sights to be seen.
If you are planning a trip soon that includes tons of hiking, or maybe you just want to start getting out more but feel overwhelmed by the possibility of tantrums halfway through (kudos though for wanting to start) check out this list of what I've found works!
My 2 1/2 year old did an out and back of about 1 1/2 miles with 1000 feet elevation gain and tons of slick rock and scrambling by using these techniques while hiking after all! (Not to brag or anything 😉 )
P.S. If you're concerned about what all to pack for a day hike, you should check out this list! It is super detailed, and it will probably remind you of some things to bring that you never even thought about!
Before you start… make sure you've packed everything!
While you should make sure you have what you need every time, this is especially true with such a young kiddo! Be sure to bring any special snacks you know they love as well as one or two toys (bonus points if the toy has a loop and can be hooked to the backpack on the way out for more use!)
Some extra things I throw in my pack for a hike with my toddler include
Sunhat
Sunscreen
Wipes – for diapers, hands and face!)
Diapers or Pullups – newly potty trained toddlers might want to hike in pullups. just incase!
Bug spray + itch relief cream
Favorite small toy or two for using during breaks or in the pack
Try to get hiking specific shoes if it's in your budget!
Feel the difference in the foam bottoms of traditional toddler shoes and your own hiking shoes – for anything other than flat, smooth walking, don't expect your kiddo to get too much traction (or comfort!) during hikes with "normal" shoes.
If you plan on making hiking a part of your and your family's lifestyle, investing in a pair of hiking specific shoes is a must. The added comfort and skills (nothing like trying to get over a small, easy rock but slipping over and over… because they're in tennis shoes!)
Check out this kids hiking shoe guide to see the options!
Play games on the trail to inspire them to hike as much as they an on their own (we love scavenger hunts!)
I find that sometimes, despite the beauty around them, toddlers just get plain old bored when hiking! I love to make a game to keep their attention, and what better hiking game than one that encourages them to look around!
You can think of items on the spot, or bring a list ahead of time (like the nature scavenger hunt below!) I've had really good success with making a little sheet with cute pictures of things for him to find.
I always include some easy stuff, like certain shapes or colors of rocks, as well as a little more difficult ones, such as feathers or certain color flowers.
It gives him a goal, keeps him excited, and encourages him to keep walking!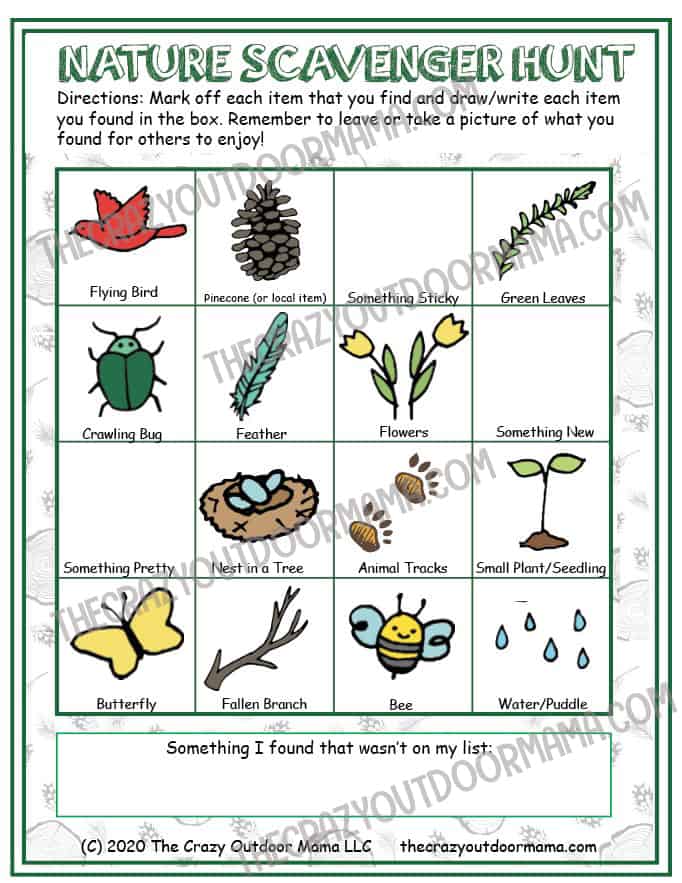 Talk about your hiking plans ahead of time with your toddler
Toddler's love to know what's going on and feel involved. If this is something new for you, it's a great idea to get some books (I LOVE books and actually made a list of some of my favorites hiking and camping books here), or look at pictures of animals or things you might see on your walk.
If possible, I sometimes give two options of which hike to do so that they feel they made the choice themselves.
This might include something like "Do you want to walk through the trees to look for birds, or should we walk around the park and look for squirrels and acorns?" Of course you could adapt this kind of idea to wherever you live!
Let your toddler collect stuff on the hike

(or fight the curiosity the whole time!)
If I had a dollar for every rock my son has picked up I'd be doing pretty well!
While this can sometimes back fire (Hey kid you don't need to stop and pick up EVERY rock) it can be helpful to make an otherwise normal hike or walk fun!
I made my little guy his own messenger bag recently so that he has something special to use for going outside. It makes him excited to fill it up, and gives us reasons to explore! IE "Let's check those bushes out to see if there's a good stick you like around them!"
When you get back from the hike, use the stuff your toddler collected in a craft, such as a nature impressions frame (don't worry, that's just fancy for "here's the stuff I found in nature and glued on my paper however I like!) =P Both me and my children LOVE doing these!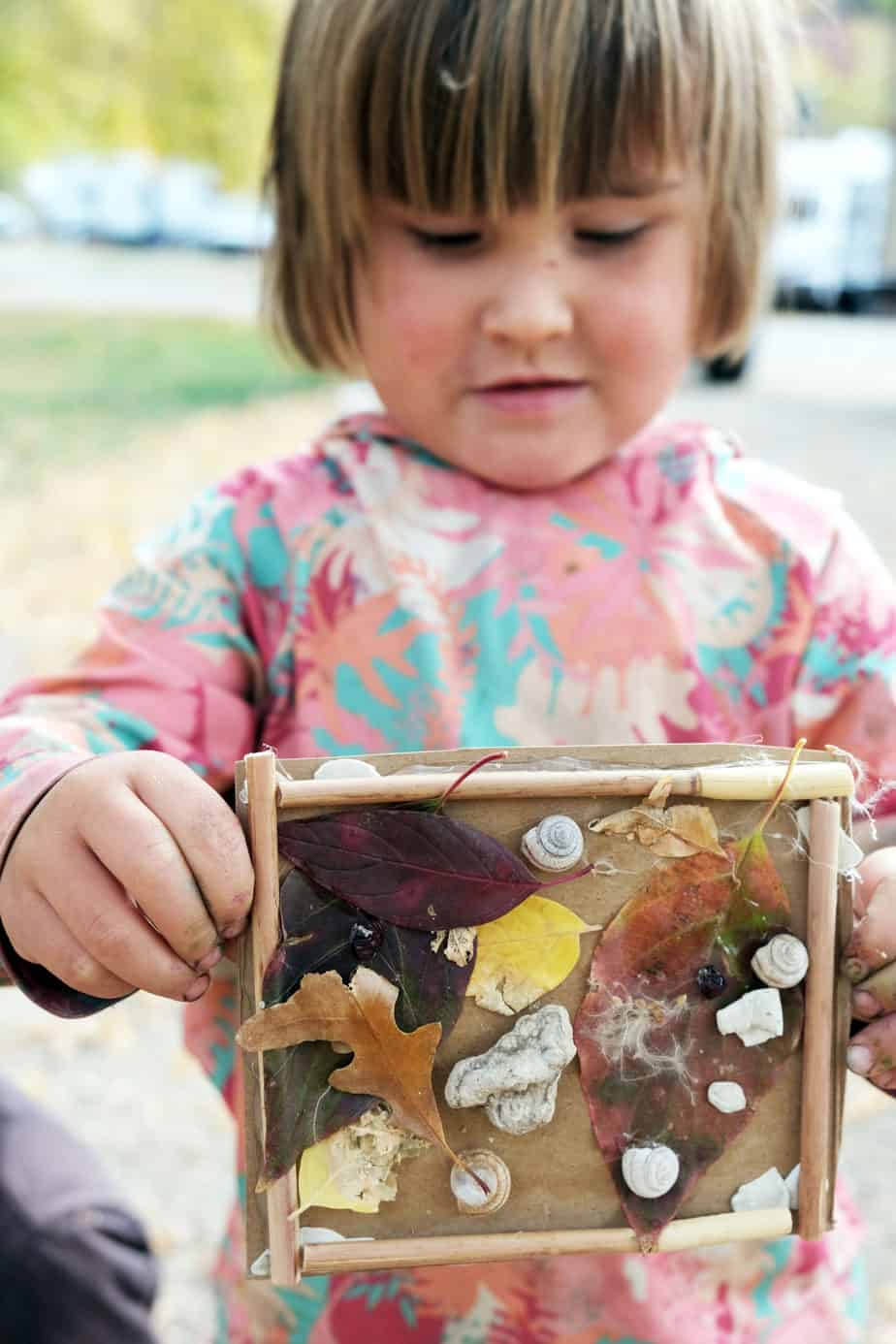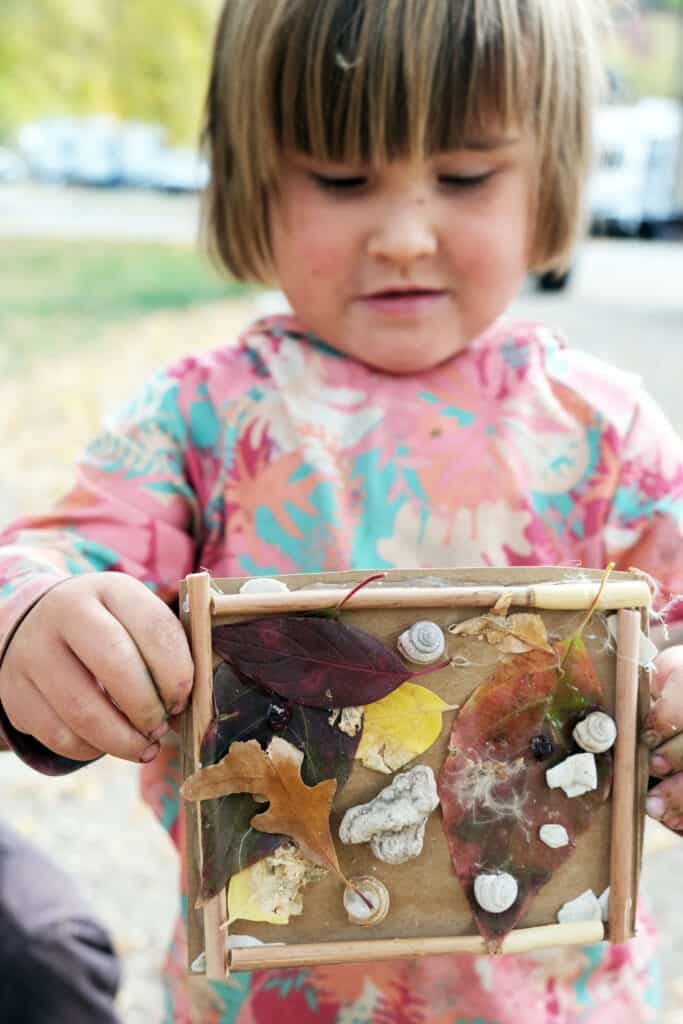 Bring three times more food and water on your hike than you think your toddler will need!
Toddlers are constantly growing and snacking. This is magnified when they are using energy to go on a hike outside! No one wants a hangry toddler so be sure to bring a ton of snacks.
I like to include high carb ones for energy, as well as a couple sweet things (think a handful or two of coco bunnies) to spread throughout the hike.
I also like to make sure the food is something easy to eat that won't make their hand sticky or spill easily. Pouches of food are a good solution for this, as well as just a bag of snacks.
My friends over at Adventuresome Sprout have some AWESOME ideas for healthy kids snacks for hiking if you need some ideas!
When choosing a hike with a toddler, pick a fun one!
I know we all have pretty high goals of what we want to achieve in our hikes, and they normally include a bit of distance.
However, it's so very important to set that aside for a couple of years to focus on growing your toddler's love of hiking through fun, short, and easy adventures!
Our little guy loves climbing rocks and anything having to do with water. So if we know we are going to try for a long hike in the morning, we plan for a fun hike in the afternoon with no goals besides to have fun.
Trails with small streams they can splash in, trees to climb, or rocks to scramble are perfect for little explorers!
Bring an emergency carrier for when your toddler's energy finally runs out!
If possible, I always bring a child carrier of some sort that I can use for my toddler.
Though he is pretty good about walking everywhere on his own, and I do always encourage him to walk so that he can explore more, he does sometimes have off days where he just isn't into it.
We all wake up on the wrong side of the bed sometimes, and I have found this is definitely the case with toddlers!
It's super helpful to know that you can walk as far as you want without worrying about him becoming overtired, and how he will be able to walk back.
It's also helpful to have a backup carrier if you're hiking in a place that is WAY too cool, such as by a stream, and you need to get back to the car due to a storm or just other plans you had already made.
My guy could spend hours throwing sticks into the water if I let him!
I personally love the Osprey Backpacks; they are self-supporting, and super comfy for hiking! It's seriously the best hiking backpack for babies and kids!
The kid carrying backpack I love is here, as well as some other super awesome outdoor baby and toddler hiking gear!
Plan for breaks during your adventure!
I think one of the most common phrases my toddler used during our hikes besides "Pretty cool" was "Sit down for little bit!"
Guess what; that's ok!
It's not good to run them too hard or it becomes forced and not fun anymore. Embrace the breaks, and use it to look around, talk about what you see, and appreciate being outdoors.
I do sometimes have to remind myself of this, as I am someone who REALLY likes to make it to the destination. That may be the end of the trail, a certain point of interest etc..
Where will you take your toddler hiking?
Whether it's in a park, national park, or just around your neighborhood, it's so awesome you're taking your little one out! Don't worry if you don't make it that far; if all else fails, at least you got some fresh air, and your toddler burned off some energy!
More toddler hiking tips can be found here!
P.S. Here are some related articles you may also enjoy!