Expecting a new baby? Streamline your registry and save money with Amazon Baby Registry!
We all know Amazon has it all; the common Double A battery to the pizza eating cat print jeggings.
What's even better? They have all the baby stuff, with reviews and videos. That means instead of standing in an aisle in a store with little selection, you can have time to look at all the options, styles, and reviews in one click from the comfort of your home!
Not only that, but you are given a simple link that is sharable over any social media website. Even great aunt Angie can send your new little love the EXACT thing he needed to your current address without all the hassle of dealing with wrong sizes or shipping questions.
As a double double bonus, if there is anything left unpurchased from your registry, Amazon will DISCOUNT your remaining items! Scroll down to tip 4 to find out how!
Full disclosure: I am an Amazon Associate, and do get a small commission if you decide to use any of these services or products. BUT, as you may notice, my husband's name is all over these screenshots. That means I used Amazon Baby Registry (and Prime!) and loved it!
If you're getting ready for baby (CONGRATS!), check these out too
Find out how to get
your child excited about the new baby
here
!
Here are
70+ cute adventure nursery ideas

!
Let me give you the scoop on how to still
leave the house after baby
arrives – it's so important for your mental health!
If it's been awhile, and
your tummy is still there, you may have

this condition

.
PLEASE learn about it and ask your doctor, there isnt enough awareness of it!
Why choose Amazon over Target, Walmart, or any other baby registry?
Easy; Amazon everything, and are big enough to be able to offer MAJOR savings on all the baby items you need!
I'm a big thrift shopper; that means I already had most of the basics before my baby was born. All the onsies, a rocker, etc.. I needed specific things, and I felt weird asking for it because I was very particular!
It was also incredibly hard to find a store that had the full range of the items I wanted. We are outdoorsy people, so naturally, we wanted things like a nice sunhat, organic sunscreen, outdoor shaded playpens and such. The kinds of things that would be in an outdoors store.
We also wanted some of the baby things we hadn't purchased used yet for ourselves. We needed things such as specific bottles, brushes for that kind of bottle, and breastfeeding equipment.
What store has both? I don't know, let me know when you find it!
It would have been way too confusing to send out multiple registries when sending out our invites. It also would have been hard to have the exact item listed that we wanted from each store.
Amazon Baby Registry does it all for you!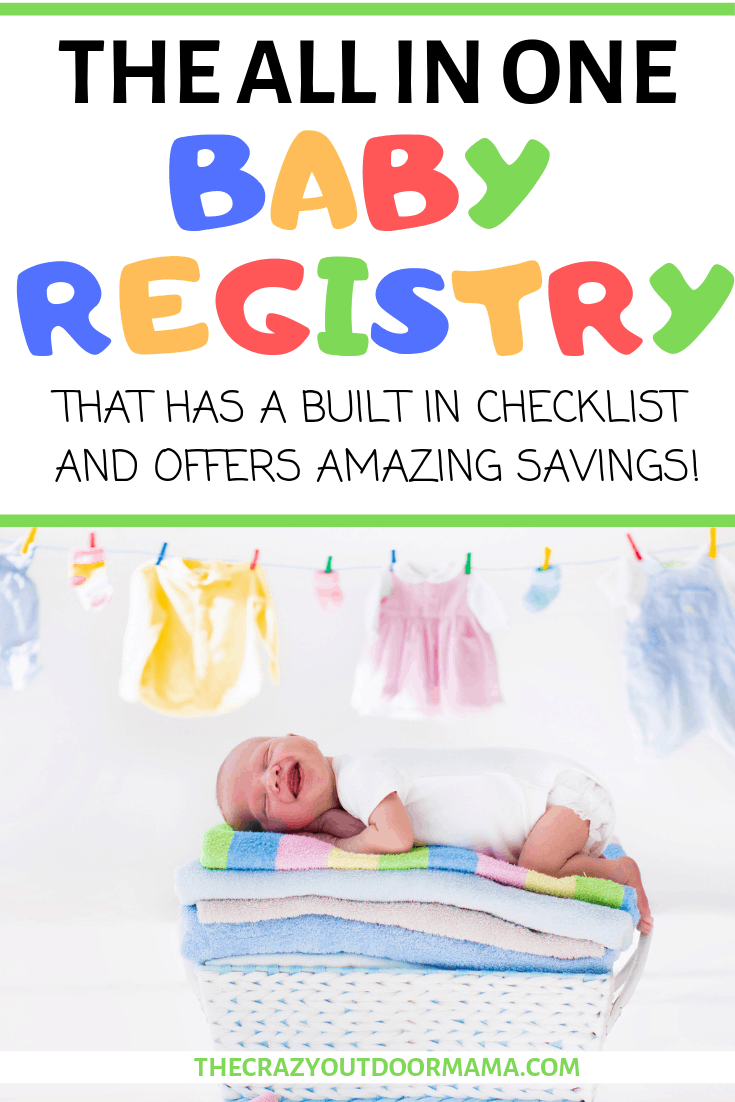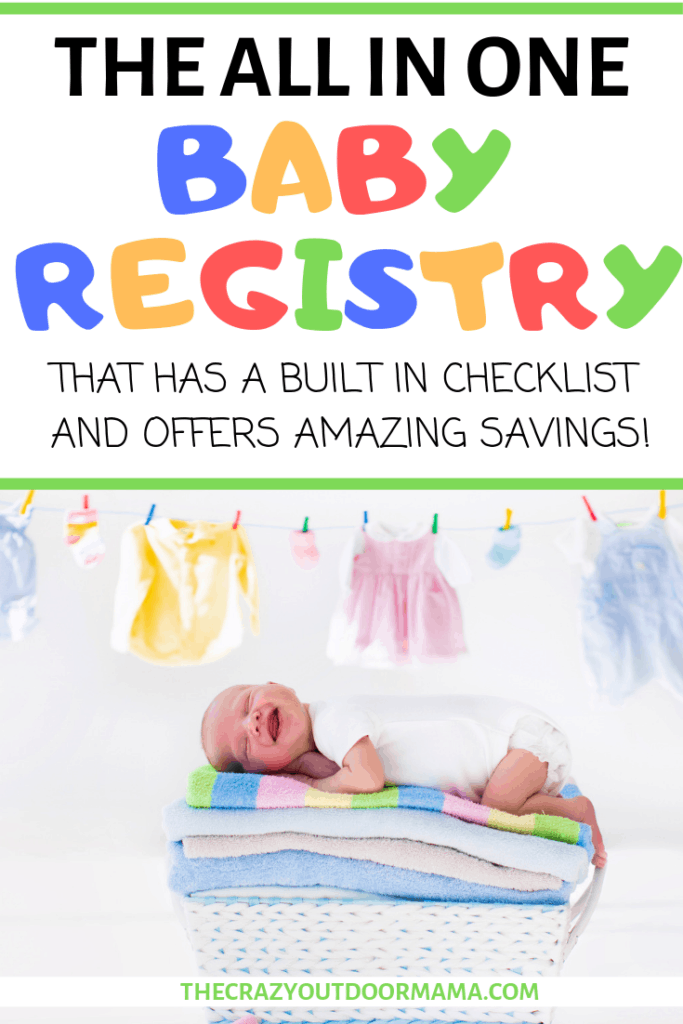 1. The organization Amazon Baby Registry gives you is so comforting… they generate checklists for you!
The registry checklist that everything you will need, and includes handy checkboxes for the overly organized mamas like me!
There are multiple categories; IE, Diapering, Feeding, Health and Safety. Those categories themselves are helpful!
It's easy to remember to buy the cute stuff like clothes, the perfect bedding, decor, etc… but these lists keep you on track!
Now for the big bonus; there are sub-categories!
In Diapering, there is a checkbox for Bags, Wipes, changing pads, diapers, diaper pail, cloth diapers (Woo, we're getting more mainstream!) and diaper cadies! EACH WITH THEIR OWN CHECK!
I don't know about you, but near the end of the pregnancy, I started to freak out that I wouldn't have everything. That I would be running out with a crying baby at midnight because I forgot a nose sucker. Pregnancy brain right?
This list generated by Amazon Baby Registry keeps you on track so that you can focus more on loving each one of those cute little kicks!
2. The unique registry URL Amazon gives you makes it easy for everyone to find your registry, or add the address to the bottom of your baby shower invites!
I was so overwhelmed when it came to the baby shower.
Would I get a bunch of onesies? Would I get the same gift over and over?
Would I get something completely not applicable to me? You know, some crib bumpers from a well-meaning grandparent when we all know those are not recommend anymore.
Well thankfully, Amazon Baby Registry has you covered. Everyone will know exactly what you want, and there will be no awkward moments!
Sometimes money is tight with a new baby on the way, and each of those items on your registry is so important! So make sure you get the right one by having an easy, clickable link to it!
3. Keep track of who bought what, and where the thank you notes need to go!
While I'm sure someone's mother will be more than willing to write down who bought what, it is much harder to get everyone's address.
After all, your mother may not know everyone at the party!
Not only that, but some gifts at the party may be from someone who lives far away, or it may have arrived late and so would not have made your mother's list at all!
Under each item, there is the address of the gift giver and a checkbox you can use to indicate if a thank you card was sent.
This totally helped to keep my frazzled mind together and not feel guilty wondering if I forgot someone or not!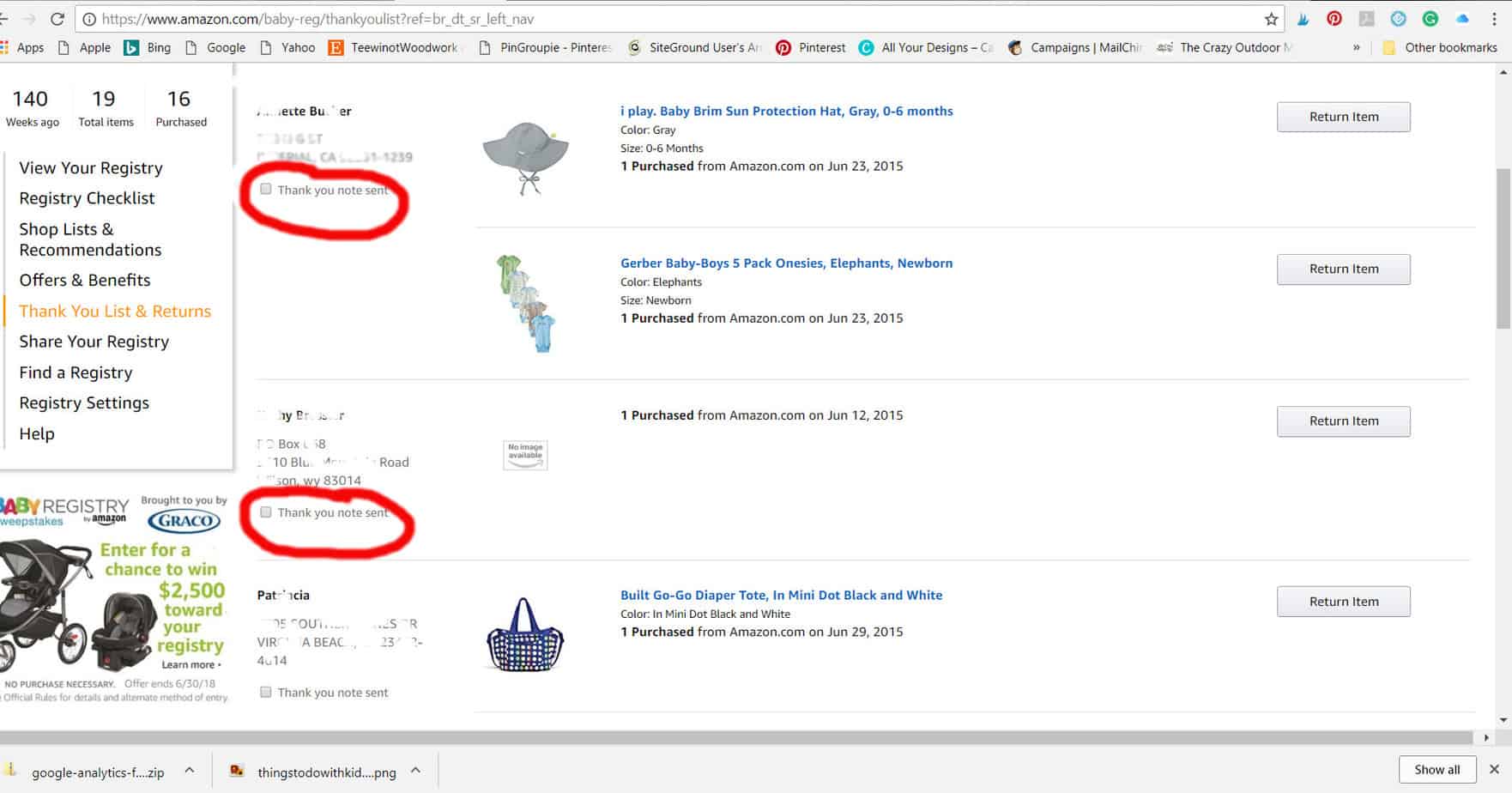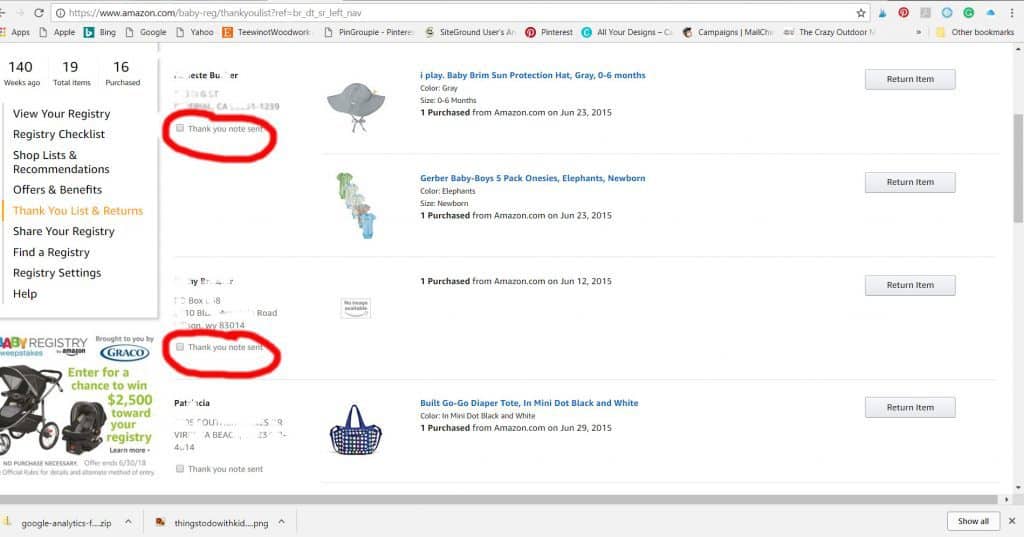 4. Get a 10-15% discount on EACH item in your registry that wasn't bought!
Possibly one of the best parts of using Amazon Baby Registry is this… DISCOUNTS!
I'm a big thrift shopper and am always on the watch for a good price. I actually wrote about another way to save money on Amazon via Amazon Warehouse deals; turns out, Amazon isn't afraid to give us some savings!
If you are a prime member, you get the 15% discount as long as it's used between 60 days before the due date given to Amazon, or 14 days after.
So if you aren't a Prime Member already try it here for a month for only three dollars!
Because 2 day shipping is life changing as well as the peace 8 seasons of Daniel Tiger for free will give you and the kiddo!
Anyway, load up that registry list, and look forward to the savings even if not all your items are purchased!
CLICK HERE TO START SET UP OF YOUR AMAZON BABY REGISTRY!
5. If your registry purchases total over $1,000, enjoy $100 worth of free diapers! I don't think Buy Buy Baby's registry does that!
While this bonus is only available to Amazon Prime Members (Yet another reason to join!) it is the icing on the cake! Enjoy some free diapers on behalf of your generous family and friends!
You have up to 90 days to redeem this one, so don't forget it!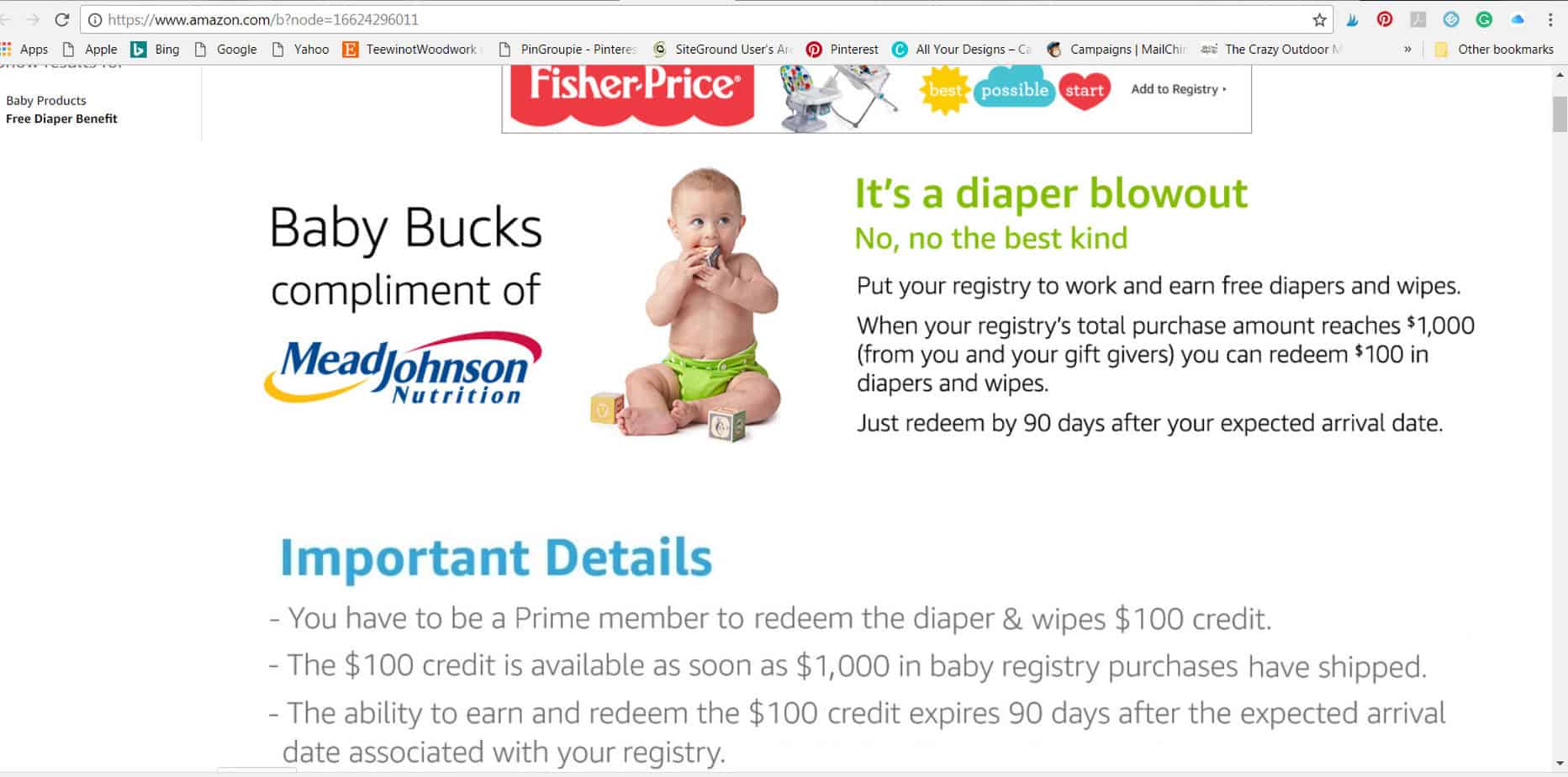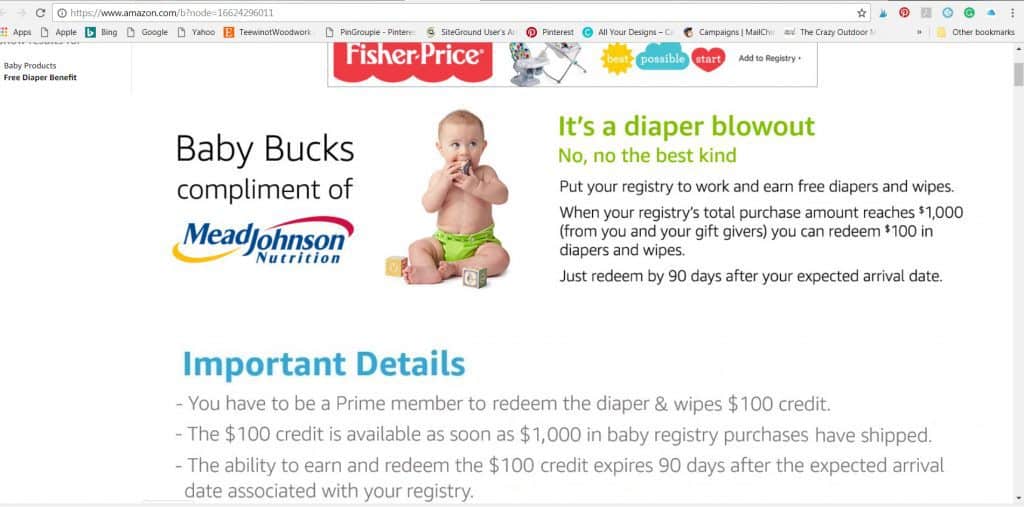 Create your Amazon Baby Registry to save some yourself some stress… and money!
This simplified everything so much… I had NO fear that I forgot some random item that I really needed, because Amazon thought of it! It thought of everyone I needed to send cards to, and how to lessen the disappointment if my baby shower items were not purchased.
CLICK HERE TO START SET UP OF YOUR AMAZON BABY REGISTRY!
I didn't think I could love Amazon anymore after Prime and Warehouse deals, but here I am loving it even more!
Click below to get started, and pin this to spread the word! I am so surprised when people don't know about all the money they can save through an Amazon Baby Registry!
Latest posts by Stacy Bressler
(see all)