Who better to ask about the best kids hiking boots than "The Beast" herself?  Well, since "The Beast" is just shy of her 6th birthday, I had to go ahead and ask her mom.  "The Beast" is the trail name given to young Juniper Netterburg.  
Juniper recently completed all 2,193 miles of the Appalachian Trail (AT) at the age of 4 (Yes 4!) alongside her mom, dad, and 3 older siblings. "The Beast's" mom Danae, was kind enough to give me the rundown on how their hiking footwear performed on the trail and their shoes of choice.
So let's have a look at a few things you should consider when getting your kids some new hiking boots and shoes (even if you're not planning on tackling the entire Appalachian Trail).
Don't forget to check out these 25 Kid Backpacking Tips for more experienced hikers and these 8 toddler hiking tips for newer hikers!
** As an Amazon Associate I earn from qualifying purchases ***
What to Consider When Purchasing Hiking Footwear for Your Kids
Hiking is just plain good for the soul.
If you can get your kids to fall in love with hiking, you're setting them up for a healthy life. Not to mention all the memories you'll create together.
But the wrong hiking shoes can lead to blisters, slips, or discomfort and can quickly turn children into anti-hikers. It's a word! "HECK NO WE WON'T GO!!!".
So here are several things to consider when choosing the best hiking boots or shoes for your kids that'll help them safely enjoy the outdoors.
Comfort
Traction
Support
Durability
Fastening System
Waterproof
Related – Don't forget to get a kids hiking journal to remember the experience forever!
Comfort
If you want a "whine-free" hike, your kid's feet need to be comfortable. Of all the considerations for hiking shoes for kids, I find comfort to be the most important.
You aren't going anywhere if your kid's feet are hurting. Worse yet they may end up on your shoulders. Carrying kids on your shoulders is cute when they are 1, fun when they are 2, and back-breaking after they reach the age of 3.
Traction
Proper traction is critical when attempting rock scrambles or crossing streams on wet rocks. A slip in this situation can lead to serious injury and a potential ride in a helicopter.
Even if your kids aren't going to tackle this type of terrain, traction is still important. Especially if they are going to wear their hiking boots for playing and other activities. Most name brands offer some sort of anti-slip ultra grip technology that can just about allow kids to walk up walls.
Support
Kids are like mini-wolverines. I'm referring to the healing powers of the Marvel character Wolverine and not the aggressive creature of the wild. Well, I guess both are applicable at times.
They skin their knee one day and it's gone the next. But a sprained or rolled ankle is quite different than a superficial skin wound. The tearing of ligaments is painful and can lead to a lifetime nagging injury if not treated properly.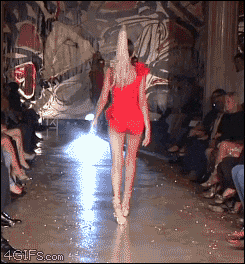 Hiking boots or shoes that go over the ankle provide additional support and protection from ankle sprains. The problem with these types of hiking shoes is they can actually prevent your kids from developing what they need most, ankle strength.
That's why I prefer light hiking shoes for our kids. However, it depends on what type of terrain and how many miles we're out to tackle.
Durability
At one point on the trail, young Juniper wasn't missing a beat in a pair of cheap Walmart tennis shoes. Danae wondered, why they had been spending so much money on hiking shoes?
Until the shoes literally fell apart after 5-6 days. If you buy a quality pair of hiking shoes, your kids will probably outgrow them before they wear out.
Hand-me-downs are great! I didn't think so when I was a kid. I'm the youngest of 8 and my next closest, same-gender sibling is 14 years older than me. Styles change a bit over 14 years so I'm pretty sure I'm the one who made vintage cool. 😋
So knowing the hiking shoes will have a 2nd life, takes the sting out of spending $100 on a pair of kids hiking boots.
Fastening System
Most kids are lazy until we teach them not to be. Gosh, I hope this is true and that it's not just my kids. It is painful to watch my kids forcing their foot into a shoe as opposed to lifting simple velcro straps to loosen and tighten them. And if there's laces, forget it!
We've purchased one pair of boys hiking boots (Timberlands) with laces in our 12 years of parenting. My son wore those boots one time.
Picking your battles is part of parenting so we just choose to avoid the battle of shoelaces. We look for velcro, slip-on, or the type that cinch up.
Waterproof
As heartbreaking as it may sound, waterproof hiking shoes aren't 100% waterproof. If your kids jump in puddles or a river, their feet, shoes, and socks will all be wet.
The American Hiking Society even says that waterproof shoes take longer to dry, limit breathability, and are heavier than quick-drying hiking shoes.
So while waterproof hiking boots may serve your child's feet well in a light rain or a squirt gunfight, other than that, they're a little over-hyped.
Plus water being trapped inside can cause some major foot odors and increased chances for blisters. Your kid's feet will almost always be happier in a breathable pair of hiking shoes.
Ok, so let's head on now to 9 of my top kid's hiking boots recommendations.
9 Best Hiking Shoes + Boots for Kids, Toddlers, & Other Young Feet
I'm always skeptical when someone tells me "it's the best". The best movie, the best pizza, and yes the best shoes.
Having your kids try on their new hiking boots and walking around the shoe department (if people still do that) doesn't quite tell you how they are going to feel and perform on a long hike.
Now if the person telling you recently hiked the AT with four children, that's a different story.
---
Best Hiking Shoe for Kids – KEEN Unisex-Child Targhee Sport Vented Hiking Shoe
Keens were the brand of choice for many of the Netteburg kids as they hiked the AT. This style comes in multiple colors and even a waterproof version. When you buy a pair of Keens for your kids you can expect a high-quality shoe designed for hiking.
Pros –
Durability – These shoes are built to last. You can expect your child to get a lot of miles out of these shoes and still have miles left for a younger brother or sister.
Quality – Keens for little feet are just like Keens for big feet only smaller. All the research and technology that goes into providing support and traction for big feet goes into little feet.
Cons –
Cost – The old "you get what you pay for" adage. You can expect to pay a premium for the name brand, hiking performance, and reputation for quality.
---
Best Hiking Boot for Big Kids – Oboz – Sawtooth II Mid/Low
Source: Amazon
The Oboz Sawtooth II comes in both a low and mid option. They also offer waterproof and standard options. I had never heard of Oboz until I spoke with Danae. They are favorites for her and her husband so when their older boys needed a new pair, they turned to Oboz.  The boys loved them!
Pros –
Warranty – Oboz offers a 1-year limited warranty that covers defects in workmanship or materials. Danae shared "Oboz will replace your shoes twice free while thru-hiking the AT. We ended up with 3 pairs and they even addressed them to the Netteburg family". How's that for customer service?
Durability – Most thru-hikers will go through at least 4 pairs of hiking boots on the AT, changing them out every 500 miles. One pair of Oboz made it over 1,100 miles on one of Danae's boys!
Making the world a better place. For every pair of Oboz a customer purchases, Oboz plants a tree. They've planted 4 million trees so far! If you buy a pair before November 30th they'll plant two trees! Not only will your feet feel good but you'll feel good on the inside.
Cons –
Big Kids Only – Sizes start at 6 for women and 7 for men.
Fastening system – The sawtooth comes with a standard lacing system.
---
Best Hiking Sneaker – Merrell Unisex-Child Trail Chaser Hiking Sneaker
Merrell offers these hiking sneakers in both Little Kid and Big Kid sizes. These are tough enough for the trail but also fashionable enough for kids to wear to school.
Pros –
Price – Considering the quality and reputation of the Merrell brand these come in reasonably priced at ~$50. Prices vary depending on size and color.
Fastening System – These are easy on and off with a standard hook and loop.
See Little Kid and Big Kid pricing
---
Best Hybrid Hiking Shoe/Sandal – Keen Kids Newport H2 – Little Kids/Big Kids
At one point, each one of our kids had a pair of these Keens. They're great for summertime puddle splashing, creek exploring, moderate hiking, or walking around the campground.
Pros
Washable – Yep a truly washable shoe.
Versability – These doubled as water shoes and hikers for our kids.
Cons
Warm weather only – They're not designed to keep your kid's feet warm. I would describe them as a vented hybrid between a sandal and sneaker.
Fastening System – In addition to a velcro strap, some sizes come with a "cinch up" fastening system that may be challenging for little fingers. Kiddos could be running around with these fastened too loose or too tight.
Fun Fact – My son jumped into a pond, with these on. He got it into his head that it would turn him into a frog. He emerged with only one shoe and to his disappointment, he still wasn't a frog. 🤣
---
Best Budget-Friendly Hiking Shoe – Hawkwell Kids Outdoor Hiking Shoe(Toddler/Little Kid/Big Kid)
Source: Amazon
The Hawkwell Hiking Shoe is a budget-friendly option coming in at under $25. With nearly 1,200 reviews averaging 4.5 stars, these are a great option for introducing your child to hiking or even for a one-time hike.
Pros
Price – It's hard to find a pair of shoes let alone one shoe for under $25.
Cons
Quality – Some customers complained that the shoes fell apart after only a short time. I wouldn't expect to hand these down to the next generation.
---
Best Mid-Height Hiking Boot – KEEN Unisex-Child Targhee Mid-Height Waterproof Hiking Boot
This mid-height hiking boot from Keen offers a secure fit lacing system, breathable membrane, and odor control.
Pros –
Support – If you're looking for additional ankle support for your child these boots offer targeted support.
All-Terrain – These boots allow your kiddos to do some mudding, rock scrambles, and trails.
Durability – These lasted Danae's son roughly 1,000 miles on the AT!
Cons –
Changes – Keen and other brands are constantly looking to improve. So if your child falls in love with one style, it may not be the same next time you go to purchase.
---
Best Toddler Hiking Boot – Timberland Kids' 6″ Classic Ankle Boot
Source: Amazon
It's tricky to find ideal hiking boots for toddlers (1-2 years). I mean, let's be honest here… most of us aren't taking our kids too far on the trail as toddlers let alone in a pair of Timberlands.
Kids are still perfecting their walking skills at this age but they do look pretty darn cute in these toddler hiking boots.
Pros
Great for Pictures – They look classy and if you're doing a photoshoot with your mini-me, they'll look great.
Cons
Price – Expect to pay about $80 for a pair of these. That's pretty steep for a pair of boots your kiddo will outgrow in a few short months.
Weight – Do you remember the way Frankenstein walked? I'm pretty sure it was because his boots were so heavy. If you get a boot that's too heavy for your kiddo, they'll be walking towards you just like Frank saying "Carry Me!".
If you want some hikers for your newly walking toddler, look for something light with an easy fastening system like these Merrells.
---
Best Budget-Friendly Hiking Boot – Mishansha Kids Water Resistant Hiking Boots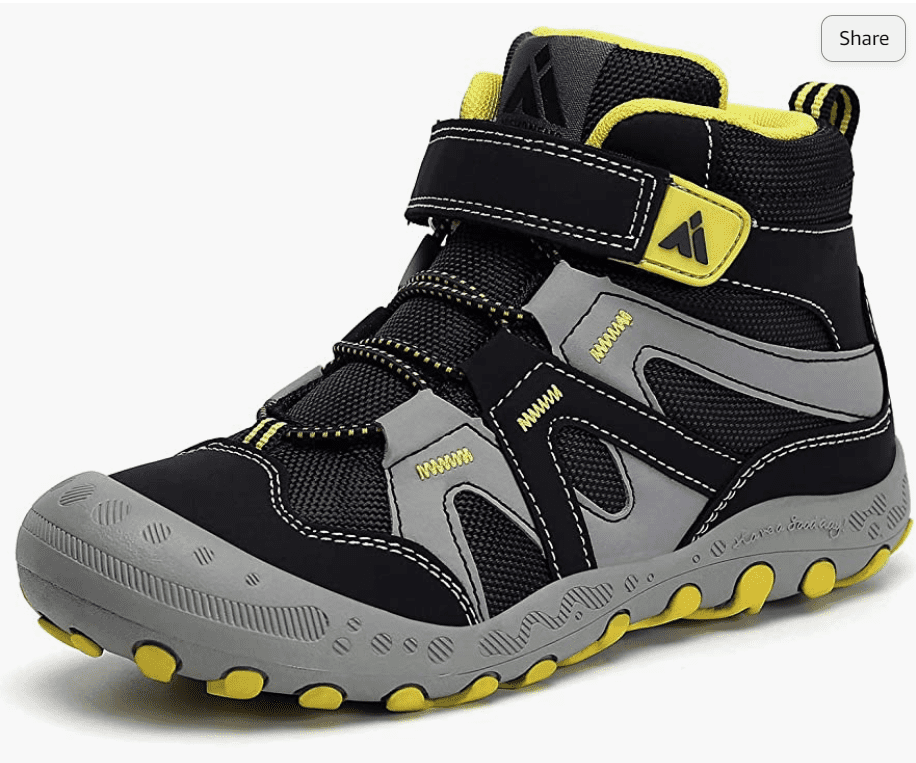 The Mishansha Hiking Boots come in a wide variety of colors and have all the qualities you look for in hiking boots such as anti-slip, good traction, and ankle support.
Pros –
Price – $35.99 for waterproof hiking boots! Yes!
Fastening System – The Mishansha hiking boots feature an easy hook and loop fastening system.
Cons
Quality – Some reviewers stated these boots fell apart pretty quickly.
---
Best Cold Weather Hiking Boot – The North Face Alpenglow
Source: Amazon
If you and your kiddo are hiking in the snow and ice, you're either a really cool parent, really mean, or really lost 😂. The Alpenglow boots provide both warmth and traction for trekking in wintry conditions.
Pros –
Protection – These boots are designed to keep your kiddo's feet warm and dry. The Alpenglow boots are rated to a frigid -25 degrees Fahrenheit! Brrrrr
Fastening System – I love the bungee fastening system for winter hikers. This keeps the boot secure against the leg and the snow out. The last thing you want to be doing is messing with laces in the cold. That means removing your gloves, de-icing the laces, and trying to get them to hold.
Cons –
Limited Use – Unless you're living in the North Pole, these are just for winter. And considering how fast kid's feet grow, these boots may only last you one winter.
---
Kids Hiking Boots FAQs
Can kids hike in tennis shoes and sneakers?
Yes, of course, they can. Well-traveled trails are often smooth and free of large rocks and loose gravel so they shouldn't be an issue for tennis shoes or sneakers. But if you plan on hiking more rugged terrain or in cold weather, you'll want to have hikers that provide more stability, warmth, and traction control.
Can kids hike in sandals?
Absolutely! Just keep in mind, sandals aren't going to provide any protection against stubbing toes.
Our 9-year-old prefers his Chaco sandals for all occasions. These had been handed down two times before they made it to our son's feet and will probably see another pair of feet after him. They're easy to put on and comfortable to him.
Plus this is the only footwear that has stayed on his feet after jumping in a pond. He's still not a frog.
Why are kids' hiking boots so expensive?
They don't have to be. As you saw, there are cheaper options out there but with that, you may be sacrificing quality. When you buy high-end brands you aren't just buying the shoe. You're paying for additional quality, comfort, and performance.
Both Merrell and Keen apply the same technology, support, and traction control found in adult sizes to their kid sizes. You should also expect to see the same materials used for the eyelets, outsole, insole, and throughout the entire boot.
How long will kids' hiking shoes last?
A good-quality hiking shoe like Keens should last your child about 500 miles. Unfortunately, kids' hiking shoes aren't equipped with odometers…..yet.
But unless your kids are tackling the AT, the Pacific Coast Trail, or the Continental Divide Trail, they will most likely outgrow their hiking shoes before they wear out.
Conclusion
Well, what are you waiting for? The trails are calling and memories are waiting to be made. Now that you got the lowdown on the best hiking boots and best hiking shoes for your kids, go get them a pair and enjoy the outdoors. 
Planning some family camping trips? Don't miss these articles.
Latest posts by Stacy Bressler
(see all)