One of my favorite parts of RV living is buying awesome RV gadgets. But how do you know which ones you really need?
Well, here's my list of over 55 RV gadgets and fun RV accessories that are super helpful on the road. Not only are a lot of these RV gadgets and gizmos super fun, but they'll also make RV life easier, safer, and more awesome.
Here are the categories I'll cover in the article if you wanna skip to just one:
RV Gizmos for Staying Organized
Other RV Must-Haves
Okay, let's get into it!!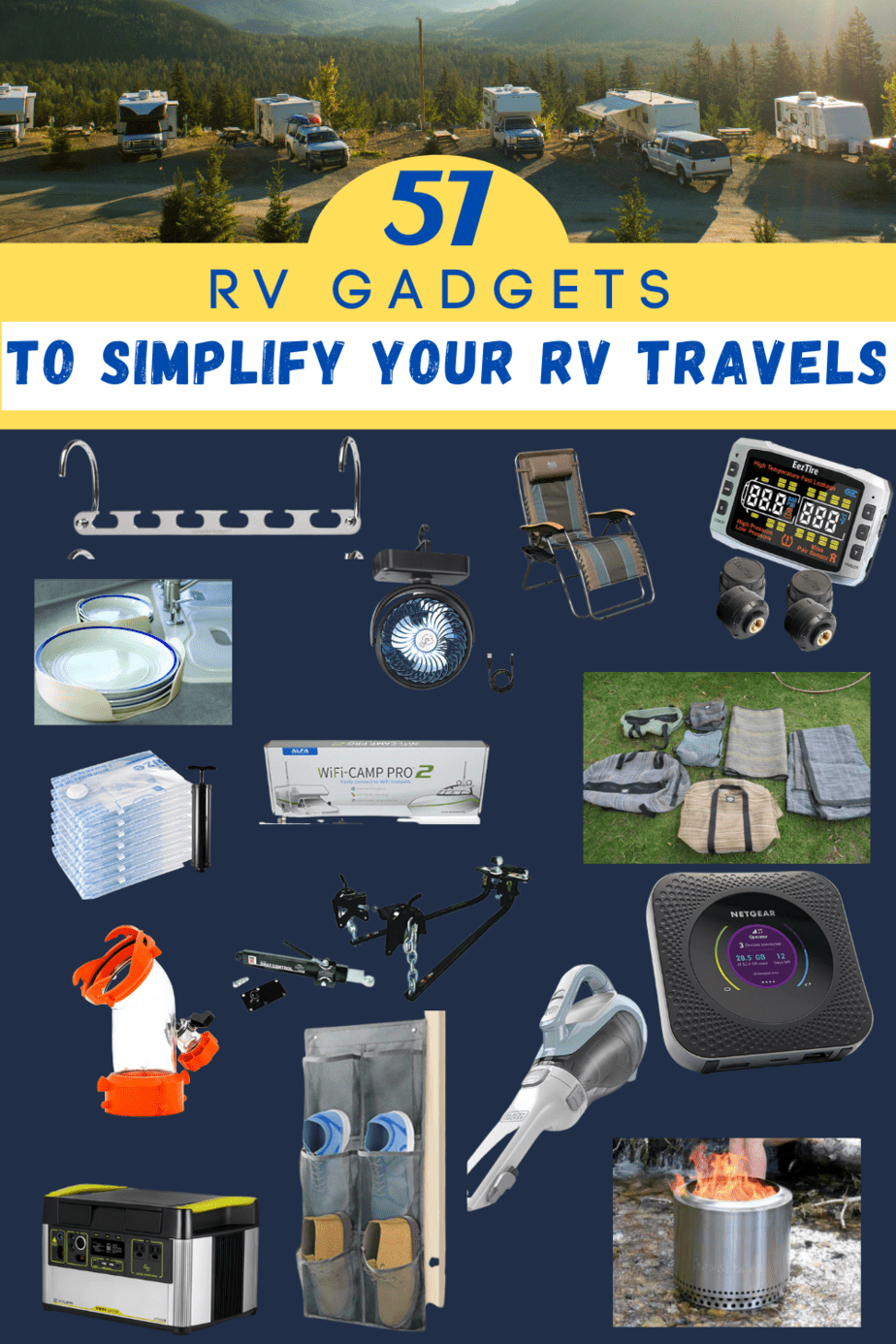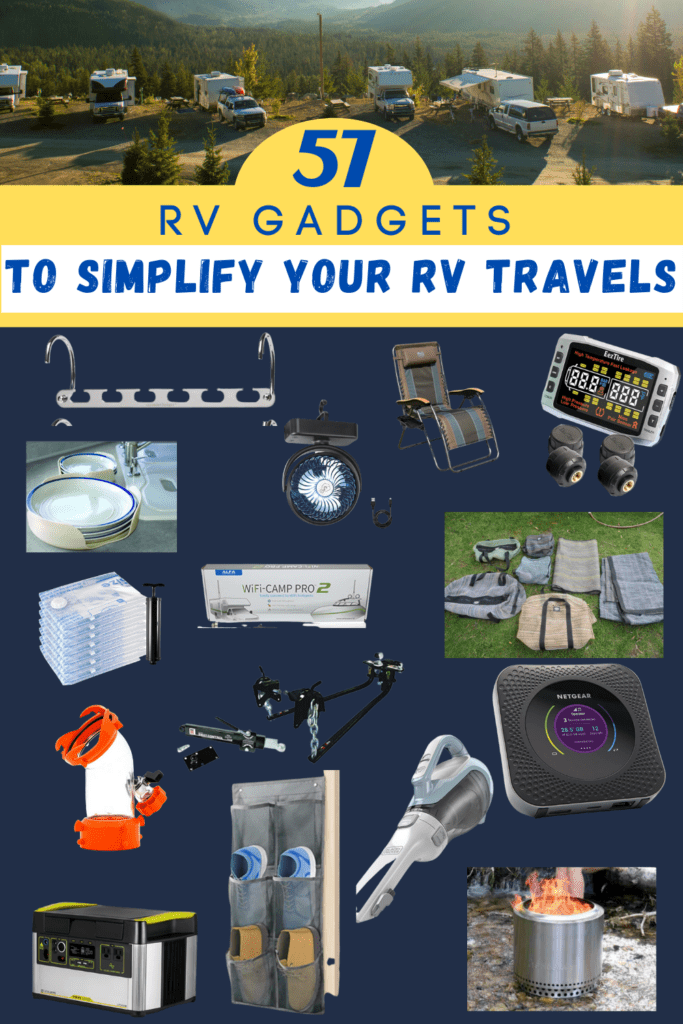 Items You Need to Stay Comfy on the Road
Here's all the RV gear I consider a must for staying comfortable inside your RV and getting a good night's sleep.
In my mind, this RV accessory is a must-have. Camping blankets are great for staying cozy inside or outside of your RV, but can also double as picnic blankets, RV mats, and sleeping bags!!
My favorite all-around choice is the Rumpl Nanoloft Puffy Blanket, which is super warm but super packable, easy to clean… basically everything you'd look for in a camping blanket.
Source: amazon.com
Of course, there are tons of options out there, check out some more great camping blankets right here.
Although most RV manufacturers claim to have super comfortable mattresses, if you've ever slept in one, you know this is almost always untrue!!
Whether you're staying in your RV long-term, or you just can't get a good night's sleep without at least 5 inches of memory foam, a custom mattress might be worth looking into.
Mattress Insider makes some really great RV Mattresses, and their custom mattress builder allows you to customize your comfort and size.
Fan
If you're like me and can't sleep without a fan blowing on you all night–this one's a must-have. There are so many fancy options out there these days but you really don't have to spend more than $20 to get a fan to help you sleep.
I like this battery-powered one from REEUNO which is rechargeable and has a hook so you can hang it from the walls of your RV.
Source: Amazon.com
Plus, this one's so cheap, you might as well get one for the whole family!
Reflectix
Many RVers consider Reflectix a must-have for insulation since they serve so many purposes. If you've ever had trouble with your RV being too hot or too cold, they're one of those RV accessories that's worth the purchase.
Source: amazon.com
Reflectix comes in a big roll and you can cut them to any size you want and stick them on your windows, water heater, and anywhere else you need some extra insulation. The rolls are also not pricey, so this RV gadget is not a big investment to get more bang for your buck from your heating or cooling system.
Space Heater
Space heaters are another RV gadget to boost your RV's warmth, especially when living in your RV in the winter. If you're winter RVing and finding that your furnace isn't quite powerful enough, a nice space heater can help make up the difference and keep you comfy cozy.
Source: Amazon.com
I really like the Mr. Heater portable heater that's propane-powered and has an automatic shutoff. It's also really powerful for how small it is. This is really one of my favorite RV gadgets.
If you're looking to winterize with more RV gadgets and gizmos, check out my list of 17 essential products to winter RV living.
Must-Have RV Kitchen Gadgets
I'm such a sucker for some good RV kitchen gadgets, so here are some of my favorites that actually do make your life in an RV much easier (and more fun!!)
Instant Pot
RV lifers are always looking for ways to save time and space, and the Instant Pot helps you do both!!
I truly believe the craze about this item, no matter how many appliances you have in your RV, none will cook your chicken casserole as fast as this pressure cooker. It has tons of different settings and also serves as a rice cooker.
That means you don't have to purchase lots of RV kitchen accessories and you can save counter space!
Source: amazon.com
Air Fryer
Like the Instant Pot, I think air fryers are another trendy item that's really worth the investment, especially if your RV kitchen doesn't have an oven. They can cook pretty much anything, don't take up a ton of counter space, and don't require much cleanup.
I really like this one from COSORI. It's not too pricey, has a very sleek design, has like 13 settings, and a large capacity. With both an Instant Pot and an Air Fryer, you can pretty much get away with not having an oven or a stove, so these are some must-have RV accessories to me.
Source: amazon.com
Coffee Makers!
I am a coffee addict and a coffee-making gadget is definitely on my stranded-on-a-desert-island list. I've tried 'em all (really, I think I have), and I have pretty much two gadgets that I alternate between… Spoiler–neither is a Keurig! 😲
The first is the famous Chemex pour-over coffee maker. It's beautiful, doesn't use electricity, doesn't take up any room, and it makes a darn good cup of coffee.
The only downside about the Chemex is you have to buy filters for it, and it's glass so I wouldn't use it outside. Basically, Chemex is my indoor-coffee-maker solution.
I use a percolator for making coffee outdoors over a fire (which I love to do). I really like this percolator from Coletti, but any you find at an outdoor store will be pretty much the same.
Source: amazon.com
Percolators are great for indoor and outdoor use and don't need filters. Coffee from percolators isn't as good as coffee from a Chemex, but there's not that much of a difference. If coffee is a must-have RV gadget for you, one (or both) of these are perfect.
Cast Iron Dutch Oven
Many campers and RVers swear by their cast iron pans–they're durable, great to use over campfires, and easy to clean. I prefer to use a dutch oven over a skillet, though. They can do everything a skillet can and more since they are deeper and come with a lid.
My favorite is this Lodge 2 Quart dutch oven. It comes with legs and a nice handle so it's perfect for cooking over the fire. You can really cook anything in here–soup, bacon, scrambled eggs, casseroles, pancakes. It's versatile and inexpensive so this is one of my must-have RV accessories.
Source: amazon.com
Check out this four cheese bacon dip I made in our dutch oven…I'm hungry!!
Gadgets for Staying Clean and Organized
RV camping can get really messy really fast. So along with daily cleanups and chores, I rely on some gadgets to help me save space and stay super organized in our tiny little home.
So, here are my favorite organizational RV accessories (and click here for the full list of RV organization gadgets and ideas!)
I also use this RV deep cleaning checklist at the start and end of each season!
Space-Saving Hangers
This is a pretty simple RV gadget, but it really does work wonders! RVs come with super tiny closets, and if you don't have a super tiny wardrobe, that can be an issue… especially if you're a full-time RV-er.
These space-saving Wonder Hangers are a perfect solution. They hold up to 12 garments per hanger and really help cut down on the amount of space your clothes take up.
Source: amazon.com
Vacuum Storage Bags
Vacuum storage bags are great RV gadgets for space-saving. You can really put anything in these bags, but I like to use them for extra blankets, pillows, or comforters we aren't currently using.
If you're a full-time RV family and you keep extra bedding or extra clothing in your RV for when seasons change, investing in some vacuum storage bags is a great idea.
I like these bags from Amazon which come with a pump so you don't actually have to use a vacuum to seal these up.
Source: amazon.com
Drawer Organizers
Drawer organizers are a simple RV gadget that's really worth it. When you're driving your RV around, you know that everything you have in a drawer gets totally thrown around. Having drawer organizers helps keep everything in place.
I like to use these not just for cutlery but to organize anything in any pullout drawer like art supplies, cooking utensils, and to organize the dreaded junk drawer.
Source: amazon.com
Plate Holders
Okay, this is a kind of boring RV gadget, but it's super necessary! I like to use a plate holder to keep my cabinets organized and my plates safe.
These Camco stack-a-plate plate-organizers are super cheap and perfect for plate organization in your RV.
Source: amazon.com
Handheld Vacuum
Our RV is constantly full of dirt, dust, sand, and whatever else we all bring in from outdoor fun. Dirt and sand really get into nooks and crannies you'd never think of, so a handheld vacuum is an absolute must to keep the RV clean.
I love this Black and Decker dustbuster with a rechargeable battery. It's small but pretty powerful and very easy to dump and clean. Whether you deal with pet hair, leaves, sand, dirt, whatever, a handheld vacuum is one of those necessary RV accessories.
Source: amazon.com
Space-Saving Shoe Organizer
Shoes always seem to be able to clutter up an RV within seconds, so having a shoe organizer can help to keep your RV way more organized.
Hang these up by your door to keep shoes off the ground and in their place.
Source: amazon.com
Command Hooks
Command hooks are one of the smallest but most useful RV accessories on this whole list!
Buy them for cheap and stick 'em everywhere! Use them for coats, towels, rags, pots, pans, bags, anything you can think of. They're easy to remove too, and won't damage your walls or cabinets.
Source: amazon.com
Collapsible Dish Drying Rack
A drying rack takes up a lot of counter space–especially when you're short on it. So we like to keep a collapsible drying rack that won't take up room when we aren't using it.
This one comes with a drying rack too, so you won't get water all over your countertops.
Source: amazon.com
Internet Connection and Other RV Tech-y Must-Haves
Time for some more fun RV accessories! This section has all the best RV gadgets and gizmos for staying connected to WiFi, plus other super fun (and useful) technology you need for your RV.
If you're thinking of working on the road, then you might also want to check out these 27 RV Office Space Ideas and the Complete Guide to RV Wifi!
WiFi Hotspot
WiFi hotspots are devices that use a cellular data plan from a normal cell phone carrier. Then – given you're in an area covered by your carrier – you connect your devices and you're surfing the web! If you're deciding to go the cell data route with an internet connection in your RV, you'll need a hotspot.

This Netgear Nighthawk is a really popular option for RVers, but most WiFi hotspots work well with your cellular data provider.
Source: amazon.com
Cell Data WiFi Booster
If you have a cellular data plan but you often find yourself in areas with weak signal strength, investing in a cellular data booster might be worth it. These products pick up existing cellular data signals and "boost" them so you get a stronger connection.
This weBoost signal booster is pretty much the only choice RVers use to boost cell signal. It's pricey but really gets the job done and might be worth it if you need a consistent connection.
Source: amazon.com
Public WiFi Booster
If you don't have a WiFi hotspot plan, and you'd prefer to rely on public WiFi from libraries, campgrounds, coffee shops, or an RV park, public WiFi boosters can help increase the strength of your signal.
The Alfa WiFi-camp Pro 2 is designed specifically to be used on RVs and can boost some pretty weak public WiFi signals.
For more info on staying connected in your RV, plus some awesome gear reviews on these gadgets and many more, check out my Guide to RV WiFi.
Source: amazon.com
GPS
Google Maps may have you thinking that GPSs are obsolete, but there are definitely some great benefits: they've got huge screens, they don't need data reception, and they're mountable.
Sorry, Google Maps, but navigating with my phone can be a huge hassle sometimes.
I like this one from Garmin which has a huge 8" screen and comes loaded with campgrounds and other useful RV info. If you don't want to spend hundreds of dollars on a GPS, though, I understand!
Source: amazon.com
Apps, Apps, and more Apps!
Okay, now for some of my very favorite RV apps for navigation and finding campsites, gas, or sewage dumping sites.
First up: Allstays!
If you've ever been RVing before, you've probably heard of Allstays. It's a free app that shows over 30,000 campsites across the United States. You can sort by what amenities the campsites have, and how much they cost, as well as look at reviews from other campers who have stayed there. This app is truly a lifesaver and I highly recommend it.
Source: allstays.com
And next: iOverlander
iOverlander is an awesome app for RV camping: particularly boondocking. They have tons of campsites on BLM and National Forest Land marked and reviewed by real RVers. You can create your own campsite pin complete with a review of amenities and photos–and you don't even have to create an account.
For all things gas: Gas Buddy!
Filling up your RV with gas is SO expensive. It's one of my least favorite things about RV life so I'm always looking for the best deals on gas. Their app shows you current prices at gas stations near you so you can save the most money possible on gas.
Last app: RV Dump Stations
RV Dump Stations shows you every dump station near you, along with reviews and costs to dump your sewage. I know this is not a super exciting gadget, but it is VERY useful!!
And that's it for apps! On to more RV gadgets and gizmos
Source: apps.apple.com
RV Backup Camera
RV backup cameras are a super huge help, and in my eyes, a necessity. Gone are the days of backing up your RV blindly while your partner yells at you and you're just praying you don't back into the gas pump and cause an explosion…just get a backup cam!
This one from Amazon has a great mid-range price. You can add up to three cameras, plus it has night-vision and microphones.
For a full review on this backup cam and more, check out my article on the 7 best RV backup cameras.
Source: amazon.com
Camping, Boondocking, and Outdoor Items
Now for some super fun RV accessories. If you love RV camping, boondocking, hiking, or just sitting outside next to your RV 😂, check out these RV camping accessories…
Sadly, some of the best camping spots are really out there in the wilderness and have no firepit. But that's where the Solo Stove comes in. It's basically a portable fire pit so you can quickly start a beautiful bonfire no matter where you are–even in a river!
Check out my full review of the Solo Stove in this article right here!
Binoculars
Whether you're an expert birder, or you just like to spend time outdoors while RVing, it's always nice to have a pair of binoculars on hand. They're great for bird and animal watching and sightseeing.
If you need a compact option, I really like these binoculars from Occer.
Source: amazon.com
Looking for something a little more beefed up?
Source: amazon.com
These binoculars from Nikon are really top of the line. They're more expensive but if you find yourself using binoculars regularly, it's worth investing in a really nice pair.
Solar Charging Battery
If you love boondocking, you're going to need to bring a battery along to charge all of your electronic devices and appliances, and to power up your lights. I personally prefer solar batteries over gas.
The Goal Zero Yeti 1000 portable power station is a very popular choice for off-grid camping. It's pricey–yes–but it's super compact, holds a TON of power, and charges off solar.
But solar isn't the best for everyone's situation. If you'd rather invest in a gas generator, check out these 13 best quiet generators. (I've got some more solar batteries on there too!)
Source: amazon.com
Hammock
Ahh hammocks, one of life's best simple pleasures. This isn't the fanciest gizmo on my list, but it's definitely one of my favorites for RV camping!
I like this one from Wise Owl, it comes in tons of different colors and packs down into a tiny little bag. But in my eyes, any hammock is a good hammock.
Source: amazon.com
Zero Gravity Chairs
I like hammocks, but I'm a sucker for a super comfy camp chair. Who says you can't be comfy while you're camping??
I know everyone's talking about these zero gravity chairs–but it's for good reason, they're ridiculously comfy. Plus, they're lightweight and pack up small, perfect for RV camping!
If you need more options, check out my list of the 9 best camp chairs.
Source: amazon.com
Foldable Table
Having a table or two in my RV is a must-have. They're great as an extra cutting board, a card table… whatever you need it for really. And they're especially handy if you're boondocking but want to prepare dinner or hang out outside.
This one from Trekology is super lightweight and folds down really small. It might be worth getting a couple of these if you find yourself needing a table often.
Source: amazon.com
Screen Tent
Mosquitoes can really ruin a summer RV camping trip and make you want to spend all your time inside your camper. Screen tents are a great tool to ensure you can spend time outside while not being attacked by bugs or getting rained on.
This one from Coleman is high quality, easy to set up, and a pretty good deal, plus it packs down nice and small.
Source: amazon.com
Umbrella
Whether you're on the beach or outside lounging on the grass, a large umbrella is great for staying cool and protecting yourself from the sun. It's always nice to have one of these in an RV for those trips to the beach.
This sport-brella is huge, has UV protection, and can be secured down. This is great if you have little ones who love to play in the sand to keep them from getting burned.
Source: amazon.com
Time to Talk About Toilets!
Whether you're boondocking away from any toilets, you hate using vault toilets, or you just want to bring the comfort of a clean toilet with you on the go, bringing a toilet is a must for many RVers.
Portable toilets are a great thing to have in your RV if you're a boondocker and have nowhere to dump your blacktank, or if you're just not into using vault toilets (they can be pretty nasty).
If you're interested in looking into more options check out these 13 best camping porta potties.
If you're into a more permanent option that can replace your RV's toilet while also lessening your impact on the environment, composting toilets are an awesome choice!
Source: amazon.com
The Nature's Head composting toilet is really the go-to choice for an RV composting toilet. If you're interested in reading a full review of the Nature's Head toilet or exploring other options, check here for the 7 best portable composting toilets.
Source: amazon.com
Cooler
A cooler is one of those RV gadgets that's easily forgettable when you have a fridge in your RV, but it's super helpful to have. They're great for keeping stuff cold on the beach or keeping drinks cold next to the campfire.
This one from Coleman is awesome. It's pretty big and comes with wheels so you can roll it around wherever you need to go.
Source: amazon.com
RV Patio Mat
A patio mat is honestly one of the most underrated items that's actually super necessary. They're so nice to keep by your door so you can take your shoes off and climb into your RV without getting dirt all over your feet and making a mess.
This one from Amazon is so cute! If you want to see a few more, though, check out the 5 best RV patio mats of 2021.
Source: amazon.com
Solar Power Outdoor Patio Lights
Outdoor lighting is a super must-have for me! I don't like any of those super bright lights though, so I opt for some shatterproof bulb lights.
These shatterproof outdoor lights from amazon are low-voltage so they won't take a ton of your battery.
Source: amazon.com
Outdoor Camping Mat
An outdoor camping rug is a great RV accessory to pack along with you. They're perfect to throw down on the ground so you can sit anywhere without needing to lug along some heavy chairs. They're also perfect as play mats for kids indoors and out.
These Gili Gear sand free camping mats are my absolute favorite options for the many, many uses camping mats have. Check out my full review on the Gili Gear mats here!
Campfire Cooking Grate
Cooking over a fire is one of life's best pleasures, but not all campsites have a grate. So, I always keep a foldable cooking grate on me. You can put pots and pans on this, or just grill sausages and veggies right on it.
This one from Amazon is great because it's high-quality stainless steel, and folds down super small. But it's still large enough to cook dinner on for the whole family.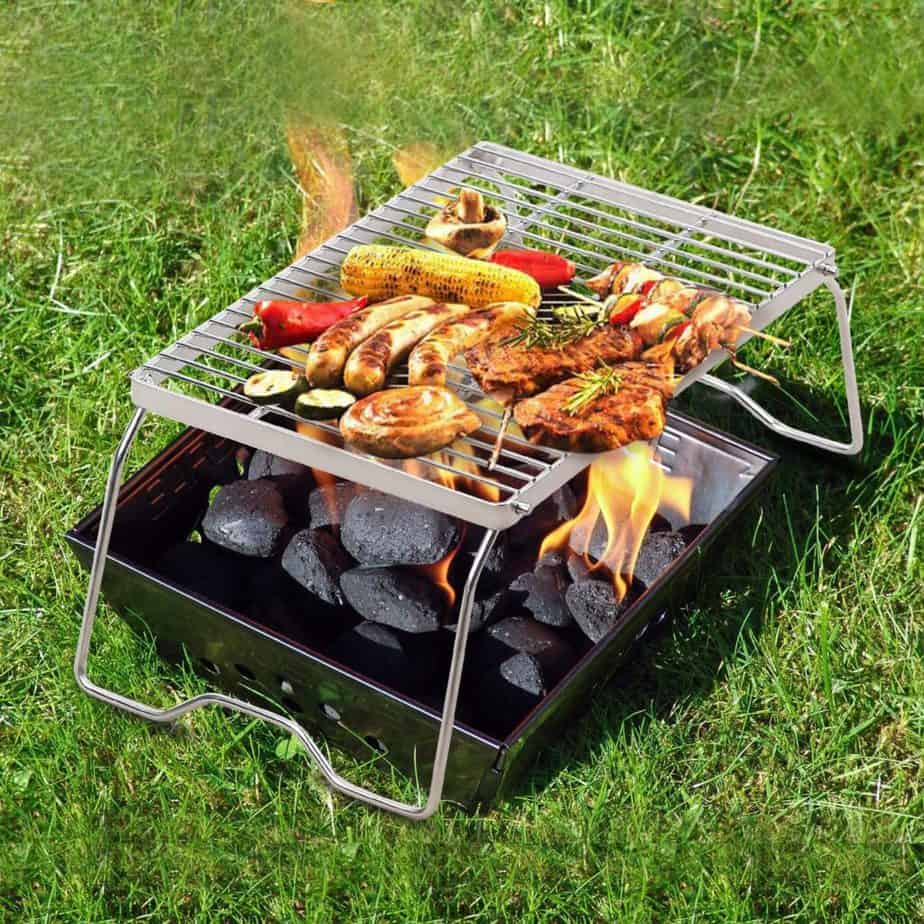 Credit: amazon.com
Must-Haves for Safety
Now for RV gadgets and gizmos for all things safety. All these RV gadgets will help keep you and your family safe while RVing, and give you some great peace of mind.
Tire Pressure Monitoring System
A tire pressure monitoring system is one of the best RV gadgets you can get for safety! I'm so terrified of having a blowout when driving, and this system really helps to calm my fears.
This one from EezTire is a pretty popular choice. All you have to do is screw on the sensors, and the screen will display your live tire pressure so you can catch warning signs of a nail in your tire and give yourself some peace of mind while driving your RV.
Source: amazon.com
First Aid Kit
Having a first aid kit is absolutely essential! Even for minor cuts and scrapes, these really come in handy so often.
Source: amazon.com
Jump Starter
A jump starter is another super essential gadget to always have with you in your RV. Vehicle batteries die all the time and it's nice to know that if yours dies while you're in the middle of nowhere, you don't have to wait for someone to come help you, you can do it yourself!
Source: amazon.com
This portable jump starter from DBPower is pretty awesome. But whichever device you purchase, just make sure it has enough juice to jumpstart your car or RV.
Bear Spray!
I don't know about you, but every single time I'm hiking, or just camping in the woods, I start to get a little freaked out about bears. It's always nice to know that we have bear spray on hand…just in case!
If you're hiking in bear territory, keep this in an easy place to reach in case a bear walks across your path–some trails even require you travel with bear spray, so it's nice to have on hand.
Source: amazon.com
Portable EMS Protector
A surge protector is a gadget that so many campers say is necessary but that you may not have thought to bring with you. Hooking up to campground electricity can be dicey, but surge protectors prevent any damage to your RV's electrical system.
Without a surge protector, like this Progressive Industries one, you can do some serious damage to your RV. I wouldn't recommend camping without one.
Source: amazon.com
Carbon Monoxide and Smoke Detector
Cooking with gas in a confined space brings huge fire and carbon monoxide risks. That's why you should absolutely have a carbon monoxide and smoke detector in your RV, if it doesn't come with one.
It's nice to get an alarm that has 2-in-1 smoke and carbon monoxide detection, like this one from Kidde. It's also battery powered and you can just stick it anywhere in your RV's kitchen with a little velcro strip.
Source: amazon.com
Fire Extinguisher
And if, for whatever reason, your smoke alarm does go off, you'll need something to put that fire out. If your RV does not already come with a fire extinguisher, you should definitely get one.
This one from First Alert is great because it's nice and small so it won't take up much room in your RV. But you can sleep soundly knowing that if there's a fire in the middle of the night, you'll be able to put it out right away.
Source: amazon.com
Miscellaneous Must-Haves
And now for all those RV gadgets and gizmos that didn't fit in any of my categories, but are still super important to have with you!
Weight Distribution Hitch
A weight distribution hitch is just that: a hitch that distributes the weight of your travel trailer to put less strain on your towing vehicle. It helps your ride be way more stable and puts less strain on your vehicle.
If you have a travel trailer, a weight-distribution hitch is a great way to reduce wear and tear on your truck or other towing vehicle.
Source: amazon.com
Heated Water Hose
Heated water hoses are one of those necessary RV camping accessories for freezing temperatures. Water freezing in your hose can be super annoying and also cause serious damage. Heated hoses pull just a tiny bit of power to heat the hose and prevent freezing.
This Camco hose is rated to -20 degrees Fahrenheit!!
Source: amazon.com
Portable Dehumidifier
If you're scared of mold, dehumidifiers are a must-have! Even with a fan, regular activities in your RV like cooking and showering can create a lot of moisture that can get trapped in nooks and crannies and create the perfect environment for mold to start growing.
Dehumidifiers like this tiny one from ProBreeze help prevent mold and keep the inside of your RV at a more comfortable humidity level.
Source: amazon.com
Sewer Tank Rinser
The sewer tank isn't the most fun thing to talk about, but it's something you'll have to deal with at least weekly, and you want to make the process as simple as possible. Having a sewer tank rinser is a super quick way to clean your tank.
This one from Camco is clear inside so you can tell exactly when your sewer tank is all rinsed out and squeaky clean.
Need tips on taking care of your sewer tank? Check out my guide to the RV black tank here.
Source: amazon.com
Sewer Hose Supports
Speaking of dumping your black tank…sewer hose supports also make your life easier by providing stability to your sewer hose and ensuring that the black tank is flowing into the dumping station, not the other way around.
For more info on all things sewer hoses, check out my article on the best sewer hoses of 2021.
Source: amazon.com
Headlamp
Headlamps are an item I regularly forget, but always need! They're a lifesaver for doing any kind of maintenance or organization on the outside of your RV, plus they're always helpful for cooking or hanging around a campsite at night.
Source: amazon.com
That's All, Folks!
Thanks for reading! I hope you enjoyed my mega-list of fun RV accessories and found some cool RV gadgets you'll need for your next trip 😊.
While you're here, go ahead and check out some other gear lists I've put together:
Latest posts by Stacy Bressler
(see all)