These kids snow toys will make enjoying winter WAY easier – and inspire creativity while burning off some of that cabin fever energy!
Winter is coming – and for parents of little ones, that can sometimes mean cabin fever. BUT with the right snow toys for your kids, it can be pretty fun!
I'm sad to say that last year I did not get out in the snow near as much as I wanted to. It's true, life was crazy with my twins who were still super babies, but I kind of try to get out regardless.
Life happens though, and we can always try again!
HOLY COW there are some cool snow toys that even I would enjoy! (Did you know there are SNOW SCOOTERS and SNOWBALL MAKERS??)
Anyways, here's a fun list of the best snow toys that might inspire you to get outside with your kids this winter. I know it's a lot to get them dressed, but if you have something you can actually do with them besides sled, it might not be as intimidating! (I'm sort of saying that to remind myself too!)
P.S. these ideas are definitely more toy-based – if you want ACTIVITIES that have to do with snow, check out this fun list of 27 winter activities for kids!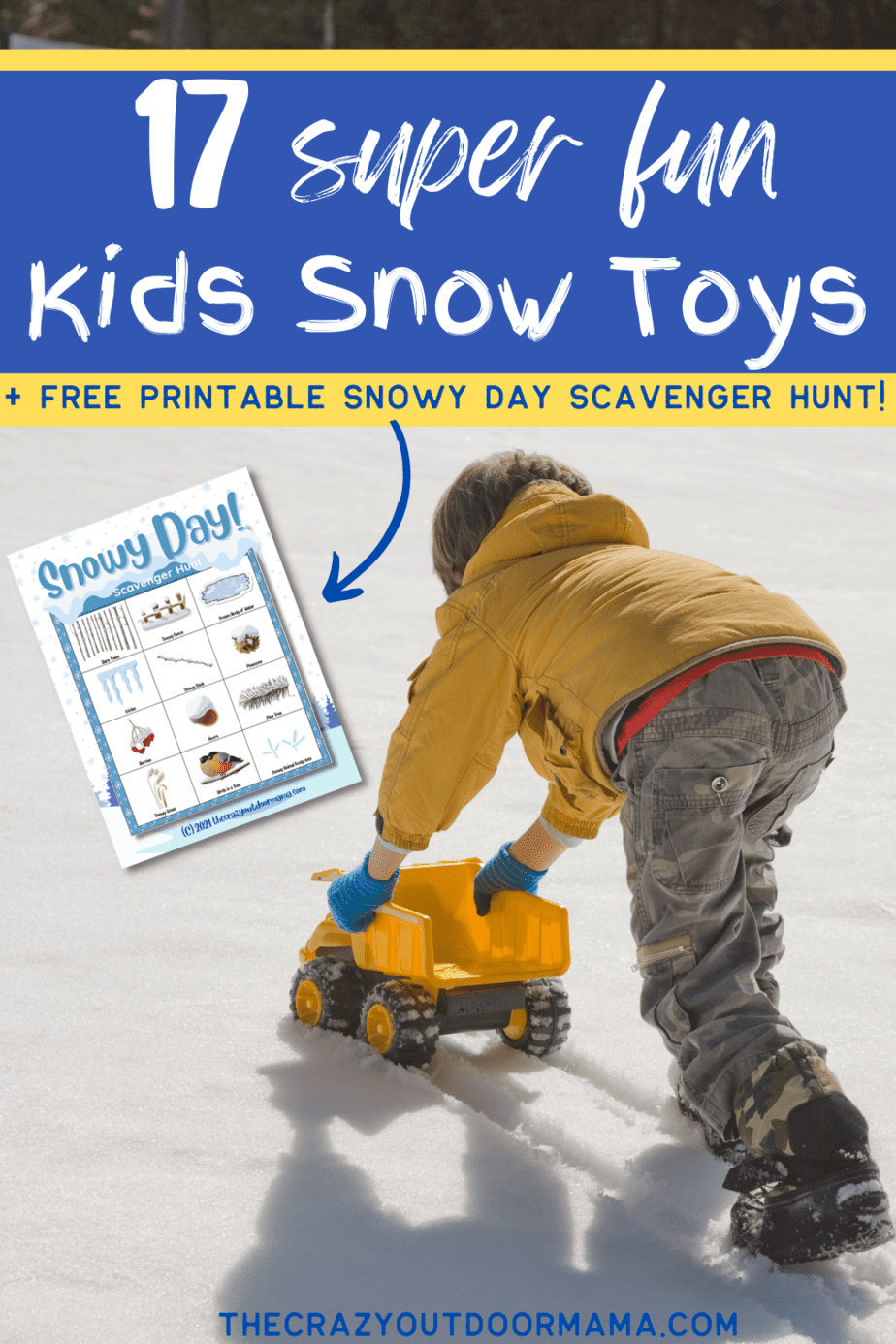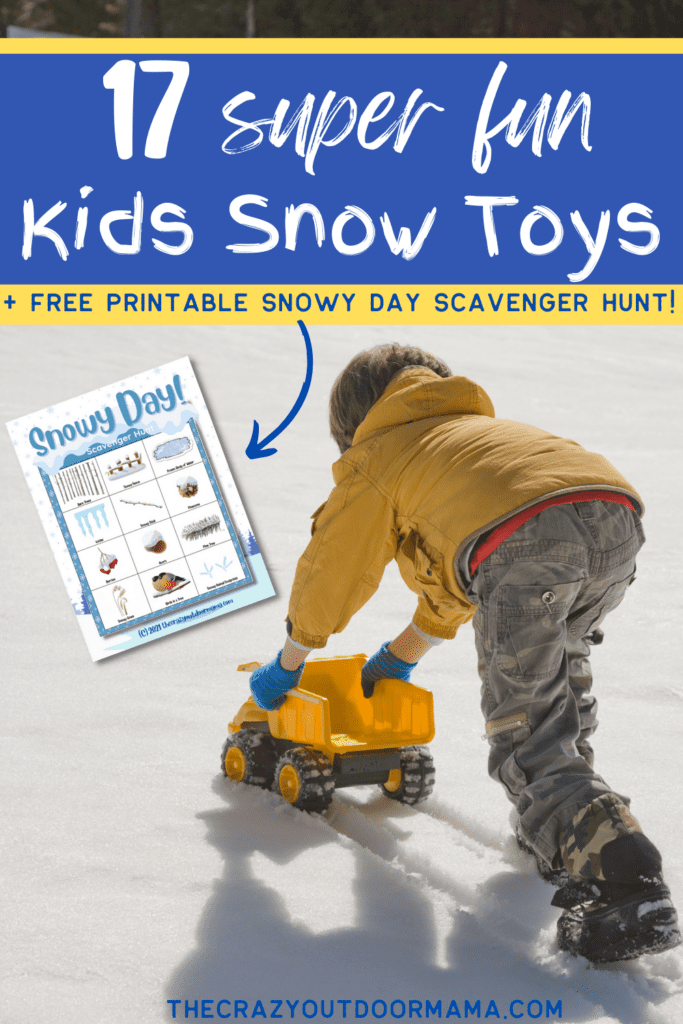 Fun Snow Molds for Kids to Build With!
While we would all love to do everything the "old-fashioned way" there is something to be said about making sure little hands stay warmer longer!
And having some device to help them form snowballs, snow bricks and more makes it that more enjoyable to be out in the snow (while not soaking through their gloves too quick and making their hands all wet!) Check out these fun and easy molds and snow brick makers kids will love to use this winter!
Sno Brick Maker
To think this whole time I've been freezing my hands off and soaking through gloves trying to build cool castles for my little guy!
This snow fort brick builder is super cheap, and is a great way to keep kids busy out in the snow! There are SO many possibilities with this brick maker, I can't wait to get mine!
Snow Fort Building Kit
This is the DELUXE snow fort making kit! The multiple sizes of brick makers, as well as the cool castle accent mold, will bring your snow fort-making skills to the next level! I also like this set because there are different designs, so each kid could be in charge of making a certain part of the fort!
Set of 3 Snowball Makers
While it's cool to make your snowballs with your hands, there's something that just feels way more awesome using a tool to do it!
Plus, again, anytime the kiddos feel like having a snowball fight, at least the kids won't get their hands soaked!
We always have 2 or 3 pairs of gloves when we go on an outing with our kiddo, so bringing these might make those gloves go a little longer! PLUS I love there are three so there are plenty of snowball makers to go around!
Snow Penguin Mold

Imagine – a whole YARD full of SNOW PENGUINS! They have a ton of other cute designs too that include gnomes and little snowmen!
Kids will absolutely love getting to create little snow buddies that come out awesome every time with this "Sno-Buddy" Penguin Mold!
Kids Snow Shovel
If you have toddlers, then you know they LOVE doing whatever you're doing! Especially when it comes to cleaning!
So why leave him out when it comes to shoveling your walkway! Toddlers and big kids alike will enjoy this sturdy snow shovel, whether it's used to build a ramp or clear your drive way!
And if they don't enjoy it well.. everyone needs to earn their keep so make them shovel the drive anyways! (JK! Sort of..)
Winter Scavenger Hunts
Winter is actually pretty darn beautiful if you can get past the cold (the right clothes are important, for sure!)
I've enjoyed doing winter scavenger hunts with my kids (as well as some holiday ones if we're around December) to learn to appreciate all the frozen beauty and magic of the season!
Here's the super cute winter/holiday scavenger hunt packet we use!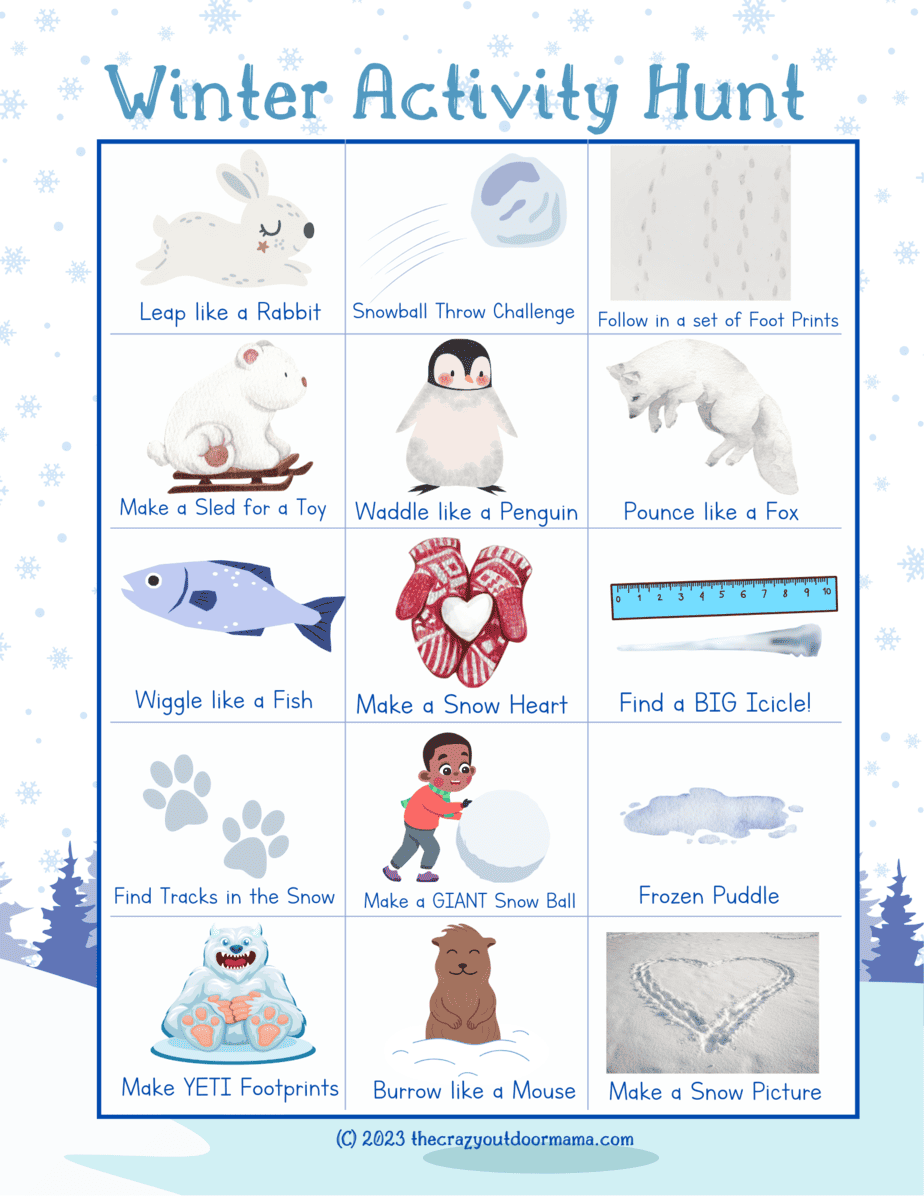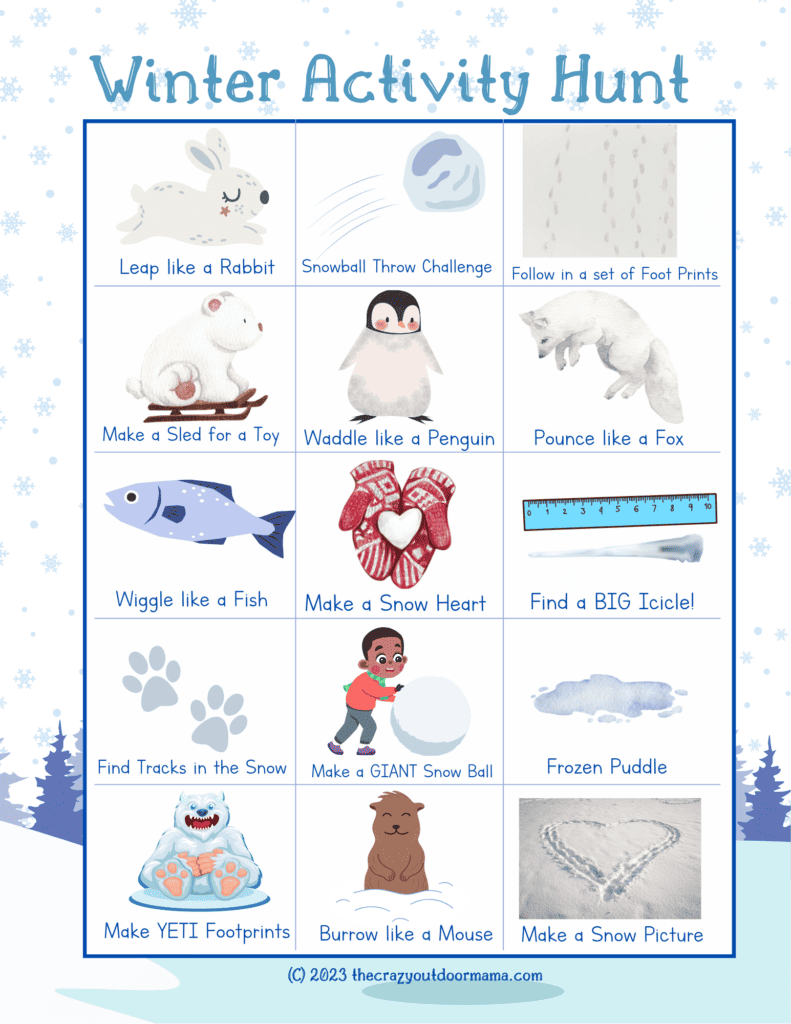 Snowman Decorating Kits
Sticks and rocks are fun to decorate with (that's what we normally do!). But these kits might help an otherwise hesitant toddler – or kid who hasn't seen snow before – get that extra excitement to get out in the snow and have fun!
Classic Snowman Kit for Kids
This is an adorable and classic snowman decoration set that is both reusable and very sturdy! The stakes in the back of each decoration really help things stay in place and make decorating the snowman more fun and easier!
I know my guy really struggled last year getting rock buttons and such to stay on, he would have loved this decorating kit!
Lady Snow Woman Decoration Set
I didn't even know this was a thing until I was doing some research for this list! I LOVE IT! For the ladies who want some representation in the snow world, look no further than the Snow WOMAN decoration kit! Complete with lipsticked lips, pretty pink accessories, and beautiful eyelashes! I bet little girls everywhere will get a kick out of decorating their snowman with this!
Funny Faces Snowman Kit!
I love how this snowman decorating kit is so different than your "typical" snowman, so it's no surprise that kids love this set too!
Another bonus about this fun snowman decorating set is that all of the pieces are wooden, so they are reusable and will see many winters of play!
Fun Snow Sleds for Kids + Other Modes of Snow Travel
So I know most of you are imagining your typical disc shape snow sled or maybe just a snow tube… but you are doing yourself a disservice if you don't check out some of the other awesome sled styles out there! There's more than one way to go in the snow!
Ski Wagon (that also includes wheels for summer!)

This is possibly the COOLEST thing I have seen! Can you say perfect Christmas card picture? A cute little red wagon… ON SKIS! And I love that it's still functional for every other season because it does include some wheels!
Who says wagon rides have to stop – not the person who has this ski wagon (Santa may be getting a ring from me soon!)
Snow Scooter for Kids!
Why slide down snowy slopes when you can soar down them on a friggen' snow scooter!
This seems way more fun than just sitting (although as an adult who gets injured from sleeping wrong, I may sit this one out anyway!) and according to the reviews, it actually works really well!
And for those interested.. the weight limit is 225 so the big kids can have some fun with it too! 😋
A Luge Snow Sled!
This luge-style steerable snow sled is one of the best snow toys for kids who take sledding seriously. Aluminum frame, leaf spring steering, lightweight design…this thing ain't messin' around!
This snow sled is awesome because you have the option to steer! And for scardey cats like myself who haven't been around the snow too much, that sounds like a WAY nicer option than speeding down in a traditional sled with no real control of where I am going!
This luge style sled is for ALL ages – toddler to adults can use the same exact size model, so this is really a great snow toy that everyone can enjoy!
A cold weather ready snow tube!
While it might seem like you could just repurpose your summer tubes, don't forget – these things are sliding over freezing, potentially rough snow at super high speed! That's why you need a specific built snow tube like these ones from GoFloats.
Not only do they have cute designs (ice dragons, flamingos, penguins… look how cute they are below!) but everyone said they were SUPER durable – even when the adults decided to have some fun with them too!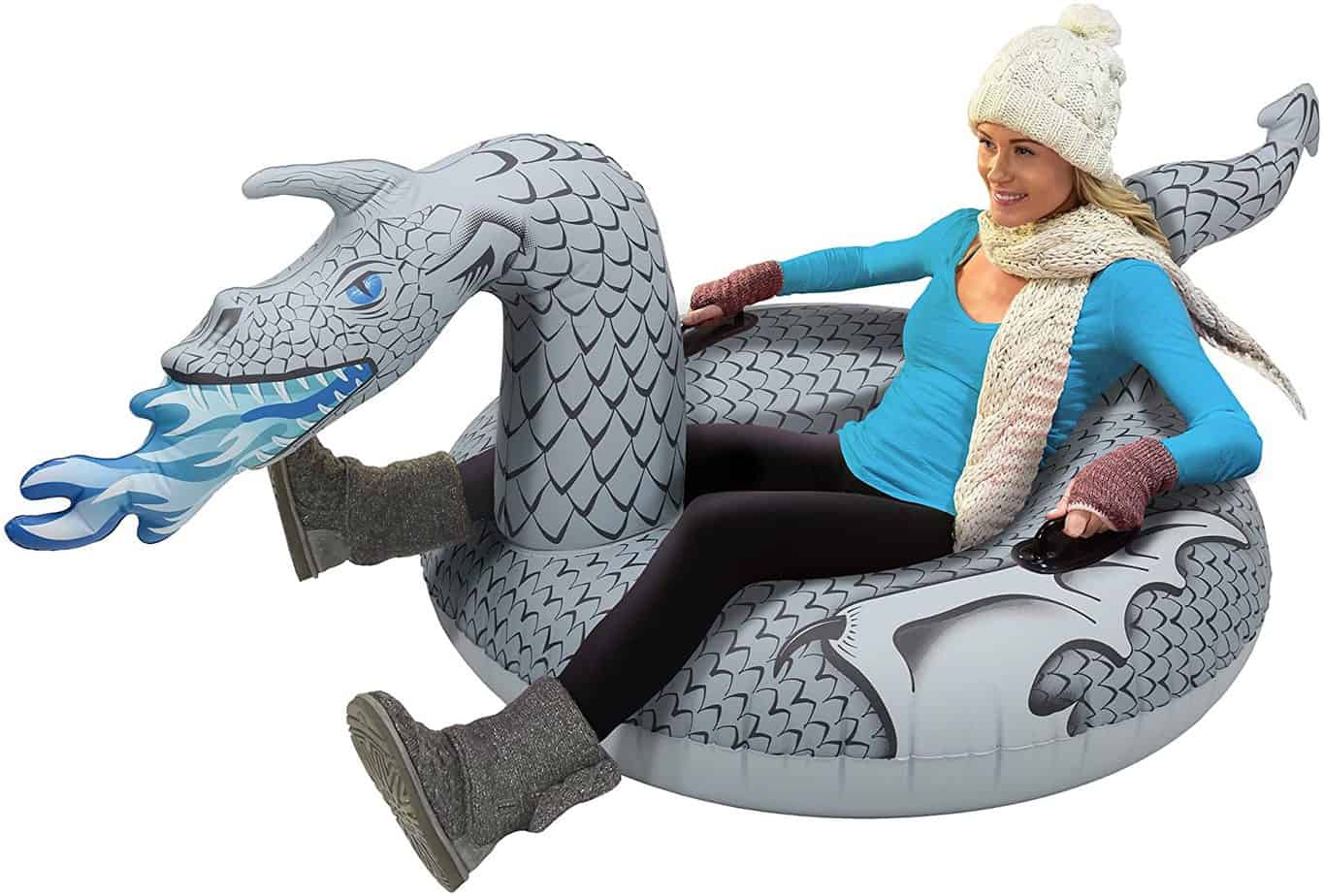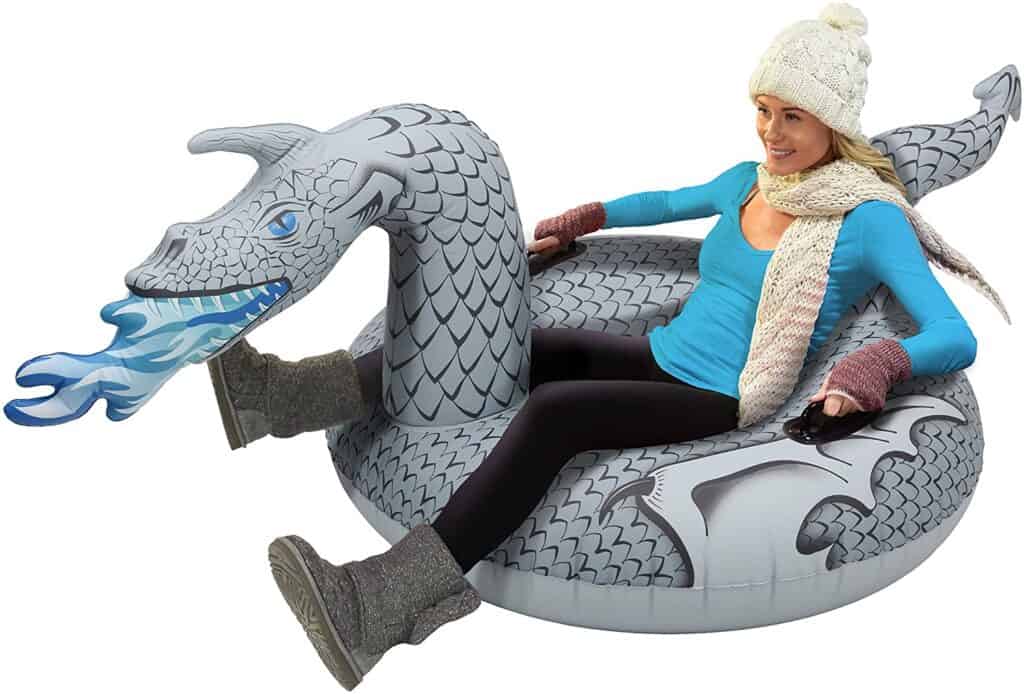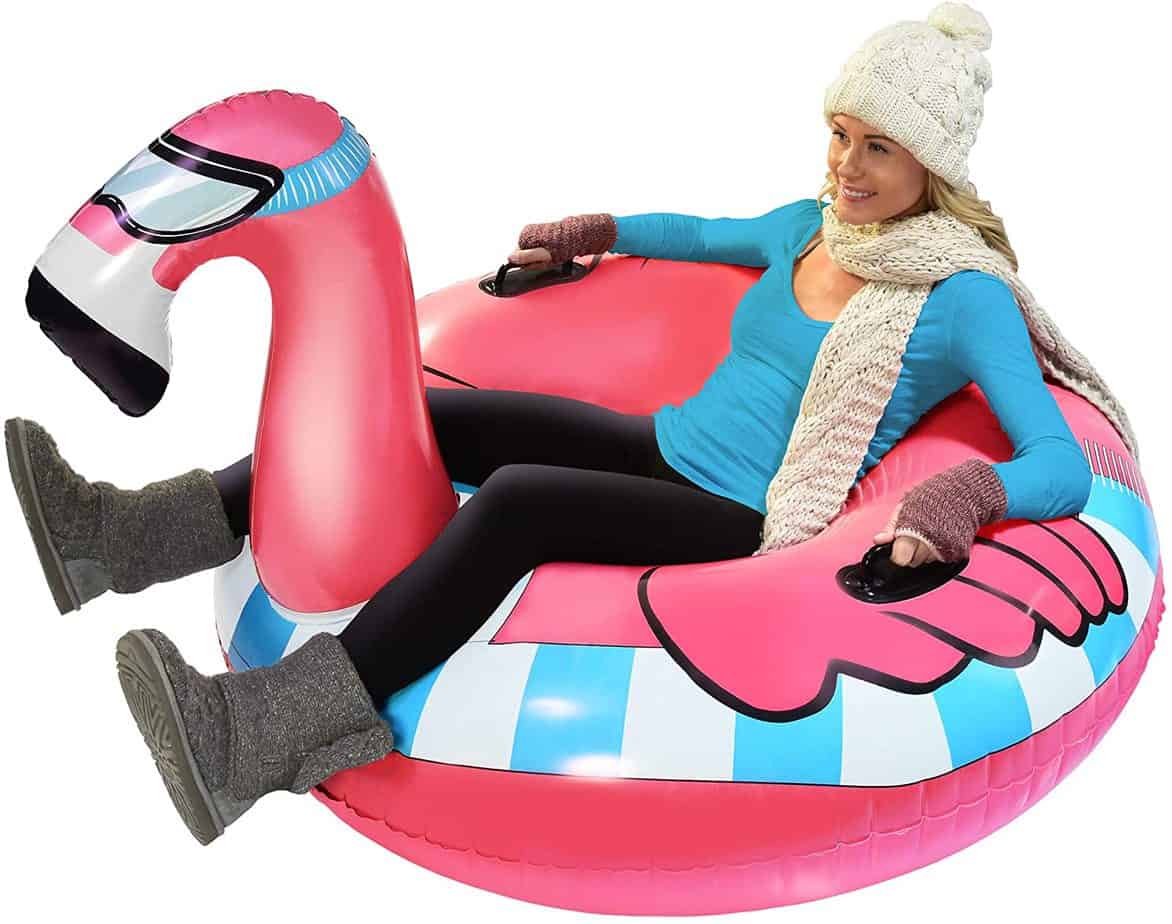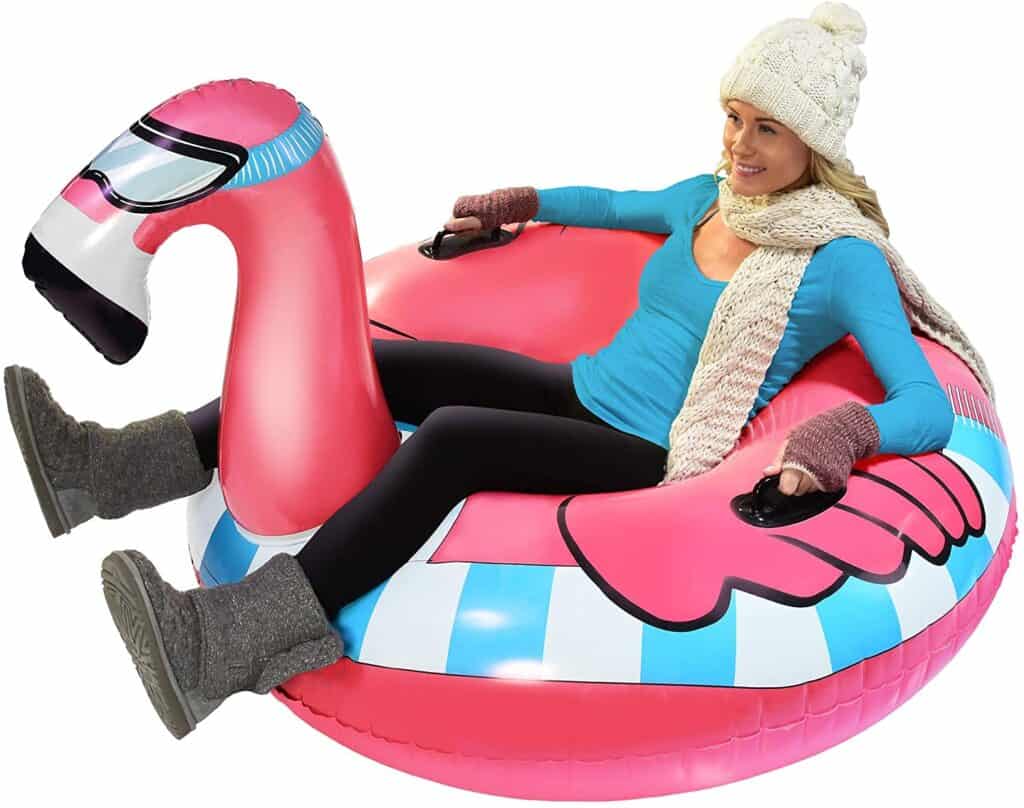 Cute Kids Snowshoes!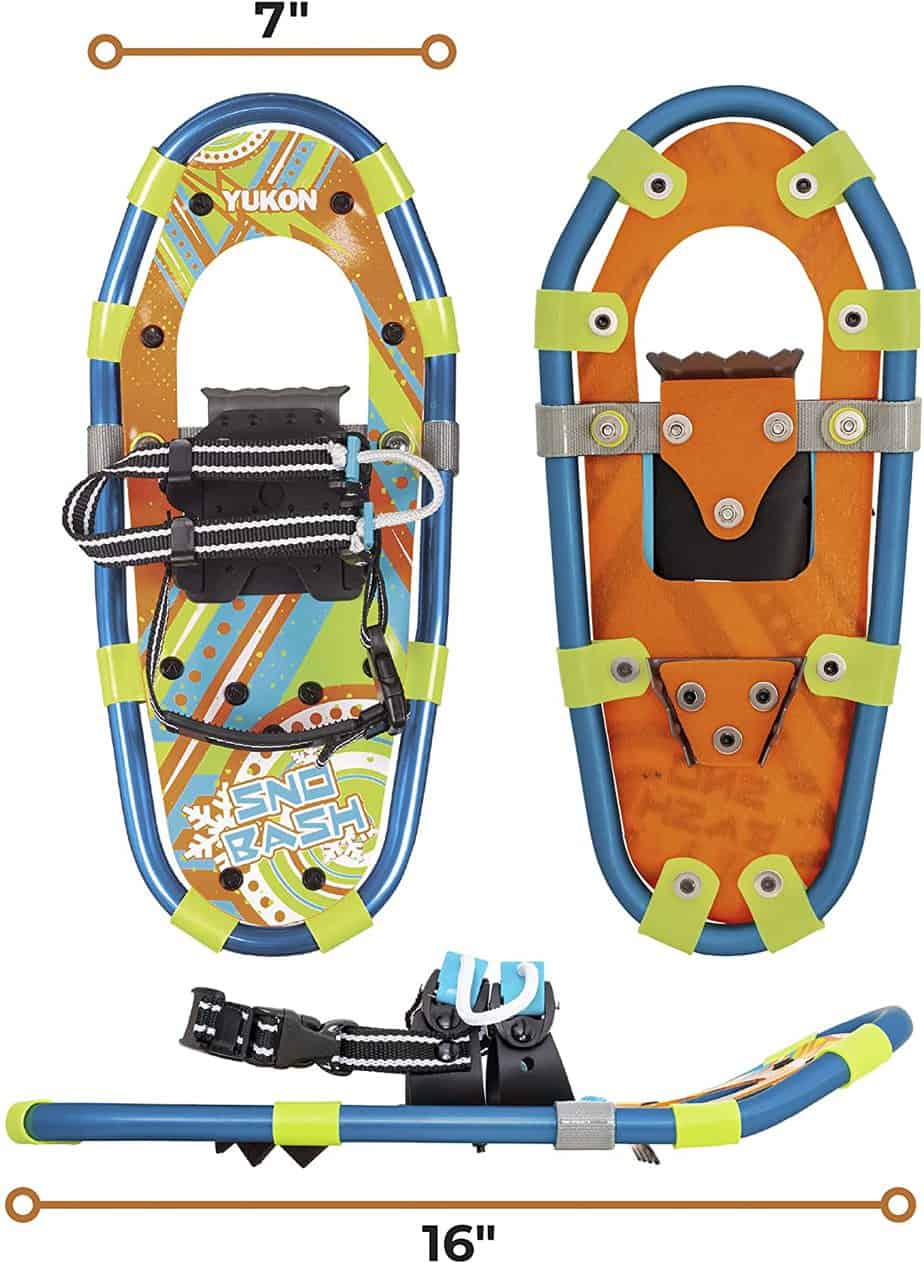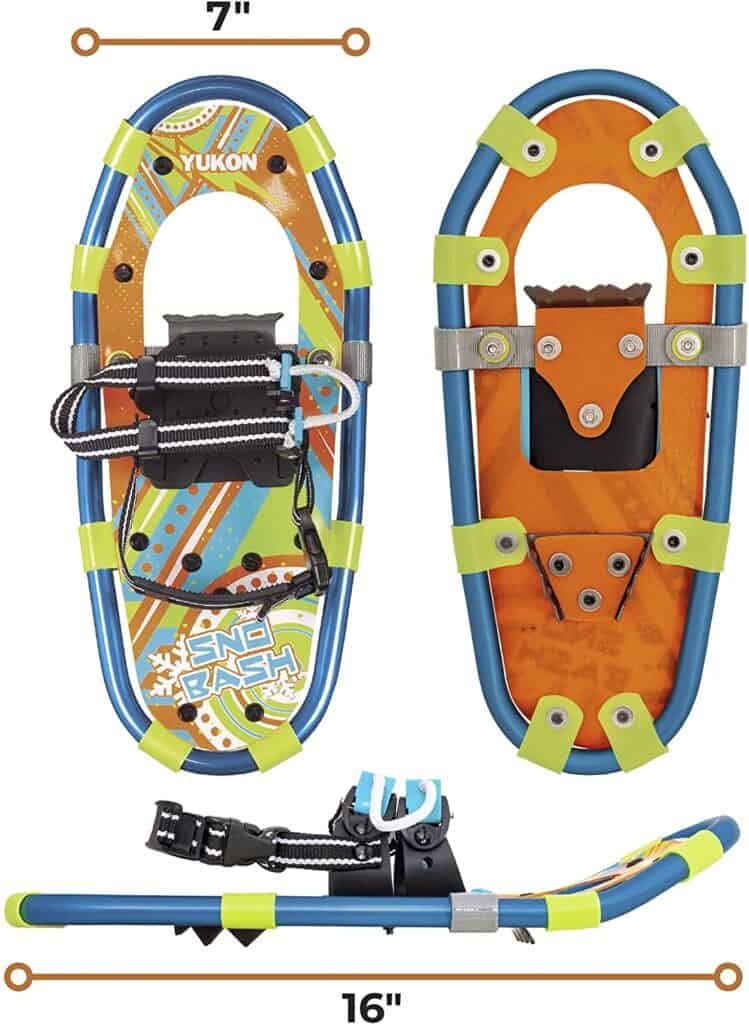 Snowshoeing is perfect to get your hike on in the winter! If your kiddo is uncomfortable on skis, or maybe just not old enough, snowshoes are a perfect way to walk on snow! These snowshoes just strap onto your kids shoes (no specific shoe required!) and you're ready to go!
A Snow Ski Set for Strider Bikes!
I'm so bummed that the picture associated with this product doesn't show how AWESOME it is! This is an attachment that fits most strider bikes that will allow your kiddo to SKI on his balance bike!
For all bike-loving kids, this snow toy is a perfect way to transition that summer passion into a winter passion as well! Or, if your kid did great on his strider bike during summer, you could get these so that he doesn't forget that balance that he worked on perfecting all season!
Classic Looking Toddler Sled
When it comes to getting out in the cold and snow with little ones, it's all about comfort if you're trying to teach them to love it!
The high sides and wide base of this sled will help them feel secure! If you want to make them even more cozy and comfortable, you should get the optional pad that goes along with it!
Safe and Secure Baby Sled

(for younger babies and young toddlers!
So I ALMOST called the sled above this one a baby sled until I noticed it didn't have any waist belt. I was super happy to find that Lucky Bums makes an awesome baby sled with a waist buckle that makes sledding with babies way safer!
Lucky Bums is an awesome brand (all 3 of my kids' first skis and associated ski gear were from them!) so I know this sled will be just as good!
For younger babies – an enclosed sled to keep warm!
When under one two years old, this is another option if you're concerned about keeping your baby warm. This sled has a covering all around it so that not only will your baby stay warmer, but they won't get any kicked up snow in their face from your feet either (it happens when you're pulling sleds… trust me!)
The best indoor snowball toys when you have no real snow!
Didn't get the white Christmas you wanted? Well then bring the party indoors and make your own darn winter wonderland! These snow toys are perfect for creating a fun winter play place inside!
Plush Snowballs that feel real!
These soft snowballs are a great way to have fun during winter – even if there's no snow (and as a bonus, much less mess and prep to enjoy!)
These snowballs are THE BEST on the internet! The reviews are all amazing… they even supposedly give a subtle crunch sound when you squish them!
Does an epic snowball fight Christmas morning sound like fun? Or just an impromptu snowball fight at Grandma's house? Then pick these up! They aren't too hard and are super durable!
Grow Your Own Snow!
If you want the fluff and snowman building, but not the wet and cold, then "grow your own snow" with this kit! It's very easy to make and includes the science behind how it works for the older kids. Just add water and you're ready for some snow play with the kids!
DIY Snow Toys to Make at Home!
I think that the homemade snow toys, while perhaps not as durable, help to create way more memories and appreciation for an awesome snow day!
Here are some ideas!
Make a DIY sled from just about anything – check out this post for some ideas
Bring out those sand toys and make snow forts! These are a favorite here!

Homemade snow paint

is cheap and easy to make and is perfect for especially creative kids!
Play a game of snow flag! Tie a white rag around a stick and have one child stake it somewhere then challenge the other kids to find it!
Make

mini snowball shooters

by using this idea for marshmallow shooters! Just make tiny tiny snowballs then do some fun target practice with them!
Make your own snowman kit so you don't have to look for new pieces each time! Here's a

simple kit

and a guide to even more snowman k

its

!
Don't forget to download your free printable snowy day scavenger hunt!
I don't know about you, but if I had these snow toys last year, I would've been out way more! Part of playing outside with the kids, for me, is having something fun for myself as well.
Building forts with snow brick makers, decorating snowmen, using a snow scooter, making perfect snowballs with a snowball maker… those all seem pretty darn fun to me!
If you need something to do NOW with your kids though (I know how the questions never stop sometimes!) you can download this cute snow themed scavenger hunt!
Here are some other fun winter and Christmas activities with kids!