If you are looking to make this Christmas even more special then check out these fun Christmas scavenger hunt printables! I have tried to make one for every situation – at home, around the neighborhood, outside and things to do!
And because I know the clue type of Christmas scavenger hunt is pretty darn popular for the older kids, I made some of those too!
If Christmas seems a little too crazy and chaotic, try giving some of these guys out to the kids. It'll keep them occupied and hopefully help them explore what's around them, whether it be all the joy of Christmas or the beauty of a snowy winter day.
I'll show you what I got and some fun ways to use them this winter during Christmas time!
Here we go!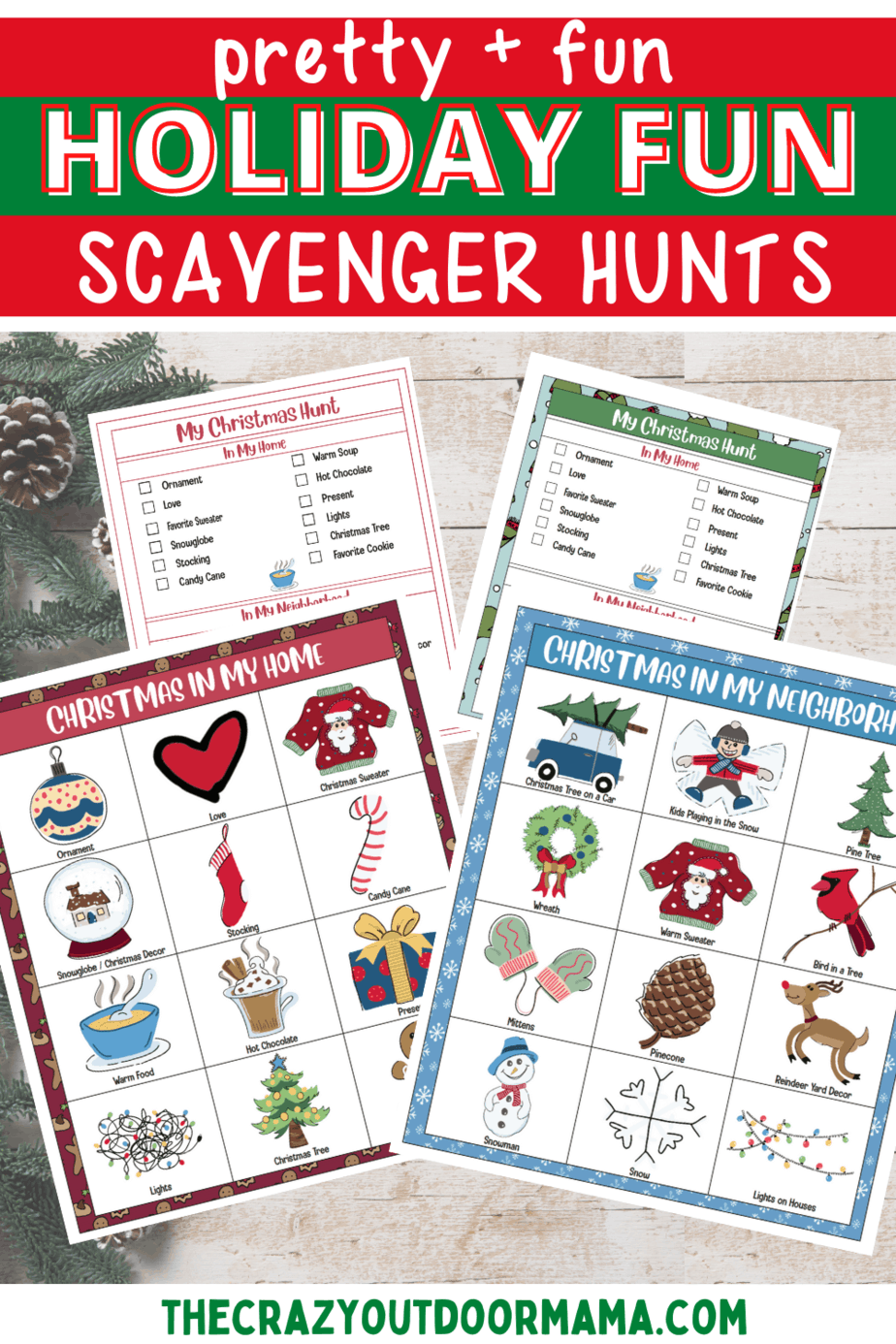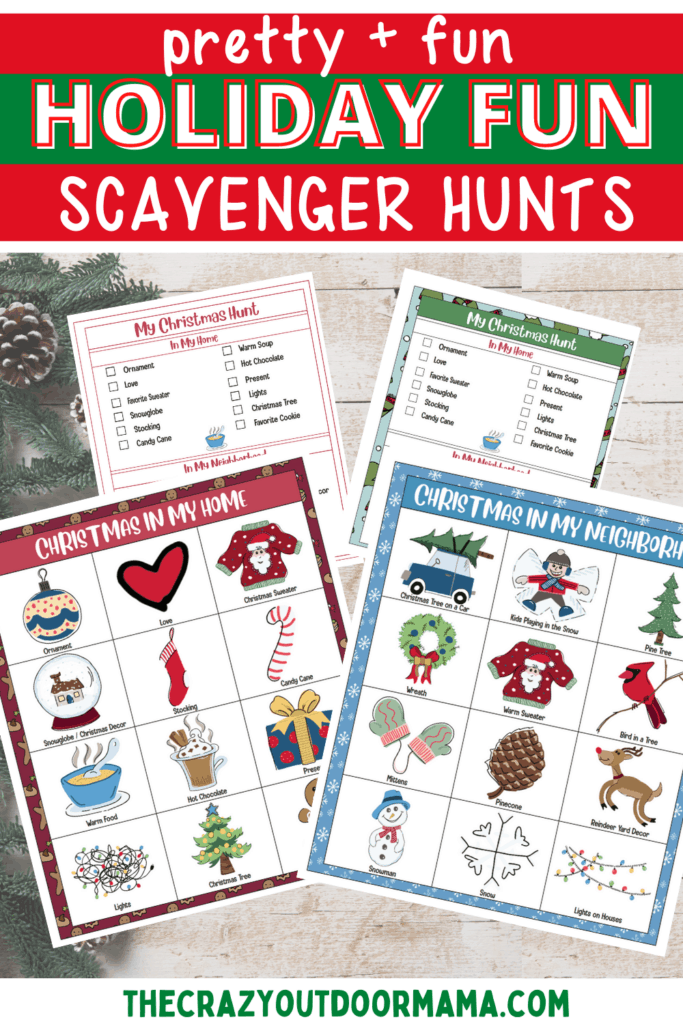 Christmas Scavenger Hunt – In My Home
This one covers 12 things that are in most homes during Christmas time. I love bringing something like this if we are visiting a relative's house (we all know there's Christmas Eve dinner, Christmas morning breakfast, Christmas day dinner etc…) to help the kiddos focus on familiar things while in a not so familiar place.
I also tried hard to really focus on the cozy parts of Christmas vs the material ones – IE, love, warm food and drink and cheerful decor.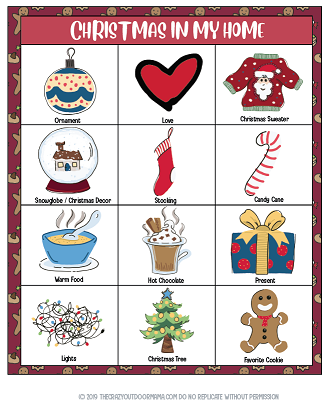 For this Christmas scavenger hunt game, your kiddo will have to find
Ornament
Love
Christmas Sweater
Snowglobe
Stocking
Candy Cane
Warm Food
Hot Chocolate
Present
Lights
Christmas Tree
Gingerbread Man
P.S. if you celebrate Christmas in your home, you'll love this super cute Letter to Santa Activity Pack!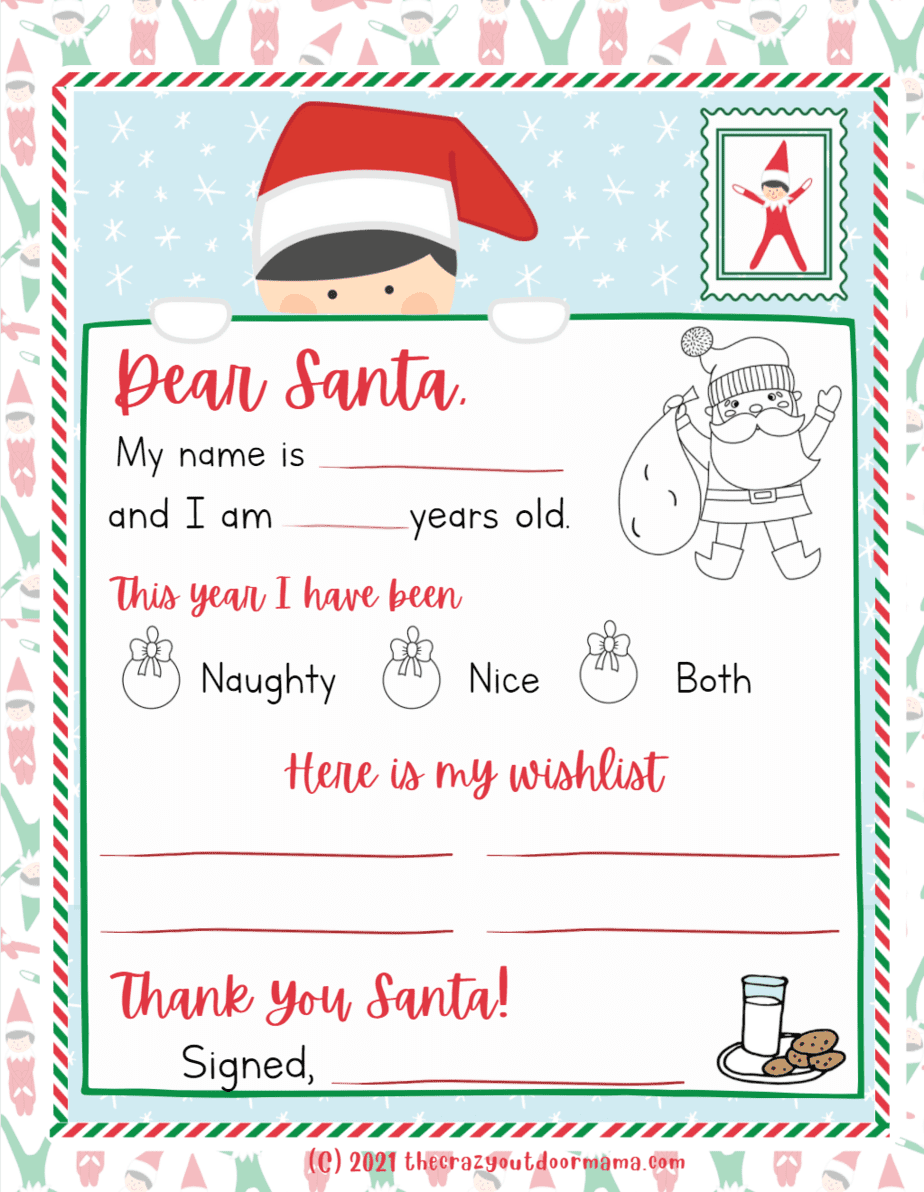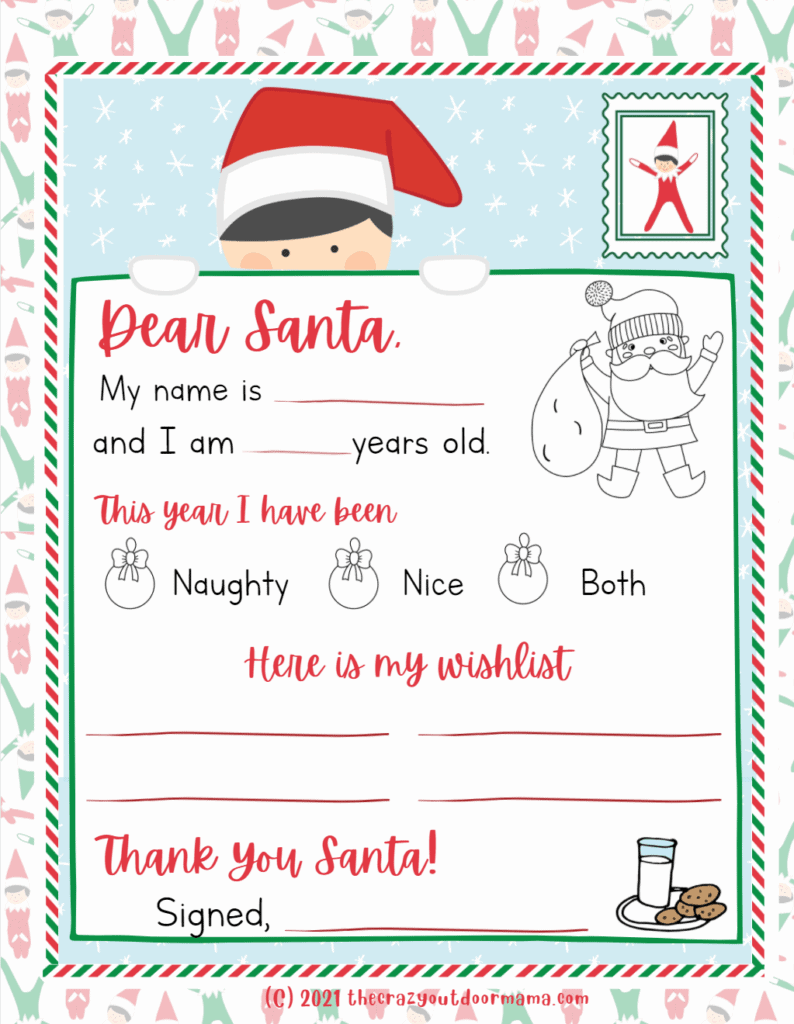 Outdoor Christmas Scavenger Hunt (in my neighborhood!)
Did anyone else's parents go on a special trip to the nicest decorated neighborhood to see all the pretty houses trimmed in Christmas lights? Mine did, and it felt absolutely magical!
I love strolling just about anywhere during December to see all the decorations, and luckily live in a place that has a beautiful town square with thousands of twinkling lights and pine.
We usually have snow during December, so I included some snowy things you might see (feel free to omit those if you don't have snow!)
For the outdoor Christmas scavenger hunt your kiddo will look for:
Christmas tree on a car
Kids playing in the snow
Pine tree
Wreath
Warm sweater
Bird in a tree
Mittens
Pinecone
Reindeer yard decor
Snowman
Snow
Lights on a house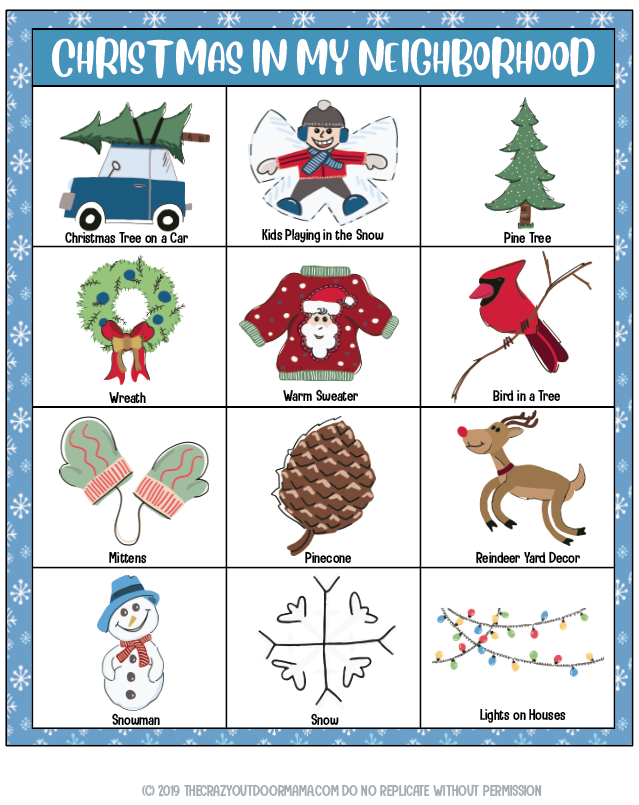 Winter Walk Nature Scavenger Hunt Printable for Kids
Much like my camping scavenger hunts, I thought it would be fun to seperate the "see" and the "do" portions of a winter scavenger hunt. The first one is made for a winter nature walk and includes all the snowy things one might see!
Even if you're not able to find all of them (is there a place with acorns AND pinecones?? Sounds magical!) it's still a fun way to focus on all the wonders of cold weather! Especially if you find your kiddo start complaining about being cold – sometimes just having something else to think about helps alot.. mind over matter!
The winter outdoor hunt will ask you to find:
Bare trees
Snowy fence
Frozen body of water
Icicles
Snowy stick
Pinecone
Berries
Acorn
Pine tree
Snowy grass
Birds in a tree
Snowy animal footprints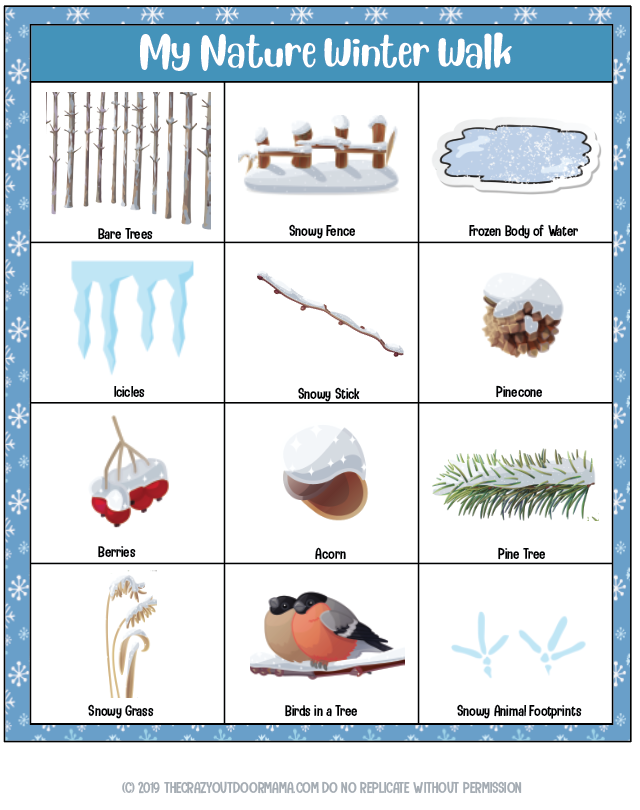 Winter Snow Day Activity Hunt for Kids
Here is the "do" portion of my winter scavenger hunts! It might be fun to print this out at the start of the season so that each good snowy day you can try and mark one off the list.
There are some indoor items… but those are just too fitting for a snow day to leave out just because they are not outdoors!
The snow day printable activity hunt will ask your child to:
Make a snow angel
Make and hang a nature ornament
Catch snow on your tongue
Go ice skating (I'm still working on this one as a 30 year old woman =0)
Make cookies
Go ski
Throw a snowball
Build a snowman
Make a big snowball
Go tubing
Drink hot coco
Go sledding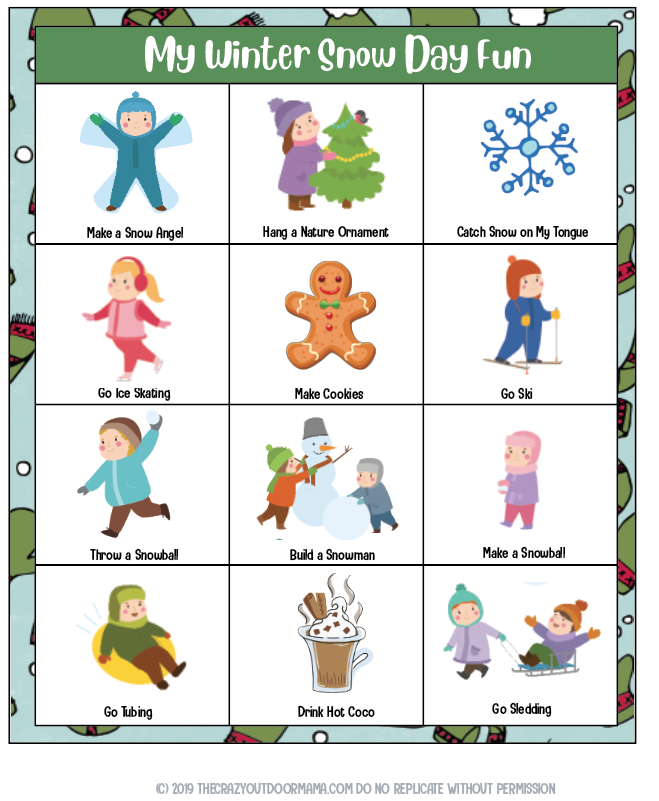 Trying to conserve ink? Here are some cute versions of the Christmas scavenger hunt cards that DON'T use as much ink!
I have made two different condensed versions of these – one that's less color, and one that is optimized and will work find for a black and white print. They also skip out on so many pictures, so they may be more fitting for older kids who don't need them!
Minimal color Christmas hunt list
I combined the two Christmas cards into a single page checklist that can be cut in half. It has a decorative border though so it's still got a pop of color for fun!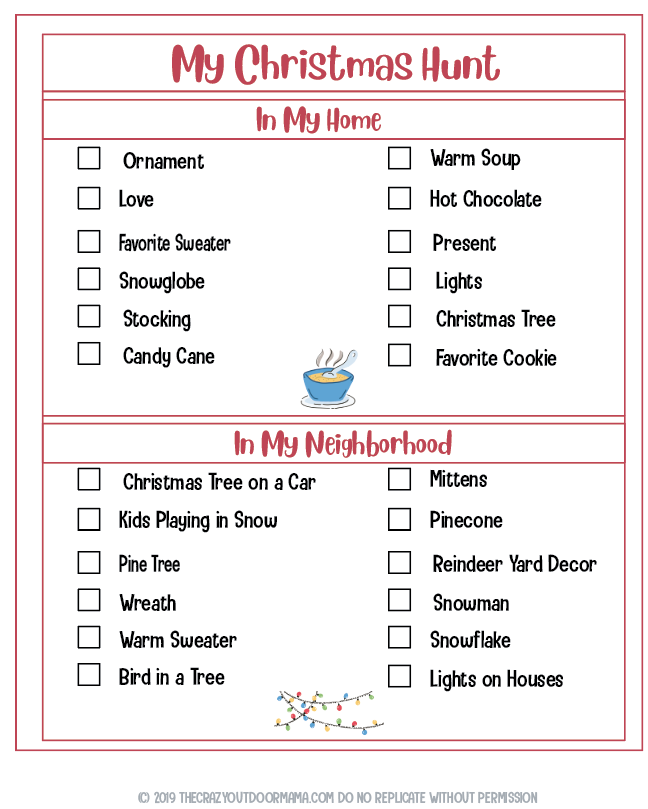 Minimal color outdoor winter hunt list
I combined the "see" and "do" hunts for winter into a single page checklist for this too!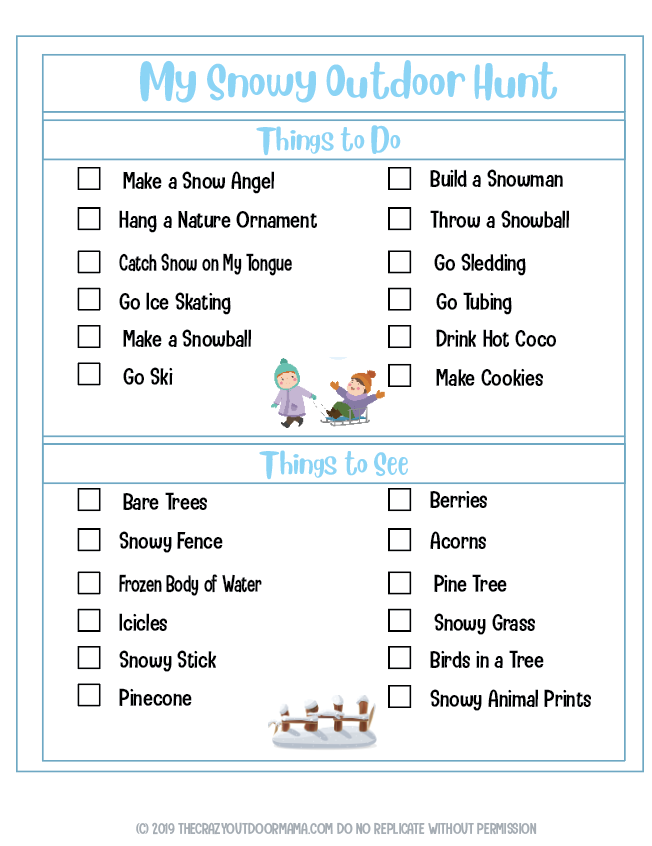 Get your set of cute winter and Christmas scavenger hunts now!
It was honestly hard some days to get all the kids dressed and out the door (and there was always one that had to go potty within 5 minutes!) but I promise, it is so worth it in a couple of years!
Look for the good things with your kids this season – the symbols of love and special traditions in your as well as the beauty and fun that is outside!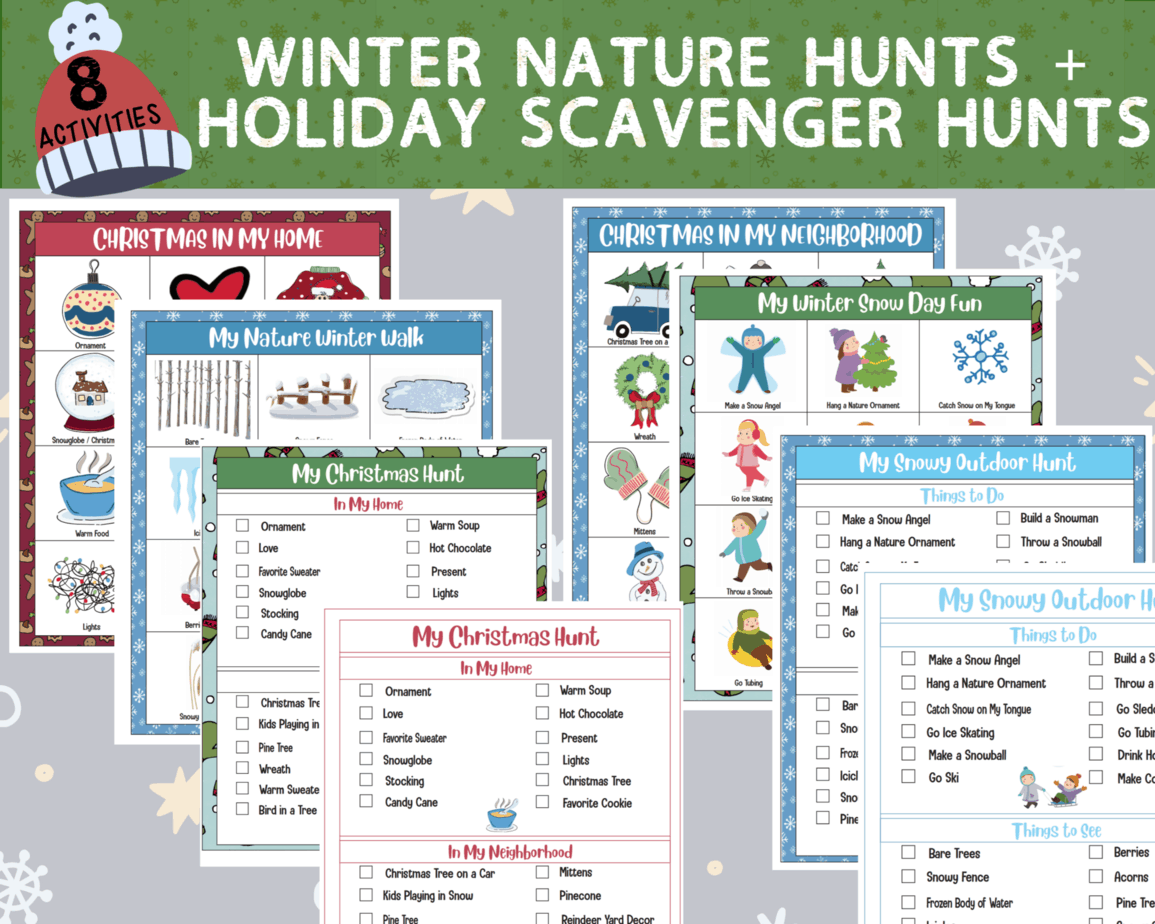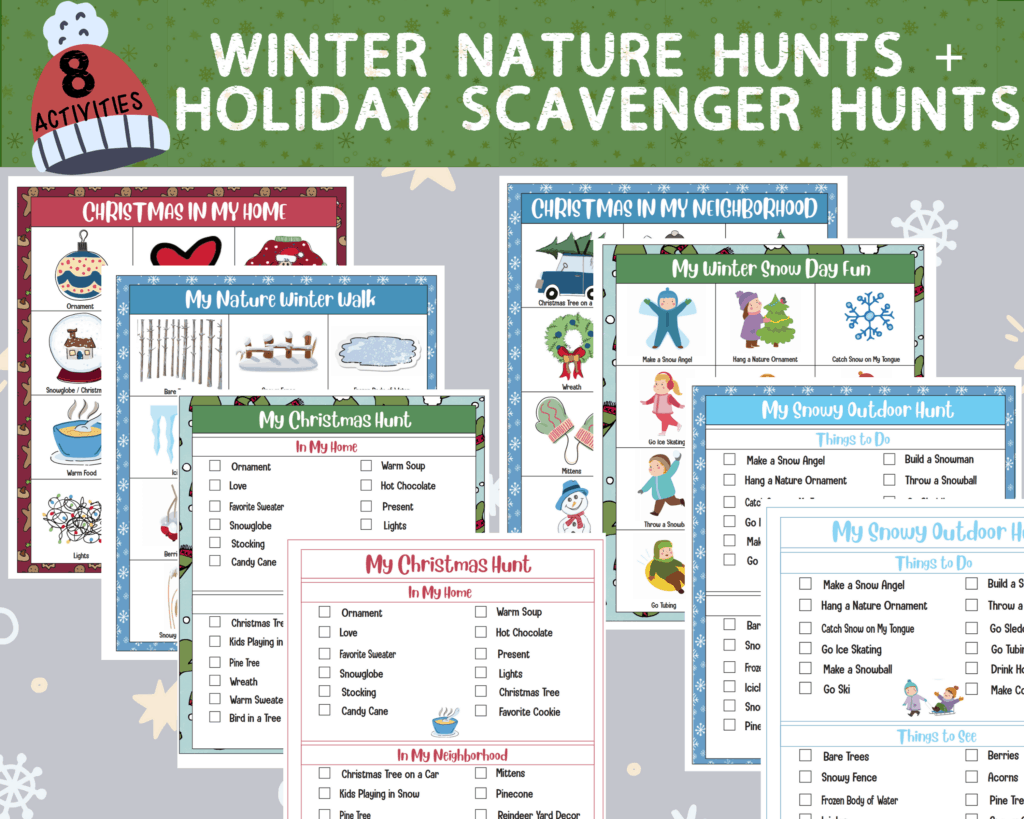 FREE Christmas Scavenger hunt with rhyming clues (24 options!)
I had originally envisioned this as just a picture and list based scavenger hunt, however, upon more research found that families with older kids like to do a tradition on Christmas eve to use clues to find that special Christmas Eve present!
I didn't know this because my kids are still pretty young (four year old and two two year olds) but I do think this is a way to make the Christmas Eve present way more special and fun! I think I might even pick some of the easier ones to do with my oldest!
I got many of these clues from the brilliant Shannan and her enormous list (56!) of Christmas clues here. She has them in a list form, but I really wanted them to be in cards so that we could use them this year. I made these for my own kids (if you're wondering why I picked the easiest ones from her list) but thought since it was already made, might as well throw these in too should anyone want them.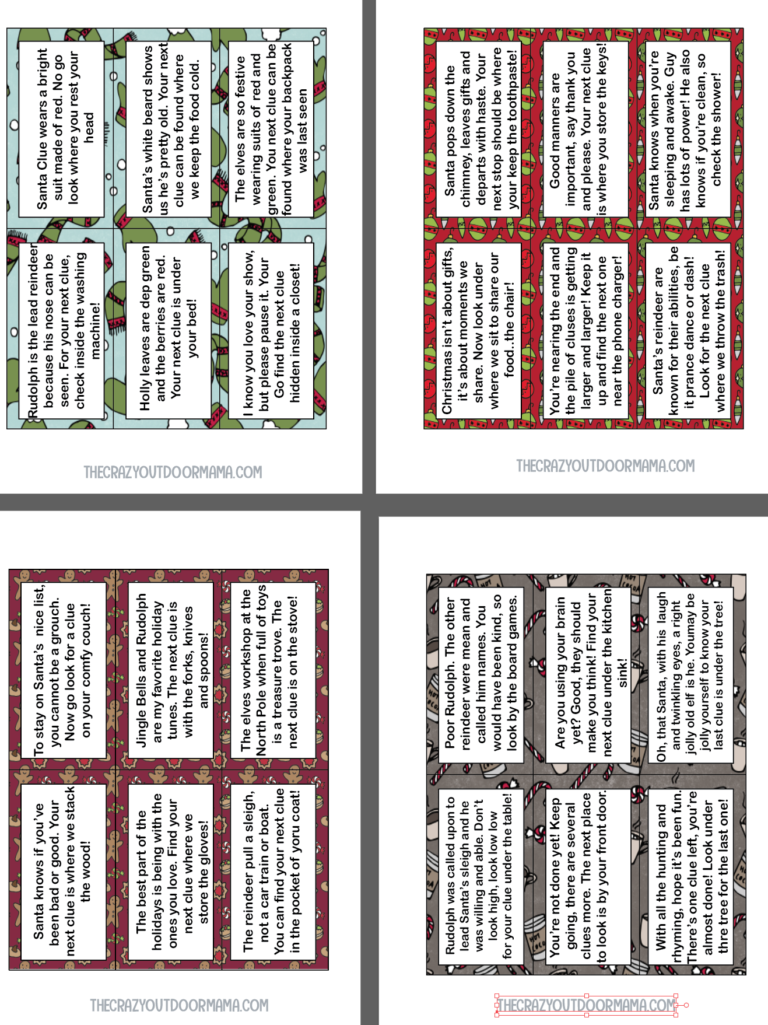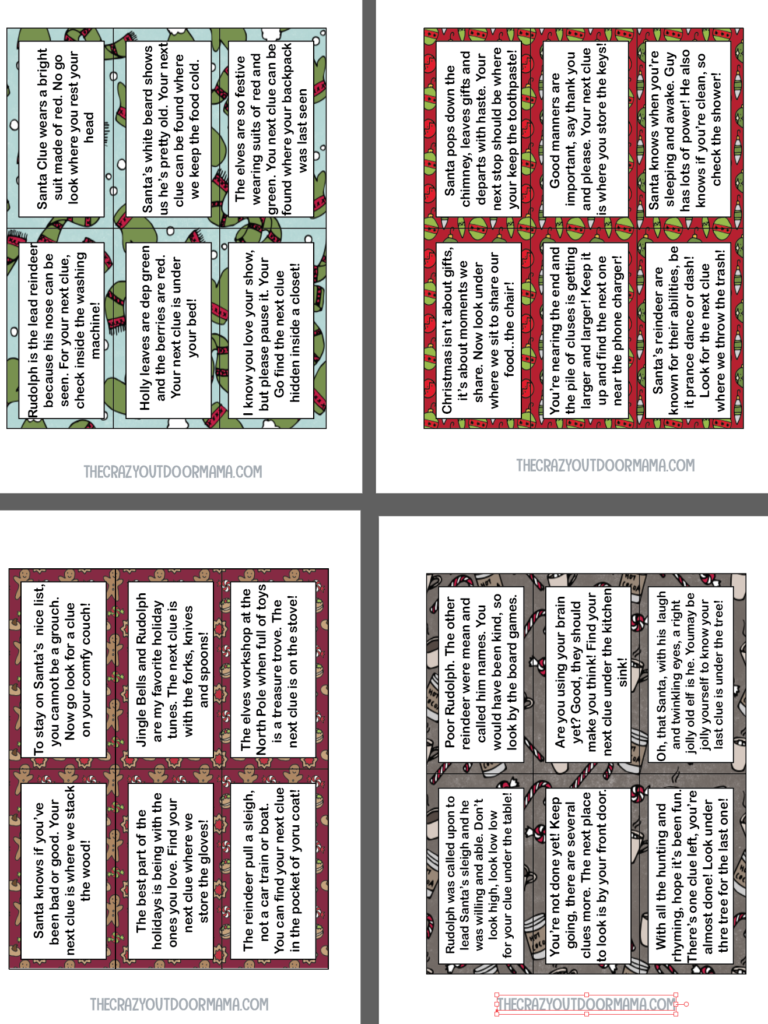 Download these Christmas Scavenger Hunt Clues HERE
How do you play a Christmas scavenger clue hunt for a present?
Pick out the ones you want to use (usually between 6 and 12, though of course you can modify for how much you think your child would wnat to do) and set up a "treasure hunt" of sorts that will lead them place to place till they end up at their present!
It's helpful to number the backs of the cards so that you know the order and your kiddo doesn't accidentally follow the clues in the wrong order somehow.
I used four different backgrounds so that each kid could have their own pattern (though the fourth pattern only has 4 usable clues as the bottom two are ones that lead to the tree). And actually, the present doesn't even HAVE to be under the tree – you could choose to hide it wherever the last clue points to!
Here are some more winter and Christmas activities for kids (and your free printable!)
I don't want to leave you empty-handed (I know holidays can be tight!) You can download the two printer friendly winter nature/Christmas scavenger hunts here. Happy holidays!
And if you'd like to purchase the whole set, don't forget to head to my Etsy!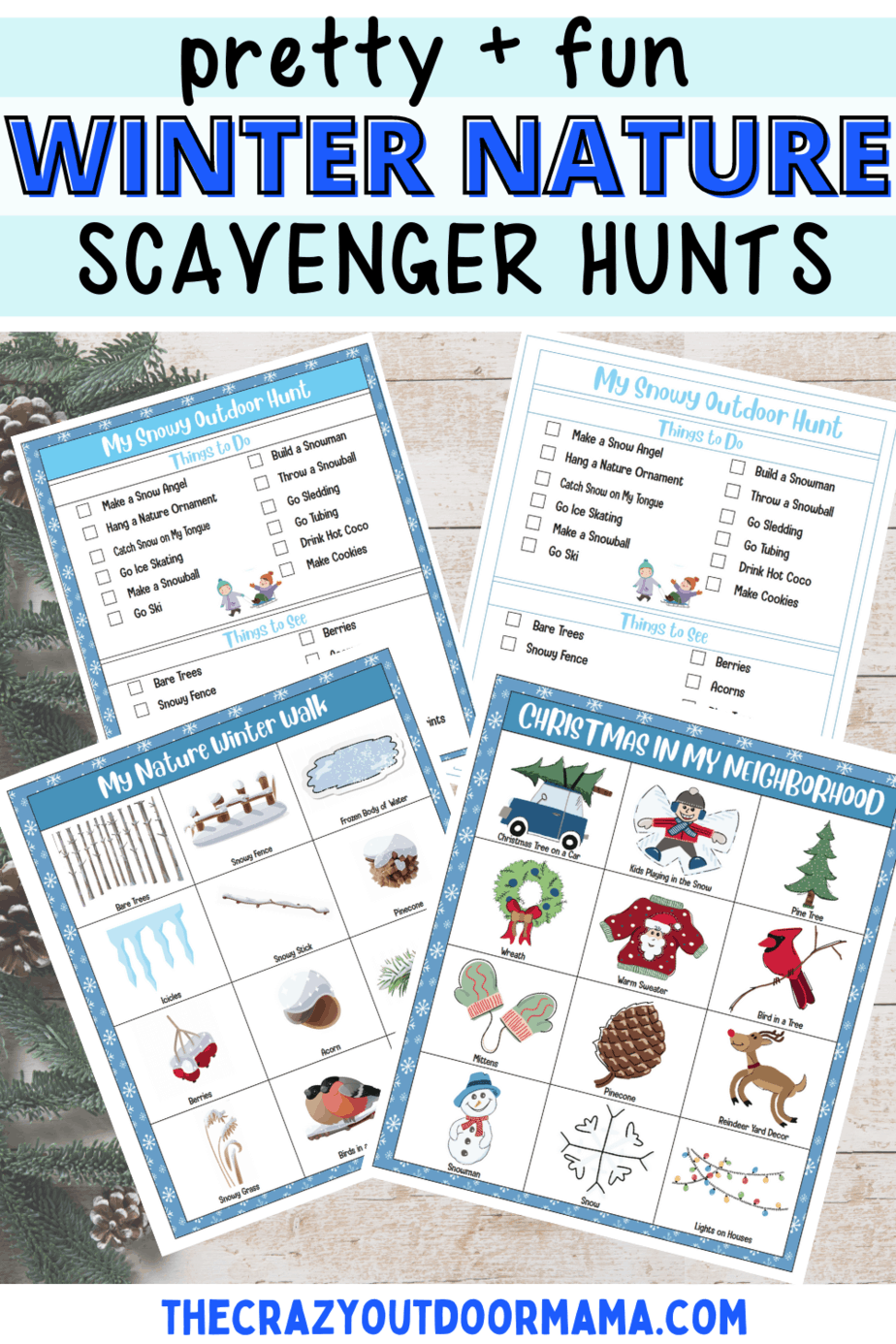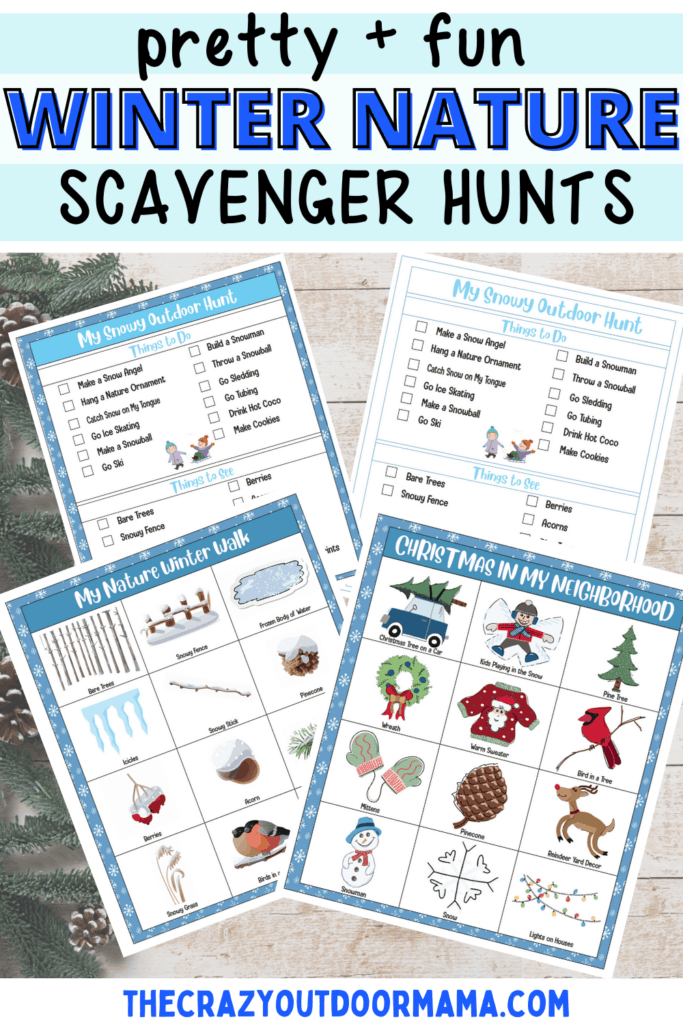 Latest posts by Stacy Bressler
(see all)