If you love camping and you love wine, then you'll love this really easy DIY Christmas Camp Themed Wine Bottle ornament!
We have a wine bottle ornament we bought when we got married (and had time to drink ALOT more wine) and it's just the cutest thing – I wanted to make an update though with out current hobbies (camping AND wine!)
I was thinking of just buying another one and making my own label, but then I noticed that those little alcohol shooters (you know, the party size vodka bottles) look EXACTLY like a mini wine bottle!
I meant to make one last year and just didn't get around to it, but this year I did!
It's October 30th, so I just want to get the idea out there – check back though to see all the labels! I only have a couple options right now, but they really are easy to whip up now that I have a template, so expect to see ALOT more as December gets closer!
Here we go!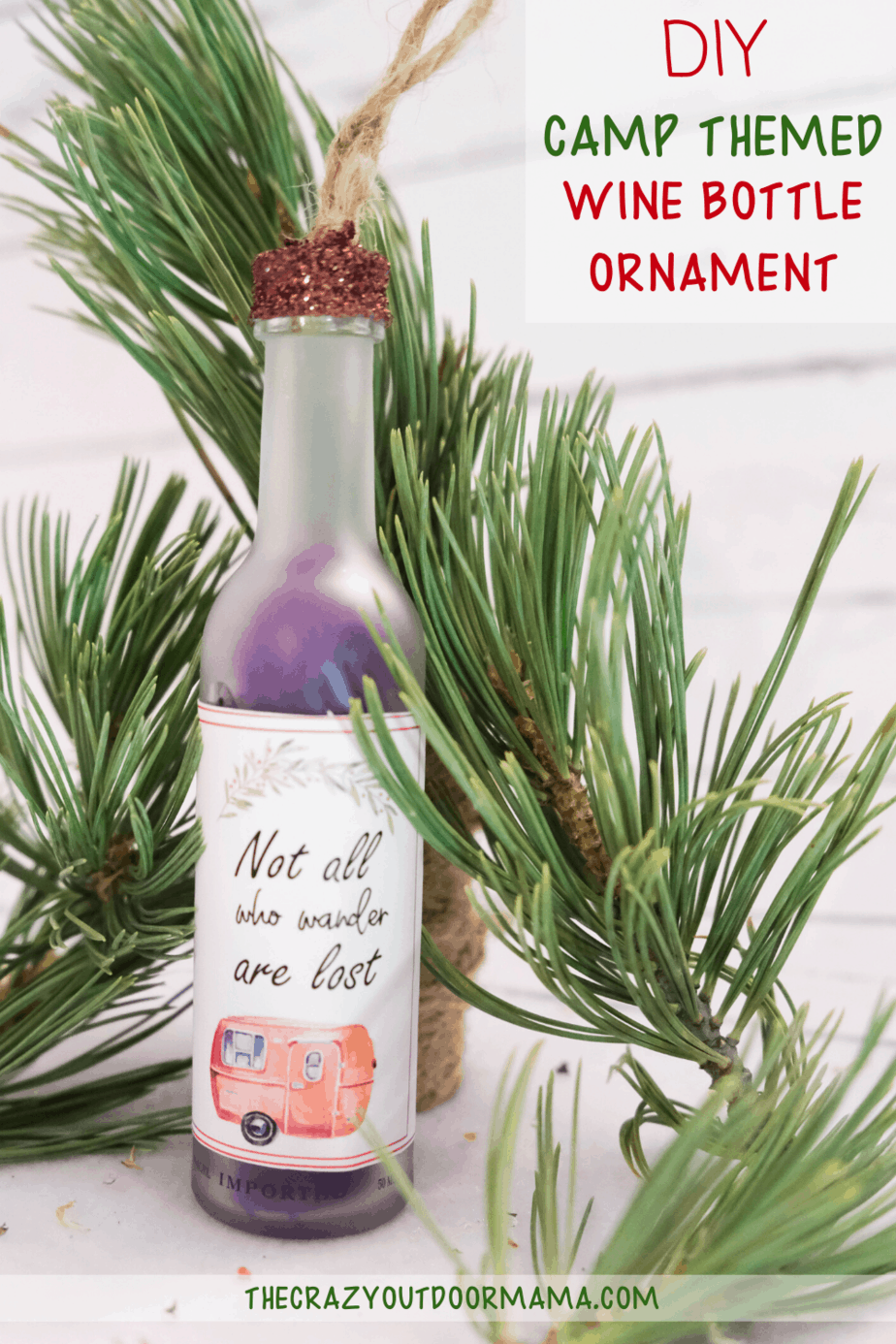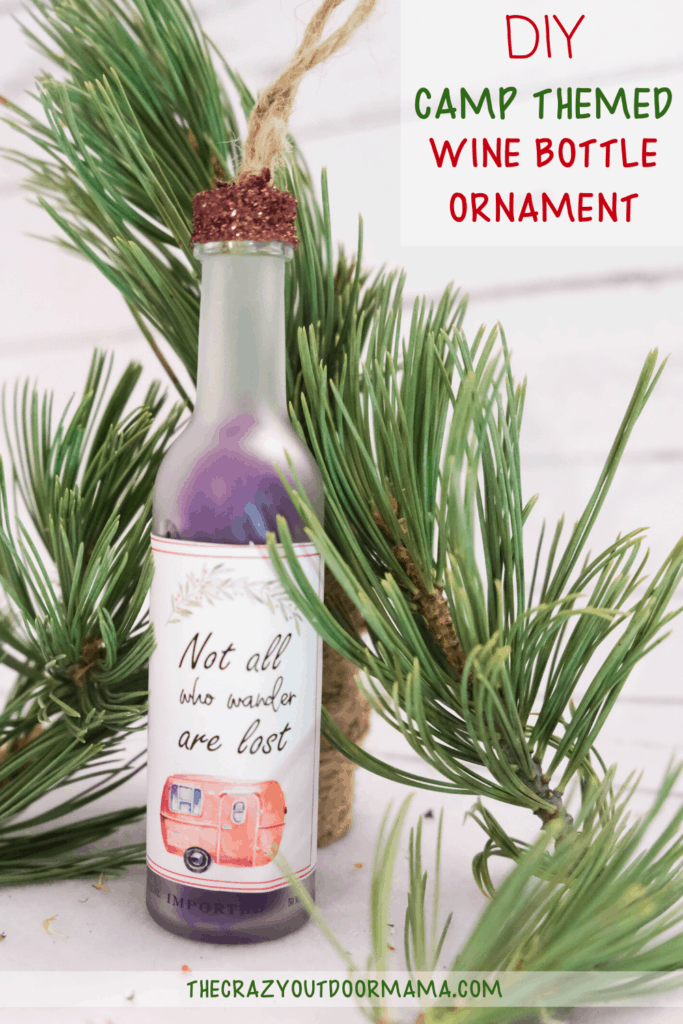 How to make your own Camp themed wine bottle ornament for this holiday season!
You will need to download the wine bottle templates (these are for the MINI wine bottle craft we're doing today!) below!
Again, I am writing this in October, and expect to add about 20 more types of labels to this document (which I will update as I do it!)
AT THIS TIME I can take custom requests for free! So if there's something special you want (different image, certain quote) let me know!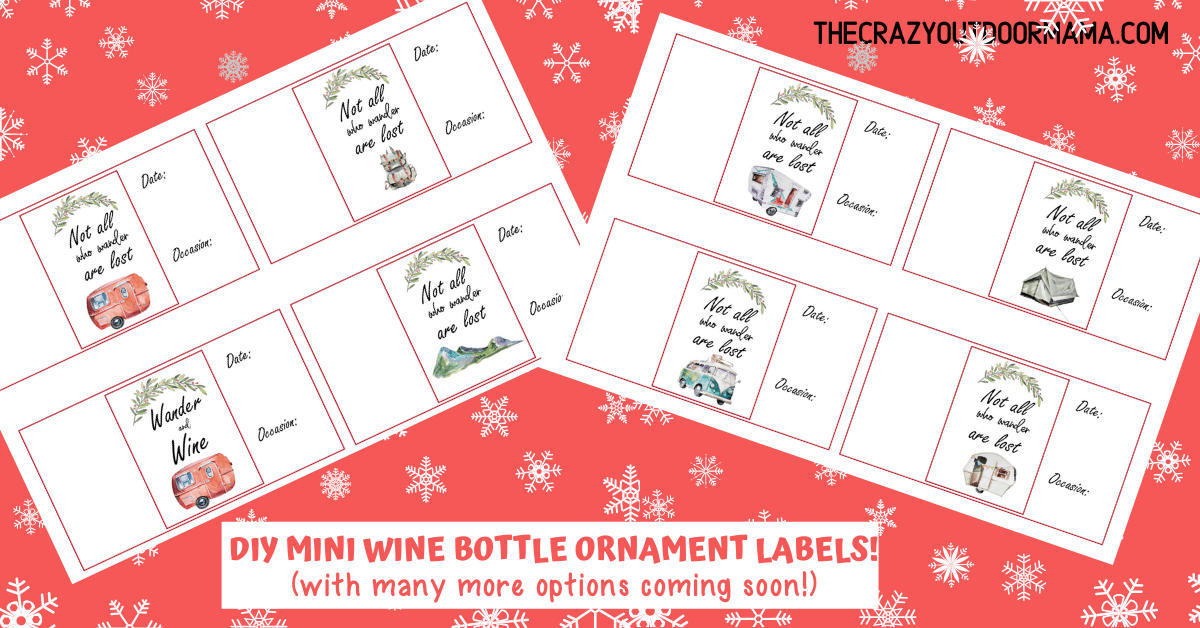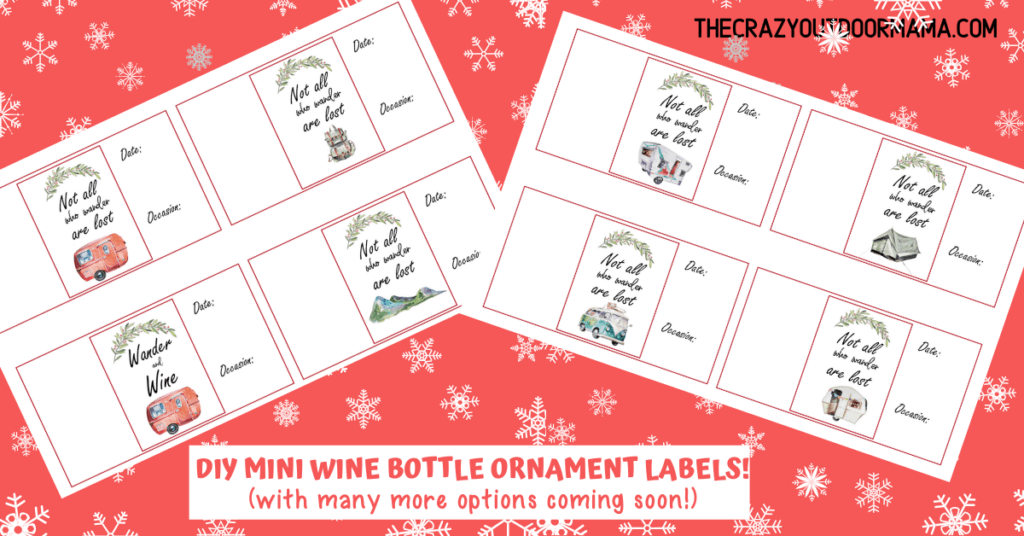 Yield: 1
DIY Camping Christmas Wine Ornament!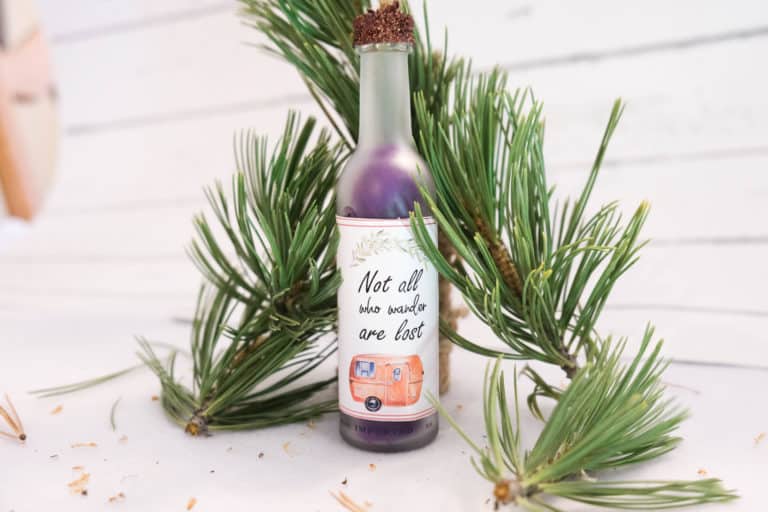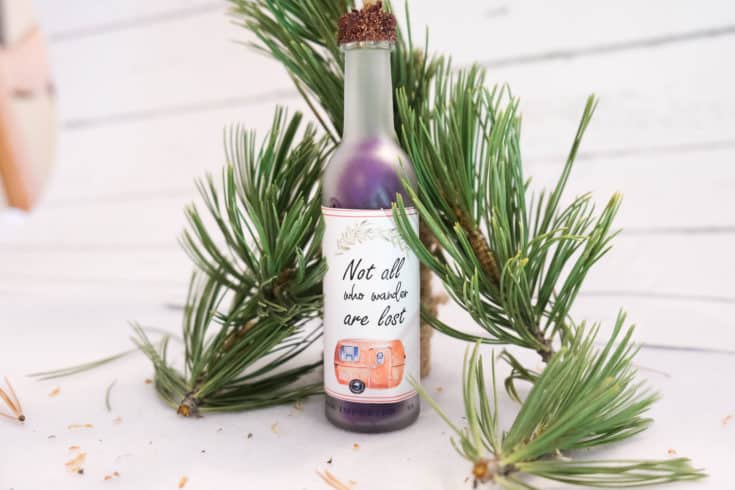 If you love camping and drinking wine, then this DIY camping themed Christmas Wine Bottle Ornament is for you! Print out your favorite label and create your own camp Christmas decor!
Materials
Shooter of some kind (I used a grey goose vodka one)
Twine
Purple yarn/wool (filling in the bottle)
Optional: Paint and glitter for the top!
Instructions
Empty the contents of the bottle, clean and dry. Stuff it with some kind of wine colored material - I used some purple wool I had, but yarn or maybe even tissue paper would work!
Drill a hole in the top of the cap that's big enough to thread a piece of twine or string through (this will be how you hang it)
Thread the twine through the hole in the cap. I tied a knot on both sides of the cap so that the loop wouldn't move or change size.
Print and cut out the label of your choosing (you can sign up to get those below!). Wrap it around the bottle and use a piece of tape to secure it. I also included a spot in the back to write the date and occasion in case this is a gift or ornament for some special event for you =)
OPTIONAL: Decorate the cap! I really wanted to add glitter because I just felt it made it more Christmas-y.
DONE!
Let me know in the comments what camping images/quotes you would like to see!
Since it's only October and the busy holiday season hasn't hit yet, I do still have plenty of time to add more label selections (which I will!) but I'd love to add some YOU guys want!
Have a favorite short camp/outdoor themed quote, or prefer a different image?
Let me know and I'll get with ya!
Here are some other camping articles you'll like!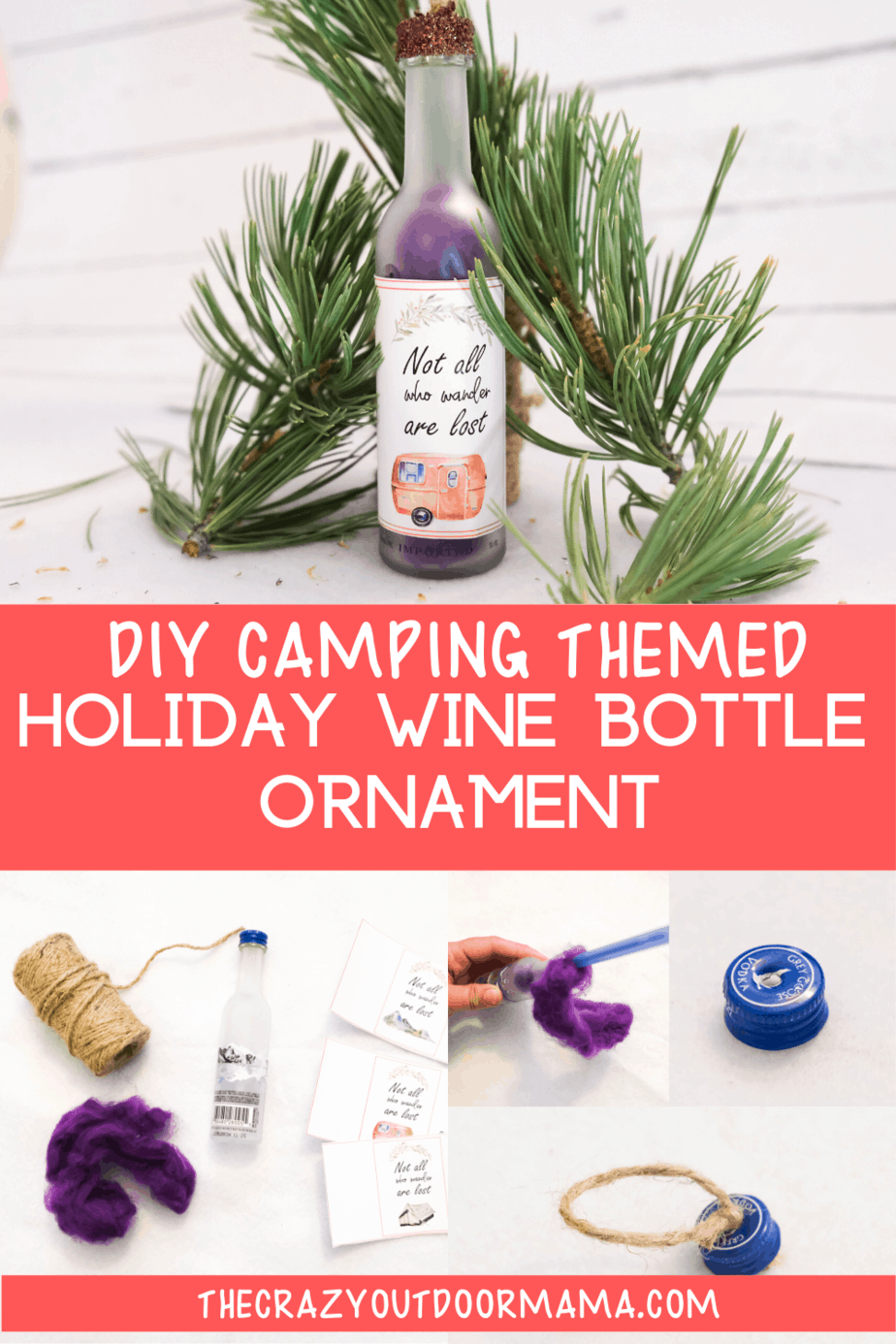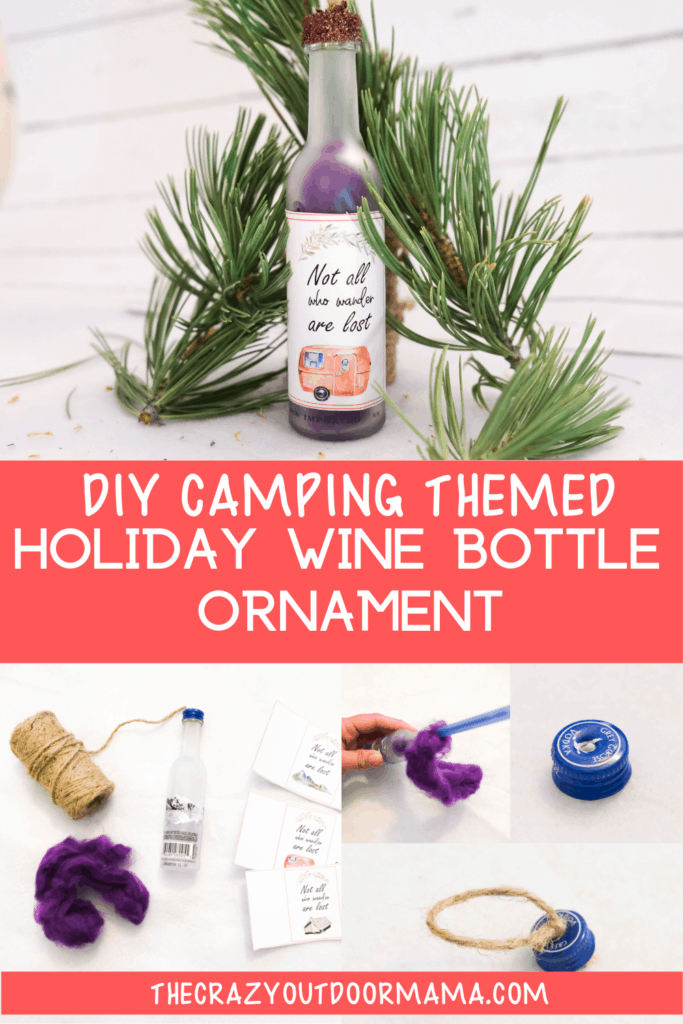 Latest posts by Stacy Bressler
(see all)