If you happen to be camping (or living in!) your RV during Christmas, you'll love these Christmas camper decor ideas to really get in the spirit!
Just because you are in a smaller space DOESN'T mean that you can't still have fun with things (inside and out!) There are plenty of small trees, hanging trees and other ideas as well as tons of Christmas themed camp decor too!
I got inspired by a couple of people I saw in the various RV groups I'm in on Facebook and felt like people NEED to see how good a camper can look when decorated by someone who knows what they're doing!
Don't forget to check out my article all about camping themed Christmas ornaments and decor here!
Here we go!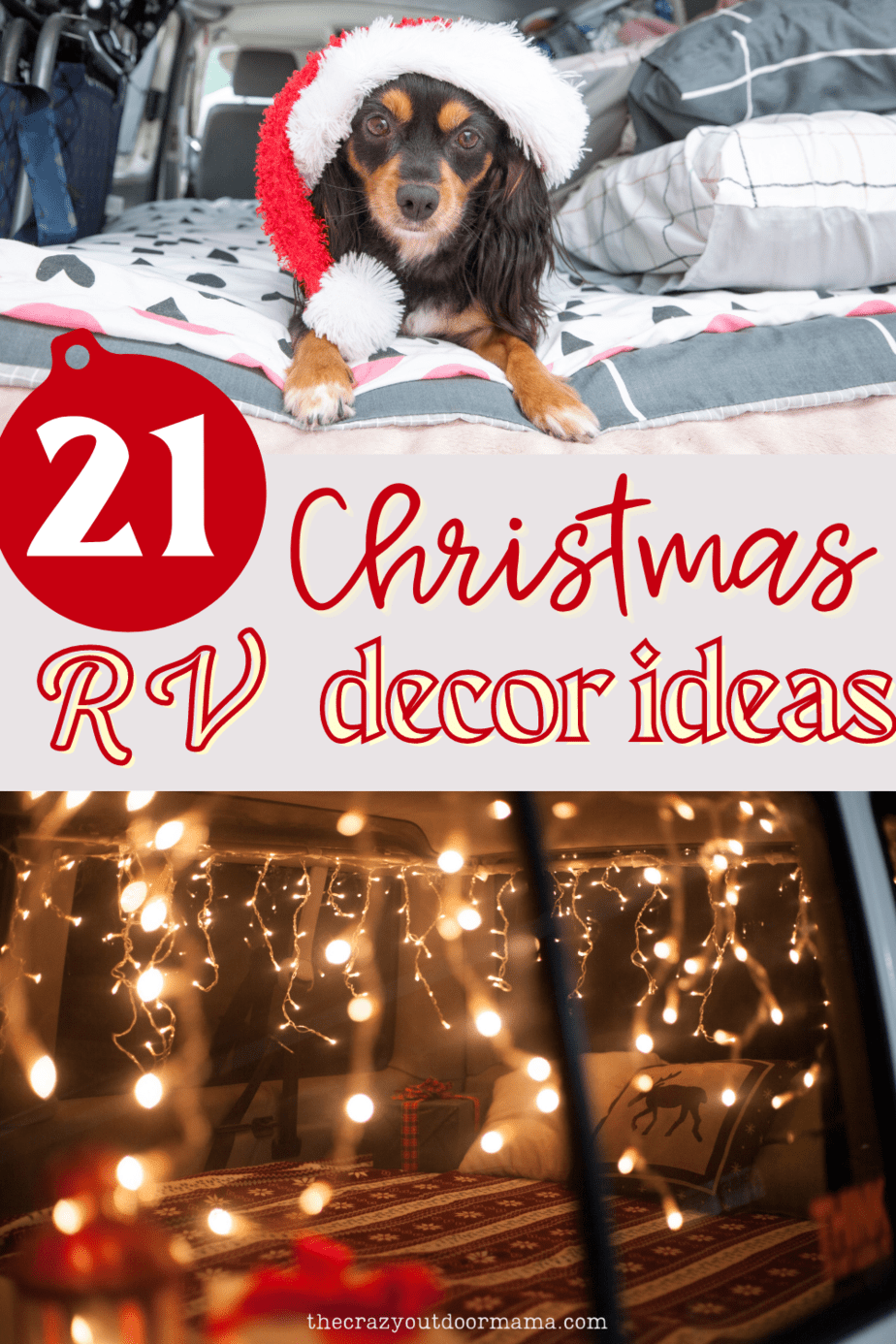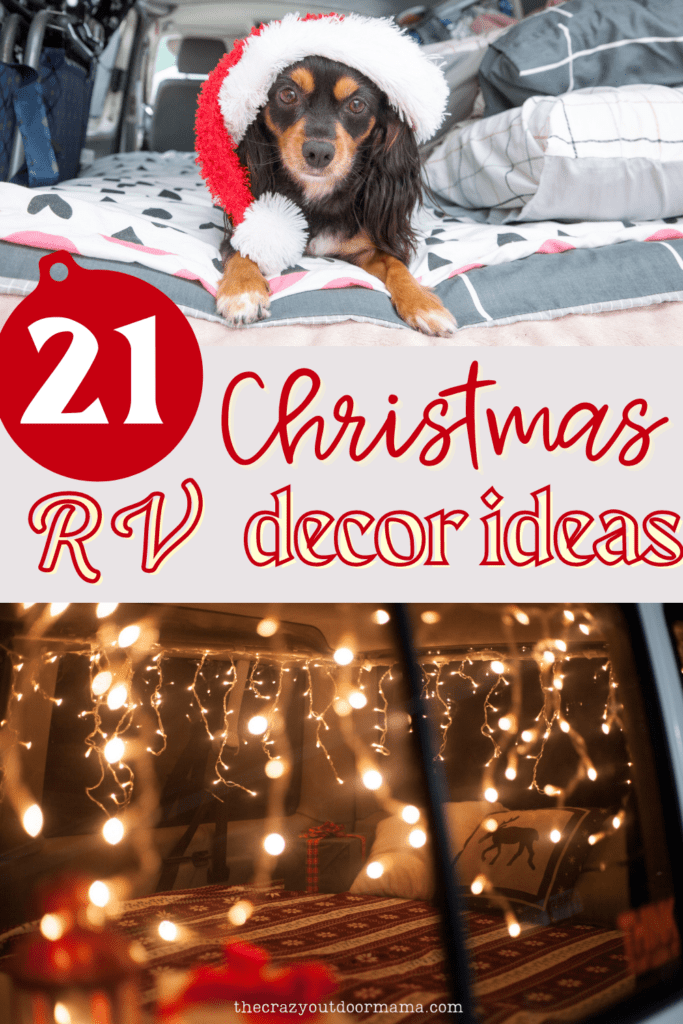 Christmas Decorations for the RV (keep scrolling to see pictures of these ideas in use!)
It's beginning to look a lot like Christmas…if you're RV is decked out in holiday cheer, that is! Getting your RV into the holiday spirit is a great way to spread some extra cheer this season. If you're looking for some inspiration, here are 17 RV Christmas decoration ideas that are sure to get you in the holiday spirit (and keep scrolling to see these ideas in pictures!)
Hang a wreath on your RV's front door (make one from pine or

DIY a cute camp themed one

like this)
Hang some

cute icicle lights

in your RV windows
Run

lit garland

around the interior of your slide out – Why not make use out of easy horizontal space?
Put up a small Christmas tree inside your RV –

this 6 ft pull up tree that collapses flat

is perfect!
Decorate your RV's dining table with a festive tablecloth and centerpiece – TJ Max always has some good finds for decor like this.
Hang some stockings by the fire (or, if you don't have a fireplace, by the TV).
Place small decorative pillows sporting holiday themes throughout your RV – pillows are another easy find at places like TJ Max and Marshalles.
Drape your fav cozy Xmas blanket your sofa or favorite chair – even if you don't have one, dressing up the couches doesn't hurt!
Switch out your normal rugs for some festive ones – I love these

plaid classic looking Santa ones!

Make cute festive scenes in your windows with

window clings

– I have 3 kids, so we have a set for almost EVERY season! In fact, we even made out own window clings one year!
Find a good Youtube Station that streams a cozy campfire to create that holiday ambience
Play some holiday music on your RV's sound system to get everyone in the festive mood.
Make hot chocolate and toast some marshmallows to sprinkle on top!
Put up some Christmas-themed wall decorations – Garland, printable wall art like this, or even some cute bows and lights will do!
Wear Santa hats or reindeer antlers while you decorate your RV for the holidays
Grab some festive blow up holiday characters to decorate your campsite.
Light up some holiday scented candles – douglas fir is one of my favorites!
Most importantly, don't get too stressed about the decor details… enjoy the season with whoever you are camping with!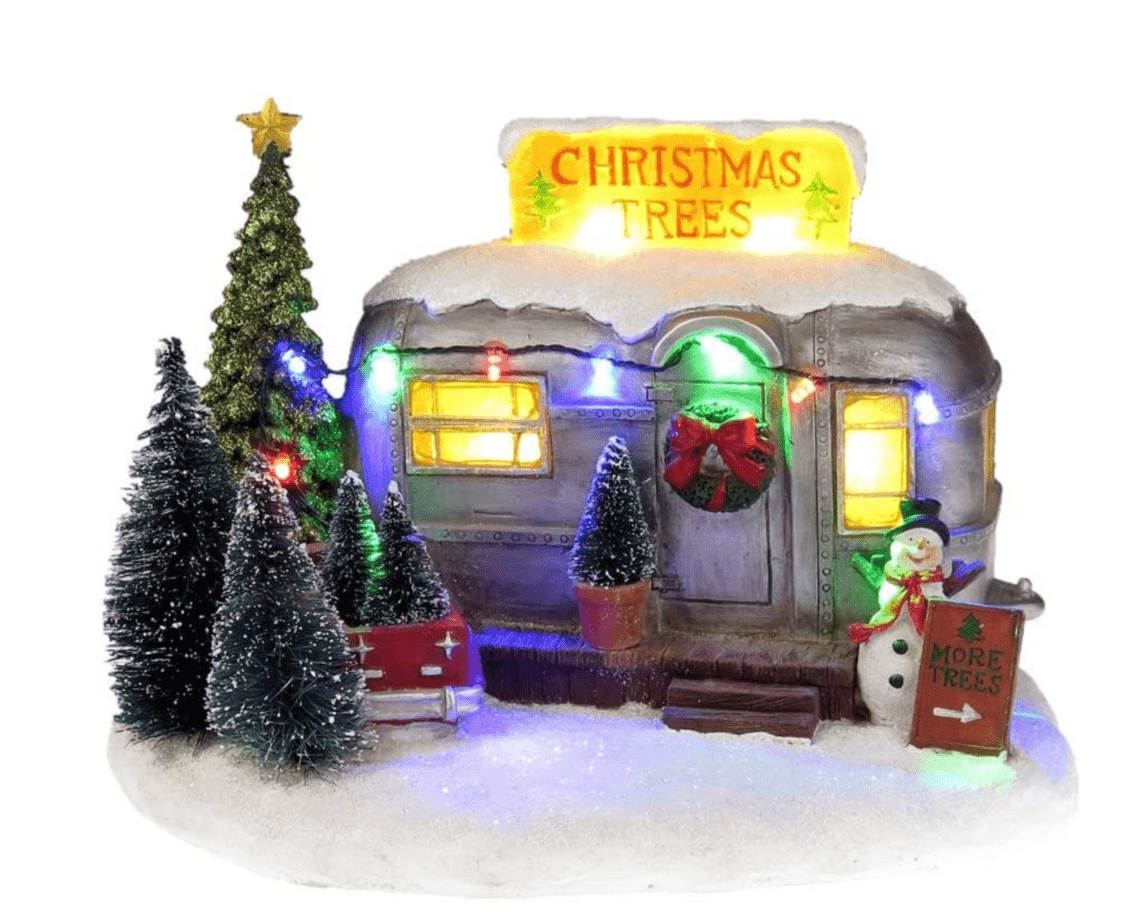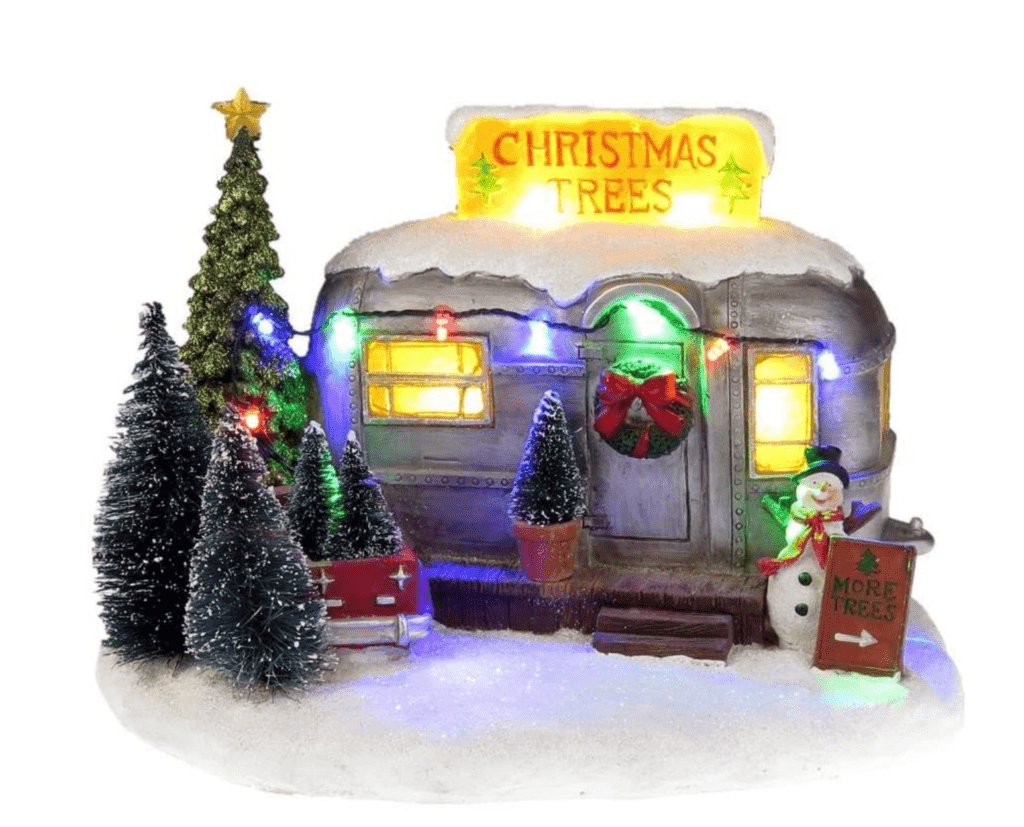 Christmas in the Camper
This first set of photos is from Kindra Warner – I love the clean, classic look! Nothing is "cheesy" and her Christmas decor looks so inviting and cozy!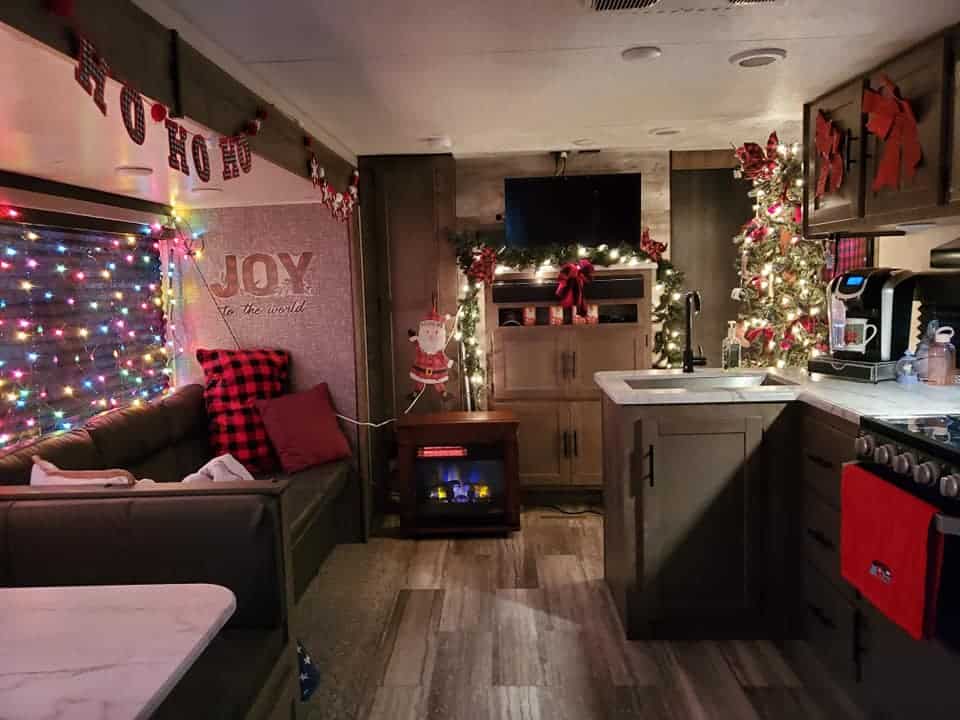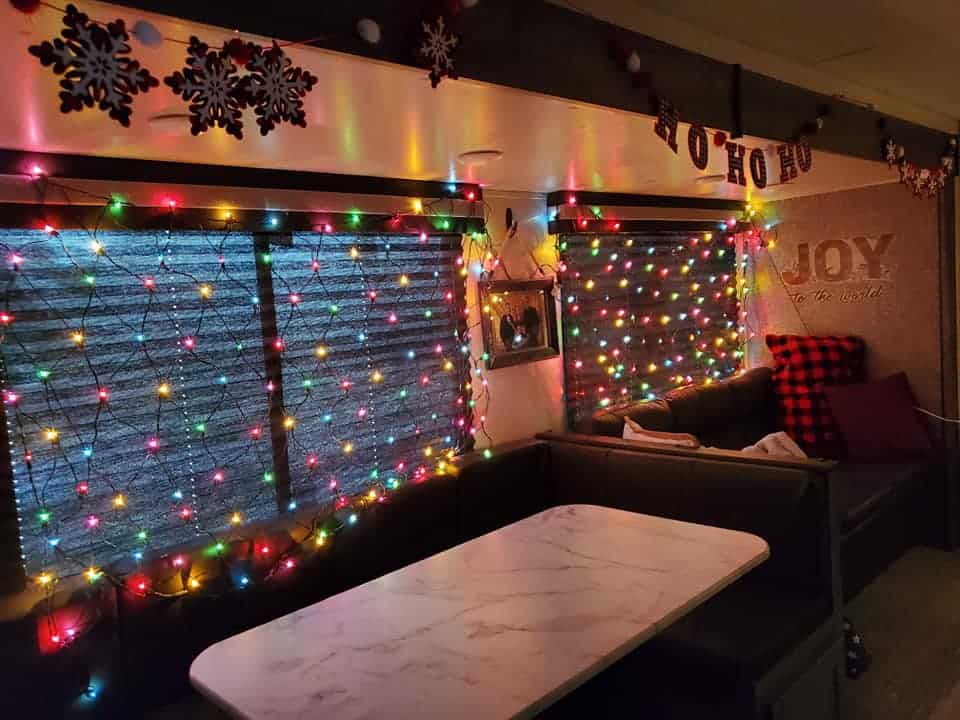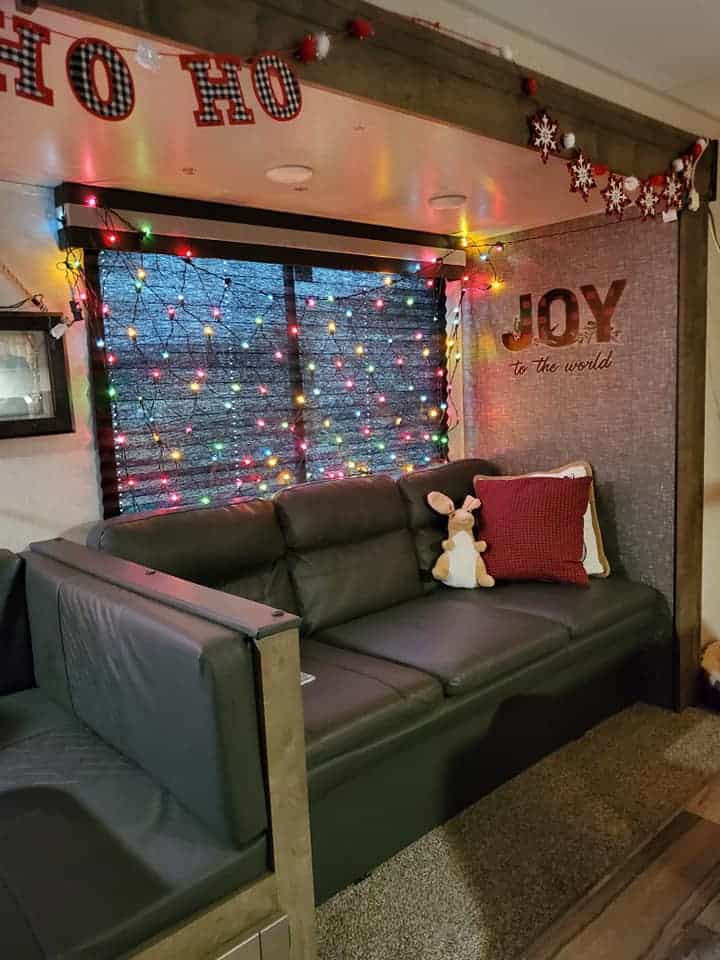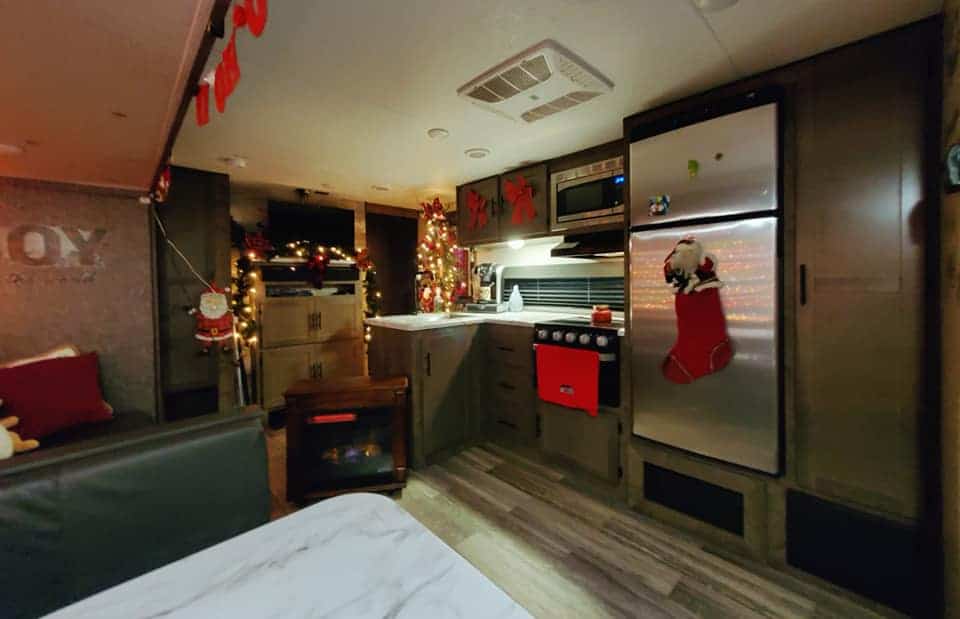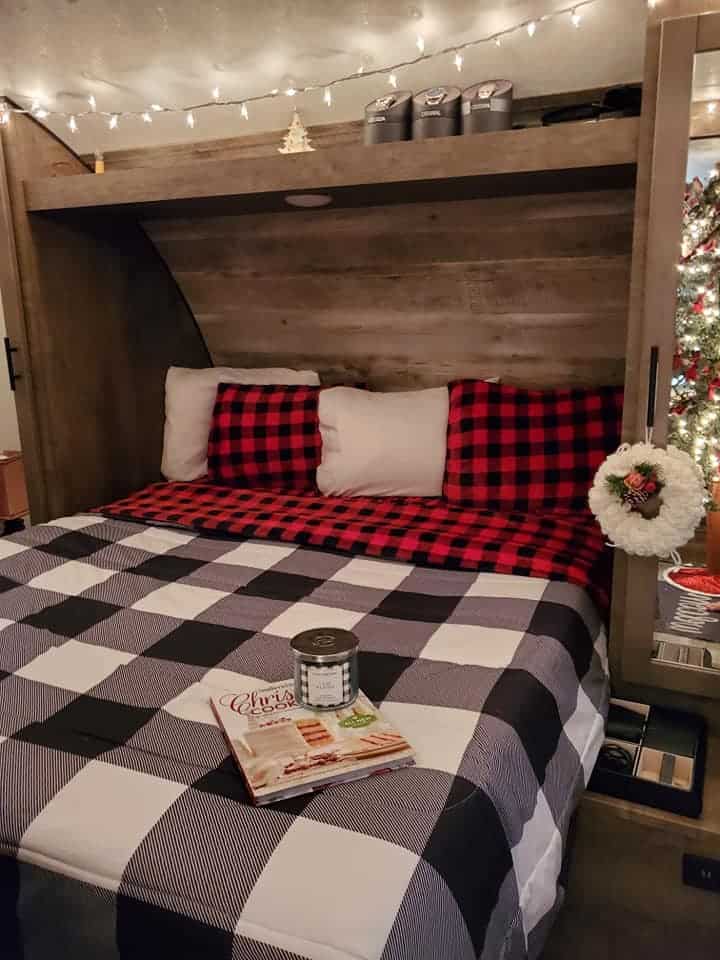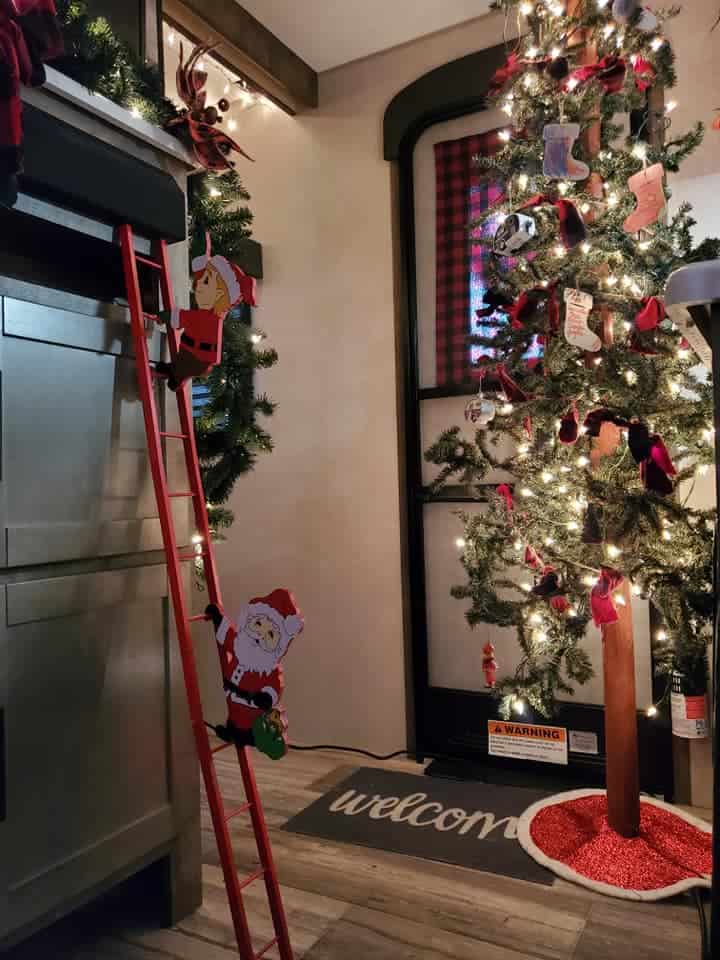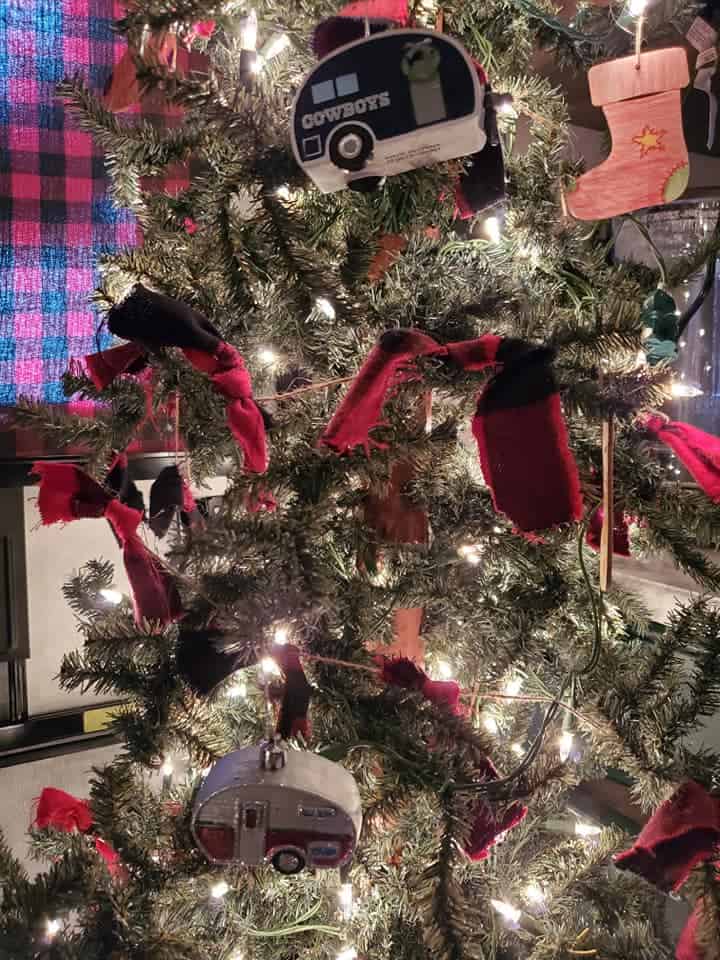 Full size tree in a camper!
For Irina Coombes, a full size tree in her camper was non negotiable! So she made it work by taking out her table and putting her beautiful Christmas tree there!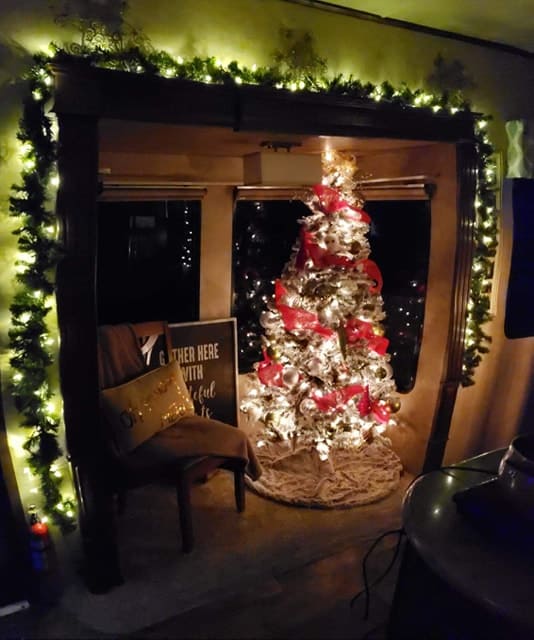 Small Tree Decorating Ideas for Campers
You don't have to have a big tree to make a statement! A pretty little Christmas tree paired with other holiday decor looks just as nice!
Many campers opt to use table top trees to save on floor space or pencil trees (think a very narrow "pencil" like tree!)
Here is a cute prelit table top tree and a pretty pencil tree!
Wall Trees and Hanging Trees (to conserve space for small campers)
I know I LOVE alot of these ideas, but they might not all fit in our little 18 footer (especially with three crazy kids running around knocking stuff over!)
Here are a couple of cute ways to have a Christmas tree without using up precious floor space!
Tip: If you don't have room for a tree, try getting some clippings (usually free from Home Depot or other Christmas tree sellers) and put them in various places around your camper!
I love putting them in mason jars and tying some festive burlap around it to really make it look Christmasy!
This way you'll still get that amazing smell and the holiday look !
P.S. If you want a cute looking hanging tree like the first picture I am showing you below this (the string and branch one) here is a good tutorial for a very similar rustic hanging tree!
Outdoor Camper Christmas Decor
Naturally if you decorate the inside… you might want to decorate the outside! No matter if you're in a van, RV or trailer, there's a couple fun ways to decorate for Christmas while camping!
Do you have a beautifully decorated camper?
Send it to me at [email protected] if you'd like to be featured! I love having idea hubs like this for decorating!
Here are some more winter camping ideas you'll love!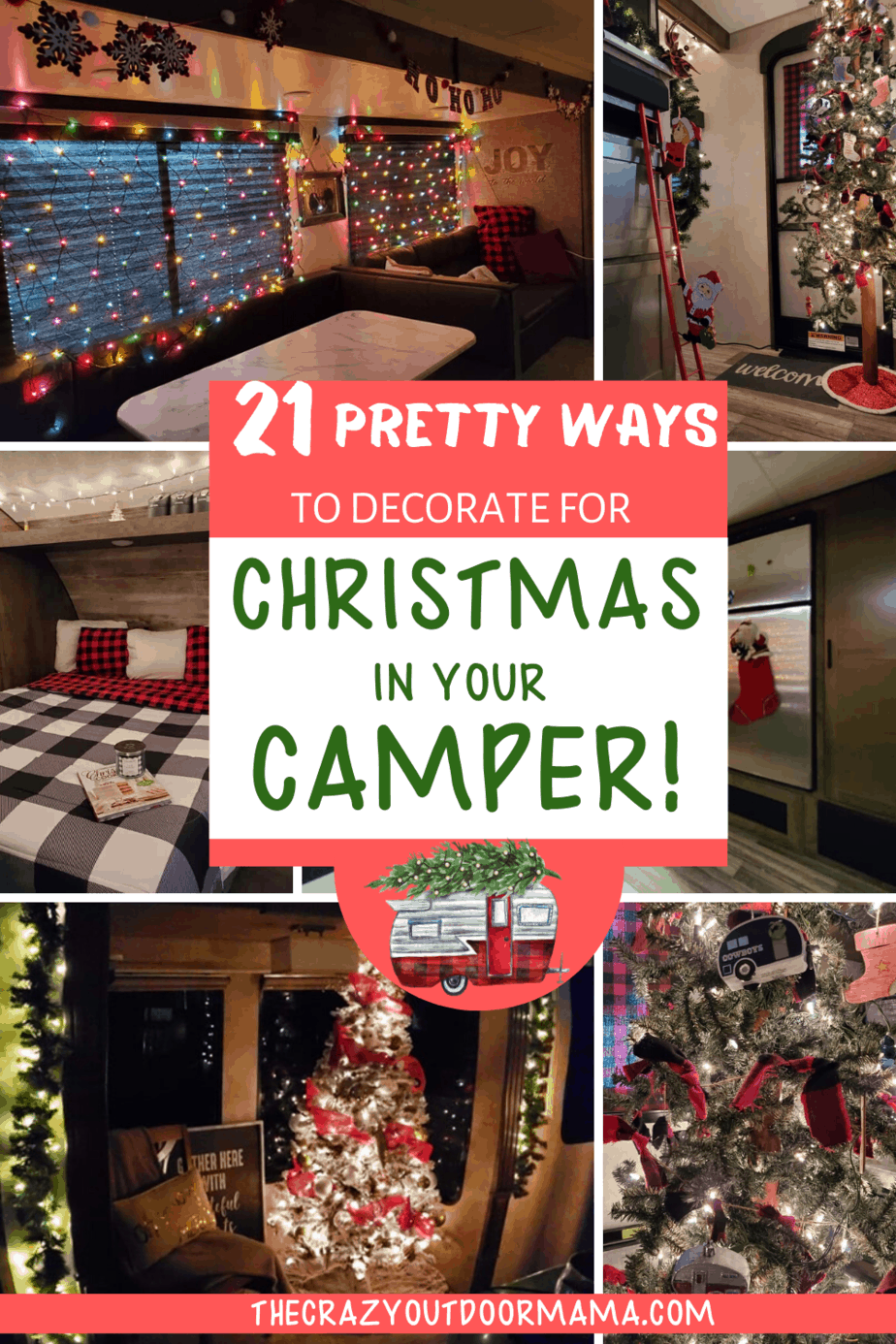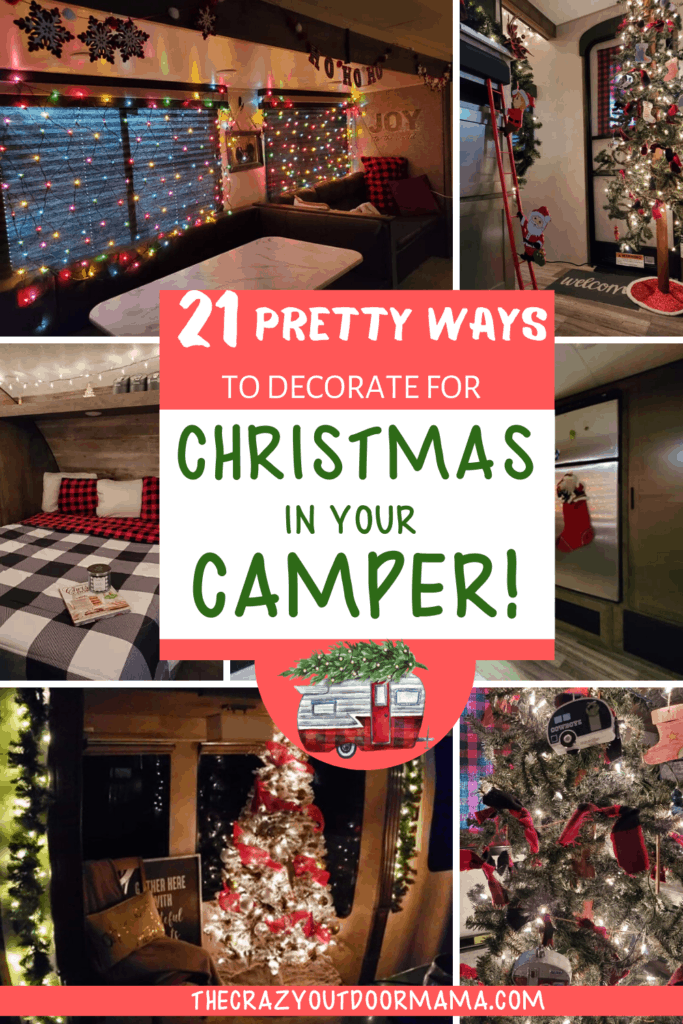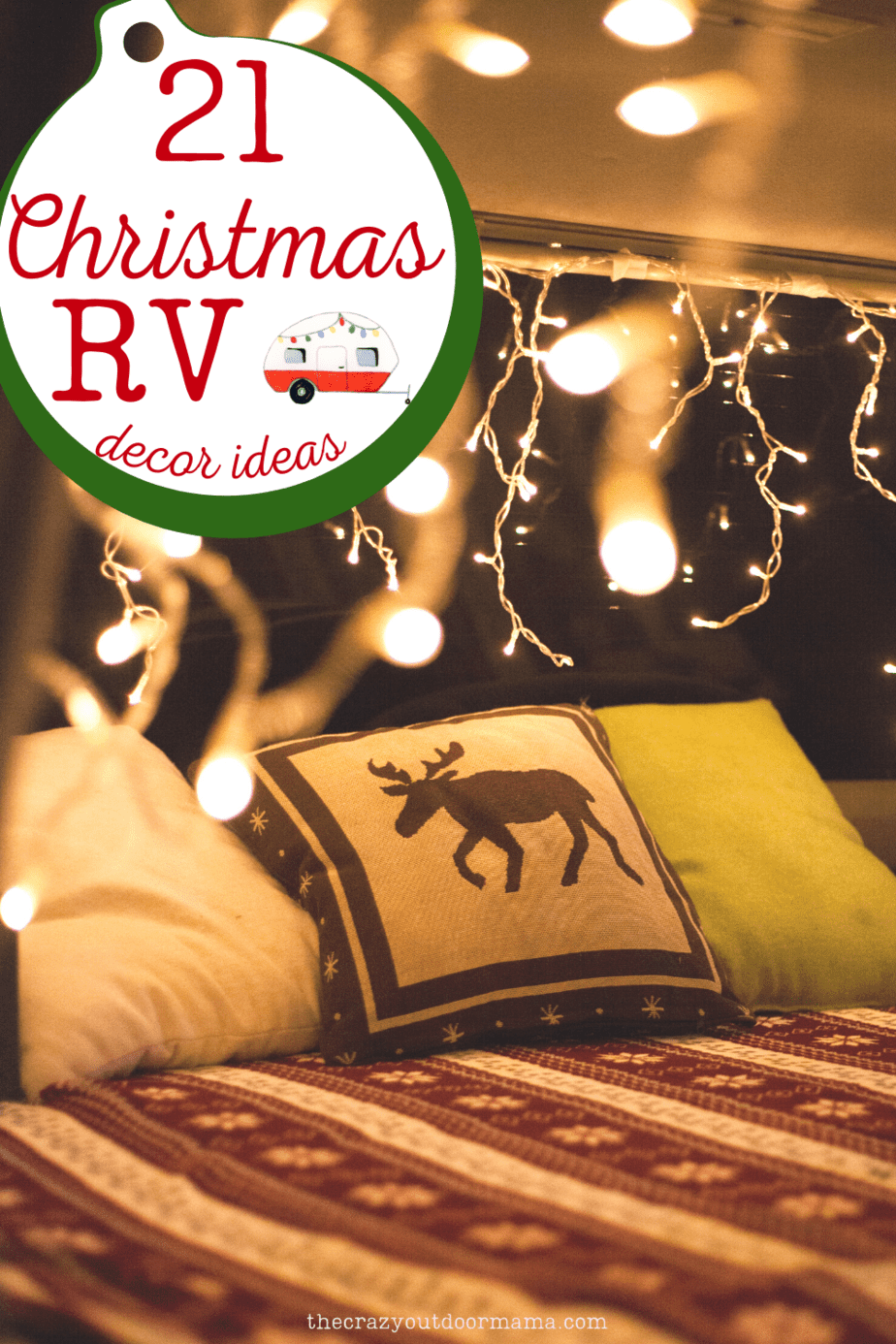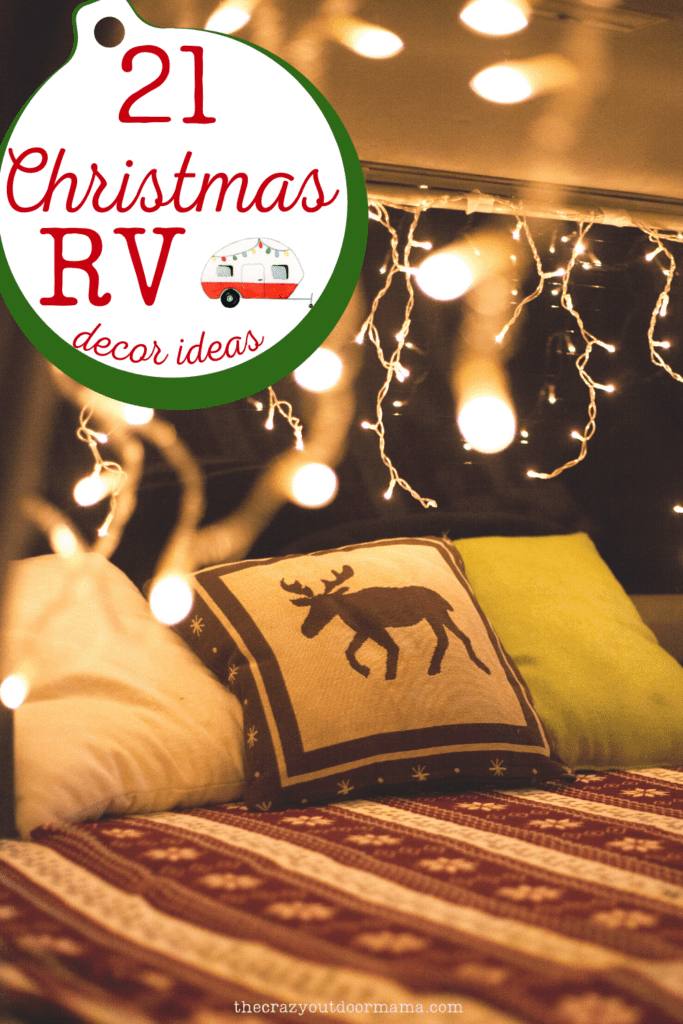 Latest posts by Stacy Bressler
(see all)