If you love Thanksgiving dinner, but are super nervous how long your kids will actually sit still for, then you need these four fun FREE Printable Thanksgiving Kids Activities!
I know I plan in advance for Thanksgiving – I mean, I don't eat the whole day, possibly even the day before because I know I really enjoy sitting down and eating AS MUCH AS POSSIBLE! I'm not a cook, however I do really enjoy homecooked meals… so Thanksgiving is my jam!
What I don't love is how my kids have a five minute attention span and then need to leave the table.. which really, I don't even mind that if they would just be able to do something on their own!
Coloring pages are fun and all, but I wanted something that would take a little more effort and challange in hopes that it would keep them busy for just a little bit longer!
Thanksgiving dinner tends to be a catch up time for my family, so I really hate leaving the conversation 10 times in an hour to help my kids with something – these fun Thanksgiving activities should do the trick though!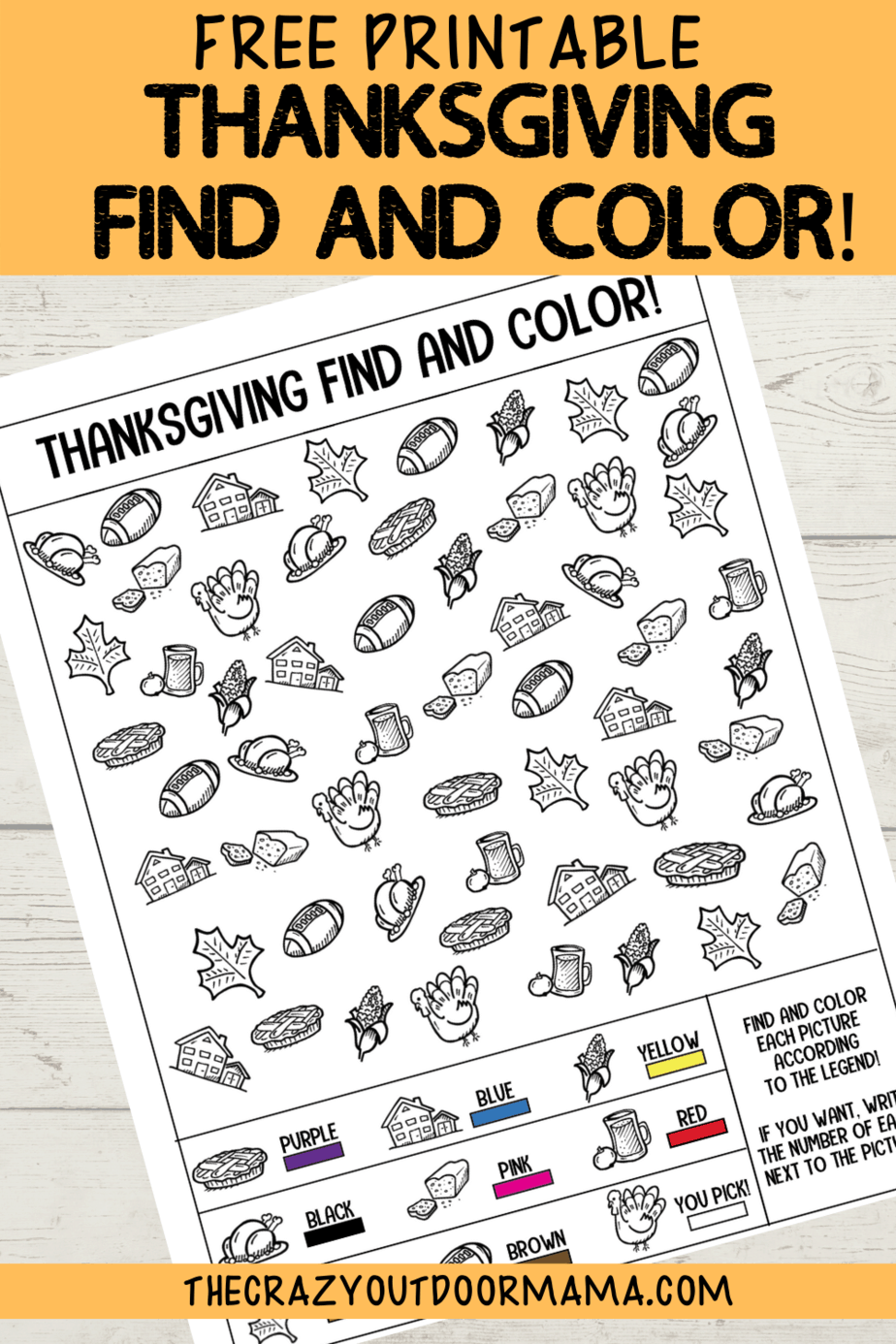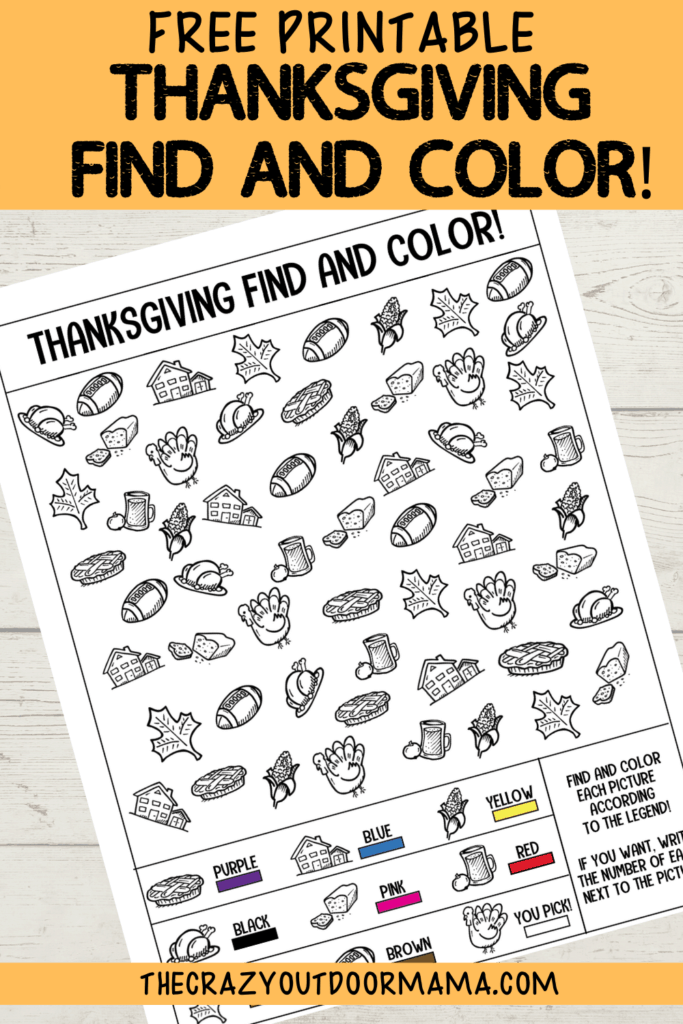 Thanksgiving Scavenger Hunt
In the past I have done my scavenger hunts in full color, however I realized that printing in color really does put a strain on things! Besides, kids really enjoy coloring in their scavenger hunts (mine like to color in the picture once they find it!)
This scavenger hunt is based on things you might see during a Thanksgiving dinner – the obvious (food items) but also things like luggage from traveling family, football and fall leaves outside!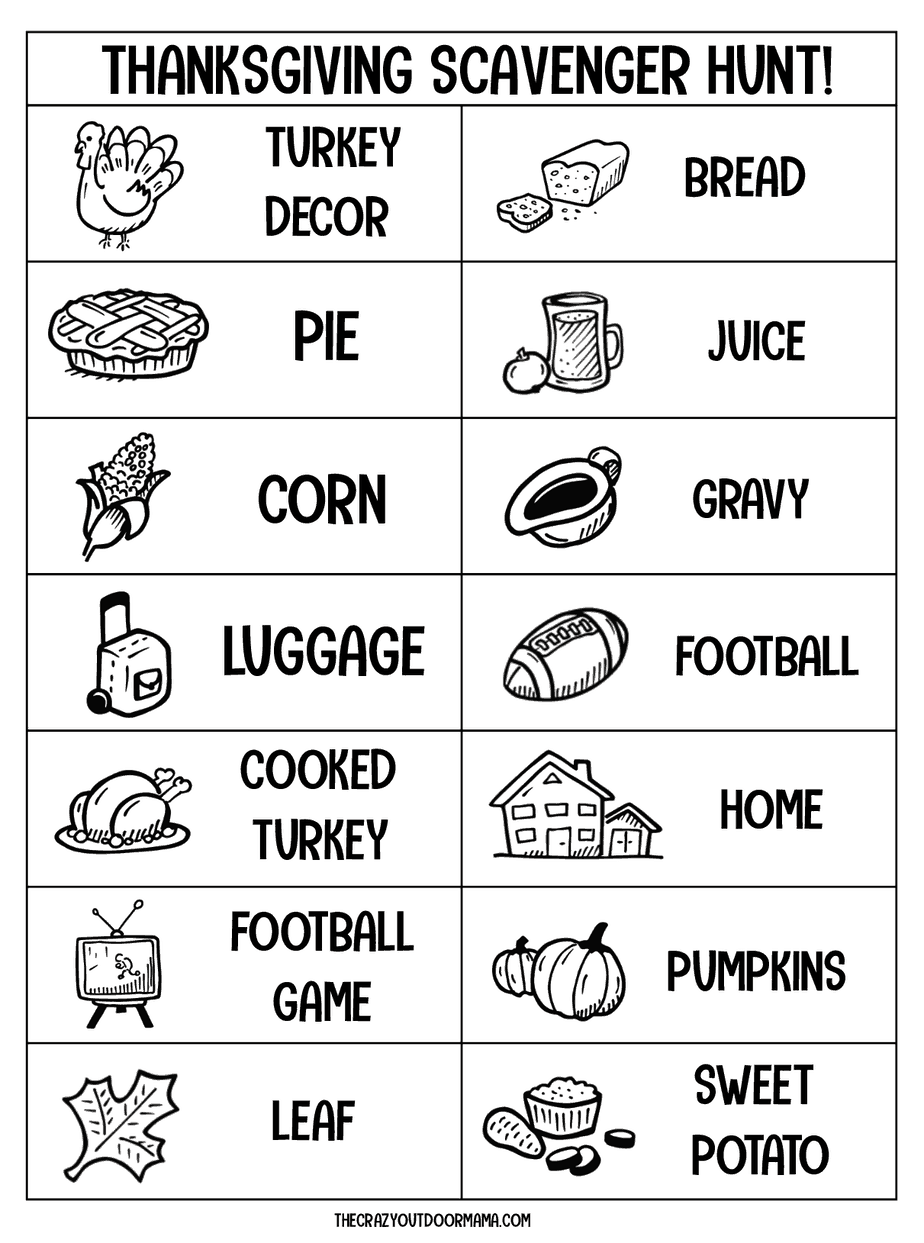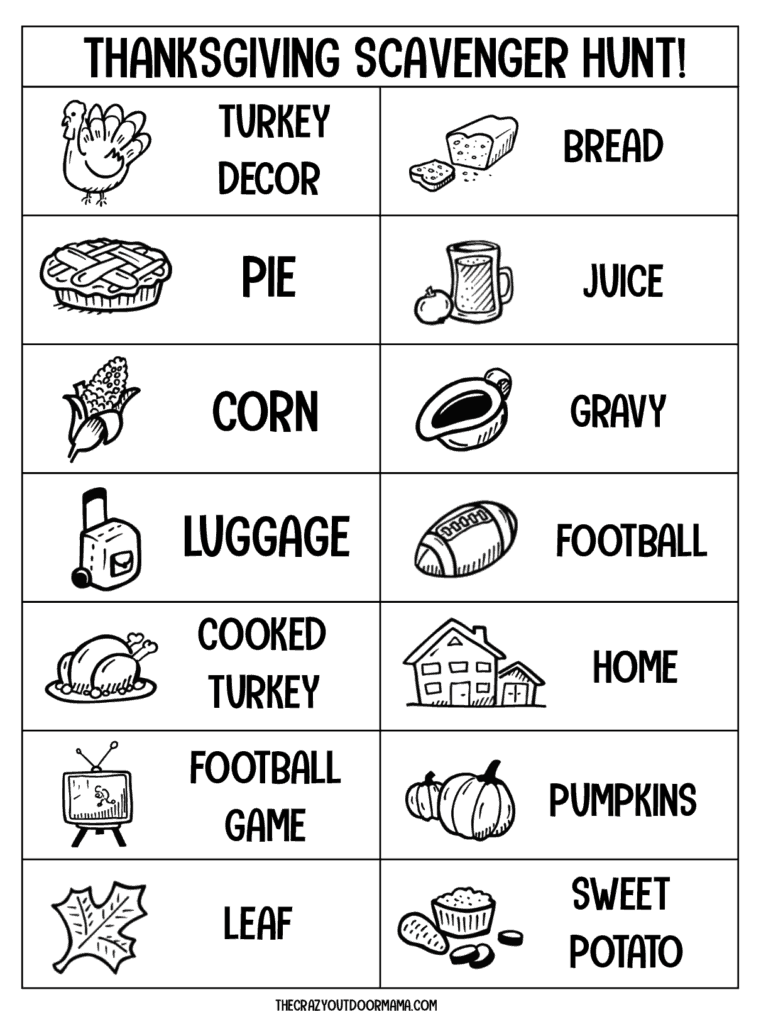 Thanksgiving Find and Color!
This is sort of like I Spy, except that you don't have to keep track of how many of each item you find (unless the older kids want to!)
Instead, kids can just follow the coloring guide at the bottom to color in each picture!
This takes some skill, so hopefully this one will keep the kids busy for quite a while during Thanksgiving (and maybe even at the table!)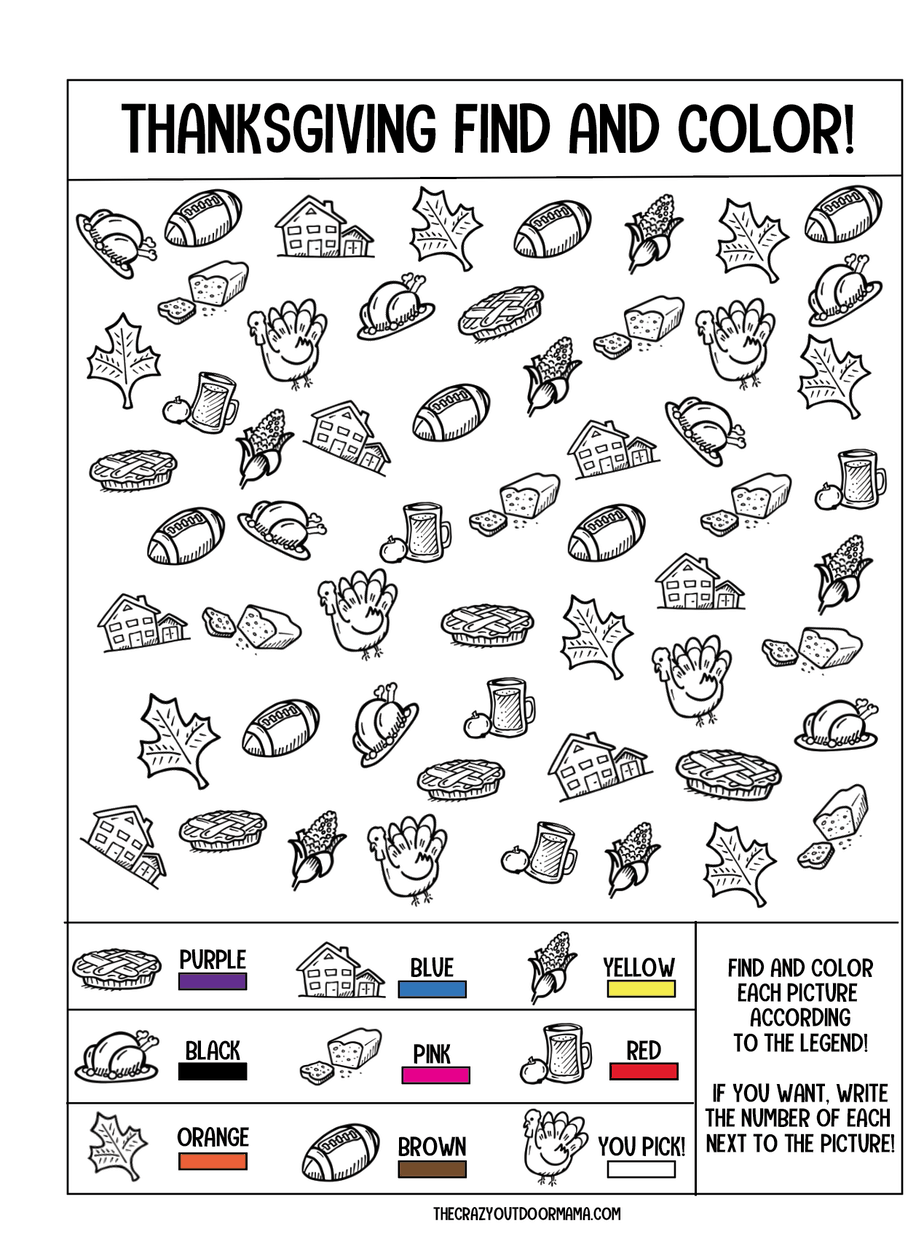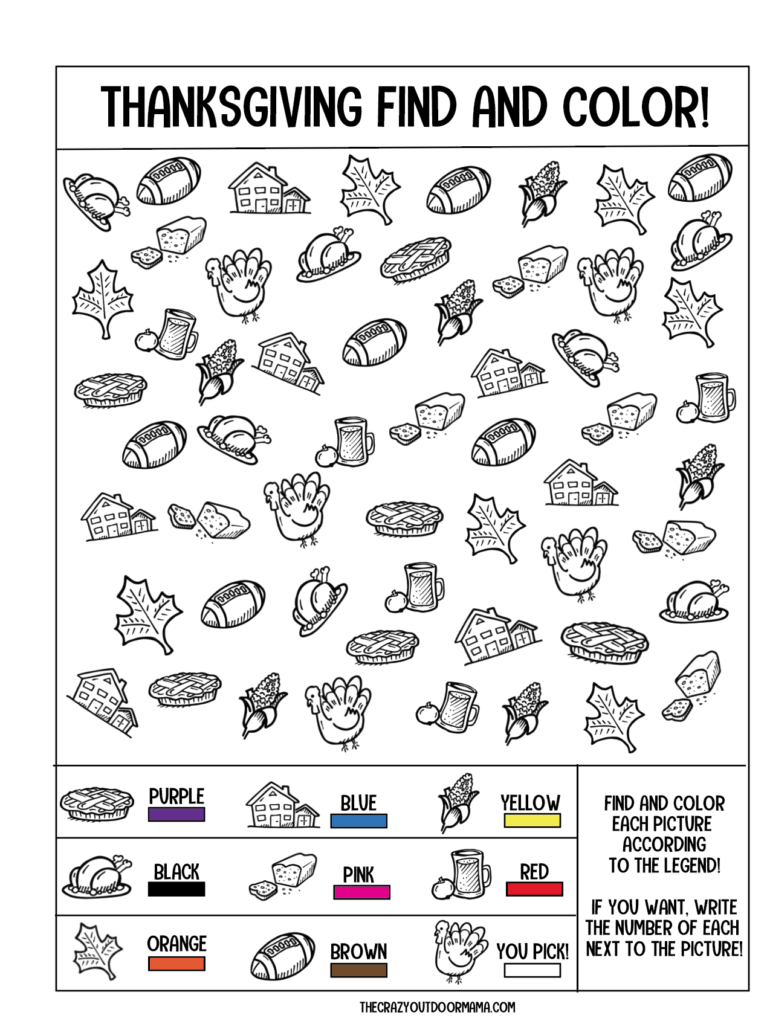 Fall maze activity!
Be warned, this one is a little tricky! I love donig these with my kids on those little sheets that come with the trays at fast food places, so I definitely wanted to include a maze in this Thanksgiving activity pack!
The two mazes are helping someone find their way to the leaf pile and to the mushroom spot (I was thinking of mushroom gravy at the time… mmmmm) and they might just some trial and error.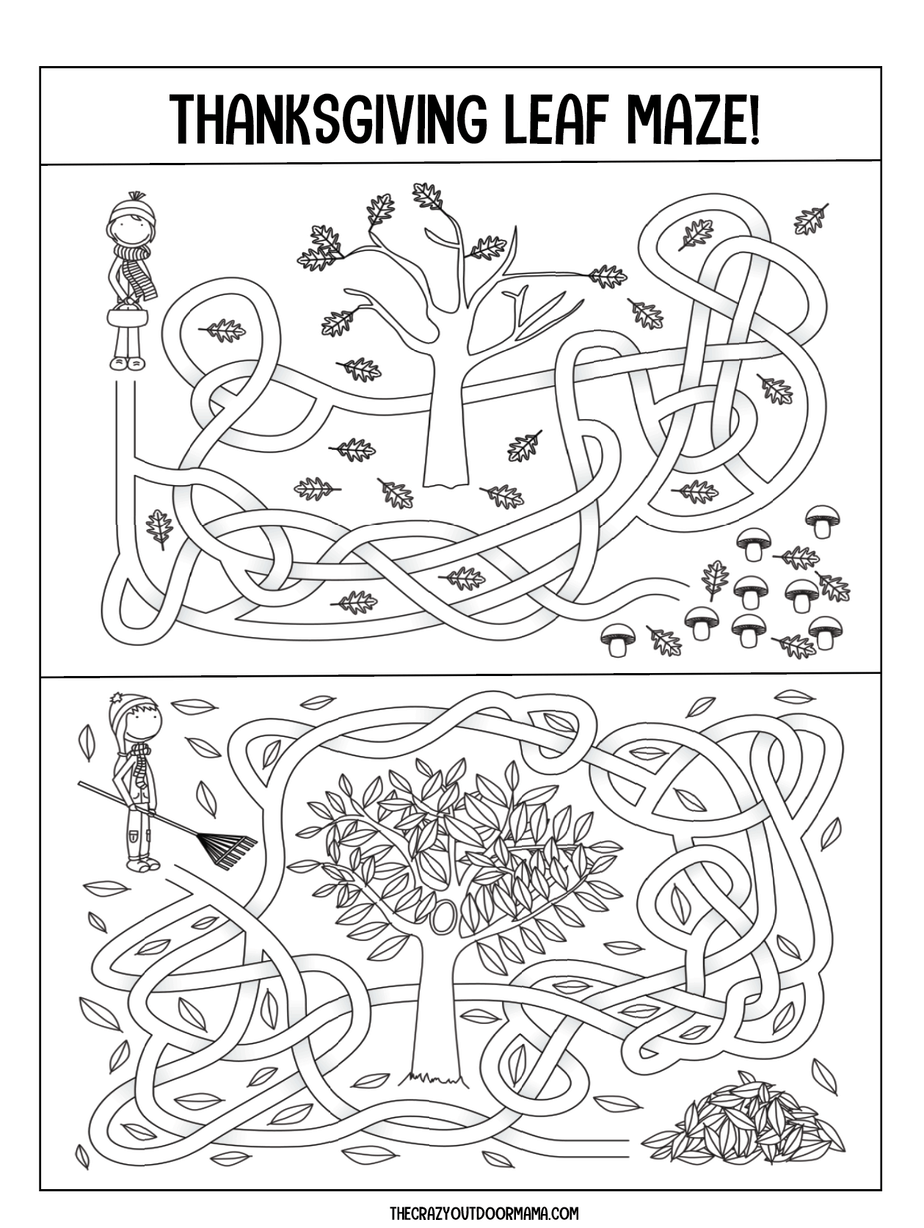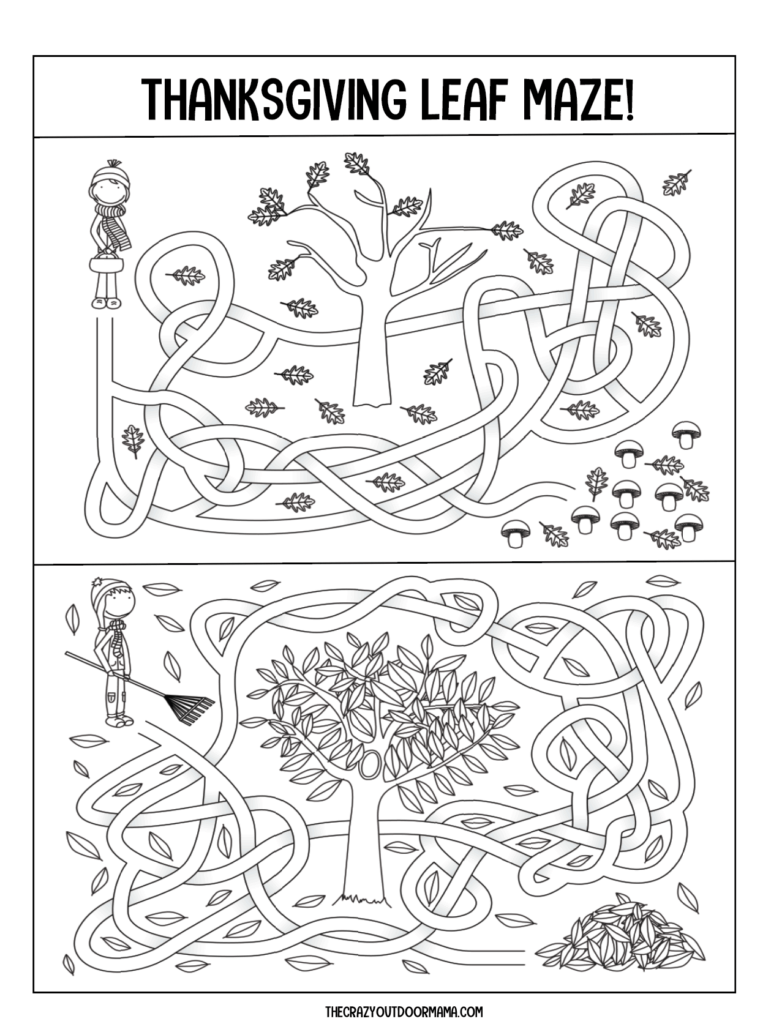 Thanksgiving placemat (+bookmarks!) kids activity
The whole thing originally started like this – a fun coloring activity! I did add more to make this packet more than just coloring (which would hopefully keep them occupied longer) but I do still love this one!
I designed it in a way that you could choose to cut out the two bookmark shapes coloring areas on the ends and use them as… bookmarks!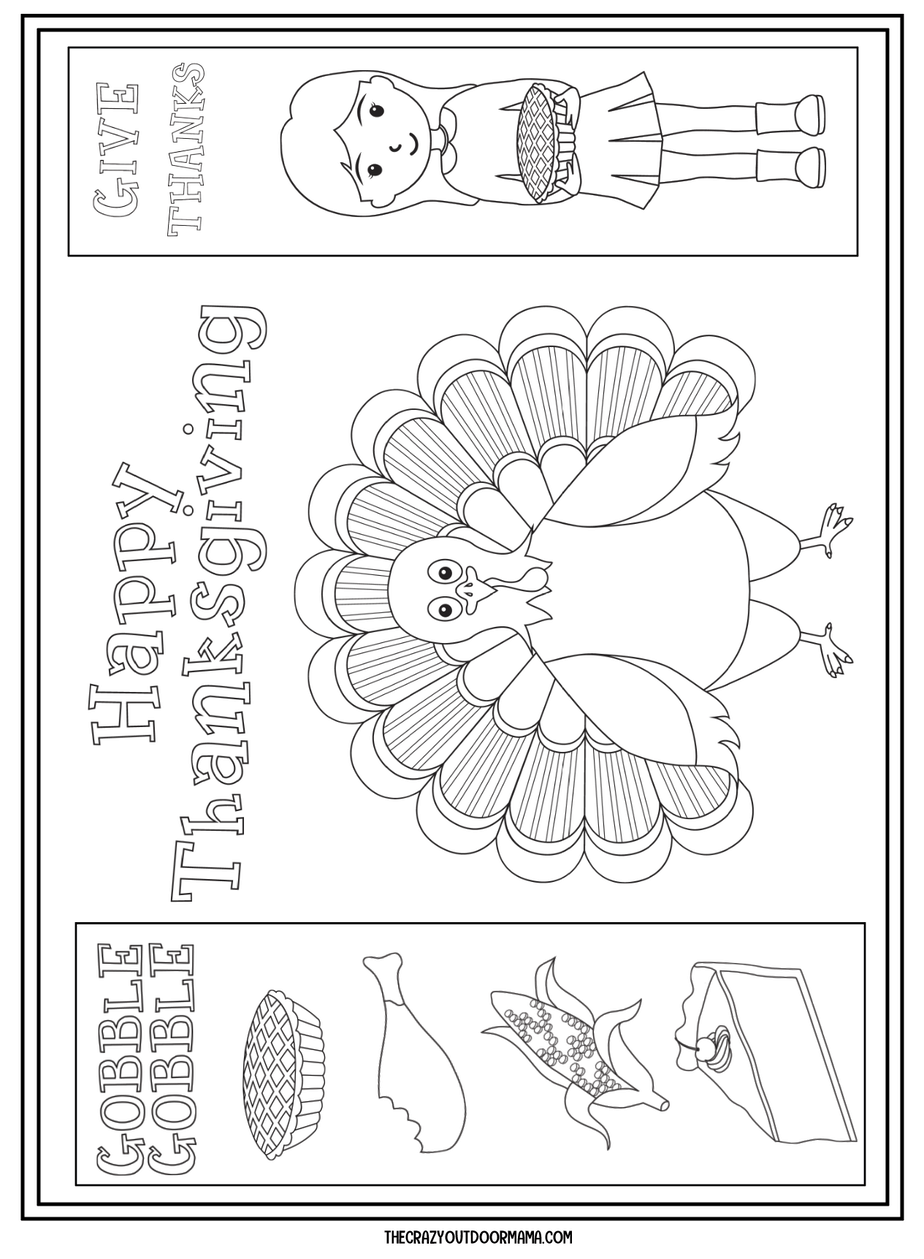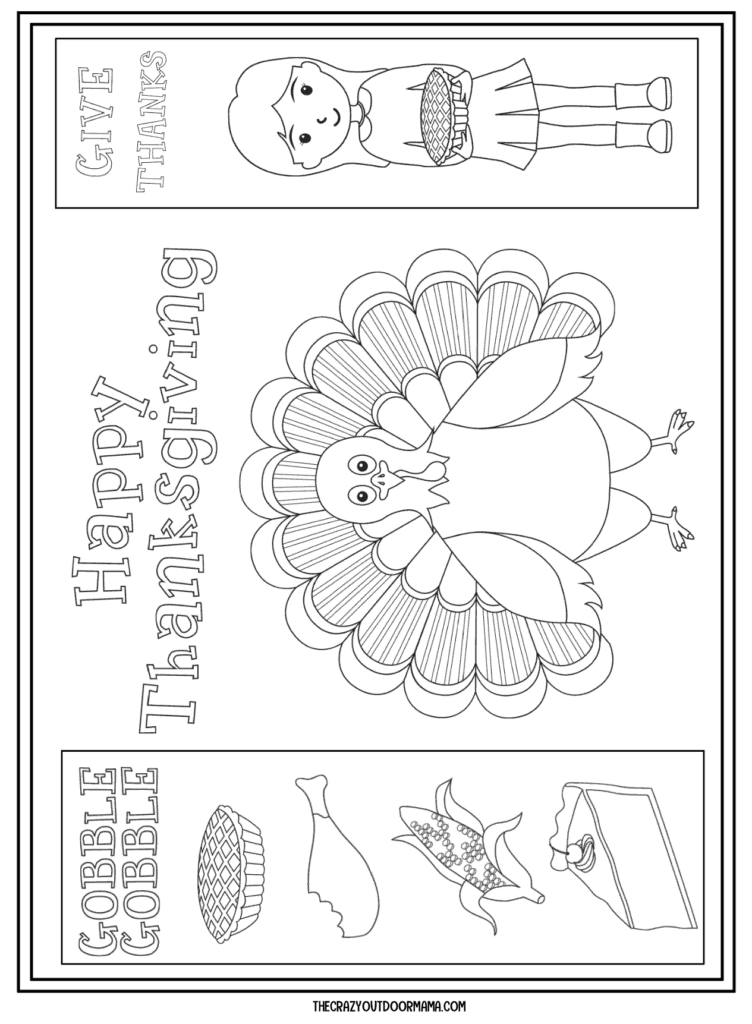 Download your four free activities now!
You don't even have to use your email – I'll give out these guys as easy as possible!
Click this link to download this packet of Thanksgiving printables!
Bonus: Thankful Activity Book!
This is another Thanksgiving activity that can be pretty fun for kids (+ focus on what's really important!)
This little journal only takes a sheet of paper, and with some easy folding, becomes a mini activity book!
Click here to go to the thankful activity book (it's free, don't worry)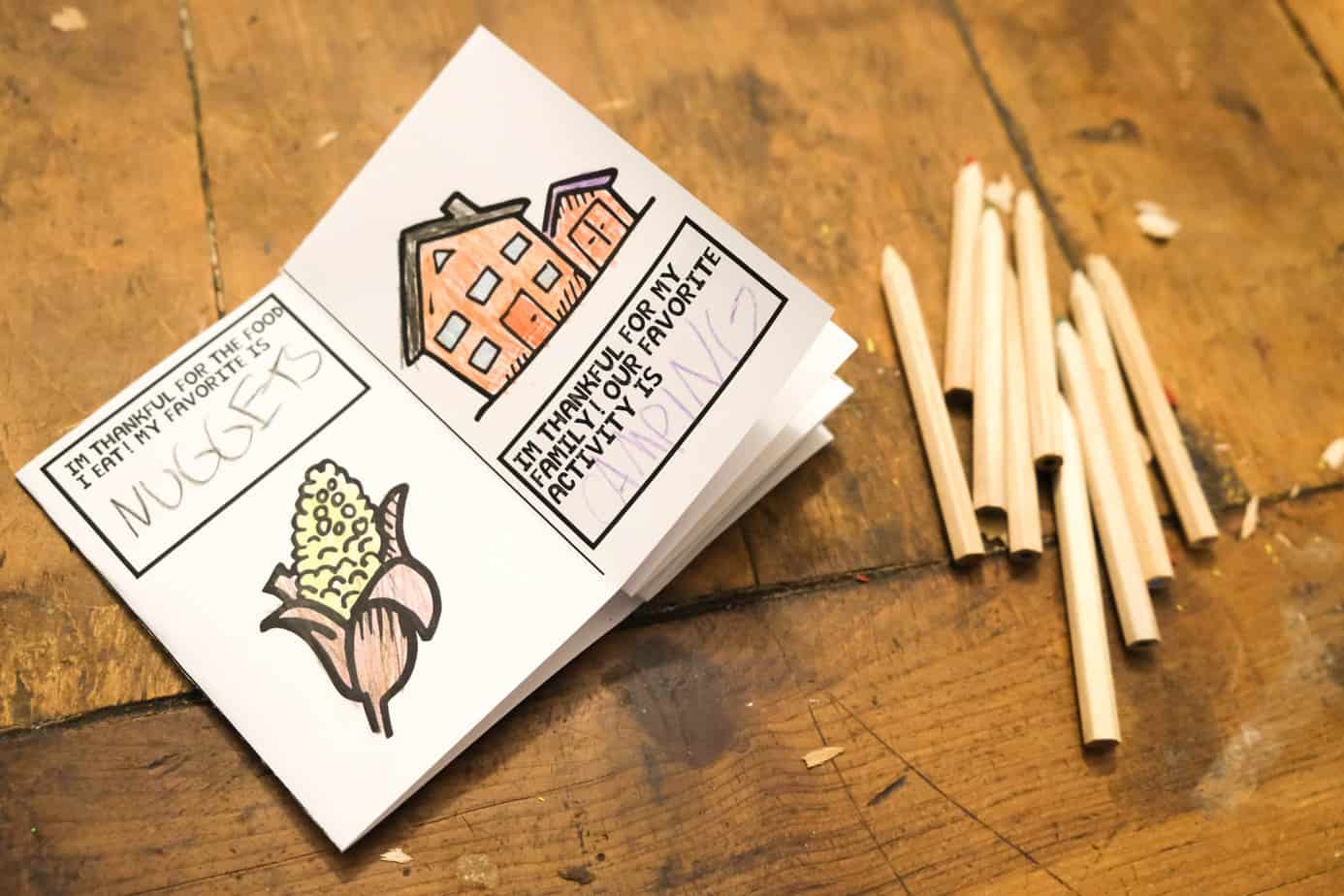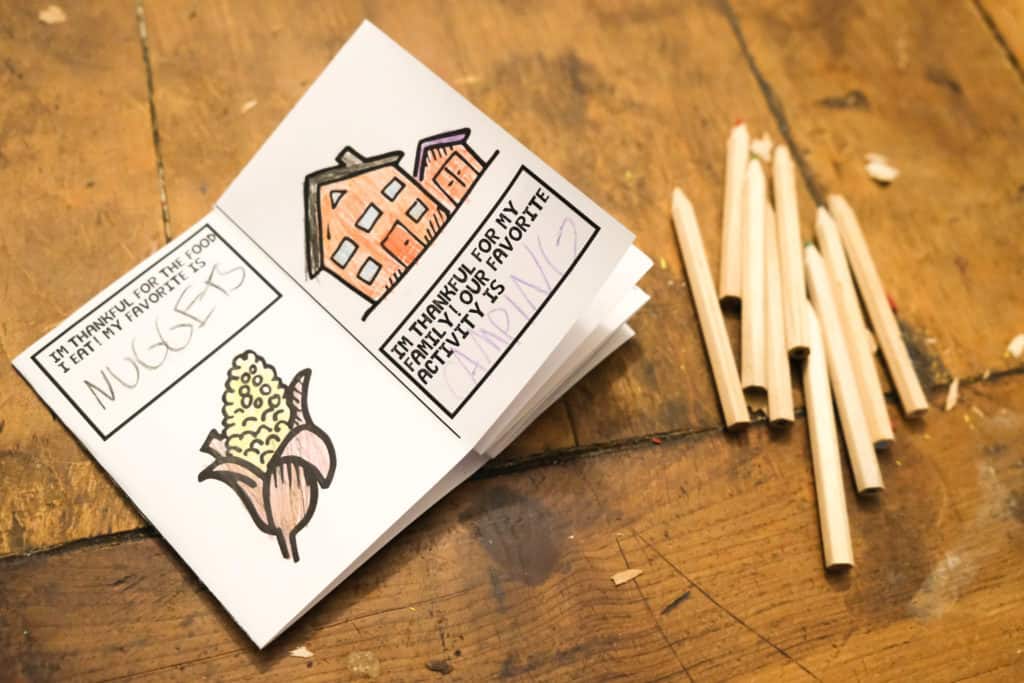 Here are some more fall activities that you might enjoy during Thanksgiving!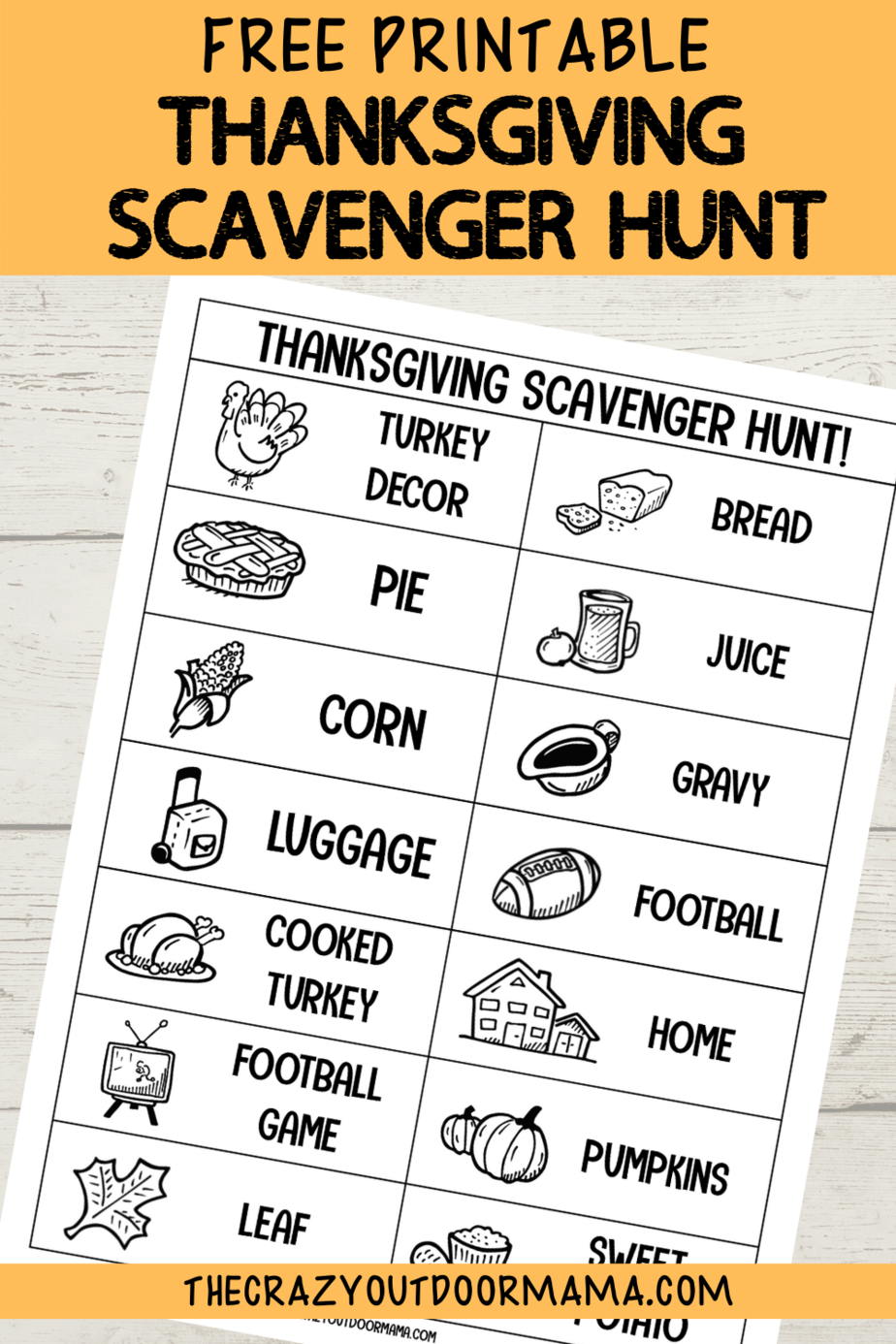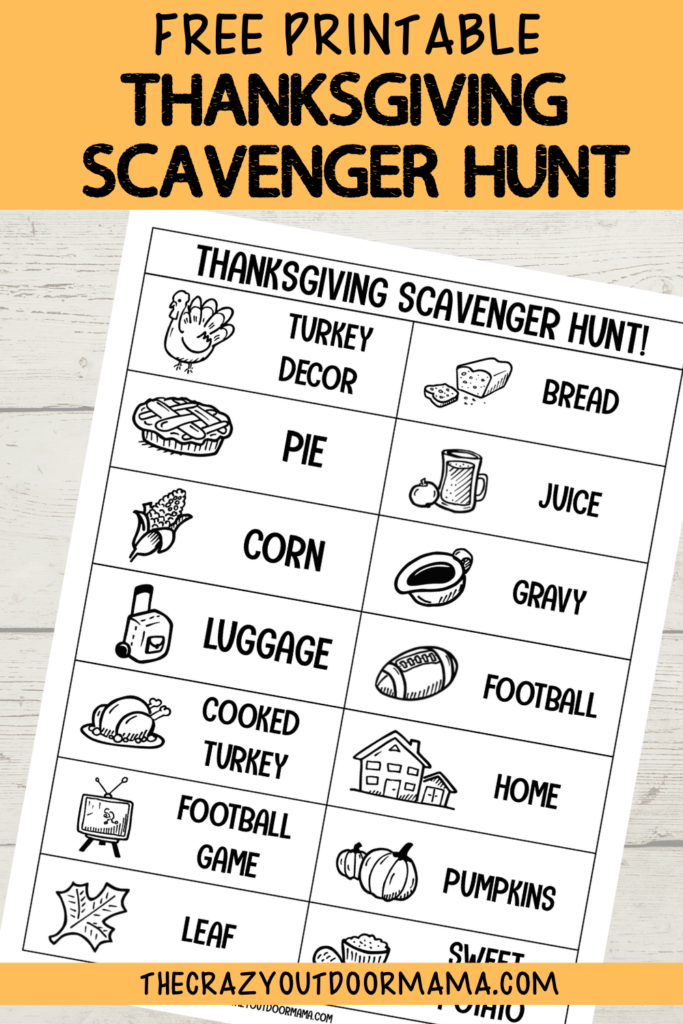 Latest posts by Stacy Bressler
(see all)