This easy fall kids craft has real leaf crunching action that everyone will love!
It's a universal, all ages thing – we all love to stomp on crunchy leaves, so I thought it'd be a perfect activity to transition to a craft!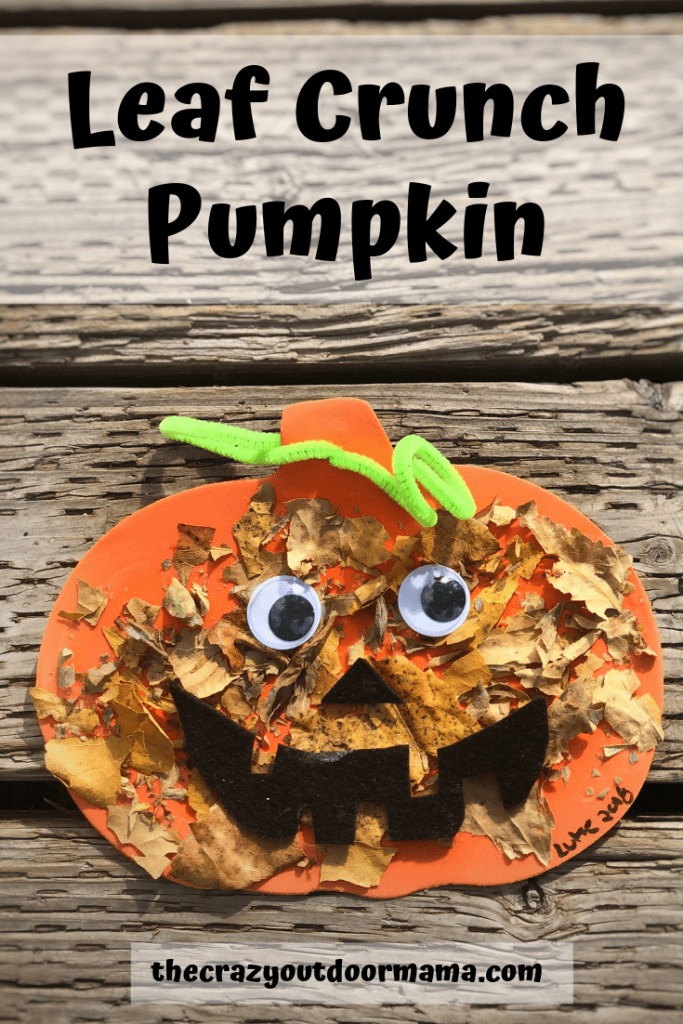 Fall and pumpkins are kind of intertwined – as soon as September hits, pumpkins are being sold, flannel starts showing up, and the leaves start changing.
Being SUPER into camping, it's kind of bittersweet seeing those leaves fall. But, we had a great summer this year, and to be honest, I'm kind of looking forward to being done with camping. You can only have so much of a good thing after all!
Anyways, my preschooler is now three years old and obsessed with smashing and gluing. There's also alot of "I can do it by myself!"
I wanted to do a cute craft to celebrate the arrival of fall, but I knew it had to be really hands off.
Usually, I do way too much "guidance" on our crafts (I'm a perfectionist and need to stop helicoptering!) and I've been trying to think of things that he could do that are pretty full proof.
So I figured crunching leaves is something he is awesome at, and putting them on top of glue should be fairly easy as well!
I headed to the Dollar Store (If you're a crafty person, you probably also love taking advantage of any deals they have there on materials!) and found this super cute pumpkin foam cut out that would be just the perfect size to fill with crunched up leaves!
Anyways, without further ado, here's this cute and easy fall pumpkin craft!
P.S. This post may contain affiliate links – I am an Amazon Associate and will receive a small commission (at no extra cost to you!) if you purchase something through my links!
Items needed for this kid's fall pumpkin leaf craft
Pumpkin shape – You can buy foam pumpkins online, (but check the dollar store first. 12 of them were only a dollar!) or print out a pumpkin and use that!
Googley eyes to decorate with
Paper cut out for mouth
Glue (I used modge podge, but any good glue should be fine!)
Directions to make this cute pumpkin kids craft!
Ask your child to gather some leaves in a bag – I found this the easiest way to get a big concentration of crunched leaves to sprinkle onto his pumpkin. You could alternatively bring the leaves indoors and let the kids crunch each one over their pumpkin!
Crunch the leaves and spread over the pumpkin – Don't forget to put a layer of glue on first!

If you're doing this leaf craft inside, it might be easier to put the leaves and the craft on some paper plates to sort of contain the fun!

Attach decorations – Googley eyes are always a must in this house! The texture of the leaves will be difficult to draw on, so I suggest cutting out a pumpkin mouth and just gluing that on as well
Attach greenery – Using a whole punch, punch a hole near the stem. Add a green pipe cleaner on each side
Here are some other fun Halloween Kid Crafts!
Latest posts by Stacy Bressler
(see all)