More people than ever are hitting the road with their business and finding the need to create an RV office to work from.
While there are a variety of camper floorplans, there are some office musts (such as a desk and chair) that are compact and work almost anywhere.
Check out some of these office ideas and start planning your own "Office on Wheels!"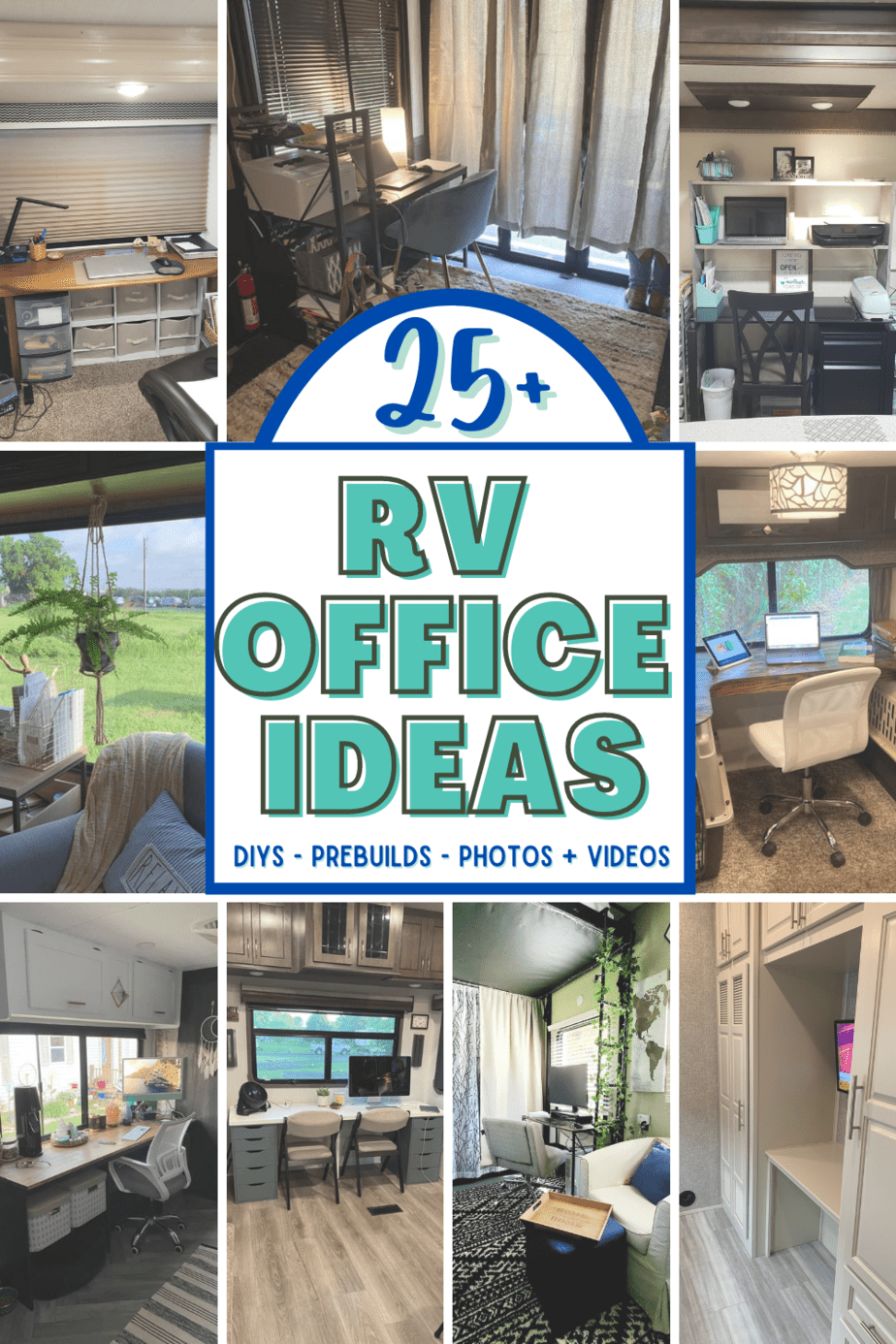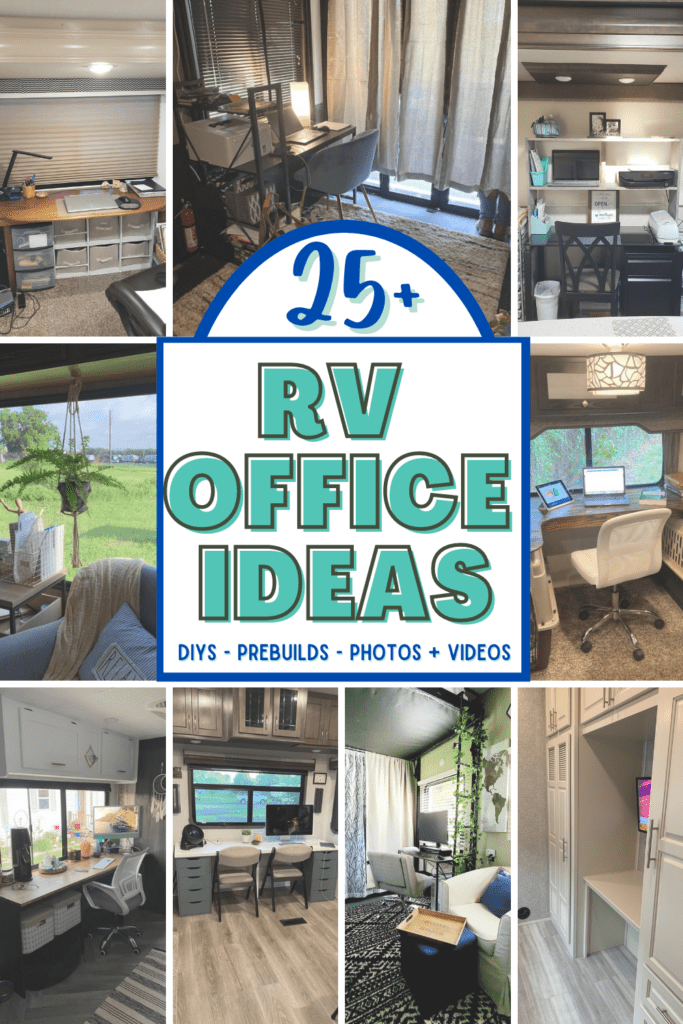 What are some ideas to put an office in an RV?
Tearing out a dinette is the most popular option, but there are SO many floorplans and work flows, so it's likely that all these solutions will be possible.
However, here are some workspace ideas I'll show you today
Tear out and replace the dinette
Tear out and replace the couch/recliners
Use the bedroom (the bed can be the seat)
Use the garage area of a toy hauler
Custom build a desk insert to create more office space
Utilize a fold down desk set up
Convert the bunkhouse to an office
Create a standing workspace (and mount the monitors up high!)
For RVs, use the front seat area
Lastly… just buy it already built in!
For more information, scroll to the bottom of this article for a FAQ. To see video tours of some RV home offices, check out this video!
Tear out the dinette and replace it with an office setup
This is the most common solution – dinettes are usually pretty easy to remove and are the perfect size for a small office. If you are able to custom build anything, you'll be able to utilize the space even better.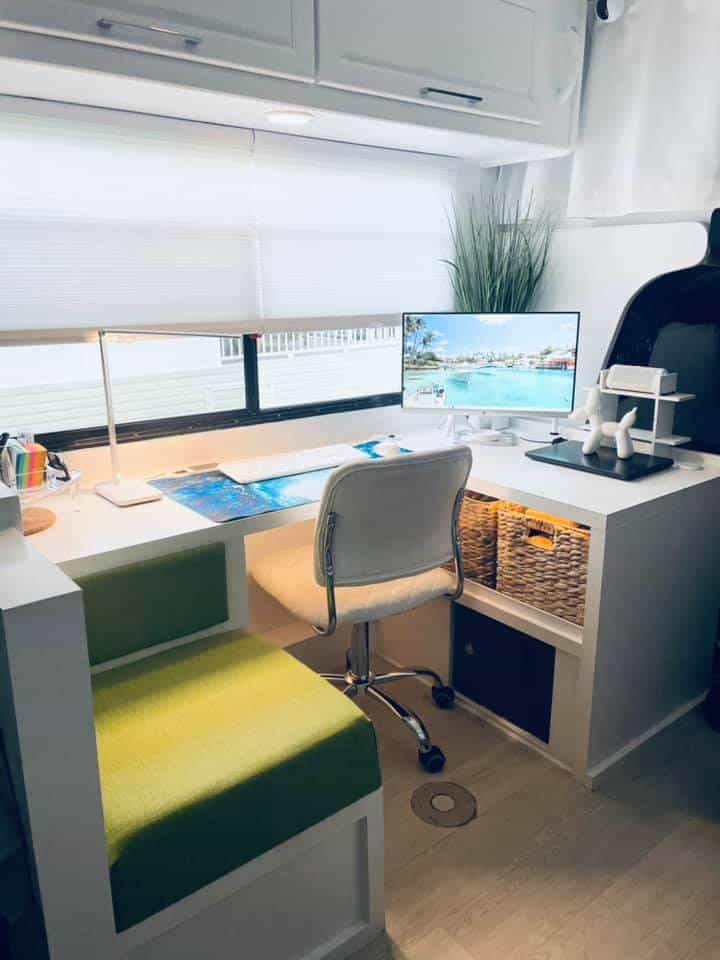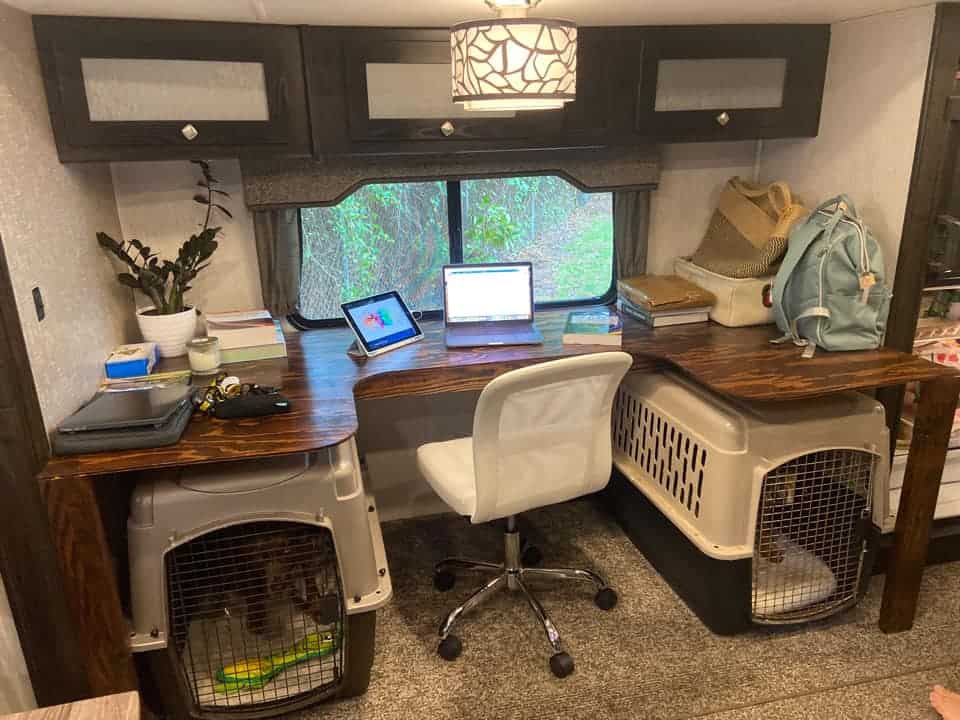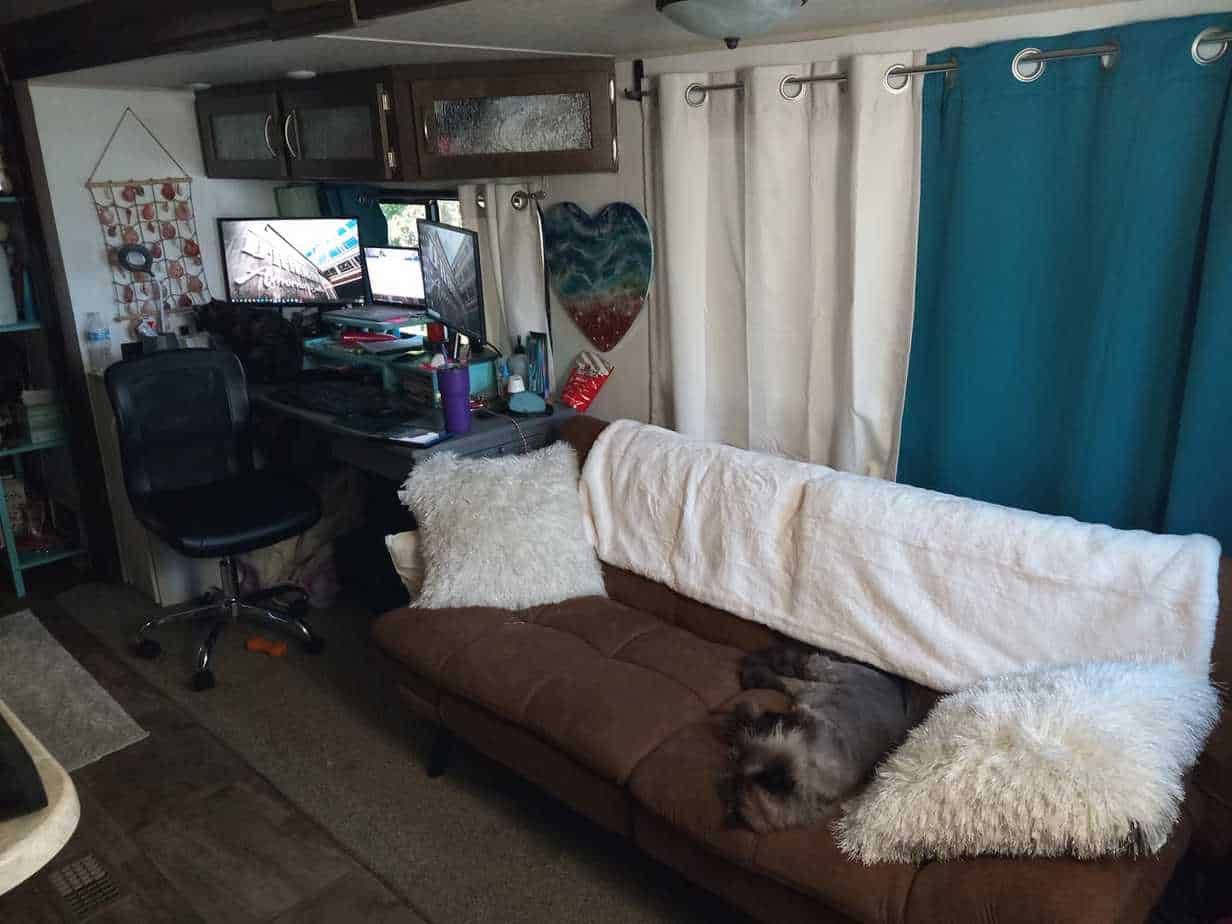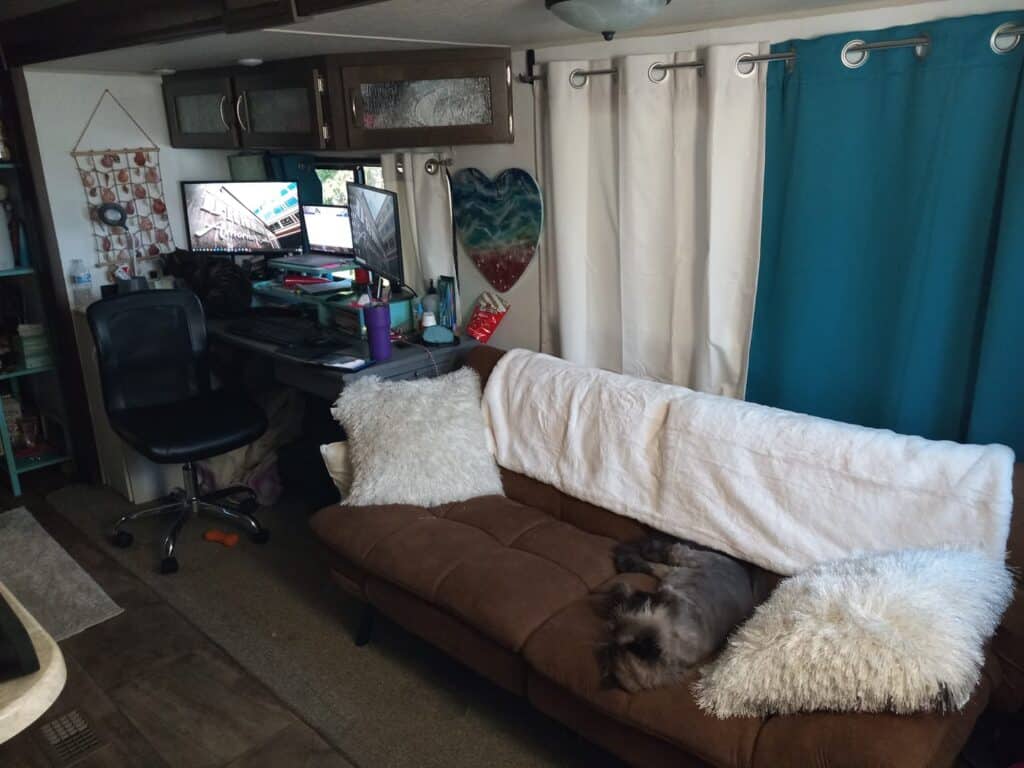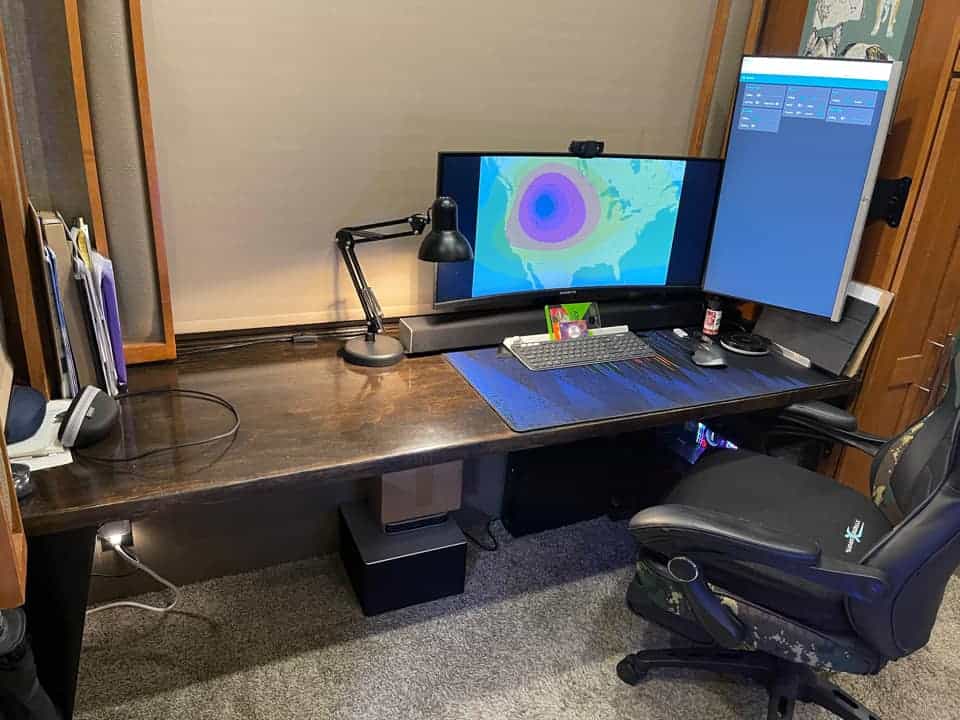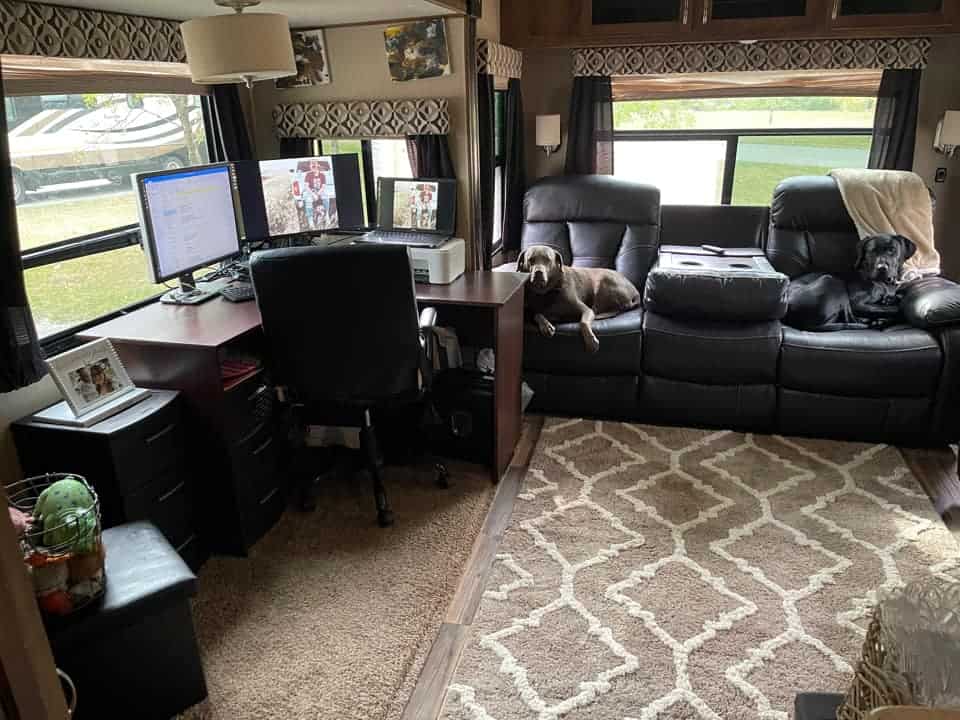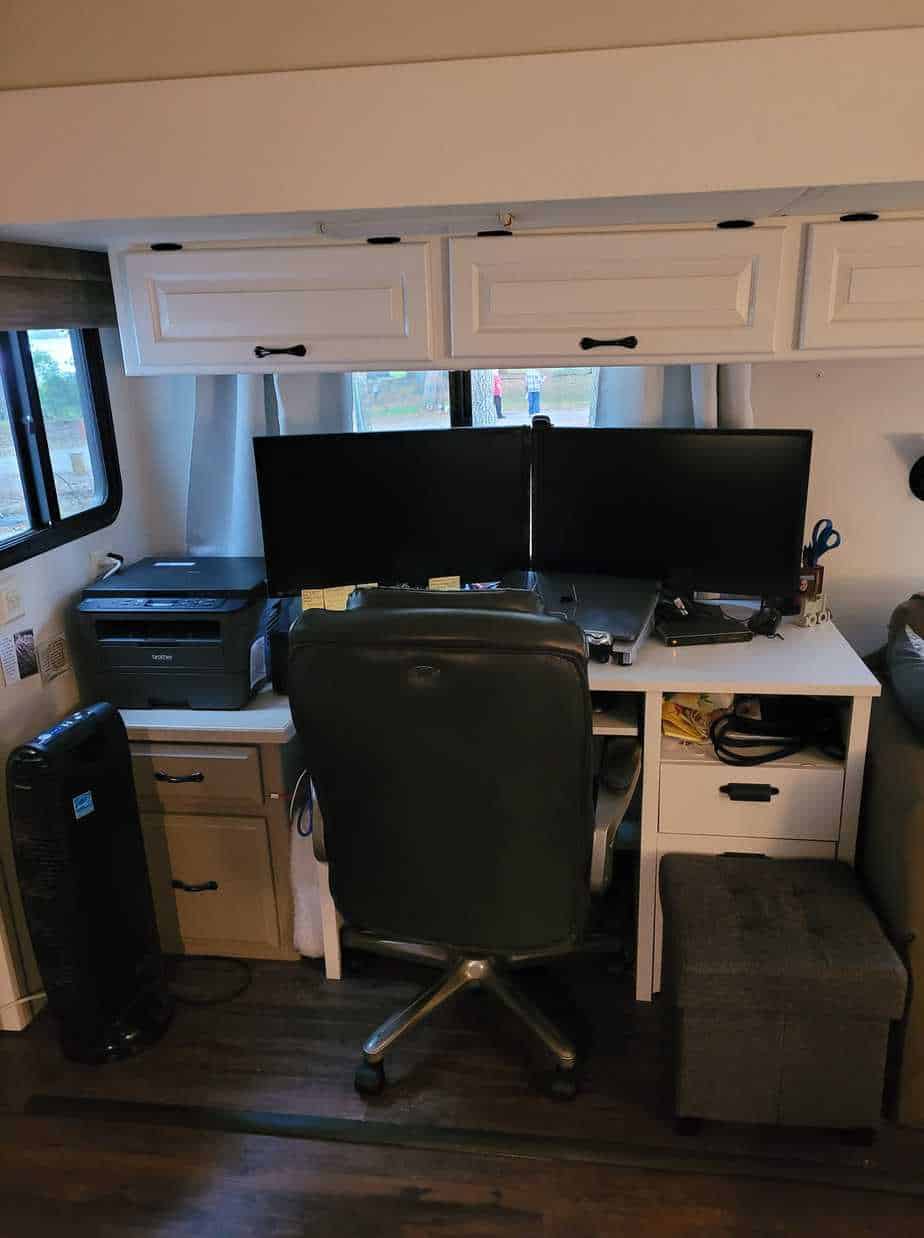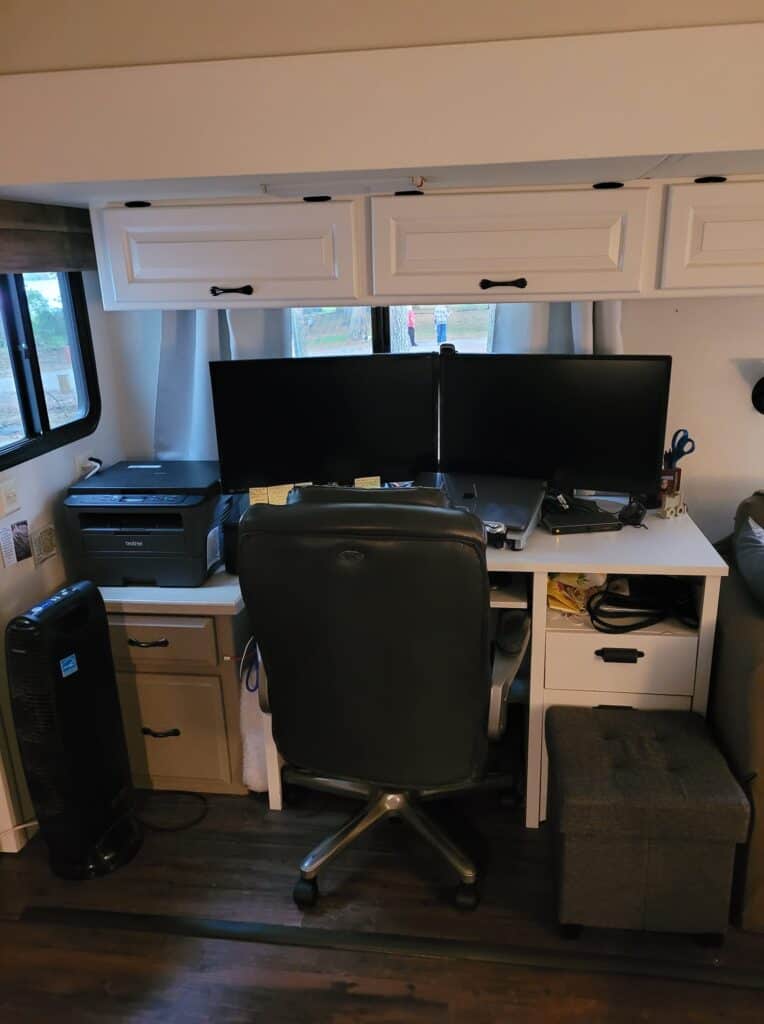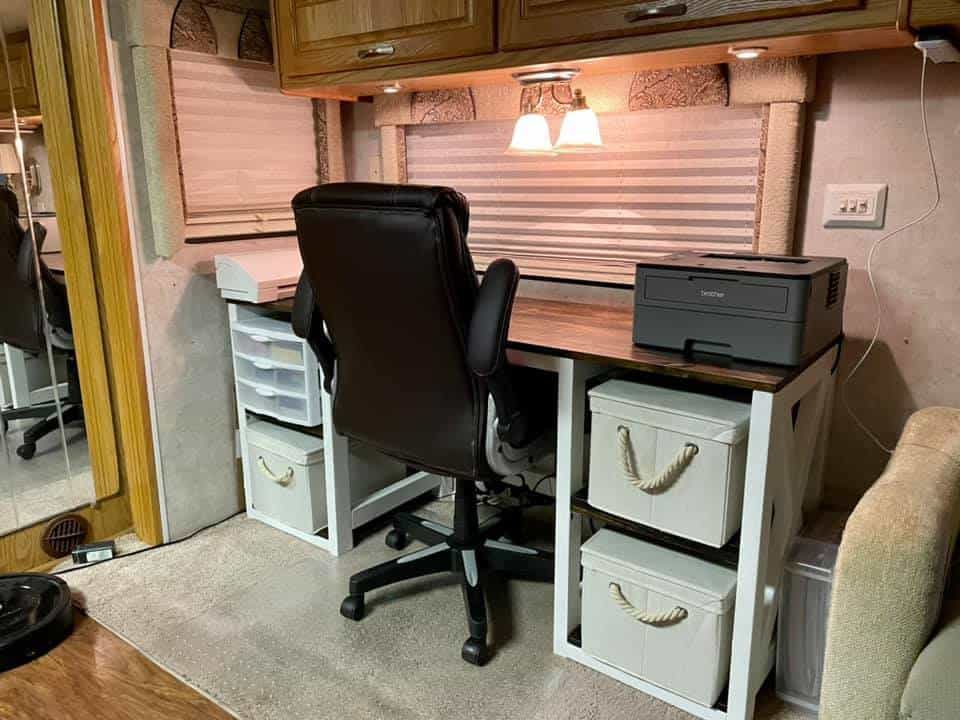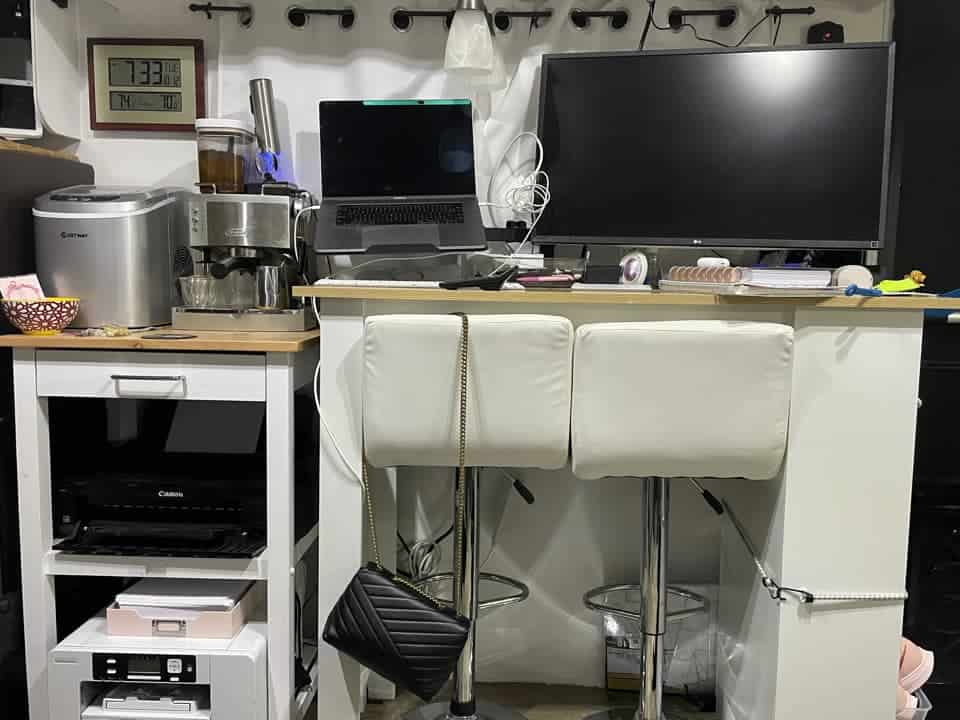 Bunkhouses converted to home RV offices
If you prefer some space, then you might love the idea of getting a camper that has a separate bunkhouse area. They also have a ton of space, a door, and a bit of natural light!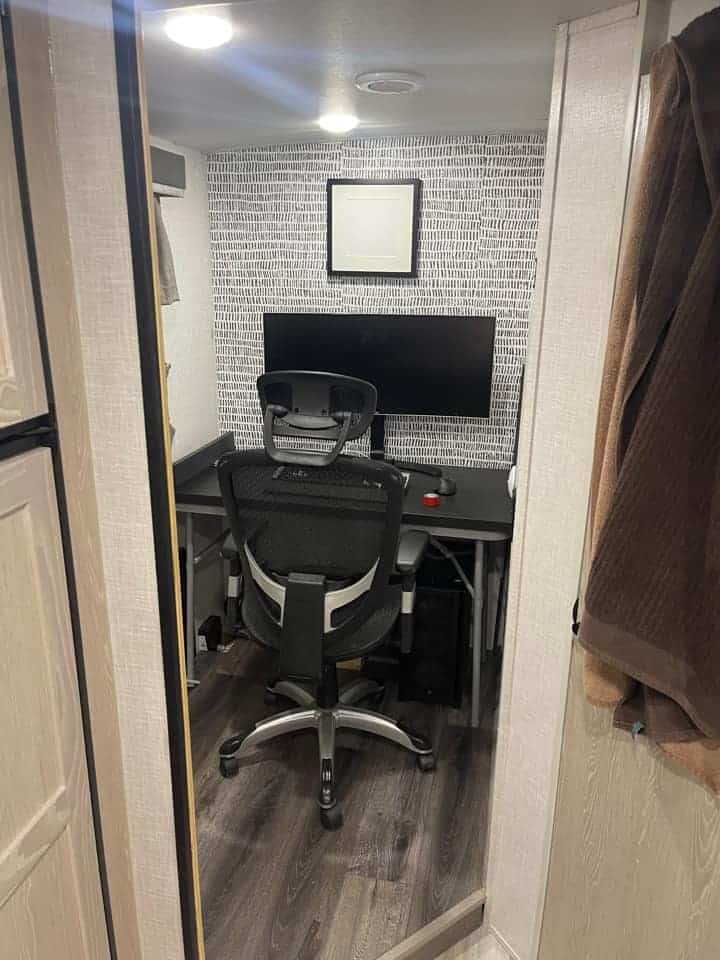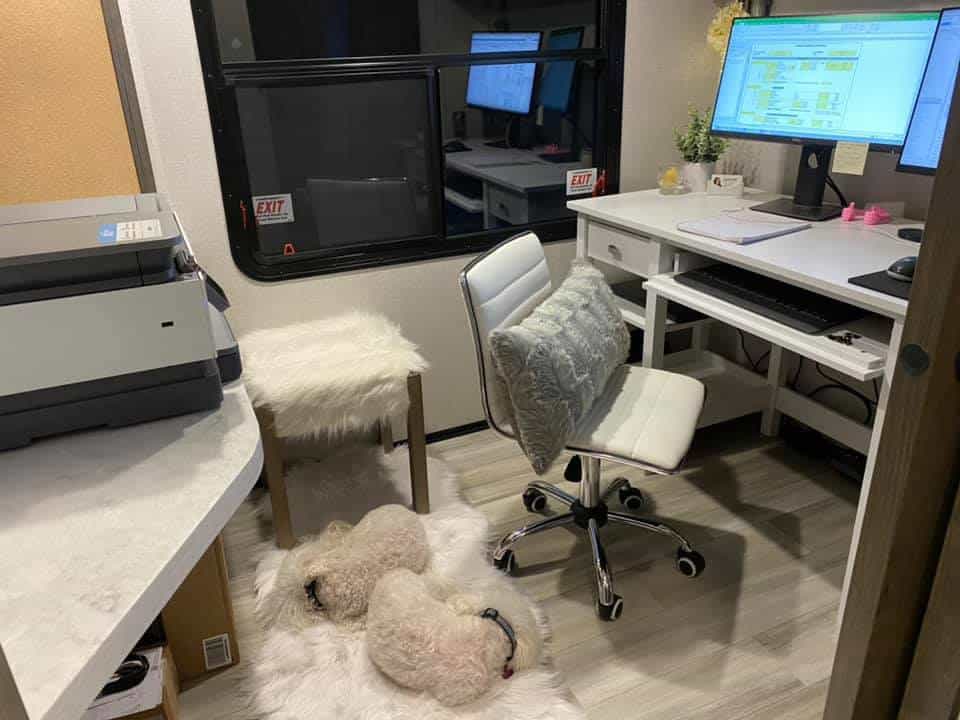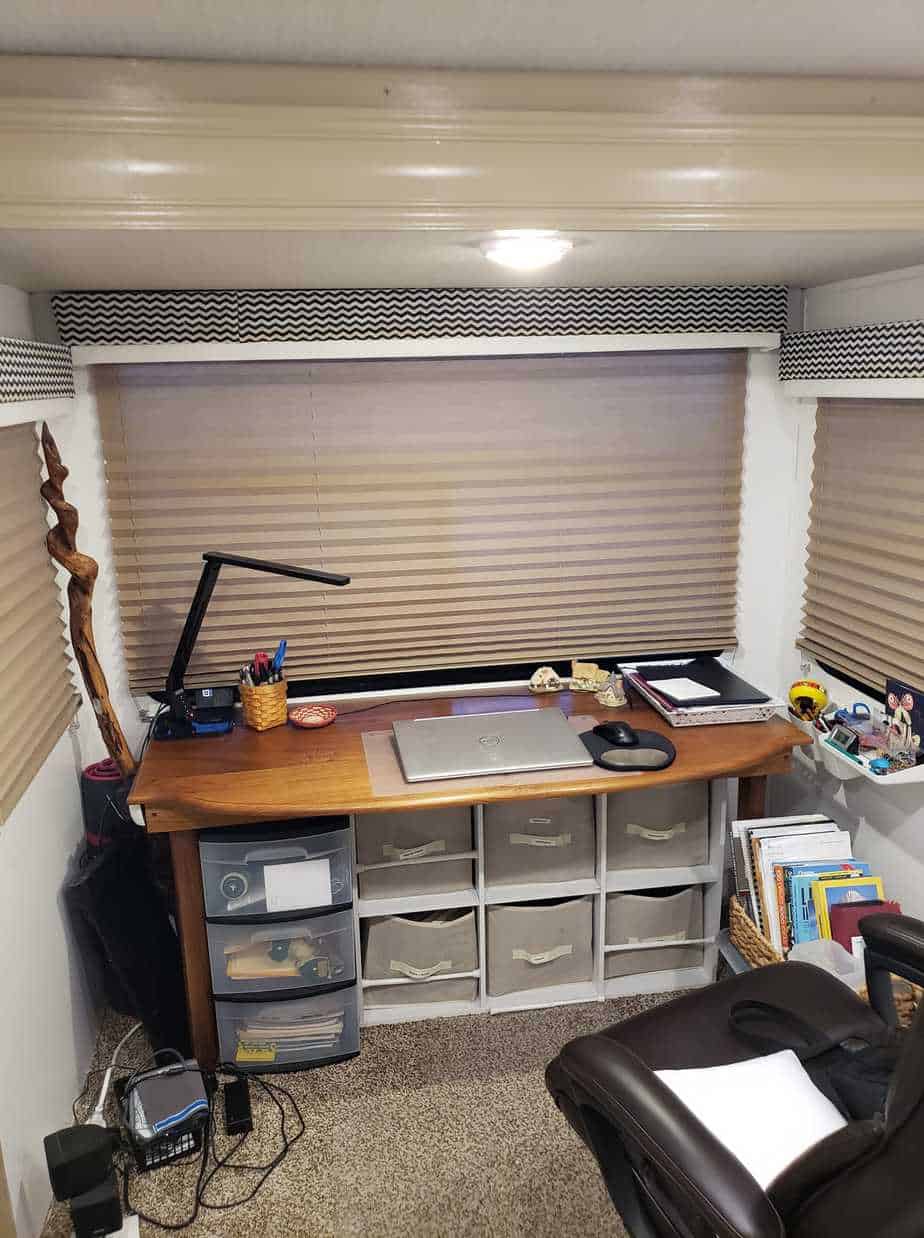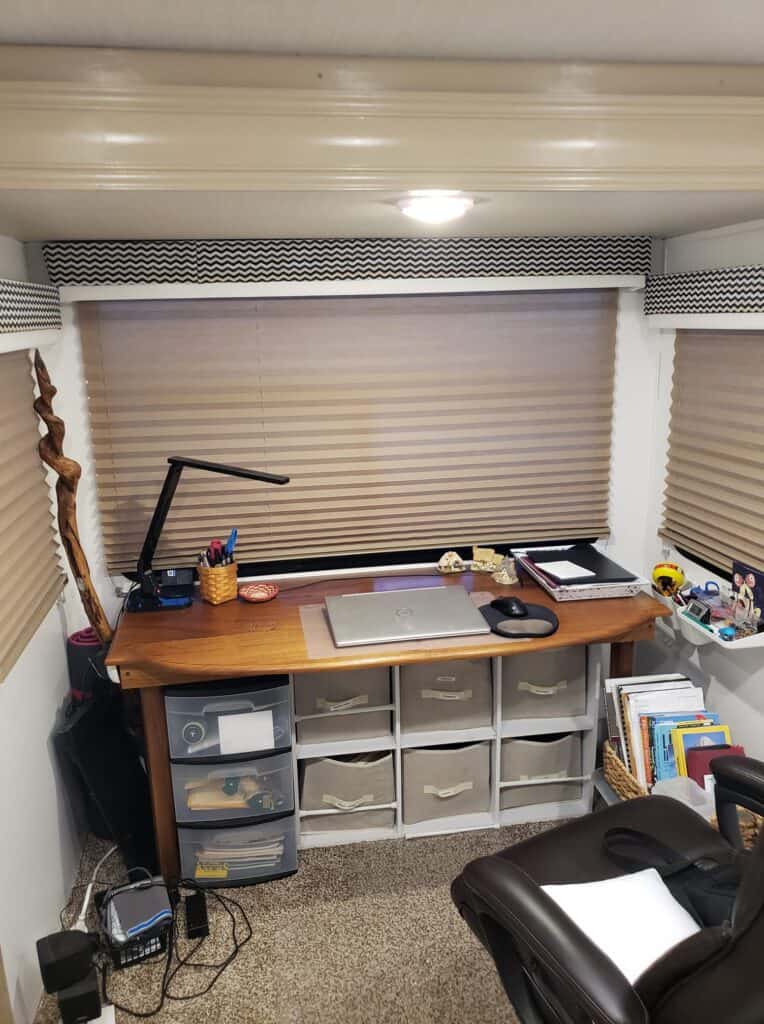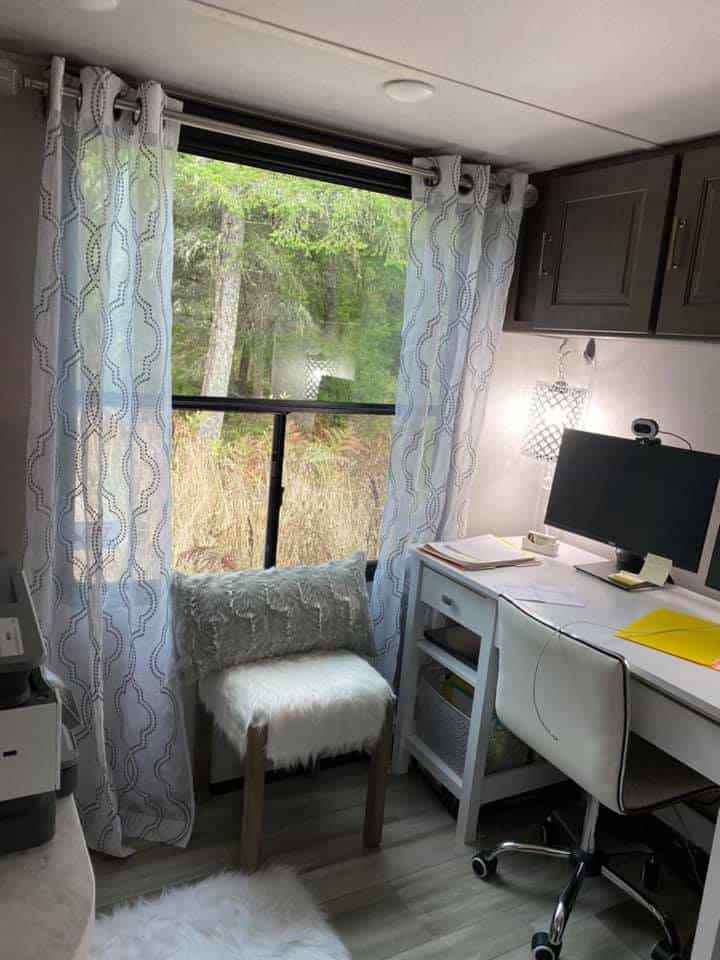 Built In Desk Options (No Modifying… it's ready to use!)
Many RV manufacturers have noticed the ever increasing amount of campers working on the road, and it seems they've responded! I didn't even know this was a thing until I started researching options myself, but this could save a lot of time, especially if you already know you plan to work from your RV.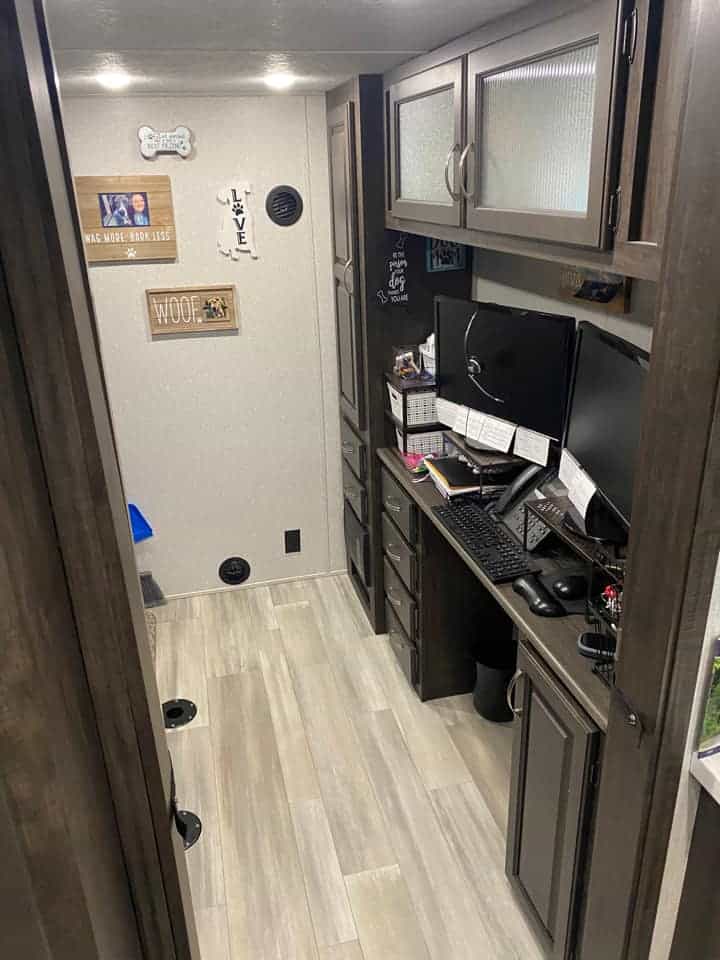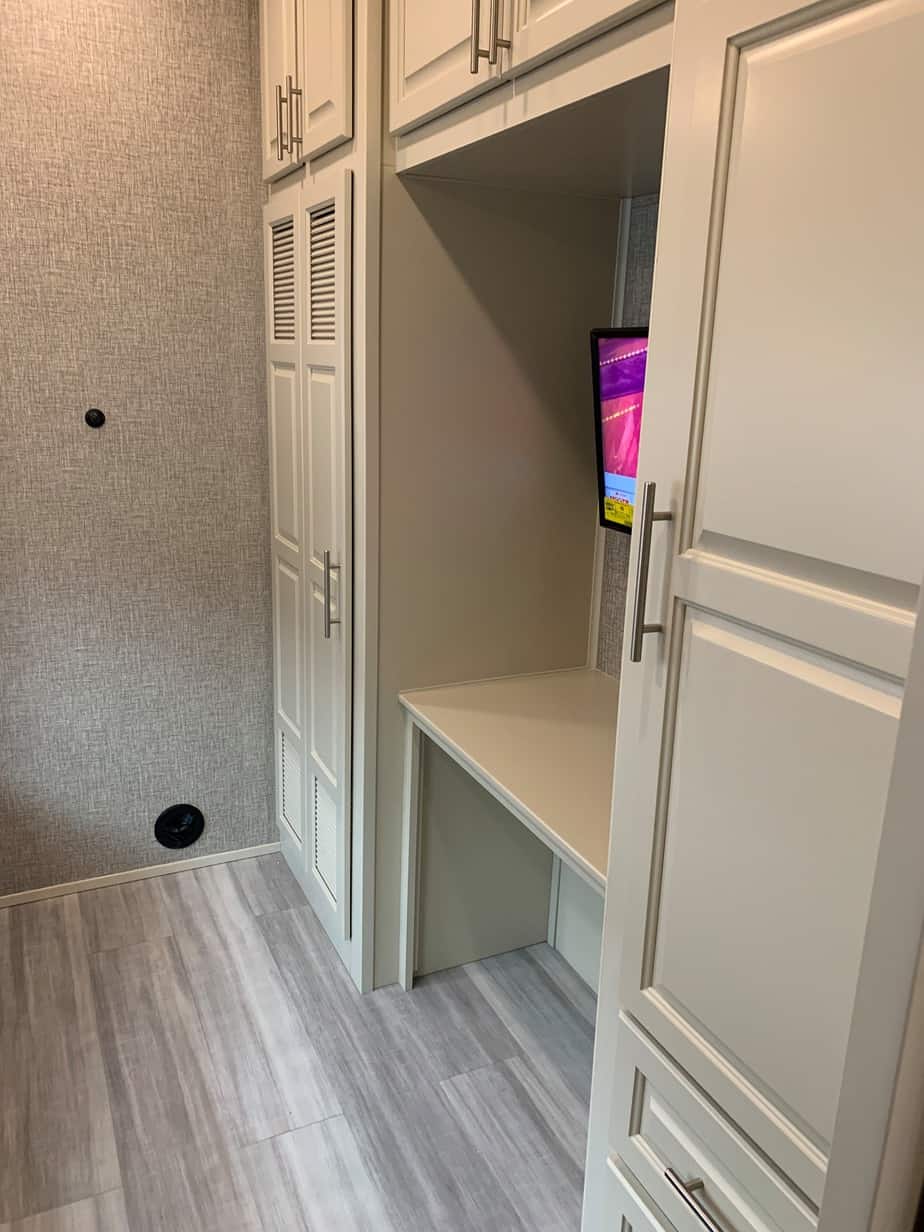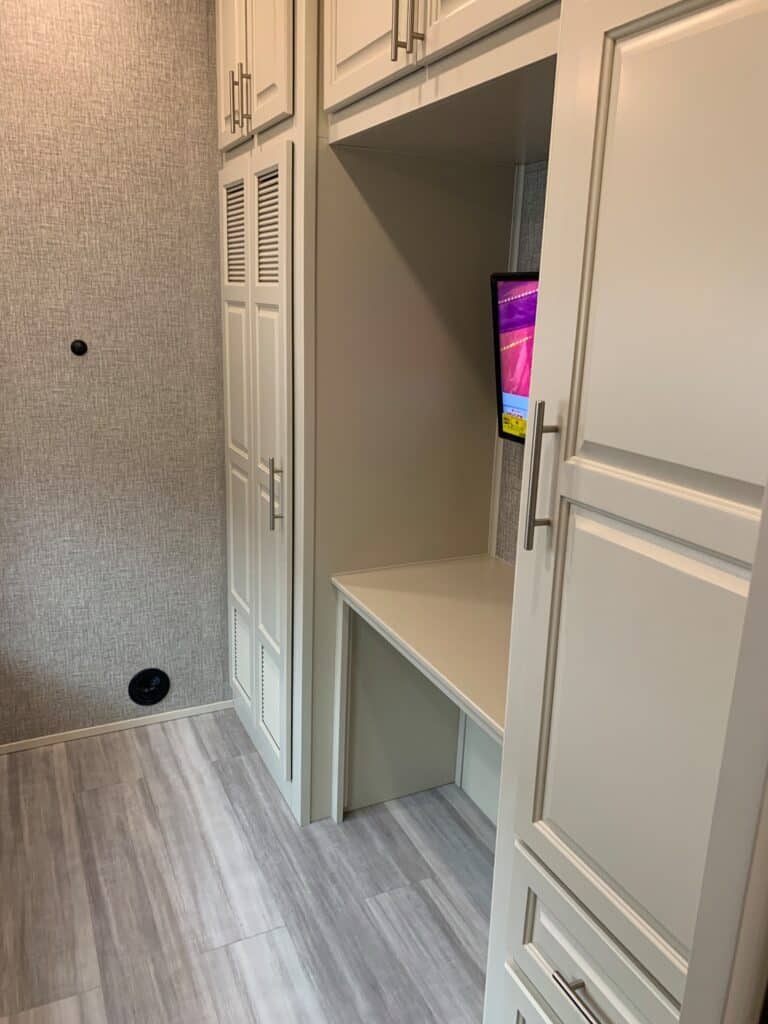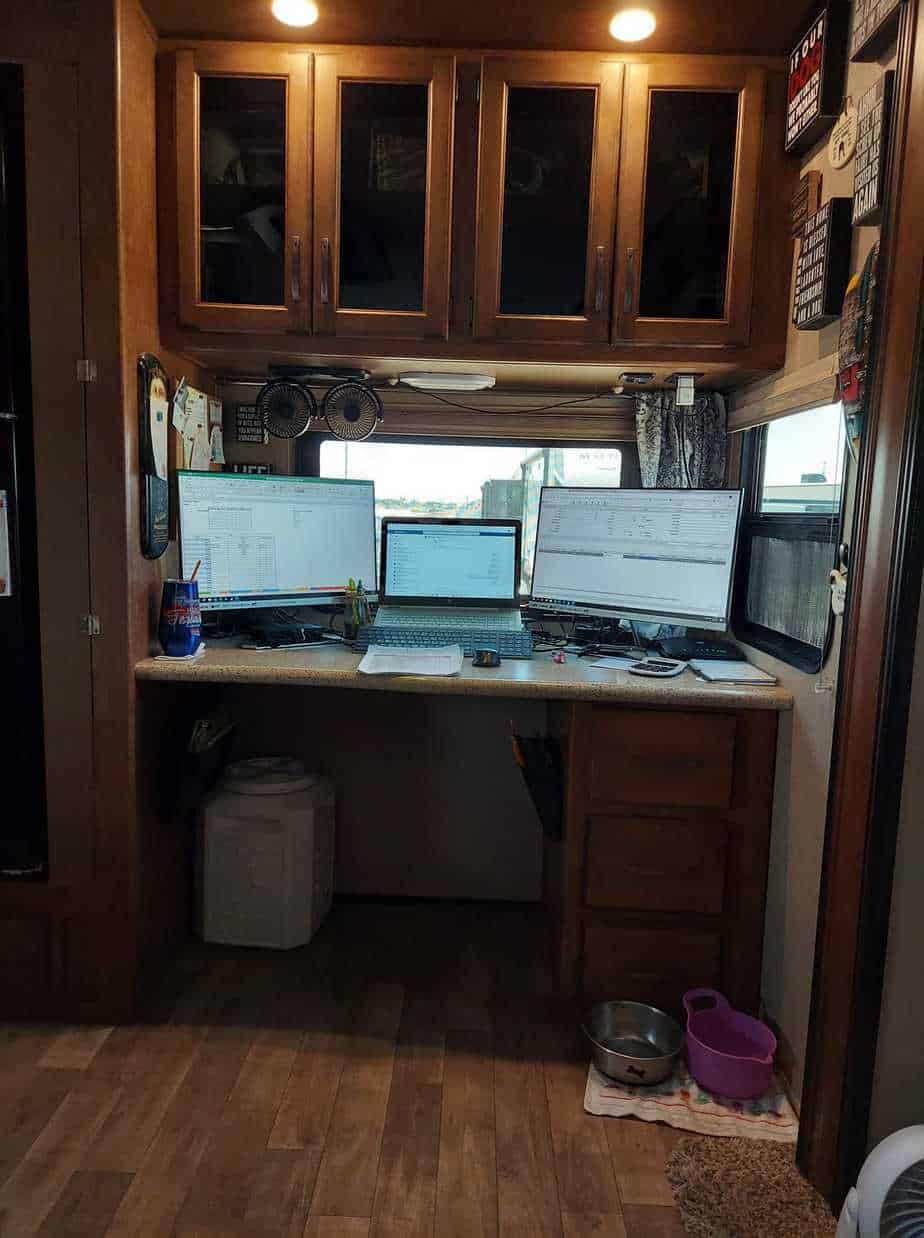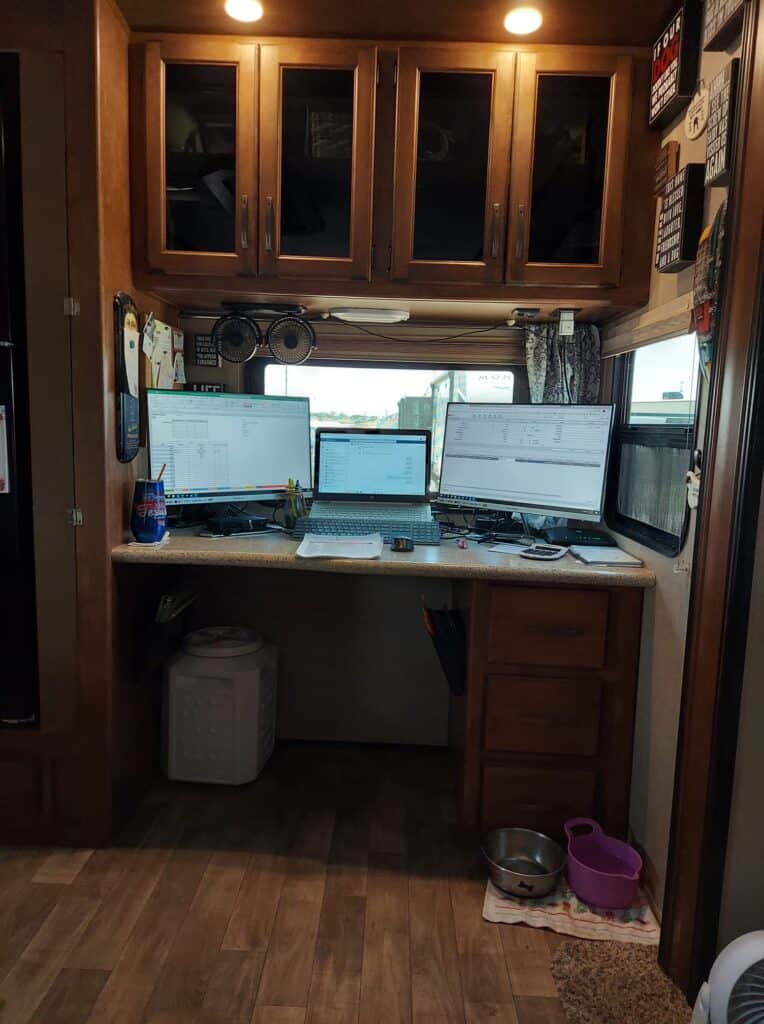 Converted toy hauler/garage to RV home office!
These layouts are the best idea for families who plan on homeschooling or couples who work from the road. They have plenty of space, light, and since they're completely open, you can really modify to your exact needs!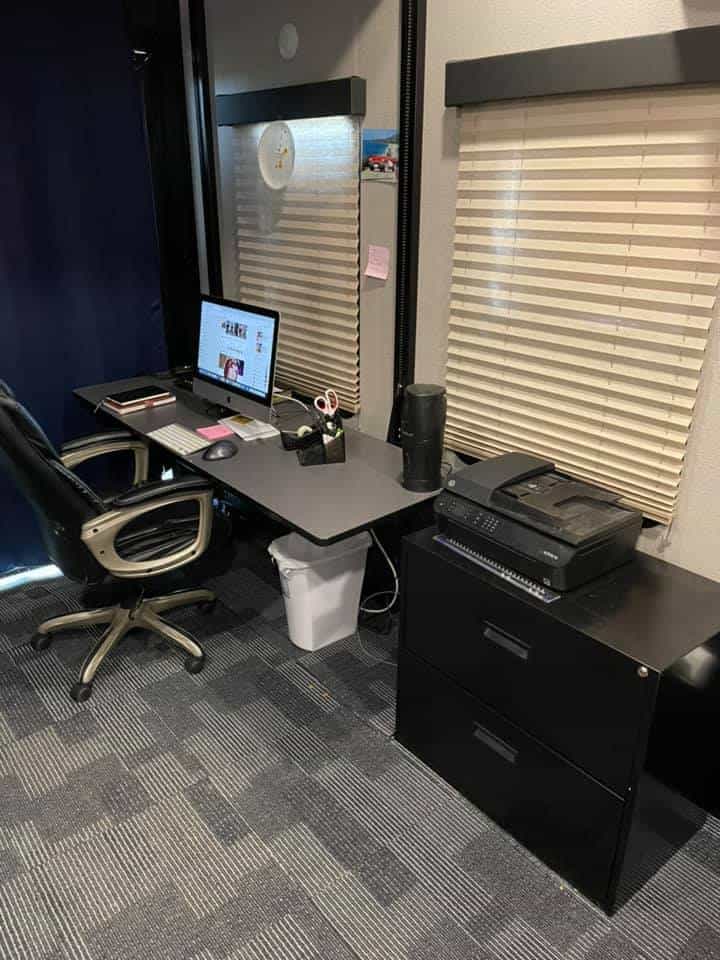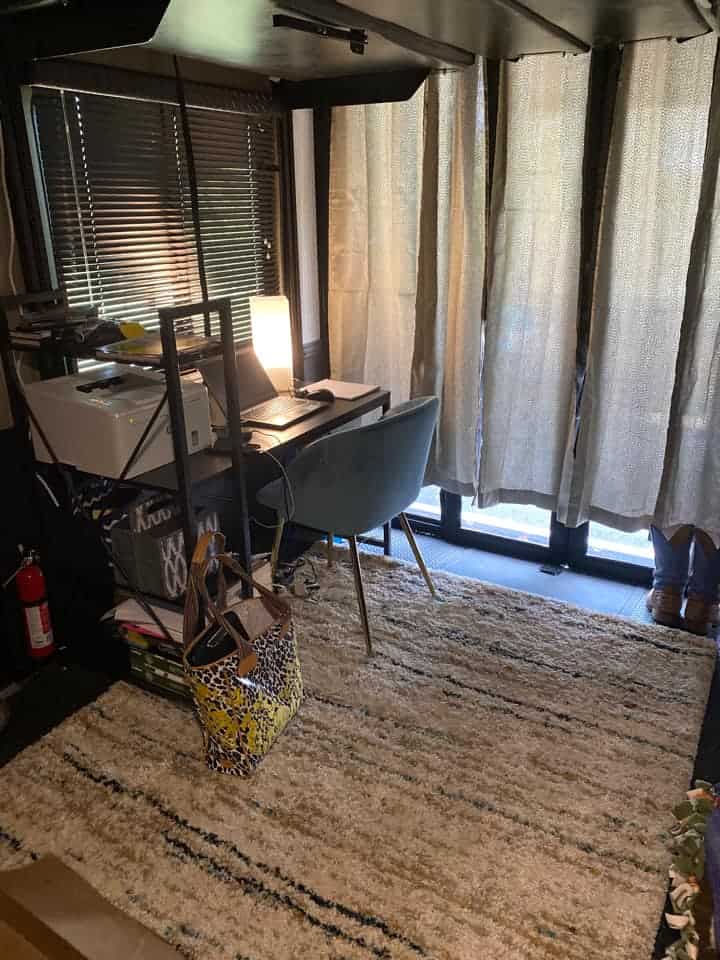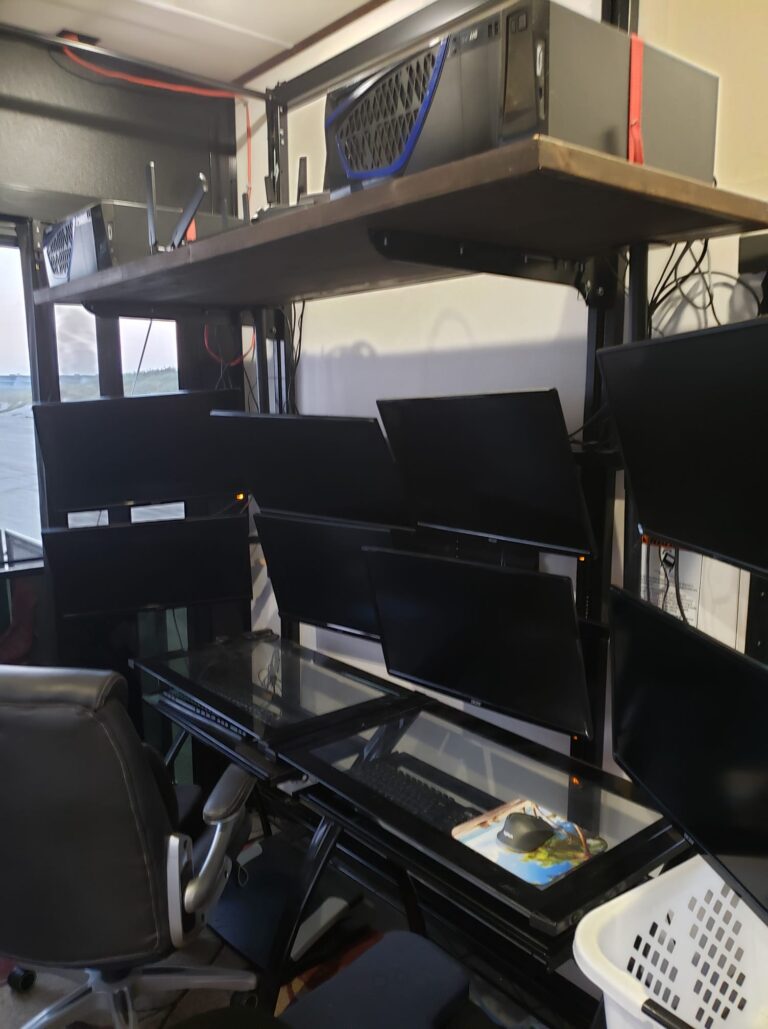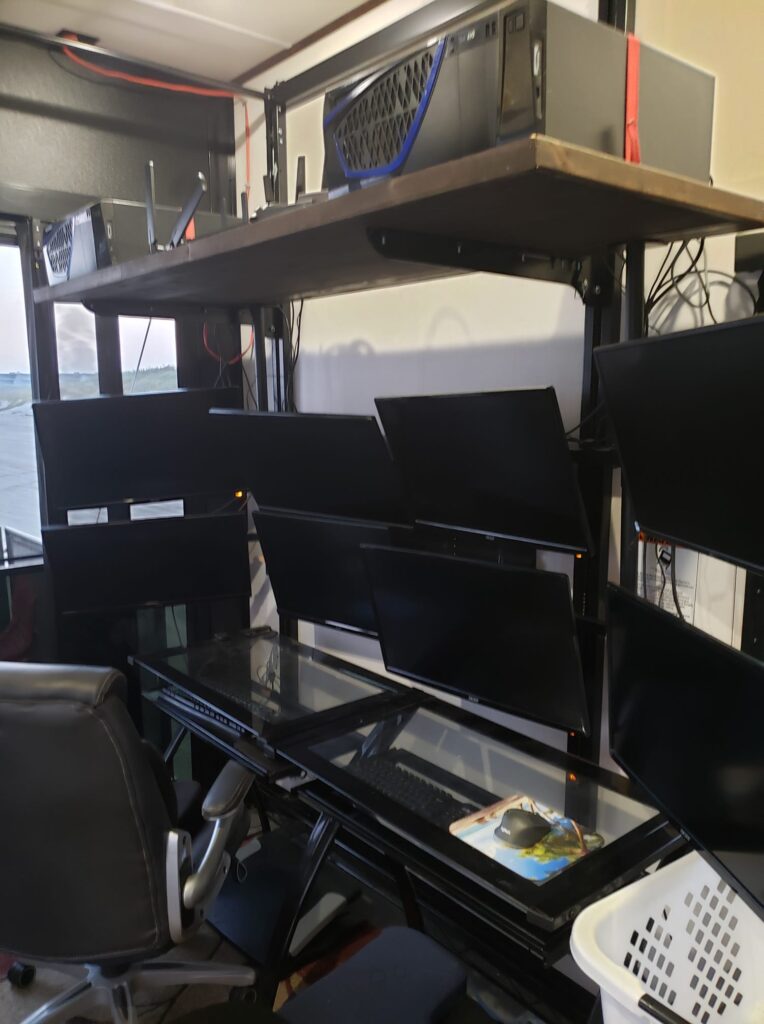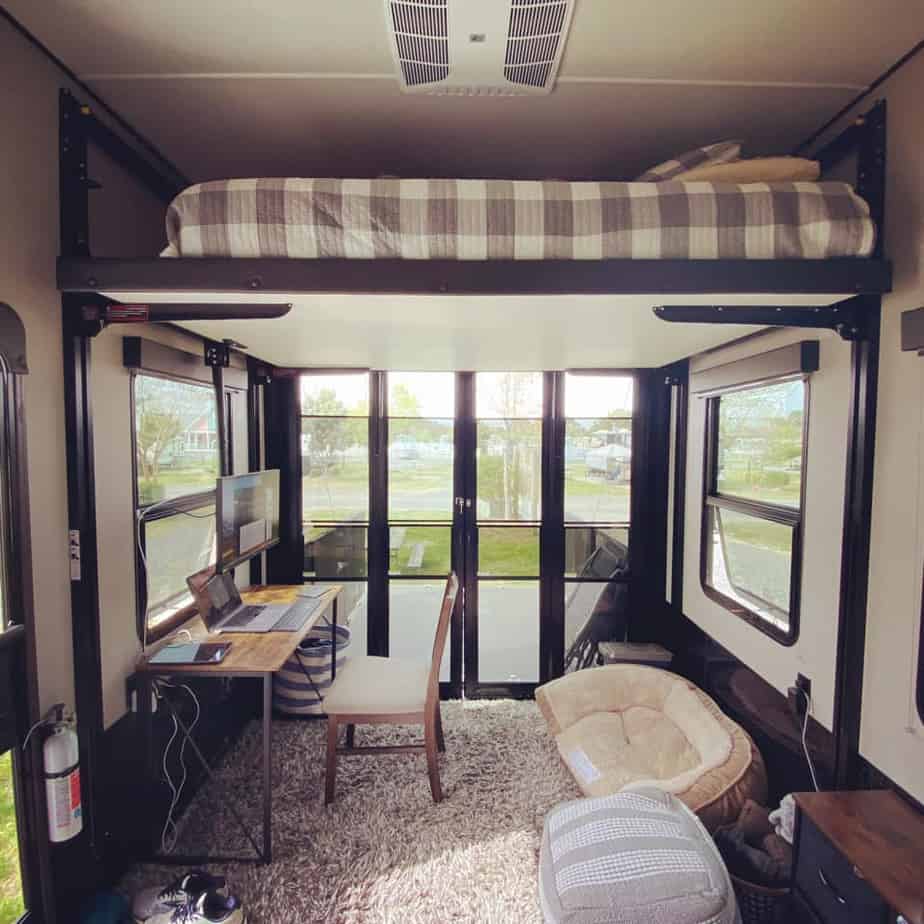 Couples / Double Monitor Office Setups in Campers
If both partners work, or you have multiple kids who need internet access for schoolwork, these home office camper ideas have enough space for 2+ monitors!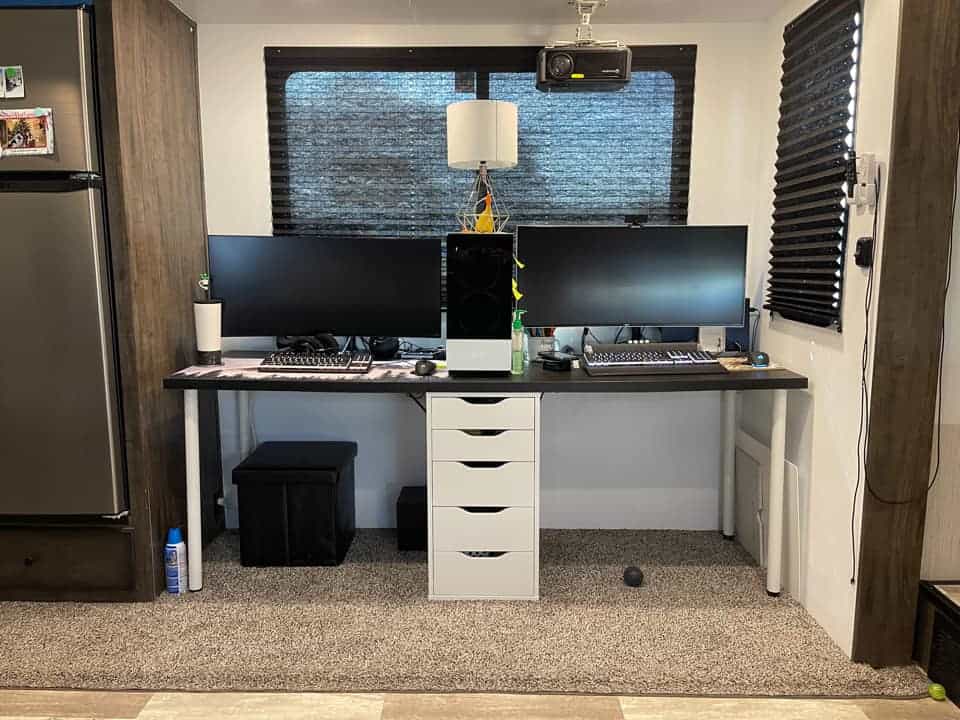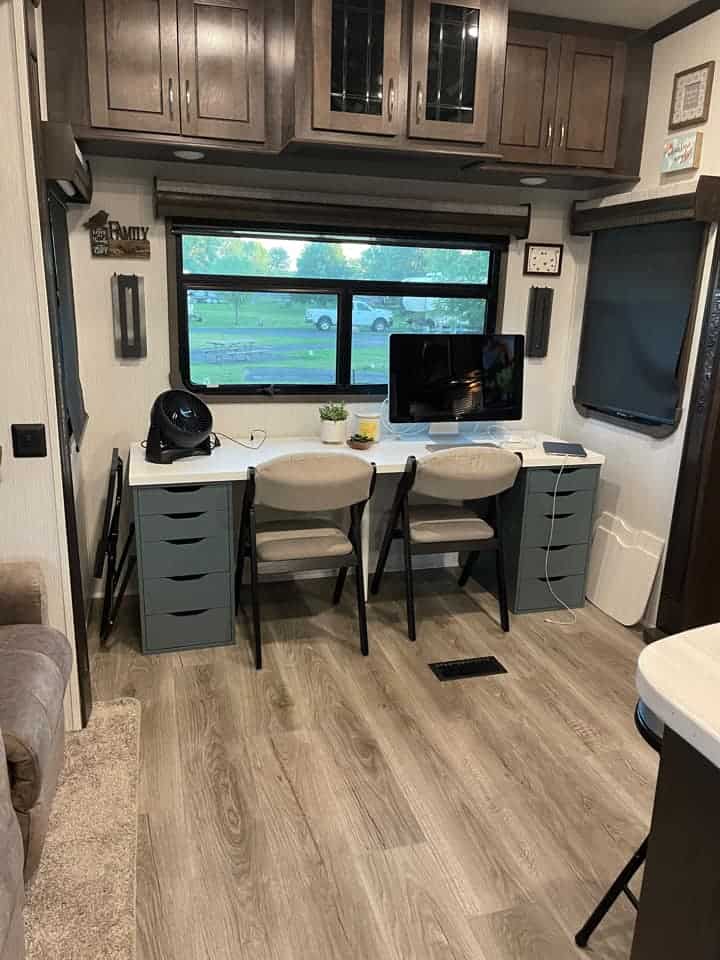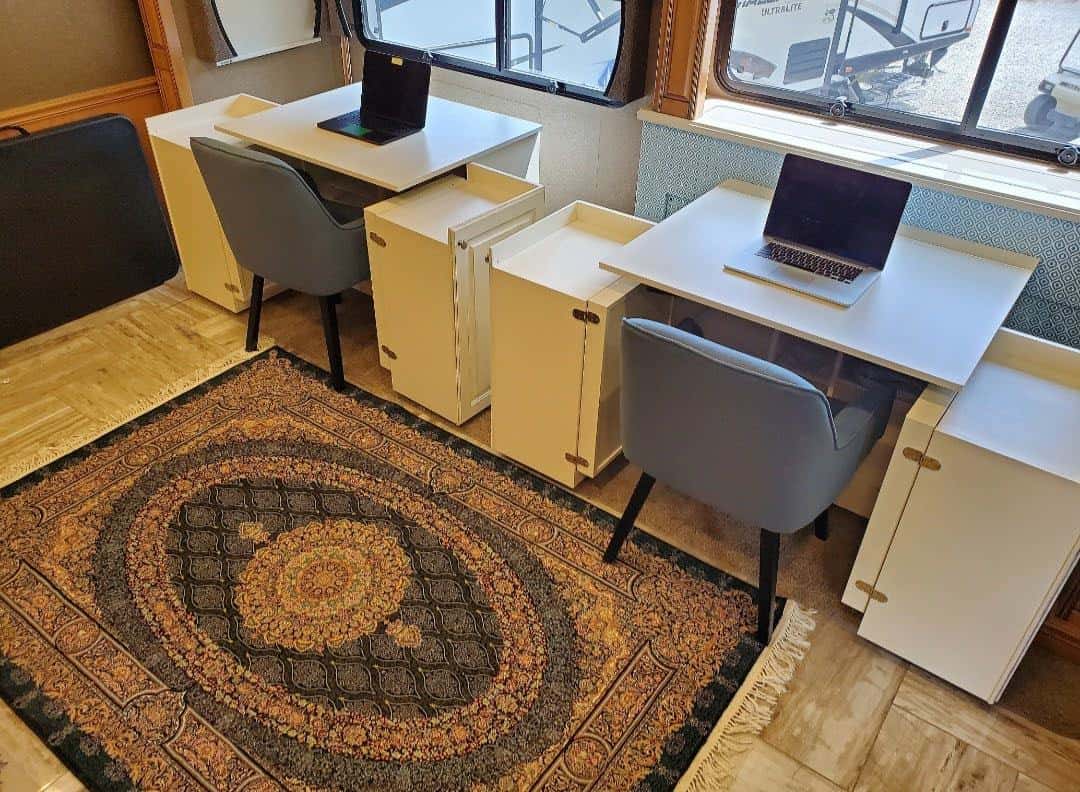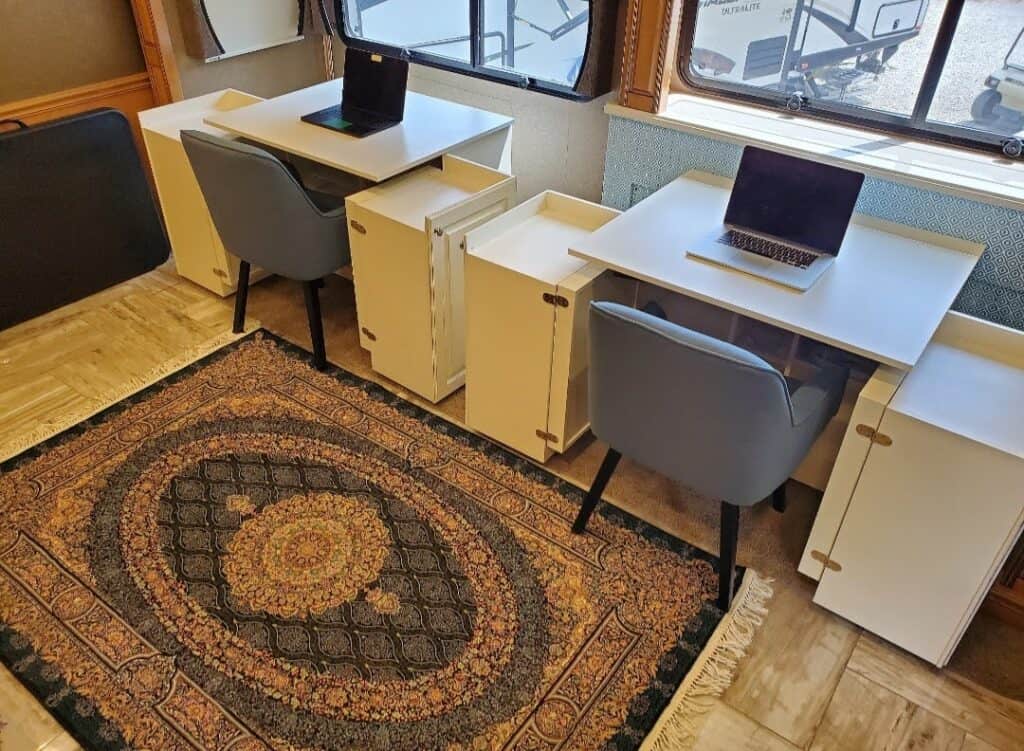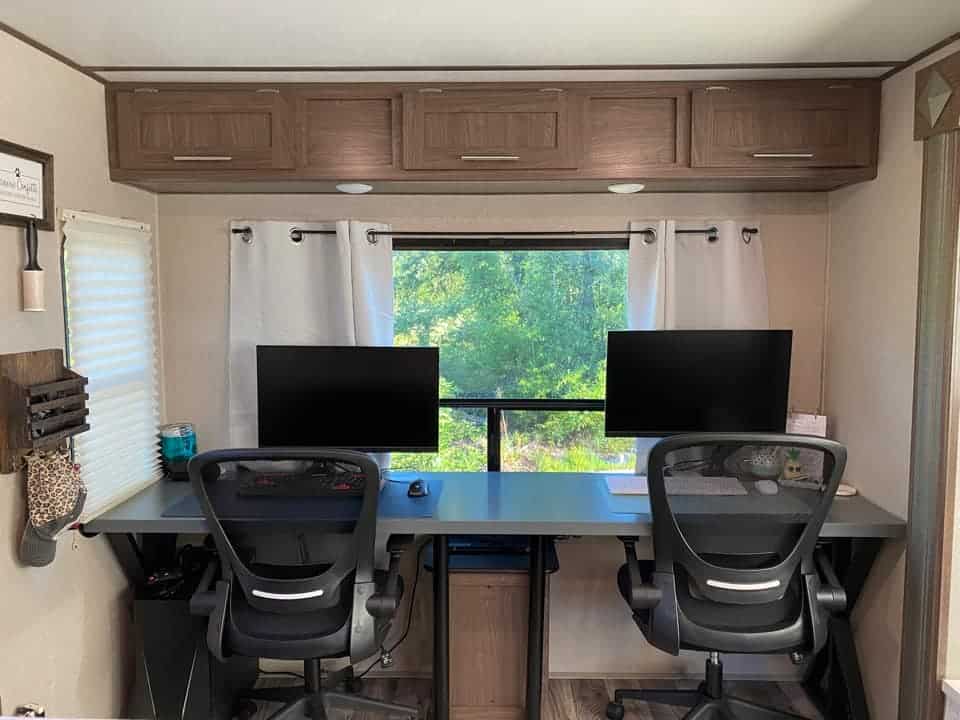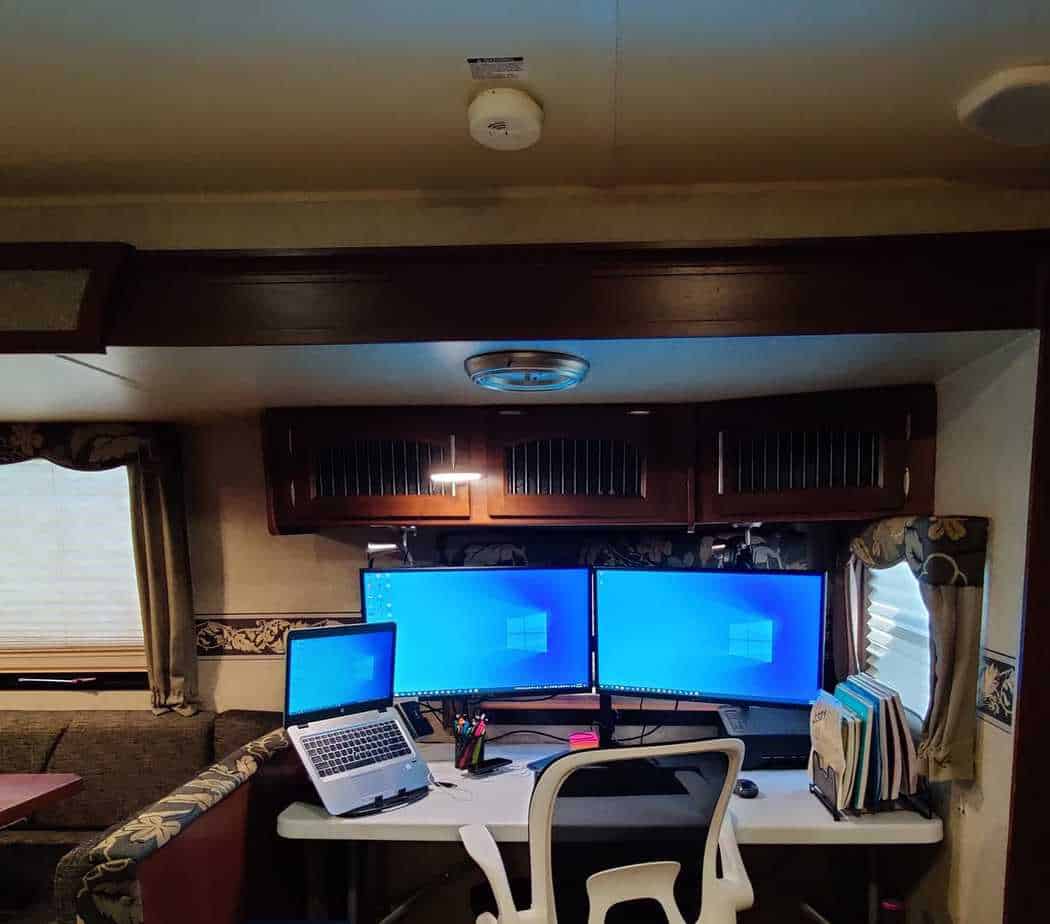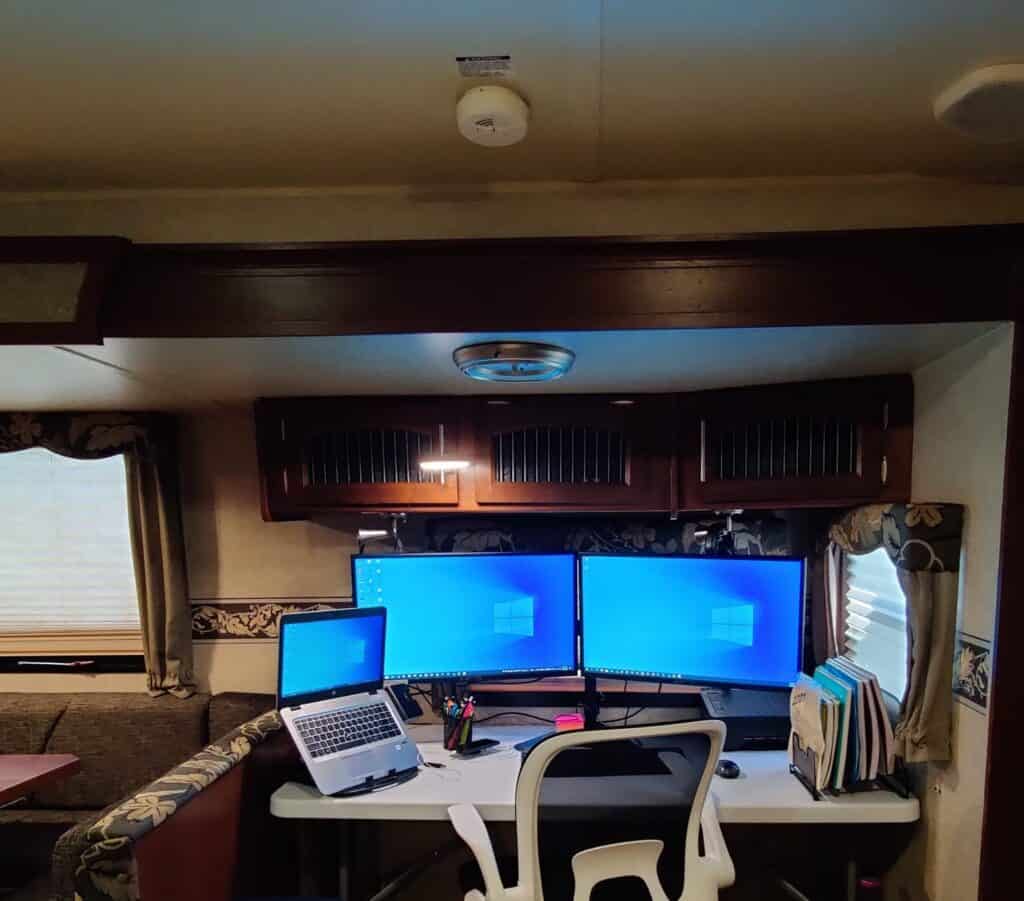 Misc. Other RV Office Ideas
These don't fit in a particular category, but are great ideas worth sharing!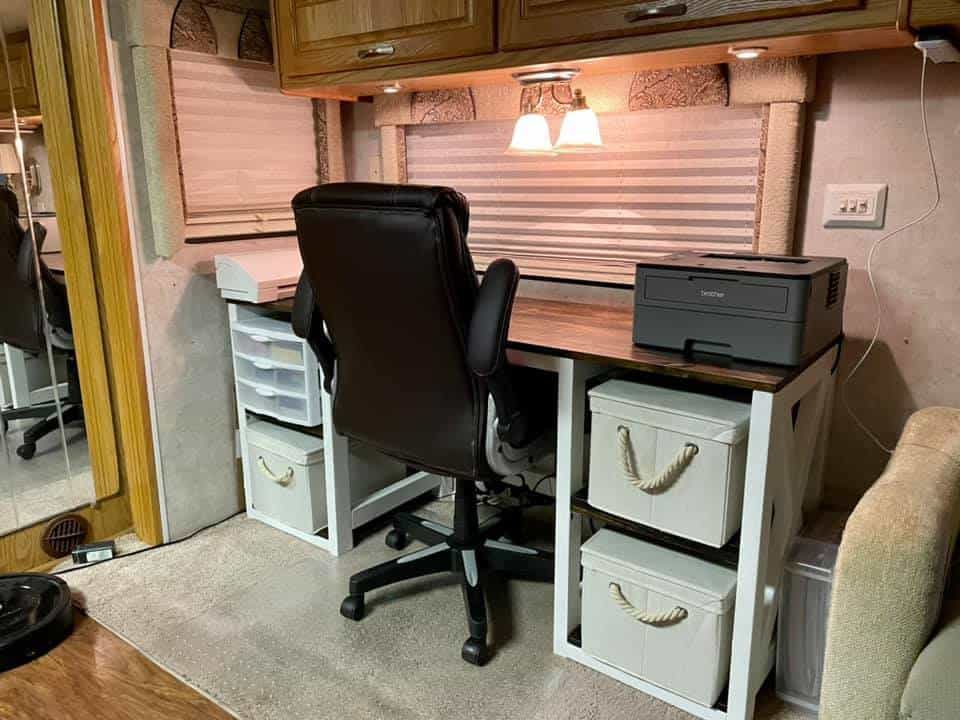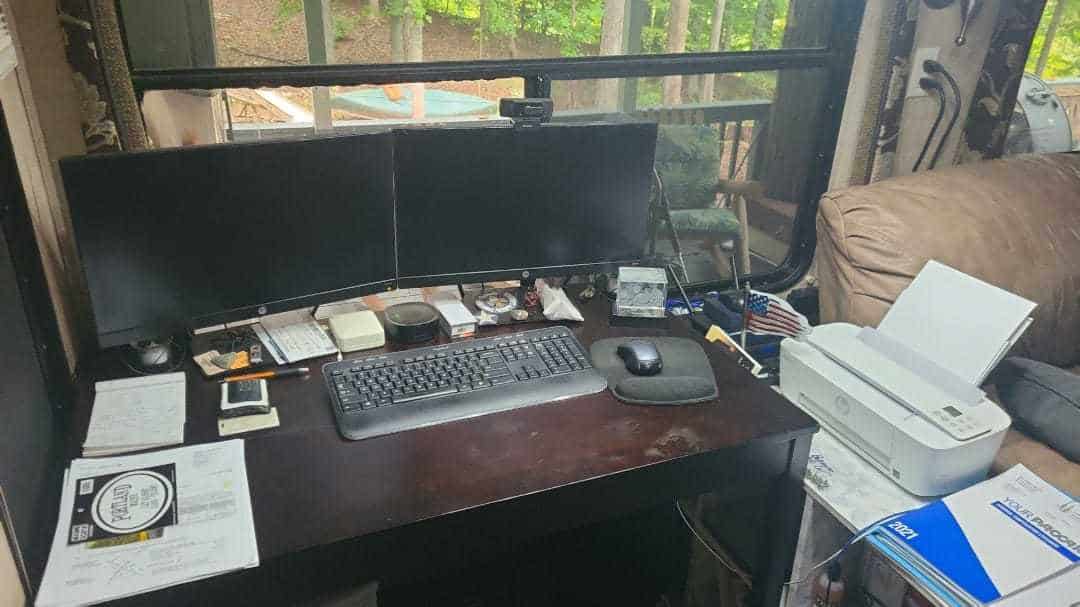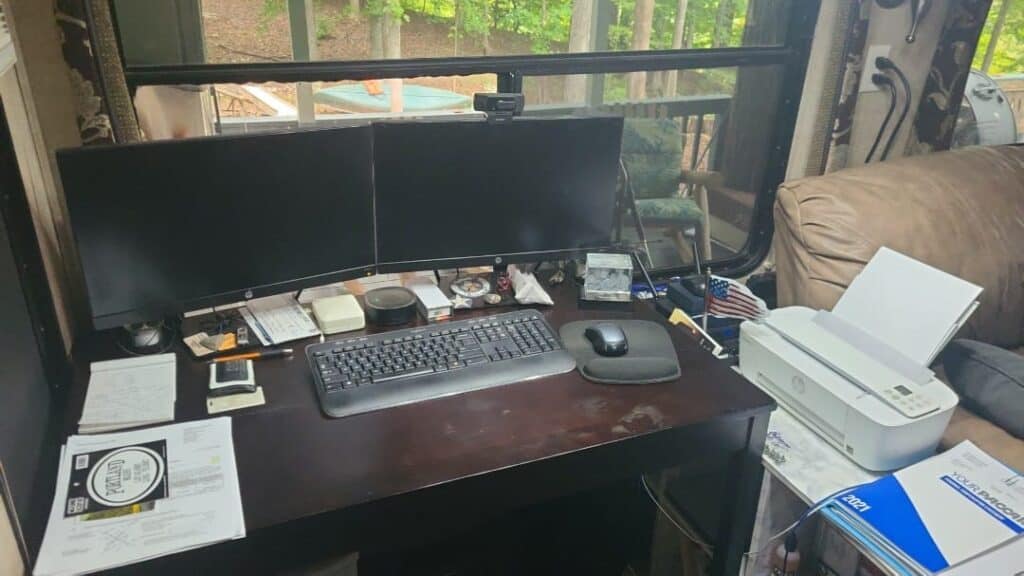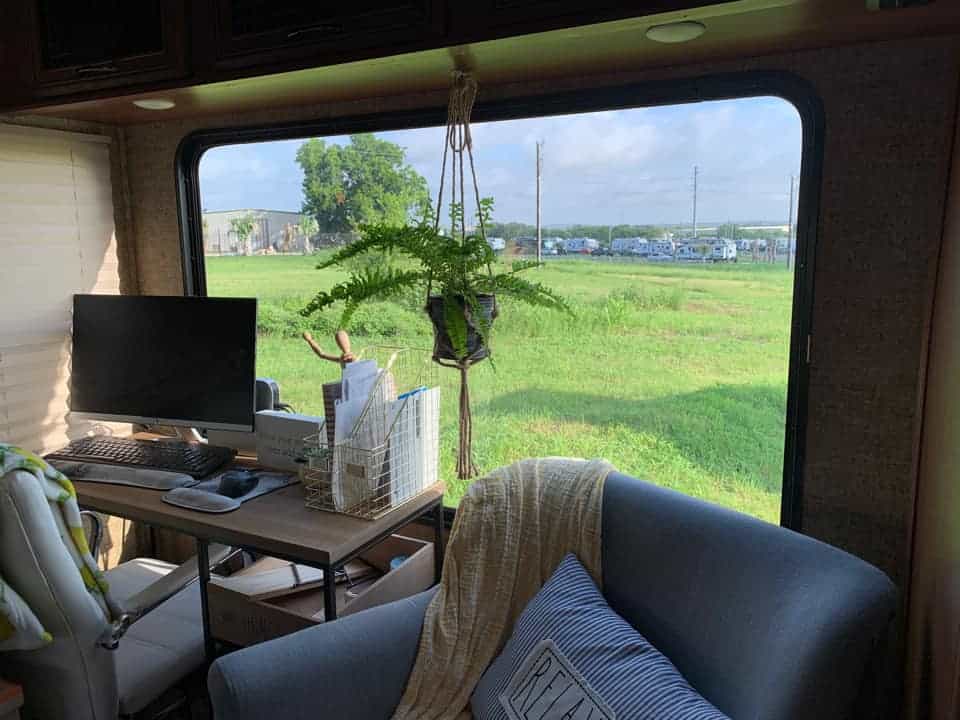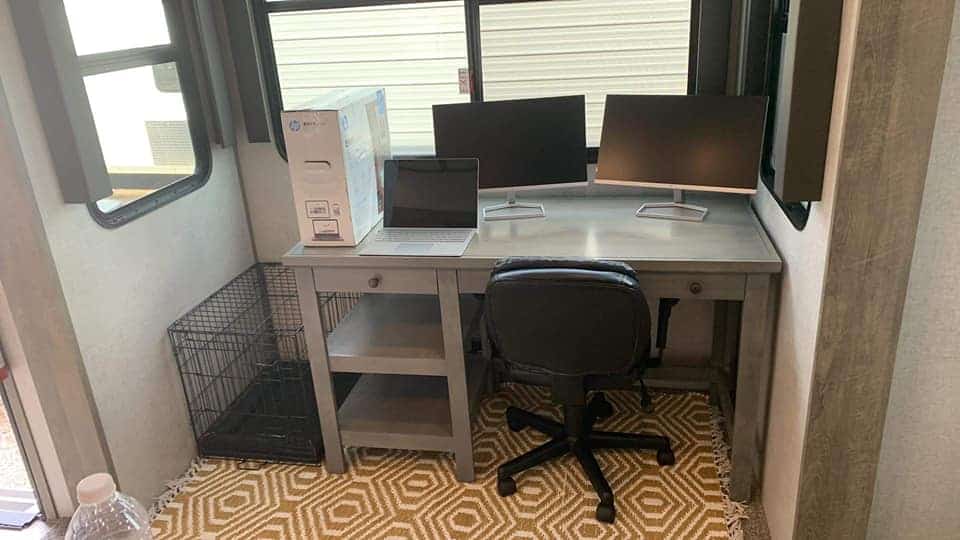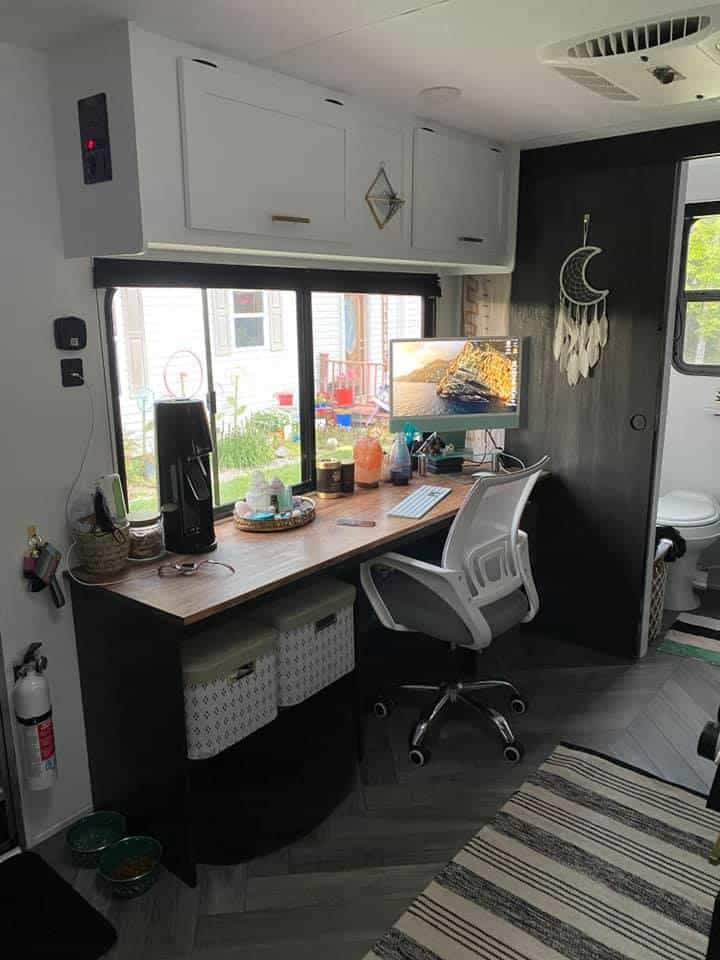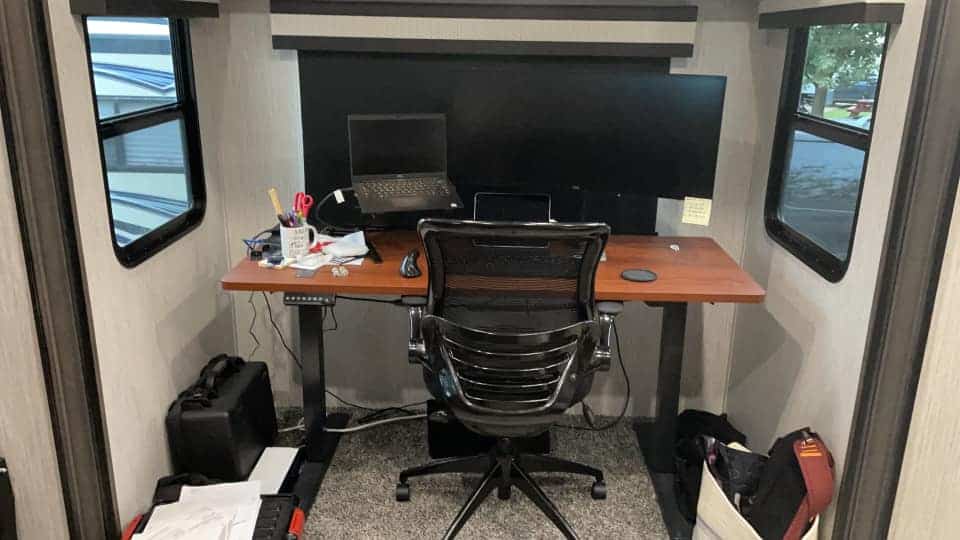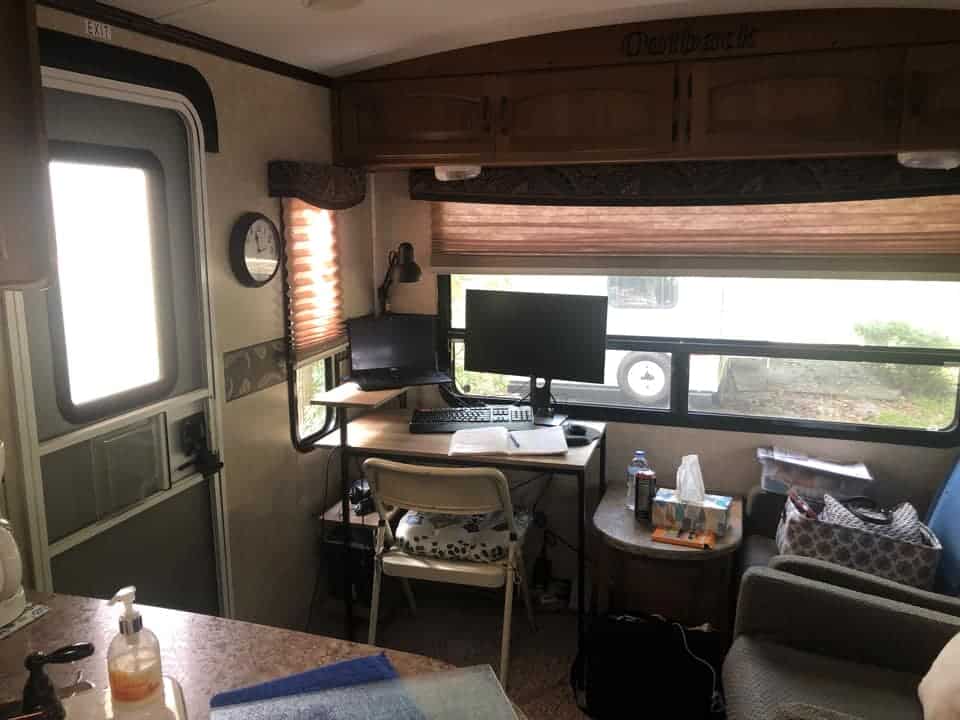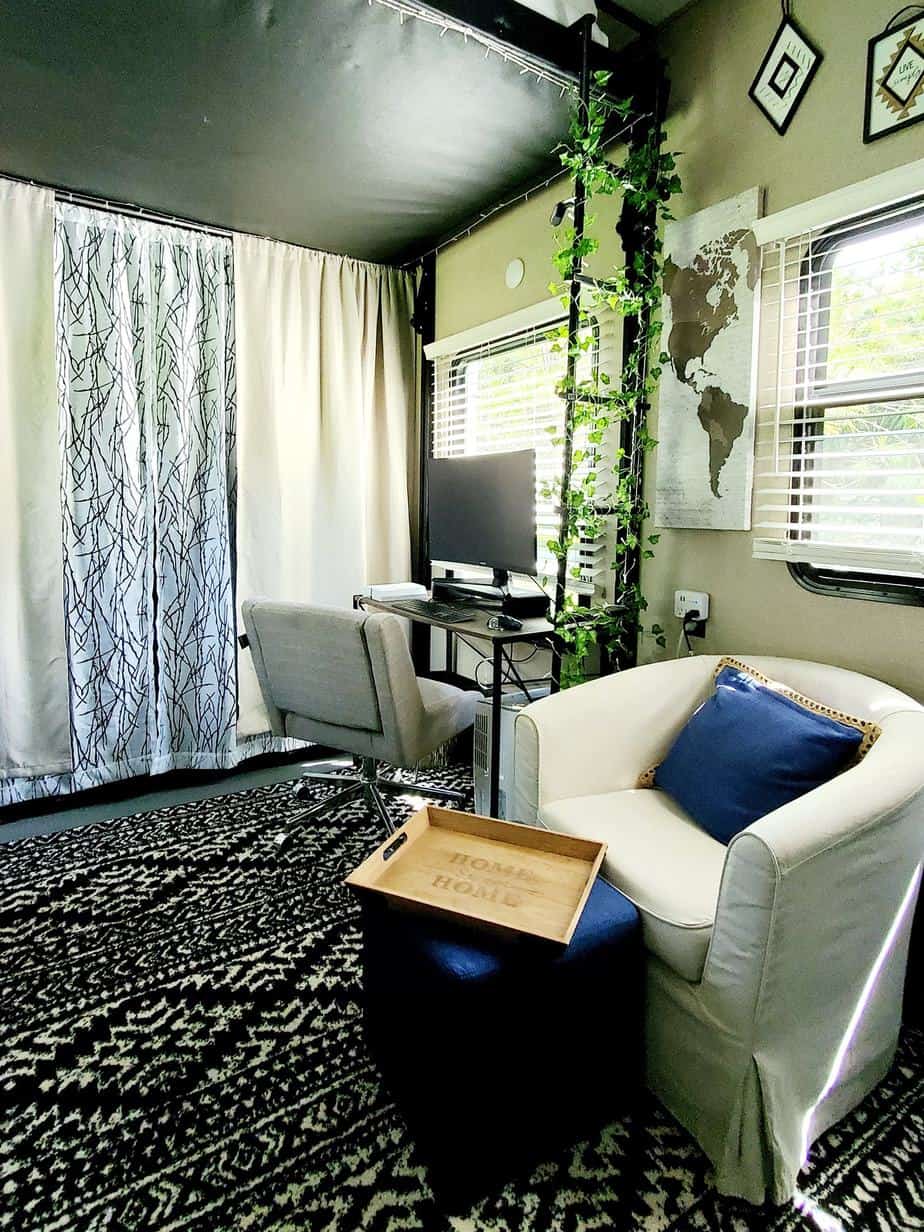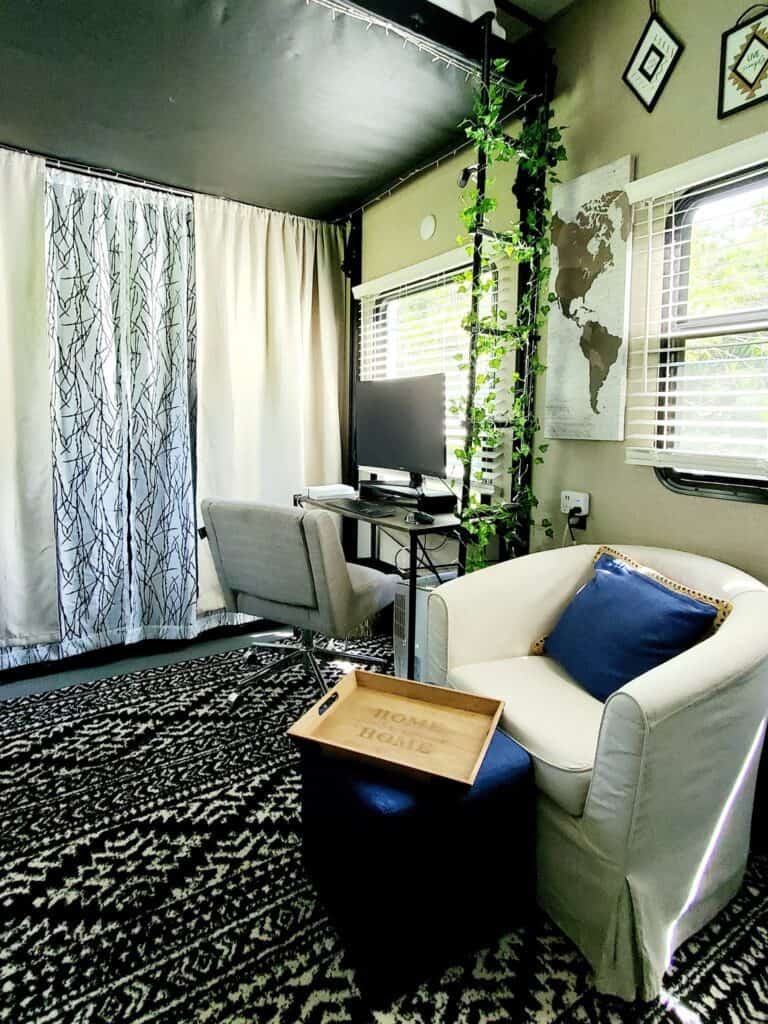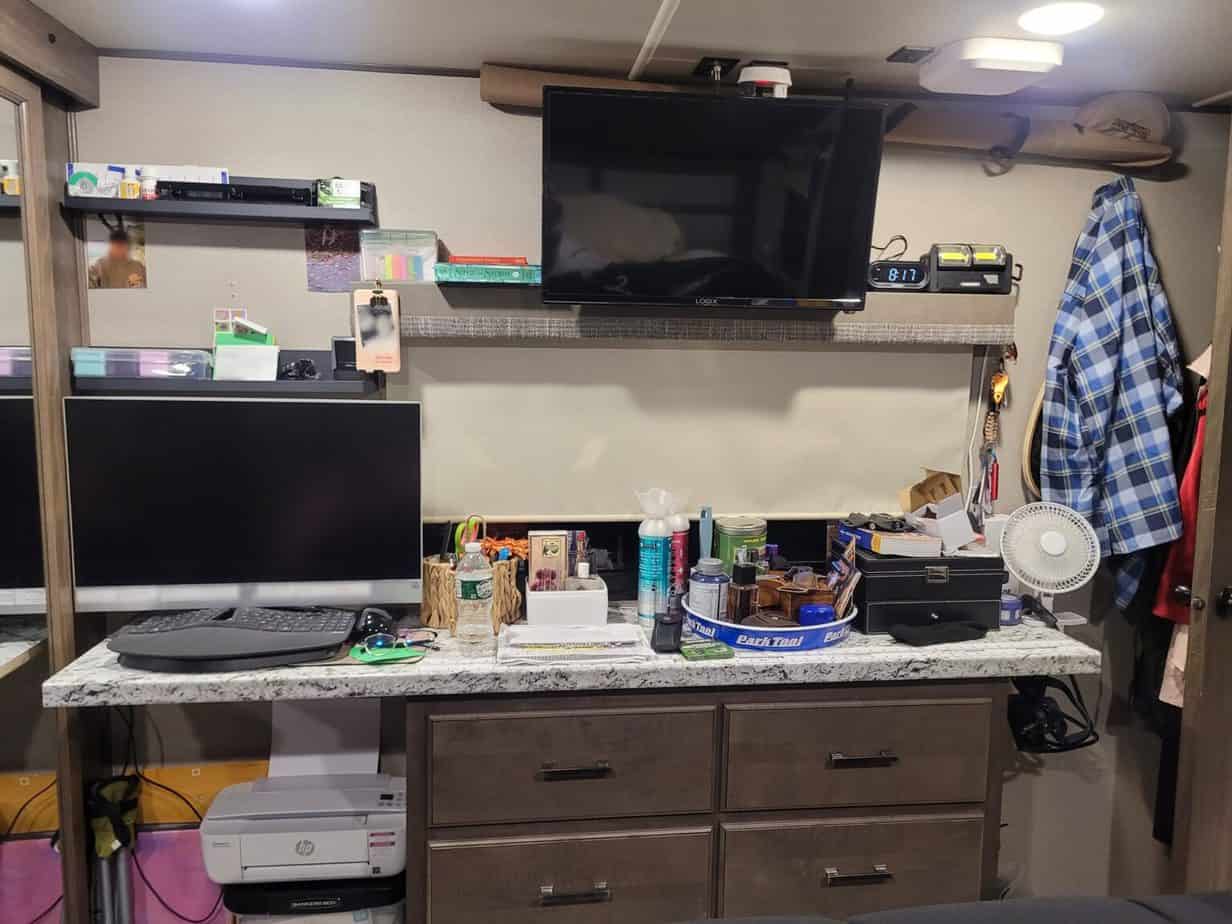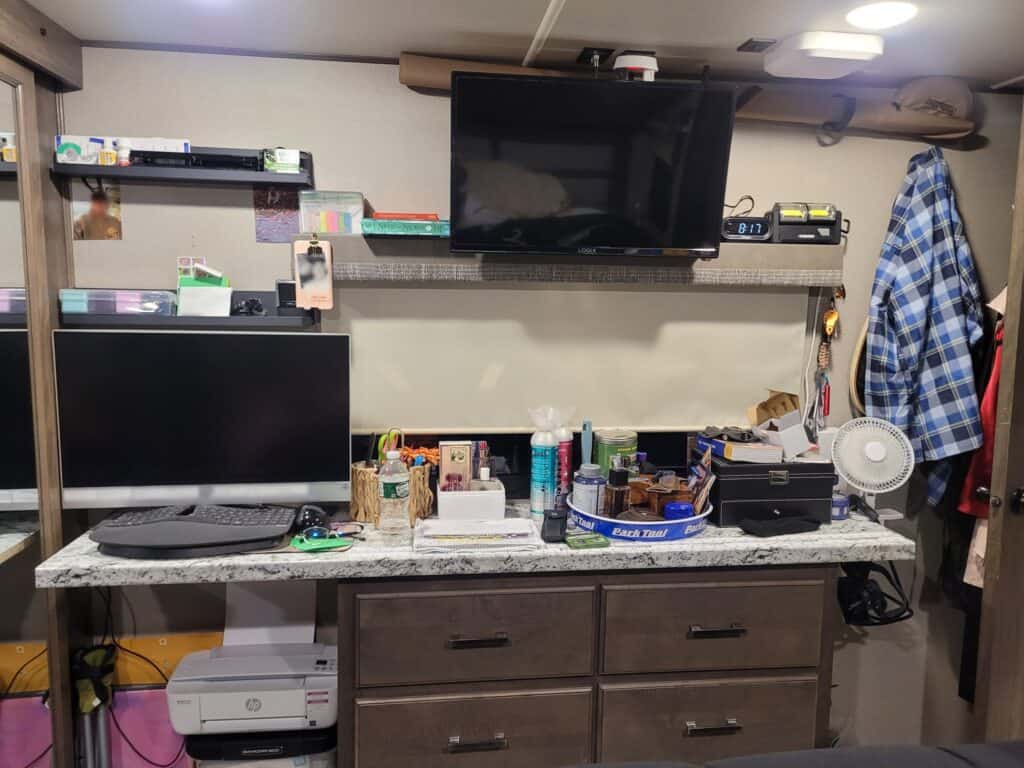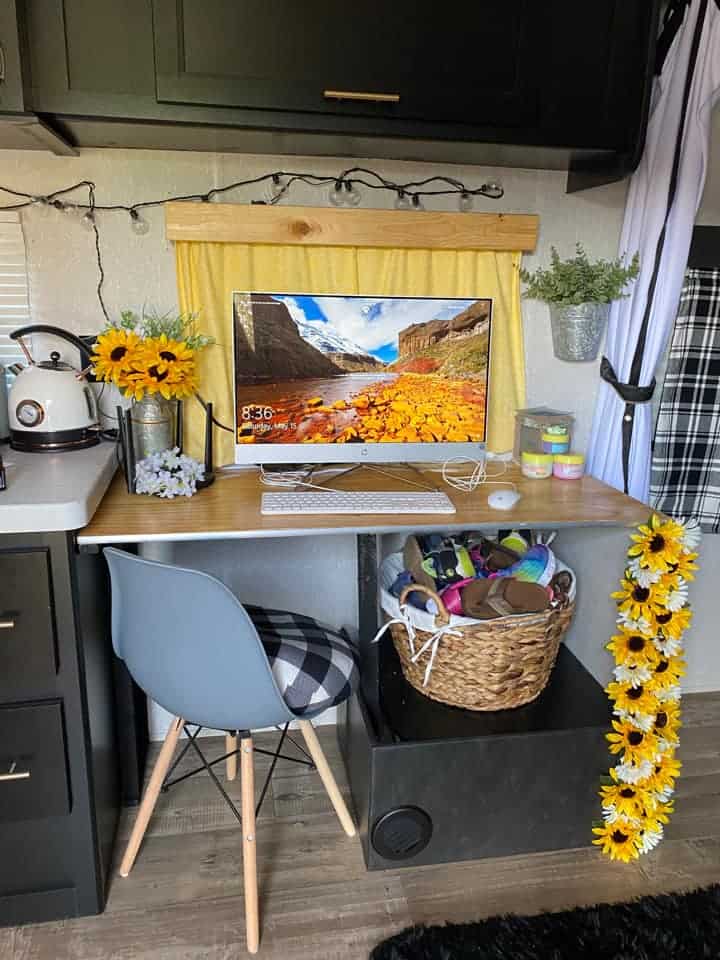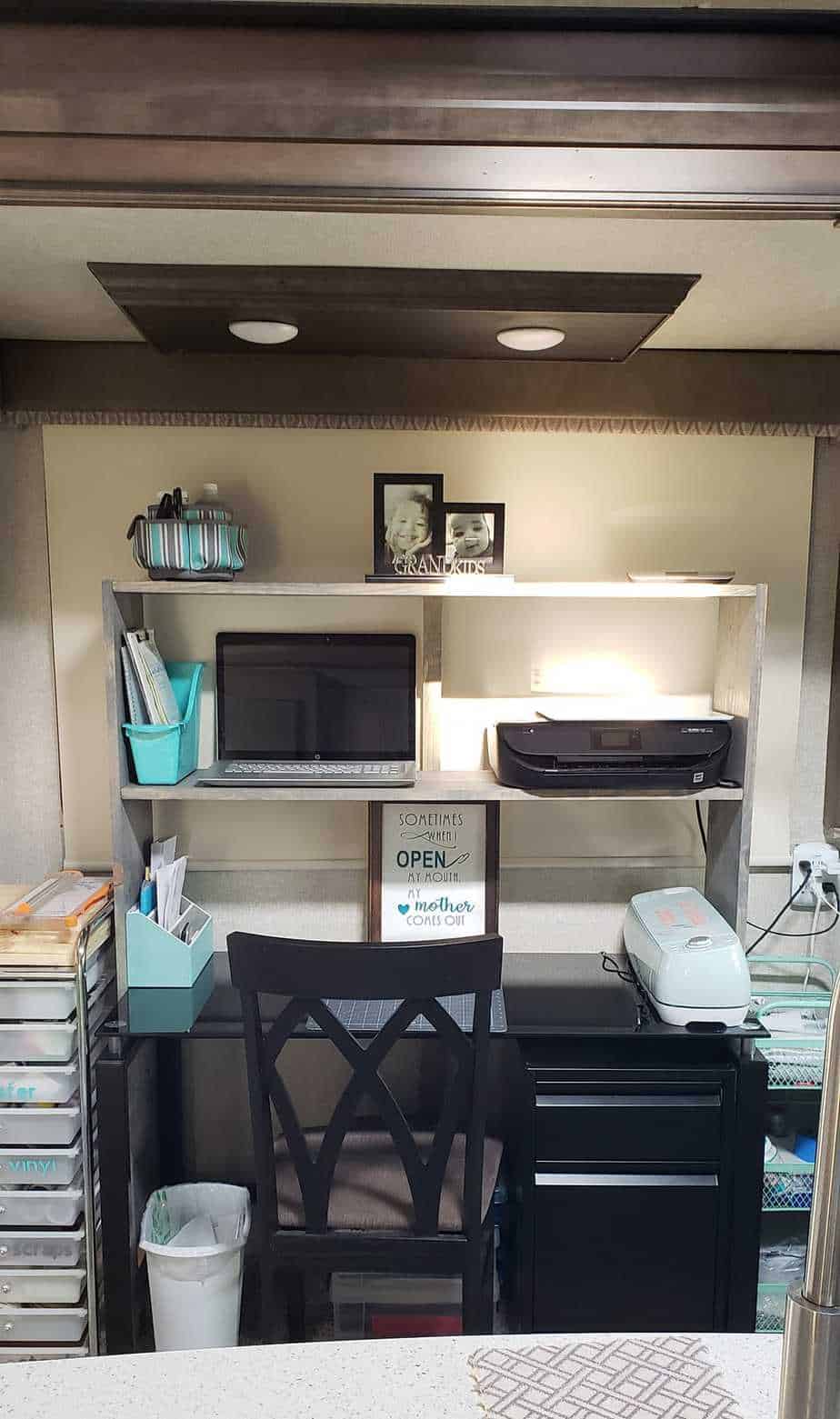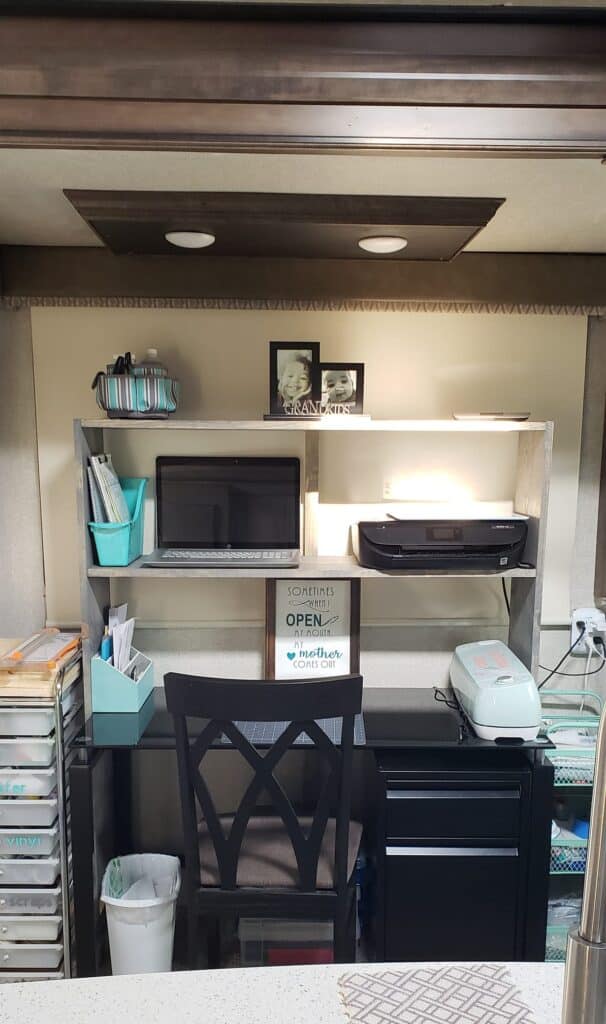 FAQ Creating the RV Workspace of You Dreams
What are some more modern decor ideas for my camper office?
For more decor ideas, I recommend checking out this beautiful roundup!
What RVs come with an office already built in?
If you already know you want your next RV or camper to have space for an office, why DIY it – just buy a camper with a floorplan that already includes it. Here are some – for a full list, check this list out!
Keystone HIdeout 38FKTS
Keystone Cougar 31MBS
Montana Keystone Arcadia 3660RL
Grand Design Solitude 378MBS
Winnebago Forza 38D
Fleetwood Discovery LXE 36HQ
This Youtube video features some 5th wheels that come with offices built into the midbunk area!
What type of chairs and desks work well in an RV office?
Unless you have special medical requirements, or a ton of space, something that is comfy but compact is a great option.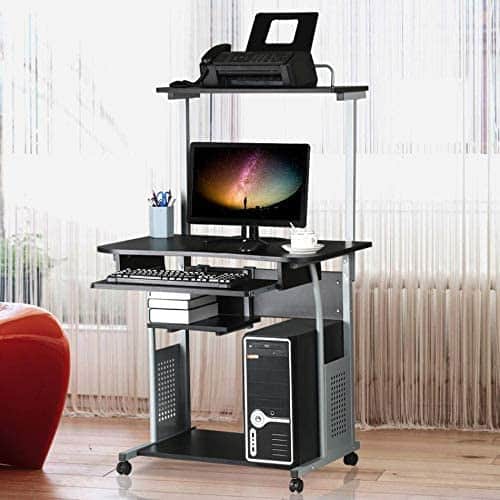 Do you feel ready to take your office on the road?
I hope all these tips have helped inspire you – let me know if you have had an awesome office conversion so I can add it to this list!
Here are some other RVing tips that may help ya out
Latest posts by Stacy Bressler
(see all)