In this day and age, you're going to need a WiFi connection while you're on the road in your RV. Especially if you're a work-from-home-er like me, there's just no way around it! RV WiFi may seem super complicated and difficult, but it's really not any harder than setting up WiFi in your home.
I've created this guide to give you a complete overview of what you'll need to consider before getting internet access in your RV, what your WiFi options are, and what you'll need to purchase to stay connected to the internet on the go.
Let's start with the RV WiFi basics…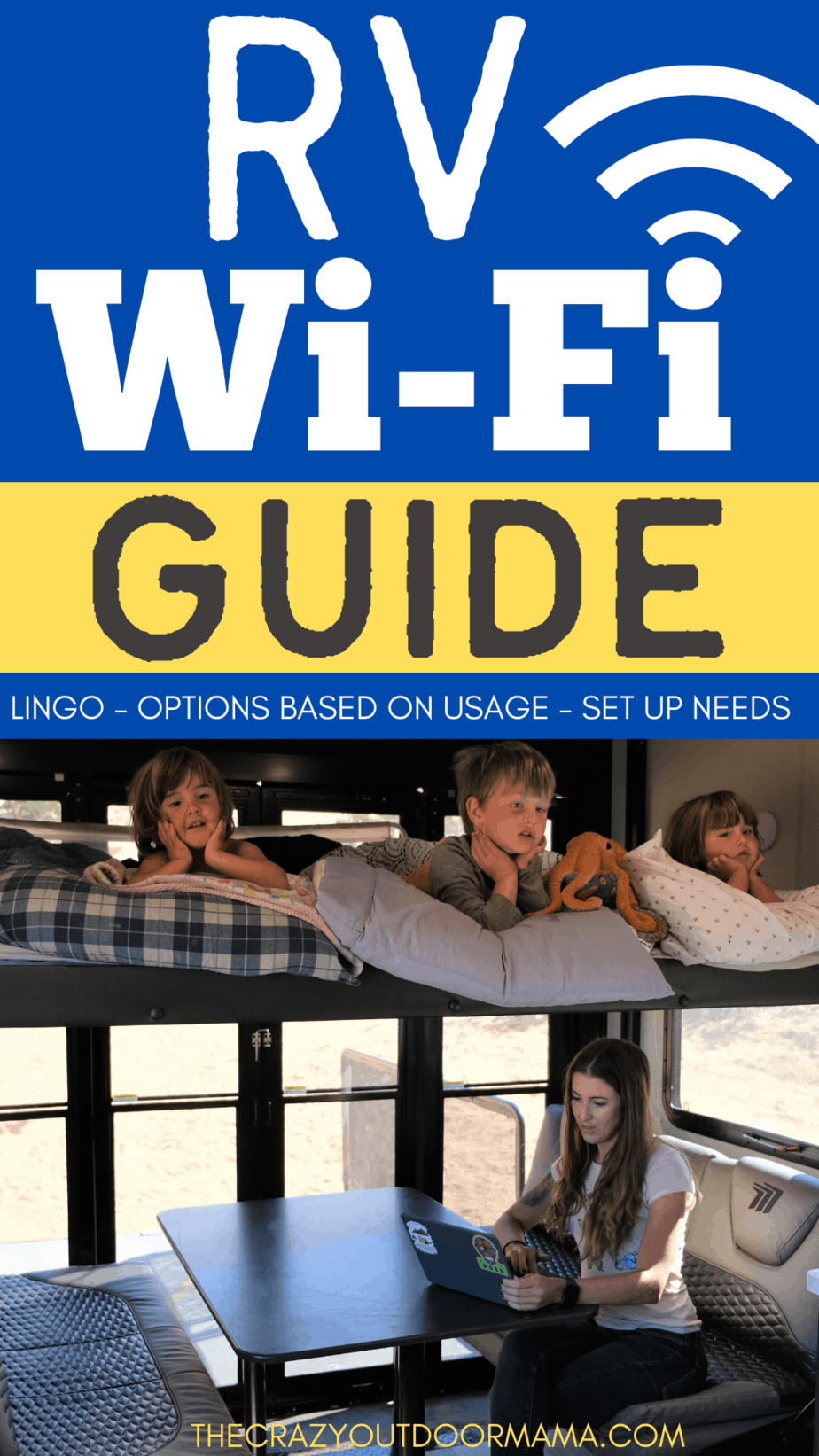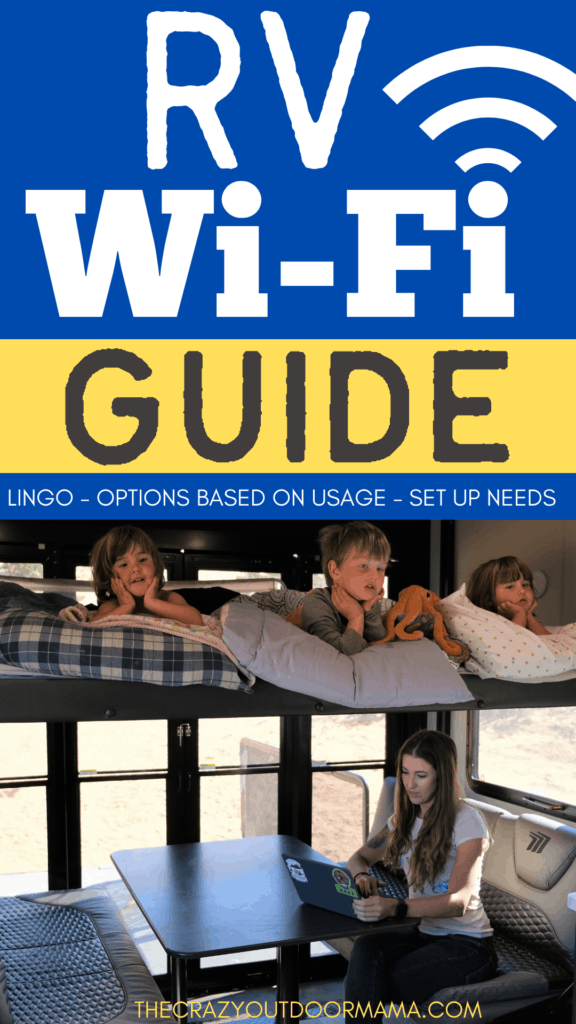 What Is RV Wifi? 
RV WiFi is simply that, an internet connection in your RV. There are many different ways to get internet access in your RV. You've got cellular data, public WiFi, or satellite. Plus, there ways to strengthen a connection, like an RV WiFi booster or data booster (we'll go over those later).
For now, let's go over some lingo I'll be throwing around in this article…
RV Wifi Terms You Need to Know
Hotspot: A device that creates a Wifi network from its connection to cellular data. When you think of hotspots you might think of creating a WiFi signal from your phone, but this is actually called tethering–we'll discuss that later.
Router: A router basically takes information from your computer or phone and decides where to send it so you get the fastest connection. Routers are what you'd use for a home internet connection and aren't super common in an RV WiFi setup.
Booster: RV Wifi boosters are pretty self-explanatory. They're extra devices in addition to a router or hotspot that can strengthen your connection to a WiFi network or the strength of your cellular data.
Extender or Repeater: Extenders or repeaters, similar to RV WiFi boosters, help strengthen your WiFi connection. These are useful for places where you don't get a strong signal, like campgrounds, because they will pick up the existing WiFi signal and "repeat" it so that you are in a closer range to the network.
Bandwidth: Bandwidth is basically the maximum amount of information a specific WiFI connection can carry. It's usually measured in Mbps.
Mbps: Short for megabits per second, this is the measurement to determine your internet's bandwidth. It'll tell you how fast or slow your WiFi is. For example, if you want to stream an HD video on one device, you'll need around 5 Mbps of bandwidth from your WiFi.
Tethering: Like I mentioned before, tethering is using your phone to create a WiFi connection from your phone's cellular data. If you've used it before you know that tethering can create a slow internet connection for your computer or another connected device. But it can be really nice if you need an internet connection in a pinch.
Throttling: Throttling is when you have reached the maximum amount of data usage on a plan, or you're in a really busy area, and your provider "throttles" back your cell phone signal, making it significantly slower. Throttling can be a huge bummer but you can prevent this by having two different providers and switching between them when necessary.
VPN: VPN is short for Virtual Private Network. This is software installed on your phone or computer that will hide your IP address so you can use the internet privately and without fear of anyone being able to access your information. If you use a lot of Public Wifi at Starbucks, libraries, or campgrounds, installing a VPN is a great way to protect your data from hackers.
So now that we've covered the basic WiFi terms, lets look at 4 options for getting an internet connection in your RV.
4 Ways to Get Wifi in Your RV
There are many different options to get internet access in your RV, and some are better than others depending on you and your family's needs. They include:
Cell Data
Satellite Internet
Public WiFi 
International Internet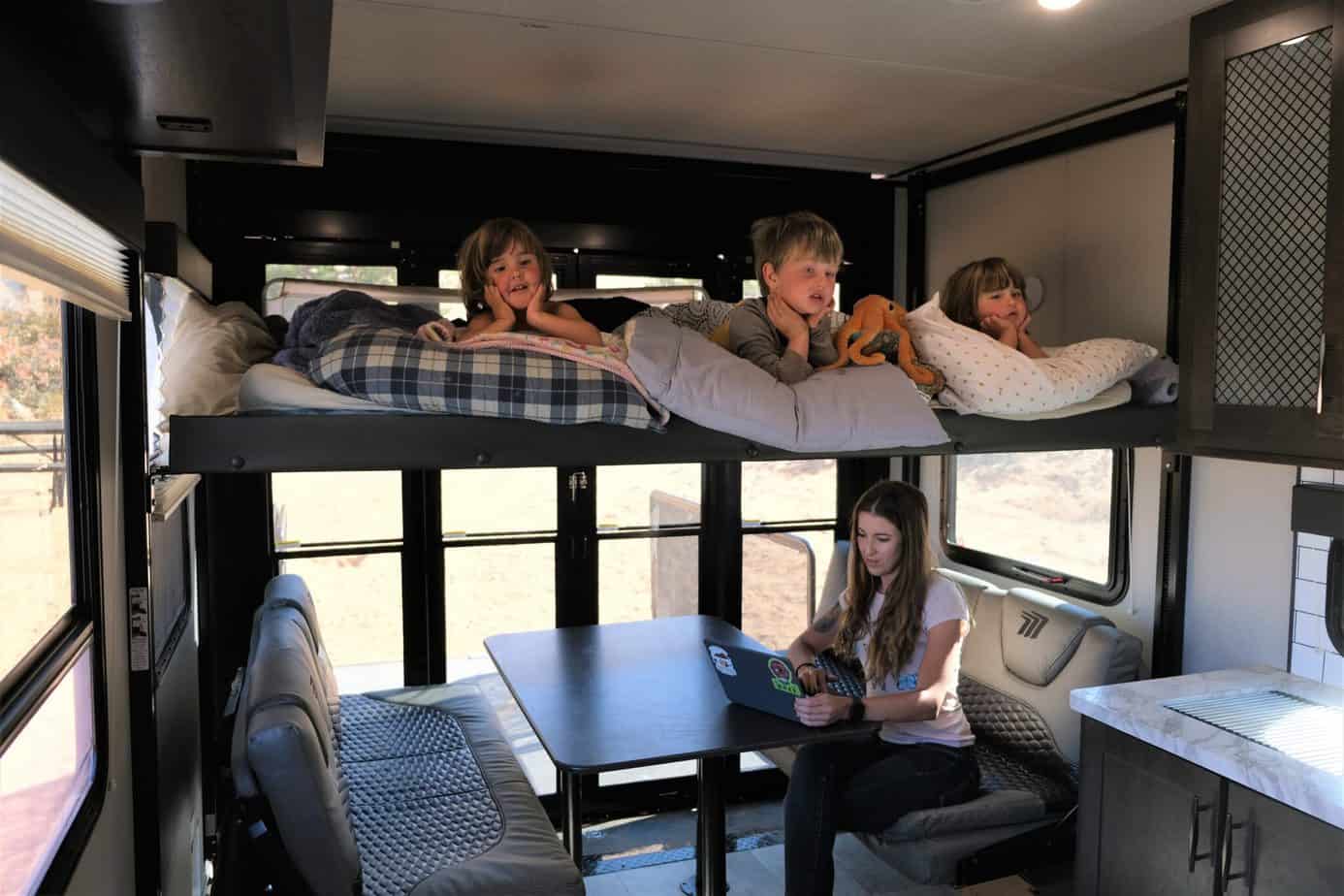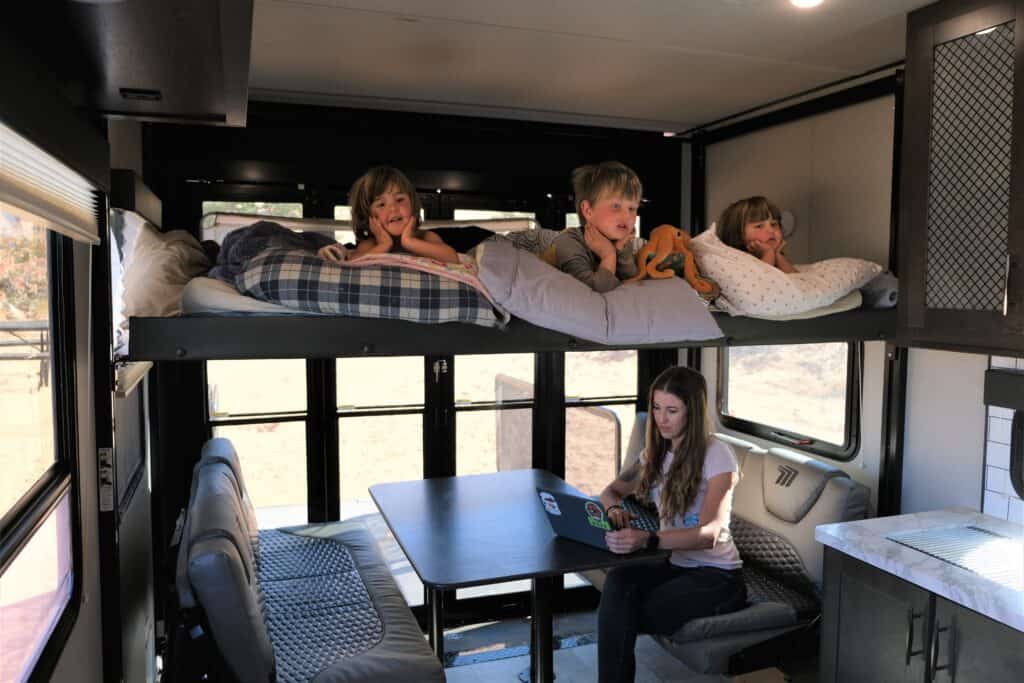 Let's go through each of these four options. I'll describe what they look like, what you'll need, and some pros and cons to each so you can make a decision based on your unique internet needs.
Cell Data
This is by far the most common solution to RV WiFi, and the best RV WiFi for fast speeds. Using cell data in your RV just means that you purchase a mobile hotspot device from a provider, choose a plan, and pay a monthly data bill just like you would with your cell phone plan.
From there, all your devices can connect to the hotspot and boom! You have internet! (As long as you're in an area where the hotspot has a cell phone signal.)
If you do choose to go this route with your WiFi, I'd highly recommend getting an Unlimited Data plan. Data gets eaten through super quickly in an RV—especially if you need to connect multiple devices—and having the security of knowing you won't run out of data is super worth the cost.
Pros:
Reliable internet connection
Doesn't require tons of equipment
Good for boondocking and other types of camping where you know you won't have another type of WiFi connection
Speeds regularly support HD streaming
Cons:
Monthly data plan can be pricey
Satellite
We've all pulled up to RV parks and seen that huge RV with the crazy huge satellite sticking out of it. Those people are using satellite WiFi. Satellite internet just requires mounting a satellite on top of your RV which connects you to the internet no matter where you are.
This option is not super feasible for constant road-tripping because you will have to assemble and disassemble the satellite each time you go to a new spot. However, if you live in your RV at an RV park longer-term, it can be nice to have a consistent satellite connection, especially if you're in areas that don't have data coverage from major carriers.
Pros:
Works for long-term campground stays
More consistent coverage than cell phone data
Cons:
Slower than data
Have to do setup each time you move campgrounds
Public Wifi
By public WiFi, I just mean relying on spots that have public WiFi for your connection — Starbucks, private campground WiFi, libraries, etc.
But if you've ever used campground WiFi before, you know it can be pretty slow and you won't always find a reliable internet connection. You can purchase an RV WiFi booster to avoid this as much as possible.
I'd also recommend getting a VPN. Public WiFi makes you susceptible to hackers and a VPN will make sure you're protected.
Pros:
Free
Doesn't require extra equipment
Good if you don't need consistent internet access
Cons
Inconsistent
Can be slow
Low internet privacy and security
International/Global Internet
This RV WiFi solution is basically the same as the cell data option, except it involves buying a hotspot that can be used internationally, like this one from Glocal.
Just like with the cell data option, you purchase a data plan for your hotspot. Except with these devices you can stay connected no matter what country you're in. Plus, Glocal doesn't require a contract so you can pay by usage, or sign up for a monthly plan if you aren't traveling long-term.
If you're traveling internationally and you need a strong signal, this is going to be your best option.
Pros
Great for international travel
Signal regularly supports HD streaming and video calls
Cons
So there are your four options for RV WiFi. But how do you know which is the best for you?
Two Things to Consider When Choosing Your RV Wifi
When deciding which RV Wifi option is best for you, I'd recommend first considering these two things:
How will you use your internet connection?
Where will you be traveling?
Let's discuss these a little more here, and I'll give you some options based on your answers to these questions.
How Will You Use Your Internet Connection?
Everyone has different internet needs, and this can help you decide what type of internet you need in your RV.
For example, I work exclusively online and rely on an internet signal to do my job. I need a super consistent connection, so having a cell data plan is best for me. A data connection can support my Zoom calls and Netflix streaming at the same time, so for me, it's worth the big price tag.
However, if you only use the internet to occasionally check your email, you can get away with a more bare-bones WiFi option like relying on campground WiFi.
Where Will You Be Traveling?
Where you will be traveling matters just about as much as how you'll be using the internet. For example, if you're planning to stay in an RV park that has WiFi access, then great! Just use that! But, if you're on a months-long road trip around Europe, you'll probably need to consider purchasing an international hotspot and data plan.
What Are the Best Data and Hotspot Plans for RV Wifi?
If you do decide to get a hotspot with a data plan, there are tons of plans to choose from. Here are a few of the best deals right now. (P.S. I'm sticking to cell service companies in the U.S.) Keep in mind that along with the price of the data plan you will also have to initially purchase a hotspot device.
AT&T Best Value Plan
Price: $55/month
Includes (per month): 100 GB high-speed 5G data plus Unlimited 4G LTE Data
Best for: Supporting streaming HD videos, video calls on multiple devices
Verizon Unlimited Plus
Price: $40/month
Includes (per month): 50 GB high-speed 5G data plus Unlimited 4G LTE Data
Best for: Streaming HD videos and video calls on 1-2 devices
Cricket Simply Data
Price: $35/month
Includes (per month): 20 GB 4G LTE Data
Best for: Casual internet use
T-Mobile 2G
Price: $10/month
Includes: 2GB 4G LTE Data (extra data can be added)
Best for: Occasional internet use
| | | | | |
| --- | --- | --- | --- | --- |
| Provider | Plan | Price | Includes (per month) | Best For |
| AT&T | AT&T Best Value Plan | $55/month | 100 GB high-speed 5G data plus Unlimited 4G LTE Data | Supporting streaming HD videos, video calls on multiple devices |
| Verizon | Verizon Unlimited Plus | $40/month | 50 GB high-speed 5G data plus Unlimited 4G LTE Data | Streaming HD videos and video calls on 1-2 devices |
| Cricket | Cricket Simply Data | $35/month | 20 GB 4G LTE Data | Casual internet usage |
| T-Mobile | T-Mobile 2G | $10/month | 2GB 4G LTE Data* | Occasional internet use |
*Extra data can be added to this plan
What About Wifi Security?
If you ever plan to use public WiFi while in your RV, I highly recommend installing a VPN (virtual private network) on all devices that will be using the public WiFI. Browsing the internet at Starbucks or using campground WiFi may be convenient, but it also puts you at risk. Public networks are not secure and your information can be stolen or your device can be hacked.
So, VPNs are super necessary. I've been liking this free one from ProtonVPN, but there are also some great paid options from ExpressVPN and NordVPN that may give you faster speeds compared to free ones (plans start at around $3/month).
Tips for Staying Connected While Living + Working in Your RV or Campervan
Whatever WiFi route you choose, here are some tips for maintaining a great WiFI connection on the go.
Purchase plans from two different carriers: This is a strategy I've seen a lot of RVers use. If you need really consistent coverage, it might be worth looking into purchasing two different data plans. That way, if one isn't covered in the area you're in, you can fall back on the other, and vice versa. This is a more expensive option but if you need the coverage, it's worth it.
Get a data or WiFi booster: Purchasing a data booster can significantly increase your data signal strength. They're particularly helpful if you're often camping in pretty rural areas. RV WiFi boosters will be your go-to to up the strength of a public WiFi signal cause we all know how slow public WiFi can be.
Use an app to find public WiFi: If you're going the public WiFi route, an app like this one will come in super handy. You just enter your location, and the app gives you every nearby public WiFi available, plus the speed of the WiFi at each location.
Recommended Gear for Wifi in Your Camper
Now I'll go through the top gear you'll need for WiFi in your RV, whether you're going the cell data route, or planning to use public WiFi.
Best WiFi Hotspots for RVs
Keep in mind with all of these mobile hotspots I'll discuss, you'll also need a data plan and a SIM card from a carrier.

source: Amazon.com
Best for: AT&T or T-Mobile Data plans
The Netgear Nighthawk mobile hotspot, while pricey, is an all-around great choice if you're going the cell data route. It offers a connection for up to 20 devices, has a large screen to monitor your usage, and it's small and requires no installation.
The only downside with this one is that although it claims to work well with any phone carrier, it tends not to work well with Verizon, so this option is best if you're going with an AT&T or T-Moible plan.
Check here for the most current price on the Netgear hotspot.
And check out this video for a great unboxing and review of the hotspot.
Verizon Jetpack MiFI 8800L Hotspot Device
Source: Verizon.com
Best for: Verizon plans
If you're going with a Verizon plan, this is probably the hotspot device for you. It's super easy to set up, offers 4G LTE connection for up to 15 devices, and has a nice LED screen showing data usage. Verizon also offers $0 APR payment plans so you don't have to pay upfront for the device.
Check here for the most current price on the Verizon Jetpack.
And look here to watch a review and see how to set up the device.
Source: amazon.com
Best for: International travel
If you're looking to stay connected while traveling internationally. The GlocalMe device is probably your best bet. It covers over 140 countries and allows 4G LTE connections for up to 10 devices. The large touch-screen makes it super easy to check where you are in your data usage. And, like with the other devices, it's easy to set up and there's essentially no install process.
Here's the most recent price for the GlocalMe hotspot. 
And check here for an in-depth review of the device for #Vanlife.
Best WiFi Boosters for RV
If you want an RV WiFI booster to boost campground WiFi, or you need a stronger cell data signal, check out these devices.
Source: amazon.com
Best for: Boosting cellular data
If you already have a cellular data plan and you notice that your signal just isn't strong enough for what you need to do on the internet. You might need a cellular data booster. Let me tell you–these things aren't cheap. But… if you work on your computer and do a lot of video calls from a remote area, or you otherwise need a consistently strong connection, it's probably worth it.
Check here for the most current price on this data booster.
And check out this super informative video on the WeBoost kit.
Alfa WiFi Camp Pro 2 Long Range WiFi Repeater RV Kit
Source: Amazon.com
Best for: Boosting public WiFi
Getting a good WiFi signal at campgrounds can be super difficult – if you've ever tried you know. But this RV WiFi booster with a small antenna really does work. It'll just about double the strength of the existing WiFi connection.
The kit looks intimidating, but the installation process really isn't too difficult for this RV WiFi booster, check here to see how it's installed.
And here's the most current price on the RV WiFi booster.
RV Wifi FAQs
And finally… Here are my answers to some FAQs about RV internet access.
How do Full-Time RVers Get Internet?
I'd say most full-timers have cell data plans for their internet. A few have satellites if they live in one campground and don't tend to move around.
Is it Easy to Install WiFi in my RV?
It's no more difficult than installing WiFi in your home–actually a little easier. If you go the hotspot route, all you'll need to do is connect the hotspot to power, get it connected to your data plan and boom! Internet! Satellite internet is a bit more tricky, and you'll have to hire someone to install the satellite.
Can you stream Netflix with RV WiFi?
Sure can!
If your data plan supports high-speed data (4G LTE or 5G), you'll definitely be able to stream Netflix as long as you're in a covered area. You might even be able to stream on public WiFi if the signal is strong enough (make sure you have a VPN and check out RV WiFi boosters).
Can You Get Internet While Boondocking?
Yep!
If you know your boondocking site will have a connection to a cell carrier, you can get internet there through your hotspot and cellular data plan. If the site does not have data coverage, then you'll need a satellite to connect to the internet.
How Much Does it Cost to Install WiFi in My RV?
Depends on your setup.
If you go the cellular data route, it'll cost an initial $100-300 for the hotspot, plus anywhere from $10-$55 per month for the data plan. Satellite WiFi is much more expensive, with the initial cost around $7,000 plus installation, plus $50-$400 per month depending on your plan.
Which Campgrounds Have the Best Wifi?
Private campgrounds will be your best bet for WiFi access, though, this really varies. My best WiFi experiences have been in private RV parks that have a good amount of long-term residents.
Get Connected and Stay Connected With Your RV Wifi
Whatever your RV WiFi needs are — working on the road or posting to the Gram — I hope I helped you find the best RV WiFi solution.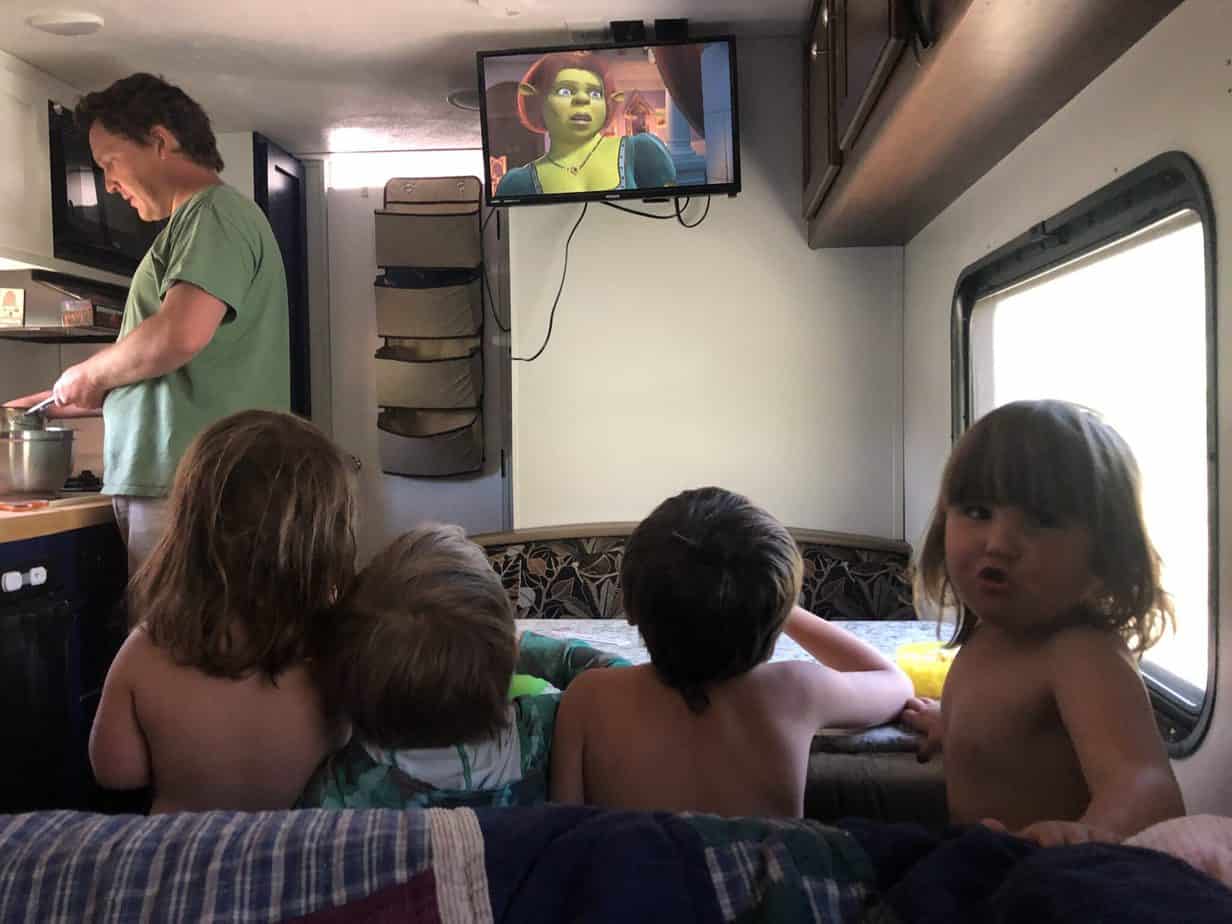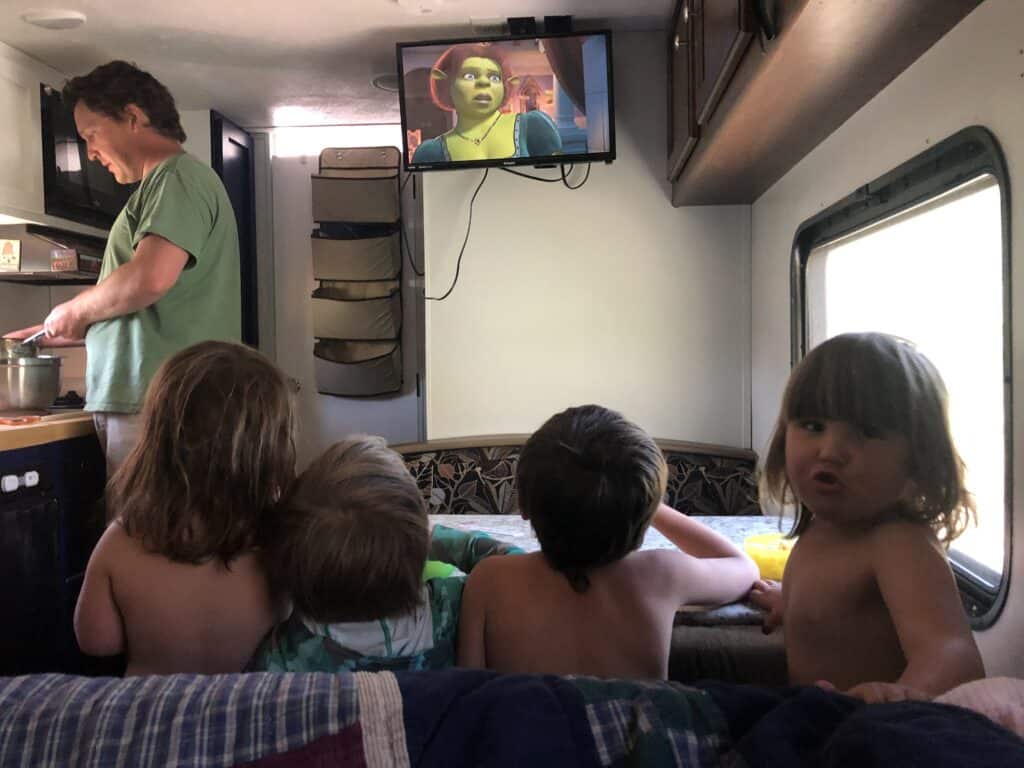 And while you're here, take a look at some of my other RV articles: 
Latest posts by Stacy Bressler
(see all)