Our family has learned so much over the last 5 months on the road. Like… 25 feet of sewer hose isn't always enough. And that it's super important to think about your RV sewer hose storage.
But part of the adventure of living in an RV full-time is getting everything to fit while keeping gross things from infiltrating your tiny living space. Considering what goes through your RV sewer hose, keeping it clean and stored away from the family should be a top priority.
So what are the best ways to clean and store your RV sewer hose? A.k.a….the stinky slinky 🤪.
Let's start with some general tips for keeping your hoses clean. Then we'll move on to 7 RV sewer hose storage ideas.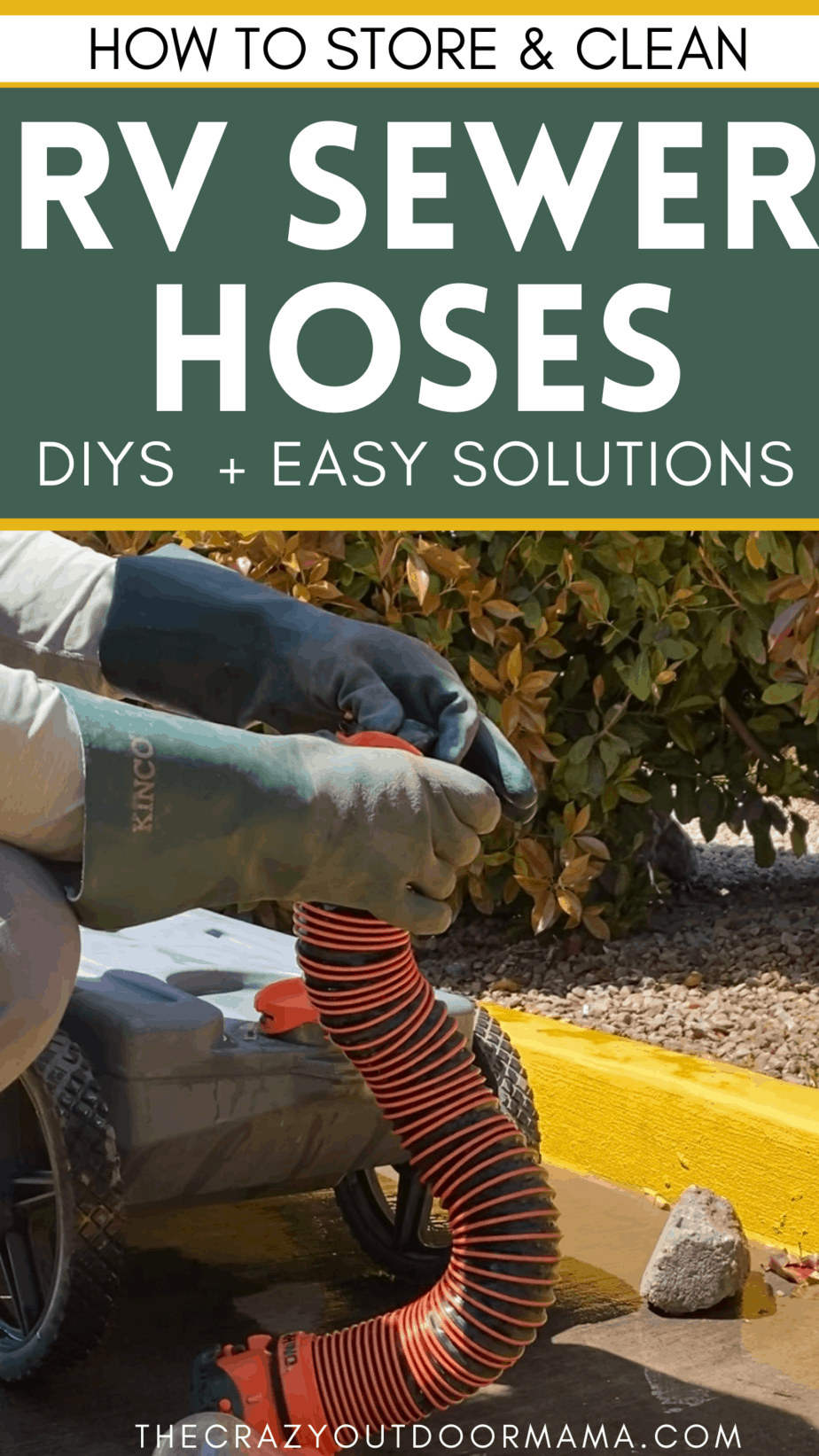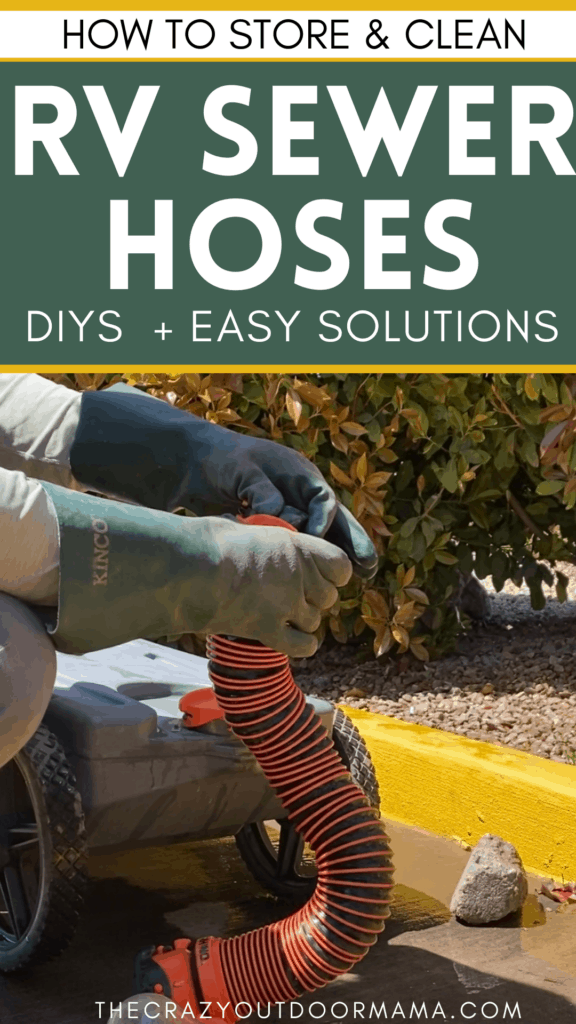 4 Ways to Keep Your RV Sewer Hoses Sparkling Clean
One of my life goals is to avoid any black tank waste spilling on me. So far, I'm killing it!
Maybe that's because I handle my RV sewer hose and sewer connections as if I were handling plutonium. Because if I were to spill any on myself, the repercussions would be awful.
Forget the mess… I'd be the butt of the jokes from my kids for years to come. Thankfully, following these 4 steps has kept me clean and fresh.
Black before gray
Rinse between uses
Disinfect
Cap
1. Black before Gray
When emptying your holding tanks, always empty your black tank first followed by the gray. This lets the gray water flush the RV sewer hose of any waste.
If you can do this every time, there shouldn't be much to rinse later. Yes, your gray water can still be gross, but consider it the lesser of two evils.
2. Rinse Your Sewer Hose Between Uses
You have several options for rinsing your sewer hoses. Using your drinking hose is NOT one of them. Don't ever do that! If you don't have two water hoses already, you need to get two — one that is safe for drinking and one to handle the stinky stuff.
Rinse your sewer hose using your black tank water hose – This hose will be used for flushing the black tank, wands, and for cleaning your sewer hoses. I suggest marking this hose and even getting a different color or type of hose than your drinking hose. 
Rinse sewer hose at the dump station –  Most dump stations have non-potable water for spraying down any spills, black tank flushes, and for spraying out your hose. 
Use a store-bought solution – We use the

Camco Dual Flush Pro

. This little gadget attaches to your holding tank. You attach your black tank water hose and inject water either into your black tank or into your sewer hose. Camco also offers the RV sewer hose rinser. 
If you are rinsing with your black tank water hose or at the dump station, try and get someone to help you. Holding the sewer hose, the water hose, and turning the water on requires 3 hands or 2 hands and a foot.
You don't want any backsplash hitting you. Ask me how I know? 😲
Disinfect
I spray a little disinfectant on the ends of both hoses and any attachments I may have used. Why not?
*See more about deep cleaning your RV sewer hose later in the article.
Cap Your Sewer Hose
If you don't have caps for your RV sewer hose yet, I highly recommend getting a few. They're cheap, easy to use, and can stop spills.
I wear flip-flops 99% of the time so I'm not having any spills! Mostly because I love my flip-flops and like I said my family will label me turd toes, or some other immature, yet hilarious name. 😜
Ok, so now that you've got the basics for keeping your camper's sewer hose clean, let's get down to the nitty-gritty…how to store your RV sewer hose. Here are 7 ideas.
7 RV Sewer Hose Storage Ideas
Now that you know how to keep your RV hoses clean, how are you going to store all this stuff? The amount of usable storage space in your RV will play a huge part in determining your solution.
No matter which you choose, you want to keep your hoses and attachments 100% contained. Odds are you can repurpose something around your house for one of these RV sewer hose storage ideas.
Bucket
Plastic storage bin
RV bumper
Bumper mounted storage box
DIY PVC pipe storage
DIY vinyl fence post storage
Store-bought RV sewer hose storage solutions
Bucket
The pros of using a bucket are…
you probably already have one
they have handles for carrying
they're easy to clean
they have lids
If you don't need a long run of sewer hose and multiple attachments, a bucket could be the storage solution for your RV.
Plastic Storage Bin
In my opinion, this is the ideal solution and it's worked for me. Repurposing an old storage bin (something like this) fit my budget of $0 and had a locking lid.
Plus, our container is large enough to fit our RV sewer hose, our black tank water hose, and the rest of our black tank arsenal. When we're at camp, my storage container is stowed away under my RV.
Just make sure your storage container latches securely. You don't want anything (smells, moisture, bugs, curious 2-year olds) getting in or out.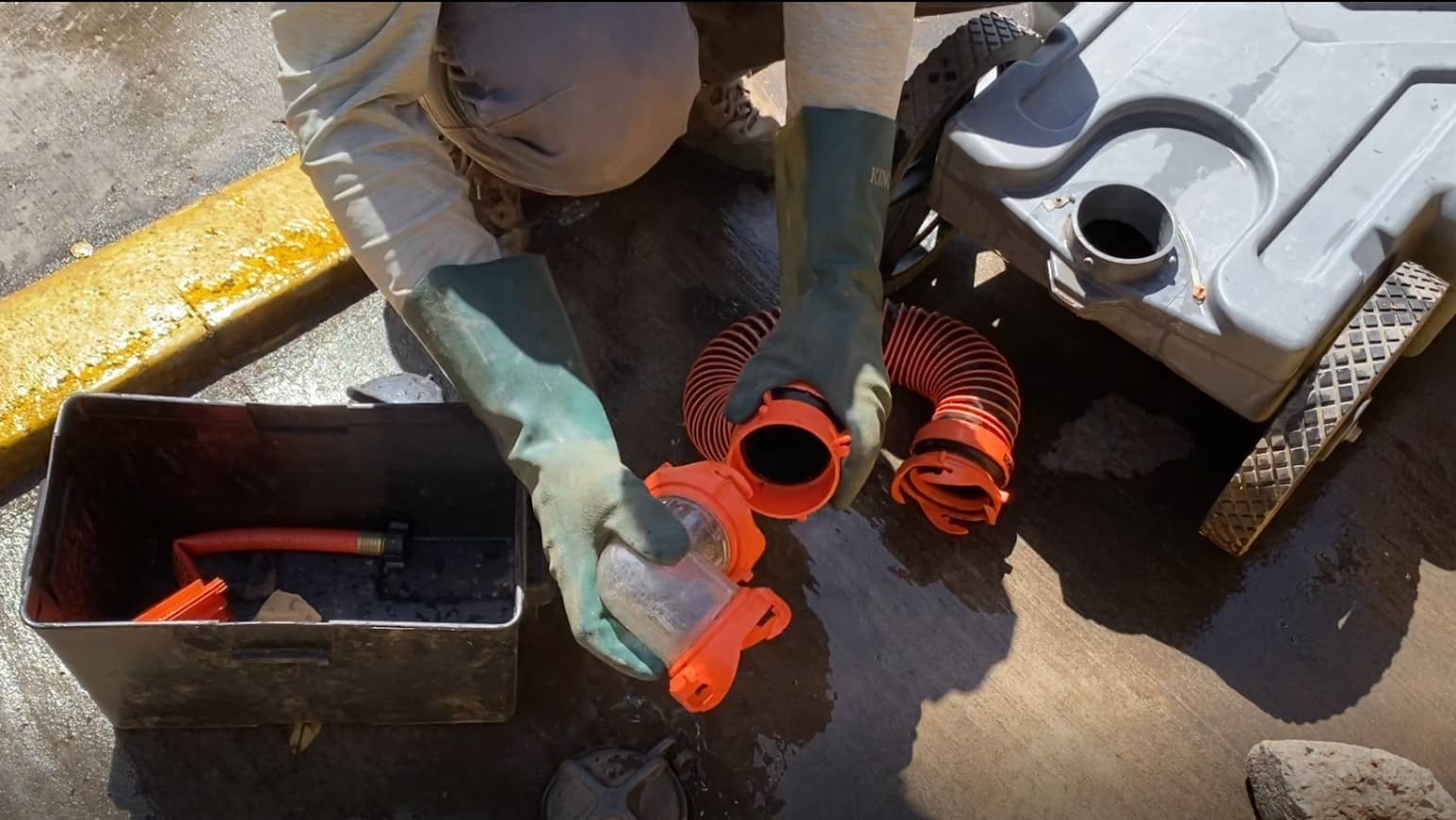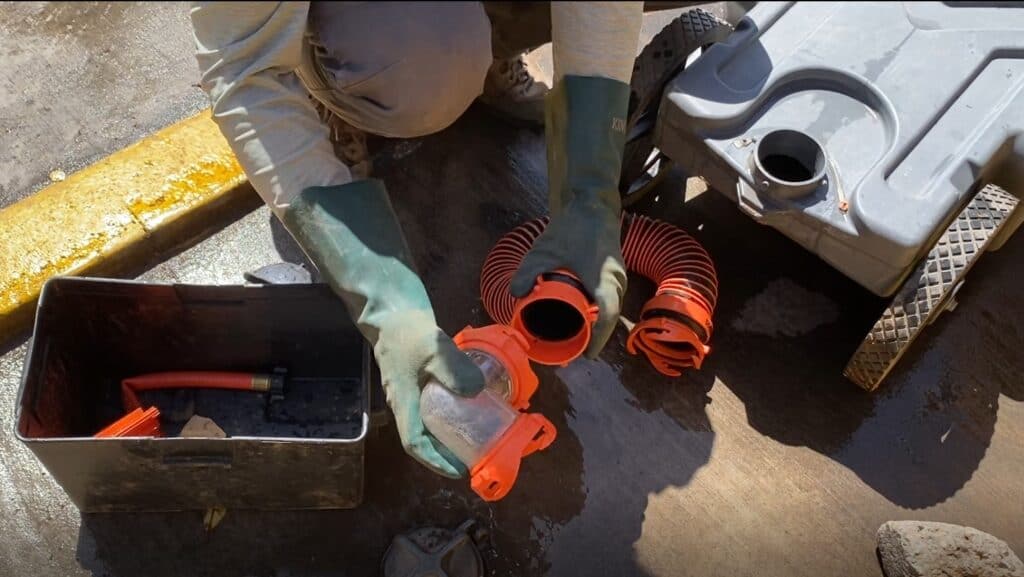 RV Bumper
Most RVs come with RV sewer hose storage in the bumper. I keep our emergency run of sewer hose — also the most difficult to work with — in our bumper.
Don't make the same mistake I did (getting a hose that's hard to work with). Do your research, and get the best RV sewer hose for your needs.
Just two warnings if you choose to store your RV sewer hose in your RV bumper.
RV bumpers can fit the hose only. Any elbows, Y connectors, and other attachments will most likely not fit.
Upgrade your RV bumper caps. The standard caps on RVs do not clamp onto the hose. They also may not keep out wasps and other creatures. You don't want to be sticking your entire arm in there to fish the hose out. Fortunately, you can buy aftermarket bumper caps that attach to your hose for easy removal — like these

magnetic bumper caps from Camco

.
Source: Amazon
Bumper Mounted Storage Box
This is the "I'm not playing around" RV sewer hose storage solution. It's a great solution if you have limited storage or if you are strongly against having these items stored inside your RV cargo areas.
However, this option may require adding support arms or a cargo carrier and can get a little pricey! If you go this route, make sure your bumper can handle the additional weight and that the box can be safely mounted. Our bumper can only hold our spare tire and a few butterflies.
Another great sewer hose storage option for your trailer is to mount a small storage box (repurposed if possible) for your black tank accessories and then add one of the DIY storage solutions below.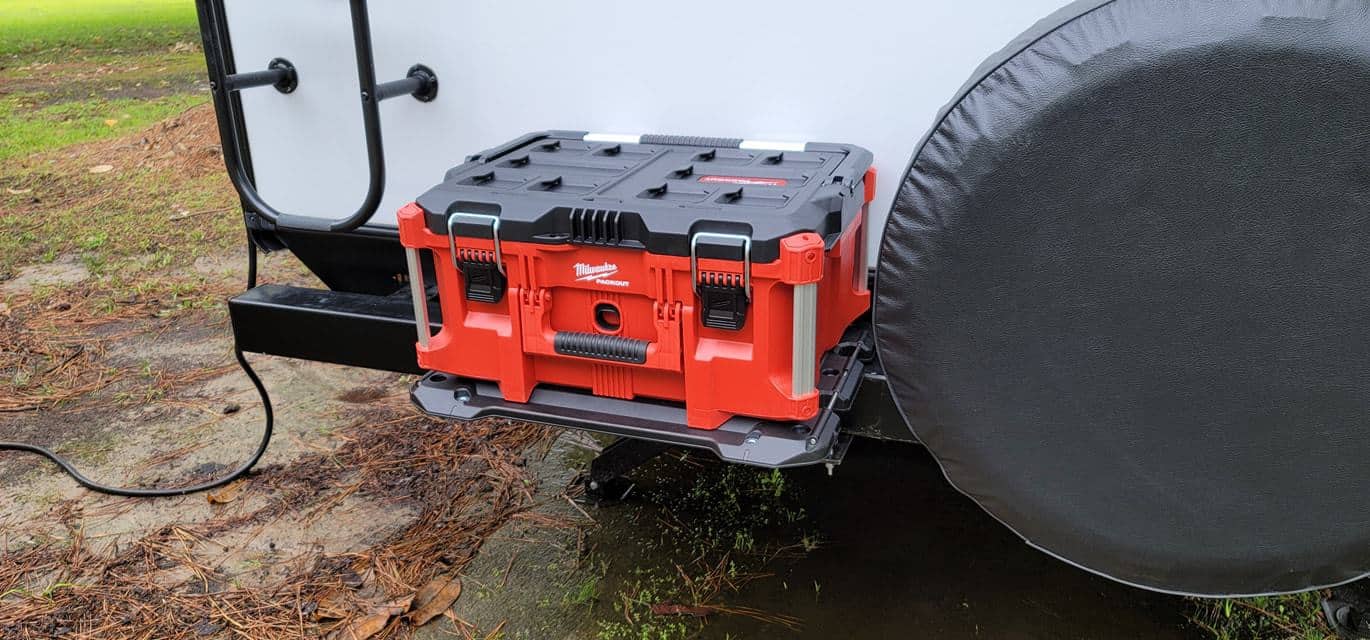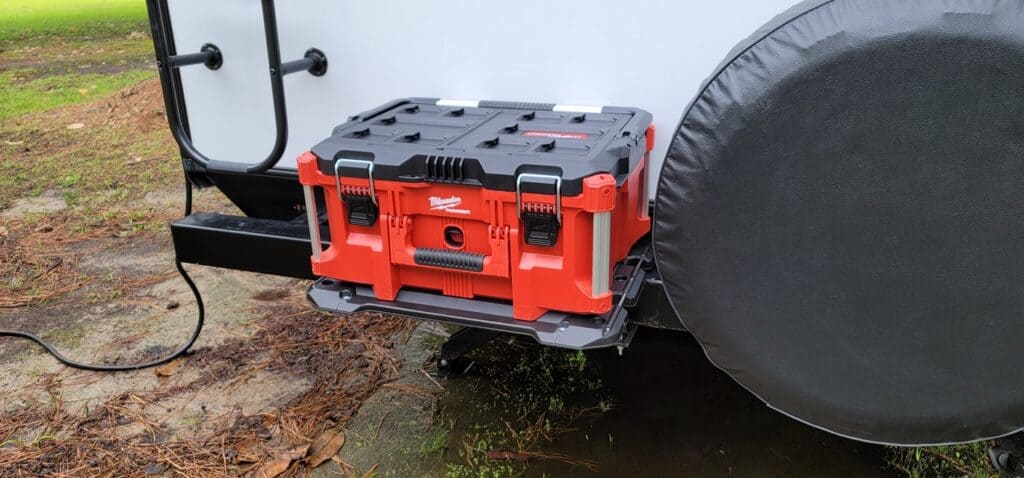 DIY PVC Pipe Storage
If you have some laying around, PVC pipe can be repurposed for storing RV sewer hoses. You mount the PVC pipe underneath the RV or on the rear bumper.
I'm all about repurposing and reusing but a project like this can take some time. Check out this project by RVs and HDs. But if you have the tools, time, and like to DIY just about anything, then this sewer hose storage project is perfect for you.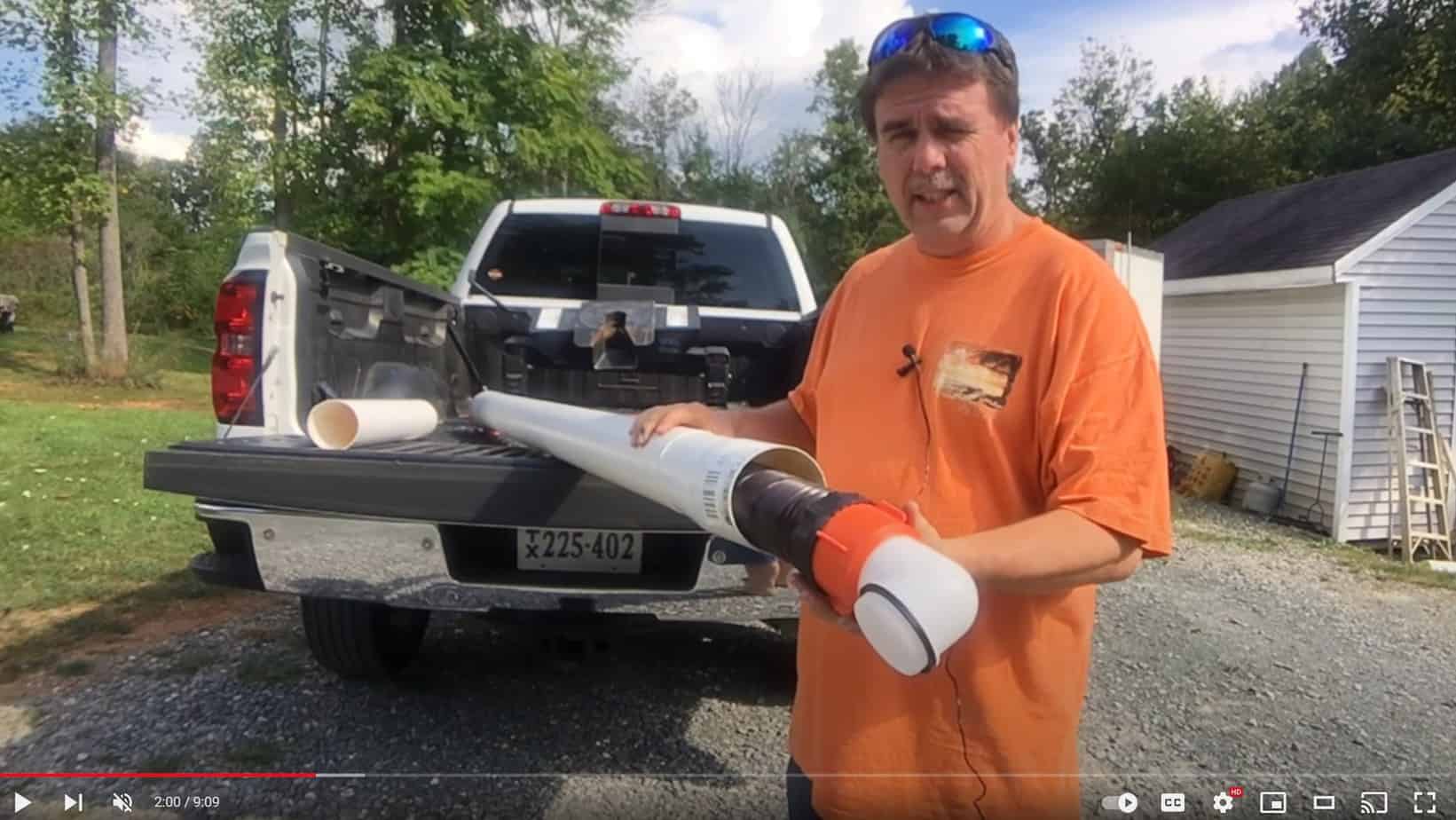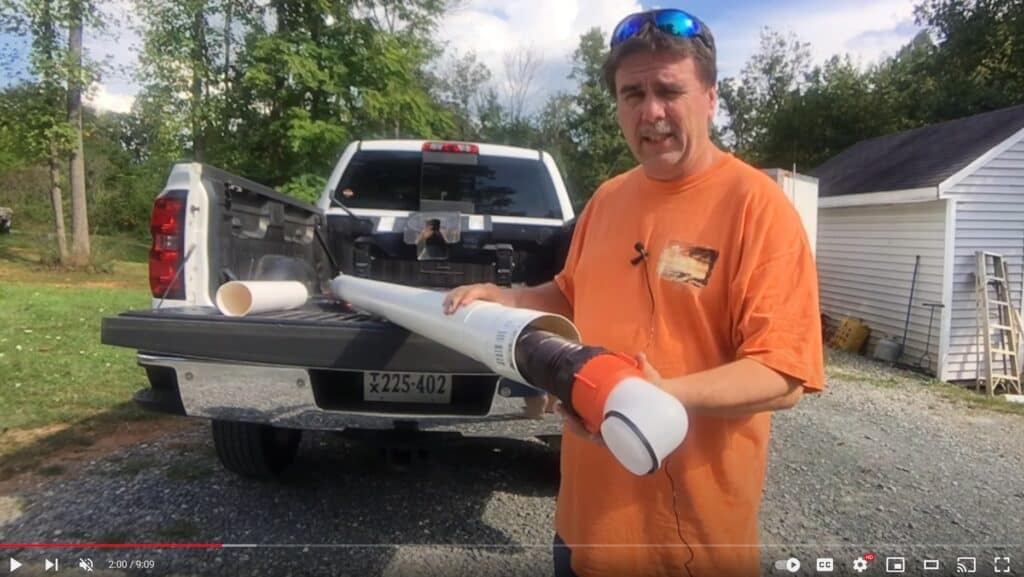 DIY Vinyl Fence Post Storage
This DIY RV sewer hose storage idea is similar to the setup with the PVC pipe but with greater functionality. The vinyl fence post is mounted under your RV. Red Roof Retriever thought of just about everything in his fence post storage, complete with secure caps and sliding tray.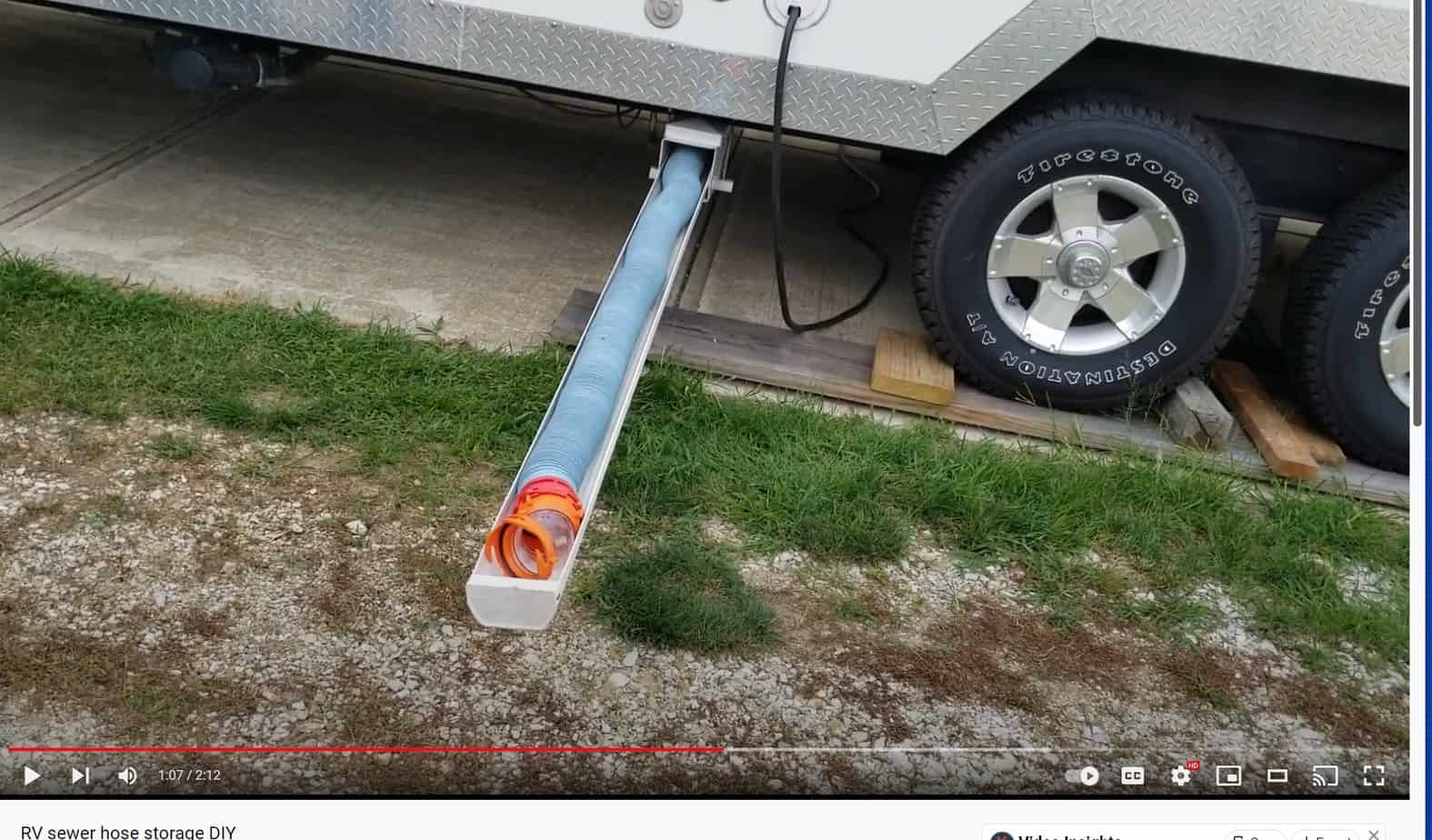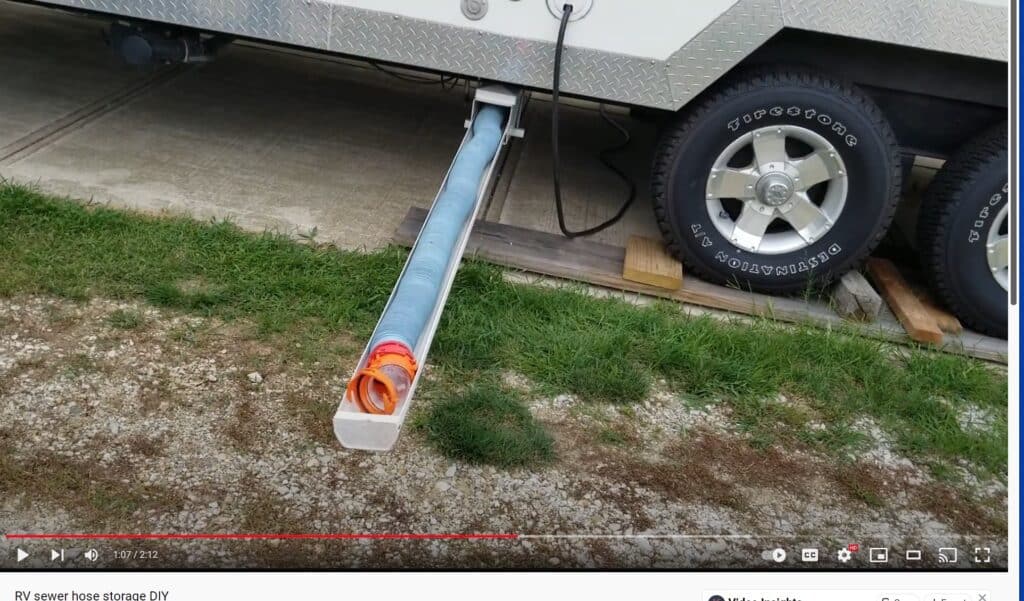 Store-Bought Solutions
If you aren't down with DIY options, there are several "store-bought" options available for storing sewer hoses.
Valterra offers the Adjustable EZ Hose Carrier for under $50. This option still requires installation either under your RV or on attached to your bumper. Some customers stated that not all hoses fit, so if you go this route, make sure you measure for your sewer hose needs.
Source: Amazon
The sewer accessory bag from Camco is another easy carry storage solution for hoses and accessories.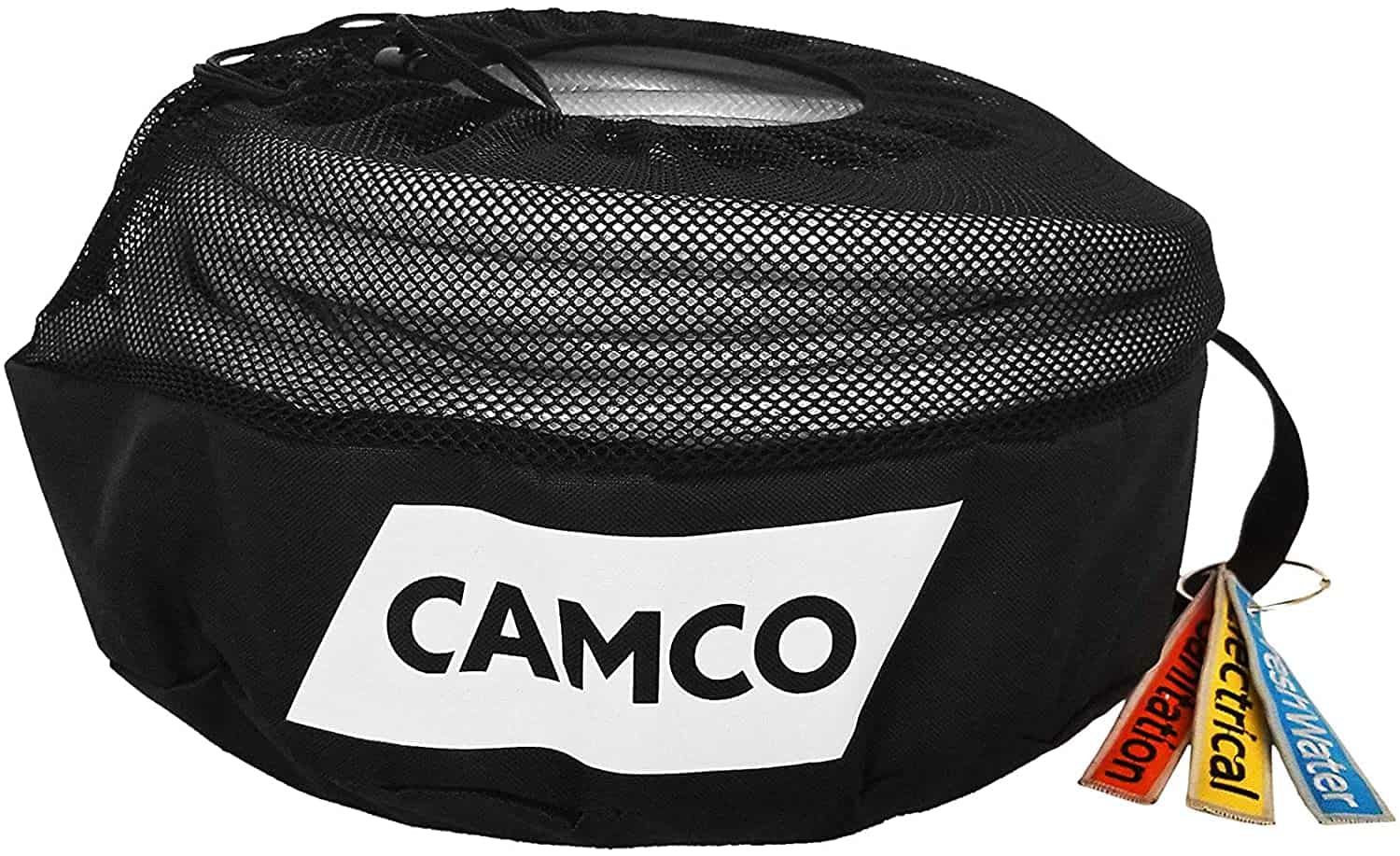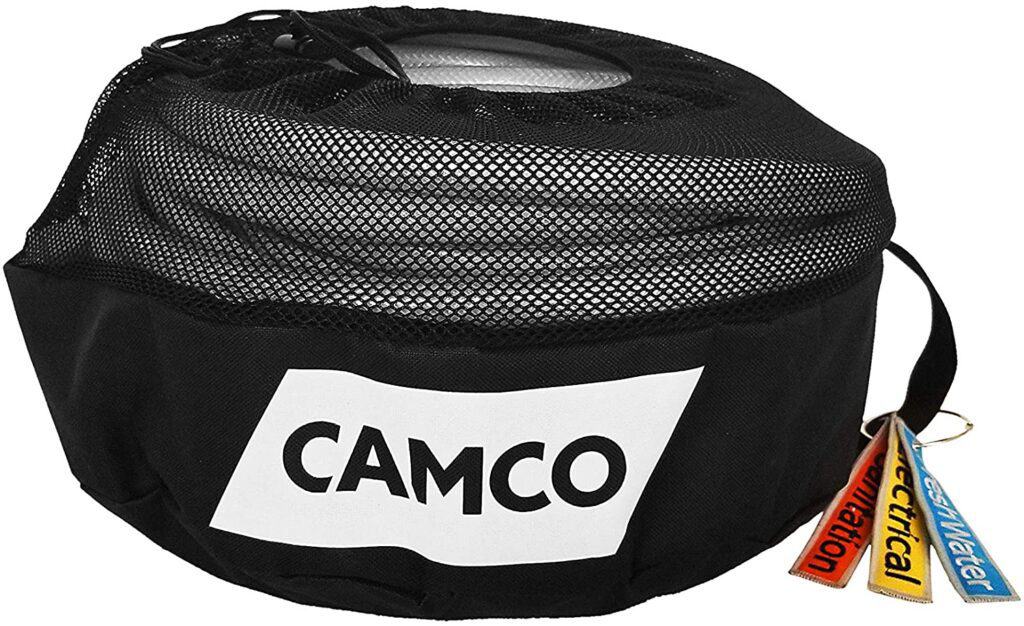 There you go… 7 ways to store your RV sewer hoses and accessories. But what about deep-cleaning your stinky slinky so it's not so…stinky.
How to Deep Clean Your RV Sewer Hose & Fittings
Odds are your RV sewer hoses are going to need a little extra love every once in a while. Rinsing and proper storage may not be enough to keep your RV sewer hoses and attachments clean and odor-free. We homeschool our kids but I don't want to be growing my own science experiment in our black tank container.
Here's what you need to know.
How often do you need to deep clean your RV sewer hose and fittings?
The frequency of deep cleaning depends on usage, lifestyle, and perhaps your diet.
Prior to long storage – If you're able to store clean and dry sewer hoses and attachments, you won't be greeted by foul smells the next time you camp.
As needed – If your hoses, attachments, or container appear dirty or have an odor, you'll want to deep clean as soon as possible. Unlike a fart in the wind, this odor is here to stay unless you do something about it.
Twice a year – Since we are full-time, I've added this to our spring and fall preventative maintenance list. I don't feel right doing this at a campsite so that leaves either when we are mooch-docking or at a dump station. Just don't be that person that ties up the dump station.
How do I deep clean my RV sewer hose and fittings?
I use a small amount of bleach when deep cleaning our sewer hose, fittings, and storage container. But bleach needs to be thoroughly rinsed. This is why I'm careful about where I do my deep cleaning.
Wear the proper attire – Bleach stains. If you get any on you it will ruin your clothes. You'll also want to wear proper gloves and eye protection.
Rinse the Container – I take everything stored in my container out and place it into a garbage back for temporary storage. I prefer to rinse at a dump station or while staying at a house.
Disinfect everything – Take the caps off your hoses and place everything back inside the storage container. Add a small amount of bleach. I use a 1/4 cup and fill the container with water. Ideally, you want everything to sit for a while in the bleach solution, but when you're doing this at a dump station it may just be 15 minutes or so.
Rinse everything thoroughly – Once everything has sat for a while, dump the container and rinse everything thoroughly.
Sewer Hose Storage FAQs
Where Do You Store Sewer Hose Fittings?
In the same storage container with your sewer hose. If they don't fit, then put them in a separate container. Wherever you decide to store your sewer hose fittings, you'll want them to be easily accessible in a sealed container.
Can You Fully Disinfect an RV Sewer Hose and Its Storage?
We completed a bleach treatment of our hoses and container this past spring. I feel extremely confident that our hoses were fully disinfected. That being said, I still wouldn't drink from them or handle them without gloves.
Which Is the Easiest RV Sewer Hose to Store?
I'm partial to the Camco RhinoFLEX 20' Sewer Hose Kit. This hose is so easy to work with and fits nicely into our storage container. I still have plenty of room for all of our other items and then some.
*Sewer hoses are a point of failure you want to avoid. Do your research to find the best RV sewer hose for your needs.
Ready To Store Your Stinky Slinky?
Do you have a tried and true RV sewer hose storage solution that works? If so, I'd love to hear it.
I have a healthy respect and a little fear of what could happen if I don't take care of my sewer hoses. Keeping my hoses clean, stored properly, and giving them a little TLC every once in a while gives me one less thing to worry about.
Now that you got the low down on sewer hoses, check out these other RVing articles from the Crazy Outdoor Mama: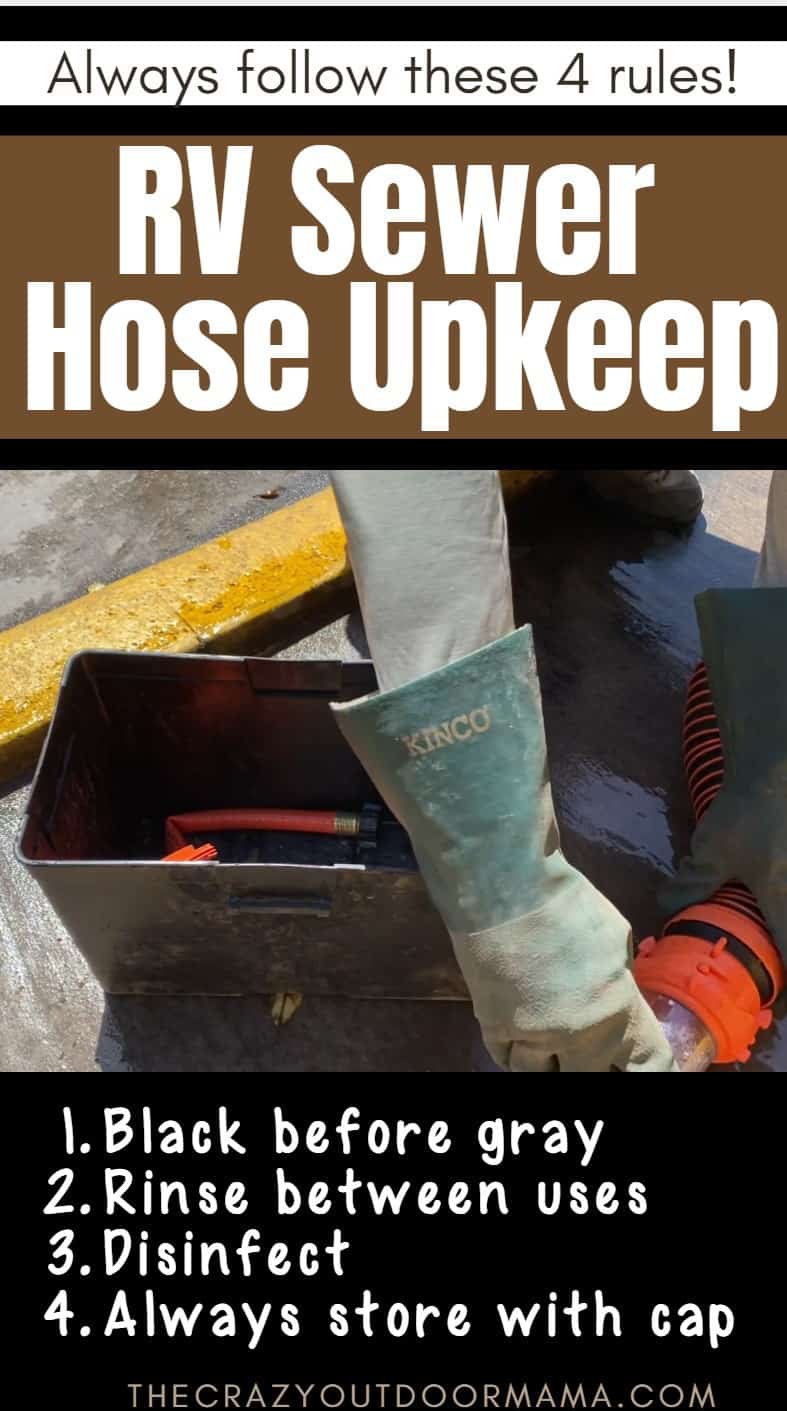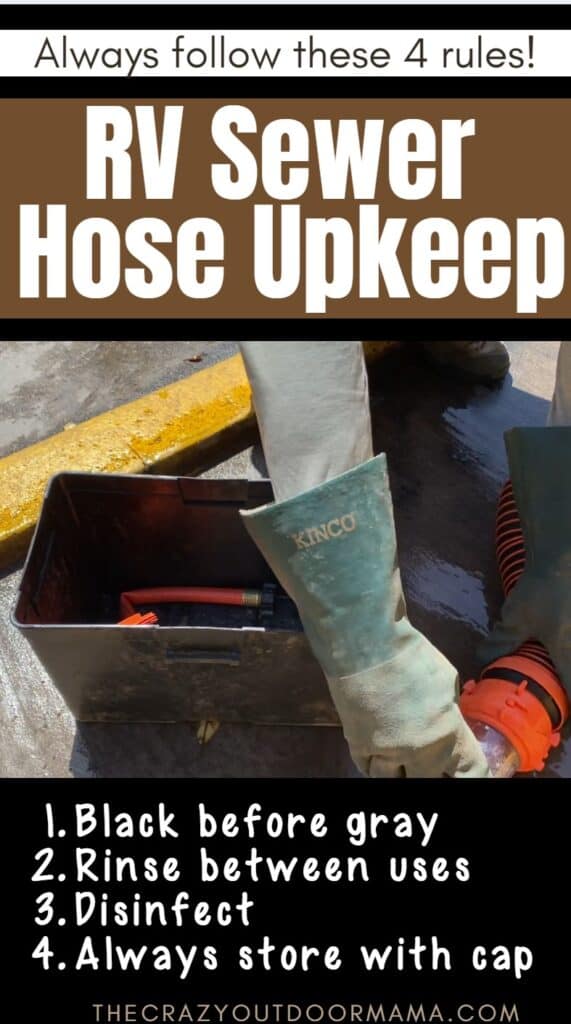 Latest posts by Stacy Bressler
(see all)