I don't know about you, but it sometimes feels like a constant battle when we're camping between the dirt and our patio mats… until we found these Gili Gear ones!
If you like to boondock (or heck, if you like to prevent dust from getting in) you likely have some sort of patio mat already. We had gotten one from Amazon that did what it was supposed to – got most of the dirt off our shoes before we got in.
The issue was, it STAYED on the mat. The dirt accumulated on the mat so fast that we had to constantly sweep it our smack it out and breathe in all the dust – bleh!
After camping with our friends, we noticed they were using Gili Gear. The material was way more durable feeling (dogs, camp chairs and rocks don't damage it!) and the mats actually let the sand through!
Anyways, we found they actually have a ton of uses in the camping world and figured more people should know about them!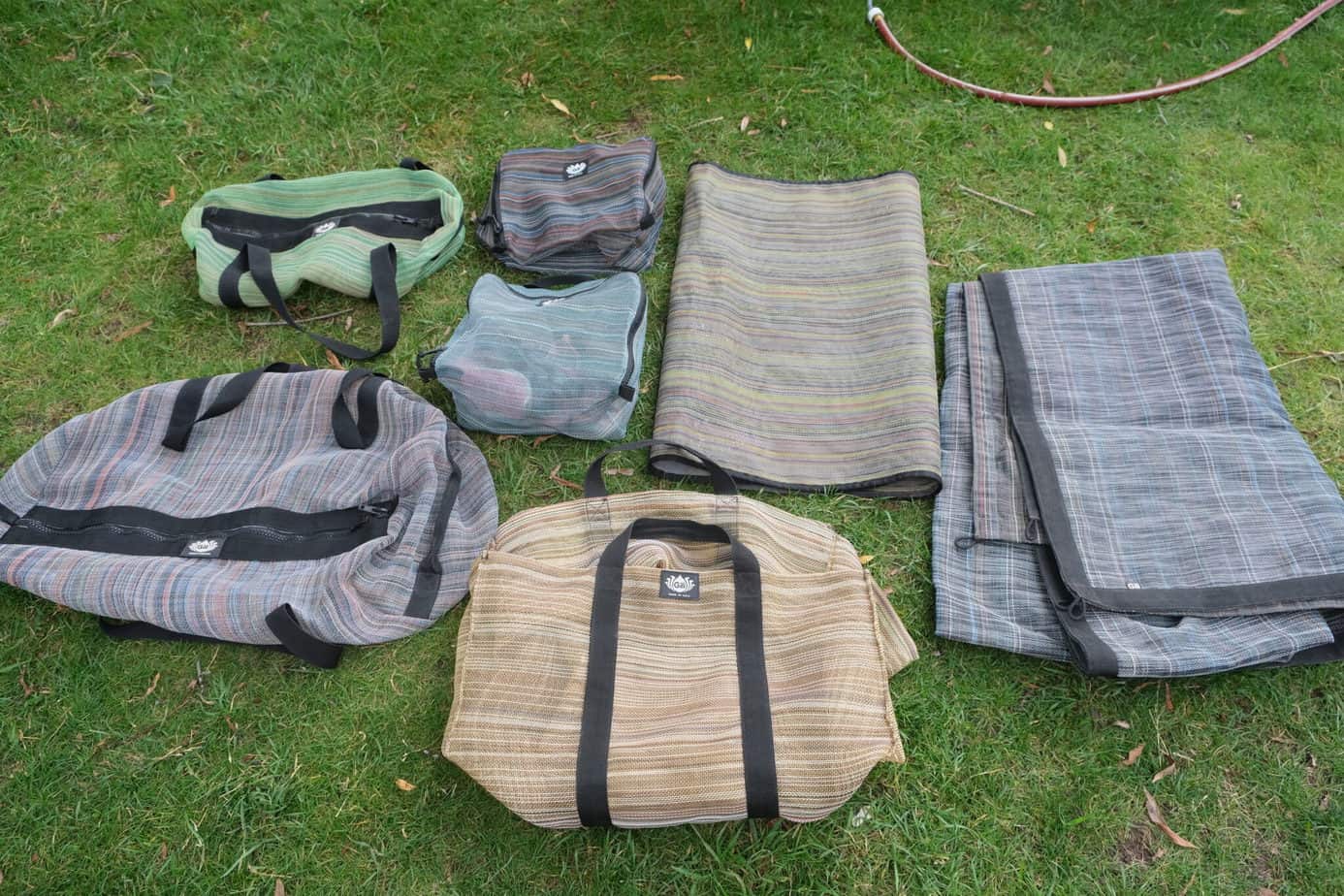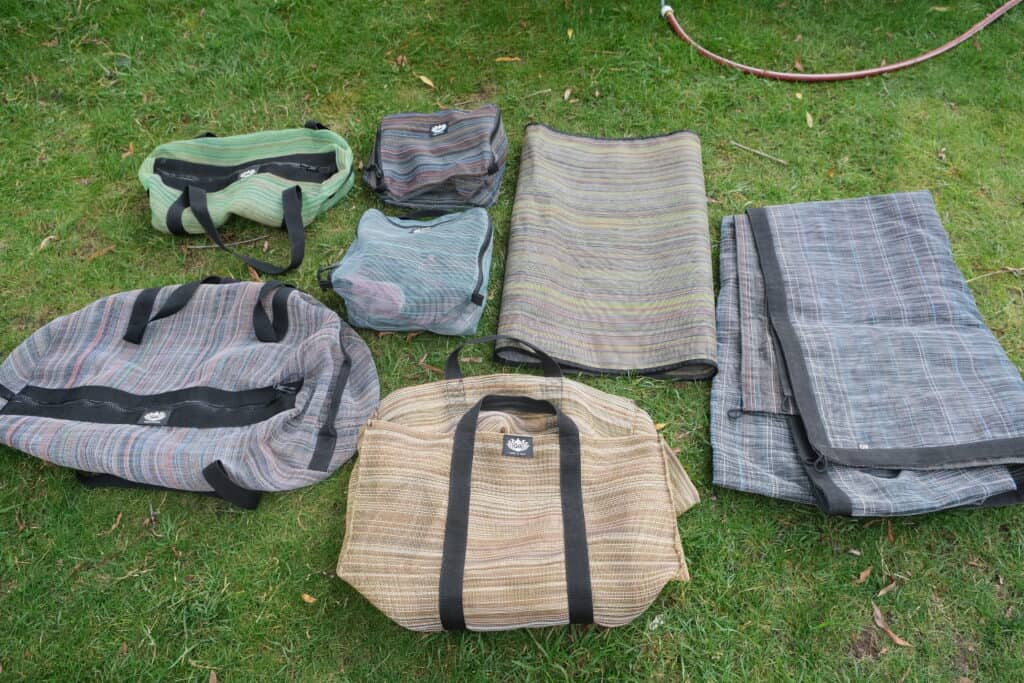 What makes this brand different from all the other camping patio mats?
Compared to our old outdoor/camping mats (see the current top 5 RV mats here), we noticed a couple of things about Gili Gear's line of mats and bags
WAY more durable (even more so than CGear) – There was no fraying, it felt way thicker, and the colors have stayed the exact same even with a ton of use. The vinyl coating makes an enormous difference, and that's even visible from the pictures!
No funky smell – No chemical smelling off gassing was nice, esepcially after being left in a hot camper all day.
Enough air flow to not kill the plant life under it – Unlike the cheaper styles or the carpet styles, the way the material is woven allows plenty of air so there's no dead spots once you leave your spot!
Eco friendly, upcycled and unique – The material is repurposed mesh (originally meant to be used as a trash tarp) and upcycled acryllic thread… each one has a beautiful design and it doesn't fade
Infused with anti microbrial protection – No funky lingering smell after having wet clothes, shoes, other stinky things on/in them. Also makes it way easier to clean in the washer/dryer!
Growing line of storage solutions for a cohesive look – I love a clean feel in our camper, especially with 3 kids, so it's been nice having everything match (including shoe and toy bags!)
Made in Colorado! – If there's an option, I always opt to support local businesses. Knowing that these are handmade in Colorado and not in a factory somewhere is enormous piece of mind!
Gili Gear Camping Mats (perfect for tent or RV use!)
We tried them both inside and out and were pretty happy with them! There are two sizes of "Earth Mats" and we found uses for both! The larger one works great for outdoors while the skinnier ones were useful in our camper for additional floor protection as well as in front of the camper to take our shoes on and off.
Small Earth Mat Size: 2.5′ x 6', reversible (different colors on each side). Works great for right below the steps!
Large Earth Mat Size: 6′ x 10′ – Heavy duty, and has reinforced corner loops for staking if needed. This is great for creating the "hang out area" under the awning, a sand-free spot at the beach or in the desert.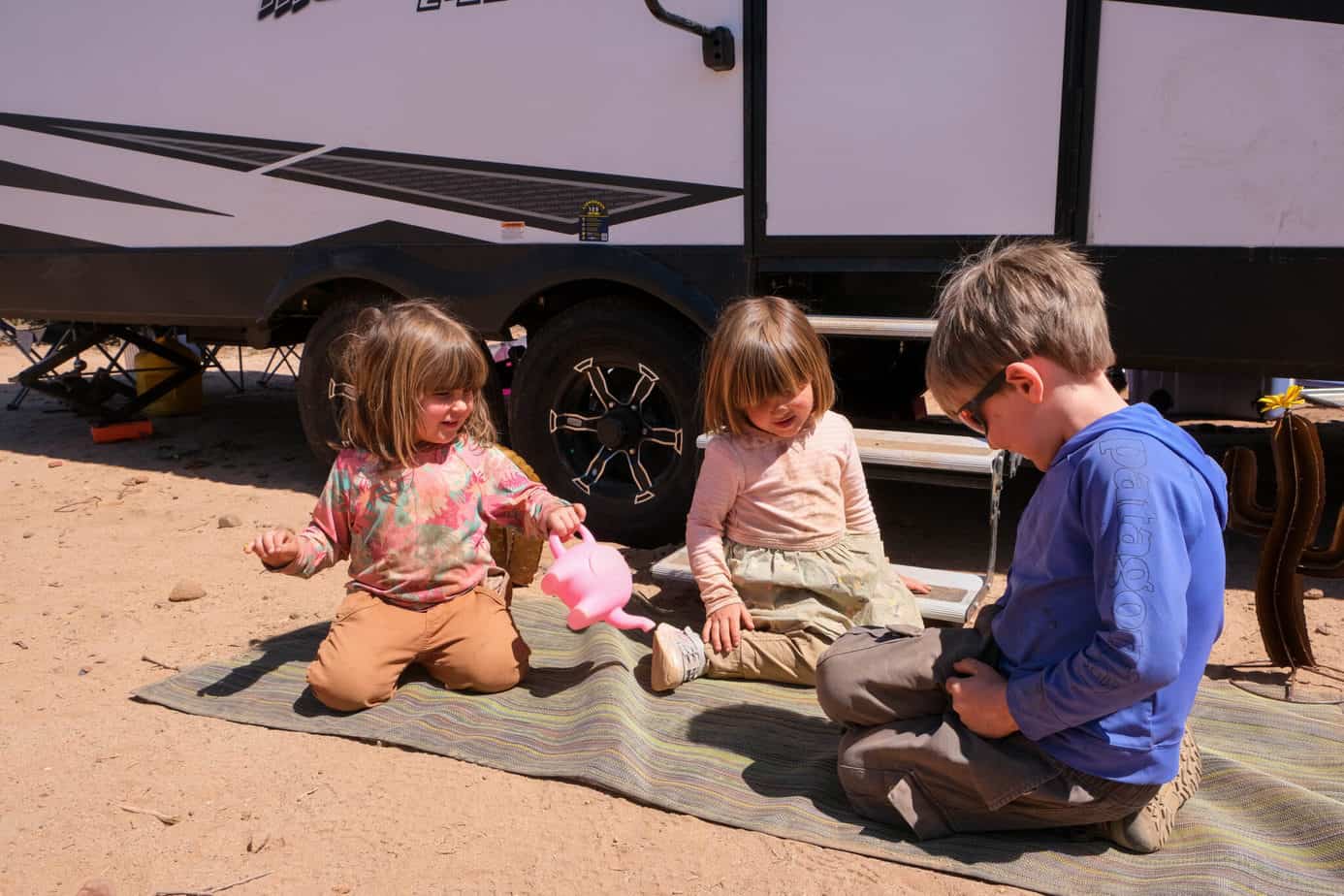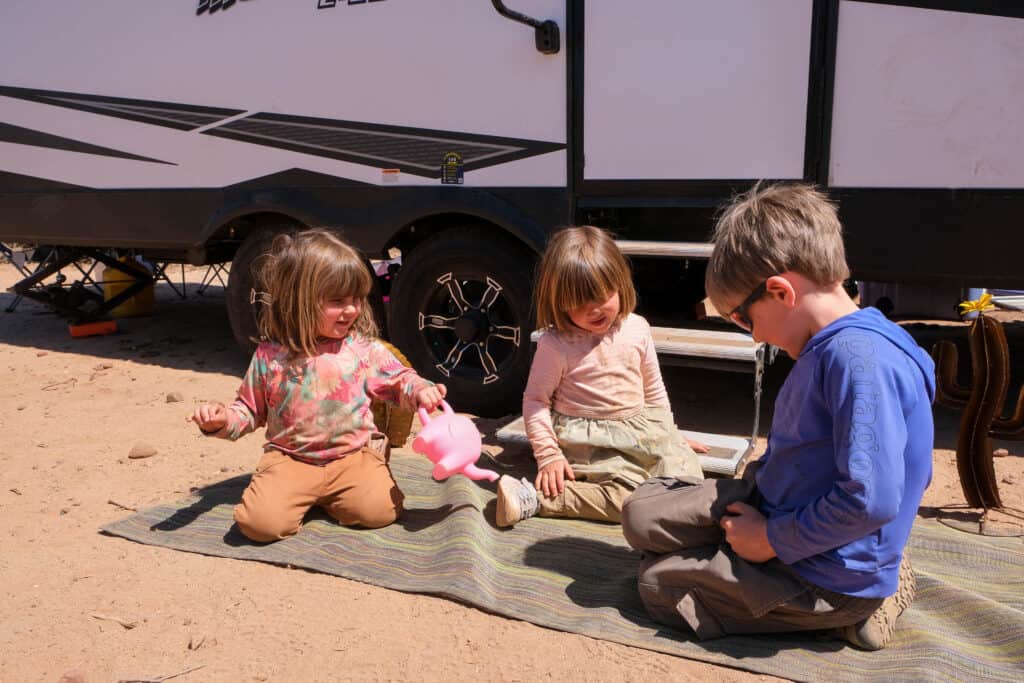 Review of the Mats
I would have loved to have had these when my kids were crawlers/new walkers! It provides a pretty good barrier between the small sharp rocks and plants without getting pricked and ripping.
I also loved how waterplay was much more doable without it being a muddy mess! I normally don't mind mud, but if we're boondocking with limited water, it's nice to not have to spray everyone down. The kids were able to stand on these while washing their bikes, getting in and out of the pool etc without getting a ton of mud all over their feet.
It also dried super fast!
Some more things we loved
No dents or creases from storage (so they looked nice right from the start)
Sand falls right through it, and since the mesh is good quality, this ability doesn't lessen over time like sub par mesh does after use
EXTREMELEY easy to clean – a simple shake cleaned it perfect (it was really just pebbles that were left over). No beating neccessary!
Felt good to walk on barefoot – no scratchiness, and evened out the surface pretty well
Stake loops were secure and the whole edge is reinforced!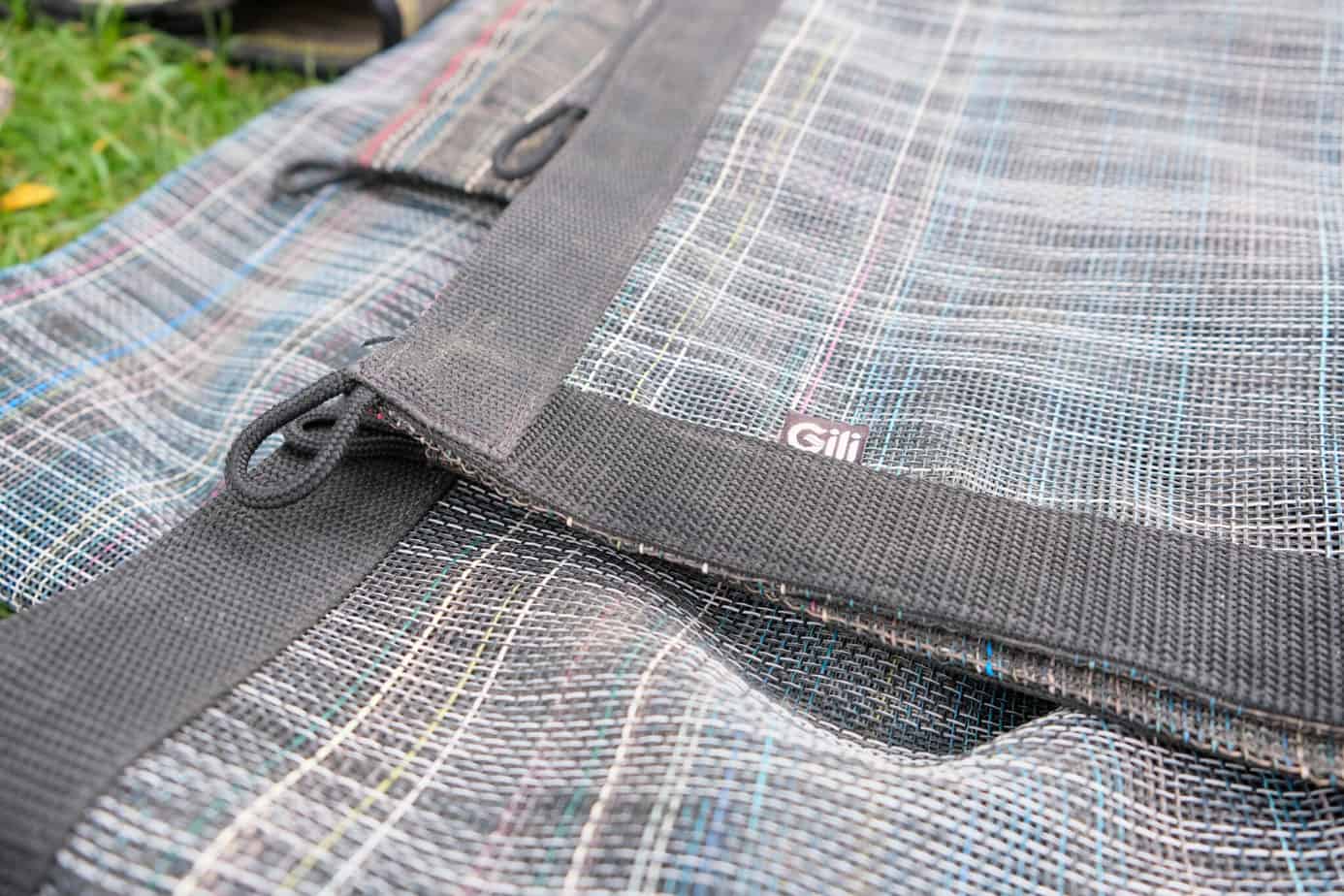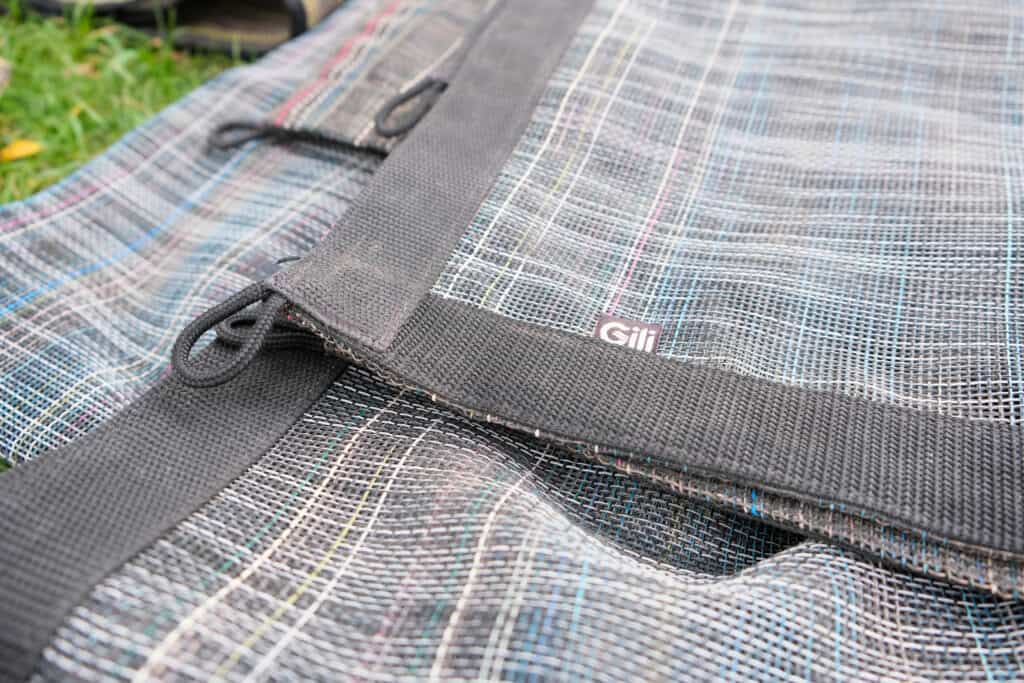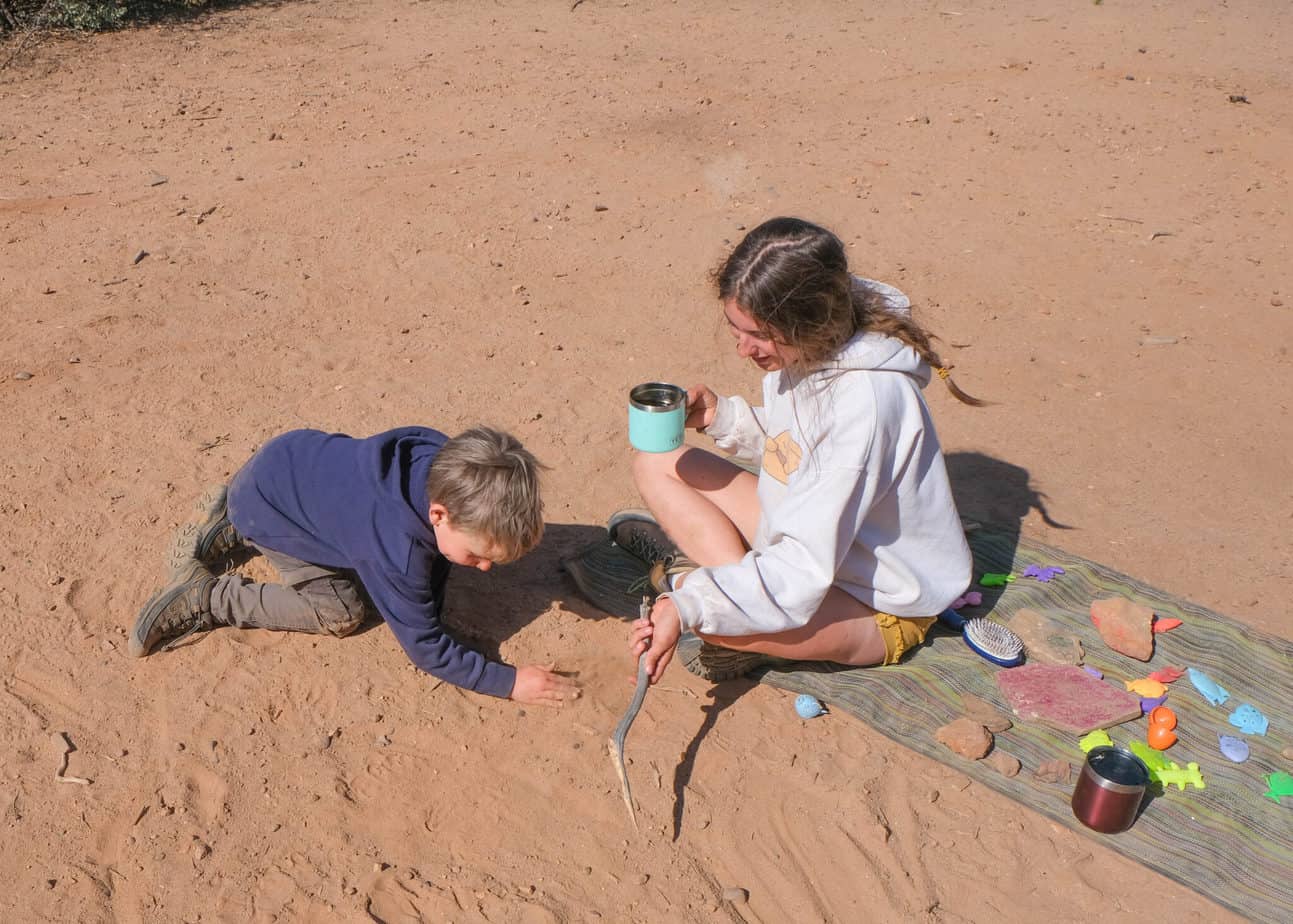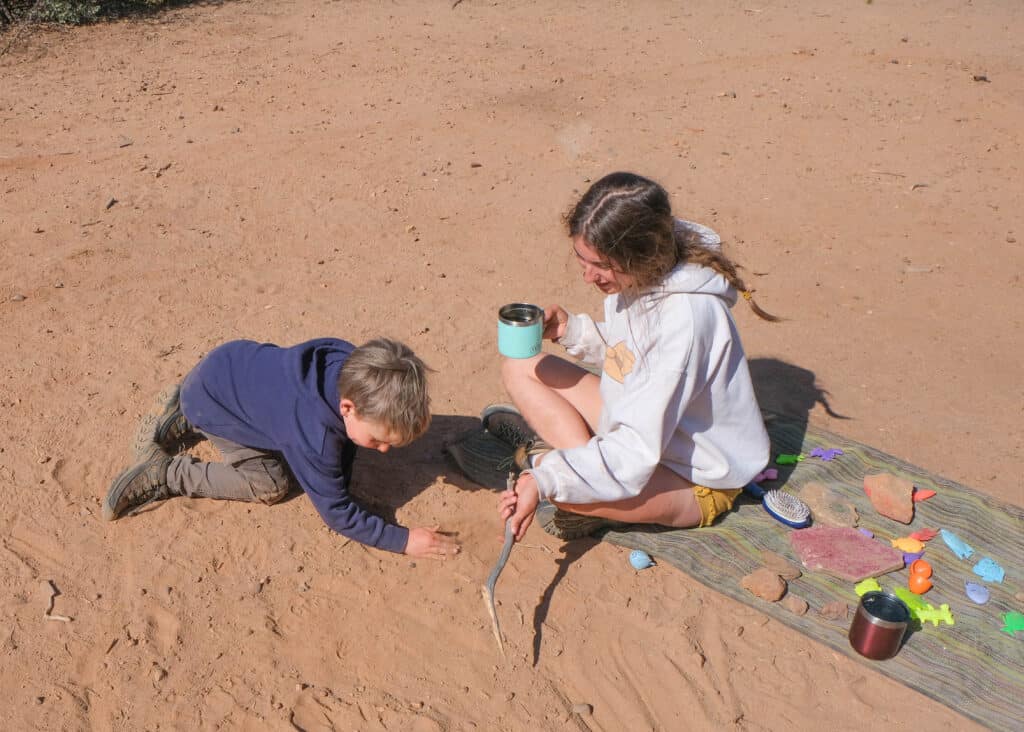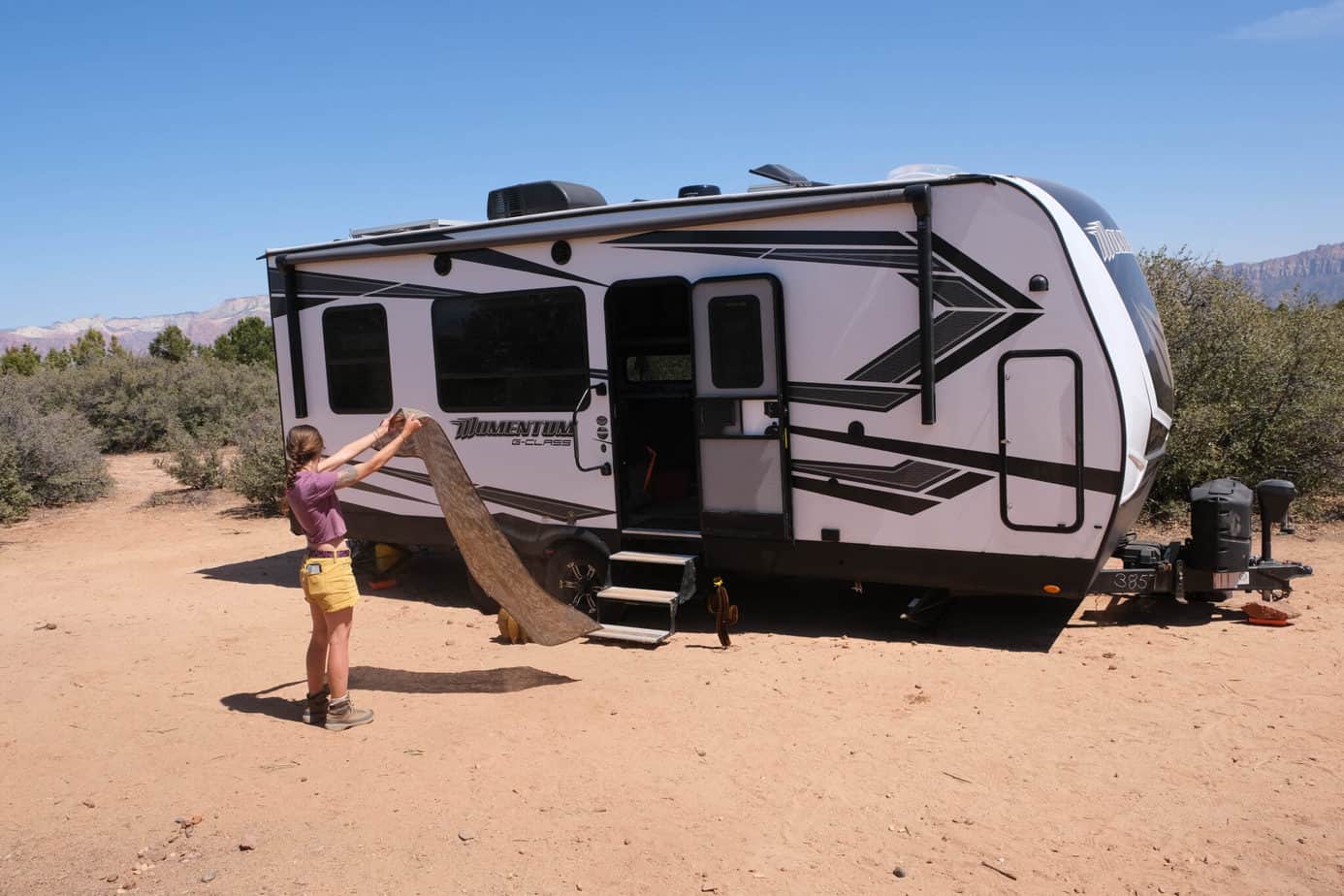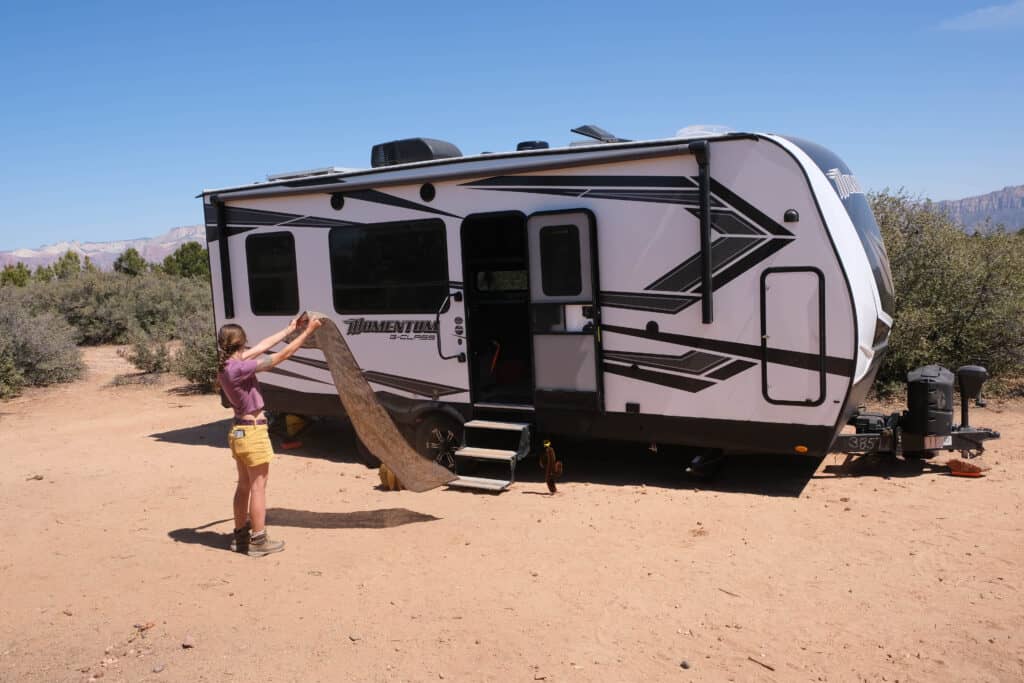 How we tested the bags during our camp trip
The bags are made out of the same material as the mats which makes it super useful for storing things that get dirty or need ventilation. I obviously wouldn't use them for things you need to keep dry, but for just about everything else they were an extremely durable storage solution!
I especially loved how heavy-duty the zippers were and that each bag had a comfy handgrip that brought the two handles together. We have a toy hauler and store all of our junk in the "toy section" in transit so we actually REALLY loved how easy these were to move/pack compared to the clear bins we were using before.
With three kids, another bonus for us was that toy and gear clean-up was way faster (and cleaner!) The kids could drag the whole bag out with them, play, and put everything back without worrying about shaking the sand out of everything.
If you're a beach or dessert lover, you know how annoying it is to constantly have sand piles at the bottom of each gear bin – the Gili Gear bags let all the sand fall out (and air flow for all the slightly damp things you pack the morning of)
Here are the different bag styles we tested during our camp trips
Small Gear Bag

(20″ x 10″) – Great for climbing gear, biking gear, and other weirdly shaped stuff that's nice to keep organized such as sand toys
Medium Gear Bag (26″x14″) – Loved the size because it gave so many options! For a family with 3 kids, we ended up replacing our clear block bin with this bag. It was nice that the distracting colors were muted and we didn't have to jenga the blocks in to an exact shape!
Tote Bag – Size wasn't listed, but it's big enough to fit a cooler, little kid chairs and 2 mats. Works great for keeping everything contained for an outing or during tavel

Packing Cube

– 12″ x 10″ x 6″ – I love that it opens from the top and worked out perfect for small things like the kids shoes and straps. I imagine if we didn't already have a clothing storage system in place in our camper, they would have been perfect for our shelves!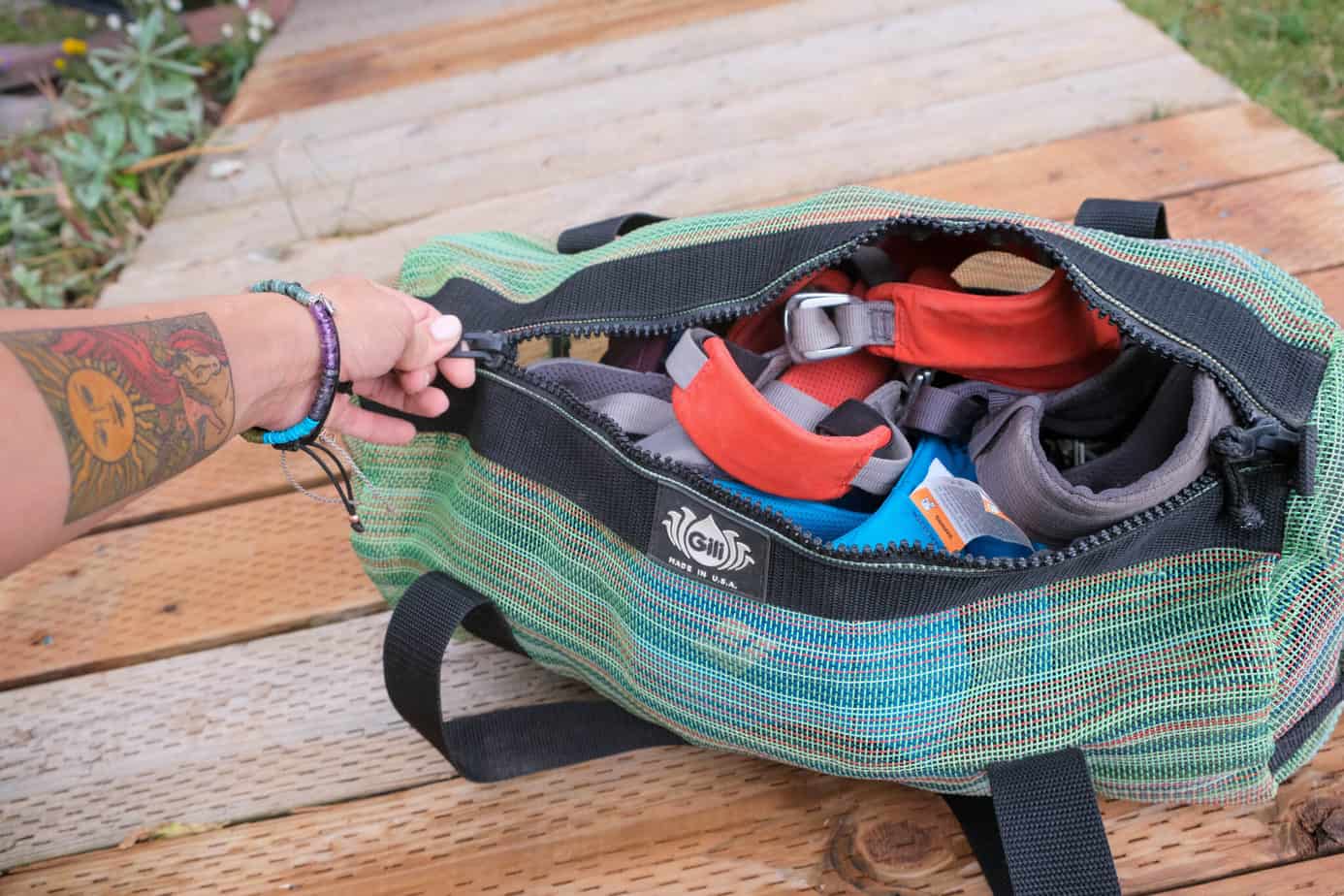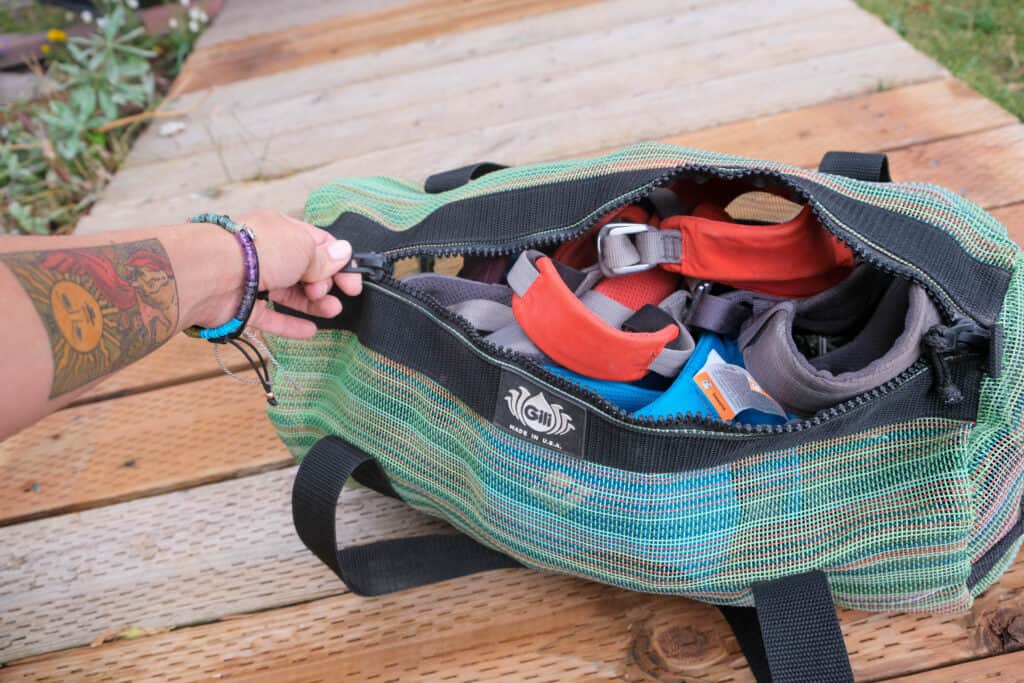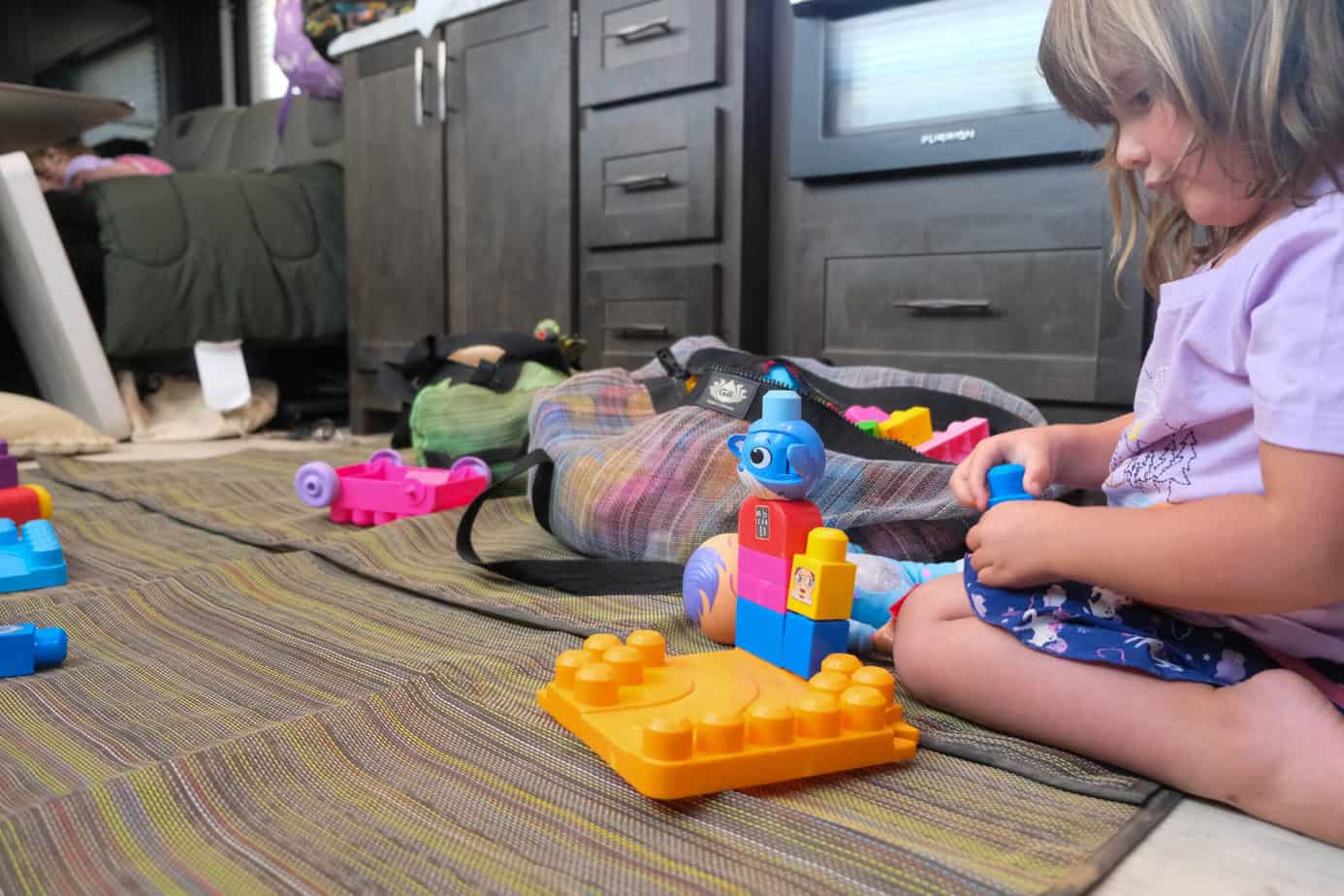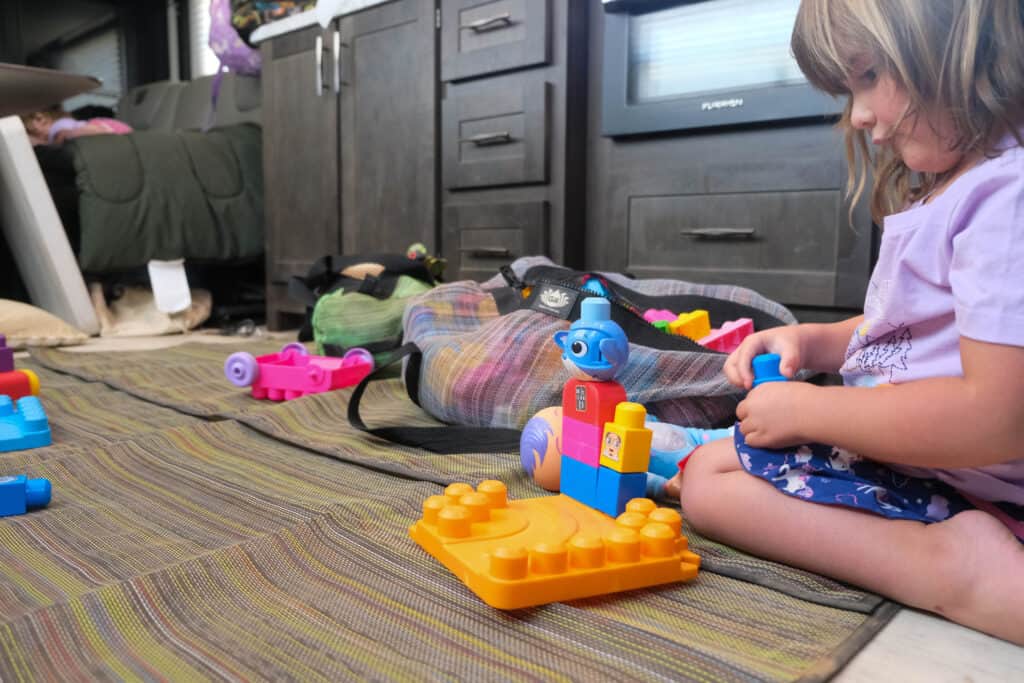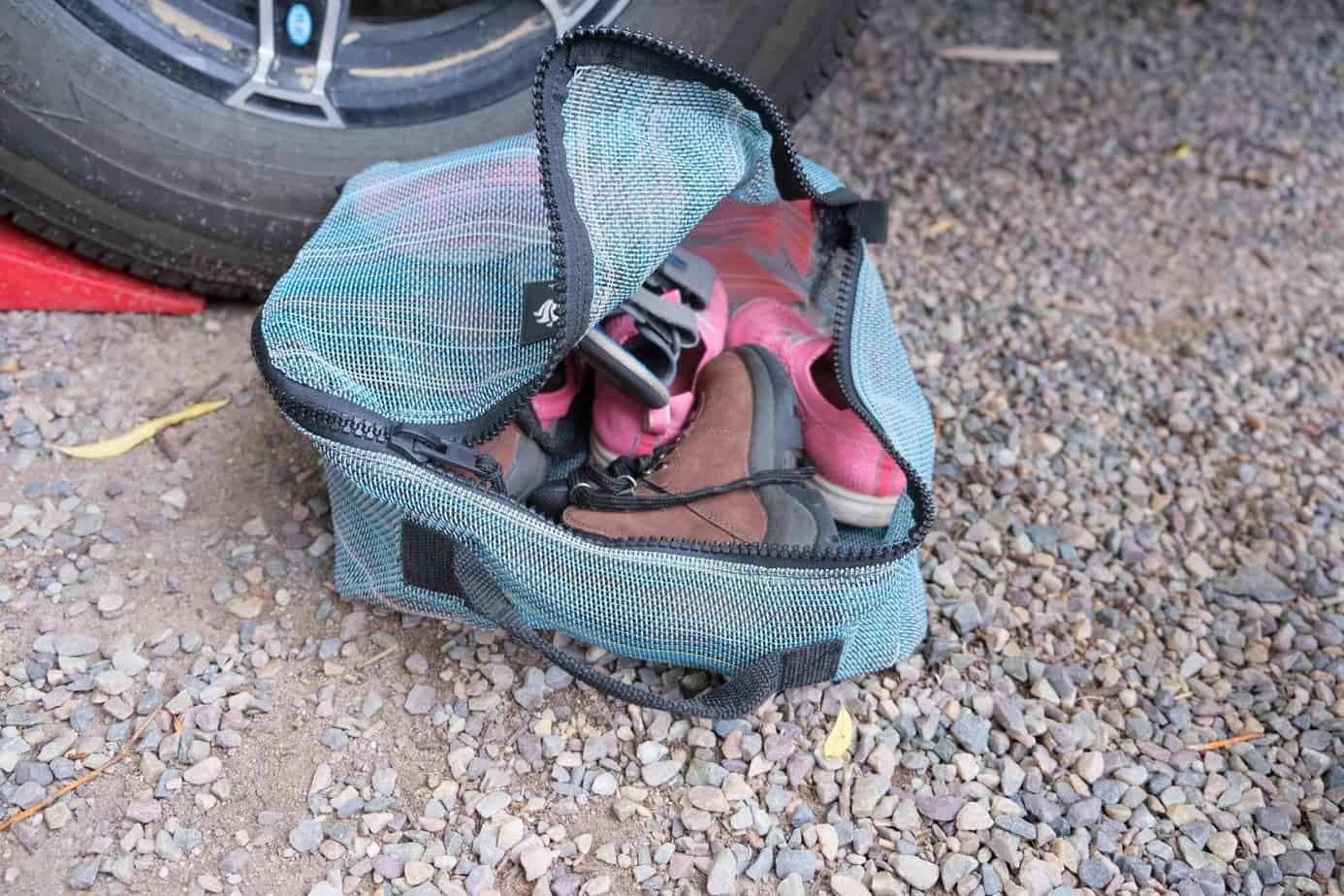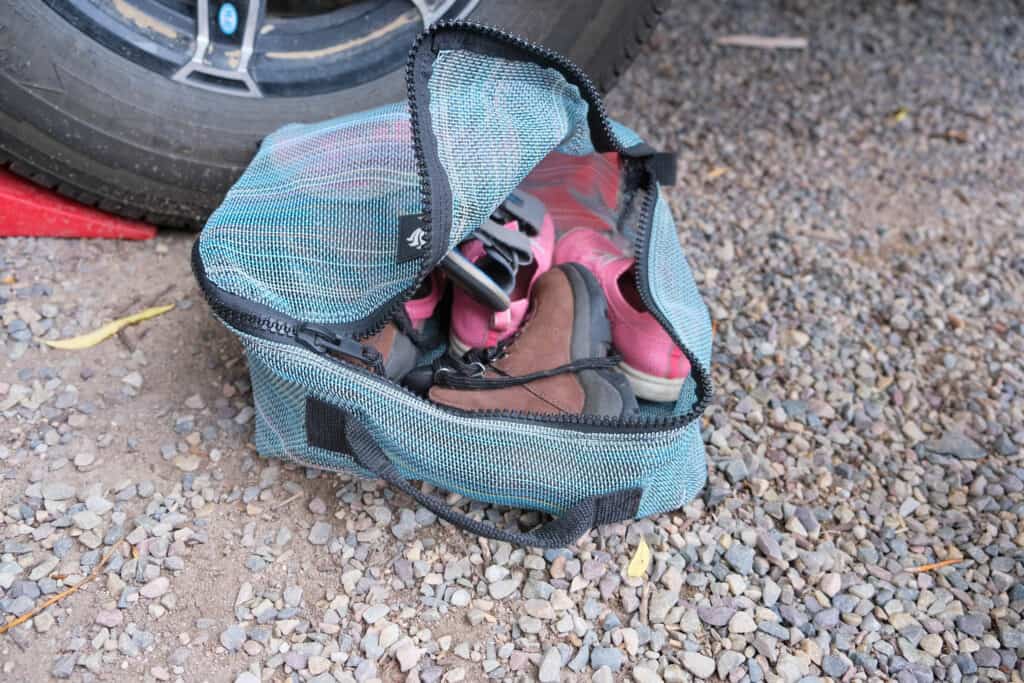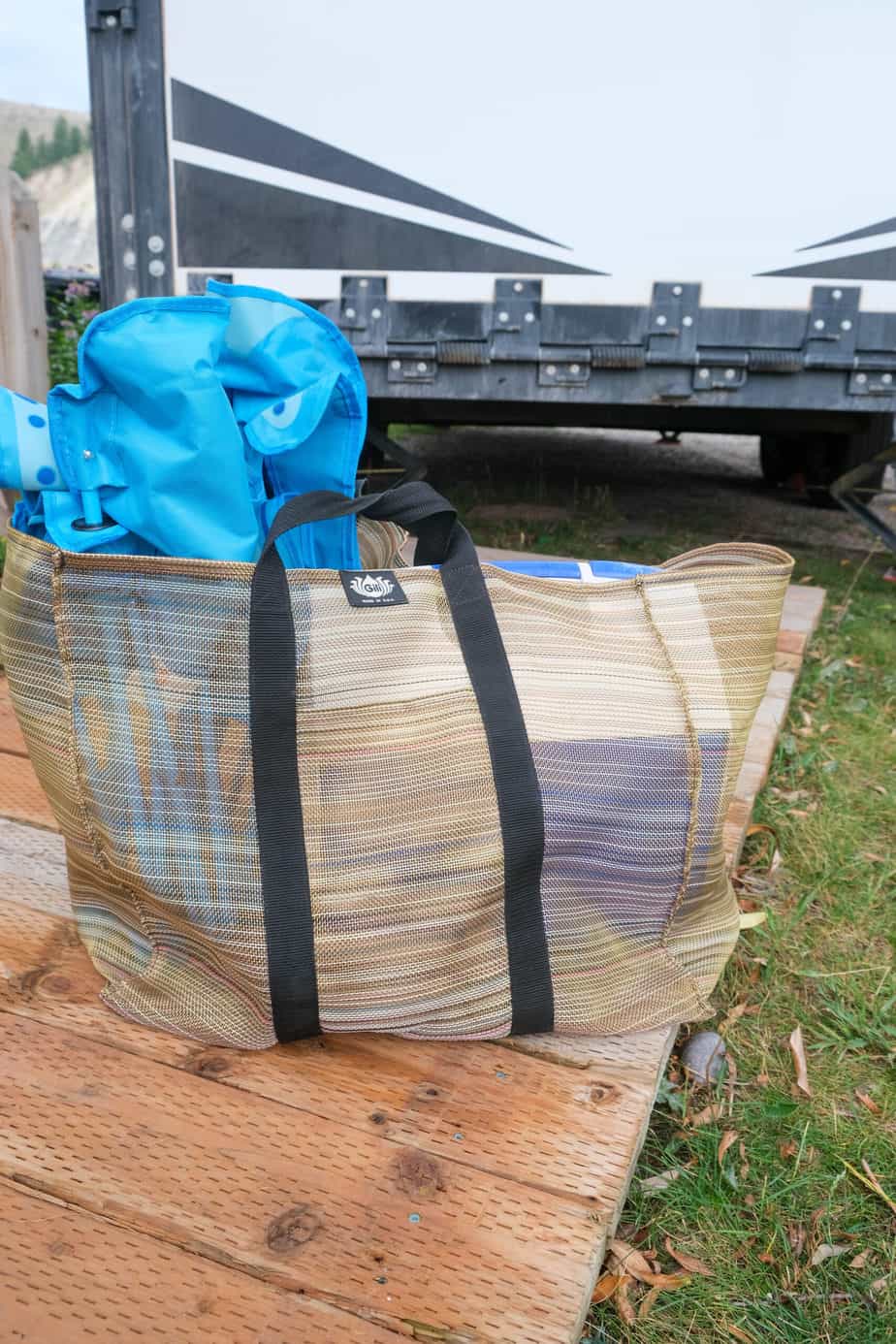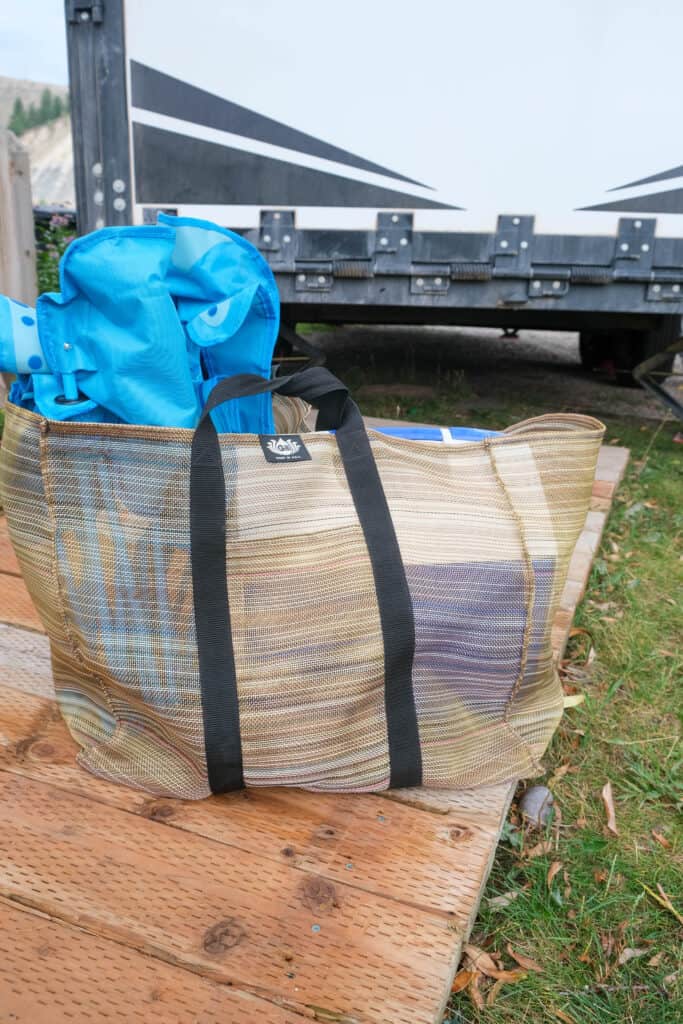 Are you ready for a sand free camp experience?
Even if you aren't looking to overhaul your storage system just yet, upgrading just your patio mat is well worth it!
Having a system that gets the sand out for you makes being an active camper way less messy and far easier to keep clean!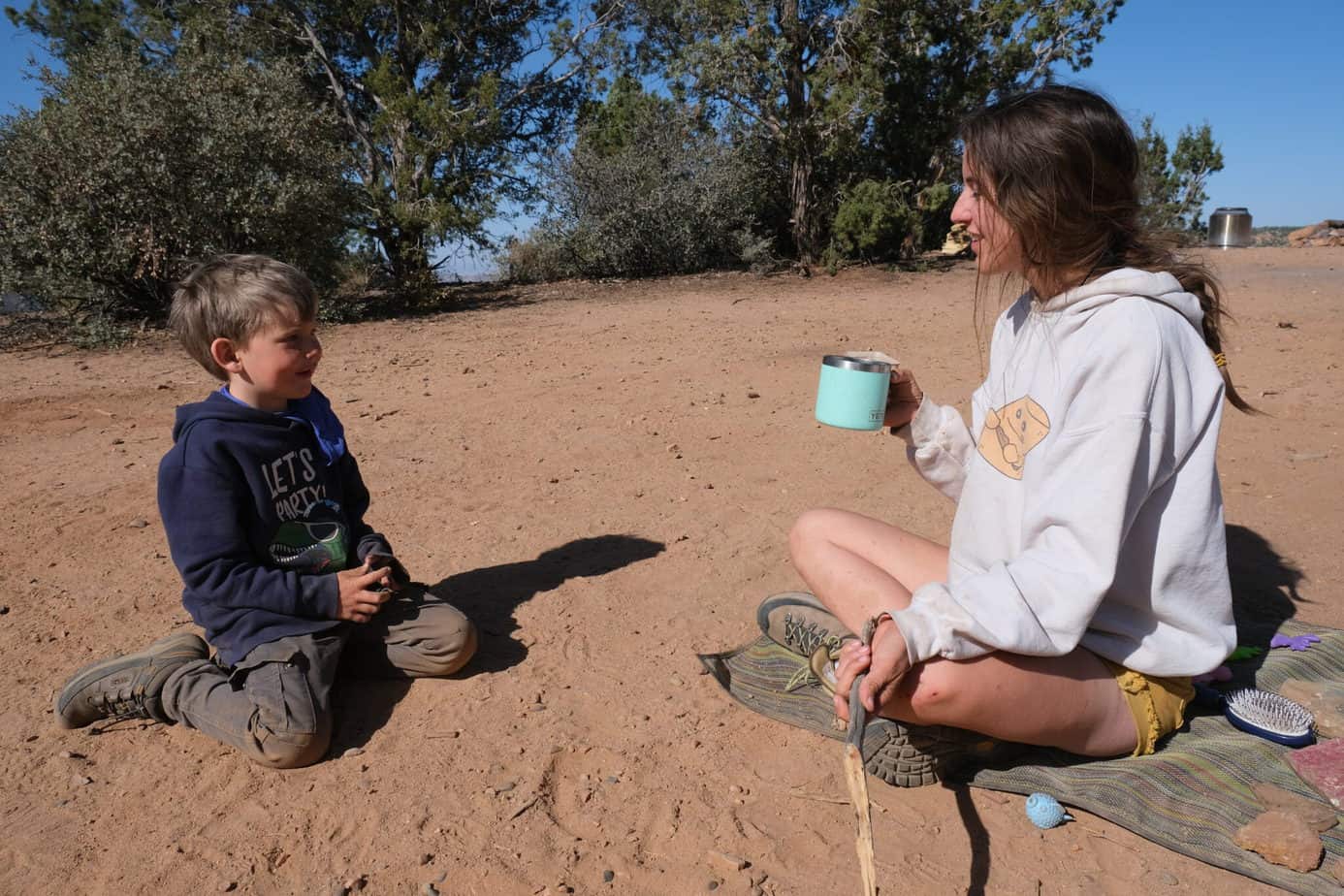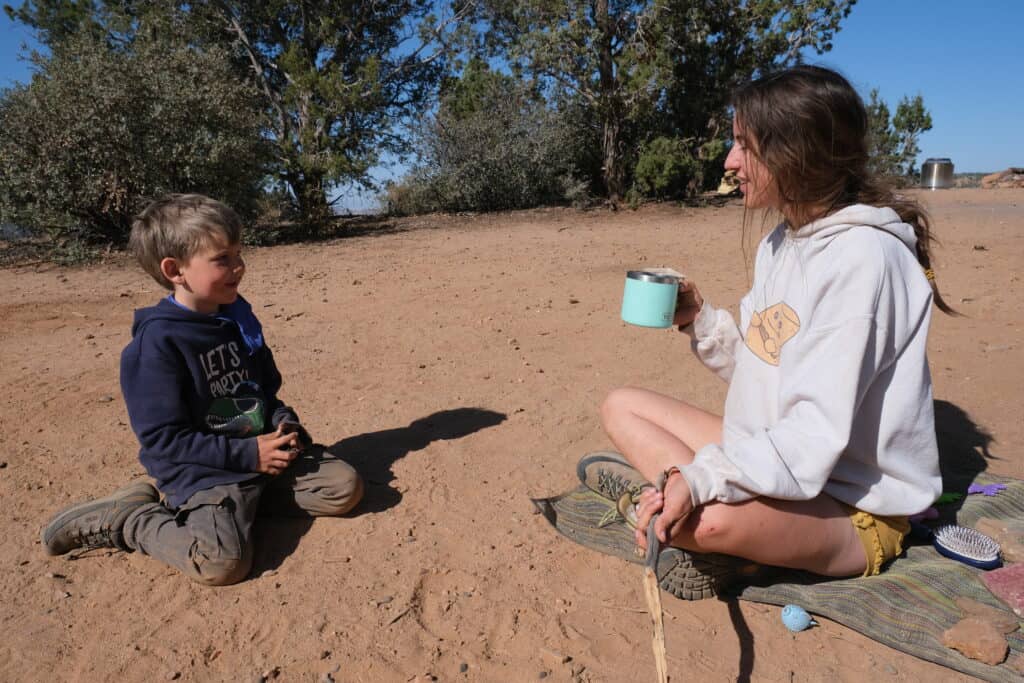 Latest posts by Stacy Bressler
(see all)