If you have a travel trailer and have struggled with how best to utilize that weird, long outside storage compartment then you will love today's quick DIY!
I LOVE all the Facebook RV groups because of the plethora of information and DIY's shared – today's comes from C. Prachar, and she is sharing how she whipped up a simple but effective solution to all that weird, almost unusable storage space.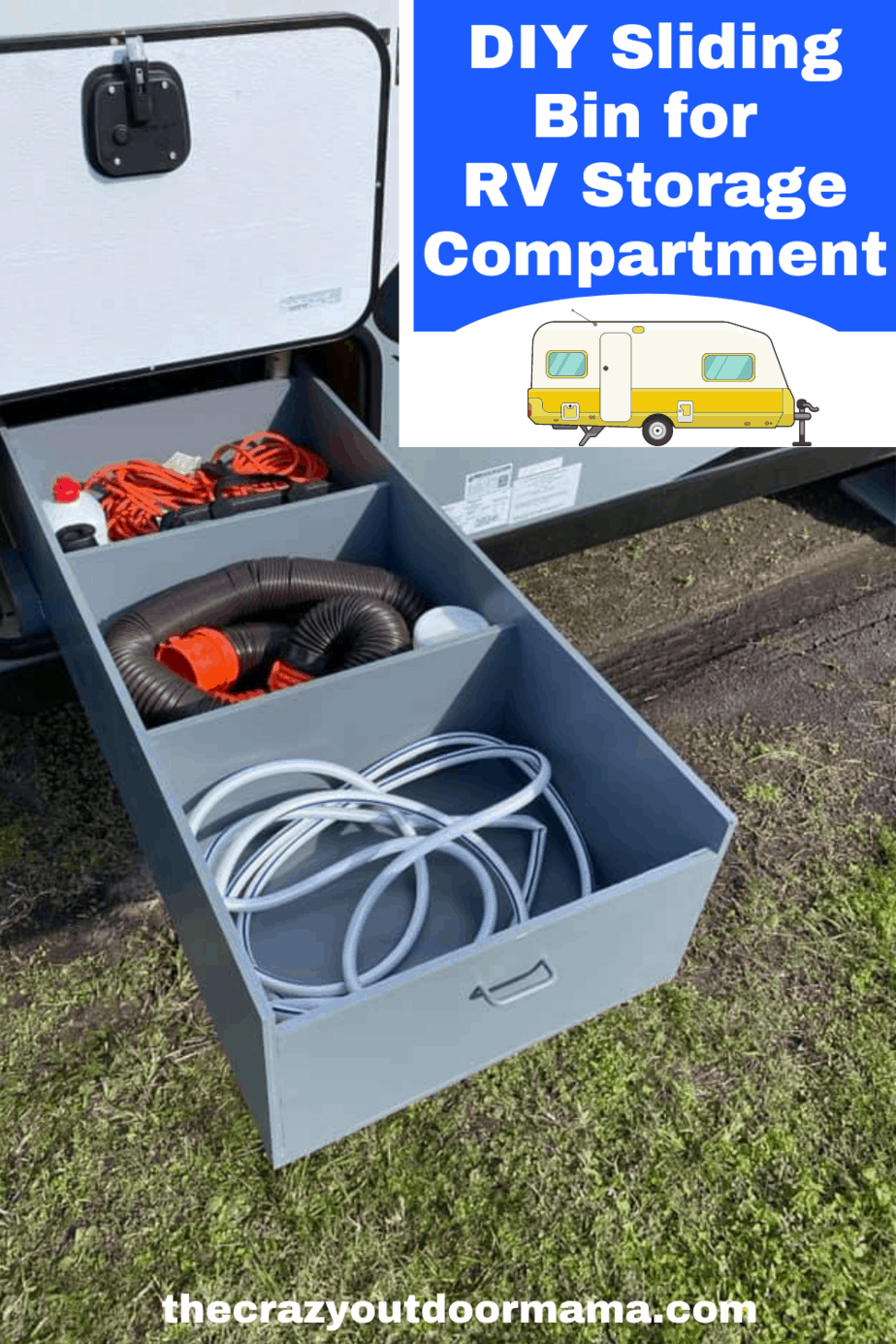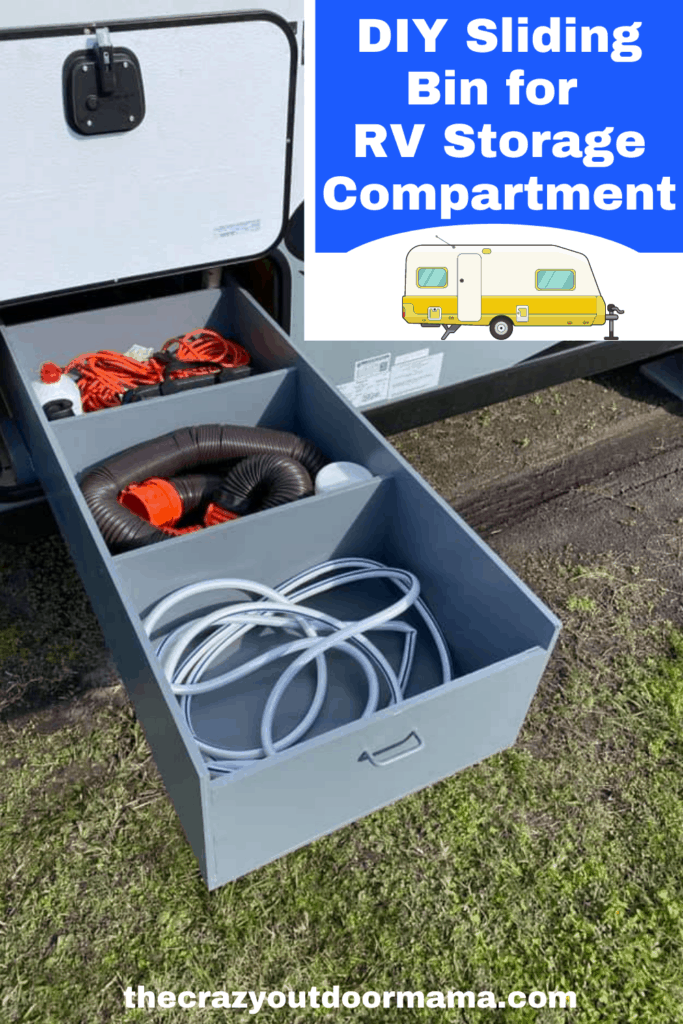 What you'll need to make this handy storage bin for your camper
Sheet of 1/2″ plywood
Varrying # of 2x4s (enough to make a track on both sides that extends the full length of the storage space)
Industrial strength rollers
Paint to match camper (optional)
L Brackets
Hooks to hold the bin in place while in transit
Yield: 1
DIY Slide Bin for Outdoor RV Storage Compartments (pics included!)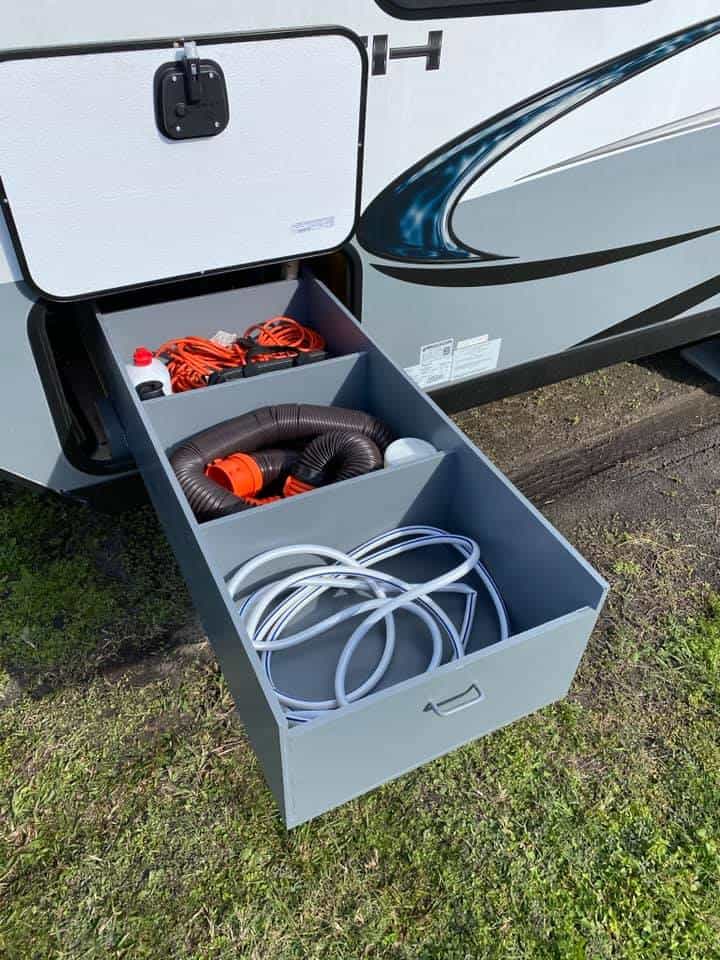 Make better use of that outdoor storage space in your RV with this roll out bin idea from fellow camper C. Pracher! You will need to measure to find the exact amount of 2x4s you need as well as the amount of L brackets/dividers you'd like.
Total Time
1 hour
20 minutes
Materials
1 Sheet of 1/2" Plywood
2x4s for tracks
L Brackets (varies by size)
UHMW for tops of track
Set of Industrial Rollers
Small Handle
Hooks to hold in place while in transit
Instructions
Clear out your work area - this bin design is intended for campers with long storage spots like this!
After taking measurements, assemble the box itself
Use L brackets to secure the dividers in position. Make sure to know what you're going to store here so that they will be the right size!
Add the wheels to the corners of the bin (make sure they are an industrial pair like this so that they can handle the weight!)
Attach the handle and paint it to match the color scheme of your camper
Using the 2x4s, making a track that goes the full length of the compartment and secure with L Brackets. Add this UHMW Tape on top so that the wheels glide easier!
Add the hooks to the ends of the bin to stop it from moving around as much while in transit
Recommended Products
As an Amazon Associate and member of other affiliate programs, I earn from qualifying purchases.
Did you make it (or something similar?) Let me know so I can add it to this post!
One of my goals has always been to have a ton of helpful ideas in one spot – if you've made one yourself, I'd love to add it to this article so that others might be inspired as well!
Here are some more helpful tips to organize your camping life!
P.S.Please let me know if you prefer your DIY to not be listed on my website or would like a link to something of yours. Every effort is made to find a website or social to link to!
Latest posts by Stacy Bressler
(see all)