If you're going camping with the kids, and are nervous if they'll even like it, then you need something extra fun to make is super special like this ultimate kids camping activity basket (that won't break the bank!)
There are tons of things for kids to do camping, and I've definitely written about it extensively!
But if you're the kind of person who wants to buy it and go, then I got you covered too!
There's definitely been times where I didn't feel like printing anything, planning anything… I just wanted to GO! And this basket is perfect because there are tons of dollar stores, the activities are ready to go, and best of all, it will cost less than 15 dollars!
This basket of camping kid fun should last the weekend, and much of it is reusable for the next time (I know we still have our bug house thing, and it has DEFINITELY been through the ringer with my 3 little kids!)
I tried to fill it with things that cover every aspect of camping – keeping active at the campground, exploring, collecting, and even some water play and roadtrip items!
Related: 15 tips to have a great camp trip with the kids and a kid camping planner and checklist to keep you organized!
Here we go!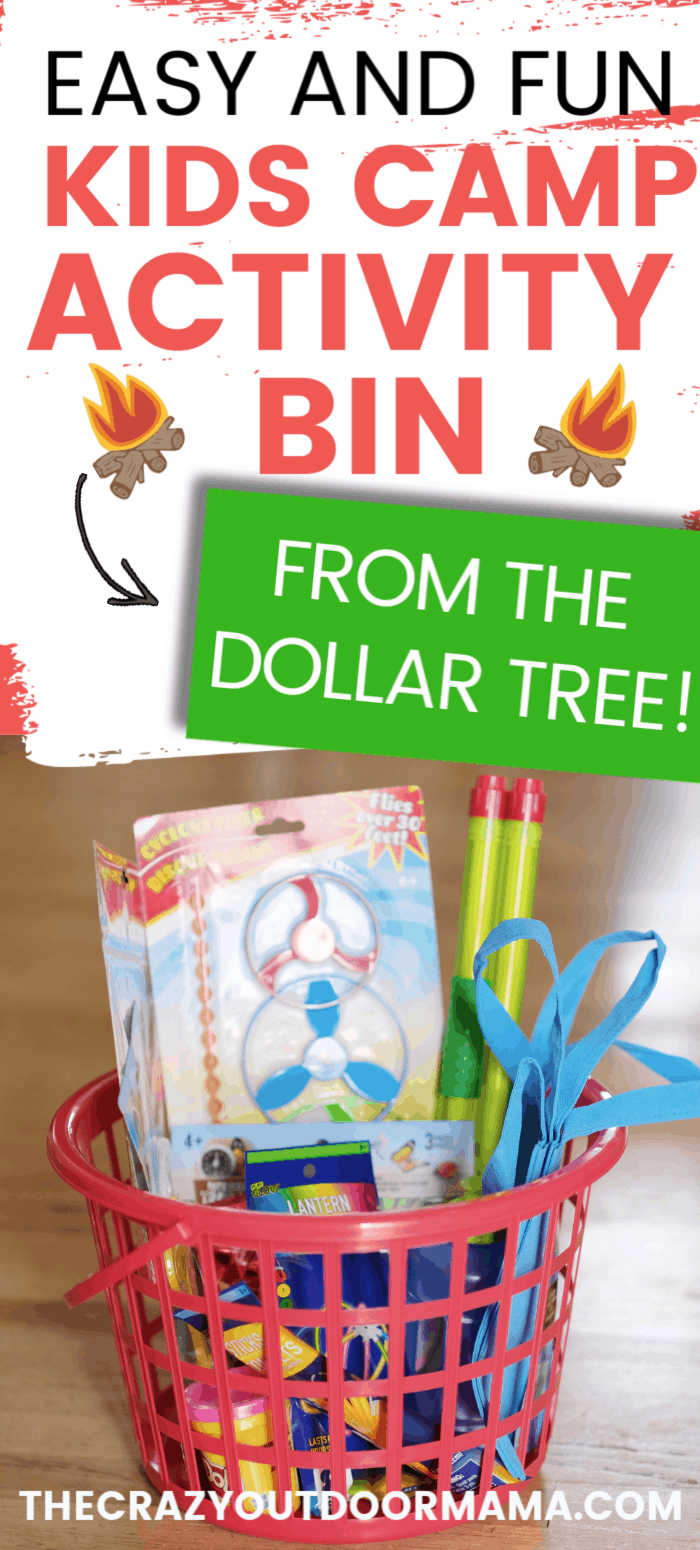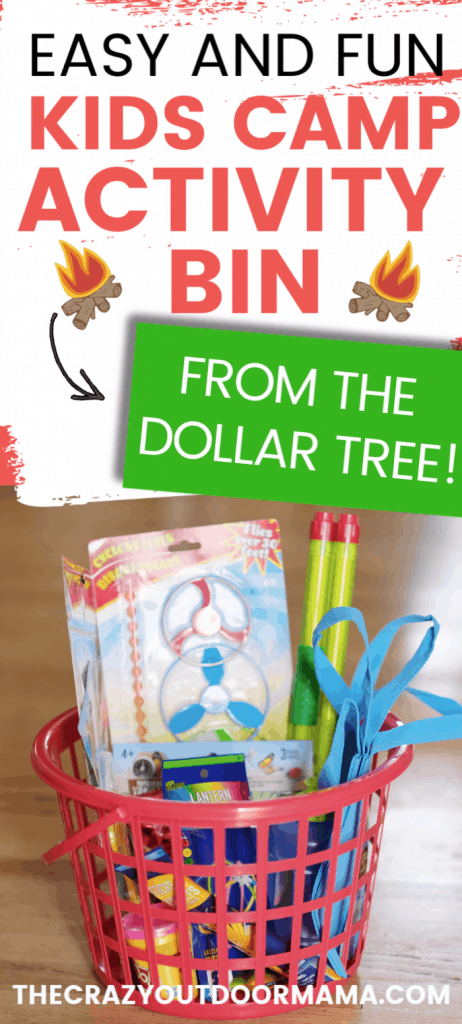 Make the roadtrip fun!
Give the kids a game and some snacks, and hopefully you get an hour or two of *some* peace!
I like to try and avoid overly sugary snacks (that are reallllyyy hard to avoid at the gas station) so I either buy my snacks ahead of time, or just know what to look for. WE always pack peanut butter crackers because they are generally mess free and also pack a little protein!
I also included some roadtrip BINGO to give a little direction to my kiddo when it comes to staring outside. The pack I bought comes with two cards, so I find it helpful to ask periodically if he's found something that's on the card to try and refocus him on it.
Related: Do you want to play BINGO when you get there too? Check out my Camping BINGO cards and my pretty darn fun nature scavenger hunts while you're at it!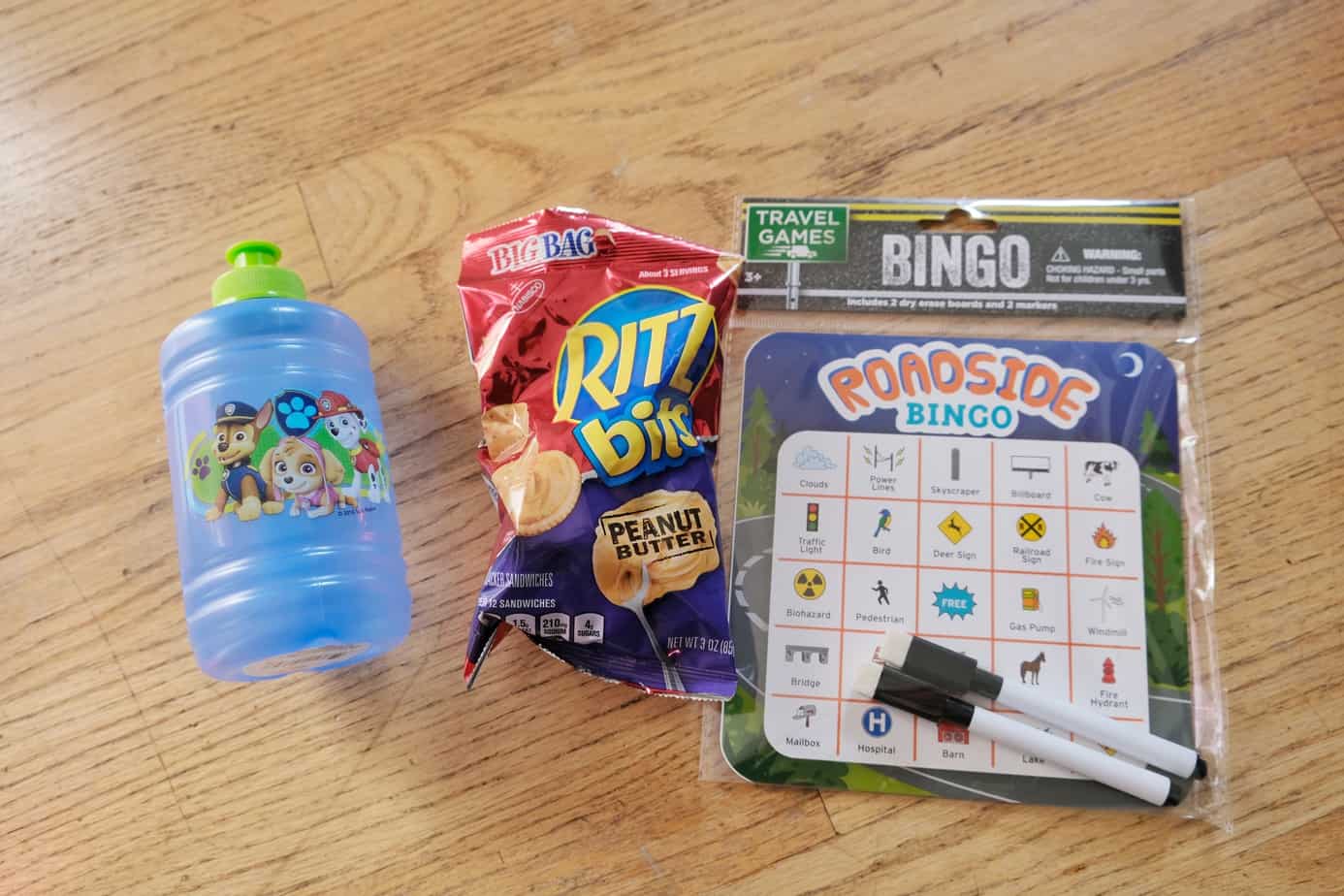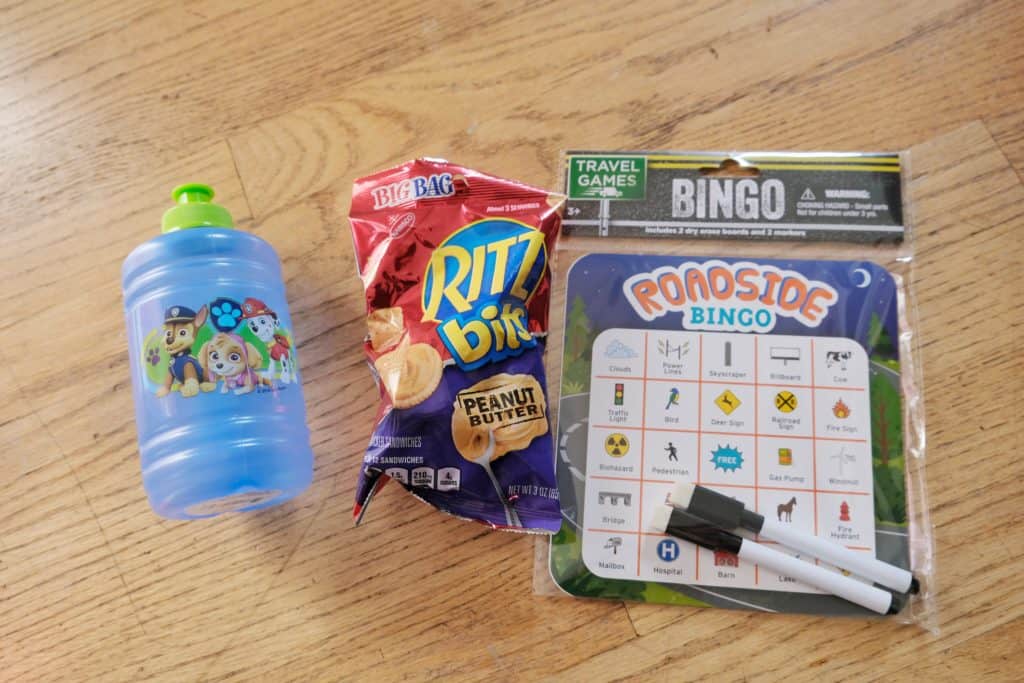 For kids exploring in camp
Now onto playing and exploring at camp with the kids! I bought a pack of two bags for gathering rocks, pinecones, sticks, flowers or whatever else they love.
I also brought two forms of bag catching devices! One to gently catch them with (the scoop) and one for inspection and observation!
Catching bugs was absolutely one of my favorite things to do outside when I was a kid, so I really hope to pass on that love, curiosity, and care for even the smallest of creatures onto the kids!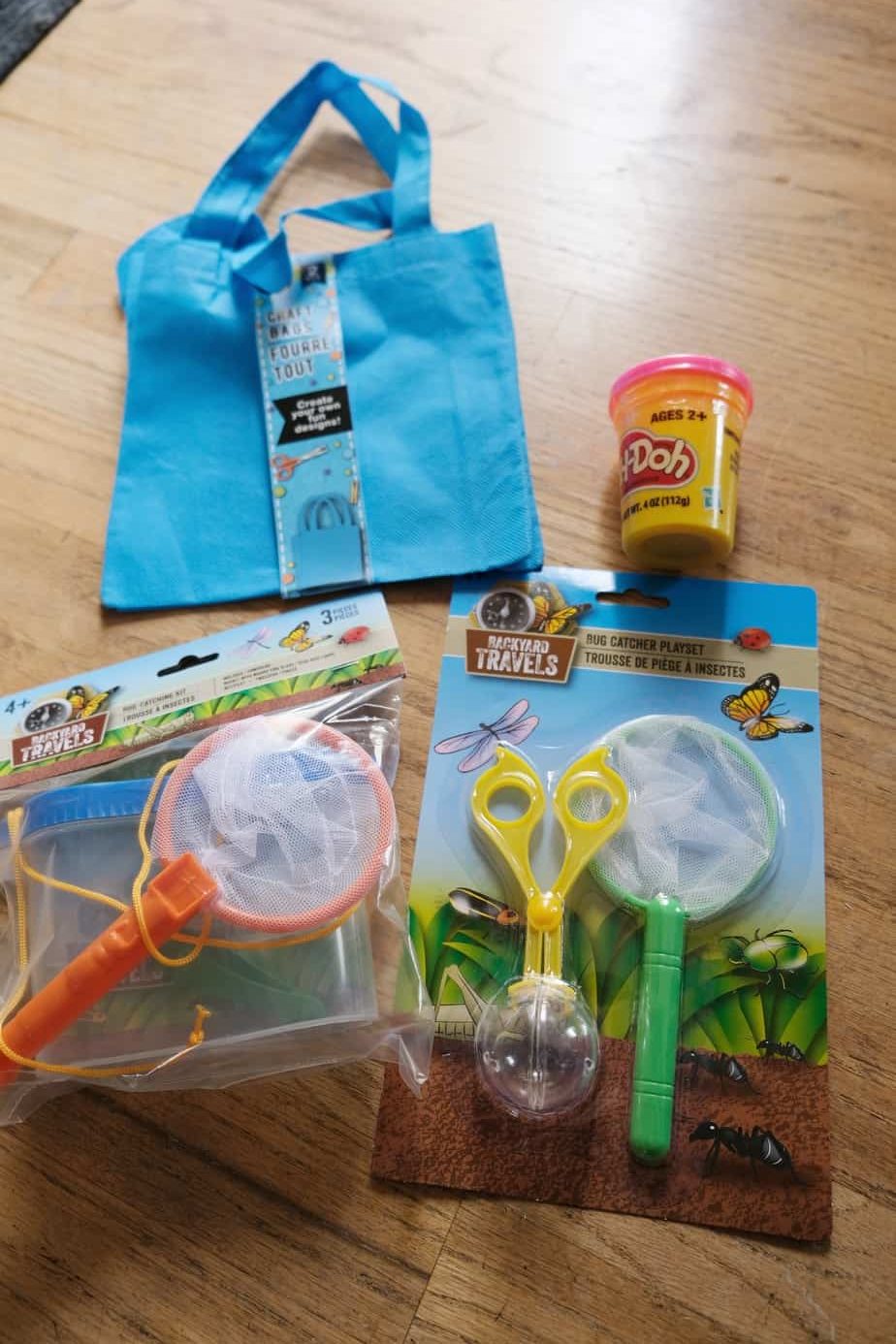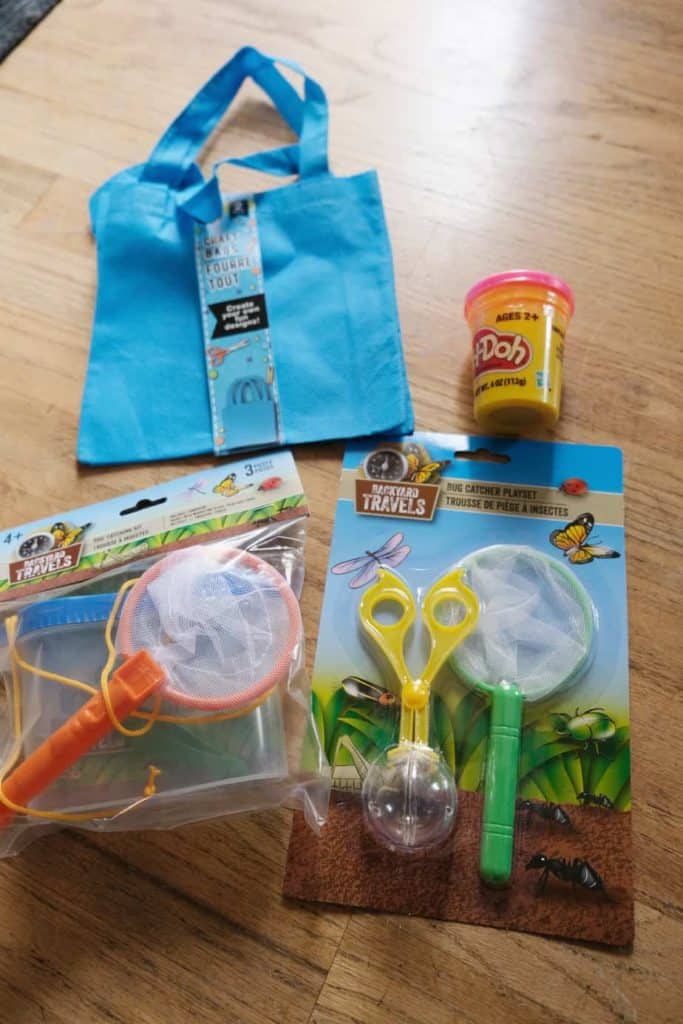 For kids staying busy and burning energy at camp!
So I REALLY love the two "active" items I got at the dollar store – a water pump gun and a flyer!
The water pump gun has so many possibilities – target practice at trees, try to knock things like cans down, compete to try and fill a water bottle first… it's endless!
I also love the flyer because it's something you can still "play with the kids" but be comfy in your camp chair at the same time! The package on this one claims it goes up to 36 feet in the air, and I gotta say… that's true!
I'm a kid at heart and we tore that open right after these pictures were taken to put it to the test! We were ALL oohing, ahhing and laughing at where it went!
Related: Looking for some other fun kid activities while at camp? Check out these 13 kid friendly campground activities to keep them busy!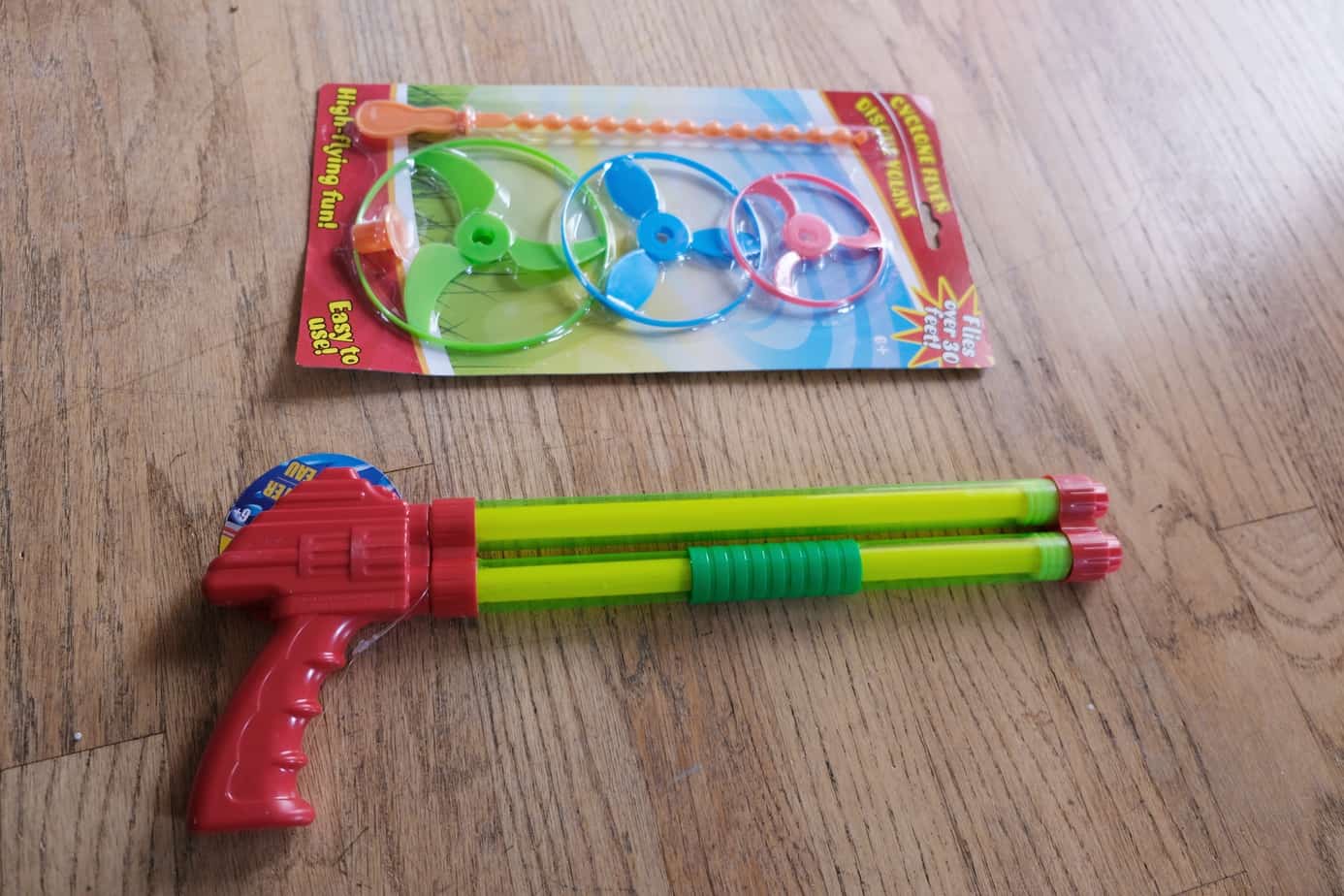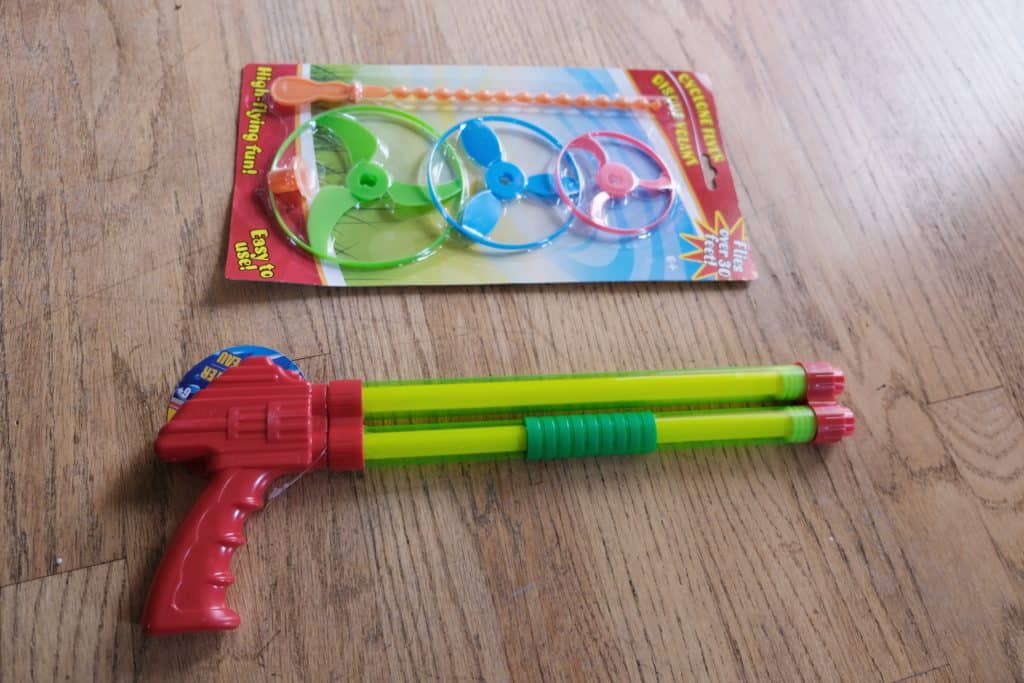 For night time at camp with the kids
Camping at night with kids is honestly probably the easiest part of it all! The s'mores, campfire and general shenanigans that happen after dark (and bedtime!) are usually enough to keep kids pretty entertained!
However, I did choose a freaking cool glow stick lantern ball for some pretty fun catch at night as well as a smaller glow stick that can attach to the kids pants so I can keep an eye on them!
Being honest, I'm pretty excited to play with that glow ball myself!
I also printed out some camping themed kids songs we could all sing around the campfire!
Related: If night time gets too cold to fully enjoy where you're camping, or maybe the kiddos just need some wind down time, check out these 15 indoor camping activities (that are still super fun!)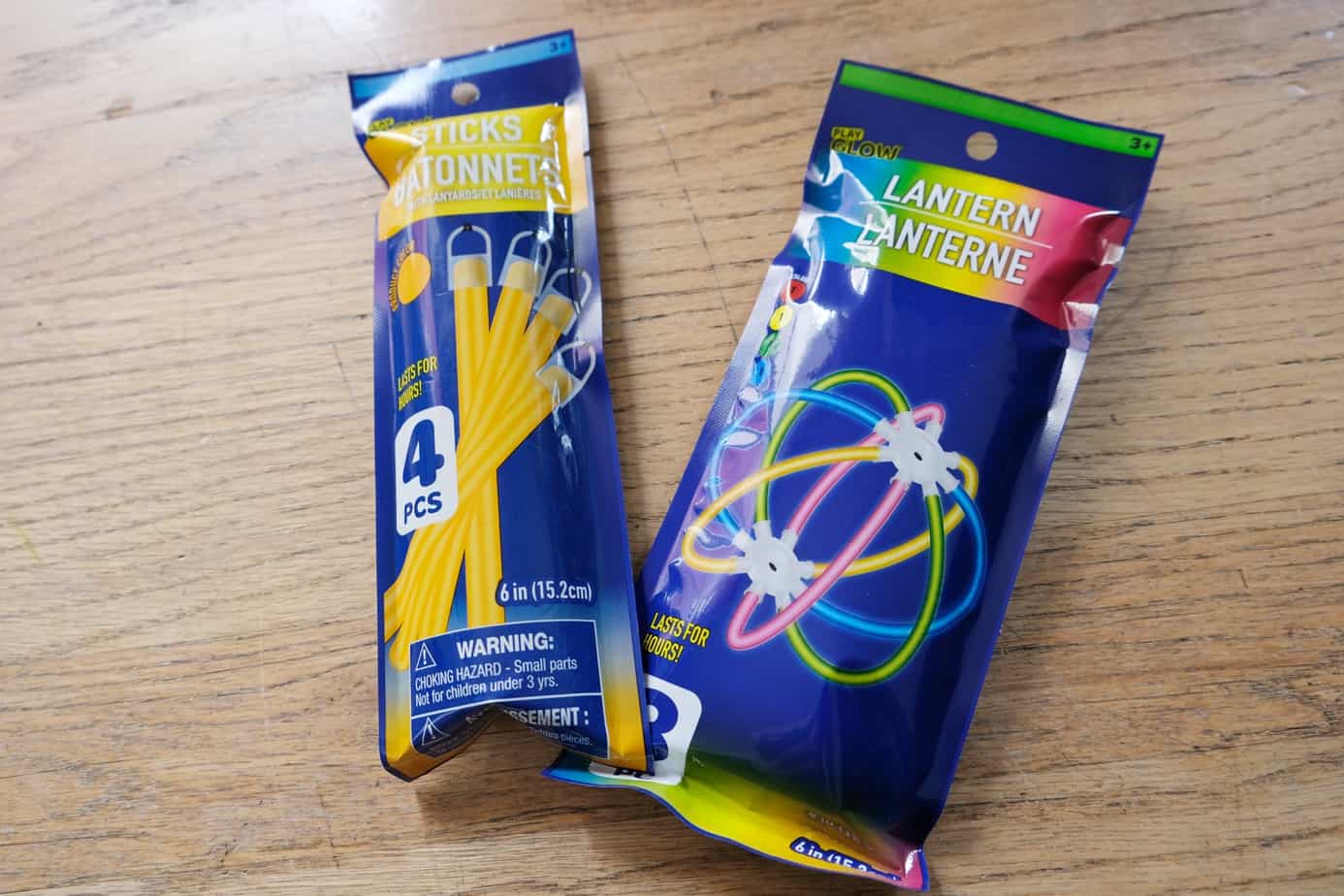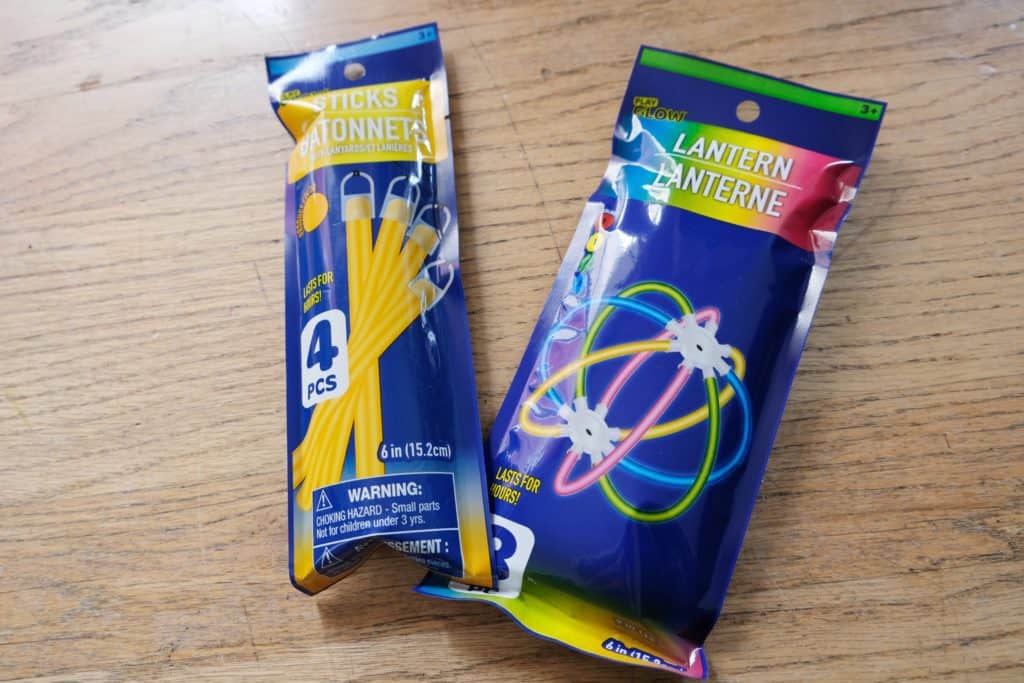 How to present the kids camping activity basket (for max excitement!)
Alright, so you could just present the whole basket, and that would result in some excitement, but if you have a long trip ahead, you might want to space the items out so that the road trip is a little more fun!
For example "OK, in 30 minutes I'm going to show you a new fun toy I got you for camping!" or something like that. I wouldn't recommend giving out super fragile stuff, of course, because bored kid hands can cause some destruction!
P.S. I definitely plan on updating this article with my son's reaction picture when we go out this coming weekend!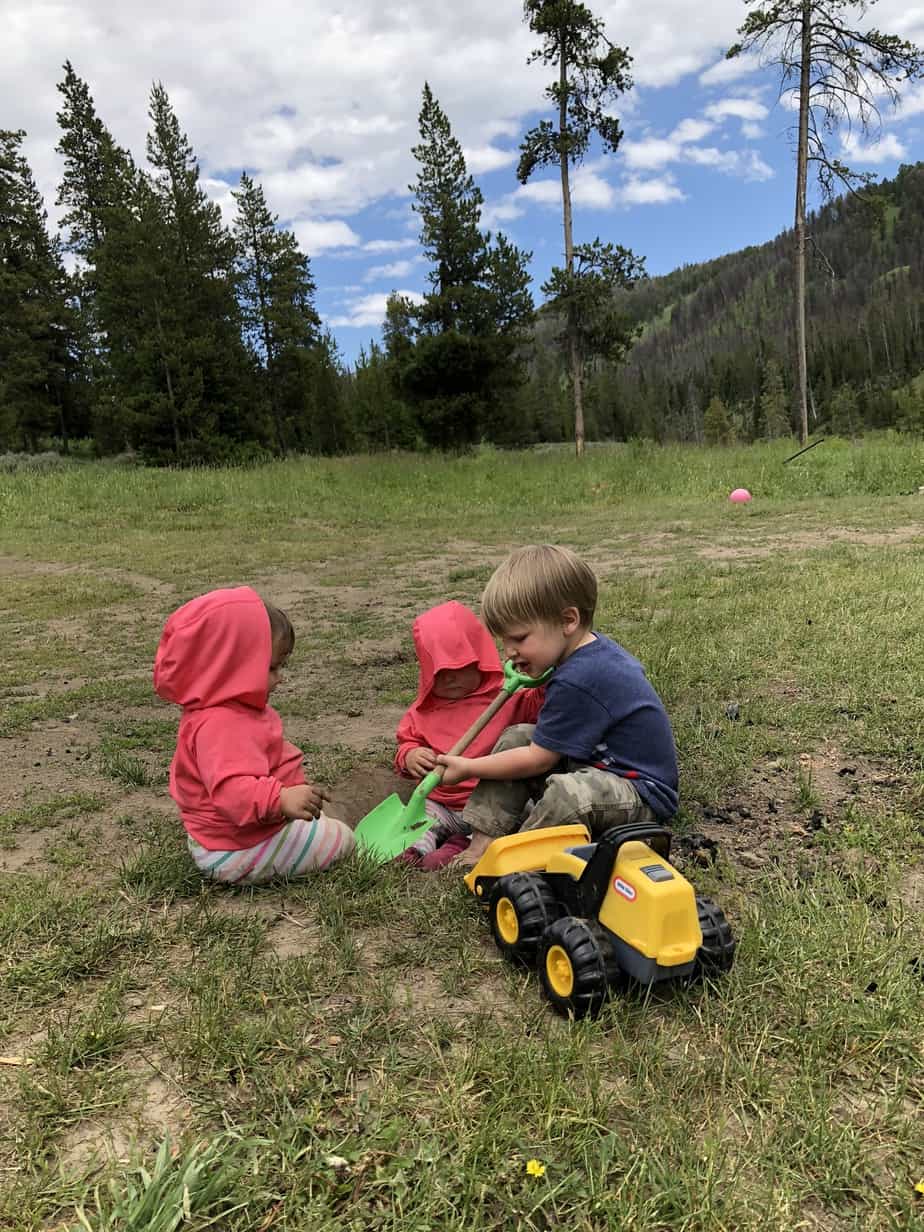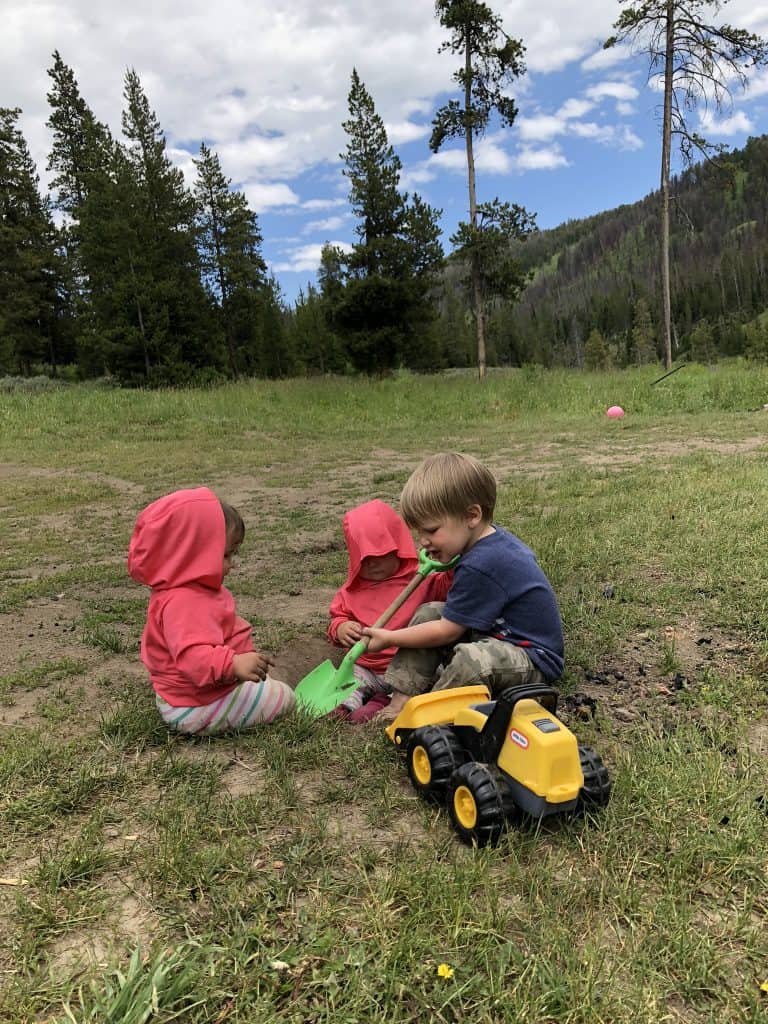 If you want some more camping themed fun, check out this pack of Camping themed Do-A-Dot and coloring pages I made for you guys!
Do a Dots are a fun way for even the youngest toddler to have fun painting! Stick this fun pack in your basket (4 camp scene coloring pages are in it too!) for more camping hype!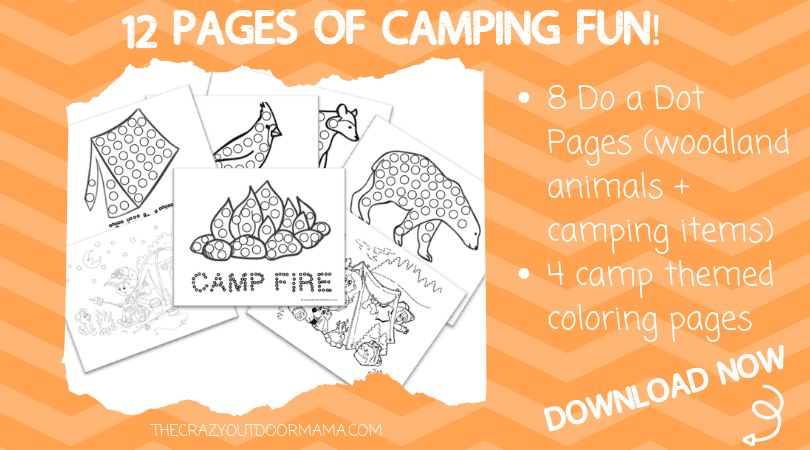 Are you excited for some camping fun with the kids on the cheap?
Camping doesn't have to be some fancy expensive thing (and being honest, kids can have alot of fun with some rocks and sticks!)
But if you really want to up the fun, you gotta swing by a Dollar Tree and pick up some of these camping fun goodies!
If you love deals on camping stuff, I recommend you also read my article on 27 camper "must haves" to buy used!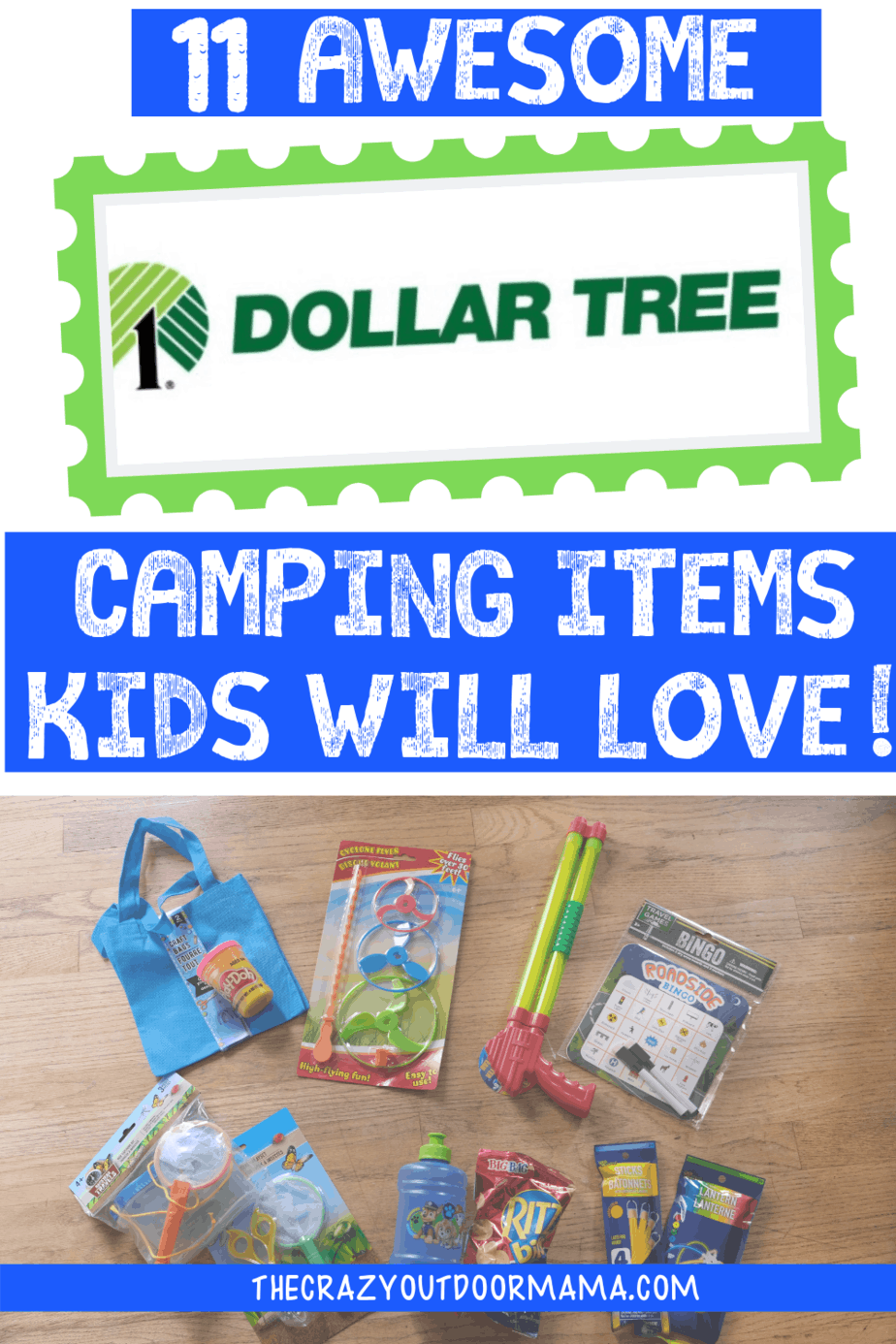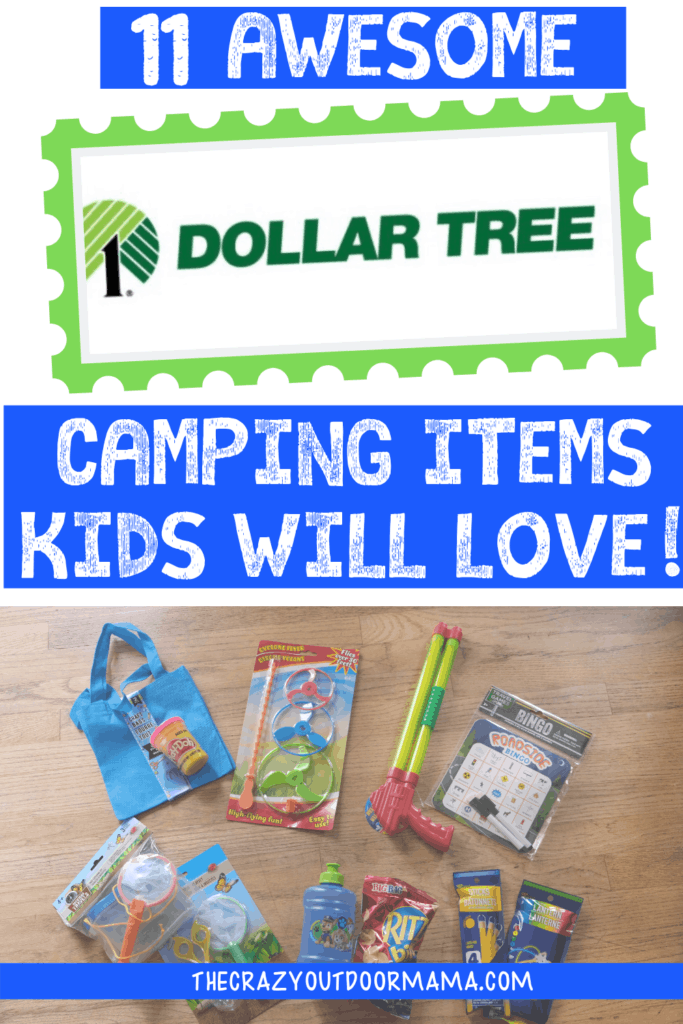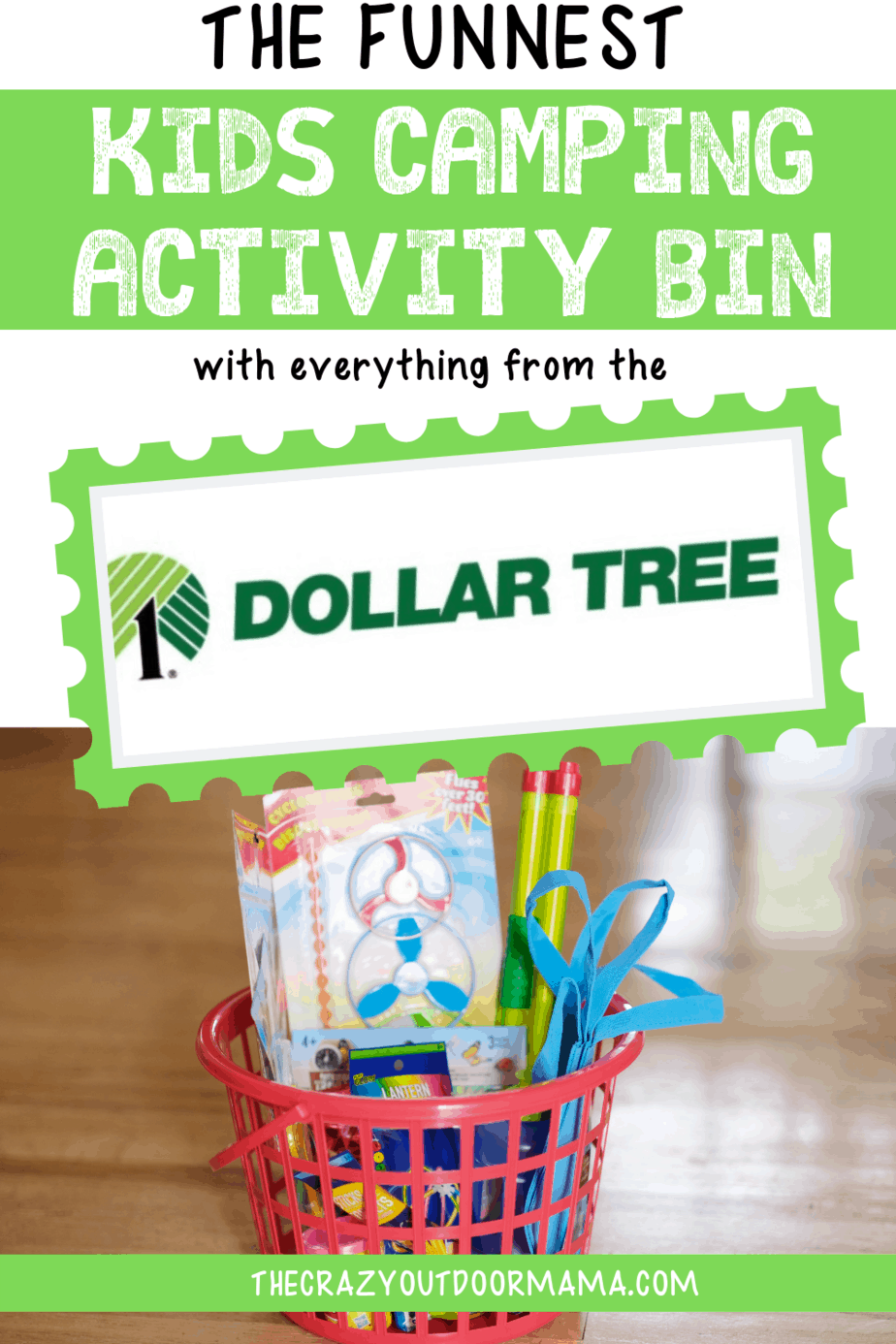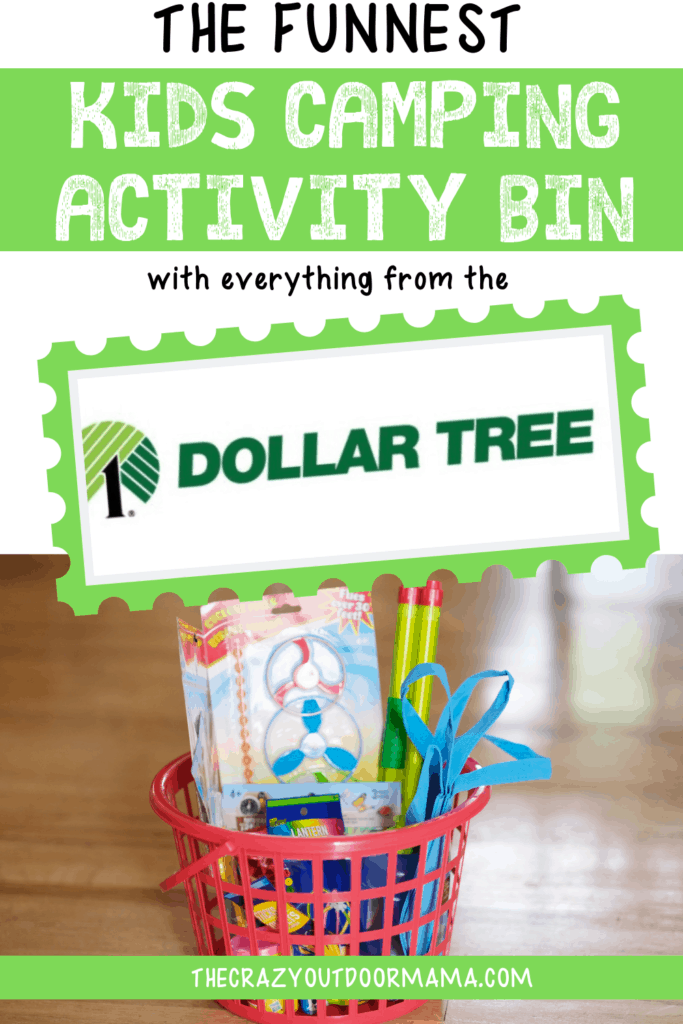 Latest posts by Stacy Bressler
(see all)