Today I am beyond excited to give you guys the scoop on a DIY teardrop builder (owner of Odyssey Teardrops) who is truly a master of his craft!
Robert Carlson (if you are in RV Facebook groups, you'll recognize his trailer… it's hard to forget!) has been a lifelong builder, and I was very fortunate to be able to get the full details on why and how when it comes to building a teardrop trailer from scratch!
Now, this isn't going to be exact directions (Robert will hopefully be coming out with plans soon!) but more of a walkthrough of the process.
This is going to be a BEAST of an article – Robert is seriously fascinating, and his work is something you'll never forget! If you want to get straight to cost, jump to the bottom (P.S. not an affiliate, just wanted to cover an awesome build!)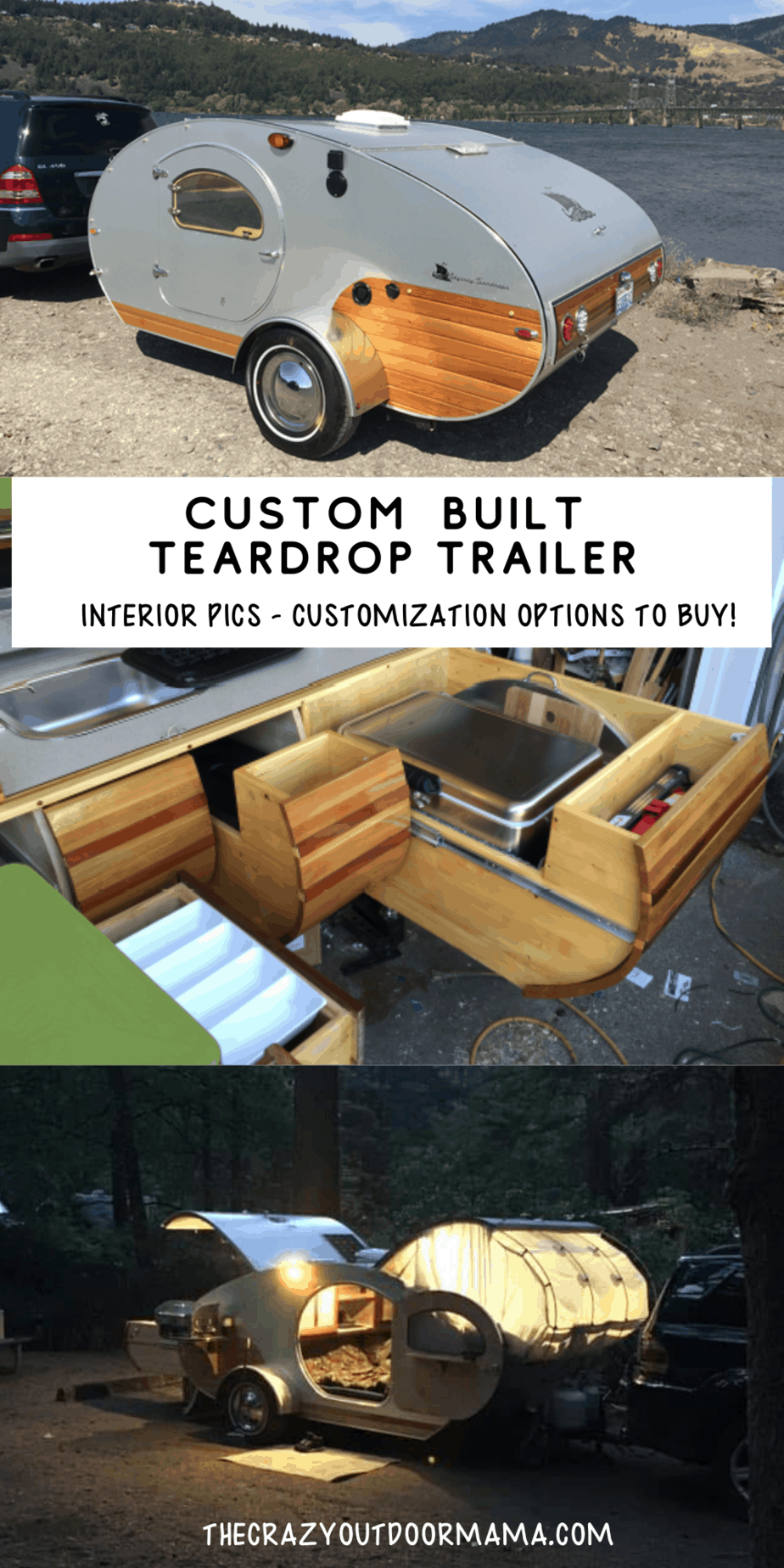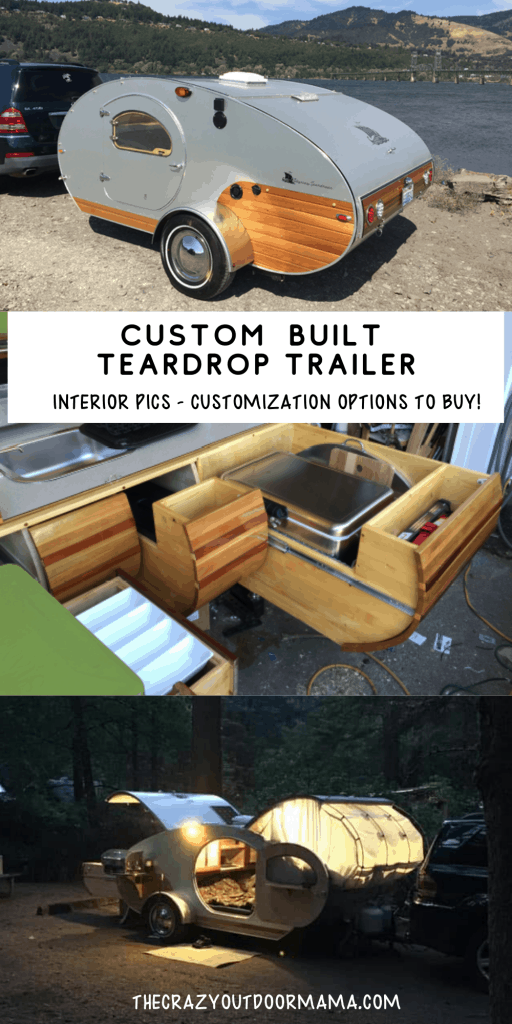 Basic overview of a custom Odyssey Teardrop Trailer
Before we get into the story and craftsmanship that goes into each Odyssey Teardrop Trailer, here are the features and such each one is built with!
Odyssey Teardrops' unique features include:
Heavy duty welded steel frame with adjustable height 2,000 lb torsion axles, 14″ chrome wheels and all weather radial tires. Rear stabilizer jacks and swing up tongue jack. Plywood underbelly with rubber coating.
The cabin has two 78"x 38″x 4" fold-able mattresses that convert from sleeping to a sitting area.
Retractable bunk with skylight, custom tent and 78"x 38"x 4" mattress.
Cabin and kitchen include multiple 110v electrical outlets
and USB ports.
Kitchen includes a sink with three way water faucet utilizing a
7 gallon fresh water and a 7 gallon gray water tank.
Access to up to two 20 lb tanks of propane.
A 2 burner camp propane stove and optional BBQ grill.
Includes 2 attachable side tables
Building the teardrop trailer body
The first step was to clear out enough space in my garage ( not so simple for a world-class collector of junk like me)  to begin laying out the full-size pattern. For any would be DIY-er, this is a must!
The pattern is invaluable all through the construction to make sure all parts are correctly matched and fitted. While the wood parts were being fabricated, I also built the steel chassis and sent it out for professional welding.
Much research went into the chassis design and engineering: forces involved, center of gravity, types of axles, hubs, alignment, location of major weights, etc. My studies of yacht design years ago helped with forming the equations. I lucked out because the trailer has outperformed all of my expectations.
It seems the faster you go down the freeway, the more stable it gets! The aerodynamic shape has a lot to do with it also!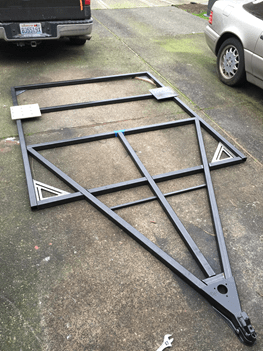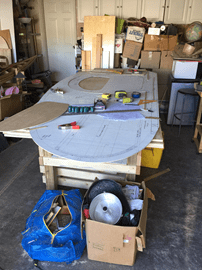 Mounting the trailer body onto the chassis
Well, there are essentially two ways to get your trailer body onto the chassis. The easy way, and the hard way.
I, sadly, chose the hard way, sliding the completed chassis under the nearly completed body. A very long profanity infused day ensued. Don't do it this way!  It's much easier to build ON the chassis, duh.
Having the trailer body mounted on the chassis was a major step, and now I could roll it outside in nice weather and get started on the finishing details, the exciting stuff! Once I got to the plumbing and wiring though, some design issues threw me for a loop!
I simply didn't allow enough space inside the cabinets and behind the drawers to fit the many pipes, wires, water pump, and tons of little elements that had to go somewhere.  The upshot was that some of the drawers had to be notched out, and all the work needed the abilities of a  contortionist, drilling holes while standing on your head!
The next trailer build will eliminate this nightmare, by better preparation and planning, but that's why you build a prototype, right?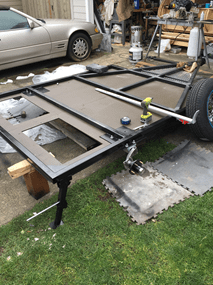 Body features (including a stargazer window!)
I wanted the cabin to be bright and airy, so in addition to the opening windows in the two side doors, I incorporated a large 'stargazer' window into the front hatch. This is really nice, as it also works to lighten up the bunk bed area and give it a treehouse feel. After pricing out a custom made curved window, I quickly made the decision to build it myself from bendable acrylic.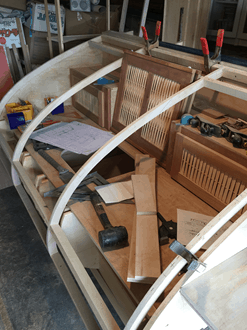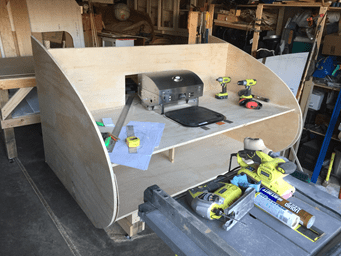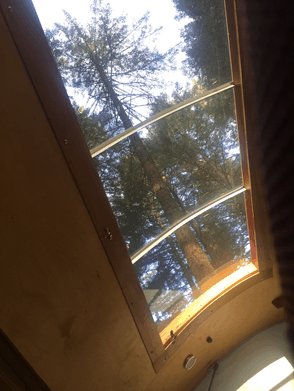 Finishing Details for this Odyssey DIY Teardrop Trailer
This stage is where it really gets fun! I love finish work – as the work progressed, new ideas would present themselves, and it was interesting to try these out.
Galley + Kitchen area
The galley has practically every convenience I could imagine: double insulated cooler, a very efficient camp stove with griddle, and two side tables (that stow away in the cooler drawer), that can be quickly mounted and serve as a base for the bbq grill, or a serving area for the beer tap on the opposite side.
Under the curved back end, there's a gas extension line in a locking compartment for the grill. Some teardrops have a built-in cooktop, but I wanted the versatility of setting up the camp stove on the picnic table or just turning it around to make it easier for two people to work in the galley.
There are several secret compartments throughout the galley and even a secret gun safe. Two deep drawers in the center hold tons of food and camping snacks, and a large drawer under the camp stove holds the pots and pans. Open top bins in the drawers are great for dishes and silverware, as well as all the miscellaneous gadgets you may need as easy reach.
Two more wall cabinets and a big shelf mean there's a place for everything.
Bunks in a teardrop trailer!
Next on the challenge list was the slide-out bunk bed. No other teardrop I have seen (and I've seen them all!) has this feature, and for good reason. It was quite difficult to engineer. I wanted it to slide out effortlessly, store away without compromising the main bed inside the cabin, support up to 350 pounds, and the tent set-up take no longer than two minutes.
After a few re-builds, some tweaking and cursing, I finally got it there!
My daughter Crystal sewed up the tent from rip-stop nylon. So far, it has held up great in the Oregon Coast rain, and we are currently working on an improved version with zip-down windows.
In addition to the two beds, the main cabin is a very spacious 6'6" wide, and 3'10" high. The king-size bed can be converted quickly into separate seating and has a privacy screen down the center to make two compartments, each with their own door.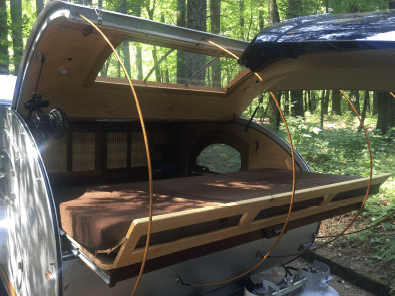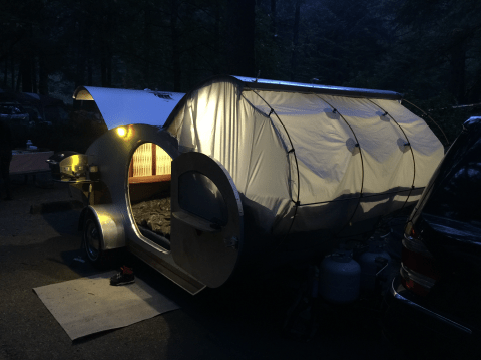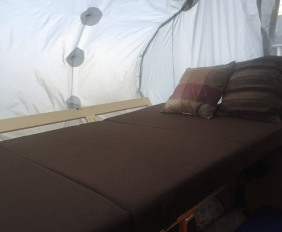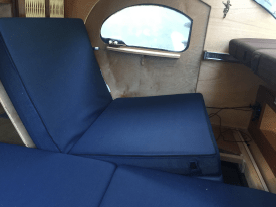 There's also a large underfloor storage area accessible by either raising or removing the lightweight floor panels. A pass-thru allows communication with the galley, flanked by two large closets with ventilated doors.
At the opposite end, a headboard gives extra storage and has 110V, 12V, & USB outlets. For cabin heat, we have a little 300-watt electric heater (when there is shore power available), and a propane heater when we're off grid. There are a couple of different options for air conditioning, we just haven't found the need for it here in the cool Pacific Northwest.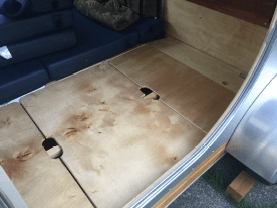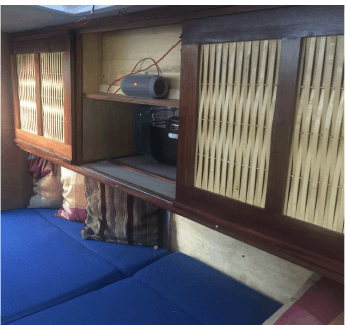 Camping with this custom teardrop trailer
There were still a number of little details to finish up on the trailer, but the road beckons, and we must heed its call! After passing the Washington State Patrol inspections, getting tabs, and making a couple of local road trips to test out the handling characteristics, we were ready for our first big camping trip, down the Oregon Coast to California.
We soon discovered one of the really fun things about camping with a teardrop trailer – all the attention we would get!
At every stop, even for gas or groceries, people would come up with questions and compliments about the trailer!
In the campgrounds everybody strolling by would stop and have a look-see. We felt a little like celebrities! I tell you, if you're the shy type, you don't want to own one of these! We were surprised to find a dearth of other teardrops – I thought there would be quite a few, but in fact, only came across three in a two week trip of more than 2000 miles!
The other great joy of using these little campers is how simple and easy camping becomes. No more setting up camp, tearing down camp, pack, unpacking. It's all there, all the time, you pull into your camp spot, stop the engine, and you're set-up! I absolutely love that aspect.
I have built a lot of stuff in my long career, but really, nothing has been as much fun (and as satisfying) as building and using this little teardrop. Now I'm looking forward to building the next one – a smaller, but still fully equipped off-road version.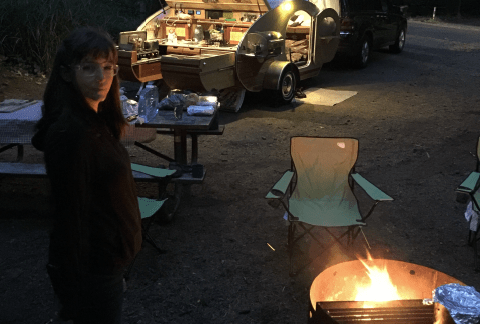 Also in the near future, we are planning some big road trips, including a 4000-mile grand tour of nearly all the West's great national parks, from Yellowstone to the Redwoods.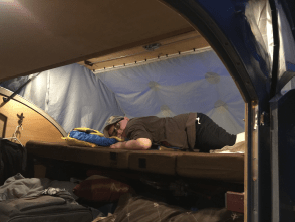 Another exciting aspect is the tremendous response I have received from posting photos of the trailer on several RV and camping Facebook groups! The likes are numbered by the thousands, with hundreds of very sincere compliments.
Many people have asked if these trailers are for sale, and I have begun the long process of getting certified, and licensed, to build them commercially, so stay tuned for further developments!
Our website is up and running: odysseyteardrops.com, and my daughter, who is much more tech savvy than me, is fine tuning it and we will be adding more information about the trailers in the near future!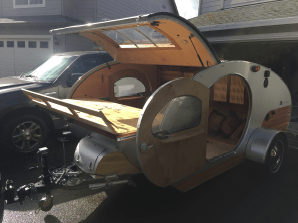 Last, but not least, I can't forget to credit my little cat Khloe, for all her invaluable help, throughout the project! Really, couldn't have done it without you, kiddo.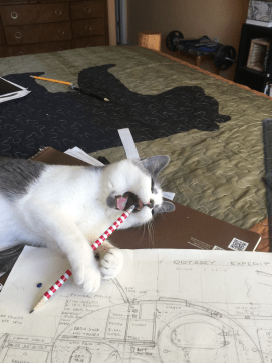 How to get your own custom built teardrop trailer!
Robert is now in the process of getting all of his commercial licenses and such in order, however, you can view prices and additional options now!
Check out this link to see information on purchasing a custom Odyssey teardrop trailer!
The History of Odyssey Teardrops
I have been an obsessive builder, designer, and general tinkerer since childhood, and naturally went into the construction trades at a young age. I worked for others getting a solid background in residential construction, along with long stints in the RV and manufactured home industries.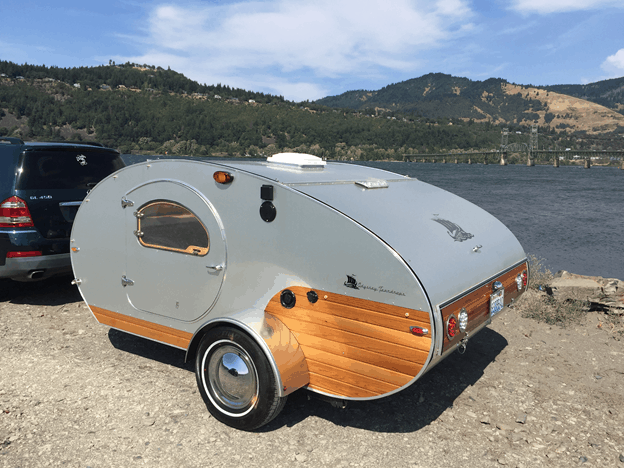 On the side, I designed and built boats, kayaks, furniture, children's toys, treehouses, you name it. If it was wood, I wanted to build it! By 1990, I had had enough of working for other people and started my own construction and remodeling business in Seattle, Pacific NW Construction. So, one day a few years ago, I came across an article on the teardrop trailers of the 30s and 40s, and I was smitten!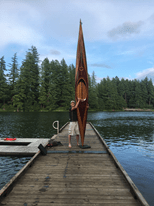 "I have to build that!", and I thought this would be a perfect way to combine all of the skills, knowledge, and real-life experience I have picked up along the way, and have a really practical, one-of-a-kind camper to use.
I love camping, and "roughing it", with a few creature comforts, and having a tiny, super comfortable bedroom, with a fully equipped galley, is pure decadence compared to tent camping and cooking on the campfire!
Of course, I researched many, many teardrop builders all around the world, picking out their best features and ideas, and discarding the shortcomings and mistakes I saw. Then began the long process of designing my own trailer.
I was recovering from, first, stage 4 colon cancer and the surgery, followed by embolisms in my lungs and heart, so with all the time confined to my bed, I began on the drawings. I spent several months on my first concept, only to toss the whole thing and start with a blank sheet of paper. Yes, paper, I never learned CAD, and like the saying about old dogs and new tricks, I'm happy with the primitive technology! Whatever gets the job done!
Well, about 26 sheets later, I have a full set of very detailed construction drawings, and the full approval of the Washington State DOT, meeting all very strict RVIA standards and specifications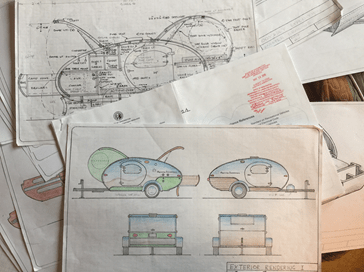 Ready for a custom built tear drop trailer of your own?
While I love my 18 ft Keystone Hideout, having a beautiful, one of a kind camper like this sounds pretty amazing!
At this time Robert has not made his plans public, however, he can build a custom one for you!
Make sure to check out this link to find out what addons he offers as well as prices!
Other camping articles to check out!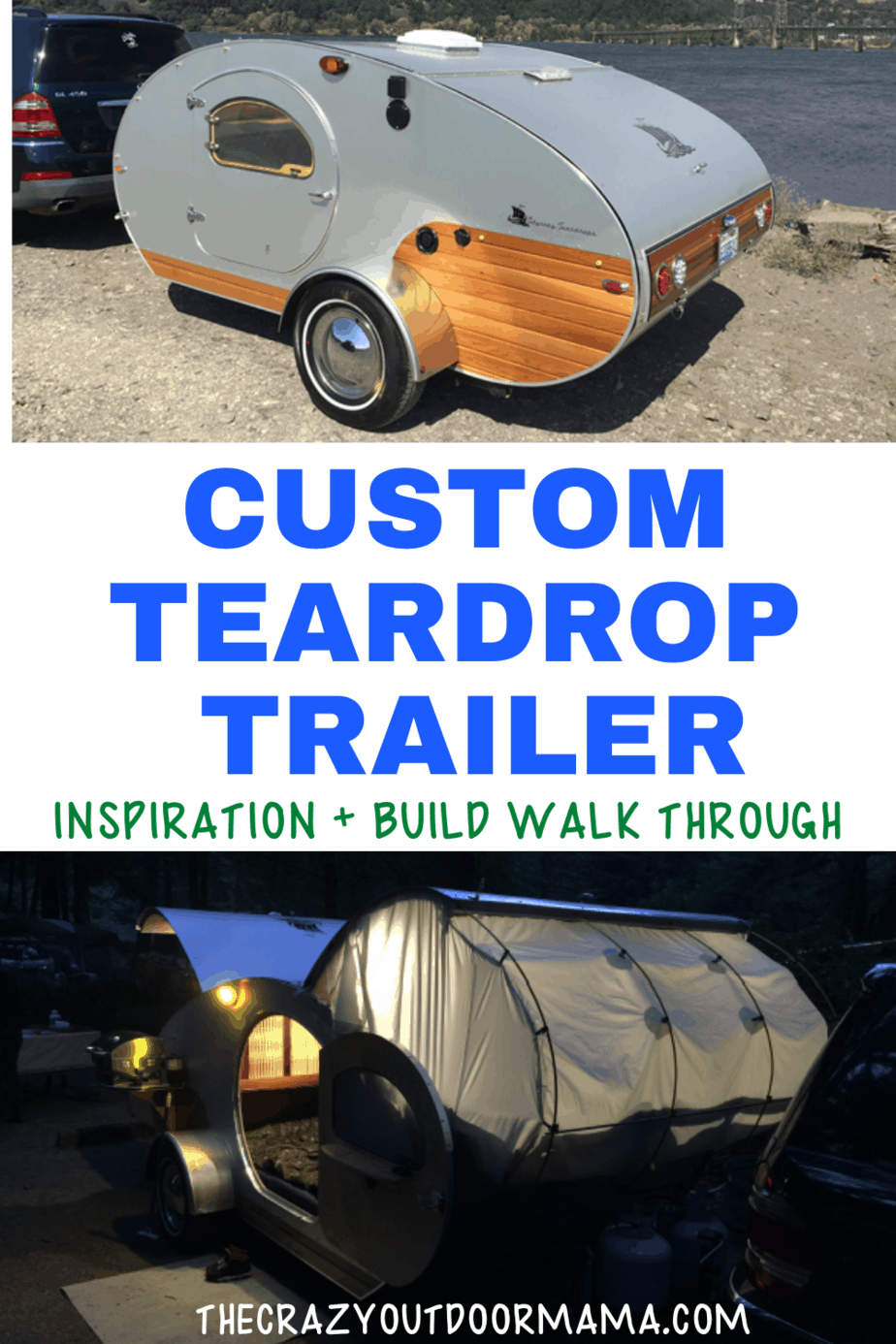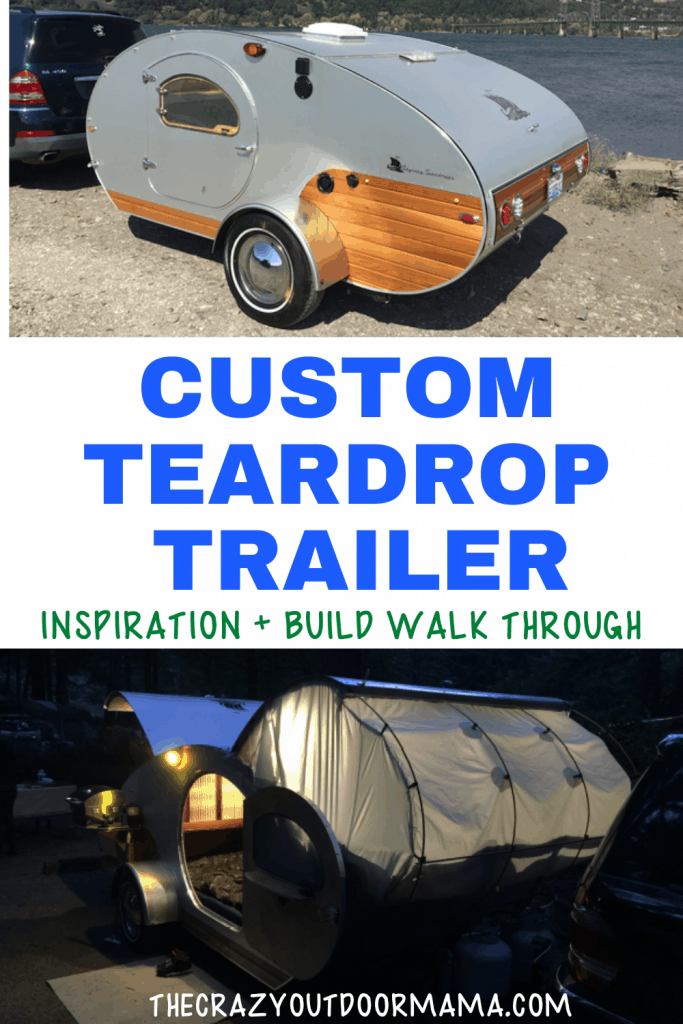 Latest posts by Stacy Bressler
(see all)