If you're starting to plan your first overnight backpacking trip with your kid, then let me save you a TON of time and share what I've learned ! We just finished a 3 day, 2 night backpacking trip with our 6 year old, so it's all super fresh!
In celebration of my son's 6th birthday and my husband's 33rd, we wanted to try to summit Symmetry Spire in Grand Teton National Park. Thankfully we did already have a bit of gear since my husband grew up backpacking, but it was still amazing how much of a difference having the correct gear makes in the overall success of the trip.
This guide is for overnight backpacking with kids (ours is six) – NOT your casual day hike (though I do have a guide for that here!)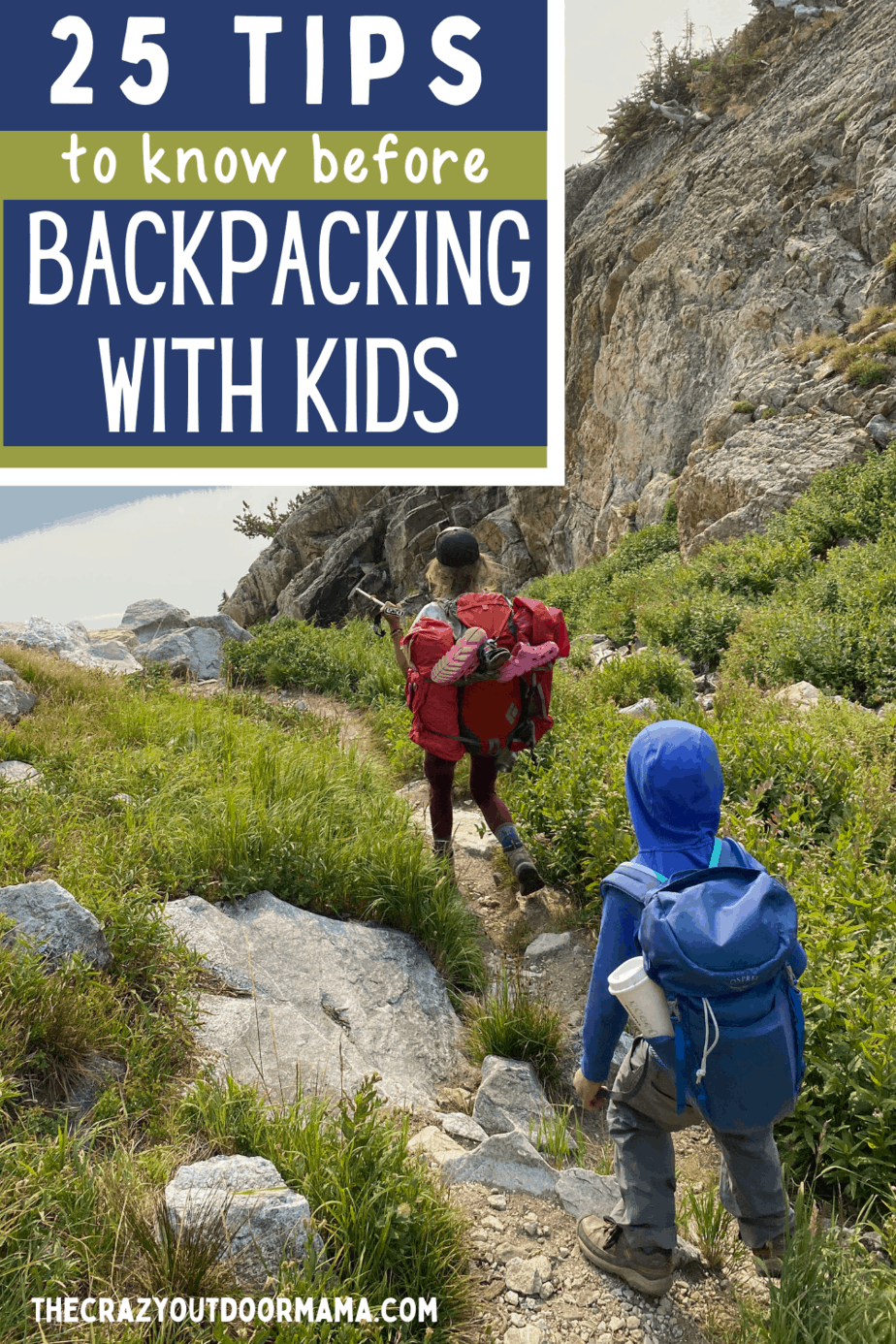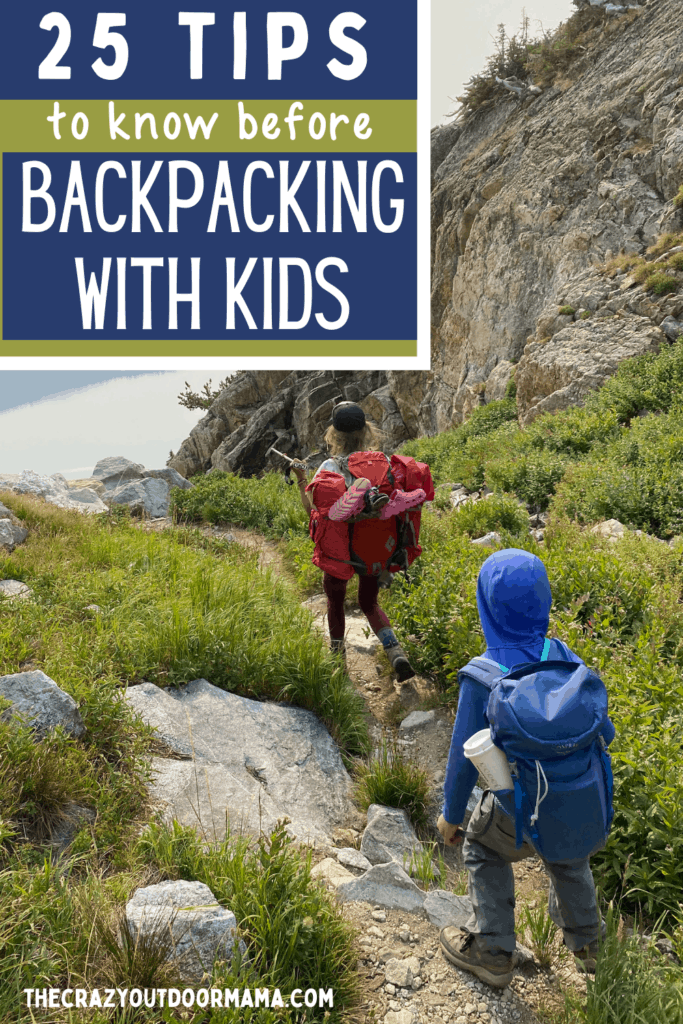 What's going to be covered
This guide is written with the assumption you have backpacked at least once, however, I will link to helpful guides for anything not covered when possible! If you've never backpacked before, you might want to start here to get familiar with all the terms!
Picking the Trip – Knowing your kids limits and the elevation/distance of each perspective hike is important!
Backcountry Safety Prep – What you and your kids need to know before you go
Kid Backpacking Gear Needed – Unlike car camping, you can't get away as easily with just using sleeping bags or such from home.
Meal Ideas (especially for picky eaters) – Try EVERYTHING ahead of time to make sure they'll actually eat what you brought for the trip
Space Saving Entertainment – Books, tiny toys and audio books are all winners for us!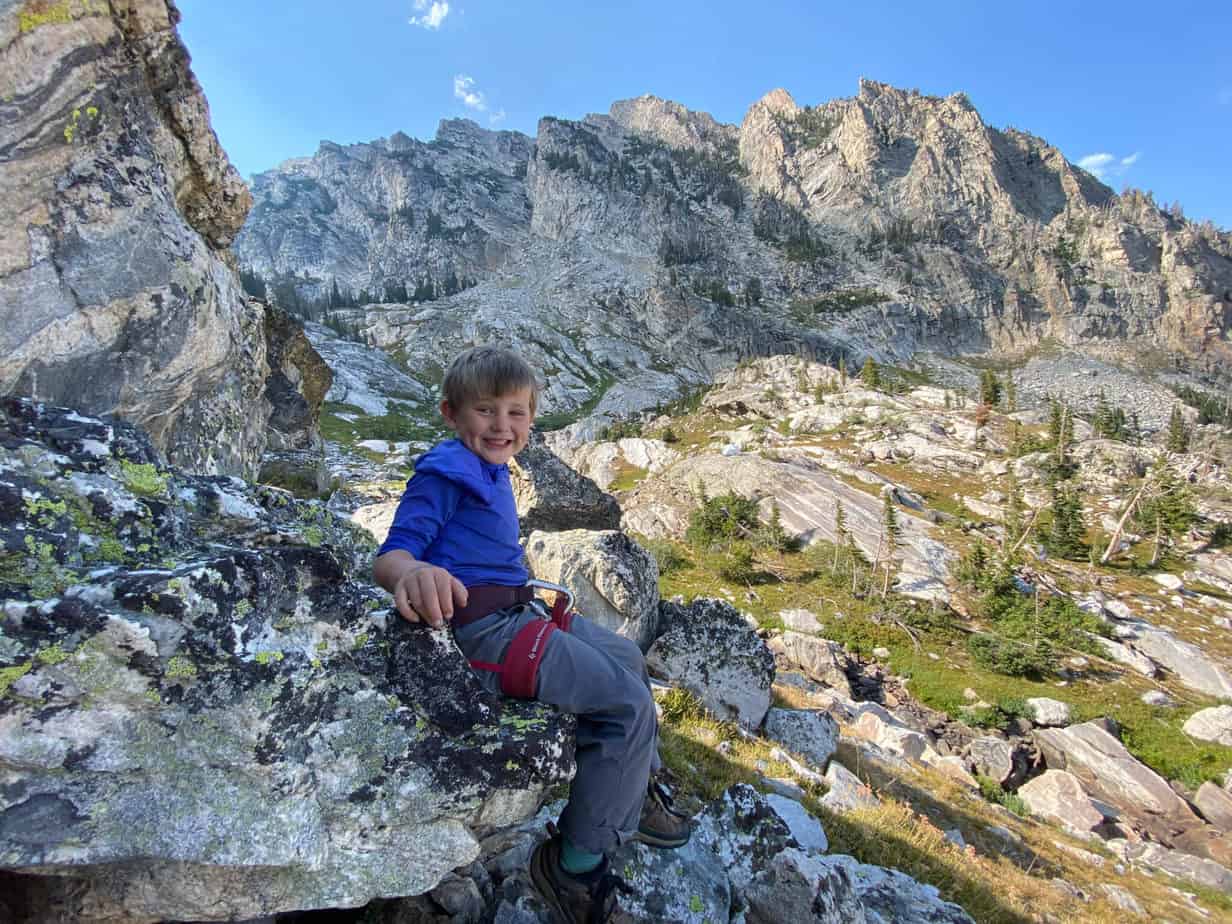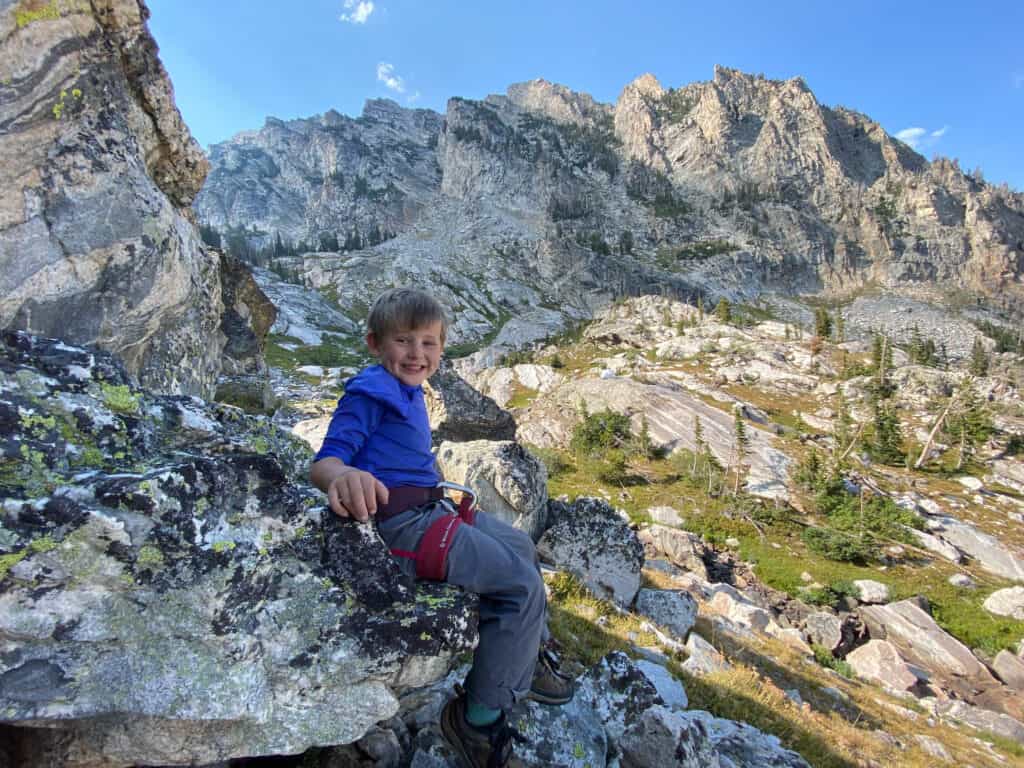 Picking the first backpacking trip for your kids
You might have fond memories of your favorite backpacking trip that you're super excited to share with your kid, but keep in mind they have tiny legs and may not experience it the same as you did!
If you haven't been already, you should generally know what your child is capable of by going on smaller hikes in the time leading up to the backpacking trip. Pay attention to the distance and elevation of each hike, and at what point your kid "hits the wall".
For reference, our boy just turned six and we picked Arrowhead Pool in Grand Teton National Park to be our basecamp. Our starting elevation was 6,783 feet and Arrowhead Pool is at 9,170 feet with around 6 miles in between.
I think this may have been a bit intense (you also have to consider the trail terrain… this one had ALOT of large rocks and slippery dirt sections) but we made it work.
Only you will know your kiddo's limits, but I suggest shooting for something that's "easier" than harder. With a pack on, different food, and possibly messed up sleep, everyone's skill may take a hit!
Keep these in mind when picking the backpacking hike
Don't forget to account for your child's backpack weight – At the least, your kiddo will carry their own water!
Check night temps – too hot and it's hard to sleep, too cold and you need to bring better/more gear. Ours were in the 50s and were perfect
Confidence is good, but don't overestimate it – Even if your kiddo is a beast, the goal is to make the first backpacking experience a pleasant memory. Go with something you KNOW they can acheive!
If possible, plan something special for extra motivation – We basecamped at a lake which gave our son a ton to do during "hang out time". We also brought a brownie cake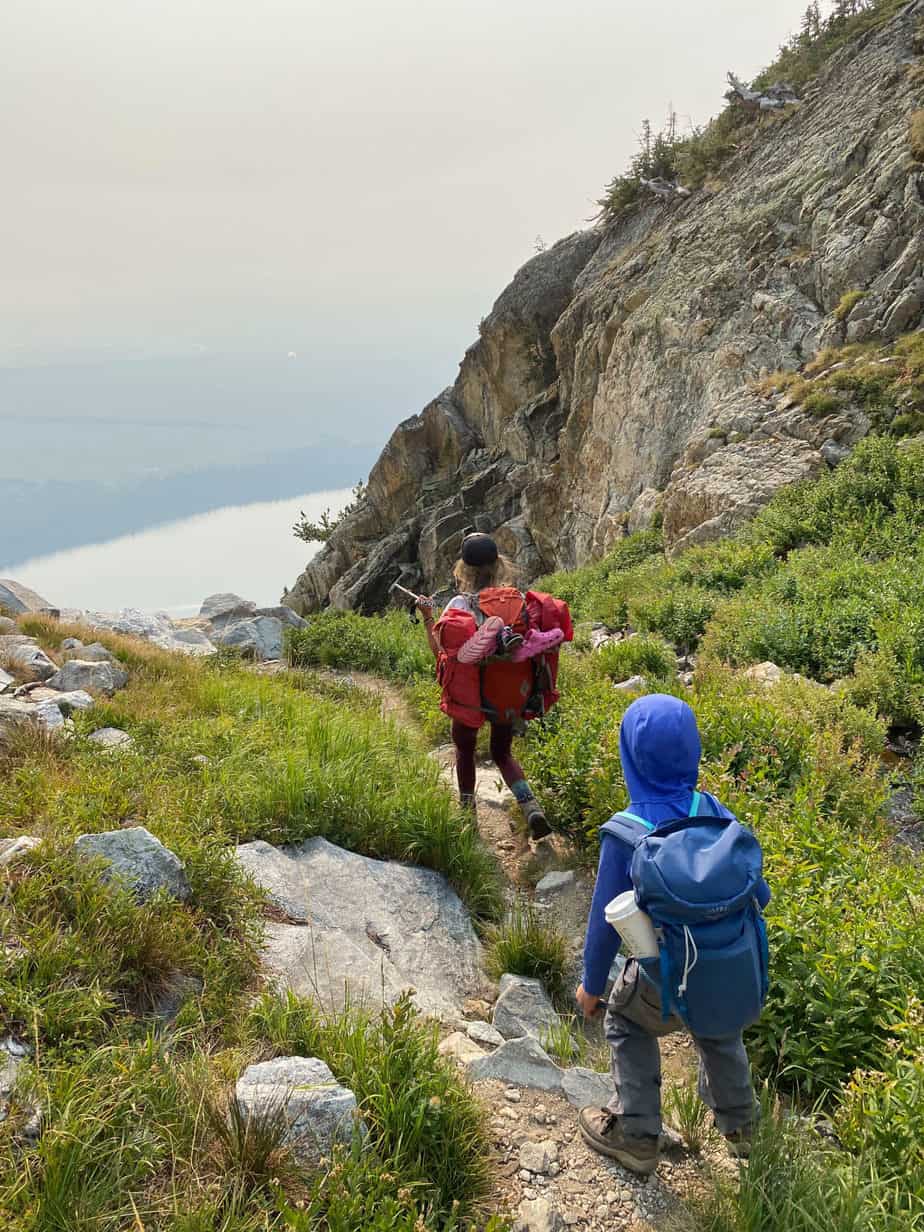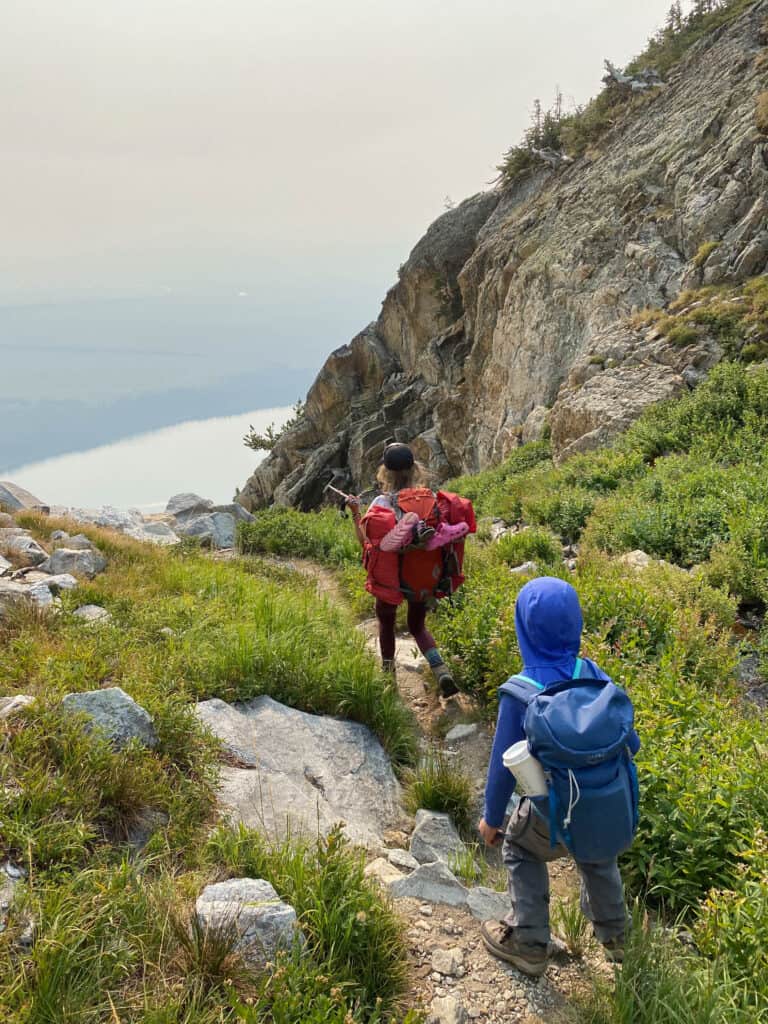 Staying safe and keeping it wild in the backcountry
Depending on where you will be camping, there are a variety of safety aspects to figure out – bear protection, fire threat, flash floods, sudden weather changes, and of course, leaving no trace.
It is VERY important to do research into the area ahead of time – here are some safety aspects we checked out (ontop of our normal backpacking safety!) for our backpacking trip at Grand Teton National Park.
Bear Barrels + Bear Spray – We saw two black bears and one grizzly on our trip! If camping in a permitted area such as a National Park, the rangers will usually let you know what to prepare for (ours even issued us a barrel!) however that's not the case for everywhere.
Burn bans – Double check that status of the fire threat level. Most places now a days have burn bans by mid summer, so make sure your heat source uses gas/propane and not sticks!
Get familiar with Leave No Trace – Helping your child understand the 7 Leave No Trace principles will help plant the seed for the stewardship of nature. This

printable LNT activity pack

for kids is great for both you and your kids to review!
Go over what to do if lost – If you have a partner to go with, I really encourage having one adult in the front and one in the back. However, accidents do still happen so it's important to go over what to do in emergencies. Our son's pack has a whistle built into the chest strap, so we told him to stay where he is and use the whistle.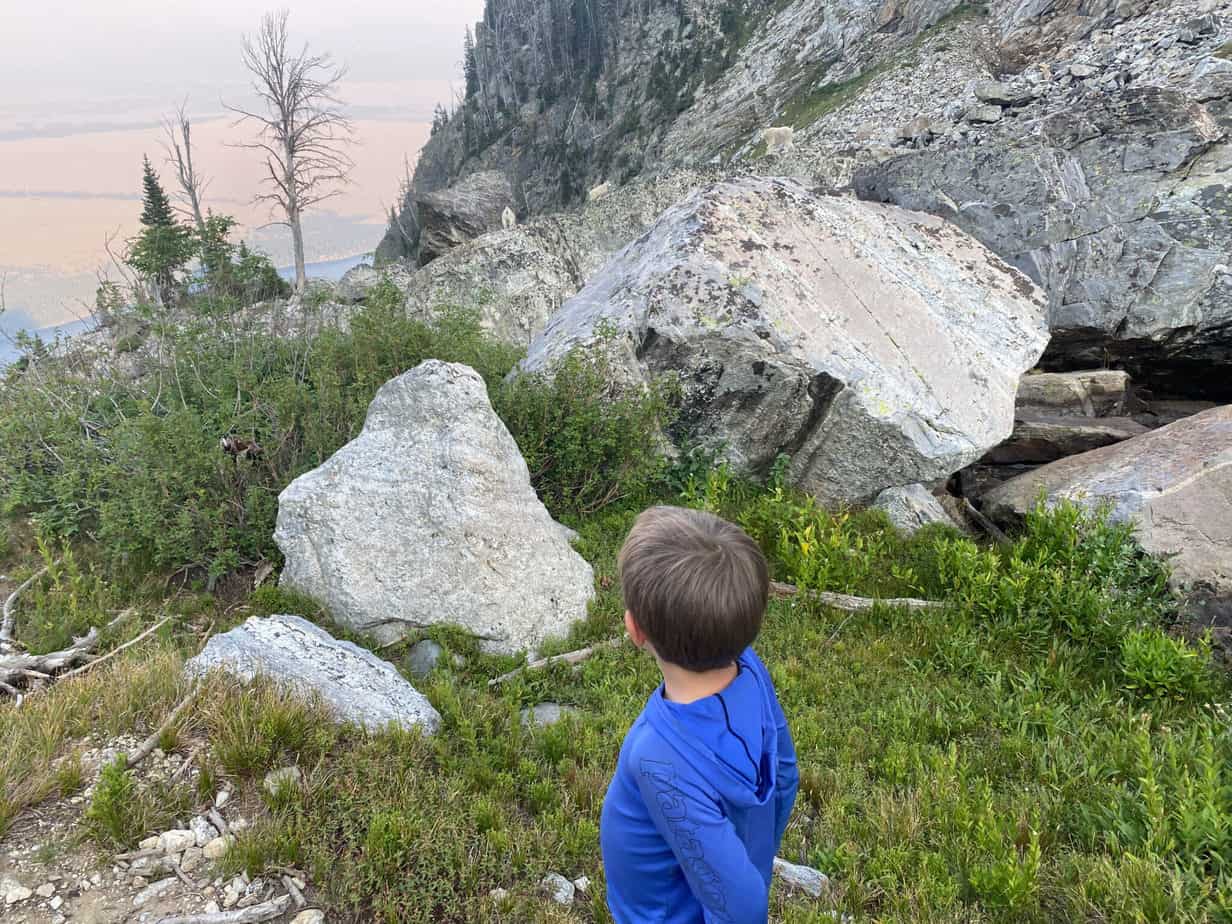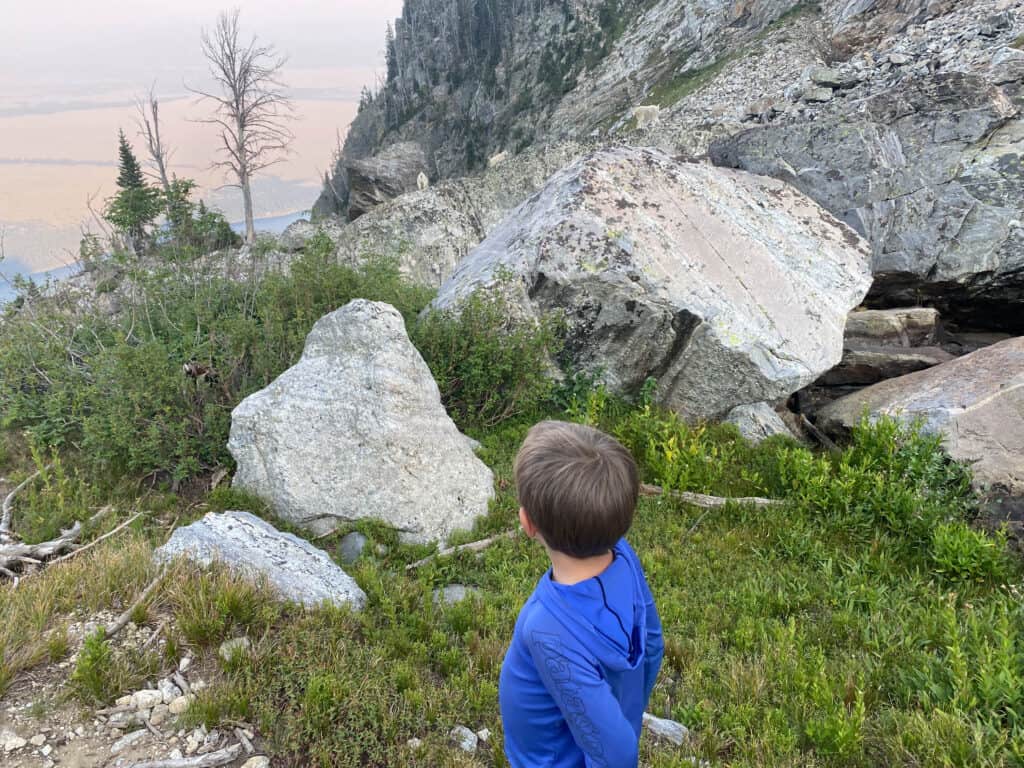 What to pack – what kid specific backpacking gear is actually needed?
On top of the normal things you would need for a backpacking trip you're going to need some kid sized gear (depending on the age of course… if you're camping with a taller or older kid, you may be able to make it work with some adult backpacking gear!)
Comfort is key, especially for the younger kids, so you'll want to make sure each kiddo has a properly fitting pack and hiking shoes!
Recommendations for kids backpacking gear
Pack that has spot for a bladder – Hydration is key, and having water accessible at all times makes it effortless to drink. It's also nice to get one that is actually meant for backpacking – big enough for a sleeping bag with chest/waist straps, compartments, gear loops etc
Hiking specific shoes – Laces for extra support, grippy bottoms for easier traction when hiking and extra comfortable compared to your traditional tennis shoe.
Backpacking specfic sleeping bag – These tend to pack WAY smaller, are alot lighter and often include features such as a hood! It's important to get the correct fit so that design can properly insulate your kiddo (too big = too much space to warm!)
Sleeping Pad – Don't skimp on comfort, it's really not worth the risk of bad sleep! Most people use a sleeping pad regardless (less wear on the sleeping bag!) but if you're going for more than one night, I see it as a must.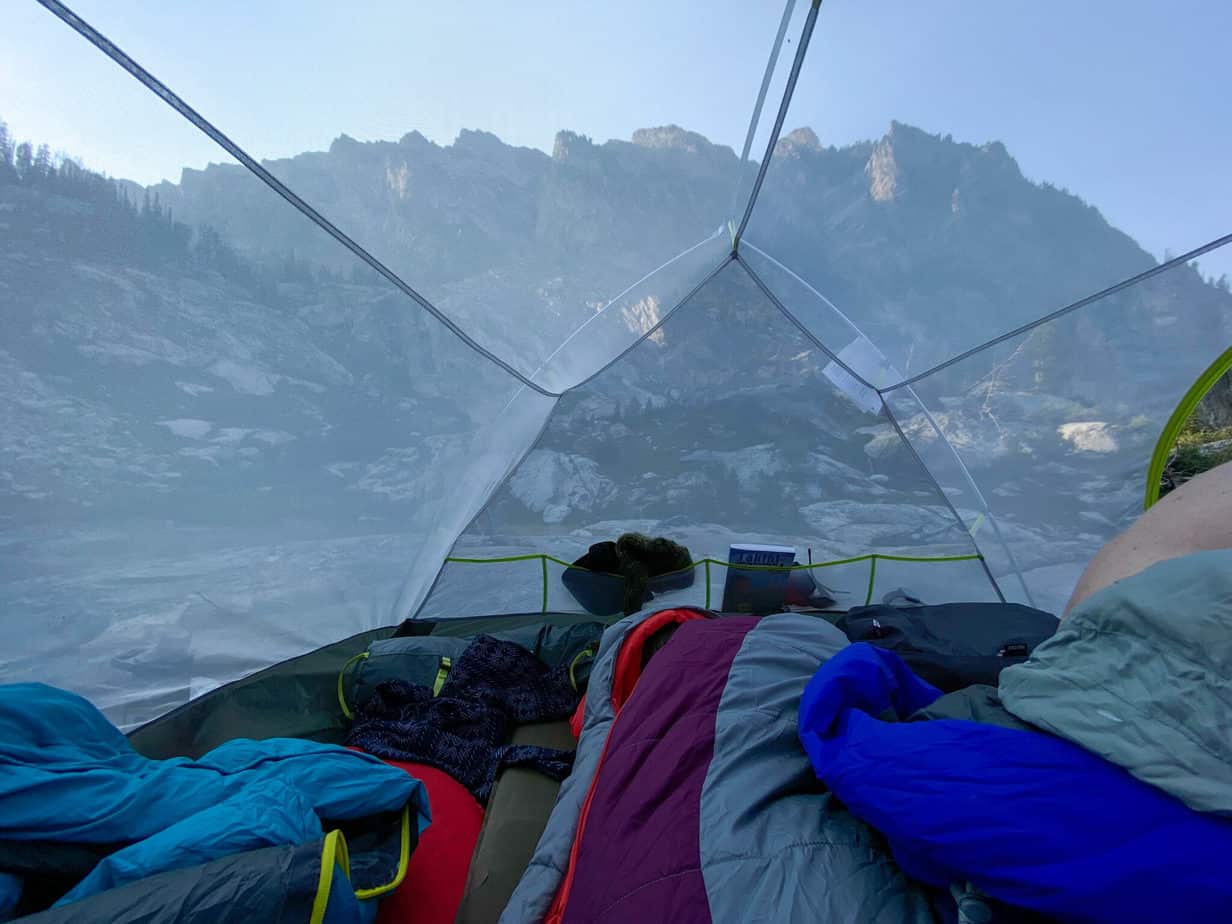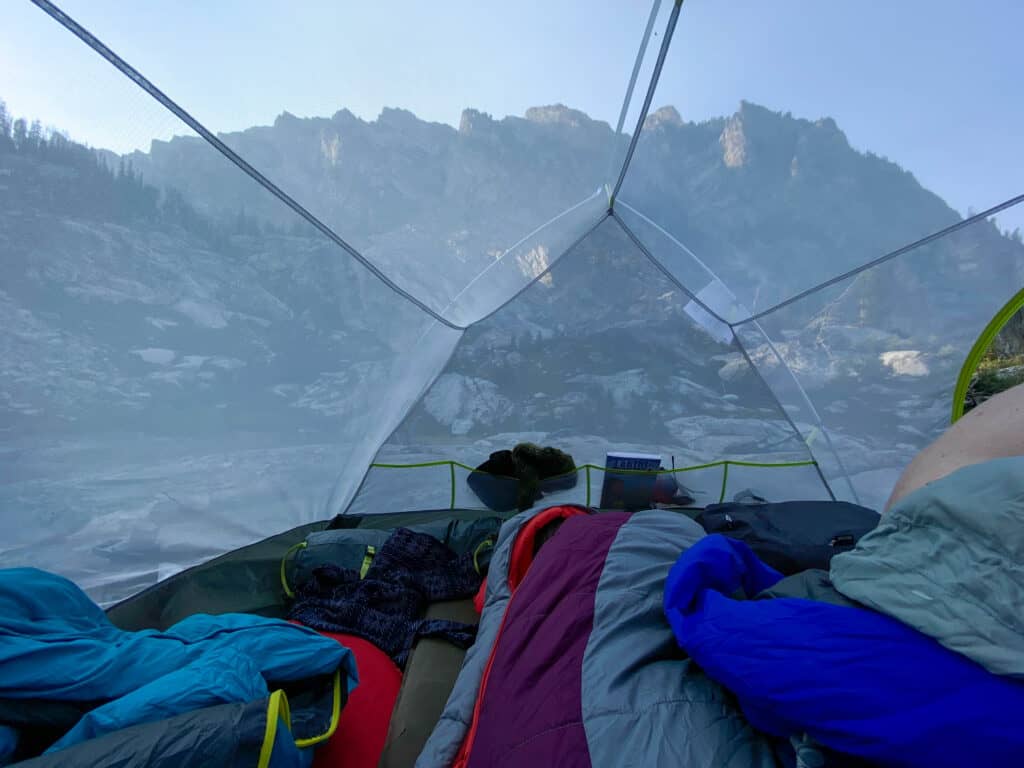 Meal Planning and Tips for Backpacking with Kids (Vegetarian and Non Perishable!)
This is one of the toughest parts – not only will your child need to eat a ton more food, but it has to require very little prep and no refrigeration. On top of that, you will want to watch the weight and try to guestimate how much food you'll need so you don't overpack.
Be sure to check out my backpacking kitchen guide here and some other backpacking meal ideas if you are looking for more information. =)
For reference, here is what we packed for our trip that was 3 days and 2 nights for our six year old
Breakfast – Oatmeal with dried nuts and fruit
Lunch – Granola with vanilla flavored protein powder to be the "milk". It's a great way to get extra proten and calories in!
Dinner – Tortilla filled with peanut butter and honey mix
Snacks – Honey stingers, fruit leathers, cliff bars, nut and seed mixes
Water flavoring – Sometimes the purified water has a funky taste, so using a flavored powder electrolye in it helped encourage all of us to dirnk more (me included!)
Special Stuff – Hot Cocoa! Not neccessary, but it sure helps to have somethign special to look forward to every morning/evening.
Don't forget, as always, to think about your water purification setup – we used a pump filter, but here are some other water purification methods to consider while backpacking.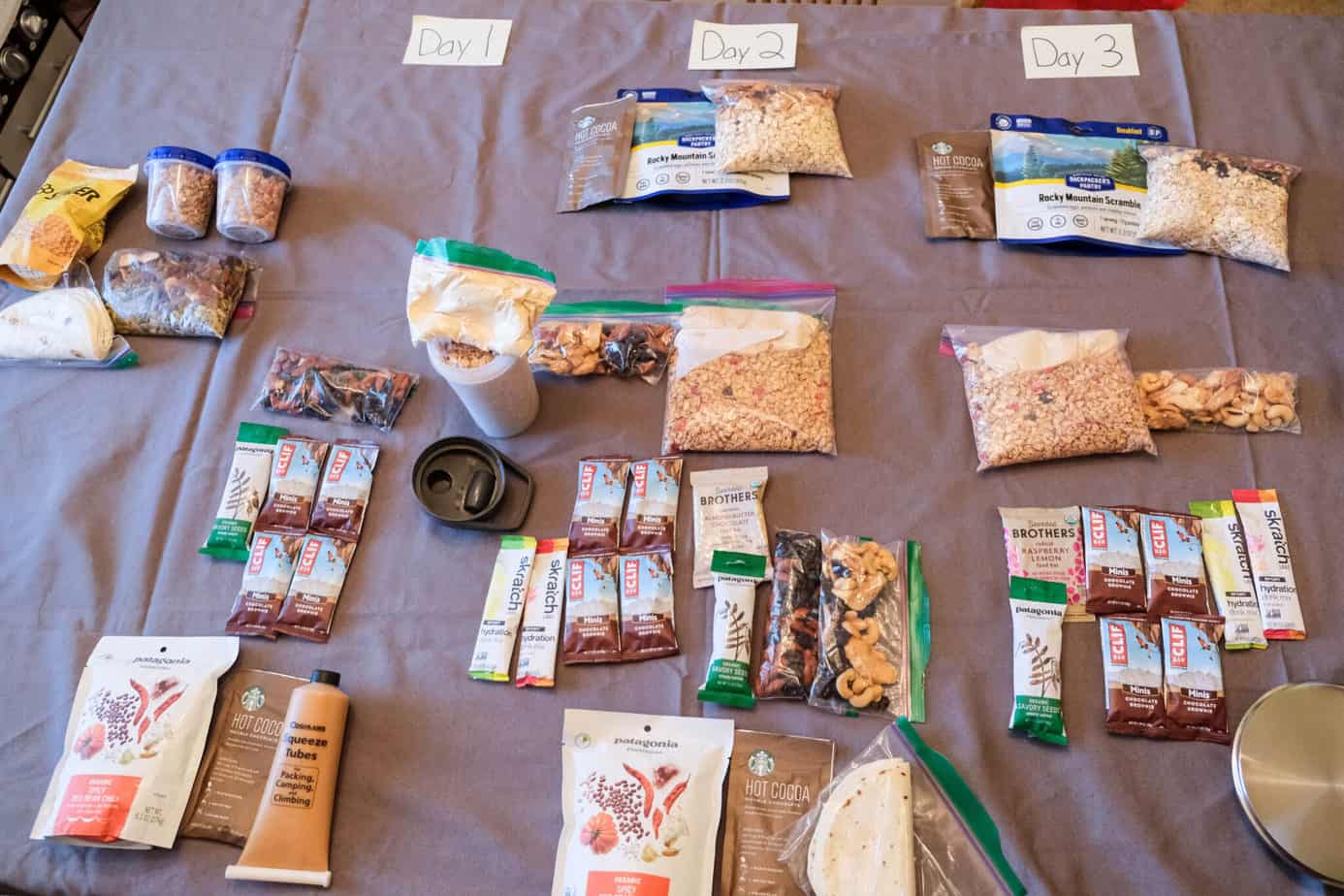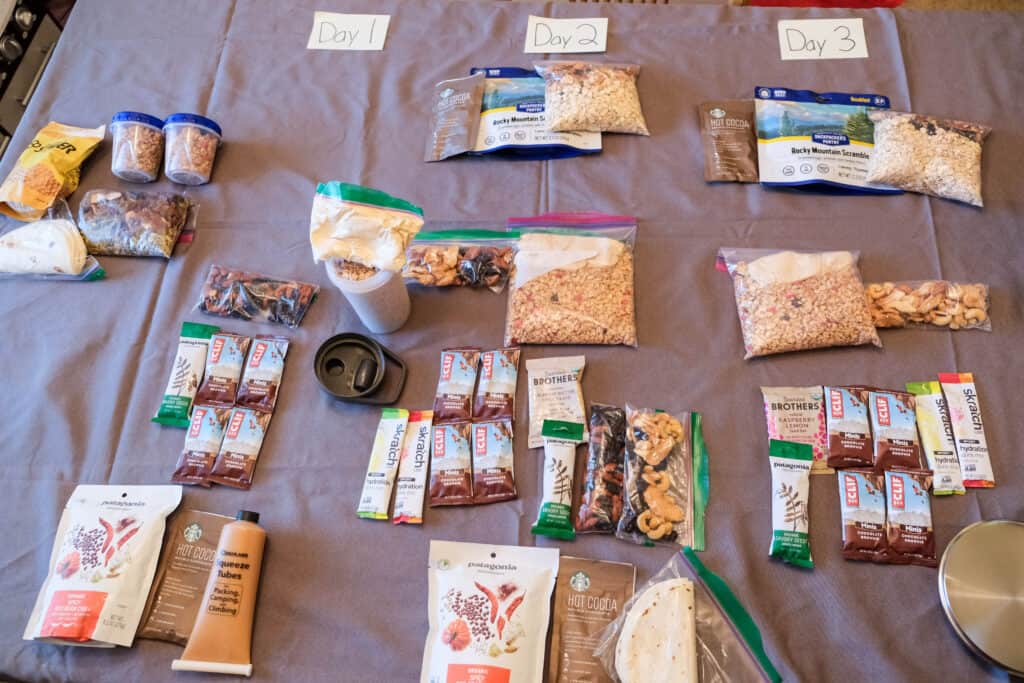 Here are some food ideas that worked for us when backpacking with our six year old
Use tortillas instead of bread for PB&J lovers – This saves a ton of space, they don't get squished and are way less messy than a normal sandwich.
Use honey instead of jelly for non perishable yummy energy – We mixed it ahead of time and put it in a squeeze tube so that meals were mess free and super easy to make!
Bring shelled seeds to slow down snackers – Anything that takes extra time to eat is great for snacking on the trail. Some kids just snack a ton, and this is exaggerated with the extra physical activity!
Use a vanilla flavored protein powder in place of "milk" – This is awesome for cereal eaters (such as myself =P) and helps kids get that extra protein.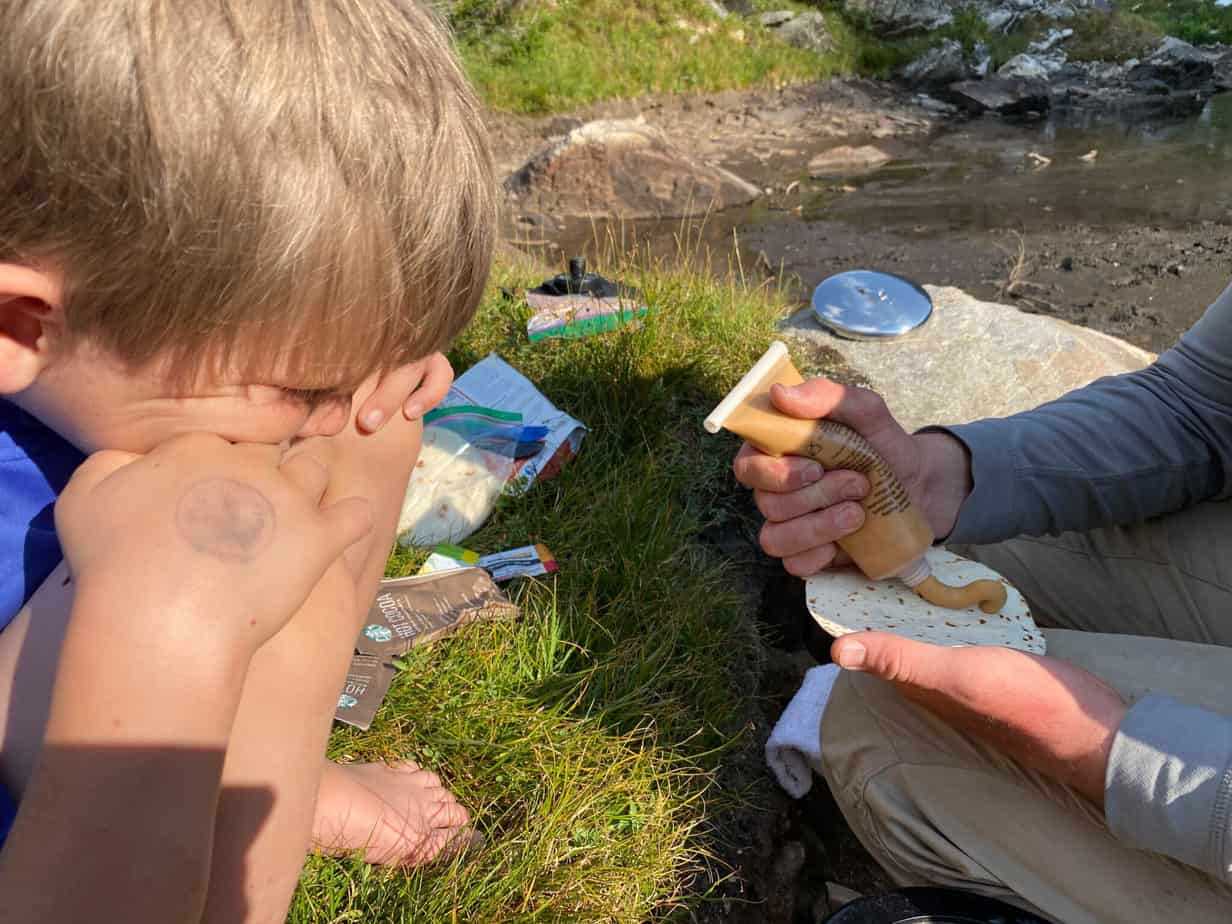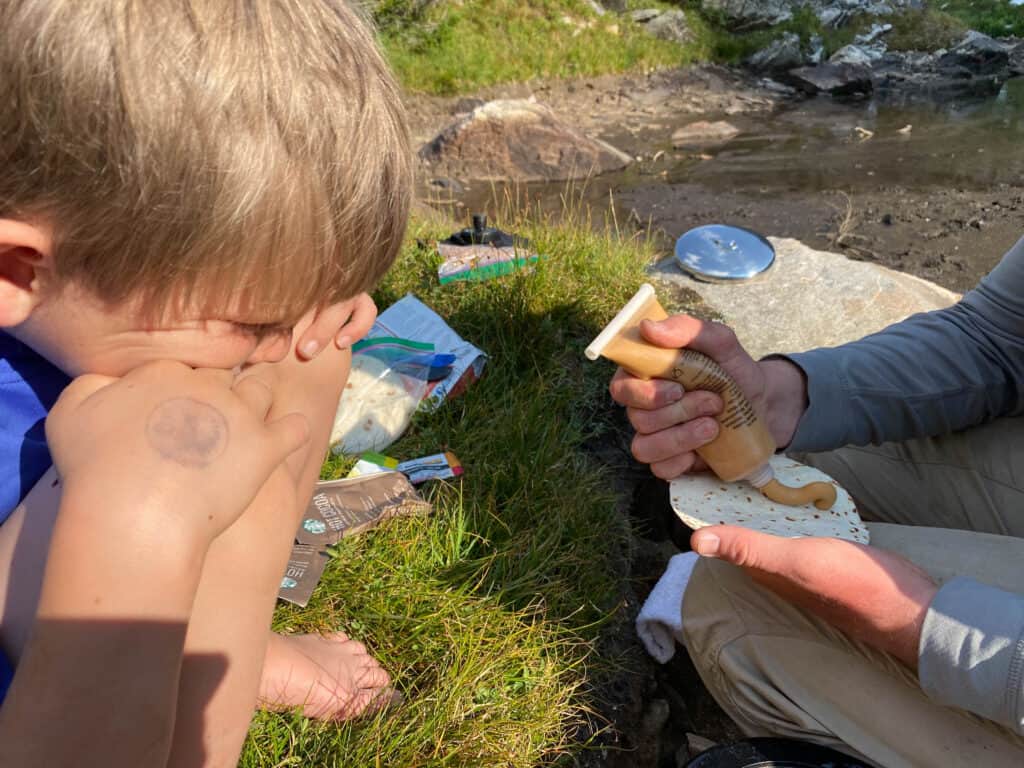 Activity Ideas for Young Backpackers
Planning something fun to break up the hiking is important – the whole goal here is to create a LOVE for backpacking, right?
If at all possible, try getting your child into Audiobooks – they are amazing! Make sure to start trying them before the trip so that you know what books your child will like – oftentimes, you'll be backpacking in places with no signal. That means no extra chances to download a different book!
Small toys are another hit and are perfect to bring out during breaks!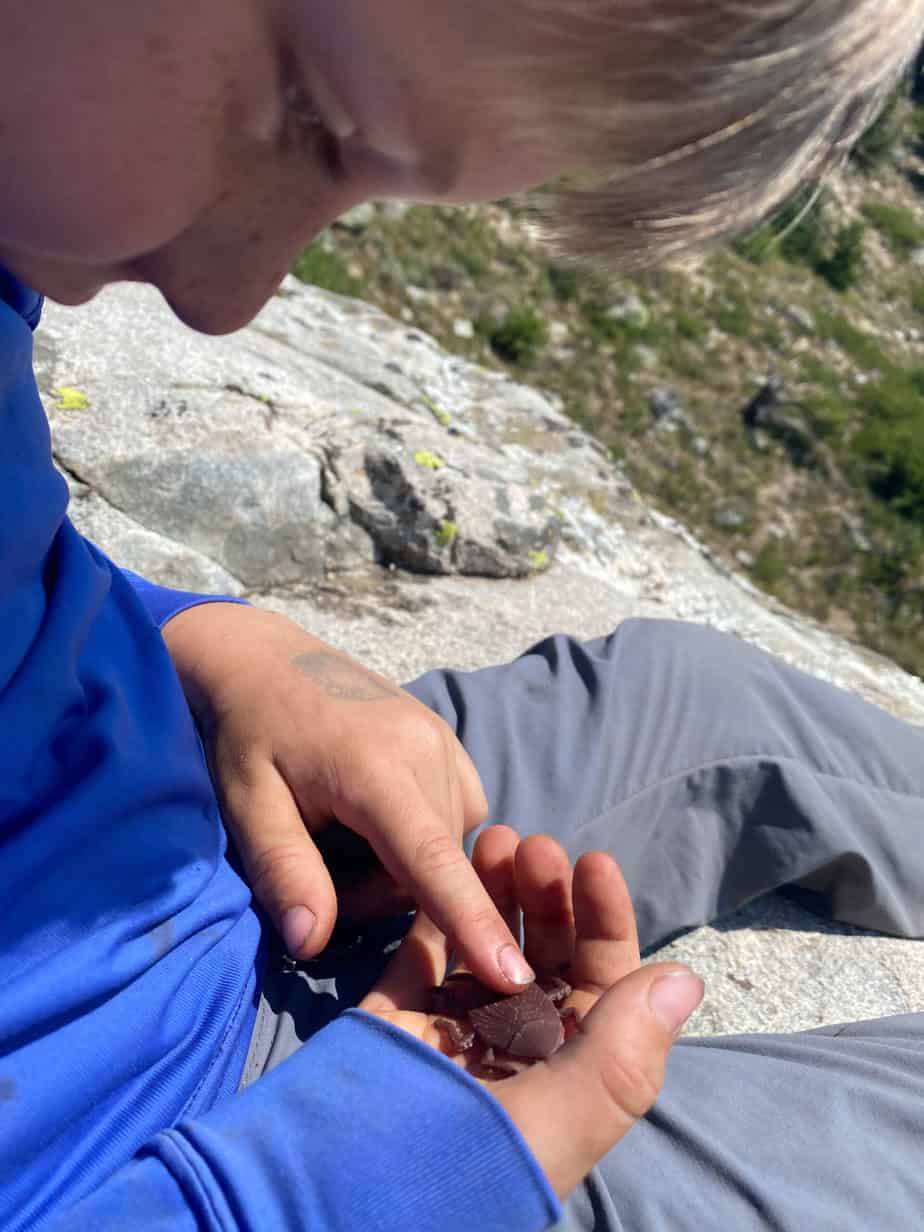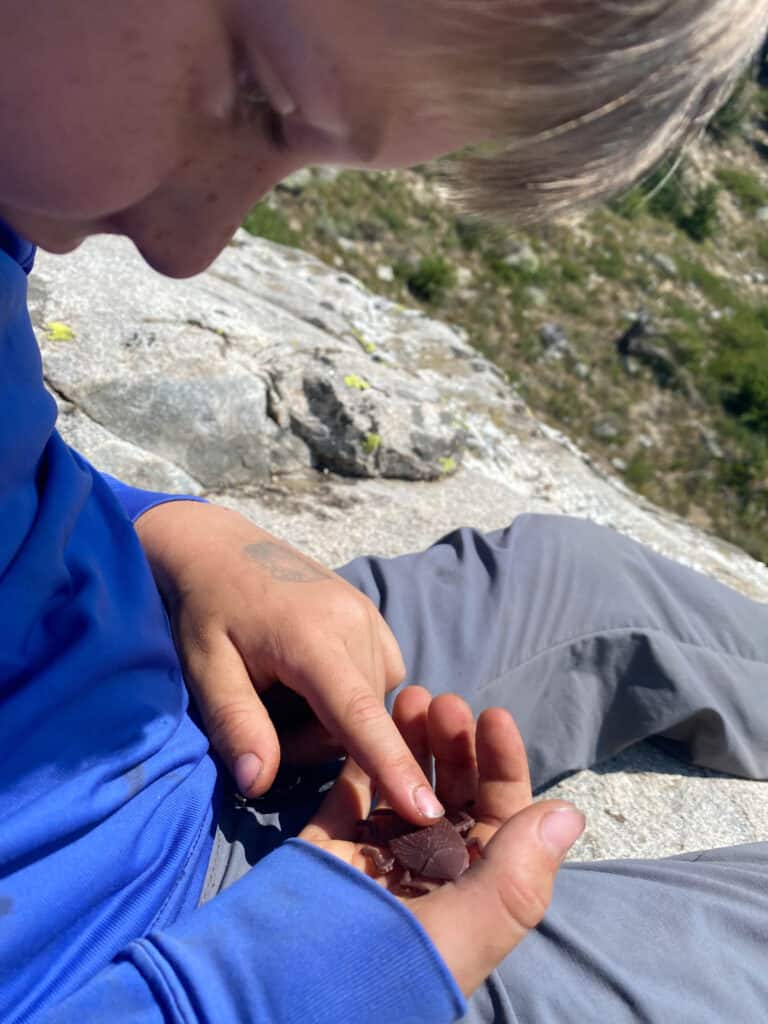 What our kid loved during our backpack trip
A couple of small toys – Having atleast two is optimal for battles and a backup should one get lost! Featured in the picture below is "cockaroachey", who was a pretty big part of our hike!
Listening to his Audiobook series w/ bluetooth heathphones – The Magic Treehouse was our kids favorite, so we downloaded 10 books onto my husband's phone and had some blueooth headphones for our kiddo. He has a super active mind, so listening to the audio book kept him focused on hiking and not stopping at every single little rock (which is normally more ok when we're not on a schedule to beat sunset!)
Being involved in camp chores – Water purifying was a favorite, but there are tons of little things your kids can do!
Reading together at the end of each day – It's sometimes hard to relax at the end of the night, especially during summer when it's light out for a long time! Having a book to read together (that we knew he liked because we read it at home) helped to wind down and connect every night
Playing go fish – A deck of cards is so versatile! A special deck of backpacking cards (ours happened to be a Star Wars one!) is another space saving activity that has tons of options.
Playing in the water – Not only was it super convenient to be near water, but it was a great way for us tired as heck parents to get a rest (without 100 questions a minute! =P)
Scavenger hunt/journals – I almost always bring a nature scavenger hunt with us, and for this trip I wanted to include

his hiking journal

!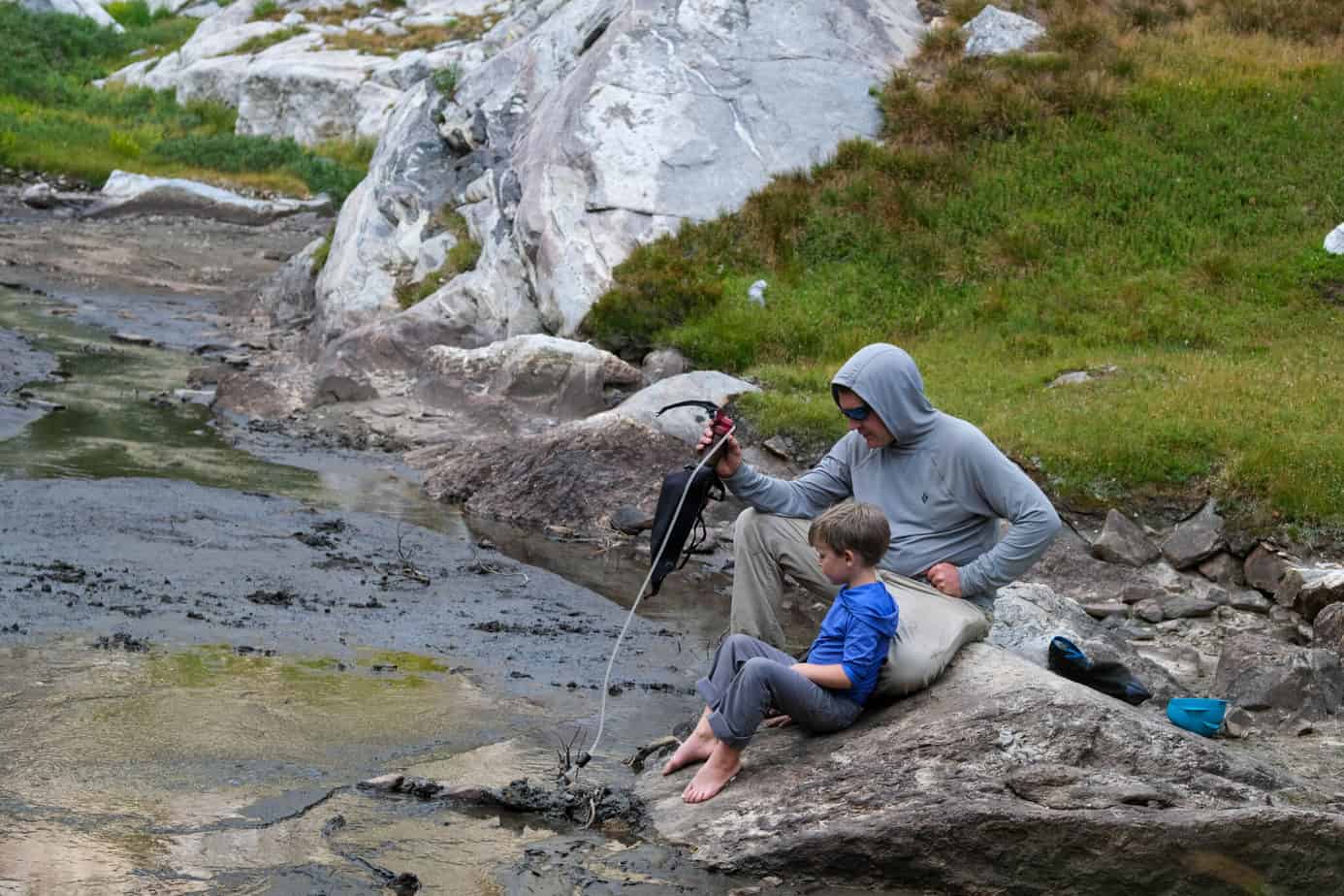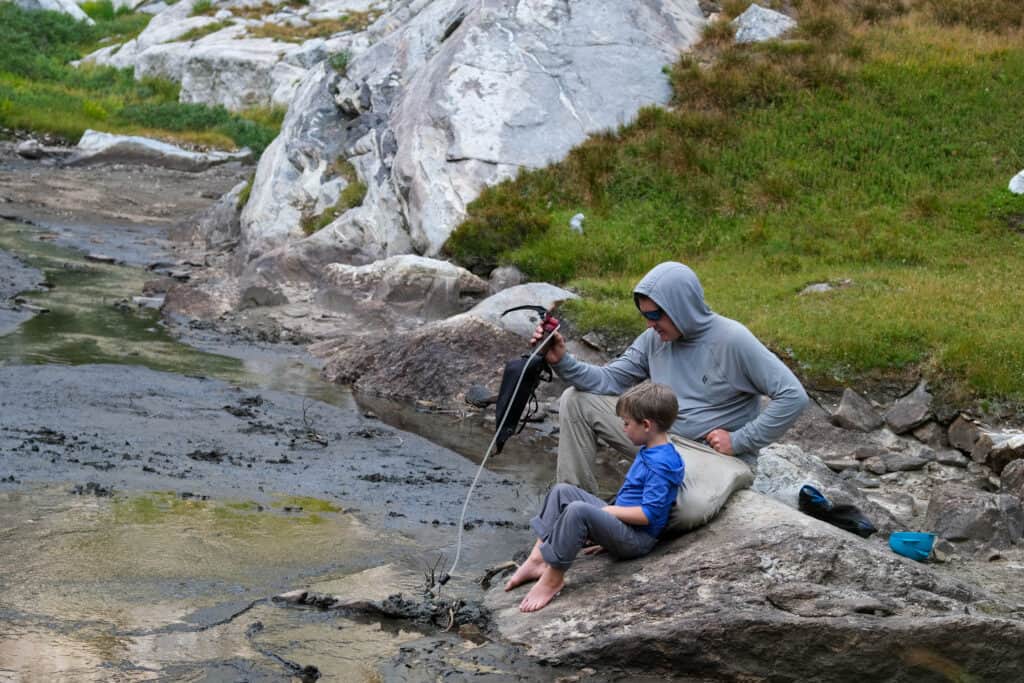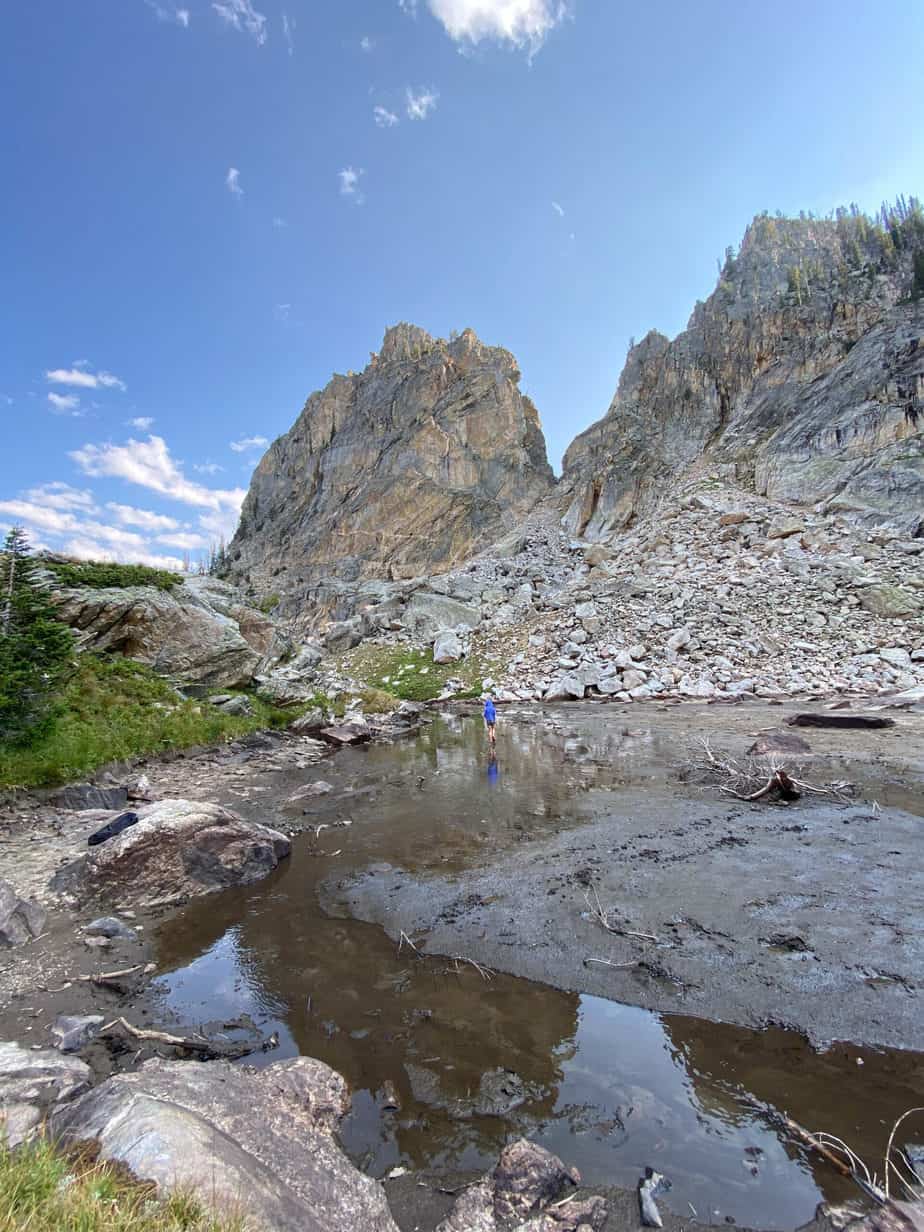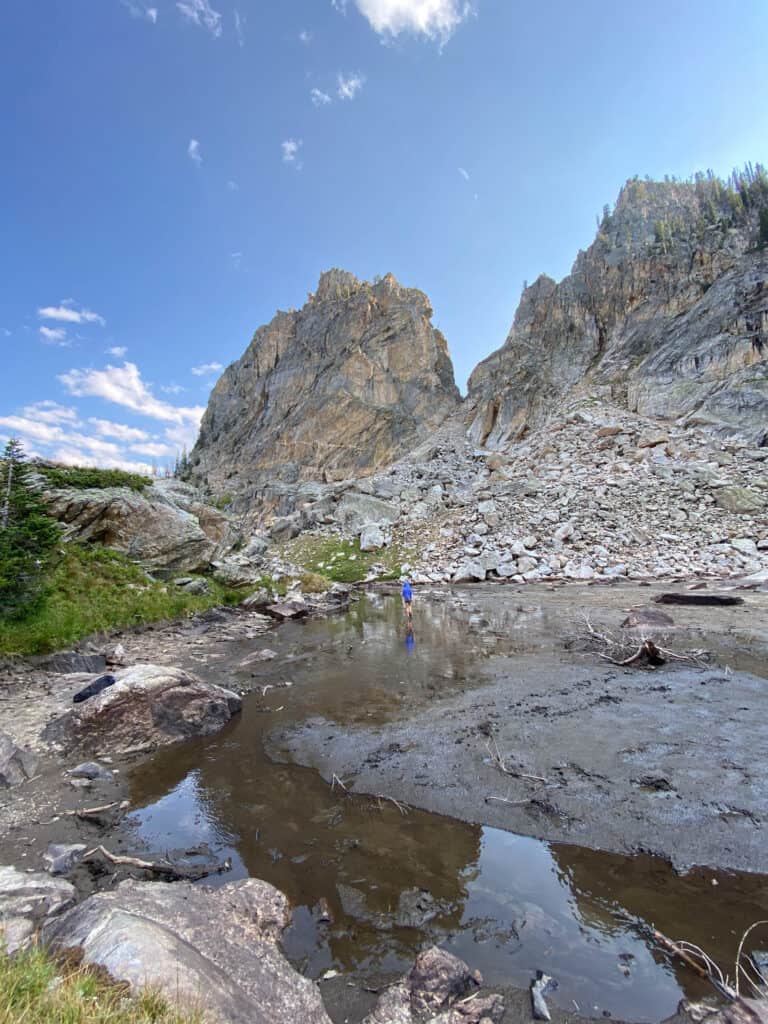 Final thoughts to make that first backpacking trip a success with your kids
You get one shot to make a good memory – it's worth the time and money to do it as right as you can! Make a stop at REI, get the gear you need, and don't skimp on something to save a couple of ounces.
If you're feeling good about the prep, but don't know where to go, here's a list of some of the easiest spots for your first family backpack trip!
Latest posts by Stacy Bressler
(see all)