Backpacking is usually a fairly safe outdoor activity. But it's still important that even experienced hikers follow backpacking safety best practices.
Don't underestimate how fast a few bad decisions and some poor planning can put you in an "uncomfortable" situation. That's why it's important to follow these 9 tips for staying safe while on the trail.
Do that and you'll really enjoy your next hiking trip, instead of letting it turn into your personal reenactment of Man vs. Wild. 
9 Tips for Staying Safe While Backpacking
1. Have a Checklist
A forgotten map, water filter, or pack of waterproof matches can make a fun trip go downhill real fast. There are a lot of little things you need to pack when hiking so it's worth it to have a checklist you can run through while you're packing.
Check out my article 7 Tips for Conquering Your First Backpacking Trip where you can get a checklist with all the things you need to bring.
At the very least, before you set out on the trail, you should double-check your gear to make sure you've got the 10 essentials.
The 10 Essentials
Way to navigate – map, compass, GPS device, and even your smartphone with an extra battery pack.
Light – preferably a headlamp and extra batteries
Sun protection – sunscreen, sunglasses, a hat or other protective clothing.
Basic first aid kit.
Knife or multitool.
Fire starting kit – matches, lighter, tinder, ferro rod.
Shelter.
Extra food.
Extra water and/or a way to filter water.
Extra clothing. Be ready for bad weather.
2. Have a Plan (And Share It!)
Make a trail plan and share it with a trusted friend or family member. Make sure it includes things like:
Where you'll be hiking. (Then just make sure to stay on the trail.)
Location and description of your vehicle
Description of yourself as well as your backpack and tent
Any allergies or medical conditions
When you expect to arrive
At what point your friend/family should contact the authorities
Who to contact (park office, rangers, police)
It'll only take just a few minutes to type up these details and email them to your friend or family member. While you're at it, print out a copy and place it in your vehicle at the trailhead.
This is one of the most important backpacking safety tips. In an emergency, those 5 extra minutes you took to create and send this plan will save authorities hours or even days when trying to find and rescue you!
And one final note about your hiking plan… DON'T share it with strangers. Especially if you're hiking solo, it's best to be vague about your plans when talking with hikers you meet along the way.
3. Go With a Friend
If you don't have to go it alone, it's best to bring along a friend. In addition to being someone you can belt out campfire songs with, a buddy can make it a lot easier to stay safe while backpacking.
When you hike with a friend, it's kind of like you bring along an extra set of backup gear. Even if you happen to forget something – like a fire starter – it's likely your friend will have brought theirs.
Plus, dealing with injuries while on the trail is a lot easier with an extra pair of arms and legs.
4. Learn Some Survival Skills
It's impossible to carry backups of everything in your backpack. So what do you do if an essential piece of gear – like a tent or water filter – gets damaged while in the backcountry?
Or worse yet…
What if a combination of unfortunate events leaves you stranded miles from the nearest road and separated from all your carefully packed gear? You might be surprised at how easy it can happen.
It's moments like this that you'll be thankful you learned some basic backpacking survival skills like:
How to make fire (without a lighter or matches)
Collect and purify water (without a filter)
How to navigate (without Google maps)
And how to build a shelter
*Learn these and other skills in my article 11 BASIC OUTDOOR SKILLS YOU NEED FOR YOUR FIRST HIKE.
5. Bring Proper Clothing
Pack clothing that lets you dress in layers. The right layers should help you maintain a proper body temperature while staying dry.
It's best to plan your layers like this:
Your baselayer should wick moisture away from your body. Avoid 100% cotton clothing since it will retain moisture and won't dry quickly.
In cool weather, add some layers that will help retain heat.
Top layers should block wind, moisture, and/or the sun.
As you saw, one of the ten essentials was to bring some extra clothing. Even if it looks like you'll have nice weather, it's a good idea to pack an extra layer or two just in case it gets colder than you thought or you get a surprise rain storm.
6. Stay Hydrated 
Dehydration can quickly make you feel exhausted, disoriented, and ill. That's why when you're dehydrated, it's a lot easier to make poor decisions that can make a bad situation turn into an emergency.
So make sure you bring enough water or a way to filter enough water for the duration of your trip. Then drink water throughout the day as you're hiking so you'll stay hydrated.
Plan on using several quarts of water each day. That means almost any backpacking trip that lasts longer than one night will require you to bring a water filter. It's just physically impossible to carry all the water you need.
Learn more about staying hydrated and filtering water in the wilderness in my article HOW TO PURIFY WATER WHILE BACKPACKING | THE COMPLETE GUIDE
7. Know Where You're Going (a.k.a. Don't Get Lost)
Even if you're planning on bringing your phone with downloaded maps of the area, it's important to have a backup paper map, compass, and a general knowledge of the area where you plan to hike.
*Here's a great video where you can learn about navigating with just a compass and paper map. 
And if you're the kind of person who can never seem to find their car in the parking lot, it's probably worth investing in a mini satellite communicator and GPS. The Garmin InReach Mini is a great choice. Use it for navigation, weather updates, to trigger an SOS, and even to send texts when you're out of cell range.
Source: Amazon
8. Know the Wildlife Dangers
In some areas, your biggest concern will be small animals and insects – mosquitoes, spiders, snakes, and ants. In other wilderness areas, you'll have "bigger concerns" – bears, moose, coyotes, etc.
Before you hit the trail, do a little research to find out what animals you might encounter. Learn how to protect yourself both from the big ones and the little ones.
Here are some general backpacking safety tips for dealing with wildlife.
Make noise. Especially if you're backpacking in bear country, make noise periodically as you're walking. Unwanted animal encounters often occur when you surprise an animal. But if they hear you coming, they'll probably get out of the way and you'll never know they were there. So talk, sing, bang on rocks, or play Take Me Home, Country Roads through your bluetooth speaker once an hour! Just don't disturb fellow hikers too much.
Store all food and scented items in secure containers and keep them away from your camp. You can also store it in a spare bag and sling it over a tree branch. 
Bring along bear spray to use if needed.
Don't camp near the water, game trails, or other areas where you see heavy wildlife traffic or droppings. 
9. Be First Aid Ready
You can try and put together your own, but be easy on yourself and just buy a premade first aid kit that's designed for the outdoors. In addition to the normal band-aids and bandages, it'll also have medicines to treat animal bites and stings. Some first aid kits for the outdoors even come with extra survival supplies and tools that come in handy while hiking.
Before each hike, get it out and check the contents. Make sure you replace any items you might've used on recent trips or medicines that are expired.
Here are some nice options for first aid kits for backpacking.
Coleman Sportsman Outdoor Waterproof First Aid Kit
EVERLIT 250 Pieces Survival First Aid Kit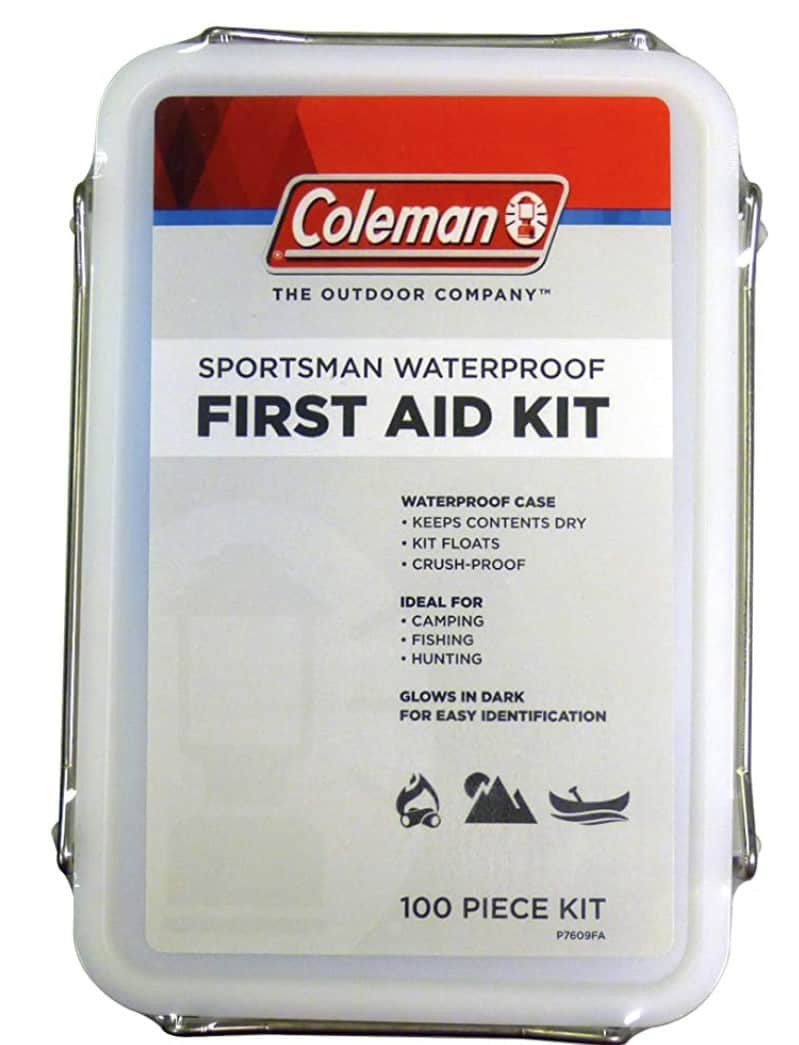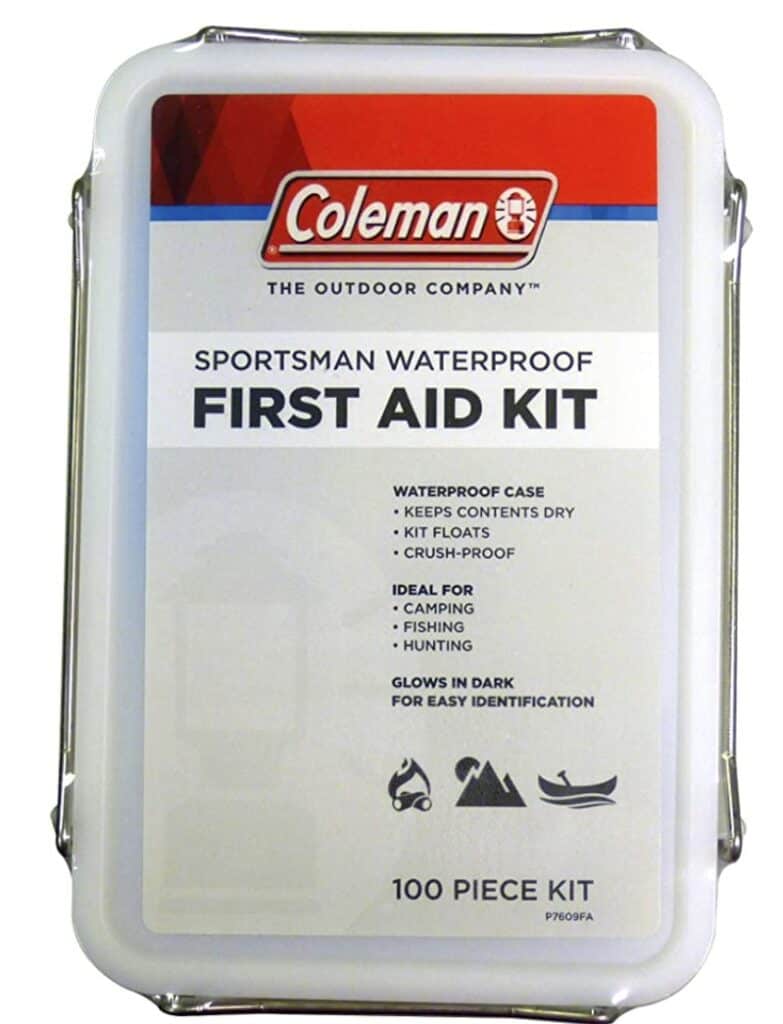 Have Fun and Stay Safe With These Backpacking Safety Tips
Yes, it's going to take some extra time to plan and execute a safe backpacking trip, but it's worth it. Remember, a safe trip is a FUN trip! If you leave the wilderness feeling dry, warm, hydrated, and well-fed you're more likely to go out and do it again!
So don't forget these 9 backpacking safety tips:
Have a Checklist
Have a Plan (And Share It!)
Go With a Friend
Learn Some Survival Skills
Bring Proper Clothing
Stay Hydrated (With Filtered Water)
Know Where You're Going (a.k.a. Don't Get Lost)
Know the Wildlife Dangers
Be First Aid Ready
And don't miss these other backpacking articles!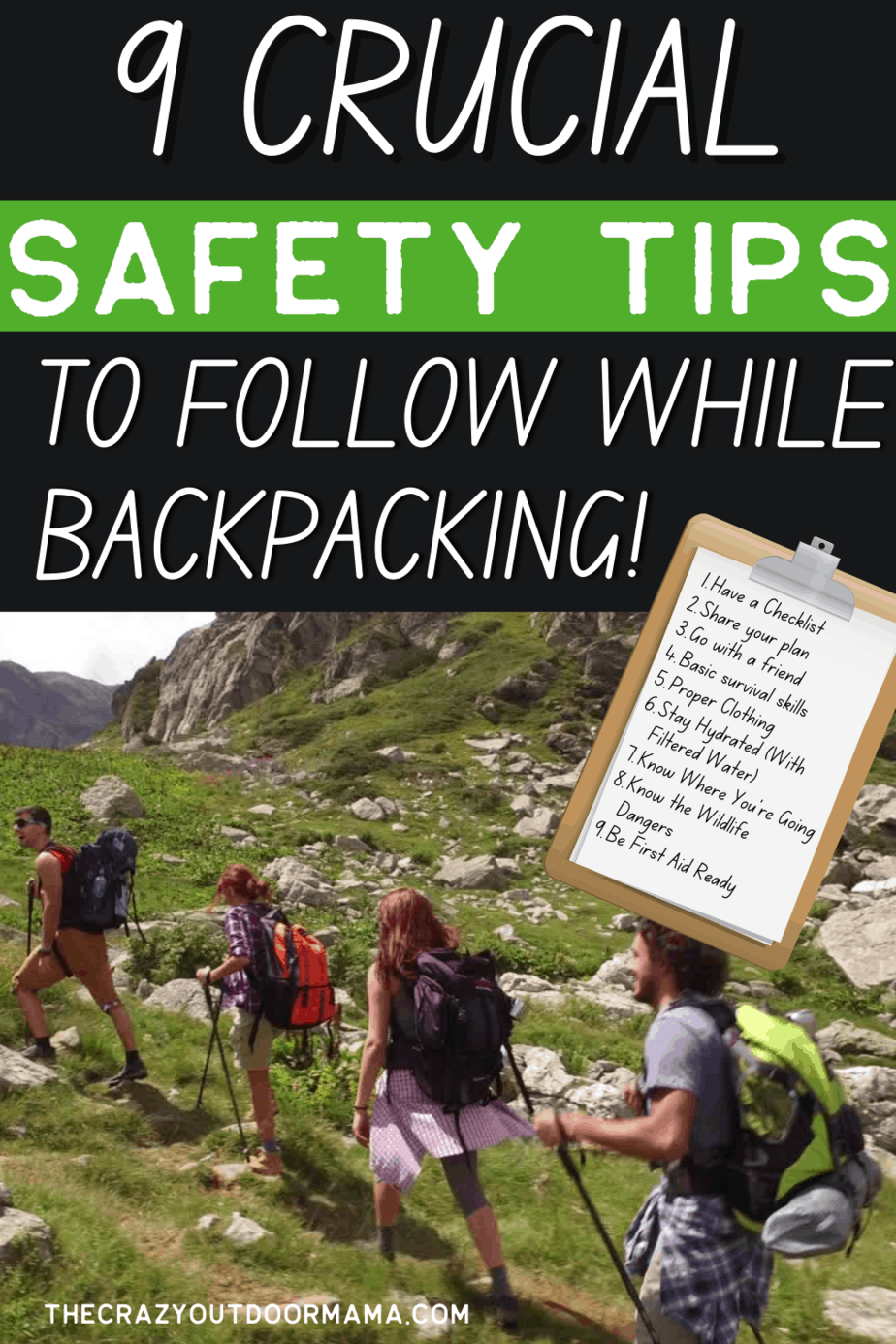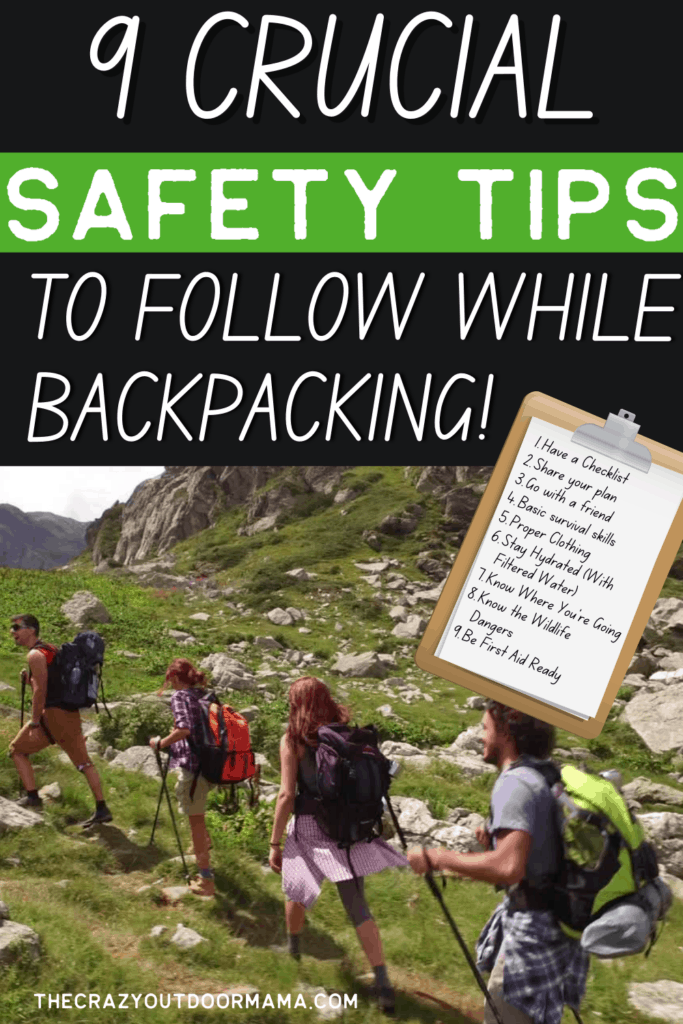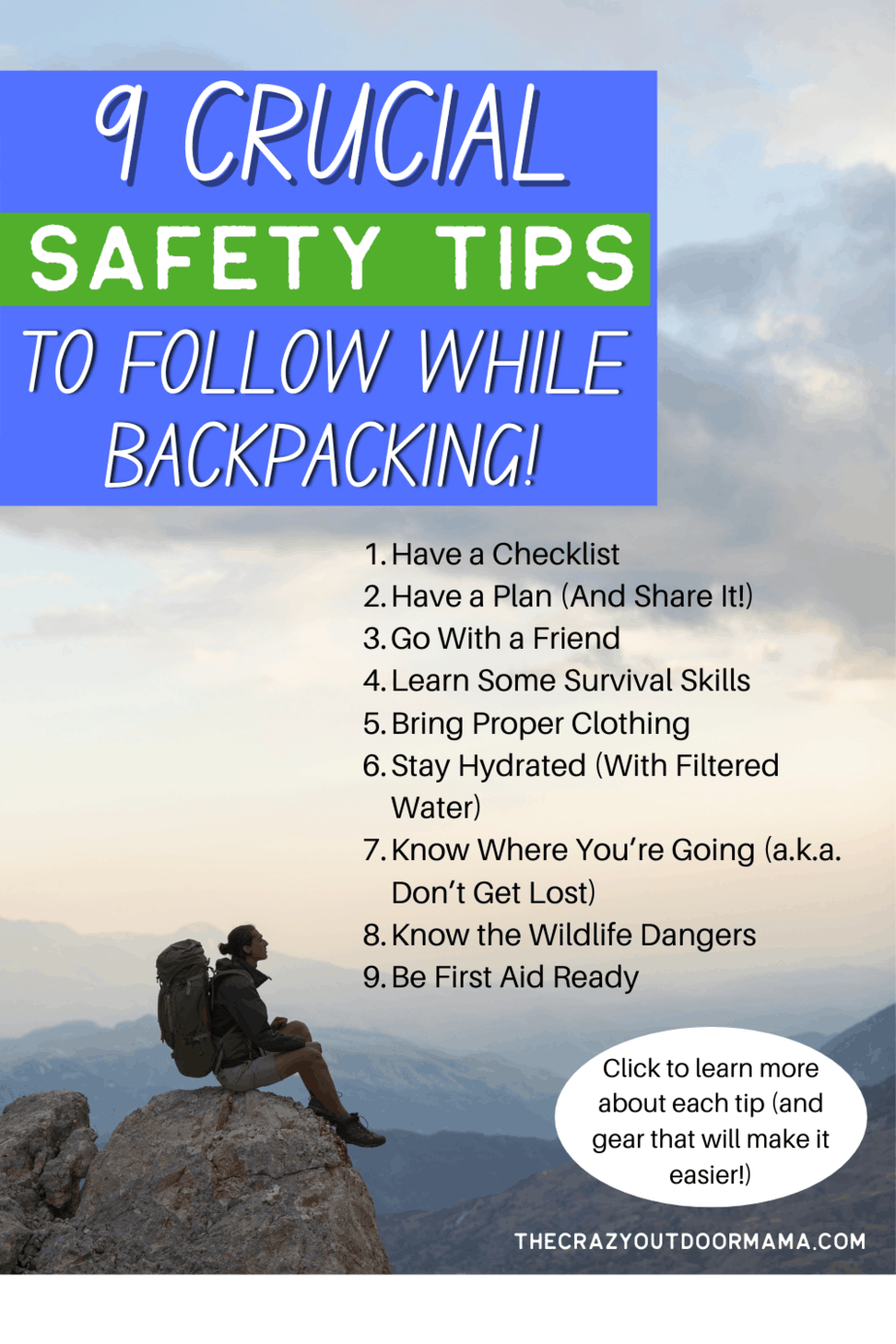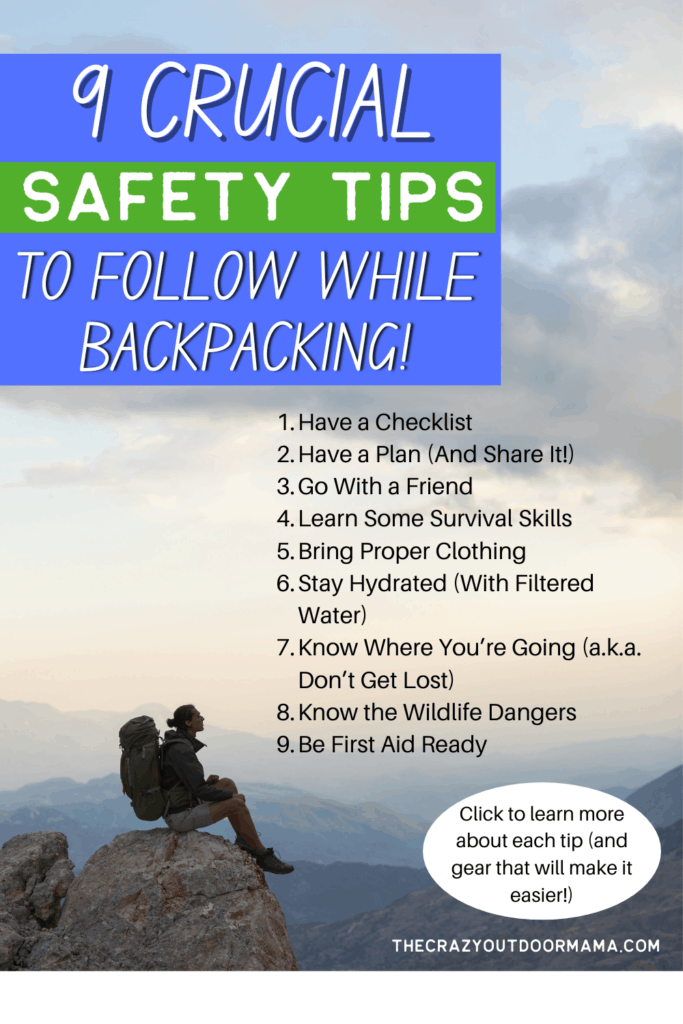 Latest posts by Stacy Bressler
(see all)