So you got the perfect RV that includes bunkroom – now how do you make it a perfect spot for the kids? It's hard to balance functionality and style sometimes, especially in a small area such as an RV or a camper.
With 3 kids myself, I LOVE seeing and sharing ideas on how to convert the bunk space into a super functional but FUN area (that has more uses than just sleeping!)
The age of your kids is SUPER important when planning your space – IE, a younger kiddo will need more actual play space than one who can read/play games.
Related – Check out my RV Camping with Baby Sleep Tips AND my Toddler RV Sleep Tips as well!
*As with my other idea posts, PLEASE let me know if I didn't give you proper credit. I always direct to socials if I see you have any.*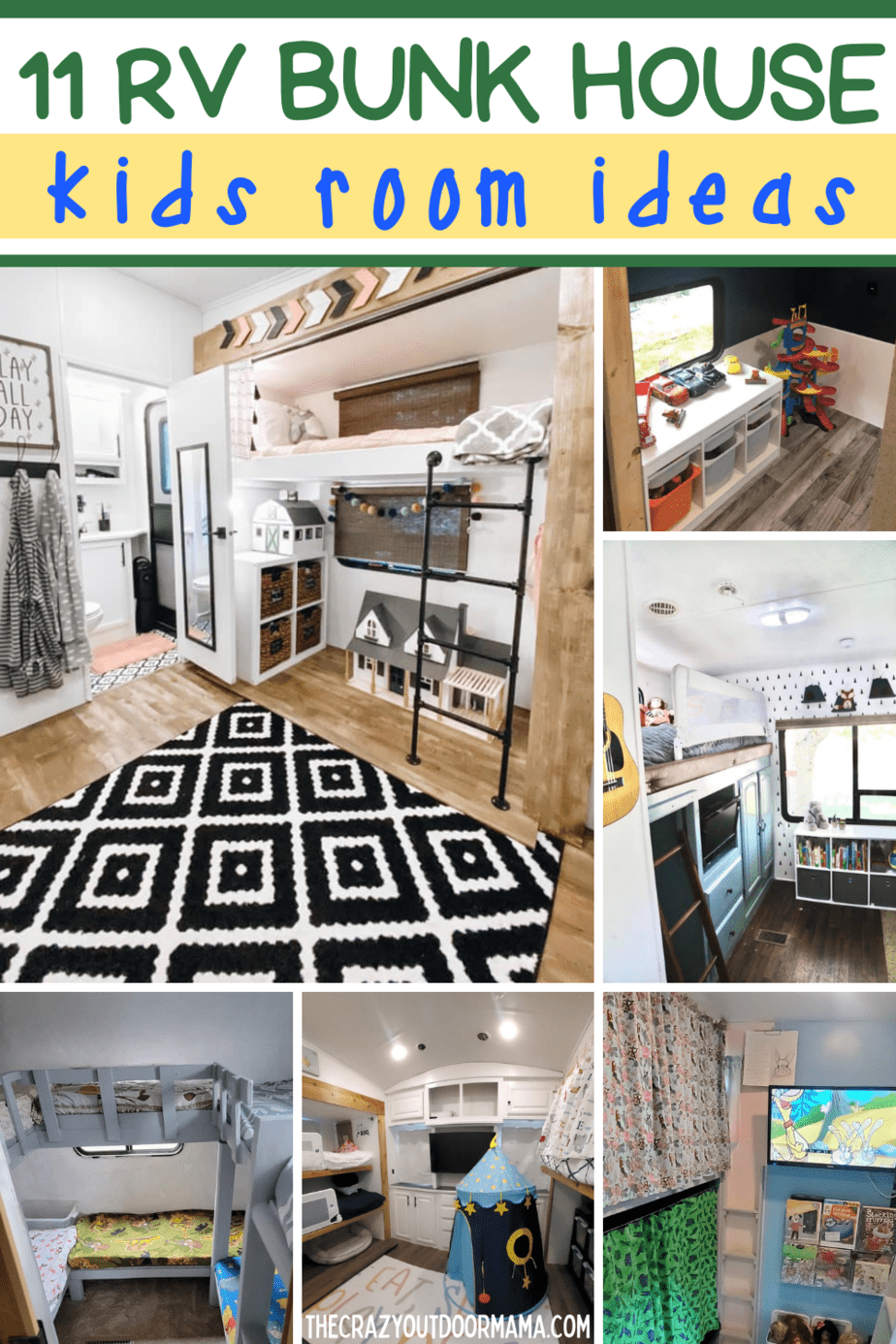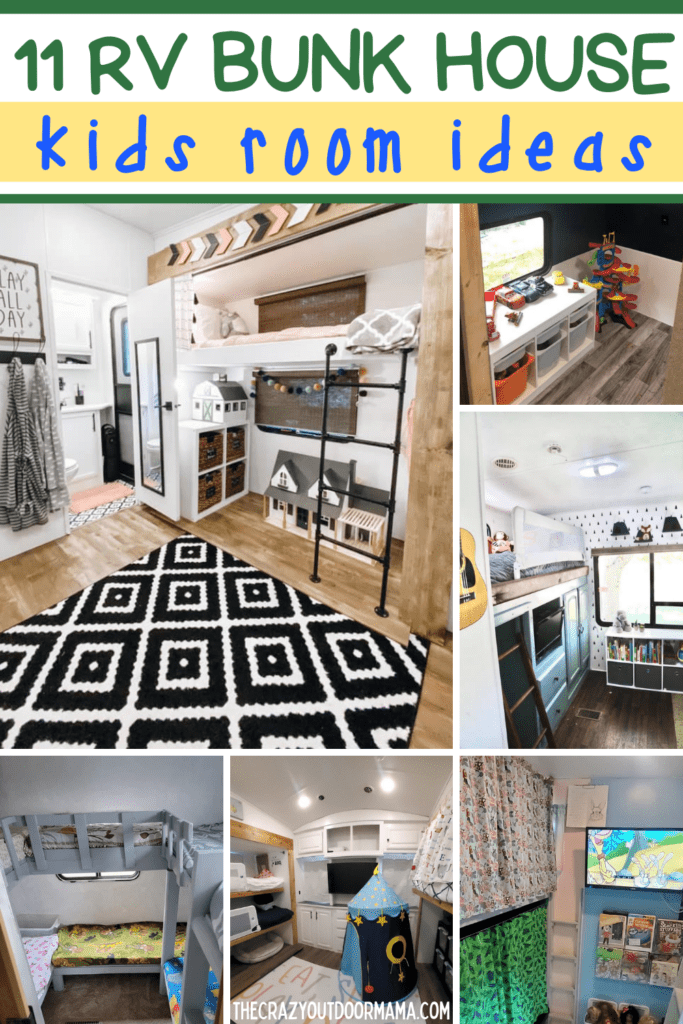 As an Amazon Associate, I earn a commission should you purchase something through my links.
Modern Bunkroom with 2 Beds and Room for Hobbies (like drum or dolls!)
It can be hard to balance hobbies and decor preferences with more than one kid in such a small space. However, making sure to leave room for each kid to enjoy their special hobby is a great way to ensure they feel like they still have their own space.
In case you were curious how there's so much space here (the 2nd bunk isn't pictured, but is on the other side), the model for this is a Montana 351BH and features DOUBLE slides in the back!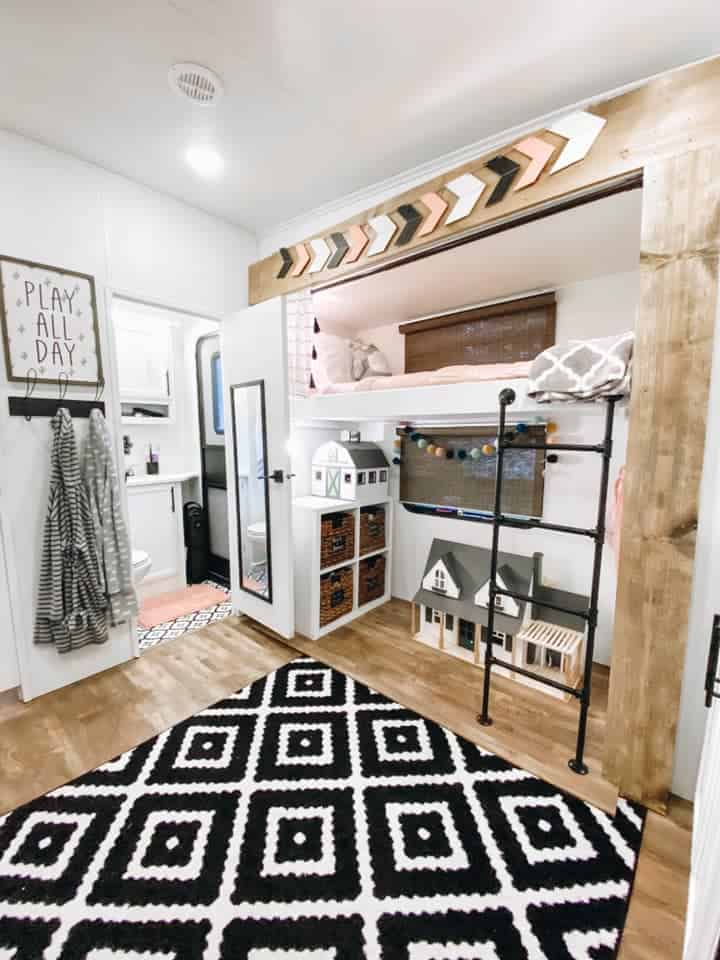 INCREDIBLE Bunkroom Renovation That Sleeps 6 Kids!
This was an absolutely awesome transformation that took a ton of work! Nastascia and her husband turned a space with water damage and only 2 beds into a beautiful, safe spot for her six children to sleep!
Nastascia said this was a particularly difficult build because there was water damage as well as the need to wall over a door for extra sleep safety. I would have never thought this possible (or perhaps, not thought it possible for my energy/knowledge level LOL) but they knocked this out in just 6 days!!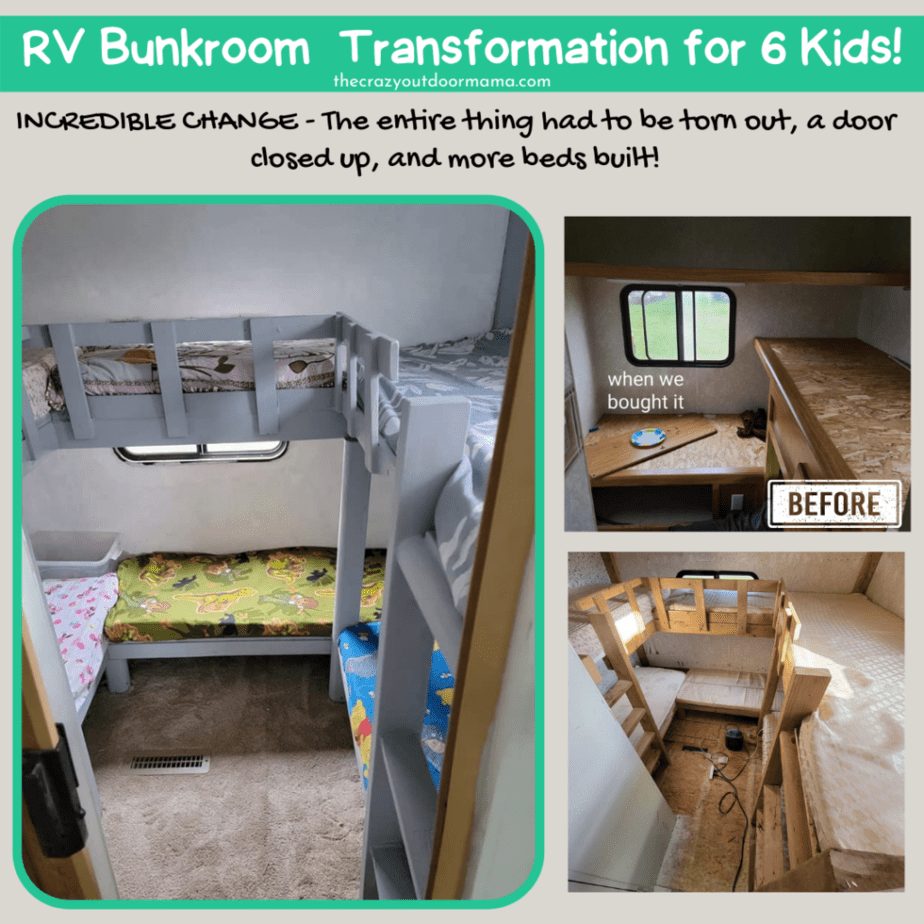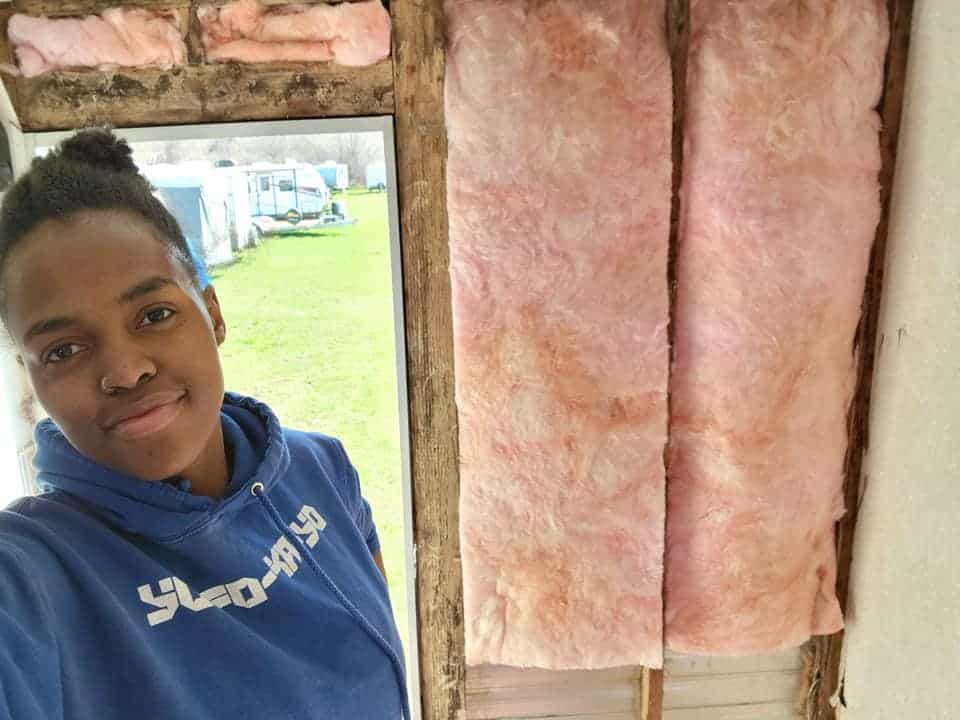 Large Play Area With 3 Beds and Storage
I love how open this layout is – I almost thought it was a toy hauler of sorts! It looks like there are three beds (and curtains for each… perfect for sleep and privacy!) and some super well organized storage here.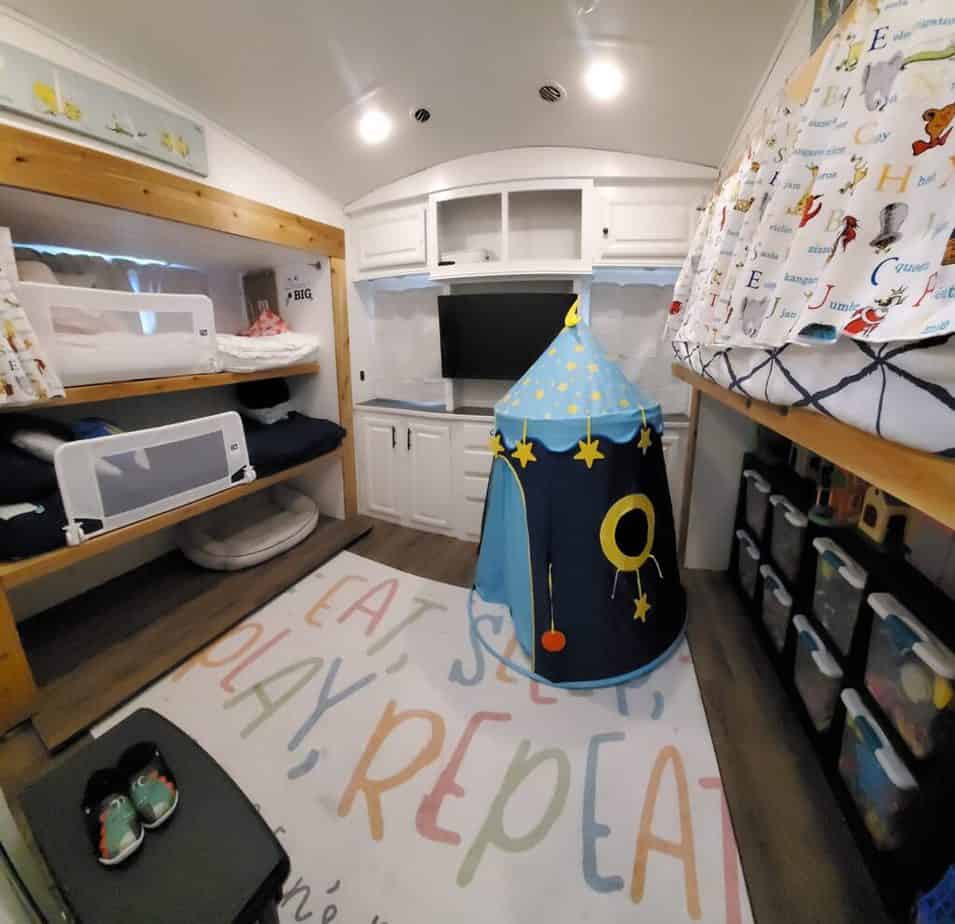 Elevated Sleep Area for PLENTY of Play Space
This renovation comes from @thecraigchronicles and has to be one of the best I've seen! You can't even recognize the space after!
She has two kids, and features plenty of play and storage space as well as an elevated sleep area (so no valuable floor space is taken!)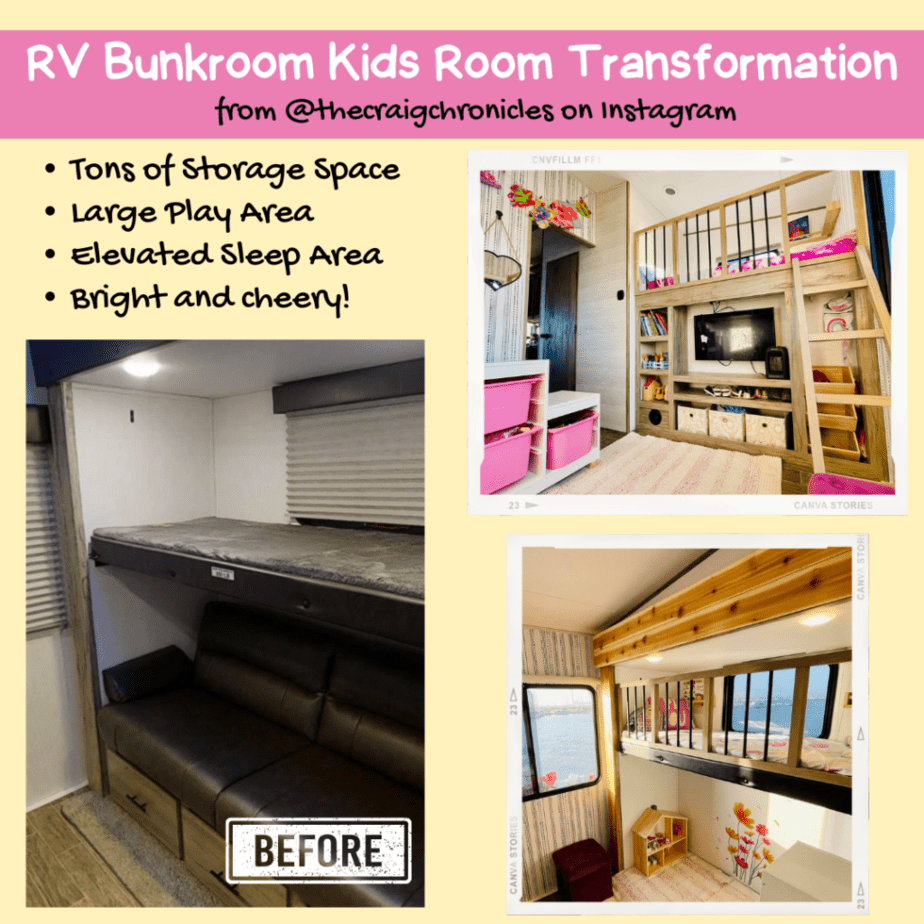 Kids Bunk Room with 2 Beds, a Desk and Storage
I found this renovation idea in a Facebook group from Kirsten B. Did you notice those little pine trees on the wall? She actually cut them out with her Cricut and put them all on herself!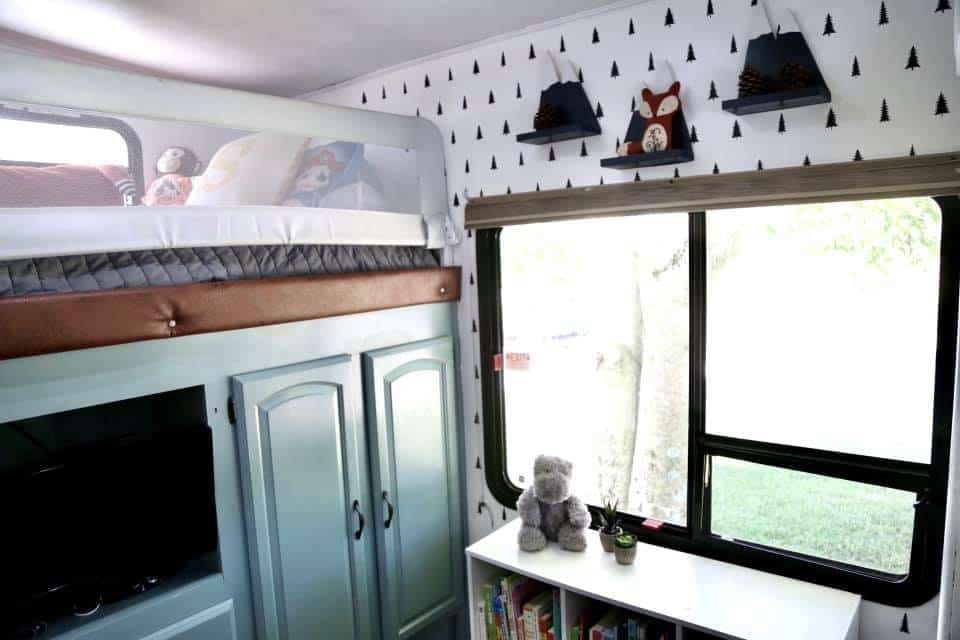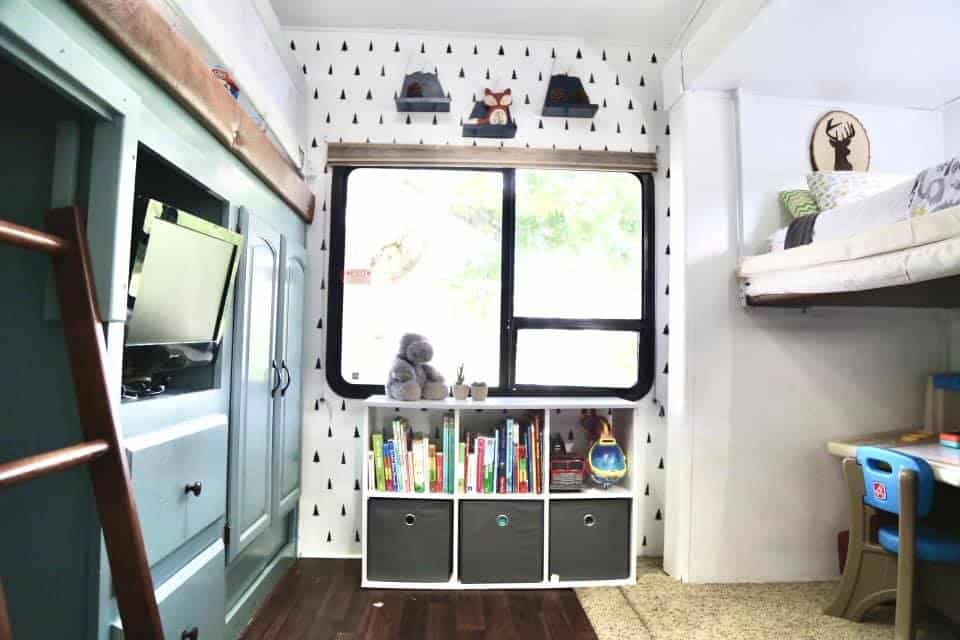 Personalized and Super Functional
I LOVE how this bland bunkroom got transformed into a bright, highly functional but personalized bunk house for the kids! It has room for 3 to sleep – I love how each kiddo got to pick their own curtains rather than stick to some sort of aesthetic.
It's super important to give each kiddo as much "me space" as you can when in a small space like an RV – little details like getting to pick their own curtains, having a room/tv of their own and more are awesome!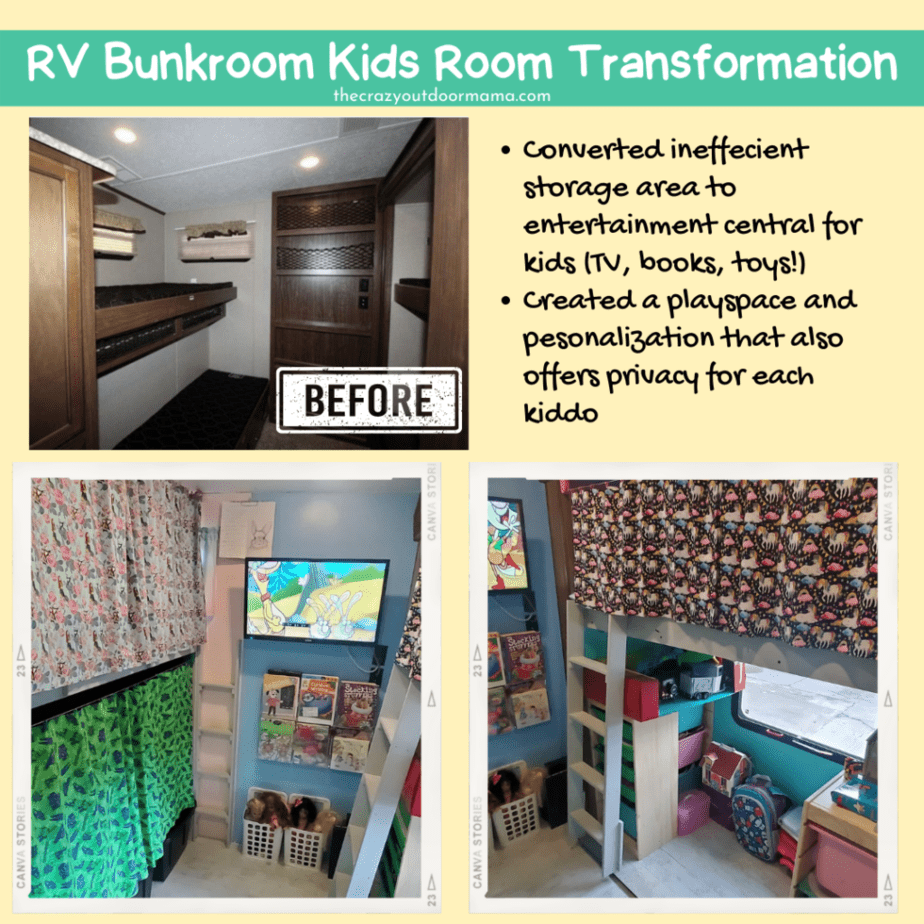 Bunkroom Conversion for a Teen
Alot of these conversions are focused on younger kids (bright colors, toys, cartoons etc) but I found this design and thought it was super clean and mature looking. I like that there's a full size desk on the bottom with room for more than one for doing things like homework or hobbies.
After reading Leakhena R.s post, it really is obvious she fit alot into a tiny space! The couch cushion looking thing in the corner can actually turn into a bed, there's tons of storage under the desk and the wardrobe in the middle offers a ton of storage!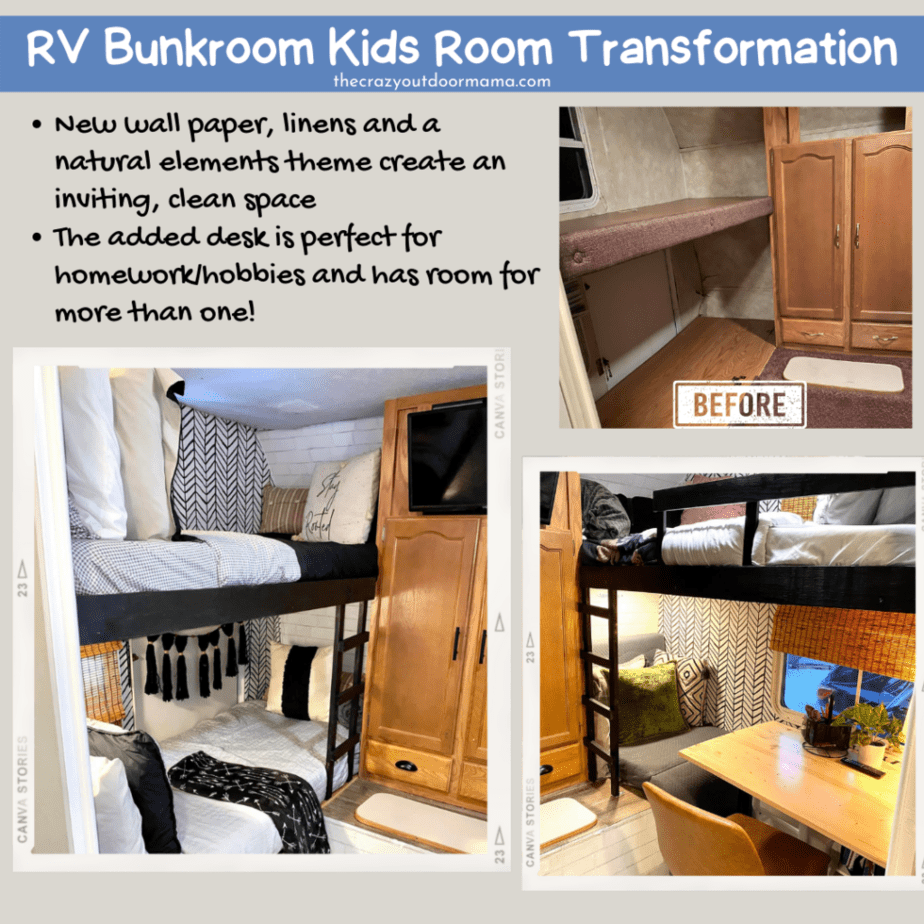 Out with the bulky, in with the floorspace!
If you only have one kiddo and don't plan on having anymore, why keep all the extra beds? I LOVE how spacious this bunk room became once Christopher tore it all out. by adding two simple bin systems, he really turned this into a perfect kids hang out spot!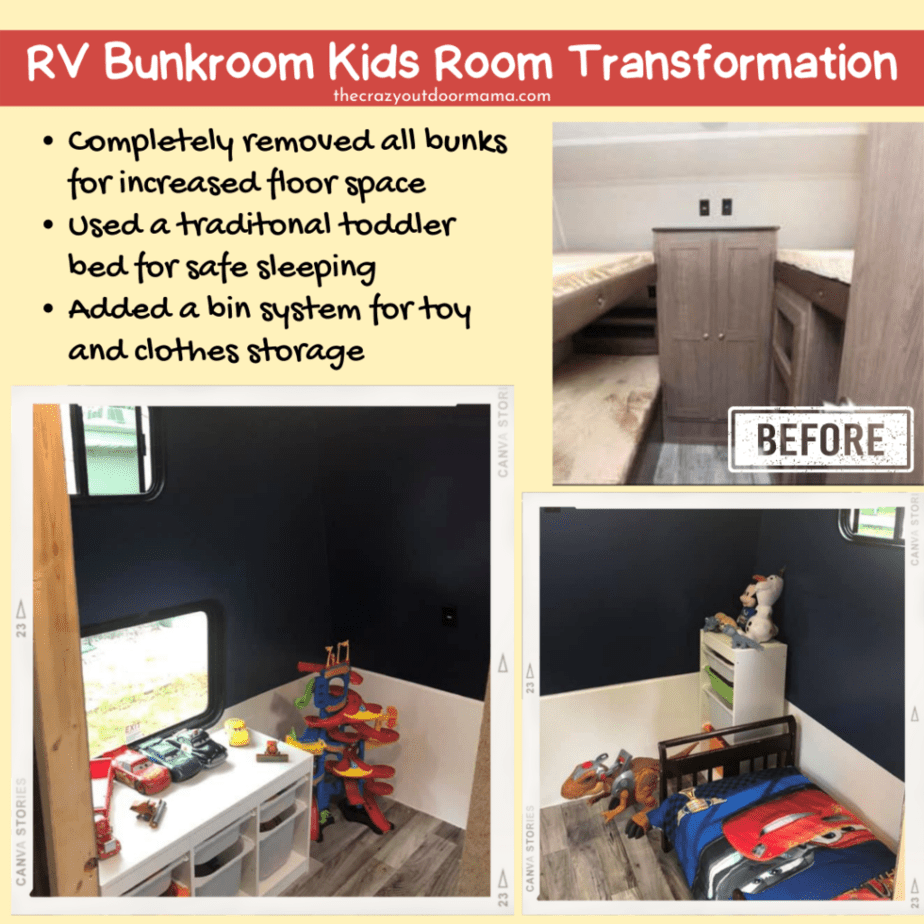 Traditional Bed and Storage
This adorable Paw Patrol themed room is for a four year old. Again, love the big play area and storage! The built in storage offers plenty of space for toys and clothes.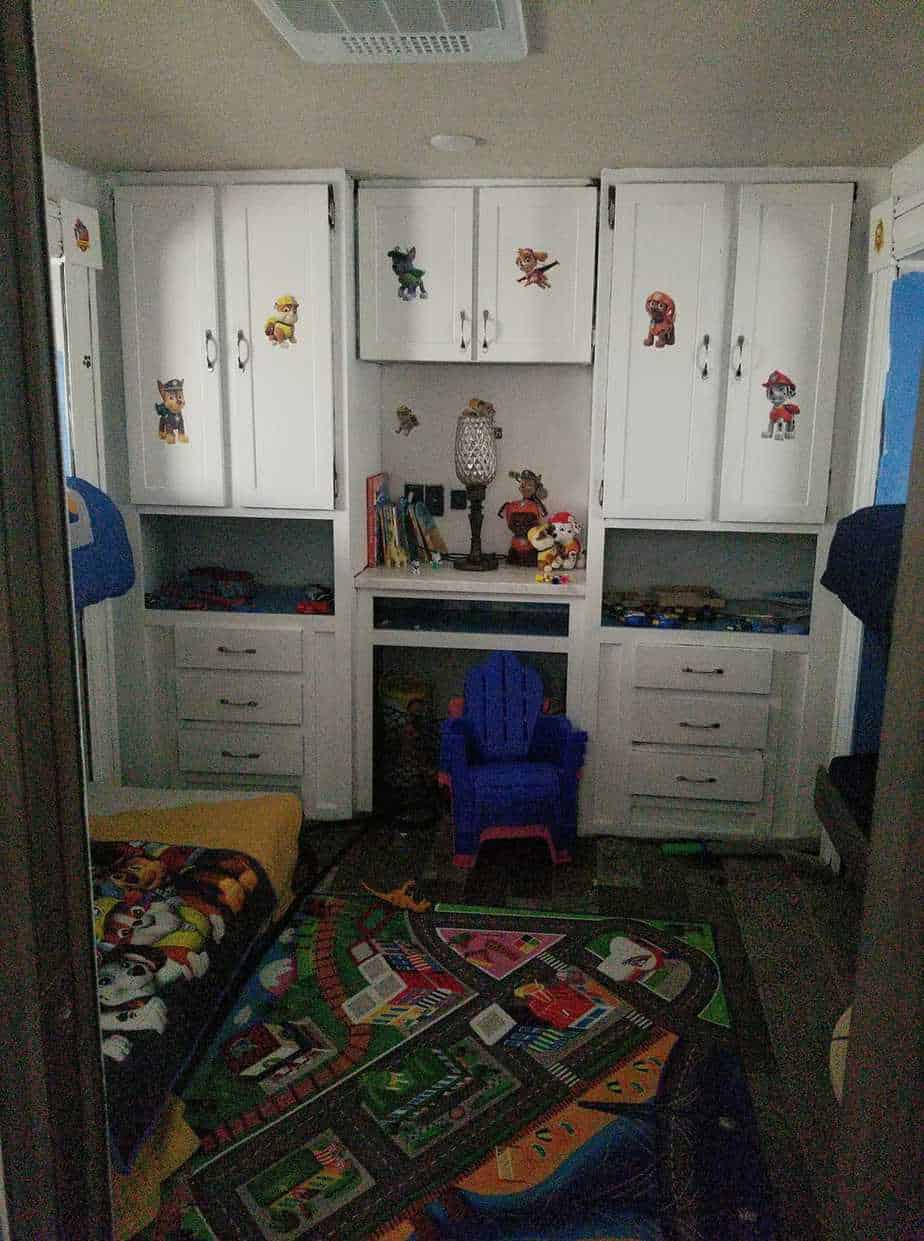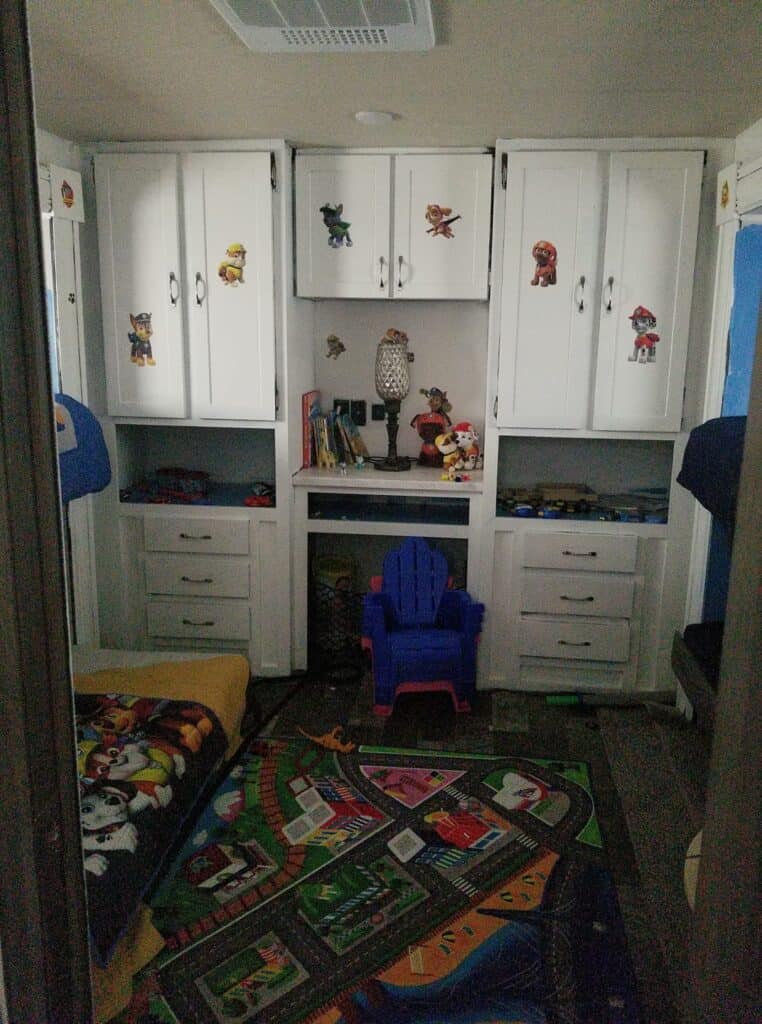 Helpful items for creating your own kids bunk room in your RV
Now that you have some ideas of what direction you want to go for your own bunkroom renovation, here are some things you might end up needing. Many things are DIYable, but sometimes after DIYing a whole darn bunk room… it just feels nice to save time and buy a couple of things! =P
Bunk Ladder
Depending on what you started with, you may not have gotten a bunk ladder in your camper. Thankfully, you can get a basic one that fits most campers on Amazon.


Stromberg Carlson Bunk Ladder
66″ Tall with a 250 lb weight limit – usable by adults too!
Weighs 1 lb – easy to move as needed
Tread covers on the steps – WAY more comfy for barefeet
Multiple attachment methods included
Trimmable for shorter bunks
Bed Rail
These are KEY for peace of mind – it's an extremely long fall from a top bunk, and even if you know your kids never fall out of bed… it's better to have it and not need it than need it and not have it!
Besides being extremely painful and dangerous, a fall while camping can be even more dangerous depending on where you're camping. If it's a long drive to a hospital, or you have no cell service, a simple bed time routine will turn into a serious event.
My SIX YEAR OLD fell out of the bed this past year because he was playing in it and just lost track of where he was. Thankfully, he was ok, but now I keep the bed rail on both at night AND during the day.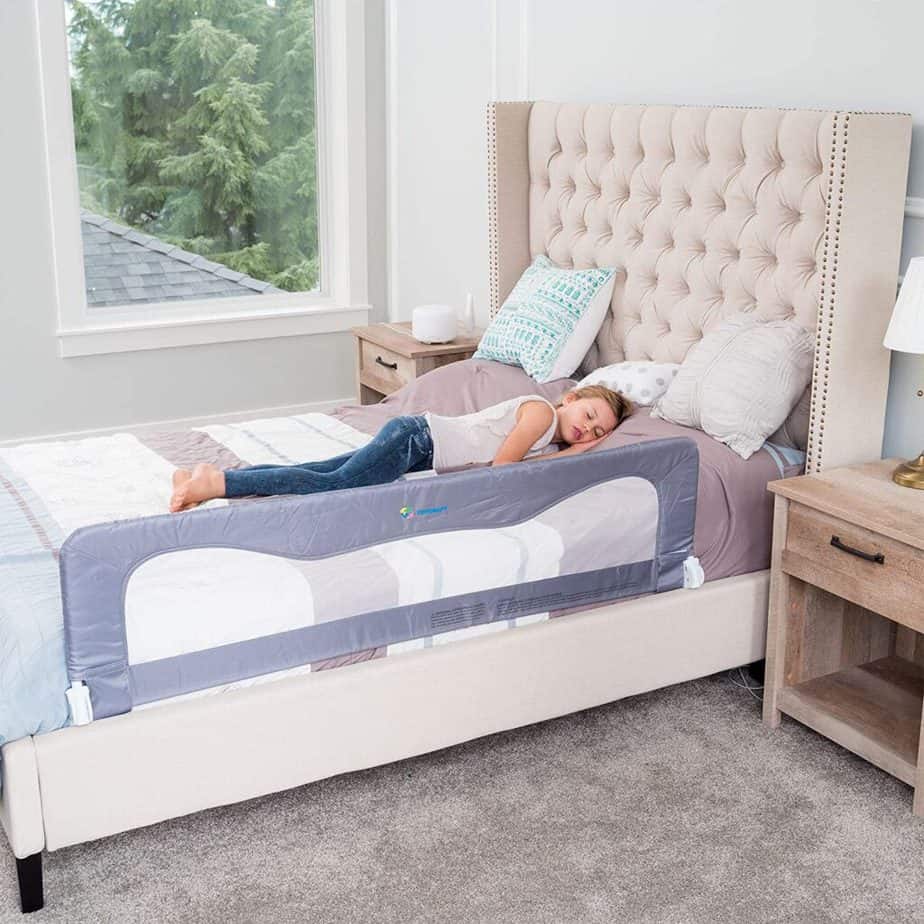 Totcraft Bed Rail
Comes in an Extra Long Size – helpful to cover more of the bed
Flips Down – It's incredibly helpful to not have to remove it every time your kiddos want to get in/out of bed
Optional Screw on Mounting Method – Nice option for peace of mind if you know your kid rolls around a ton in their bed
Curtain Wire System
When you're trying to give each kid their own space in the RV, it can be helpful to use curtains to establish different spaces and for added privacy.
Unlike a bar you might use at home, the wire allows you to put up curtains anywhere! It just uses a screw in hook which then attaches to the wire. Across a room, in front of a bunk, or even as the door to the bunkroom area – there are tons of possibilities!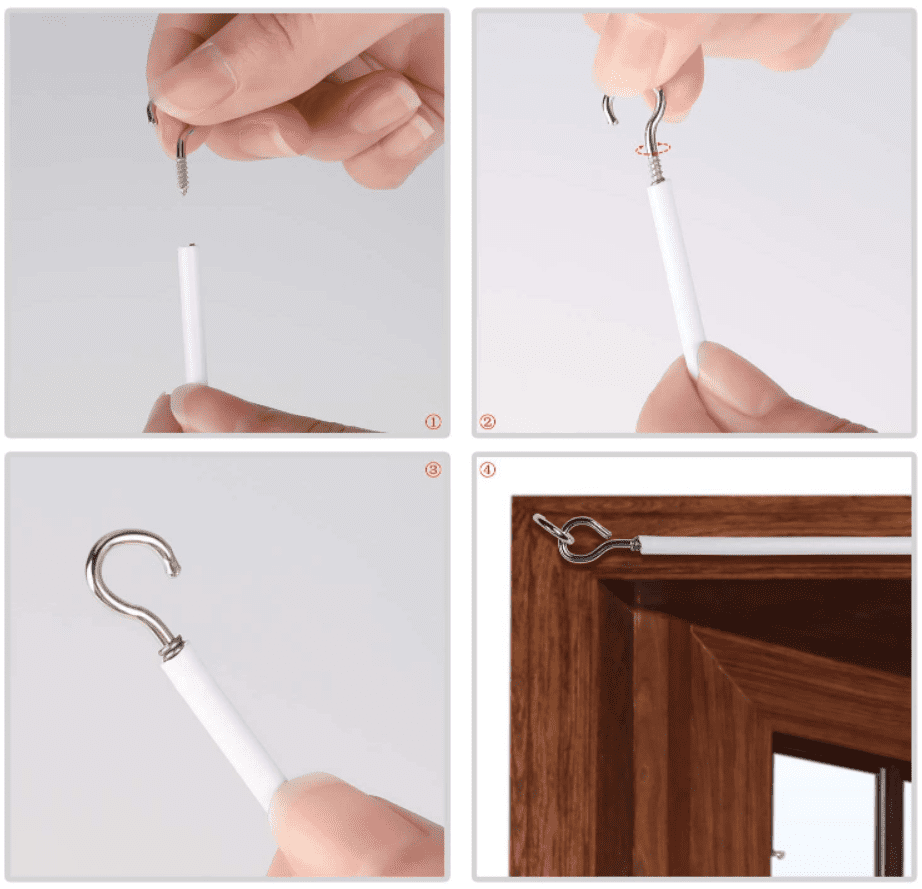 OOTSR 2 Pack of Curtain Wires
Trimmable Length
Able to hang in curves or across rooms
Don't forget to buy some clips (

here's a 30 pack

)
Latest posts by Stacy Bressler
(see all)