One of my biggest concerns once we started RV camping with our twins was definitely in regards to figuring what the best camping gear was to get them to sleep at night; how in the world would it work in such a small place?
I didn't have room to set up a pack n play, much less one for each baby. We also had a toddler to consider and wanted him to have room to run around and get to the restroom after they went to bed.
While there are portable foldable cots that are awesome (I will talk about those as well!) I wanted a relatively cheap solution that could also accommodate my co-sleeping!
P.S. If you are tent camping with your baby, you might find this baby camp sleeping bag + tent sleep guide more helpful!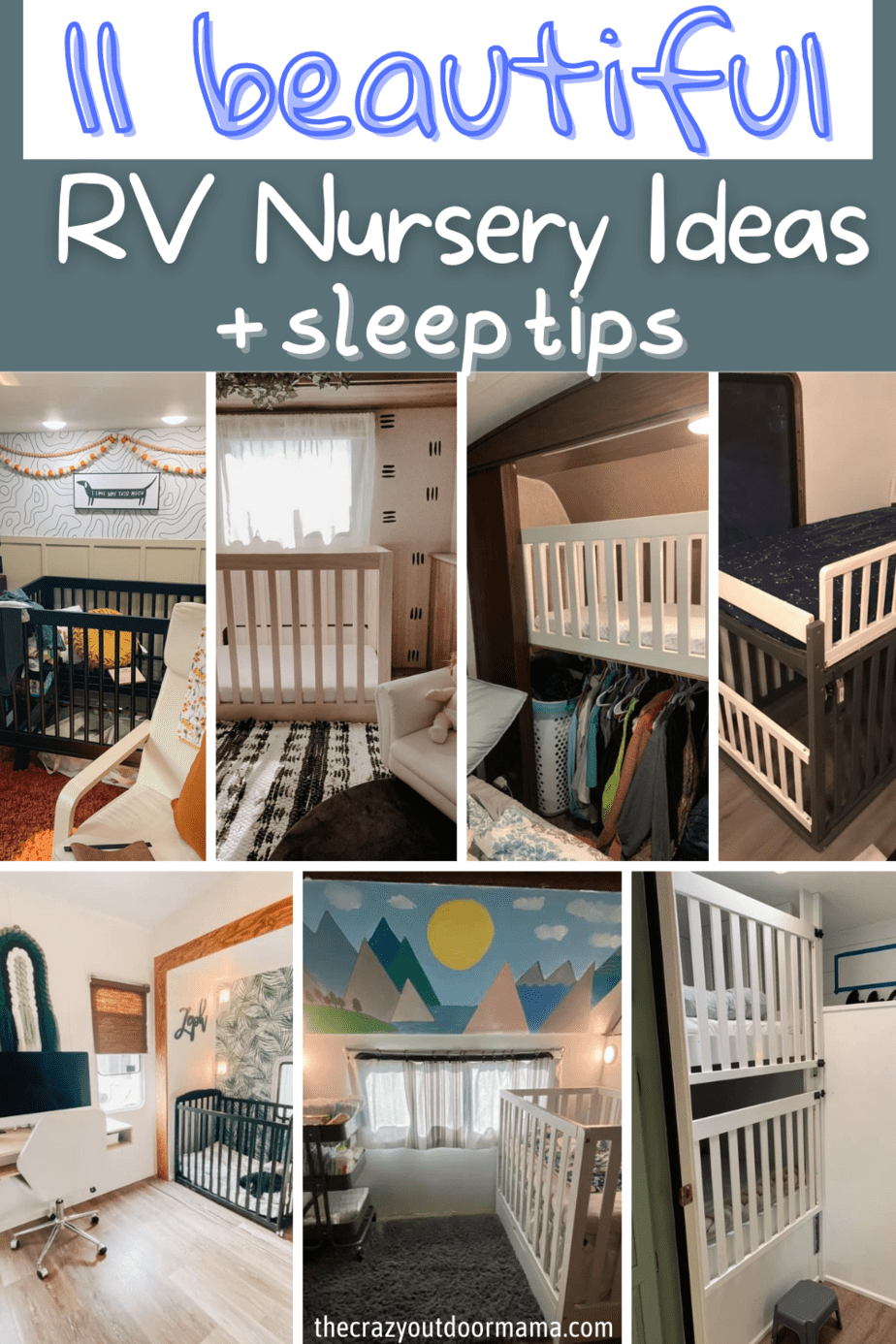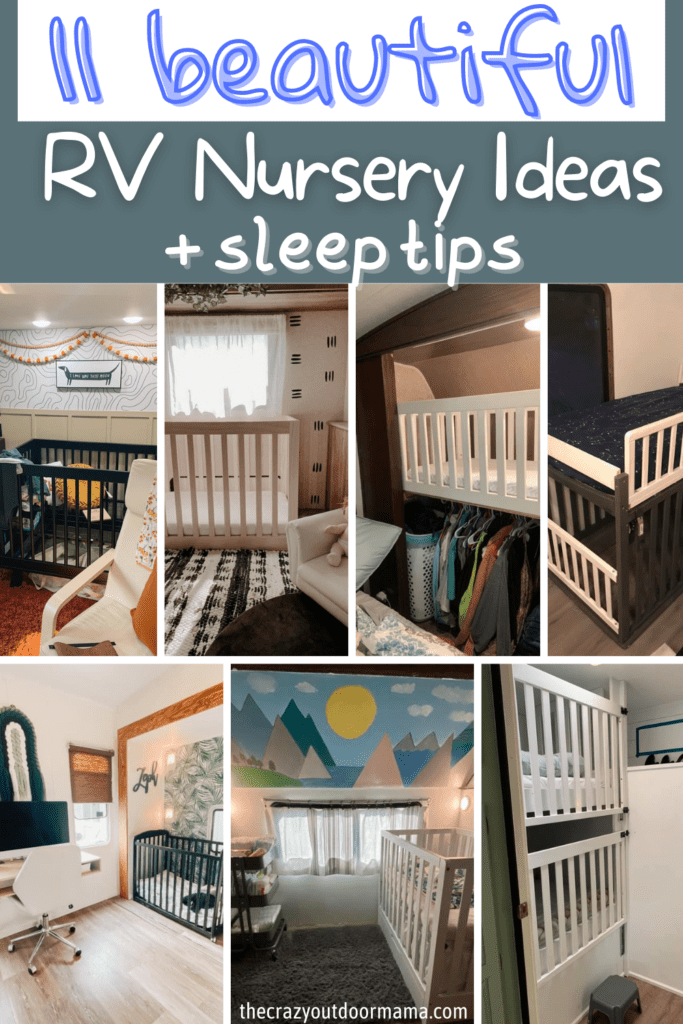 P.S. – I am an Amazon Affiliate, which means I get a small cut if you click on my links below. BUT I really love them and think you will too! More info is here
Know what your sleep set up will be BEFORE the camp trip
Planning is always key – before you go on that big RV camp trip, you need to decide what the plan is for baby getting sleep (both for naps and night!). Most people try and do the same as they do at home, which include the following
Crib
Co Sleep
Bed Side Crib (if space allows!)
Baby Tent
Nursery Ideas for the RV
Sometimes, there's just nothing that fits right in the space you have. This is especially true for things that are a standard size, such as a crib or pack n play. Here are some creative ideas from around the web on how to create a specific baby area in your RV!
Go custom
Building something entirely from scratch is alot of work, however you get to have something that is PERFECT for your kid's ages, the space it needs to be in, and your aesthetic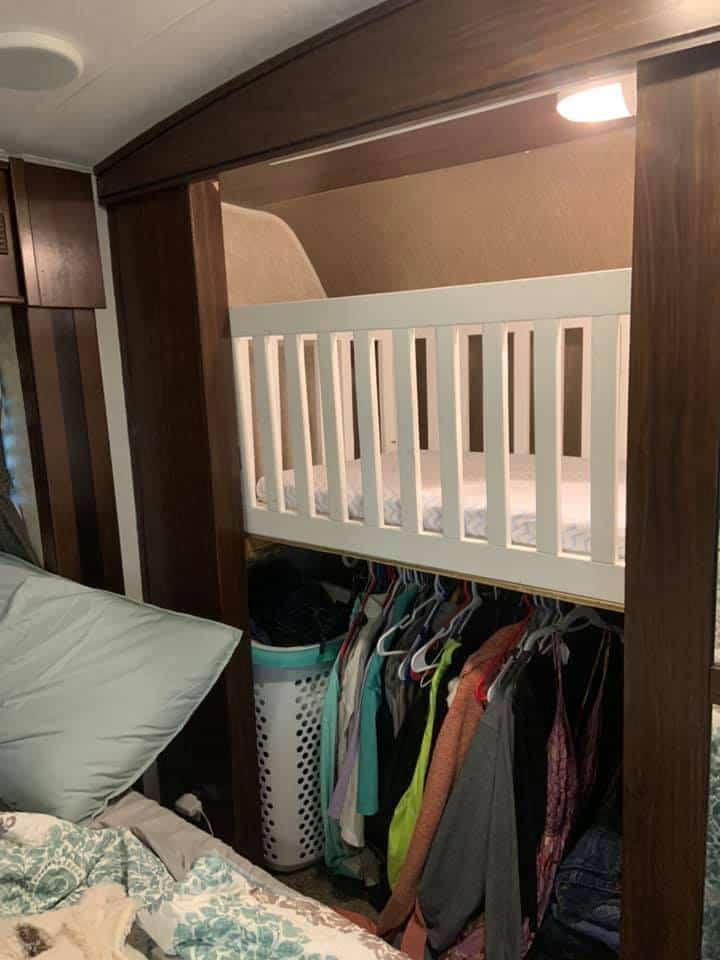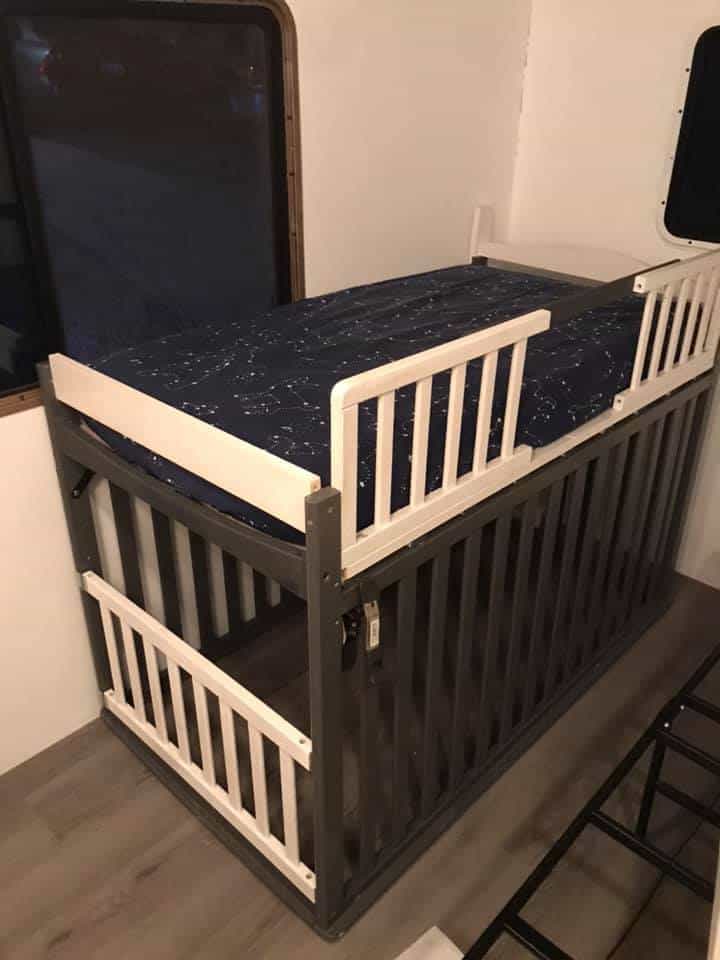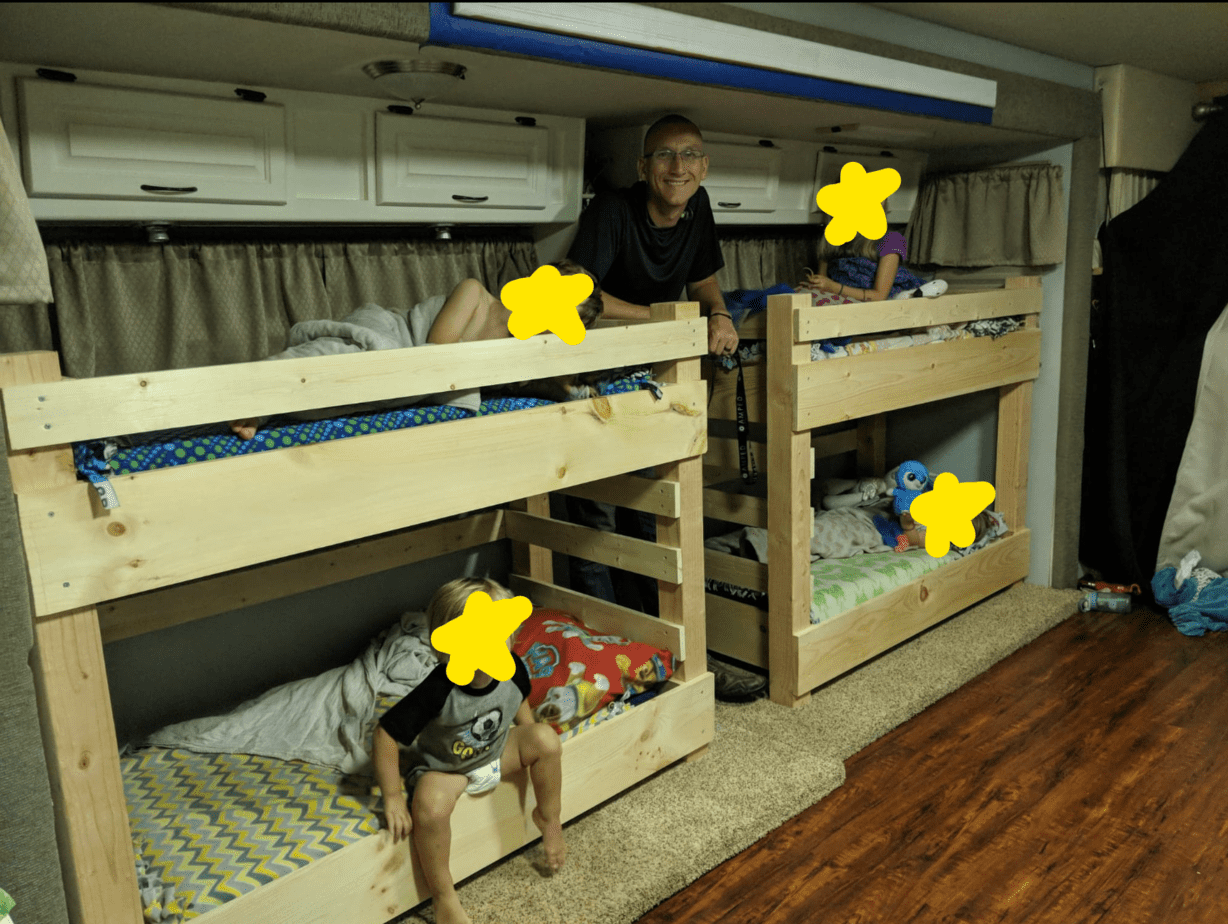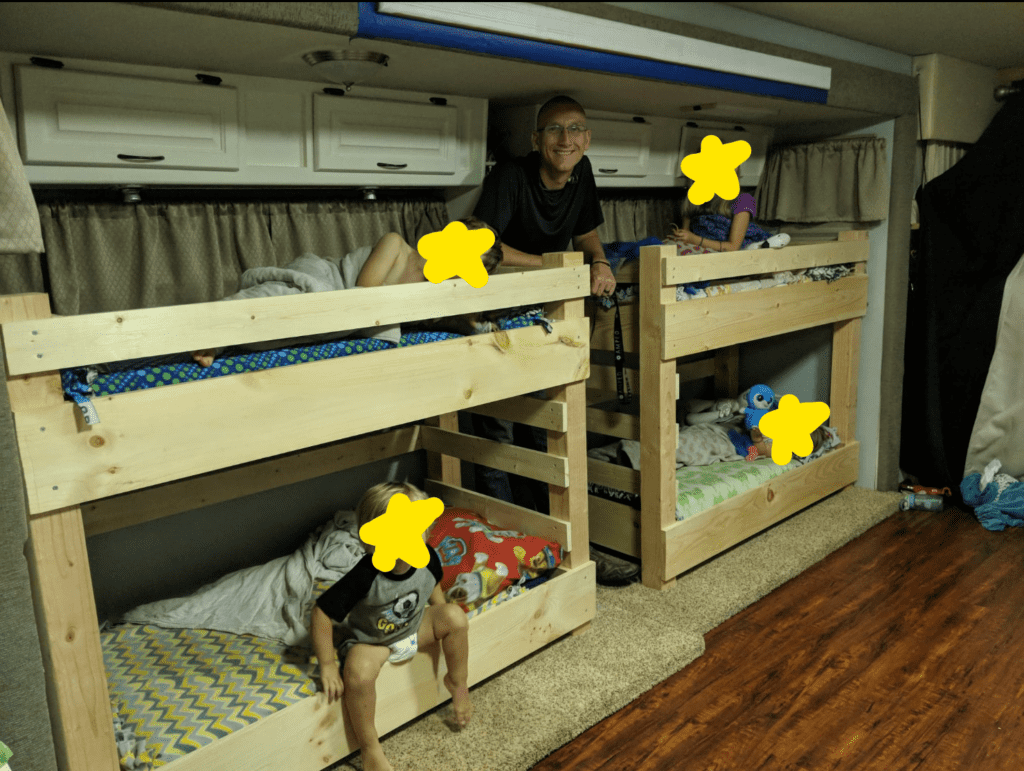 Add doors or gates to pre existing bunks
Wood gates are fine, just make sure if you build them yourself that there's not too much space in between the slates! I also find that stair case gates work well as they are able to swing open and closed easily.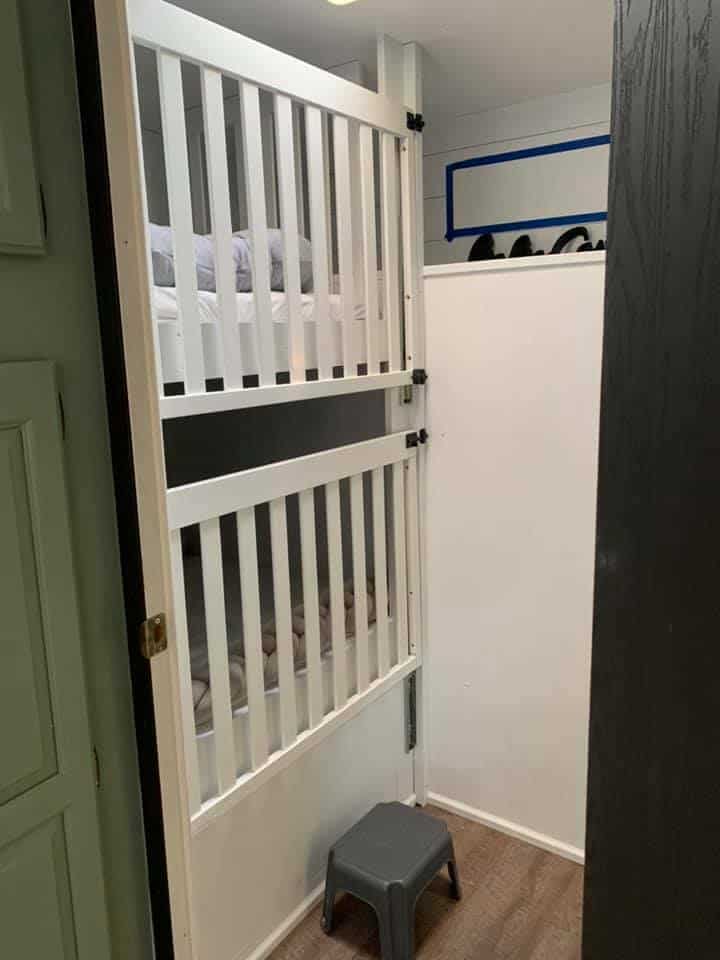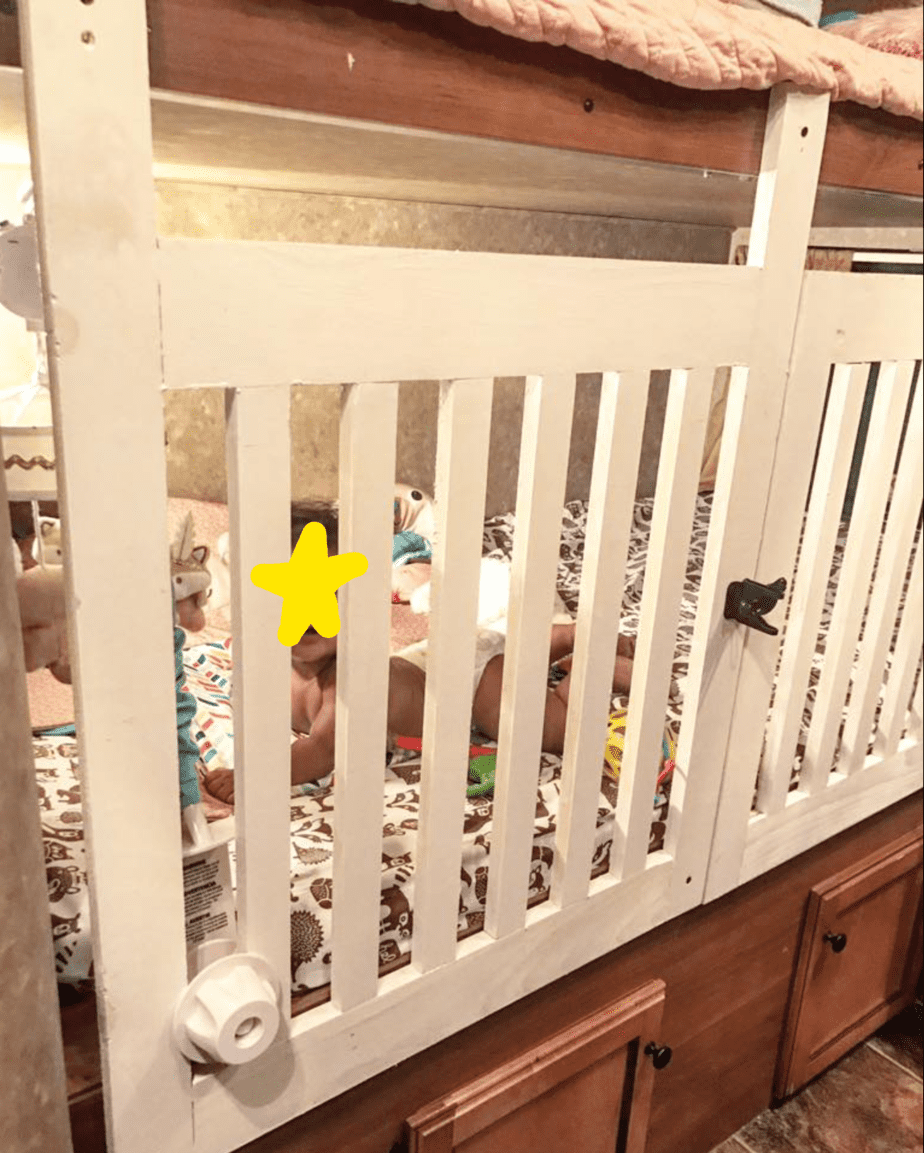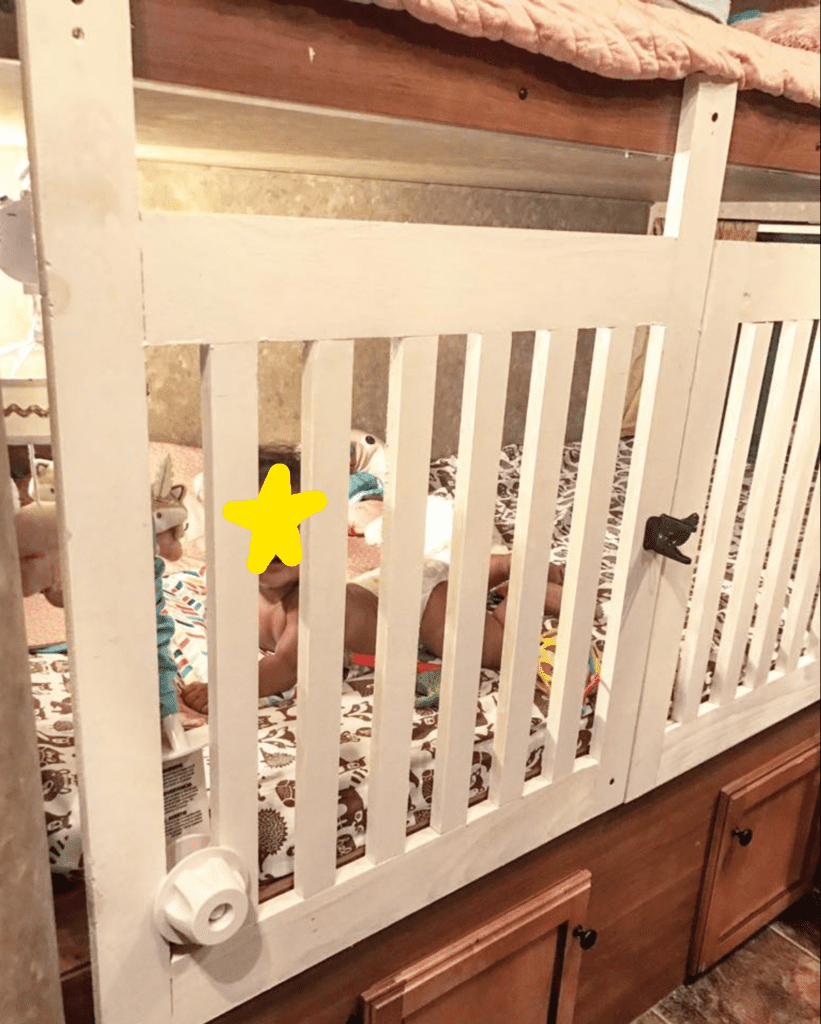 Convert a less used space (dinette/bunk room/slide out) into an RV Nursery
This option definitely gives you the most options – and tons of cute ways to include a crib!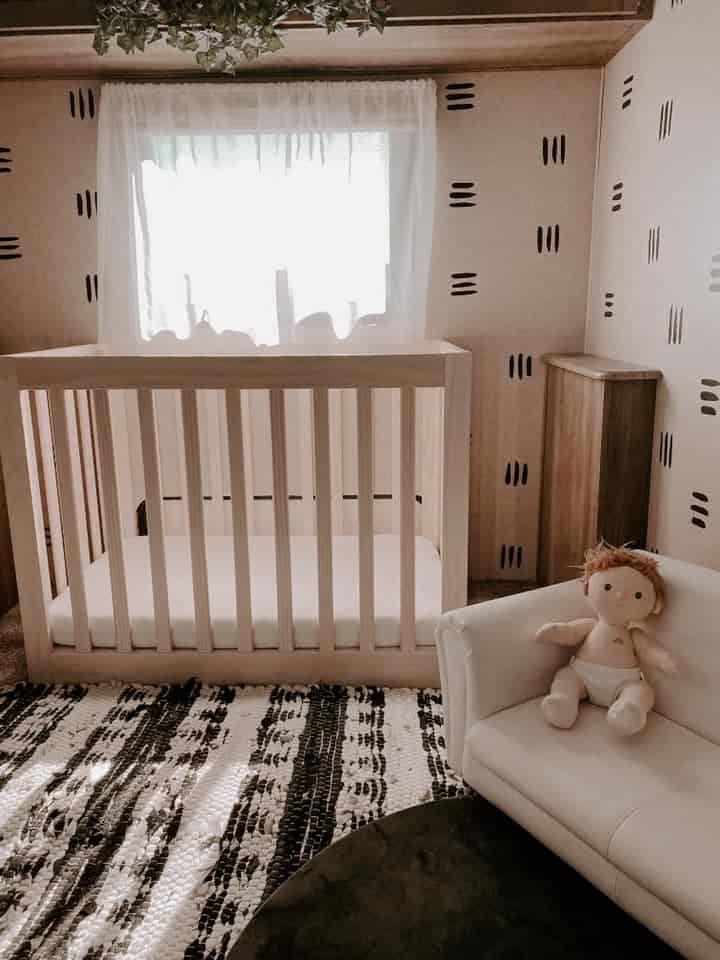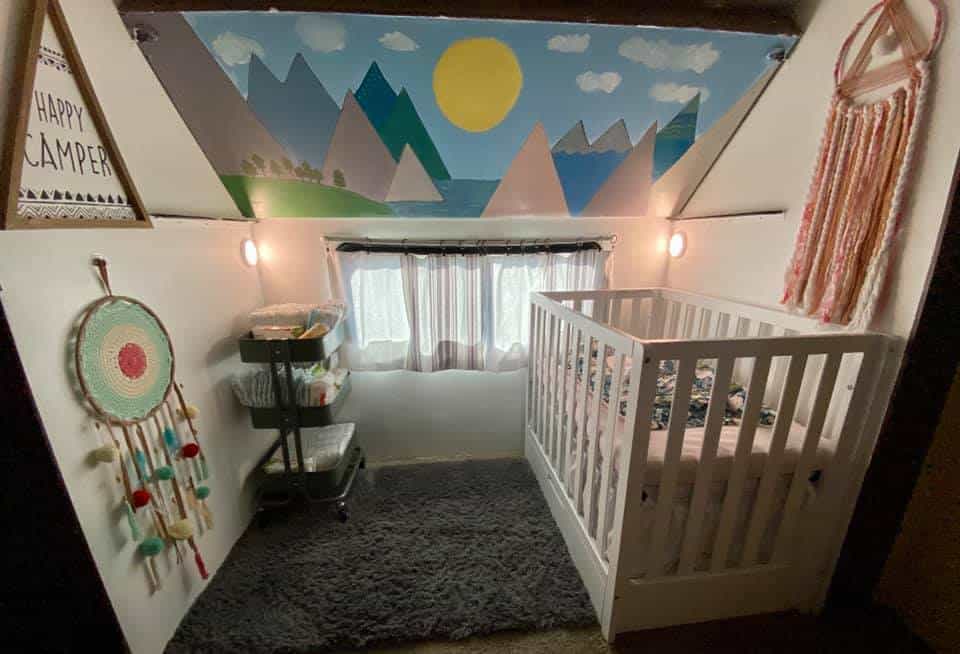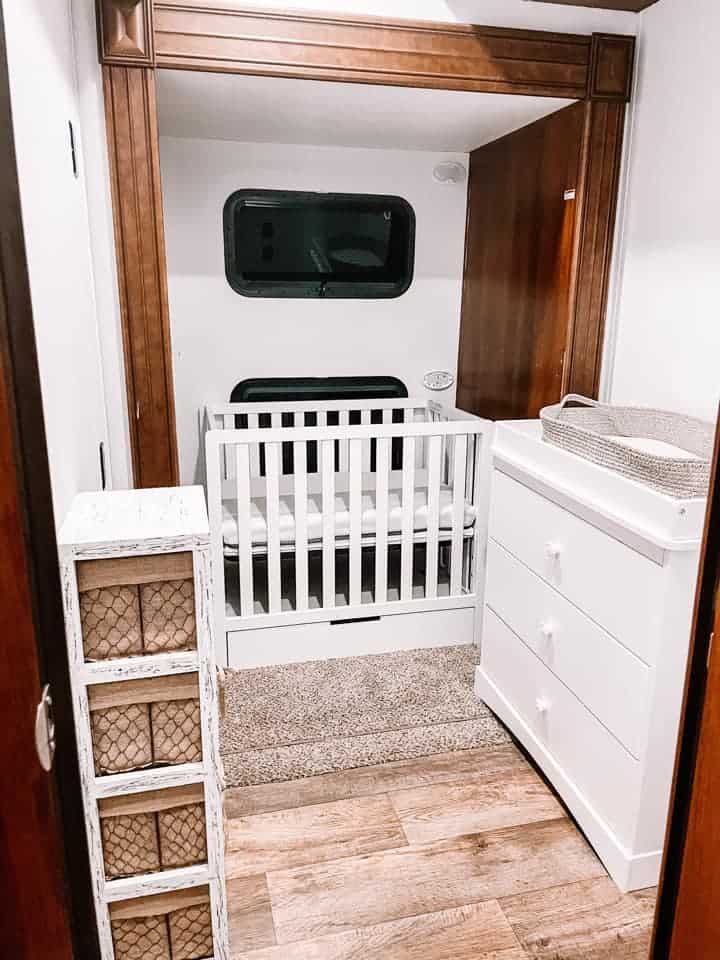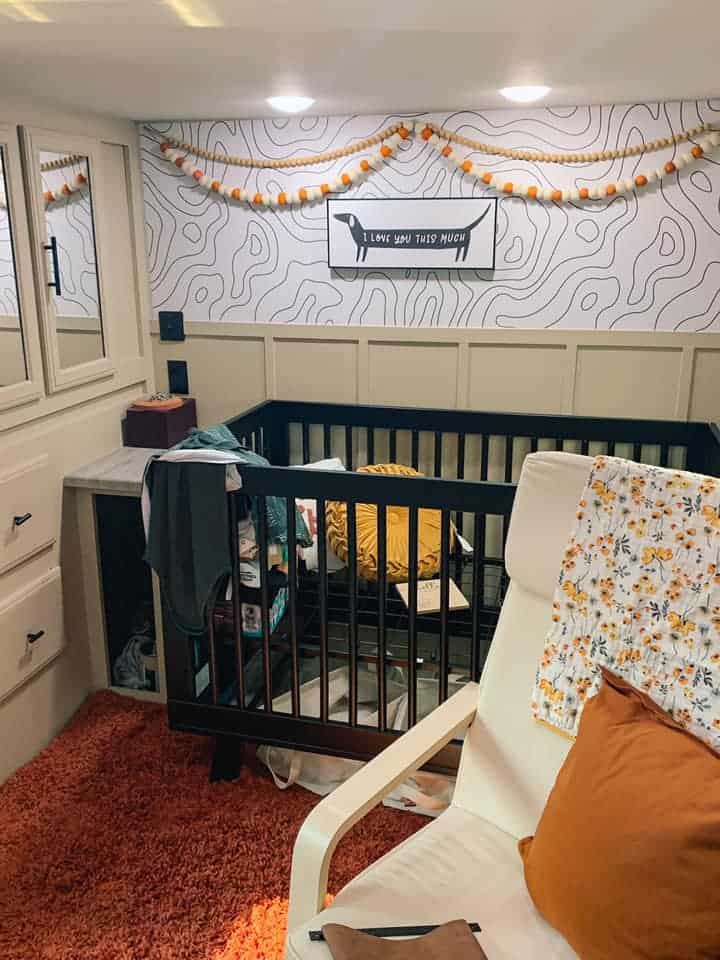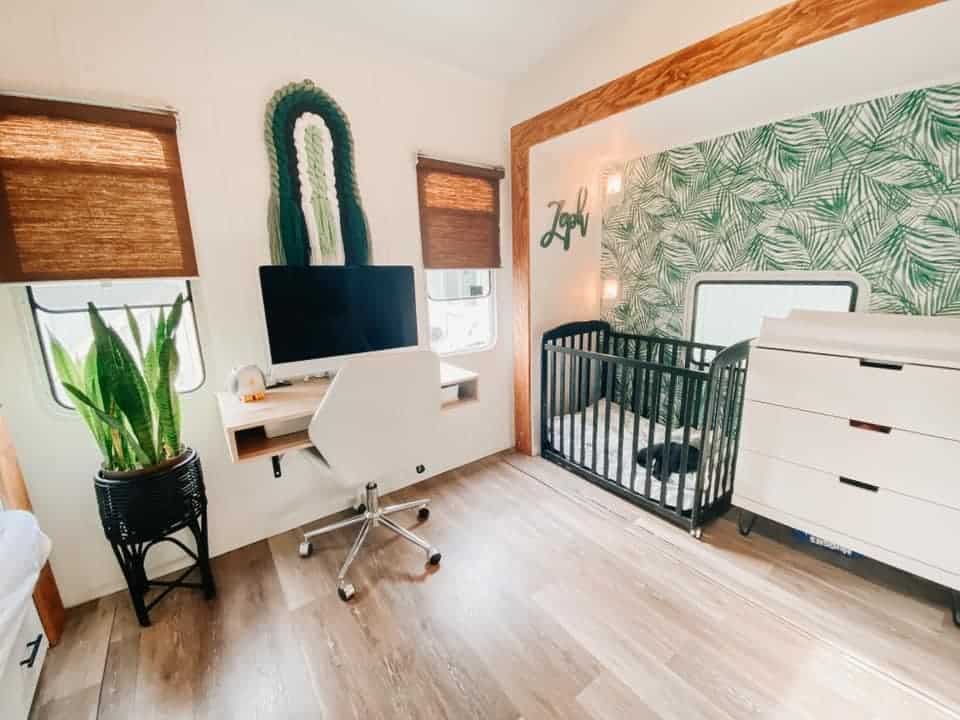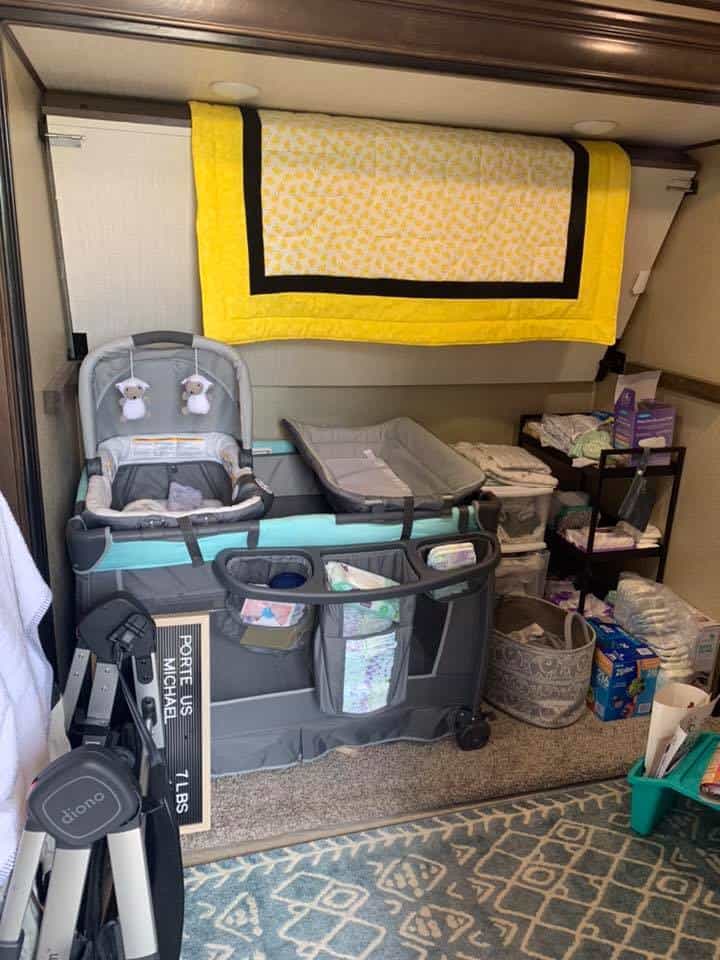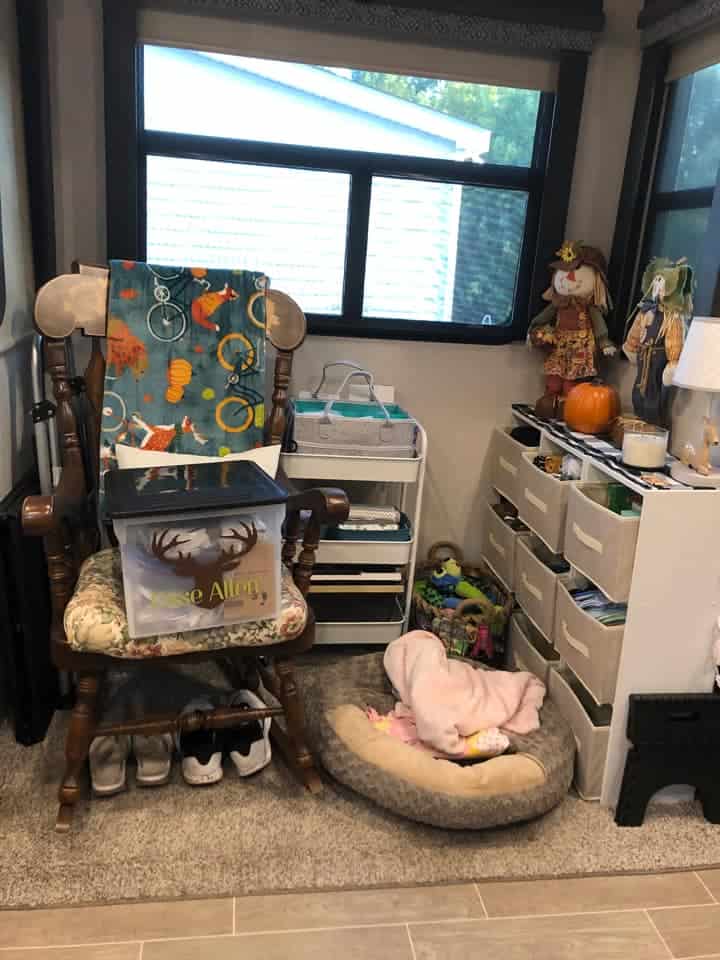 Stick to a Routine (as much as you can!)
IE, bring the certain book he/she reads before bed, bring the noise maker they are used to, and some sheets or loveys that smell like home. If you have no current books, what better time than now to introduce some cute camping picture books, especially if your baby is a little older!
HOWEVER, don't be afraid to mess up your schedule a little bit!
Your baby will likely be super stimulated and may not get sleepy at the normal time, or perhaps get sleepy too early because of all the activity. It's normal! And don't worry, it's pretty likely they'll adjust right back to normal once they get back home!
Get whatever sleep area / set up you're going to use ready as much as possible ahead of time
This might mean getting bottles cleaned and ready, the noise machine on, and the tent set up. You can even have their diaper, clean clothes, and swaddle laid out on the bed (this is what I do!) I can't count the number of times we got back late from a hike and our twins were freaking out, which in turn made me freak out because I couldn't find all their sleep stuff.

I also made sure to have the baby gates set ready to use so I'm not scrambling and being loud after setting them in the bed!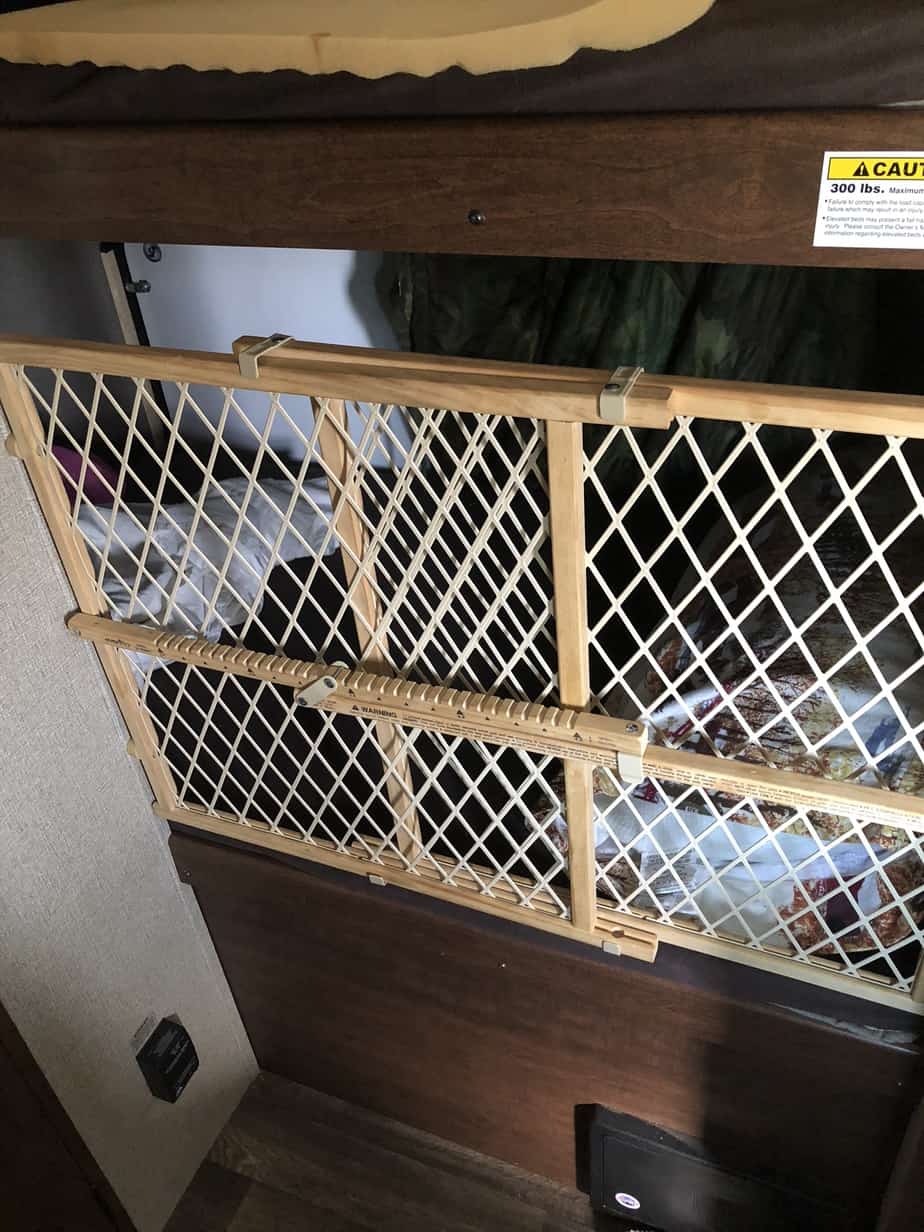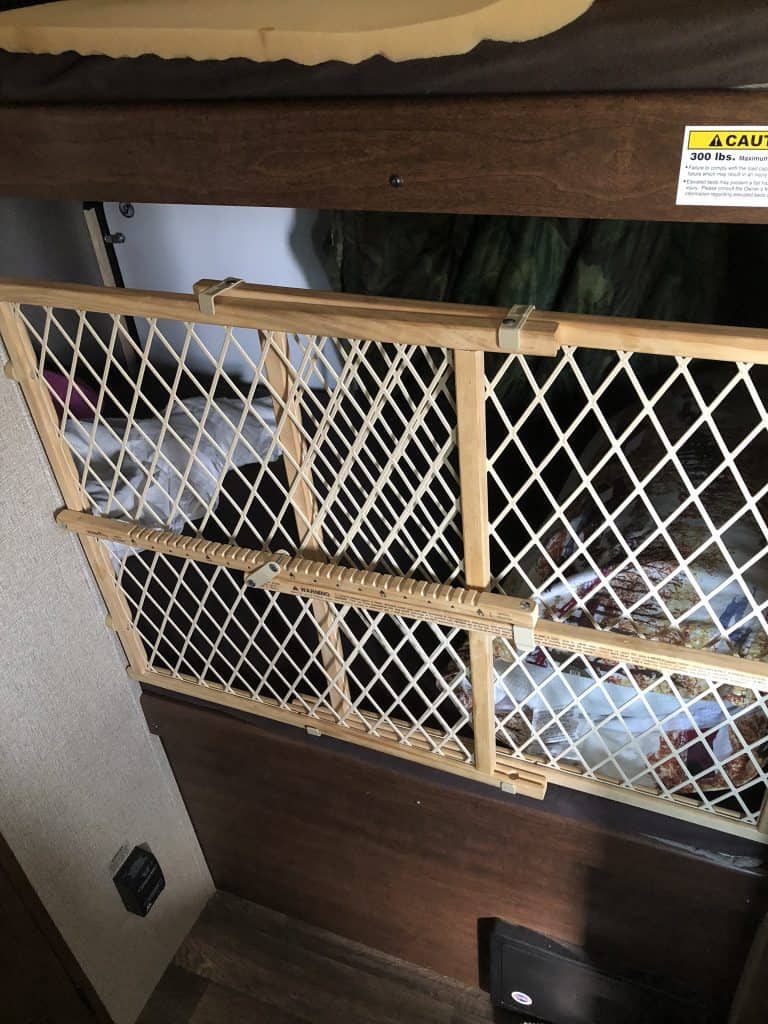 Bring a bed rail to make RV camping sleep safer, as well as to create a play space!
Even if you're not co sleeping, it's great to convert your queen bed (or whatever the biggest bed is) into a play place for the babies during the day! My twins love to watch my toddler run crazy in the camper while they are sitting safely up on the bed! Besides, it's a lot more area to crawl around inside the camper than being on the floor!
I love this bed rail for our camper because it folds down and has an optional screw in mount option for extra security!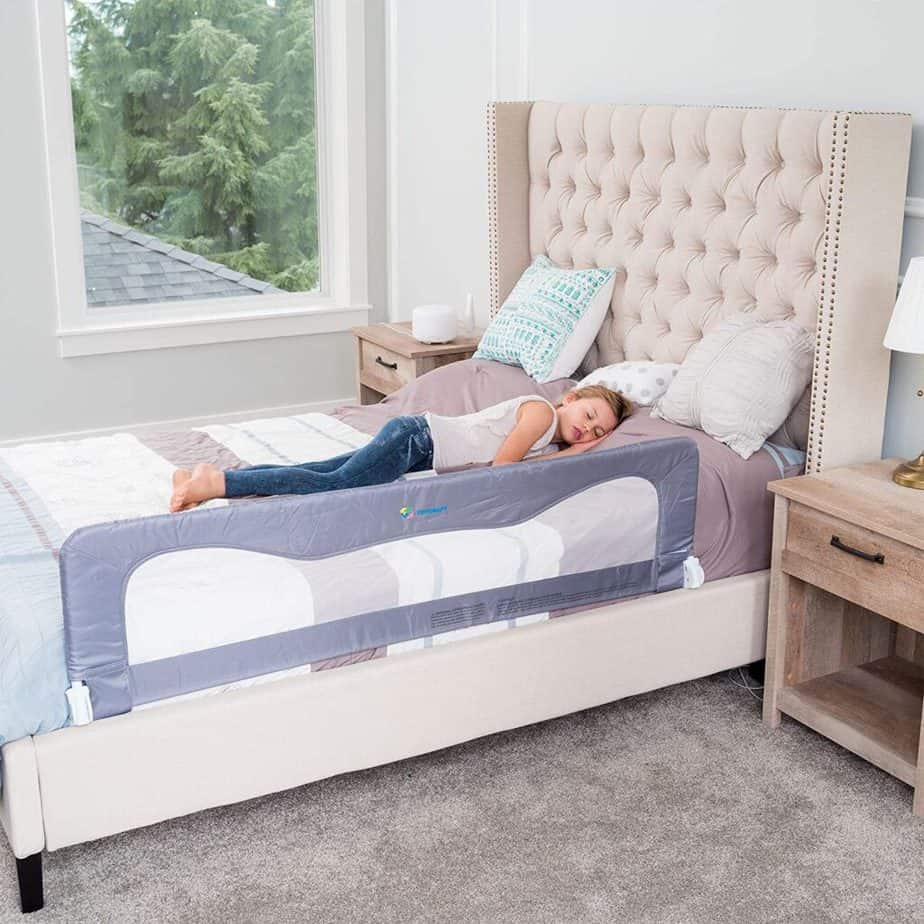 If you are using bottles while camping, get them cleaned and ready for night time!
I supplement, and at night I do occasionally need to give my babies a bottle. I hate having to try to get them ready in the middle of the night, especially if we don't have access to water! I did write a tutorial on how to master baby bottles while camping – it took some trial and error for sure, but now it's no big deal!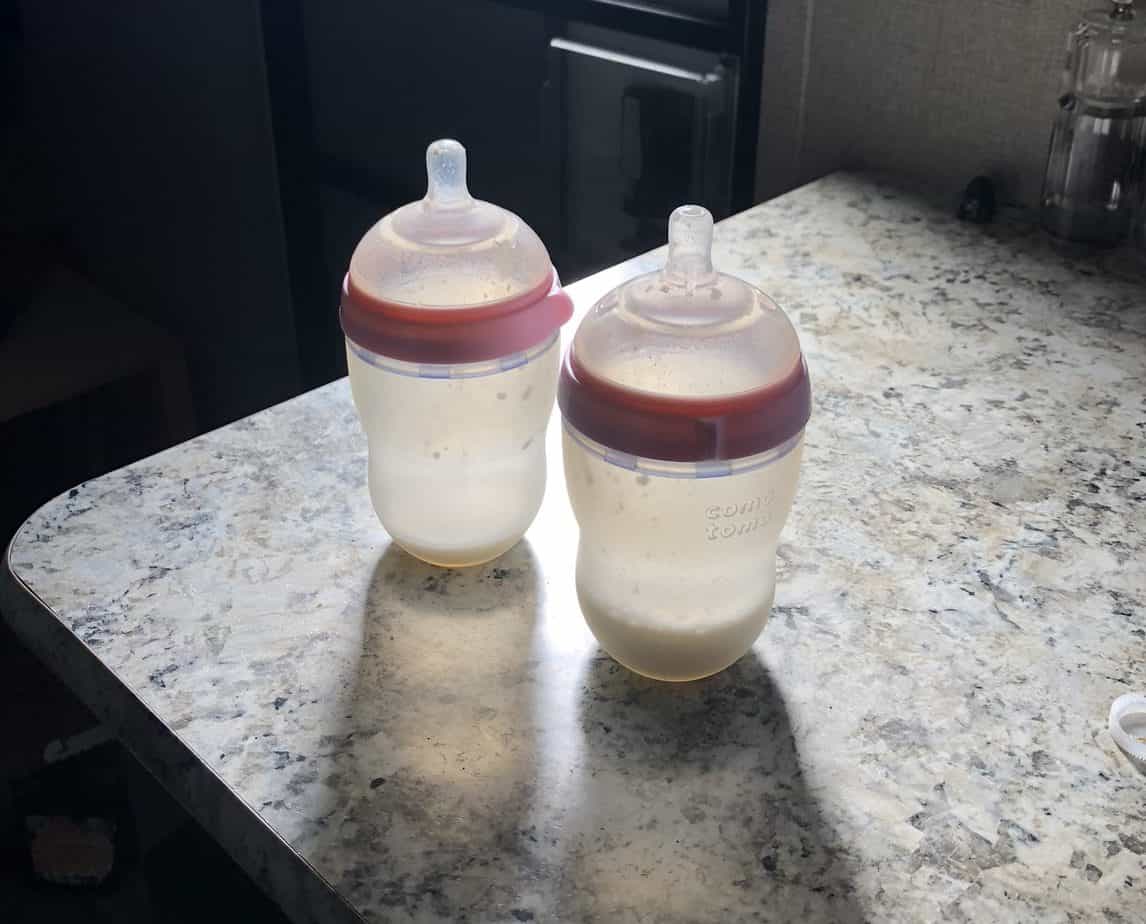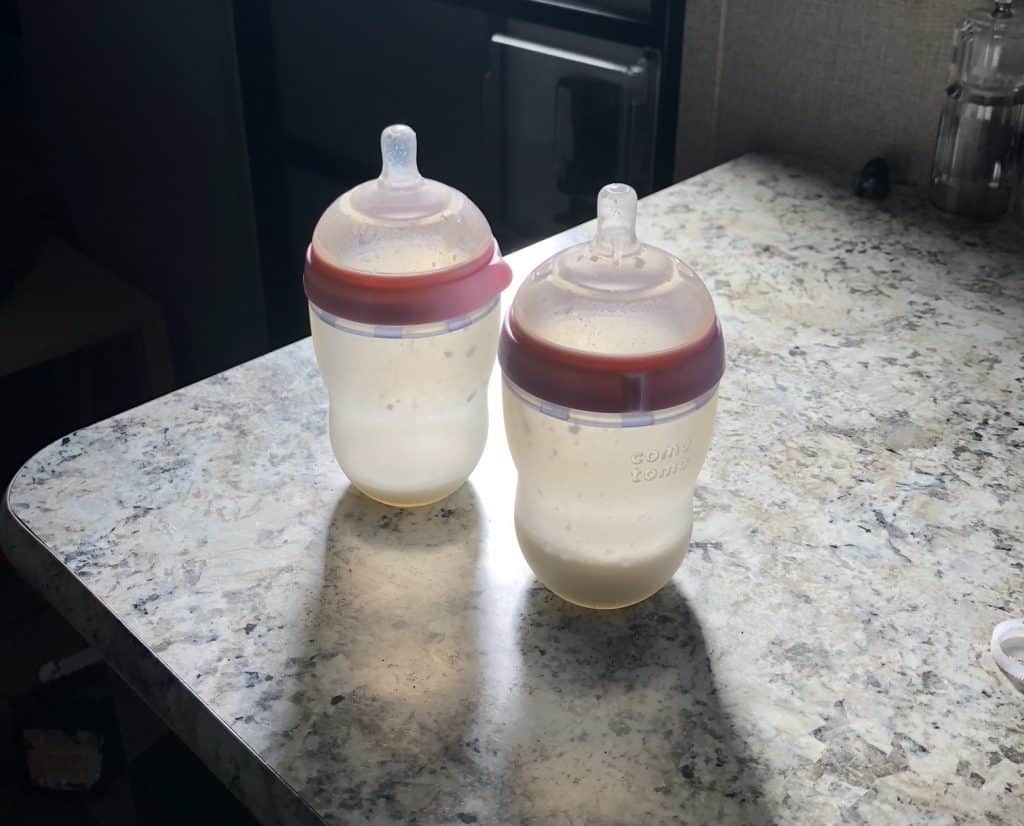 Bring a baby monitor so that you can have fun after the kids go to sleep!
You might think you'd be able to hear them from outside your camper if you're hanging out later in the evening with friends and such, but unless it's VERY quiet, you likely won't. Especially if you are in a campground, or just want to have a conversation!
I didn't bring a monitor the first few times and I spent most of the time they were asleep peeping in the door every 3 minutes to make sure I didn't miss them crying or falling somehow! It's such peace of mind to hear everything that's going on!
Don't forget the white noise machine to dull camper noises!
There will always be some cleaning up to do, or just hanging out after the kids go to sleep. Bring a white noise machine so that you don't have to creep around them and whisper!
Use a pop up baby tent to quickly create a mini darkened + quiet sleep space in the RV
While it's awesome once you get your baby to sleep in the camper, you then move onto the next stage – being quiet as a mouse, lights off, until they wake up!
Unless, of course, you planned ahead of time and got something like this baby tent!
It's usually used for naps while hiking, at the beach etc but I have found it a quick and simple way to create a sleep spot anywhere for my kids. We put the noise machine next to it, drape a blanket over (not too thick!) and it's ready!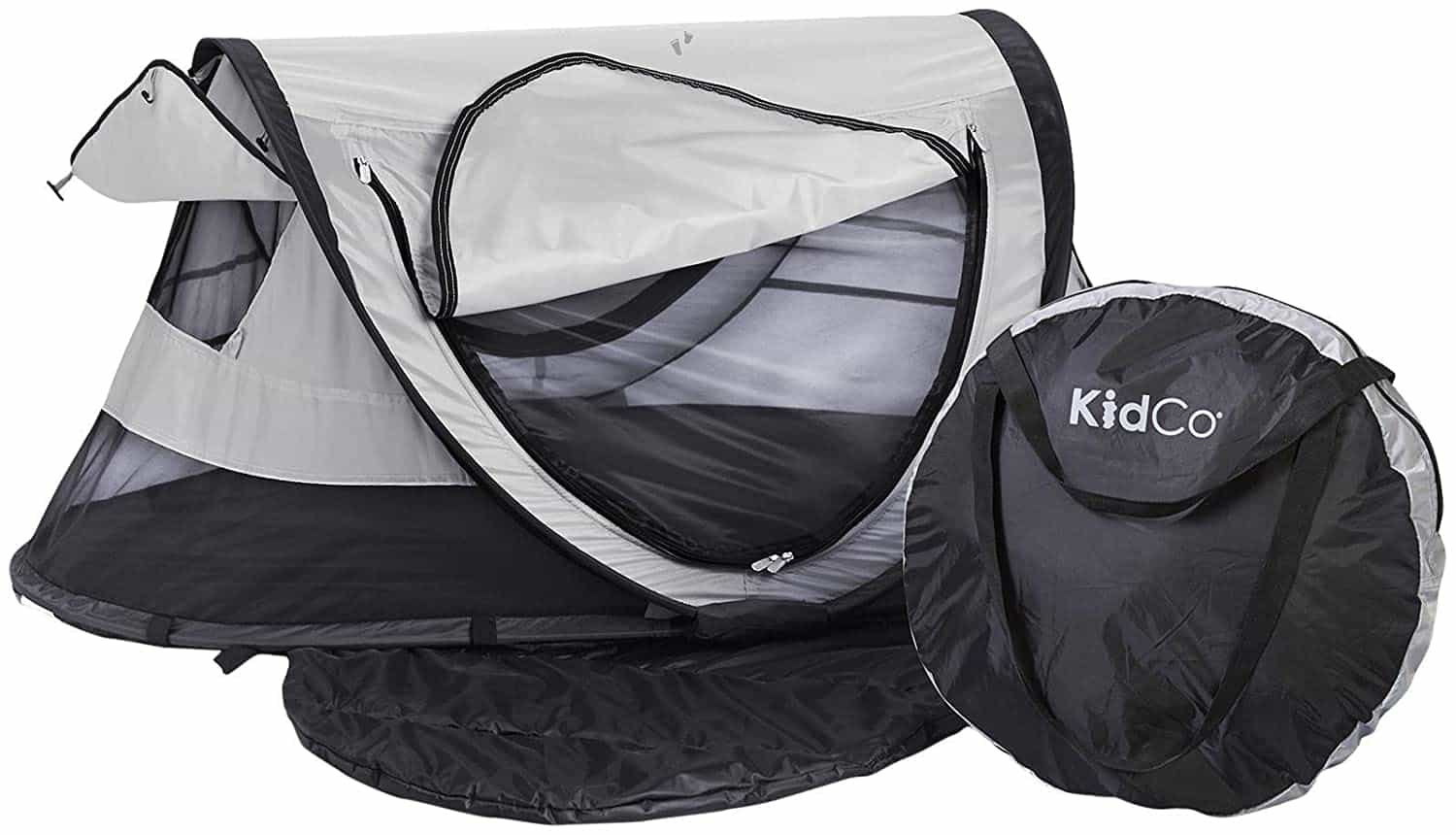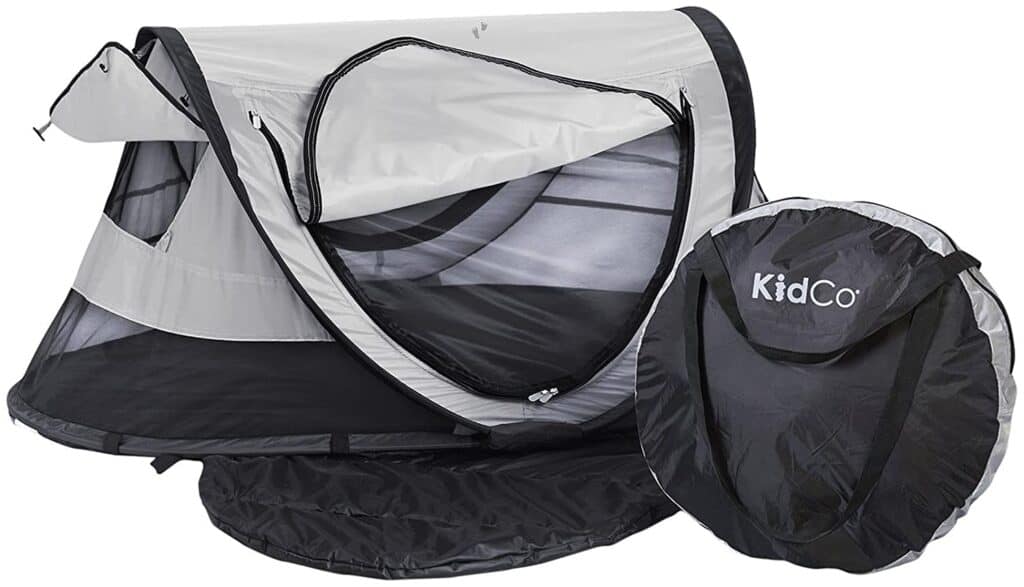 Kidco Peapod Tent
Folds up as small as a carry on
Only weighs 2 something pounds
Has optional anchors to keep it on the ground if you're outside
Comes with a sleeping pad (that fits inside the carrier when folded up too!) which is super handy for softening rocky or pokey ground
It's the ONLY baby travel bed/tent that passes Consumer Product Safety Commission (CPSC) testing. This is good to know because there are a couple you'll find on Amazon that look similar and are cheaper, but that's probably because they are not as good!
There is a toddler version of the KidCo Peapod that goes up to 5 years old in case you're reading this and thinking of your bigger kiddo!
Create a bigger, darkened sleep space

for toddlers or multiple kids by also using a privacy tent for the bed
Another option to help create some peace for sleep is to use a privacy bed tent (there are many nicer options, but ours is a Dream tent I saw on sale LOL!)
This allows for some separation between the kids trying to sleep and whatever else is going on in your RV and is especially helpful for those summer nights when it doesn't get dark till nine at night!
Pair it with a white noise machine nearby and a blanket on top for extra darkness and it's perfect!
I would recommend something like this bed privacy tent here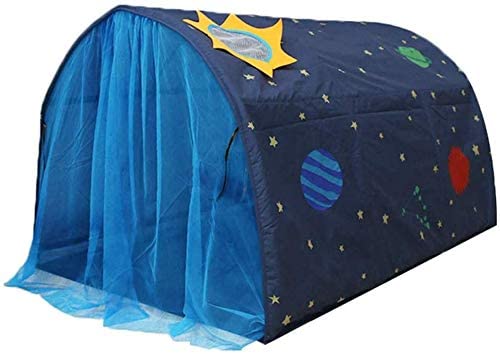 So now that you're prepared to get a baby to sleep while camping, what's next?
I know it can be intimidating at first, but you will end up having so much fun!
When my husband suggested we camp with our newborn twins, who were still on supplemental oxygen BTW (they were born a little early) my head was spinning!
However, once we got in our flow, and figured out logistics, it was a lot easier!
If you haven't already, check out the camping essentials we used for our babies and toddler. They are used and approved by our 3 under 3 kiddos, and really helped make our camping experience much more enjoyable for everyone involved!
Here are some other baby camping articles you might enjoy too!
Latest posts by Stacy Bressler
(see all)