Do you pull an RV with a traditional 5th wheel hitch in the bed of your truck? If so, you probably hate the hassle of having to load the heavy fifth wheel hitch on the back of your truck every time you go camping. 
Then you've got the mounting rails that permanently stay in the bed of your truck and make it impossible to slide anything in and out of the bed.
So does that mean you should switch to a simple gooseneck hitch and get an adapter for your camper?
Maybe.
Each hitch type has advantages and disadvantages in the way it drives, connects to your RV, installs on your pickup truck, and even how it stresses your RV's frame. So let's have a quick look at the main pros and cons of a gooseneck vs. 5th wheel hitch for your RV or camper.
Plus, I'll also give you a few alternatives that can almost give you the best of both worlds! Yes!
First, let's look at a gooseneck hitch's pros and cons.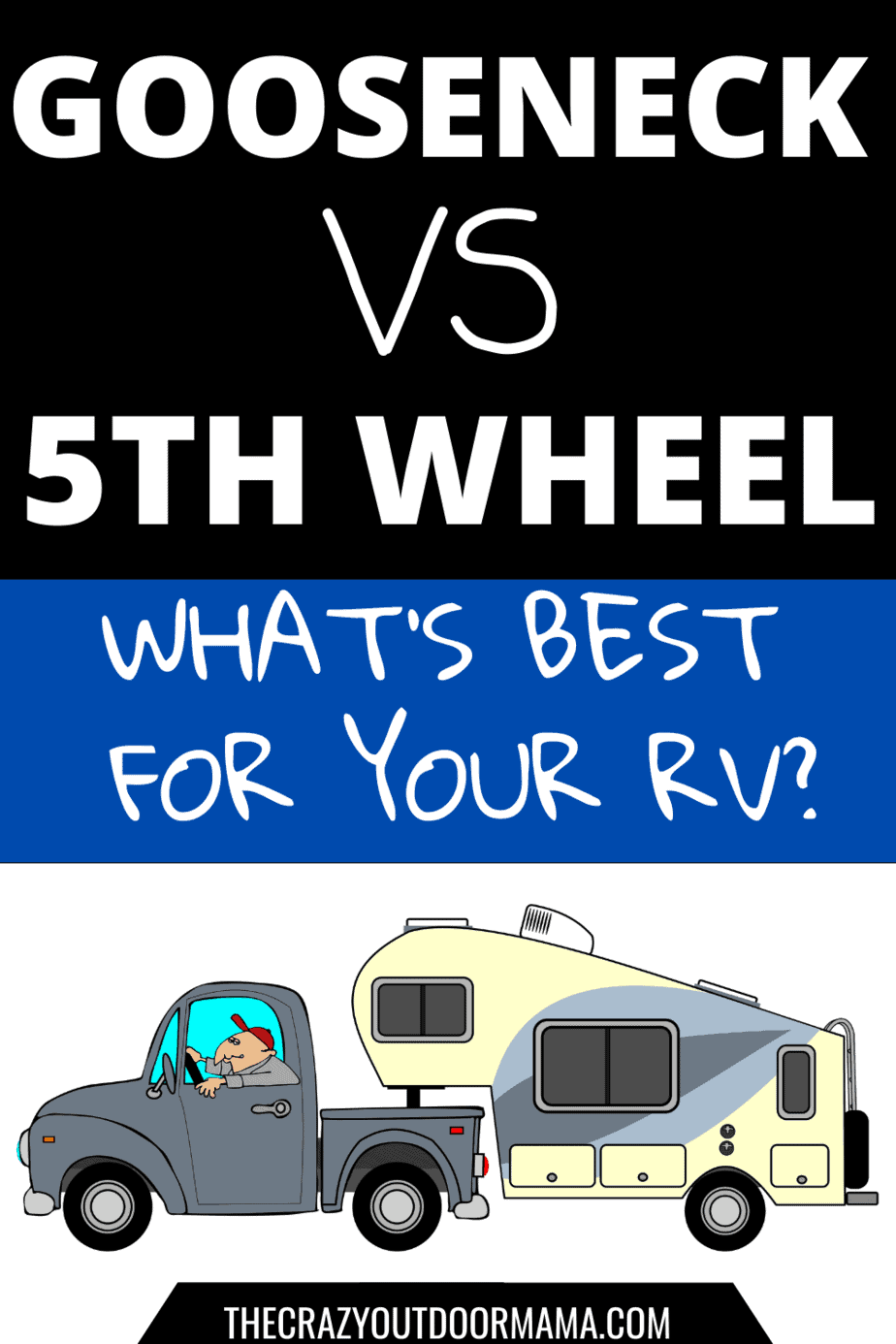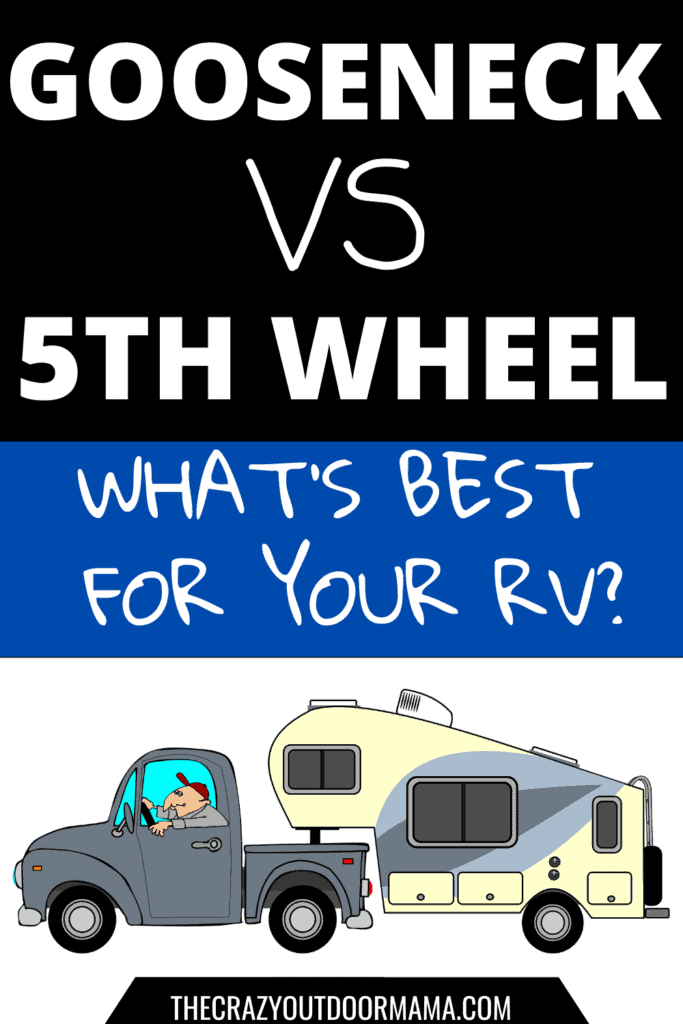 Gooseneck vs 5th Wheel: Gooseneck Hitch Pros and Cons
Source: Amazon
Pros
Small and inconspicuous
Heavy-duty capacity and capable of hauling loads up to 30,000lbs
Coupling mechanism is simple to operate
Great for agricultural and commercial applications
Cons
Usually needs a custom install
Noisy and not as smooth as a 5th wheel hitch
Can put more stress on your RV's pinbox and frame
What is a Gooseneck Hitch?
A traditional gooseneck hitch mounts underneath your truck bed and attaches directly to the truck frame above the rear axle. This requires a more involved install than most people are able to do in their garage. And you'll have to drill a big hole right down through your truck bed.
But once installed, you can barely realize the gooseneck hitch is even there. And most gooseneck models let you remove the ball and flip it over to leave an almost completely smooth truck bed. The only other parts that you'll see in the bed are the safety chain loops, but they barely stick above the surface of the truck bed. 
Here's a video showing what's involved in installing one of the gooseneck hitches I feature a little farther down.
Gooseneck Hitch Uses
Gooseneck hitches are mostly used for industrial and commercial applications like horse trailers, livestock trailers, flatbed haulers, and other types of common gooseneck trailers. Since RVs usually come with a fifth wheel hitch, you'll have to get an adapter in order to use one with a gooseneck hitch.
Gooseneck Hitch Disadvantages
While gooseneck hitches are more universal, they do make more noise when towing. Towing also isn't as smooth as with a 5th wheel hitch. And since the attachment point is lower, gooseneck hitches don't provide as much stability when pulling tall trailers.
Another big disadvantage of using a gooseneck adapter and hitch for hauling your RV is that it can put extra stress both on your RV's pinbox and frame. Basically, because the gooseneck hitch's attachment point is in a different location in relation to your RV's frame, the leverage is distributed differently.
This can stress your RV's frame in ways it wasn't designed to handle. In fact, using an adapter and gooseneck hitch can even void some RV manufacturers' frame warranties! So it's best to fully investigate this before making the switch. 
Popular Gooseneck Hitch Options
If you want to make the switch from a fifth wheel hitch to a gooseneck hitch, here are some of the most popular choices you can get delivered right to your door.
IMPORTANT – Always double-check to make sure you're getting the right kit for your truck. These won't fit on all trucks. Fortunately, manufacturers usually make different versions for different truck beds. Just be sure to double-check the fit before ordering.
Source: Amazon
Check the current price.
Source: Amazon
Check the current price.
*Don't miss some of the hitch adapter options I mention later that actually can let you use a gooseneck hitch with a 5th wheel camper.
Gooseneck vs 5th Wheel: 5th Wheel Hitch Pros and Cons
Source: Amazon
Pros
Smoother, quieter towing
Can get sliding options for short-bed trucks
Great for recreational use
No modifications needed for your 5th wheel RV
Cons
More expensive than gooseneck hitches
Takes up a lot of space in the truck bed
Heavy to load on the back of your truck (Unless you've been hitting the gym regularly)
What Is a 5th Wheel Hitch?
One of the first differences between a gooseneck hitch and a fifth wheel hitch is how it attaches to your truck.
A fifth wheel hitch attaches to rails or brackets that you install in the bed of your truck over the rear axle. Unfortunately, those rails stay there even after you remove the 5th wheel hitch base. They can make it really difficult to slide things like long toolboxes in and out of your truck bed. That's one of the big reasons why a lot of people consider switching to a gooseneck hitch.
Once the 5th wheel hitch is attached to the rails on your truck, it couples to the kingpin on your fifth wheel trailer. The hitch has special locking jaws that keep the kingpin secure. You'll also see a head plate on which the trailer rests. You'll have to grease this or use a Teflon plate on your kingpin to reduce friction and provide smoother towing. 
Watch this video to see what's involved in installing the CURT 16120 that I feature a little farther down.
Why Stick With a 5th Wheel Hitch?
If the only type of hauling you'll be doing is your fifth wheel trailer or RV, you'll probably just want to stick with a 5th wheel hitch. They offer a lot smoother towing since most have heads that articulate in four directions.
While a gooseneck hitch allows you to pull almost anything your truck can handle, 5th wheel hitches are available in specific towing capacities. This makes it nice for recreational towing since you can get the specific 5th wheel hitch that fits your needs. 
And since fifth wheel trailers are made specifically for fifth wheel hitches, you have peace of mind knowing that you're using the correct type of hitch for your trailer.
5th Wheel Hitch Disadvantages
Some of the biggest 5th wheel hitch disadvantages have to do with convenience. You've probably already hauled an assortment of suitcases, bags, and ice chests into your RV. The last thing you want to do is lug and install 200 pounds of hitch parts in the back of your truck for a weekend camping trip.
You could always just leave the fifth wheel hitch installed, but that really limits what you can haul in your truck bed. 
If you need more towing versatility, a 5th wheel hitch isn't for you. If one weekend you're pulling a horse trailer and the next weekend a fifth wheel trailer, then you'll need the versatility of a gooseneck hitch. 
Popular 5th Wheel Hitches
If your 5th wheel trailer didn't come with a hitch or you're looking for a better quality hitch, here are some popular options.
IMPORTANT – Just like with the goosenecks, be sure to confirm these hitches will fit your truck bed. If you have a GMC, Ford, Chevrolet, Nissan, or Ram truck, check the bed to see if it's already equipped with a puck system for attaching a 5th wheel hitch. If you've got a truck with this system, you won't have to install the additional rails in your truck bed. Just make sure the hitch is sized for your specific truck.
Source: Amazon
Check the current price.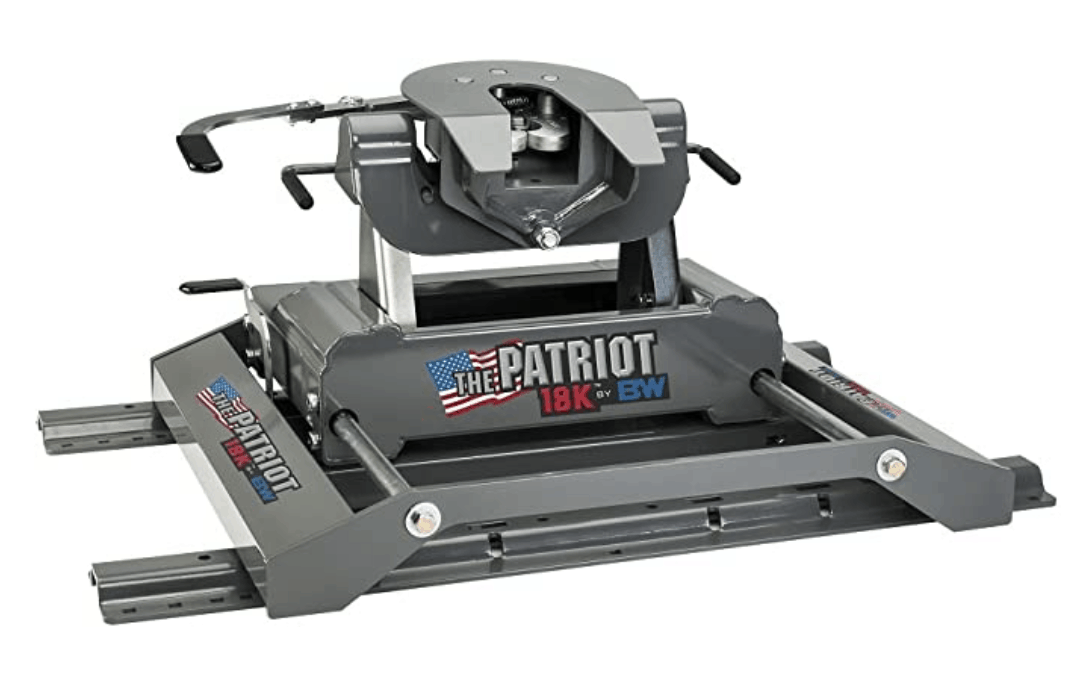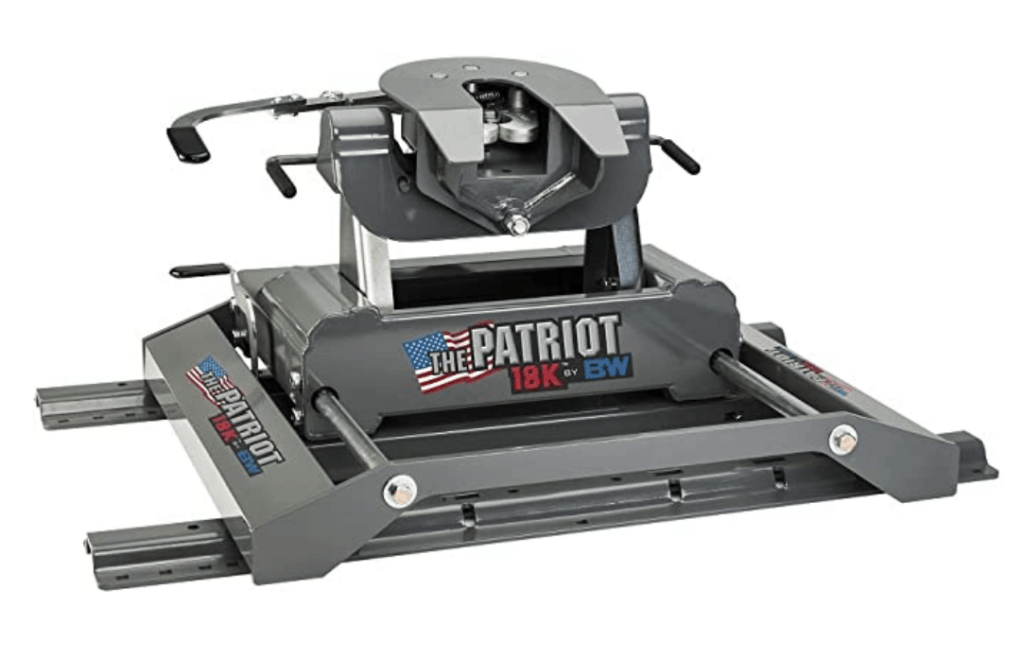 Source: Amazon
Check the current price.
Source: Amazon
Check the current price.
But wouldn't it be great if you could get the best of both worlds – the versatility and convenience of the gooseneck, plus the smooth towing and stability of a 5th wheel hitch? Learn more in the next section.
*And if you always seem to have trouble backing up your trailer, why not get a backup camera?
Gooseneck vs Fifth Wheel Hitches: The Best of Both Worlds
Fortunately, there are some pretty cool hitch adapters out there that let you enjoy some of the advantages of both the gooseneck and the fifth wheel hitches. Three of the most popular options work by fitting onto an existing gooseneck hitch connection. 
Source: Amazon
This lightweight aluminum adapter sits in your truck bed and attaches to the ball of a gooseneck hitch. Then, just attach the adapter to the kingpin on your 5th wheel trailer. The adapter makes it super easy to attach your trailer to the hitch even if it's not perfectly lined up.
And best of all, the base only weighs 35lbs! That's next to nothing compared to most 5th wheel hitches. You could even teach your kids how to install the adapter for you!
Check the current price.
If you have a big RV and want something a little more heavy-duty, B&W makes a really nice adapter.
Source: Amazon
Just like the Andersen hitch adapter, this B&W Companion fifth wheel hitch adapter fits into an existing gooseneck hitch. It features a normal 5th wheel coupling so there are no other adapters or parts that you need to add to your fifth wheel trailer – just couple it with the kingpin like normal.
It has a fully articulating head so you'll get all the benefits of normal 5th wheel towing without any permanently installed rails in the bed of your truck.
Then, when you need to pull a gooseneck trailer, just pull out this fifth wheel hitch, pop in the gooseneck ball and you're ready to go. 
Check the current price.
Another good option, especially if you use a CURT fifth wheel hitch, is their X5 5th wheel adapter plates. They fit down into a gooseneck hitch and provide rails where you can mount your fifth wheel hitch. Then you just mount on the compatible hitch base and you're ready to hook up your camper.
Check the current price.
Gooseneck vs 5th Wheel FAQS
You still might have a few questions bouncing around in your head about gooseneck vs 5th wheel hitches. Here are a few common questions. Did I miss one? Send me a message on Instagram or Facebook and let me know!
Gooseneck vs 5th wheel vs bumper pull hitches? Which is best?
Gooseneck and 5th wheel hitches are considered superior to traditional bumper pull hitches. Gooseneck and 5th wheel hitches distribute more of the weight over the rear axle of your truck. This'll let you pull more weight safely.
Bumper pull hitches also don't have as great of a turning radius which can make it more difficult to get into tight spaces without damaging your truck.
But, one of the advantages of bumper pull hitches is that you can use them on more than just pickup trucks. And even if you are using a pickup truck, your bed will be free to fill with extra bikes, boogies boards, and bacon!
Which is more expensive, a gooseneck or a 5th wheel hitch?
Fifth wheel hitches are more complicated than goosenecks, so they're usually more expensive. But if your camper already came with a 5th wheel hitch, buying the necessary adaptors to switch to a gooseneck ball hitch will end up being more expensive.
Can you adapt a 5th wheel hitch to pull a gooseneck trailer?
A lot depends on the type and brand of fifth wheel hitch you have. Some companies make adapter plates with a gooseneck ball hitch that bolt onto existing fifth wheel rails. 
Get the Hitch That's Best for You and Your Needs
It can be tough to figure out which side you're on of the gooseneck vs. 5th wheel debate. Just remember to consider your towing needs.
If you're just going to be pulling your RV a handful of times a year, then it's probably best to use a fifth wheel towing hitch. But if you regularly pull a variety of trailers, it's worth it to stick with a gooseneck hitch or a combination hitch and adapter.
Whichever you choose, just make sure to stay safe on the roads and have loads of fun camping!
I'd love to swap some crazy RV stories so don't forget to say HI! on the socials – Instagram and Facebook.
And don't miss some of my other RV articles to help make sure you stay organized and have fun on your next camping trip!
Latest posts by Stacy Bressler
(see all)