Halloween camping is an awesome way to get away from the crowds and really have a unique experience!
We have been camping the past few Halloweens, and I wanted to share some fun ways to get the spooky magic going! While, obviously, there is some decorating involved, there are also some fun spooky crafts and games that are PERFECT to play at the campground!
So whether you like to go all out or just want a few simple ideas for a campground trick or treat event, you'll be sure to find some inspiration here!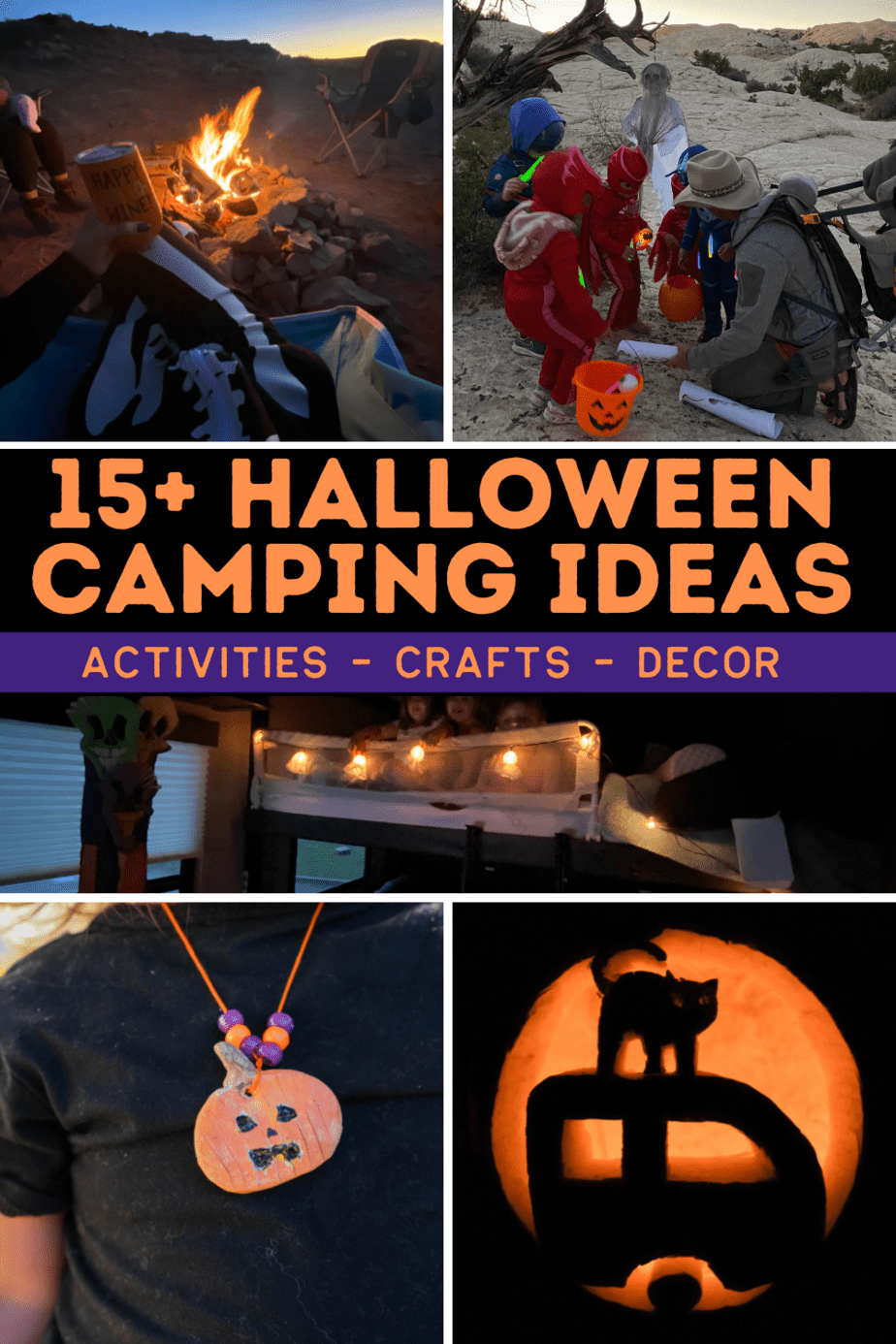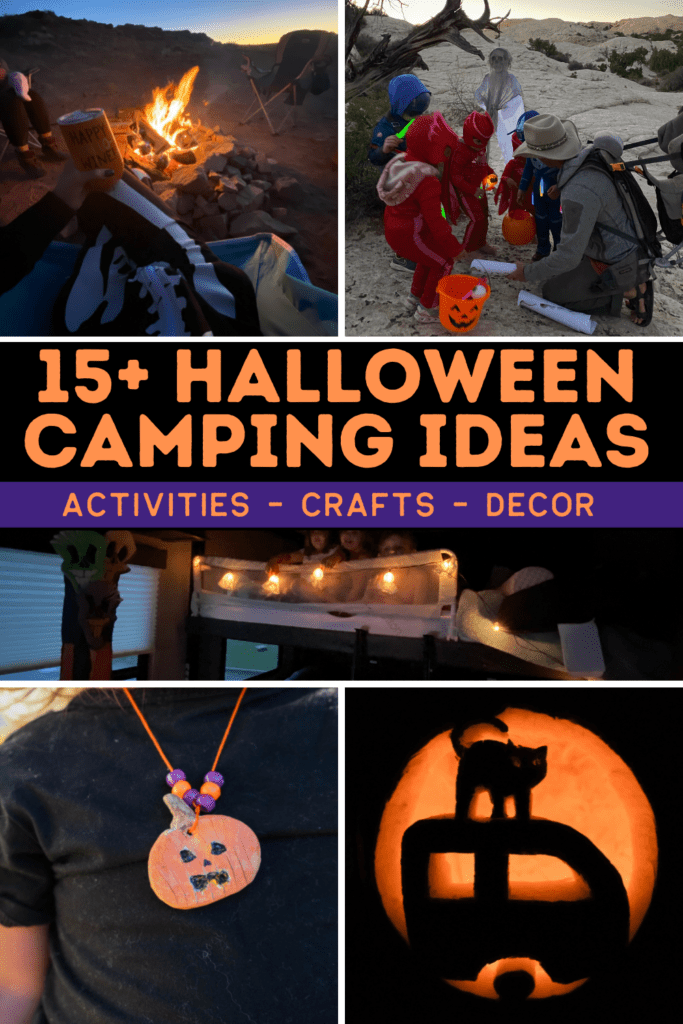 Our Halloween Camping Idea List
Decorate your campsite – Some blow up decor, spider webs and tree hangins will go a long way!
Go on a spooky scavenger hunt – To make this even spooker, do it at night with flashlights@!
Carve some camp themed pumpkins – Grab a carving template of your choice and have a family carving night
Have some cast iron / oven toasted pumpkin seeds – They're easy to make and taste delicious!
Make spooky treats – We personally love cupcakes, but bring what you need to make your favorite sweets (and some Halloween themed icing + sprinkles!)
Hallowen Hike Night (wear your costume!) – For the older kids, include some scares a long the way
Craft some Halloween decorations – Make a tombstone, a spooky lantern or paint some ghost rocks
Tell spooky stories – Even if you don't think you're a storyteller, there are books and prompts!
Have a spooky move night – This is a great option by itself, but especially if you are somewhere with low October temps and little kids who don't tend to enjoy that as much
Stay at a campground with planned Halloween activities – Great for the families who kids still want to trick or treat!
First – some campsite decoration ideas!
You don't have to be EPIC like in the video below, but with a couple of easy to set up+ store decorations, you'll be getting spooky in no time.
Blow up Halloween character (Spiders and Ghosts work great and are easy to work into a theme!)
These are a favorite among campers because they are perfect for the limited space RVs tend to have, but they still make a big impression. Depending on your theme, you could go cute or scary with it.
I tend to recommend going with something that's easy to fit into a theme – ghosts and spiderwebs have plenty of options for hanging things around the campsite and have a variety of different style decorations.
NON SCARY (Kid-Friendly) Camp Option – This adorable spider is 6 feet around AND has a super cool glow in the dark body that has flashing LED lights inside. My kids love it!
SCARY Camp Option – At 8 feet long and 4 feet tall, these 3 scary ghosts and some equally scary pumpkins that would go well with a graveyard them!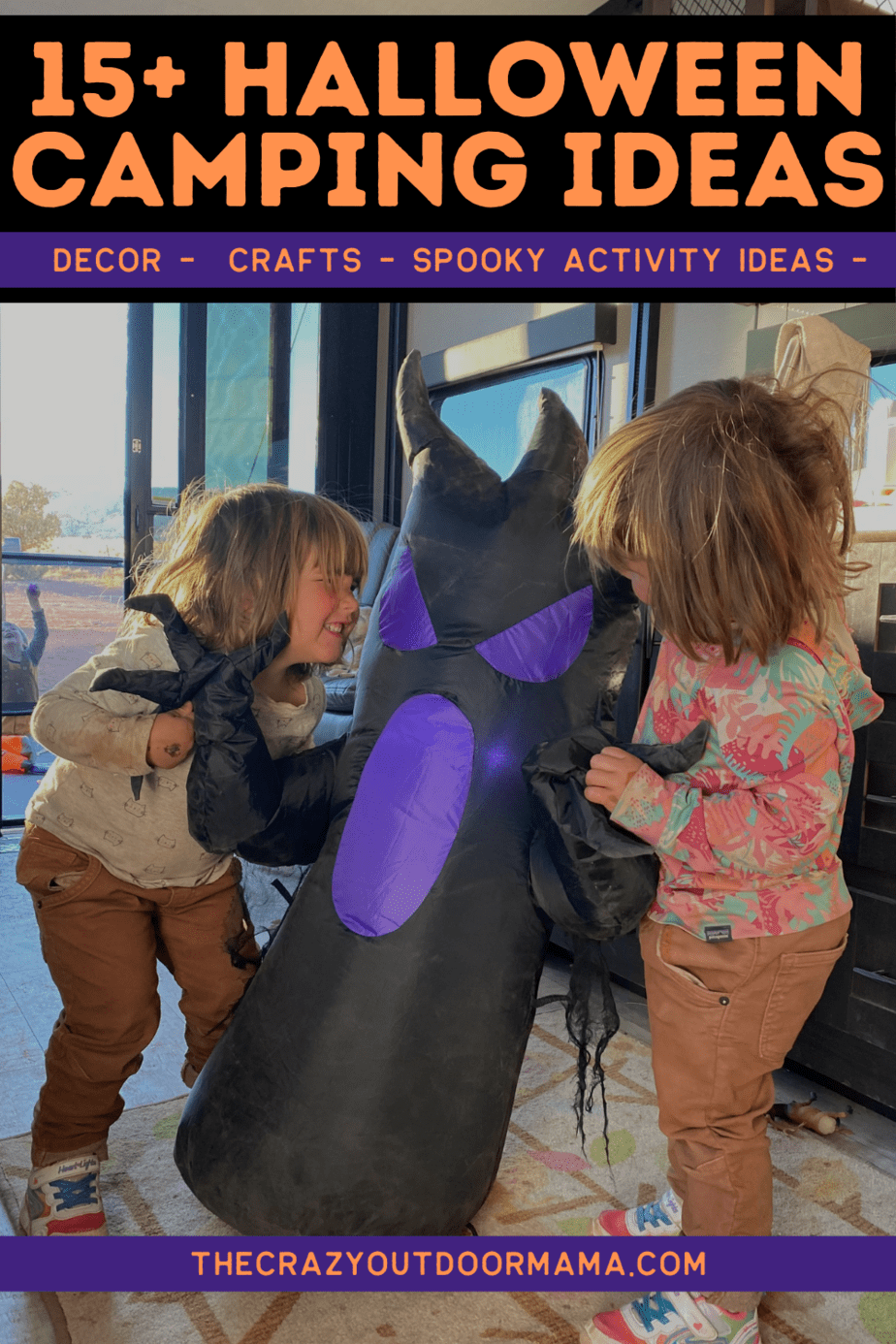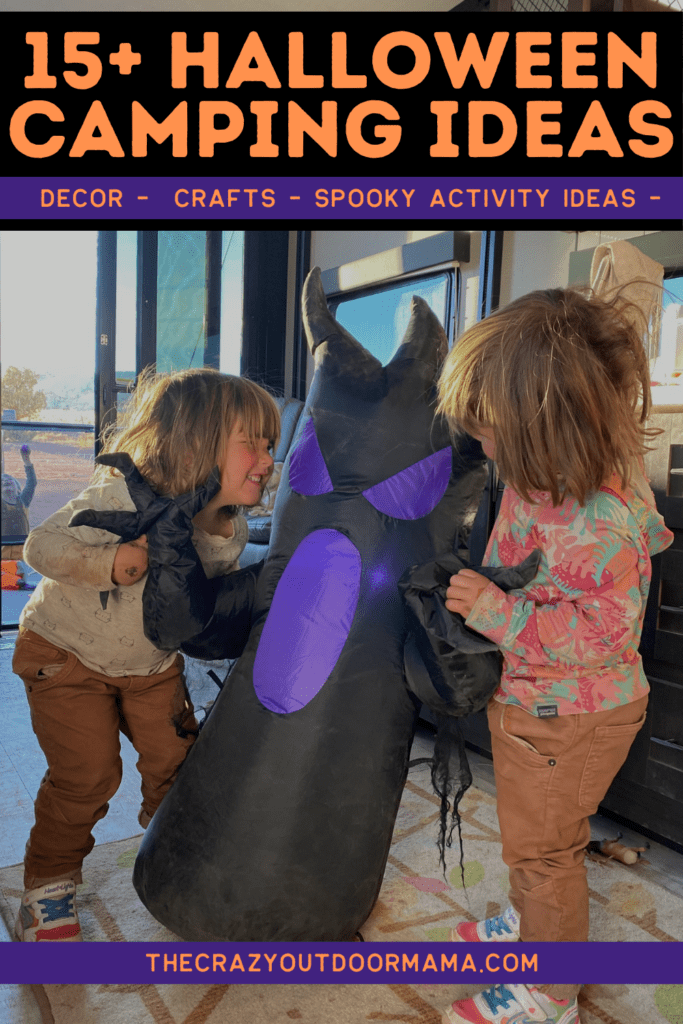 String Lights for Around Camp + Nearby Trees
Orange and purple glow adds some mystery to the campsite – these options are battery operated and outdoor rated so they're easy to set up with no power source!
Variety 3 Pack (20 LEDs per strand) – This set includes pumpkins, bats and ghosts and are perfect for around trees or your awning. Keep in mind these are short strands though!
Orange + Purple Lights (200 LEDs in 66 ft strand) – Finding longer strands that don't need to be plugged in can be hard, but this set has super high ratings and just takes 4 AA Batteries!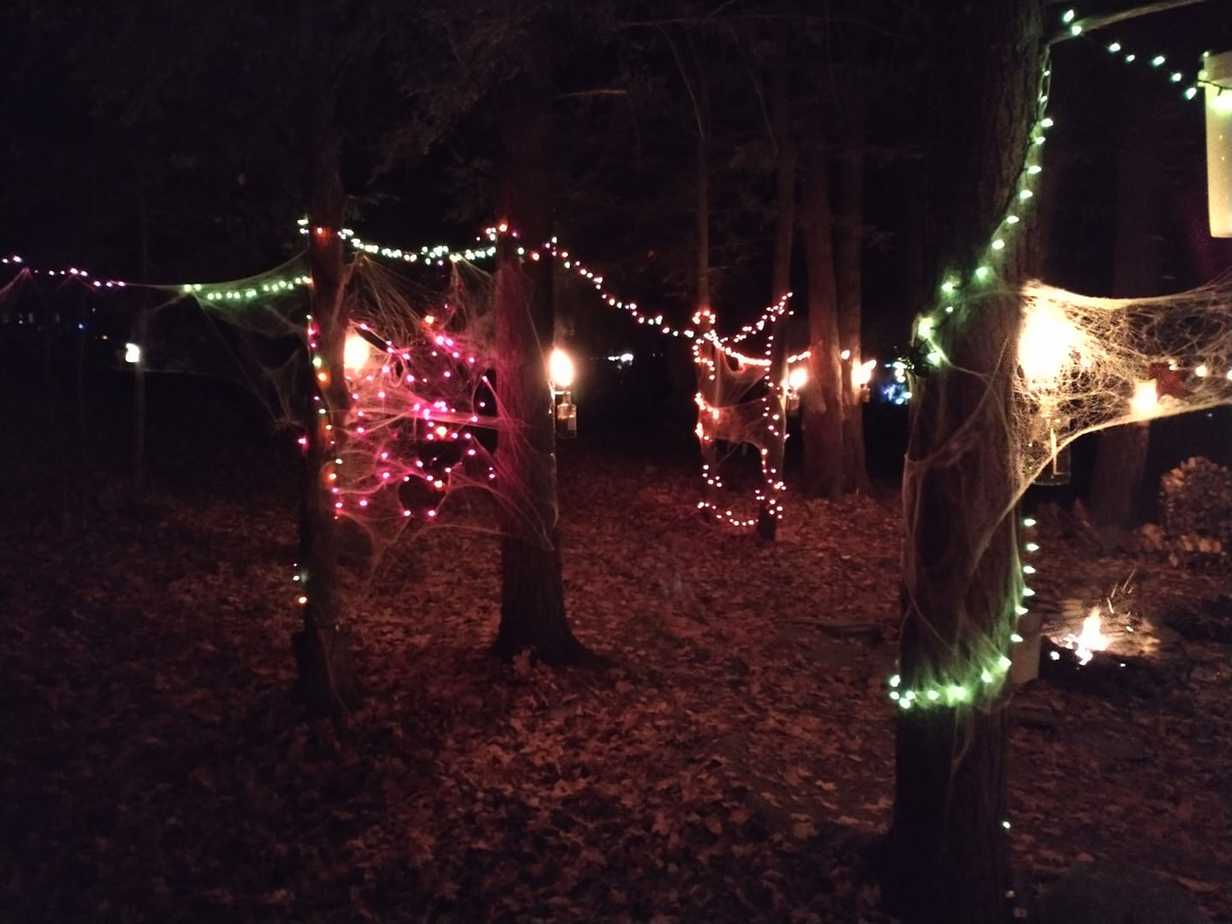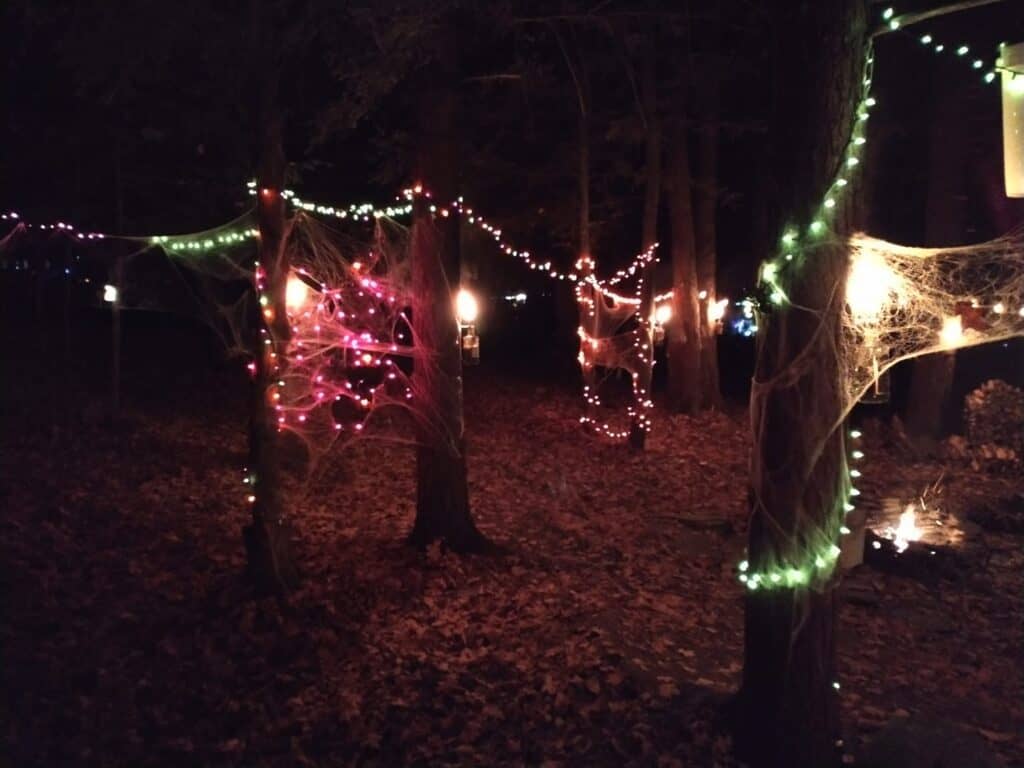 Add some spiderwebs and hanging tree decor + more!
This is an easy way to decorate the ground of your campsite around your camper – you will likely be able to save money and just get these things at your local Dollar Tree, but here are some Amazon options if you want a bit higher quality.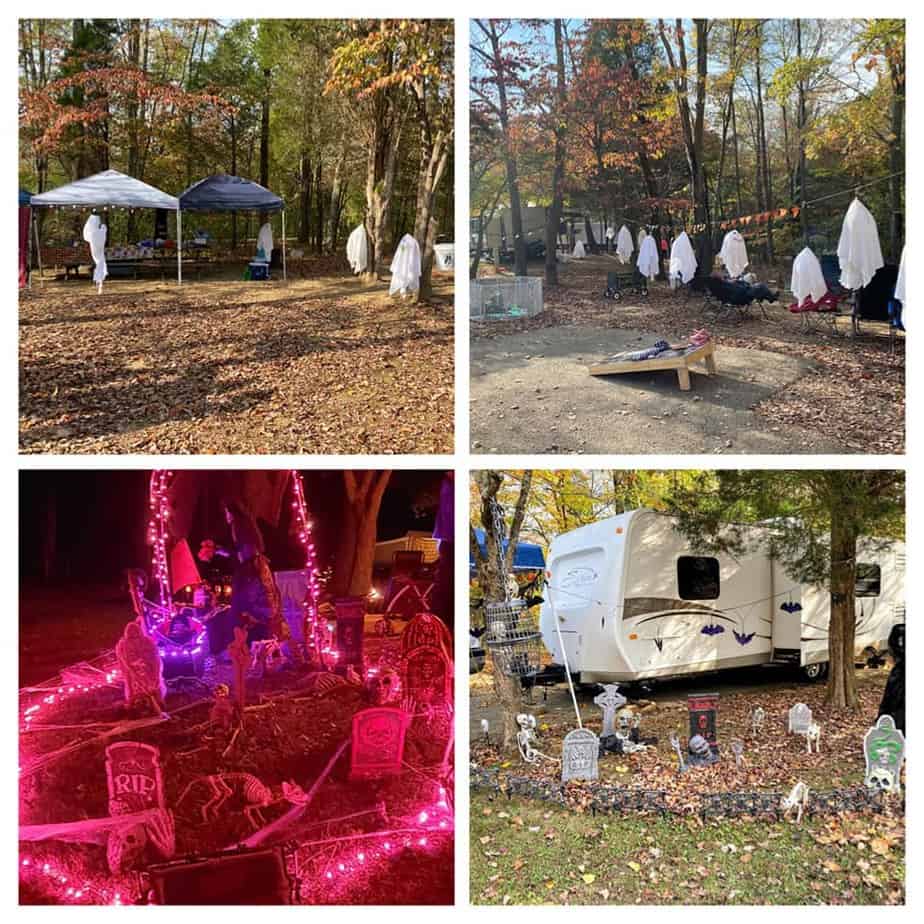 Go on a spooky scavenger hunt
This is especially awesome if you are somewhere that others have decorated too! A Halloween themed scavenger hunt like this is fun for all ages.
If boondocking, you can still use a traditional camping scavenger hunt – just use flashlights or do it in costume so that it feels more festive and spooky!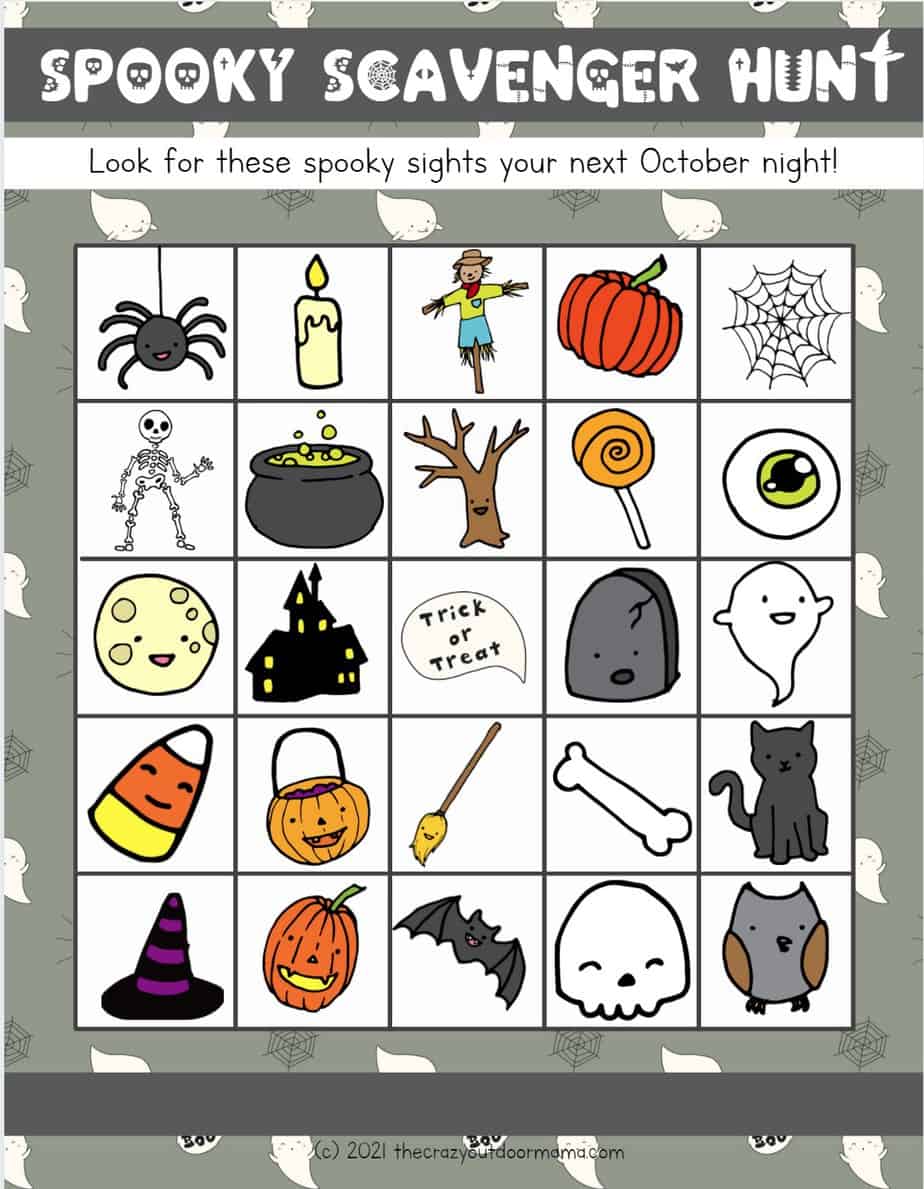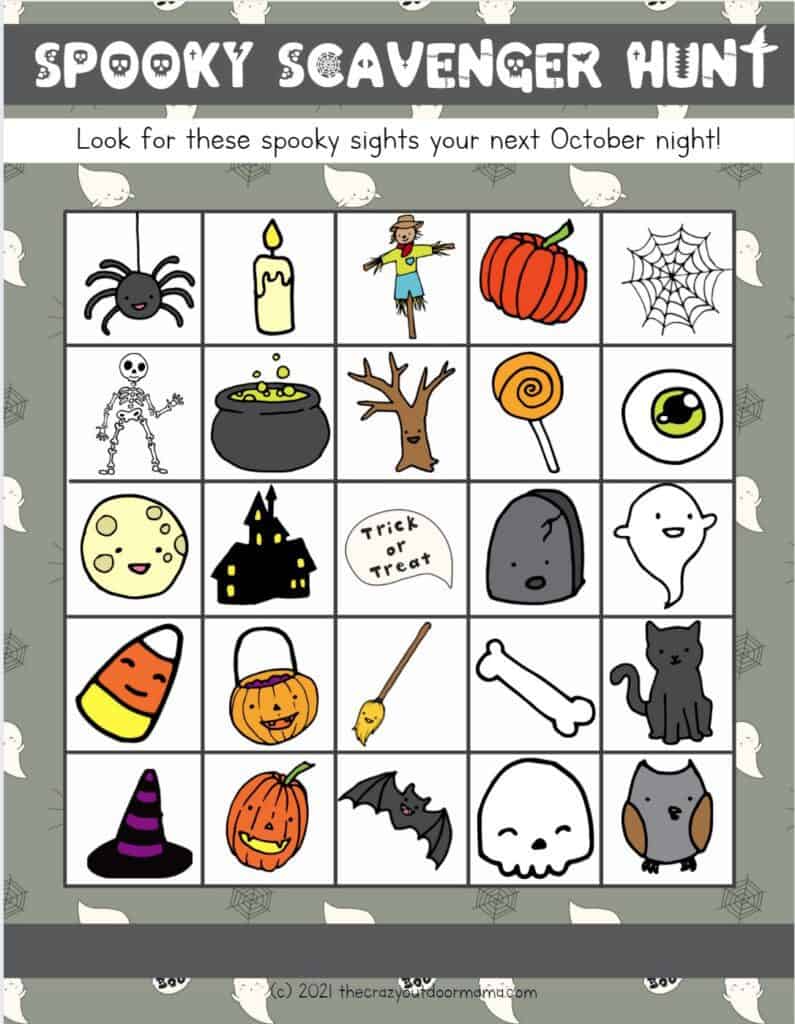 Decorate your campsite with some Jack O Lanterns (these camping themed carving templates make it easy!)
Pumpkin carving is a Halloween tradition, so why not do it at the campsite? Even better, you get some camp themed ones to really wow the campground.
Here are some really cute camping themed pumpkin carving templates that we like to use (there's 7 options… of course I had to pick the cat on the camper!)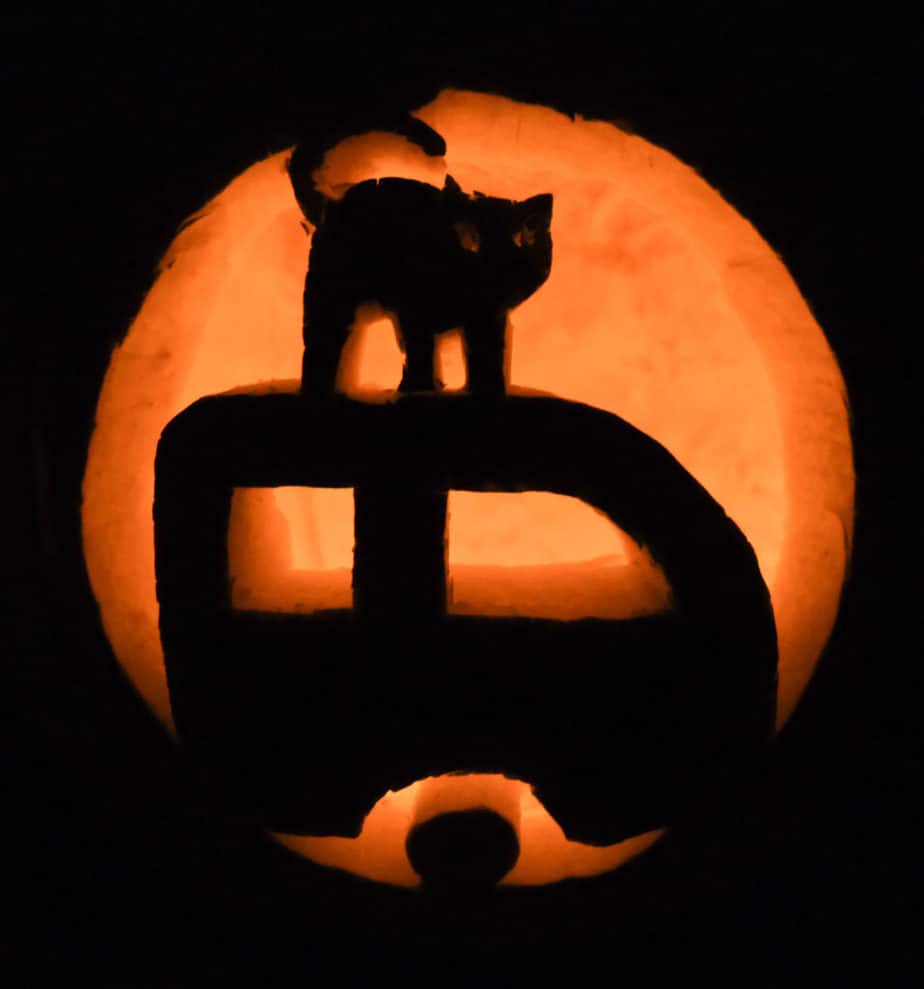 Roast some pumpkin seeds from any pumpkins you carve!
A little salt and something sweet (we love maple syrup since it's fall!) can jazz up some pumpkin seeds! You don't need to do a whole lot extra – just make sure to give the seeds time to try before putting them in the oven so they are crunchy (and not soft) once done cooking.
This is a great guide to prepping the pumpkin seeds from start to finish.
Bake some spooky treats
Grab your sprinkles, some cute cupcake liners or icing and get baking! If you have an oven in your camper, it's not as hard as you think to bake in it (here are some tips about using your RV oven btw) and it makes the whole camper smell good!
If you don't have an oven, you can bake them in a dutch oven (again, not as hard as you think – we made some cute camp cupcakes in ours!).
And if all else fails.. get it from the store!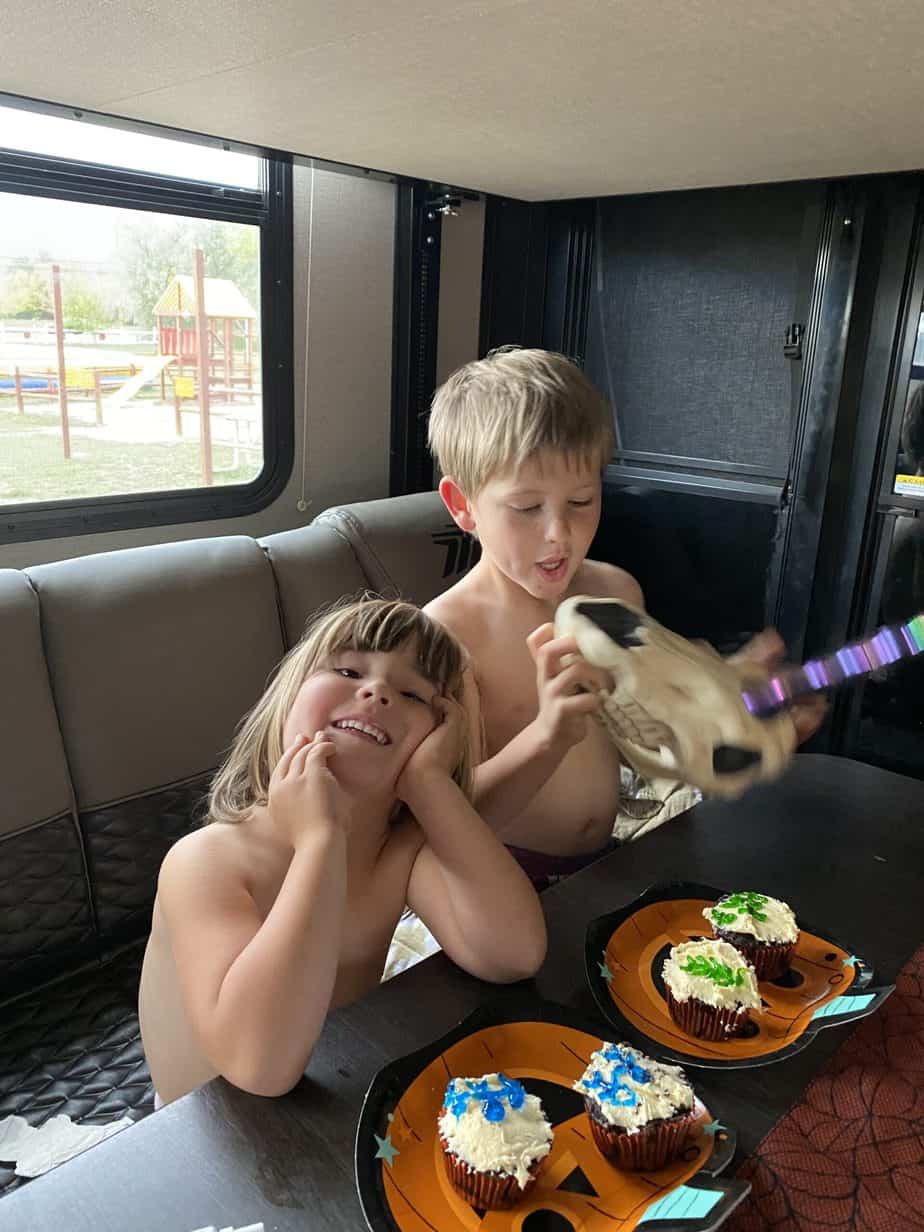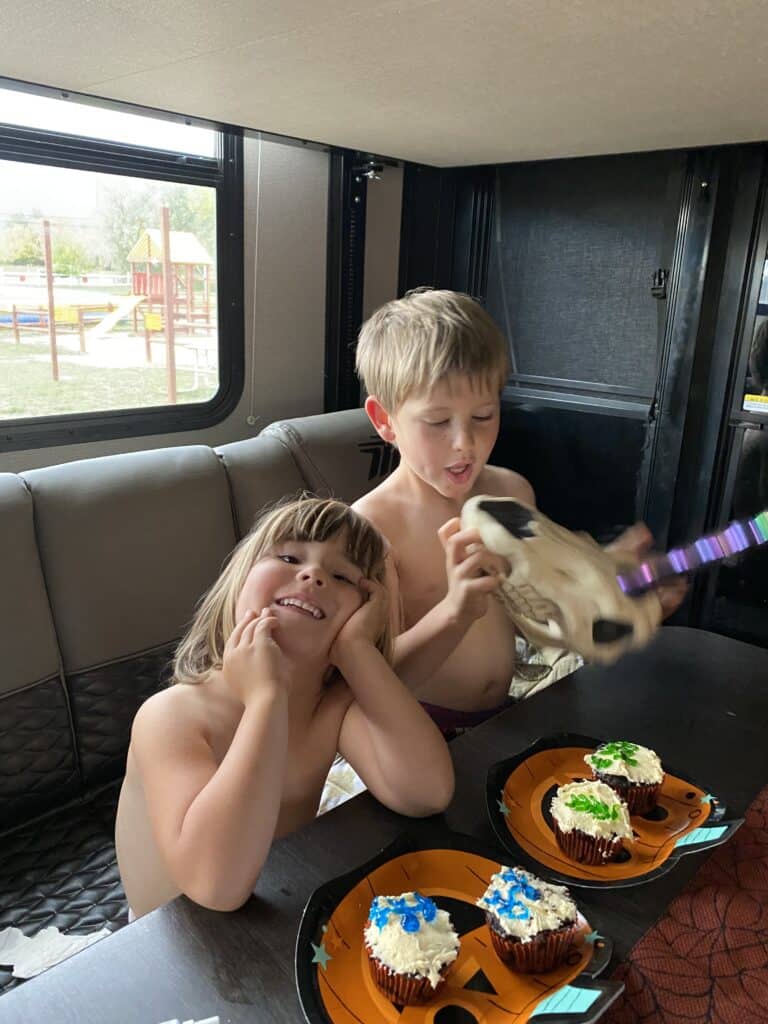 Have a Halloween hike night (don't forget glowsticks)!
Whatever night you designate as the Halloween celebration, have a special dusk Halloween hike… in costume! It's pretty fun dressing up in the first place, but getting to do it on the trail is even more fun.
We love bringing plenty of glowsticks and flashlights (since we usually end up hiking back after the sun goes down) and sometimes even decorate the trail a bit before we go.
Last year, we had a "haunted slot canyon" where the kids had to follow clues that led them to face the resident goblin (where their candy was hidden!)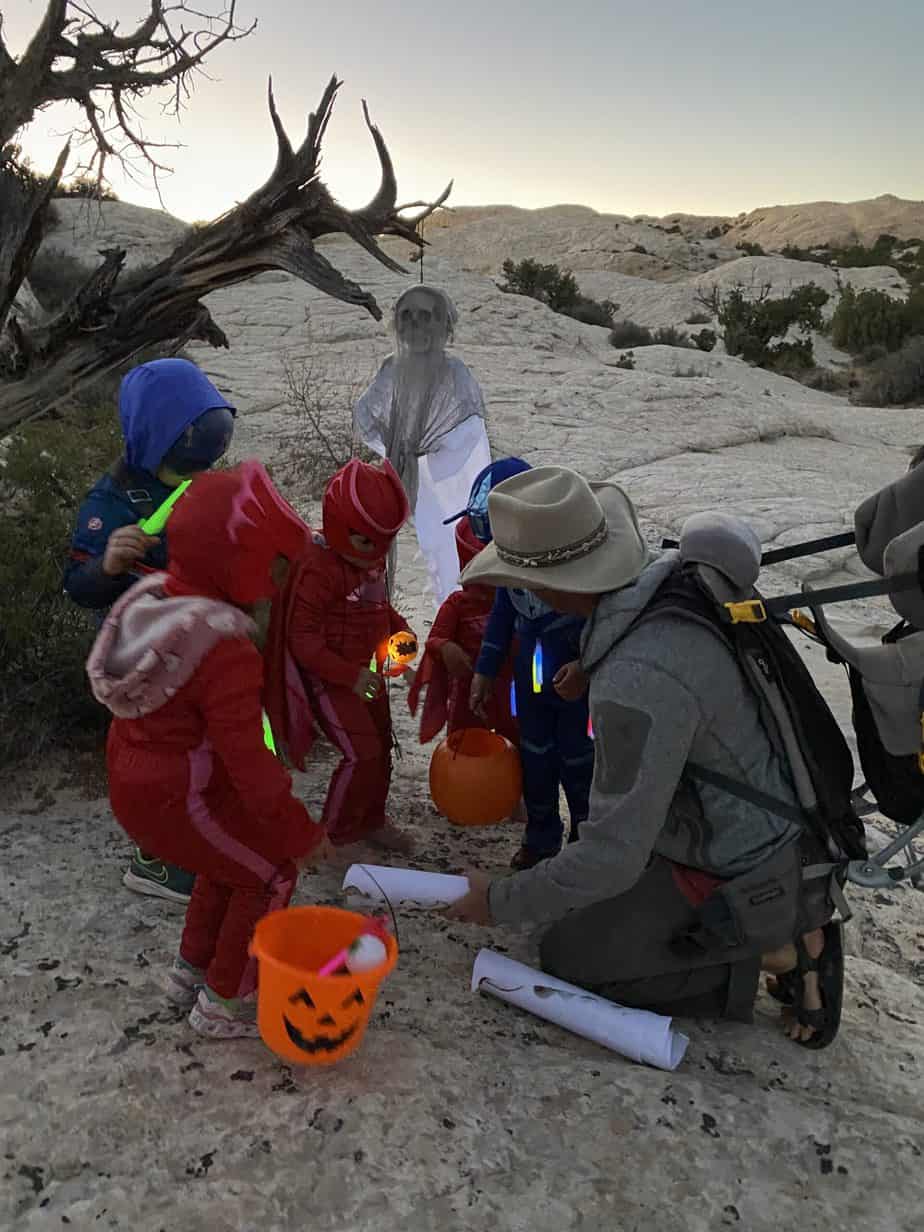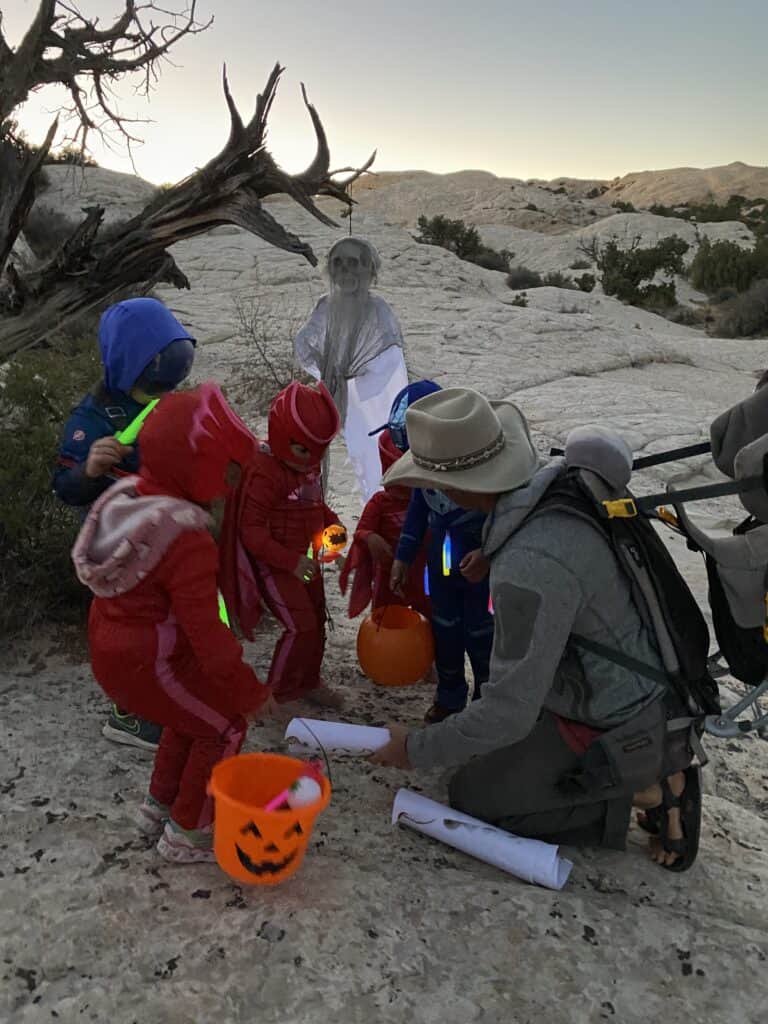 Make some camp Halloween crafts!
What holiday with the kids is complete without some crafting too? There's a variety of Halloween crafts out there, and only you know what will be best for your particular campsite, but here are some fun ideas!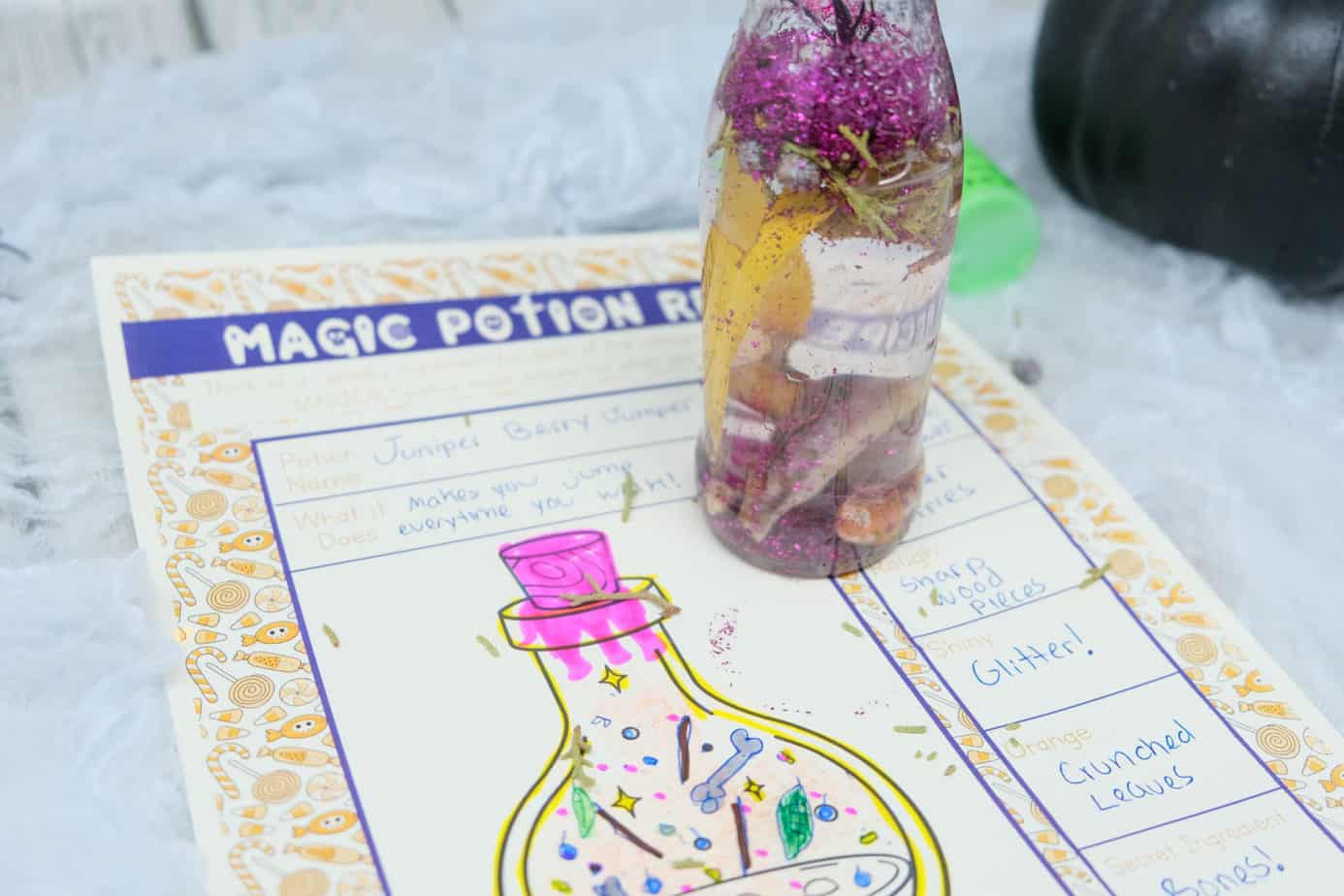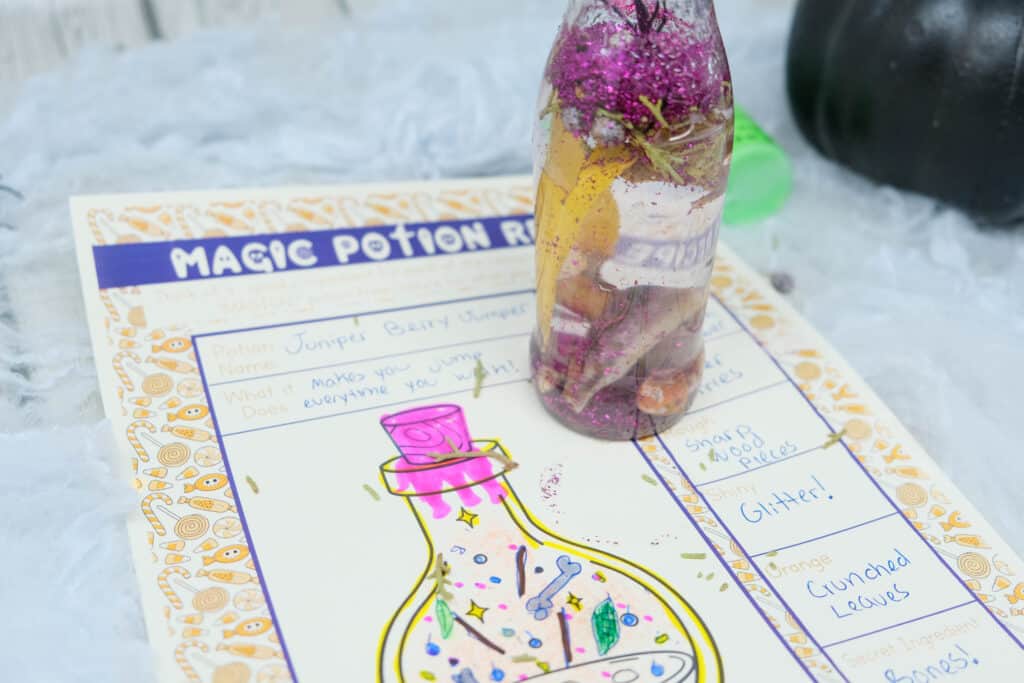 Tell scary stories around the campfire
Even if you never camped. there's just something spooky about the way the flames of a campfire make shadows on someones face!
If you don't consider yourself a good storyteller (try these story telling prompt cards for help though!) then here are some other options to make the scary stories happen at camp! There are also online resources where you can print off the scary stories in case you don't have time to order them.
Have a spooky movie night in the camper (perfect if camping somewhere that's too cold to enjoy at night in October!)
Whether it's the movie or the decor that make it spooky, it doesn't take much! We threw up a couple Halloween light strands, hung up a ghost windsock and it was transformed (according to the kids atleast =P).
If you are looking for some Halloween kids shows to download/buy ahead of the camp trip though, here are some popular ones
Monster's INC – On Prime and Disney +
Coco – Disney +
Toy Story of Terror – Disney +
21 Spooky Stories (Shrek, Monsters Inc etc characters) – Disney +, maybe Prime.
Daniel Tiger – Season 4, Episode 1 "Katerina's Costume/Dress Up Day"
Spongebob Squarepants – Season 1, Episode 13 "Scaredy Pants"
Vampirina – Good all the time, but especially Halloween, specicially these ones Season 1, Episode 24 and Season 2, episodes 15 and 16
Puppy Dog Pals – Season 1, Episode 17 "Return to the Pumpkin Patch / Haunted Howl-loween"
Mickey Mouse Clubhouse – Season 1, Episode 17 "Mickey's Treat"
Doc McStuffins – Season 1, Episode 23 "Boo Hoo to You" and Season 3, Episode 11 "Hallie Halloween"
Paw Patrol – Season 1, episode 12 "Pups and the Ghost Pirate" and Season 5, Episode 16 "Pups Save the Trick or Treaters"
Curious Georage – "A Halloween Boo Fest"
PJ Masks – Season 2 Episode 19 "Halloween Tricksters"
For older Halloween campers
Coraline – Prime
The Addams Family (2019) – Amazon/Hula
Corpse Bride – Prime
The Nightmare Before Christmas – Amazon
Hocus Pocus – Amazon, Disney +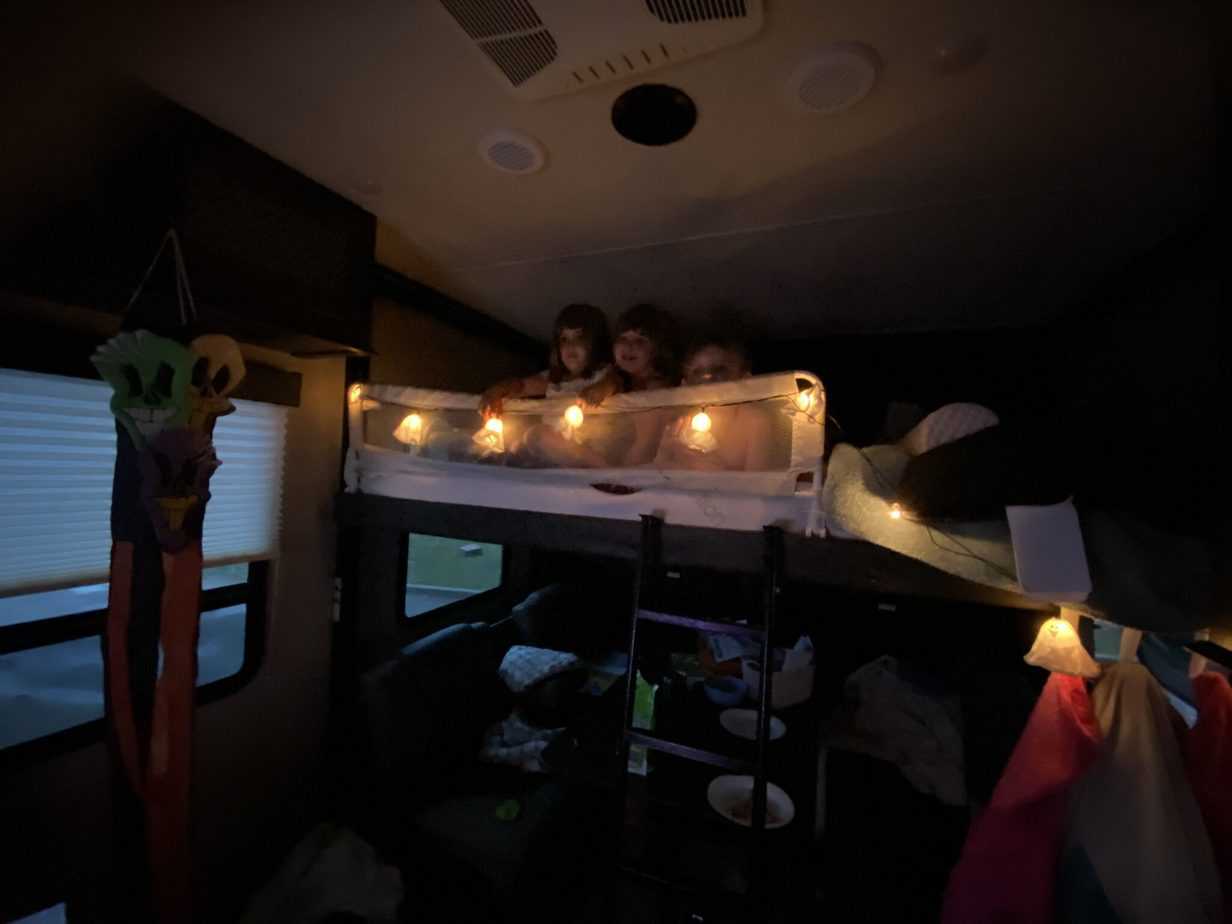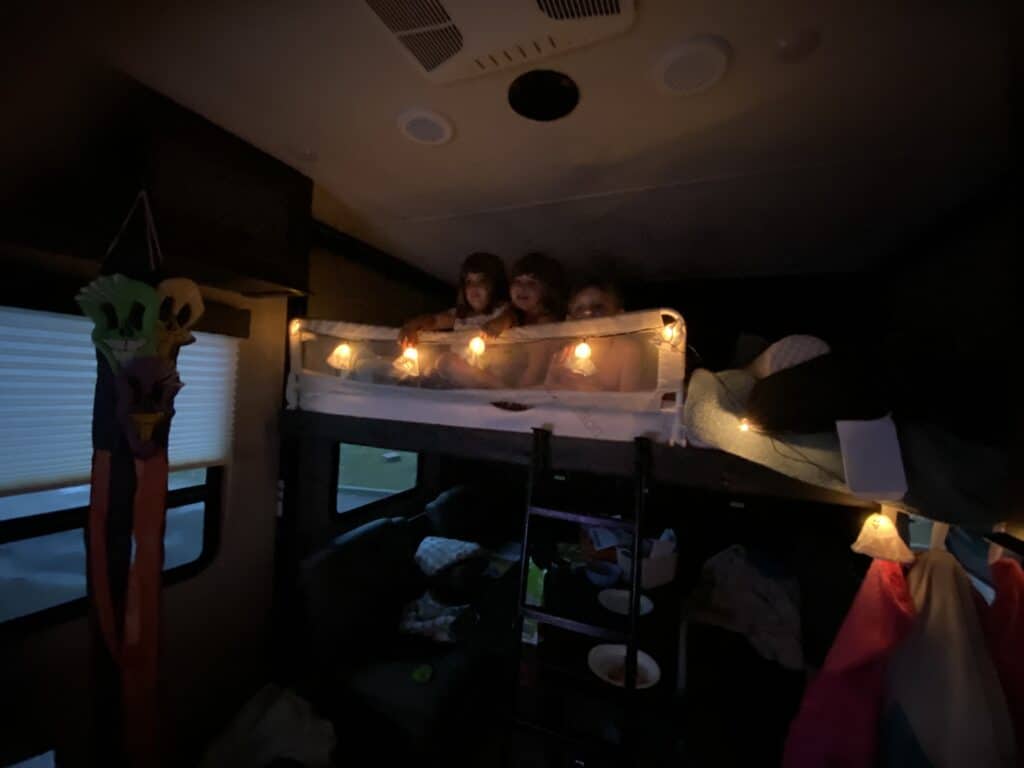 Plan on staying somewhere with planned Halloween activities
For the hardcore Halloween lover, there is nothing that can replace the community aspect of Halloween – that is, being somewhere others have decorated and excitedly choose to participate in!
This is especially true for families looking to Halloween camp but still get their kids the trick or treating experience (many campgrounds function just like a neighborhood during the chose Trick or Treat night!)
These campgrounds have hosted awesome Halloween events in the past – check it out!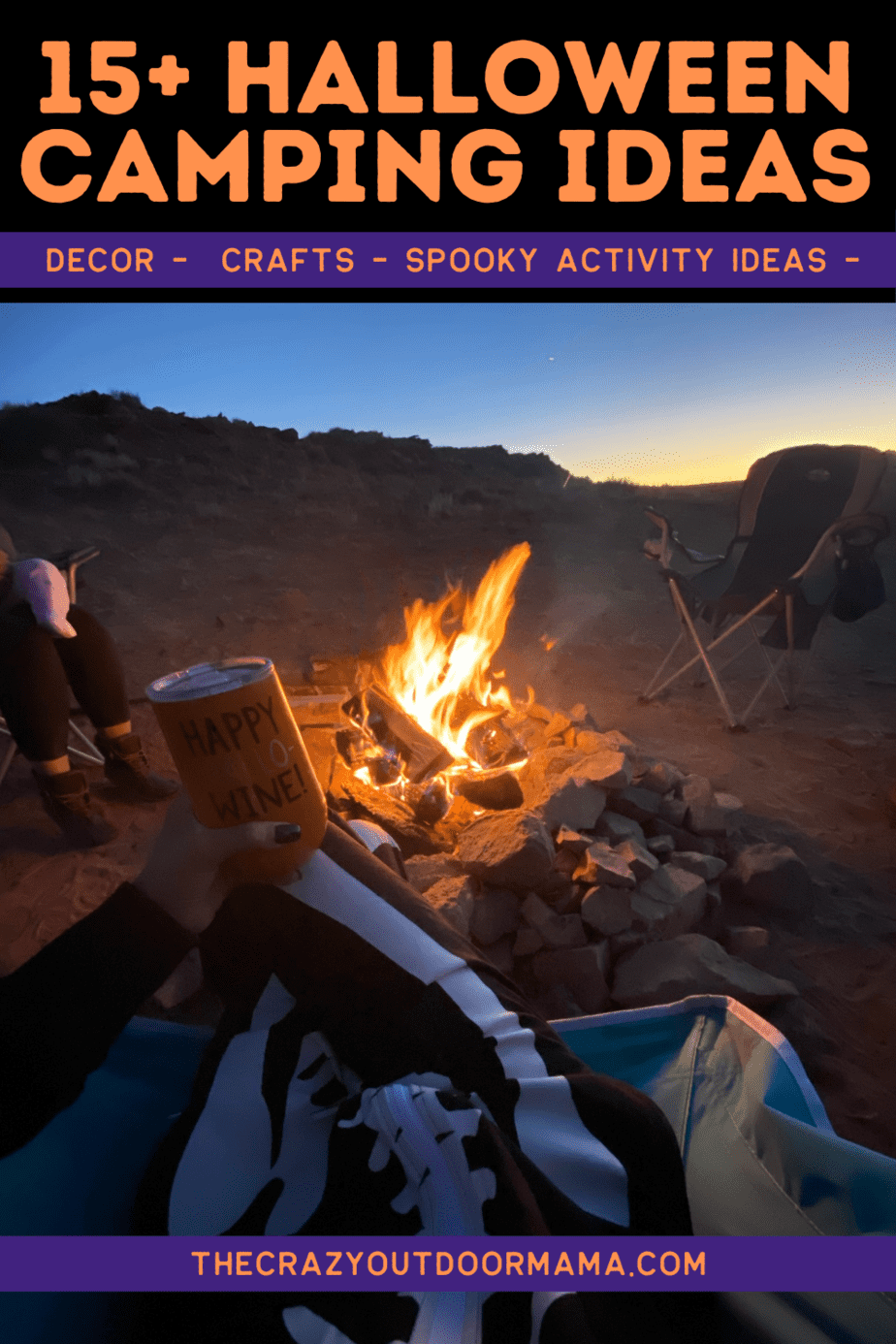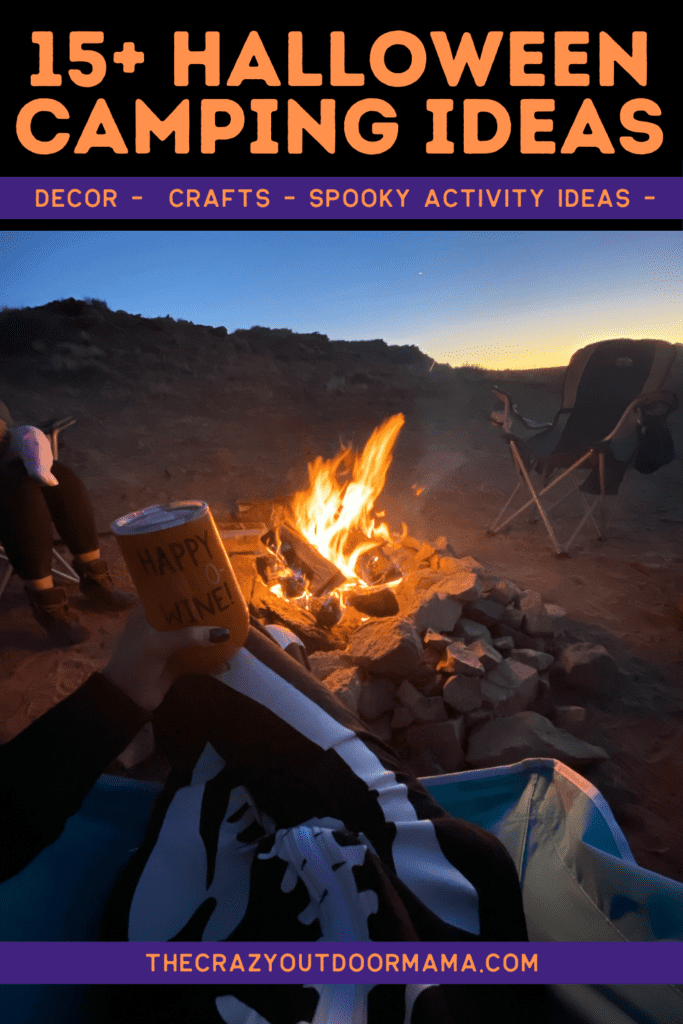 Latest posts by Stacy Bressler
(see all)