Trying to get a gift for an RV owner in your life but all you can come up with is another camping-themed coffee mug or t-shirt? 
Don't get me wrong, I've got nothing against camping coffee mugs or t-shirts. They can make great gifts for campers. 
But chances are your RVer friends already have a collection of mugs and shirts and would probably appreciate something else – a practical gift that filled a need or helped them enjoy their next camping trip even more. 
Look no further. I've put together a list of the best gifts for RV owners. There are tons of cool gift ideas for RV owners, but I've kept this list to just 23. There's no fluff here, just solid gift choices that like 93.79% of RVers would absolutely love to receive as a gift – me included!
Let's get started!
Tips for Getting the Best Gifts for RV Owner Friends and Family
So when looking for a fun gift for RVers, how can you make sure to get them something they'll absolutely LOVE (and not just another RV coffee mug that gets shoved to the back of the cabinet)?
Here are 3 quick things to consider.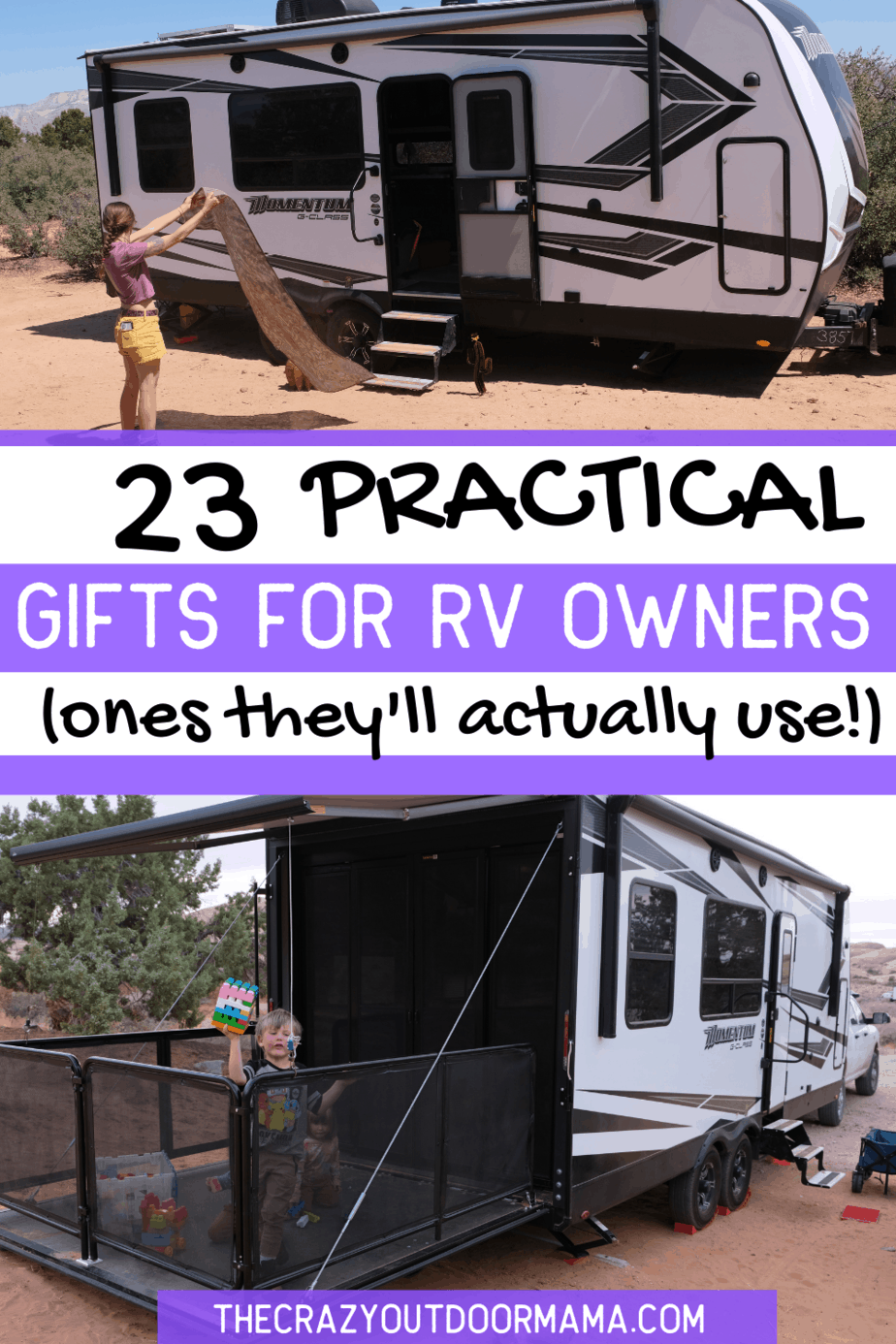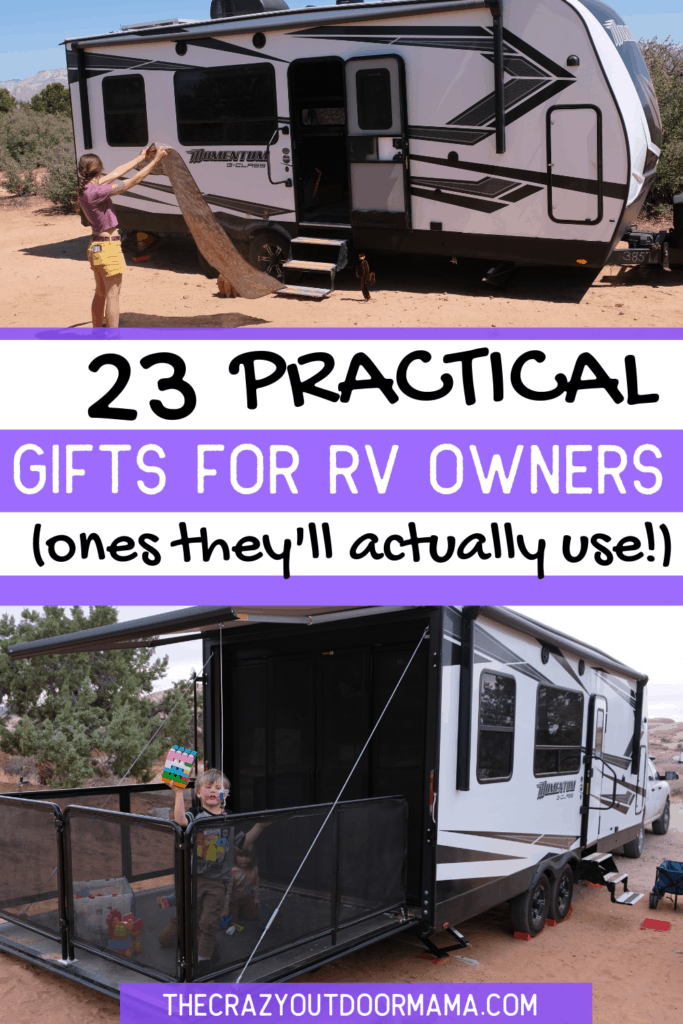 Get them something premium
A great RV gift could be a premium version of something they already have. For example, do you know an RVer who has that same old travel mug they got at a company picnic like two decades ago?
Why not get them a new, insulated, spill-proof travel mug for camping? Something like the Stanley Trigger Action Leak Proof Travel Mug.
Or do you know someone who rolls out the same, dingy piece of 90s astroturf as an RV patio mat? Why not get them a new, easy-to-clean RV patio mat?
Get them something they wouldn't get themselves
We all know that person who's always doing stuff for others but never does anything for themselves. Why not gift them something you know they could use, but probably won't spend the money on?
Maybe something like a premium e-reader or an outdoor projector for movie night while camping?
Get them something that makes camping easier
Think…
-What will make it easier for them to pack for camping?
-What will save them time and help them enjoy their camping trip more?
-What tough and dirty parts of RVing can you make a little easier?
So now that you have a few things to consider, let's move on to my list of the 23 most awesomest RV gifts for the camper in your life. And if YOU are your favorite RV owner in your life, maybe it's time to treat yourself to one of these RV gifts!
23 Great Gifts for RVers – Ones They'll Actually Want
I'm giving you a lot of options here so I know you'll be able to find an awesome gift. I've made it even easier by trying to organize them according to several different categories – practical gifts for RV owners, gifts for comfort, premium gifts for RVers, etc.
So if you already have a general idea of what you want to get, you can just skip ahead to that section. If you're still kinda undecided, well then let's start with the first section of gifts for RV owners.
P.S. if you're looking for a gift for parents of a baby or toddler, check out this special gift guide just for little campers – full of both useful and adorable camping ideas!
Premium Gifts for RV Owners
Basically, things you don't really need but are SUPER nice to have.
Solo Stove
It's the portable campfire all the campers have been talking about! It's a better way to make a campfire that you can enjoy without getting smoke in your eyes. Yes, that's right! It makes a virtually smokeless fire.
Source: Solostove.com
Give the gift of a tearless camping trip. If you get one of these for your RVer friend, the only tears they'll be shedding are tears of laughter from grandpa's crazy fish stories.
With the Solo Bonfire, you can create a hot burning fire that doesn't damage the ground around it. I even made a fire with it in the middle of a stream!
And the great thing is that it's a gift they can use even when they're not camping. It's perfect for summer evenings in the backyard or at the park. (Where open fires are permitted, of course)
Check out my full review of the Solo Stove Bonfire. 
Check the current price for the Solo Stove Bonfire.
A Projector for a Campsite Drive-In Experience
This is a great gift idea for that RVer friend who you'll probably be going camping with in the near future. (That way you can get invited to movie night at their campsite! Yes!!)
Give the gift of the ability to watch The Great Outdoors, in the great outdoors!
There are tons of companies that make portable projectors, but Anker is one that has decent mid-range prices, solid reviews, and really nice features.
The Anker Nebula Capsule II is a pretty sweet choice. It's only the size of a soda can so it won't take up any valuable space in the camper. But it still has a built-in battery, speaker, and runs Android 9.1. And even if they're really roughing it at a campground with no wifi or phone data, you can still play movies from a connected usb stick.
Source: Amazon.com
Check the Anker Nebula Capsule price.
Backup Camera
Help your RV friends stay safe. (And probably avoid a few fights with their partner who is trying to direct them as they back their rig into a campsite.)
Backing into a tight campsite can be a stressful start to what was supposed to be a relaxing weekend. That's why an RV backup camera makes such a great gift for RV owners. Make it easier for them to get set up and started with their relaxation. 
Check out my complete guide to choosing an RV backup camera and seven of the top ones you should consider.
Premium E-Reader
Know an RVer who loves to read while sitting around the campfire? Why not get them a premium E-reader as a gift so they can ditch the paper books or their old tablet? 
But why an E-reader and not just a regular tablet?
Ever try reading something on your phone or tablet while outside on a sunny day? You usually end up switching the brightness to max and squinting till you have a headache. Not conducive to hours of relaxing reading.
But E-readers with their digital ink display can be seen even in bright sunlight, almost like a normal paper book.
Amazon Kindles are some of the top choices for E-readers. The Paperwhite and Oasis are great gift ideas for campers since they're both waterproof. And the Oasis has a backlit screen so they can even read it in the evening by the campfire.
Check the Paperwhite price.
Check the Oasis price.
Source: Amazon.com
Comfort Gifts for RV Owners
Ok, so we've covered some of the premium gift ideas for RV campers. Now let's head on to some plush gifts that'll make their camping trip waaaay more comfortable.
A New RV Mattress
Even some "nice" RVs come with pancake thin mattresses that might leave you wishing you were still sleeping in a tent on an air mattress. Help your RVer friend sleep even better after a long day of camp shenanigans.
I highly suggest getting your RV mattress from Mattress Insider. They really know what they're talking about! And you can get products that are specifically made for RVs.
Depending on your budget, you could opt to get them just a mattress topper. One like this 2" Brookside Memory Foam Topper with Organic Cotton is really nice and will help breathe some life into old RV mattresses.
If you're able to get them a brand new mattress as a gift, I highly suggest one of these RV mattresses from Mattress Insider. They're specially made for RVs and come in over 15 different sizes!
Check out the difference in our old mattress and the new one (from the company I mentioned above!). Whoever you gift this to will sleep like a rock!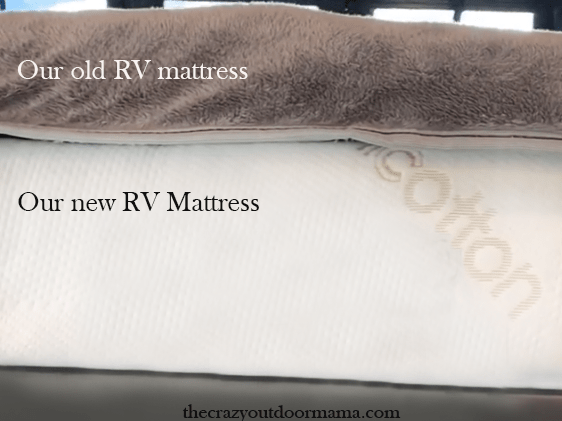 Camp Pillow
This is essentially the same gift idea as the RV mattress gift. Chances are your friend is probably lugging their pillows from home or using some old lumpy pillow they used to use when they were a kid. 
A quality camping pillow makes a great gift since it'll help them save space and weight while at the same time being able to rest better.
Want some of the top options for camp pillows for RVing? Check out my article – BEST CAMPING PILLOW 2021 | 10 TOP PILLOWS FOR RVING, BACKPACKING & TENTING
A Rumpl Blanket – The Cadillac of Outdoor Blankets
Source: Amazon.com
Rumpl says it best on their site – "We apply technical materials typically found in premium outdoor gear and activewear to modernize a dated and boring blanket category."
Imagine a super awesome camping blanket made from high-tech materials like you'd find in a premium sleeping bag. Pretty sweet right?!
Give the gift of a premium blanket that's perfect for picnics, huddling up around a fire, or adding an extra layer over a sleeping bag on a cold night. 
See Rumpl's selection of blankets here.
Or if you want to see similar options (some that are more budget friendly), check out my article The 15 Best Camping Blankets for Staying Toasty Cozy Warm
Premium Camp Chairs
Let your friends get rid of their old camp chair… you know, the one with the wonky leg, one arm that always slides down, and fabric that looks like swiss cheese from all the campfire sparks.
A premium camp chair makes a great gift for RV owners and campers because it's something they will always use on every camping trip! So be sure to get them one that's comfortable and will last.
Here are some nice options.
YETI Trailhead Collapsible Camp Chair – Built like a tank, it's UV resistant and can hold up to 500 pounds.
Alpha Camp Oversized Padded Camp Chair – Finally, a camp chair that's actually comfortable to sit in!
Kelty Loveseat Camp Chair – Made for snuggling next to the fire.
North Face Thermoball Booties
That's quite the tongue twister. Say "thermoball booties" 10X fast! LOL!
Hanging around the campsite at your RV can lead to some tough footwear choices.
You want a measure of comfort and to kind of "feel like home". But normal slippers just won't cut it. And hanging in your hiking boots all day isn't always the most comfortable. I mean… when you're fresh out of the shower in the evening, who wants to put their stinky hiking boots back on just to hang around the campsite?
Enter the North Face Thermoball Booties.
They feel like a slipper and are perfect for chilly mornings or cool evenings, but they're still rugged enough to stand up to whatever your campsite has to throw at them.
Get the Men's Thermoball Booties
Get the Women's Thermoball Booties
Hammock
No camper should be without a good hammock. I mean, a hammock is almost just as much a part of camping as s'mores or smoke in your eyes (unless you have a Solo Stove!).
A compact camping hammock like the Wise Owl Outfitter's hammock is a great choice. It comes in tons of cool colors and several sizes. You can even get a hammock chair version that is super comfortable and more practical than a normal hammock.
And one of the great things about the Wise Owl Outfiiters hammocks is their price. You get quality and budget-friendly all in the same product!
Check the current Wise Owl Outfitter's hammock price.
Practical Gift Ideas for RV Owners
Now let's move on to some practical gifts for RV owners they never knew they needed. 
Cell Signal Booster
It seems like every day we get more and more dependent on our devices and the internet. I predict that in a few years you'll see people at their campsite saying "Ok, google… Get me to the nearest bathouse." LOL!!!
If you know someone who hates being without cell reception, then a cell signal booster could be the right gift for them. WeBoost makes a bunch of boosters that are made to work in a variety of vehicles including RVs, travel trailers, and trucks.
Source: Amazon.com
They have a receiver that pulls in the cell signal and then an antenna that boosts and broadcasts a stronger signal. It's perfect for people who like to camp in remote areas but still be able to make calls (or maybe download the latest episode of their favorite show).
Check the current price for the WeBoost Cell Signal Booster Kit.
*And don't miss my article with 8 of the best RV Wifi extenders.
RV Patio Mat
Especially for longer vacations, an RV patio mat can really make the campsite feel a bit more like home.
Outdoor patio mats make great gifts for RV owners with kids. It helps keep everyone from tracking mud and dirt into the RV and can even prevent trips and scrapes.
If you want to get an RV patio mat as a gift, be sure to check out my reviews of the 5 Best RV Patio Mats.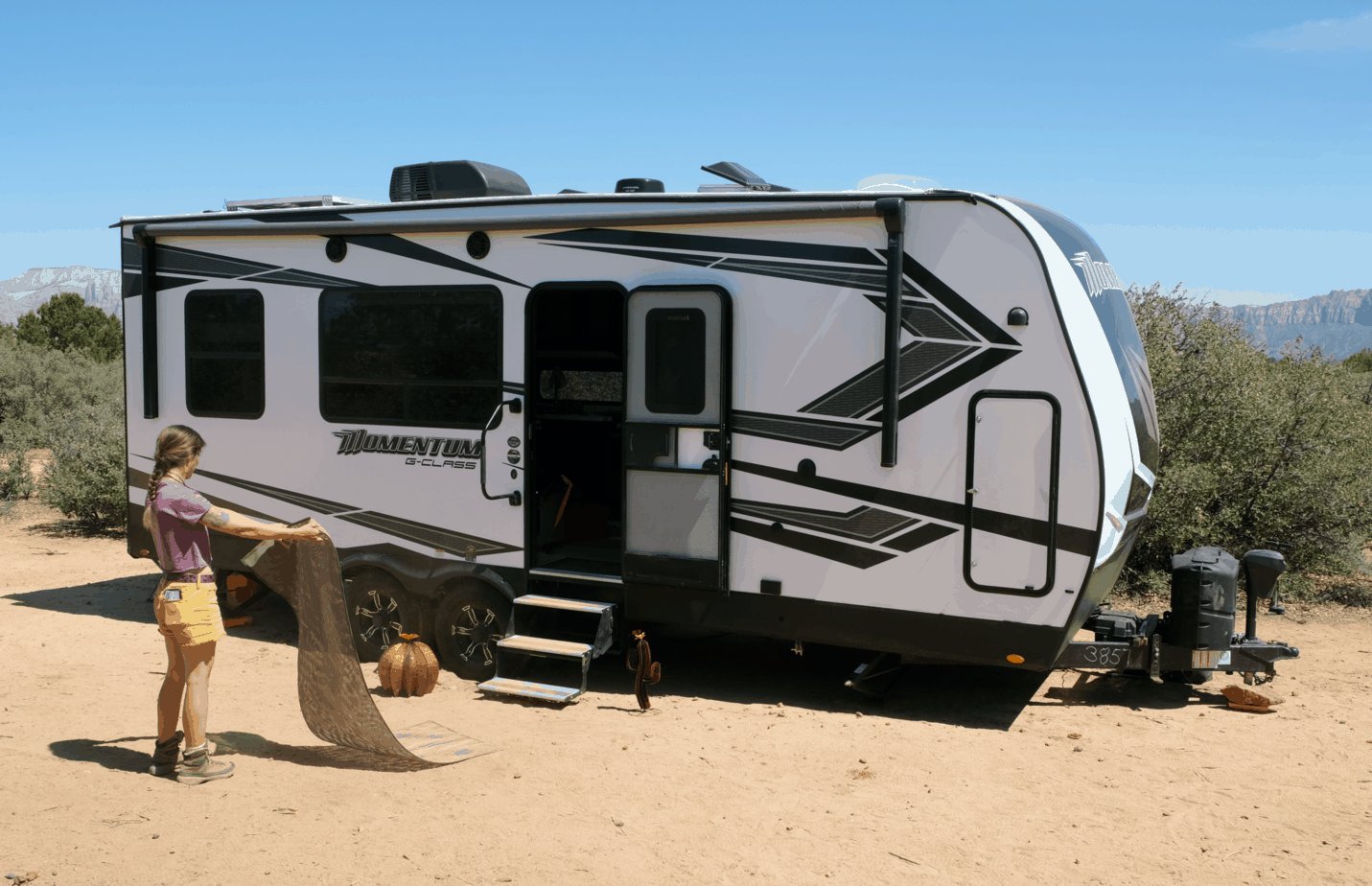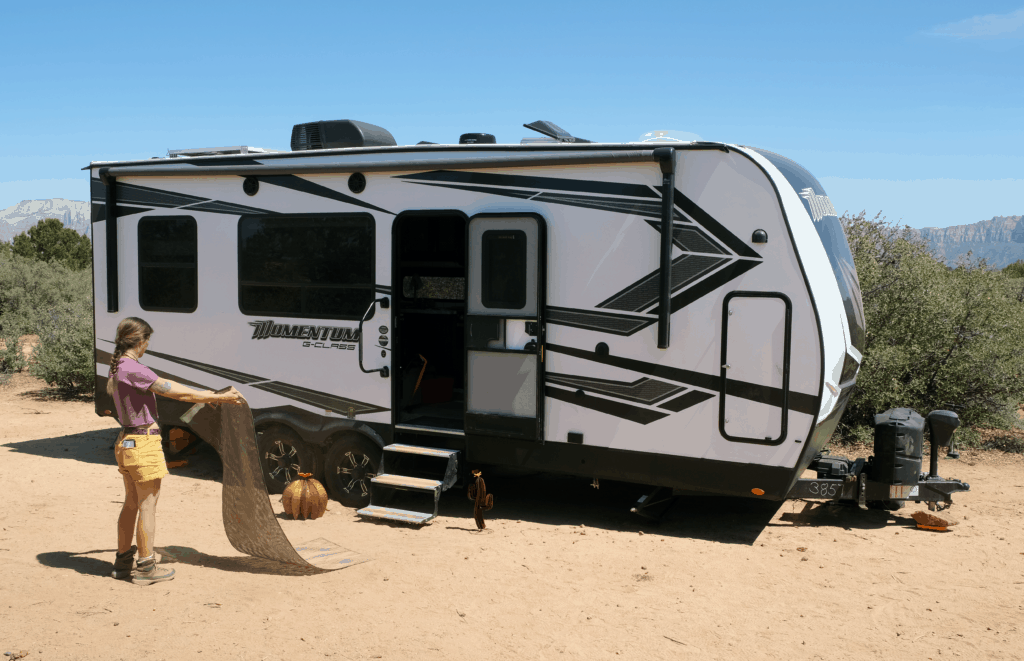 Collapsible Kitchenware
You know how frustrating it is to try and pack an entire kitchen into a tiny RV. Make it easier on your RV friends with a practical gift like collapsible measuring cups, bowls, and other kitchenware.
Bowls and food storage containers are notoriously difficult to pack. But these collapsible versions are sooooo much easier to fit in camping tubs or tiny RV cupboards.
And the cool thing about a lot of these collapsible items is that they're made from heat-resistant silicone. That means they're even microwave and oven safe.
Collapse-it Silicone Food Storage Containers
Stasher Reusable Silicone Storage Bags – These make nice gifts for RV owners since they provide plenty of storage space for packing food or leftovers without the bulk of normal plastic containers or the waste of disposable plastic bags.
Sewer Hose
Source: Amazon.com
I bet you never in your wildest dreams thought you would ever get someone a sewer hose as a gift!!! But really, it actually is a very thoughtful gift for RV campers!
Just think. What is probably one of the worst parts of RVing? Having to pull up to the dump station, pull out that nasty sewer hose, and then pray that you don't have any leaks.
So wouldn't it be a great gift, to make that job just a little bit easier and less likely to result in a nasty accident? I think so!
So check out my article reviewing the best RV sewer hoses. That way you'll be sure your gift is actually a gift and not just something that'll make a dirty job even worse.
Camping Log
Make keeping memories and important notes easy for the RVer in your life with an RV specific camping log like this!
With the ability to note the amenities of each campground, keep an up to date travel log and other useful functions and the budget friendly price, this makes a great gift!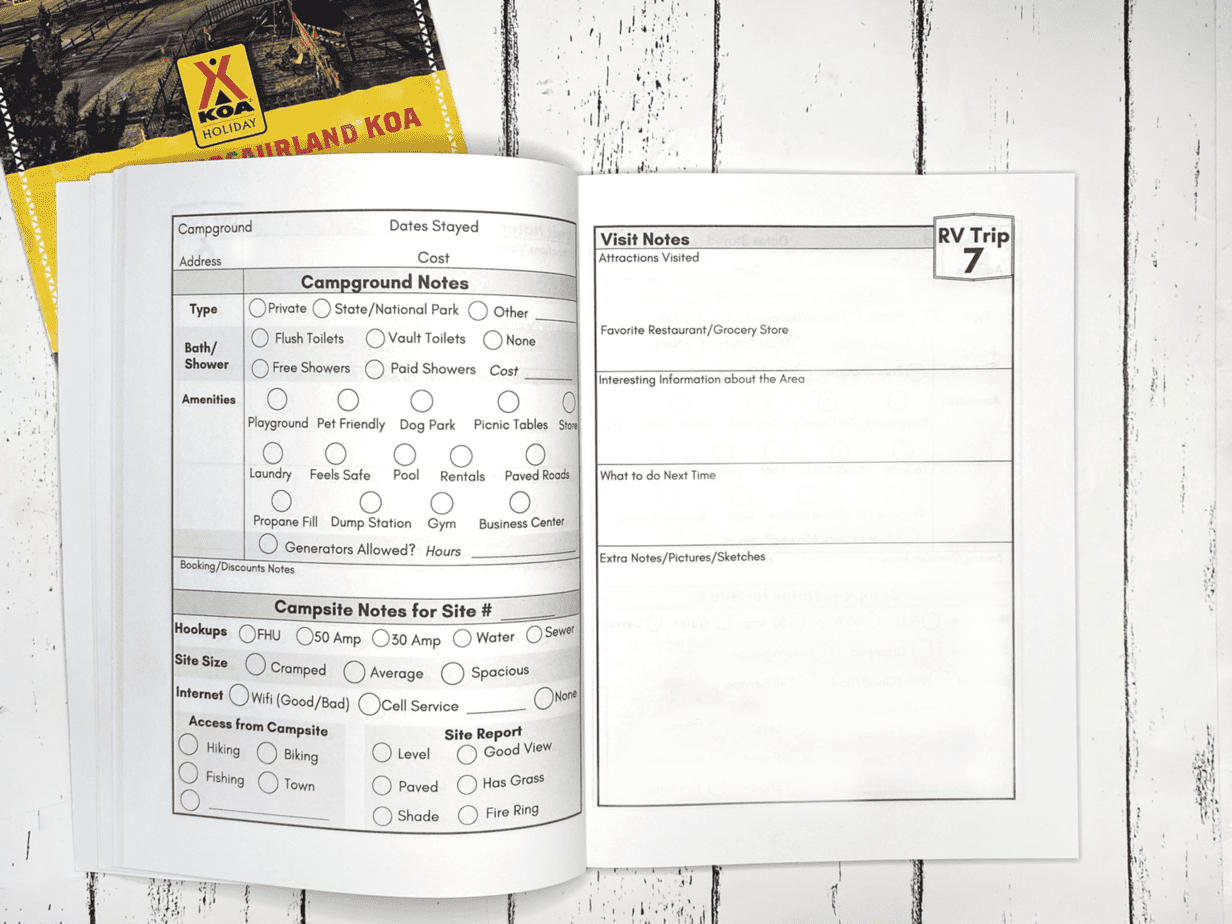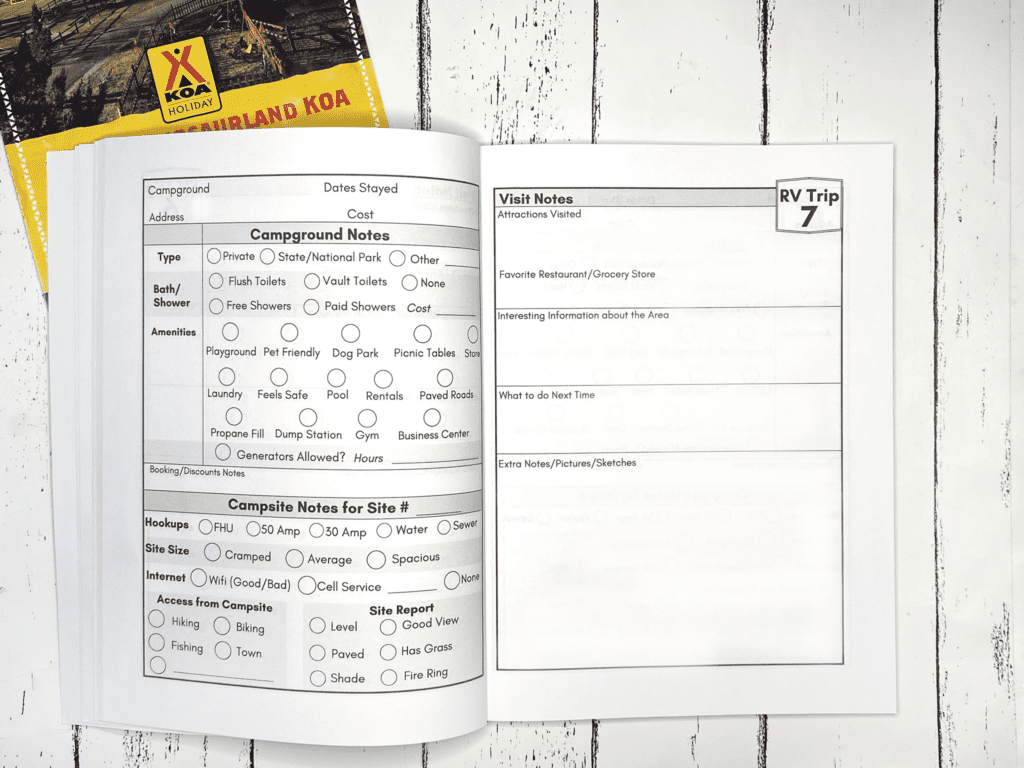 Telescoping Ladder
Whether the awning got jammed or you have to readjust the backup camera, a small telescoping ladder can really come in handy. It's so much easier and safer than trying to stand on a camp chair or a picnic table.
Source: Amazon.com
A telescoping ladder like the Xtend & Climb Aluminum 12-foot Ladder makes a nice, practical gift for an RV owner. It's small enough that it won't take up much space in the basement of most RVs, but it'll still give easy access to even the tallest of travel trailers. 
Check the Xtend & Climb price.
RV Step Covers
Did you notice if your RVer friend has covers on the steps leading into their camper? If not, step covers make a practical gift. They'll provide a bit more comfort when coming in and out of their RV, especially in bare feet.
They help keep their RV cleaner by working as a sort of doormat to clean dirt and mud off of shoes before entering.
And if you know an RVer who likes to camp with their pets, step covers are a nice gift. Most dogs hate the little holes that metal RV steps have since their nails can easily get caught in them. Step covers cover the holes and make it easier and safer for pets to get in and out of the RV.
Check out my Guide and Reviews for the Best RV Step Covers.
Other Fun Gift Ideas for RV Owners
Whew…you finally made it past the practical yet boring RV gifts. Now let's move on to the fun gifts!
National Park Pass
Most Rvers love to visit America's beautiful national parks. That's why the America the Beautiful National Parks Annual Pass is such an awesome gift for RVers.
You can order the latest 2021 pass online and it only costs about $80. Fortunately, each person in the vehicle doesn't need a pass. A single-pass allows the pass owners and other passengers in a non-commercial vehicle to enter the national parks all year.
And if you're getting a gift for a senior RVer, go with the Lifetime Senior Pass. It's the same price as the normal annual pass!
Get the National Parks Annual Pass here.
Get the National Parks Senior Pass here.
Wireless Speaker
A wireless speaker makes a fun gift for RV campers who can't be without their music (or if you want to get your RVer friend in trouble with the park ranger over not obeying quiet time!)
Anker (the same brand that makes the projectors) makes some really nice wireless speakers for a great price. Some are even waterproof so you don't have to worry about it getting caught outside in a freak downpour.
Source: Amazon.com
Anker Soundcore Motion Boom Outdoor Speaker – IPX7 waterproof and with big bass for waking up the forest critters.
Anker Soundcore 2 Portable Bluetooth Speaker – It's hard to beat a IPX7 waterproof speaker with a 24 hour runtime for less than $50!
Anker Soundcore Icon Mini – A mini wireless speaker you can strap to your backpack.
Cool String Lights
String lights make any campsite look like 100 times cooler and more relaxing.
There are sooooo many string light options that would make nice gifts for RV owners. 
You can go with something like the Brightech Ambience Pro Outdoor String Lights. They have real-looking LED bulbs, are waterproof, and made to use outside.
MPOWERED also makes some pretty cool battery-powered string lights. They can be charged with the built-in solar panel or with a USB cable like a mobile device.
Inflatable SUP
Inflatable SUPs are all the rage now. They're easy to transport and super fun to use just about anywhere (as long as you have decent balance).
REI has a nice selection of premium inflatable SUPs. But even some of the cheaper ones on Amazon work surprisingly well for beginners and are quite durable. A good option if you go that route is the SereneLife Inflatable Stand Up Paddle Board. 
I have a friend who has had one of these Serene Life SUPs for several years and it's still going strong. At less than $300 for a complete kit with everything you need to get started (paddle, pump, leash, patch kit, etc.) it's hard to pass up such a bargain.
Check the current SereneLife SUP price.
Propane Campfire
If you know RVers who like to camp in places that often have fire bans during dry parts of the year, a propane campfire makes a really nice gift.
Many are approved for use even during fire bans (be sure to check local regulations) and give you a safe and controlled way to still enjoy a campfire.
Yes, I know… it's not a "real" campfire with all the crackling and sparks and smoke in your eyes, but it's the next best thing.
Before getting one as a gift, be sure to check out my article – 5 BEST PROPANE CAMPFIRE PITS FOR NO MESS FIRES ANYWHERE.
Complete Printable Set of 9 RV Checklists
This printable set of RV checklists makes a great gift for RVers with kids, babies, or even pets who could use a little extra help planning their next camping trip.
It makes a great gift if you download it and arrange the pages in a small binder with one of the cover options.
And the great thing is… Since you have the downloadable file, you can print some for yourself!!!
Get it now for just $7 at my Etsy store!
Amazon Gift Card
But what if I still don't know what to get my RVer friend? What am I gonna do???
Well… you can't go wrong with a good 'ole Amazon Gift Card. Even better… Send them a gift card and a link to this article and let them choose the gift! Let them decide whether they want the mini projector or the sewer hose, the hammock or the collapsible kitchenware.
Yes! It doesn't get much easier than that!
Are You an RV Owner? What Gift Do You Want?
Did I miss a totally awesome gift on my list that you as an RV owner would love to receive? Leave it in the comments or shoot me a message on Instagram or Facebook. 
Want some more gift options? Check out these articles.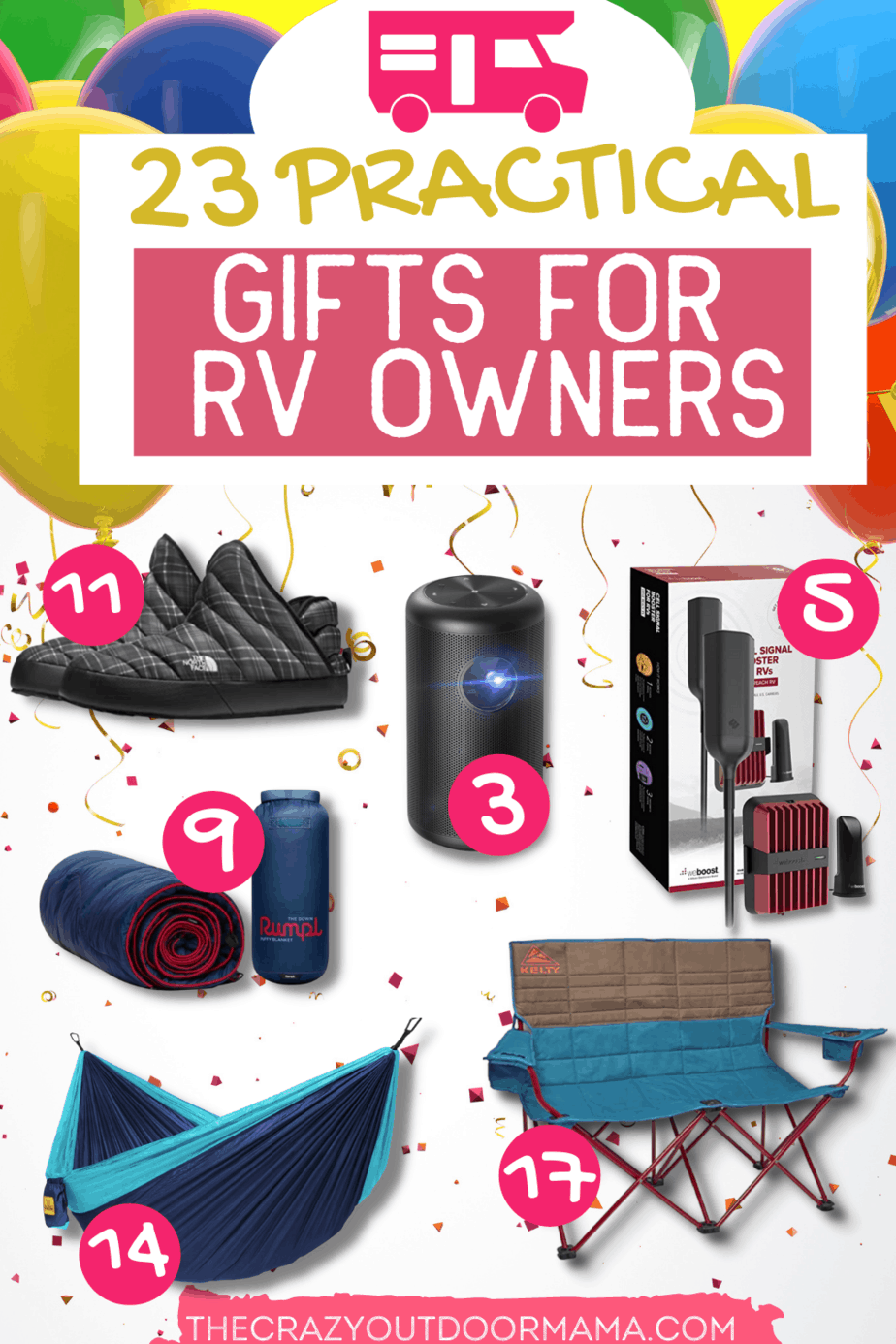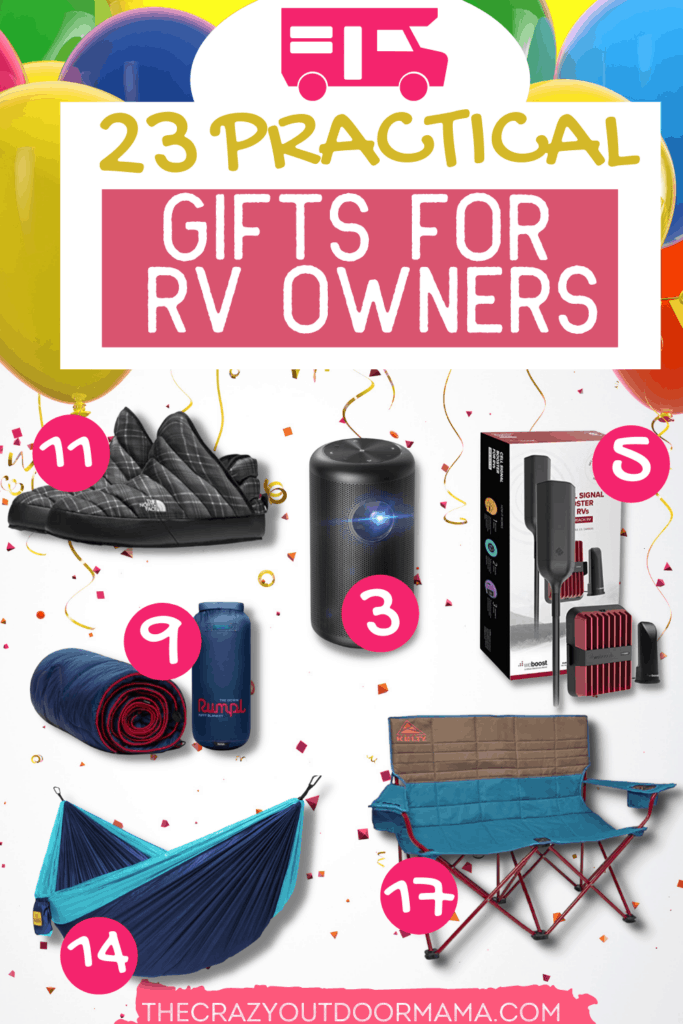 Latest posts by Stacy Bressler
(see all)