Need to get a special gift for that special camper on your list? Look no further. Here are 48 of the best camping gifts for campers, hikers, backpackers, and any other outdoorsy people in your life.
And don't worry…this isn't just a list with a bunch of personalized coffee mugs and boring items you can find on just about any other gift list for campers.
(Camping-themed mugs can make nice gifts though!)
On this list of gift ideas, I want to show you some genuinely cool presents that campers will actually LOVE (and hopefully won't ever end up collecting dust in the back of the closet).
I've organized it into several categories, so you can head to the one that fits what you're looking for or just start from the top!
Have fun!
*If you're looking specifically for gifts for RV owners, check out my article with 23 great gift ideas for RVers.
Gifts for Campers Who Love to Cook and Eat (And Drink…a little)
For me, one of the best things about camping is finding new ways to cook food with FIRE! Now you can cook wood-fired pizza at 900F right at your campsite. YES!
Ooni makes several portable pizza ovens — some gas-fired, others that work with pellets — but their Karu Multi-Fuel burns wood. In about 15-20 minutes it's up to 900F and ready to cook personal pizzas in just 60 seconds. Yup, you read that right…60 seconds.
Plus, you can get cast-iron cookware that fits inside so you can do steak, potatoes, veggies, bread, heck…just about anything you want!
Best of all…the smokestack comes off, the legs fold up underneath it, and it all fits in a convenient carrying bag so it truly is a portable camping present.
Check out the Ooni Karu 12 Multi-Fuel Pizza Oven.
Source: Ooni
Getting a gift for a hiker? Then the Solo Stove Lite should be on your list. It's got a compact and lightweight design that rivals the size of most lightweight canister stoves and fuel cylinders. And all it needs is a handful or two of twigs to boil water.
The Lite, like the other Solo Stoves, are gasifier stoves which is a fancy way of saying that they use a special process that sucks in more air in order to burn hotter, faster, and cleaner. That means with just some small sticks, this little guy can boil a quart of water in under 10 minutes.
*And in as little as 6-7 minutes it can fry an egg in a cast-iron skillet! Check out my Solo Stove Lite review article and watch it in action!
Check the Solo Stove Lite price.
Since we're on a roll with gifts that are cool ways to cook food, what about a solar oven?! This is a great present for the "camping geek" in your life. 🤪
Set it up in the sun and the parabolic reflectors direct the sun's rays into the cooking tube. On sunny days it can heat to over 400 degrees and you can actually hear your food sizzling inside the tube. And even if you don't have full sun, don't worry. It'll still cook, it'll just take a little longer.
Source: Amazon
Granted, you're not going to cook for an army with this thing — just one or two people — so it makes a great gift for a single camper or a couple. And since it doesn't need any fuel, this also makes a nice present your outdoorsy friend can add to their survival kit.
Check the GOSUN Solar Oven price on amazon.
There's no end to what you can make in pie irons — toasted cheese, pies, even cinnamon rolls! So it's hard to go wrong with getting these as a gift.
Source: Amazon
The Rome Pie Iron has been around a long time so you can't go wrong with its tested quality. They come in a variety of shapes (depending on the store/site), but it's hard to beat a good ole' fashioned square pie iron.
Check the Rome Square Pie Iron price.
The Cast Iron Cook-It-All is a camping gift that can, well…cook it all! Steak, pancakes, even PIZZA!!! (Although not as good and fast as the Ooni.)
Source: Amazon
The Cast Iron Cook-It-All has just 2 pieces of iron that can be combined to cook in 5 different configurations. The grill/griddle piece can be used on its own or it can work as a lid for the deep dish skillet. But you can also flip it over and use it as a sort of dutch oven for baking.
Source: Amazon
Check the Lodge Cast Iron Cook-It-All price.
A great gift for the foodie camper, this book shows you how to cook just about anything with fire — from cheese to a rabbit. They'll get over 100 recipes and everything they need to capture the real wood-fired flavors with their campfire cooking.
Source: Amazon
TIP! – Get this book as a present for someone you regularly go camping with (that way you get to sample the fruits of your gift!) 😎
Get the book on Kindle or paperback from Amazon.
No camping trip would be complete without a set of marshmallow roasting sticks. These Rolla Roaster sticks are extendable to up to 42 inches so you can roast your marshmallows while still keeping your eyebrows!
Source: REI
Check the Rolla Roasters price at REI.
Ok, so by now you've got some great gift ideas for campers who love to cook. Here are a few more for campers who love to drink (coffee of course…😜)
Whether it's regular American-style coffee or espresso that your friend loves, you can't go wrong with getting them an AeroPress. It reduces the steep time while still extracting all the flavor to provide a nice cup of coffee that's low on bitterness and acidity.
Source: Amazon
And since it's small and lightweight, it makes a great gift for hikers who can't stand mediocre coffee while in the woods.
Get the AeroPress.
Give the gift of warm coffee with the GSI Outdoors double-walled french press. The insulated carafe keeps up to 4 cups of coffee warm for those long mornings sitting around the campfire waiting for pancakes and bacon 🥓.
Get the GSI Outdoors Glacier Stainless Steel JavaPress for the coffee-loving camper.
Source: Amazon
Know a coffee-loving camper who likes a touch of sophistication while they're roughing it? Get 'em this GSI Outdoors Espresso Set with a uniquely simple design.
Source: Amazon
Instead of a normal stove-top espresso maker with a top section that you then need to pour into another cup, this espresso set percolates directly into a double-wall stainless steel coffee mug.
Check the GSI Outdoors Mini Espresso Set price.
Source: Amazon
Real, frothy espresso from a high-pressure espresso maker you can fit in your pocket. Can it be true?! YES and it makes the perfect gift for the espresso aficionado at the campsite.
Source: Amazon
Pack in the espresso grounds. Add hot water. Pump it to pressurize it up to 261 PSI (that's a lot!). And then enjoy a genuine cup of espresso with a layer of crema on the top.
Source: Amazon
Check the Wacaco Nanopresso Espresso Maker price.
Every camper should have their go-to camp mug, right? YETI makes some great drinkware, but their camp mug doesn't have a non-slip rubbery bottom so sadly I can't recommend it as a gift. 😥
That's why I recommend these two camp mugs as gifts:
They're both made from durable stainless steel with a vacuum insulated design that keeps your espresso warm or your lemonade cold. Plus they both have a nice non-slip silicone base so they land soft on all surfaces.
I've got the Coleman Sundowner and it's my go-to mug for coffee, tea, hot chocolate (or a splash of whiskey). But if you have small hands, it's not the most comfortable to hold for long periods since it doesn't have a handle.
Check the Coleman Sundowner Mug price.
Check the CamelBak Horizon Mug price.
But why settle for just a silicone bottom? Why not an entire mug that's made of silicone?
*Thinking of getting a personalized mug as a camping gift? Check out my article with 29 of the best camping coffee mugs.
If you've got a camping friend who's always ready for anything, they need this mug. It's a unique design you can't find anywhere else — a 100% silicone camp mug with a handle.
Source: MyottGear
It can handle temperature extremes, it's microwave safe, and you can even bake camp muffins in it at the campground. And since it's made from 100% silicone, it's pretty much indestructible. Drop it, kick it, run it over with your car…it doesn't care.
So I guess this might be a good gift for accident-prone campers. 🤪
Get the MYOTT Pioneer Mug only at MyottGear.com
Camp coolers are definitely "in" right now, so you know they make great gifts. While YETI seems to dominate the premium cooker market, it's worth considering other brands.
The legendary X-Overland team actually switched from YETI to a brand out of Arizona called Canyon Coolers. Why?
They're built great.
They hold ice LONGER than YETIs.
And they've got a lifetime warranty. Yup, you read that right…a lifetime warranty with very few restrictions.
Source: Amazon
So why not give your camper friend the gift of a lifetime of cold drinks (or frozen bacon, spam, avocados…whatever they put in theirs!)
Check out the price for the popular 55-Quart Canyon Coolers Outfitter.
Ok, so by now we've considered some seriously awesome gifts for campers and hikers who are serious about their camp kitchen.
But let's not forget the kids! Here are some cool gifts for kids who love to camp.
Camping Gifts for Little Campers
Kids love to have everything the grownups have, including their own hammock. But adult hammocks can swallow most kids whole, so you need to make sure to get them a kids-size hammock.
The Wise Owl Outfitters Kids Hammock is a great choice. It's comfortable, compact, durable, and comes with everything you need to set it up.
Source: Amazon
And when the kids are relaxing in their hammocks, the adults can get a little bit of quiet time 😋.
So if you're getting a gift for a camping family with kids, you can't go wrong with this little hammock.
Check the Wise Owl Outfitters Kids Hammock price.
To be honest, this one could definitely work as a gift for adult campers too. But a TreePod Hanging Cabana (aka…hammock 2.0) is sure to be a hit with the kids too!
Source: Amazon
Just put the frame in the fabric (kinda like you would a tent). Attach the rope and toss it over a sturdy tree branch. Then pull it up to the height you want it.
Now you've got a great place for the kids to play and relax (without getting dirty!). Or you can sneak in there for an afternoon nap when nobody's looking! 😴
Get the TreePod Cabana as a gift for a family of campers.
Camping with kids is soooo much better when you're prepared with ways to keep them busy while enjoying the outdoors. Give them a gift that they can always look back on later – their own camping journal!
Besides being able to journal about each camp trip, there's also tons of games and activities for kids to do around camp while you set up or just want to relax!
At under $10, this camping journal can also be a great stocking stuffer!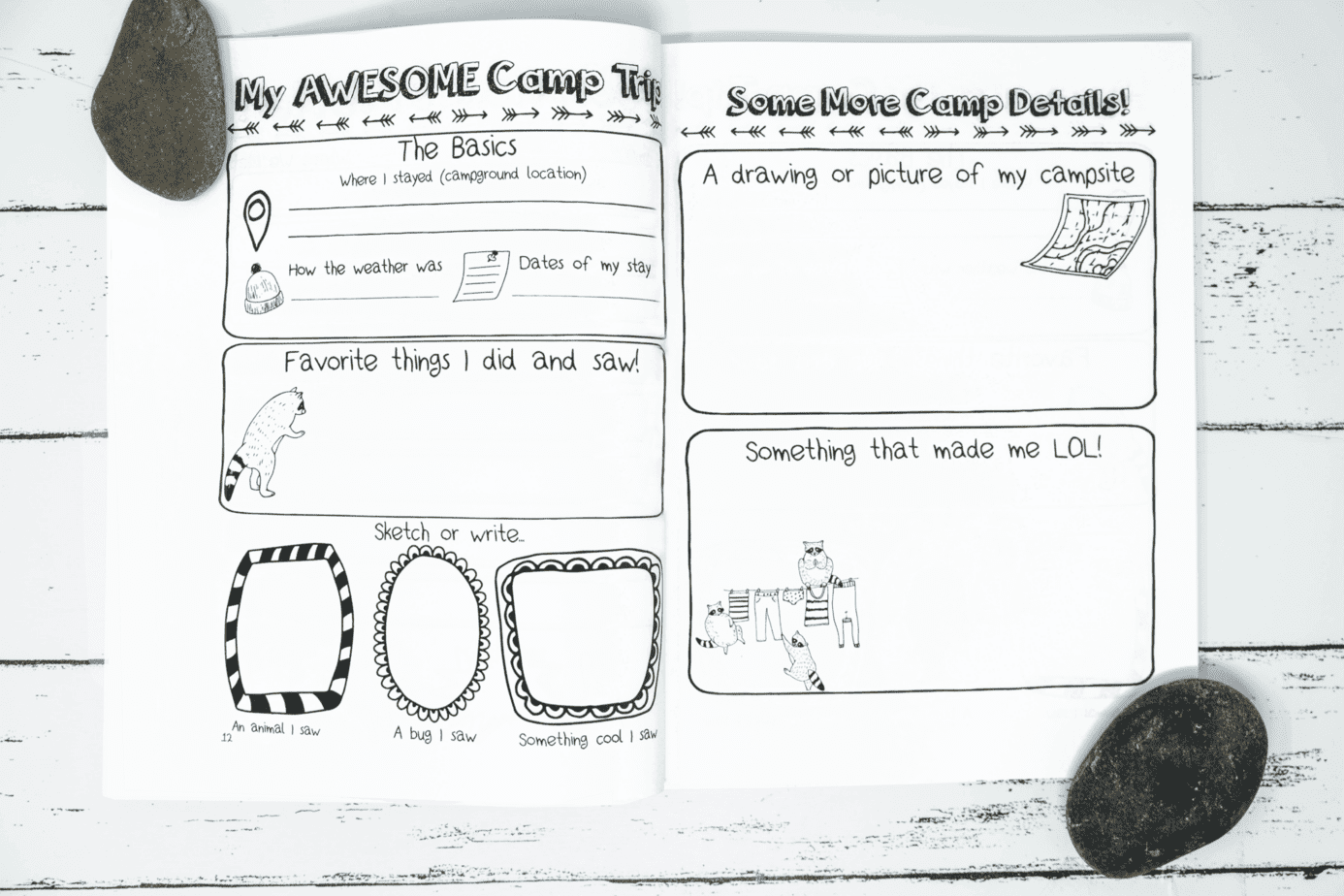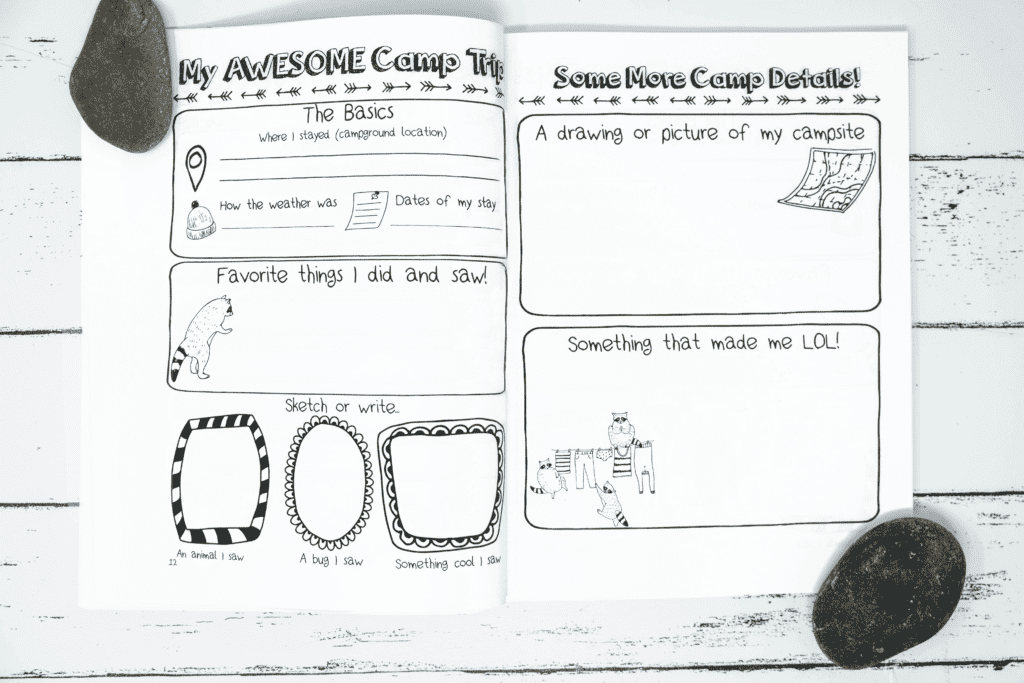 Help your tots get in the mood for camping with the Educational Insights Grill and Go Play Camp Stove. (Don't worry…no real fire 😜🔥) It's a 2-burner kiddie camp stove with a camping-style coffee pot, pan, and utensils.
When the real grill is fired up, kids can fire up their own to make some pretend burgers for everyone! Also, a big plus for the parents is that it helps keep the kids out of trouble while you're working on dinner!
And at under $50, it makes a nice budget-friendly gift for the grandkids or camping family friends.
Check the Grill and Go Camp Stove price.
Source: Amazon
If adults are roasting marshmallows, kids have to be roasting marshmallows too. I mean…it's really one of the main reasons to go camping right?! S'mores!!!
So instead of big long sticks that are too heavy for little hands to handle, get 'em this set of small, but extendable roasting sticks. They extend to 34 inches and even come with tip protectors for extra safety while transporting them.
Source: Amazon
The multi-colored handles make it easy to see which stick belongs to who (no more "Johnny stole my stick!!" 😭 fights) And at just $9.99 for a set of 4 (at the time of writing), they're definitely a budget-friendly camping gift.
Check the MalloMe Roasting Sticks price.
*Want more gift ideas for camping babies? Check out my article 23 Best Camping Gifts for Babies.
Camping Presents Just for Fun
Now let's head on to some of the best camping gifts just for fun!
This could've gone on the kids' gift list, but adults deserve to be "slackers" too! This slackline kit makes a great camping gift for families with hard-to-please teens. And you don't have to worry if they've done slacklining before since it comes with everything needed to set up the line, including a 50-ft teaching line.
Check the Slackers Slackline price.
Source: Amazon
Camping can be rough on playing cards and campers tend to go through more cards than most. They've gotta face rain, smoke, dirt, sand, sticky fingers, barbeque sauce, and bacon grease.
So if you have a camping friend who loves to play cards, why not get them some that'll last, like these Hoyle Waterproof Clear Playing Cards.
Source: Amazon
Accidentally dump some maple syrup on 'em? Dropped in the mud? Blew off the table and into the sand? No worries, just wash 'em off with soap and water.
These plastic cards can take a beating and make a great camping gift for a game-playing family.
Check the Hoyle Waterproof Clear Playing Cards price.
Bocce Ball is a fun outdoor game (tried playing it inside once but after a few broken lamps and a cracked window we stopped 😲…just kidding!🤪). It's easy to learn and everybody can play it.
The GoSports Bocce Ball set is well made and makes a nice gift. Plus, it also comes in a soft, rubberized version that's a little safer to play with kids and a light-up version that's really fun to play at night!
Check the GoSports Bocce Ball set prices.
Source: Amazon
Whether you're getting a gift for a "Take Me Home, Country Roads" kind of camper or one who prefers "Old Town Roads", you can't go wrong with an outdoor waterproof speaker.
The Anker Soundcore Motion Boom has some pretty awesome sound and it's even waterproof. No, not splashproof. Waterproof. Even if it takes a dunk, it'll float and keep pumping out big sounds.
Check the Anker Soundcore Motion Boom Outdoor Speaker price.
Source: Amazon
If your gifting budget allows for a little more than a wireless speaker, what about a portable projector?
The Anker Nebula is the size of a soda can but with it, you can watch movies and shows up to 100 inches big! And best of all for camping, it's completely wireless. Watch up to 4 hours on a single charge and control it from your phone. Even if you don't have Wifi while camping, you can still stream content to the capsule via Airplay or Bluetooth.
Source: Amazon
Check the Anker Nebula Capsule projector price.
Or for longer battery life and better resolution, check out the Nebula Capsule Max.
Ever play speedminton? It's loads of fun. It's kind of like a cross between badminton, tennis, and volleyball.
A speedminton set (or crossminton to some) makes a great camping gift since you don't need to set up a net and can play it anywhere.
And since the S600 set is under $50, it's a camping gift that's easy on the wallet.
Check the Speedminton S600 Set price.
Source: Amazon
Practical Gifts for Campers
Here are a few practical gifts for campers that'll make their next camping trip a little easier and more comfortable.
A great gift for hikers, backpackers, and tent campers, these versatile LED lights work in the tent, on the picnic table, or even around the RV awning.
There's a 100-inch long string of battery-powered lights with clips for easy arranging anywhere you need them. Or you can roll up the string and put it in the diffuser bag to create a mini lantern. The triangular case (that doubles as the diffuser) can sit up on its own or it can be hung from the clip at the top.
Source: Amazon
Source: Amazon
Check the Big Agnes mtnGLO Light price.
Goal Zero makes some pretty cool lights, portable solar panels, and battery packs for outdoor use. The Lighthouse 400 is a really versatile gift that's great for car and RV camping.
You can charge it from a USB port, a goal zero solar panel, or even just by hand cranking it in an emergency. Plus, when it's charged, it even doubles as a power bank to charge your devices.
Source: Amazon
So if you've got a camper friend who's still using their old Coleman propane lantern, get this for them as a gift and help them step into the 21st century.
Check the Goal Zero Lighthouse 400 price.
Got a camper friend who's always fiddling with a flashlight?
Get them a headlamp and give them the gift of two hands! 🤪 Headlamps just make doing stuff around camp in the dark soooo much easier, especially if you get the right one.
BioLite headlamps make great gifts. Ones like the 330-lumen model are rechargeable so whoever you give it to won't have to worry about buying extra batteries. And they've also got a comfortable, no-bounce design.
Check the BioLite Headlamp 330 price.
Source: Amazon
Give the gift of warm and cozy with a Rumpl blanket. Made with lightweight, silky-soft insulation like sleeping bags, they're quickly becoming a must-have on every camper's gear list.
Source: Amazon
Rumpl offers tons of different blanket options, but it's hard to beat the Original Puffy Blanket. On Amazon, it's available in 7 different prints and for under $100.
Check out the Rumpl Original Puffy Blanket price.
*And if you want to get a camping blanket as a gift but want more options, check out my article with the 15 Best Camping Blankets.
Got that hiker friend who always brings that old roll of foam to sleep on? Get 'em a self-inflating sleeping pad like this one from Sea to Summit.
A lot of self-inflating sleeping pads are a real headache to try and deflate to get back into their stuff sack, but the Sea-to-Summit pads have a multi-function valve that makes inflating and deflating suuuuper easy.
Source: Amazon
And another big benefit of the self-inflating pads is the extra insulation the foam provides. This specific model has a 4.2 R-value which makes it perfect for spring to fall campers.
Check the Sea to Summit Camp Pad price.
Camping strips you of some of your normal creature comforts, but it's nice to still have a few comforts where it counts — like pillows or anything else that helps you sleep well while camping.
But if your car is already packed to the hilt, it can be tough to find a place for your bulky pillows from home. That's where camping pillows come in. And if you're getting a gift for a backpacker, they'll be even more appreciative of finally having something comfy to lay their head on without it taking up half their pack.
Sea to Summit has a nice range of camping pillows from the comfy FoamCore pillow to the ultralight and inflatable Aeros.
If you're still not sure which is best, check out my article featuring the top 15 camping pillows!
Source: Amazon
The Aeros makes a nice gift for backpackers since it's super lightweight and packs up to about the size of a soda can.
If you're getting a gift for someone who prefers a bit more comfort, go with the FoamCore pillow. It's available in 3 different sizes and has a more normal "pillowy" feel, but still packs up to the size of a thermos.
Check out the Sea to Summit Aeros price.
Check out the Sea to Summit FoamCore prices.
Rule #7 of camping — always bring a hammock (and usually more than one 'cause one just never seems to be enough.)
This Wise Owl Outfitters hammock is the larger version of the kids one I featured earlier. It comes with everything you need for setup so you don't have to worry about getting extra straps (like you do with some other brands). Plus, it's available in 1 or 2-person sizes!
Check out the Wise Owl Outfitters Camping Hammock prices.
Source: Amazon
Camp chairs are another camping gear staple so they always make great gifts. But the problem with camping chairs is that they usually come in two types…the big clunky ones that are somewhat comfy but take up tons of room or the tiny backpacking chairs that you think you're going to break every time you sit in them.
That's why these Front Runner Expander chairs make such a great gift — they're the best of both worlds!
Source: Amazon
Once unfolded, they're the size of a regular chair and are comfortable to use around the fire or even while sitting at a table. Your butt's not on the ground with these! Plus, they have three different pockets for your drink, phone, or other small camp gear.
Source: Amazon
And when it's time to pack 'em up, they fold down to just 1/16th of their original size. That means whoever you get these for can pack more bacon and maple syrup! YES!
Check out the Front Runner Expander camp chair price.
Camping gear can make a great gift, but with a National Parks pass you're giving the gift of unforgettable experiences. Give your favorite campers the America the Beautiful annual pass and they'll be able to get into every National Park & Monument as well as other National Forests and recreational areas.
Get the National Parks Annual Pass.
You saw the Solo Stove Lite earlier on the gift list. The Bonfire is its big brother. It's a stainless steel fire pit that's perfect for the campsite, backyard, patio, and just about anywhere else outside.
But it's not just a normal fire pit. Its unique design creates an almost smokeless fire so you don't have to play musical chairs every 5 minutes when the wind shifts.
Check out my full review of the Solo Stove Bonfire after 2 full years of using it.
Get the Solo Stove Bonfire here.
Source: SoloStove
The Best Budget Gifts for Campers
Yes, I know what you might be thinking… "I've got a long list of campers I've got to buy gifts for and I can't be spending $50+ on each of them." And yeah, it is true… a lot of the gifts I've listed so far are really great, but they are a little pricey.
No worries! Here are some of the best budget gifts for campers. All are under $50 and most are under $30 (at least at the time of writing).
Source: Amazon
There are so many ways you can use these versatile LED battery-powered light bulbs around the campsite — in the tent, the car, around the RV awning, or for a nightlight. And at $15 for a 4-pack, they make a great wallet-friendly camping gift.
Get the FLY2SKY Portable LED Light.
Source: Amazon
What a great gift for those chilly nights around the campfire! It's hard to beat $12.99 for a combination beanie and rechargeable headlamp!
Headlamps can be tough to wear with hats, so this light-up beanie solves that problem. Plus, the light part is USB rechargeable so whoever you get this for won't have to worry about always buying new batteries. And with 15 different colors to choose from, you can get one for all your camper friends!
Get the Etsfmoa Beanie With Light.
Source: Amazon
More of a novelty gift than something practical, these socks come in several different colors for the camping version. Plus, they also come in an "I'd rather be RVing" version as well!
Check the price.
Source: Amazon
We've all had that moment where we're trying to rummage through the cooler a night looking for another snack! That's why this Cooler Light makes a super practical (and cheap!) gift for campers.
Just stick it on the inside of your cooler lid and when you open it, it automatically turns on! (Kinda like your fridge at home!)
Check the Cooler Light price.
Source: Amazon
Can't decide what gift to get? Why not get them a little bit of everything with a survival kit like this one. It's a nice addition to your camping gear and has some useful items like a survival knife, flashlight, emergency blanket, fire stick, and more.
Check the Survival Kit price.
Source: Amazon
The Sea to Summit FoamCore pillow is a nice gift, but if you're on a budget, you're probably looking for one that's a little easier on the wallet. In that case, get the Wise Owl Outfitters Camping Pillow.
It comes in two sizes, gets consistently great reviews, and starts at just over $15!
Get the Wise Owl Outfitters Camping Pillow.
Source: Amazon
Ultralight, quick-drying travel towels make nice gifts for more than just backpackers and hikers. Ever go to get a shower while camping only to find out that your towel is still damp from the day before? Yuck!
These microfiber towels are easy to pack with the included case and they dry super fast! Plus, they're available in a bunch of different sizes and over ten colors so nobody gets their towels mixed up.
Check the 4Monster Camping Towel prices.
Source: Amazon
Wait a sec? Isn't that the Rumpl blanket? Almost. It's obvious who 4Monster is trying to compete with. 😏 But for a similar blanket that's about half the price of the Rumpl, this 4Monster blanket can make a nice camping gift that doesn't cost an arm and a leg.
Check the 4Monster Camping Blanket price.
Source: Amazon
A cool idea for campsite organization, this storage strap makes a nice gift for campers. Just string it up between two trees and the extra loops on the lanyards give you a handy place to hang wet clothes, backpacks, or other camp gear.
The basic version is just over $20. You can pay a few bucks more to get a battery-powered string light too!
Get the Moremili Campsite Storage System.
Source: Amazon
Part camp fashion, part survival tool, these paracord bracelets make great gifts for teens and young campers. In addition to the paracord, each bracelet has a compass, whistle, and a firestarter!
Check the Atomic Bear Paracord Bracelet price.
Source: Amazon
Stanley camp cook sets are built like tanks and will last a long time! The Stanley Base Camp cookset is a staple in the camping community but at about $80, it doesn't exactly make it onto this budget-friendly list.
The Adventure 2-cup cookset is a nice (& more wallet-friendly) gift for hikers and backpackers who enjoy simple camp cooking.
Check the Adventure 24-ounce Camp Cook Set price.
Source: Amazon
Go camping long enough and you (and your gear) is gonna get wet. That's why it's always good to have a dry bag around, especially if you're planning some water sports.
The Earth Pak dry bags strike the right balance between price and quality. Plus, these ones come with a waterproof phone case too — two gifts in one!
Check the Earth Pak Dry Bag prices.
You did it! You made it to the end of the list of the best gifts for campers!
So Which Camping Gifts Are You Gonna Get?
Which camping gifts are gonna make it into your cart? Maybe you'll get the Solo Stove Lite as a super practical gift for hiker friends. Or are you gonna get like 20 beanie light hats as gifts for your entire camping family?
Whichever presents you decide on, don't forget that the best gift you can give them is your time and attention. So even if you can't buy an Ooni pizza oven for everyone on your list, don't worry.
Plan some camping trips together and have a blast! That's what's most important.
Don't miss my other articles with more gift ideas for campers:
Latest posts by Stacy Bressler
(see all)