If you've been camping for awhile, you've probably tried to think of ways to have dates, or make things a bit more romantic, especially when things like Valentines or Anniversaires come up while camping!
You can't exactly just do things like you do at home, especially when it comes to more intimate affairs. After all, the camper rocks, and there's sparks to think of should you bring the party outside!
With Valentines coming up, I probed the minds of one of my favorite RV groups and I WAS NOT disappointed! There were plenty of very useful camping things to get for your partner, and there were other ideas that went straight to the point!
I'll list the products first (as I think most people are probably looking for those ideas) however keep scrolling if you want to sign up for those cute camping Valentine cards!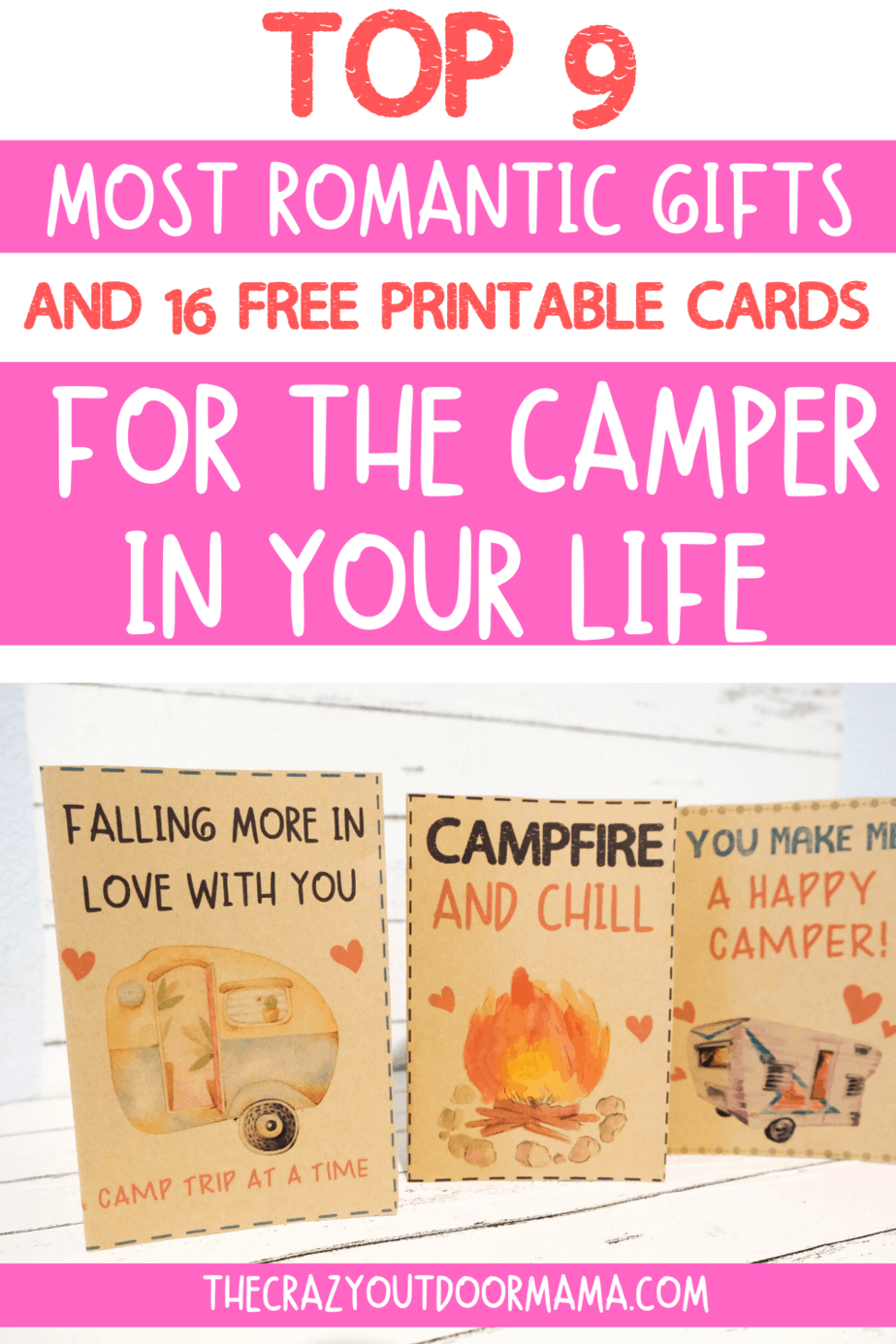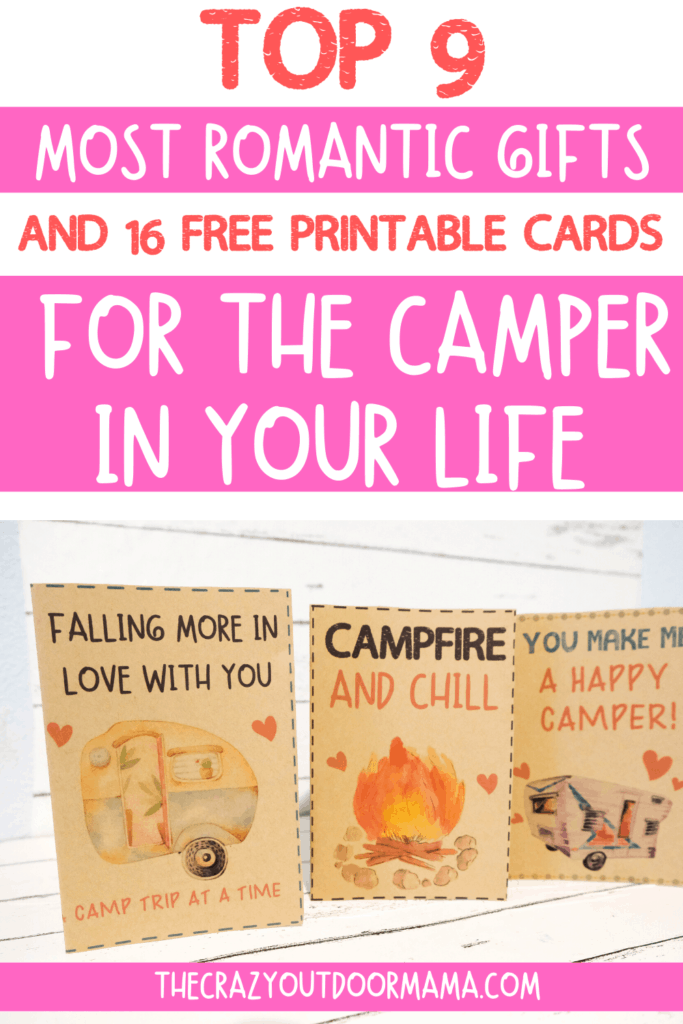 Camping Gifts Your Partner Actually Wants (and can help set the mood!)
Making a camp trip romantic definitely requires a bit more prep than normal, especially if you are already used to camping alot. Things like lights, some fun games and perhaps some tasty beverages can help get the mood going!
Getting something useful though, especially for men, is just as good as all that prep. I find men are more straight to the point, and appreciate a new blackstone griddle or propane firepit as much as pretty lights or new sheets!
I'll make sure to include ideas for both =)
Top 3 Most Requested Camping Gifts for Men!
Women might love some of these too, but men really do love the cool gadgets! After combing through hundreds of comments (and lurking for months!) I have found these three items to be the most talked about and wanted items!
Blackstone Tabletop 22″ Portable Gas Griddle
Getting a Blackstone Griddle seems to almost be a rite of passage – there are always congratulatory threads when someone first gets one and people are always posting any deals they find to save some money on them!
Once seasoned, they can cook just about anything and are very portable!
Why would you need a griddle if you have something to cook on inside?
Well, it's perfect for splattery foods, odorous food, foods that are traditionally "sticky" or just breakfast in the morning so as not to wake everyone inside (cook me breakfast and let me sleep in? My husband definitely has some brownie points coming his way for later that night!)
See it on Amazon Now!
Outland Firebowl Propane Firepit!
Another VERY talked about camping item, especially for those who frequent RV parks that may not have fire rings or for those who camp in places that tend to get fire bans later in the summer season!
I know the idea of a campfire is really romantic, but think about this – you can turn on and turn off your campfire in seconds!
No more dealing with getting water or a shovel to extinguish it when it's time for bed, or when you feel like taking a walk. No more worrying about buying wood or transporting your own wood (especially since you really shouldn't bring wood from different areas since there may be beetles or other invasive species you could be transporting in your firewood!)
Want to sweeten the deal even more? Get the nice matching carrying case so it's easy to store and transport!
See it on Amazon Now!
Countertop Ice Machine (cool drinks all the time!)
If you cooling off during summer with a cool drink (or just need alot of ice to keep your cooler items chilled!) then this countertop ice maker is the perfect gift!
Not only will your partner be delighted to save some money, but it's also nice to never have to worry about making store runs when traveling just for ice!
This ice maker isn't noisy, fits on top of most countertops, and makes up to 26 lbs of ice in 24 hours!
See it on Amazon Now!
Top 5 Romantic Camping Ideas Women Might Love!
Again, everyones love language is different, so the particular woman you are shopping for might be different (or your man might like this kind of stuff!) but here they are!
These focus more on setting the mood and treating her to some luxury!
Pretty String Lights to put around camp and create ambiance!
There's just something about the crackle of a fire and the soft glow from string lights in the night… it definitely makes things feel more intimate!
I myself have always wanted some to put up when we stay somewhere for awhile (especially since the kids no longer need me to lay with them to fall asleep!)
Lights are one of those things lots of ladies I know want, but don't ever get because.. well, they are not needed! Me included!
See it on Amazon Now!
A Special Wine and Cheese Picnic Set
While I know you could just carry the wine and cheese stuff in a plastic bag, this is just a special way to carry it all and keep it organized!
Pack your wine and cheese of choice, and bring it out to the campfire or take a little walk to get away from camp for a bit and be alone!
See it on Amazon Now!
A Hoodie Blanket to keep cozy on cold camping nights!
Keep your lady cozy and warm in an oversized hoodie blanket! My absolute favorite part of each camp trip is at the end of the night when it's just my husband and I by the campfire, and this blanket could make it better!
For whatever reason, I always seem to be colder than my husband, and it seems that's pretty common! This pretty plaid is popular camping themed pattern, and it's also perfect for camp mornings while trying to build up the campfire!
See it on Amazon Now!
A Camping Journal as pretty as she is (it's the #1 New Release in Camping on Amazon!)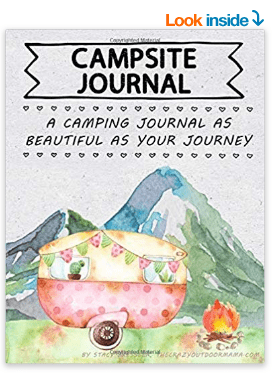 Many women (myself included!) love to write all about each camp trip, however most camping logs are black and white and well… sort of boring.
This camp journal is full color and has plenty of spots for pictures, notes and includes fun things like National Park and state check off lists!
P.S…. I published this! =) Check out this article with more info on it here to see pictures of the inside!
See it on Amazon Now!
Timber Ridge LOVEseat for more cuddles by the campfire!
What better way to get the romance going than to get closer! Grab your favorite blanket and get some cuddles with your sweetie!
This camp chair folds down pretty flat for being a double, and with less distance between the two of you, is sure to get conversation (and more?) going!
See it on Amazon Now!
More romantic camping ideas
Make sure to have a thick blanket to lay on the ground should things move from the camp chairs! The last thing anyone wants is a stick in the wrong place!
Get a playlist ready ahead of time with music you both love
Put your phone away! Hopefully you already know this since you're camping, but make sure to put it away for special nights for sure!
Get a board game or card game if you have a hard time with conversations. They will naturally pop up while playing and it's nice to do something together!
Does your partner hate a certain chore? Make sure to do that and get started on the right foot!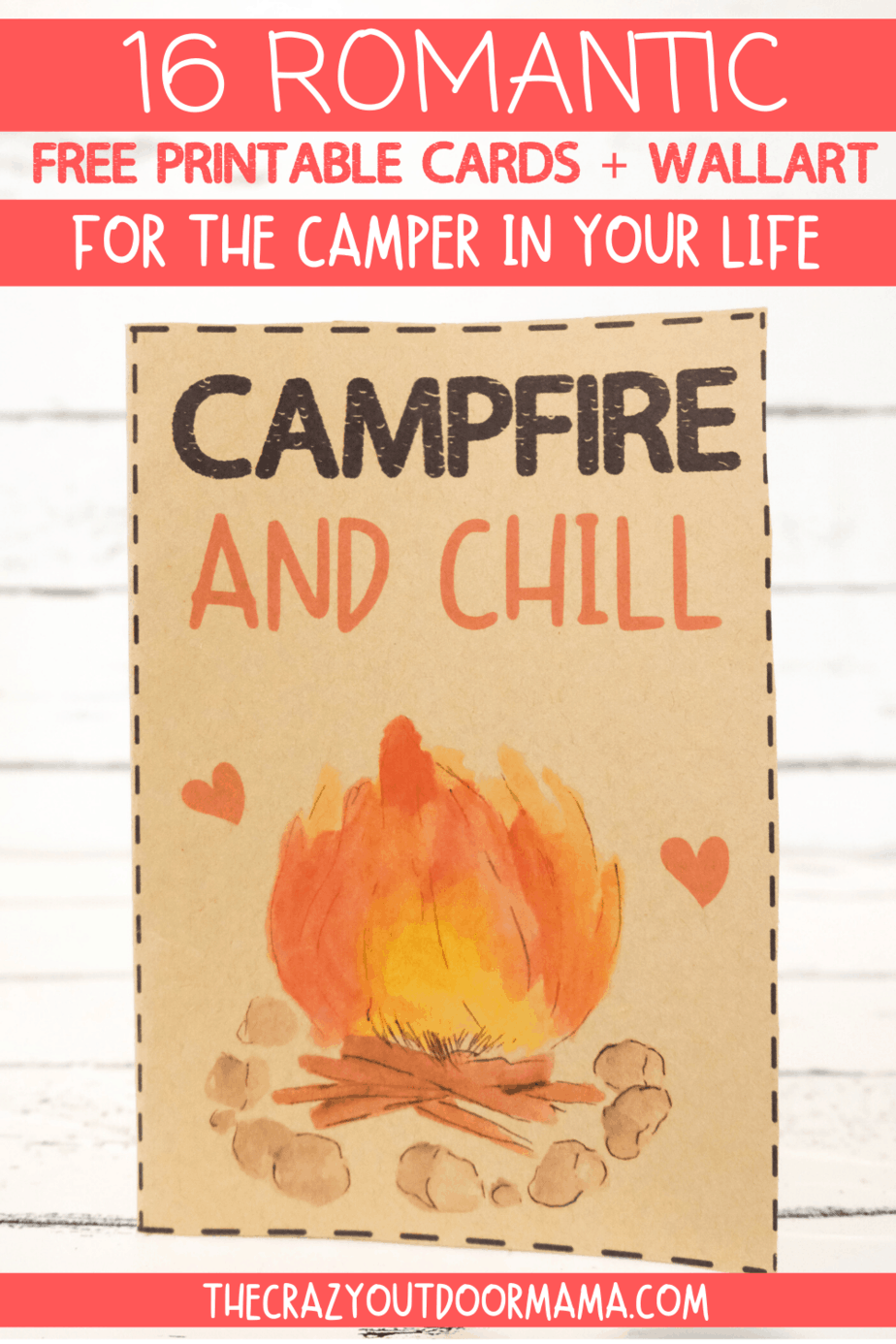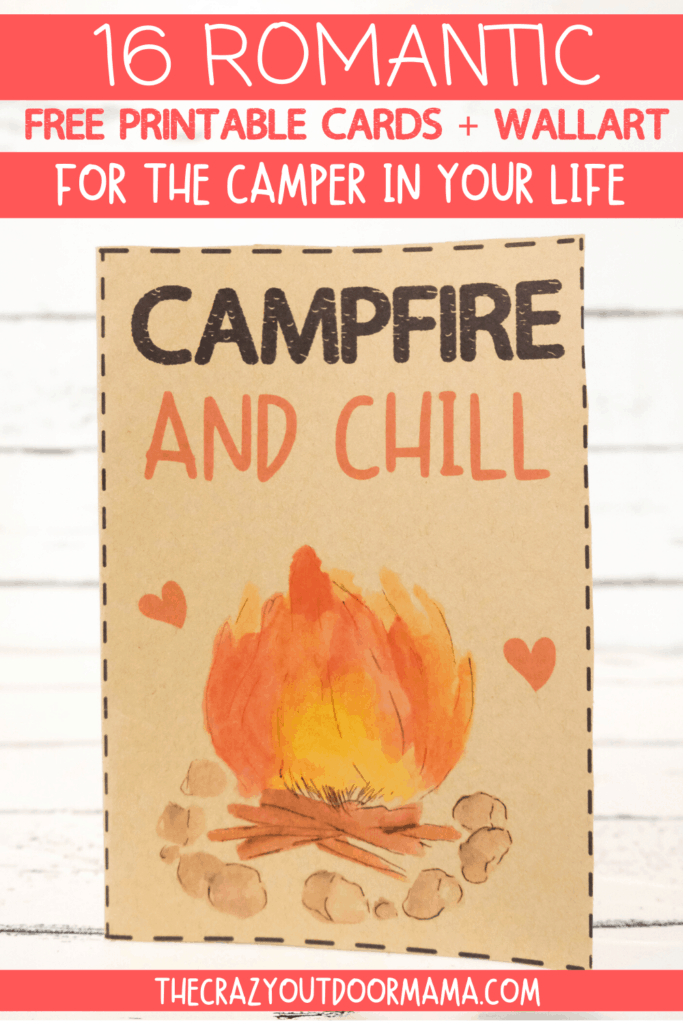 Now that you have some ideas, make sure to print out one of these cute camping themed Valentine cards or romantic wall arts!
I sort of hate spending six dollars on a single card that I will use once (and to be honest, my husband is just as happy with a scribbled note) so I have created this cute set of cards and wallart that all have a romantic camping theme!
Some of the romantic camping quotes include:
Those who s'more together stay together
Those who camp together stay together
You make me a happy camper!
Campfire and chill
Are you a campfire? Because you're making me hot!
Helped park the camper, still in love
Falling in love with you a camp trip at a time
My love for you is in-tents
Those that wander together grow fonder together
Are we camping? Because you just set my marshmallow on fire!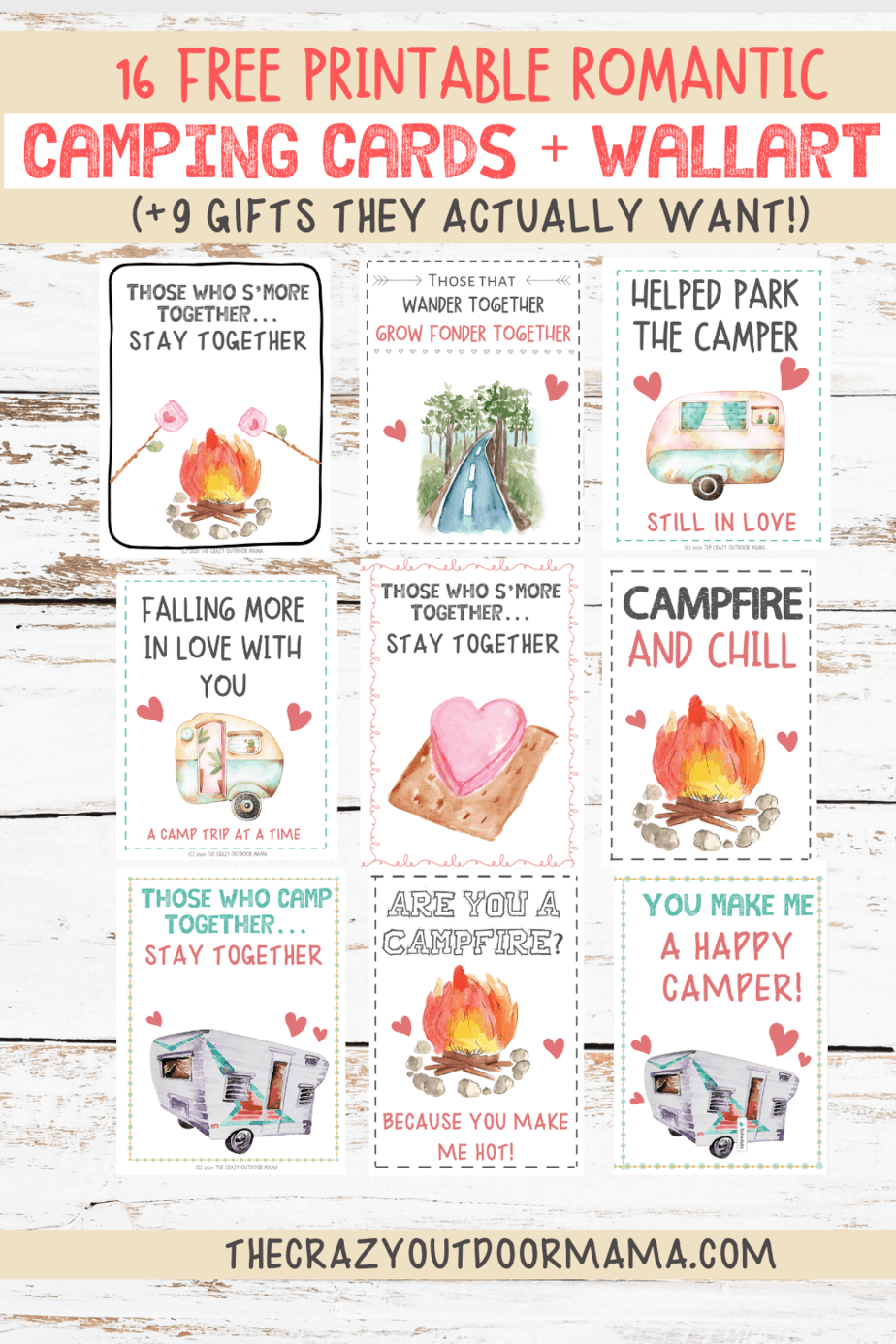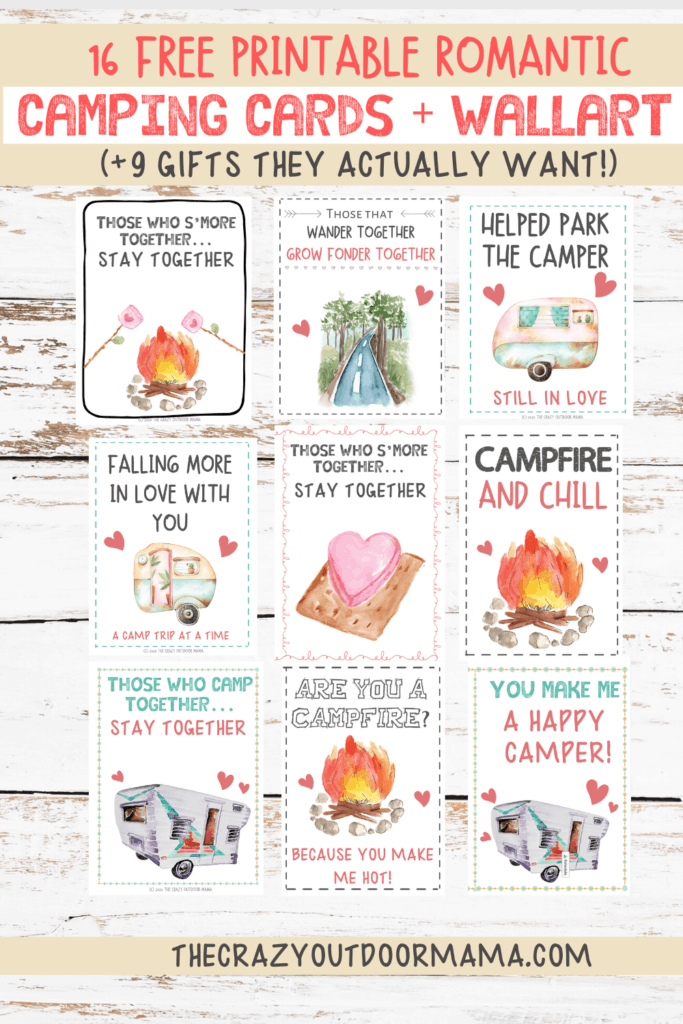 What are some romantic things you've done for your sweetie while camping?
My husband makes my camp experience pretty darn deluxe every time – he sets it all up, gets the fires going morning and night, and is an AMAZING camp cook!
I hope the camper in your life enjoys these ideas! Here are some more articles to check out!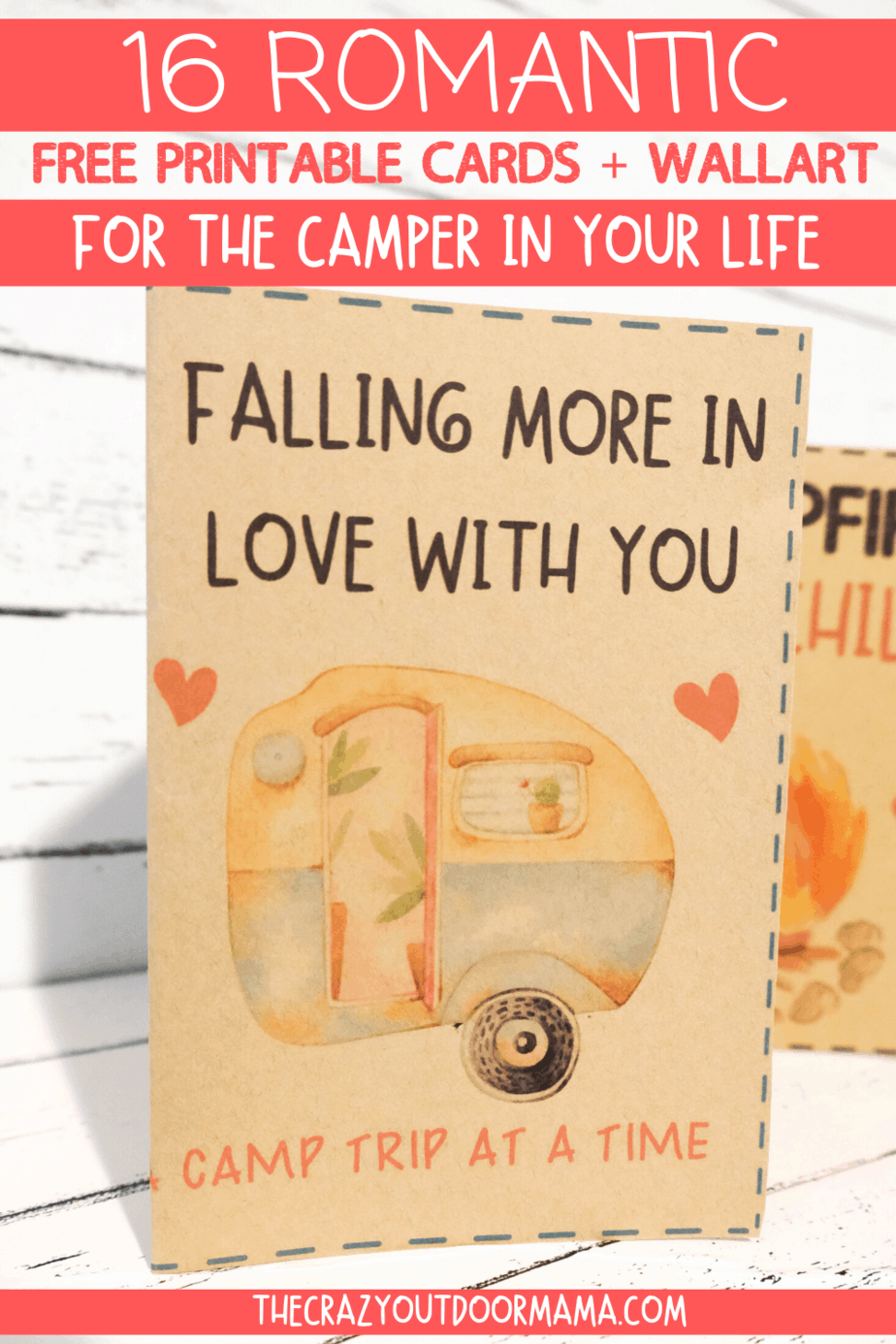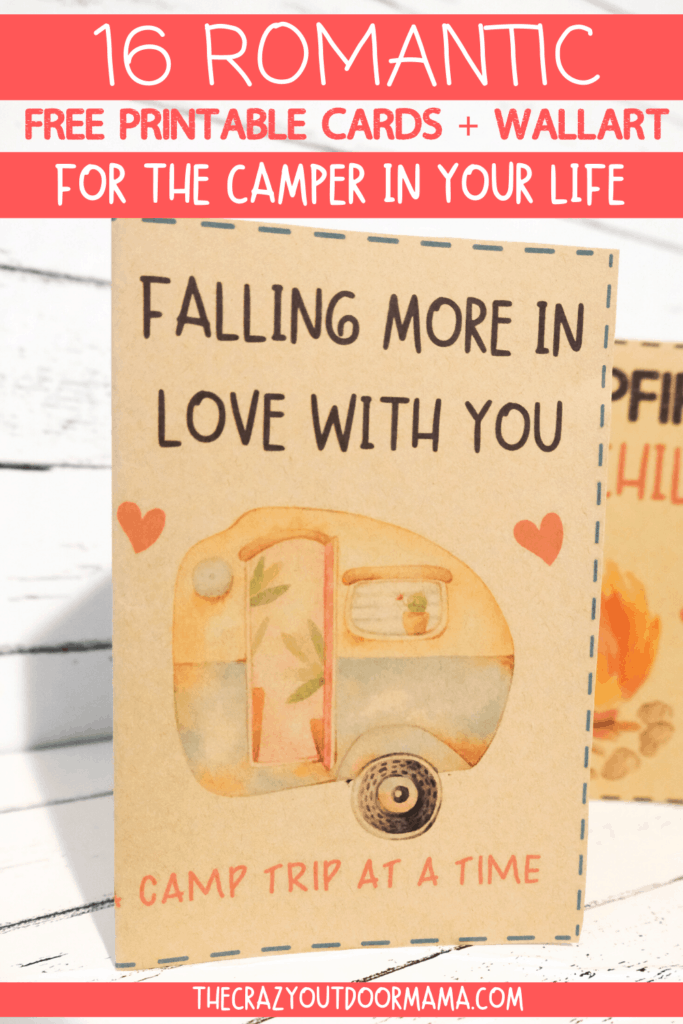 Latest posts by Stacy Bressler
(see all)