Going on a camping trip is great, but getting to play some fun family camping games too – well, that will make it even more fun!! I love being able to genuinely reconnect with my family (away from the phones, chores, etc) through some simple camping games that will get the whole crew laughing and moving around!
Each of the camping games I list will MOSTLY be modifiable for different age groups, however I'll make sure to list the games that are mostly for older kids at the bottom. I'm lucky that I have 3 young ones of my own, but have camped plenty with their much older cousins – even teens can have fun camping!
I will also include a section for fun camping games at night (lots of glow sticks, folks!) to think about before heading out on your next camping trip!
Here are some fun games to take on your next camping trip
Sling some rockets!
Obstacle Course (camp style!)
Duck Duck Goose (Deer Deer BEAR!)
Campground Scavenger Hunt
Corn hole
Ring Toss
Flarts
Kendama
Marshmallow Shootout
The Alphabet Game (for the Outdoors!)
Pass the Water
Squirt Gun Shootout
Camping Charades
Marbles
Story Stones
Sing camping songs (if you have little kids!)
Tic Tac Toe (but way cooler than what you're thinking!)
Simon Says
Would You Rather
Spoons (Rocks, Pinecones or Marshmallows)
Camp Mad Libs!
"Roll a S'more"
Spot it! card game
Kids Against Maturity (for the older kids!)
Blacklight Jenga (don't worry, it comes with the lights!)
Glow in the dark ring toss!
Light up frisbee
Light Up Hula Hooping!
Story telling with these mini projectors (with tons of different options!)
Play glowing cornhole
Glow Hot Potato
Glow tape to make your own camping night time game!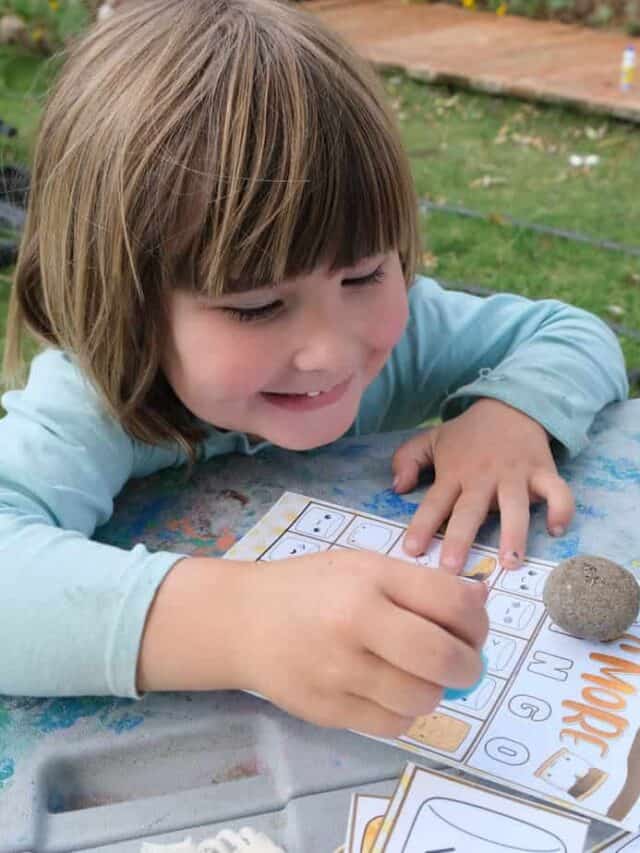 ---
Active and fun camping games
These fun camping games listed below are super active, and will be guaranteed to burn off some energy. No board games here – these are for the kids who love to be moving all the time!
Sling some rockets!
These are THE BOMB! My mother in law gave my four year old a set and it is one of our favorite outdoor toys. Even better, these have a switch that will make them glow at night!
They go super far, look cool, and are a pretty good way to wear the kids out by having them trying to chase and catch them before they land!
These foam sling rockets go super far, are easy to use, and best of all.. can still be used at night because they glow! This is a great way to burn some energy!
Obstacle Course (camp style!)
What better way to enjoy everything about camp than making a fun obstacle course based off of whatever you have around you?
Depending on the age of your kids, you can make this as challenging or fun as you like!
Try getting some sticks to set up jumps, rocks to make circles to land in, and maybe even a little mud puddle for a big final jump! I like doing obstacle courses with cool trees in the area to make this even more unique!
Duck Duck Goose (Deer Deer BEAR!)
Make this favorite kids game a little more "campy" by switching out the words from duck duck goose to deer deer BEAR! Kids will love to play this familiar classic while camping!
I know my kid needs no excuse to act like a bear! I also love that this game can be played with an unlimited amount of people, so it's a game that even bigger groups can play!
Scavenger Hunts
I looooove going on campground scavenger hunts so that we all become a little more familiar with where we're staying, and where everything is! Besides that, it's just a good excuse to get up and explore around!
There are fun party styles like this glamping camp scavenger hunt or more nature based ones such as general outdoor scavenger hunts.
Psssst – if you have some older kids who this is too easy/kiddy for, make it fun for them by doing a selfie style scavenger hunt! Being able to use their cell phone in a fun, relevant way will encourage the teens/tweens in the group to participate as well!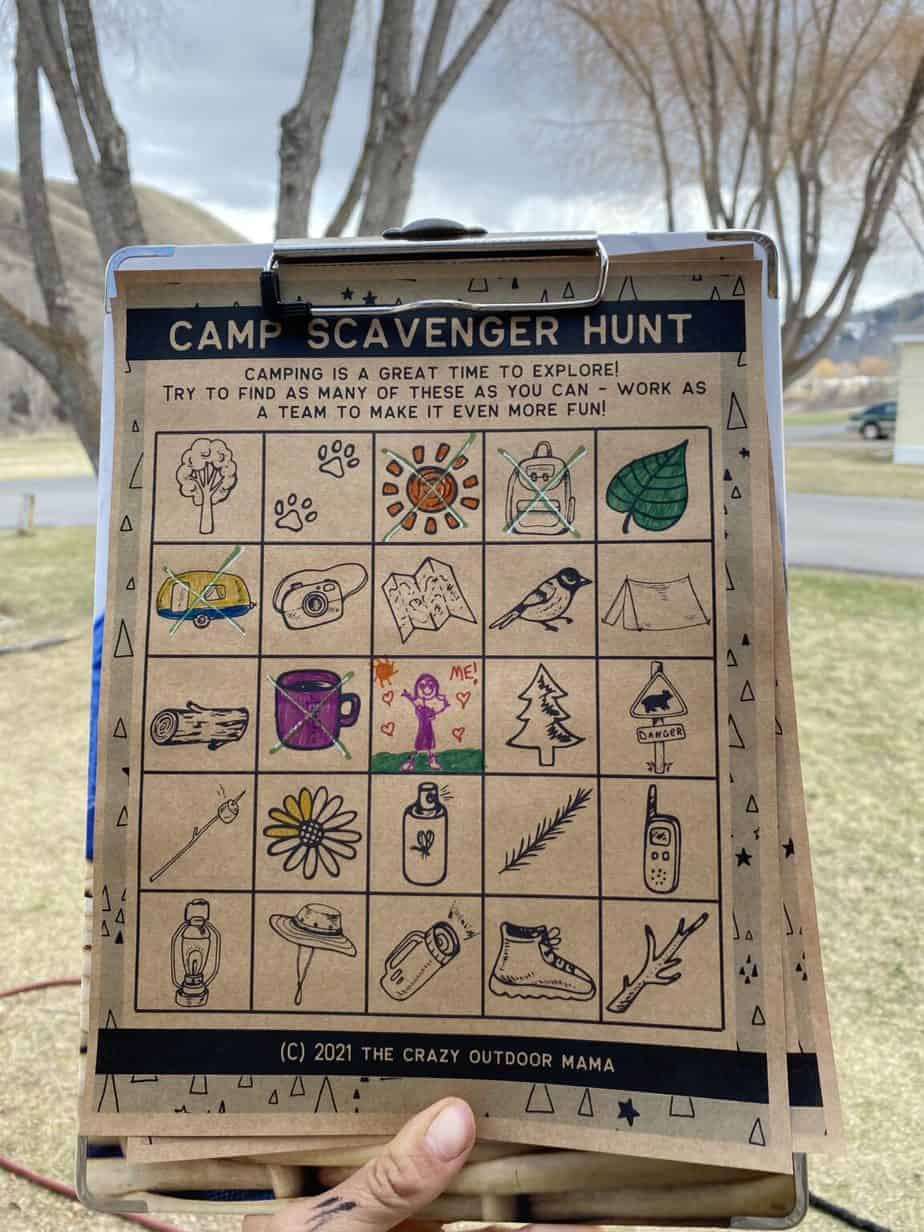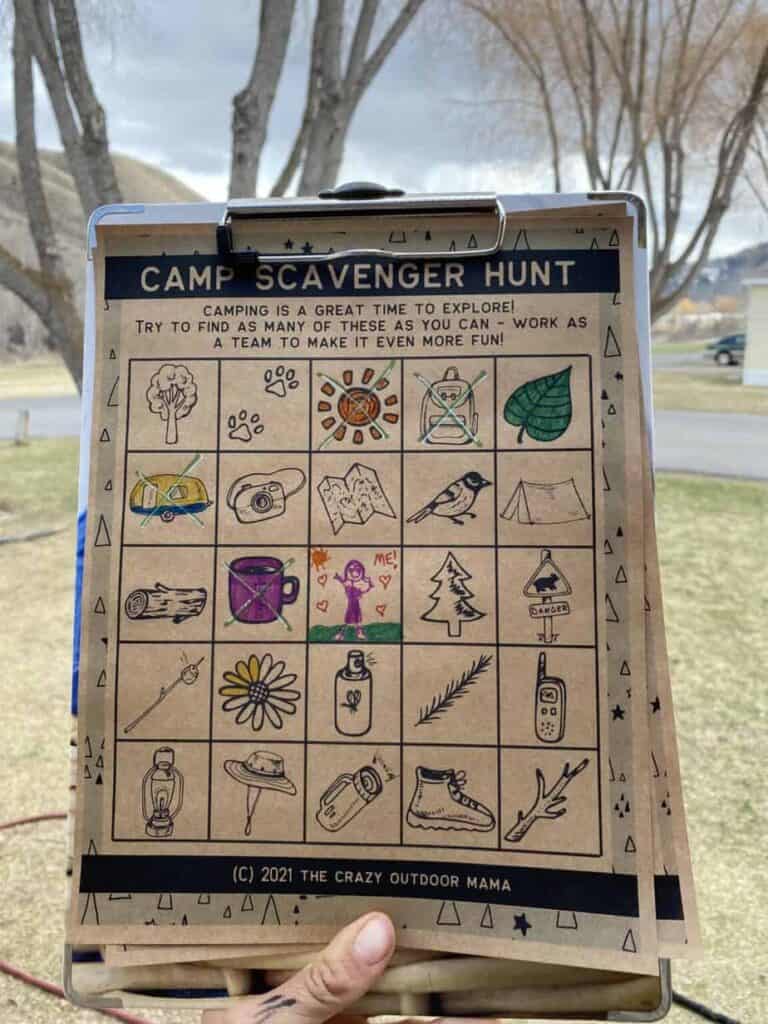 Corn hole
It's kind of a staple of most parties (atleast in Virginia and Wyoming) and you'll be glad to know it's just as fun camping! Don't worry though, you don't have to lug your massive wooden boards everywhere you go!
There are some cornhole sets that fold up small and are perfect to bring camping (like the one below!)
This cornhole set is perfect for camping because it folds up so nicely (and to be honest, it's nice to use at home too since the big wooden boards take up too much space!) SEE IT ON AMAZON!
Ring Toss
While we're talking fun family outdoor games (that have camp versions that pack easy) we can't forget ring toss! Whether you DIY your ring toss game or choose to buy a compact set like the one below, it's an easily modifiable game for all ages!
Another family camping game that packs small but goes big on fun! This ring toss set all fits into that little bag you see at the top of this picture!
Bottle Bash Frisbee
In this active and versatile game, teams try to knock down eachothers bottle and pole – both of which are worth points! I love how simple the rules are and how nice and small this game packs down!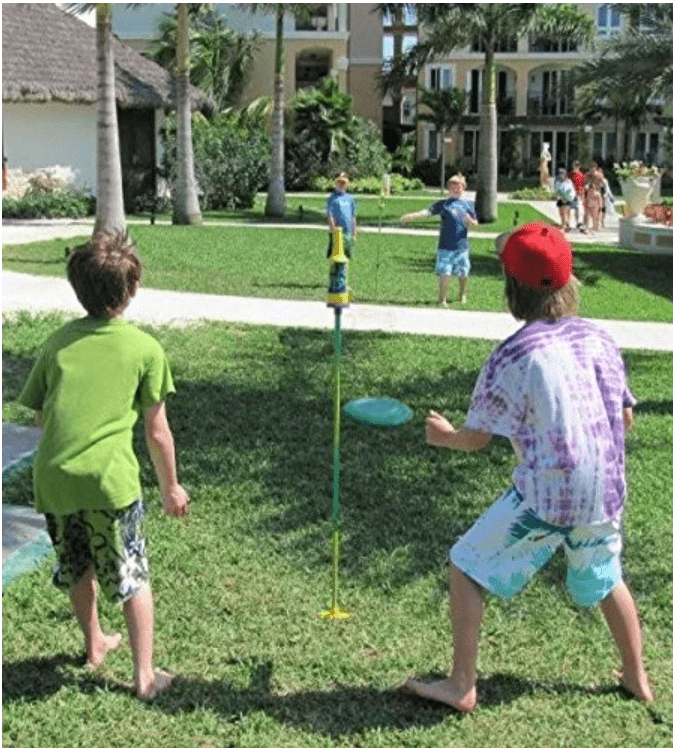 Flarts
If you giggled at that name just know that you and I share the same sense of humor (sorry, I'm a child sometimes!) Anyways, this silly game is one that the kids will especially love as it comes in two different themes – unicorns or a monster!
I hadn't heard of this game before, so after reading about it, it seems you throw floor darts (flarts) onto the tarp to try and hit certain points. I mostly love that it's so small (being that the gameboard is a tarp) that you could even take it in your next hike with the kids for a fun filled break!
Flarts uses just a tarp and inflatable floor darts (the flarts) to create tons of fun! With either a monster or unicorn theme, kids will love this easy to pack game at camp or heck… since it packs so small, even on a hike!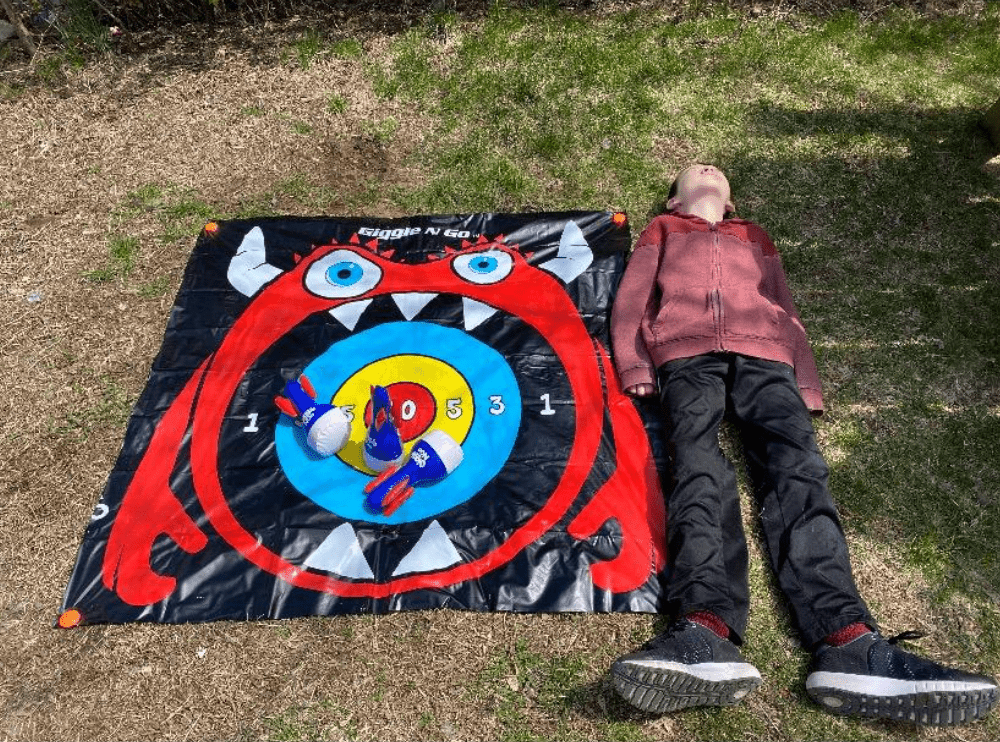 Kendama
If you want to become as equally obsessed as your kids with a game, then try out Kendama. You might not remember the name, but you probably recognize the thing when you see it!
Kids (and adults!) will spend hours seeing who can get the ball successfully on each target (there's two shallow cups + a point on top to try and land the wooden ball on). I also love that it's small so would be great to take on a hike or backcountry camp!
It looks simple, but kendama is a great test of patience and skill (and a easy single person game someone could play even while sitting down!)
Marshmallow Shootout
Ever practice shooting cans when you were a kid? Let's campify that by shooting marshmallows at plastic cups (or whatever else you have that's non glass)
DIY your own Marshmallow shooters with some PVC pipe here or you can even buy them premade like the one below!
If you aren't the DIY type, you can buy your own marshmallow shooter here from Amazon!

Sleeping Bag Race
Make sure that you're not using any super nice sleeping bag (aka use the car camping bag vs. the backapcking one!) and have an old fashioned potato sack race… but with your sleeping bag!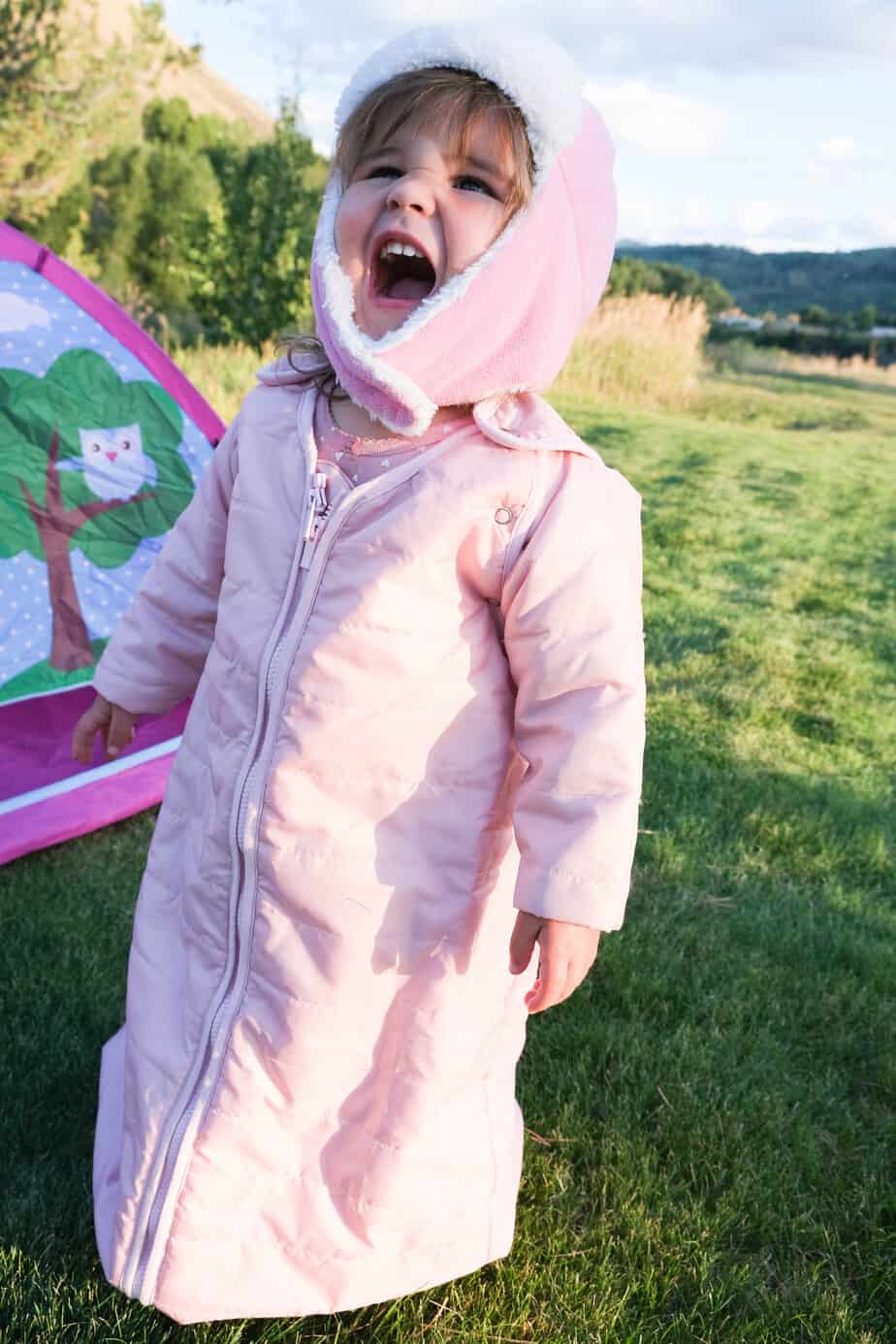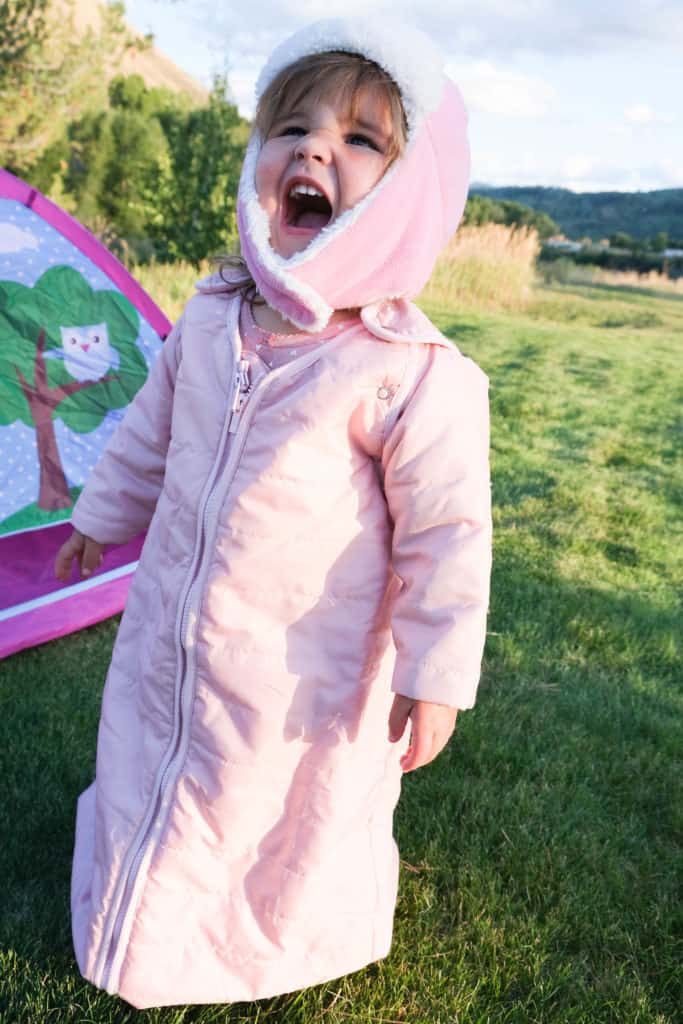 The Alphabet Game (for the Outdoors!)
This can be pretty challenging if you try to do ALL the letters (Z is hard outdoors!) but it is a perfect camping game for young campers to get familiar with the alphabet. I especially like this game for camping trips somewhere new – it will really encourage them to look around and observe everything!
Here are some ideas for an alphabet themed camp or nature scavenger game (download this and three more outdoor scavenger hunts here!)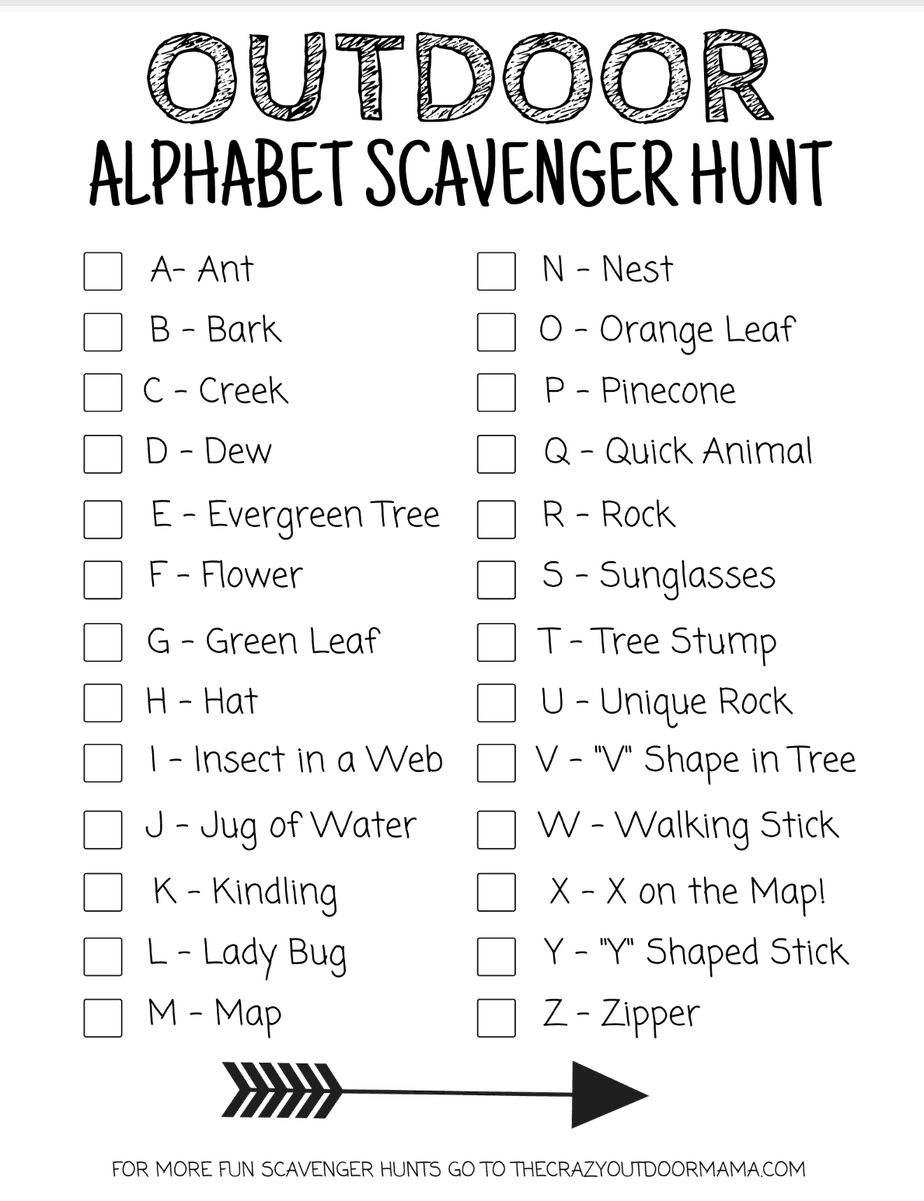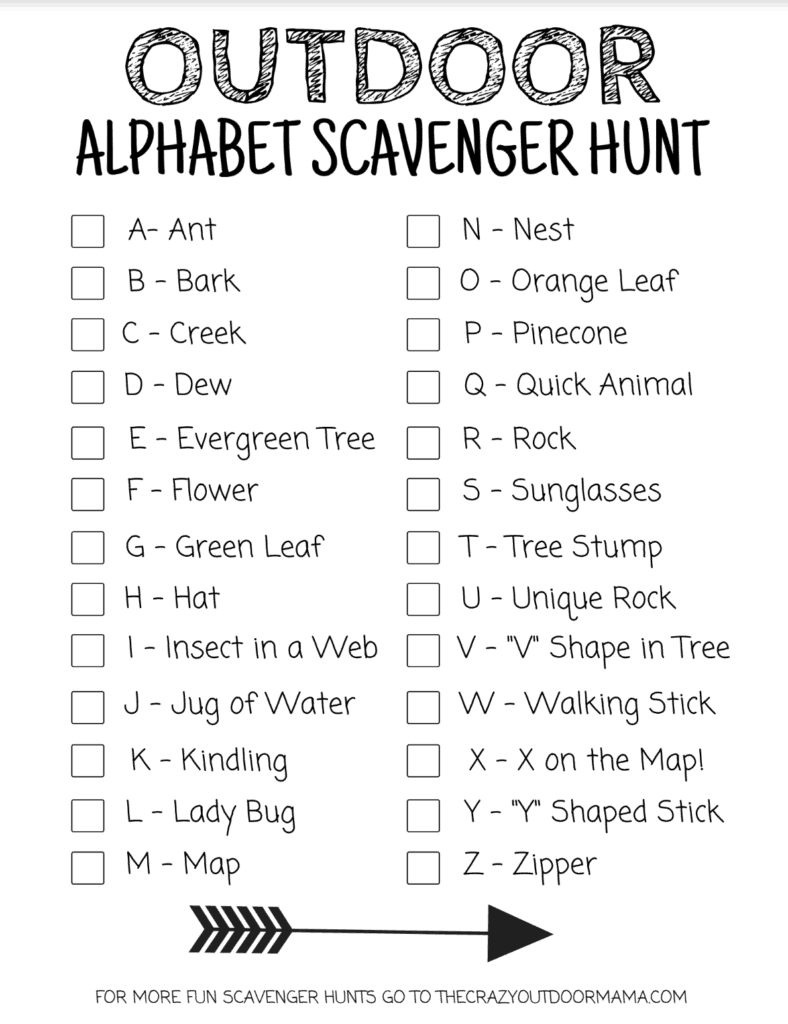 Pass the Water
One of the best games for a hot day, you only need a couple cups and some water for a fun challenge!
Each person gets a cup and gets in line – the first person in line gets their cup filled with water, then they try to pour it behind them for the next person to catch it with their cup! Make sure to use bigger cups for younger kids so it's easier to catch!
Squirt Gun Shootout
While I already recommend bringing ALL the waterguns/cannons that you can (especially if you'll be camping near water!) I definitely recommend some focused squirt gun shooting – it's an especially great camping game during summer!
Capture the Flag (at camp!)
This has to be the easiest, no prep active camp game there is! This is especially good if you have a big family or like to camp with alot of friends. To play this game, you'll just need to have each time create a flag and hide it somewhere on their side – the other team has to find it and bring it back to their base!
---
Relaxed Camp Games (think around the campfire or at a table)
These are fun camping games to help unwind and relax while still having fun at camp! Still expect plenty of laughs and smiles from these =)
Camping Charades
This is a fun camp game that can be enjoyed by almost all ages! Have everyone write down some fun camp themed actions or objects on slips of paper, then put them all in a cup and take turns picking one and acting it out! Try thinking of your own items to act out, or try this premade set of camp charades here!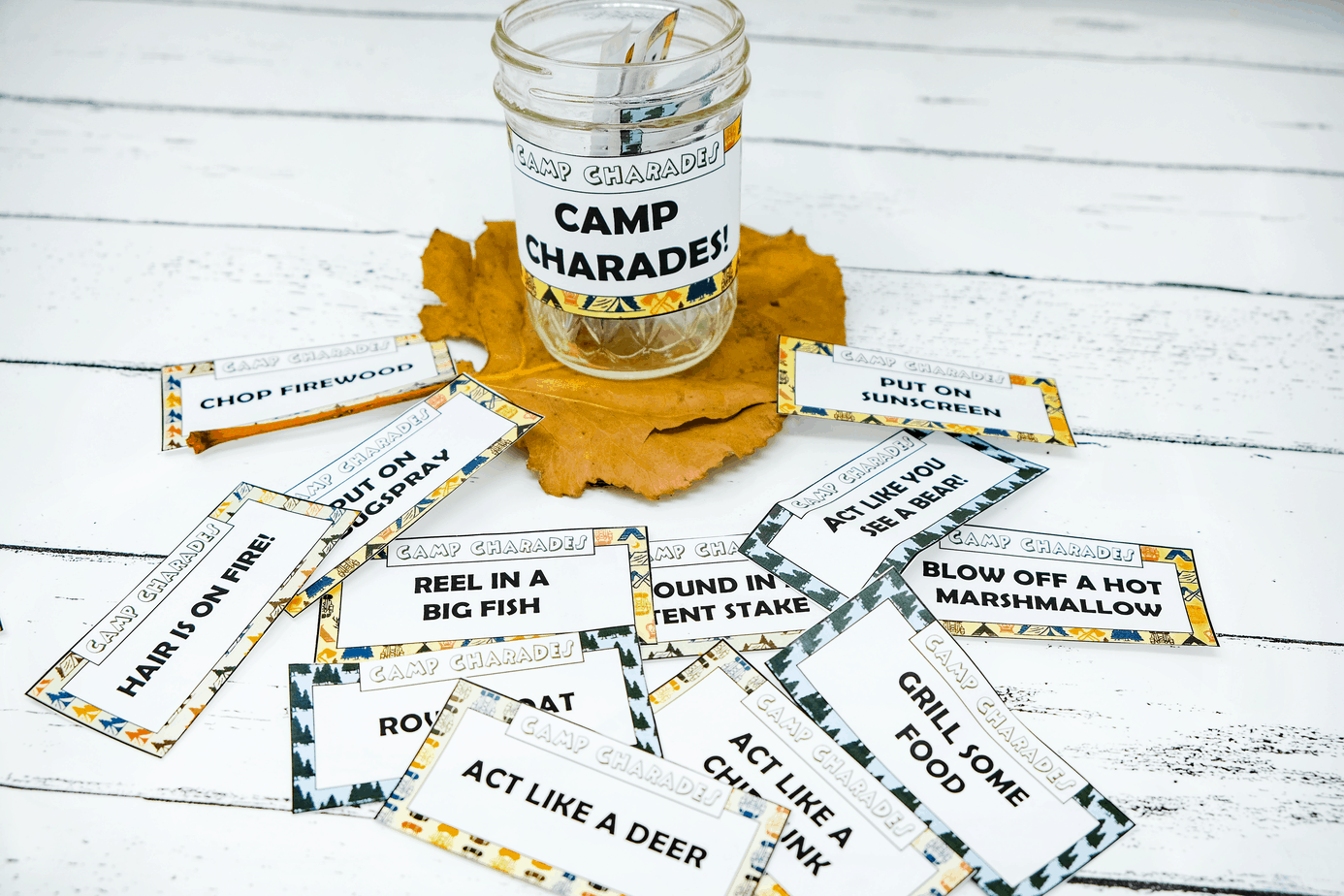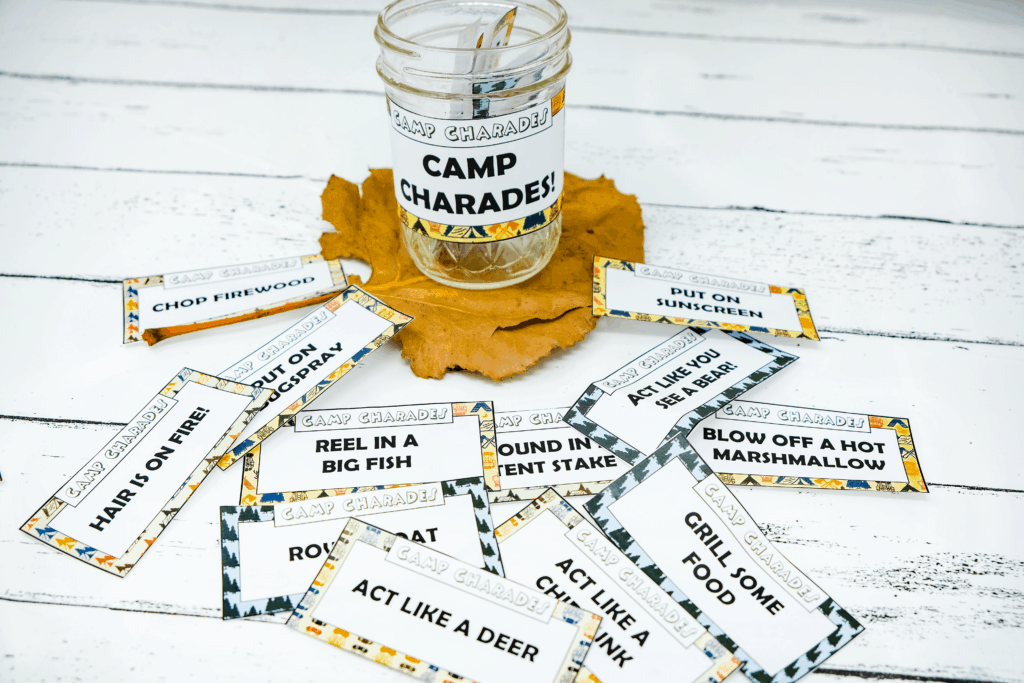 Marbles
Not sure why everyone has forgotten about this game, but it is super fun for those over three and can get pretty competitive! What better way to pass time at camp than challenge eachother and see who comes out with the most marbles by the end of the camp trip!
I have sooooo many fond memories of playing this in school – I'm excited to show it to my kids!
This marble set comes with some shooters and plenty of marbles to get a couple of kids started on this amazing game!
Story Stones
Campfire stories will always be fun, but this is even more fun because you have to tell a story based on your stones! Either draw camp themed images on your stones or modge podge said images to some rocks. Store them all in a bag, then play one of two ways – adding to the story one at a time, or grabbing 3 random ones and making a story from that!
Sing camping songs (if you have little kids!)
Kids LOVE songs (I recently sang shoo fly don't bother me to mine and now they are all obsessed… such a simple song!) so they'll enjoy the "camp versions" of popular nursery rhymes they probably already know! Here are over 27 kids camping songs (including repeat after mes) as well as some originals! (Yes, you can print some of them out for free!)
"The Fire At Camp" is sung to the same tune as "The Wheels on the Bus" so little kids will get the hang of it pretty quick. I also love to use these kinds of songs for hikes to keep everyone from complaining!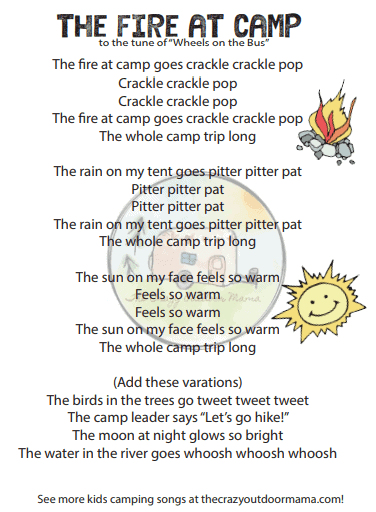 Tic Tac Toe (but way cooler than what you're thinking!)
While you can always create a tic tac toe board from pretty much anything around you (which is definitely cool) why not get something that is multi functional! I found this multi use (tic tac toe, MEGA tic tac toe, checkers) picnic blanket /rug thing and it seems just about perfect for throwing out on the ground and playing while at camp!
I like that there is a super version so that even adults can enjoy playing tic tac toe while camping! The other side is a checkerboard, and of course it comes with all the playing pieces! SEE IT ON AMAZON!
Simon Says
I absolutely loved this game as a child, and it really has no age limit! See who listens the best at camp (hint: might not be the best for preschool age and younger… LOL!) to what Simon Says!
Would You Rather
This game can be as deep or silly as you like! Obviously, if you're playing this with kids then they should be silly, but I've gotten into some pretty deep adult conversations in regards to the reasoning behind each choice!
Whether it's to break up a rainy day or to play around camp, take turns asking each other "Would You Rather" scenarios!
Spoons (Rocks, Pinecones or Marshmallows)
I really like making a big deal out of each camp trip, so to campify this game we use something from around our campsite instead of a spoon! Warning – if you use marshmallows while playing with kids, they might mysteriously start to dissapear! =P
Here's a quick recap on how to play spoons. The goal is to get four of kind. you put one less pinecone in the middle than the amount of players, then deal each player 4 cards. The person closest to the deck draws one card, then discards the card of their choice to the player sitting on their left.
For more info check out this really good article on all the rules to play spoons!
Camp Mad Libs!
This is a great game for the older kids (think 10+) but get ready to fall over laughing with this book of camping mad libs! I can't wait to get this for my kids when they're a little older – I LOVE to laugh!
Ger eady to laugh your butt off with these "camp daze" mad libs!
SEE IT ON AMAZON!
Toasted or Roasted Card Game
This game is designed to be both offensive and defensive, and the goal is to be the first player to start a campfire and toast three marshmallows. Opponents can try to hinder your progress by causing problems for your campfire, such as making it rain or blowing out the fire, or by burning your marshmallows. The game is packaged in a resealable bag, making it easy to take along for fun on the go.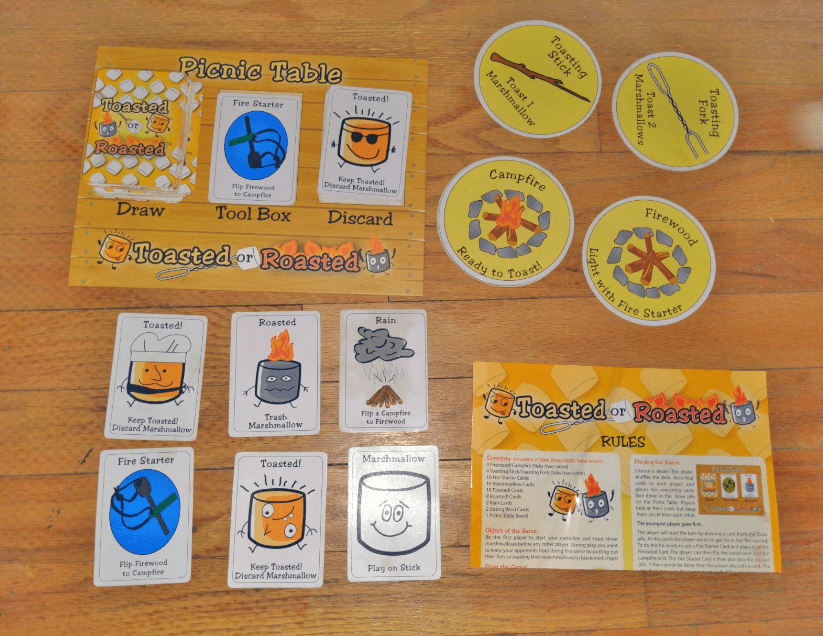 "Roll a S'more"
We all know kids love s'mores, so why not a board game based on them? This game lets kids build a s'more piece by piece through rolling the dice! It's an excellent camping game to practice number recognition and counting (and kids will love to win each piece!)
You can read more about this printable s'more game or purchase it here!
This s'more game is a great way for kids around 3+ to practice turn taking and matching (while having fun!)
Spot it!
This classic card game has a camp version, and since you guys know I'm all about trying to find fun games that pack small… this little can of fun is definitely on here!
The set of cards come in a durable tin that fits easy in your pack. It can also be used with up to eight players, and is one of my FAVORITE camping games because it's even fun to play as an adult!
See who can spot the common camp themed image first in this fun Spot it Camping game!
SEE IT ON AMAZON!
Kids Against Maturity (for the older kids!)
I'm sure you've heard about Cards Against Humanity – think the same laughable, sometimes obscene content kidified. What does that look like?
Alot of fart and doo doo jokes (gosh it felt weird even typing that!) This is a perfect card game for the 10+ crowd!
But that also means ALOT of laughs and that's well worth it! Heads up: There are some cards that are questionable (such as calling people fat) so you may want to remove those ahead of time and any others that don't align with your family values! If you want to belly laugh with your too cool for school pre teens, then you gotta try Kids Against Maturity!
Tell Campfire Stories
This is a given, but what if you aren't particularly creative, or don't know what to talk about? In comes these story starter cards PERFECT to pass around the campfire ring! I love that there's even a deck for kids, so this could be an all ages activity!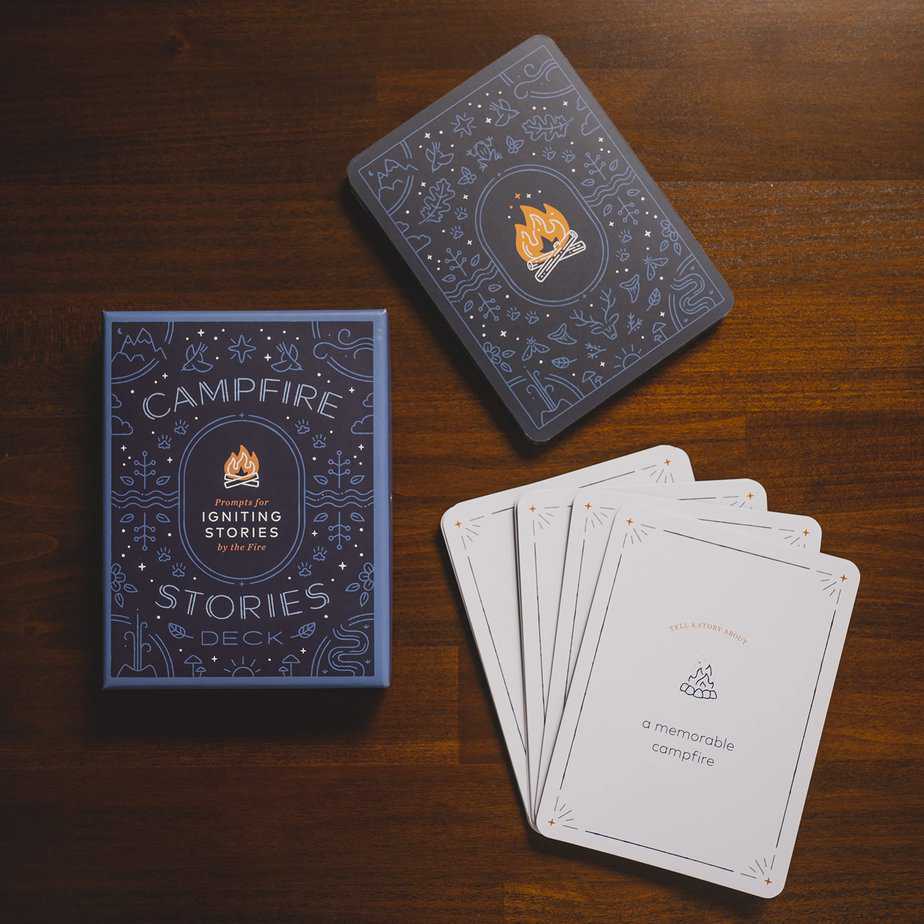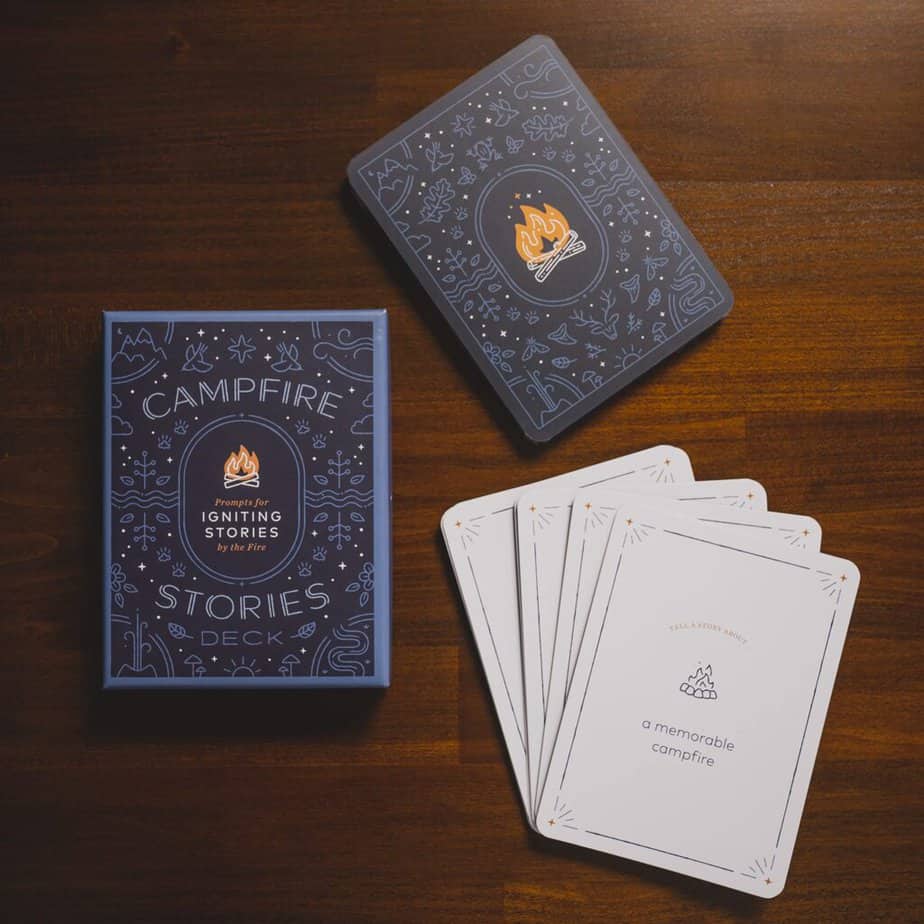 ---
Night time camping games
Campfires are fun, but if the kids are still awake (or the adults want to have some laughs) there are some cool options for both just sitting around the campfire or taking advantage of the dark for added fun!
It's a given that you should load up on glow sticks at the Dollar Tree (mine has almost a whole aisle of awesome glowsticks) this section will focus on things that are more than just glowsticks.
Here are some of my favorites!
Blacklight Jenga (don't worry, it comes with the lights!)
What cooler thing is there besides a jenga that is big AND can glow cool colors?? The whole family will love building up this glowing tower!! Fair warning – it is heavy, and is definitely best for car camping!
Shine some blacklights on this awesome game and make camp LIT (literally and figuratively! =P)
Get a projector!
Pull up your comfiest camp chair (or inflatable couch, in this case) and watch your favorite movies to wind down at the end of the night! I know it's not exactly a game, but it can be pretty relaxing to watch a movie under the starts while cuddled up under a warm blanket!
This projector is budget friendly and well priced, and this screen is VERY durable and should stand up to camping conditoins!
Use the side of your camper, string up a sheet, or buy a screen like this and project the families favorite movie to wind down at the end of the night! SEE IT ON AMAZON!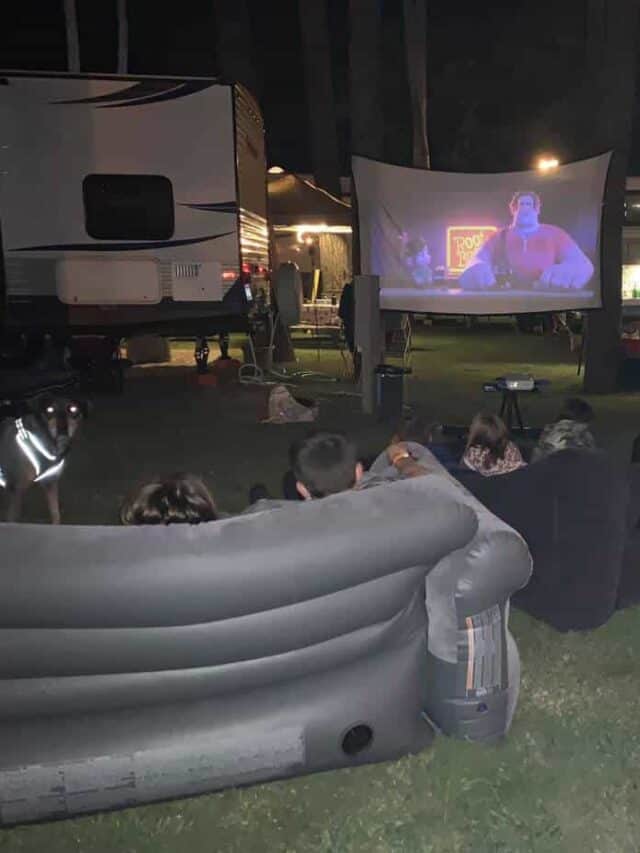 Glow in the dark ring toss
You could just get glowstick rings, but why not make EVERYTHING glow and get light up cones too?! This makes everything way more exciting (and easier to see for little ones!)
At the touch of a button, you'll have some cool light up cones to toss your rings at while at camp!
Play catching with a glowing frisbee
If you want to keep active at camp after dark, then you'll love this light up frisbee! It's vibrant, long lasting, and fairly heavy duty!
Make frisbee even more of a fun challenge by playing at night with this light up frisbee!
Light Up Hula Hooping
It's not just for raves guys – everyone enjoys cool lit up stuff! Get your workout on as an adult or let the kids have fun with it!
Imagine how cool this light up hula hoop will look when it's in use!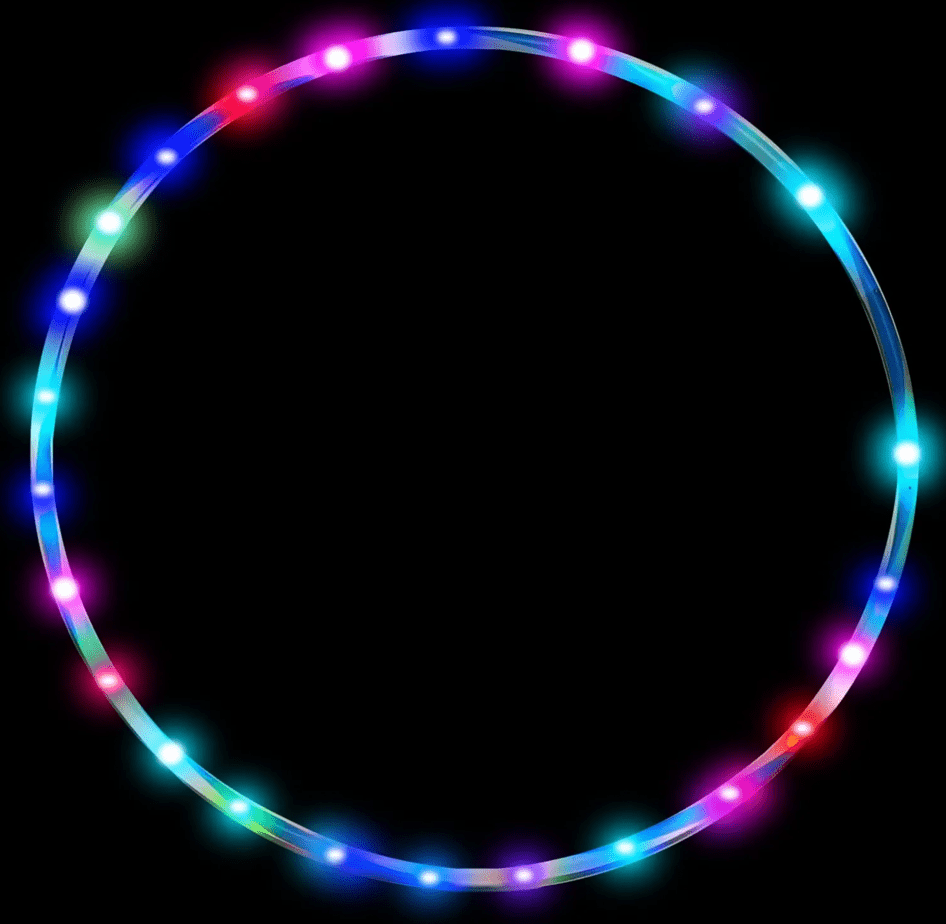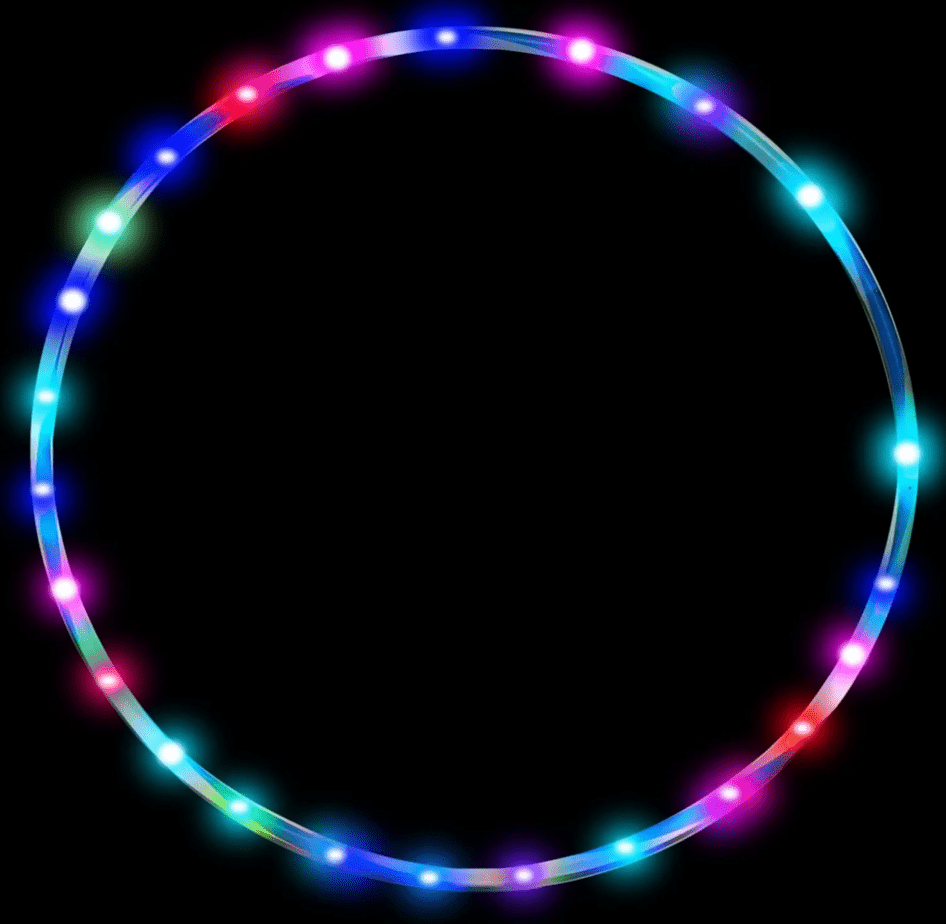 Play glowing cornhole
If you absolutely love cornhole, put this ring around the hole of the board to keep it going all night long! While this DOES seem to only attatch to wooden boards, I wonder if some industrial strength velcro would hold it to your collapsible ones like I linked to earlier.
This LED cornhole ring comes in multiple colors and is pretty durable! This makes playing cornhole at night possible while not keeping your all your lights on for the whole campground to see!
Glow Hot Potato
Hot potato is currently all my kids (and their cousins even!) favorite game! If you don't remember how to play this childhood favorite, here's a quick recap . You toss the ball around to each other (either in a circle or just hitting it up and someone else getting it) and whoever drops it has to sit in the middle and become "hot potato soup".
TIP: While not as flashy, you can get a glowing beachball like this for a a lot cheaper from the dollar tree. It has a spot to insert a glowstick, so it's really easy to use over and over. Again, same idea, just not as glowy as what I am linking to below! I am just linking to this because it's alot higher quality and not everyone has a Dollar Tree!
This bright glowy beach ball has a remote that can make it change colors! Use it as a nightlight once the playing is all done!
Glow tape to make your own camping night time game!
While I feel like I covered almost everything that glows, this tape will definitely seal the deal!
Wrap it on bean bags, buckets, frisbees, or anything else you want to make more fun at night!
It's pretty bright and sticks well, so you might even use it as a safety thing to (like marking the steps on your camper or putting a couple pieces on the tent lines and stakes)
Make sure to give the tape 5 to 30 minutes to charge up!
In case you want to save some money and make your own night time camping game, or just think what you want doesn't exist so you DIY… this glow in the dark tape is heavy duty and VERY bright!
SEE IT ON AMAZON!
---
What's are your favorite camping games (leave it in the comments, especially if it's not here so I can add it in and help others!)
Camping presents tons of opportunities to reconnect – why not take it to the next level and bring along some games to really get the laughs and conversation going!
Other camping articles you'll love
Latest posts by Stacy Bressler
(see all)