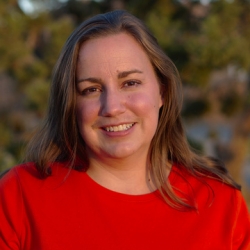 Latest posts by Christine Lindstrom
(see all)
Hooray! You've decided to roadschool!
Now what? The United States is a large and diverse country with seemingly endless possibilities for fun and educational experiences. It's exciting and inspiring – and completely overwhelming. How do you plan your travel when there are so many choices? It's not possible to see and do it all, so how do you narrow it down?
Step one is to take a deep breath and let go of the pressure to do this perfectly. You won't. Sometimes you will be disappointed by a place you thought would be great, and other times you will drive right by something incredible that you didn't even know was there.
Let go of the idea that you can see and do everything. Trying to do too much results in an exhausted and grumpy family that is not enjoying or learning from all of the experiences you're packing in. Slow. Down. Every roadschooling family we know has either learned to pace themselves or burned out and given up roadschooling altogether.
Step two is to learn from those who have been there. Join some social media groups for traveling families, and spend some time reading guides like this one. We have been roadschooling for over four years, and I'd like to share some of our favorite educational destinations from around the country. While it still feels like we've barely scratched the surface of all that is out there, we have also found some great spots, in both obvious and unlikely places.
How to Use This Guide
I'm sharing our top 5 roadschooling destinations in each of 6 regions of the United States. Don't miss my top picks for the West Coast, and watch for more regions coming soon!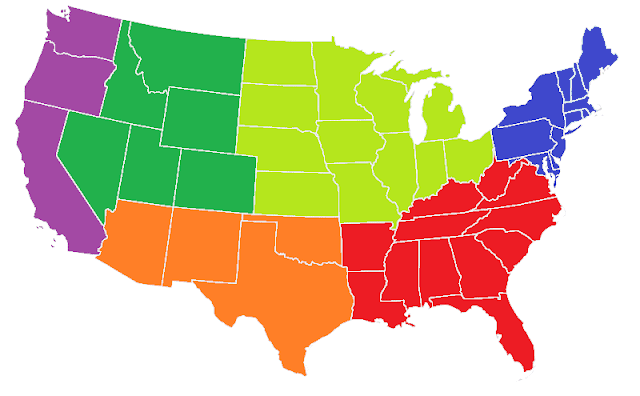 Because this is a roadschooling guide, I am only choosing places that are both fun and educational. I will also only recommend places that we have visited as a family. If your favorite place isn't on this list, it might just be because we haven't made it there yet. We'd love for you to post a comment and share places we should add to our list!
I'll share our top tips for making the most of your visit to these places, based on our experience. Look for important information about parking and transportation that might affect RVers, including size restrictions on parking or roads. I'll also tell you about where we stayed and any discounts we found to help make roadschooling more affordable.
This list is subjective, like any top 5 list. We've been through Arizona, New Mexico, Texas, and Oklahoma several times, and these are our family's favorite places so far to combine fun and learning.
1. Carlsbad Caverns / Guadalupe Mountains
What You'll Learn
Geology and landforms, especially caves. Learn about how caves form and the various different kinds of cave formations. There are some truly spectacular examples of cave formations at Carlsbad Caverns! You can also learn all about the bats that call Carlsbad Caverns home. Carlsbad's nearby sister park, Guadalupe Mountains, offers a chance to learn about the "above ground" features of the area, including a great wildlife display. Both parks have Junior Ranger materials available to help you make the most of your visit.
Parking or Transportation Notes
RV parking is available at both parks. Spaces are first-come, first-served, and Carlsbad Caverns is very popular during peak season, so arrive early if you are bringing your RV into the park.
Discounts to Look for
Cave entry at Carlsbad Caverns requires a ticket. Tickets for kids (ages 15 and under) are free, but tickets for adults (ages 16+) cost $15 per person. America the Beautiful pass holders can get free tickets for the whole family. Ranger-guided tours are available for an additional fee. The entrance fee at Guadalupe Mountains National Park is $10 and is valid for a week. This fee is also waived for America the Beautiful pass holders. You can also plan to visit on one of the NPS Fee-Free Days, but be prepared for larger crowds on these days.
Where to Stay
There is a campground at Guadalupe Mountains National Park. It is basically a parking lot with no hookups but access to water and flushing toilets. There are only 19 first-come, first-served RV sites, which were all full when we visited. The ranger pointed us to areas to boondock on public lands in between Guadalupe Mountains and Carlsbad National Parks. It worked perfectly! The locations can be found on Campendium. Full-hookup campgrounds are available in nearby White's City or Carlsbad. If you're boondocking, take advantage of the free RV dump station in the city of Carlsbad.
Top Tips
When visiting the caves, you'll have the option to enter and exit on foot through the natural entrance or by elevator. Entering through the natural entrance gives your eyes a chance to adjust to the dark and adds to the experience of "discovering" the cave. It does add a lot of walking, though, and we were glad to have the option to exit via the elevator when we were finished exploring. We'd recommend families with kids to do the same. There is a kids' version of the audio tour that was very entertaining and educational, and worth spending a few dollars to rent. If possible, plan your visit during the summer, when you can watch the bats exit the cave at dusk and attend a Bat Flight Ranger Program.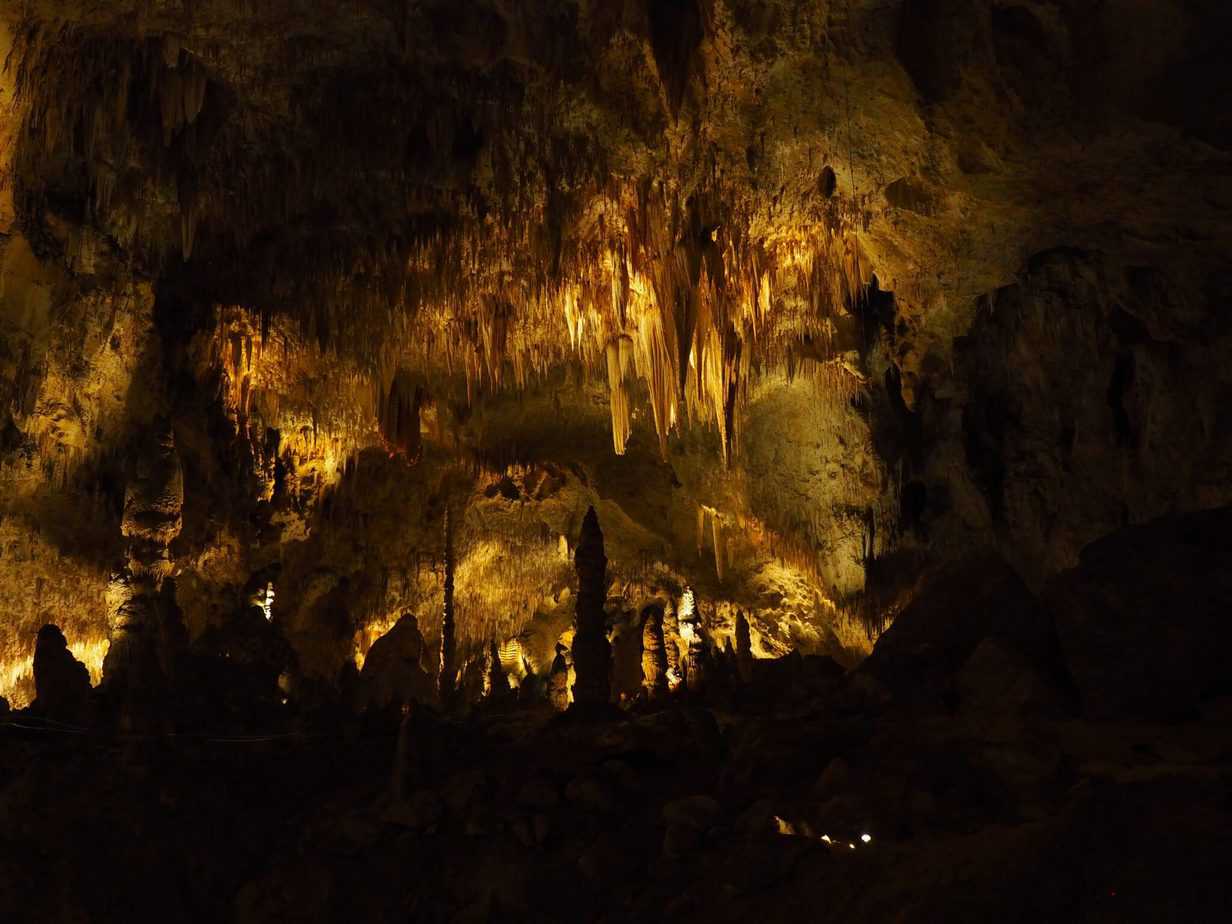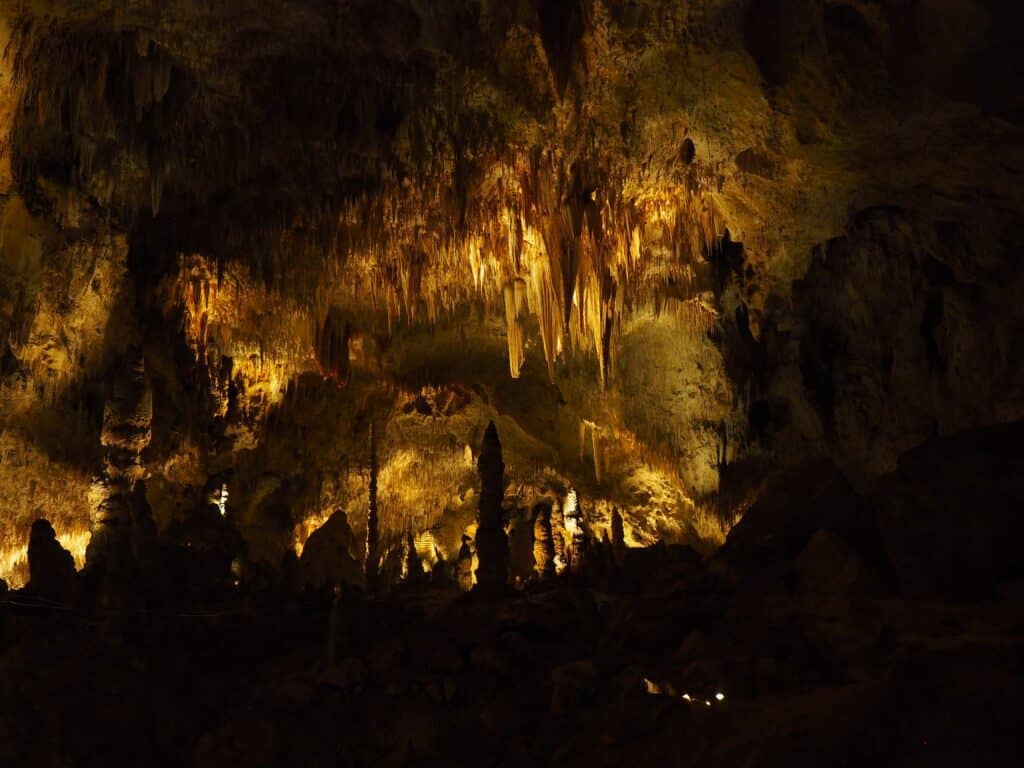 2. Children's Museum of Houston
What You'll Learn
A little of everything! The Children's Museum of Houston is very hands-on with a variety of exhibits that help kids learn in fun ways. There is a Tot-Spot for babies and toddlers, and an area called Invention Convention, which is a wide space full of supplies and ideas for creating and exploring. There are exhibits focused on science, technology, math, ecology, and reading.
Above all of these wonderful exhibits, our kids' absolute favorite part of this museum is Kidtropolis. Kidtropolis gives kids a chance to explore adult life and roles, like having different kinds of jobs, serving the community, opening a bank account and using an ATM, shopping, eating in a restaurant, and more. Kidtropolis has its own currency, and kids can keep their ATM cards between visits so that any money they save from working is still available in their accounts when they come back.
Parking or Transportation Notes
There is no free parking in downtown Houston. The Children's Museum has a parking garage, and there are several other parking areas nearby. It is not possible to park an RV in any of these areas, so unhitch and take a smaller vehicle if possible.
Discounts to Look for
The Children's Museum of Houston participates in the ASTC Passport program, so members of participating museums can visit for free. There are discounts available for active-duty military personnel. Bank of America cardholders can get free admission one weekend each month. Every Thursday night is free admission for all families from 5-8PM. Be prepared for crowds on Free Family Night, which may make it difficult to enjoy all that this museum has to offer.
Where to Stay
There are many different RV parks and campgrounds available in the Houston area. As Thousand Trails members, we stay at the Lake Conroe RV and Camping Resort when we visit this museum.
Top Tips
We visit a lot of children's museums and science museums as we travel and use our ASTC membership. This one is the one our kids still talk about and ask to go back to, even when we're not in Texas. Many children's museums are geared toward pre-school and early elementary ages, but this museum is great for kids up to about age 12.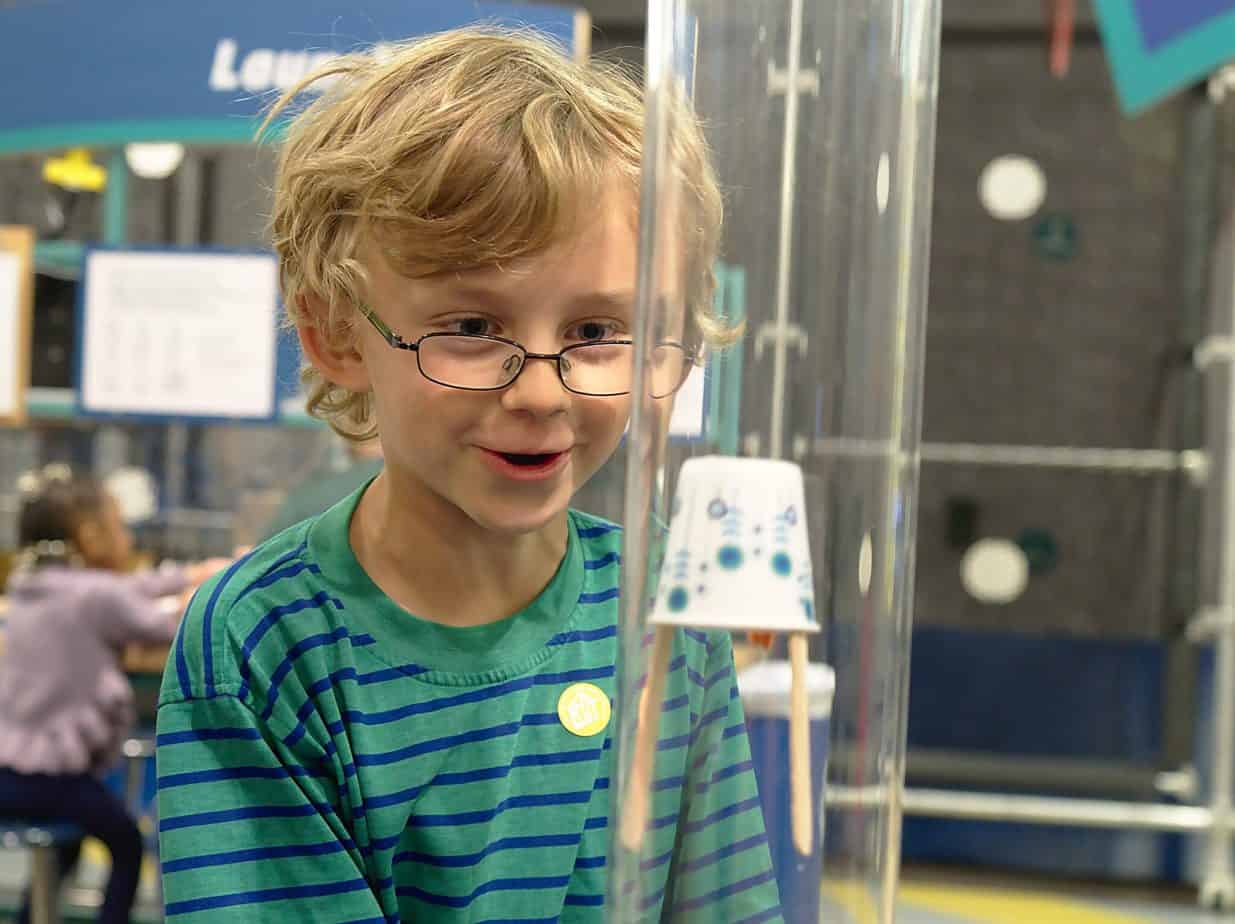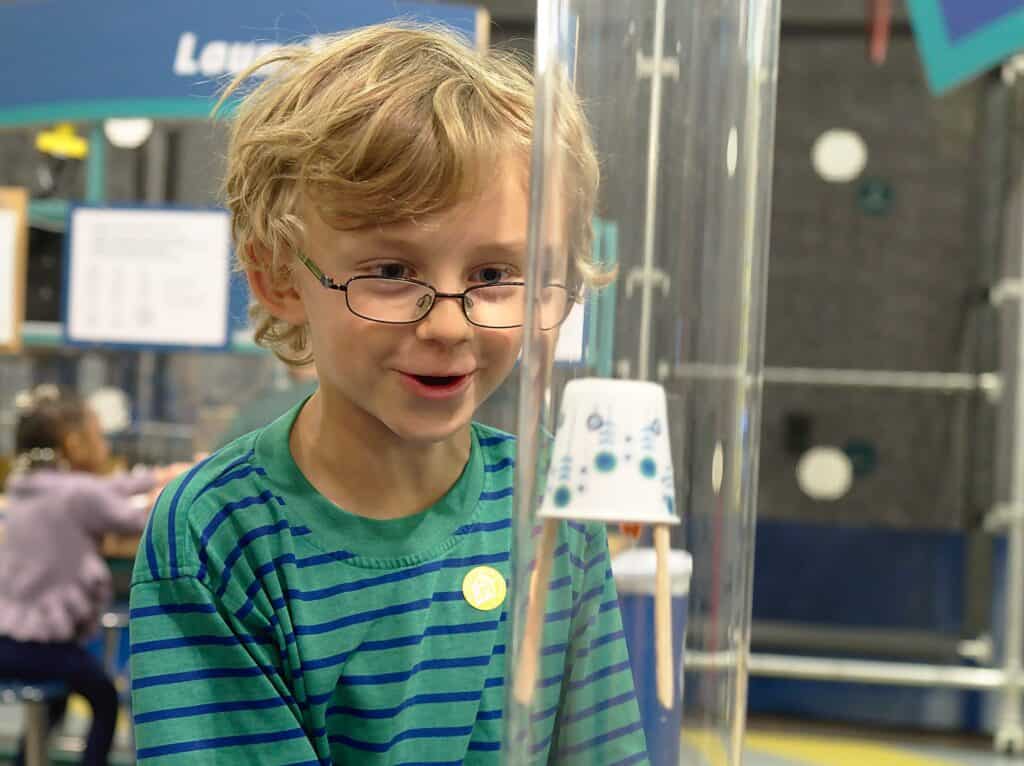 3. Grand Canyon National Park
What You'll Learn
While it almost seems cliche, how could we talk about our favorite destinations in the Southwest without mentioning the Grand Canyon? It hardly needs introduction, but there is plenty to learn here about geology and history. Use the Junior Ranger materials to make the most of your visit, but don't forget that wonder and awe at the natural world is an important kind of learning too. Plan some educational activities, but remember to plan time to just sit and take it all in. Encourage your kids to respond to their experiences through art, music, poetry, or however they best express their feelings.
Parking or Transportation Notes
RV parking is limited and fills quickly. If possible, avoid bringing your RV into the park unless you are camping in the park. If you have no other vehicle option, plan to arrive early, park your RV as soon as possible, and use the shuttle system to get around the park. The shuttle system is extensive, runs frequently, and allows you to hike a section of a trail and pick up a shuttle elsewhere without needing to go back for your car.
Discounts to Look for
Entrance to the park is $35 per vehicle, which is valid for 7 days. Entry is free for America the Beautiful annual pass holders. You can also plan to visit on one of the NPS Fee-Free Days, but be prepared for larger crowds on these days.
Where to Stay
There are plenty of RV parks and campgrounds just outside the national park boundaries, and there are also boondocking opportunities on BLM land. The park is huge, though, and it is a long drive from the entrance gates to any of the main attractions. In order to avoid spending hours in the car every day, we chose to stay in the park, at Trailer Village. Trailer Village has a stop on the shuttle bus line, so we were able to leave the car behind for our whole stay. Be sure to make reservations as far in advance as possible.
Top Tips
We visited in October, which was an ideal season. Visiting in the fall helped us avoid the biggest crowds and the worst of the heat, but we were still able to explore before the snow came. We visited the Grand Canyon with a 3-year-old and I wish we had waited. There are so many trails and overlooks with steep drops and little to no protection at the edges. I am not usually an overprotective parent, but I was nervous and unable to relax for most of our visit. I'd recommend visiting with kids that are either too young to walk or old enough to understand how to be safe.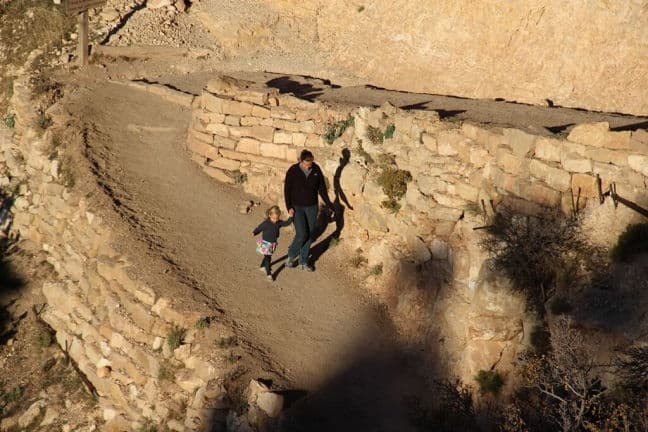 4. Rory Meyers Children's Adventure Garden (Dallas Arboretum)
What You'll Learn
The Dallas Arboretum is well-worth exploring for its diverse plant life and opportunities to learn more about botany. There are various themed gardens including a poetry garden. When we visited, there were taste-testing opportunities at a demonstration near the edible gardens. The Children's Adventure Garden has a number of hands-on exhibits exploring different topics such as energy, life cycles, habitats, weather, and more. They also offer demonstrations and activities depending on the season. It is like an outdoor science museum!
Parking or Transportation Notes
There is a parking lot for the main entrance, and a parking garage near the entrance closest to the Children's Adventure Garden. Parking fees are the same for both the lot and the garage. Note that the parking garage clearance is 8 feet, so it is not ideal for larger vehicles. Save $5 on parking by paying online in advance.
Discounts to Look for
The Dallas Arboretum and Botanical Gardens participates in the American Horticultural Society's reciprocal admission program. If you are a member of the AHS or another member garden, your visit and parking at Dallas Arboretum are free. Discounted admission is available during certain date ranges in the spring and fall (check website for details) but the cheapest time to go (by far!) is in August. Admission discounts are also given for using public transportation (DART) or a rideshare service to get to the gardens.
Where to Stay
We were "mooch-docking" in our friends' driveway when we visited the Dallas Arboretum. There are many options for RV parks and campgrounds in the Dallas area. The closest Thousand Trails campground is Lake Tawakoni, which is about an hour away. Cedar Hill State Park is a beautiful park that has a full-hookup campground and lots of great hiking trails.
Top Tips
Start at the Main Entrance and wander through the main gardens first. Take advantage of fresh energy and attention spans to hit some of the highlights before going to the Children's Adventure Garden. Once they're there, they won't want to leave. It can be a bit of a walk back to the Main Entrance (Gate 1) but if little legs are tired, one parent can walk back for the car and pick up the rest of the family at Gate 3, right outside the Children's Adventure Garden.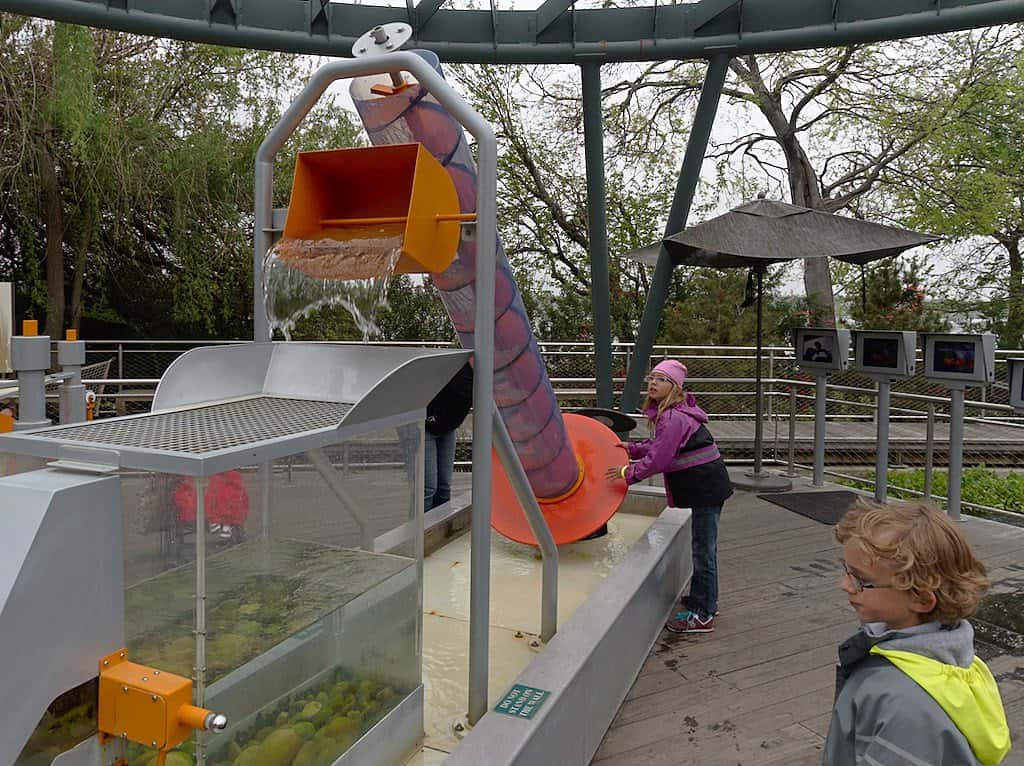 5. Organ Pipe Cactus National Monument
What You'll Learn
Learn about desert ecosystems and the native people groups who have called this area home. Organ Pipe Cactus National Monument is in a "Green Desert" region, which we found fascinating. The visitor center is small but it has some great hands-on activities for learning about the plant and animal life in the region. The Junior Ranger materials are really fun and educational, and because this park is rarely crowded, the park rangers had time to really engage our kids and help them learn more.
Parking or Transportation Notes
The Ajo Mountain Drive, which is the most popular scenic drive and the best way to see more of this amazing landscape, is closed to RVs longer than 25 feet. When you're on it you'll understand why. There is RV parking at the visitor center, so if you need to unhitch, just check in with a ranger before leaving your trailer to explore the drive. If you don't have a smaller vehicle available, there is a ranger-guided van tour along this route during peak season (January-March). The cost is $5 per person and the tour lasts 3 hours.
Discounts to Look for
Entrance to the park is $25 per vehicle, which is valid for 7 days. Entry is free for America the Beautiful annual pass holders. You can also plan to visit on one of the NPS Fee-Free Days, but be prepared for larger crowds on these days.
Where to Stay
RV camping is allowed in the park at the Twin Peaks campground. There are no hookups but there is potable water and a dump station available. We chose to boondock for free on public BLM lands outside the national monument boundaries, in the Gunsight Wash dispersed camping area. There were enough other rigs there to feel secure, but not so many that it felt crowded.
Top Tips
Take the Ajo Mountain scenic drive, and plan time to stop along the way to hike up into the mountains. Trail maps are available at the visitor center, and the ranger can help you pick a trail that suits your family's needs. We chose the Arch Canyon trail, which was short, but we continued along an old section of the trail that is no longer maintained for as long as we felt it was safe. We returned to the visitor center just before closing time so the kids could be sworn in as Junior Rangers. Because it was closing time, the ranger invited the kids to help him take down the flag outside, which became the highlight of our visit for them.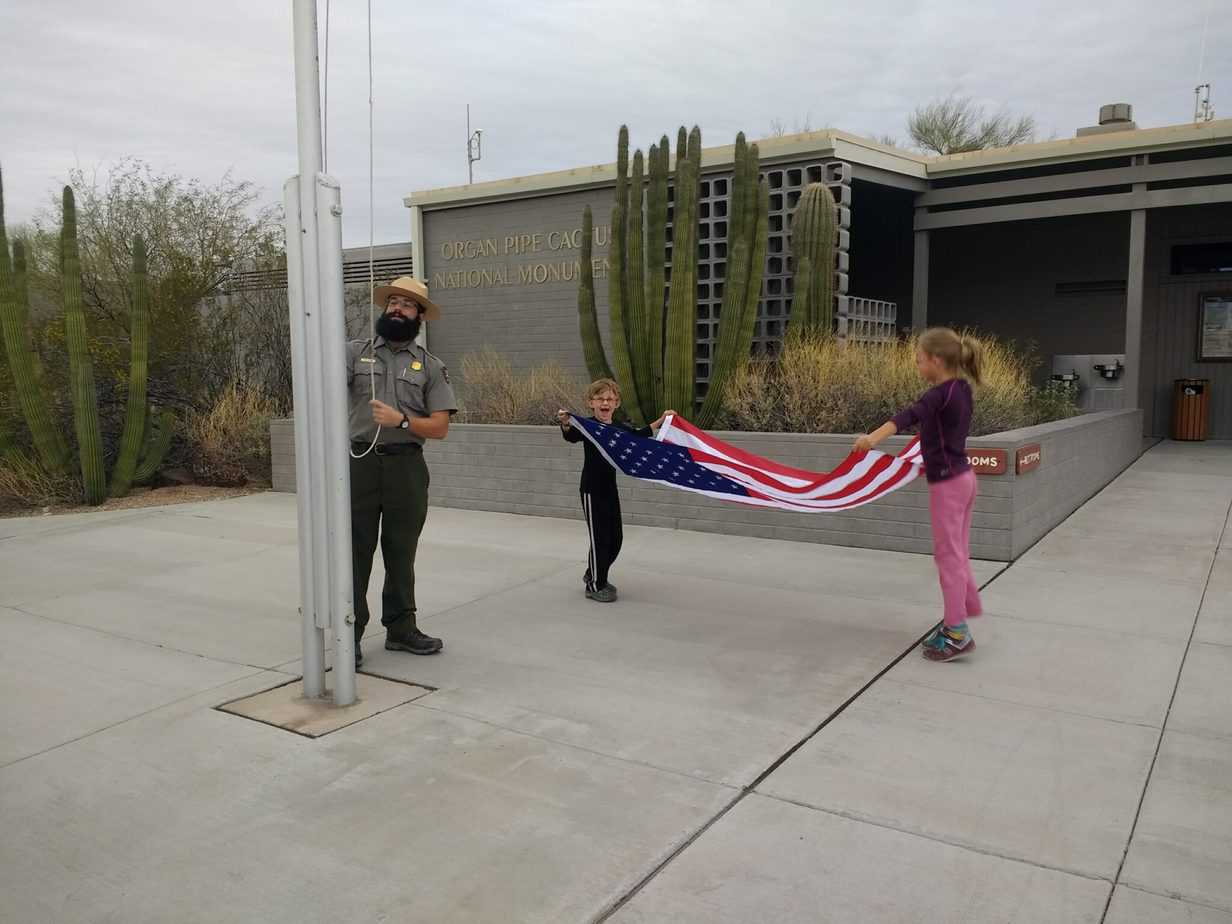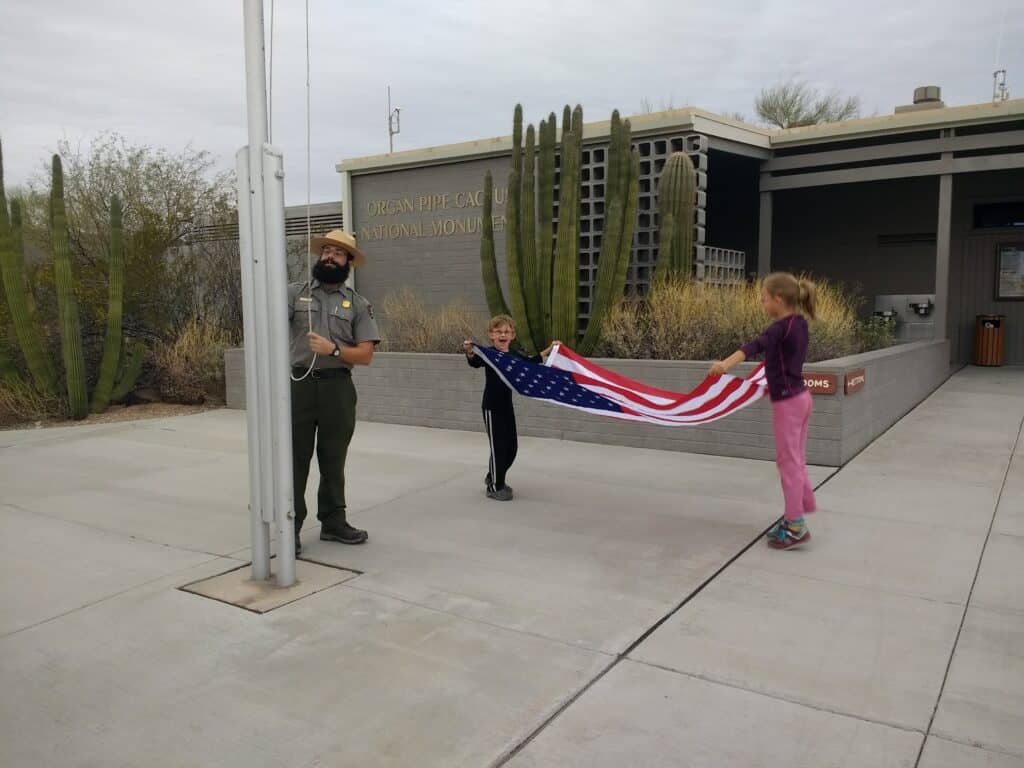 Honorable Mention
Lake Havasu
There is plenty to do in Lake Havasu, and plenty of boondocking opportunities on BLM land in the area. The climate and beautiful scenery make this a popular winter destination for roadschooling families. You can visit the old London Bridge, which was built in the 1830s in London to cross the River Thames. The bridge was moved to Arizona in the late 1960s. It is a fun town to explore. Every January, Lake Havasu hosts a hot-air balloon festival that offers all the fun and excitement of hot-air balloons at a fraction of the cost of some of the larger festivals elsewhere in the country.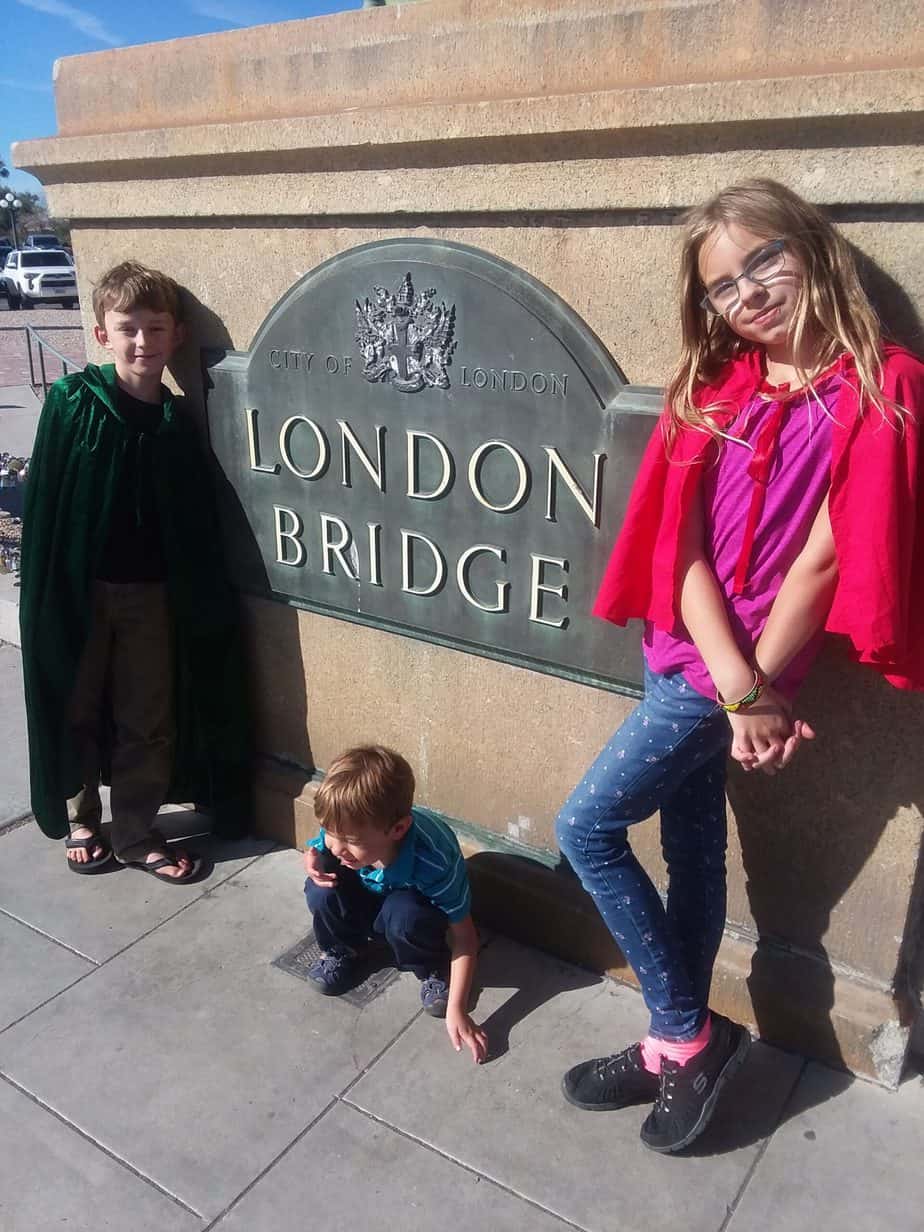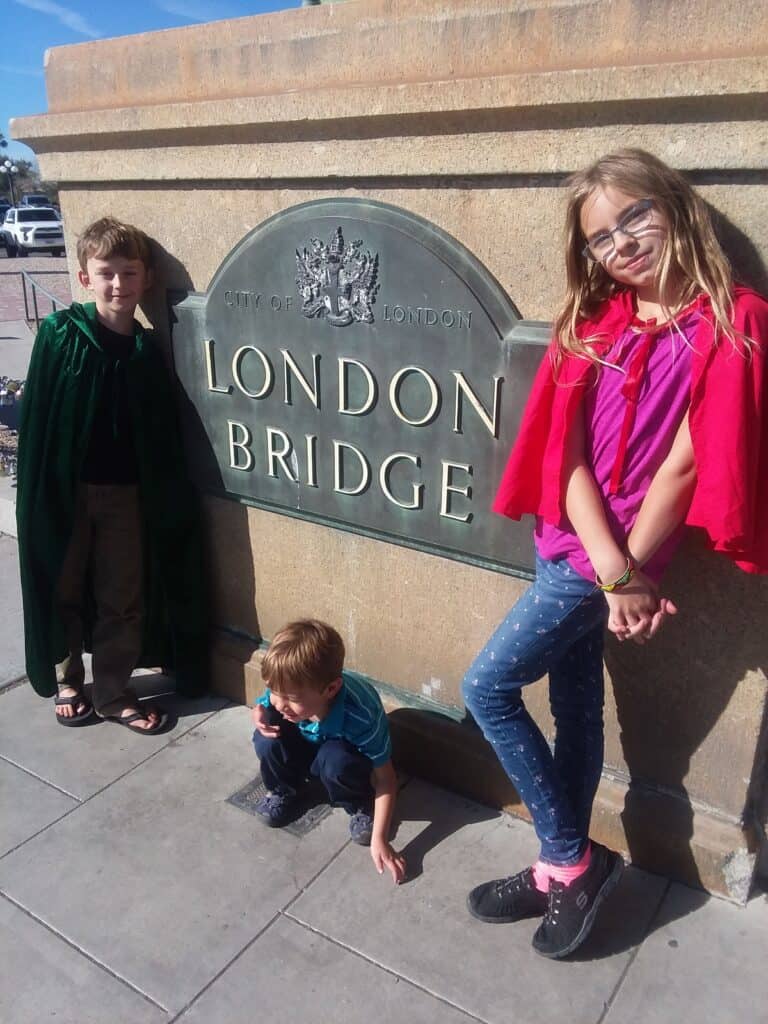 Saguaro National Park
If you ask someone to draw a cactus, they'll probably draw a tall, green cactus with branching arms. Of all the different kinds of cactus, the saguaro is iconic. Visiting Saguaro National Park is a chance to see them in the desert's version of a forest. The park is split into two different sections, on opposite sides of the city of Tucson. The proximity to Tucson makes it easy to find camping and resources nearby. This park has a fun museum in the visitor center and wonderful Junior Ranger materials to help kids learn. Both the east and west sides of the park have opportunities for hiking and scenic drives. We recommend the Cactus Forest Scenic Loop Drive with a stop for a hike along the way. Note that none of the scenic drive roads have parking that can accommodate RVs, and trailers longer than 35 feet are prohibited.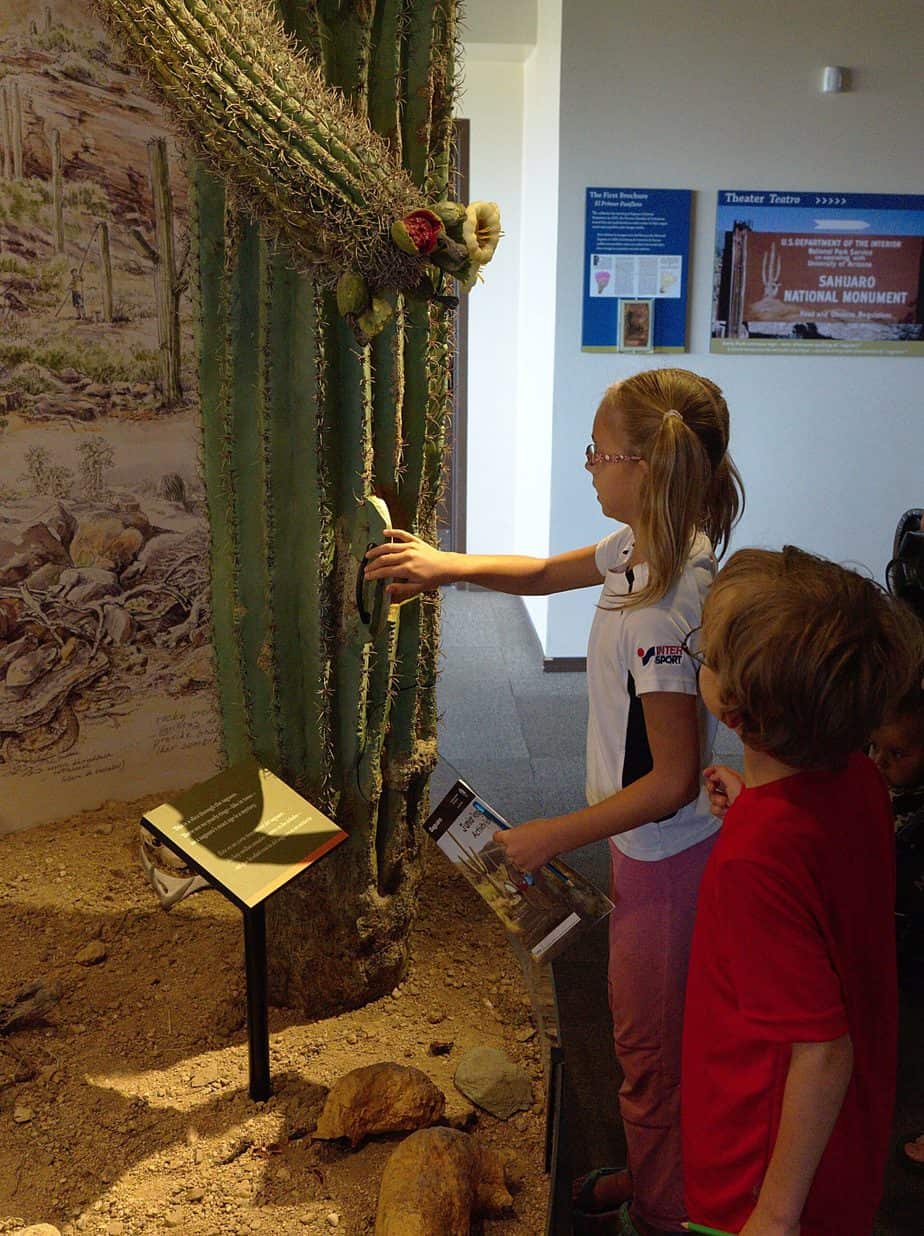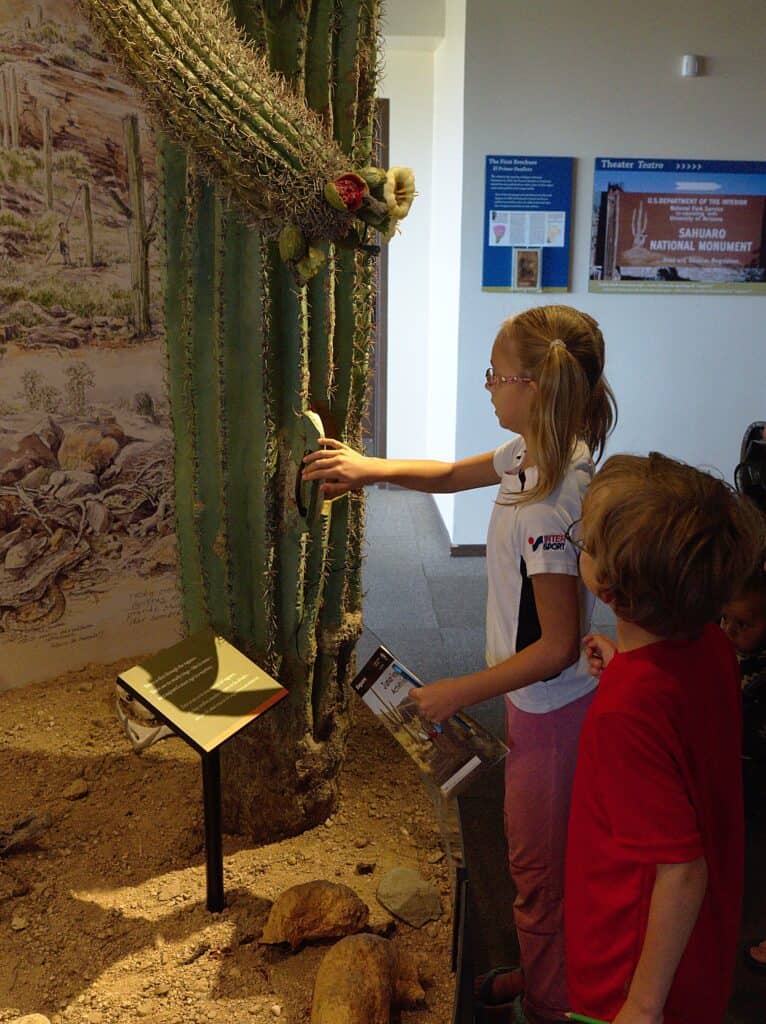 Where to Next?
Are you traveling in the Southwest by RV? What fun and educational destinations have you discovered? Do you have any tips for new places we should check out next time we head that direction?