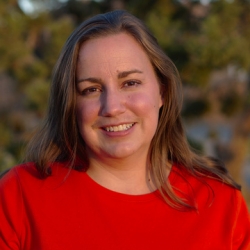 Latest posts by Christine Lindstrom
(see all)
The possibilities for roadschooling in the United States are nearly endless. This country is so large and diverse that the options for fun and educational destinations can be both inspiring and overwhelming. When it's time to start planning trips, and you know you can't possibly see and do it all, how do you decide among the many choices?
First, take some pressure off of yourself. Remember that it is better to spend time and learn a lot in a few places than it is to try to do everything. When you try to do too much, you end up stressed, exhausted, grumpy, and you don't even learn very much. Slow down. Take your time. Every roadschooling family we know has had to learn this lesson one way or another.
Next, let me help you. I'm sharing some of our favorite, most memorable educational experiences across the country. After more than four years of traveling and roadschooling, we still feel like we've barely scratched the surface. We have also discovered some true gems, and they're not always in the obvious places.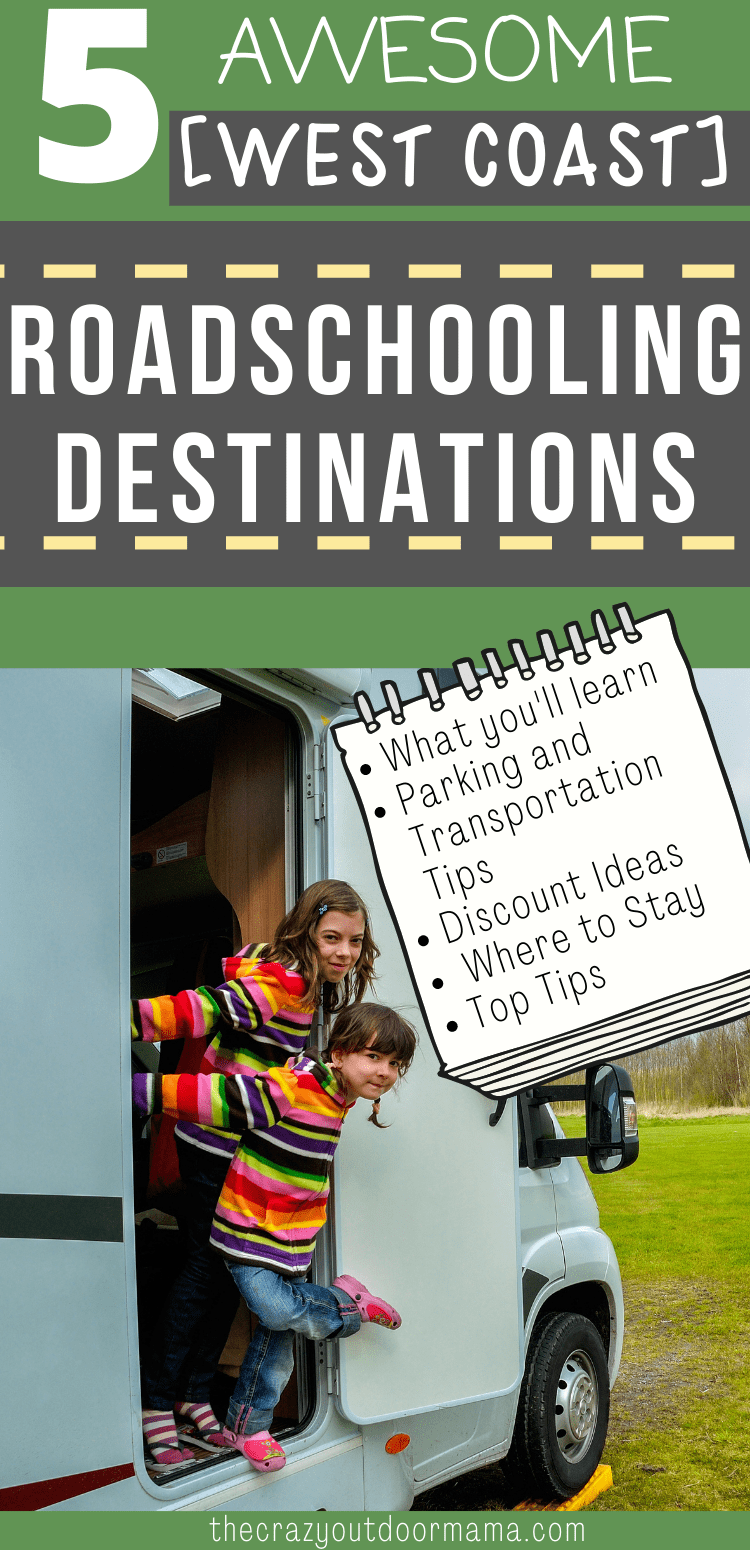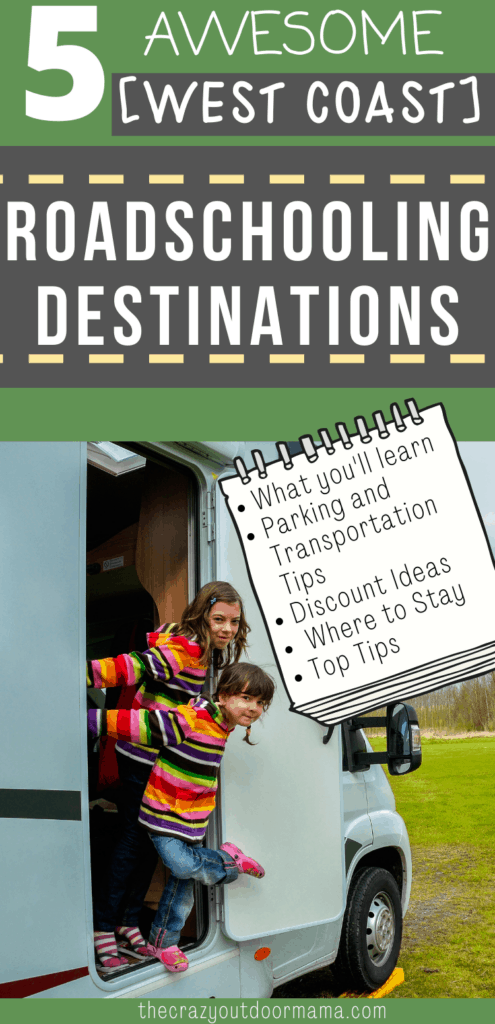 How to Use This Guide
I'm sharing our top 5 roadschooling destinations in each of six regions of the United States, starting with the West Coast and moving east. Look for more regions coming soon!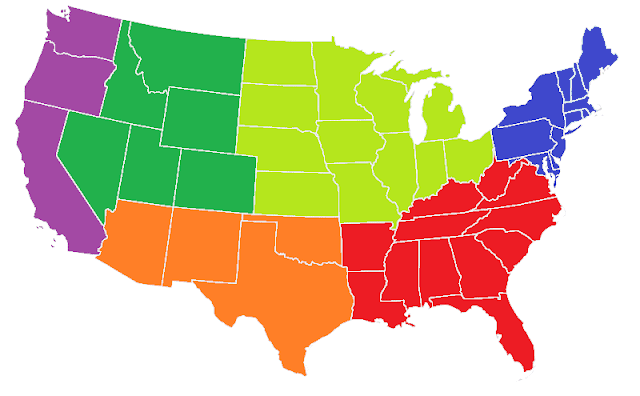 We haven't been everywhere yet, and I won't recommend someplace I've never been. If you have a favorite place that you think deserves to be on this list, please leave a comment and help the rest of us find it!
Since we've explored each of these places personally, look for our top tips to make the most of your visit. I'll share places we stayed and RV-specific concerns such as parking, size-restricted roads, and other transportation issues. And since we're always on the lookout for ways to make roadschooling as affordable as possible, I'll let you know if we discovered any ways to save money while we were there.
Top 5 lists are always subjective, and this one's no different. These were our favorite destinations in California, Oregon, and Washington. It is also worth noting that our time in the Pacific Northwest was cut short due to a family emergency. I regret that this beautiful region is underrepresented on this list, and I can't wait to someday get back there and discover all the places we missed.
1. Joshua Tree National Park
What You'll Learn
Driving through Joshua Tree National Park gives you a chance to experience two different types of desert environments. Earthquakes and plate tectonics are also great to study here. There are many different fault lines in the park, but don't miss the well-known San Andreas Fault. Don't forget to grab a Junior Ranger booklet at the Visitor Center to help guide you through everything there is to learn in this incredible park. Be sure to leave some free time for a hike or a rock scramble since there are some great places to climb. Come back to the park after dark (with a telescope if you have one) for some stargazing in this International Dark Sky Park.
Parking and Transportation Notes
The parking lots for visitor centers and popular stops are small and often very crowded. Avoid taking your RV through the park if possible.
Discounts to Look for
Weeklong entry into the park is $30 per vehicle. Entry is free for America the Beautiful annual pass holders. You can also plan to visit on one of the NPS Fee-Free Days, but be prepared for larger crowds on these days.
Where to Stay
Campgrounds within the park are often for tent camping only. Those that allow RVs are not big-rig friendly. If you can boondock, camp on the BLM public lands just outside the park entrance, where plenty of other campers can be seen easily from the road during peak season. Thousand Trails members can stay at the Thousand Trails Palm Springs RV Resort in nearby Palm Desert.
Top Tips
Driving through the whole park can take several hours, especially if you stop to explore. For the best experience, plan to spend the whole day in the park when you go. You won't want to be rushed. We love to pack a lunch and stop in one of the picnic areas near Jumbo Rocks, where there are plenty of big rocks to climb on as well as trash and restroom facilities.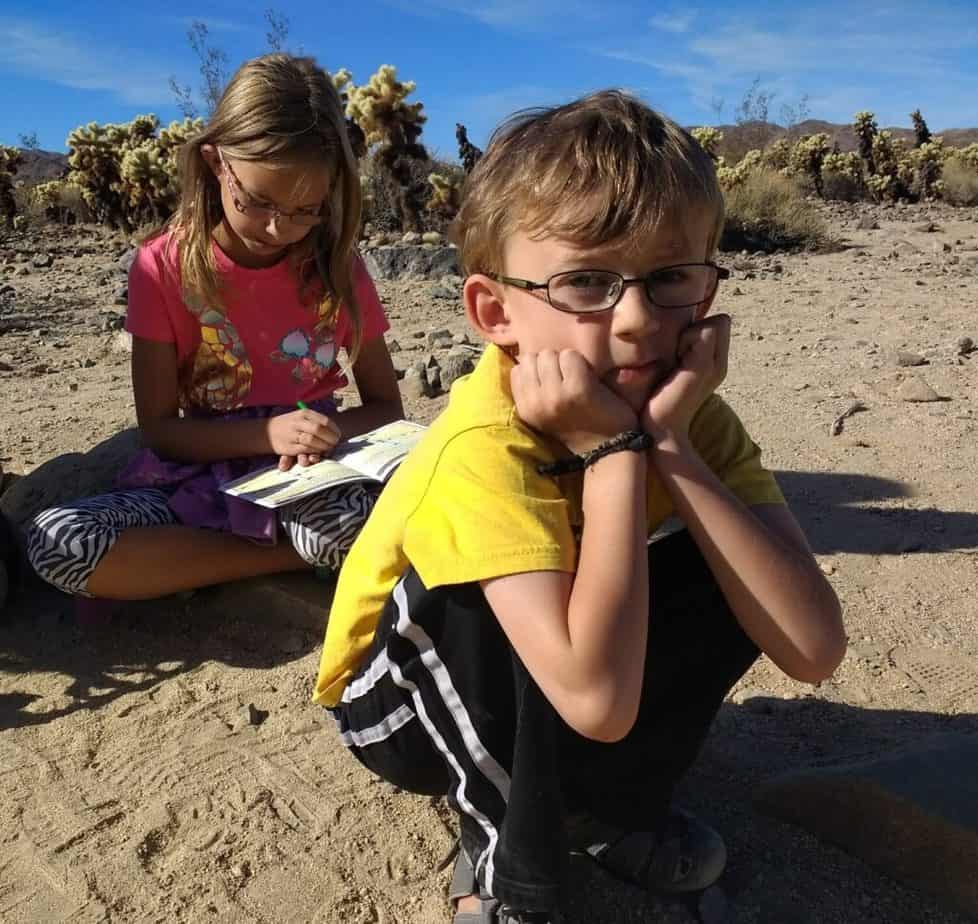 2. Crater Lake National Park
What You'll Learn
Study geology, particularly related to volcanoes. Crater Lake was formed by a volcano that erupted and then collapsed, leaving a giant crater that was later filled with water from rain and melting snow. You'll also learn the history of the indigenous people of this area. The Junior Ranger book is a wonderful cross-curricular resource for learning at Crater Lake.
Parking or Transportation Notes
The Scenic Rim Drive does not have vehicle size restrictions, but large RVs and trailers may find the narrow, winding roads challenging. There is often no shoulder or opportunity to turn around. The park website has suggestions for places to unhitch trailers before exploring. Trolley tours are available if you prefer to leave your RV safely parked and let someone else drive.
Discounts to Look for
Seven-day entry into the park is $30 per vehicle during peak season (May-October) and $20 per vehicle in the off-season. Entry is free for America the Beautiful annual pass holders. You can also plan to visit on one of the NPS Fee-Free Days, but be prepared for larger crowds on these days.
Where to Stay
Within the park, Mazama Campground allows RVs and has a limited number of full-hook-up or electric-only sites. Other RV sites have no hook ups. Free boondocking on public lands is available in the nearby national forest, and there are several private campgrounds in the area. Check Campendium for more information.
Top Tips
Drive the Scenic Rim Drive and allow plenty of time to stop at overlooks and points of interest. Every September, there are two Saturdays when East Rim Drive is closed to motor vehicles for the "Ride the Rim" cycling event. Check the Ride the Rim website and avoid these dates (unless you are a participating cyclist).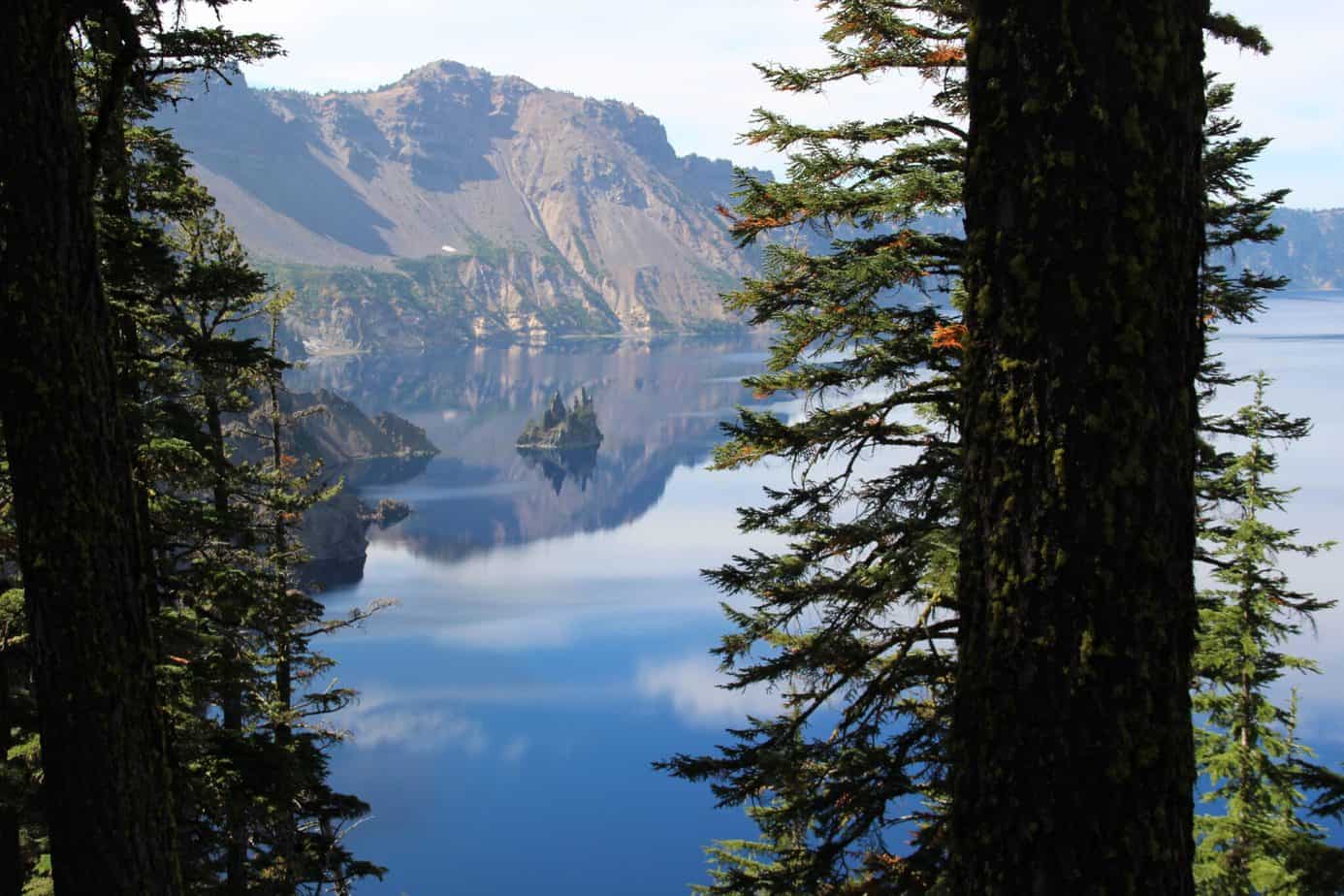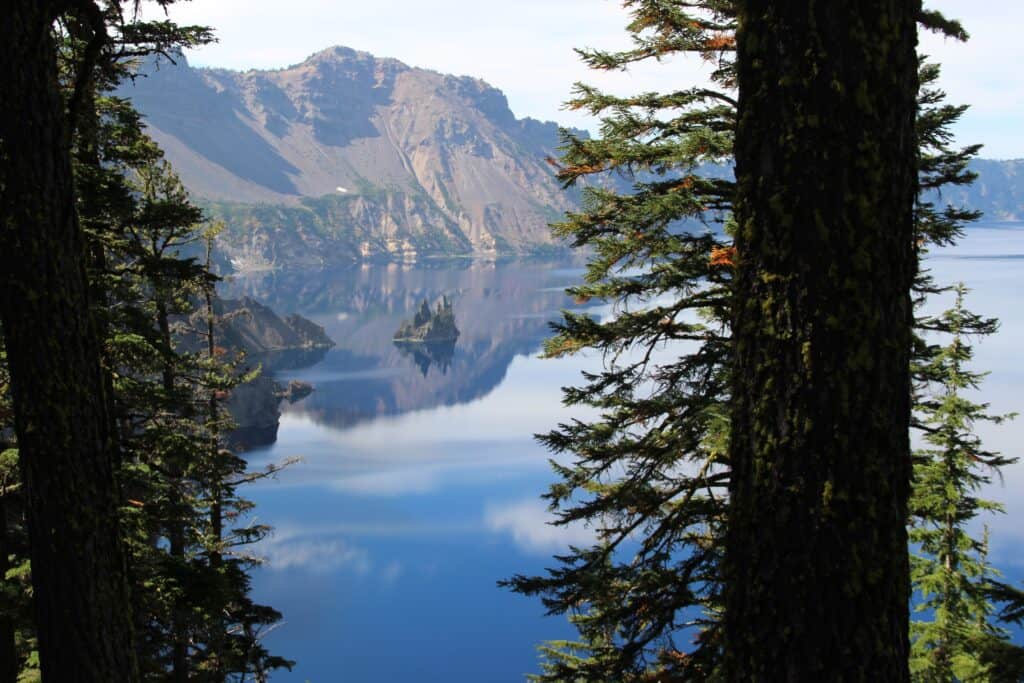 3. Cabrillo National Monument
What You'll Learn 
Learn about 16th-Century European exploration and the history of the Spanish Conquistadors in southern California. This location later became a strategic defense point for San Diego Bay, so there is plenty of 19th- and 20th-Century military history to learn here, too. The tidepool areas are a perfect place to explore sea life, with photo guides and rangers who help identify creatures. Use the Junior Ranger materials as a guide to all the great learning experiences in this park.
Parking or Transportation Notes
Parking in the tidepool areas is limited and often fills up with lines of cars waiting at low tide times. Plan to arrive early or be prepared to walk from another parking lot.
Discounts to Look for
Seven-day entry into the park is $20 per vehicle. Entry is free for America the Beautiful annual pass holders. You can also plan to visit on one of the NPS Fee-Free Days, but be prepared for larger crowds on these days.
Where to Stay
Camping in the downtown San Diego area isn't easy to find, so you may need to drive. There is no camping within the park. Thousand Trails members can stay at Pio Pico RV Campground. Beachfront camping is available at Silver Strand State Beach.
Top Tips
Head to the Visitor Center first and check the tide schedules. Plan your day around visiting the tidepools at low tide, but remember to arrive early to get a parking spot.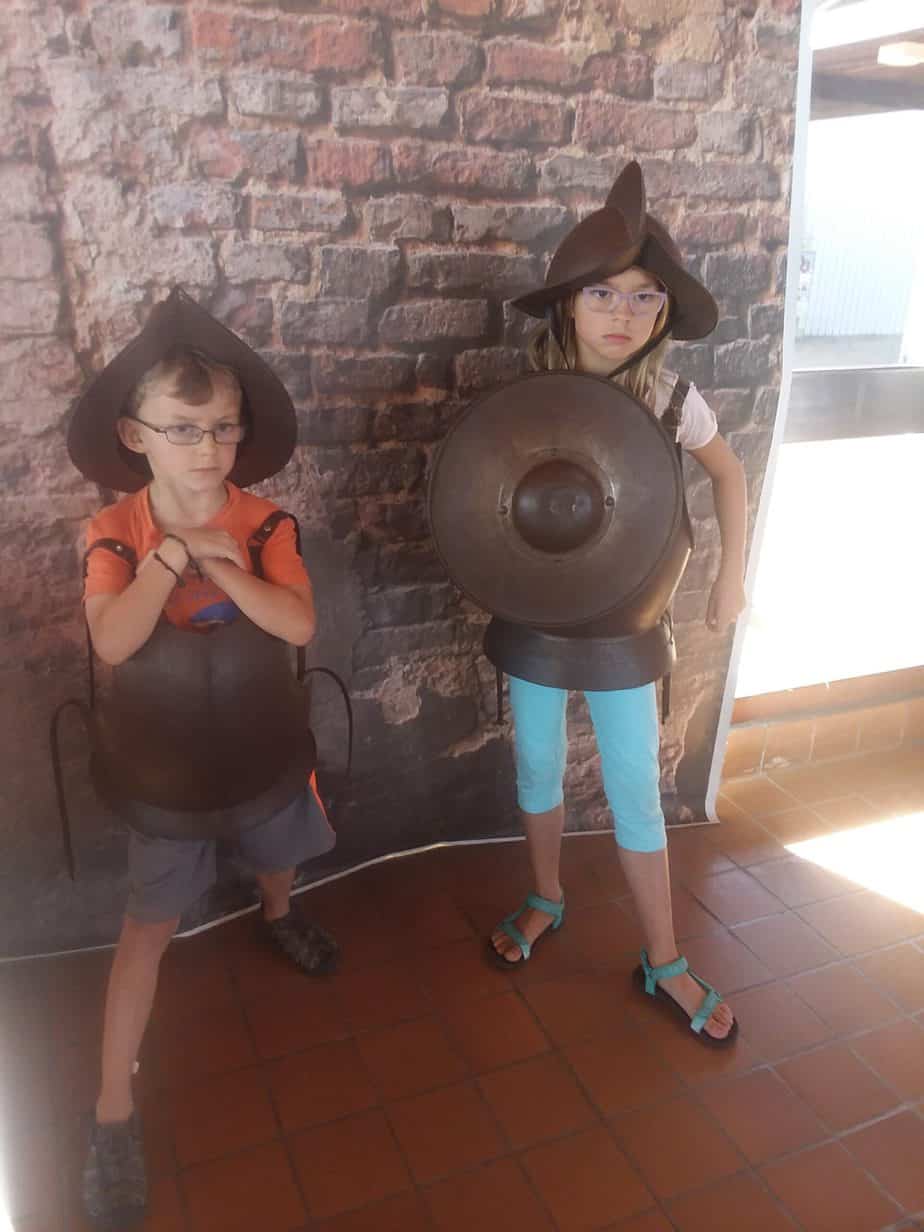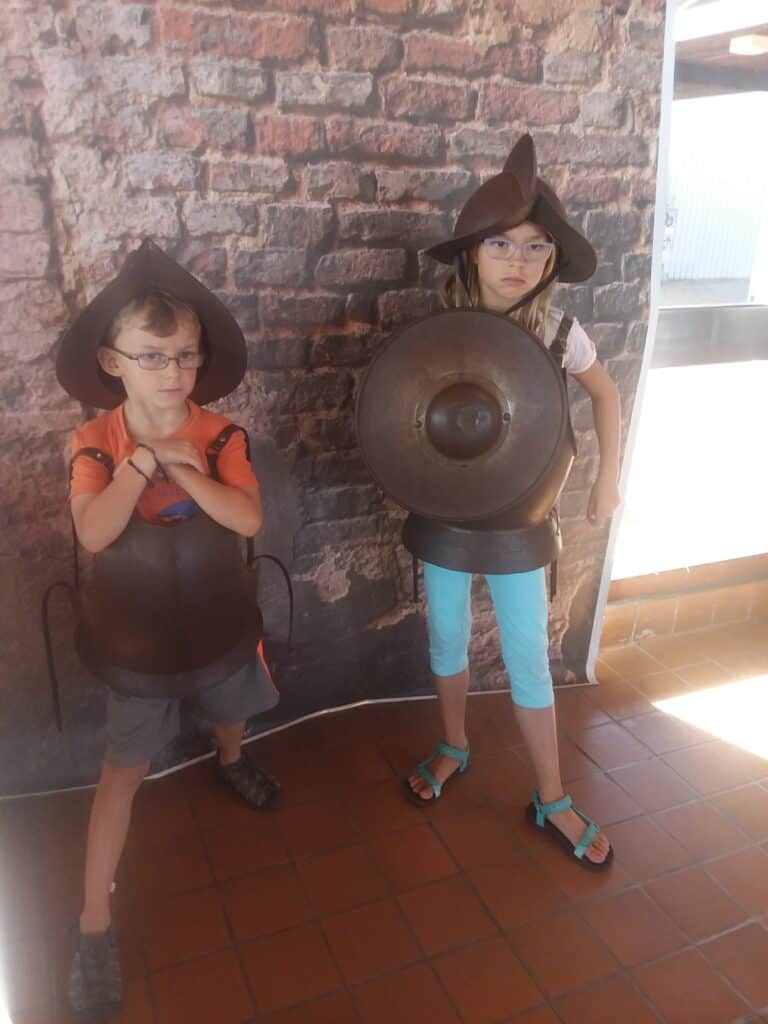 4. Redwoods State and National Parks
What You'll Learn
Explore these forests of unique trees, so tall you have to see it to believe it. Learn about the ecosystem, the history of the area, and the importance of conservation. Junior Ranger materials are available from the NPS to help make the most of the educational experience.
Parking or Transportation Notes 
Redwoods is very unique because it is actually a collection of state and national park lands that span a very large area of northern California. There is not just one place to visit when you visit the Redwoods. Note that some visitor centers and trailheads have very limited parking. There are many narrow, winding roads that weave between giant trees with little or no shoulder. You'll see and experience more if you are able to unhitch your trailer or park your motorhome and use a smaller vehicle to get around.
Discounts to Look for 
Only three of the state parks collect day-use fees in the Redwoods: Jedidiah Smith, Del Norte Coast, and Prairie Creek Redwoods state parks. Because of the cooperation between the state and national parks, America the Beautiful annual passes will be honored, in addition to California State Park annual passes. You can also plan to visit on one of the NPS Fee-Free Days, but be prepared for larger crowds on these days.
Where to Stay
There are many national forest campgrounds as well as private RV parks to choose from in this area. Campendium is a great tool to find campgrounds in the area. Places where we have stayed that we can recommend from personal experience include: Panther Flat (national forest campground), Sounds of the Sea RV Park, Albion River Campground and Marina, and the Humboldt County Fairgrounds.
Top Tips
If you're arriving from the north, stop first at the visitor center in Crescent City. Grab maps, Junior Ranger materials, and get suggestions for great trails to see the Redwoods. While you're in Crescent City, head to the pier to watch (and hear!) the large group of sea lions that like to hang out in this area.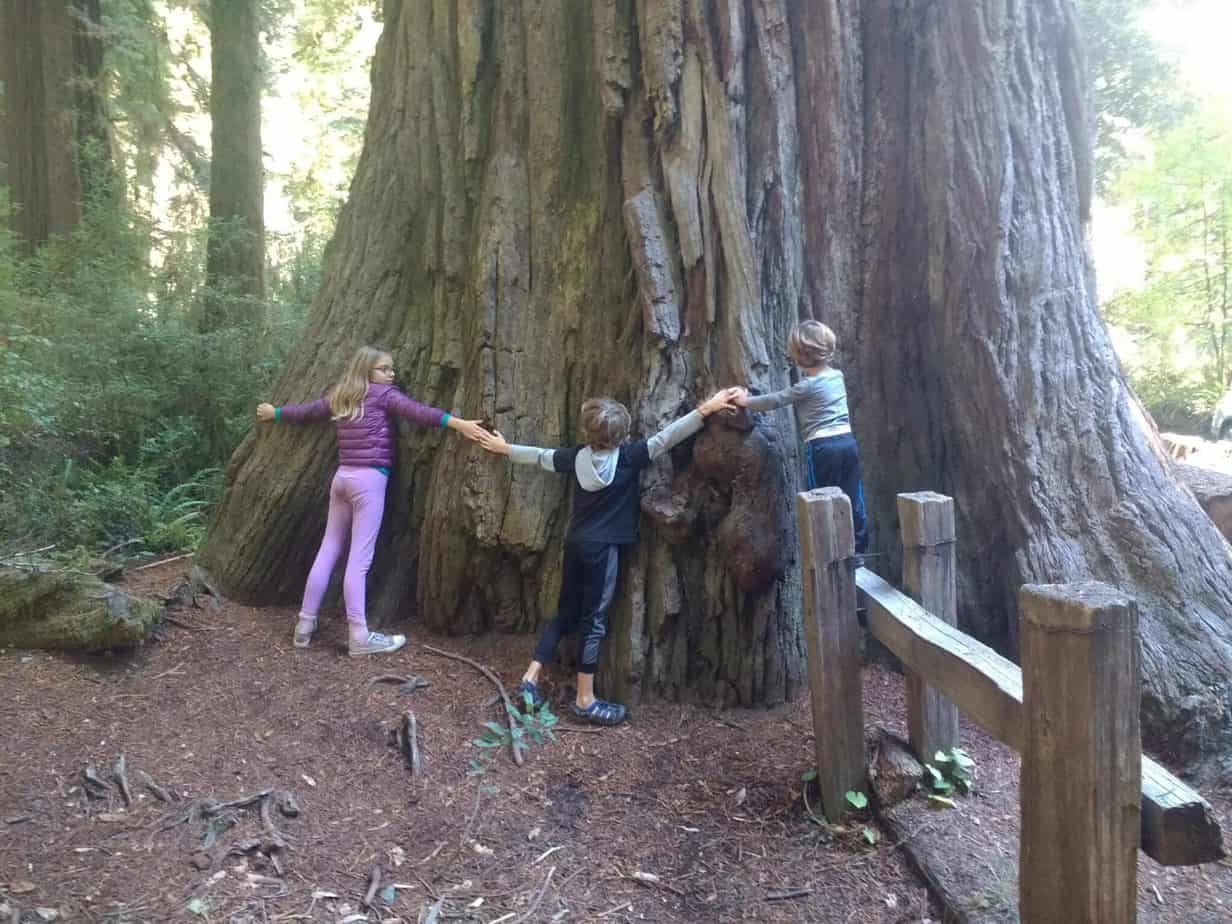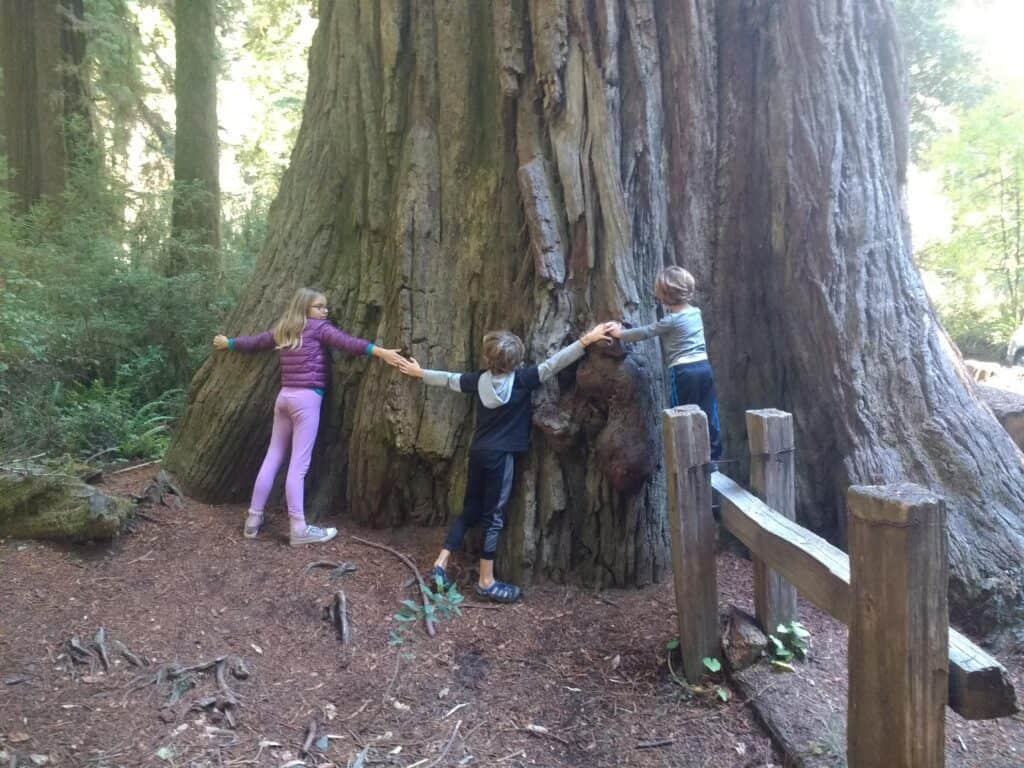 5. Marshall Gold Discovery State Historic Park, California
What You'll Learn
The '49ers are more than a football team! Explore the site where James Marshall discovered gold while he and John Sutter were building a sawmill – the discovery that triggered the gold rush and shaped the history of the western United States. A replica of Sutter's Mill has been built at the discovery site. Take a guided tour of the site, pan for gold, watch a film about the area, and complete educational tasks to become a Junior Ranger.
Parking or Transportation Notes 
Day-use fees are charged in the form of parking fees. The parking fee is $10 per vehicle on weekdays and $12 per vehicle on weekends. During special events and holidays this fee goes up. Parking RVs is permitted but they will be charged an oversized vehicle fee.
Discounts to Look for
If you are staying at one of the closest RV parks, consider walking to the park to save on the parking fee. During the Coloma Gold Rush Live event, a free shuttle is offered from several different locations around the area. This makes it both easy and free to explore this incredible event!
Where to Stay
Thousand Trails members can stay less than a mile away at the Ponderosa RV Resort. There are several other RV parks and campgrounds nearby, including the Coloma Resort, which is just across the river from the park.
Top Tips
Plan to visit in October during the annual Coloma Gold Rush Live event. The grounds are lined with tents and booths to replicate what a gold-rush settlement would have looked like in the early 1850s. Costumed reenactors teach period handicrafts, sell authentic foods, present history, perform music, and so much more. There's no better way to learn about the California Gold Rush!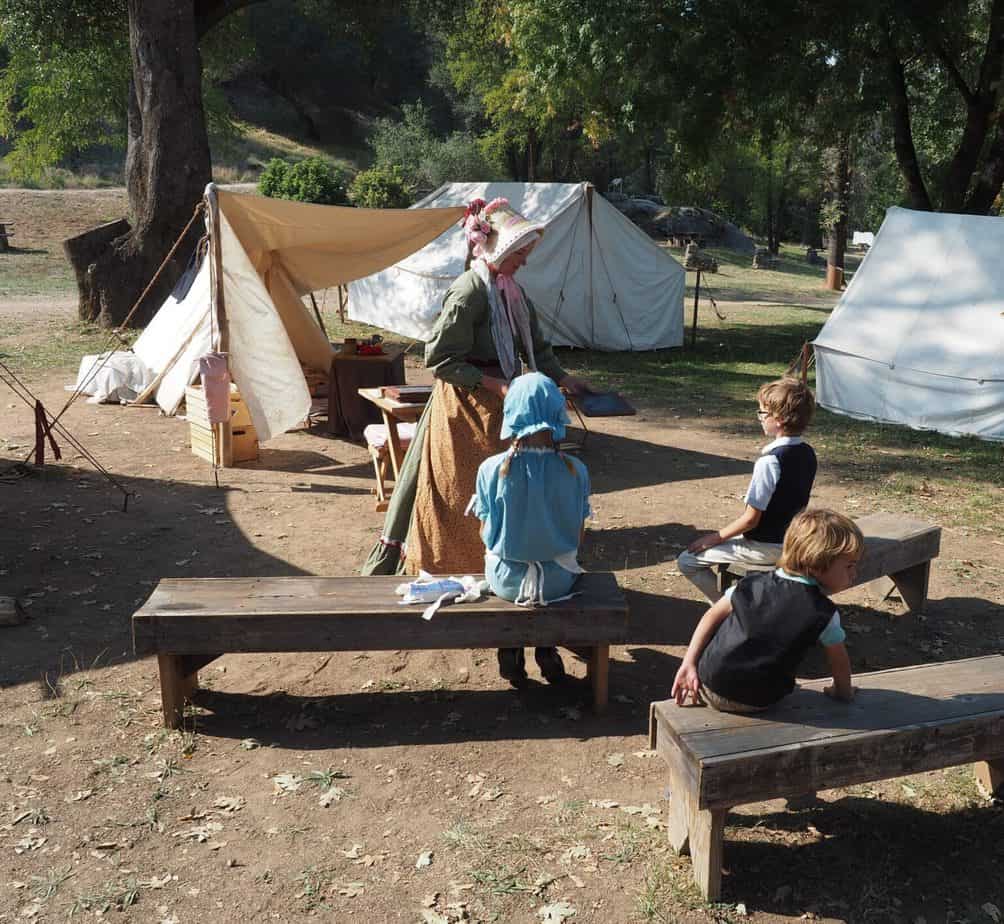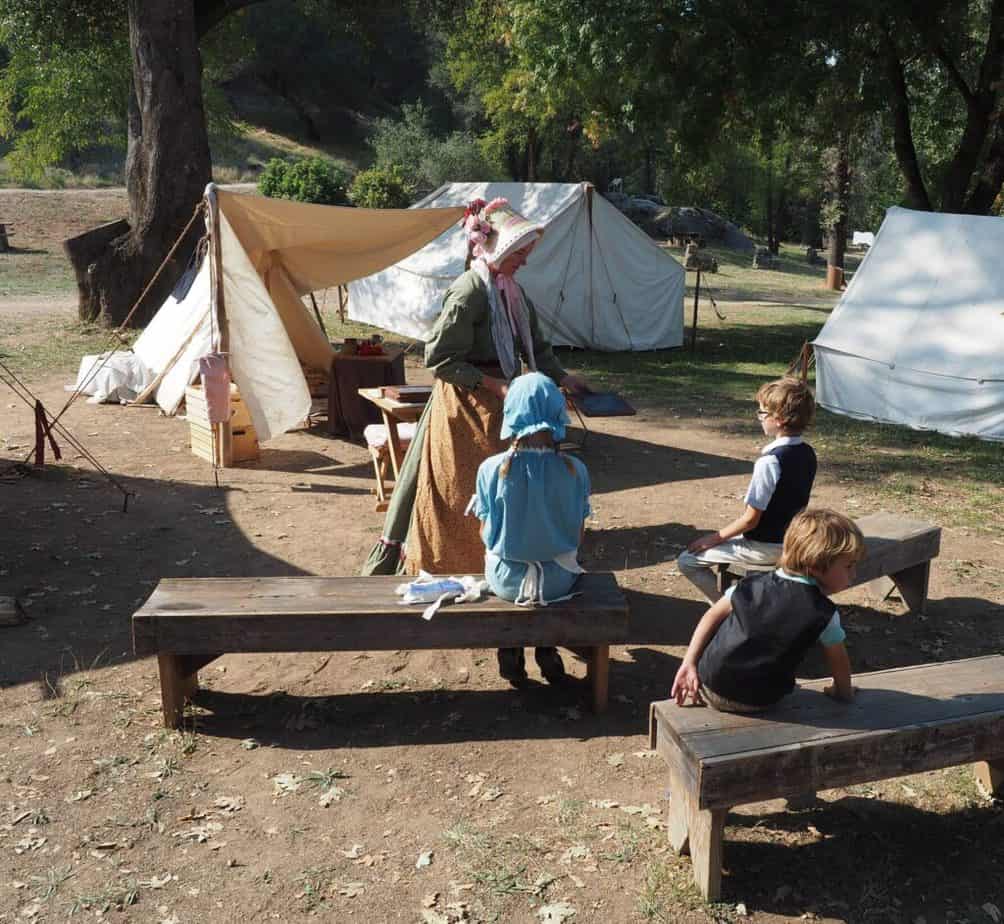 Honorable Mention
Pinnacles National Park
We first fell in love with Pinnacles when it was a national monument, before its status was upgraded to a national park. Be sure to bring flashlights and hike the trail through Bear Gulch Cave up to the reservoir. RV camping is available in the park. Thousand Trails members can save money by staying at the San Benito RV and Camping Resort, which is about 20 miles from the park.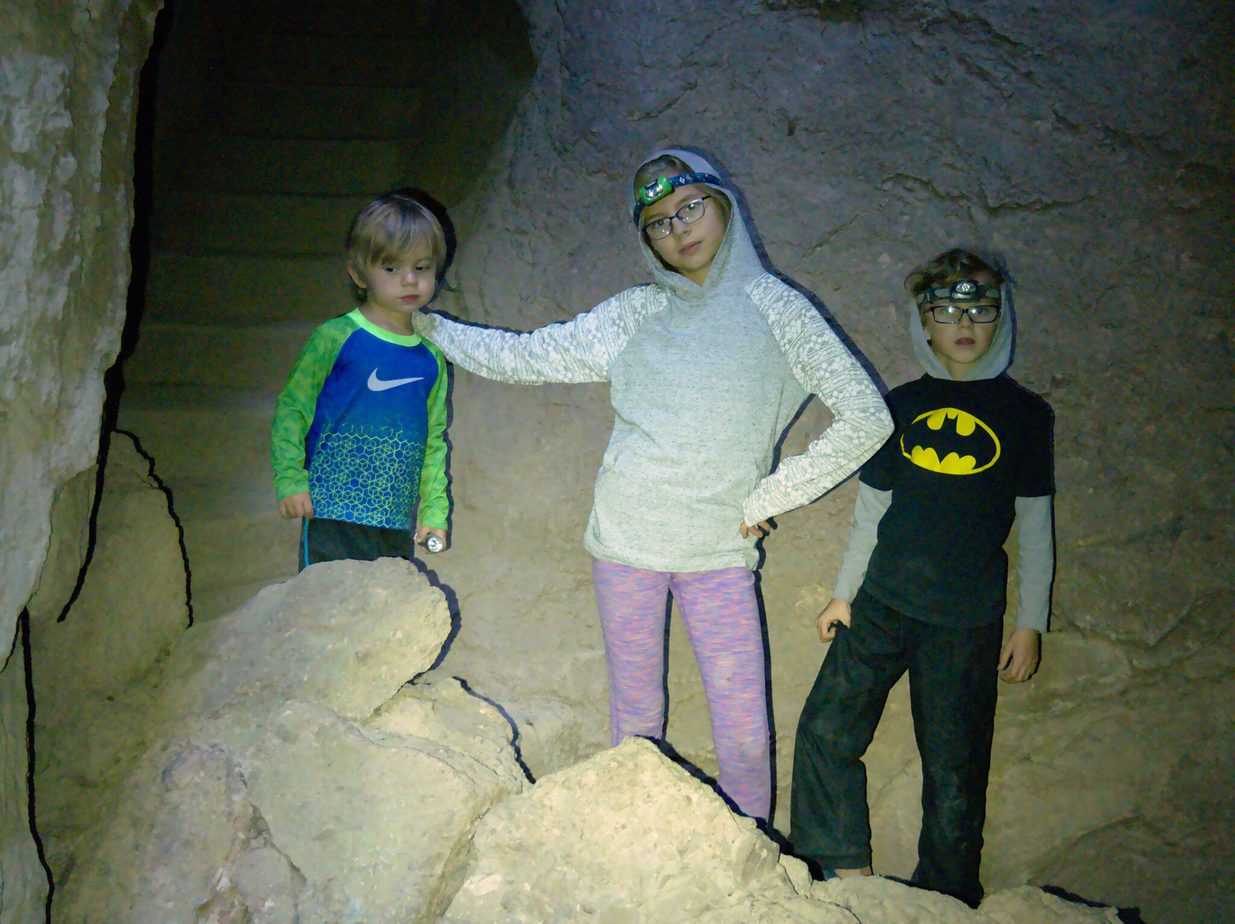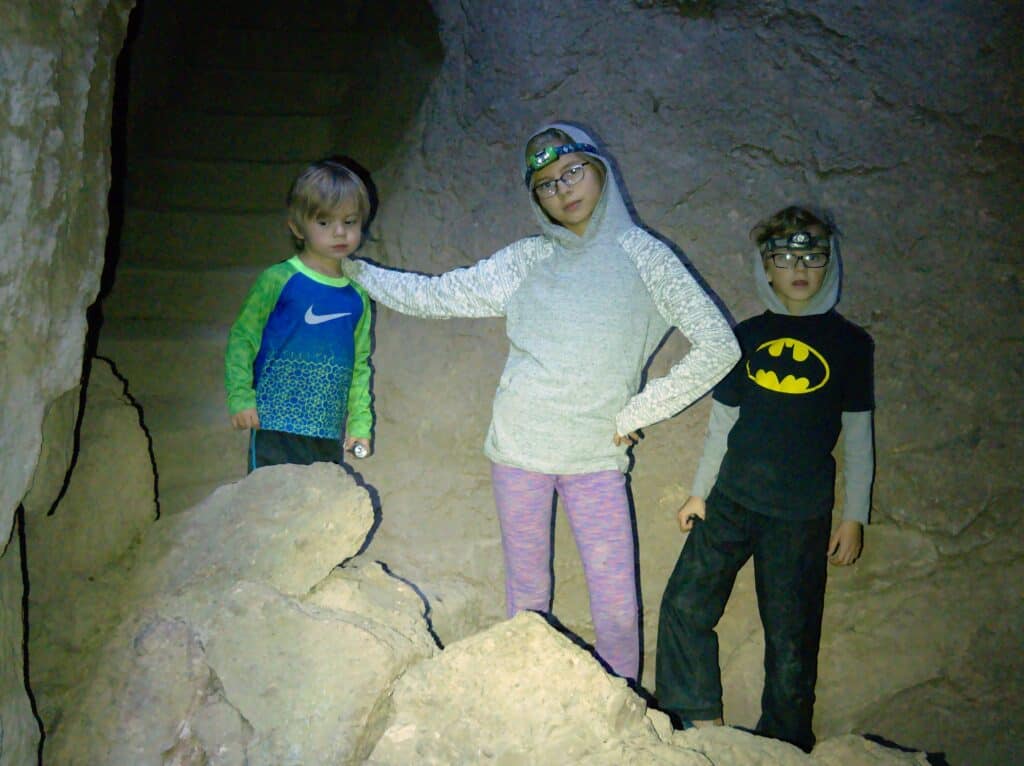 Oregon Dunes
The Oregon Dunes are in a protected national recreational area along the incredible Highway 101. This stunning stretch of the Oregon coast is great for hiking, dune sledding, or just a relaxing day at the beach. Whether you plan a stop as you travel the Oregon Coast Highway/Pacific Coast Highway, or simply as a destination in itself, the Oregon Dunes are well worth exploring. There are plenty of campgrounds in the area. Thousand Trails members can take advantage of the South Jetty RV and Camping Resort, which is just a few miles away.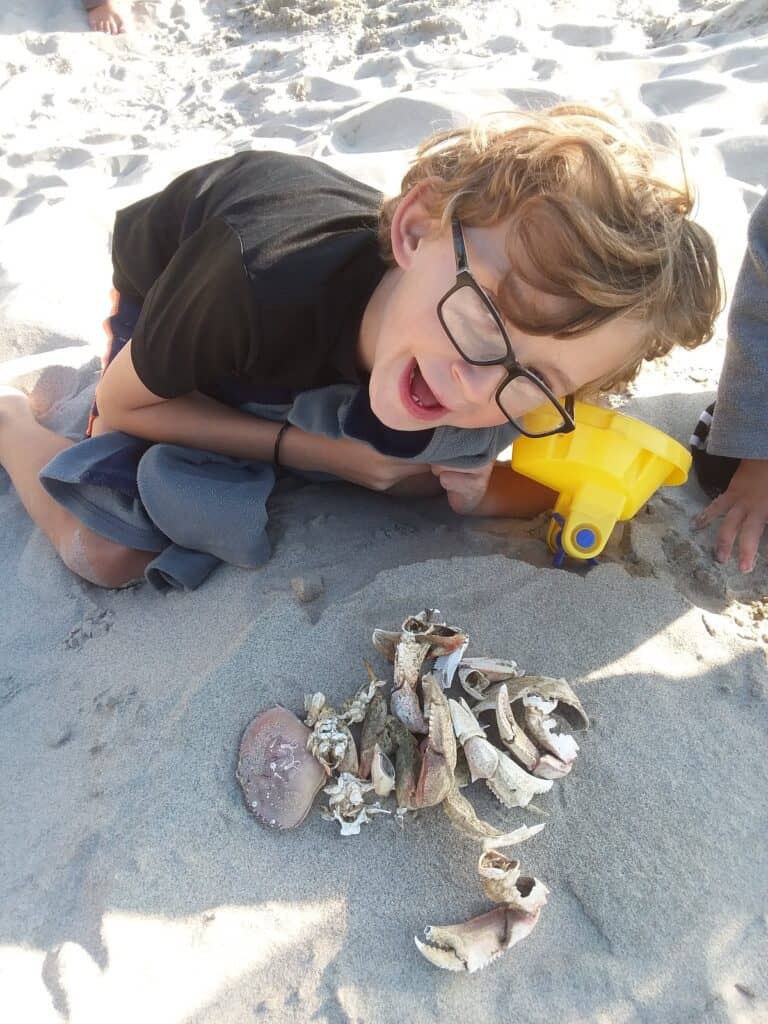 Where to Next?
Where will your roadschooling travels lead you next? Have you been to any of these fantastic destinations and have tips to add? Where should we go next in the great states of Washington, Oregon, and California?