Setting up a tent campsite goes beyond simply pitching a tent and calling it a night. It's about creating a comfortable, functional, and inviting outdoor haven where you can immerse yourself in the wonders of nature.
Whether you're a seasoned camper or a first-time adventurer, everyone loves to see how others have set up their camp site for some inspiration!
This article will focus on camping set up ideas for four main areas – exterior, interior/sleeping, kitchen and the outhouse/bathroom.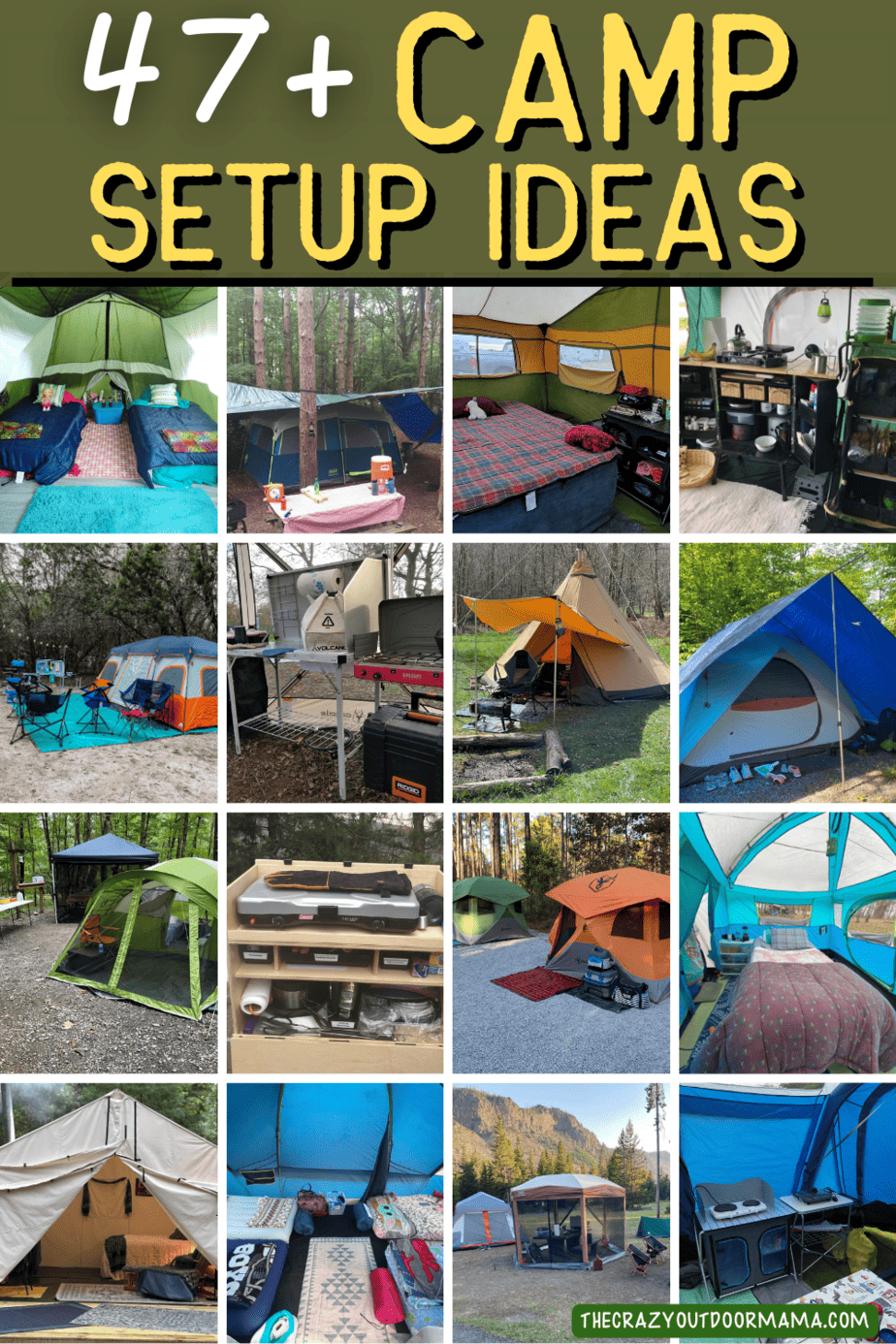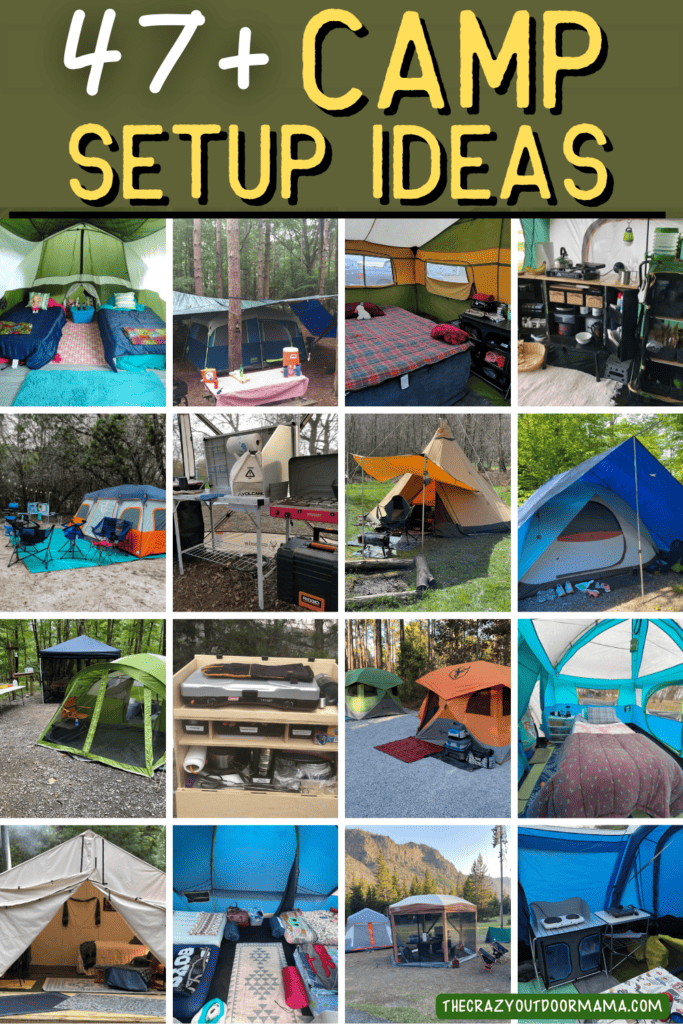 Before We Dream – The Basics To Bring for Tent Camping!
All the comfy hammocks in the world don't matter if you forgot your rope and have no way to string it up (or use for your tent!) While this article is mainly focused on set up layouts and such, I do want to touch on some MUSTS to be able to eat and sleep while tent camping.
Our family ALWAYS uses a set of camping checklists like these to keep our head on straight when packing. It's also a handy way to plan camp meals and keep all of the info for the camp trip in one spot.
Don't forget the most important rule of all when tent camping… ALWAYS do a test set up at home first!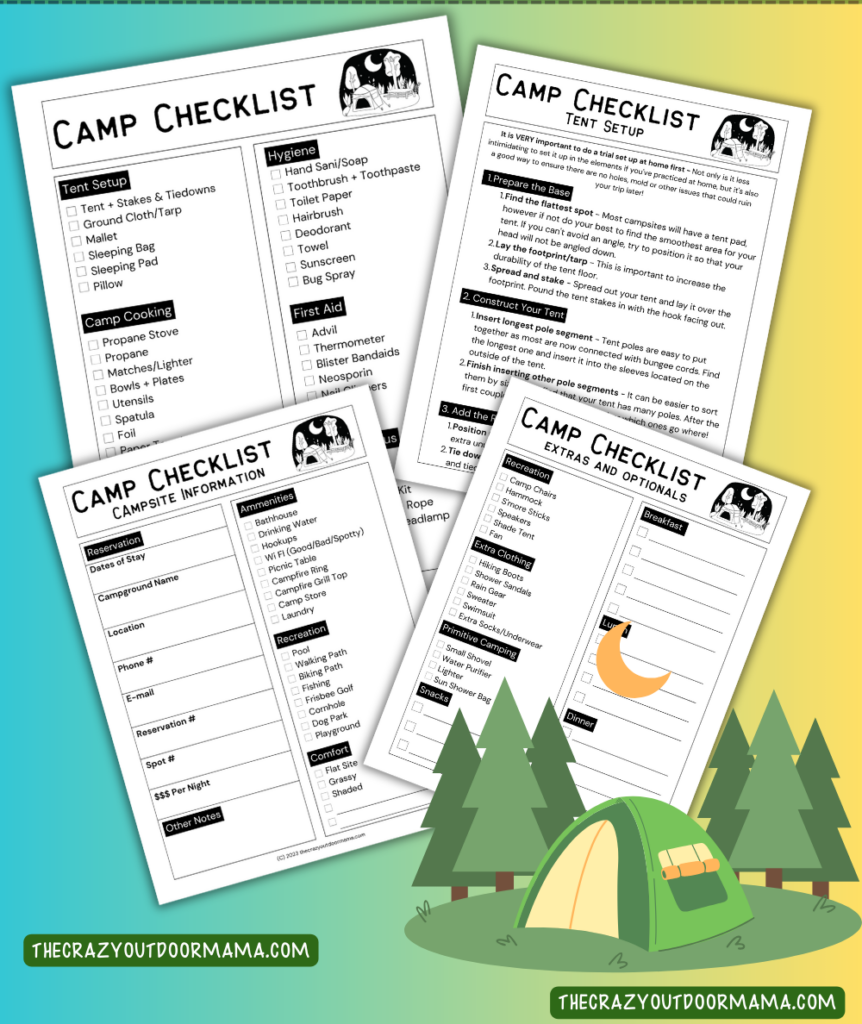 Basic Needs to Tent Camp
Tarp large enough for footprint of tent
Tarp large enough to cover top of tent/good rain fly
Tent + Stakes – always bring extra stakes in case one breaks
Seeping pad + Sleeping Bag – you may be able to get away without a sleeping bag, and just use something from home, but don't skip the pad. It really extends the life of your tent by saving the tent floor material… and it's alot comfier!
Rope
Mallet
Stakes – these do NOT work in rocky areas though… so make sure you have enough rope to tie down to rocks if needed!
Trash Bag
Camp Stove + Gas Bottles – You could also opt to use a provided campfire ring/grill to save money or space
Tools Too Bring Every Camp Trip
Duct Tape – too many uses to list here =P
Zip ties
Bucket – put out fires
Small Camp Shovel – put out fires/holes for poo
Lighter
Small Axe – handy for making kindling
If you're looking for specific tent camping products, Brooke in Boots has a great guide!
Exterior Campsite Setup Ideas
There are a couple standard parts of each campsite, and however how much you decide to include in your setup will largely depend on where you're camping. If you're at a campground, then you may not needed an eating or shower area as those are provided by the campground via a picnic table and public showers.
Tip – To keep a clean campsite, many people use a sort of sand free rug outside of the entrance to prevent too much of the outside being tracked in.
Regardless, these tent site layout ideas will be sure to inspire you!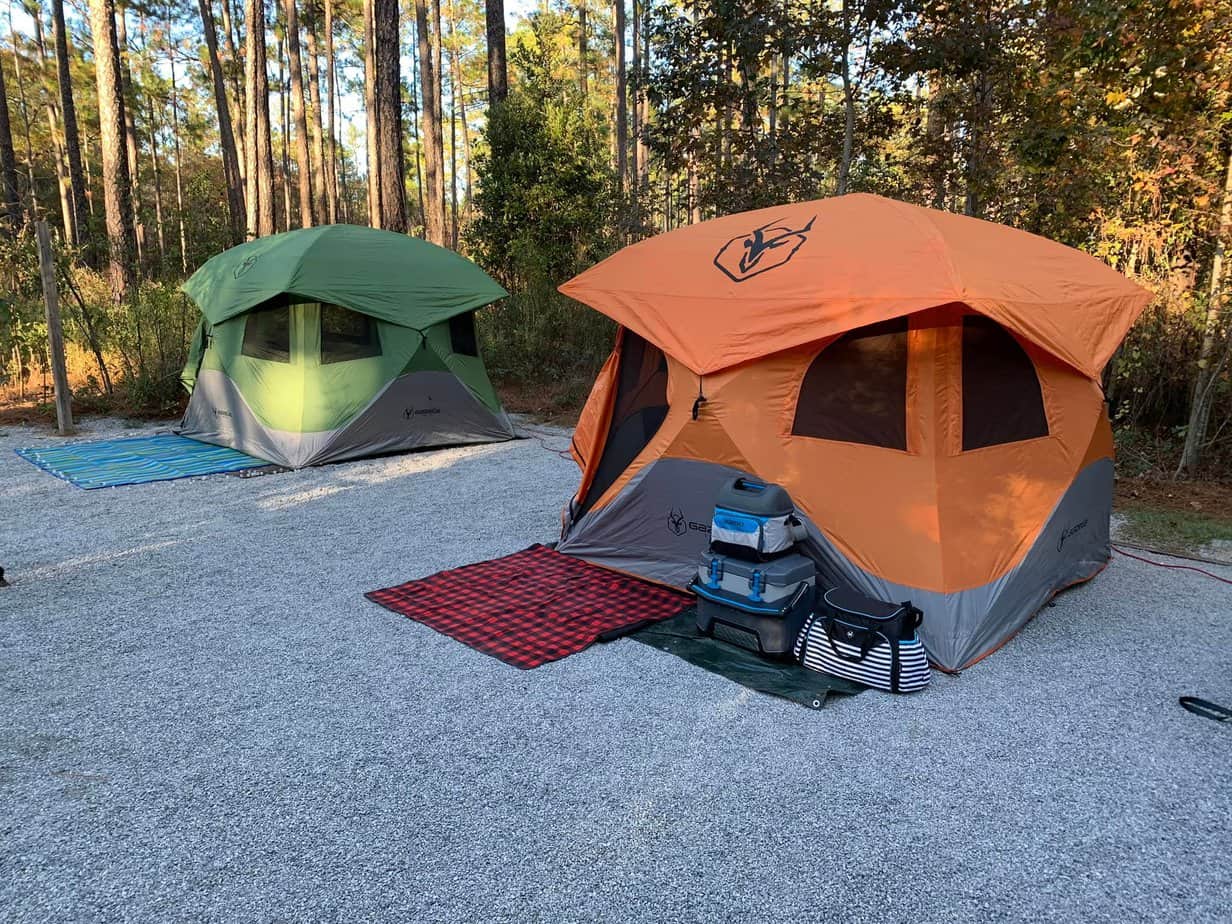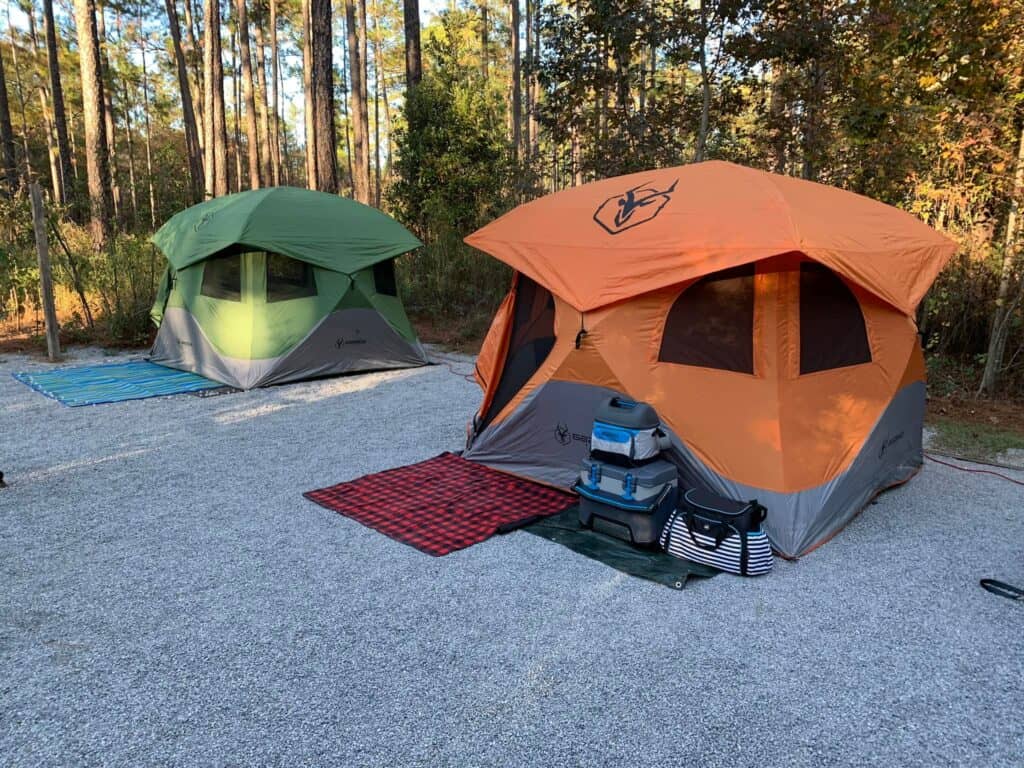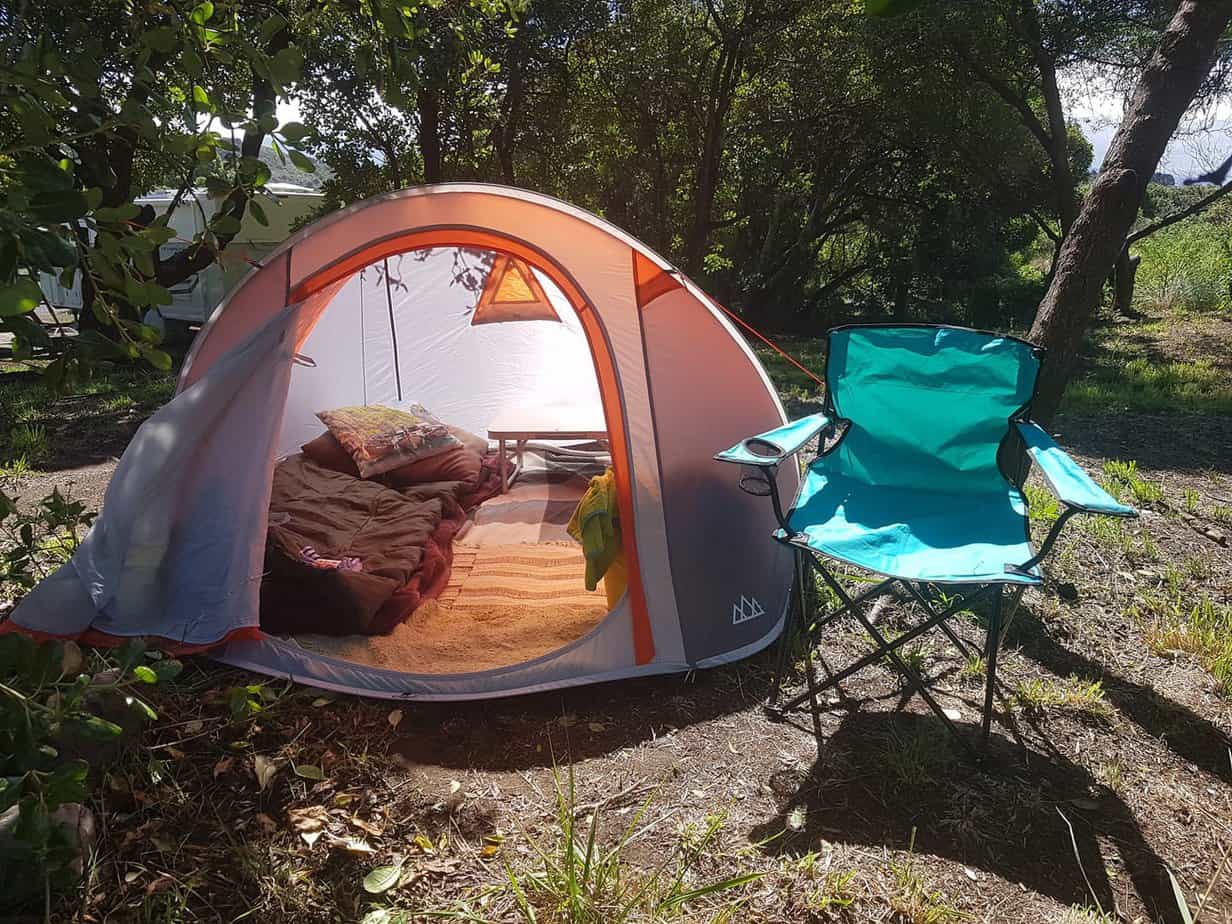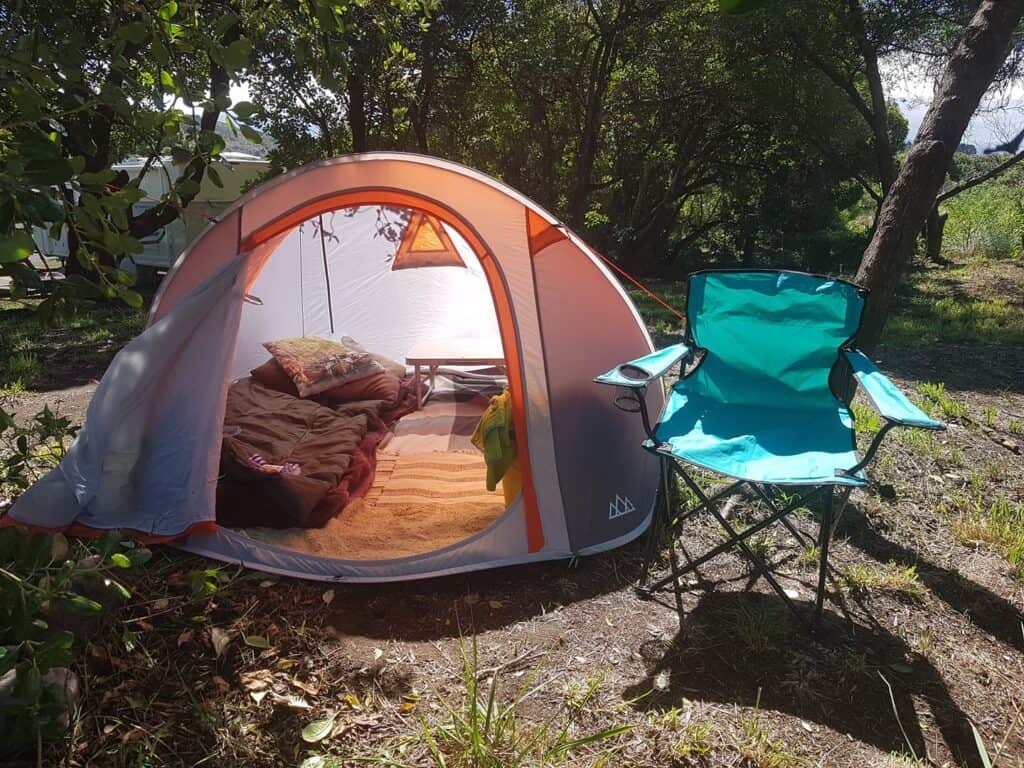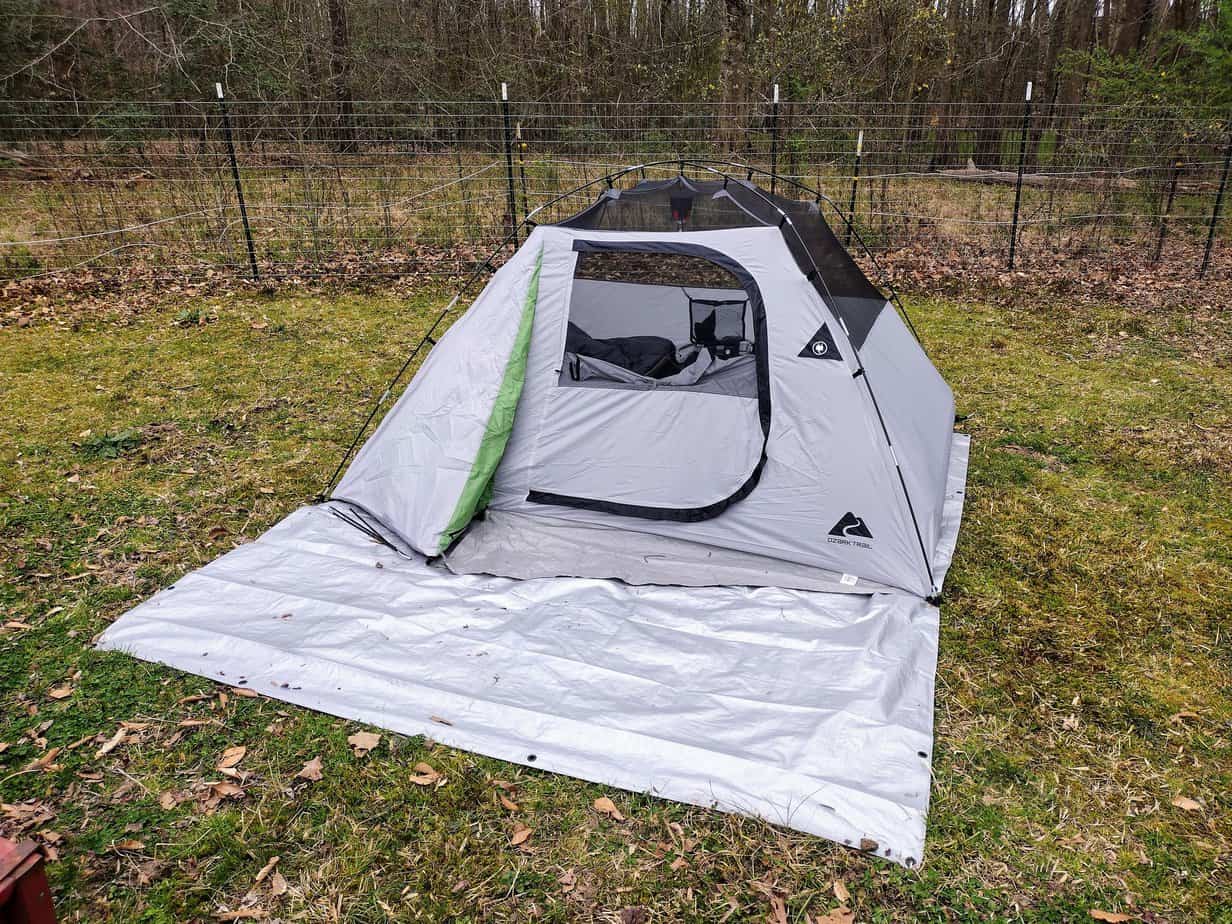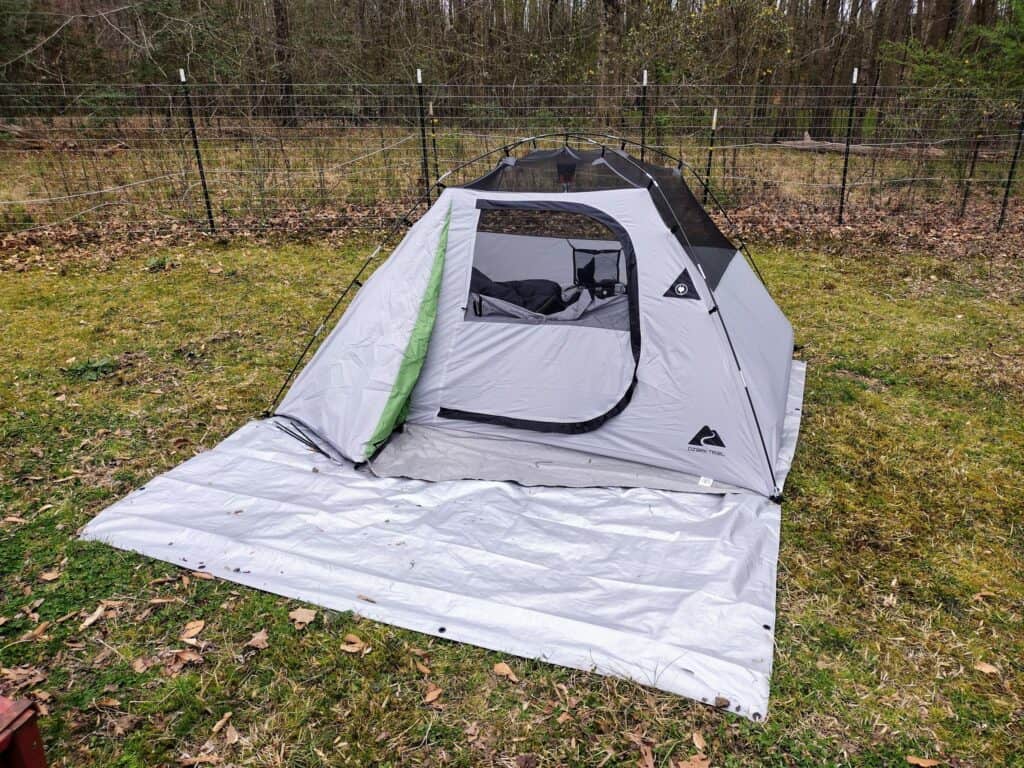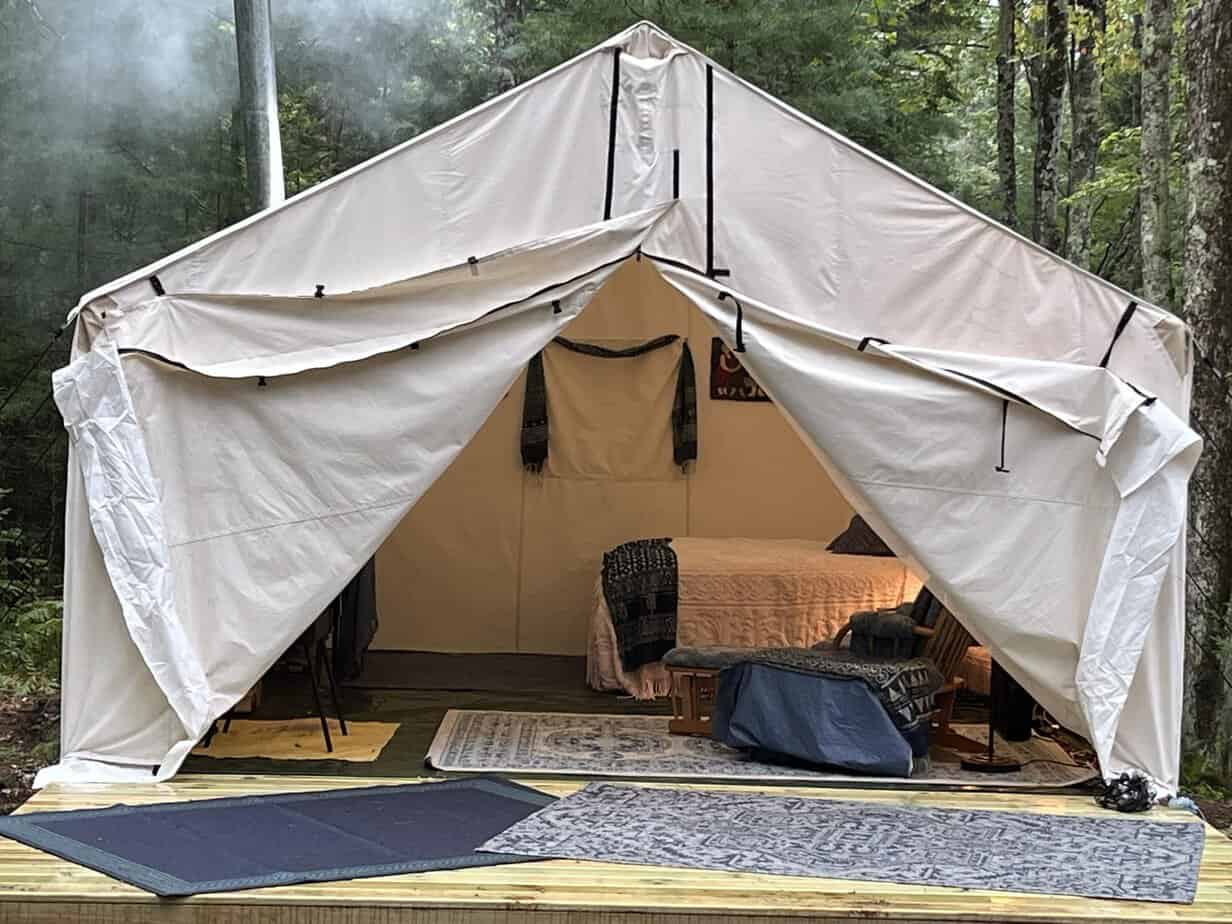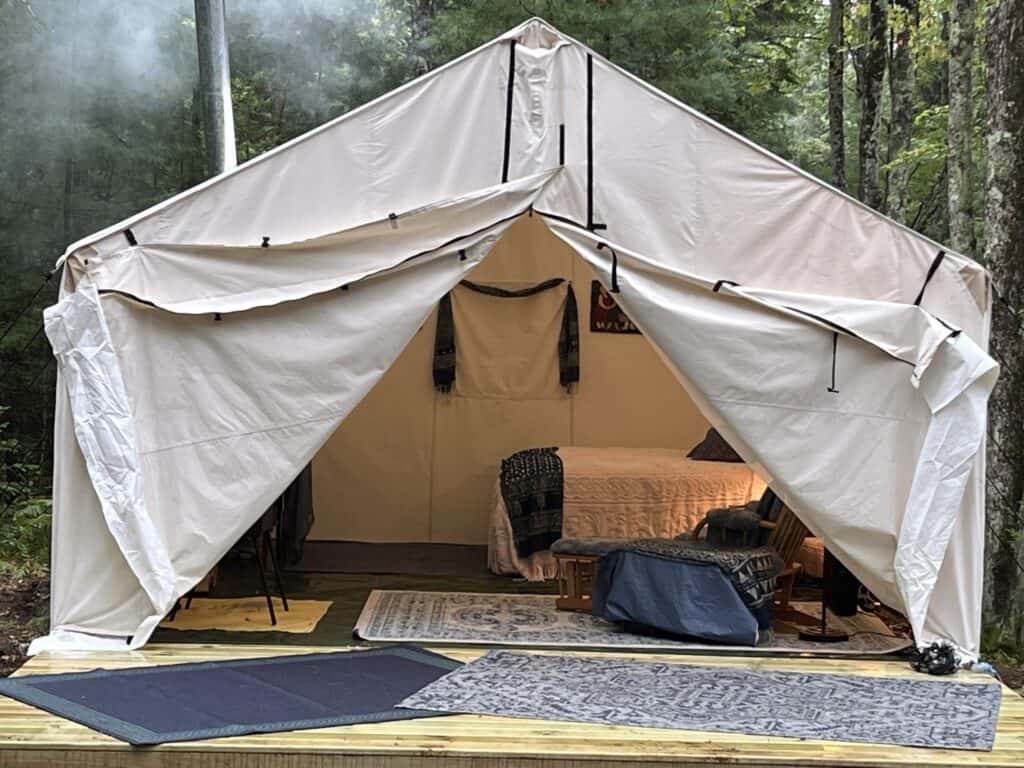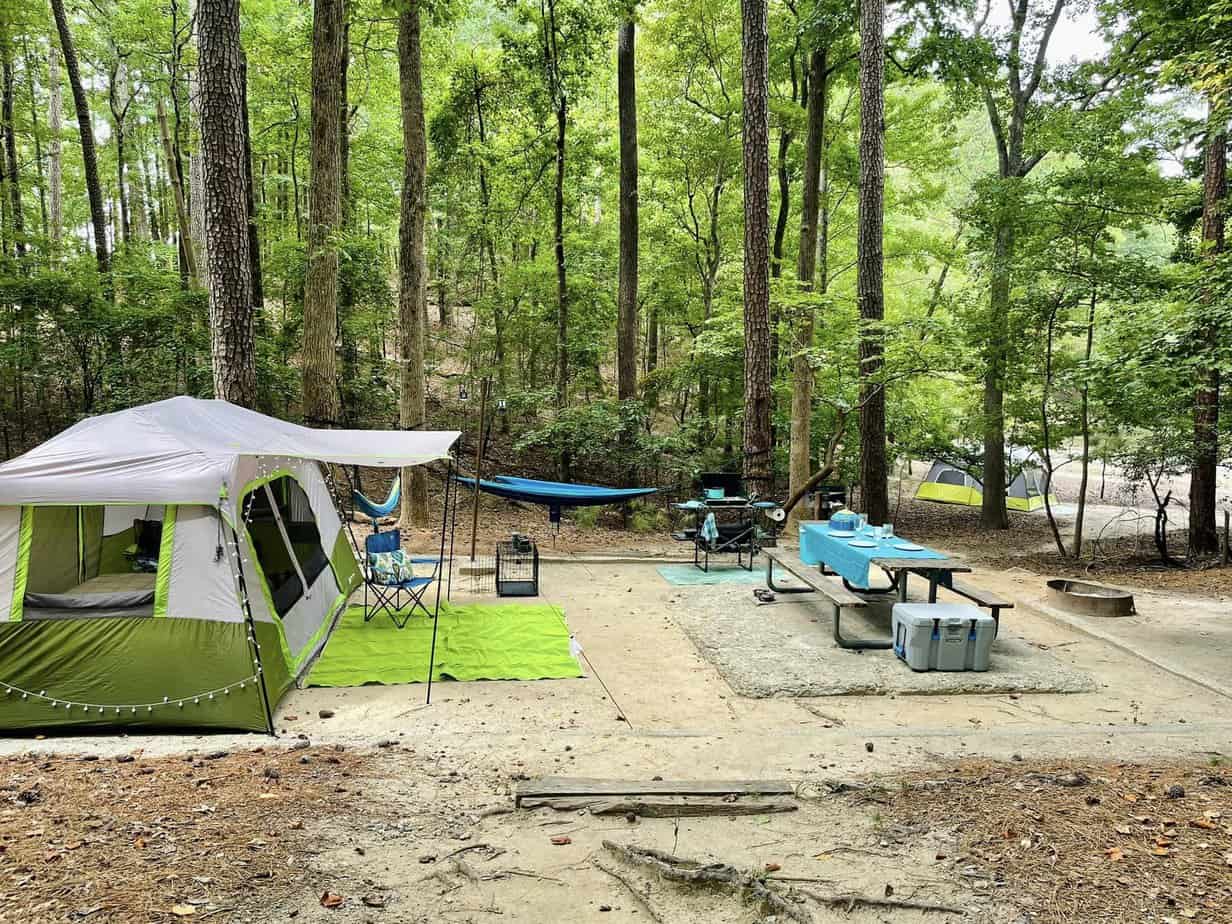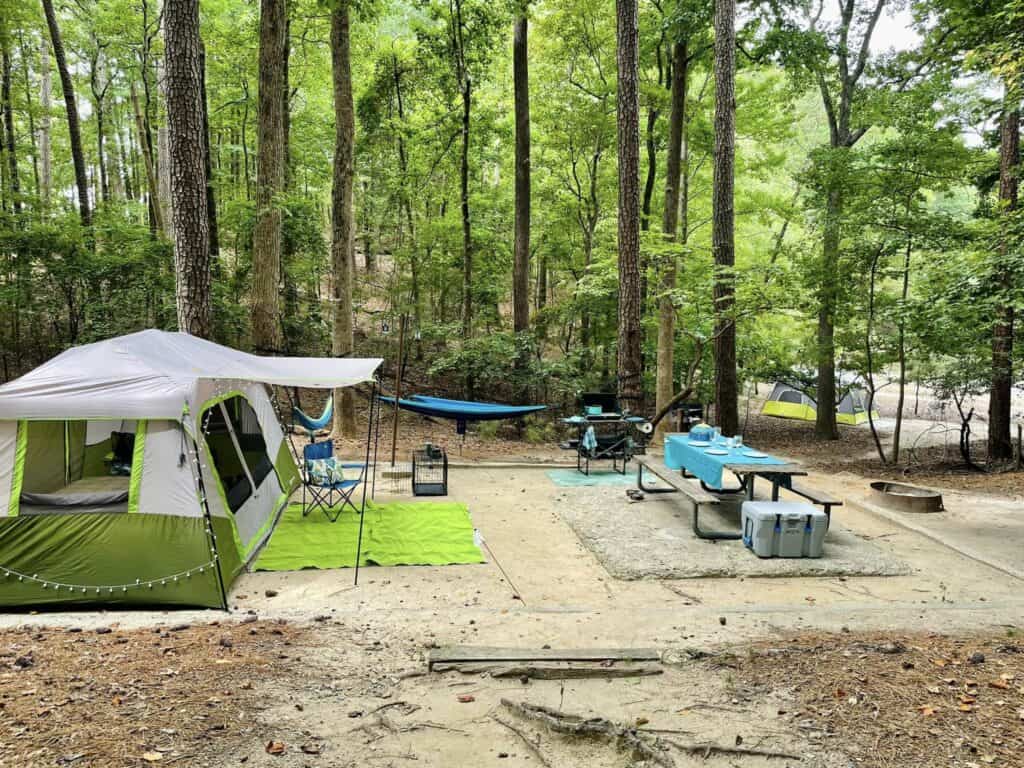 Incorporate Canopy Pop ups and Tarps for More Shade!
Most of the time, you will only be in your tent for sleeping, napping or changing clothes. That means it would be WAY more comfortable to set up a "hangout" area in camp that is NOT in a tent!
The easiest way to create a camp "common area" is to bring a pop up canopy tent, some tarps and rope. You can use the canopy with your tents (see the first picture… love the common space between the two tents!) or create a completely removed area. This is especially helpful if you have kids or people who enjoy naps during the day and don't want to hear everyone right outside the tent!
Having a an extra tarp (beyond the one you bring to place under your tent) can also come in handy should your rain fly not be enough or if don't have a rainfly at all. P.S. – Most tents do come with their own rain fly, it's just handy to have an extra tarp in case it rips/fails!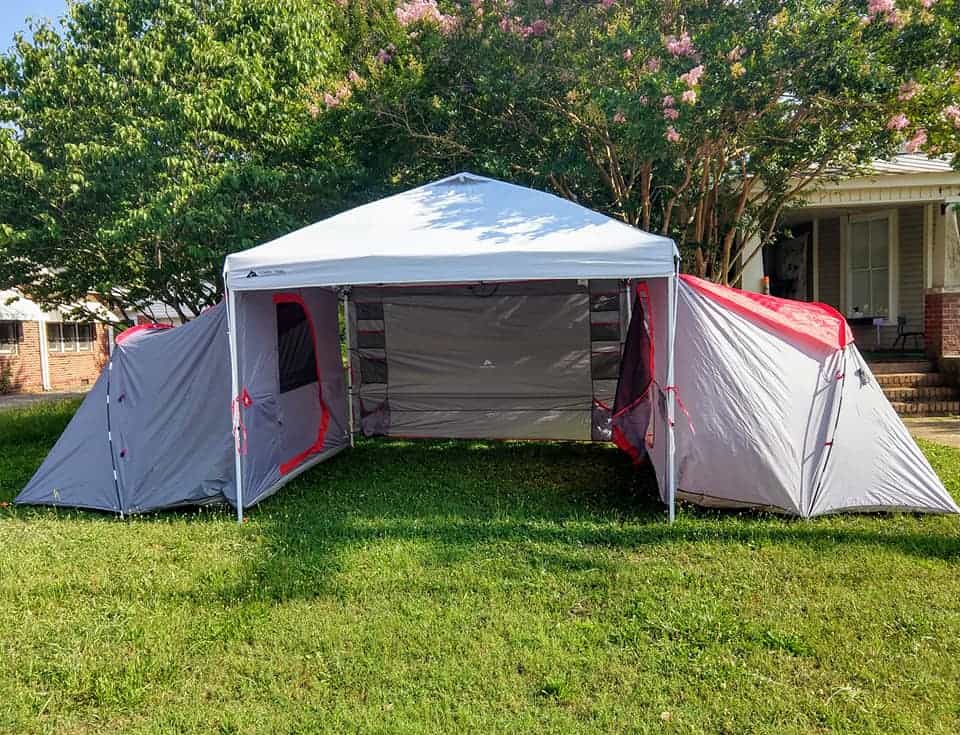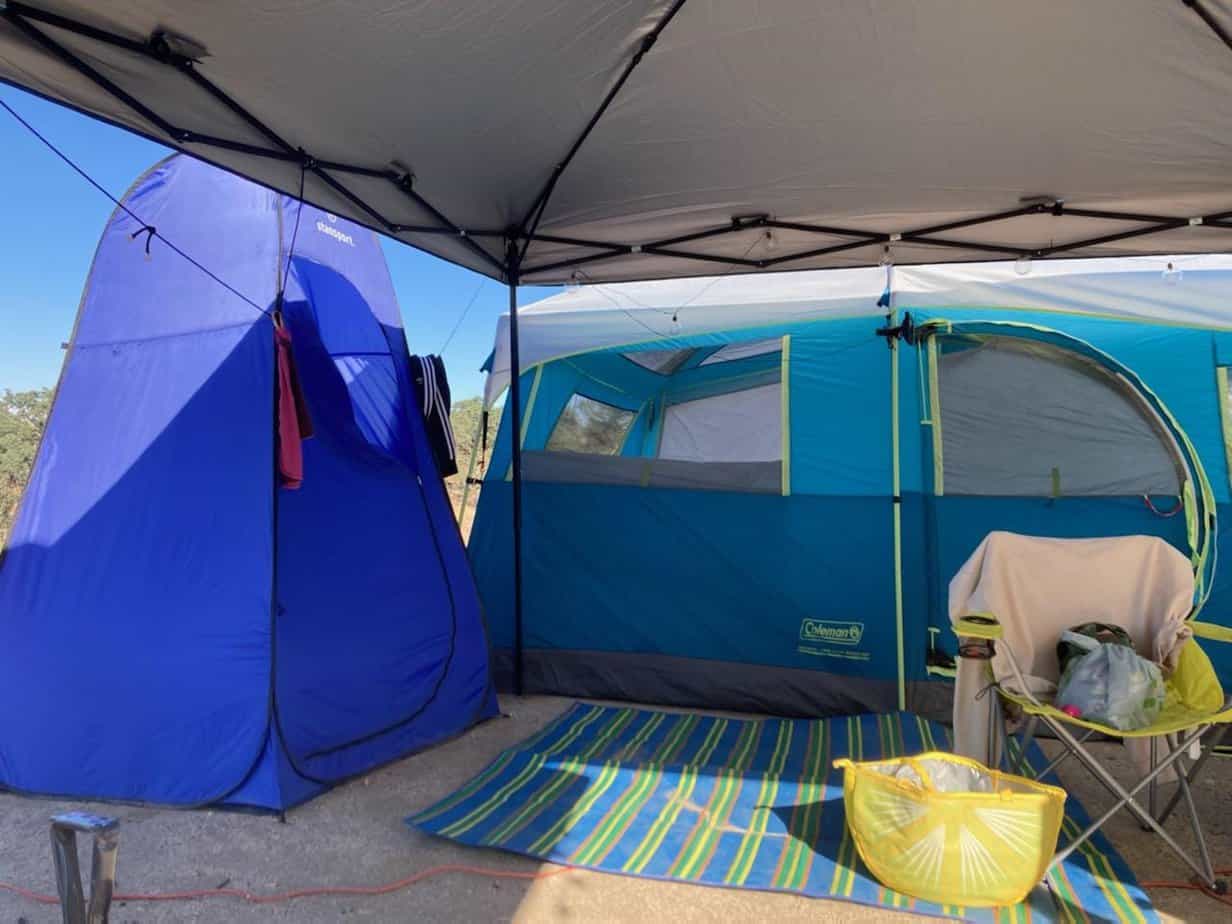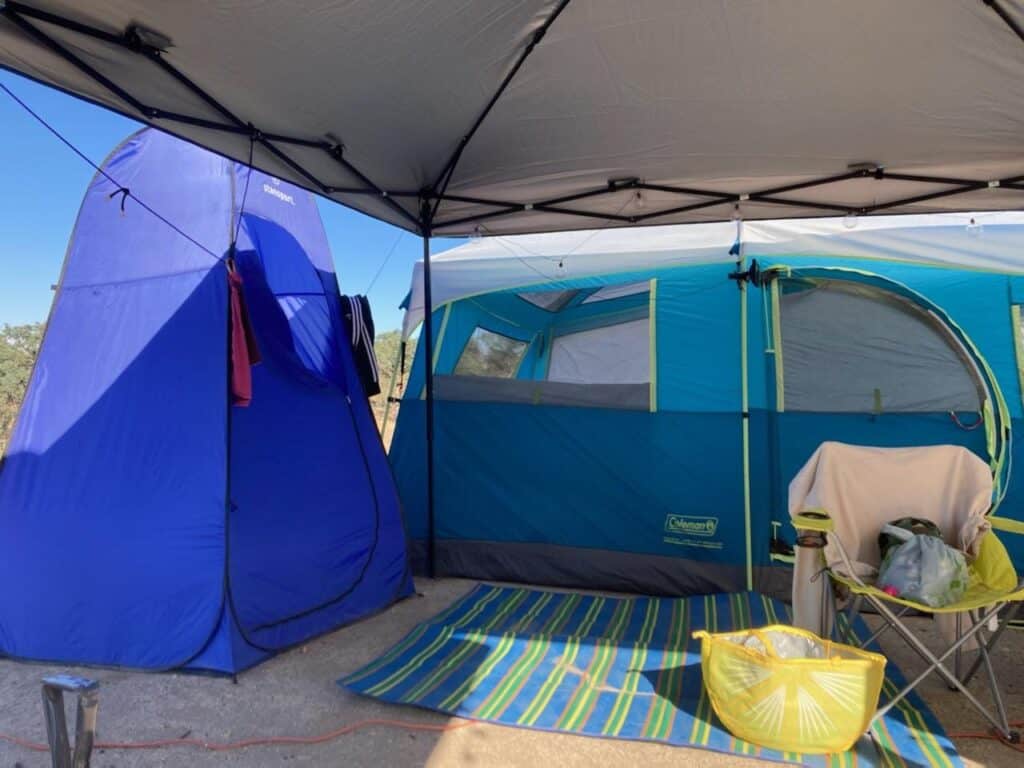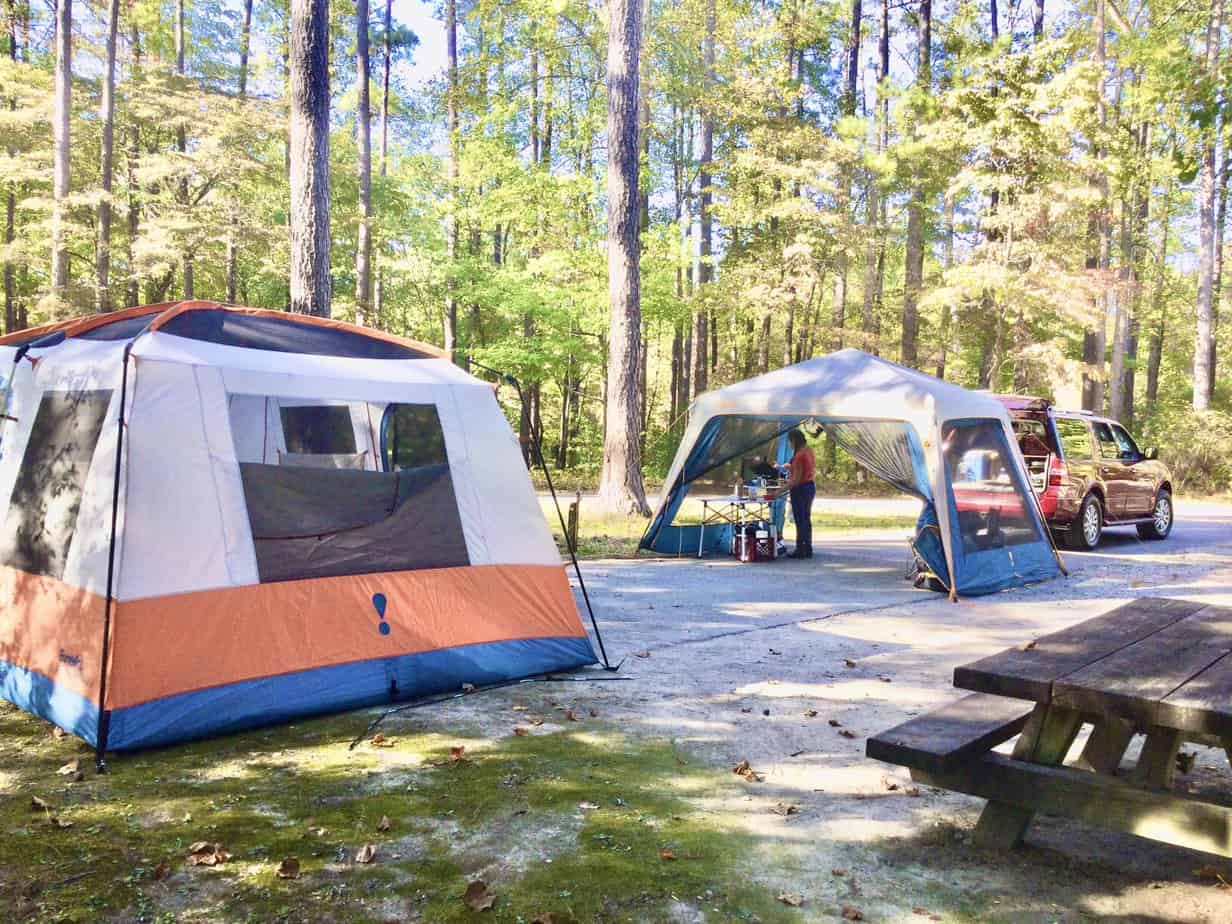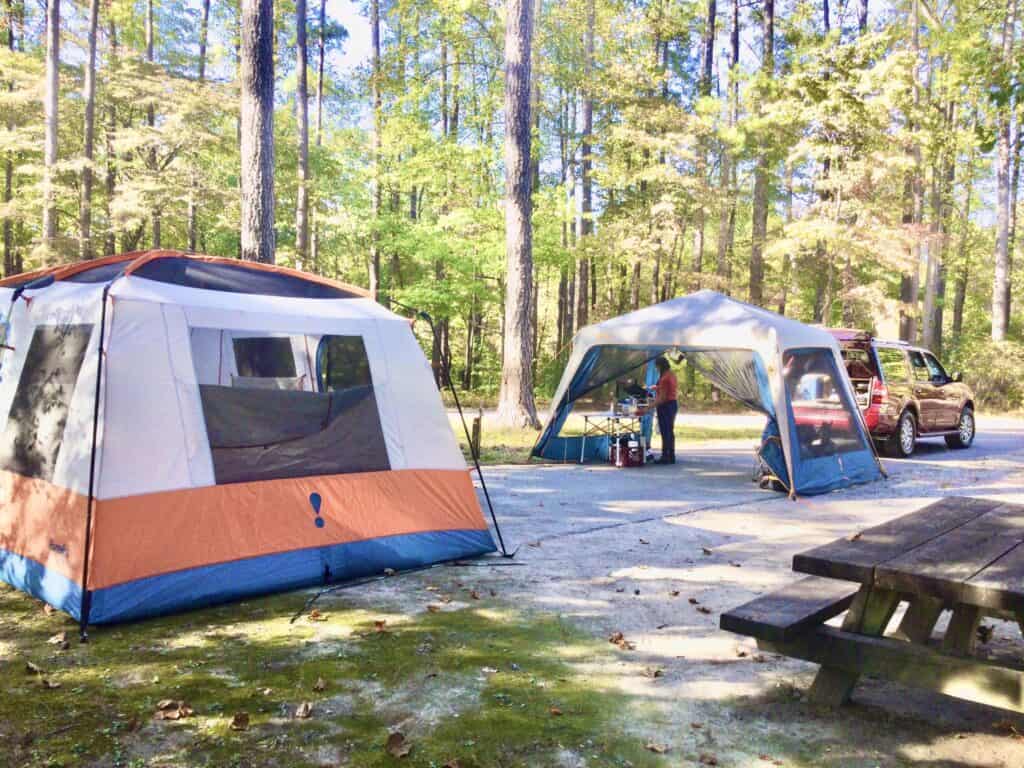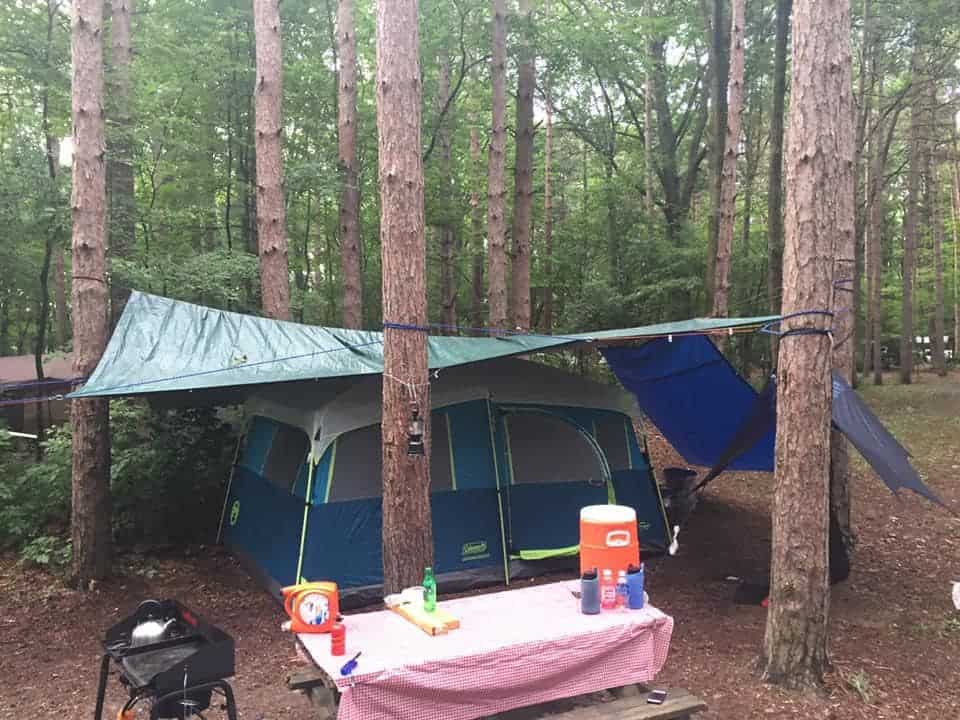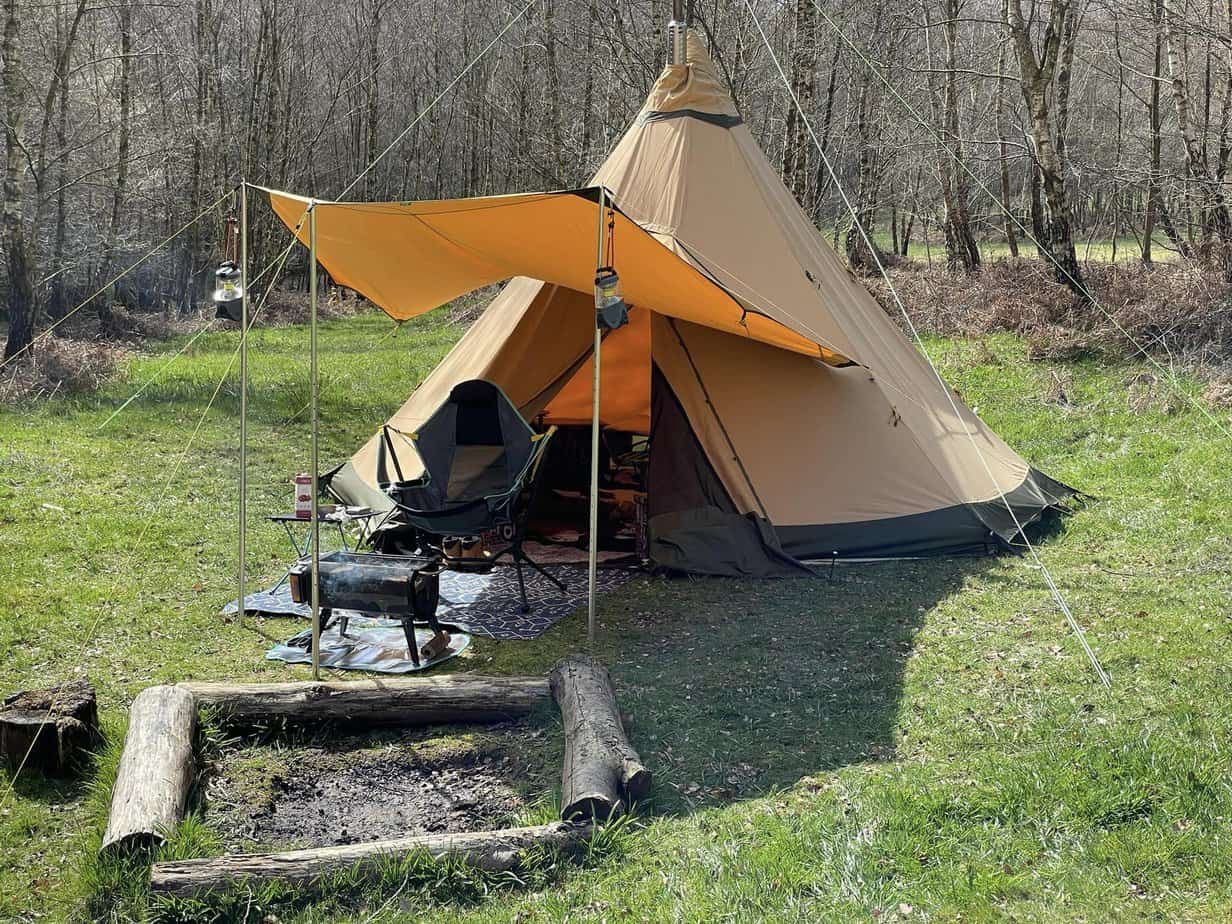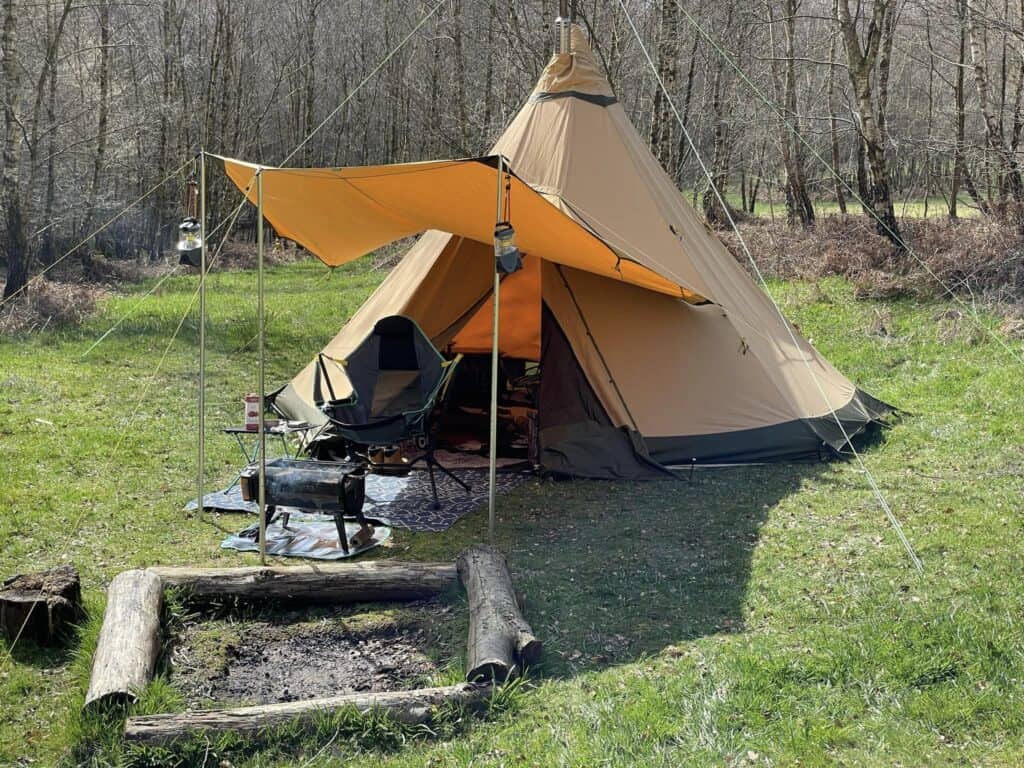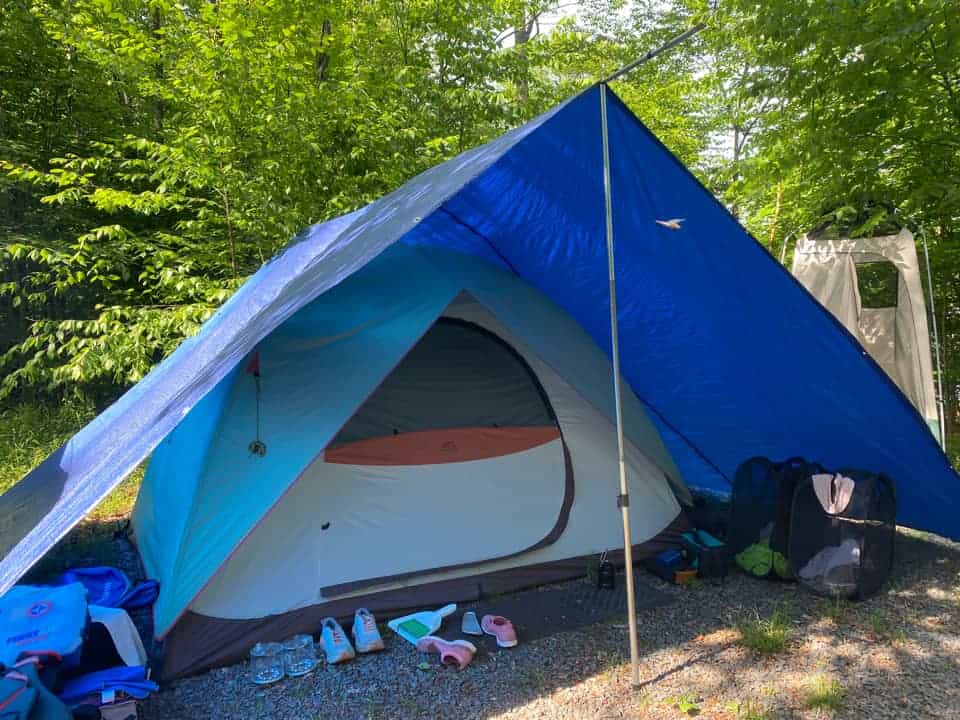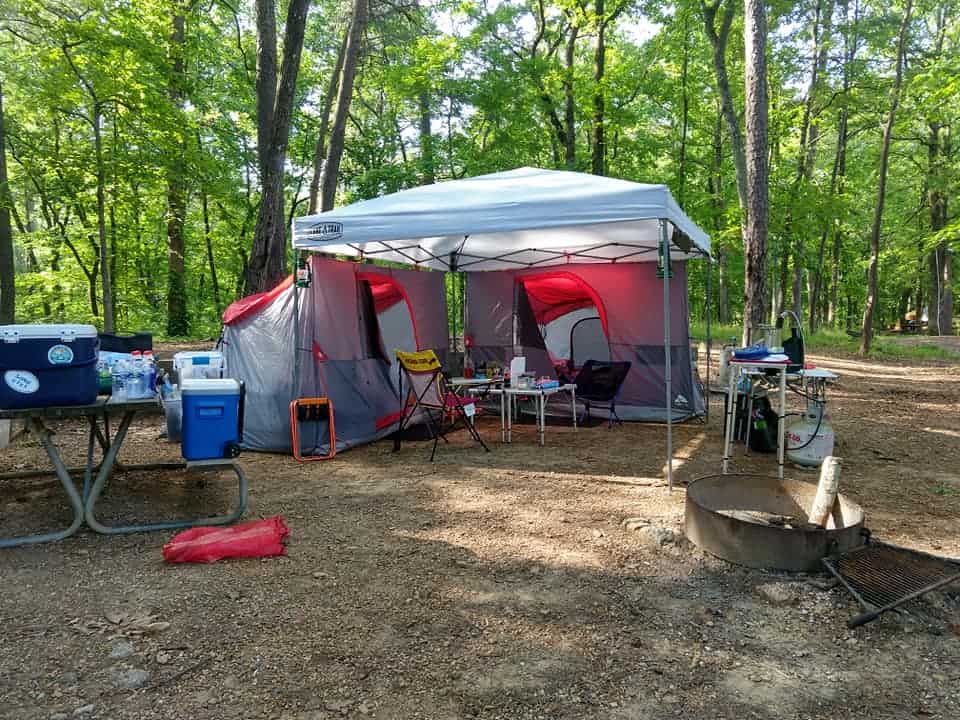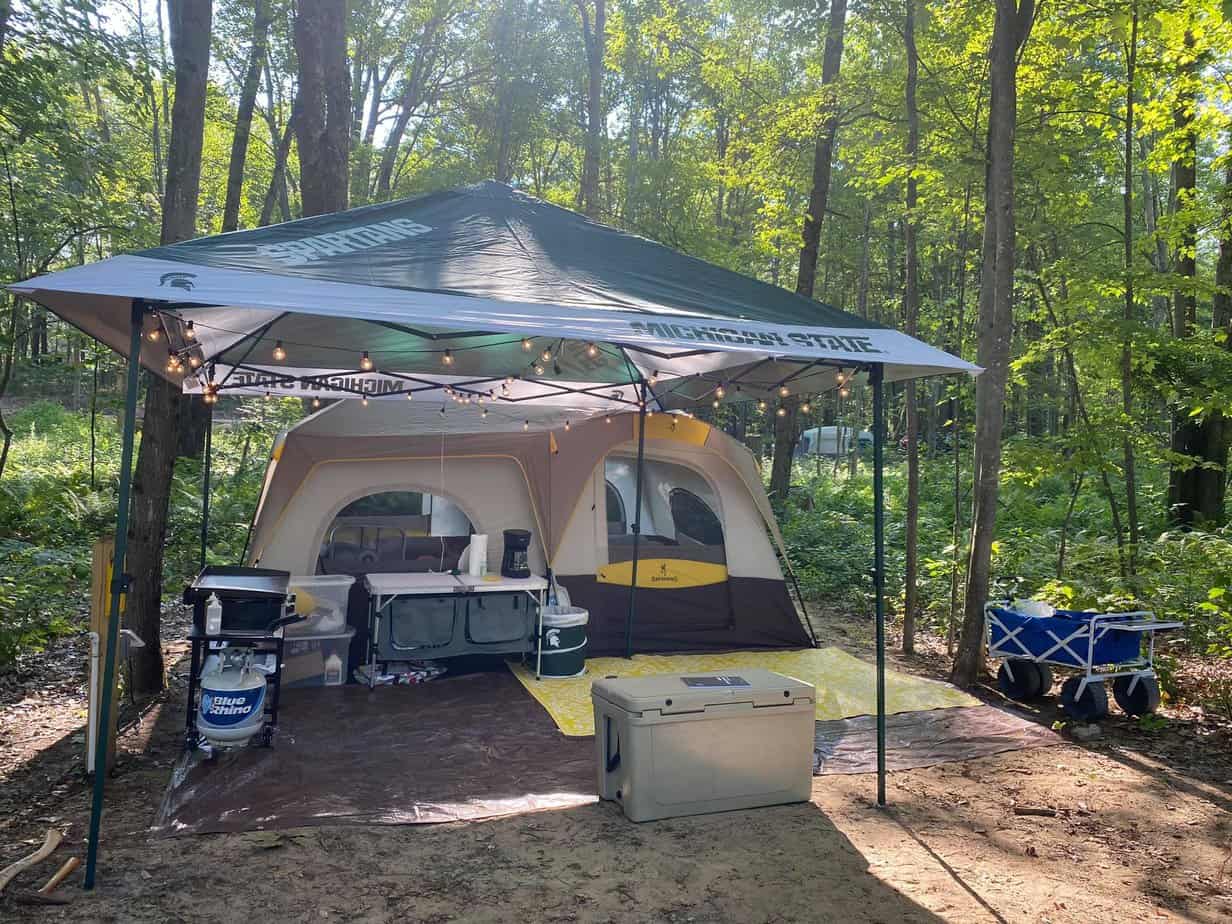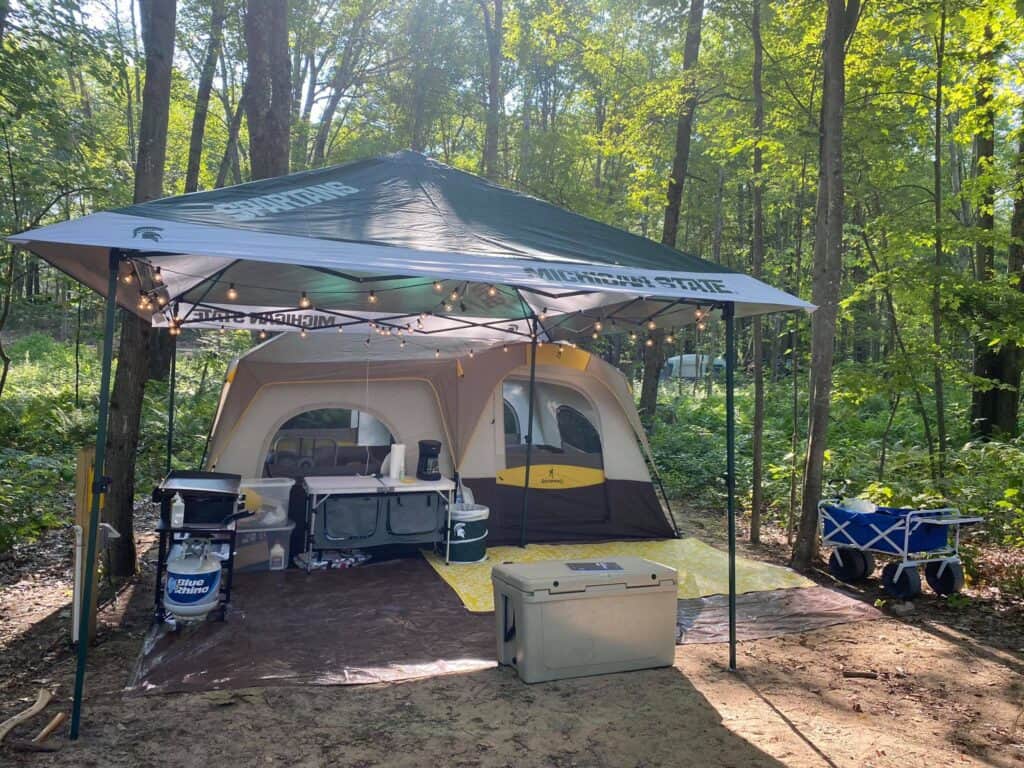 Exterior Campsite Layout Ideas For Bigger Families/Groups
Most of these layout ideas feature an extra large tent or make use of multiple tents, pop up shades, and even bathroom specific tents. Depending on how large your family is, and how often camp, will determine the quality of "large family tent" you should use.
People who camp for long periods of time and prefer to have some space often use canvas walled tents – these do take ALOT longer to setup, however once done, you'll have a much more permanent feeling, spacious camp. For example, this giant canvas tent even has a snow skirt and a spot for wood stove to be installed!
If you have lots of kids (including older ones who appreciate some independence) you may want to keep an eye out for some smaller, minimal style tents such as these (they're under $40!) so that you don't have to buy such a massive single tent to fit everyone!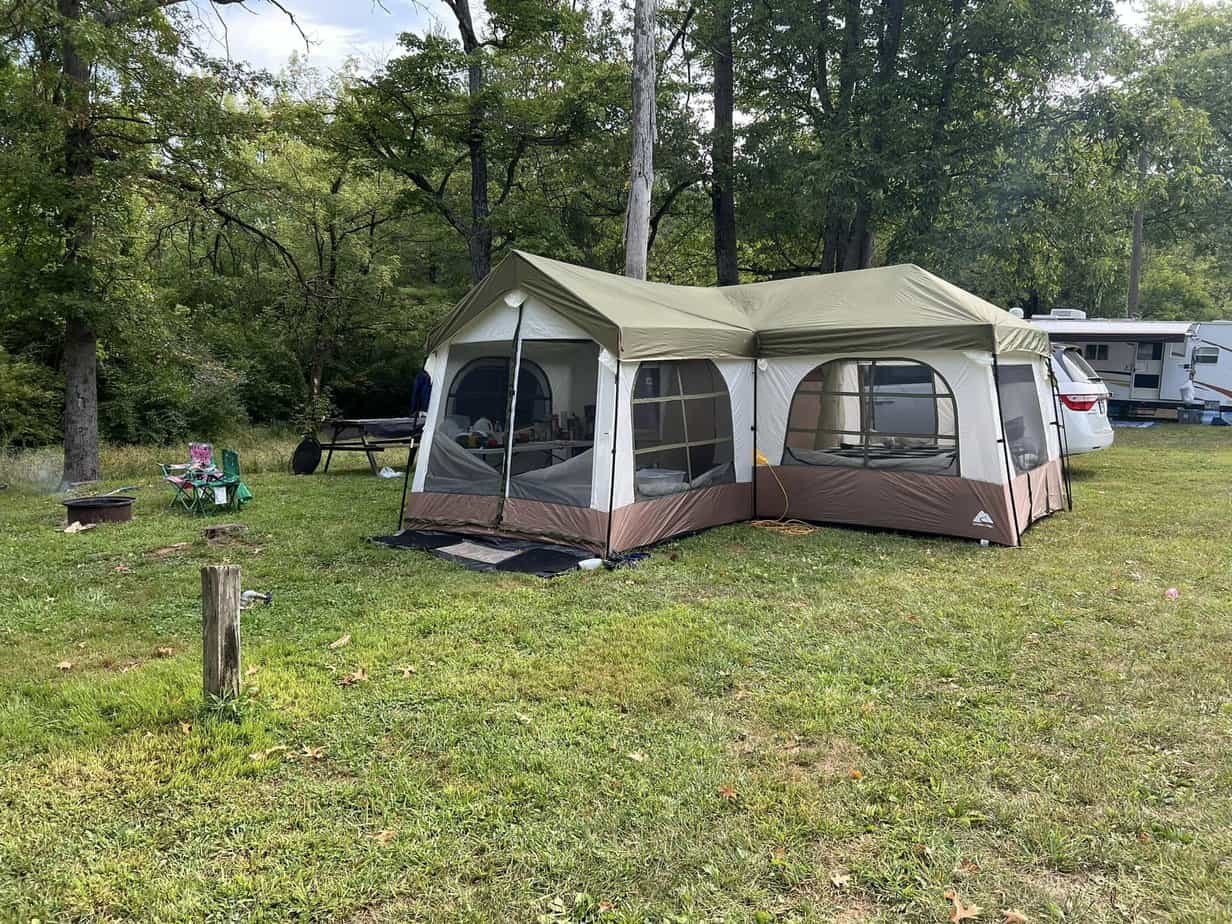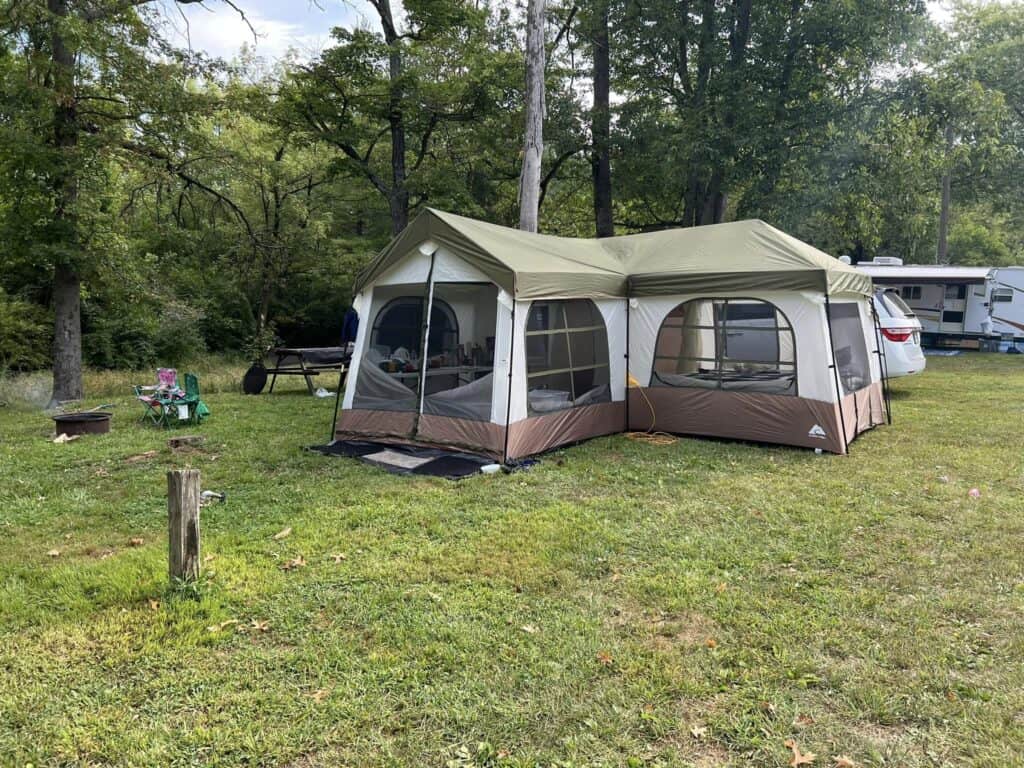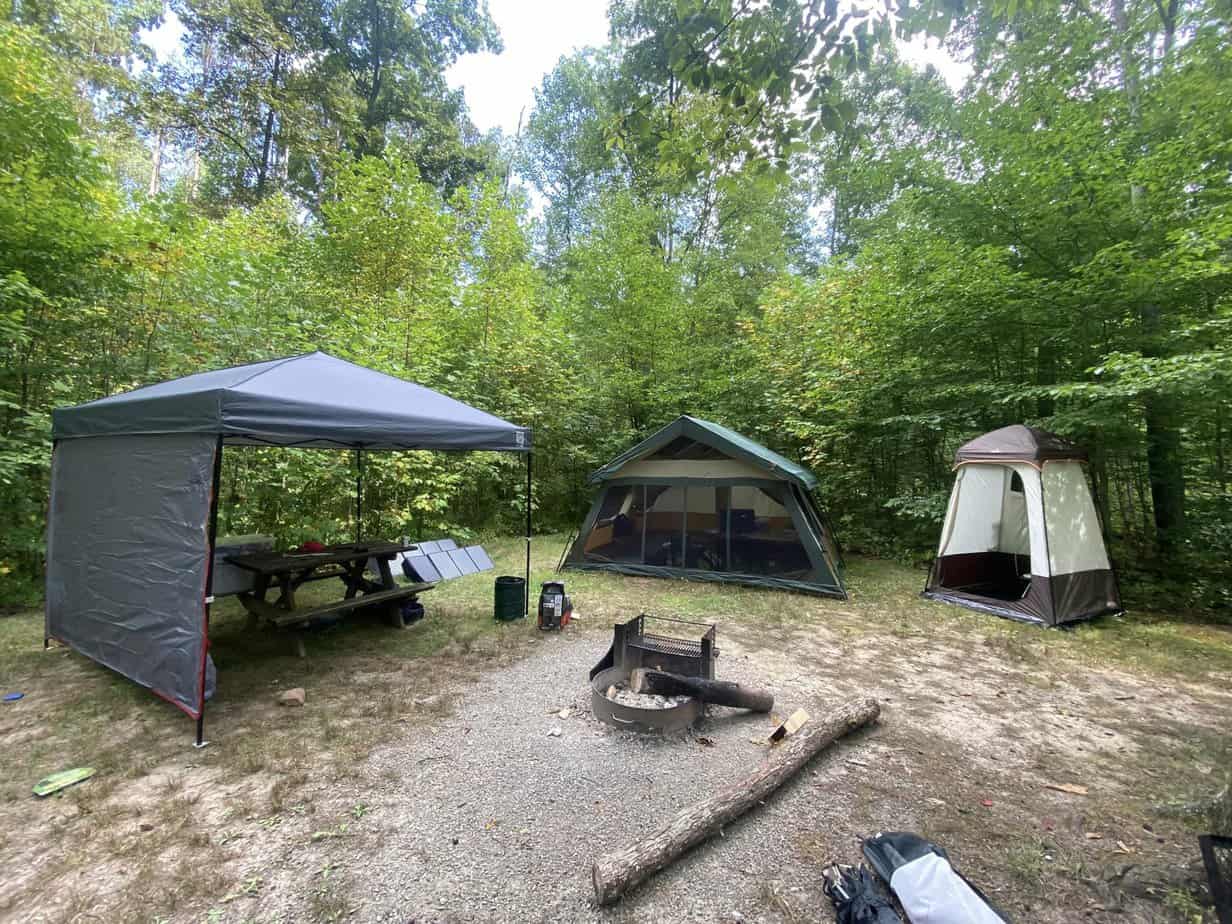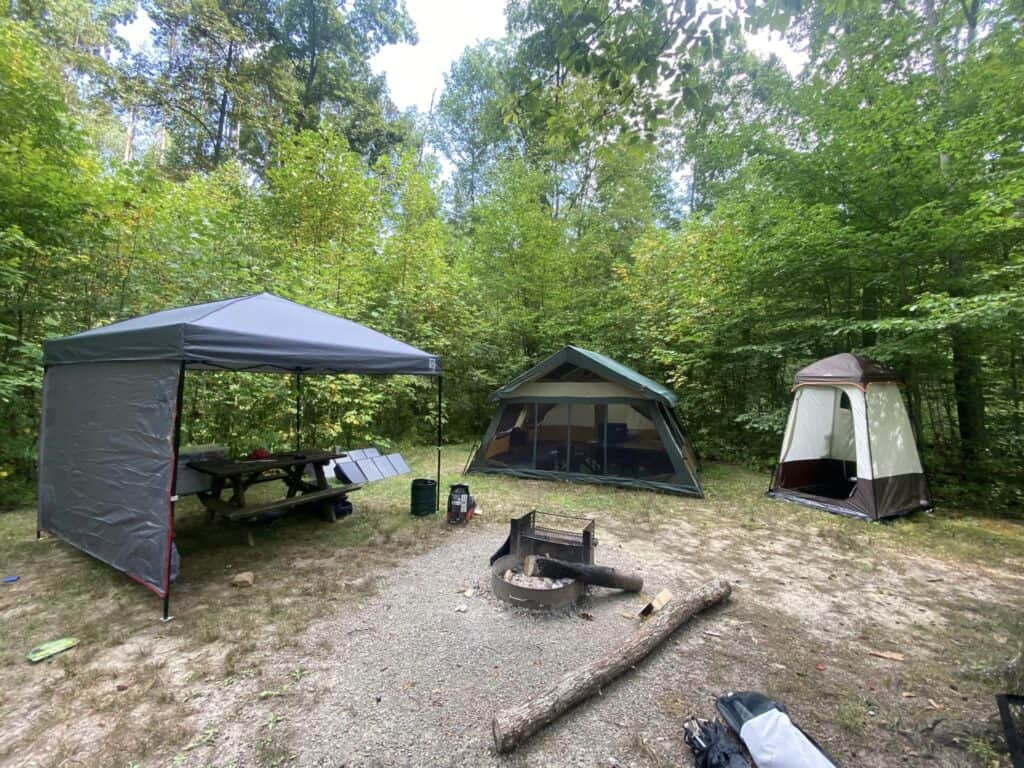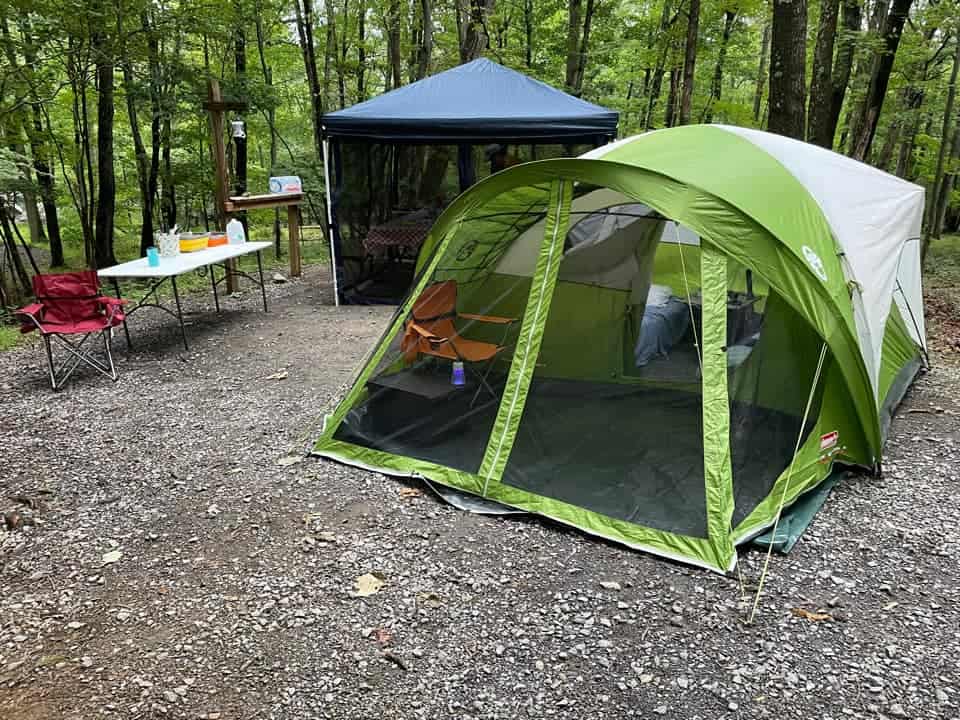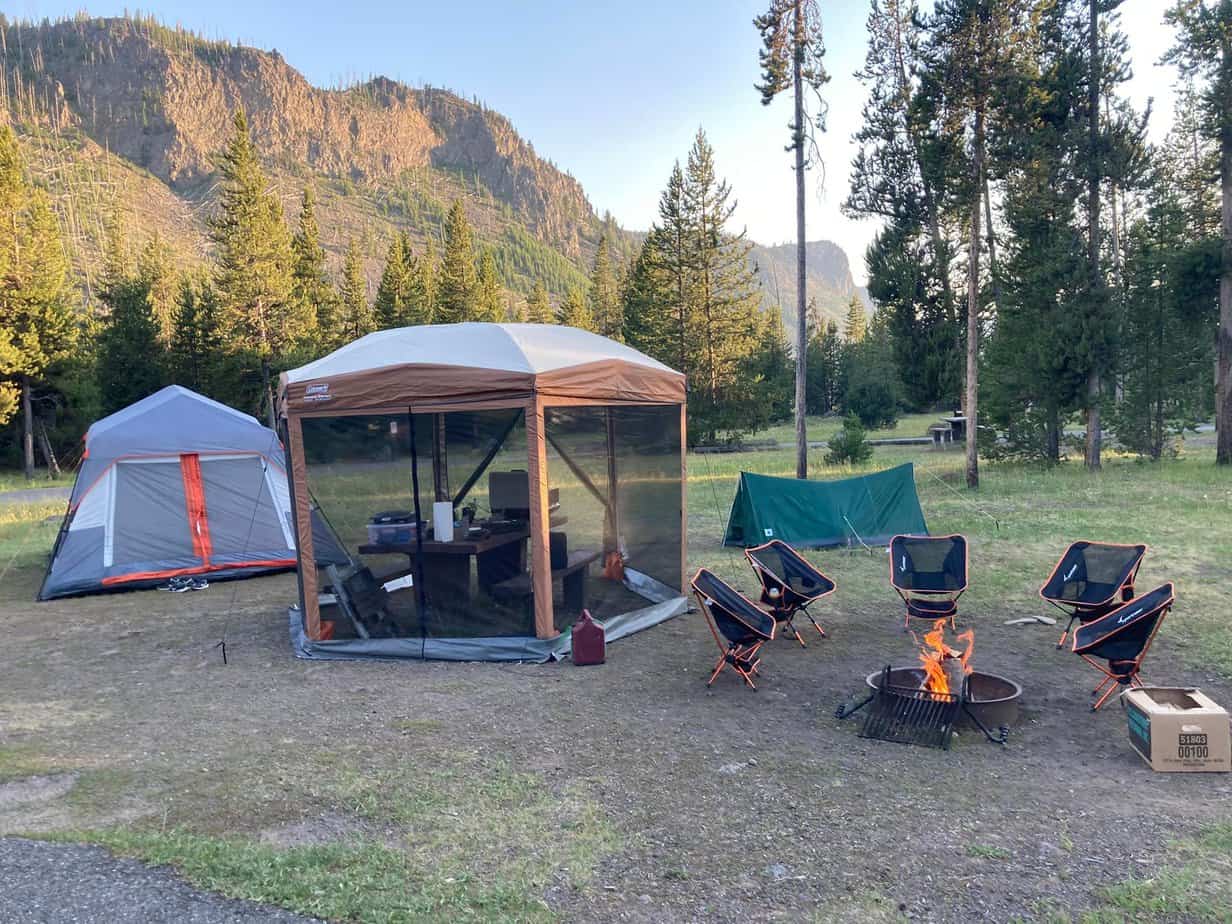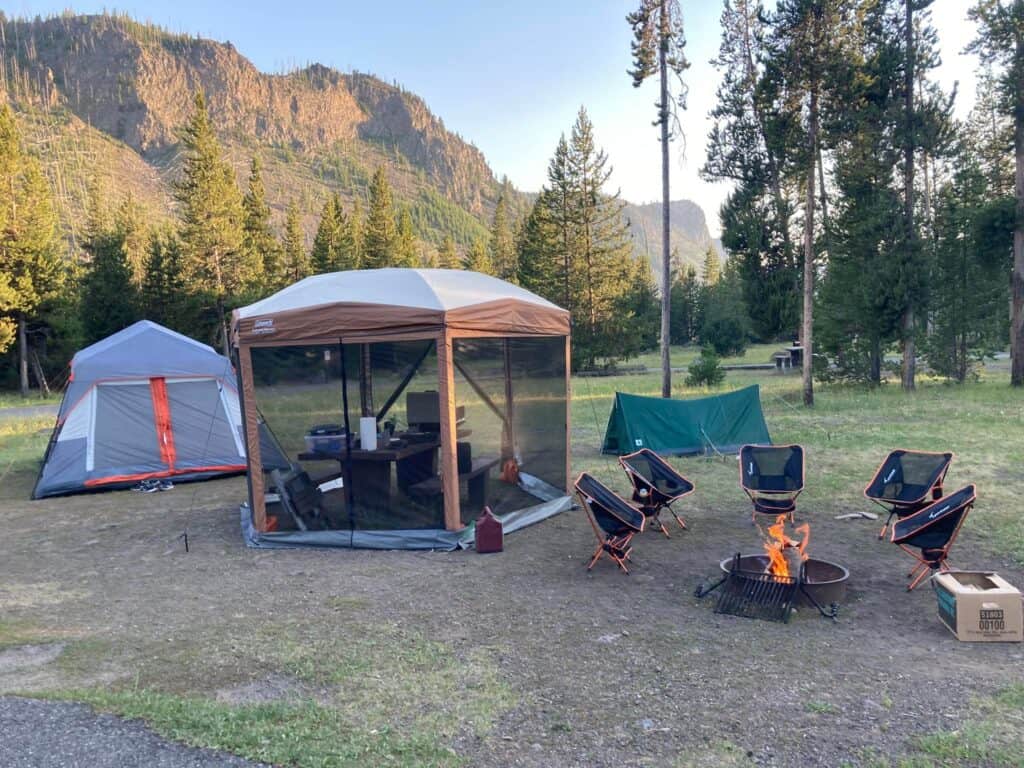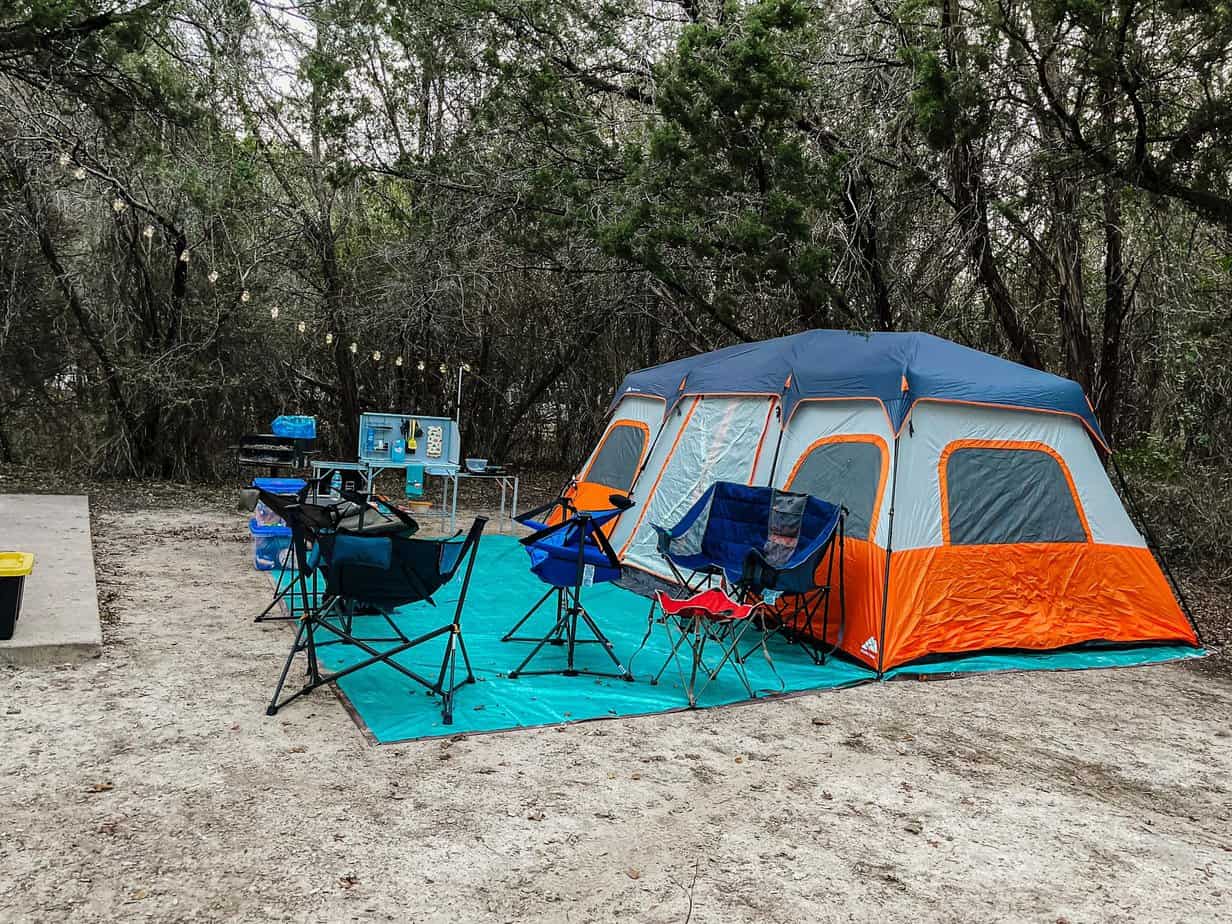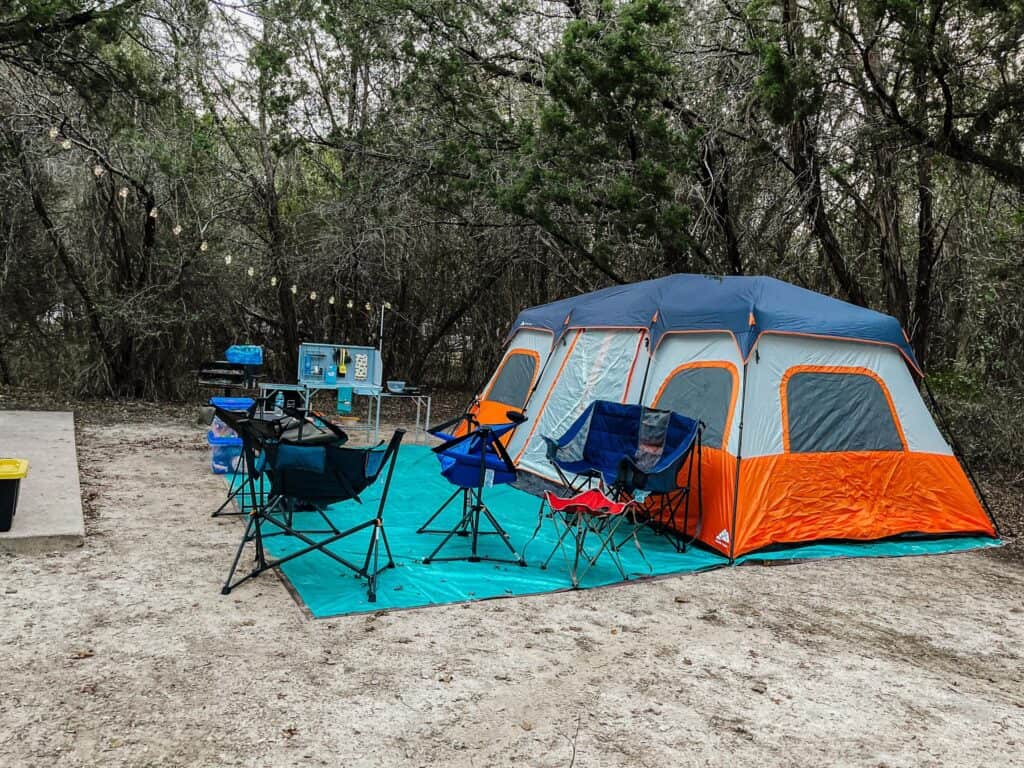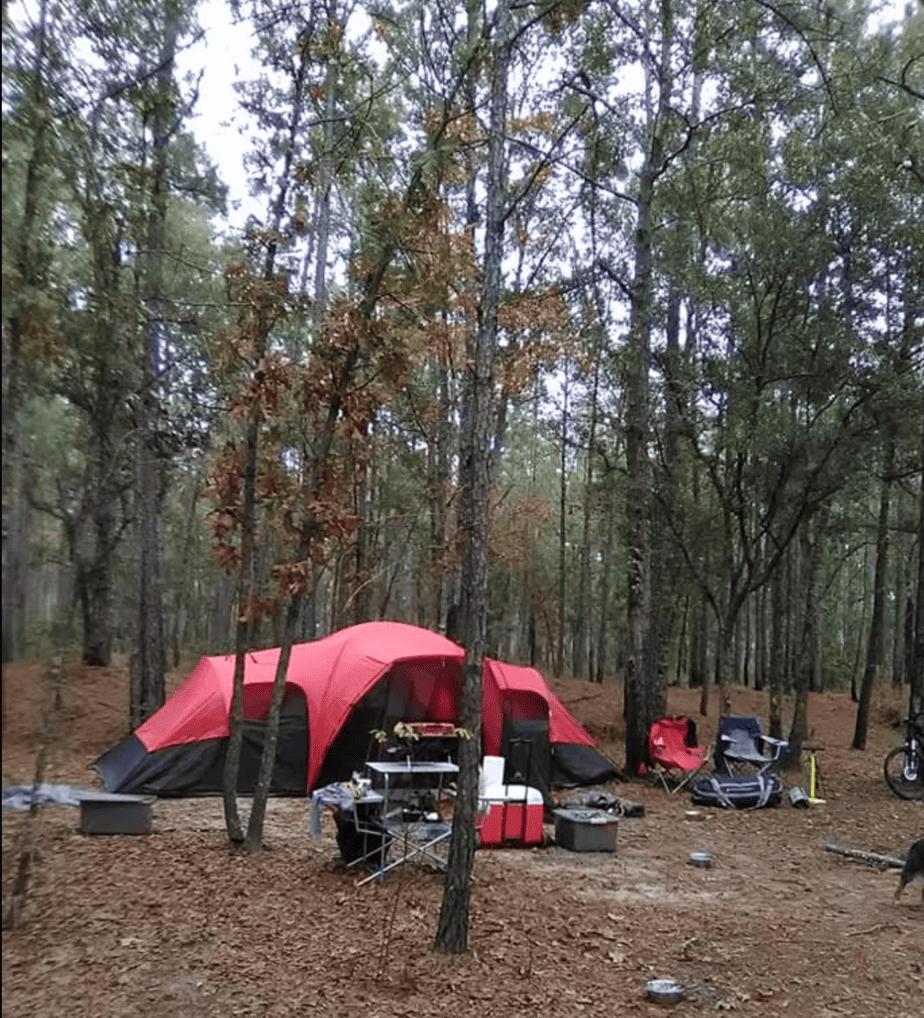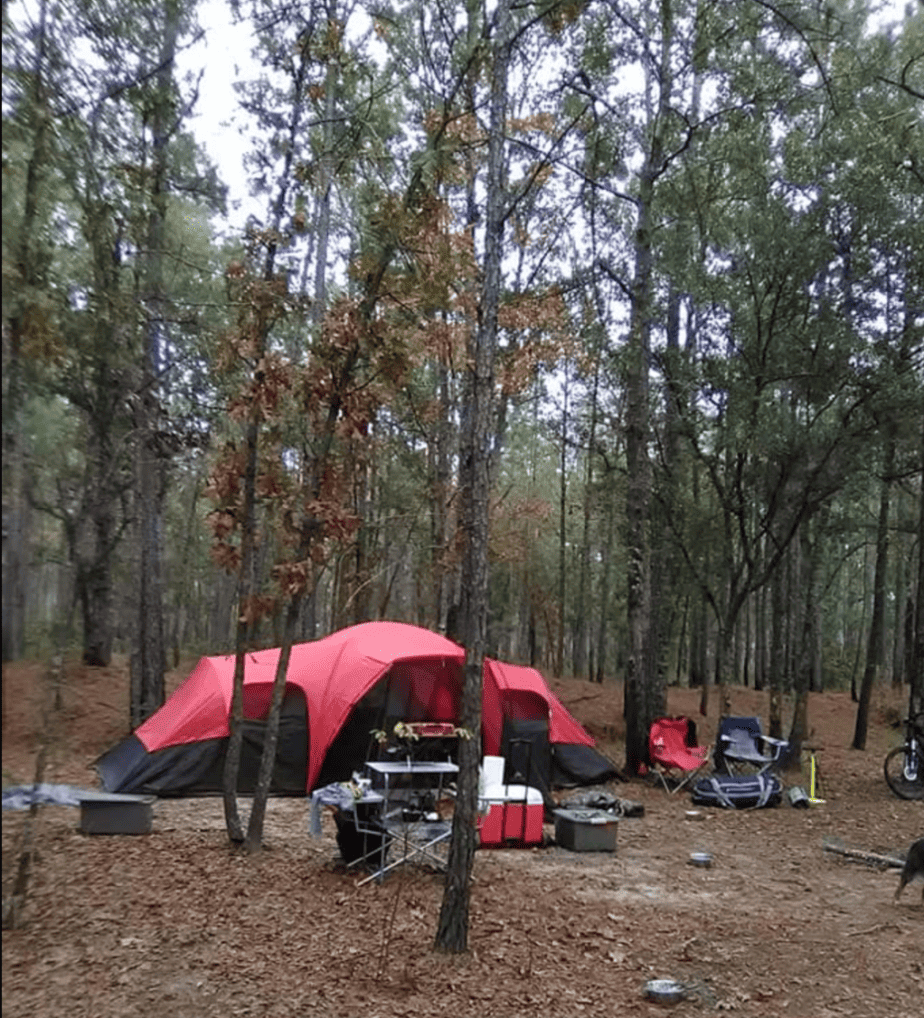 Camping Kitchen Setup Ideas
When it comes to tent camping, it's easier to create your kitchen setup with ease of set up and packing in mind. Usually, that looks like using stackable, modular containers for your kitchen things or buying/DIYing a camp kitchen chuckbox.
You may also notice that people use pop up camp kitchens – these are handy if you don't want to live out of the kitchen bins at camp, and prefer an easier to use setup (with a little extra work setting it up and stocking it!)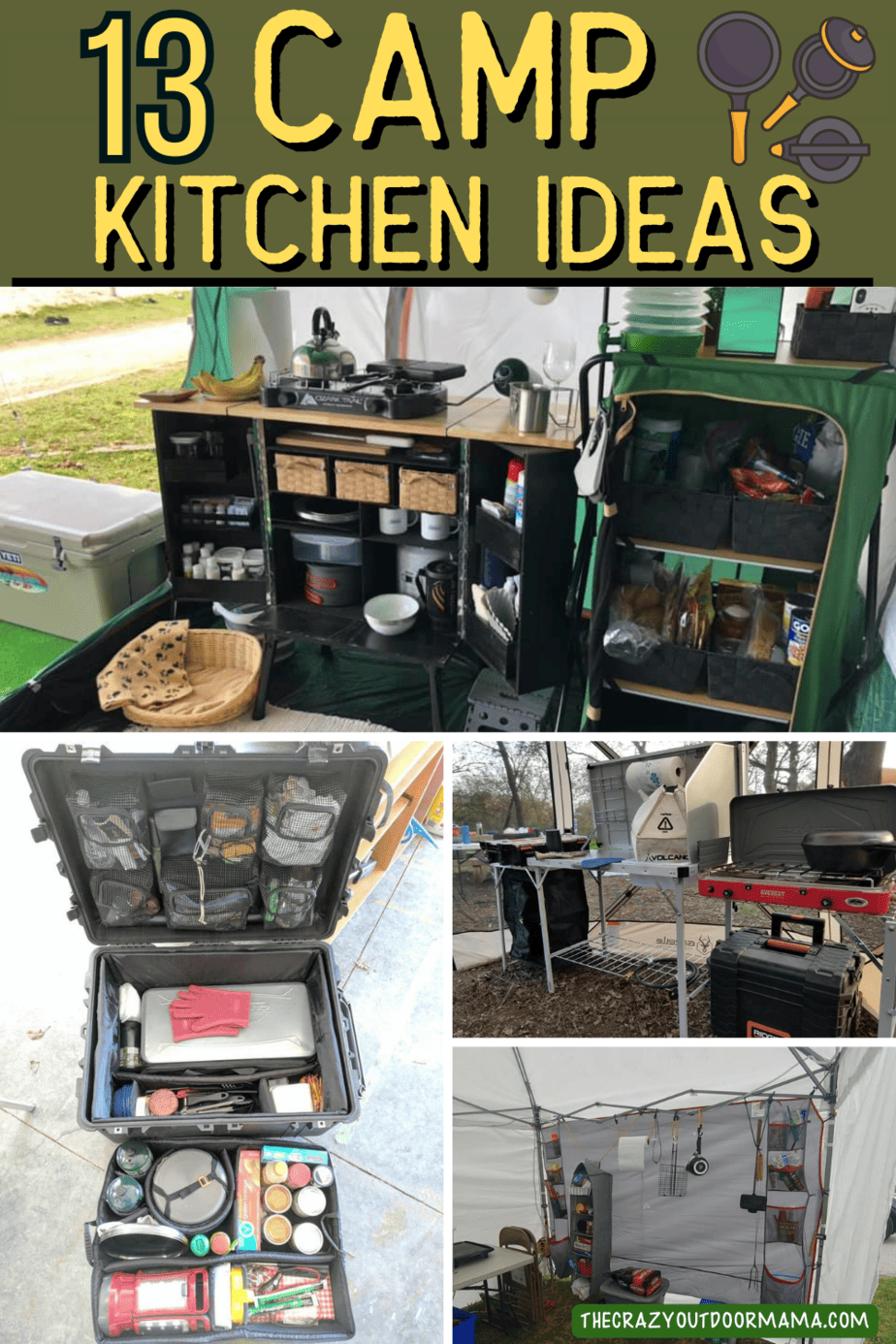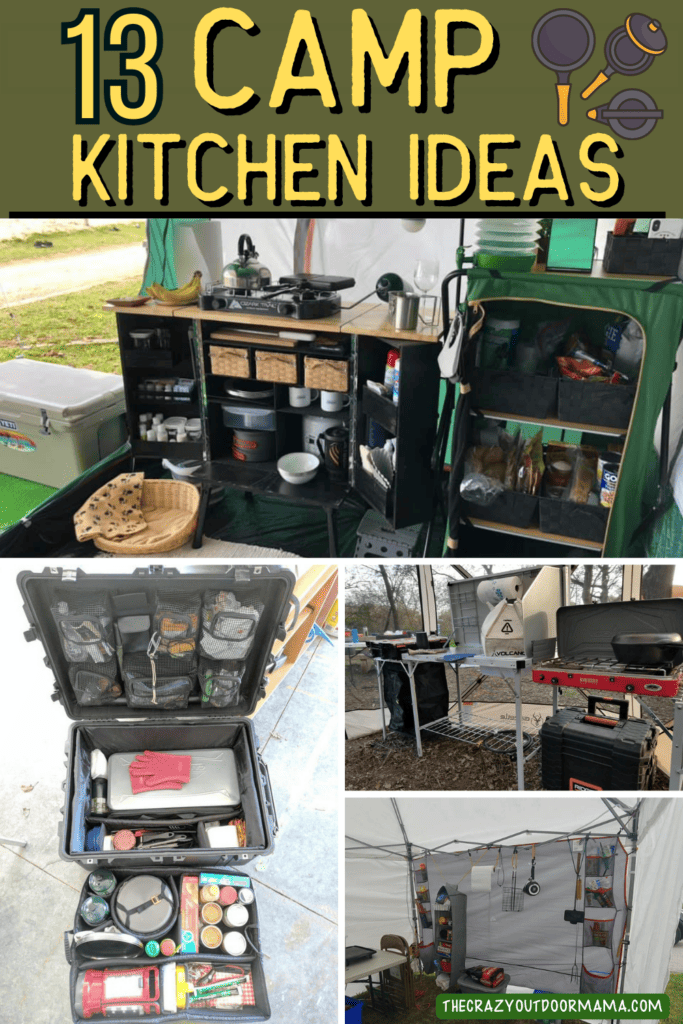 You'll also want to make sure you have a solid plan in place to keep all your cold items COLD for the duration of the stay. I loved how Carrie sets up her cooler for a 3 night trip, so I felt I had to include it here!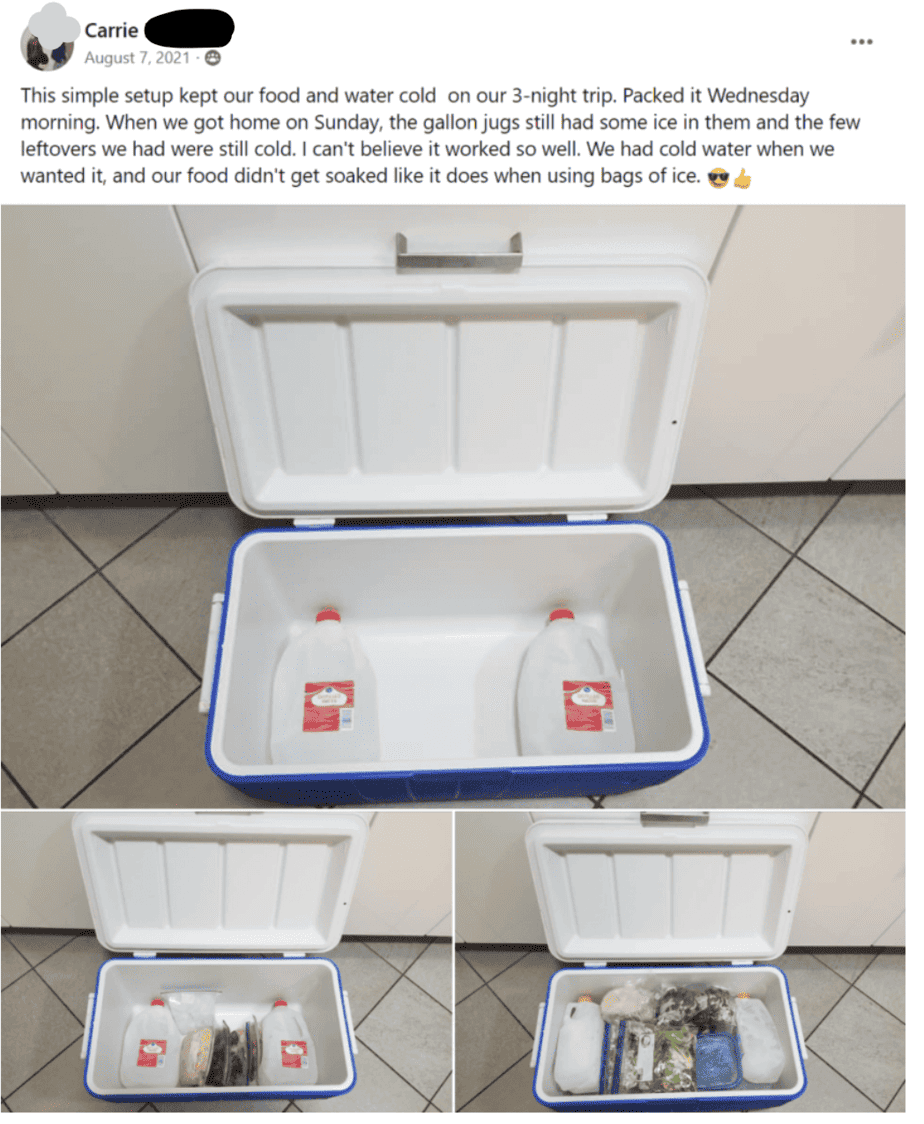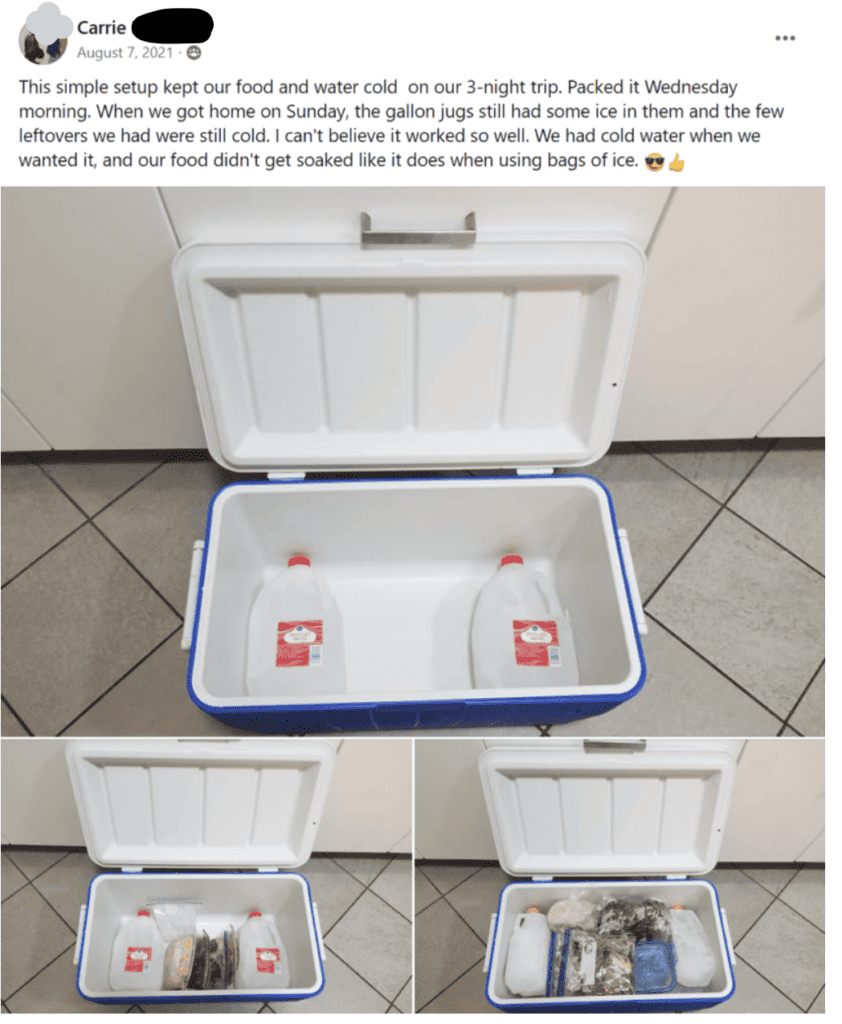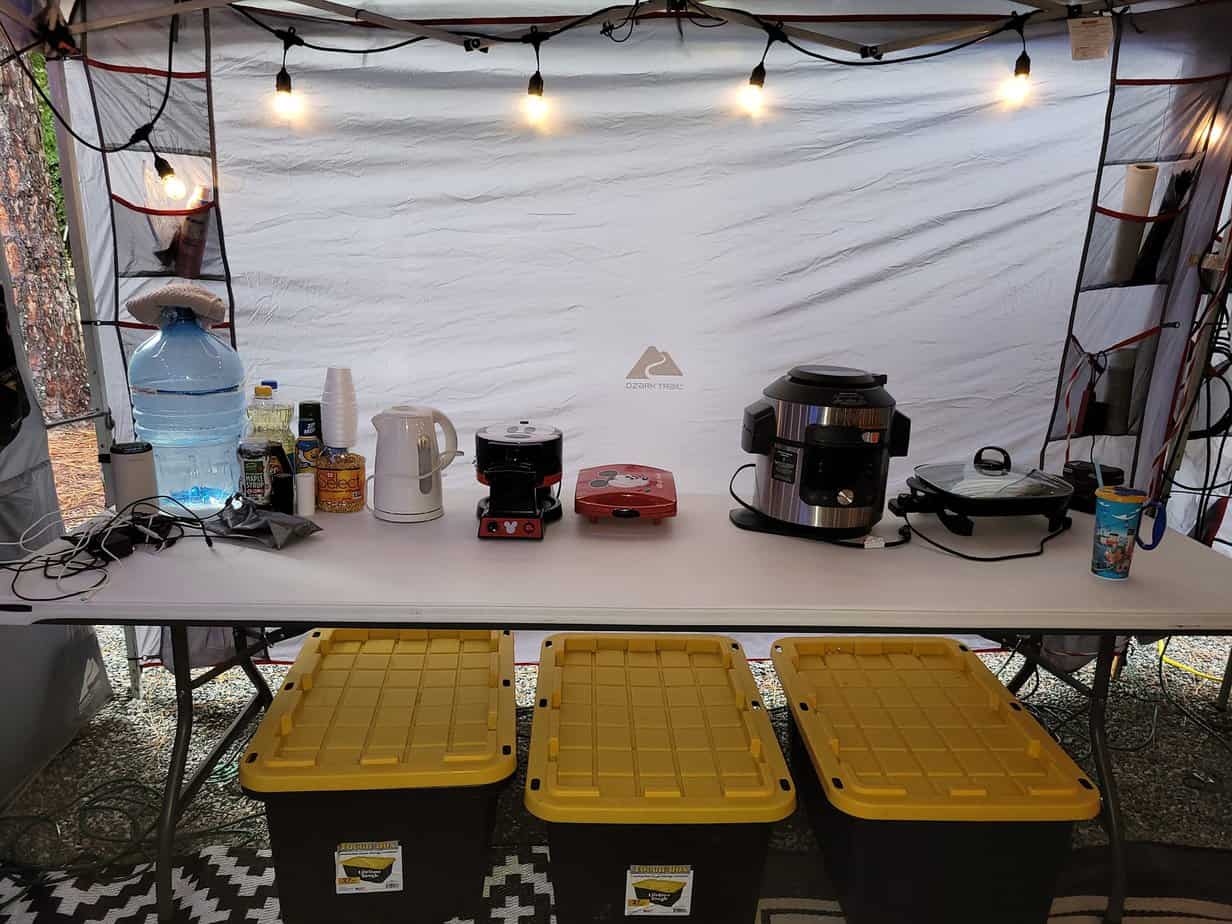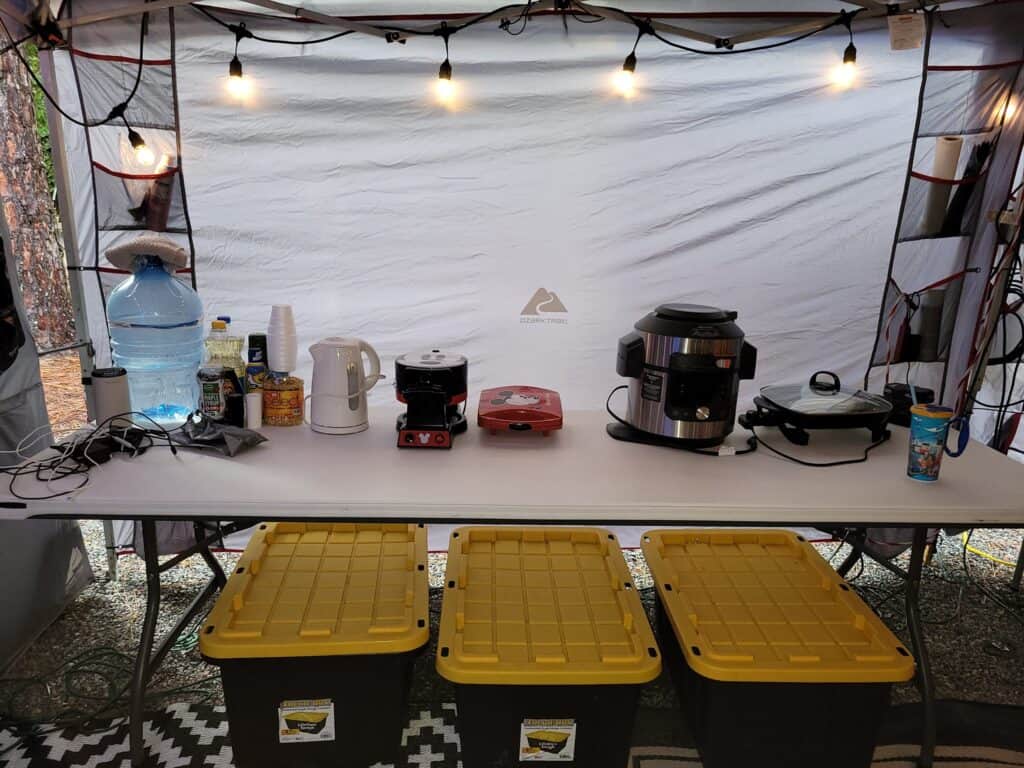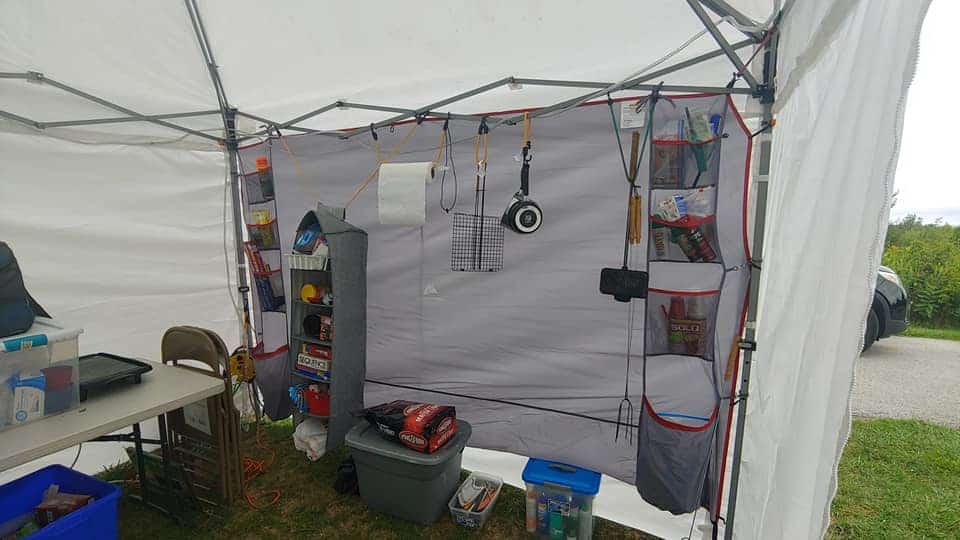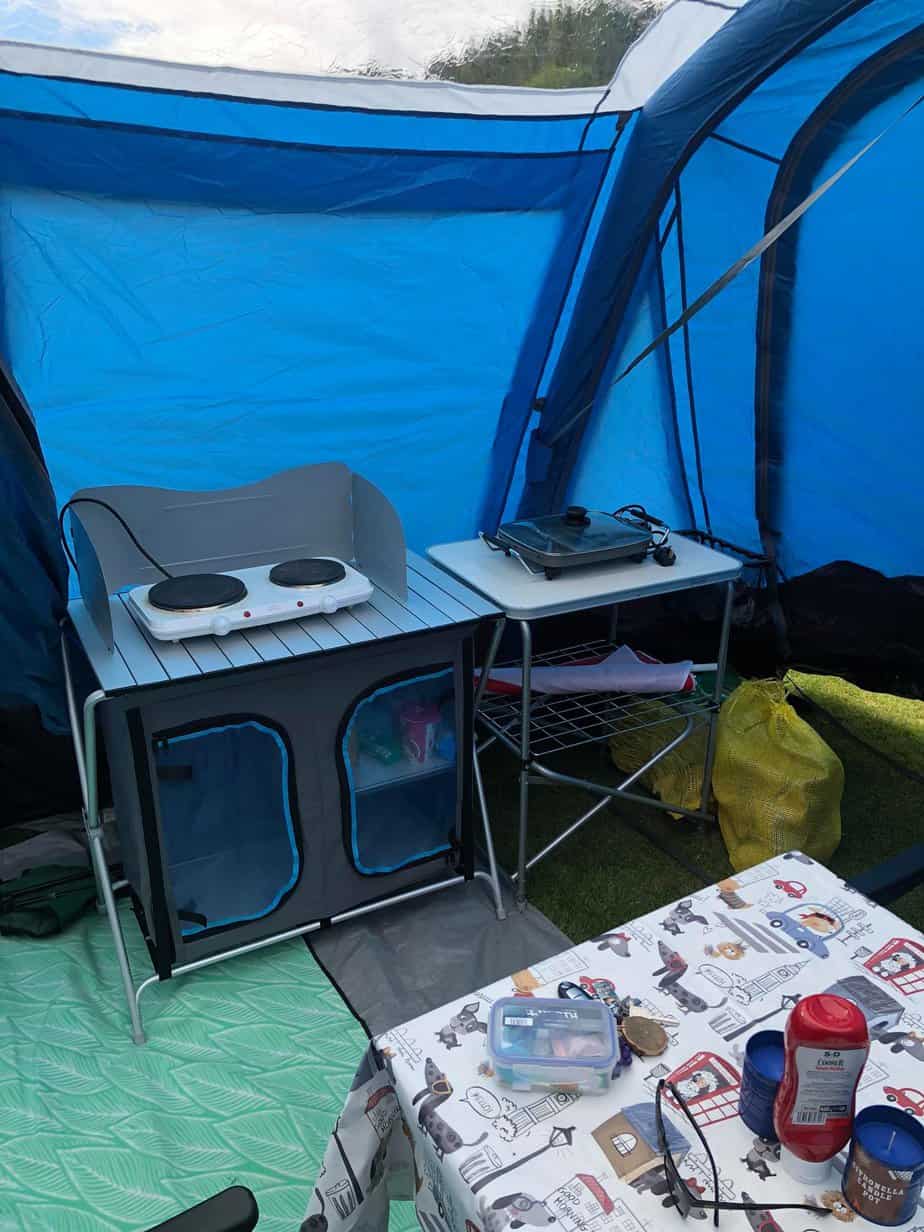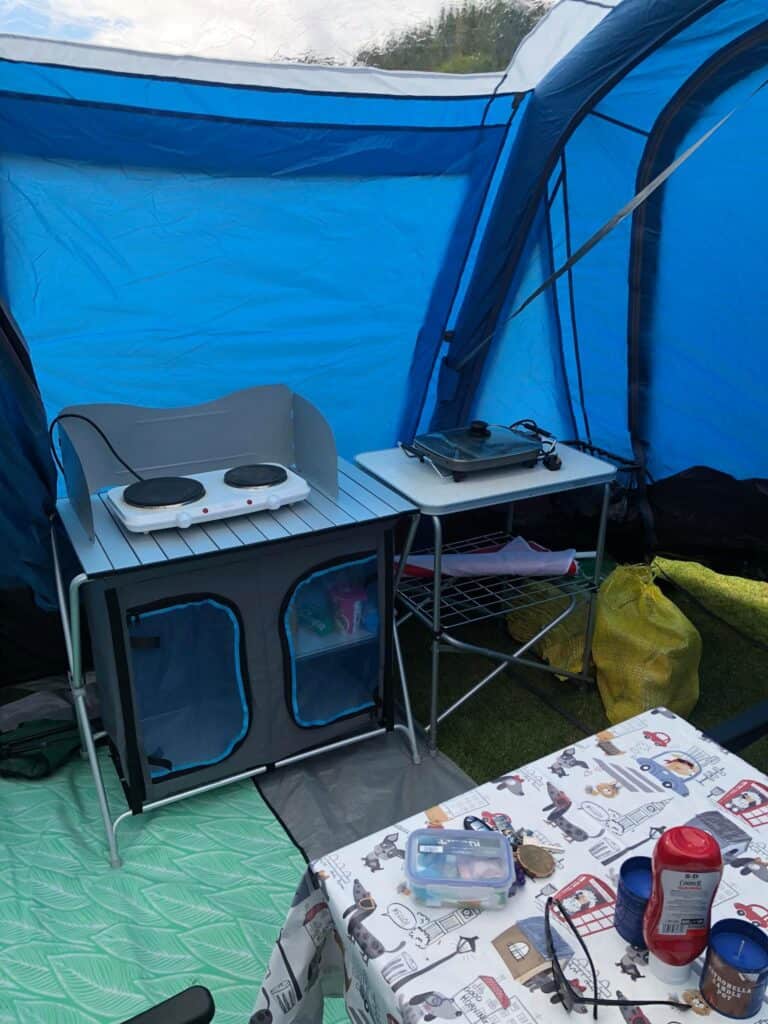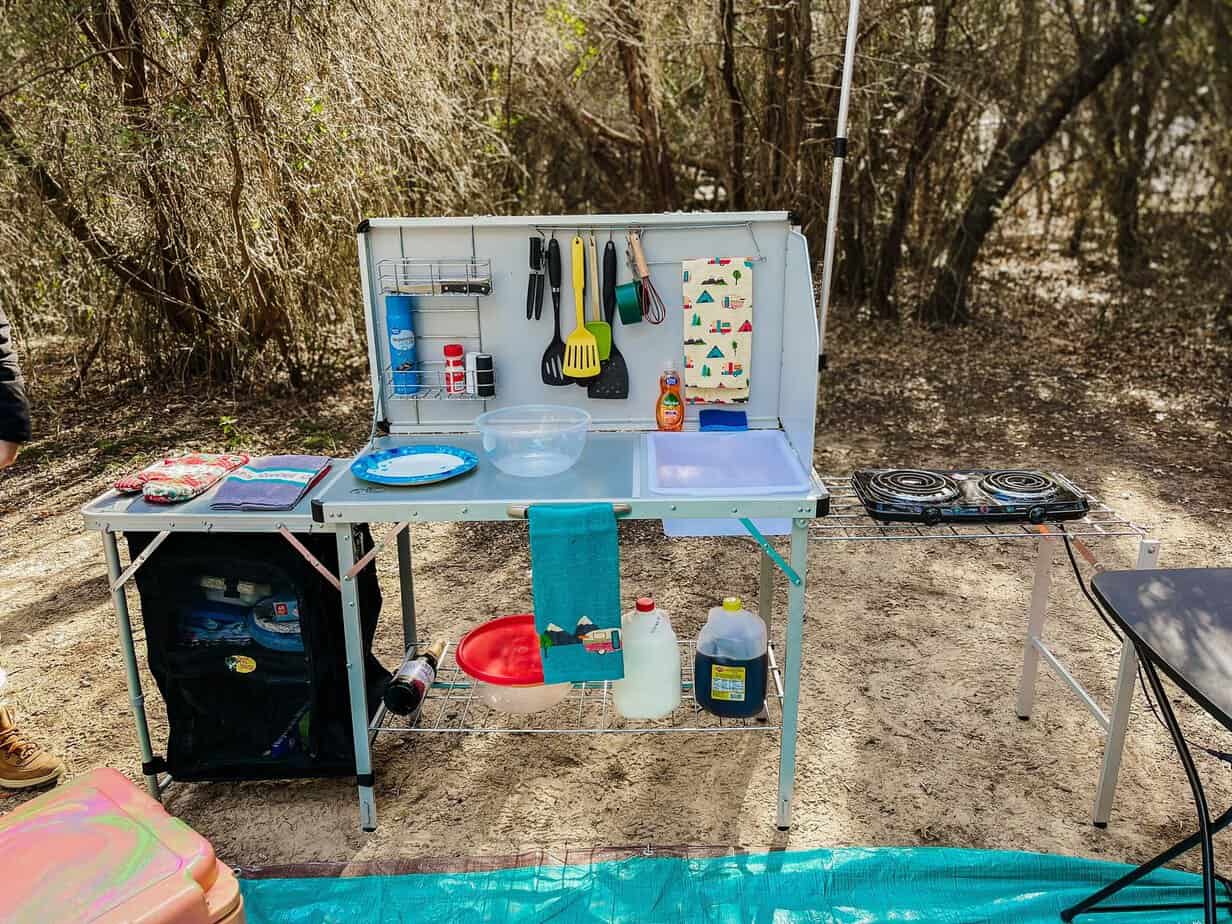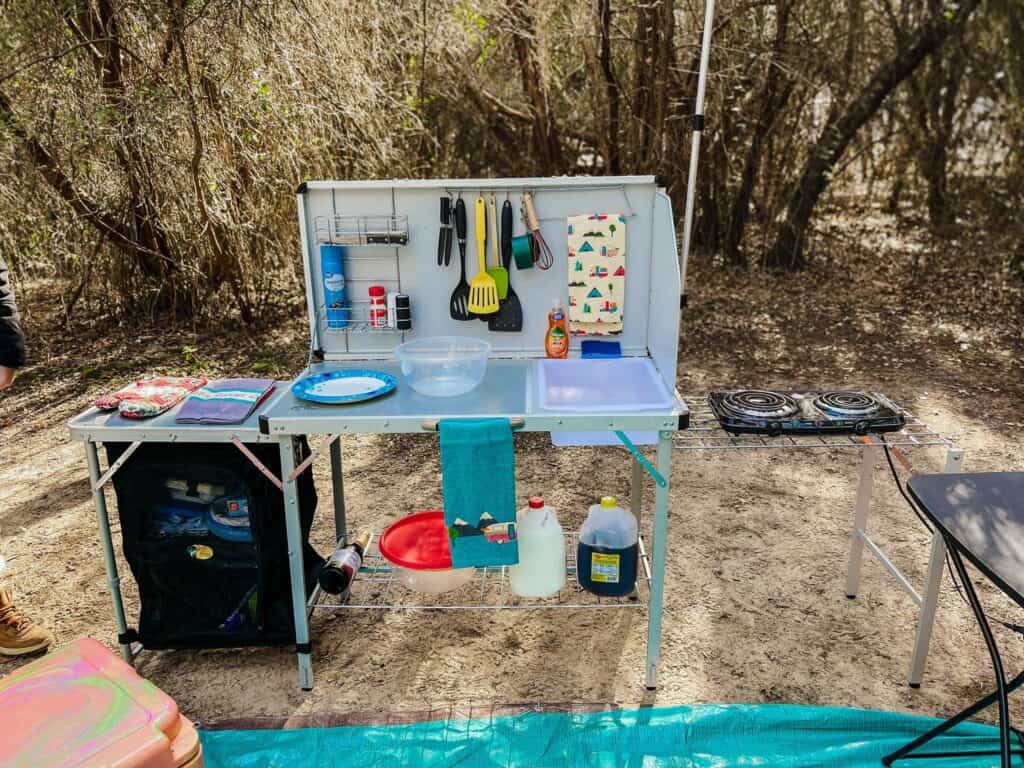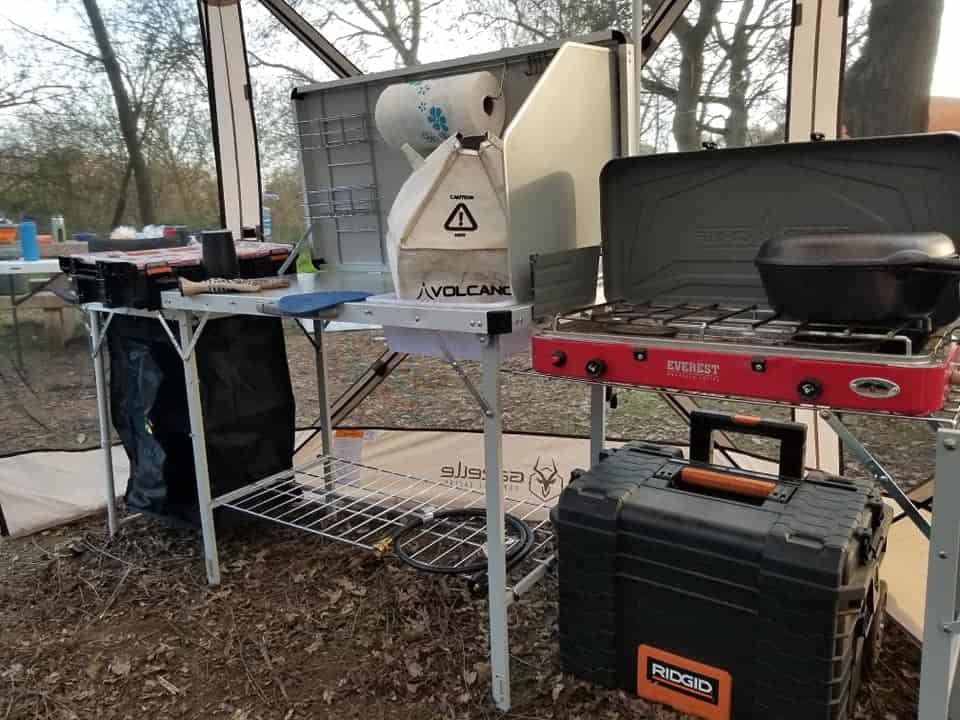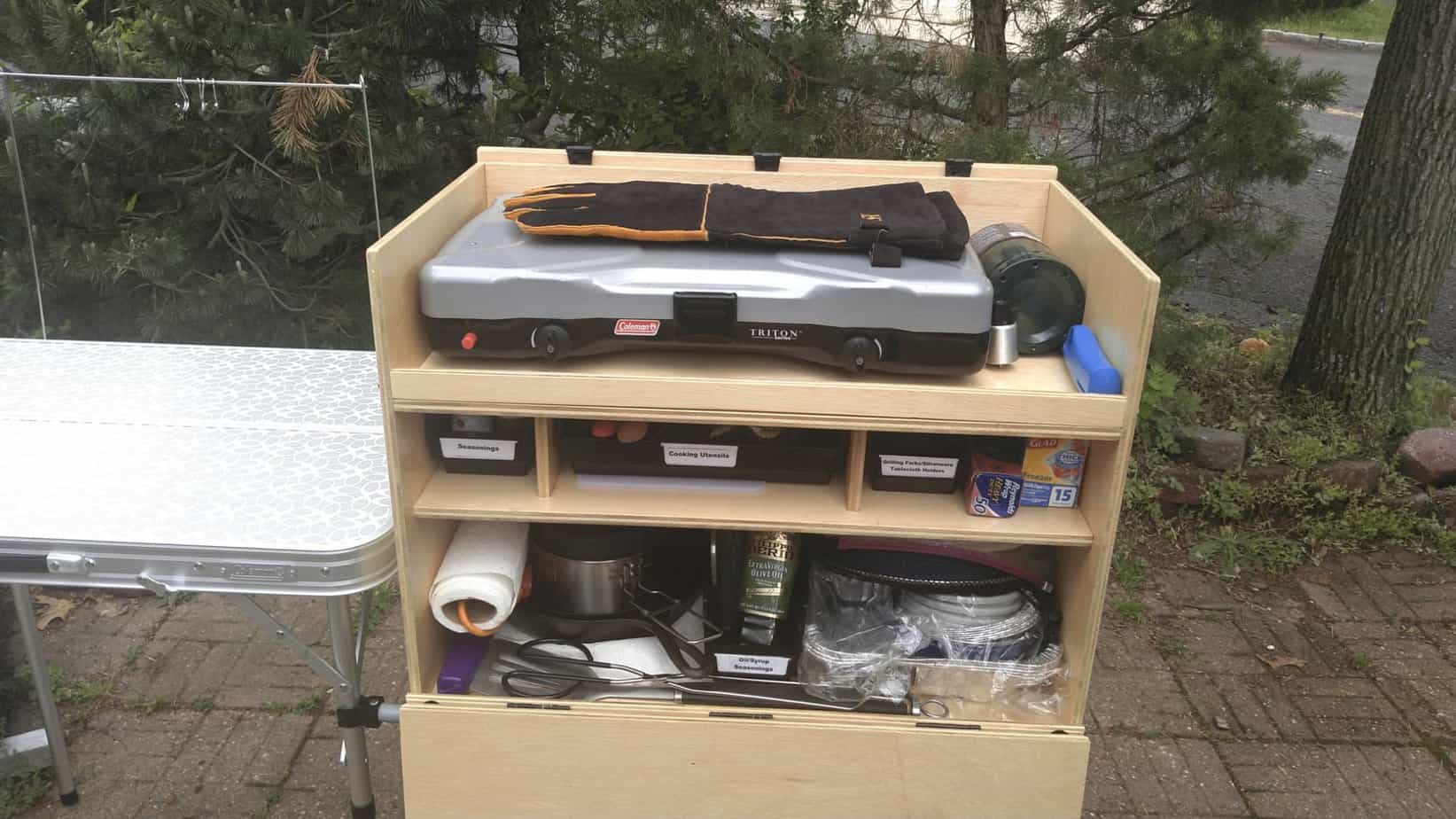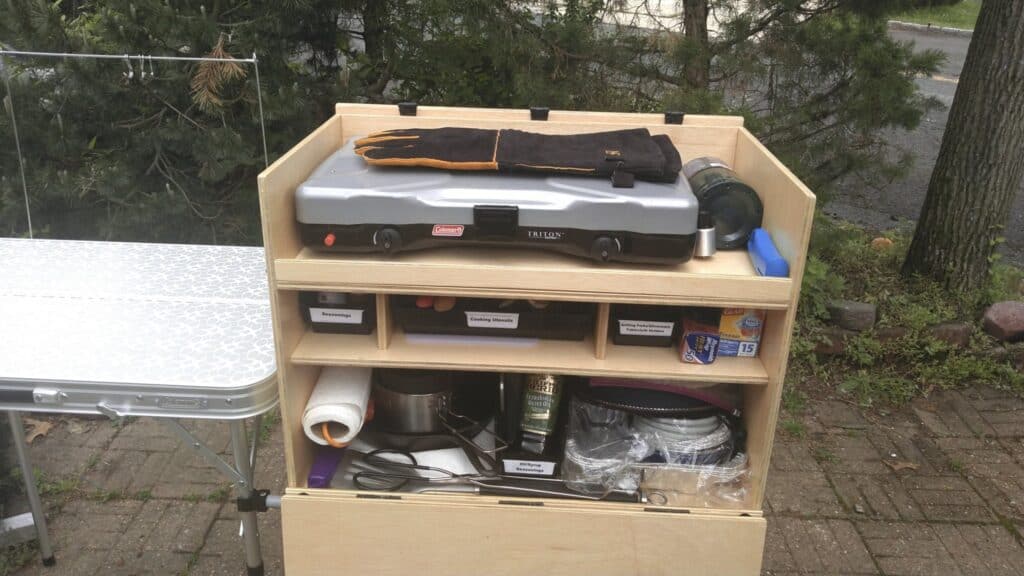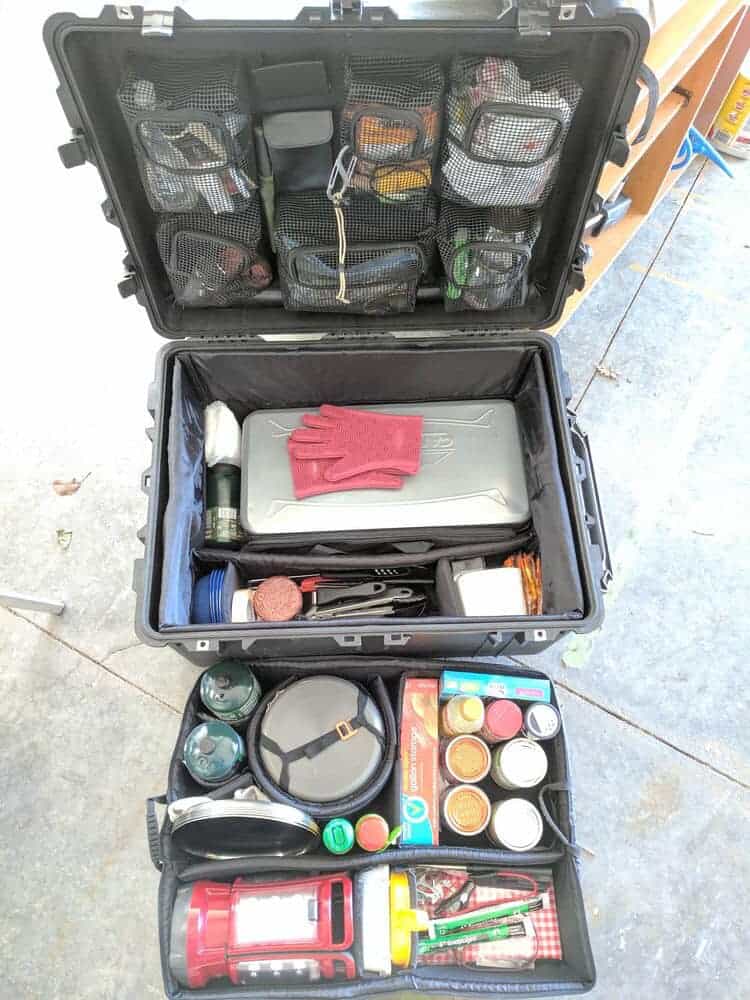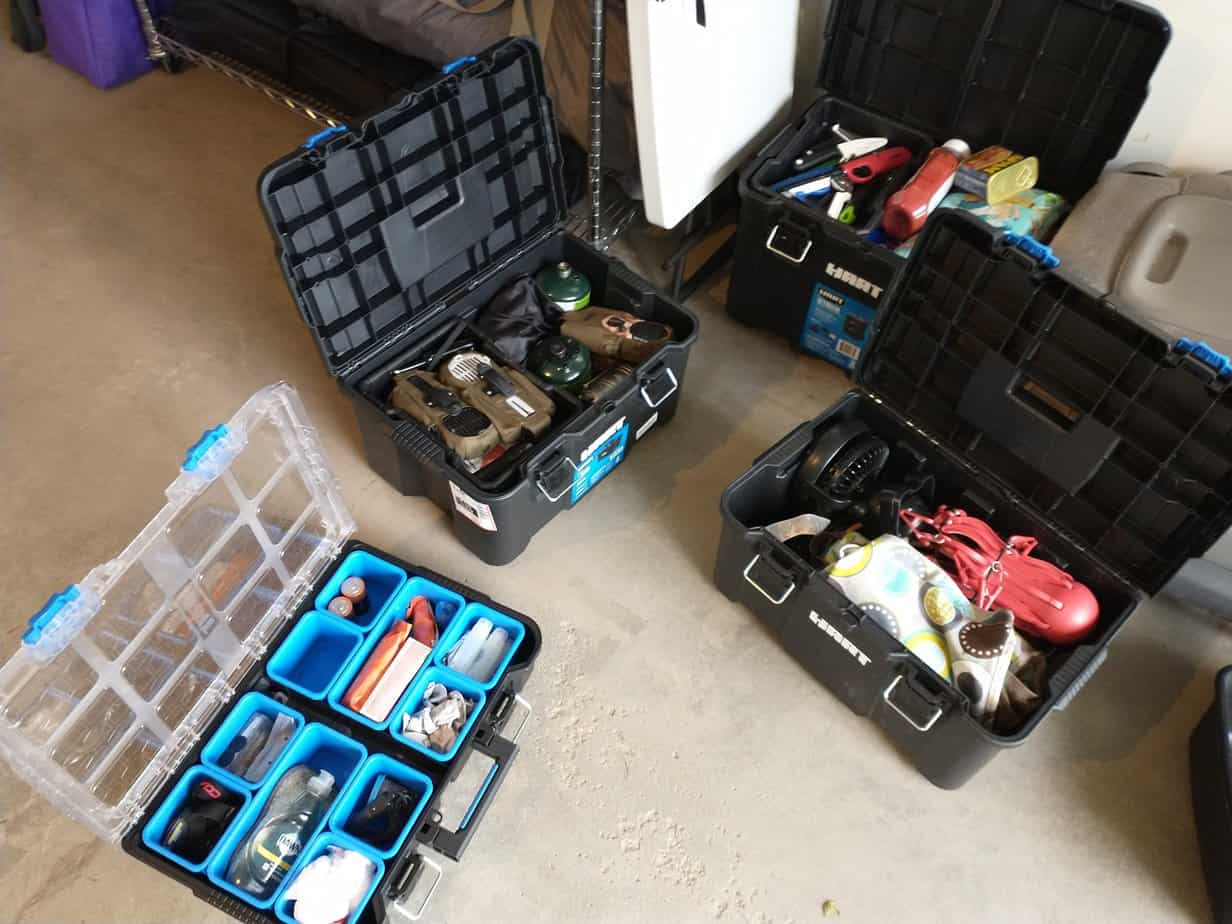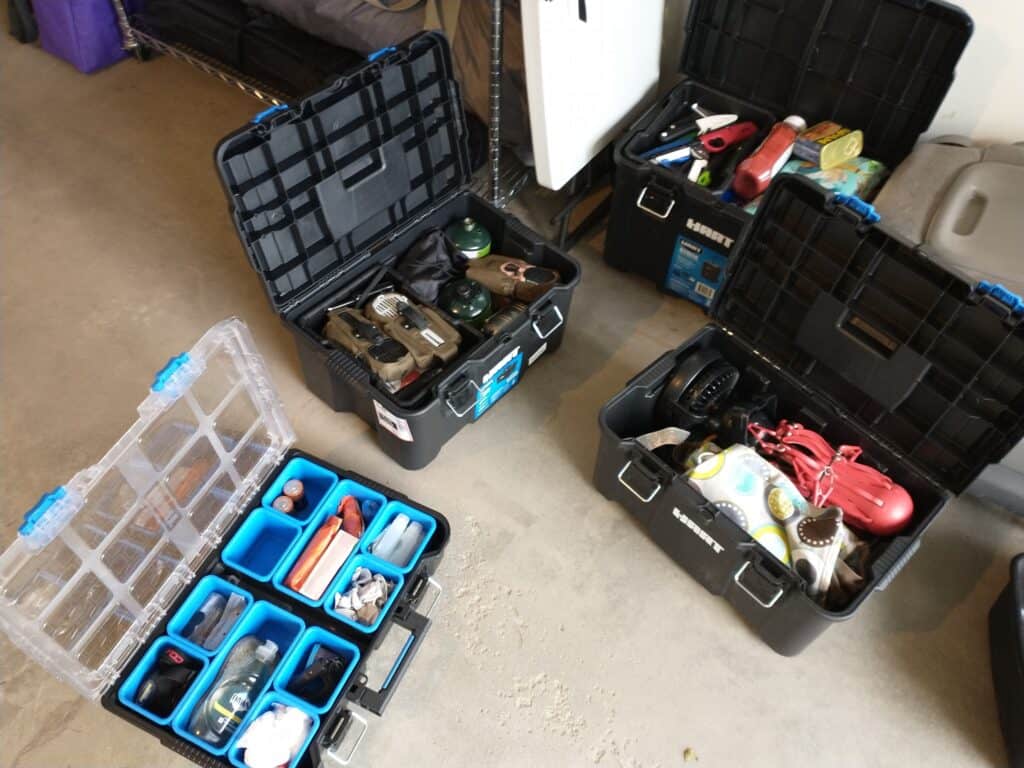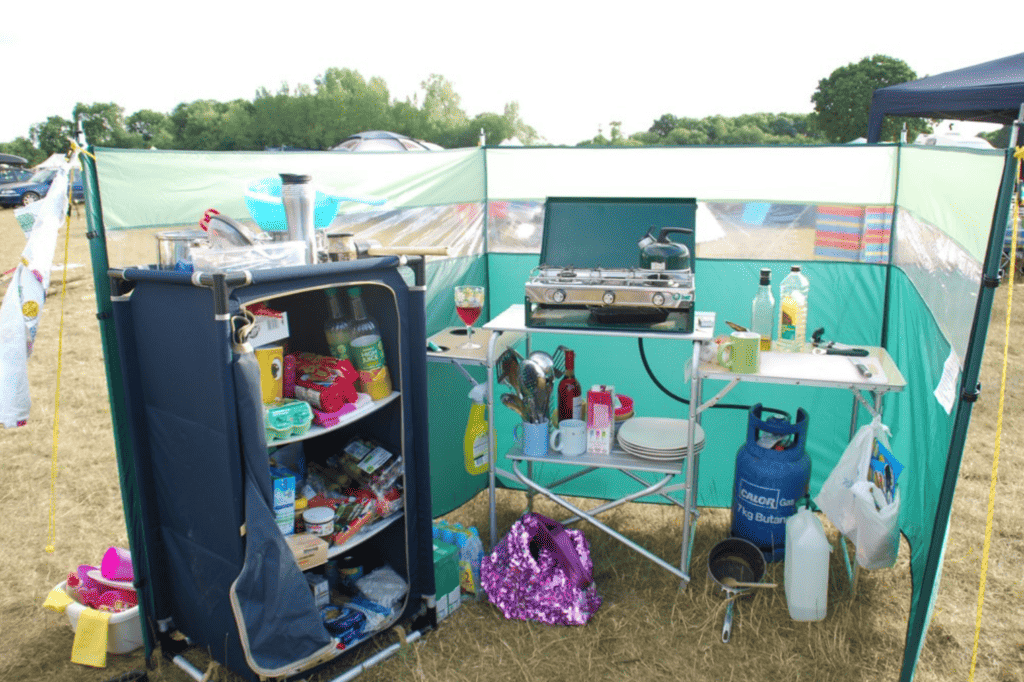 Interior Tent Camp Setup Ideas
You will likely only be in your tent at night, for a nap or during a storm, so it's important to focus on the primary component to make it all happen… the bed! There's usually a couple of other things in your tent, such as some organization for personal items and a place to charge/use electronics.
Anyways, your tent camp bed setup is usually going to be one of the three below:
A cot and sleeping bag – A classic Coleman cot is fine. Sleeping bags can get super specific, but if it's during summer time and nice weather, you don't have to look for anything too special.
Sleeping pad and sleeping bag – You MUST use a sleeping pad under your bag if you want to be able to sleep comfortably as well as not wear our your bag and tent floor rolling around all night.
Blow up mattress and sheets – This is really only possible if you can drive in as blow up mattresses are heavy… but dang are they comfy!
Some other things that could make your tent setup a little more comfy/peaceful include:
Tent light – There's usually atleast one spot to hang these built into a tent. They're super handy for when it gets dark early, or when you just want to hang out light and be able to see!
Pop Up Nightstand – Perfect for stashing things in as well as propping up any monitor you have to watch a show!
Inflatable Couch – A good idea if you want a place to hang out in your tent that is not your bed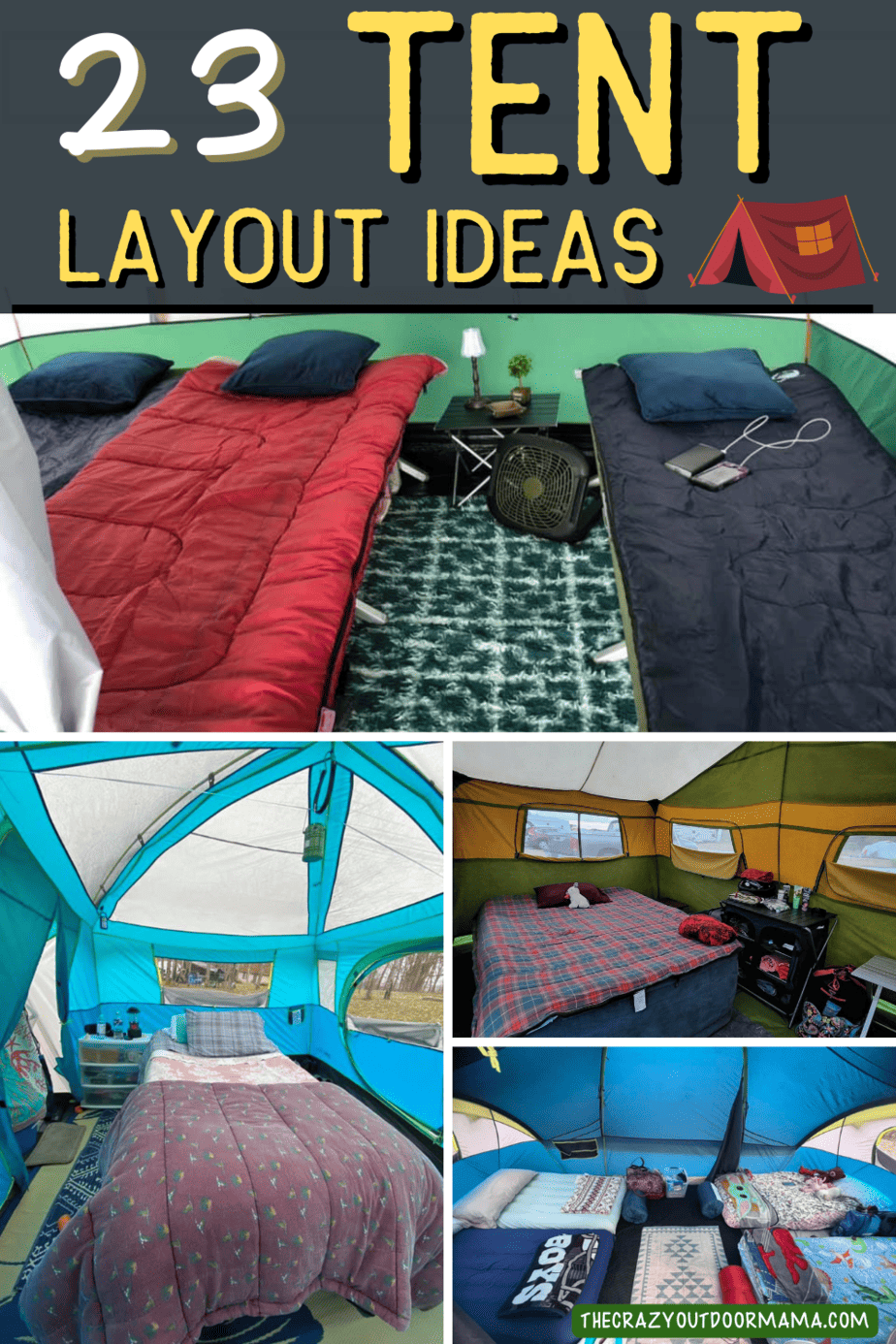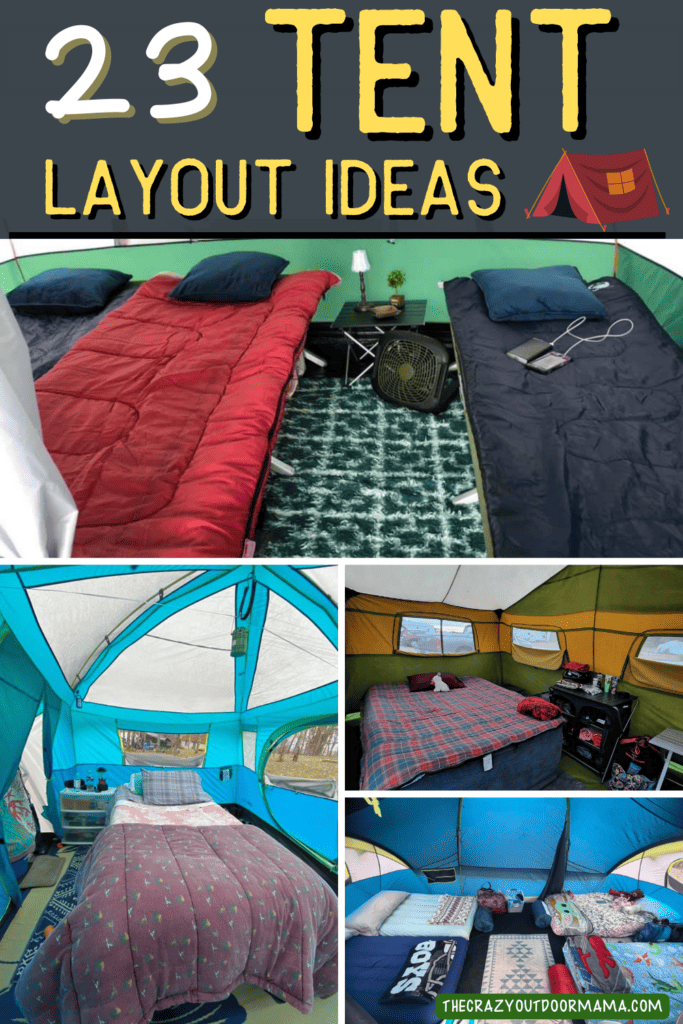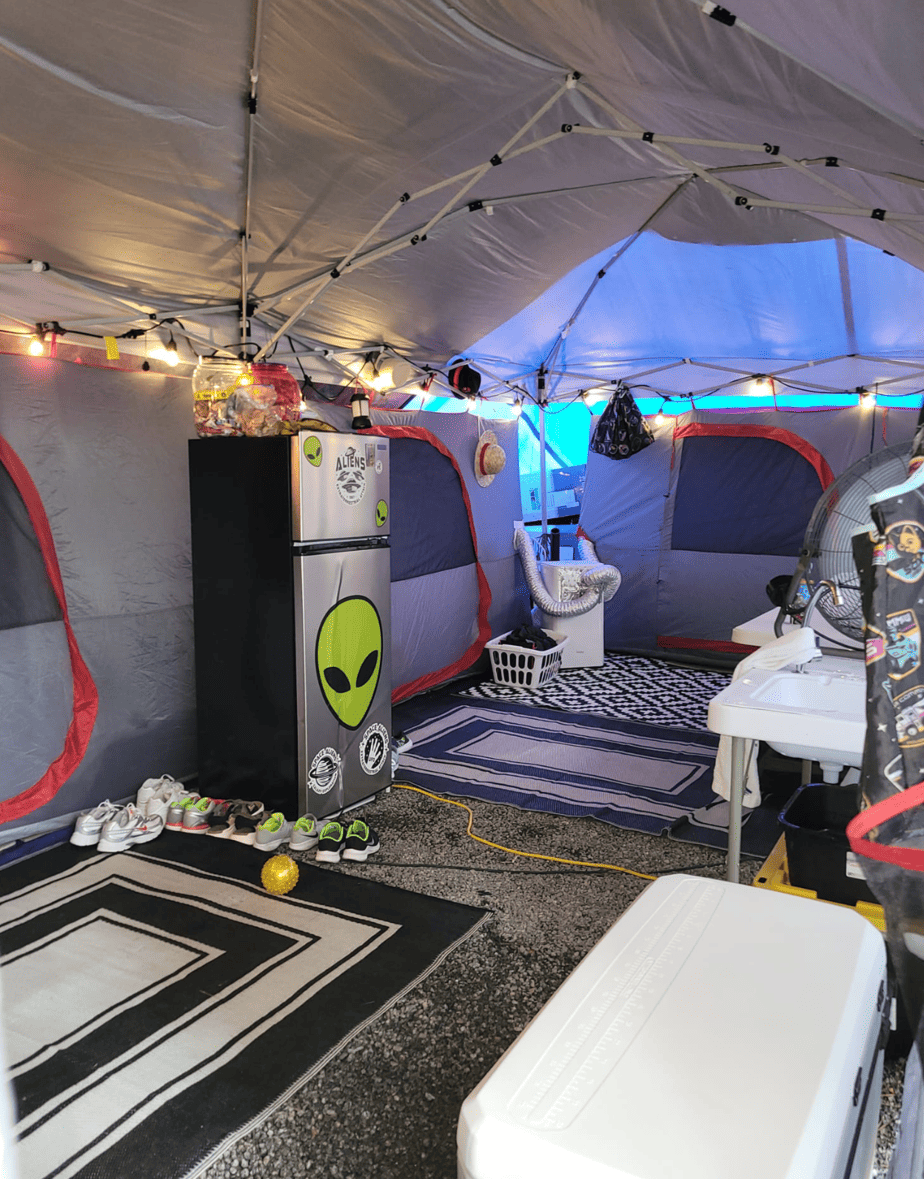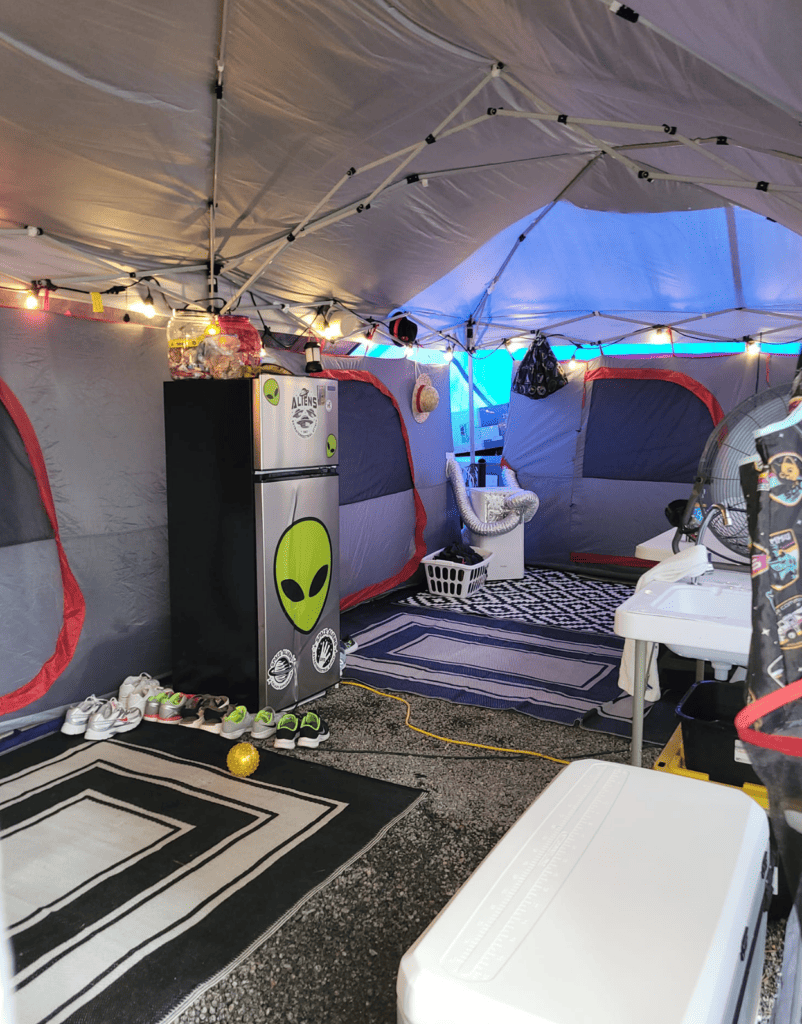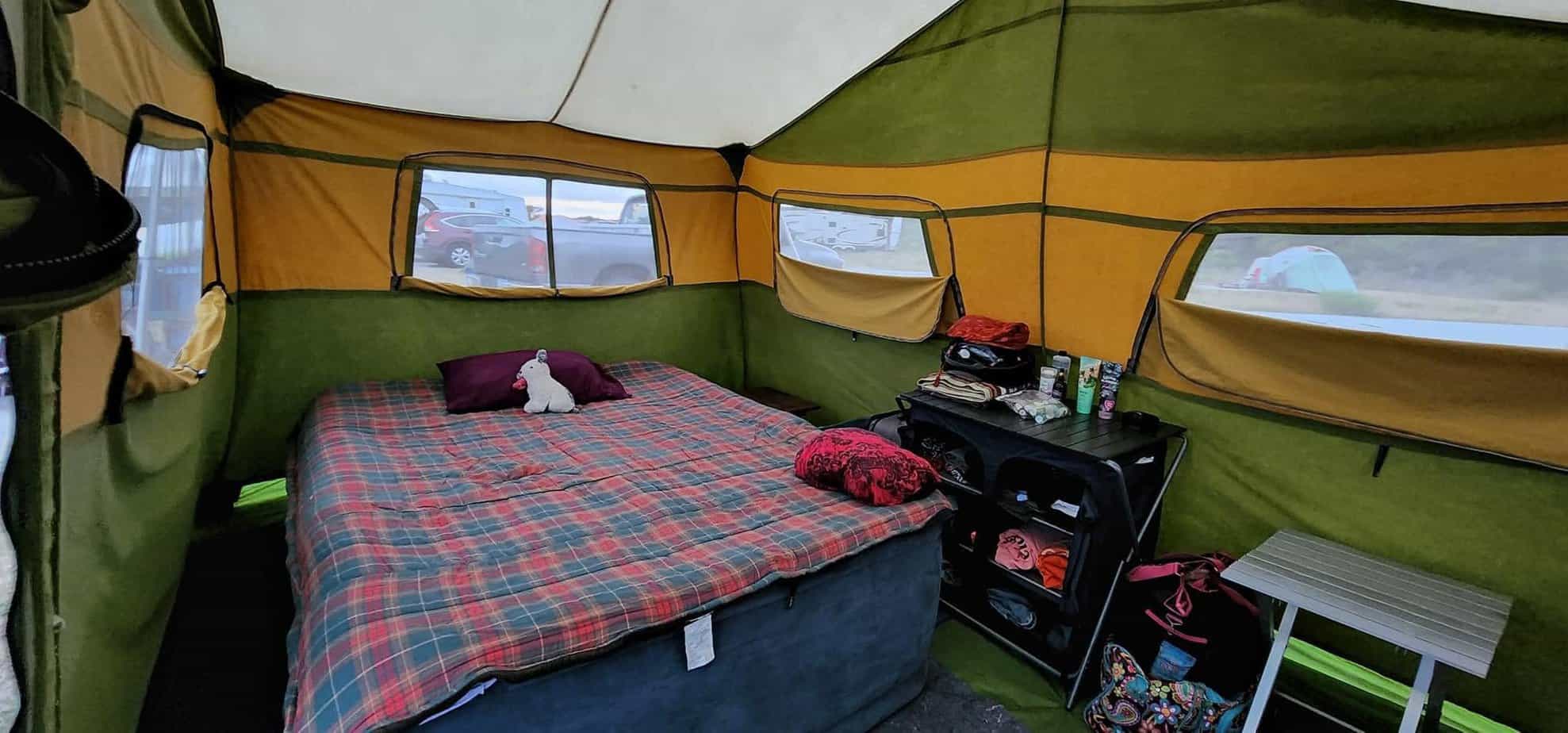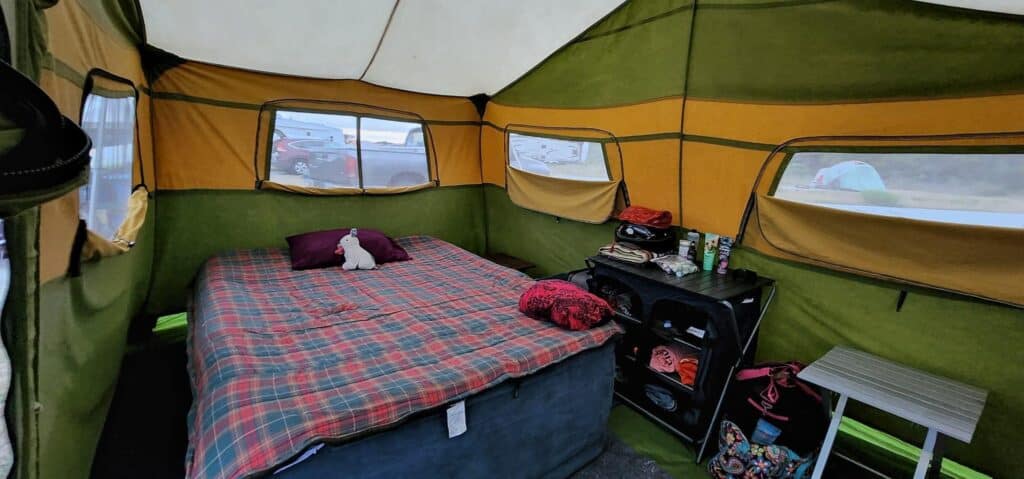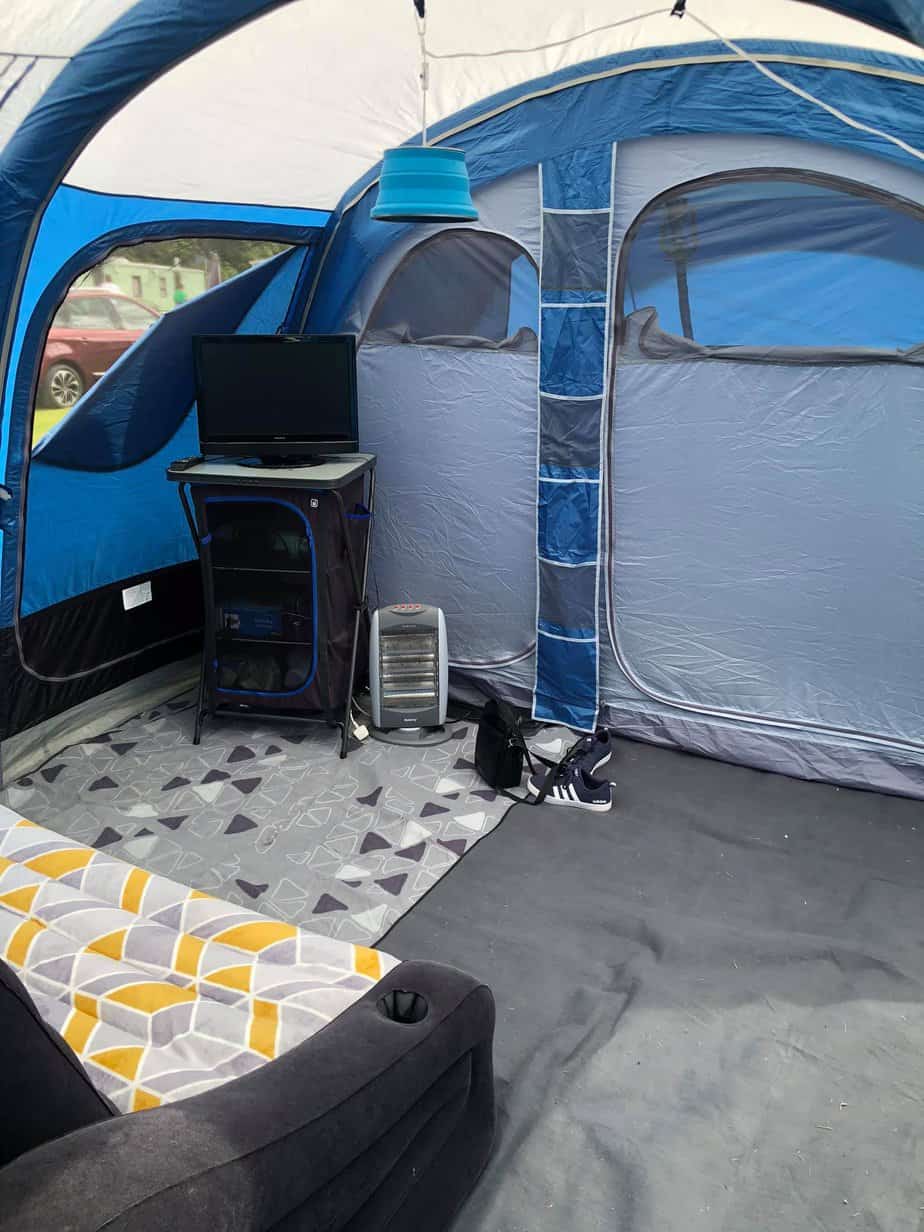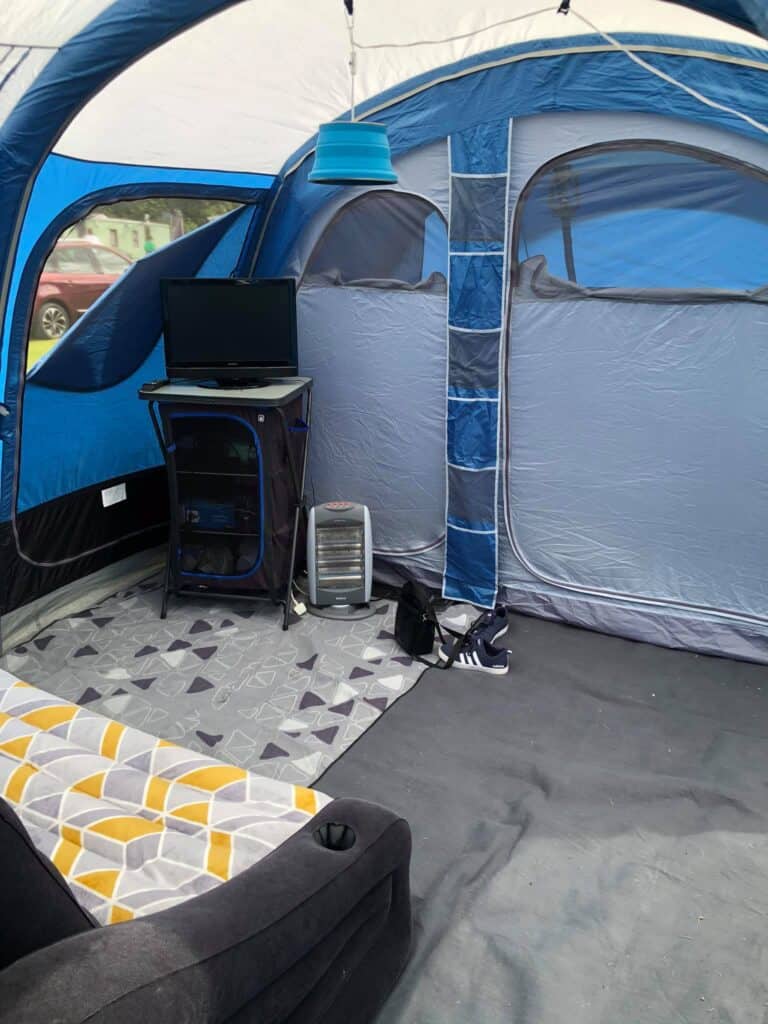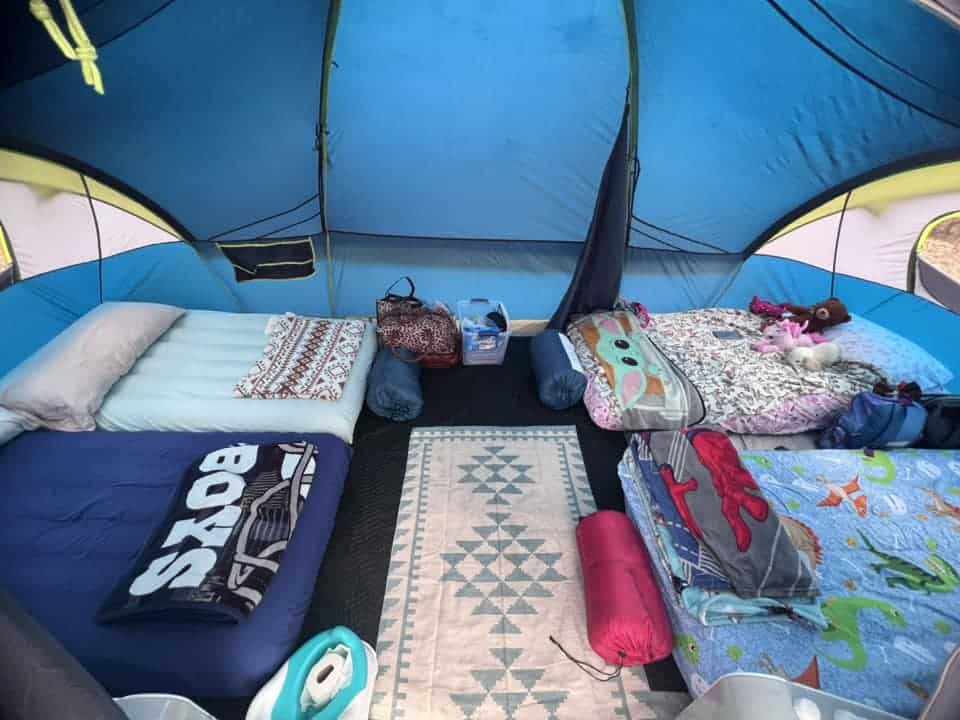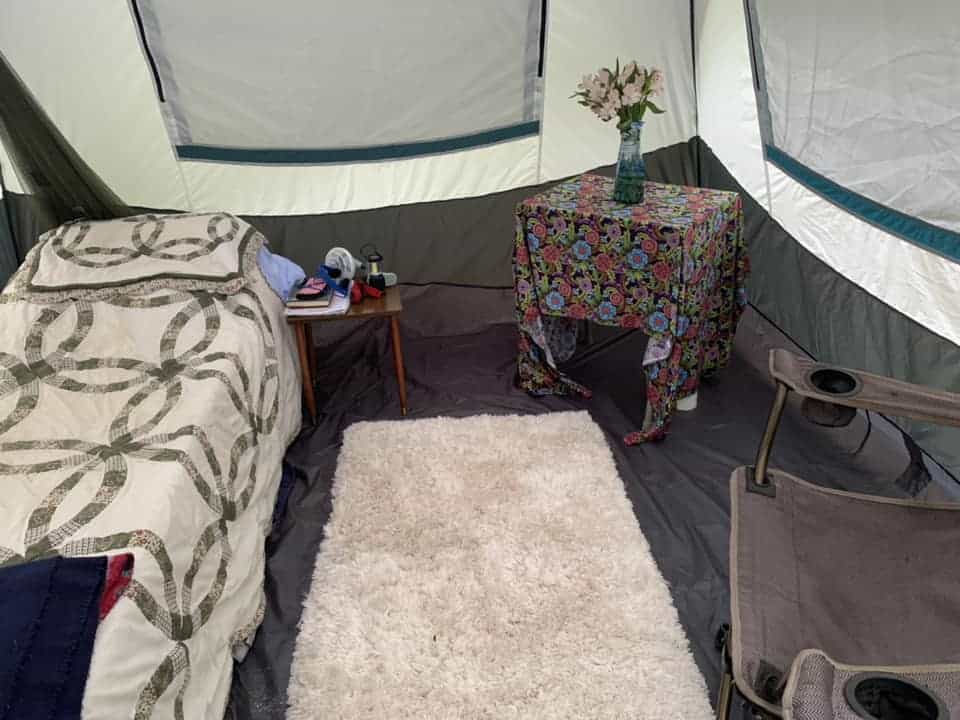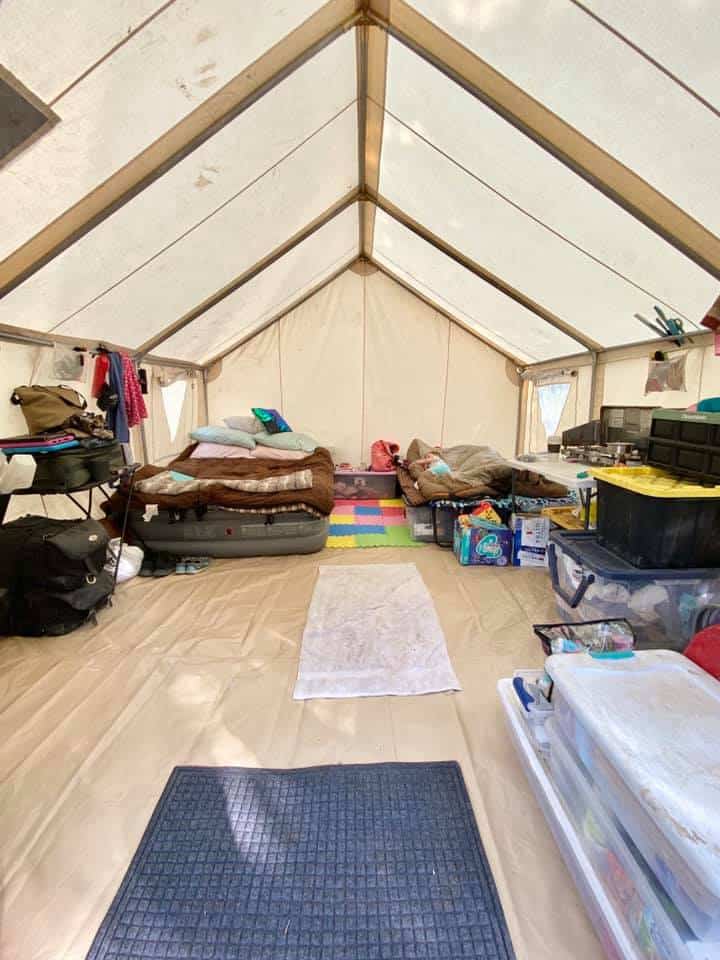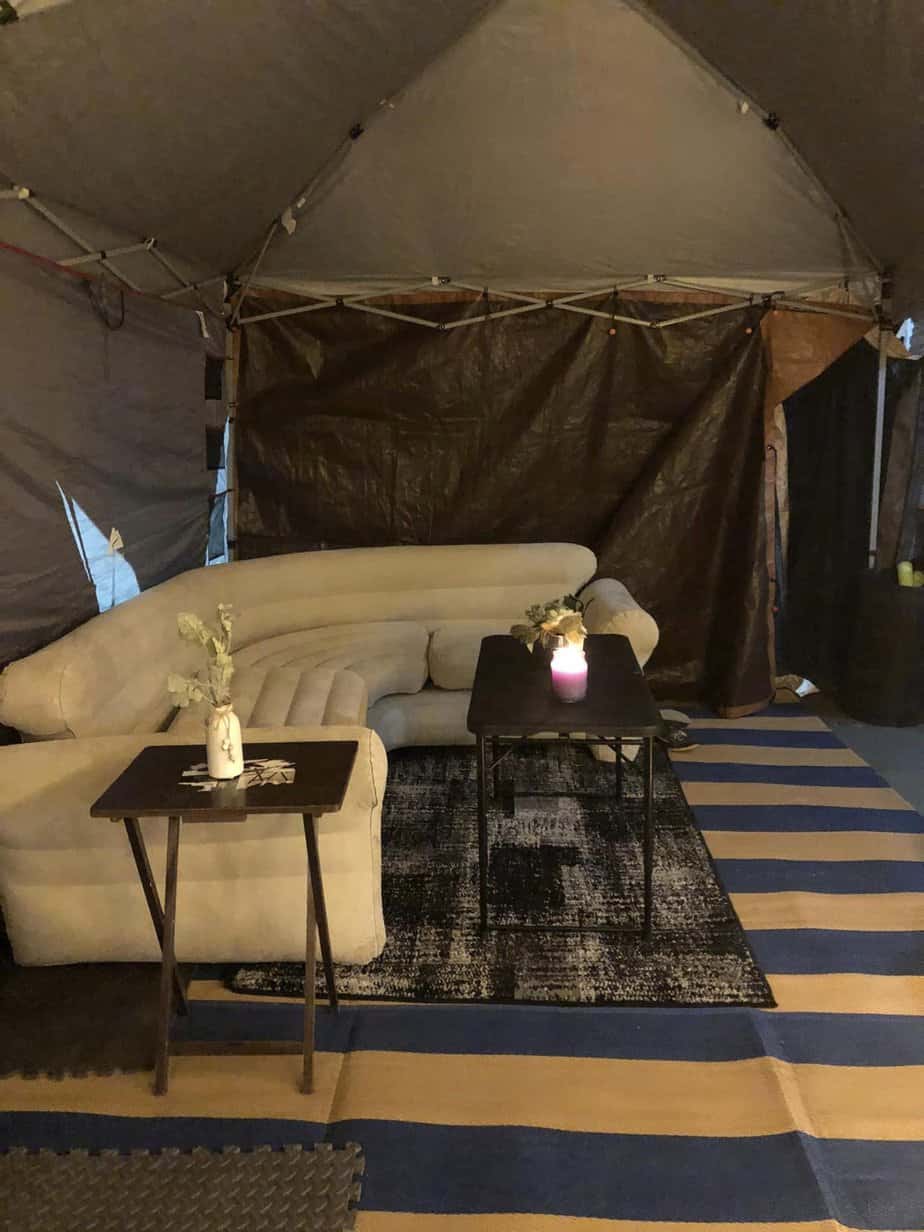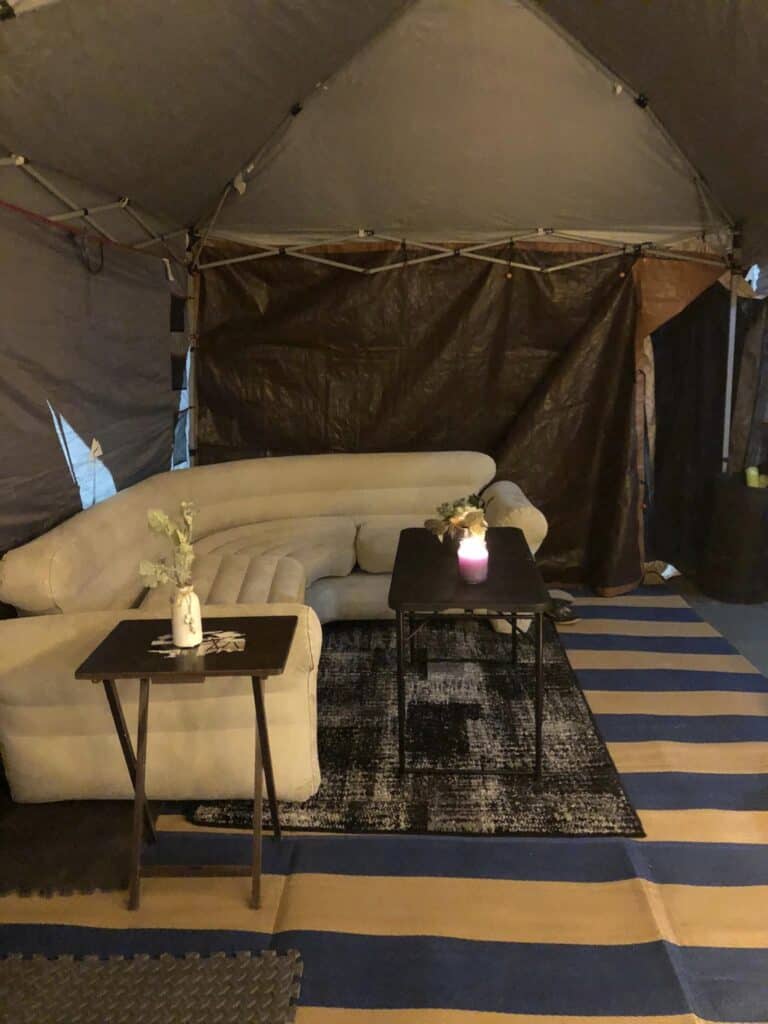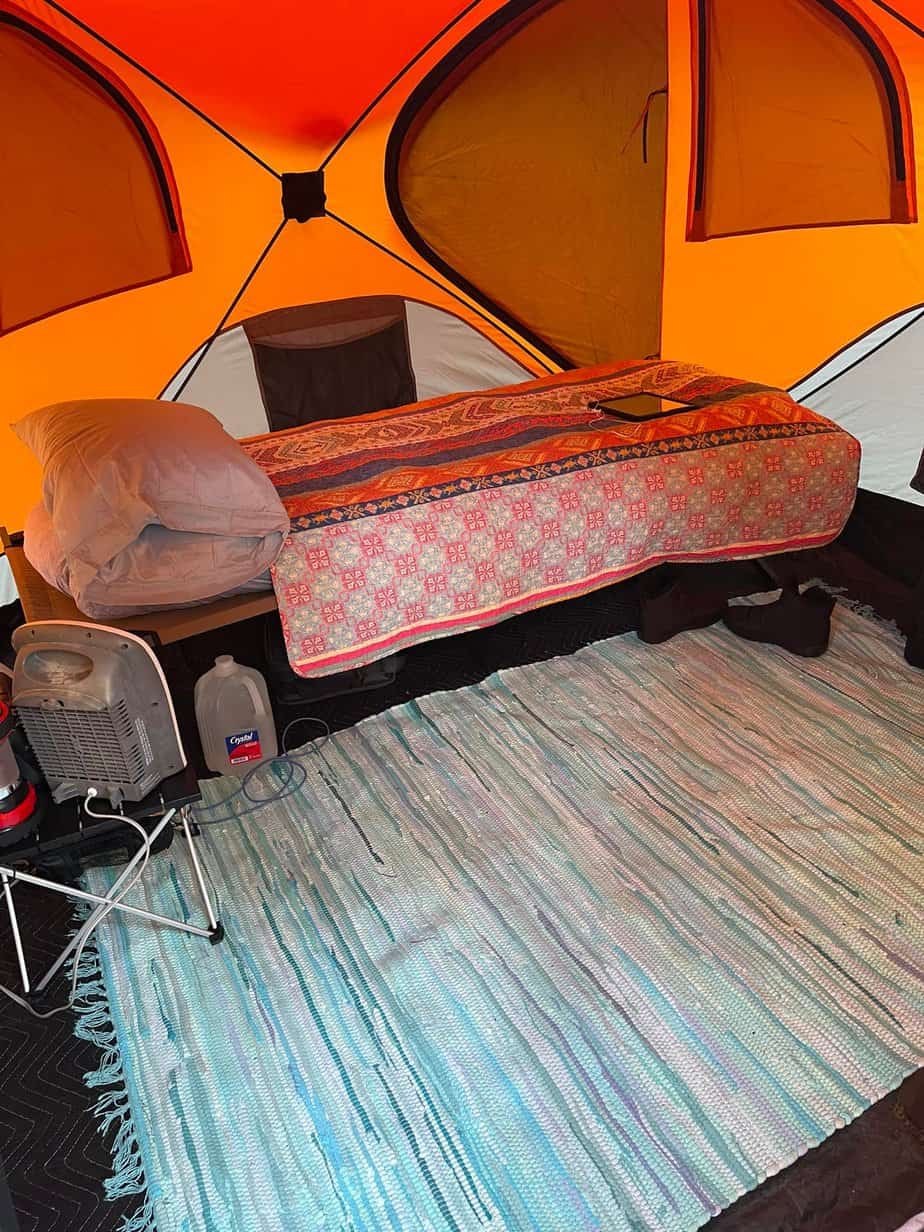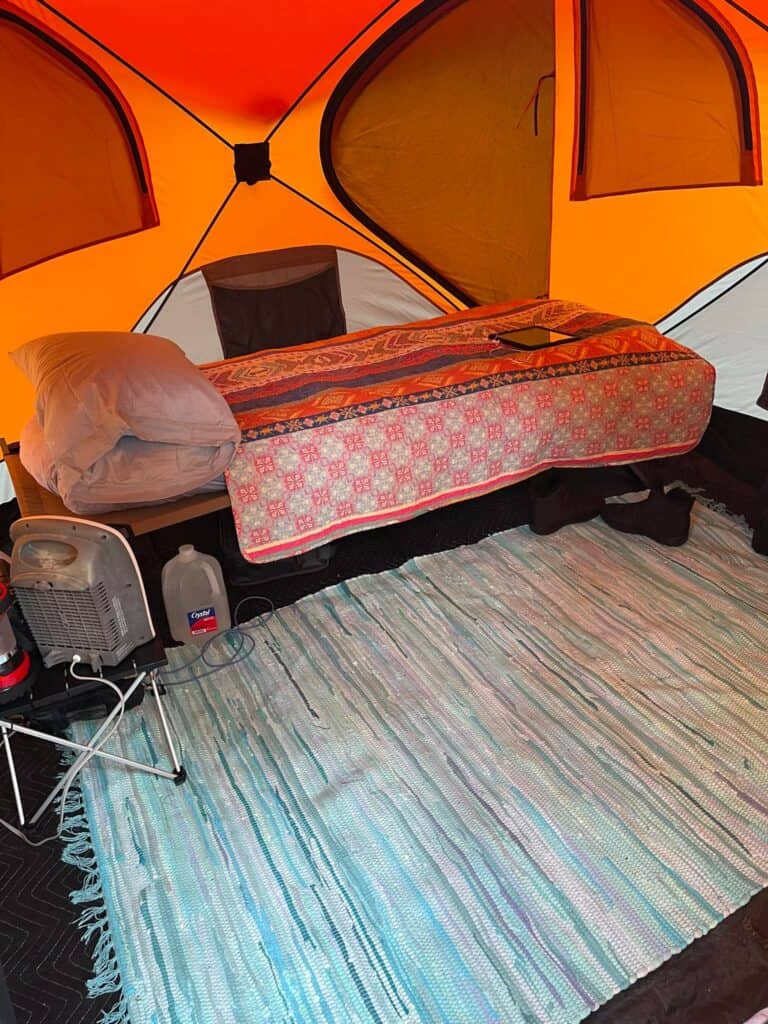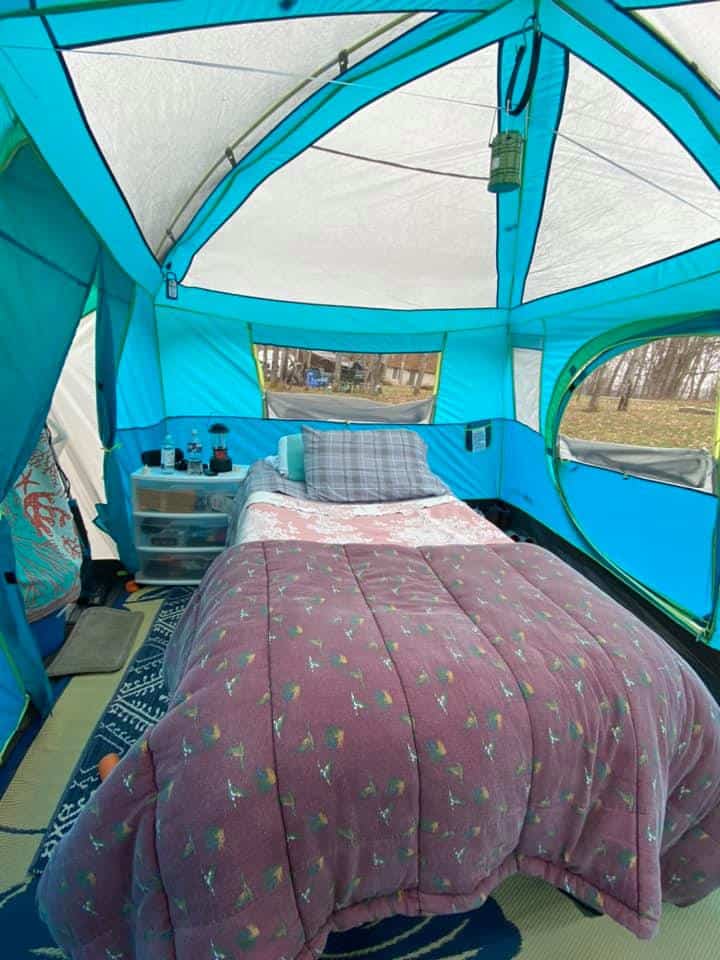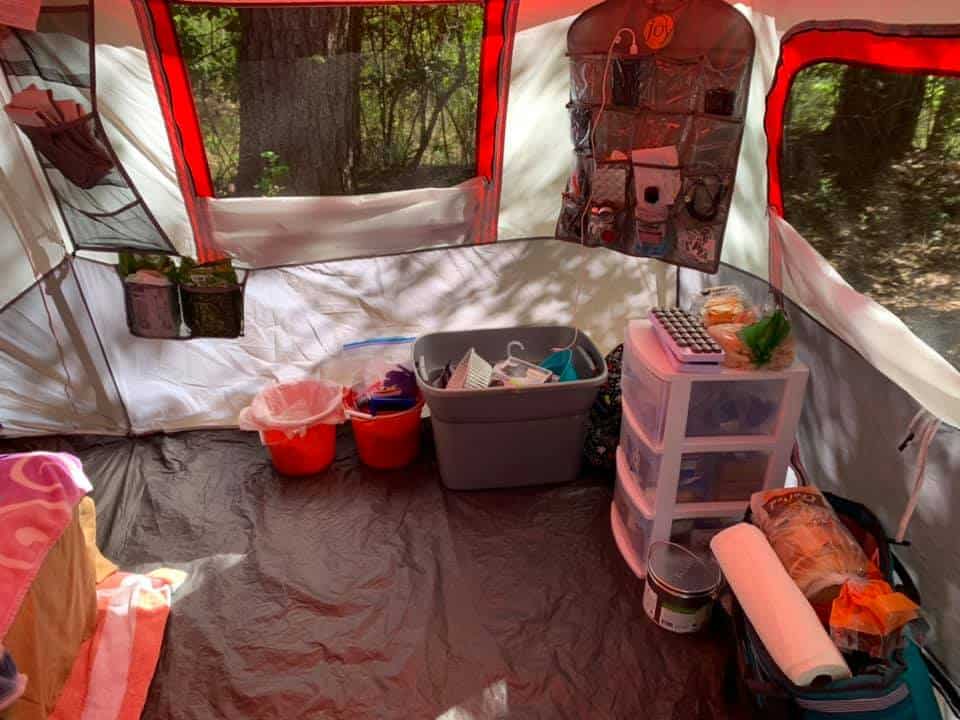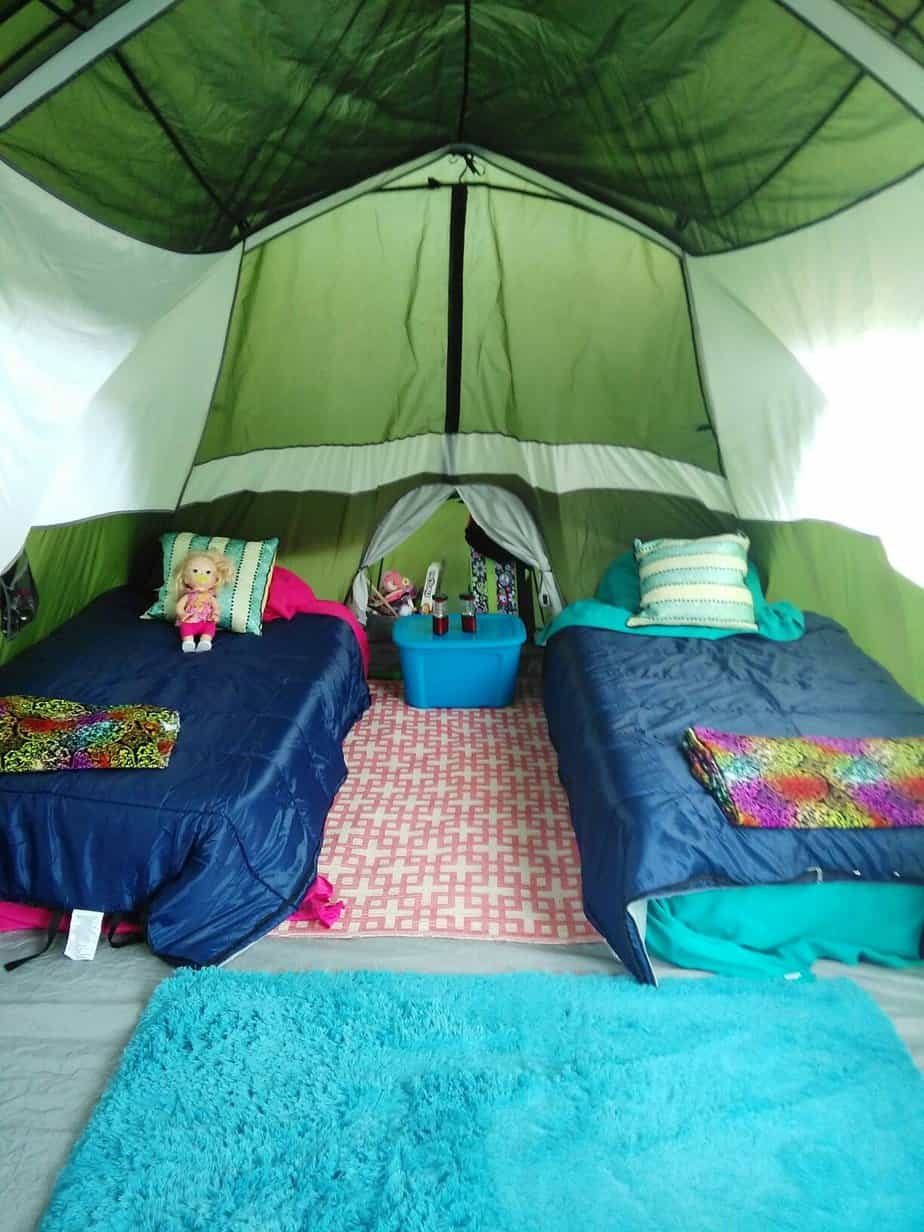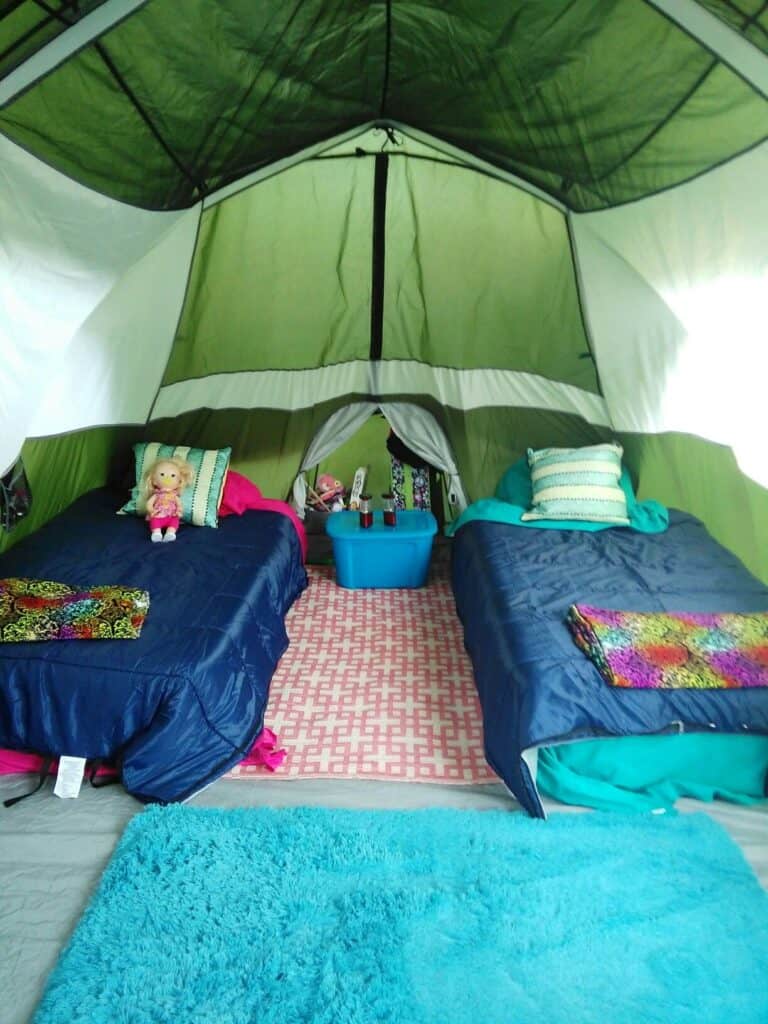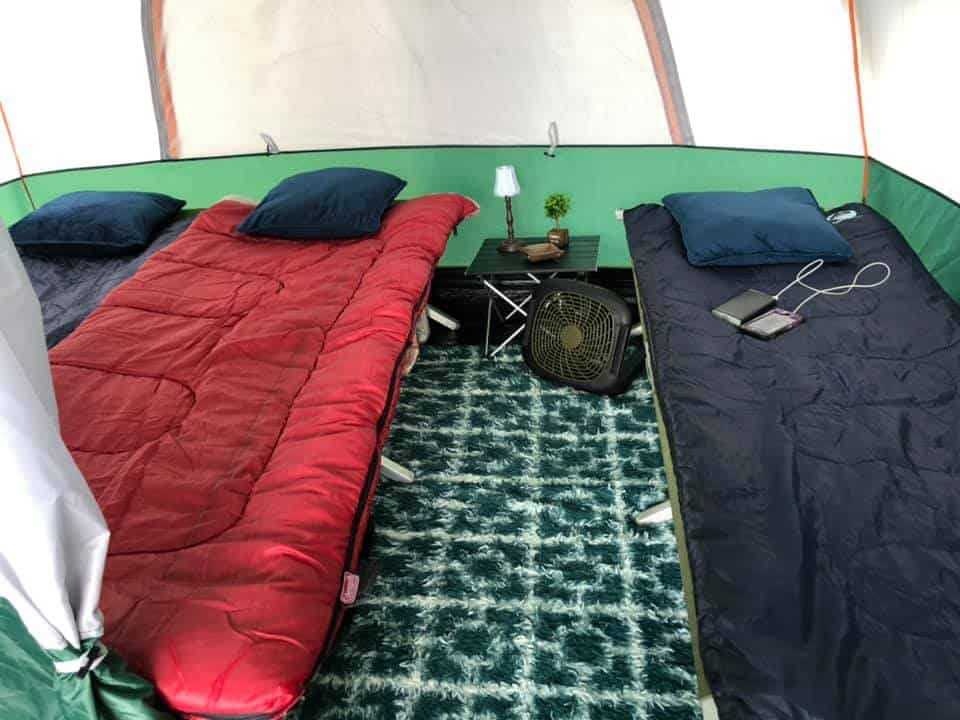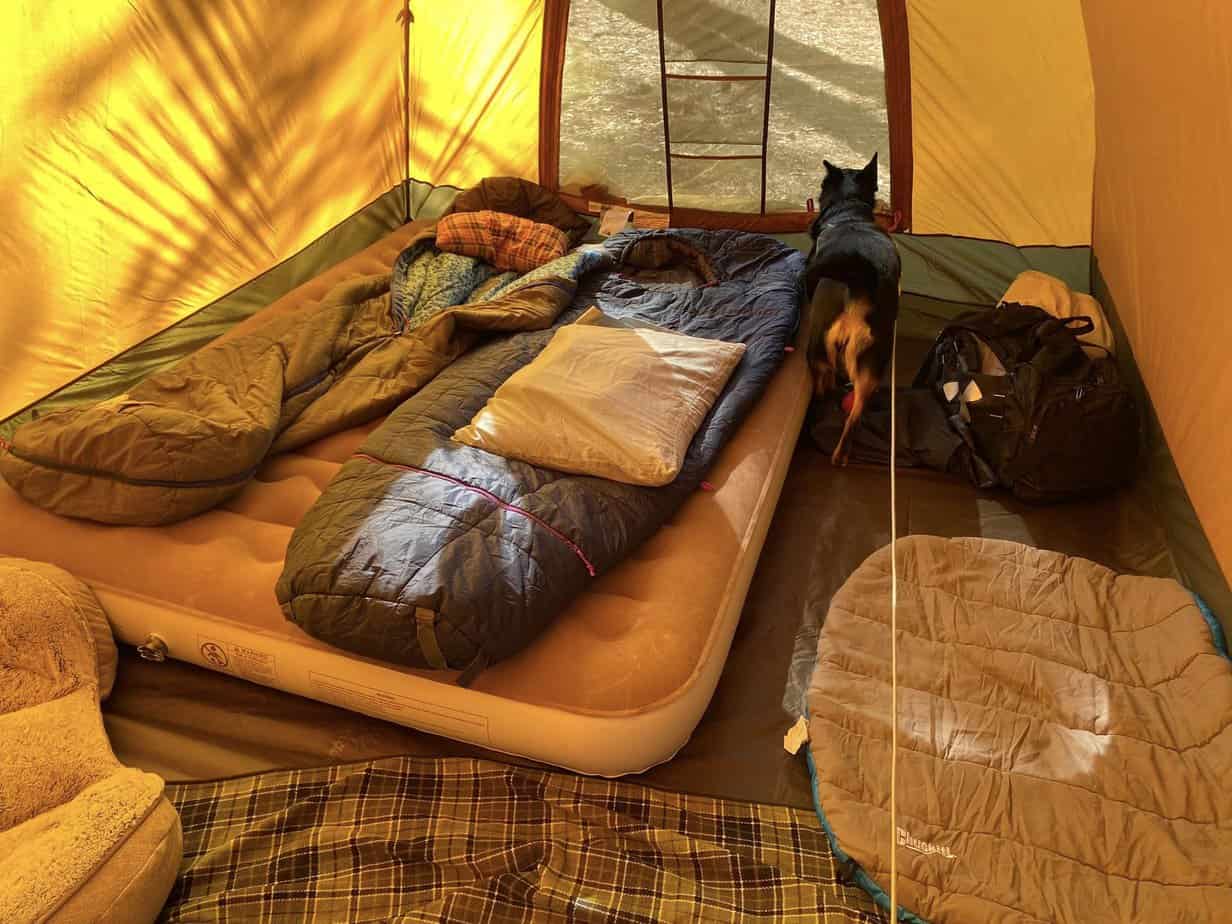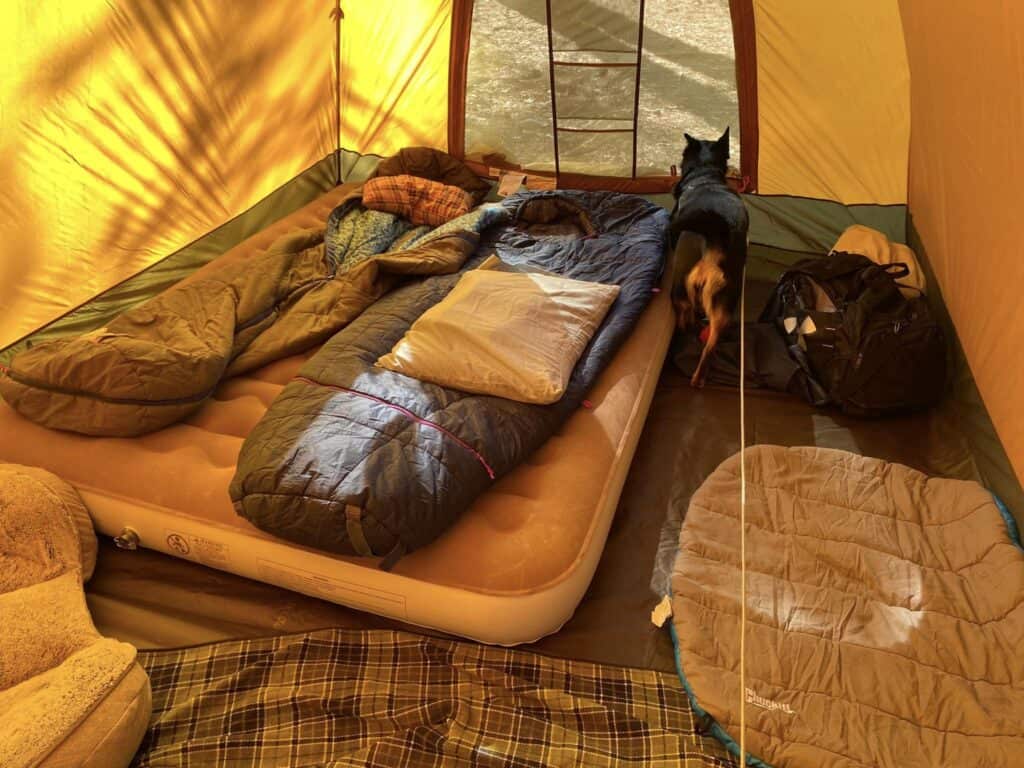 Camping Setup Ideas for the Bathroom and Shower
This part is only necessary if you're camping somewhere that doesn't provide these ammenities already. Situations could include backpacking into a site, primitive camping (sites that only include a flat spot… no water, bathrooms etc) or for when you will be camping for an extended amount of time and having your own things would be nice.
Don't forget, if you need to poo in the wild you MUST follow the 7 LNT principles… which include digging a deep hole and burying it AWAY from water (and camp, really!)
If you do need a bathroom or shower at camp, most people use a combination of the following
Pop up Privacy Tent – You could place the shower bag in here or the potty… both are more peaceful without prying eyes!
Poo Bucket Lid/Seat – These are WAY more comfy than having to dig a hole away from camp. All you need is a 5 gallon bucket to screw it onto and VOILA – a camp toilet!
Sun Shower Bag – The cheapest and easies way to get warm water! Just fill it up, set it somewhere in the sun (we use a rock or the hood of the car) and in a couple of hours you'll have hot water for your shower.
A Fancy Shower Specific Tent – You don't NEED this… but gosh is it handy! It has spots to hang your sun shower bag, showerhead, a towel bar and more.
Kitty Litter or Toilet Waste Bags – This helps to keep down the smell and prevent you from having to carry a sloshing bucket of nastiness every couple of days.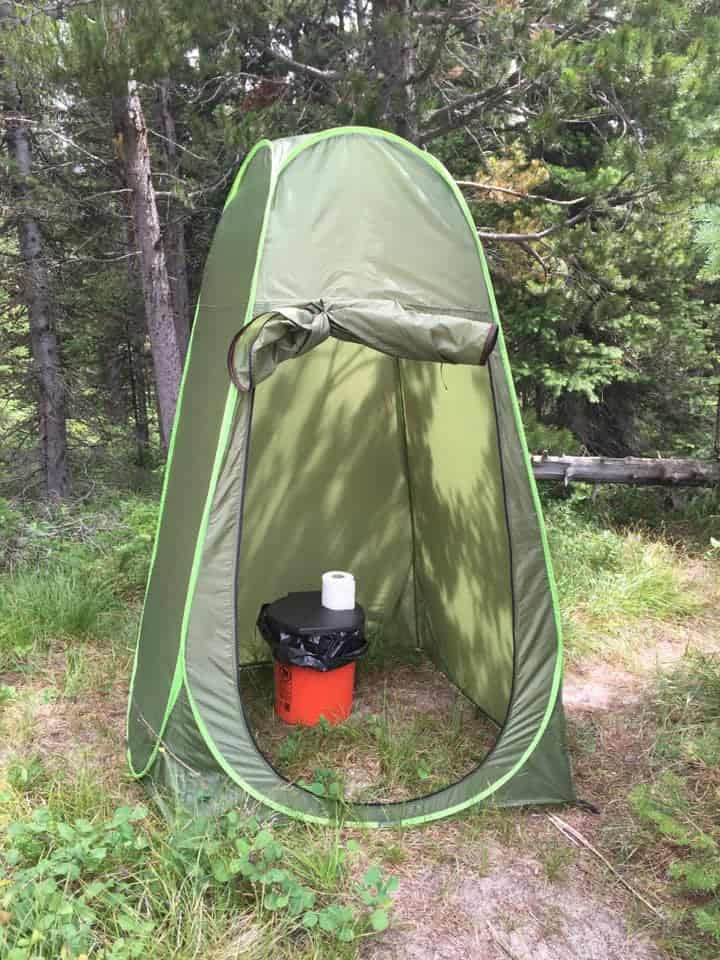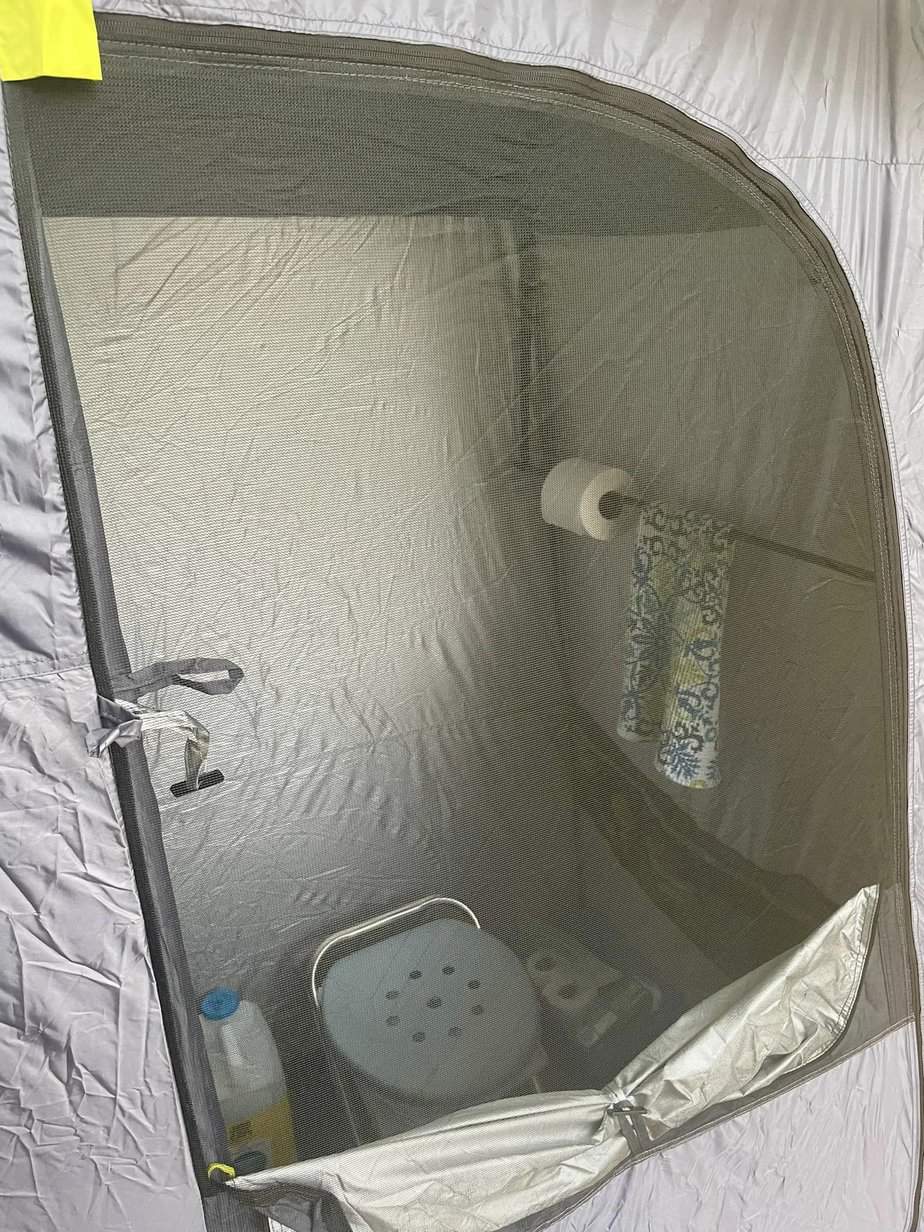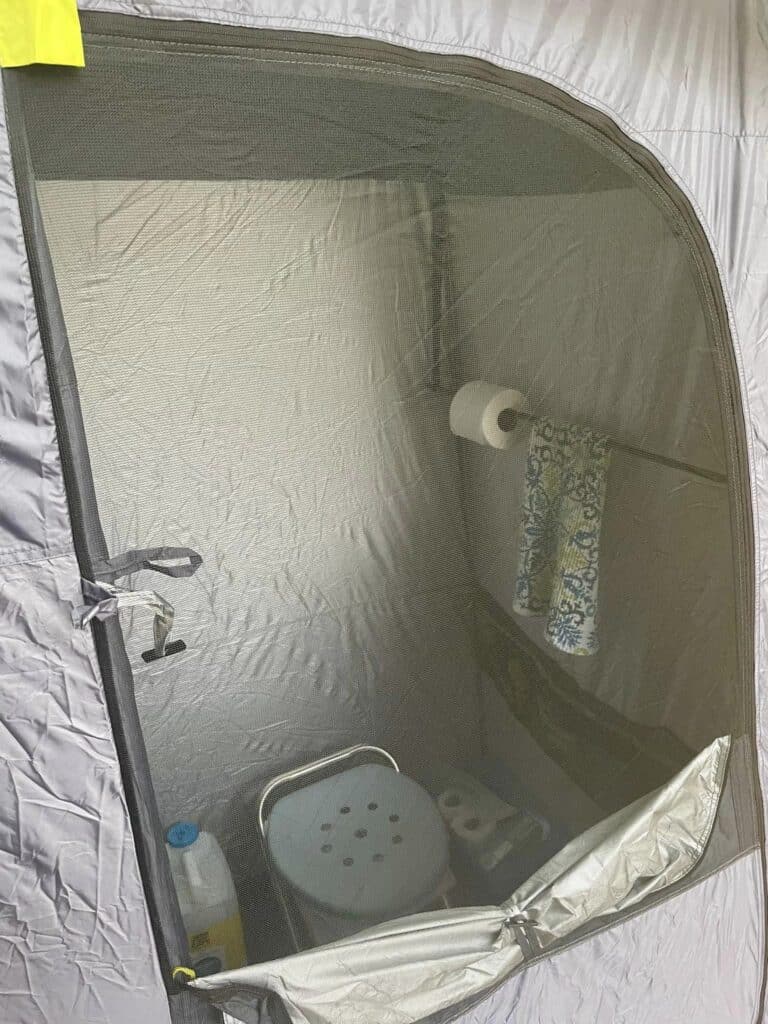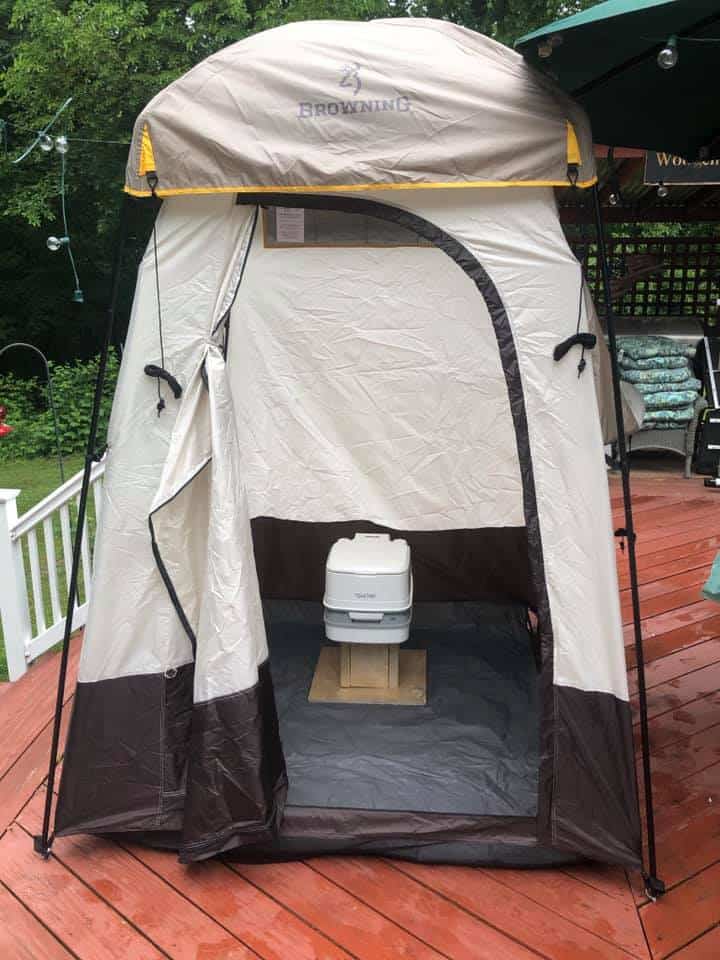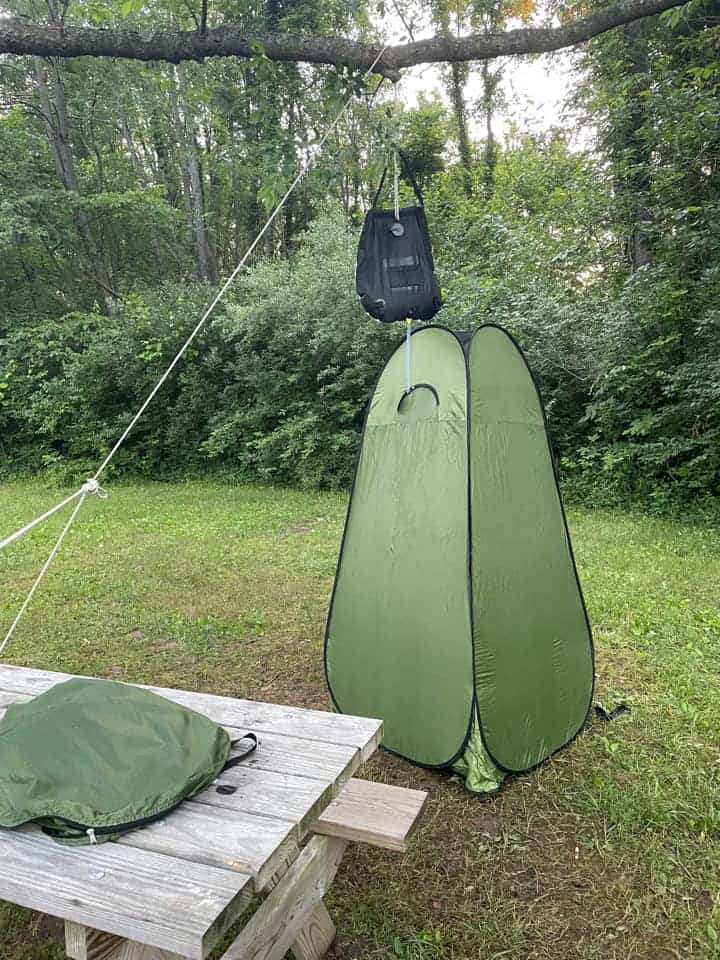 Excited to Pitch Your Tent Now?
It's actually pretty fun deciding how best to setup your camp, and every single persons is different! I hope these ideas have helped plan your own camp setup.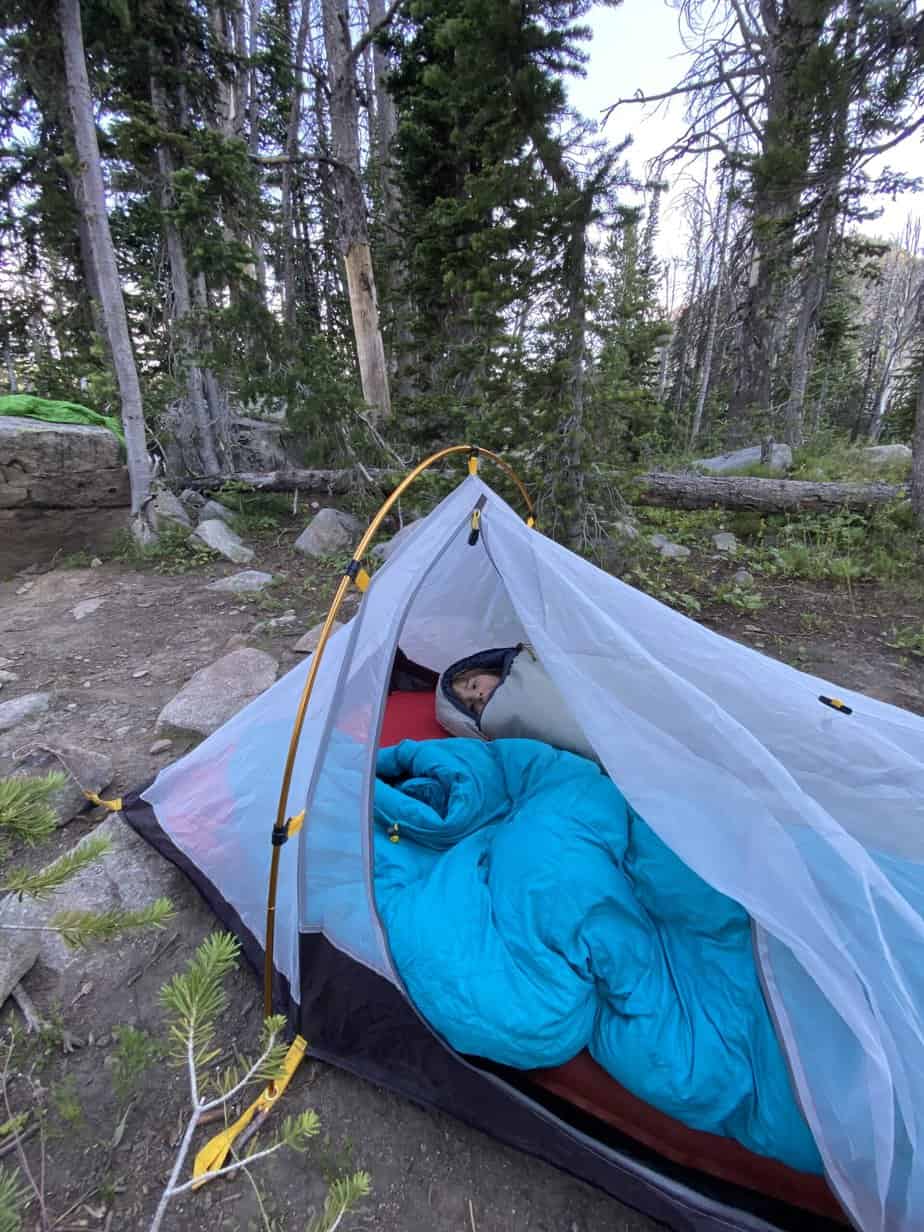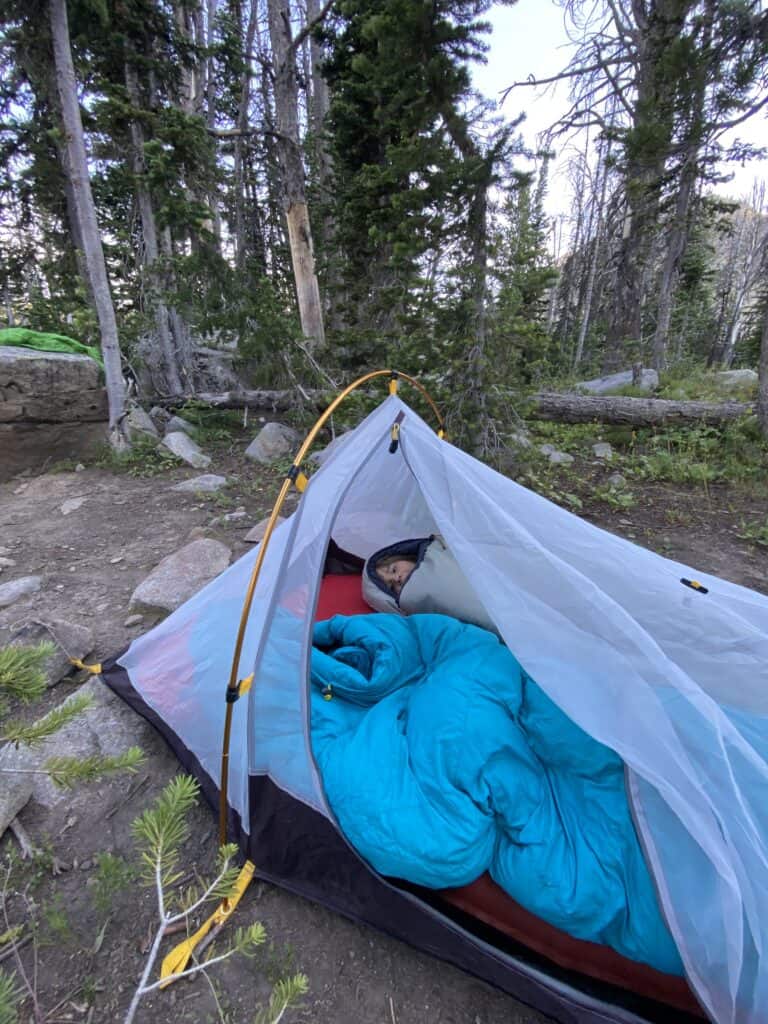 Latest posts by Stacy Bressler
(see all)